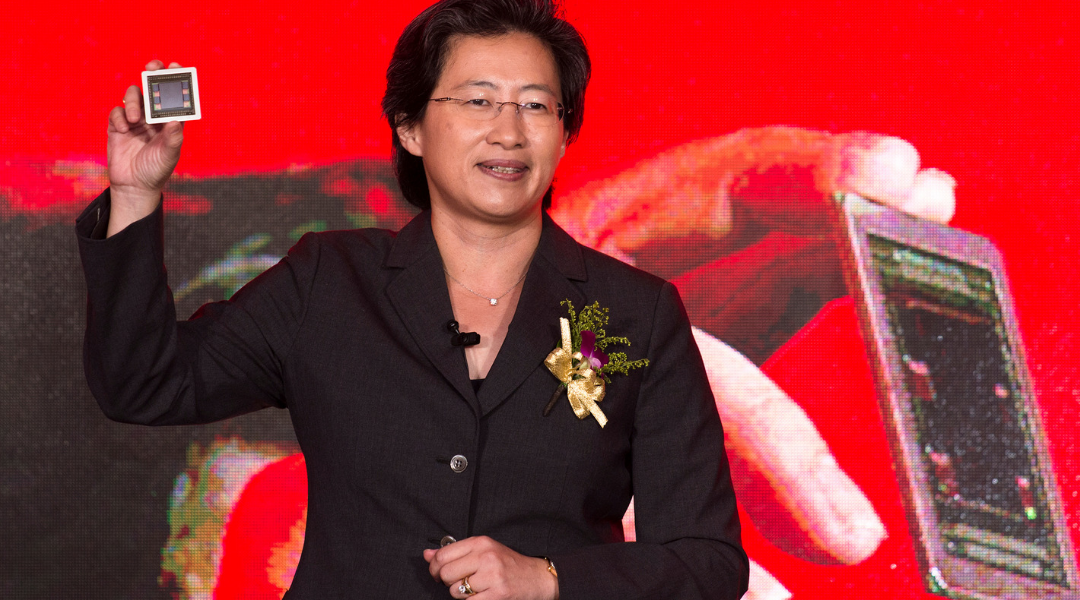 Behind the rise of AMD—the best-performing stock of 2019 so far
Much of modern technological life depends on the omnipresent "cloud," which is often described with inscrutable buzzwords but is, in reality, quite simple. Fundamentally, the cloud is other people's computers. Whenever you store a file in the cloud, stream a movie online, or even access your email, you're using the internet to connect to a server somewhere—generally, one situated on a server farm—that then serves your content. As more parts of peoples' lives take place online, the demand for cloud infrastructure grows along with the companies that manufacture the technology needed for that infrastructure. 
With that in mind, it's easy to see why a company like Advanced Micro Devices (AMD)—a California-based semiconductor company that develops tech like computer processors—is succeeding. AMD's computer chips (its main products) are in demand, and AMD has caught up to its competitors, Intel and Nvidia, in producing quality processors. The company's products are in the brains of computers everywhere—from laptops to graphics units to server farms. With a firm hand at the wheel, AMD has outperformed every expectation for a company once considered "uninvestable." How did it get there? And will its success continue?
Lisa Su: turning AMD around
Much of AMD's growth can be directly attributed to its CEO, unexpectedly meme-friendly Lisa Su, who's been in the position since 2014. Su led the company to a stunning 25% revenue growth in 2017 that was spurred by the cryptocurrency boom. Cryptocurrencies such as Bitcoin and Ethereum run off of computer processors located all around the world that "mine" transactions into the blockchain in exchange for a small kickback. Fundamentally, it takes a lot of computing power—and uses more energy than the country of Switzerland—for cryptocurrencies to function. As interest in mining Bitcoin grew, demand for graphics processors shot through the roof and helped AMD's stock along with it. 
AMD in 2018 was the best-performing stock in the S&P 500 and has been on the rise for quite a while. Under Su's leadership, the stock has soared by more than 900%. AMD leveraged this success into notable partnerships with Samsung, Microsoft, Sony, Amazon, and other big tech players. As these companies expand their cloud architecture, AMD's chips will be widely utilized to deliver blazing-fast performance to consumers. The stock recently jumped 16% after Google and Twitter pledged to use AMD's new processor in their server farms while Intel's shares have been flat for months. 
To achieve this comeback—in 2012, one analyst called the 50-year-old company "uninvestable"—Su stuck to the basics, telling staff that AMD's priority would be to "...build great products, deepen customer relationships, and simplify everything we do." Su has a doctorate in engineering from the Massachusetts Institute of Technology and is friendly with the company's engineers, the backbone of AMD's business. Su told Barron's, "I love spending time with the engineers, going into the lab and getting a feel for what the real challenges are because it just helps me make better decisions about the business."
The future is tiny
Every bull run has to end, and there are several warning signs that AMD's record growth isn't likely to continue unchecked. The popularity of cryptocurrencies is far from its previous peak, bringing a decline in AMD's graphics revenue with it. Nvidia's highest-performing chips still outrank those of AMD, leaving a valuable sector of the market open for AMD's competitor. AMD's stock took a significant tumble after posting its second-quarter earnings in July 2019 and analysts are wary about the company meeting its annual revenue goals. 

However, there's also reason to bet on AMD now and buy the dip. Su claims that high-end and mobile 7nm chips, the next generation in transistor hardware, are coming soon. If true, AMD  would beat both Nvidia and Intel to the punch. It may turn out that the missed quarter was an anomaly and not a bad omen for the future of the stock, after all.
You may also like: Universal basic income, explained