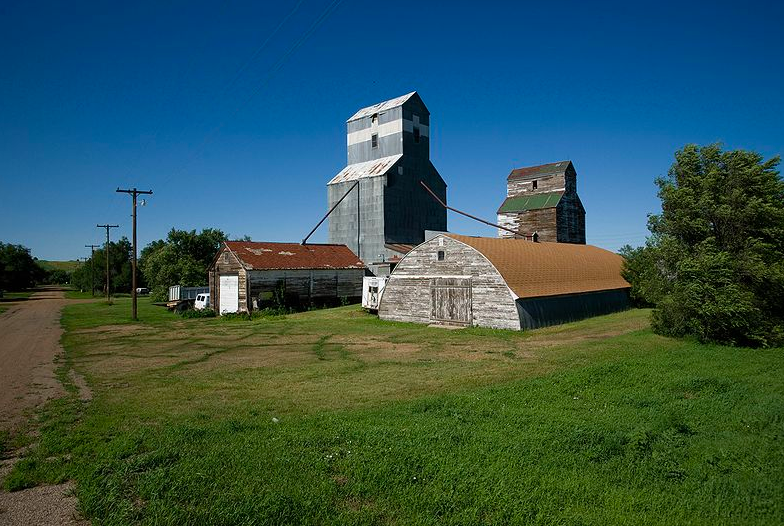 Most impoverished counties in America
Andrew Filer // Wikimedia Commons
Most impoverished counties in America
The average American household in 2017 had a combined income of $61,372. That number is actually on the rise, which may come as a surprise to the many Americans who still remember the most recent recession. Median household income saw a 1.8% increase from the previous year, the third straight annual increase since 2014. The poverty rate has decreased for the past three years as well, down to 12.3% (a 0.4% decrease from 2016).
Still, a substantial number of Americans are living well below the poverty line, which is currently $16,910 for a two-person household. Fifteen million children (that's 21% of young people in the U.S.) are in a family living below the official federal poverty threshold. The poorest county in the United States has over 56% of its residents living at or below poverty levels.
Residents of wealthy states aren't immune to poverty. In Hawaii, for example, average household income is almost $72,000 a year, the fourth highest in the country. Hawaii County on the Big Island, however, has a household income well under the national median, lower than any other county in the entire state by a whopping $14,000.
Using data from the U.S. Census Bureau's Small Area Income and Poverty Estimates (SAIPE) project, Stacker has compiled a list of the 50 most impoverished counties in America. While this list by and large falls in line with prevailing American poverty trends, there are a few entries here which may come as a surprise.
Read on to find out which counties are the most impoverished in America.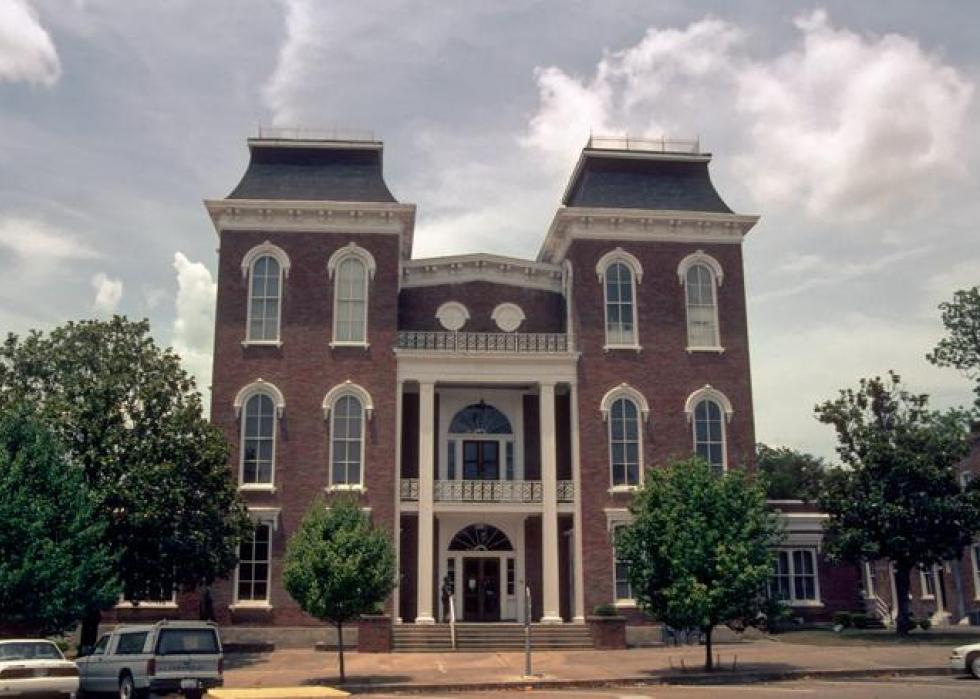 1 / 50
Calvin Beale // Wikimedia Commons
#50. Bullock County, AL
County residents in poverty: 2,956 (34.4% of residents, 159% greater than the national average)
Children ages 0–17 in poverty: 1,015 (48.3% of children, 165% greater than the national average)
Median household income: $29,113 (57% less than the national average)
Unemployment rate: 12.1% (83% greater than the national average)
Education rates: 28.6% of residents have not graduated high school (125% greater than the national average); 13.4% of residents have at least a bachelor's degree (57% less than the national average)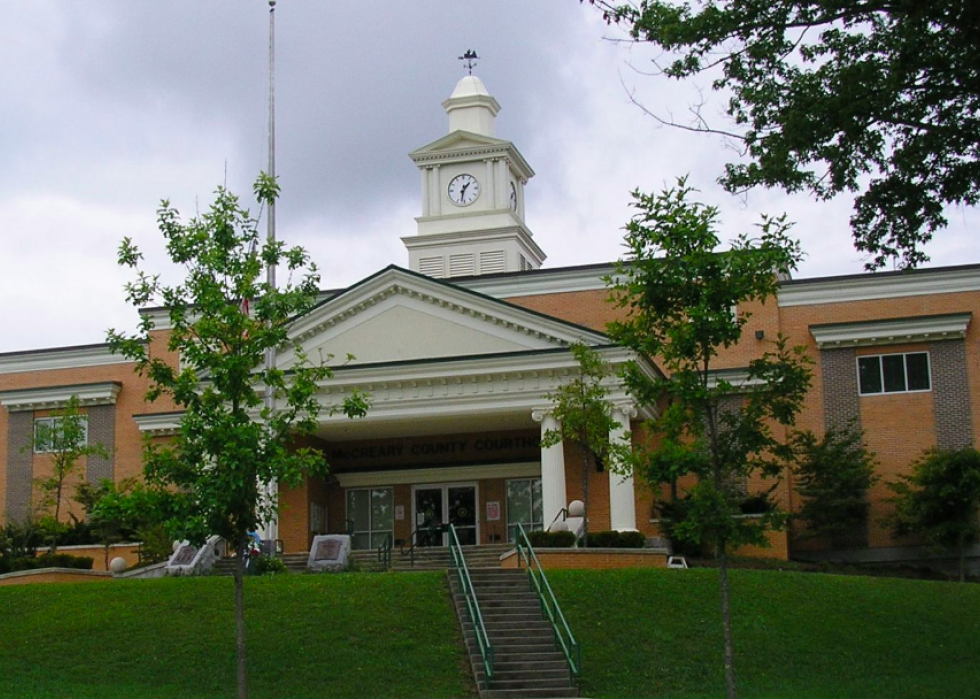 2 / 50
W.marsh // Wikimedia Commons
#49. McCreary County, KY
County residents in poverty: 5,404 (34.4% of residents, 159% greater than the national average)
Children ages 0–17 in poverty: 1,679 (45.6% of children, 151% greater than the national average)
Median household income: $28,024 (58% less than the national average)
Unemployment rate: 15.8% (139% greater than the national average)
Education rates: 26.6% of residents have not graduated high school (109% greater than the national average); 7.6% of residents have at least a bachelor's degree (75% less than the national average)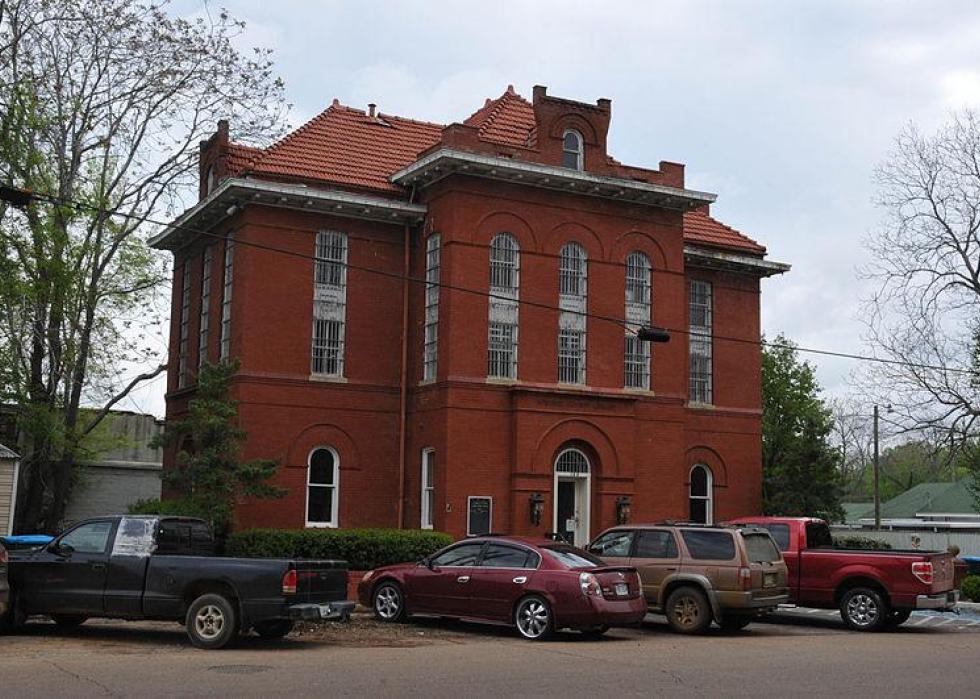 3 / 50
Jerry and Roy Klotz // Wikimedia Commons
#48. Noxubee County, MS
County residents in poverty: 3,645 (34.5% of residents, 159% greater than the national average)
Children ages 0–17 in poverty: 1,201 (45.8% of children, 152% greater than the national average)
Median household income: $30,130 (56% less than the national average)
Unemployment rate: 14.8% (124% greater than the national average)
Education rates: 31.8% of residents have not graduated high school (150% greater than the national average); 12.9% of residents have at least a bachelor's degree (58% less than the national average)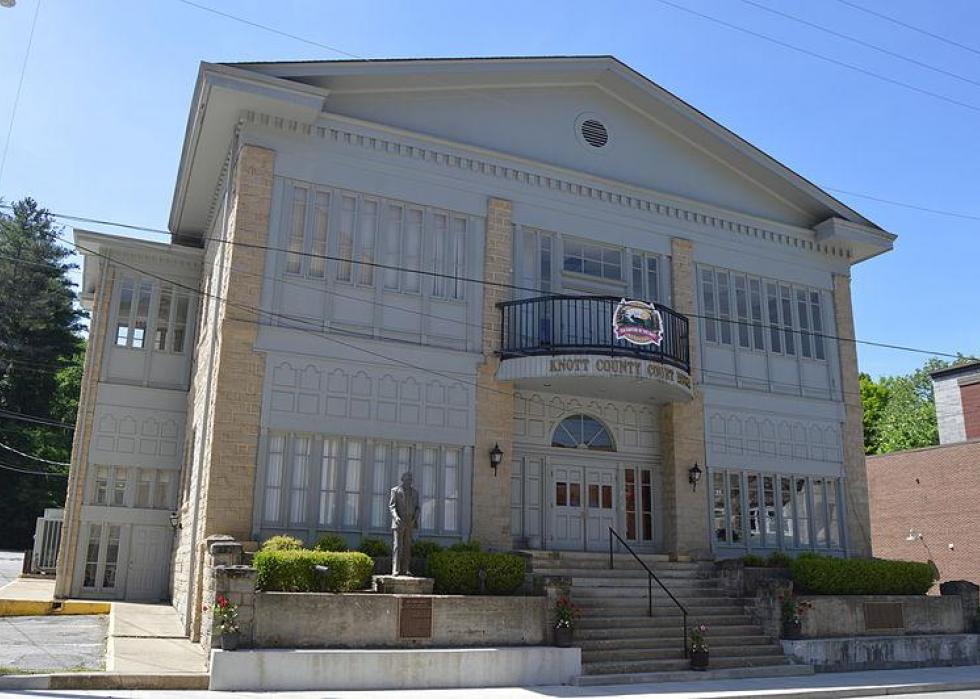 4 / 50
Nyttend Wikimedia Commons
#47. Knott County, KY
County residents in poverty: 5,033 (34.6% of residents, 160% greater than the national average)
Children ages 0–17 in poverty: 1,283 (42% of children, 131% greater than the national average)
Median household income: $31,788 (52% less than the national average)
Unemployment rate: 13.6% (106% greater than the national average)
Education rates: 26.6% of residents have not graduated high school (109% greater than the national average); 12.9% of residents have at least a bachelor's degree (58% less than the national average)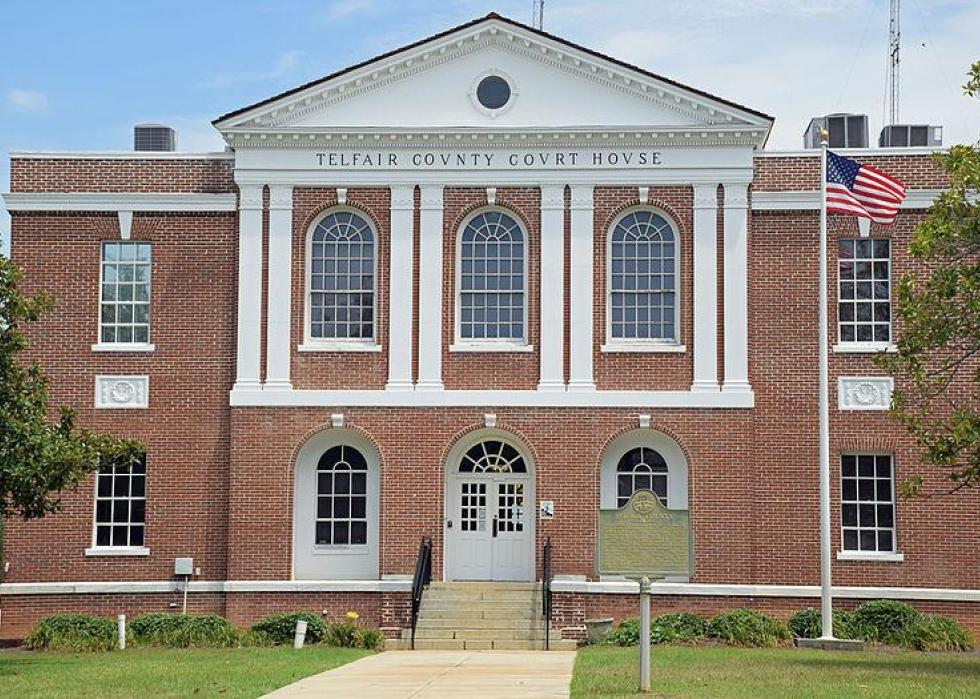 5 / 50
Bubba73 // Wikimedia Commons
#46. Telfair County, GA
County residents in poverty: 4,366 (34.6% of residents, 160% greater than the national average)
Children ages 0–17 in poverty: 1,108 (42.8% of children, 135% greater than the national average)
Median household income: $31,354 (54% less than the national average)
Unemployment rate: 4.1% (38% less than the national average)
Education rates: 29.6% of residents have not graduated high school (133% greater than the national average); 8.1% of residents have at least a bachelor's degree (74% less than the national average)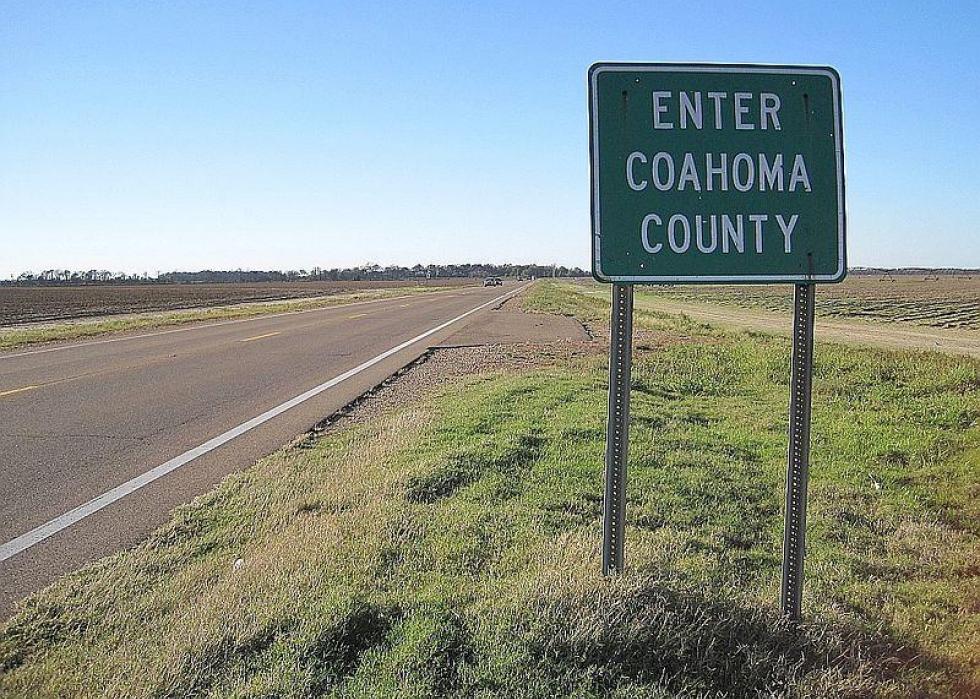 6 / 50
Thomas R Machnitzki // Wikimedia Commons
#45. Coahoma County, MS
County residents in poverty: 7,860 (34.8% of residents, 162% greater than the national average)
Children ages 0–17 in poverty: 3,127 (50.4% of children, 177% greater than the national average)
Median household income: $28,921 (57% less than the national average)
Unemployment rate: 19% (188% greater than the national average)
Education rates: 21.6% of residents have not graduated high school (70% greater than the national average); 16.9% of residents have at least a bachelor's degree (45% less than the national average)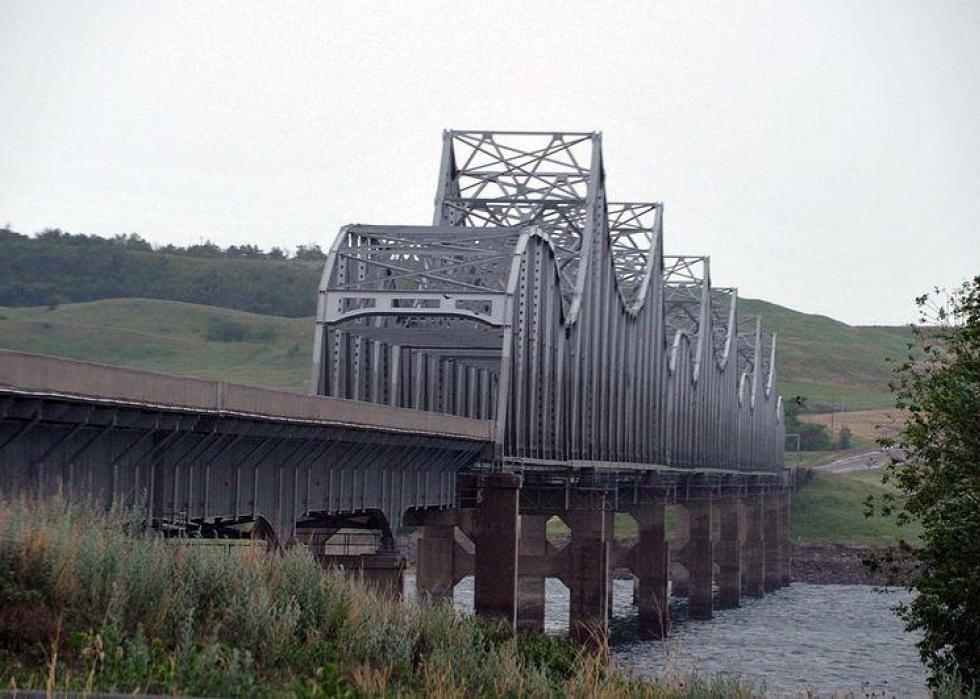 7 / 50
Jerry and Roy Klotz // Wikimedia Commons
#44. Dewey County, SD
County residents in poverty: 2,018 (34.9% of residents, 162% greater than the national average)
Children ages 0–17 in poverty: 882 (41.9% of children, 130% greater than the national average)
Median household income: $37,621 (44% less than the national average)
Unemployment rate: 2.3% (65% less than the national average)
Education rates: 8.9% of residents have not graduated high school (30% less than the national average); 21.8% of residents have at least a bachelor's degree (29% less than the national average)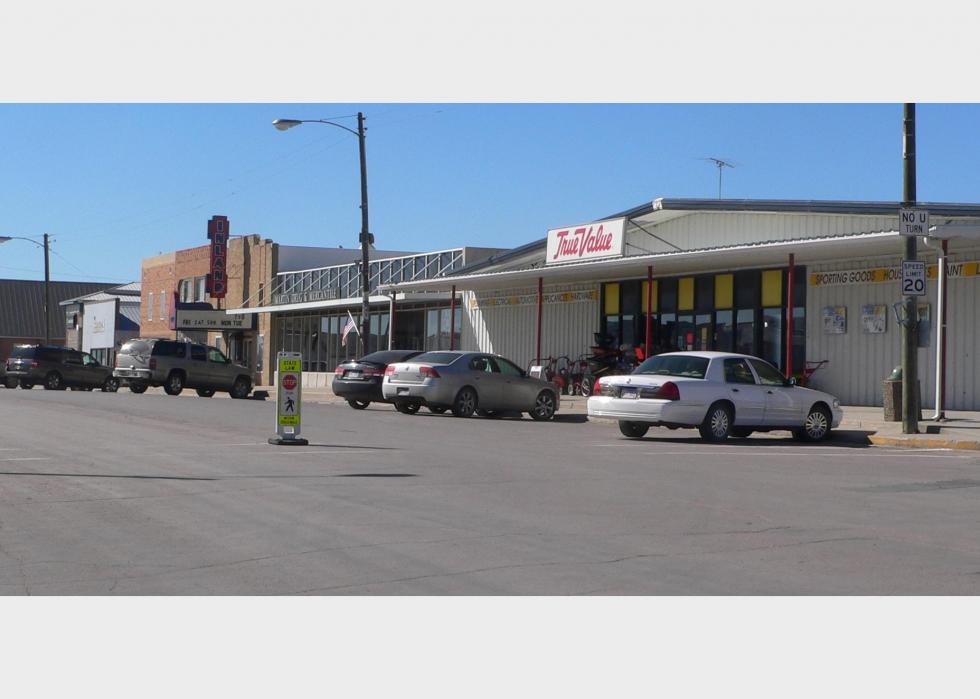 8 / 50
Ammodramus // Wikimedia Commons
#43. Bennett County, SD
County residents in poverty: 1,190 (34.9% of residents, 162% greater than the national average)
Children ages 0–17 in poverty: 590 (51.6% of children, 184% greater than the national average)
Median household income: $35,529 (47% less than the national average)
Unemployment rate: 13.5% (105% greater than the national average)
Education rates: 20.5% of residents have not graduated high school (61% greater than the national average); 17.3% of residents have at least a bachelor's degree (44% less than the national average)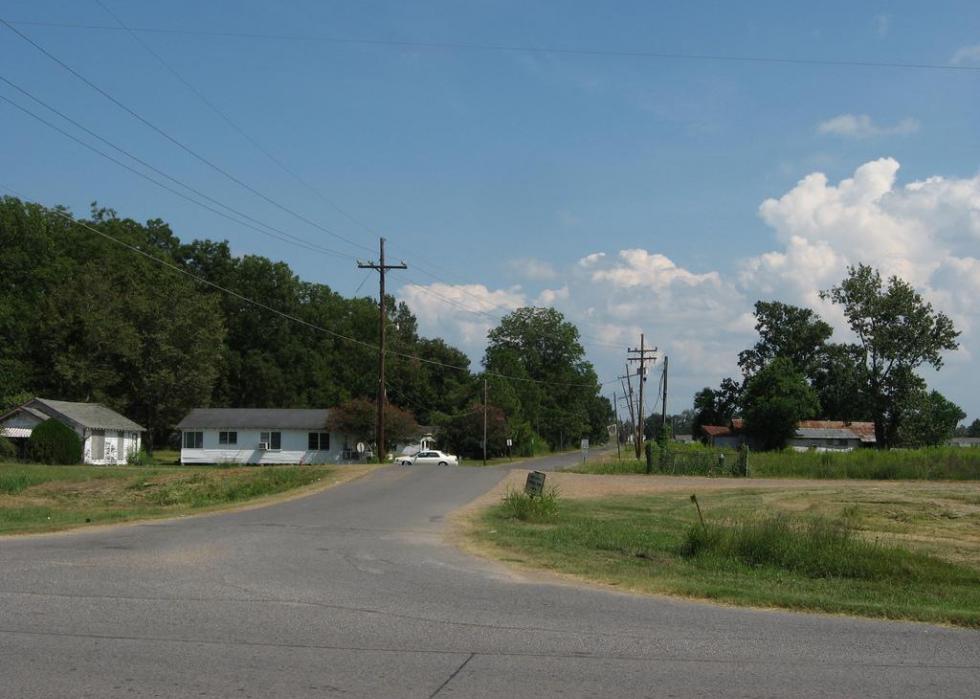 9 / 50
#42. Tensas Parish, LA
County residents in poverty: 1,603 (34.9% of residents, 162% greater than the national average)
Children ages 0–17 in poverty: 606 (55.1% of children, 203% greater than the national average)
Median household income: $27,959 (59% less than the national average)
Unemployment rate: 15.3% (132% greater than the national average)
Education rates: 23.8% of residents have not graduated high school (87% greater than the national average); 9.7% of residents have at least a bachelor's degree (69% less than the national average)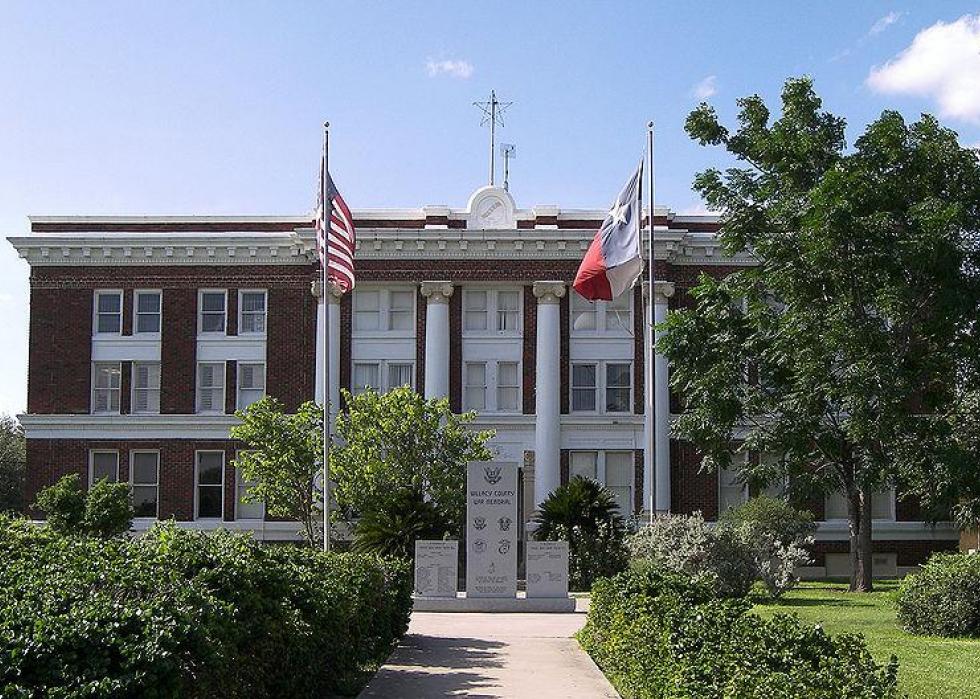 10 / 50
Larry D. Moore // Wikimedia Commons
#41. Willacy County, TX
County residents in poverty: 6,371 (35% of residents, 163% greater than the national average)
Children ages 0–17 in poverty: 2,259 (44.4% of children, 144% greater than the national average)
Median household income: $30,392 (55% less than the national average)
Unemployment rate: 14.5% (120% greater than the national average)
Education rates: 34.6% of residents have not graduated high school (172% greater than the national average); 9% of residents have at least a bachelor's degree (71% less than the national average)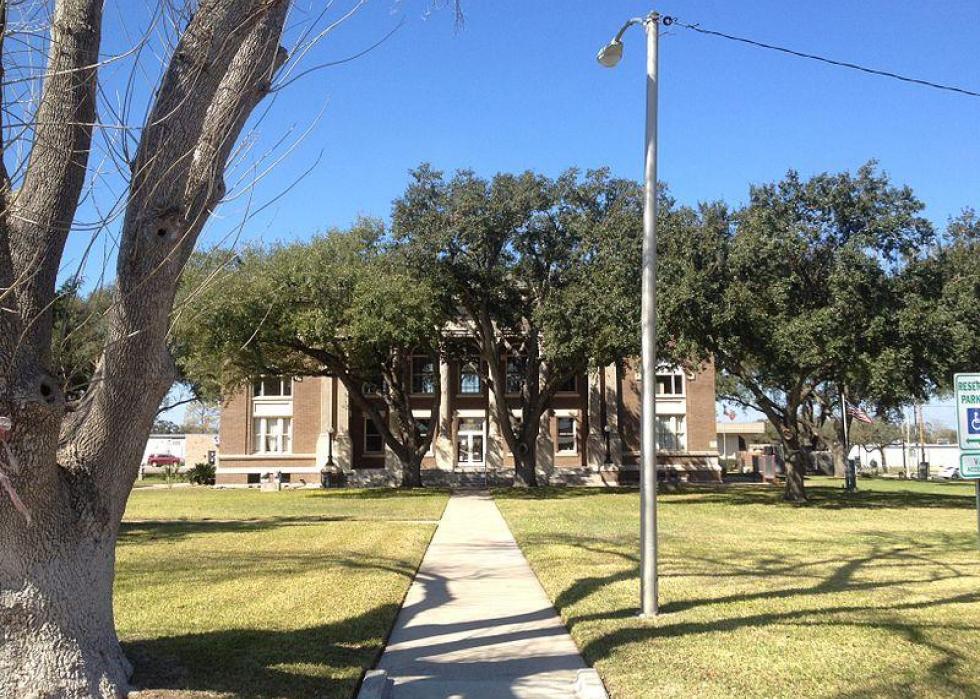 11 / 50
25or6to4 // Wikimedia Commons
#40. Brooks County, TX
County residents in poverty: 2,509 (35% of residents, 163% greater than the national average)
Children ages 0–17 in poverty: 1,080 (52.5% of children, 188% greater than the national average)
Median household income: $28,106 (59% less than the national average)
Unemployment rate: 13.6% (106% greater than the national average)
Education rates: 19.5% of residents have not graduated high school (54% greater than the national average); 13.6% of residents have at least a bachelor's degree (56% less than the national average)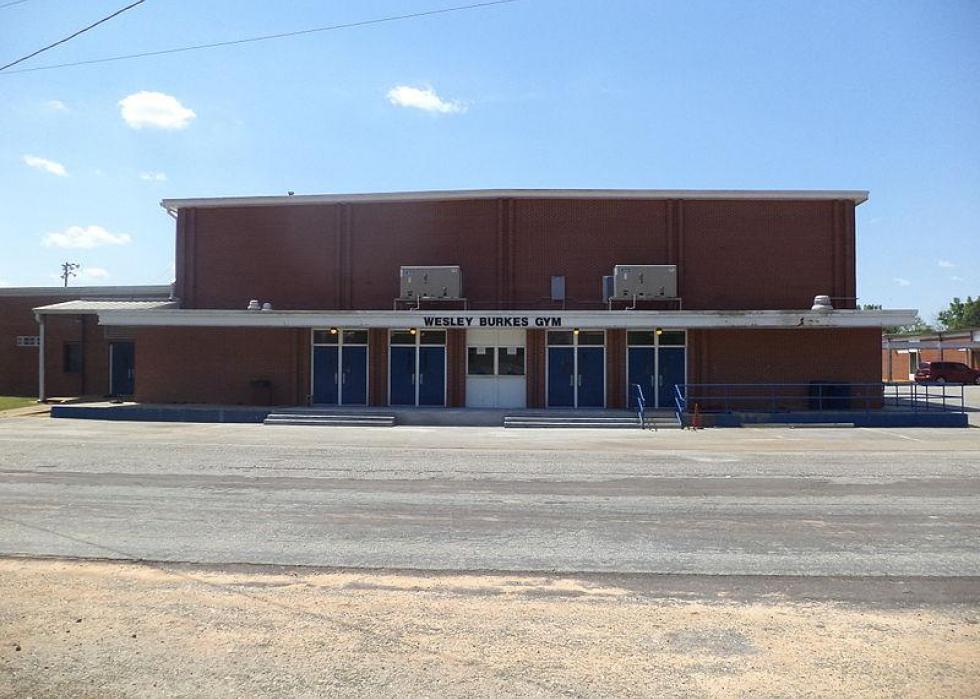 12 / 50
Michael Rivera // Wikimedia Commons
#39. Calhoun County, GA
County residents in poverty: 1,662 (35.1% of residents, 164% greater than the national average)
Children ages 0–17 in poverty: 449 (40.2% of children, 121% greater than the national average)
Median household income: $33,889 (50% less than the national average)
Unemployment rate: 10.1% (53% greater than the national average)
Education rates: 16.8% of residents have not graduated high school (32% greater than the national average); 17.9% of residents have at least a bachelor's degree (42% less than the national average)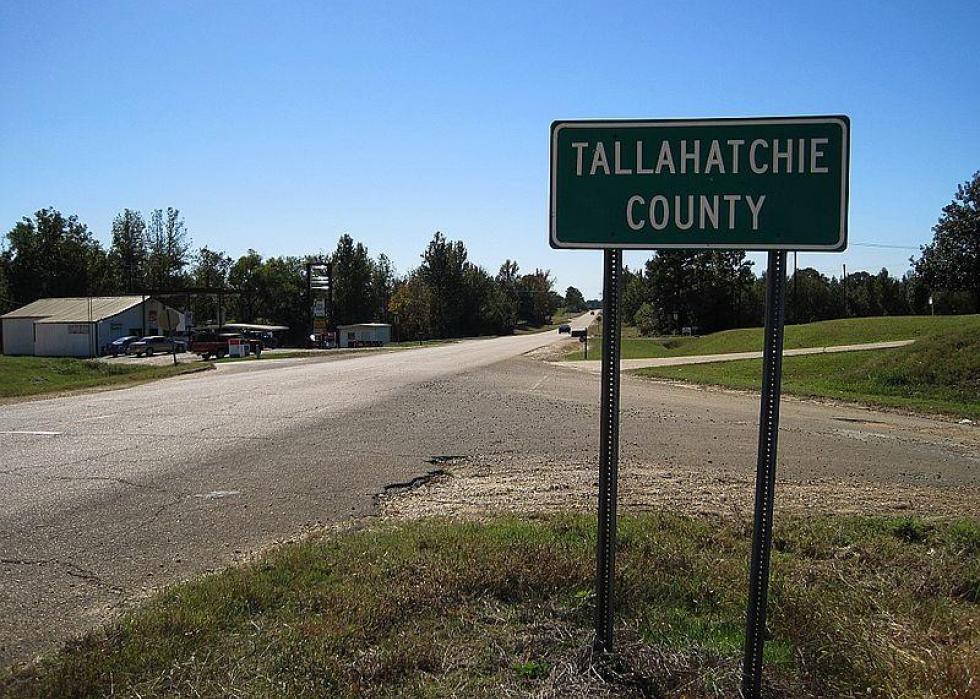 13 / 50
Thomas R Machnitzki // Wikimedia Commons
#38. Tallahatchie County, MS
County residents in poverty: 4,104 (35.2% of residents, 165% greater than the national average)
Children ages 0–17 in poverty: 1,137 (41.7% of children, 129% greater than the national average)
Median household income: $30,998 (54% less than the national average)
Unemployment rate: 13.7% (108% greater than the national average)
Education rates: 29.1% of residents have not graduated high school (129% greater than the national average); 10.1% of residents have at least a bachelor's degree (67% less than the national average)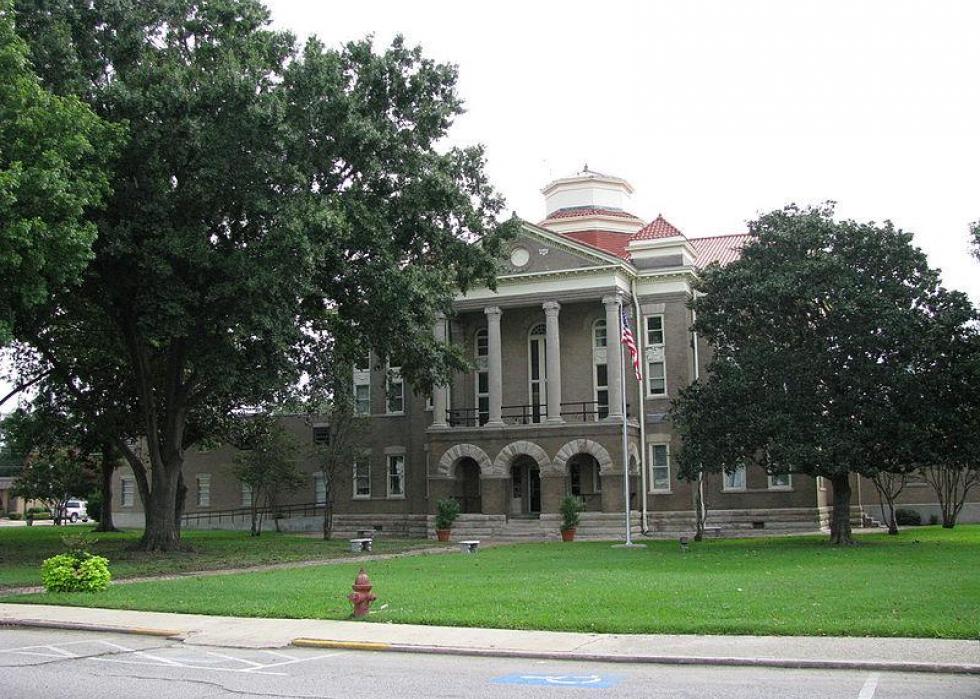 14 / 50
Natalie maynor // Wikimedia Commons
#37. Sharkey County, MS
County residents in poverty: 1,548 (35.5% of residents, 167% greater than the national average)
Children ages 0–17 in poverty: 550 (51% of children, 180% greater than the national average)
Median household income: $28,842 (58% less than the national average)
Unemployment rate: 14.9% (126% greater than the national average)
Education rates: 24.7% of residents have not graduated high school (94% greater than the national average); 21.5% of residents have at least a bachelor's degree (30% less than the national average)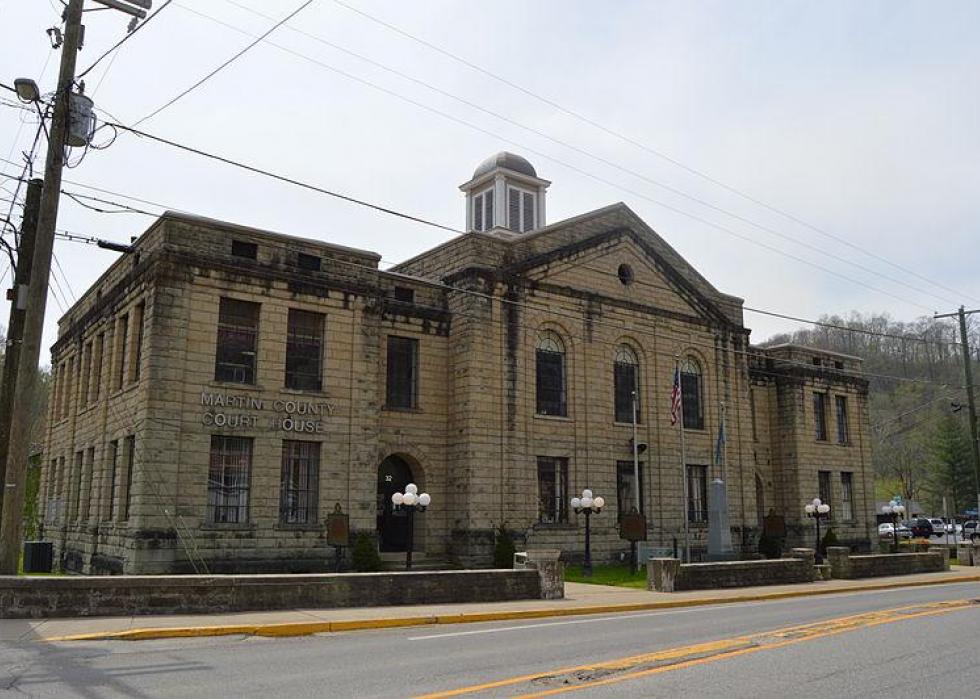 15 / 50
Nyttend // Wikimedia Commons
#36. Martin County, KY
County residents in poverty: 3,591 (35.8% of residents, 169% greater than the national average)
Children ages 0–17 in poverty: 1,028 (45.9% of children, 152% greater than the national average)
Median household income: $30,177 (55% less than the national average)
Unemployment rate: 6.5% (2% less than the national average)
Education rates: 9.7% of residents have not graduated high school (24% less than the national average); 32.3% of residents have at least a bachelor's degree (5% greater than the national average)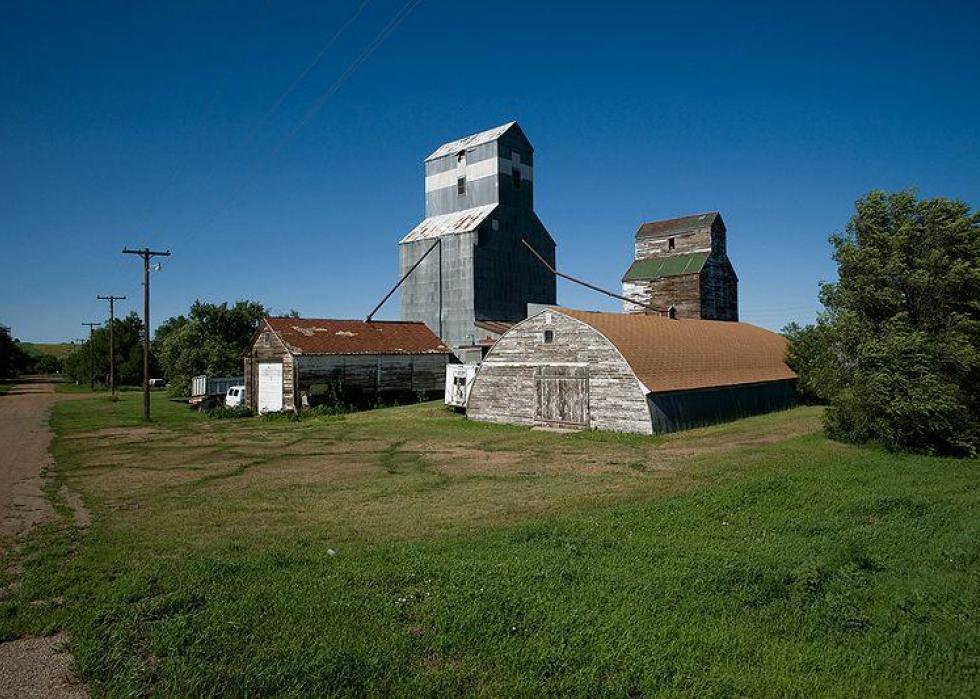 16 / 50
Andrew Filer // Wikimedia Commons
#35. Sioux County, ND
County residents in poverty: 1,541 (35.9% of residents, 170% greater than the national average)
Children ages 0–17 in poverty: 676 (42.7% of children, 135% greater than the national average)
Median household income: $34,705 (49% less than the national average)
Unemployment rate: 2.2% (67% less than the national average)
Education rates: 10% of residents have not graduated high school (21% less than the national average); 27.5% of residents have at least a bachelor's degree (11% less than the national average)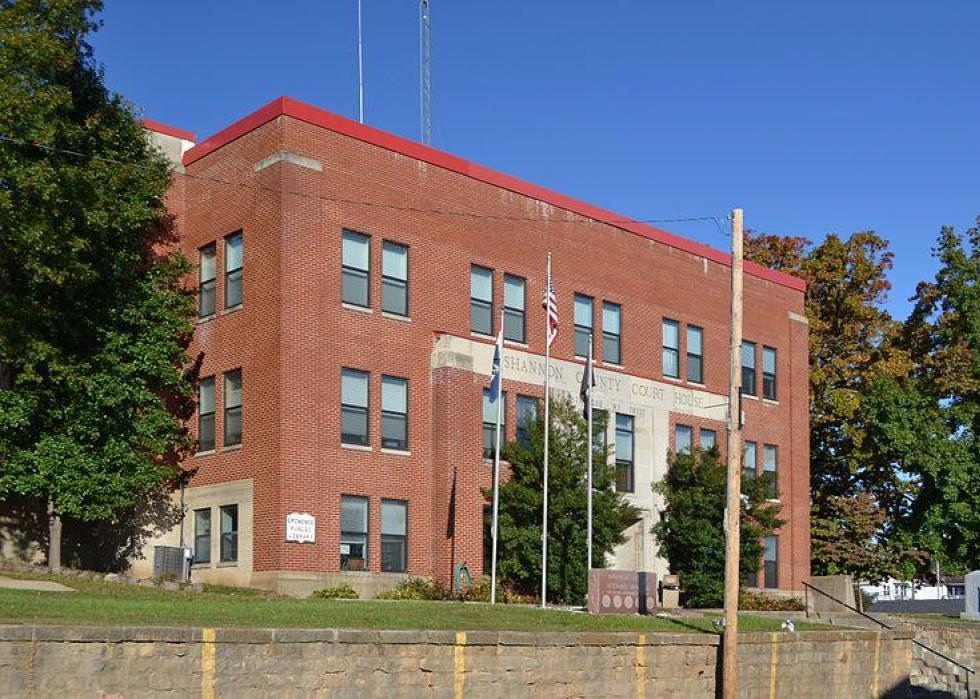 17 / 50
Kbh3rd // Wikimedia Commons
#34. Shannon County, MO
County residents in poverty: 2,923 (35.9% of residents, 170% greater than the national average)
Children ages 0–17 in poverty: 918 (53.1% of children, 192% greater than the national average)
Median household income: $29,152 (57% less than the national average)
Unemployment rate: 8.1% (23% greater than the national average)
Education rates: 18.1% of residents have not graduated high school (43% greater than the national average); 14.2% of residents have at least a bachelor's degree (54% less than the national average)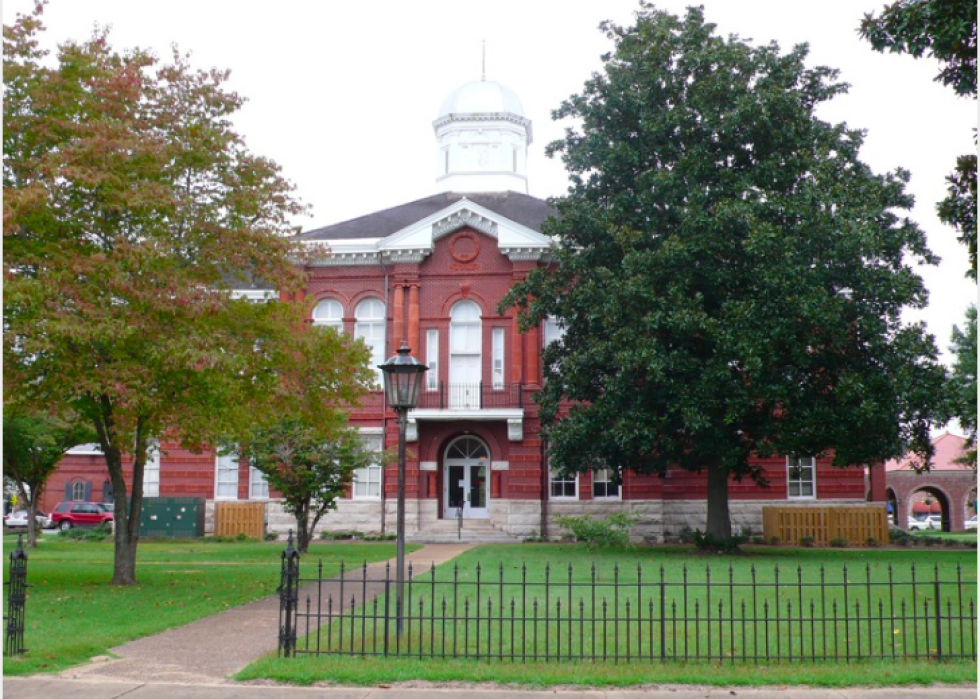 18 / 50
DwayneP // Wikimedia Commons
#33. Sumter County, AL
County residents in poverty: 4,238 (35.9% of residents, 170% greater than the national average)
Children ages 0–17 in poverty: 1,125 (46.1% of children, 153% greater than the national average)
Median household income: $26,495 (61% less than the national average)
Unemployment rate: 13.4% (103% greater than the national average)
Education rates: 17.3% of residents have not graduated high school (36% greater than the national average); 18.2% of residents have at least a bachelor's degree (41% less than the national average)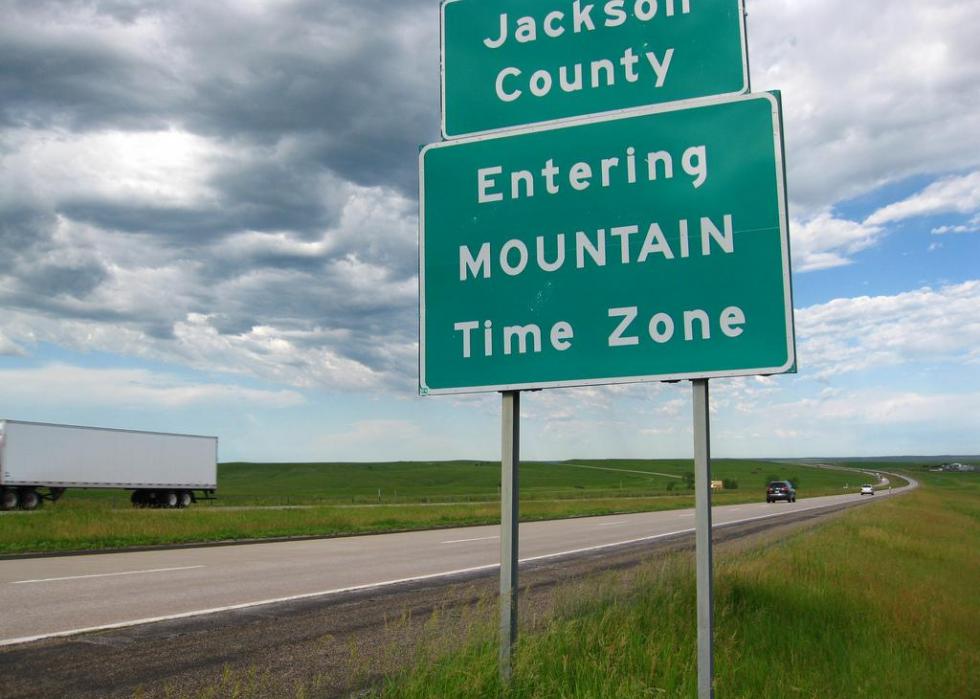 19 / 50
#32. Jackson County, SD
County residents in poverty: 1,174 (36.2% of residents, 172% greater than the national average)
Children ages 0–17 in poverty: 504 (48.3% of children, 165% greater than the national average)
Median household income: $32,023 (53% less than the national average)
Unemployment rate: 7.7% (17% greater than the national average)
Education rates: 18.6% of residents have not graduated high school (46% greater than the national average); 13.4% of residents have at least a bachelor's degree (57% less than the national average)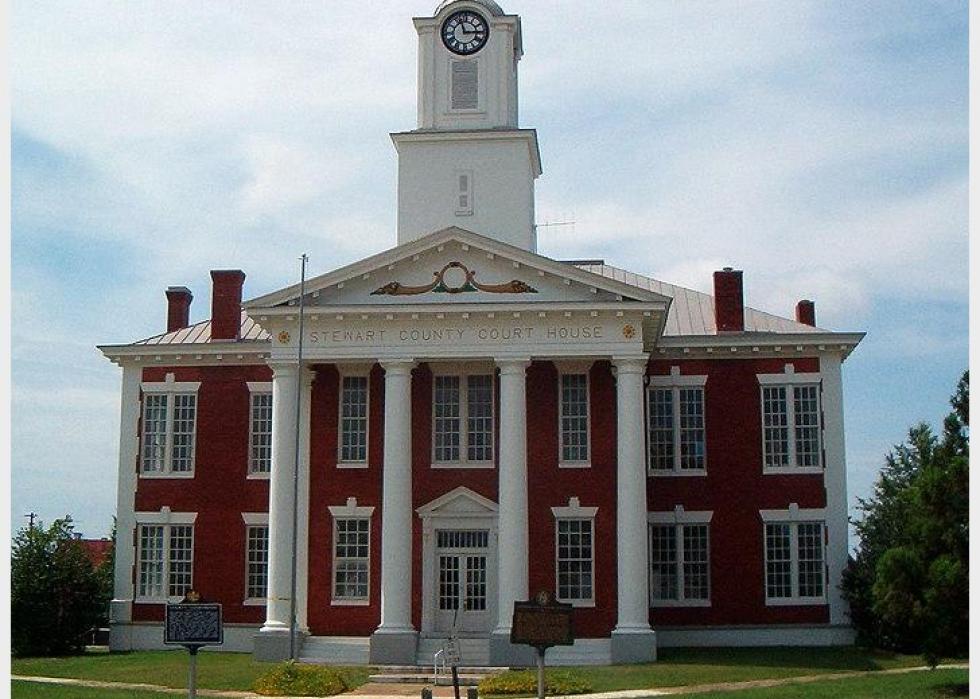 20 / 50
Robbie Honerkamp // Wikimedia Commons
#31. Stewart County, GA
County residents in poverty: 1,601 (36.2% of residents, 172% greater than the national average)
Children ages 0–17 in poverty: 304 (38.6% of children, 112% greater than the national average)
Median household income: $31,800 (53% less than the national average)
Unemployment rate: 11.8% (79% greater than the national average)
Education rates: 34.3% of residents have not graduated high school (170% greater than the national average); 12.4% of residents have at least a bachelor's degree (60% less than the national average)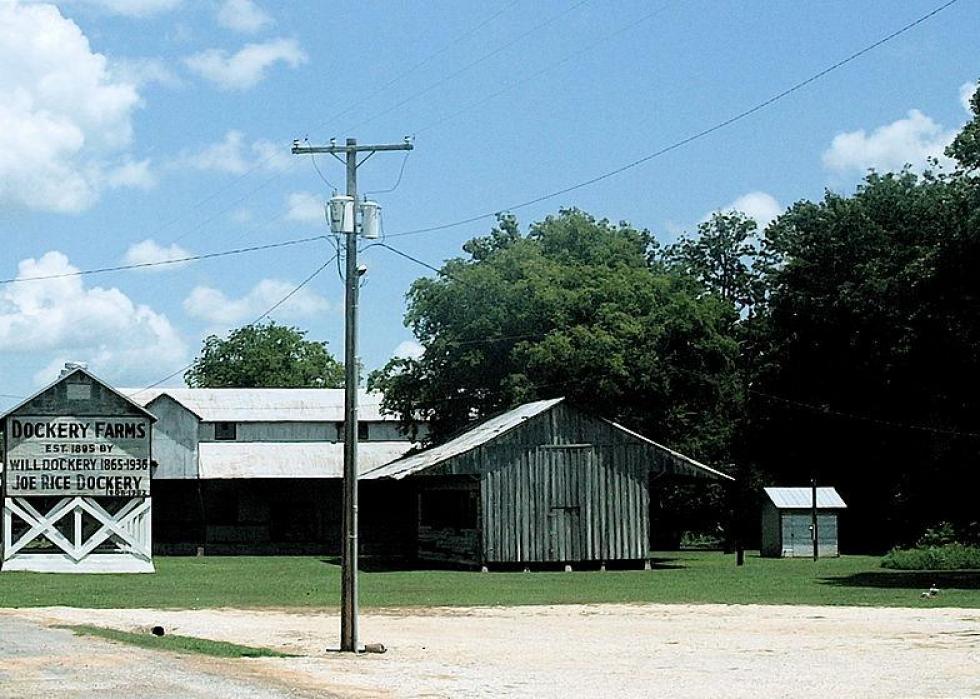 21 / 50
The old perfessor // Wikimedia Commons
#30. Sunflower County, MS
County residents in poverty: 7,966 (36.2% of residents, 172% greater than the national average)
Children ages 0–17 in poverty: 2,798 (47.8% of children, 163% greater than the national average)
Median household income: $29,704 (56% less than the national average)
Unemployment rate: 17.6% (167% greater than the national average)
Education rates: 27.8% of residents have not graduated high school (119% greater than the national average); 14.5% of residents have at least a bachelor's degree (53% less than the national average)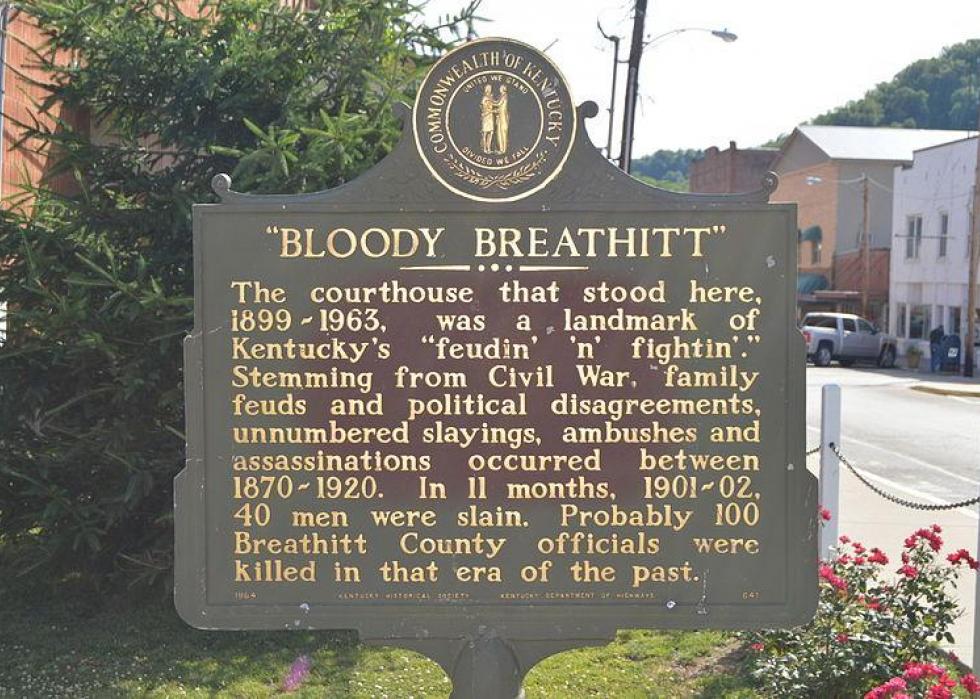 22 / 50
Nyttend // Wikimedia Commons
#29. Breathitt County, KY
County residents in poverty: 4,592 (36.2% of residents, 172% greater than the national average)
Children ages 0–17 in poverty: 1,130 (44.5% of children, 145% greater than the national average)
Median household income: $27,372 (59% less than the national average)
Unemployment rate: 11.9% (80% greater than the national average)
Education rates: 27.2% of residents have not graduated high school (114% greater than the national average); 12.6% of residents have at least a bachelor's degree (59% less than the national average)
23 / 50
K smith8907 // Wikimedia Commons
#28. Bell County, KY
County residents in poverty: 9,494 (36.7% of residents, 176% greater than the national average)
Children ages 0–17 in poverty: 2,533 (45.5% of children, 150% greater than the national average)
Median household income: $28,150 (58% less than the national average)
Unemployment rate: 9% (36% greater than the national average)
Education rates: 32.8% of residents have not graduated high school (158% greater than the national average); 9.3% of residents have at least a bachelor's degree (70% less than the national average)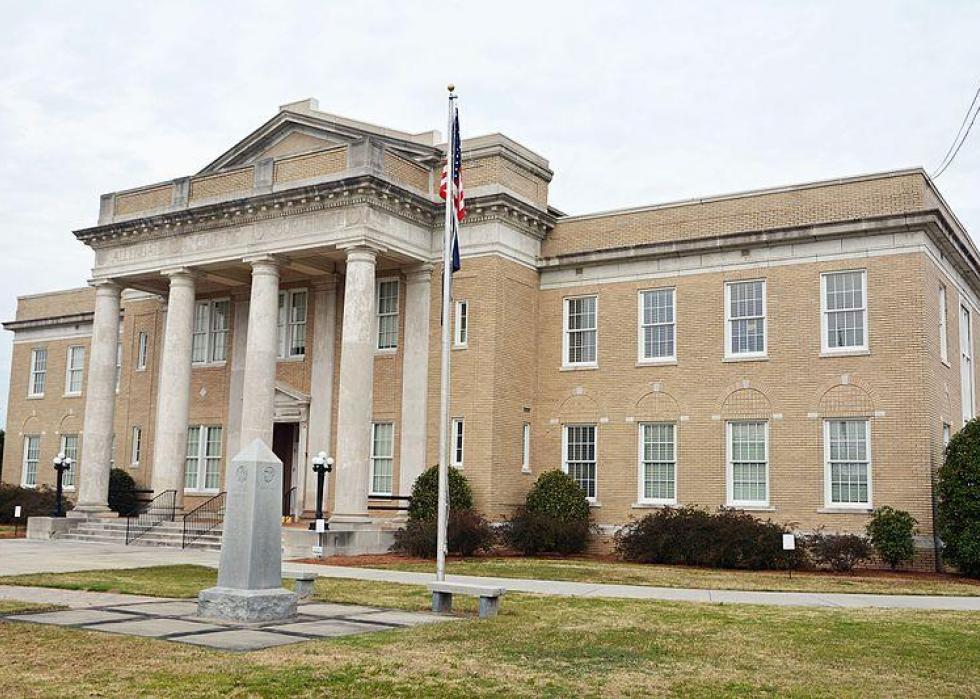 24 / 50
Bubba73 // Wikimedia Commons
#27. Allendale County, SC
County residents in poverty: 2,892 (36.7% of residents, 176% greater than the national average)
Children ages 0–17 in poverty: 825 (48.6% of children, 167% greater than the national average)
Median household income: $28,135 (59% less than the national average)
Unemployment rate: 17.3% (162% greater than the national average)
Education rates: 25.8% of residents have not graduated high school (103% greater than the national average); 9.4% of residents have at least a bachelor's degree (70% less than the national average)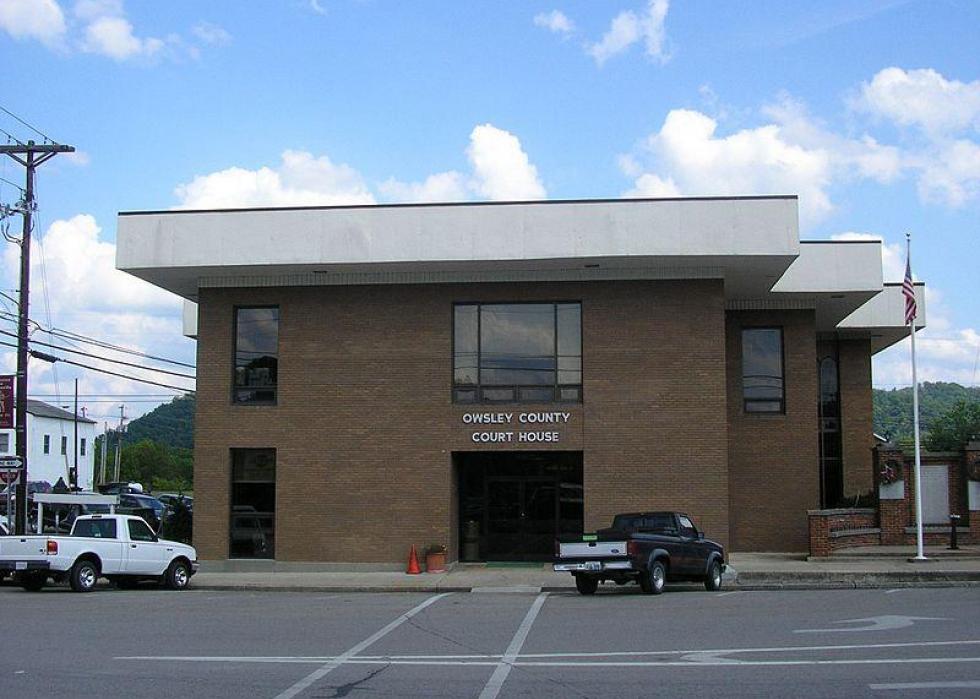 25 / 50
W.marsh // Wikimedia Commons
#26. Owsley County, KY
County residents in poverty: 1,594 (36.8% of residents, 177% greater than the national average)
Children ages 0–17 in poverty: 464 (49.2% of children, 170% greater than the national average)
Median household income: $25,344 (63% less than the national average)
Unemployment rate: 12.5% (89% greater than the national average)
Education rates: 29.9% of residents have not graduated high school (135% greater than the national average); 15.7% of residents have at least a bachelor's degree (49% less than the national average)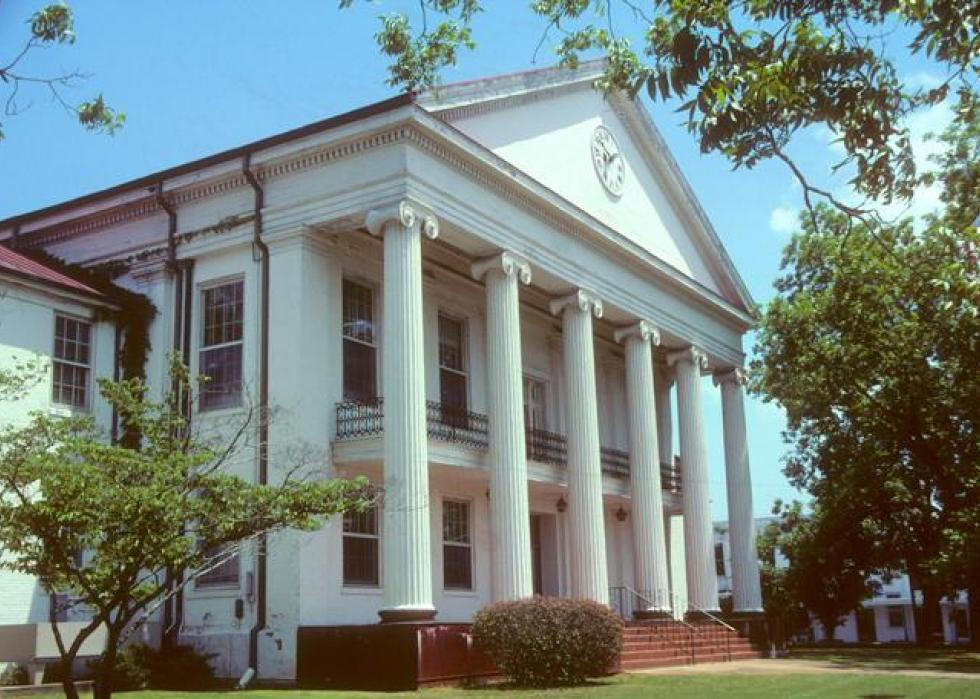 26 / 50
Calvin Beale // Wikimedia Commons
#25. Perry County, AL
County residents in poverty: 3,180 (37.2% of residents, 180% greater than the national average)
Children ages 0–17 in poverty: 1,029 (51.3% of children, 182% greater than the national average)
Median household income: $26,703 (61% less than the national average)
Unemployment rate: 11.8% (79% greater than the national average)
Education rates: 20% of residents have not graduated high school (57% greater than the national average); 16.9% of residents have at least a bachelor's degree (45% less than the national average)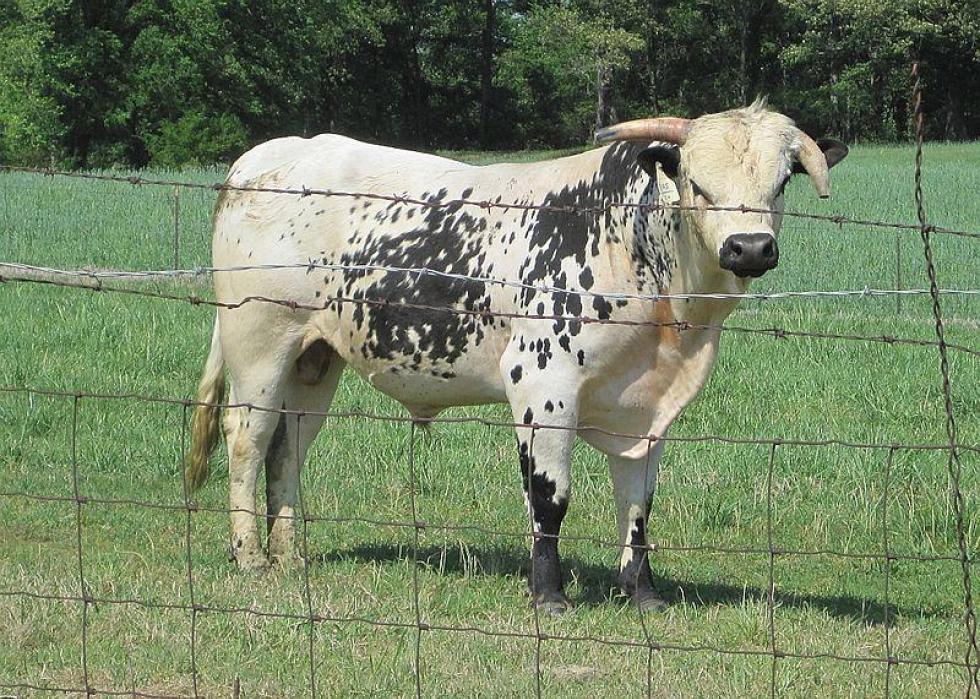 27 / 50
Thomas R Machnitzki // Wikimedia Commons
#24. Lee County, AR
County residents in poverty: 2,760 (37.3% of residents, 180% greater than the national average)
Children ages 0–17 in poverty: 750 (44.9% of children, 147% greater than the national average)
Median household income: $28,875 (58% less than the national average)
Unemployment rate: 5.7% (14% less than the national average)
Education rates: 10.1% of residents have not graduated high school (20% less than the national average); 34.9% of residents have at least a bachelor's degree (13% greater than the national average)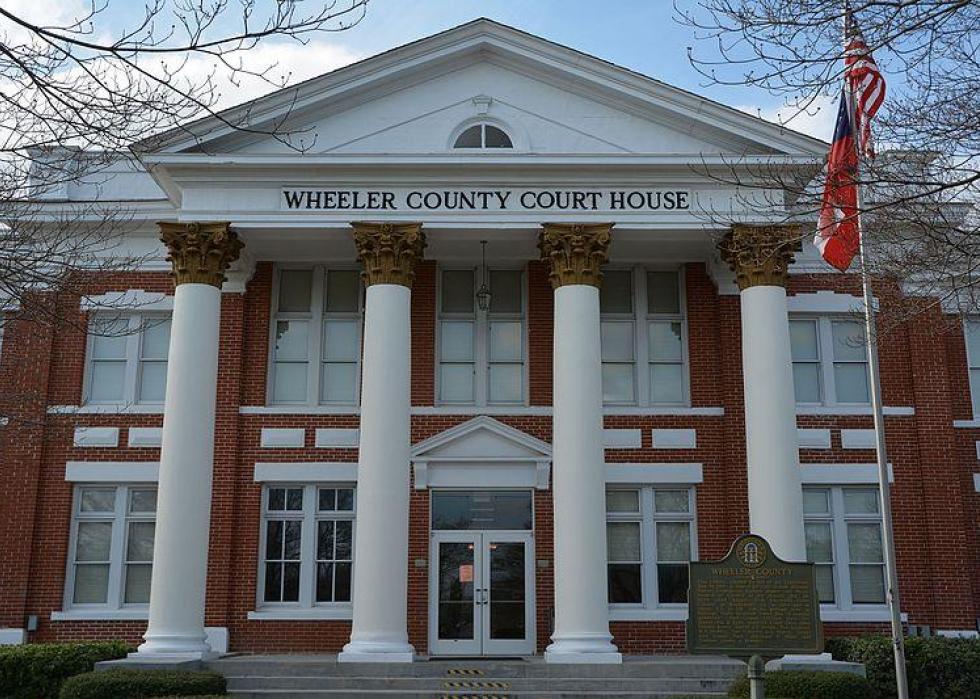 28 / 50
Bubba73 // Wikimedia Commons
#23. Wheeler County, GA
County residents in poverty: 2,010 (37.4% of residents, 181% greater than the national average)
Children ages 0–17 in poverty: 533 (39.9% of children, 119% greater than the national average)
Median household income: $31,001 (55% less than the national average)
Unemployment rate: 9.1% (38% greater than the national average)
Education rates: 23.1% of residents have not graduated high school (82% greater than the national average); 8.1% of residents have at least a bachelor's degree (74% less than the national average)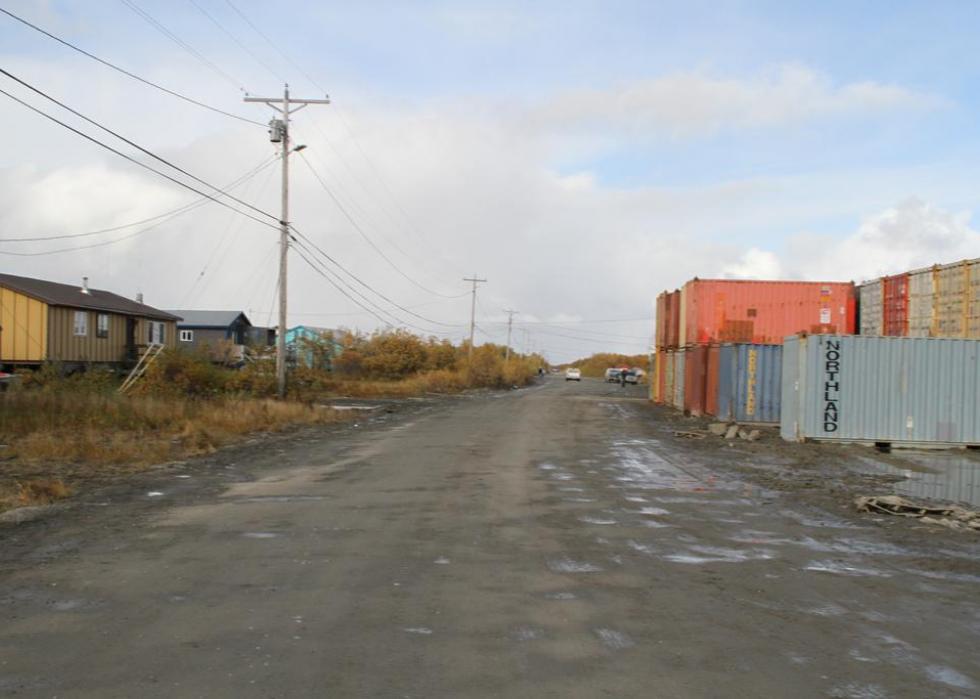 29 / 50
#22. Kusilvak Census Area, AK
County residents in poverty: 3,050 (37.5% of residents, 182% greater than the national average)
Children ages 0–17 in poverty: 1,501 (45.3% of children, 149% greater than the national average)
Median household income: $31,250 (52% less than the national average)
Unemployment rate: 28.8% (336% greater than the national average)
Education rates: 21.8% of residents have not graduated high school (72% greater than the national average); 4.9% of residents have at least a bachelor's degree (84% less than the national average)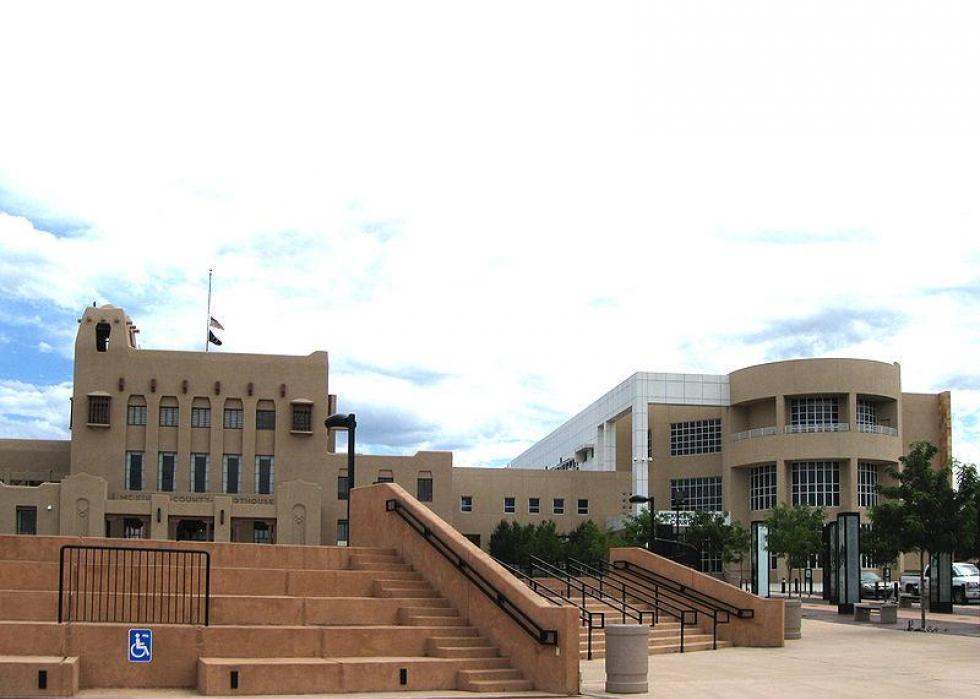 30 / 50
#21. McKinley County, NM
County residents in poverty: 27,143 (37.8% of residents, 184% greater than the national average)
Children ages 0–17 in poverty: 9,568 (45.9% of children, 152% greater than the national average)
Median household income: $31,746 (50% less than the national average)
Unemployment rate: 16.1% (144% greater than the national average)
Education rates: 25.2% of residents have not graduated high school (98% greater than the national average); 10.8% of residents have at least a bachelor's degree (65% less than the national average)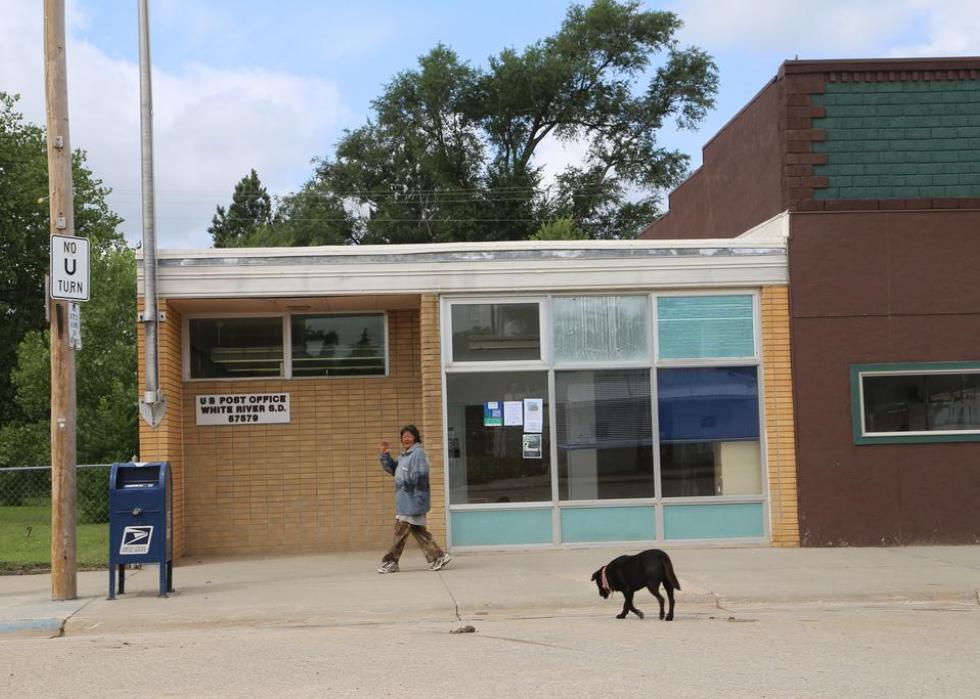 31 / 50
#20. Mellette County, SD
County residents in poverty: 771 (38% of residents, 186% greater than the national average)
Children ages 0–17 in poverty: 304 (49% of children, 169% greater than the national average)
Median household income: $32,358 (52% less than the national average)
Unemployment rate: 6.6% (% less than the national average)
Education rates: 18.3% of residents have not graduated high school (44% greater than the national average); 15.2% of residents have at least a bachelor's degree (51% less than the national average)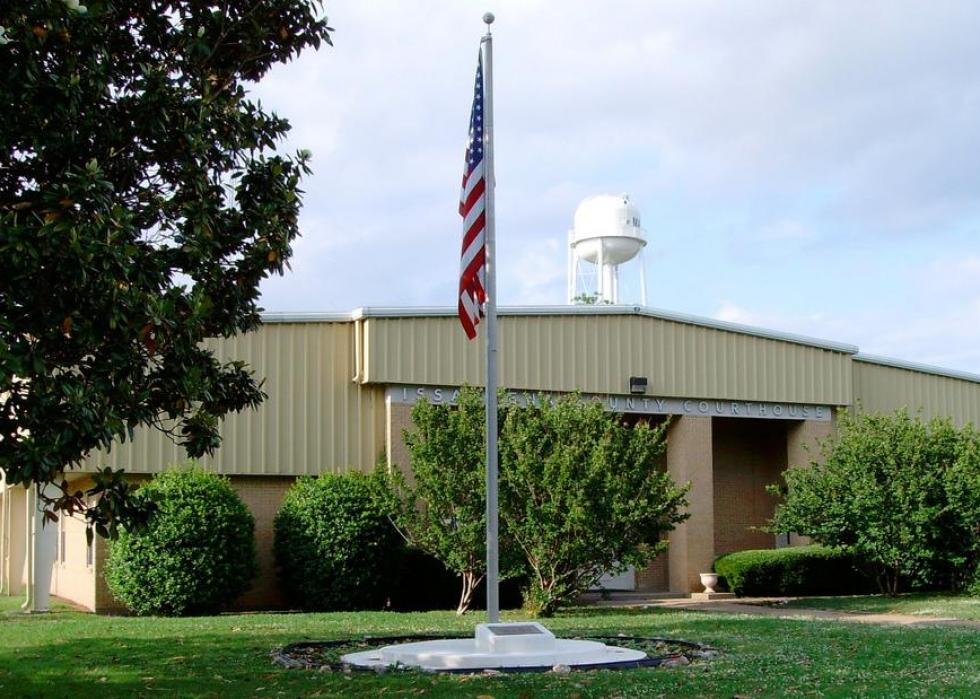 32 / 50
courthouselover // Flickr
#19. Issaquena County, MS
County residents in poverty: 401 (38.1% of residents, 186% greater than the national average)
Children ages 0–17 in poverty: 70 (50% of children, 175% greater than the national average)
Median household income: $28,075 (59% less than the national average)
Unemployment rate: 12.6% (91% greater than the national average)
Education rates: 34.4% of residents have not graduated high school (171% greater than the national average); 6.1% of residents have at least a bachelor's degree (80% less than the national average)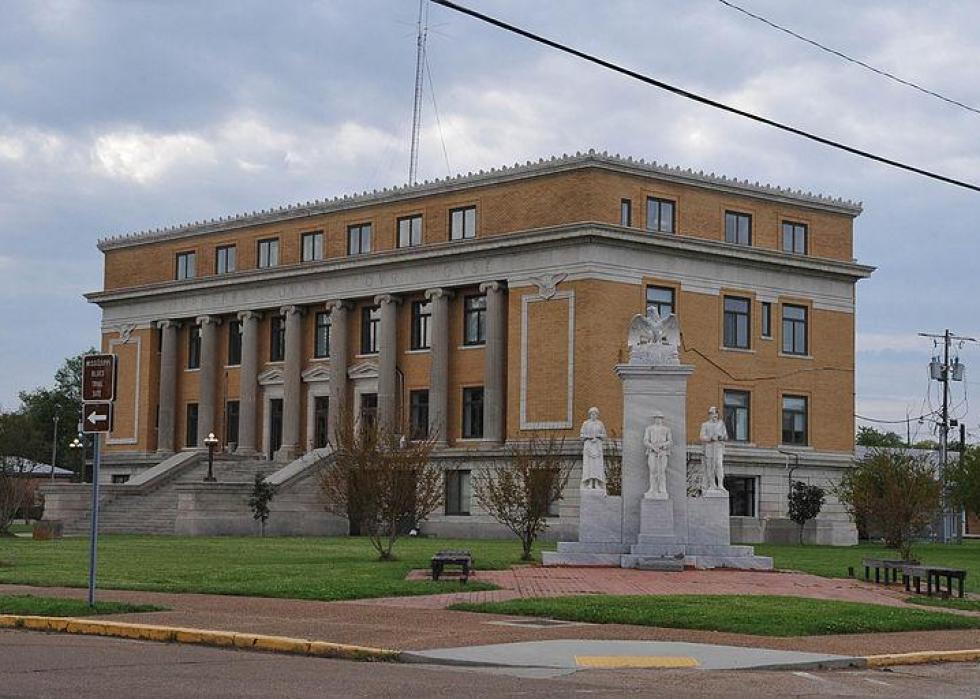 33 / 50
Jerry and Roy Klotz // Wikimedia Commons
#18. Humphreys County, MS
County residents in poverty: 3,166 (38.4% of residents, 189% greater than the national average)
Children ages 0–17 in poverty: 1,222 (56.2% of children, 209% greater than the national average)
Median household income: $26,489 (61% less than the national average)
Unemployment rate: 21.1% (220% greater than the national average)
Education rates: 31.7% of residents have not graduated high school (150% greater than the national average); 13.6% of residents have at least a bachelor's degree (56% less than the national average)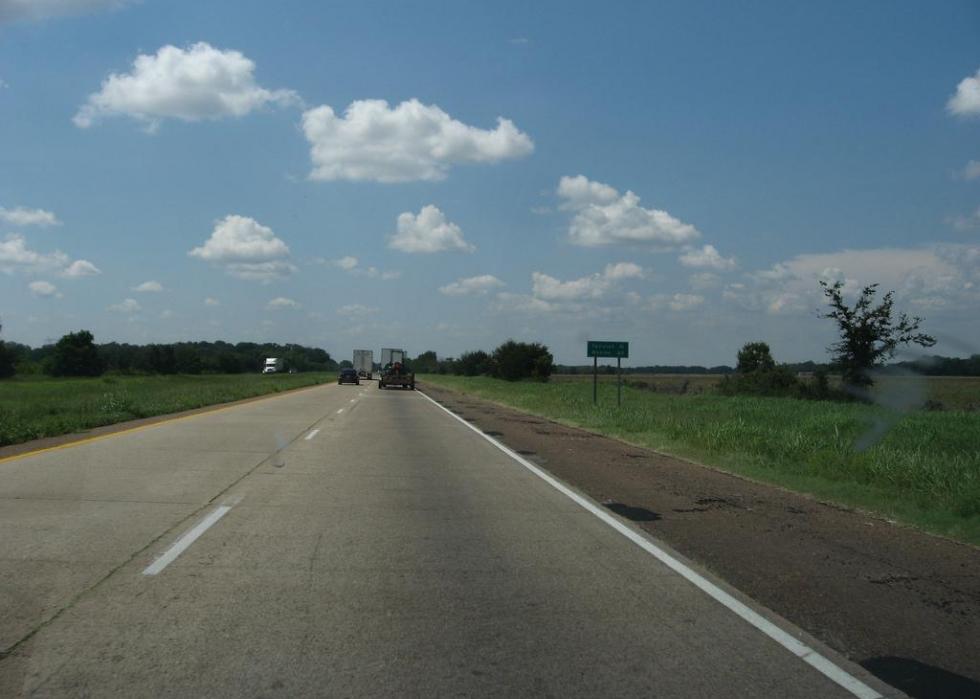 34 / 50
#17. Madison Parish, LA
County residents in poverty: 3,788 (38.9% of residents, 192% greater than the national average)
Children ages 0–17 in poverty: 1,400 (52.2% of children, 187% greater than the national average)
Median household income: $29,507 (56% less than the national average)
Unemployment rate: 12.3% (86% greater than the national average)
Education rates: 24.7% of residents have not graduated high school (94% greater than the national average); 13.4% of residents have at least a bachelor's degree (57% less than the national average)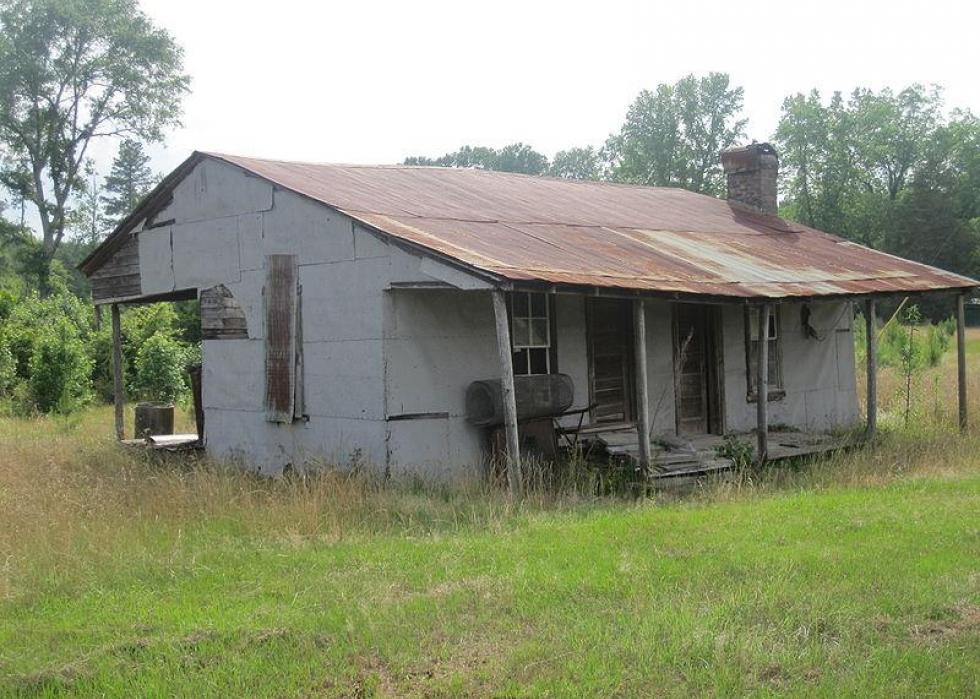 35 / 50
Billy Hathorn // Wikimedia Commons
#16. Claiborne Parish, LA
County residents in poverty: 5,145 (39.5% of residents, 197% greater than the national average)
Children ages 0–17 in poverty: 1,350 (47.6% of children, 162% greater than the national average)
Median household income: $34,109 (50% less than the national average)
Unemployment rate: 9.4% (42% greater than the national average)
Education rates: 20.6% of residents have not graduated high school (62% greater than the national average); 14% of residents have at least a bachelor's degree (55% less than the national average)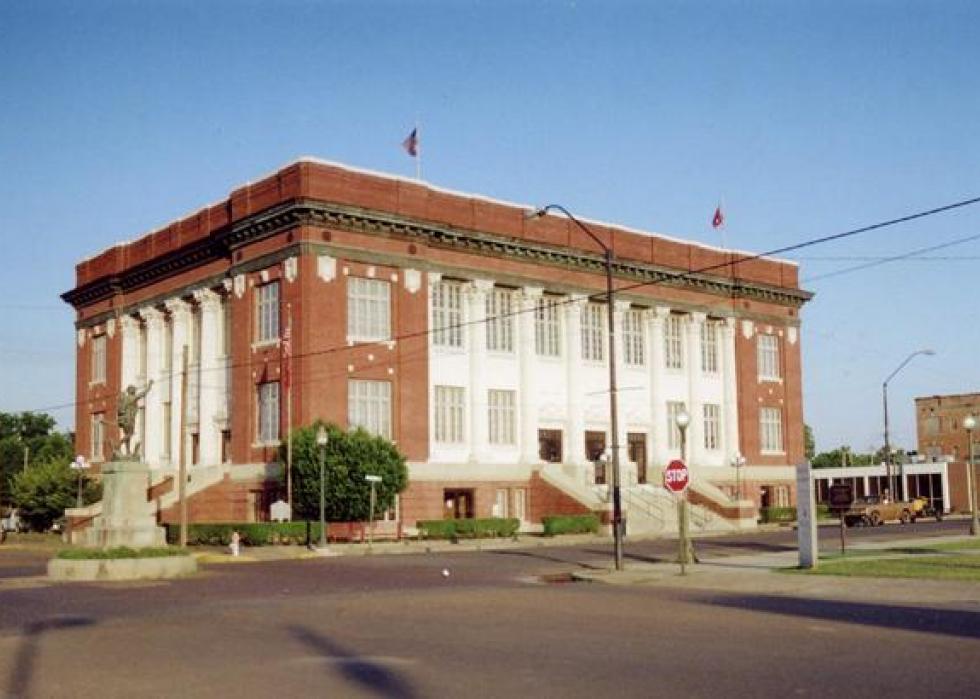 36 / 50
Calvin Beale // Wikimedia Commons
#15. Phillips County, AR
County residents in poverty: 7,288 (39.8% of residents, 199% greater than the national average)
Children ages 0–17 in poverty: 2,819 (59.4% of children, 226% greater than the national average)
Median household income: $27,663 (59% less than the national average)
Unemployment rate: 15.7% (138% greater than the national average)
Education rates: 24.2% of residents have not graduated high school (91% greater than the national average); 11.3% of residents have at least a bachelor's degree (63% less than the national average)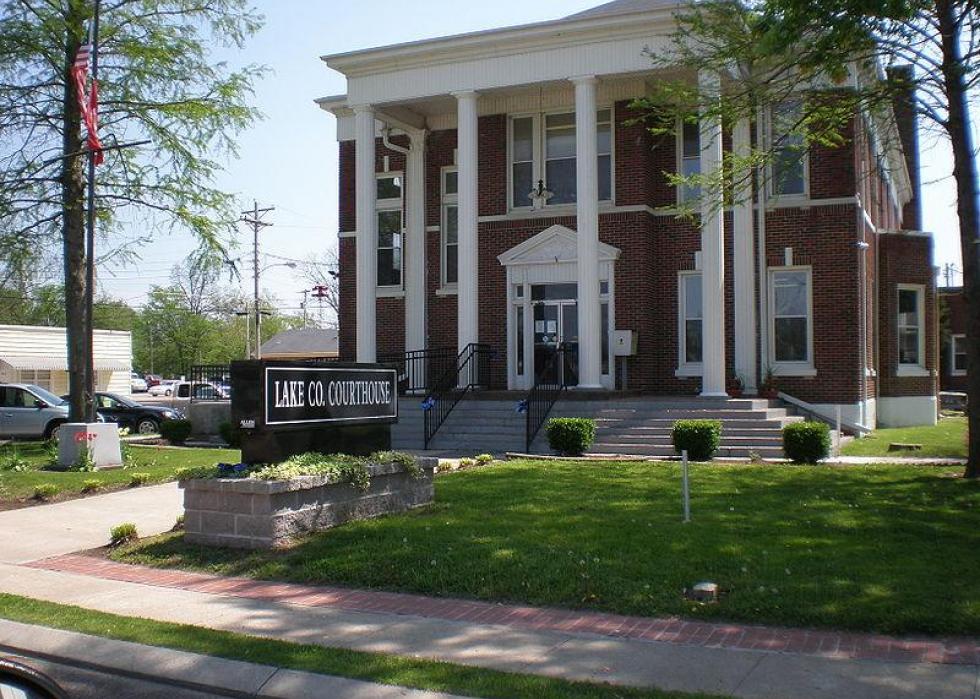 37 / 50
chiacomo // Wikimedia Commons
#14. Lake County, TN
County residents in poverty: 1,983 (39.9% of residents, 200% greater than the national average)
Children ages 0–17 in poverty: 482 (46.3% of children, 154% greater than the national average)
Median household income: $31,144 (54% less than the national average)
Unemployment rate: 11.2% (70% greater than the national average)
Education rates: 15.3% of residents have not graduated high school (20% greater than the national average); 15.3% of residents have at least a bachelor's degree (50% less than the national average)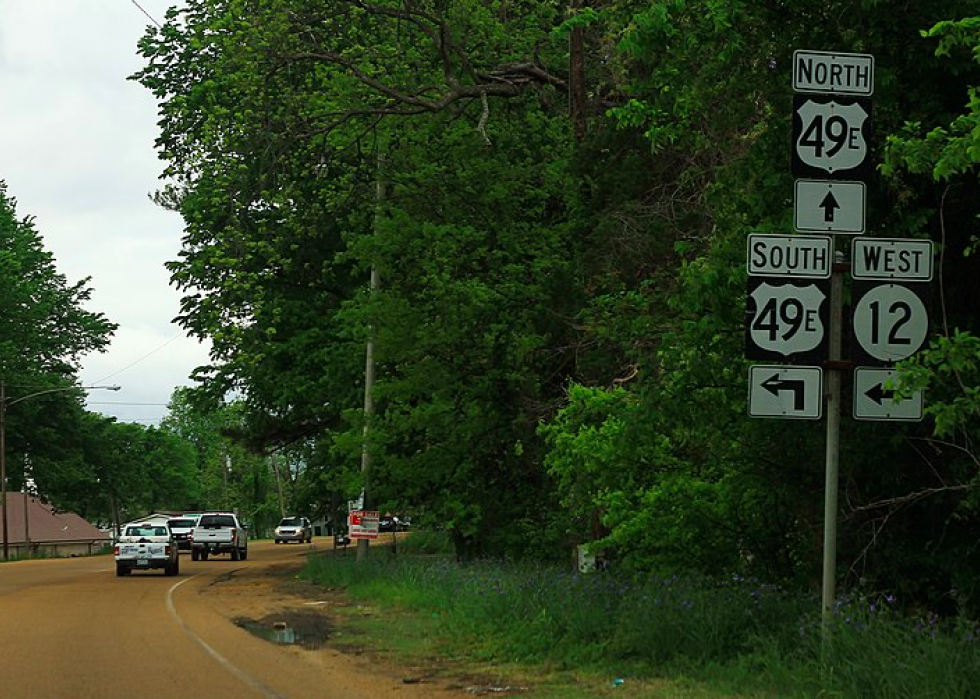 38 / 50
formulanone// Wikimedia Commons
#13. Holmes County, MS
County residents in poverty: 6,855 (40.8% of residents, 207% greater than the national average)
Children ages 0–17 in poverty: 2,391 (52.5% of children, 188% greater than the national average)
Median household income: $24,783 (63% less than the national average)
Unemployment rate: 11.5% (74% greater than the national average)
Education rates: 23.9% of residents have not graduated high school (88% greater than the national average); 11.5% of residents have at least a bachelor's degree (63% less than the national average)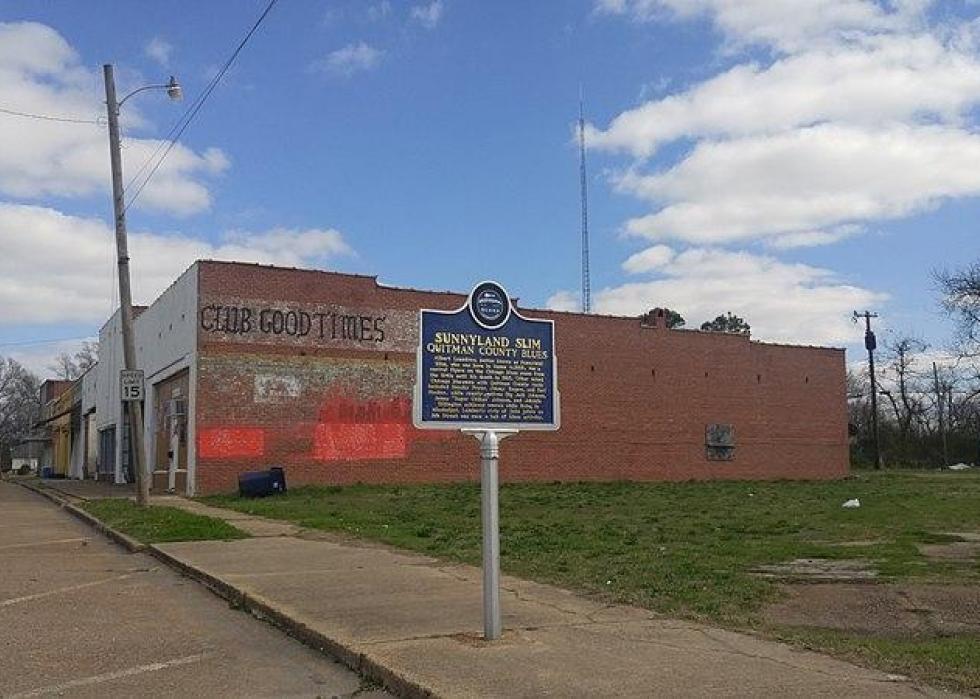 39 / 50
Chillin662 // Wikimedia Commons
#12. Quitman County, MS
County residents in poverty: 2,915 (40.9% of residents, 208% greater than the national average)
Children ages 0–17 in poverty: 970 (57.5% of children, 216% greater than the national average)
Median household income: $26,740 (61% less than the national average)
Unemployment rate: 12.1% (83% greater than the national average)
Education rates: 29.7% of residents have not graduated high school (134% greater than the national average); 8.3% of residents have at least a bachelor's degree (73% less than the national average)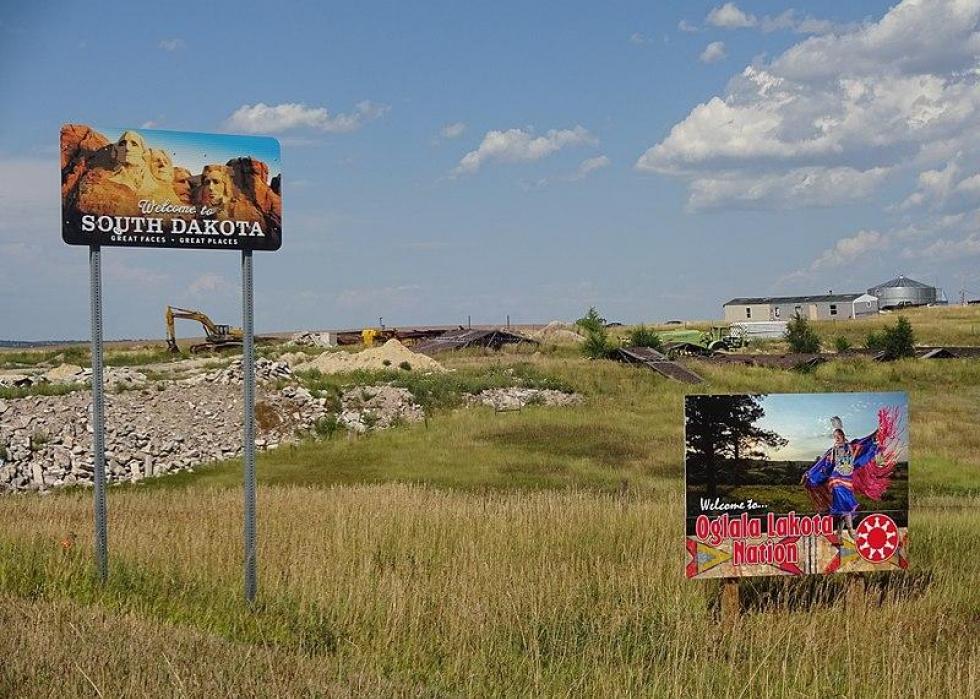 40 / 50
#11. Oglala Lakota County, SD
County residents in poverty: 5,913 (41.5% of residents, 212% greater than the national average)
Children ages 0–17 in poverty: 2,448 (45.8% of children, 152% greater than the national average)
Median household income: $34,411 (48% less than the national average)
Unemployment rate: 22.7% (244% greater than the national average)
Education rates: 24.4% of residents have not graduated high school (92% greater than the national average); 12.4% of residents have at least a bachelor's degree (60% less than the national average)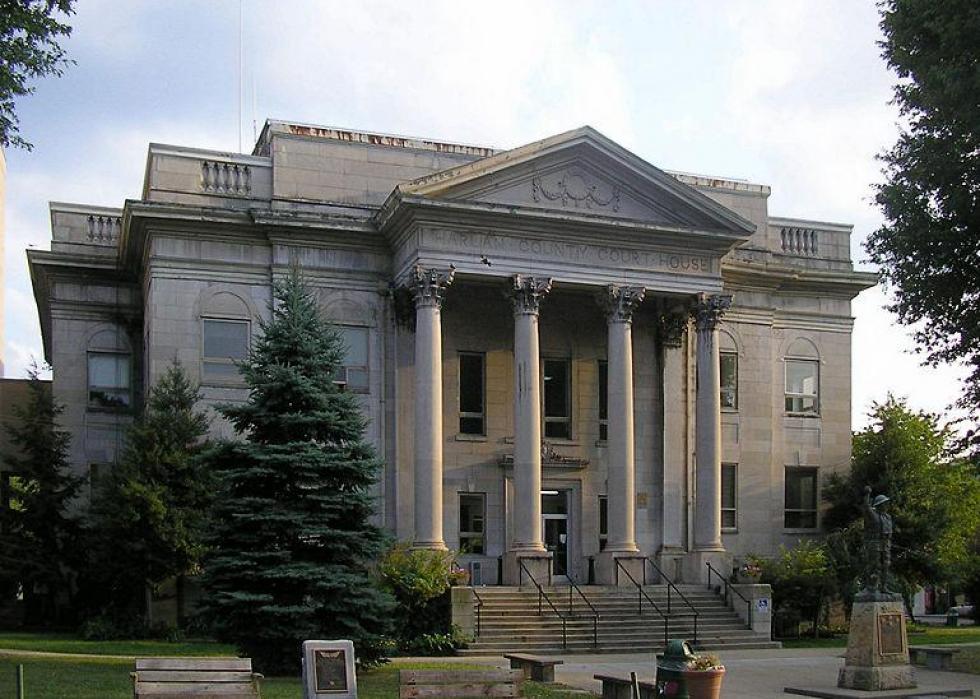 41 / 50
W.marsh // Wikimedia Commons
#10. Harlan County, KY
County residents in poverty: 10,875 (41.5% of residents, 212% greater than the national average)
Children ages 0–17 in poverty: 2,947 (49.2% of children, 170% greater than the national average)
Median household income: $25,815 (62% less than the national average)
Unemployment rate: 10.7% (62% greater than the national average)
Education rates: 28.6% of residents have not graduated high school (125% greater than the national average); 11.4% of residents have at least a bachelor's degree (63% less than the national average)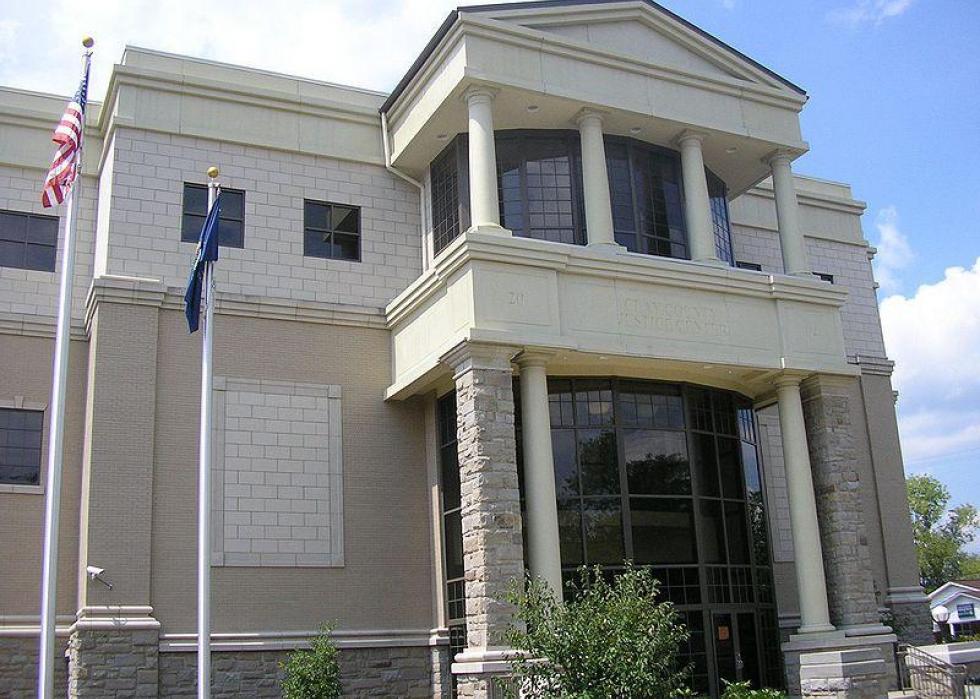 42 / 50
W.marsh // Wikimedia Commons
#9. Clay County, KY
County residents in poverty: 7,754 (41.7% of residents, 214% greater than the national average)
Children ages 0–17 in poverty: 2,315 (55.7% of children, 206% greater than the national average)
Median household income: $26,386 (61% less than the national average)
Unemployment rate: 6.4% (3% less than the national average)
Education rates: 26.7% of residents have not graduated high school (110% greater than the national average); 10.3% of residents have at least a bachelor's degree (67% less than the national average)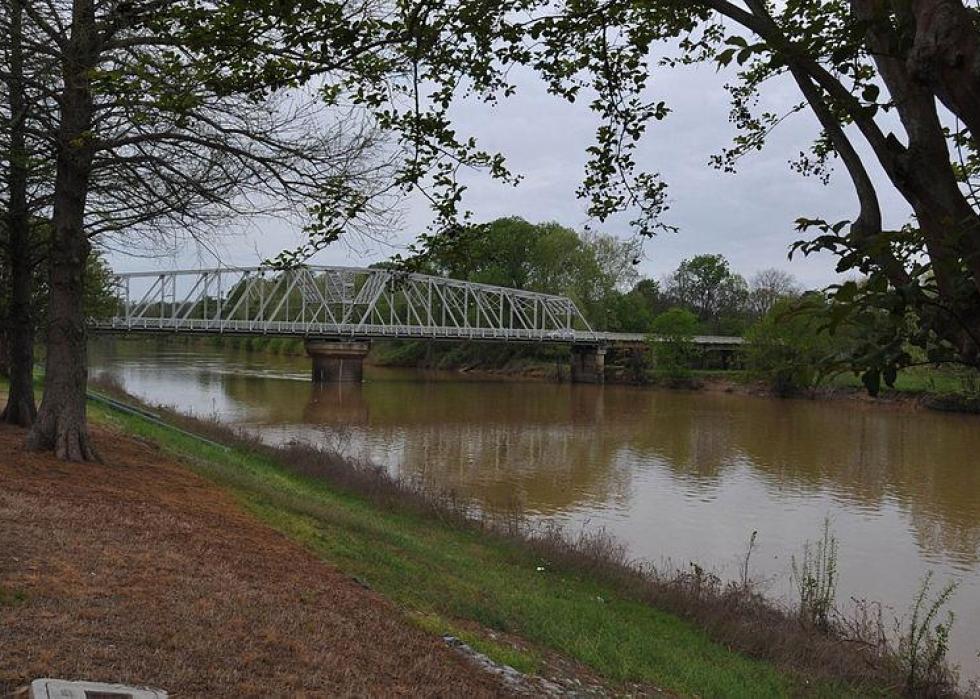 43 / 50
Jerry and Roy Klotz // Wikimedia Commons
#8. Leflore County, MS
County residents in poverty: 11,770 (42.2% of residents, 217% greater than the national average)
Children ages 0–17 in poverty: 4,799 (60.2% of children, 231% greater than the national average)
Median household income: $25,569 (62% less than the national average)
Unemployment rate: 12% (82% greater than the national average)
Education rates: 21.8% of residents have not graduated high school (72% greater than the national average); 17.9% of residents have at least a bachelor's degree (42% less than the national average)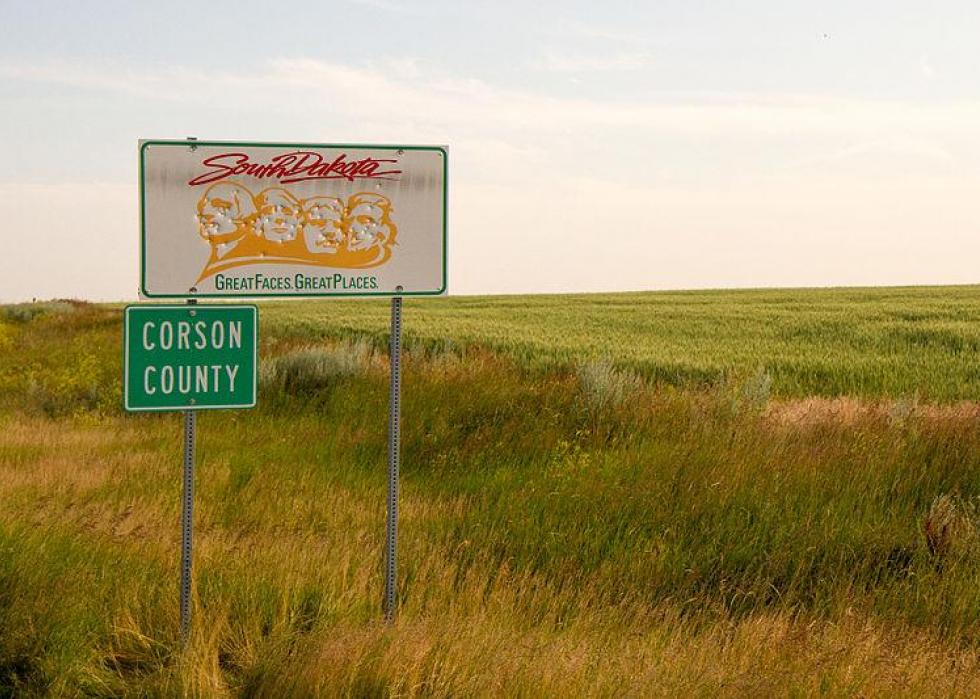 44 / 50
Josh Grenier // Wikimedia Commons
#7. Corson County, SD
County residents in poverty: 1,773 (42.4% of residents, 219% greater than the national average)
Children ages 0–17 in poverty: 836 (55.3% of children, 204% greater than the national average)
Median household income: $30,446 (55% less than the national average)
Unemployment rate: 28.7% (335% greater than the national average)
Education rates: 18.1% of residents have not graduated high school (43% greater than the national average); 17.7% of residents have at least a bachelor's degree (43% less than the national average)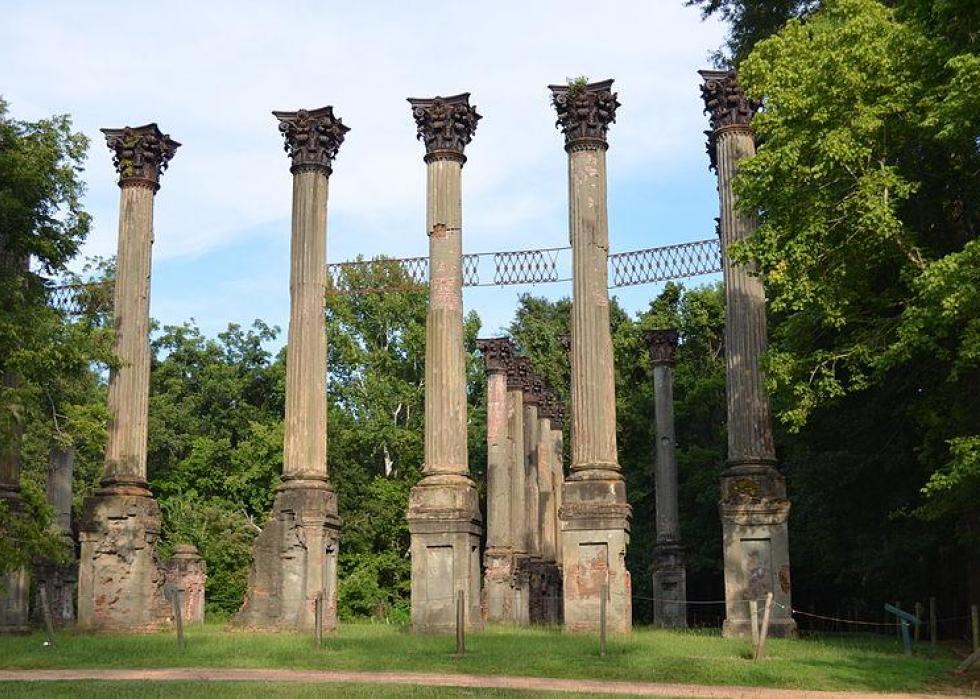 45 / 50
Bruceb28 // Wikimedia Commons
#6. Claiborne County, MS
County residents in poverty: 3,335 (42.6% of residents, 220% greater than the national average)
Children ages 0–17 in poverty: 1,011 (53.5% of children, 194% greater than the national average)
Median household income: $28,518 (58% less than the national average)
Unemployment rate: 17.7% (168% greater than the national average)
Education rates: 24% of residents have not graduated high school (89% greater than the national average); 18.8% of residents have at least a bachelor's degree (39% less than the national average)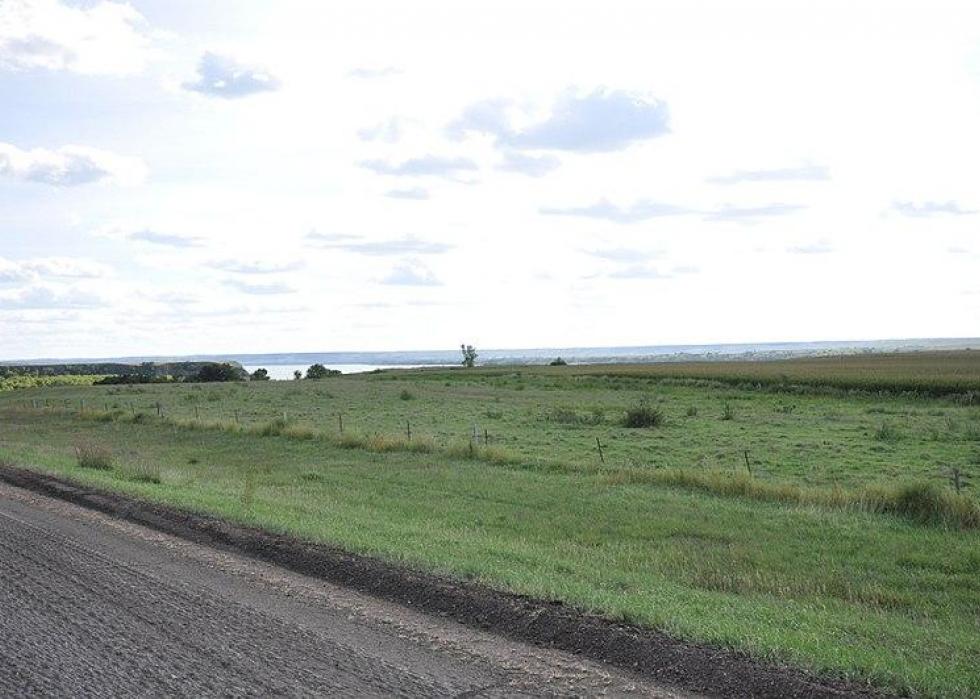 46 / 50
Magicpiano // Wikimedia Commons
#5. Buffalo County, SD
County residents in poverty: 860 (43.3% of residents, 226% greater than the national average)
Children ages 0–17 in poverty: 365 (48.6% of children, 167% greater than the national average)
Median household income: $22,679 (66% less than the national average)
Unemployment rate: 3.1% (53% less than the national average)
Education rates: 6.2% of residents have not graduated high school (51% less than the national average); 33.6% of residents have at least a bachelor's degree (9% greater than the national average)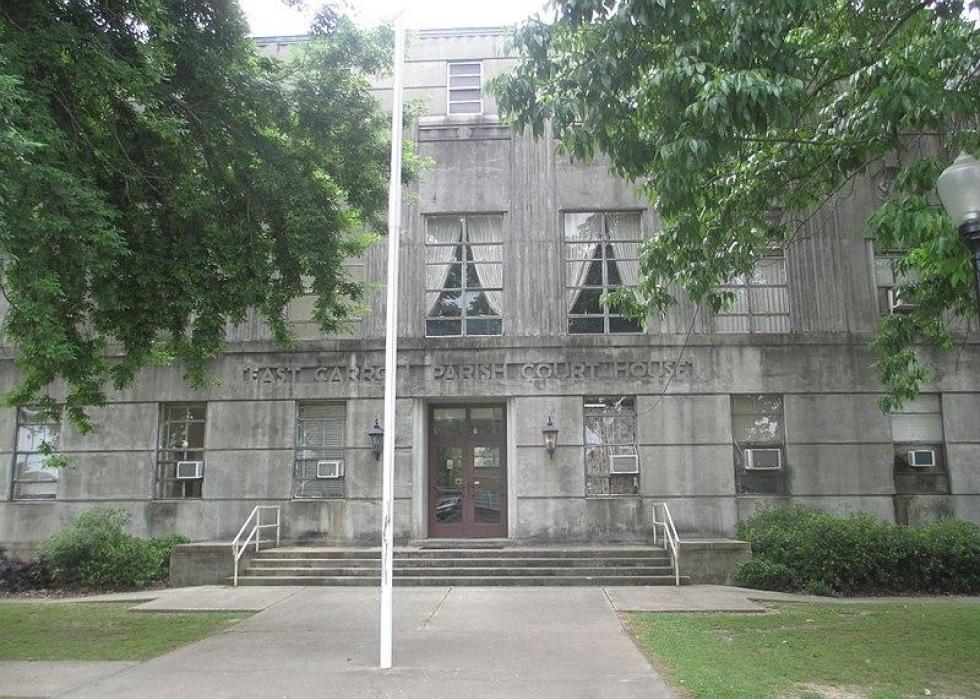 47 / 50
Billy Hathorn // Wikimedia Commons
#4. East Carroll Parish, LA
County residents in poverty: 2,820 (46.7% of residents, 251% greater than the national average)
Children ages 0–17 in poverty: 1,074 (62.3% of children, 242% greater than the national average)
Median household income: $26,431 (61% less than the national average)
Unemployment rate: 6.9% (5% greater than the national average)
Education rates: 29.5% of residents have not graduated high school (132% greater than the national average); 9.8% of residents have at least a bachelor's degree (68% less than the national average)
48 / 50
Jeffrey Beale // Wikimedia Commons
#3. Crowley County, CO
County residents in poverty: 1,400 (47.4% of residents, 256% greater than the national average)
Children ages 0–17 in poverty: 256 (37.6% of children, 107% greater than the national average)
Median household income: $38,112 (44% less than the national average)
Unemployment rate: 21.4% (224% greater than the national average)
Education rates: 15.1% of residents have not graduated high school (19% greater than the national average); 8.1% of residents have at least a bachelor's degree (74% less than the national average)
49 / 50
Ammodrmaus // Wikimedia Commons
#2. Todd County, SD
County residents in poverty: 5,036 (50.4% of residents, 279% greater than the national average)
Children ages 0–17 in poverty: 2,293 (55.8% of children, 207% greater than the national average)
Median household income: $29,046 (57% less than the national average)
Unemployment rate: 6.9% (5% greater than the national average)
Education rates: 22.3% of residents have not graduated high school (76% greater than the national average); 12.6% of residents have at least a bachelor's degree (59% less than the national average)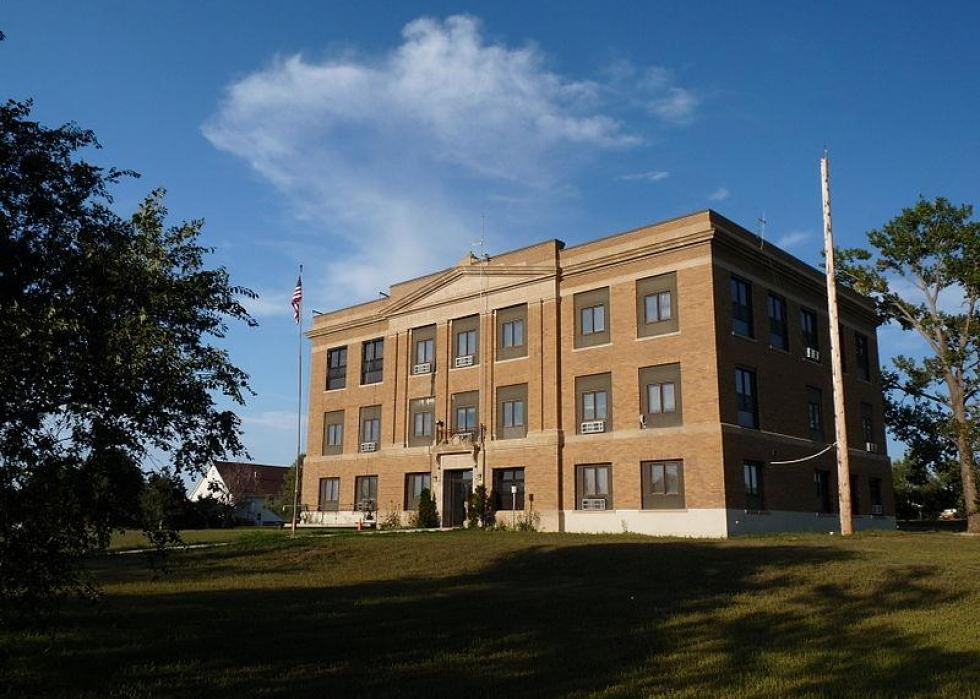 50 / 50
Jeff the Quiet // Wikimedia Commons
#1. Ziebach County, SD
County residents in poverty: 1,557 (56.7% of residents, 326% greater than the national average)
Children ages 0–17 in poverty: 612 (74.7% of children, 310% greater than the national average)
Median household income: $29,985 (56% less than the national average)
Unemployment rate: 27% (309% greater than the national average)
Education rates: 16.6% of residents have not graduated high school (31% greater than the national average); 14.9% of residents have at least a bachelor's degree (52% less than the national average)