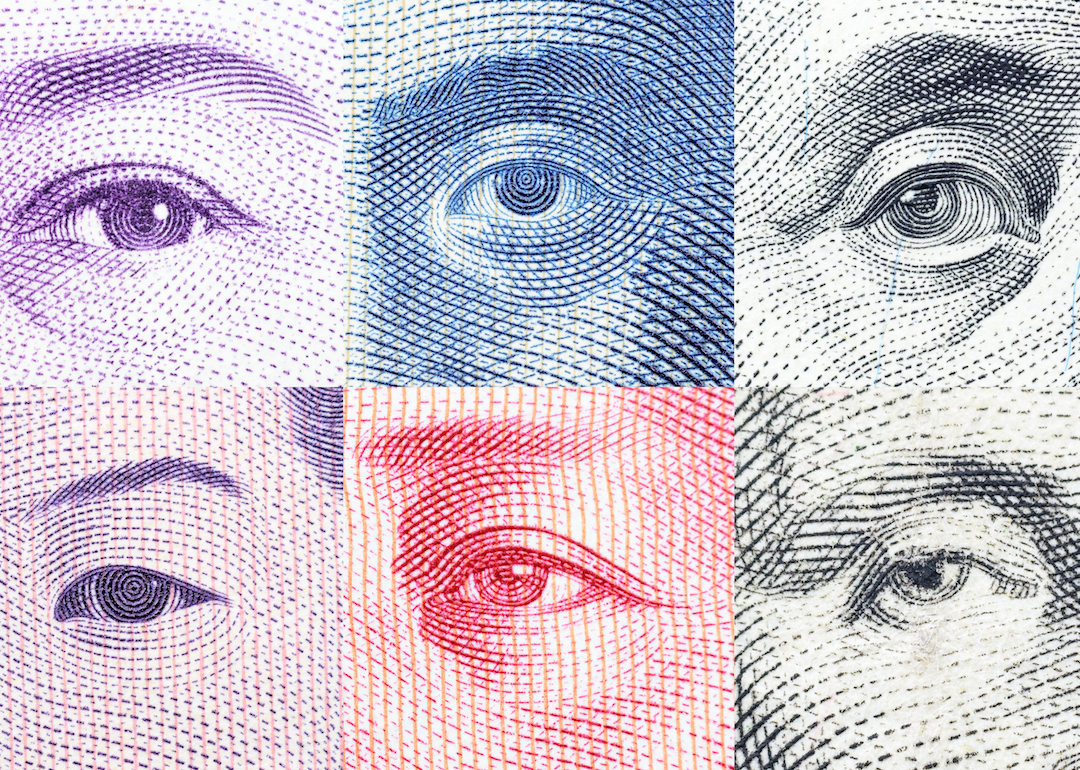 Recognizing the faces on the world's most-traded currencies
William Potter // Shutterstock
Recognizing the faces on the world's most traded currencies
From shells and livestock to Venmo and Bitcoin, the concept of money dates back to 9,000 B.C. Before that, people used the barter system. The problem with the barter system was that if one person had a chicken to trade for a pound of flour, they had to find a person who not only had a pound of flour but also needed a chicken. Money became a medium of exchange that simplified the process by assigning value to objects that could be used to purchase any number of goods. Livestock like camels, cows, and sheep were the earliest living dollars, but they soon gave way to shells and later to coins and precious metals like gold and silver, and finally to paper bills. Today, people buy things by moving numbers around on a computer screen, but the concept of money remains the same—you work for it to get it then trade it for the things you need and want.
The first official currency was minted around 600 B.C. by Lydia's King Alyattes, who stamped his coins with pictures to indicate value and denomination. Soon, powerful leaders began stamping images of their own faces both to showcase their clout and to prevent counterfeiting. Throughout history, money has contained images of powerful people, national heroes, military leaders, founding fathers, and conquerors—and that tradition continues today.
Using data from Countries-ofthe-World.com, Stacker developed a list of 20 of the most commonly traded currencies in the world, starting with the U.S. dollar. It's important to note that some countries or unions are omitted because their currencies don't include an image of a person. The list examines the people whose faces are on the currency and what they did to earn the honor. In some cases, the currency is in coin form; in other cases, it's in paper banknotes. Either way, the list profiles the people who grace each currency's most common or most frequently used denominations. Keep reading to learn about the people who are so famous that their countrymen and women see their faces every time they buy something.
You may also like: Global trade by the numbers