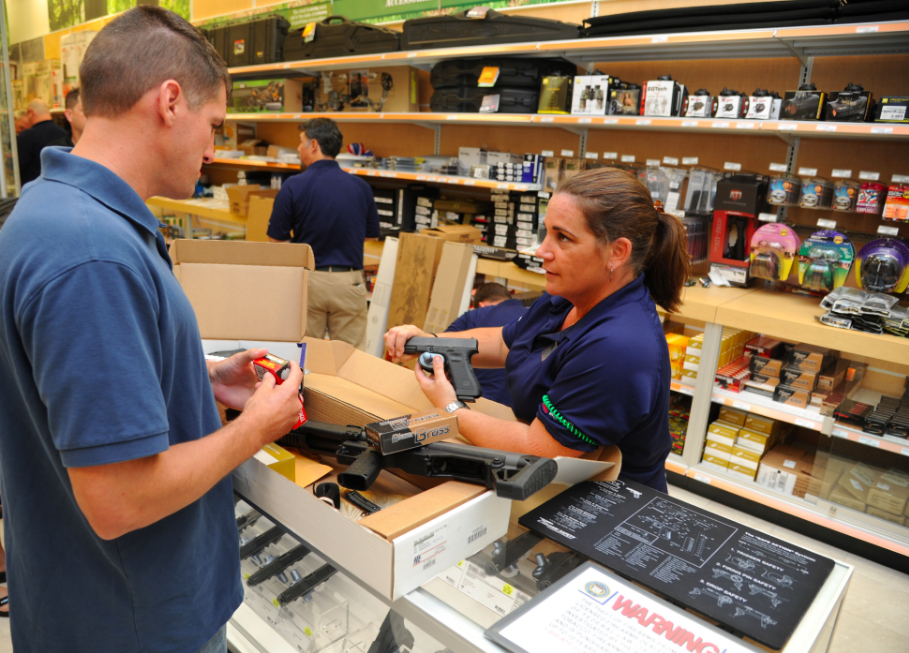 State economies most dependent on the gun industry
State economies most dependent on the gun industry
Regardless of your personal opinion on the gun industry, you can't deny the impact it has on the United States. The right to bear arms is the second amendment in our Bill of Rights, a prominent position that signals the importance of firearms to the Founding Fathers. Forty-two percent of Americans live in a household with a gun, while a whopping 72 percent of Americans say they have shot a gun before. The United States has a higher number of guns per 100 residents than any other country in the world.  
The firearm industry also has an immense economic impact on the country: Sales of firearms and ammunition contributed more than $51 billion to the United States economy in 2018. To discover how the industry affects each state's economy, WalletHub ranked all 50 states on three separate dimensions: the firearms industry, gun prevalence and gun politics. To calculate the score for each category, WalletHub studied 16 key metrics, including firearms industry jobs per 10,000 residents, strictness of state gun laws and gun sales per 1,000 residents. Read on to see how much your state's economy depends on the firearm industry, find out which state has the highest prevalence of guns and learn which state's politics are friendliest to gun owners and firearm companies.
To see which states are the most (and least) dependent on funding from the federal government, click here.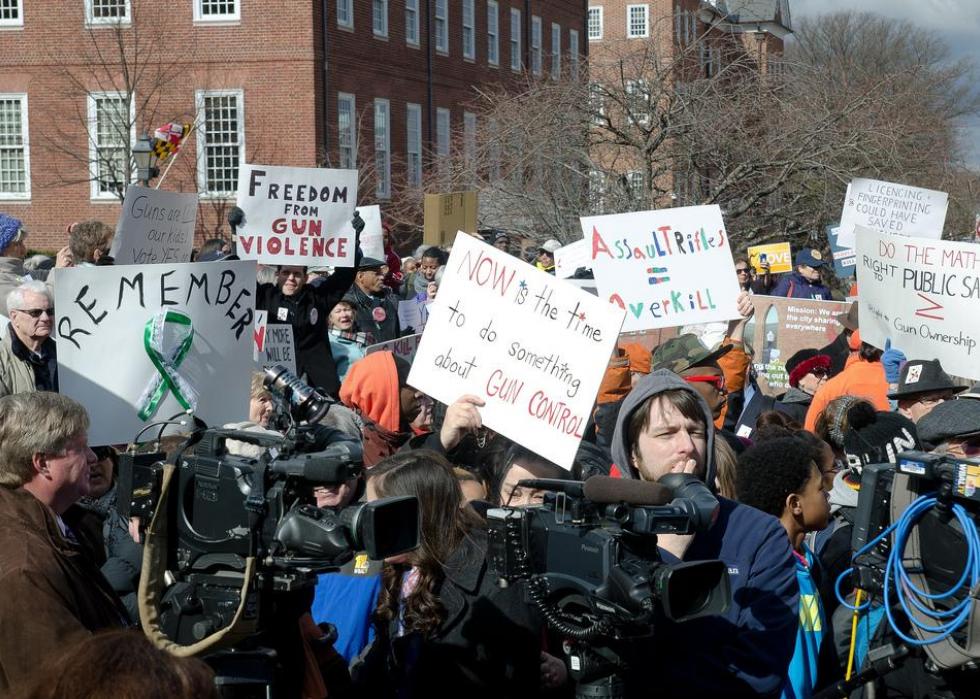 1 / 50
Maryland GovPics // Flickr
#50. Maryland
Firearms industry rank: #46
Gun prevalence rank: #46
Gun politics rank: #49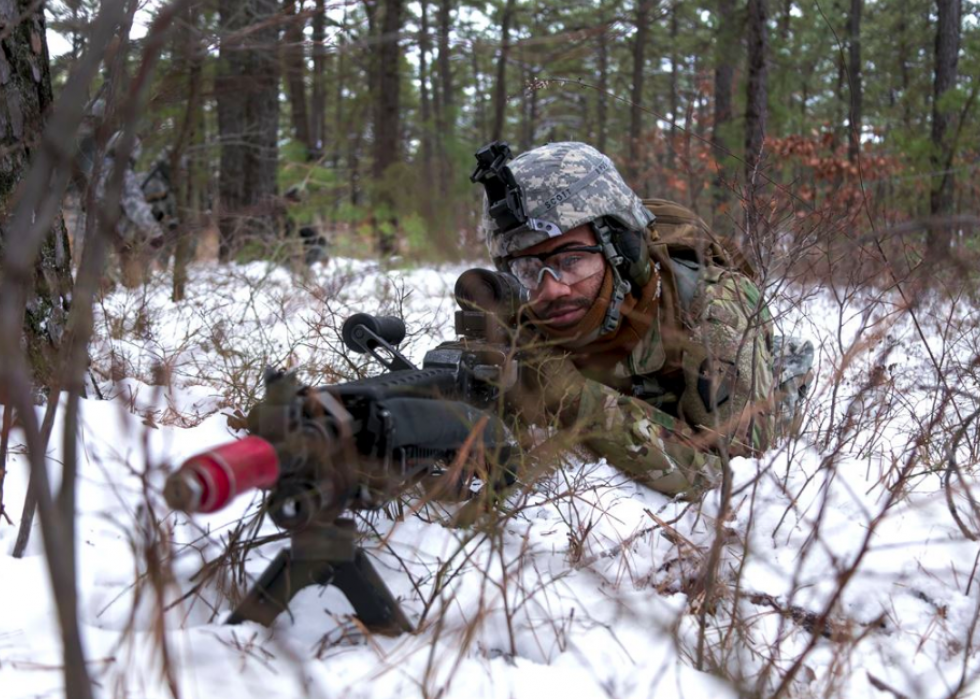 2 / 50
U.S. Department of Defense
#49. New Jersey
Firearms industry rank: #49
Gun prevalence rank: #50
Gun politics rank: #45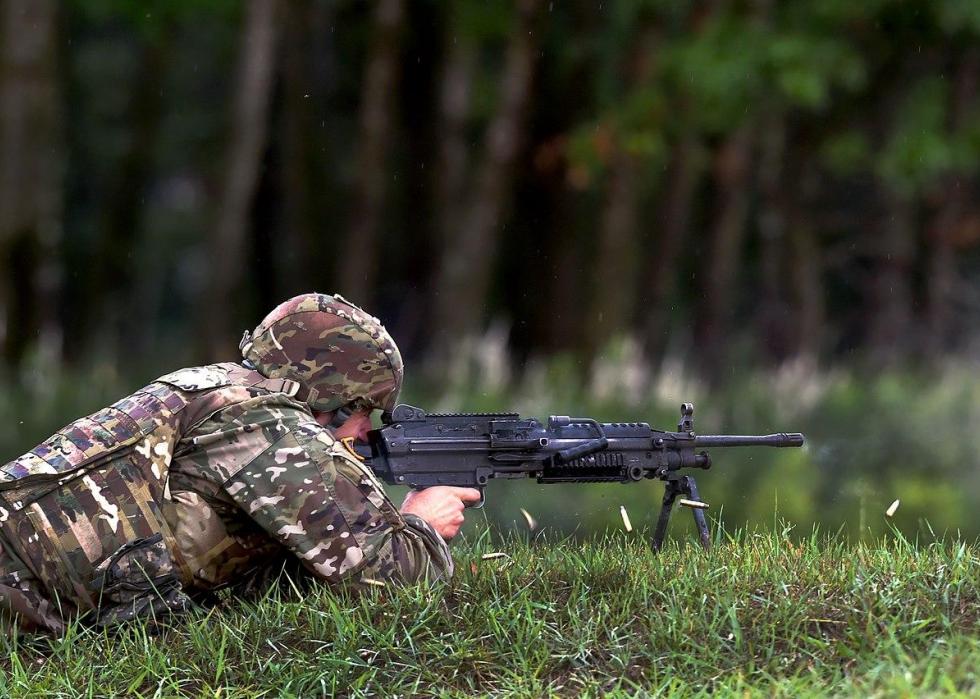 3 / 50
#48. Rhode Island
Firearms industry rank: #44
Gun prevalence rank: #48
Gun politics rank: #46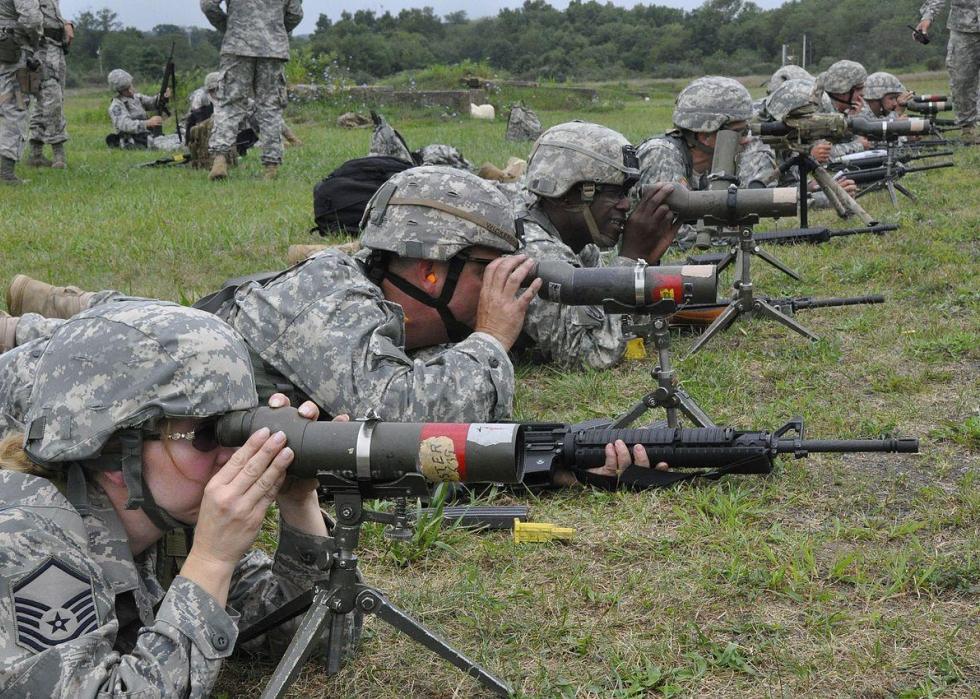 4 / 50
#47. Delaware
Firearms industry rank: #42
Gun prevalence rank: #43
Gun politics rank: #50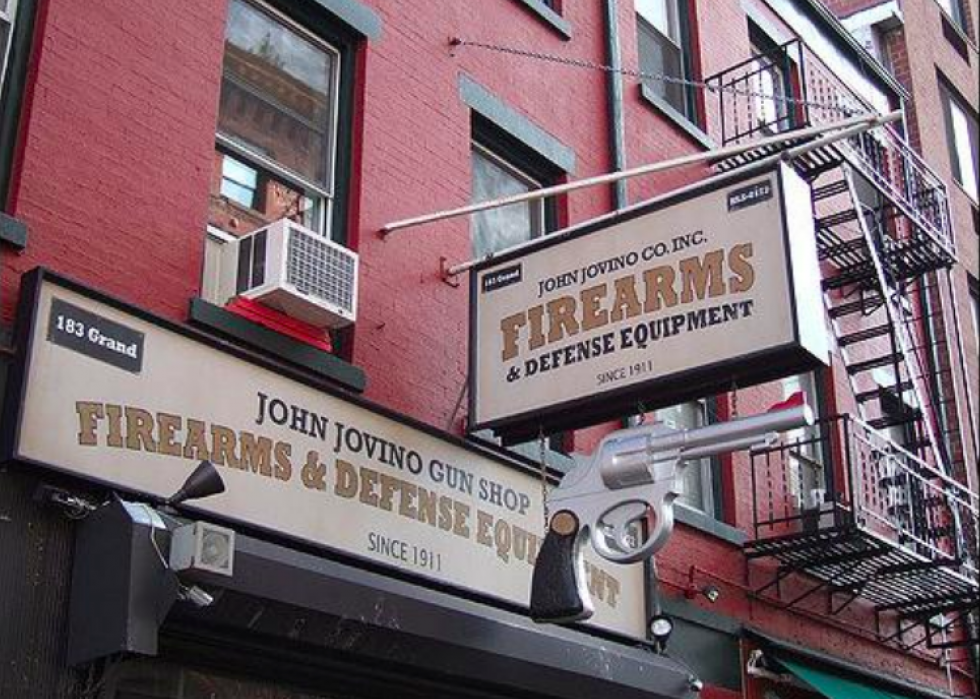 5 / 50
#46. New York
Firearms industry rank: #45
Gun prevalence rank: #49
Gun politics rank: #42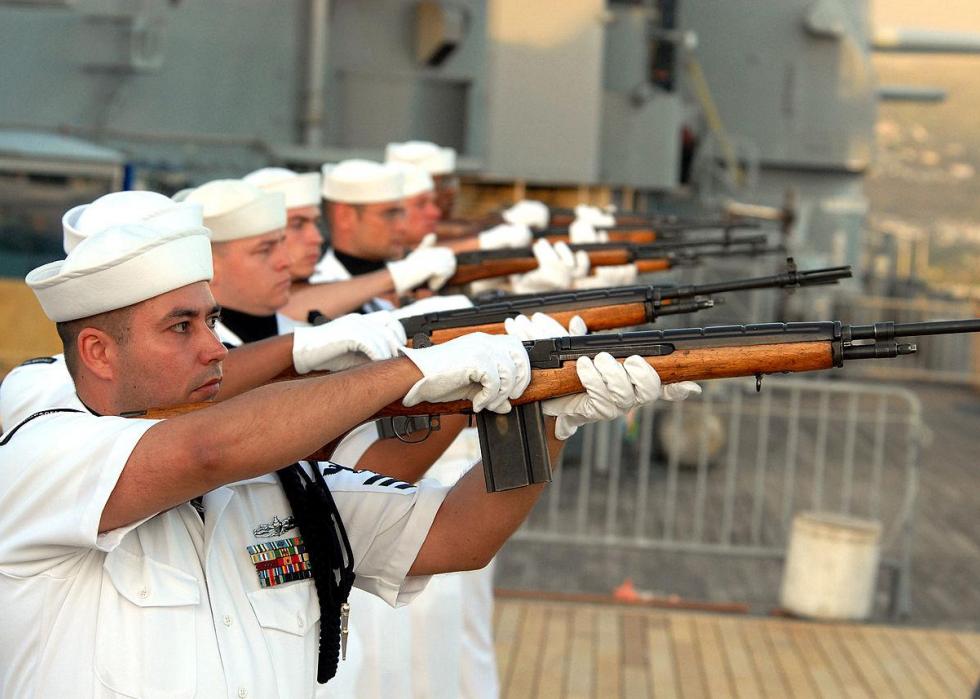 6 / 50
#45. Hawaii
Firearms industry rank: #50
Gun prevalence rank: #42
Gun politics rank: #40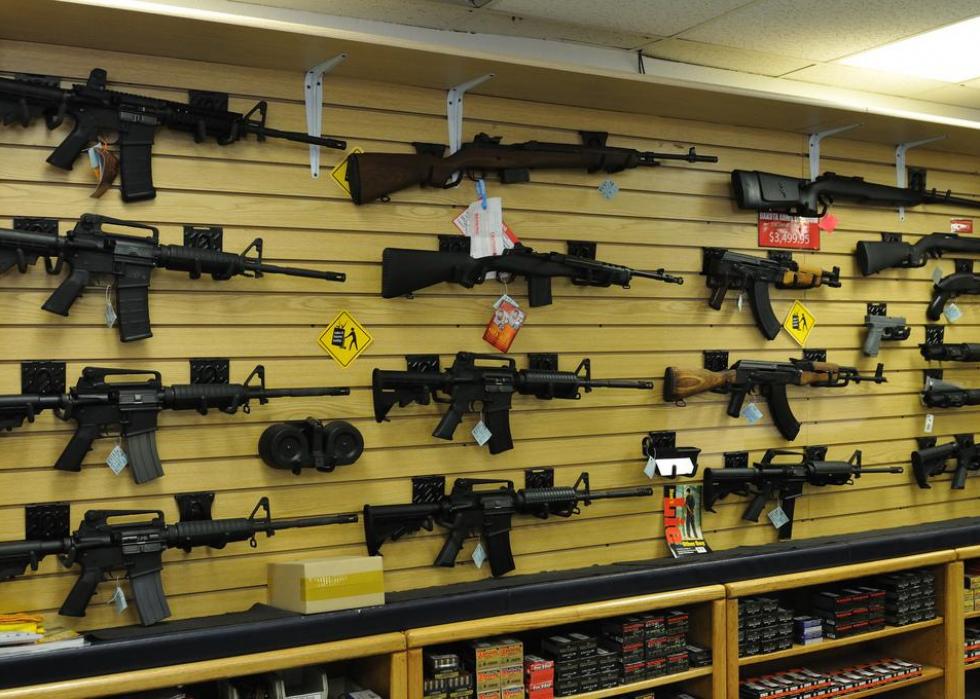 7 / 50
Michael Saechang // Flickr
#44. Connecticut
Firearms industry rank: #38
Gun prevalence rank: #44
Gun politics rank: #48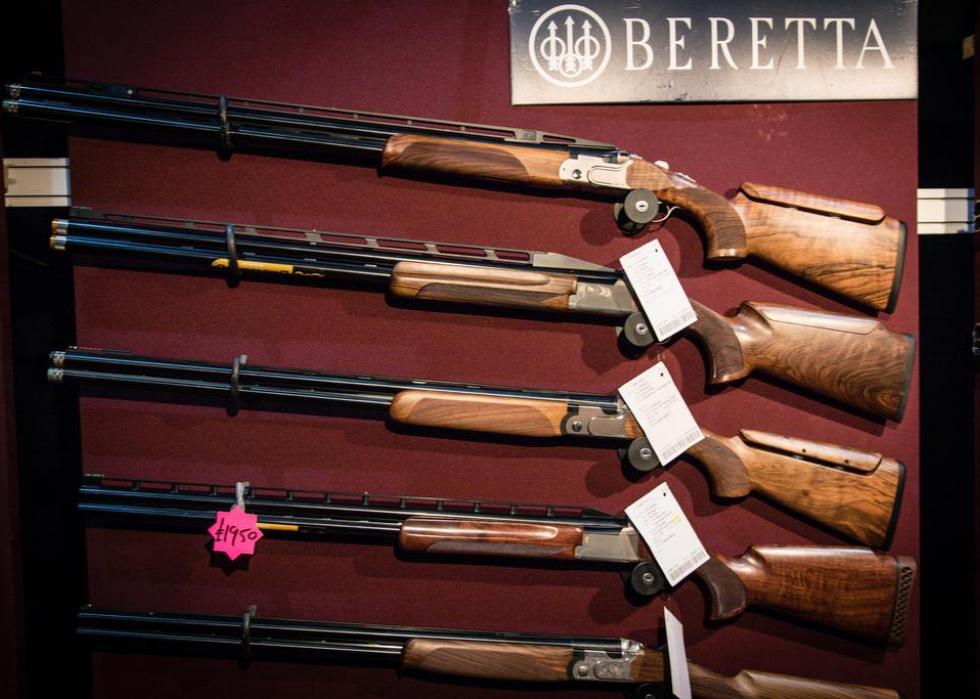 8 / 50
#43. Massachusetts
Firearms industry rank: #41
Gun prevalence rank: #47
Gun politics rank: #41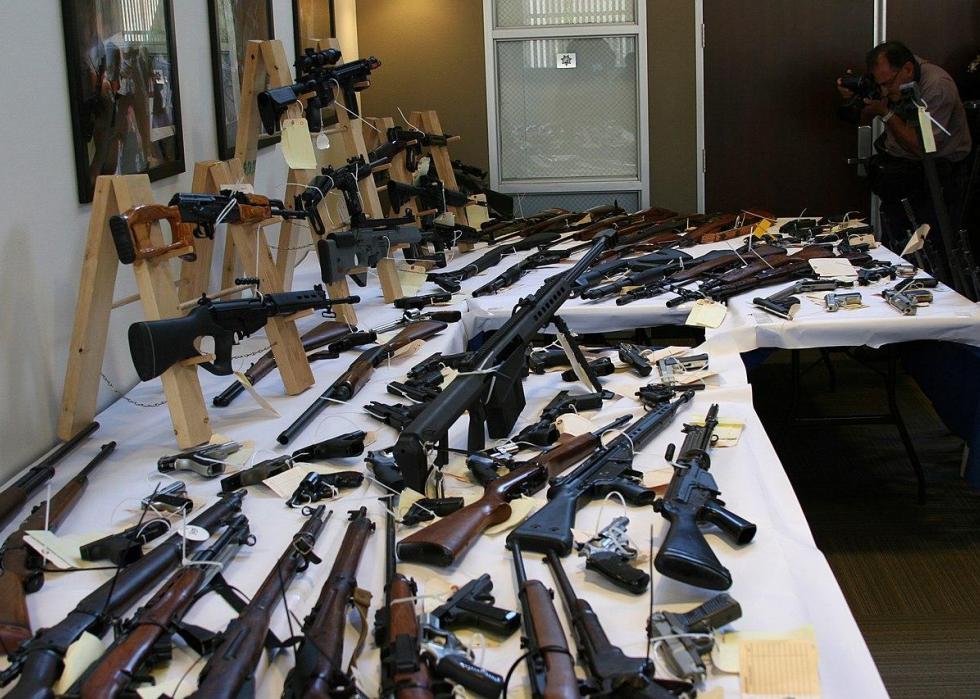 9 / 50
#42. California
Firearms industry rank: #48
Gun prevalence rank: #45
Gun politics rank: #38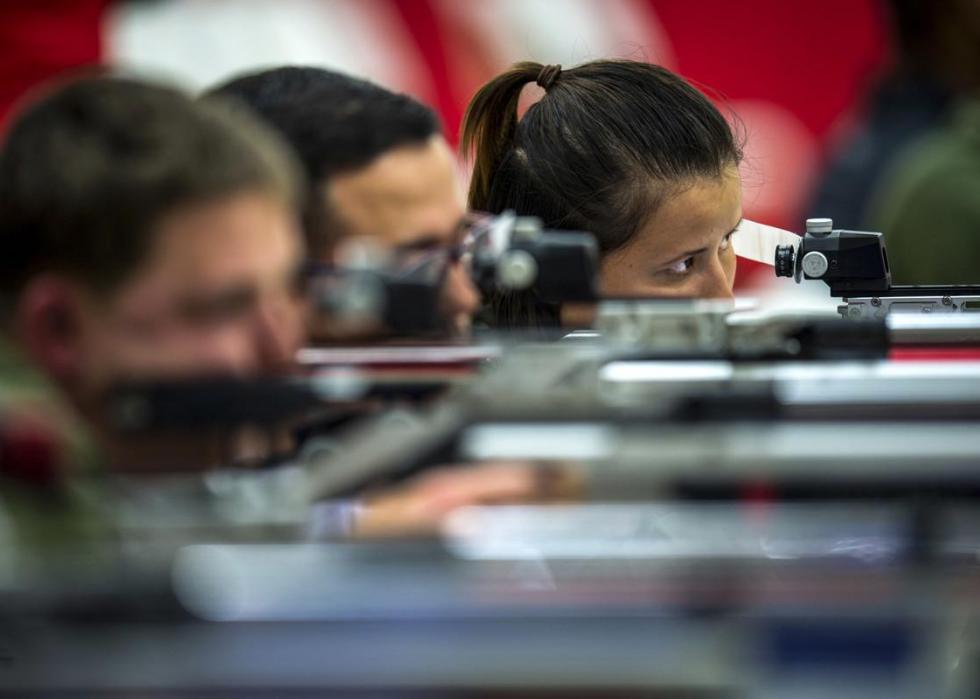 10 / 50
U.S. Department of Defense
#41. Illinois
Firearms industry rank: #47
Gun prevalence rank: #30
Gun politics rank: #39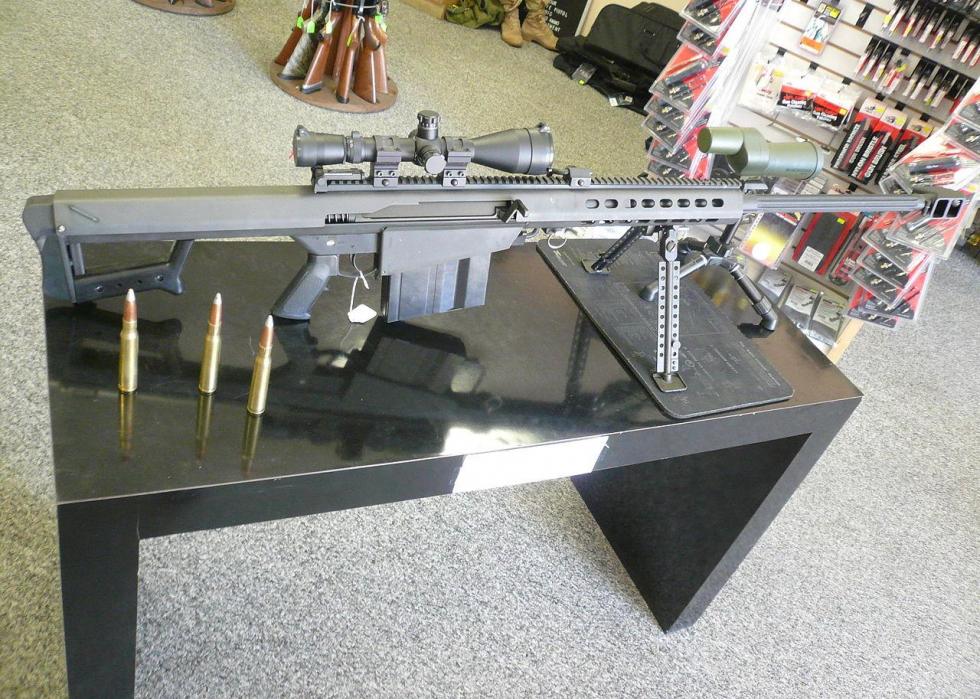 11 / 50
Cory Doctorow // Wikicommons
#40. Michigan
Firearms industry rank: #33
Gun prevalence rank: #39
Gun politics rank: #43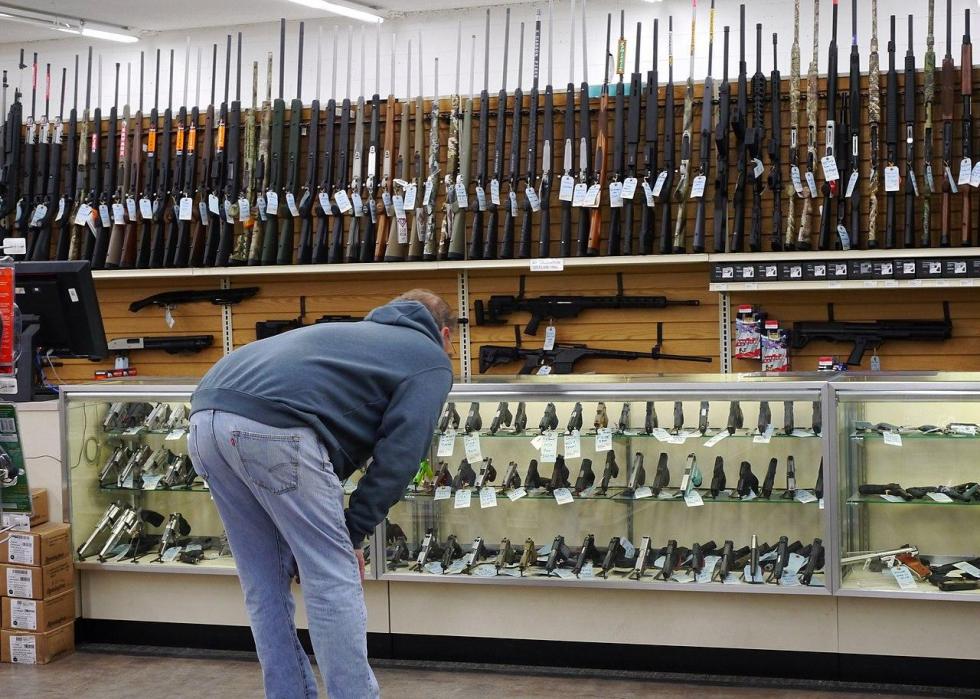 12 / 50
Thayne Tuason // Wikicommons
#39. Washington
Firearms industry rank: #36
Gun prevalence rank: #27
Gun politics rank: #44


 
13 / 50
Beyond My Ken // Wikicommons
#38. Florida
Firearms industry rank: #37
Gun prevalence rank: #35
Gun politics rank: #33


 
14 / 50
#37. Virginia
Firearms industry rank: #34
Gun prevalence rank: #32
Gun politics rank: #32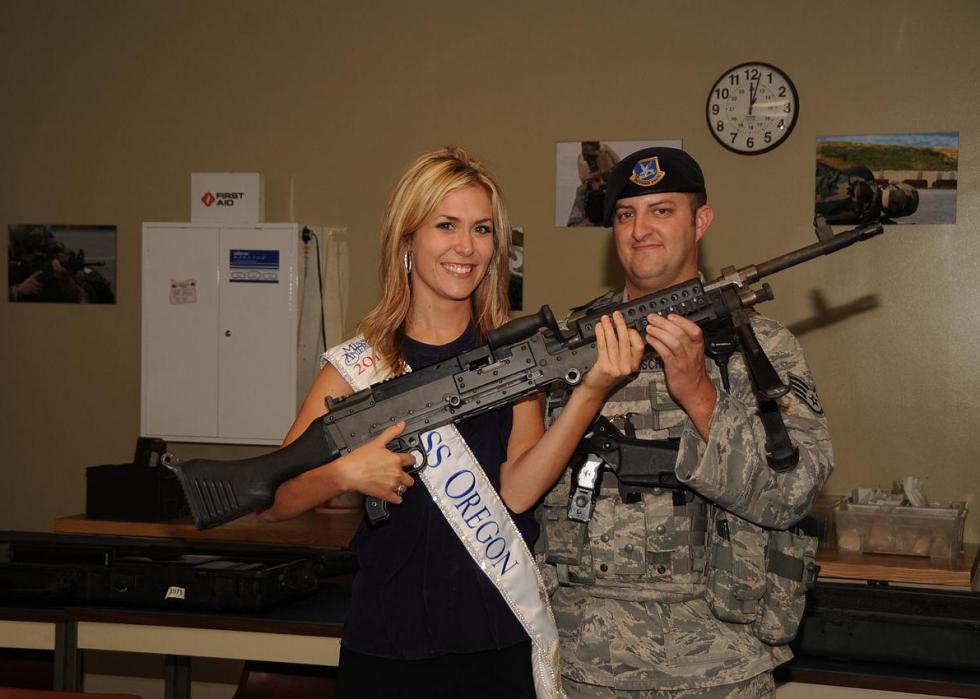 15 / 50
#36. Oregon
Firearms industry rank: #23
Gun prevalence rank: #26
Gun politics rank: #37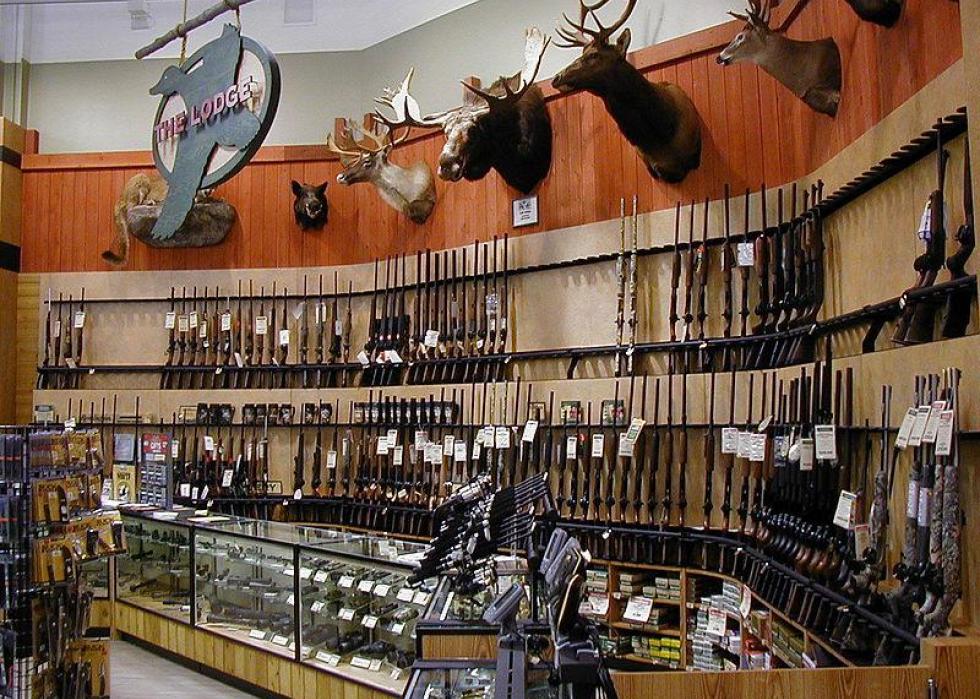 16 / 50
#35. Iowa
Firearms industry rank: #43
Gun prevalence rank: #40
Gun politics rank: #11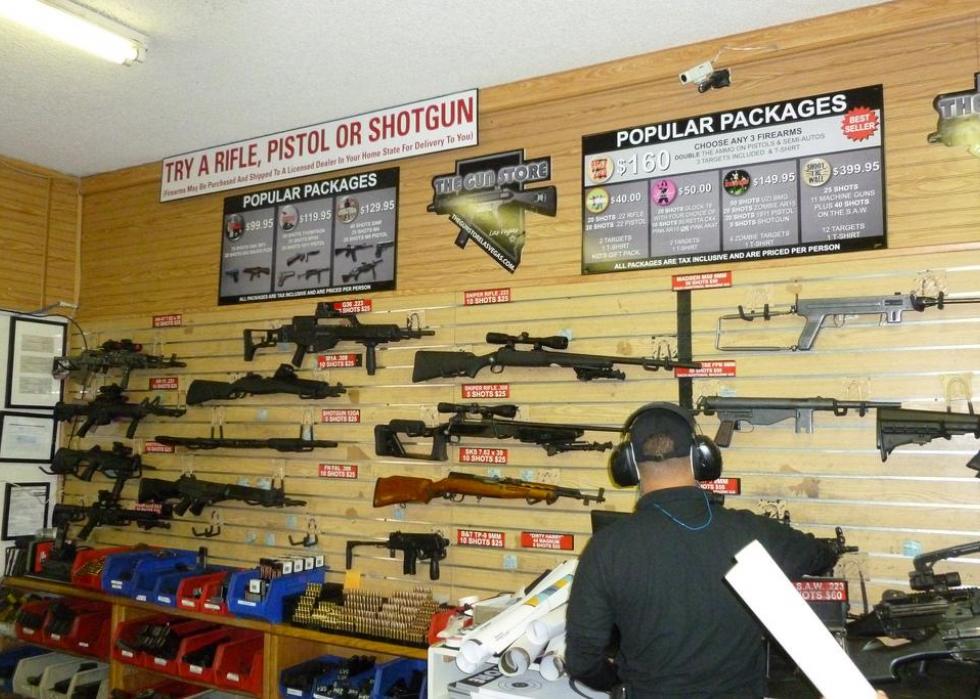 17 / 50
#34. Nevada
Firearms industry rank: #18
Gun prevalence rank: #28
Gun politics rank: #34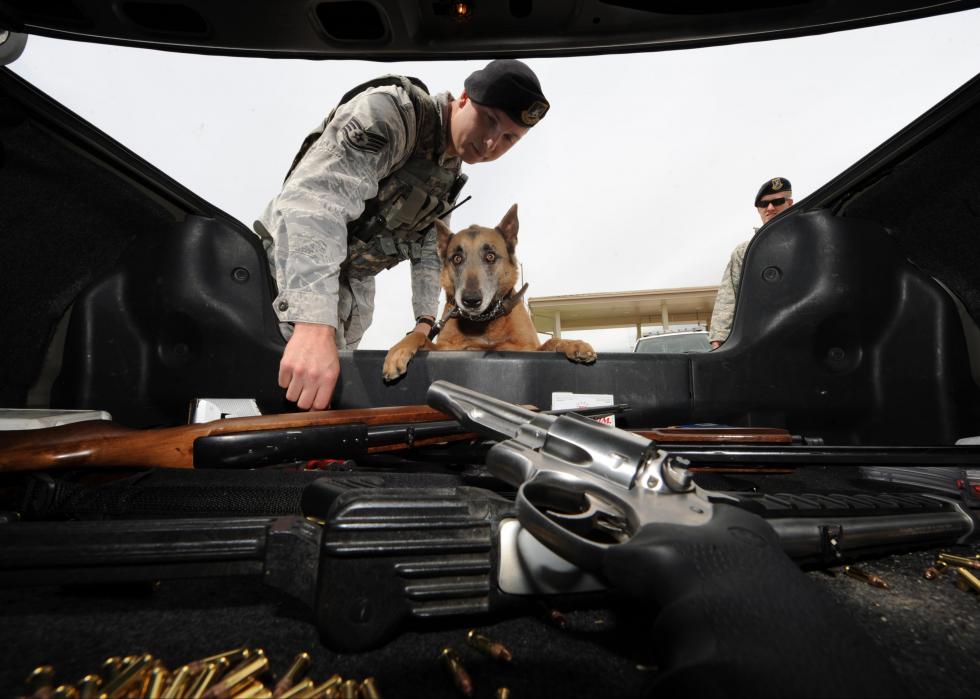 18 / 50
#33. Vermont
Firearms industry rank: #28
Gun prevalence rank: #16
Gun politics rank: #35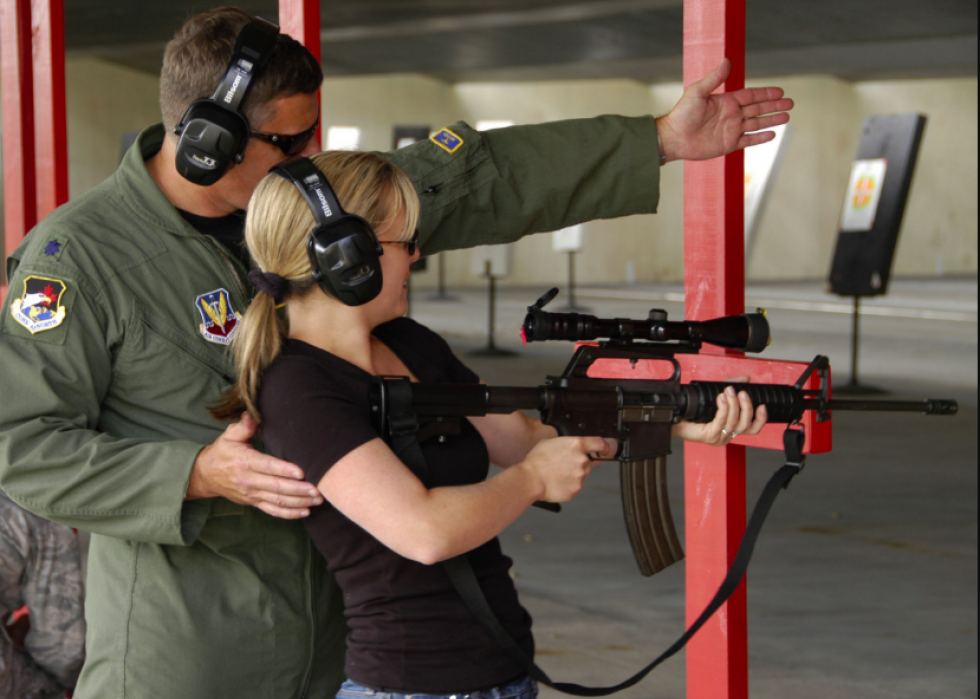 19 / 50
#32. New Mexico
Firearms industry rank: #40
Gun prevalence rank: #14
Gun politics rank: #29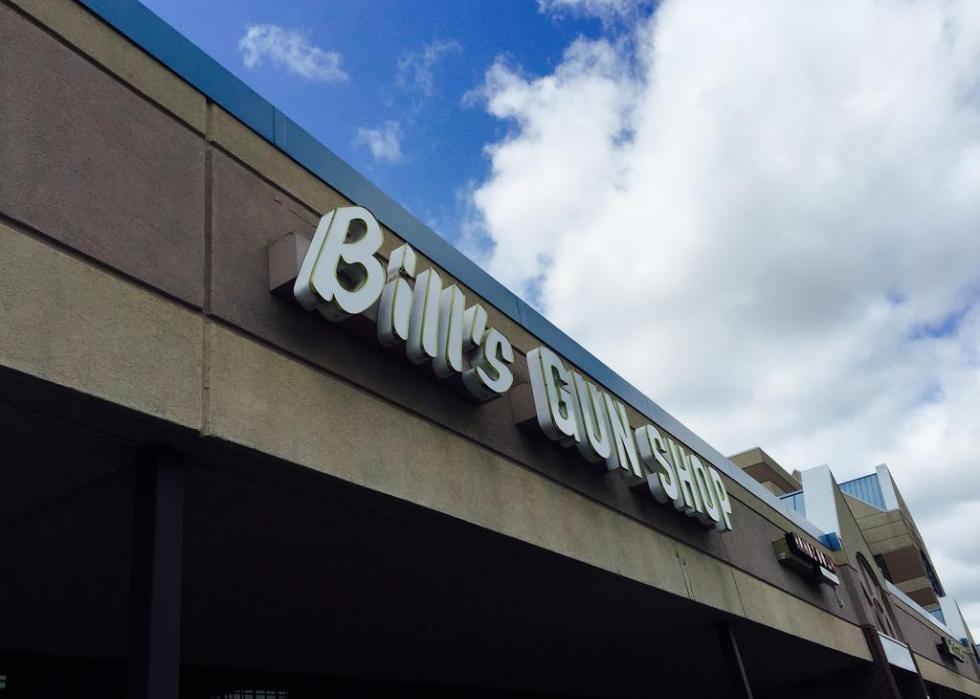 20 / 50
#31. Minnesota
Firearms industry rank: #16
Gun prevalence rank: #15
Gun politics rank: #36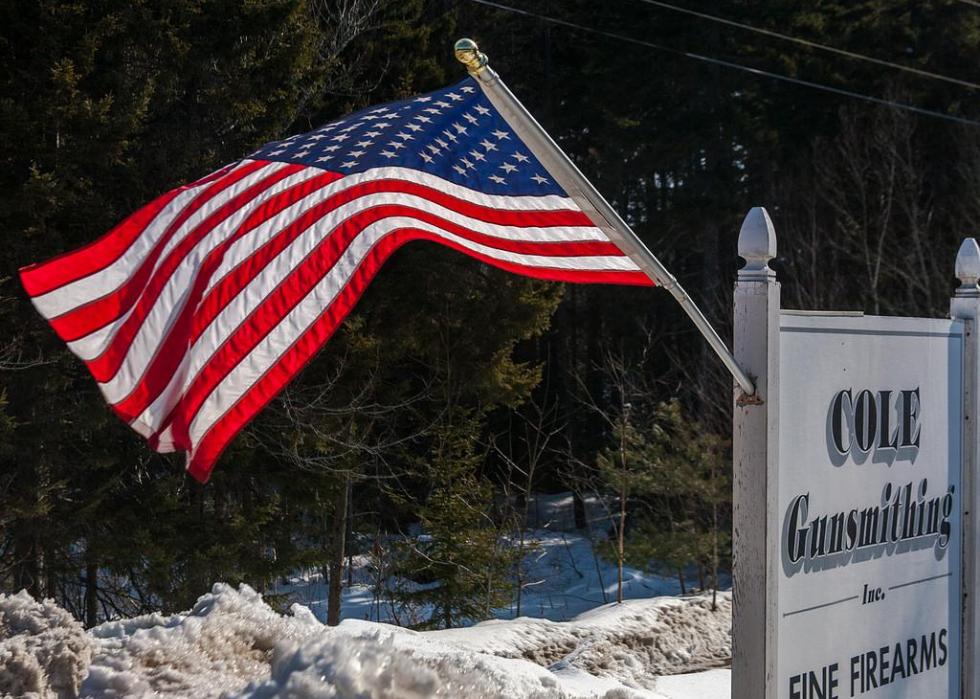 21 / 50
Paul VanDerWerf // Flickr
#30. Maine
Firearms industry rank: #9
Gun prevalence rank: #38
Gun politics rank: #30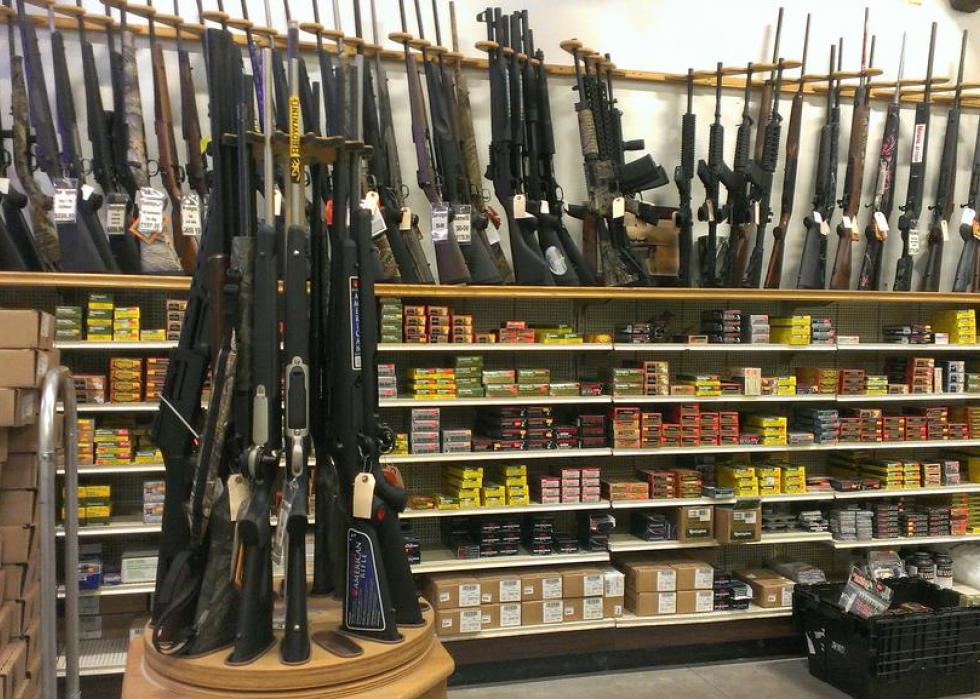 22 / 50
#29. Georgia
Firearms industry rank: #32
Gun prevalence rank: #33
Gun politics rank: #23


 
23 / 50
Tpe.g5.stan // Wikicommons
#28. New Hampshire
Firearms industry rank: #2
Gun prevalence rank: #22
Gun politics rank: #47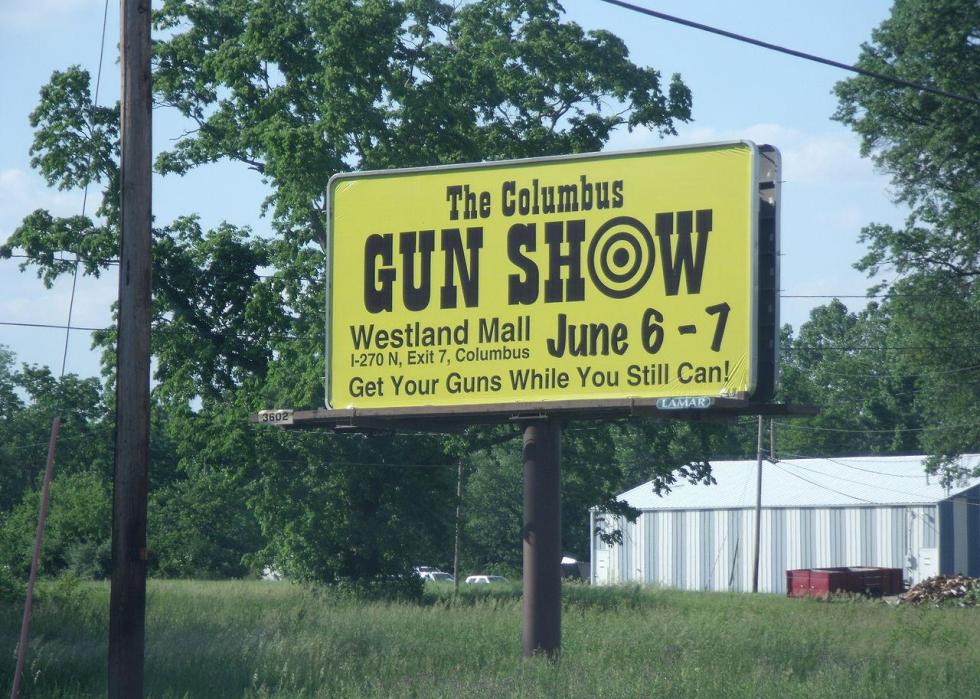 24 / 50
#27. Ohio
Firearms industry rank: #31
Gun prevalence rank: #25
Gun politics rank: #27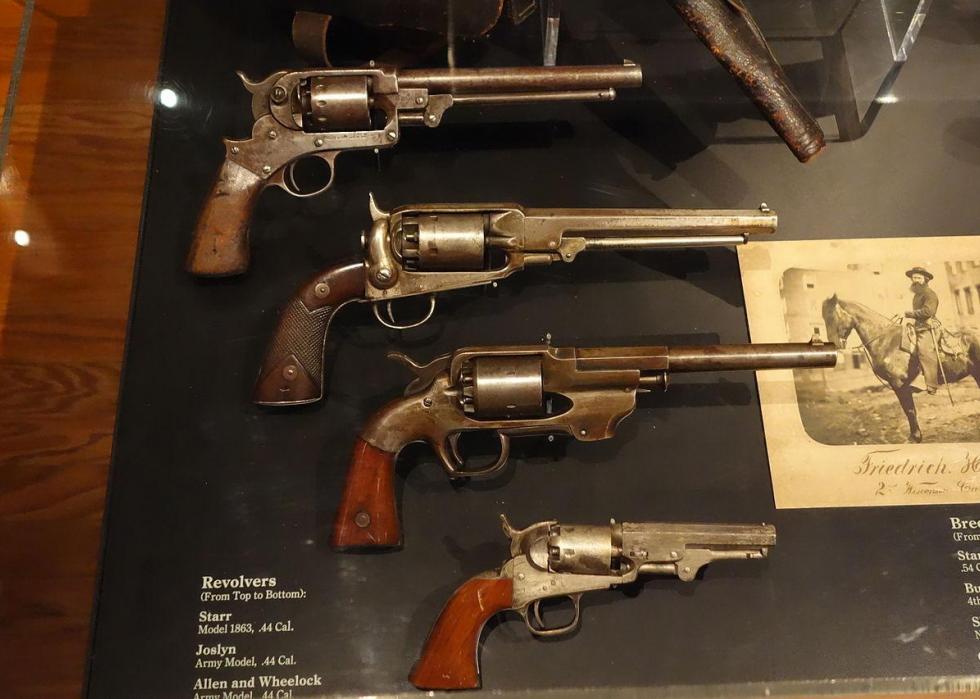 25 / 50
#26. Wisconsin
Firearms industry rank: #39
Gun prevalence rank: #21
Gun politics rank: #24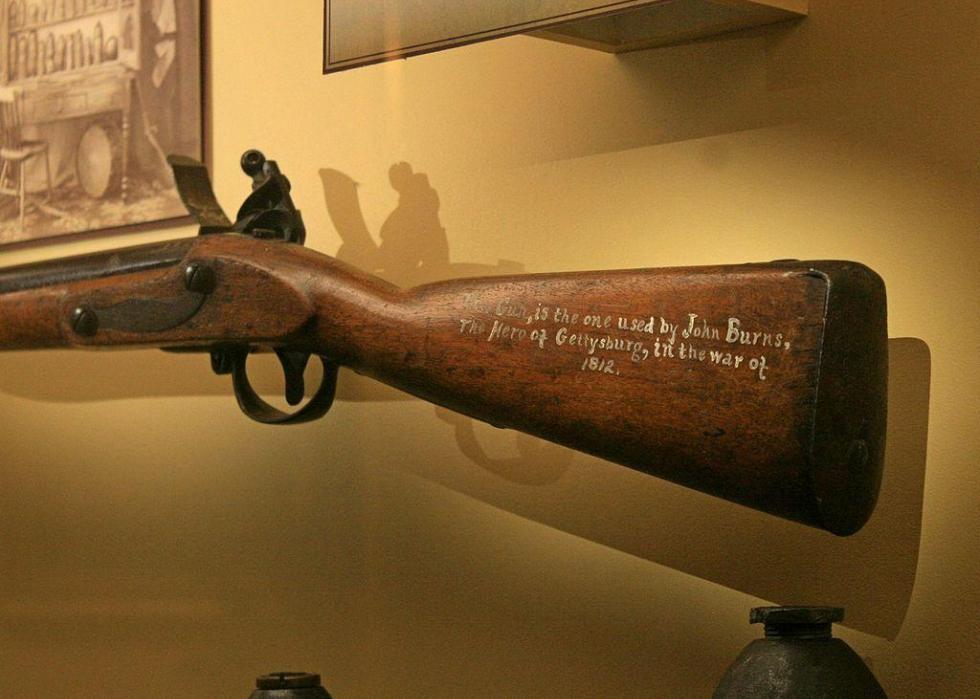 26 / 50
#25. Pennsylvania
Firearms industry rank: #29
Gun prevalence rank: #29
Gun politics rank: #25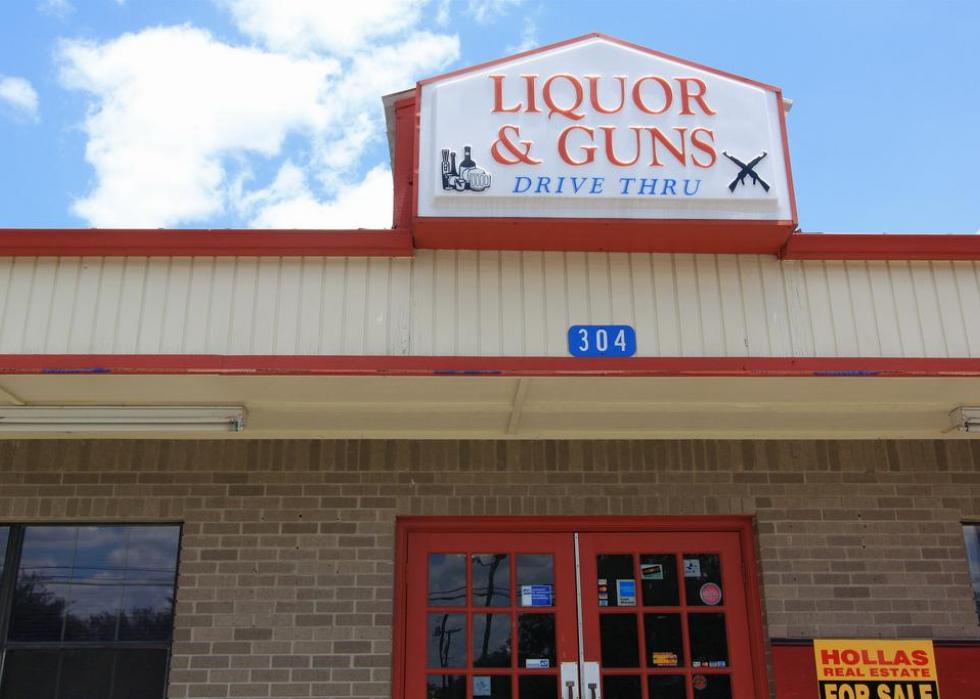 27 / 50
#24. Colorado
Firearms industry rank: #25
Gun prevalence rank: #12
Gun politics rank: #31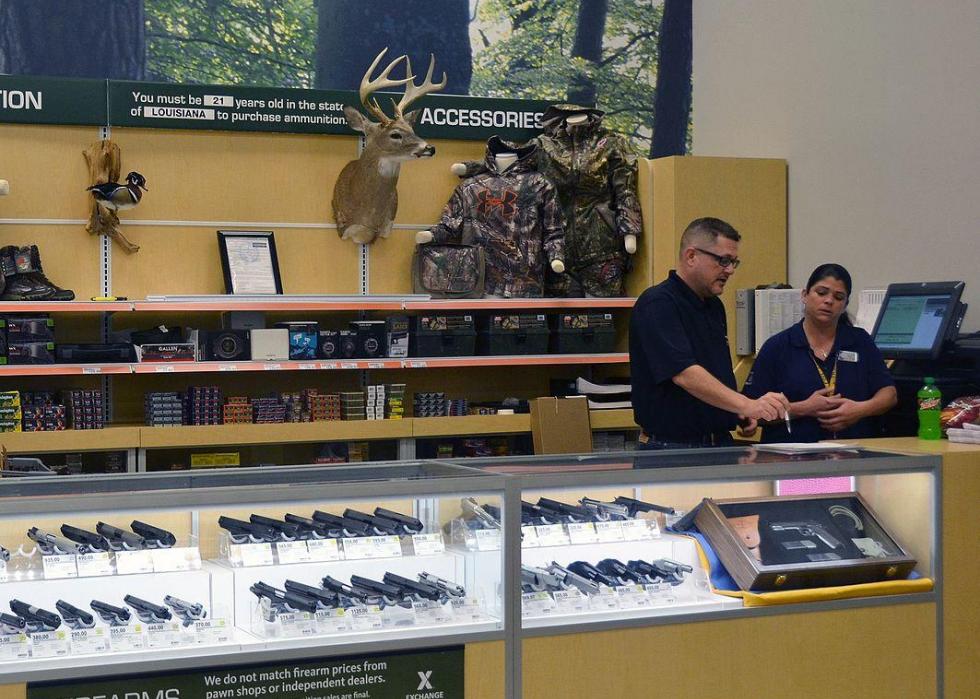 28 / 50
Barksdale AFB // Wikicommons
#23. Louisiana
Firearms industry rank: #30
Gun prevalence rank: #31
Gun politics rank: #20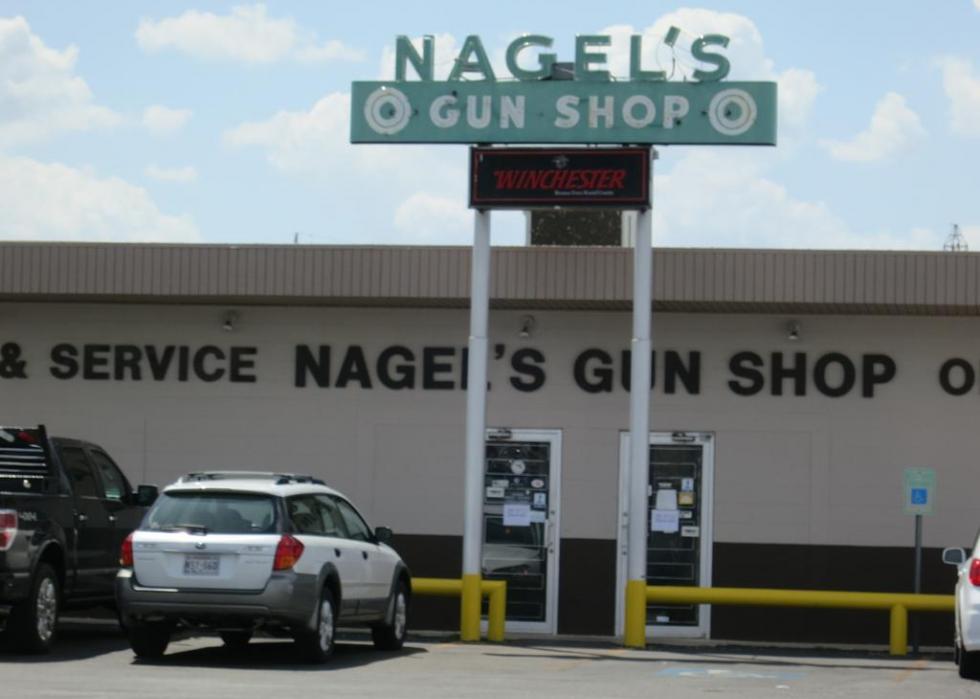 29 / 50
#22. Texas
Firearms industry rank: #26
Gun prevalence rank: #37
Gun politics rank: #13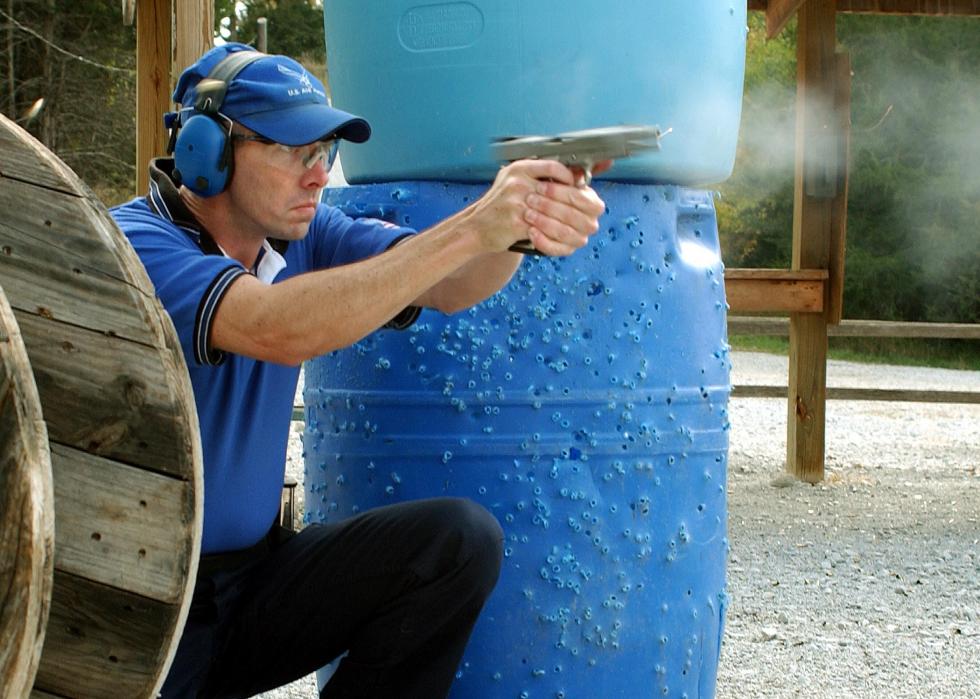 30 / 50
#21. Nebraska
Firearms industry rank: #11
Gun prevalence rank: #41
Gun politics rank: #10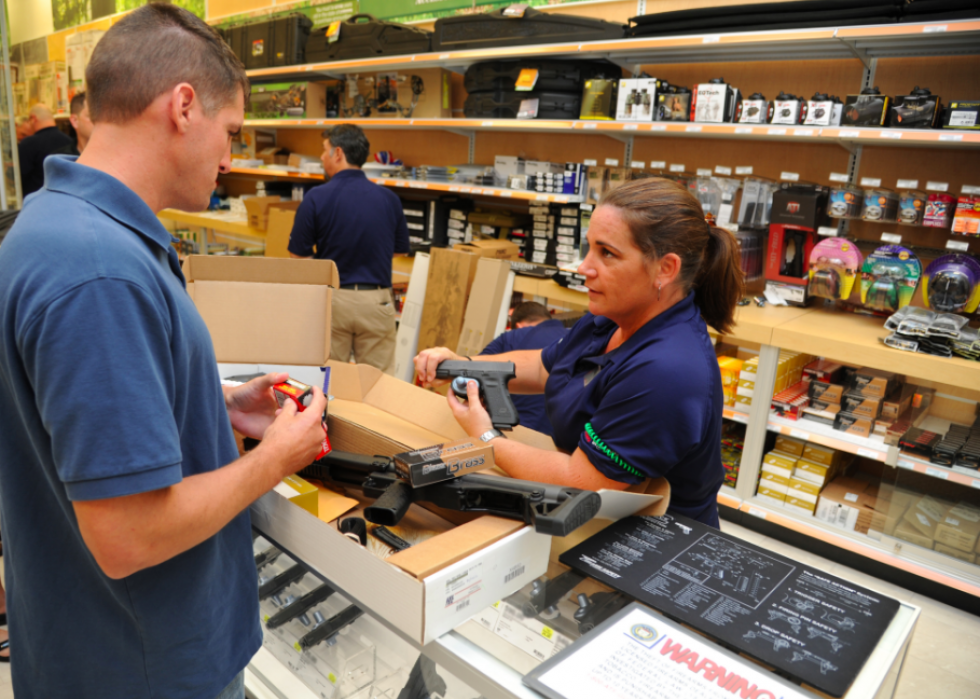 31 / 50
#20. Indiana
Firearms industry rank: #35
Gun prevalence rank: #4
Gun politics rank: #28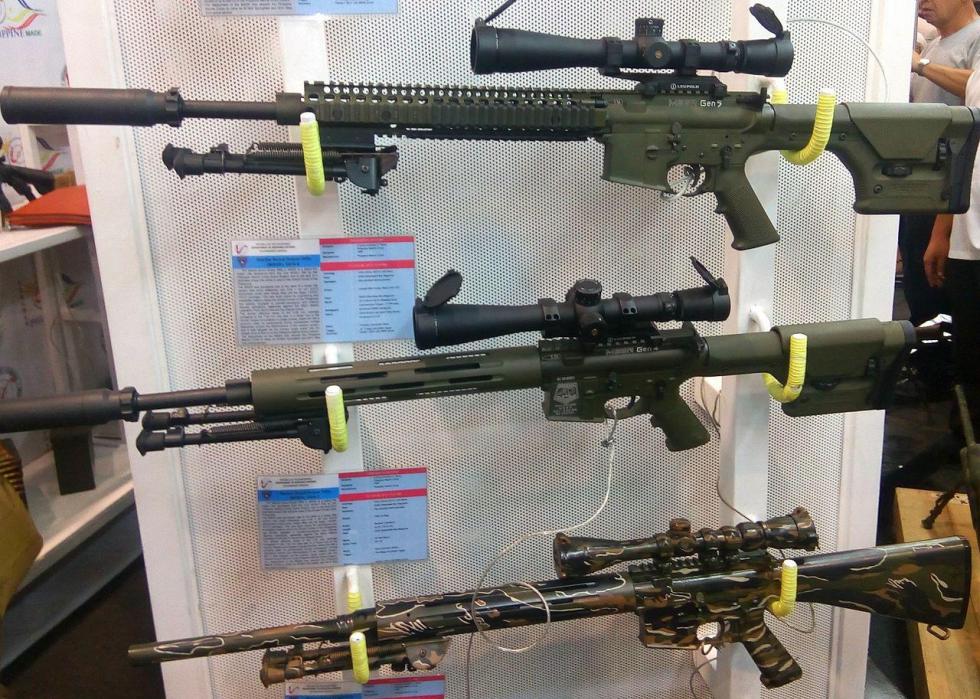 32 / 50
Girder2139 // Wikicommons
#19. Arizona
Firearms industry rank: #15
Gun prevalence rank: #34
Gun politics rank: #19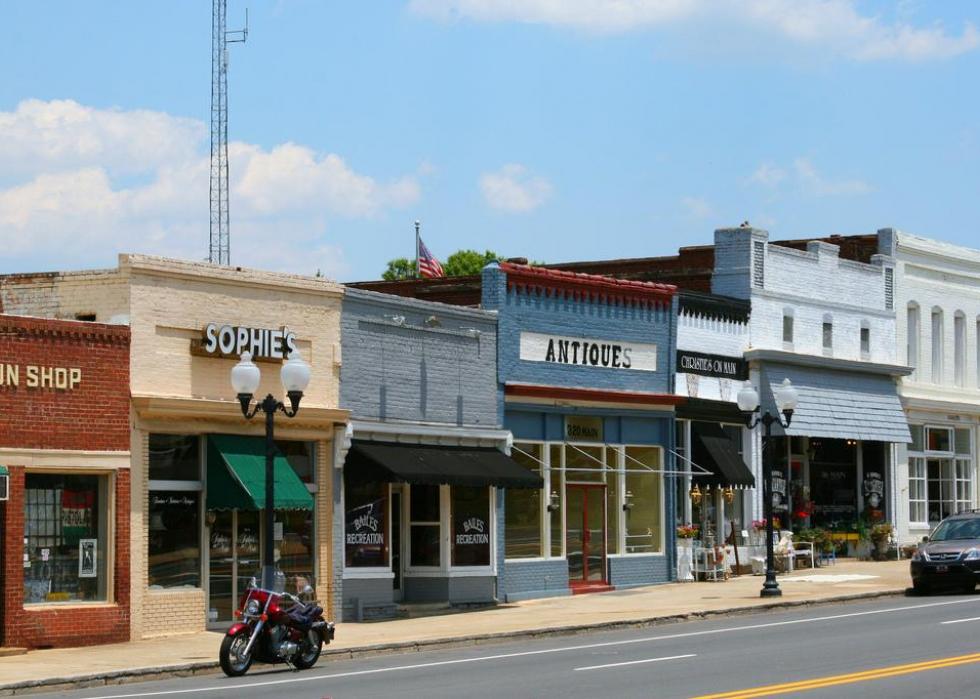 33 / 50
#18. North Carolina
Firearms industry rank: #27
Gun prevalence rank: #18
Gun politics rank: #22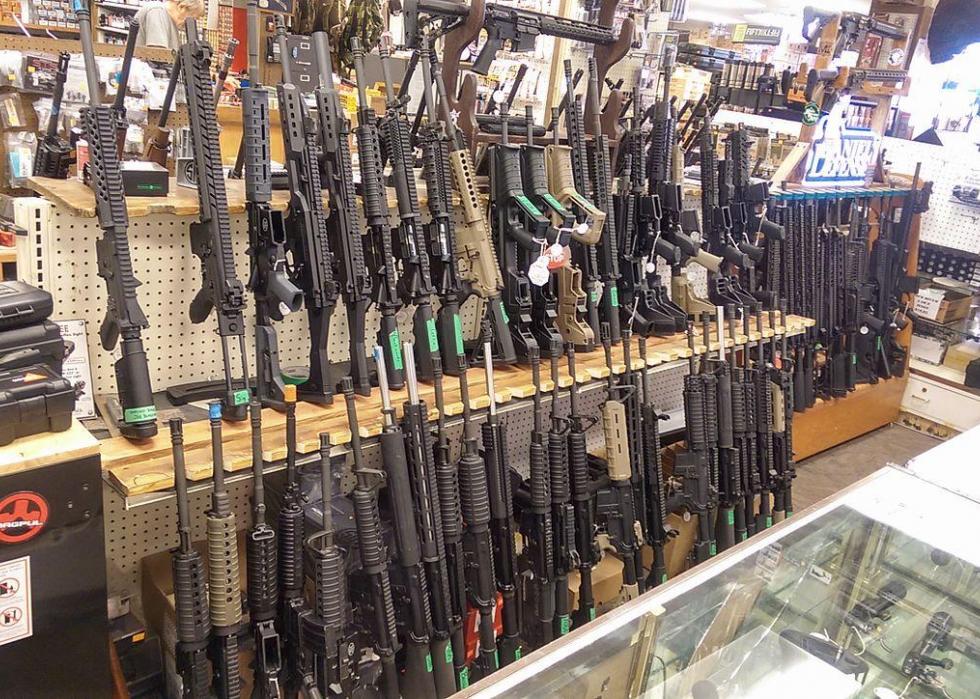 34 / 50
Michael McConville // Wikicommons
#17. Utah
Firearms industry rank: #10
Gun prevalence rank: #36
Gun politics rank: #7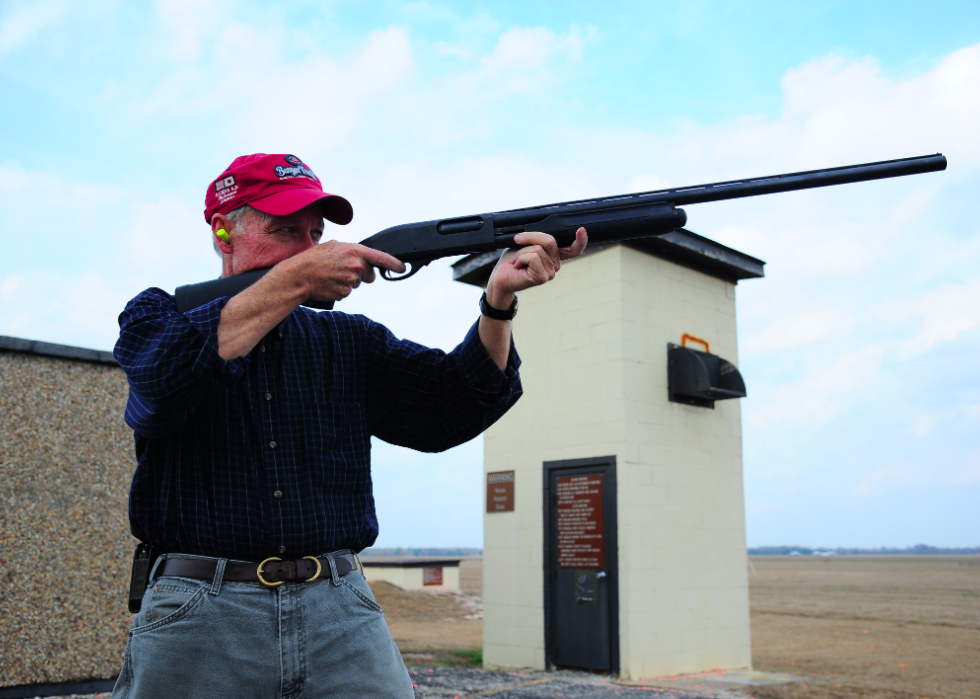 35 / 50
#16. Mississippi
Firearms industry rank: #13
Gun prevalence rank: #24
Gun politics rank: #17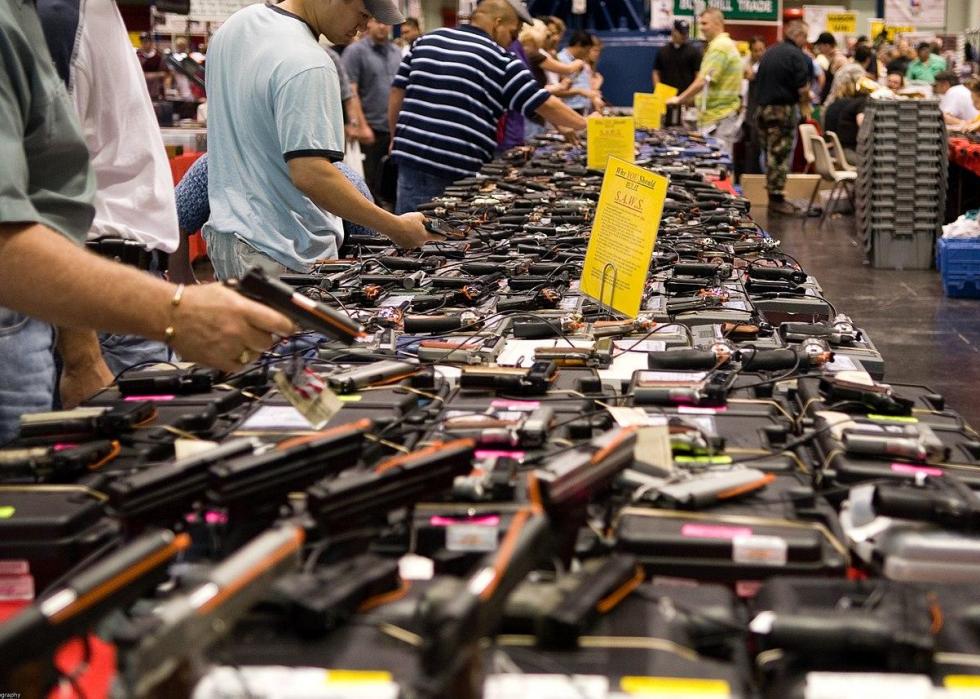 36 / 50
#15. South Carolina
Firearms industry rank: #21
Gun prevalence rank: #9
Gun politics rank: #21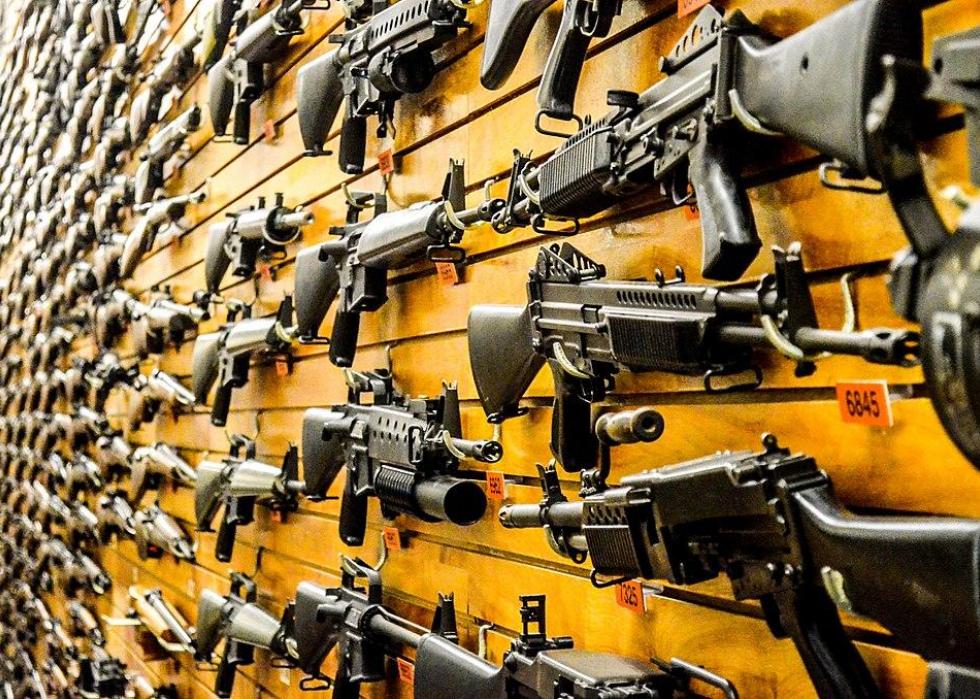 37 / 50
#14. Tennessee
Firearms industry rank: #22
Gun prevalence rank: #2
Gun politics rank: #26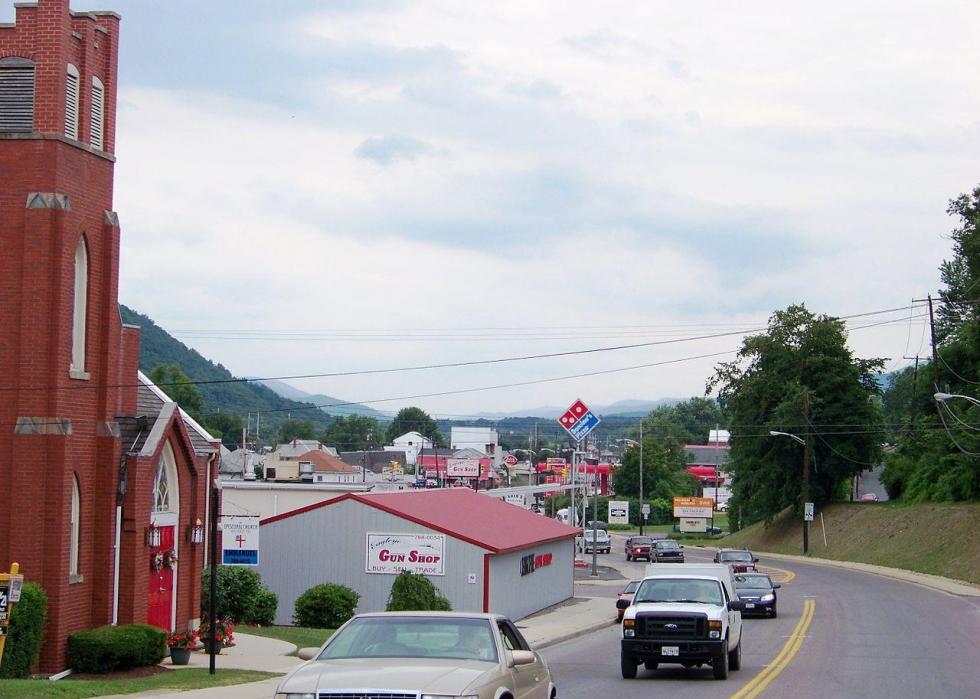 38 / 50
#13. West Virginia
Firearms industry rank: #24
Gun prevalence rank: #8
Gun politics rank: #15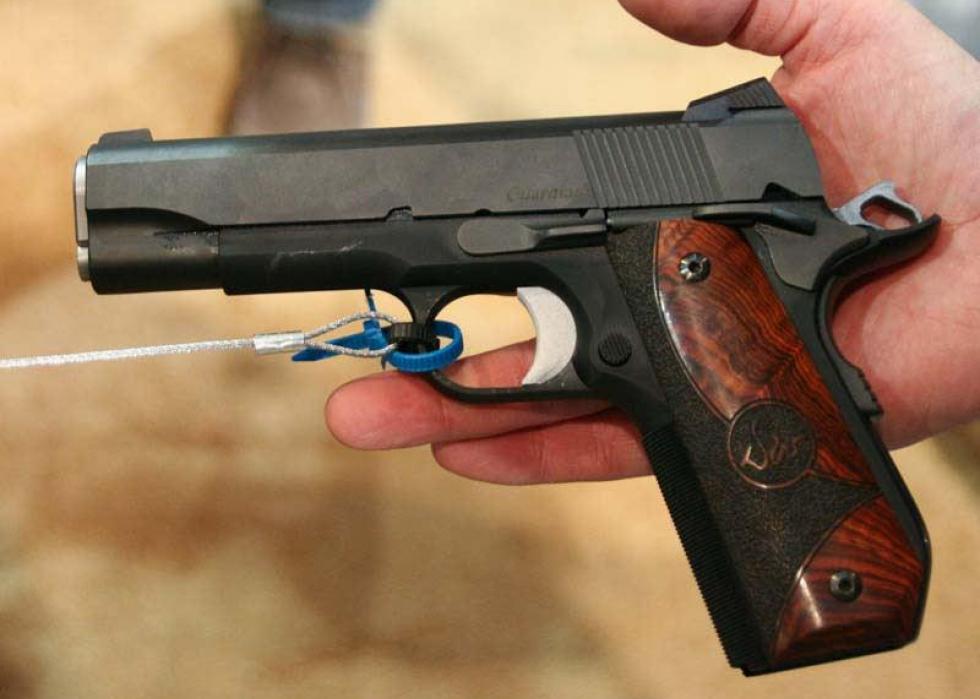 39 / 50
#12. Missouri
Firearms industry rank: #12
Gun prevalence rank: #19
Gun politics rank: #14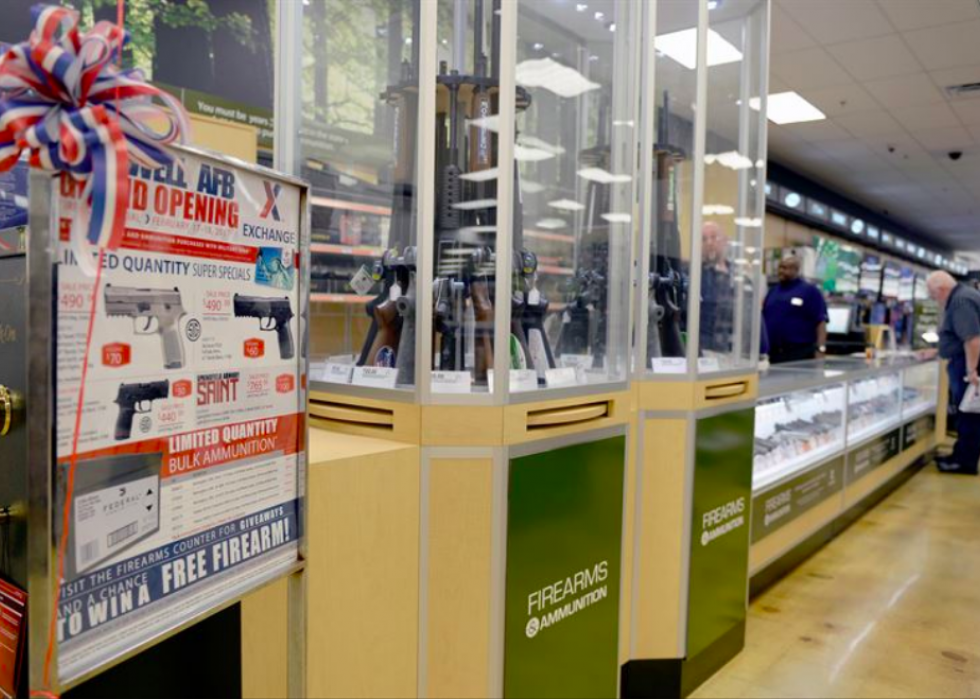 40 / 50
#11. Alabama
Firearms industry rank: #17
Gun prevalence rank: #6
Gun politics rank: #18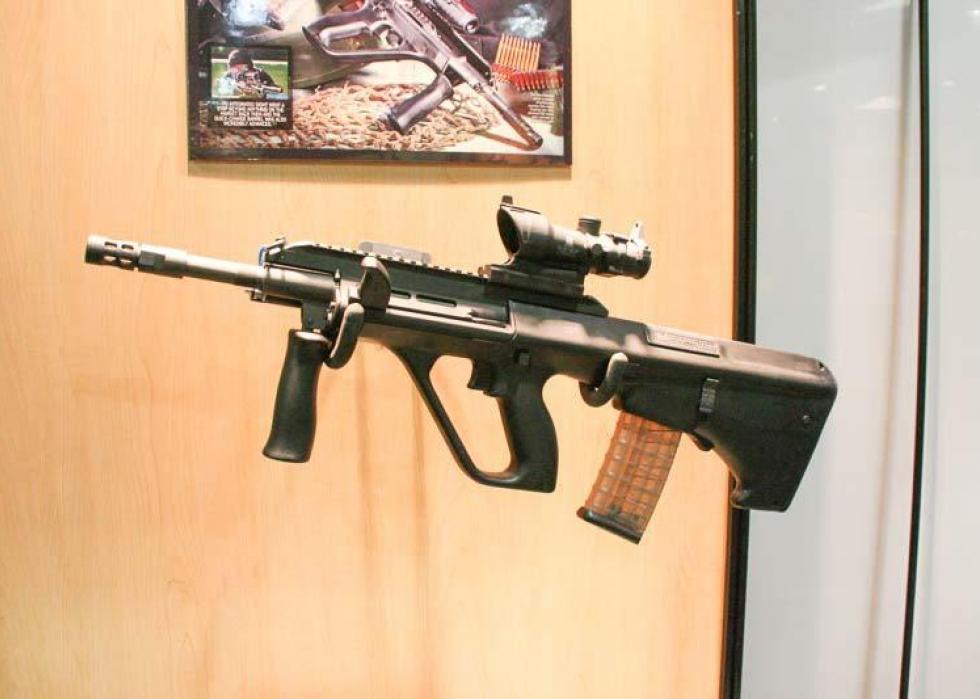 41 / 50
#10. North Dakota
Firearms industry rank: #14
Gun prevalence rank: #20
Gun politics rank: #4


 
42 / 50
#9. Oklahoma
Firearms industry rank: #19
Gun prevalence rank: #7
Gun politics rank: #6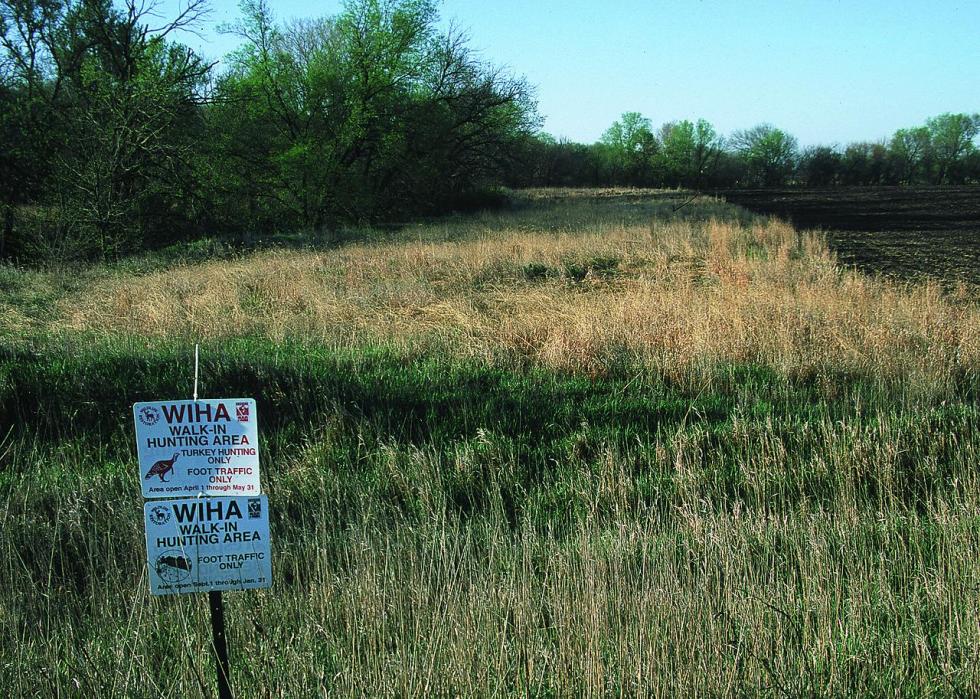 43 / 50
#8. Kansas
Firearms industry rank: #8
Gun prevalence rank: #13
Gun politics rank: #12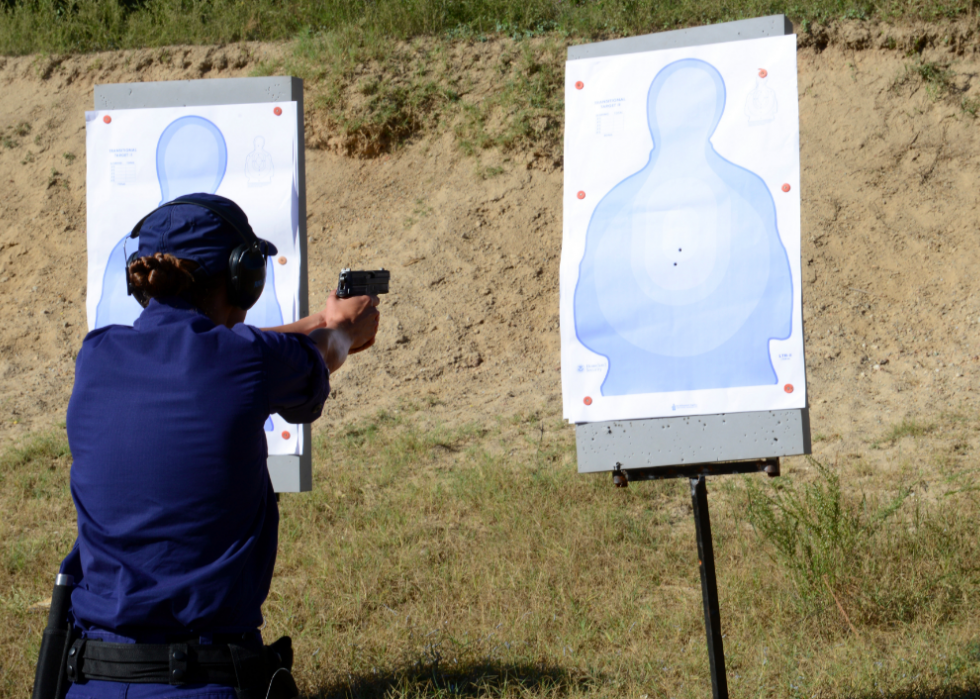 44 / 50
#7. Arkansas
Firearms industry rank: #7
Gun prevalence rank: #11
Gun politics rank: #16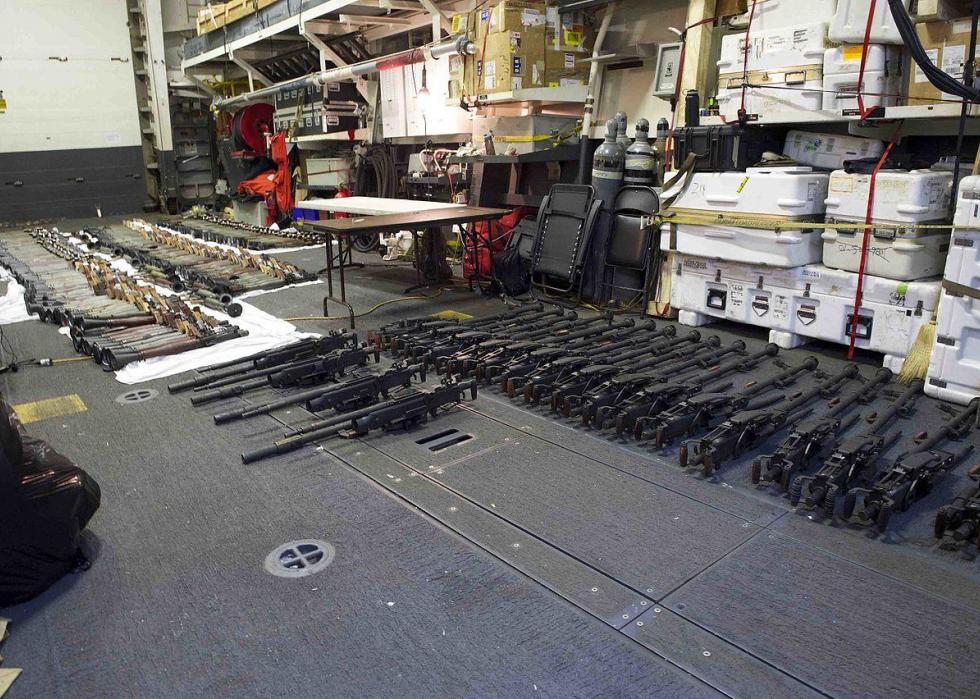 45 / 50
#6. Kentucky
Firearms industry rank: #20
Gun prevalence rank: #1
Gun politics rank: #8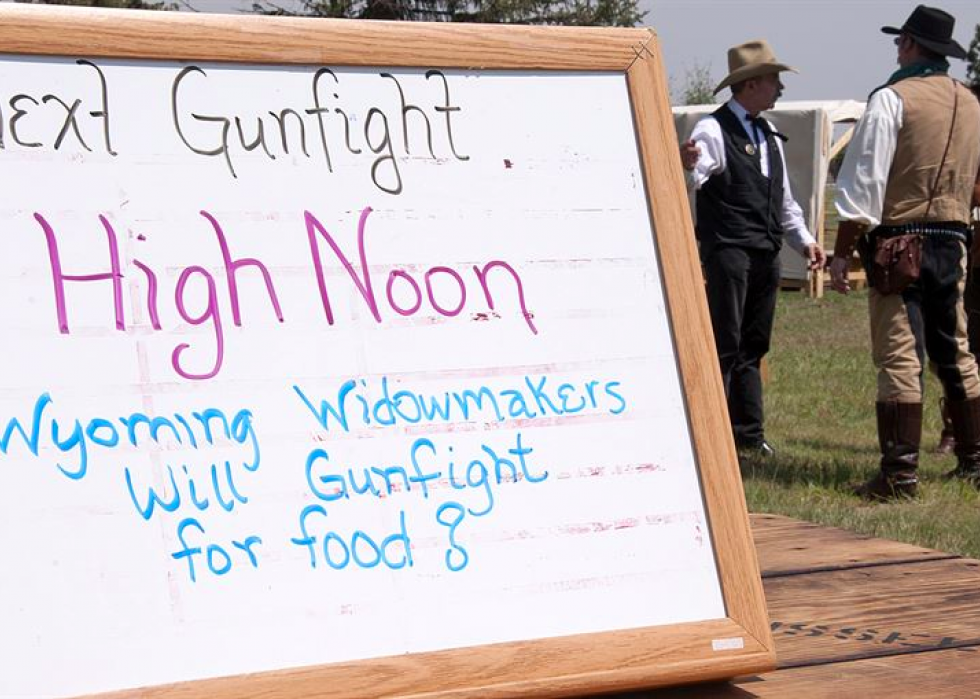 46 / 50
#5. Wyoming
Firearms industry rank: #5
Gun prevalence rank: #17
Gun politics rank: #2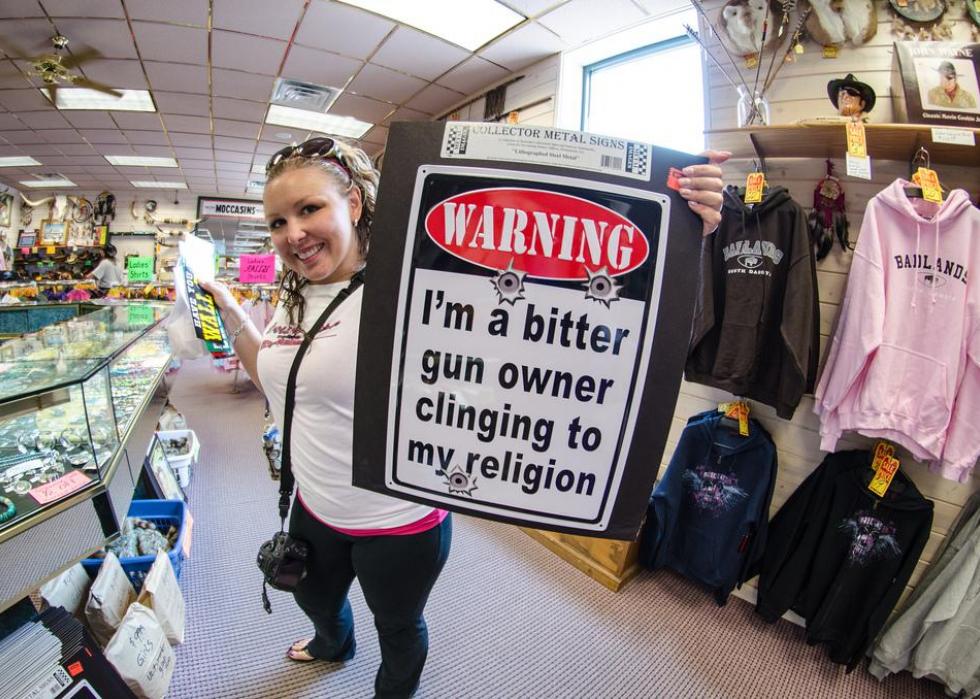 47 / 50
#4. South Dakota
Firearms industry rank: #4
Gun prevalence rank: #23
Gun politics rank: #1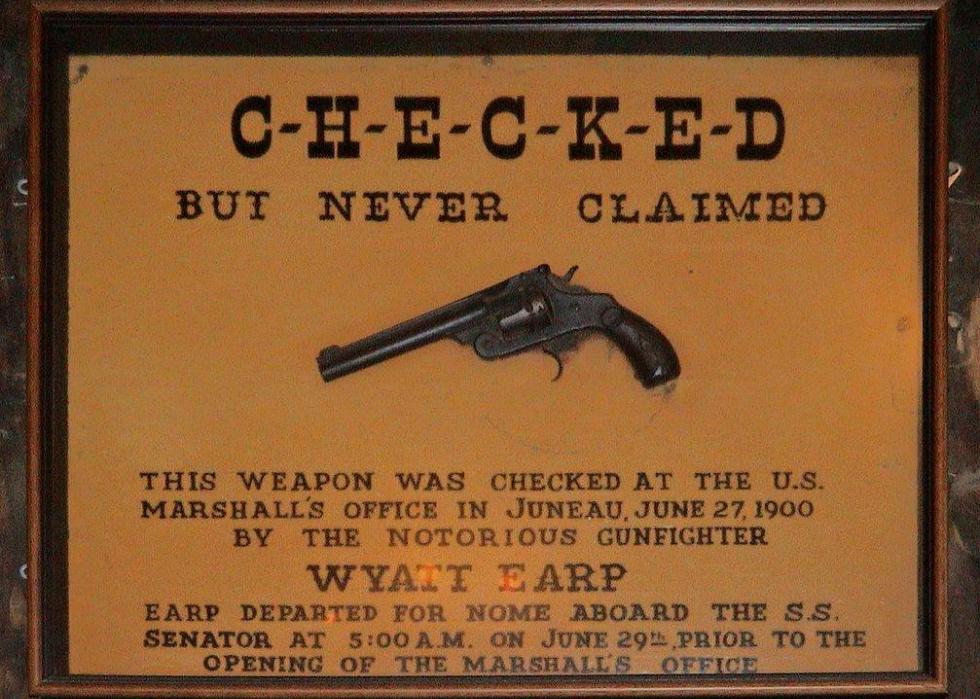 48 / 50
#3. Alaska
Firearms industry rank: #6
Gun prevalence rank: #3
Gun politics rank: #5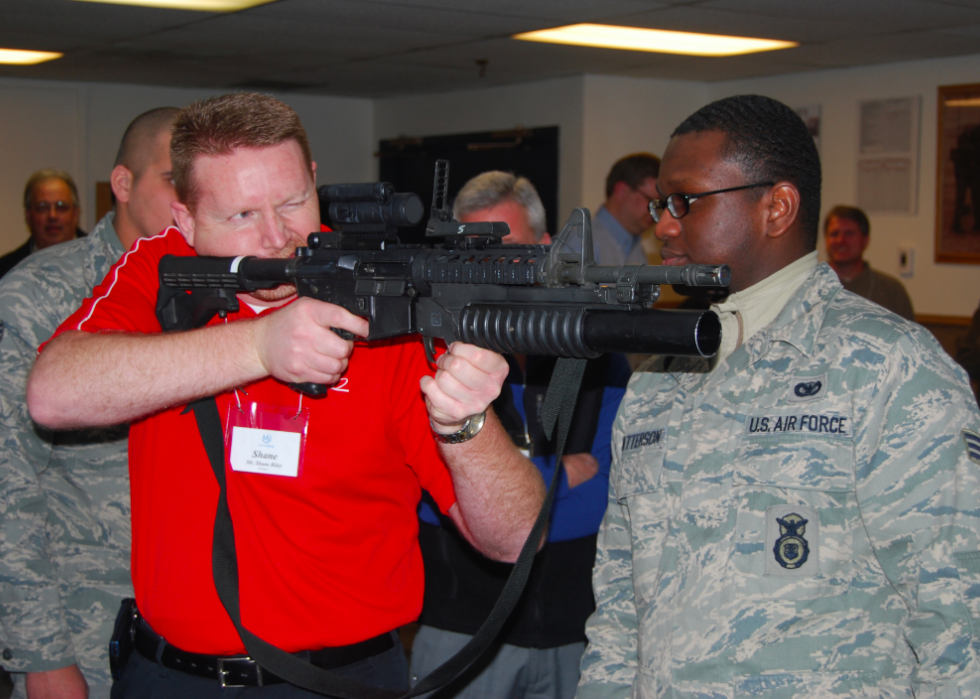 49 / 50
#2. Montana
Firearms industry rank: #3
Gun prevalence rank: #5
Gun politics rank: #9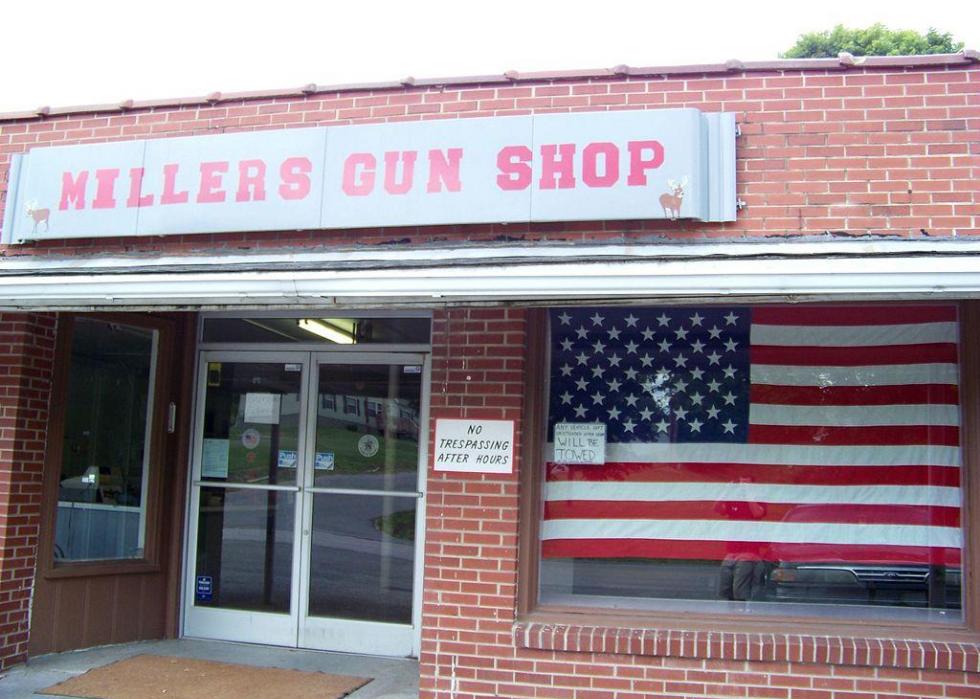 50 / 50
#1. Idaho
Firearms industry rank: #1
Gun prevalence rank: #10
Gun politics rank: #3