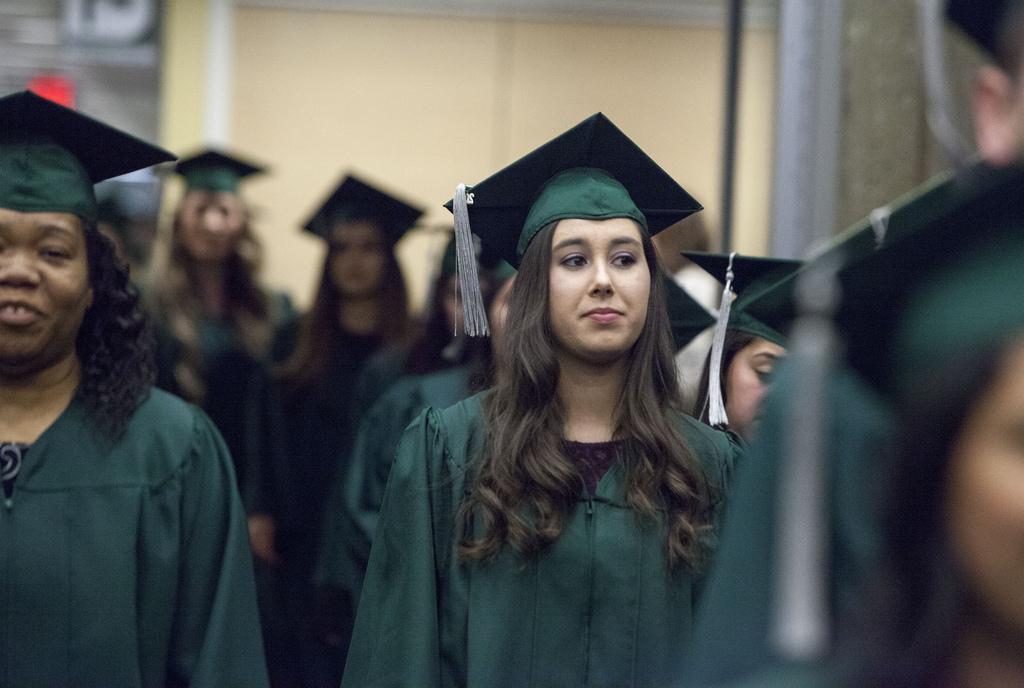 Most selective colleges in America
50 most selective colleges in America
While there is no shortage of exceptional colleges in the United States, there are millions of gifted kids across the nation jockeying for limited seats at some of America's top universities every single year. Parents often go to great financial lengths to send their children to some of the nation's most prestigious schools, the likes of which include paying private school tuition, hiring a personal tutor, or paying for test prep classes that typically cost upwards of $1,000.
Using data from the National Center for Education Statistics, Stacker listed the 50 most selective colleges in the United States. The institutions are ranked according to acceptance rates, and statistics pertaining to total acceptance, enrollment, and standardized test scores are provided for context. Stacker used the latest available NCES data for this story, ranking schools that saw at least 1,000 applications in 2016—for the class of 2020.
Read on to see if your alma mater is amongst the most competitive schools in the nation today.
RELATED: 50 best value colleges for 2018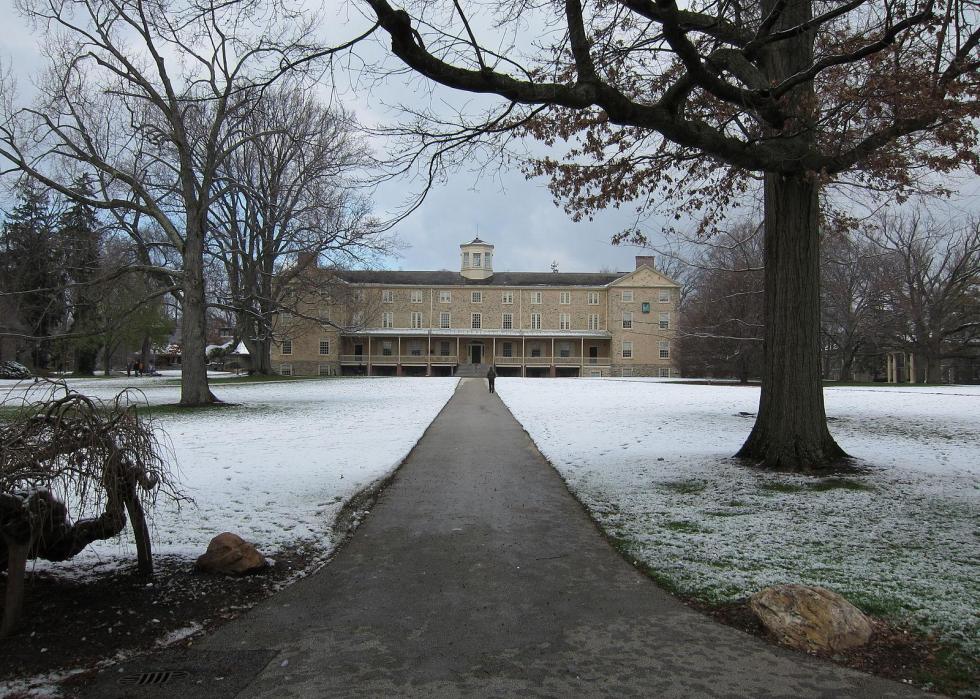 1 / 50
Tlönorbis // Wikimedia Commons
#50. Haverford College
Location: Haverford, Pennsylvania
Acceptance rate: 21.4%
Total accepted: 870 (4,066 total applicants)
Total enrolled: 349 (40.11% yield)
SAT Critical Reading – 25th percentile score: 660, 75th percentile score: 760
SAT Math – 25th percentile score: 660, 75th percentile score: 760
ACT Composite – 25th percentile score: 31, 75th percentile score: 34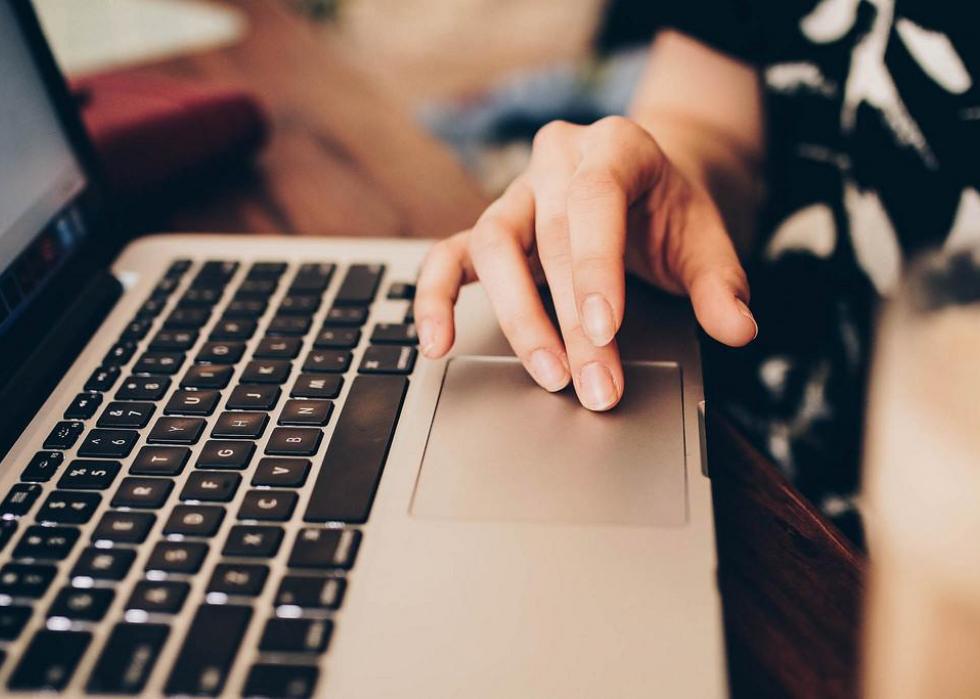 2 / 50
#49. Moore Norman Technology Center
Location: Norman, Oklahoma
Acceptance rate: 21.29%
Total accepted: 238 (1,118 total applicants)
Total enrolled: 218 (91.6% yield)
SAT and ACT data not available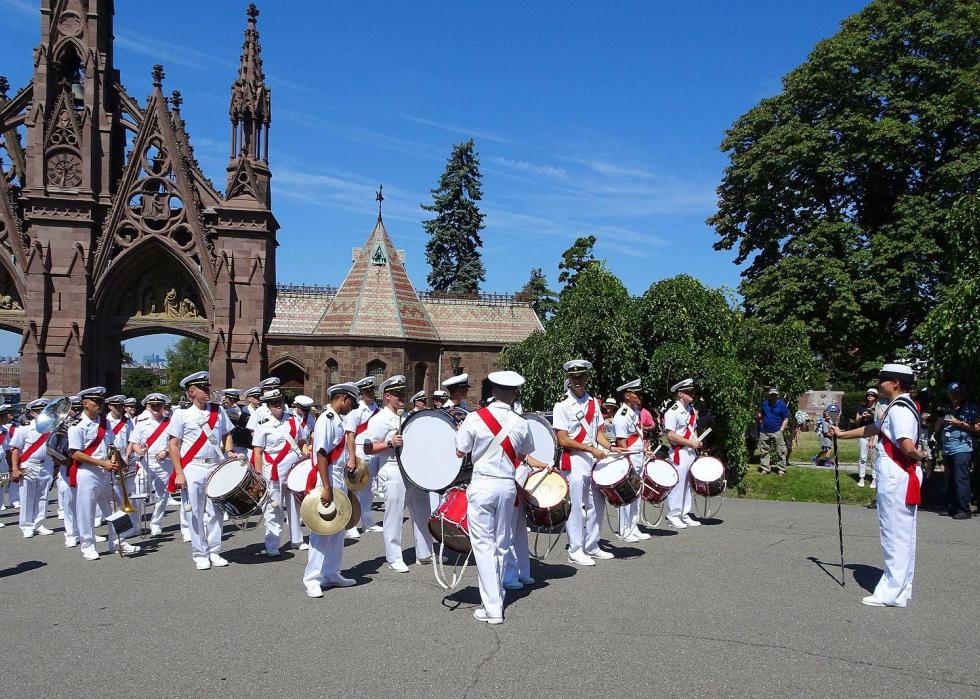 3 / 50
Jim Henderson // Wikimedia Commons
#48. United States Merchant Marine Academy
Location: Kings Point, New York
Acceptance rate: 20.3%
Total accepted: 380 (1,872 total applicants)
Total enrolled: 279 (73.42% yield)
SAT Critical Reading – 25th percentile score: 570, 75th percentile score: 660
SAT Math – 25th percentile score: 620, 75th percentile score: 690
ACT Composite – 25th percentile score: 26, 75th percentile score: 30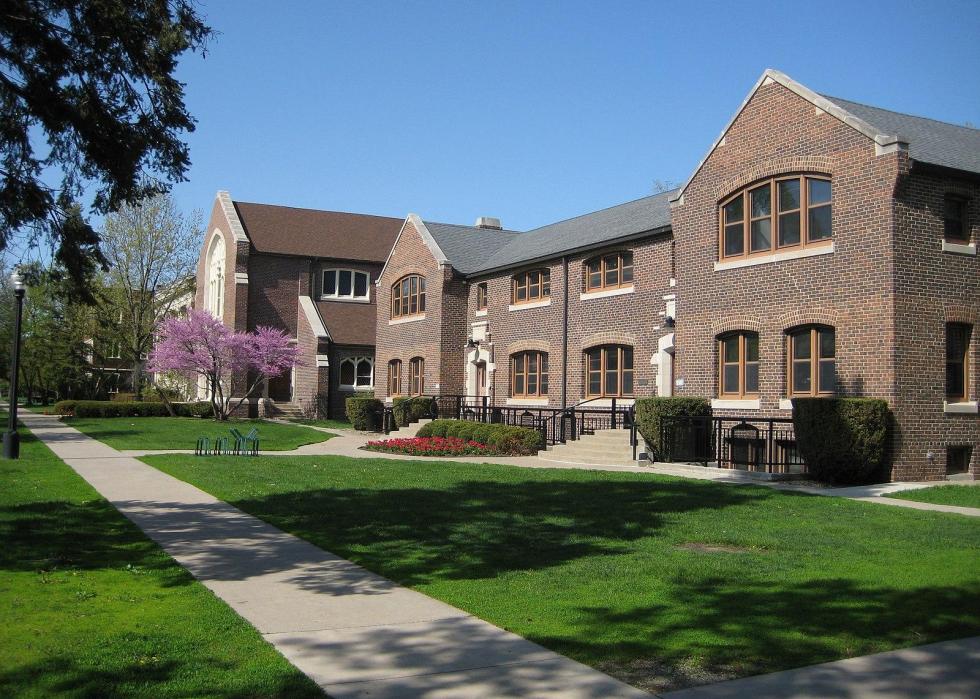 4 / 50
Aureliusxv // Wikimedia Commons
#47. Grinnell College
Location: Grinnell, Iowa
Acceptance rate: 20.19%
Total accepted: 1,488 (7,370 total applicants)
Total enrolled: 414 (27.82% yield)
SAT Critical Reading – 25th percentile score: 640, 75th percentile score: 750
SAT Math – 25th percentile score: 680, 75th percentile score: 780
ACT Composite – 25th percentile score: 30, 75th percentile score: 33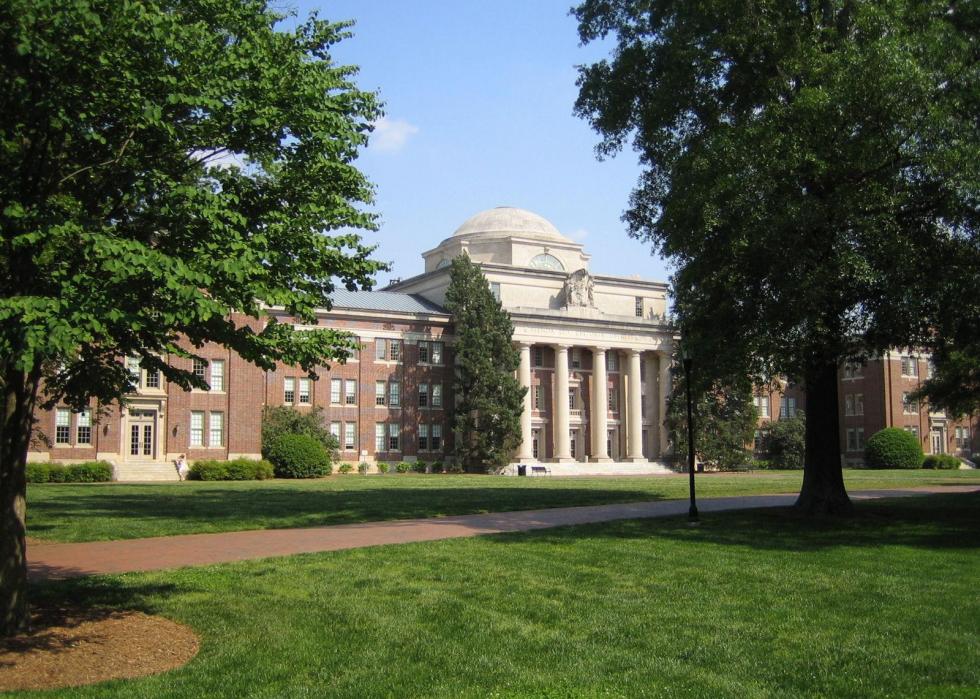 5 / 50
Dacoslett // Wikimedia Commons
#46. Davidson College
Location: Davidson, North Carolina
Acceptance rate: 20.11%
Total accepted: 1,130 (5,618 total applicants)
Total enrolled: 514 (45.49% yield)
SAT Critical Reading – 25th percentile score: 630, 75th percentile score: 720
SAT Math – 25th percentile score: 620, 75th percentile score: 720
ACT Composite – 25th percentile score: 28, 75th percentile score: 33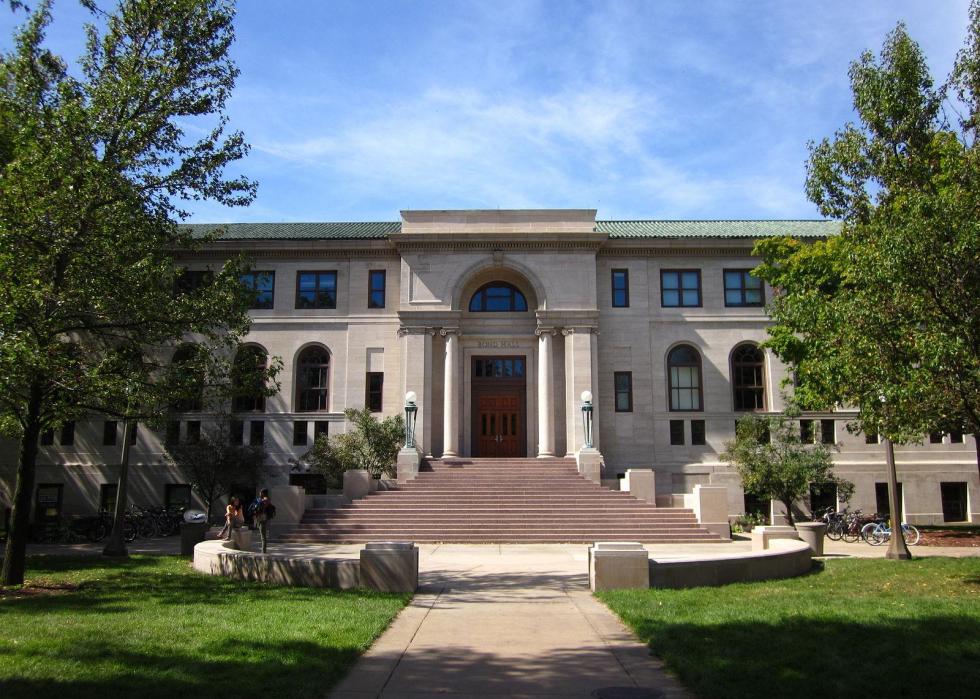 6 / 50
Ssantera // Wikimedia Commons
#45. University of Notre Dame
Location: Notre Dame, Indiana
Acceptance rate: 18.73%
Total accepted: 3,654 (19,505 total applicants)
Total enrolled: 2,046 (55.99% yield)
SAT Critical Reading – 25th percentile score: 670, 75th percentile score: 760
SAT Math – 25th percentile score: 680, 75th percentile score: 780
ACT Composite – 25th percentile score: 32, 75th percentile score: 35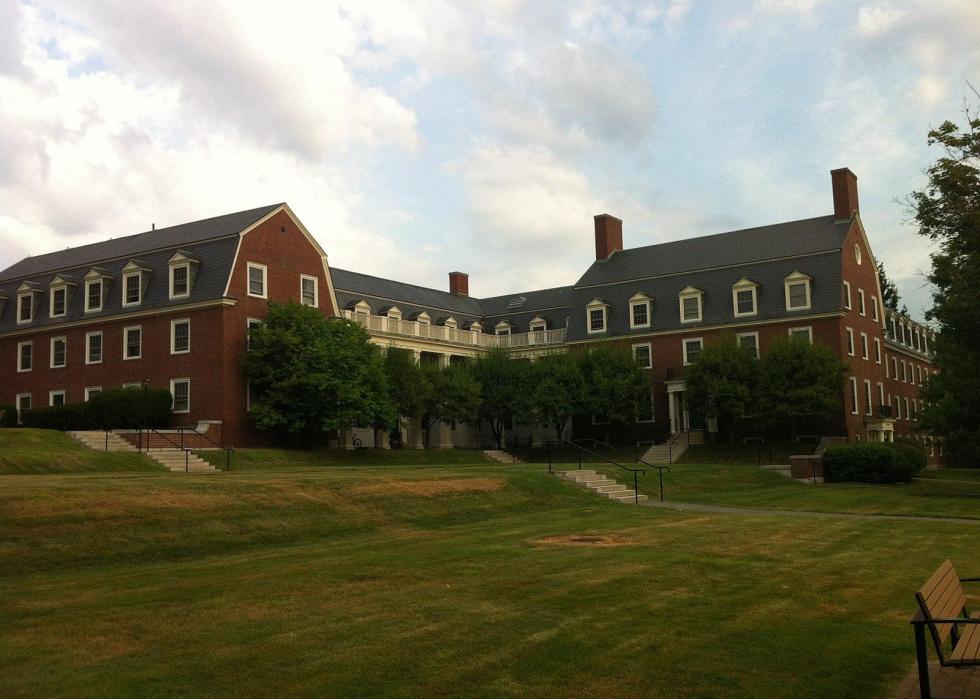 7 / 50
Nick Kline // Wikimedia Commons
#44. Colby College
Location: Waterville, Maine
Acceptance rate: 18.71%
Total accepted: 1,840 (9,833 total applicants)
Total enrolled: 510 (27.72% yield)
SAT Critical Reading – 25th percentile score: 630, 75th percentile score: 725
SAT Math – 25th percentile score: 640, 75th percentile score: 745
ACT Composite – 25th percentile score: 30, 75th percentile score: 33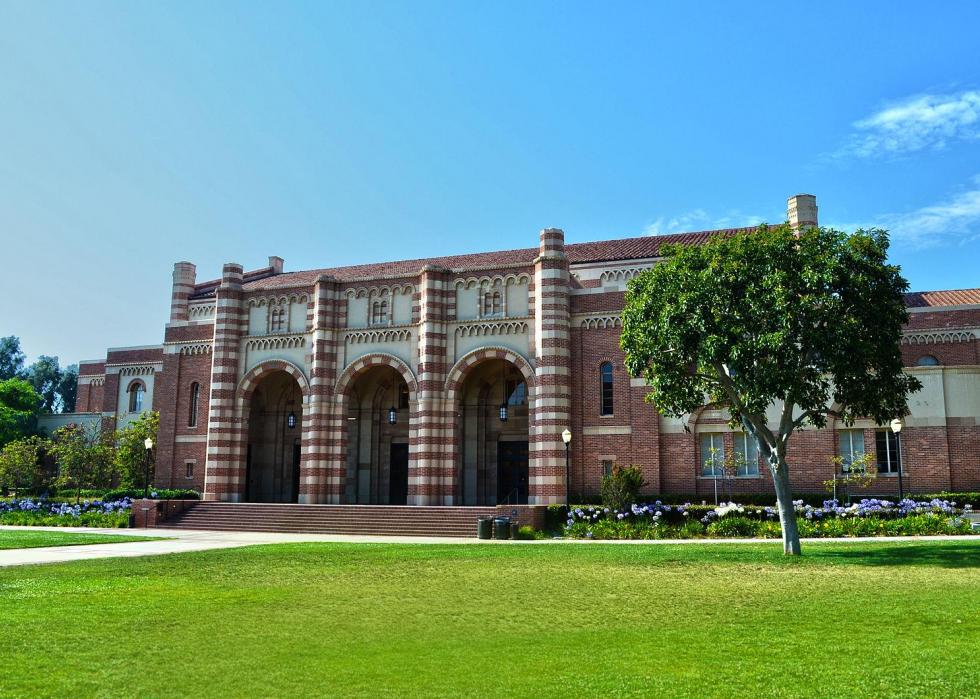 8 / 50
Josh Lee // Wikimedia Commons
#43. University of California-Los Angeles
Location: Los Angeles, California
Acceptance rate: 17.99%
Total accepted: 17,473 (97,112 total applicants)
Total enrolled: 6,545 (37.46% yield)
SAT Critical Reading – 25th percentile score: 570, 75th percentile score: 710
SAT Math – 25th percentile score: 590, 75th percentile score: 760
ACT Composite – 25th percentile score: 28, 75th percentile score: 33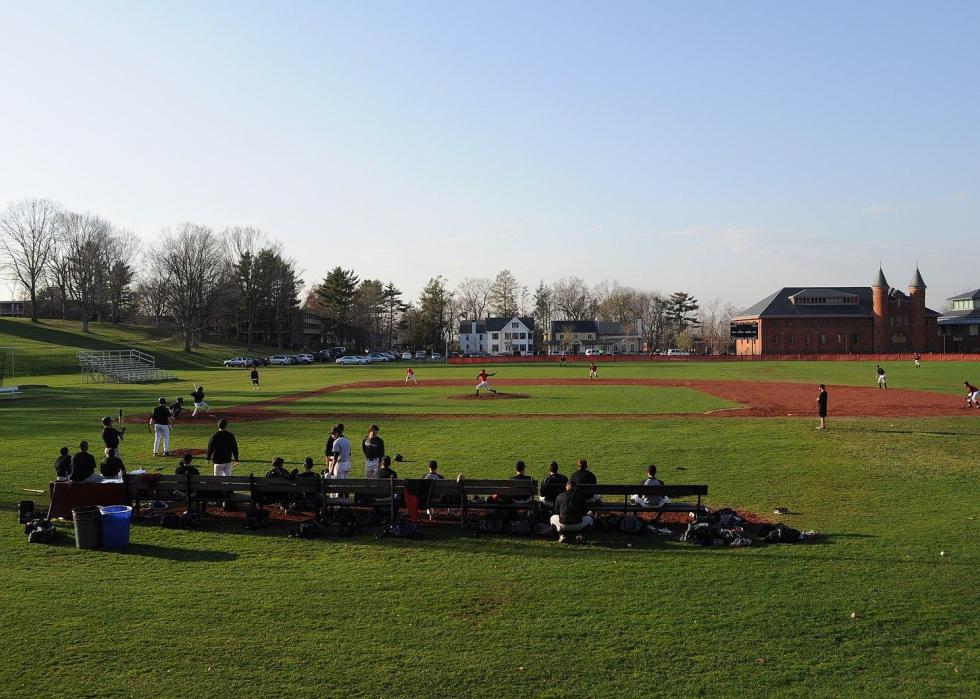 9 / 50
Joe Mabel // Wikimedia Commons
#42. Wesleyan University
Location: Middletown, Connecticut 
Acceptance rate: 17.85%
Total accepted: 2,129 (11,928 total applicants)
Total enrolled: 774 (36.36% yield)
SAT and ACT data not available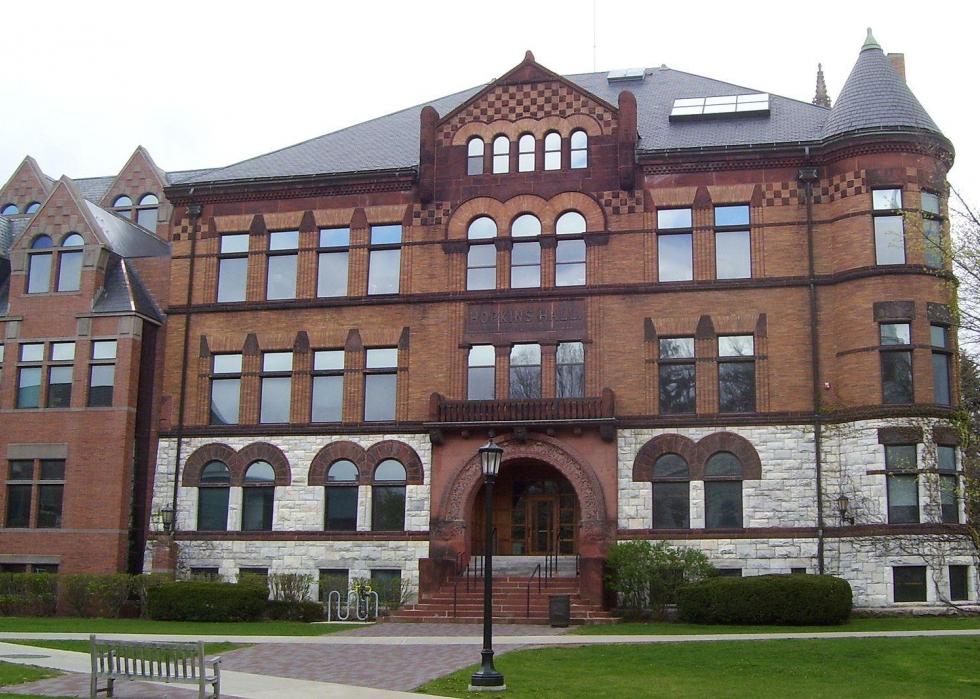 10 / 50
Beyond my Ken // Wikimedia Commons
#41. Williams College
Location: Williamstown, Massachusetts 
Acceptance rate: 17.61%
Total accepted: 1,230 (6,985 total applicants)
Total enrolled: 553 (44.96% yield)
SAT Critical Reading – 25th percentile score: 670, 75th percentile score: 770
SAT Math – 25th percentile score: 660, 75th percentile score: 770
ACT Composite – 25th percentile score: 31, 75th percentile score: 34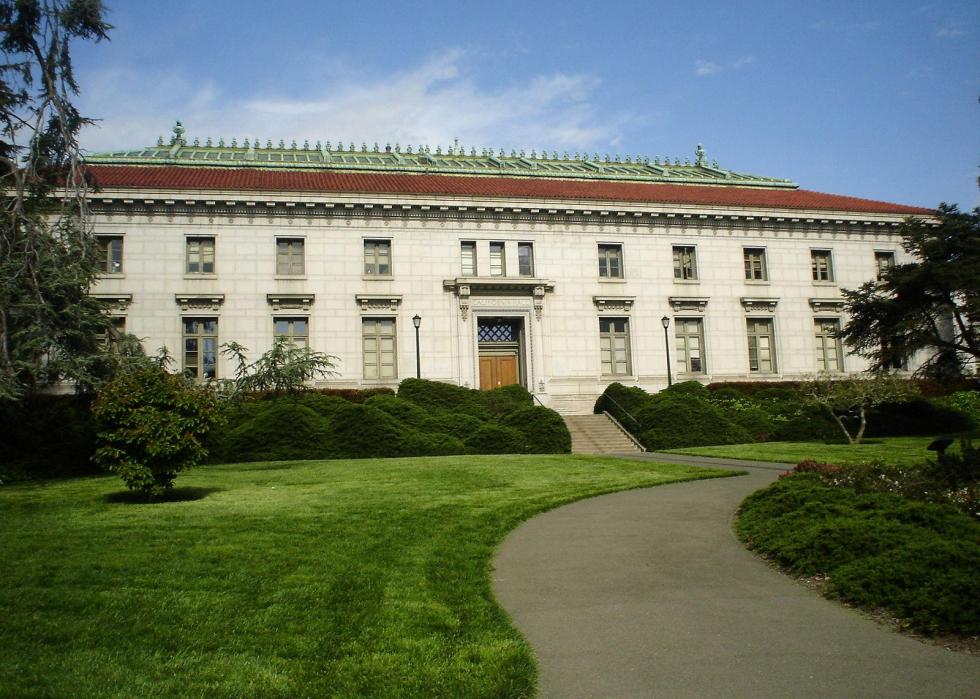 11 / 50
Lrd1rocha // Wikimedia Commons
#40. University of California-Berkeley
Location: Berkeley, California
Acceptance rate: 16.93%
Total accepted: 13,975 (82,561 total applicants)
Total enrolled: 6,182 (44.24% yield)
SAT Critical Reading – 25th percentile score: 620, 75th percentile score: 750
SAT Math – 25th percentile score: 650, 75th percentile score: 790
ACT Composite – 25th percentile score: 31, 75th percentile score: 34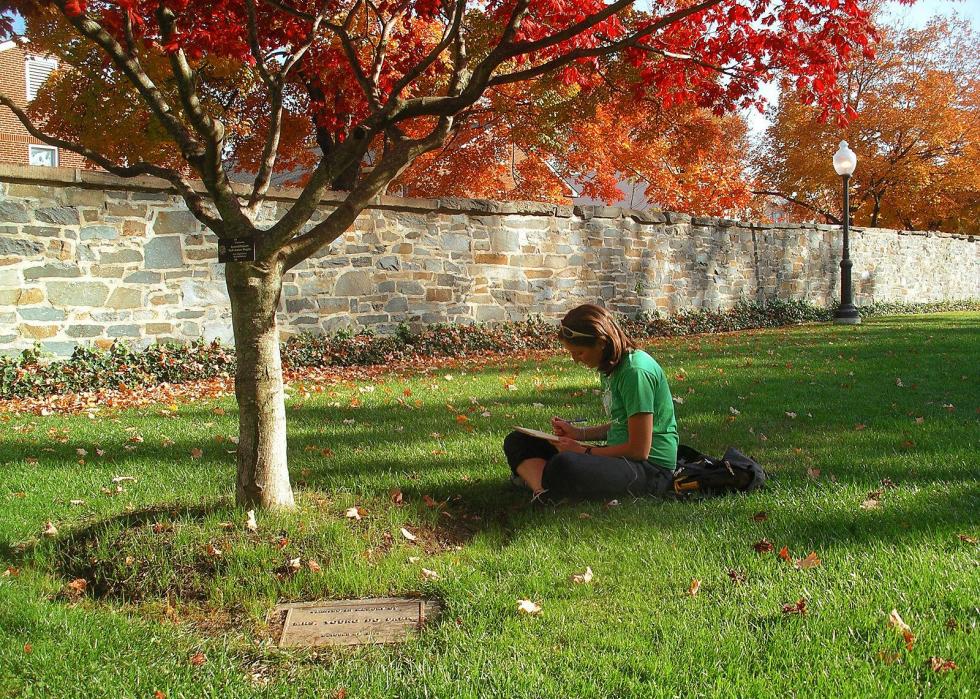 12 / 50
Patrickneil // Wikimedia Commons
#39. Georgetown University
Location: Washington, D.C.
Acceptance rate: 16.85%
Total accepted: 3,369 (19,997 total applicants)
Total enrolled: 1,574 (46.72% yield)
SAT Critical Reading – 25th percentile score: 660, 75th percentile score: 760
SAT Math – 25th percentile score: 660, 75th percentile score: 760
ACT Composite – 25th percentile score: 30, 75th percentile score: 34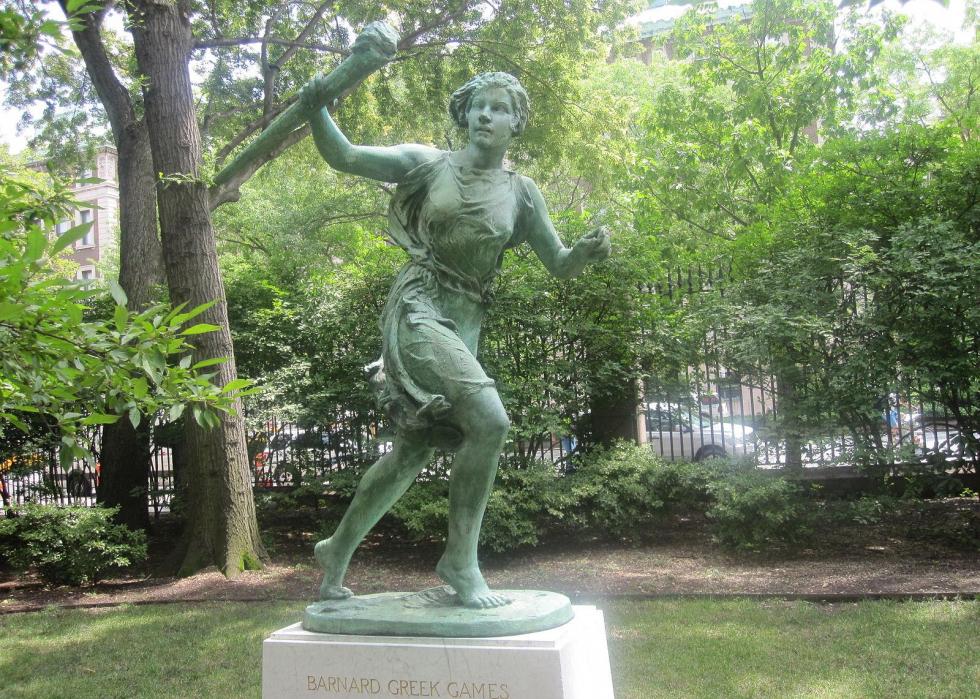 13 / 50
Billy Hathorn // Wikimedia Commons
#38. Barnard College
Location: New York, New York
Acceptance rate: 16.74%
Total accepted: 1,184 (7,071 total applicants)
Total enrolled: 605 (51.1% yield)
SAT Critical Reading – 25th percentile score: 640, 75th percentile score: 740
SAT Math – 25th percentile score: 630, 75th percentile score: 730
ACT Composite – 25th percentile score: 29, 75th percentile score: 33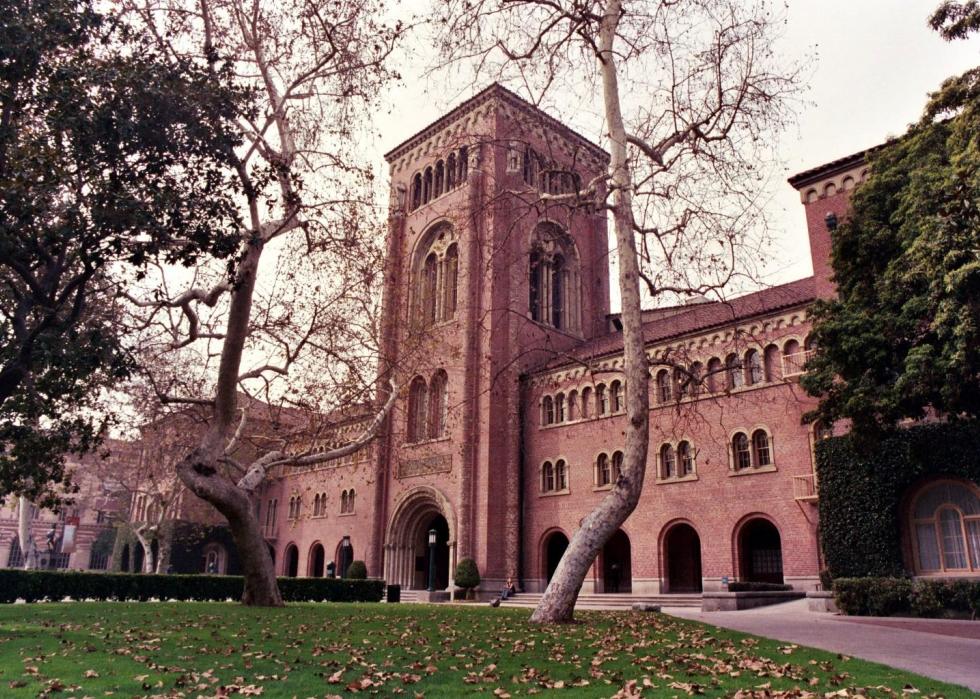 14 / 50
Brion Vibber // Wikimedia Commons
#37. University of Southern California
Location: Los Angeles, California
Acceptance rate: 16.62%
Total accepted: 9,022 (54,280 total applicants)
Total enrolled: 3,068 (34.01% yield)
SAT Critical Reading – 25th percentile score: 630, 75th percentile score: 730
SAT Math – 25th percentile score: 650, 75th percentile score: 770
ACT Composite – 25th percentile score: 30, 75th percentile score: 33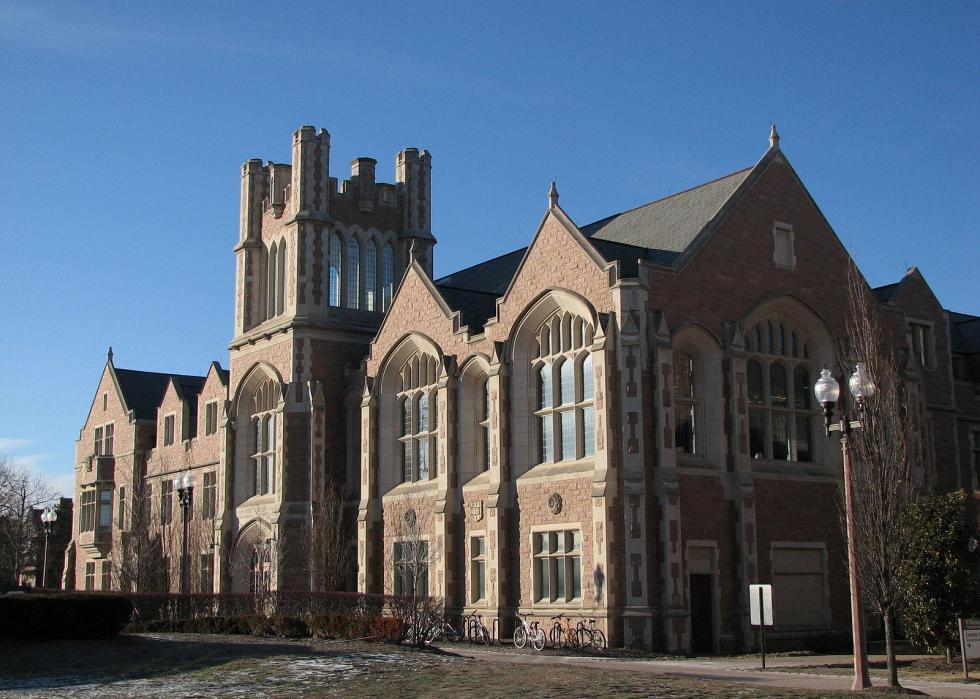 15 / 50
Minbaili // Wikimedia Commons
#36. Washington University in St Louis
Location: Saint Louis, Missouri
Acceptance rate: 16.53%
Total accepted: 4,827 (29,197 total applicants)
Total enrolled: 1,776 (36.79% yield)
SAT Critical Reading – 25th percentile score: 690, 75th percentile score: 770
SAT Math – 25th percentile score: 710, 75th percentile score: 800
ACT Composite – 25th percentile score: 32, 75th percentile score: 34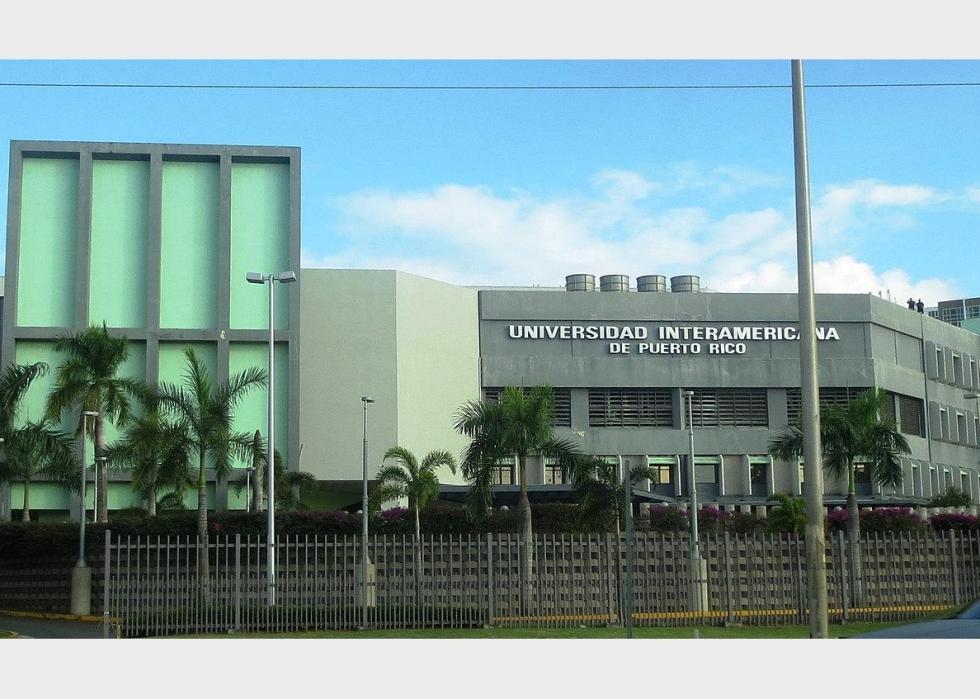 16 / 50
Bjoertvedt // Wikimedia Commons
#35. Inter American University of Puerto Rico-Metro
Location: San Juan, Puerto Rico 
Acceptance rate: 16.5%
Total accepted: 647 (3,922 total applicants)
Total enrolled: 647 (100% yield)
SAT and ACT data not available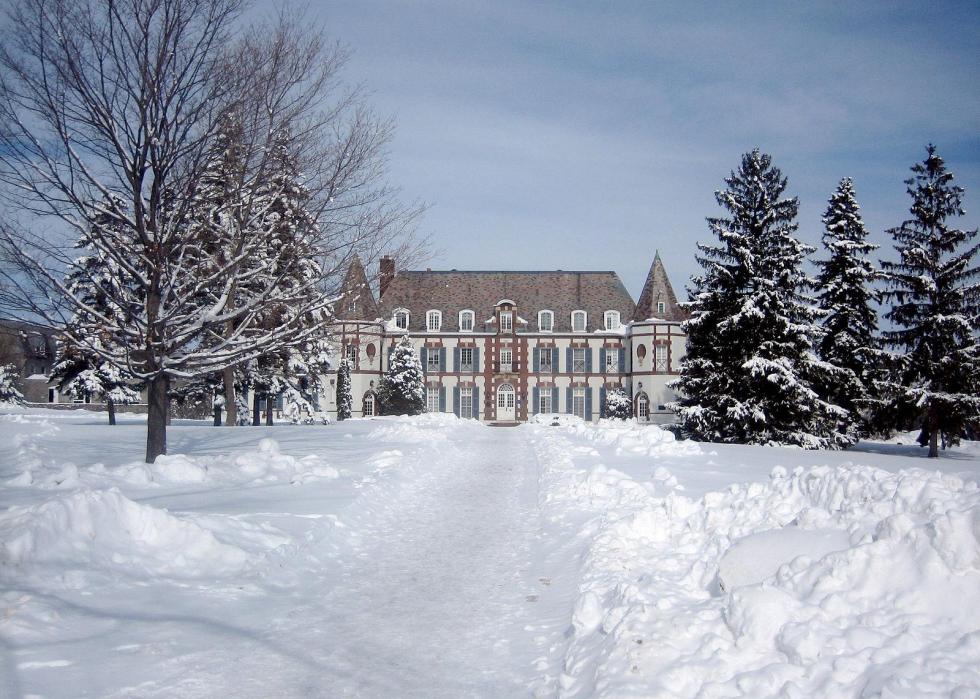 17 / 50
Funuk // Wikimedia Commons
#34. Middlebury College
Location: Middlebury, Vermont
Acceptance rate: 16.14%
Total accepted: 1,423 (8,819 total applicants)
Total enrolled: 606 (42.59% yield)
SAT Critical Reading – 25th percentile score: 630, 75th percentile score: 740
SAT Math – 25th percentile score: 650, 75th percentile score: 755
ACT Composite – 25th percentile score: 30, 75th percentile score: 33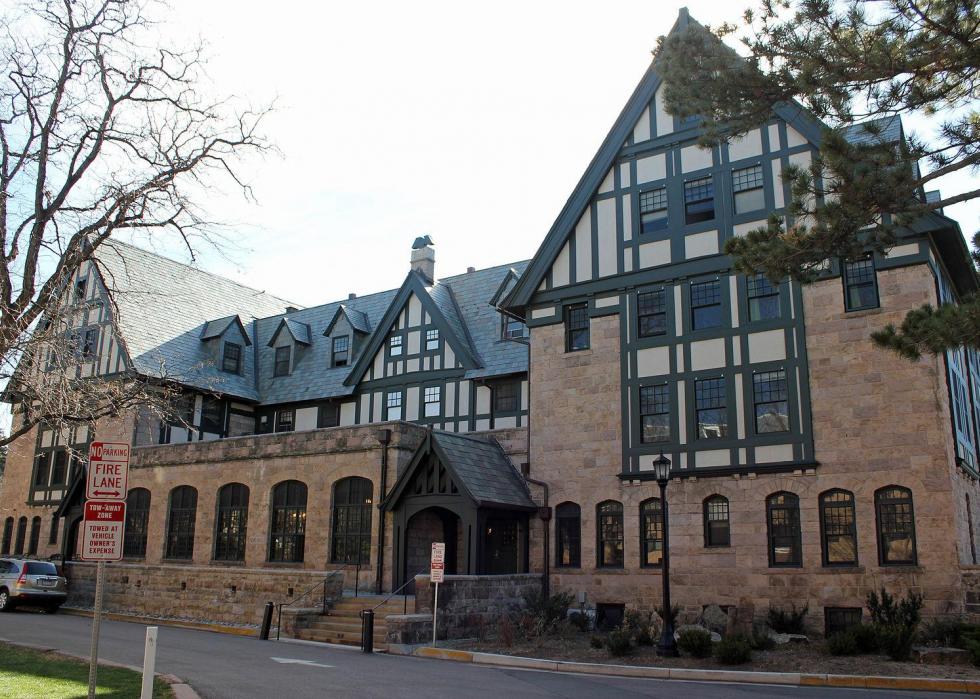 18 / 50
Jeffrey Beall // Wikimedia Commons
#33. Colorado College
Location: Colorado Springs, Colorado 
Acceptance rate: 15.99%
Total accepted: 1,262 (7,894 total applicants)
Total enrolled: 533 (42.23% yield)
SAT and ACT data not available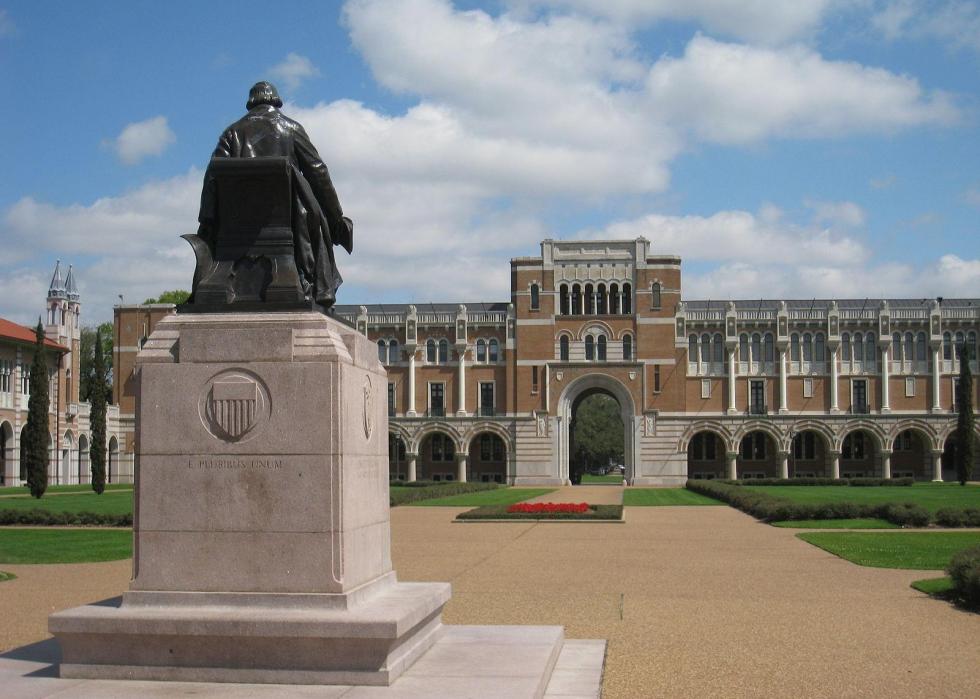 19 / 50
Daderot // Wikimedia Commons
#32. Rice University
Location: Houston, Texas
Acceptance rate: 15.27%
Total accepted: 2,785 (18,236 total applicants)
Total enrolled: 981 (35.22% yield)
SAT Critical Reading – 25th percentile score: 690, 75th percentile score: 770
SAT Math – 25th percentile score: 720, 75th percentile score: 800
ACT Composite – 25th percentile score: 32, 75th percentile score: 35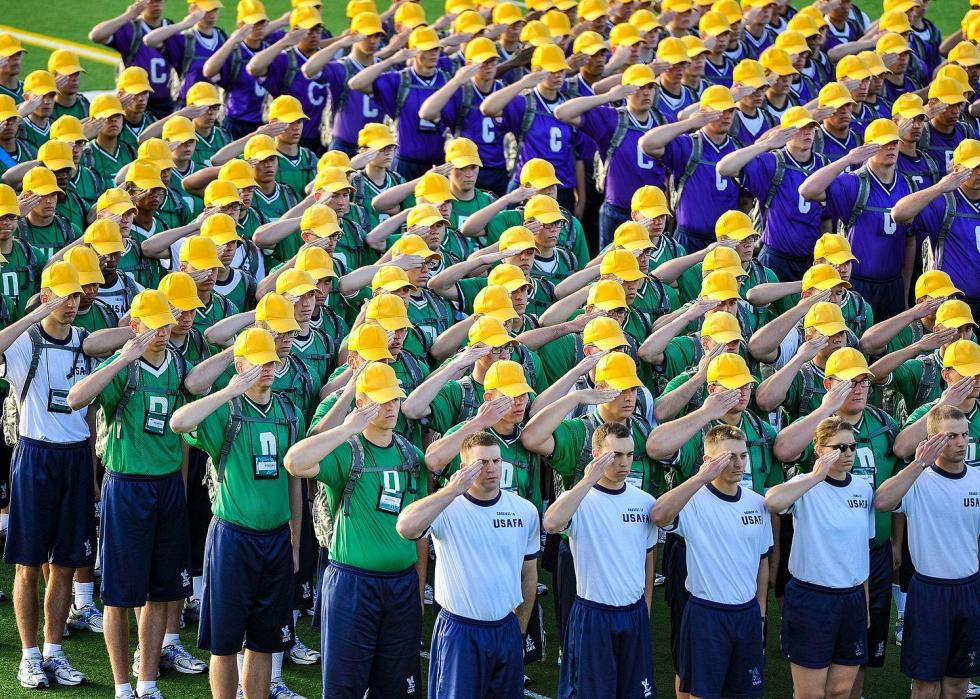 20 / 50
U.S. Air Force // Wikimedia Commons
#31. United States Air Force Academy
Location: USAF Academy, Colorado 
Acceptance rate: 15.08%
Total accepted: 1,492 (9,894 total applicants)
Total enrolled: 1,115 (74.73% yield)
SAT Critical Reading – 25th percentile score: 600, 75th percentile score: 690
SAT Math – 25th percentile score: 620, 75th percentile score: 720
ACT Composite – 25th percentile score: 27, 75th percentile score: 33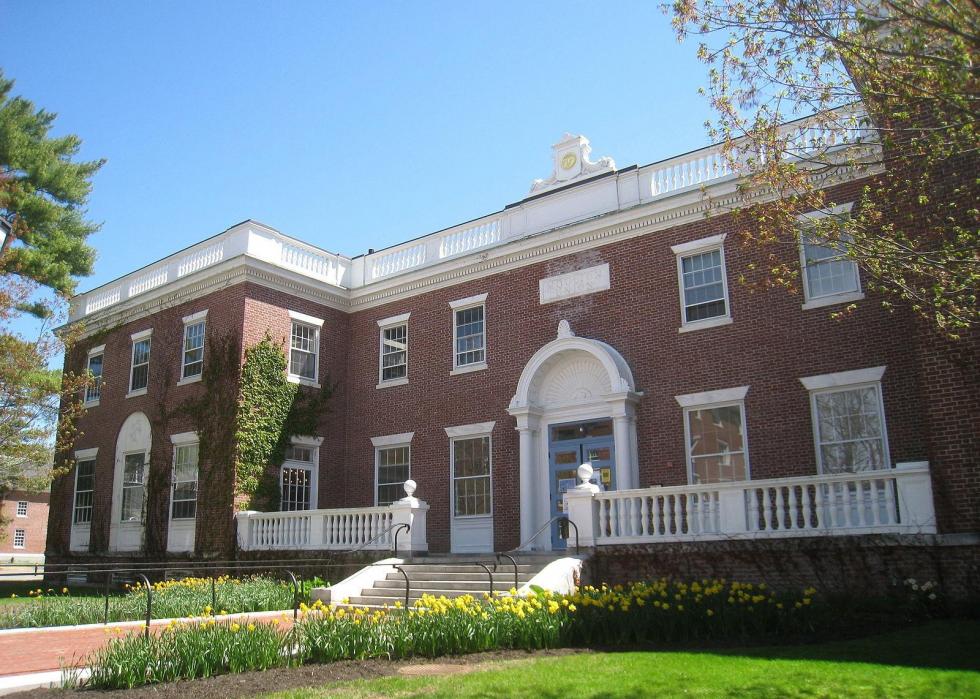 21 / 50
Daderot // Wikimedia Commons
#30. Bowdoin College
Location: Brunswick, Maine
Acceptance rate: 14.84%
Total accepted: 1,009 (6,799 total applicants)
Total enrolled: 503 (49.85% yield)
SAT and ACT data not available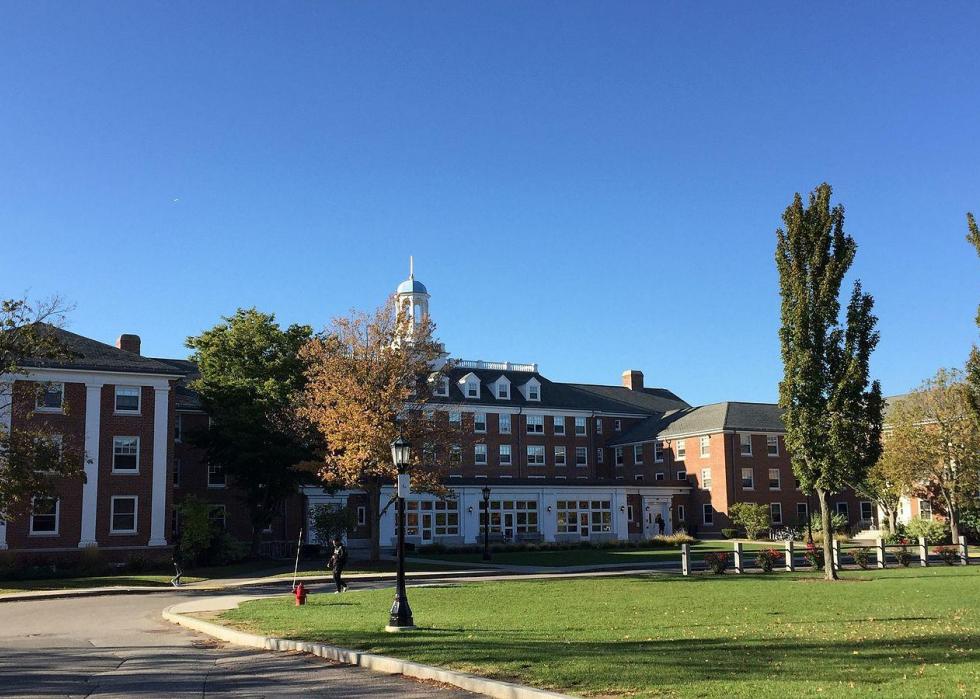 22 / 50
Jellymuffin40 // Wikimedia Commons
#29. Tufts University
Location: Medford, Massachusetts
Acceptance rate: 14.29%
Total accepted: 2,889 (20,223 total applicants)
Total enrolled: 1,336 (46.24% yield)
SAT Critical Reading – 25th percentile score: 680, 75th percentile score: 750
SAT Math – 25th percentile score: 690, 75th percentile score: 770
ACT Composite – 25th percentile score: 31, 75th percentile score: 34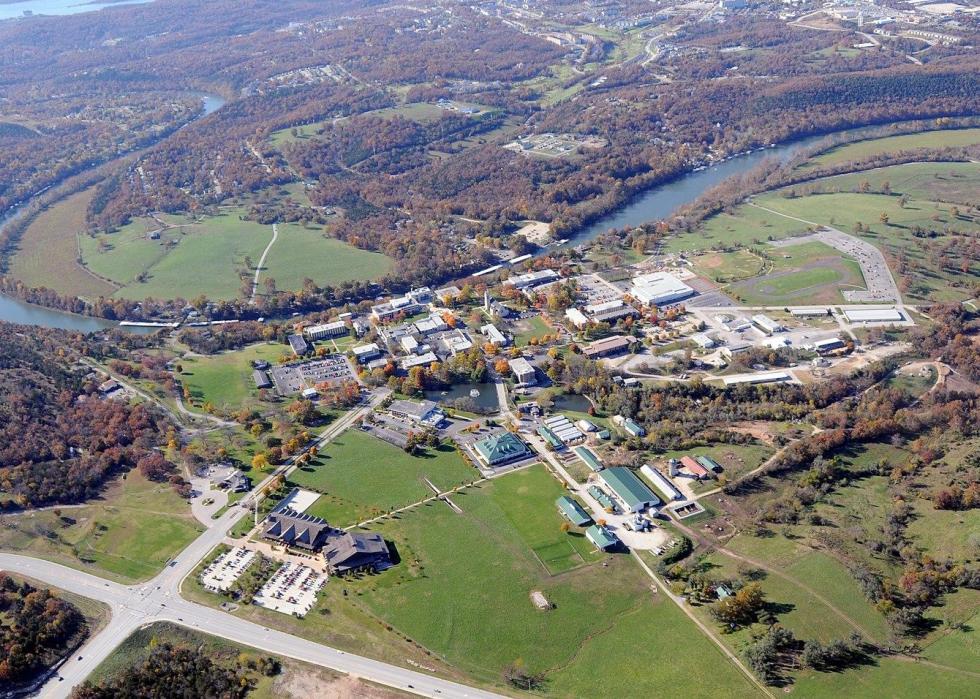 23 / 50
KTrimble // Wikimedia Commons
#28. College of the Ozarks
Location: Point Lookout, Missouri 
Acceptance rate: 14.22%
Total accepted: 407 (2,862 total applicants)
Total enrolled: 387 (95.09% yield)
SAT Critical Reading – 25th percentile score: 525, 75th percentile score: 566
SAT Math – 25th percentile score: 500, 75th percentile score: 593
ACT Composite – 25th percentile score: 21, 75th percentile score: 25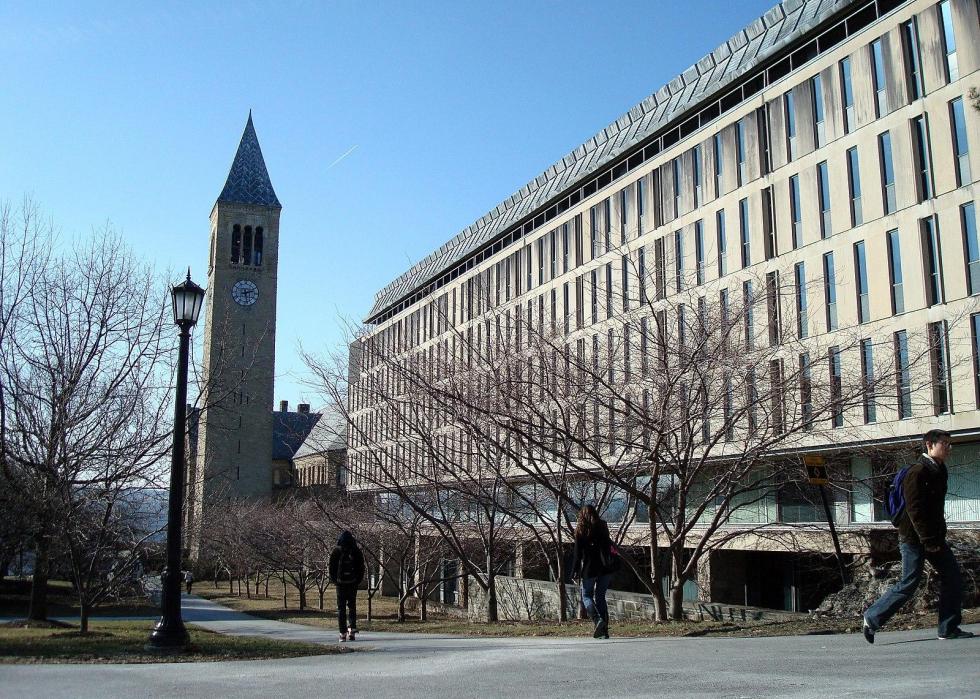 24 / 50
Notyourbroom // Wikimedia Commons
#27. Cornell University
Location: Ithaca, New York
Acceptance rate: 14.09%
Total accepted: 6,337 (44,965 total applicants)
Total enrolled: 3,316 (52.33% yield)
SAT Critical Reading – 25th percentile score: 650, 75th percentile score: 750
SAT Math – 25th percentile score: 680, 75th percentile score: 780
ACT Composite – 25th percentile score: 31, 75th percentile score: 34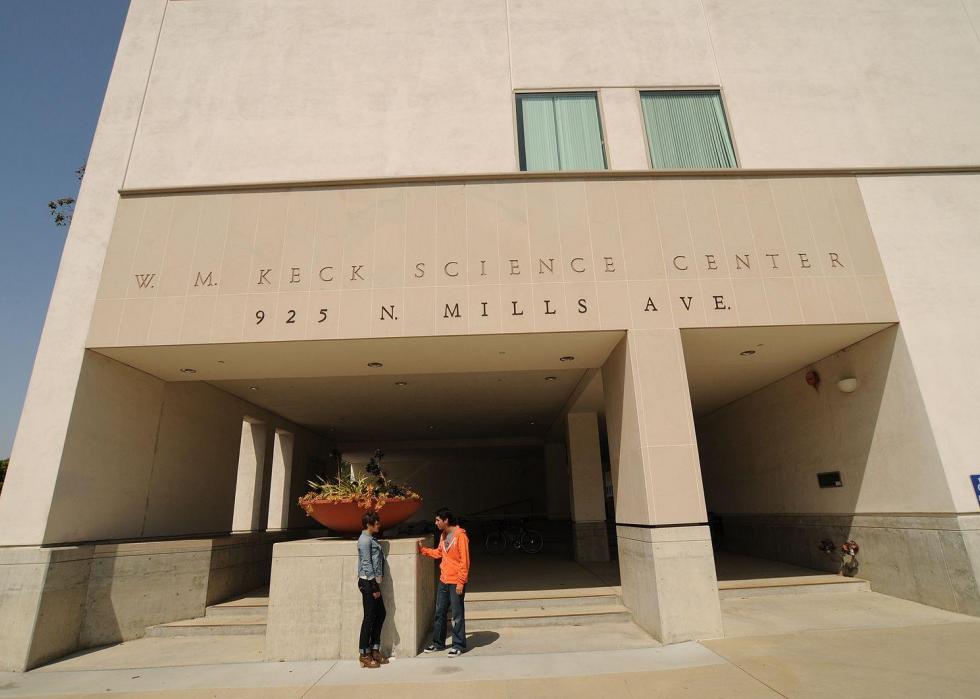 25 / 50
Lauriealosh // Wikimedia Commons
#26. Pitzer College
Location: Claremont, California
Acceptance rate: 13.74%
Total accepted: 569 (4,142 total applicants)
Total enrolled: 268 (47.10% yield)
SAT and ACT data not available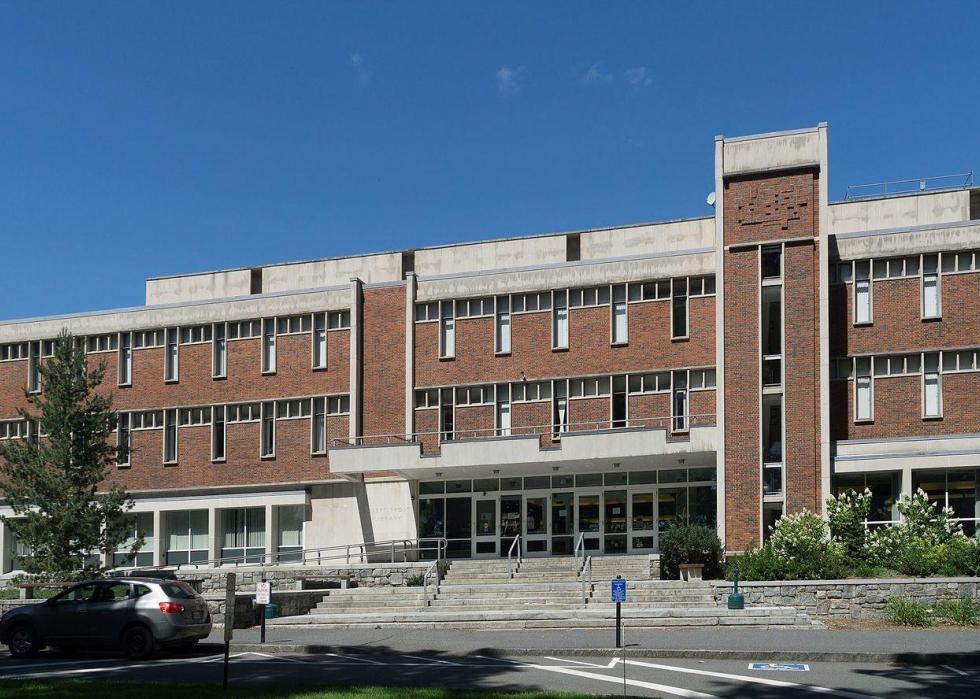 26 / 50
Kenneth C. Zirkel // Wikimedia Commons
#25. Amherst College
Location: Amherst, Massachusetts
Acceptance rate: 13.69%
Total accepted: 1,149 (8,396 total applicants)
Total enrolled: 471 (40.99% yield)
SAT Critical Reading – 25th percentile score: 680, 75th percentile score: 775
SAT Math – 25th percentile score: 680, 75th percentile score: 780
ACT Composite – 25th percentile score: 31, 75th percentile score: 34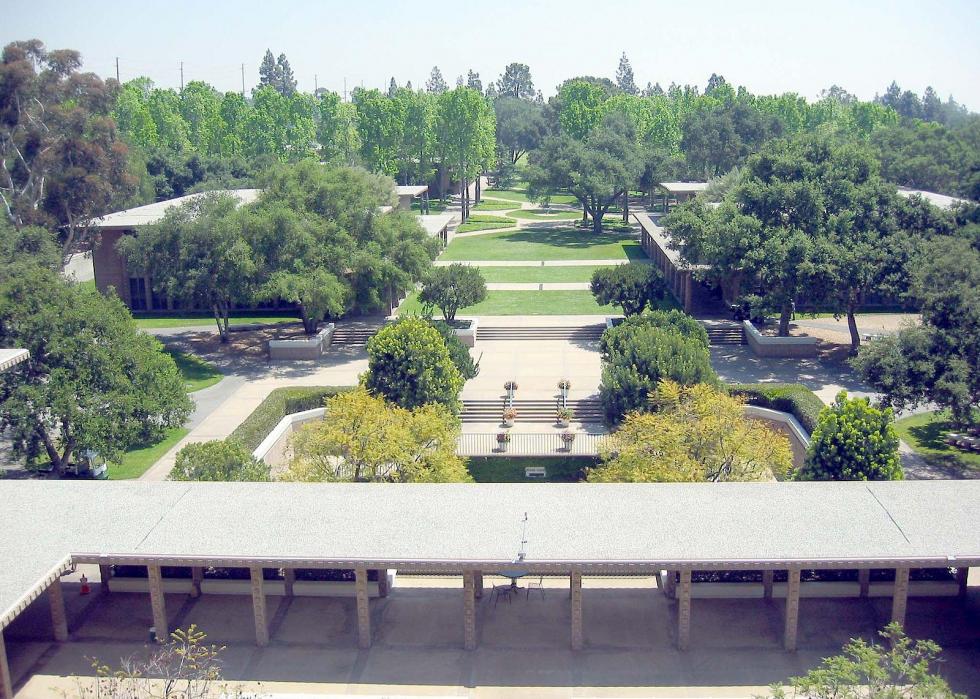 27 / 50
Bovineone // Wikimedia Commons
#24. Harvey Mudd College
Location: Claremont, California
Acceptance rate: 12.87%
Total accepted: 538 (4,180 total applicants)
Total enrolled: 216 (40.15% yield)
SAT Critical Reading – 25th percentile score: 680, 75th percentile score: 780
SAT Math – 25th percentile score: 740, 75th percentile score: 800
ACT Composite – 25th percentile score: 32, 75th percentile score: 35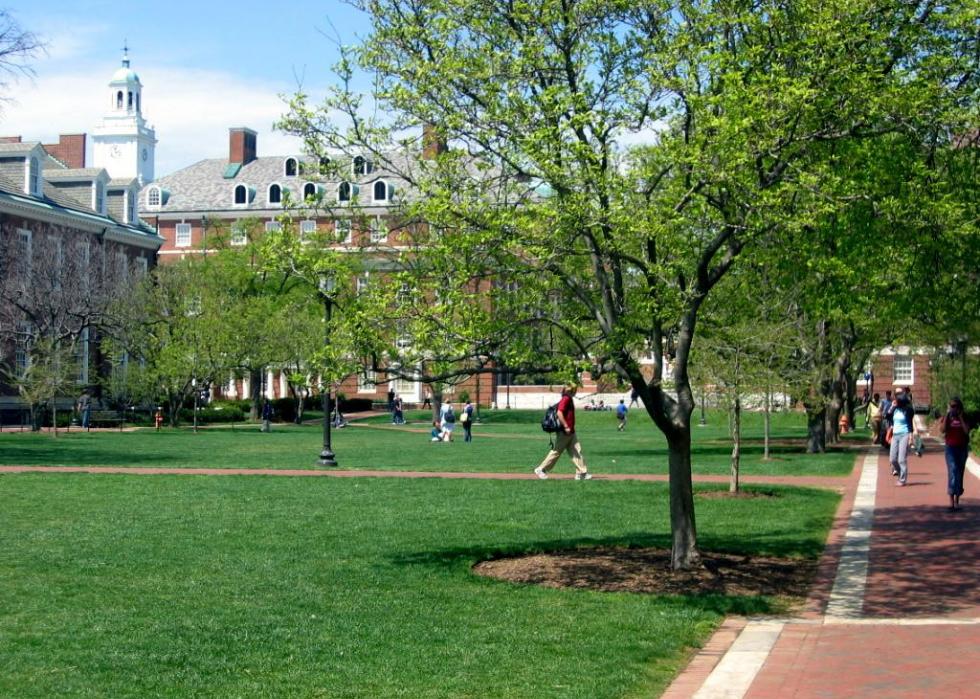 28 / 50
Lester Spence // Wikimedia Commons
#23. Johns Hopkins University
Location: Baltimore, Maryland
Acceptance rate: 12.84%
Total accepted: 3,576 (27,852 total applicants)
Total enrolled: 1,367 (38.23% yield)
SAT Critical Reading – 25th percentile score: 690, 75th percentile score: 770
SAT Math – 25th percentile score: 710, 75th percentile score: 800
ACT Composite – 25th percentile score: 32, 75th percentile score: 34
29 / 50
Tlönorbis // Wikimedia Commons
#22. Swarthmore College
Location: Swarthmore, Pennsylvania
Acceptance rate: 12.8%
Total accepted: 988 (7,717 total applicants)
Total enrolled: 415 (42% yield)
SAT Critical Reading – 25th percentile score: 645, 75th percentile score: 760
SAT Math – 25th percentile score: 660, 75th percentile score: 770
ACT Composite – 25th percentile score: 30, 75th percentile score: 34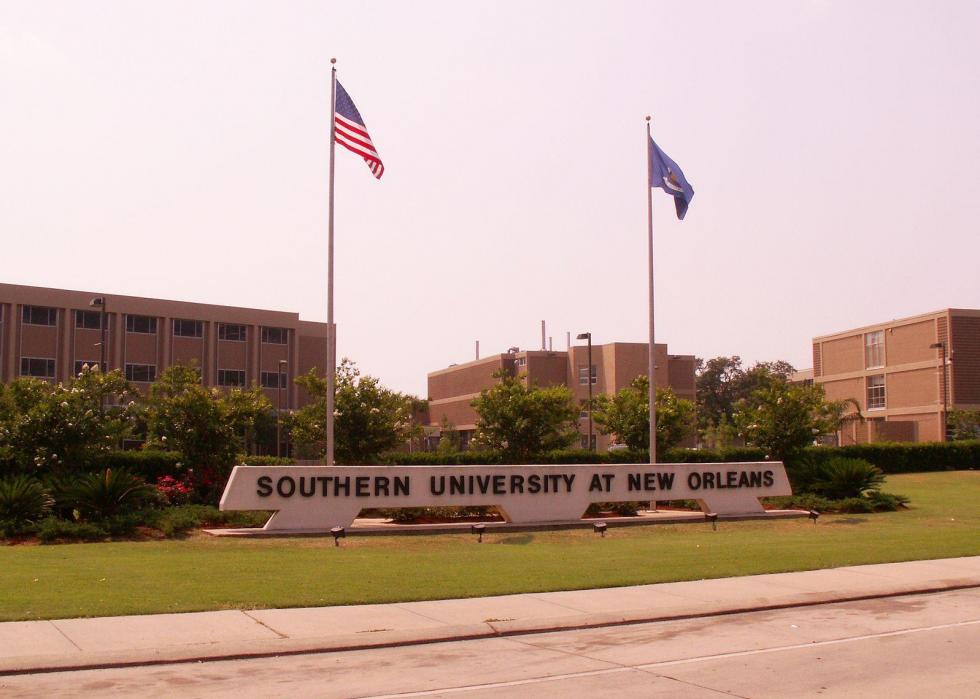 30 / 50
Augustus06 // Wikimedia Commons
#21. Southern University at New Orleans
Location: New Orleans, Louisiana
Acceptance rate: 11.54%
Total accepted: 220 (1,907 total applicants)
Total enrolled: 144 (65.45% yield)
SAT data not available
ACT Composite – 25th percentile score: 16, 75th percentile score: 19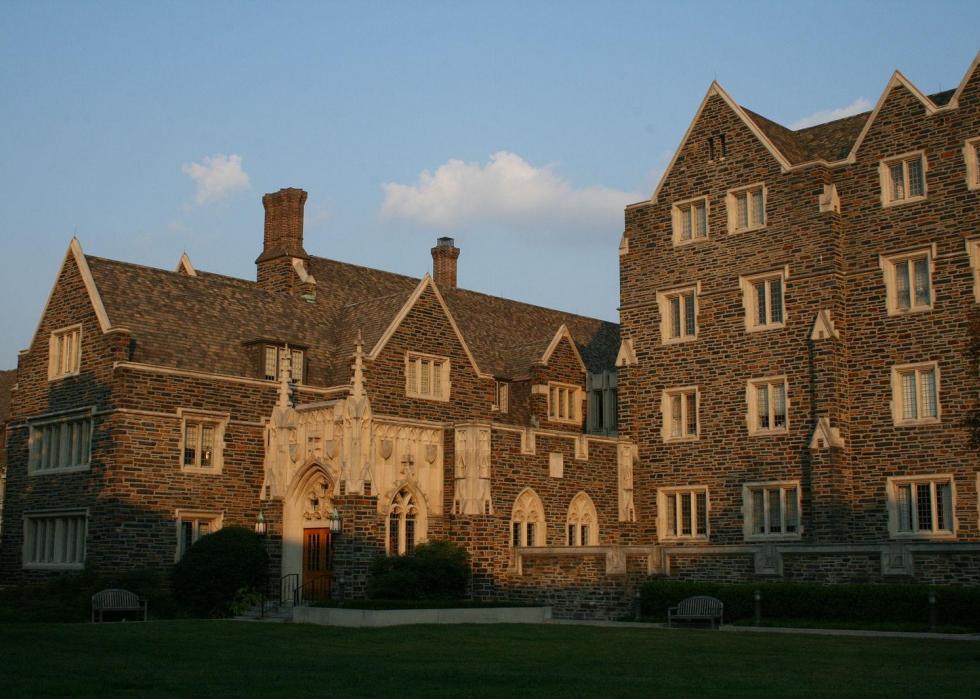 31 / 50
Ildar Sagdejev // Wikimedia Commons
#20. Duke University
Location: Durham, North Carolina
Acceptance rate: 10.83%
Total accepted: 3,430 (31,671 total applicants)
Total enrolled: 1,723 (50.23% yield)
SAT Critical Reading – 25th percentile score: 680, 75th percentile score: 770
SAT Math – 25th percentile score: 700, 75th percentile score: 800
ACT Composite – 25th percentile score: 31, 75th percentile score: 34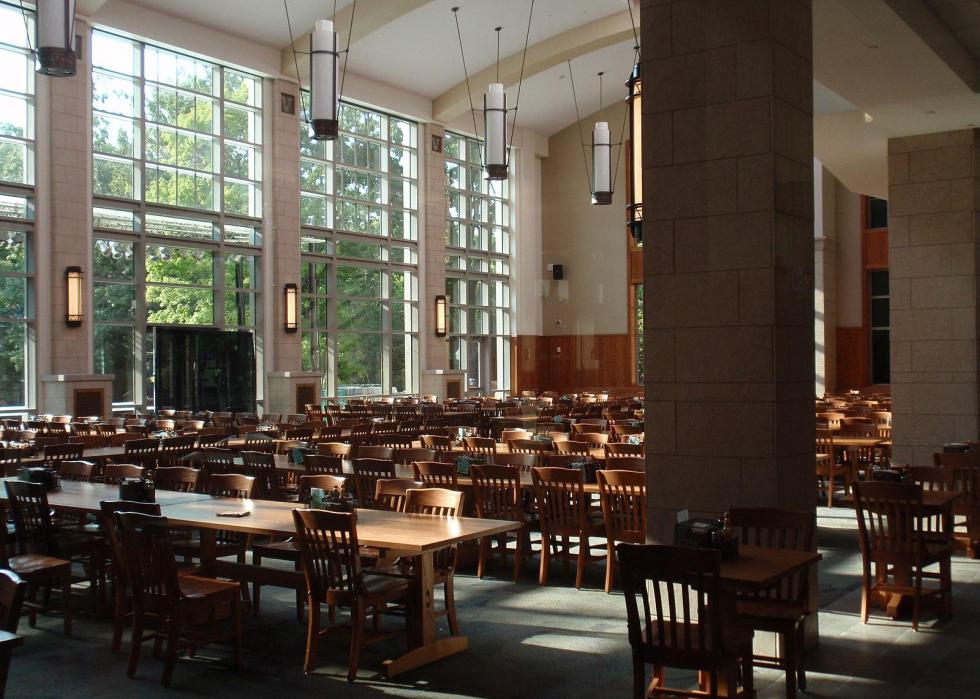 32 / 50
Vortex895 // Wikimedia Commons
#19. Vanderbilt University
Location: Nashville, Tennessee
Acceptance rate: 10.75%
Total accepted: 3,487 (32,442 total applicants)
Total enrolled: 1,601 (45.91% yield)
SAT Critical Reading – 25th percentile score: 700, 75th percentile score: 790
SAT Math – 25th percentile score: 720, 75th percentile score: 800
ACT Composite – 25th percentile score: 32, 75th percentile score: 35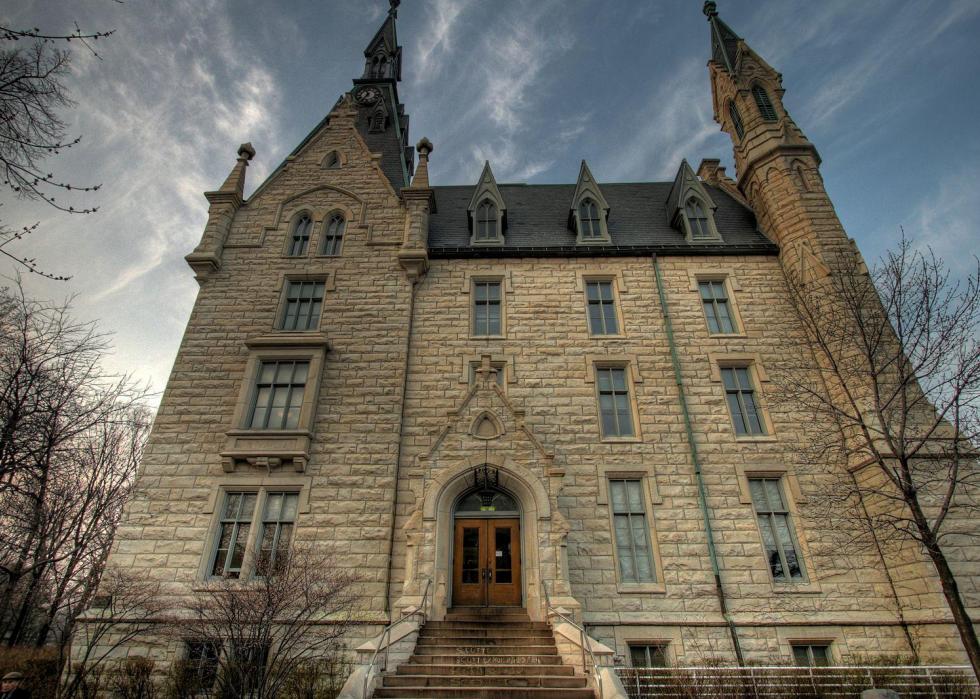 33 / 50
Madcoverboy // Wikimedia Commons
#18. Northwestern University
Location: Evanston, Illinois
Acceptance rate: 10.66%
Total accepted: 3,743 (35,100 total applicants)
Total enrolled: 1,985 (53.03% yield)
SAT Critical Reading – 25th percentile score: 690, 75th percentile score: 760
SAT Math – 25th percentile score: 710, 75th percentile score: 800
ACT Composite – 25th percentile score: 32, 75th percentile score: 34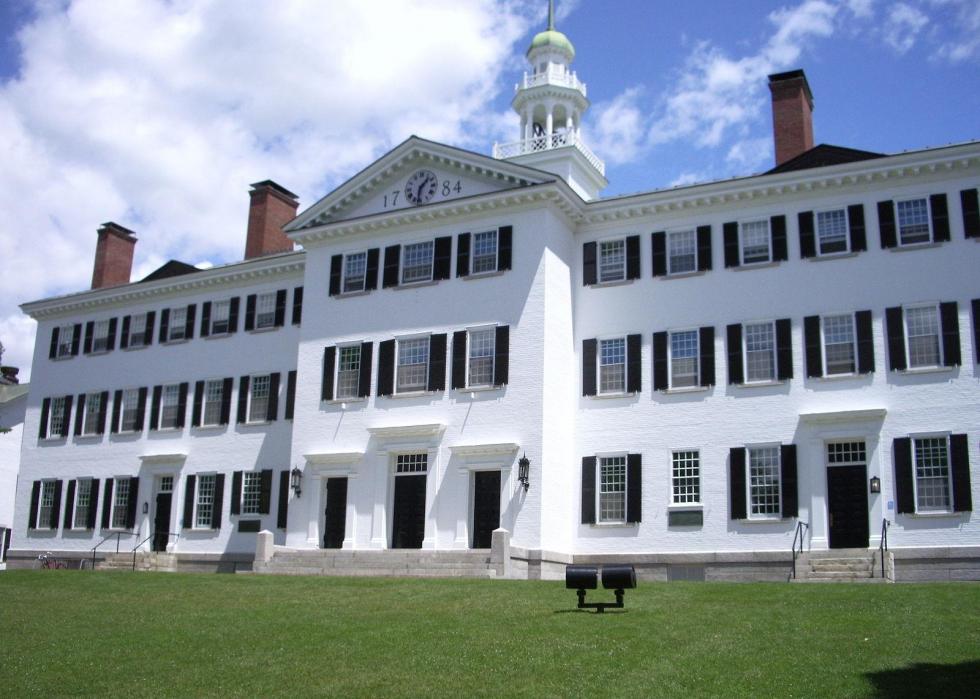 34 / 50
Kane5187 // Wikimedia Commons
#17. Dartmouth College
Location: Hanover, New Hampshire
Acceptance rate: 10.59%
Total accepted: 2,190 (20,675 total applicants)
Total enrolled: 1,121 (51.19% yield)
SAT Critical Reading – 25th percentile score: 670, 75th percentile score: 780
SAT Math – 25th percentile score: 680, 75th percentile score: 780
ACT Composite – 25th percentile score: 30, 75th percentile score: 34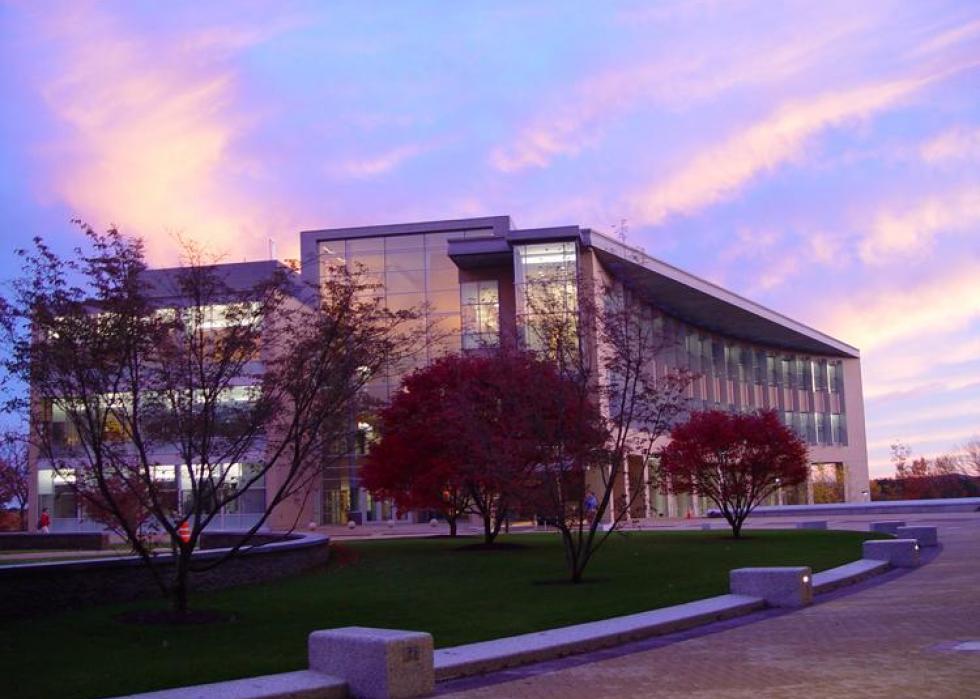 35 / 50
L33tMinion // Wikimedia Commons
#16. Franklin W Olin College of Engineering
Location: Needham, Massachusetts
Acceptance rate: 10.19%
Total accepted: 132 (1,296 total applicants)
Total enrolled: 79 (59.85% yield)
SAT Critical Reading – 25th percentile score: 690, 75th percentile score: 780
SAT Math – 25th percentile score: 710, 75th percentile score: 800
ACT Composite – 25th percentile score: 32, 75th percentile score: 35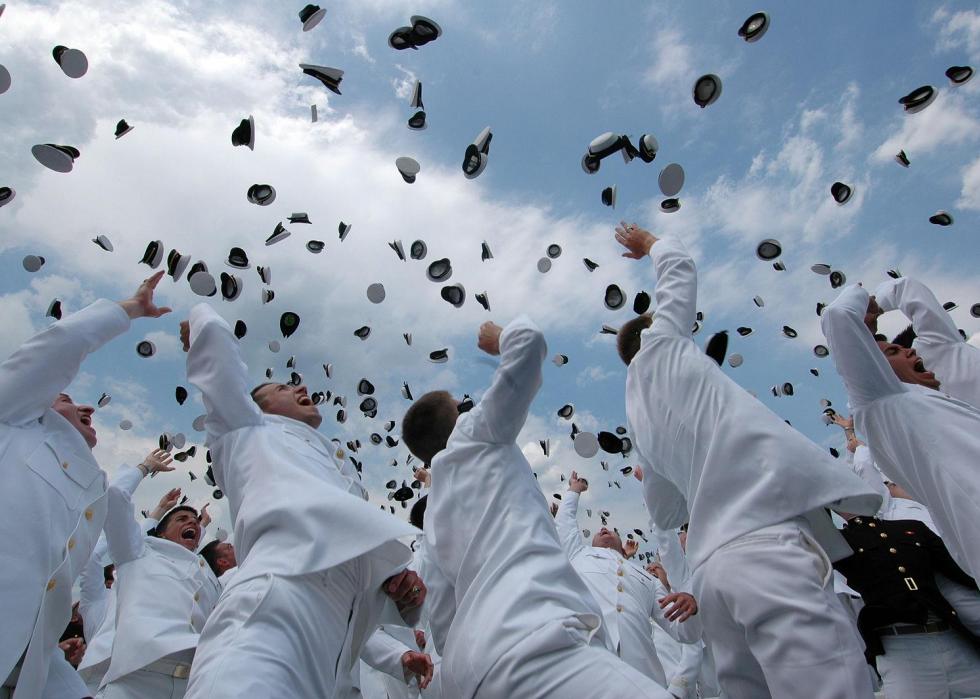 36 / 50
Daniel J. McLain // Wikimedia Commons
#15. United States Naval Academy
Location: Annapolis, Maryland
Acceptance rate: 9.66%
Total accepted: 1,381 (14,289 total applicants)
Total enrolled: 1,214 (87.91% yield)
SAT Critical Reading – 25th percentile score: 580, 75th percentile score: 690
SAT Math – 25th percentile score: 600, 75th percentile score: 700
ACT Composite – 25th percentile score: 26, 75th percentile score: 31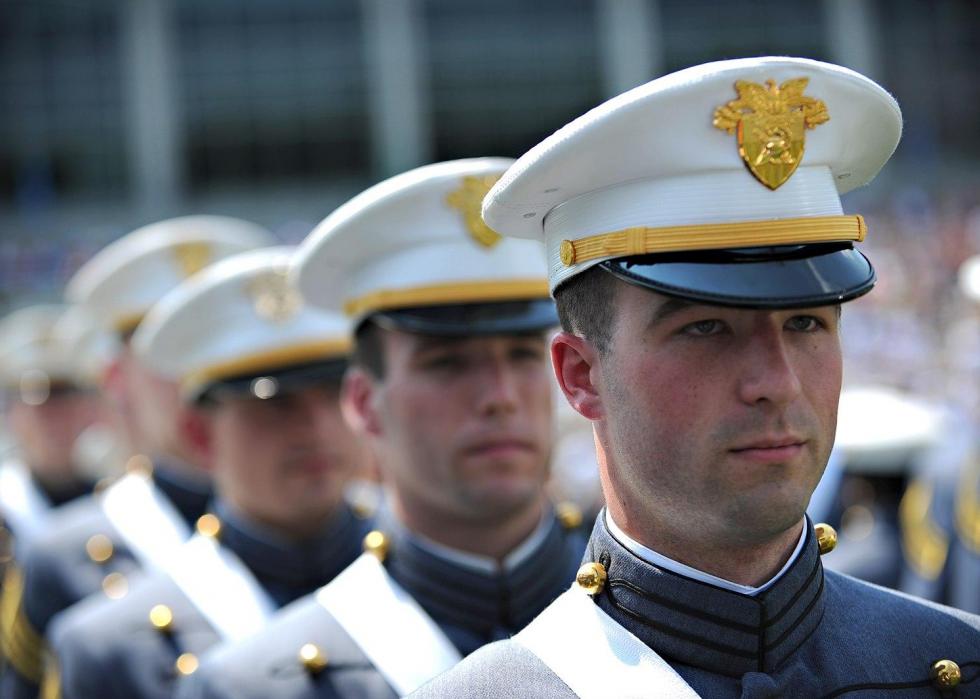 37 / 50
Teddy Wade // Wikimedia Commons
#14. United States Military Academy
Location: West Point, New York
Acceptance rate: 9.66%
Total accepted: 1,433 (14,829 total applicants)
Total enrolled: 1,260 (87.93% yield)
SAT Critical Reading – 25th percentile score: 580, 75th percentile score: 690
SAT Math – 25th percentile score: 600, 75th percentile score: 700
ACT Composite – 25th percentile score: 26, 75th percentile score: 31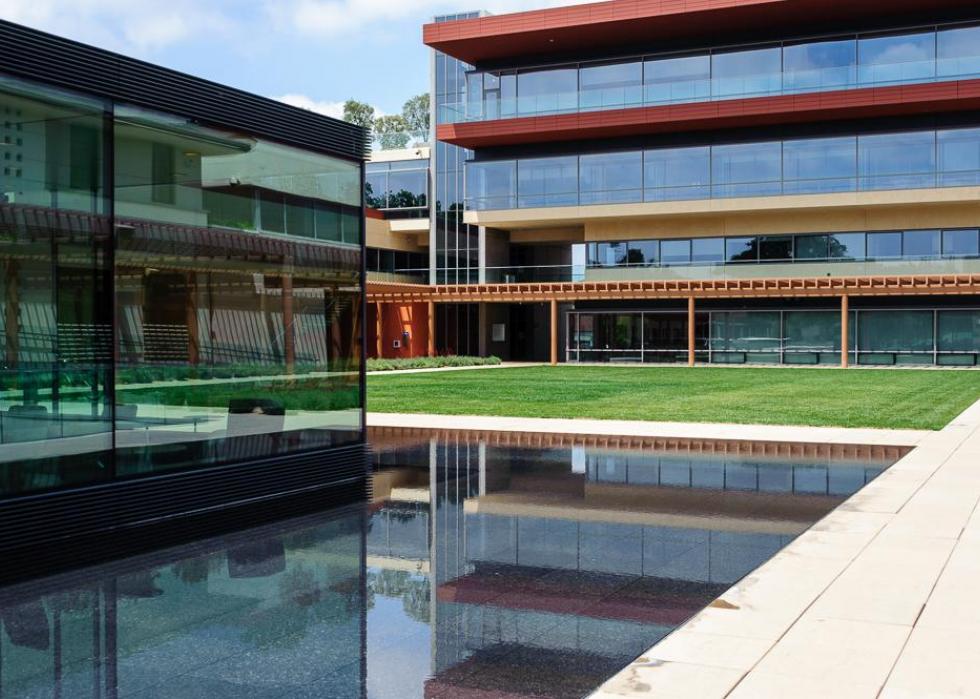 38 / 50
Craig Stanfill // Wikimedia Commons
#13. Claremont McKenna College
Location: Claremont, California
Acceptance rate: 9.44%
Total accepted: 599 (6,342 total applicants)
Total enrolled: 321 (53.59% yield)
SAT Critical Reading – 25th percentile score: 650, 75th percentile score: 740
SAT Math – 25th percentile score: 670, 75th percentile score: 750
ACT Composite – 25th percentile score: 31, 75th percentile score: 33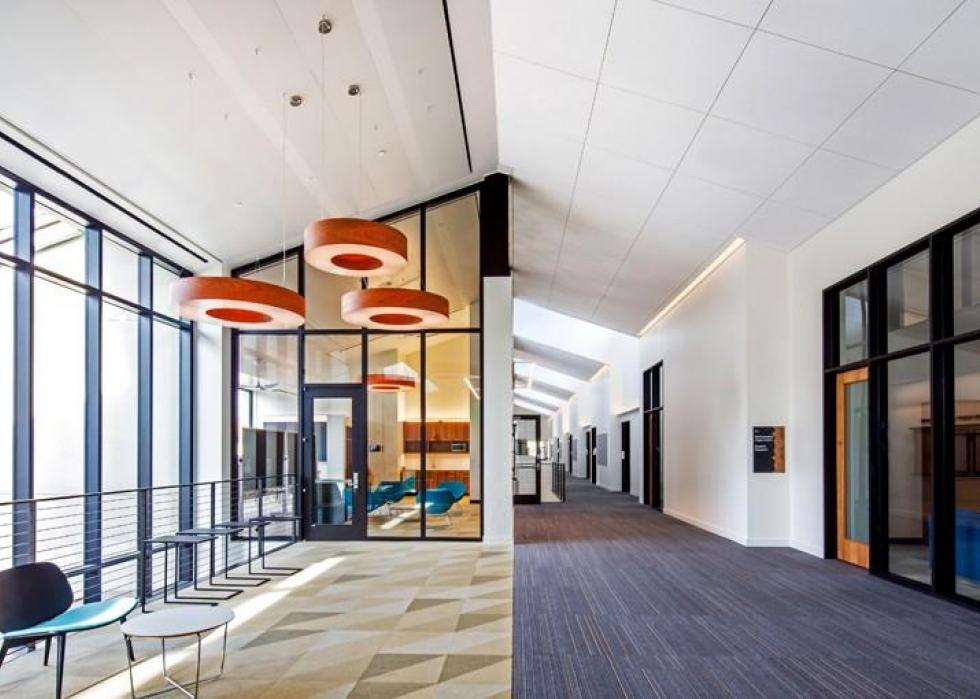 39 / 50
OfficialPomonaCollege // Wikimedia Commons
#12. Pomona College
Location: Claremont, California
Acceptance rate: 9.44%
Total accepted: 765 (8,102 total applicants)
Total enrolled: 411 (53.73% yield)
SAT Critical Reading – 25th percentile score: 670, 75th percentile score: 770
SAT Math – 25th percentile score: 670, 75th percentile score: 770
ACT Composite – 25th percentile score: 31, 75th percentile score: 34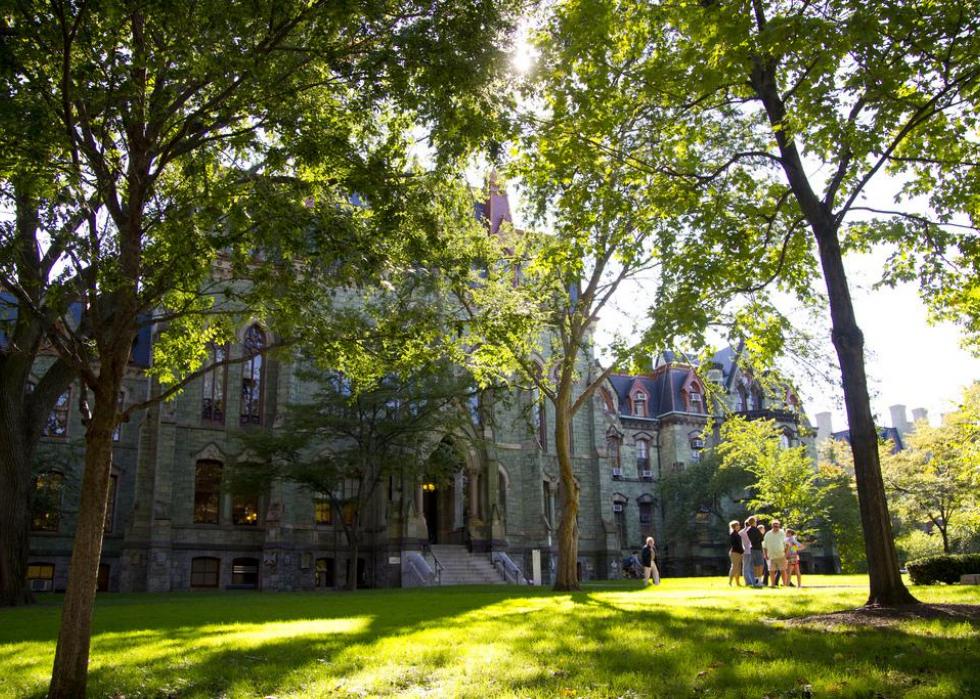 40 / 50
Teutonia25 // Wikimedia Commons
#11. University of Pennsylvania
Location: Philadelphia, Pennsylvania
Acceptance rate: 9.44%
Total accepted: 3,674 (38,918 total applicants)
Total enrolled: 2,491 (67.8% yield)
SAT Critical Reading – 25th percentile score: 680, 75th percentile score: 770
SAT Math – 25th percentile score: 700, 75th percentile score: 800
ACT Composite – 25th percentile score: 32, 75th percentile score: 35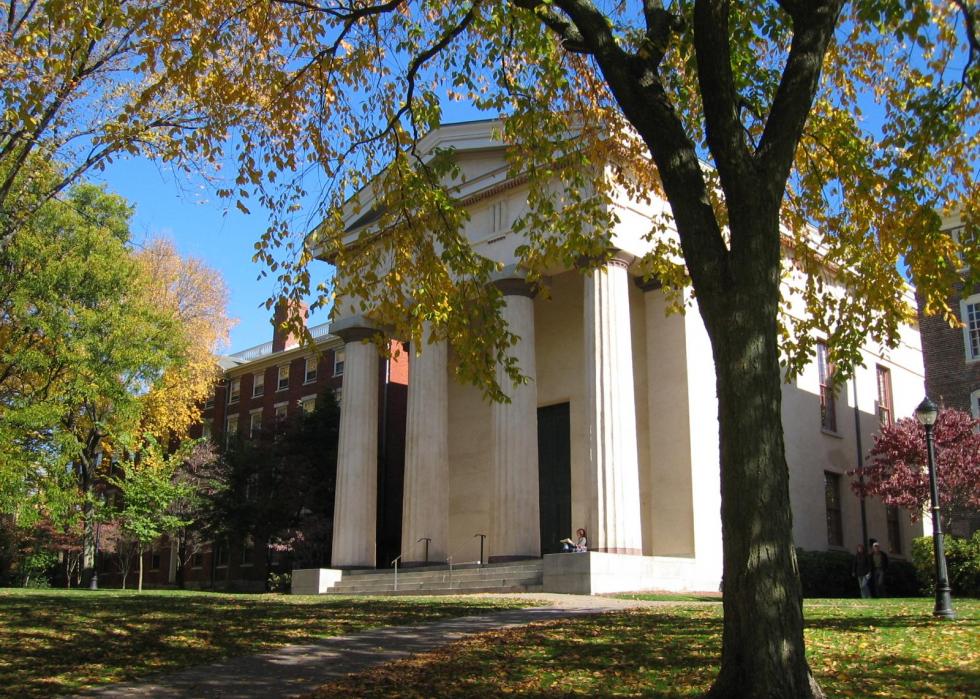 41 / 50
Dale182 // Wikimedia Commons
#10. Brown University
Location: Providence, Rhode Island
Acceptance rate: 9.31%
Total accepted: 3,014 (32,390 total applicants)
Total enrolled: 1,681 (55.77% yield)
SAT Critical Reading – 25th percentile score: 680, 75th percentile score: 780
SAT Math – 25th percentile score: 690, 75th percentile score: 790
ACT Composite – 25th percentile score: 31, 75th percentile score: 34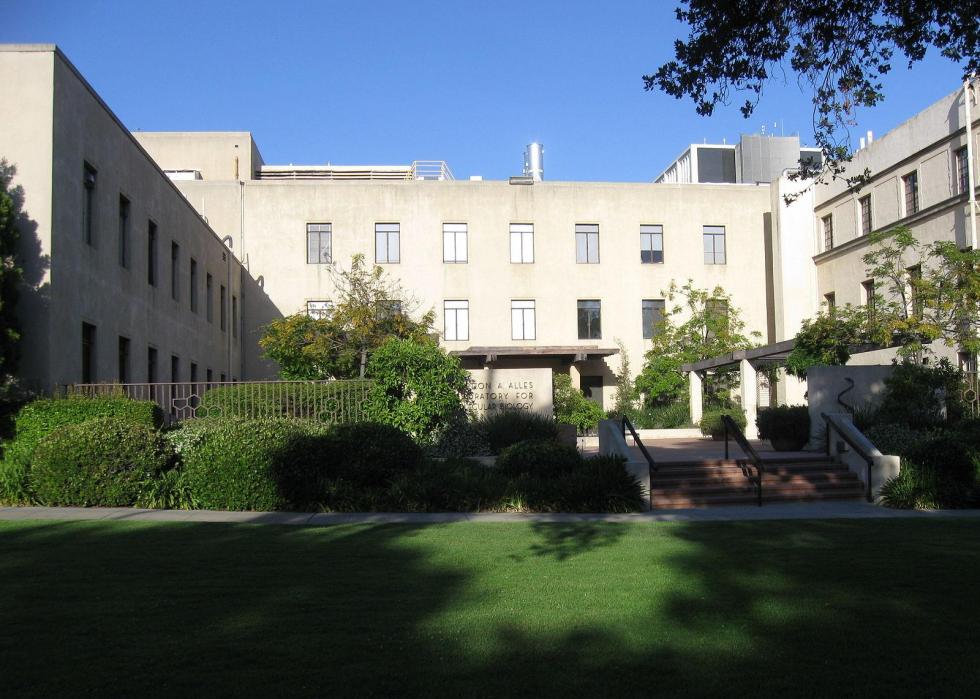 42 / 50
Antony-22 // Wikimedia Commons
#9. California Institute of Technology
Location: Pasadena, California
Acceptance rate: 8.07%
Total accepted: 553 (6,855 total applicants)
Total enrolled: 235 (42.5% yield)
SAT Critical Reading – 25th percentile score: 740, 75th percentile score: 800
SAT Math – 25th percentile score: 770, 75th percentile score: 800
ACT Composite – 25th percentile score: 34, 75th percentile score: 36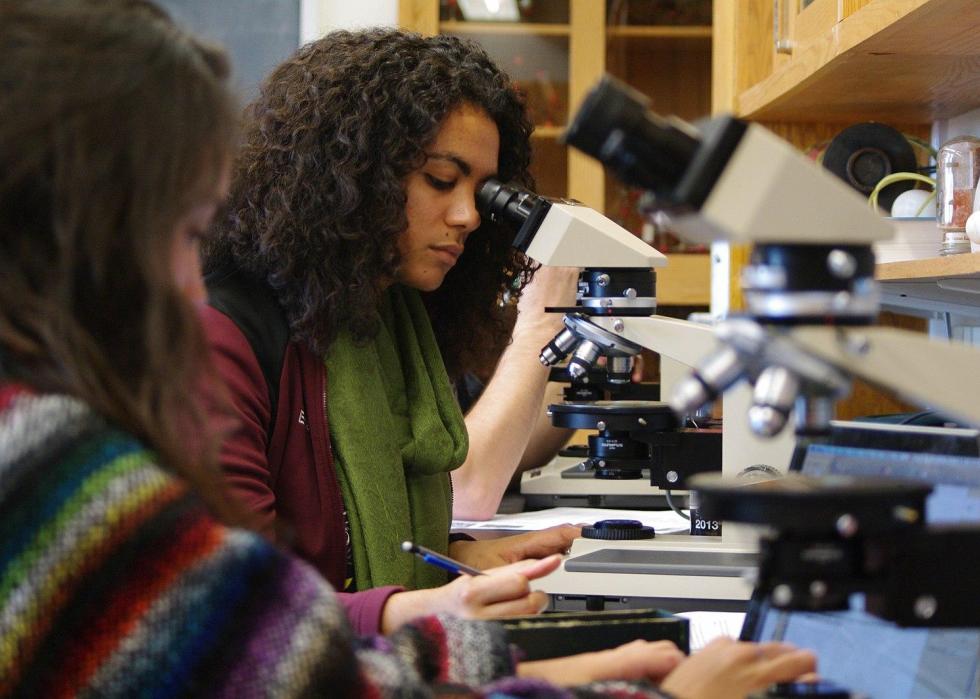 43 / 50
Department of Earth, Atmospheric and Planetary Sciences Massachusetts Institute of Technology // Wikimedia Commons
#8. Massachusetts Institute of Technology
Location: Cambridge, Massachusetts
Acceptance rate: 7.94%
Total accepted: 1,511 (19,020 total applicants)
Total enrolled: 1,110 (73.46% yield)
SAT Critical Reading – 25th percentile score: 700, 75th percentile score: 790
SAT Math – 25th percentile score: 760, 75th percentile score: 800
ACT Composite – 25th percentile score: 33, 75th percentile score: 35
44 / 50
Crimsonmaroon // Wikimedia Commons
#7. University of Chicago
Location: Chicago, Illinois
Acceptance rate: 7.94%
Total accepted: 2,499 (31,484 total applicants)
Total enrolled: 1,591 (63.67% yield)
SAT Critical Reading – 25th percentile score: 720, 75th percentile score: 800
SAT Math – 25th percentile score: 730, 75th percentile score: 800
ACT Composite – 25th percentile score: 32, 75th percentile score: 35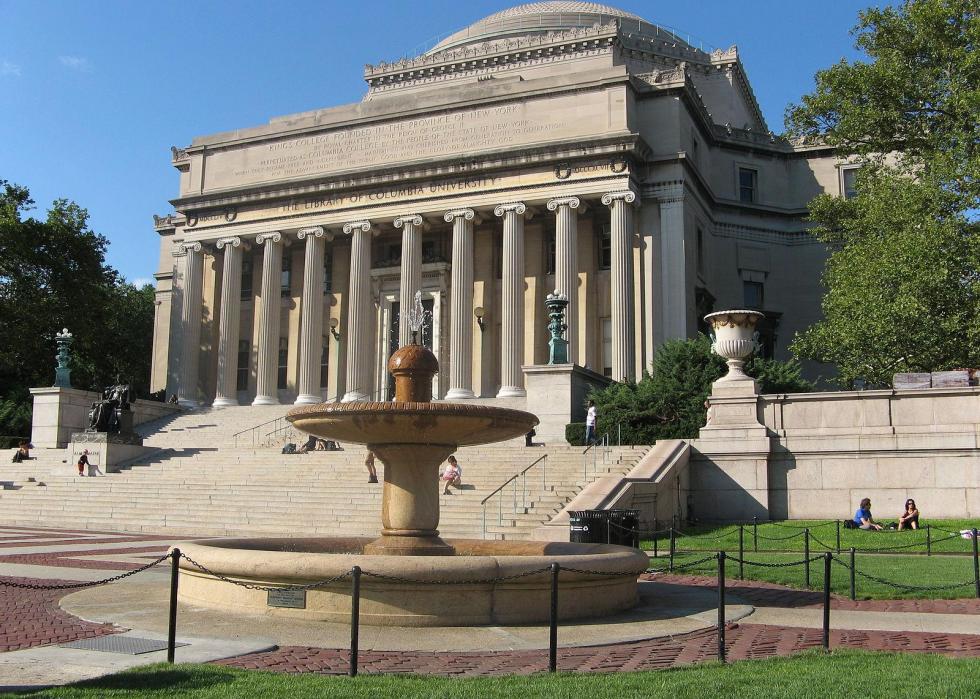 45 / 50
Bronxbombr21 // Wikimedia Commons
#6. Columbia University in the City of New York
Location: New York, New York
Acceptance rate: 6.83%
Total accepted: 2,526 (37,009 total applicants)
Total enrolled: 1,567 (62.03% yield)
SAT Critical Reading – 25th percentile score: 700, 75th percentile score: 790
SAT Math – 25th percentile score: 710, 75th percentile score: 800
ACT Composite – 25th percentile score: 32, 75th percentile score: 35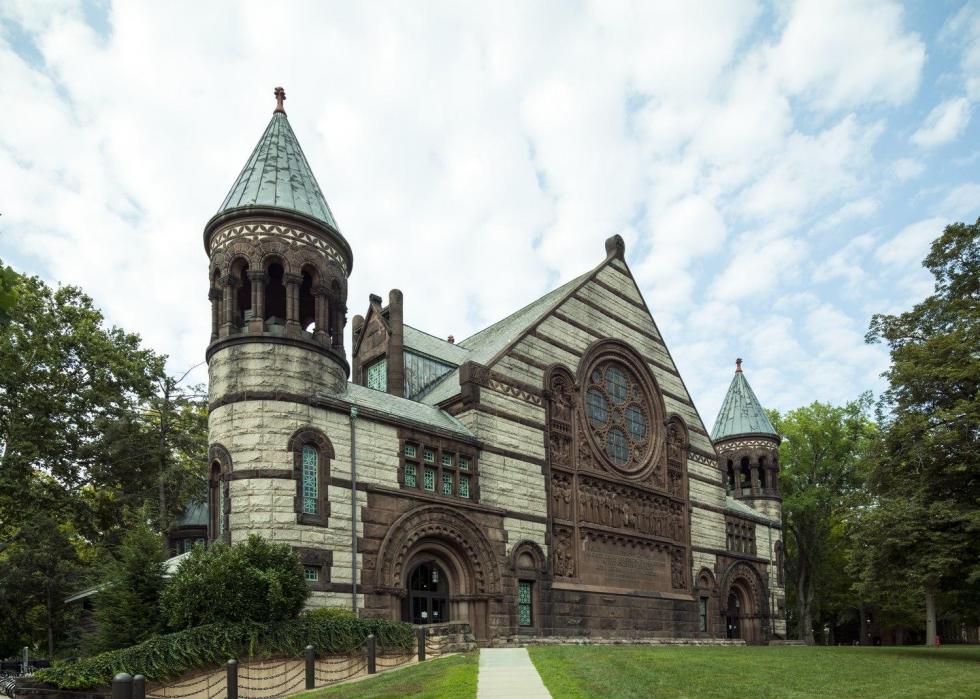 46 / 50
Carol M. Highsmith // Wikimedia Commons
#5. Princeton University
Location: Princeton, New Jersey
Acceptance rate: 6.52%
Total accepted: 1,911 (29,303 total applicants)
Total enrolled: 1,306 (68.34% yield)
SAT Critical Reading – 25th percentile score: 690, 75th percentile score: 790
SAT Math – 25th percentile score: 710, 75th percentile score: 800
ACT Composite – 25th percentile score: 32, 75th percentile score: 35
47 / 50
Ragesoss // Wikimedia Commons
#4. Yale University
Location: New Haven, Connecticut 
Acceptance rate: 6.32%
Total accepted: 1,988 (31,445 total applicants)
Total enrolled: 1,367 (68.76% yield)
SAT Critical Reading – 25th percentile score: 710, 75th percentile score: 800
SAT Math – 25th percentile score: 710, 75th percentile score: 800
ACT Composite – 25th percentile score: 32, 75th percentile score: 35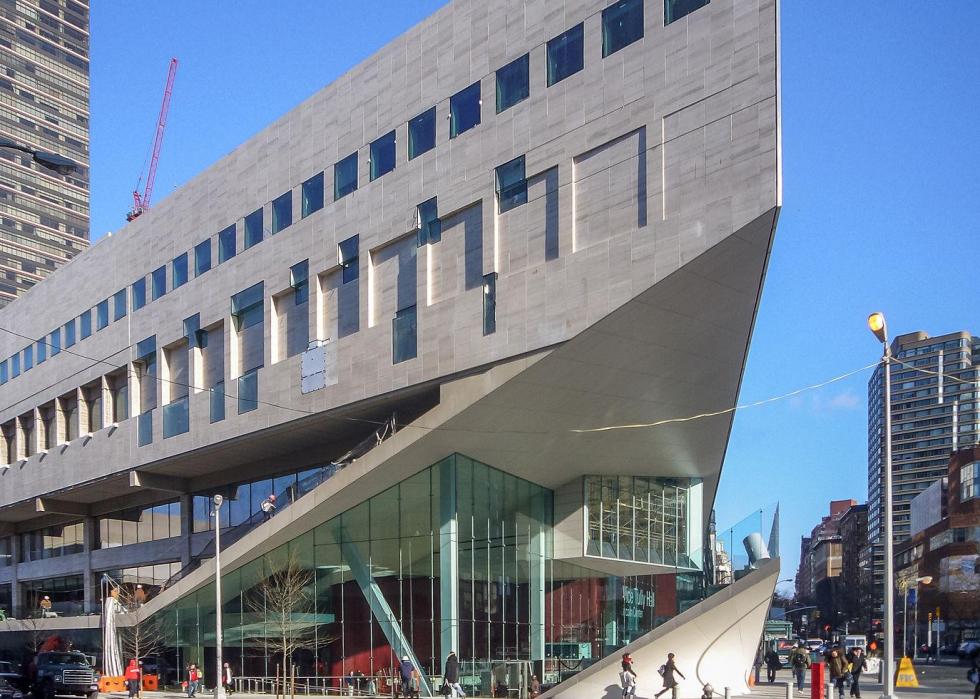 48 / 50
Paul Masck // Wikimedia Commons
#3. The Juilliard School
Location: New York, New York
Acceptance rate: 6.17%
Total accepted: 157 (2,545 total applicants)
Total enrolled: 113 (71.97% yield)
SAT and ACT data not available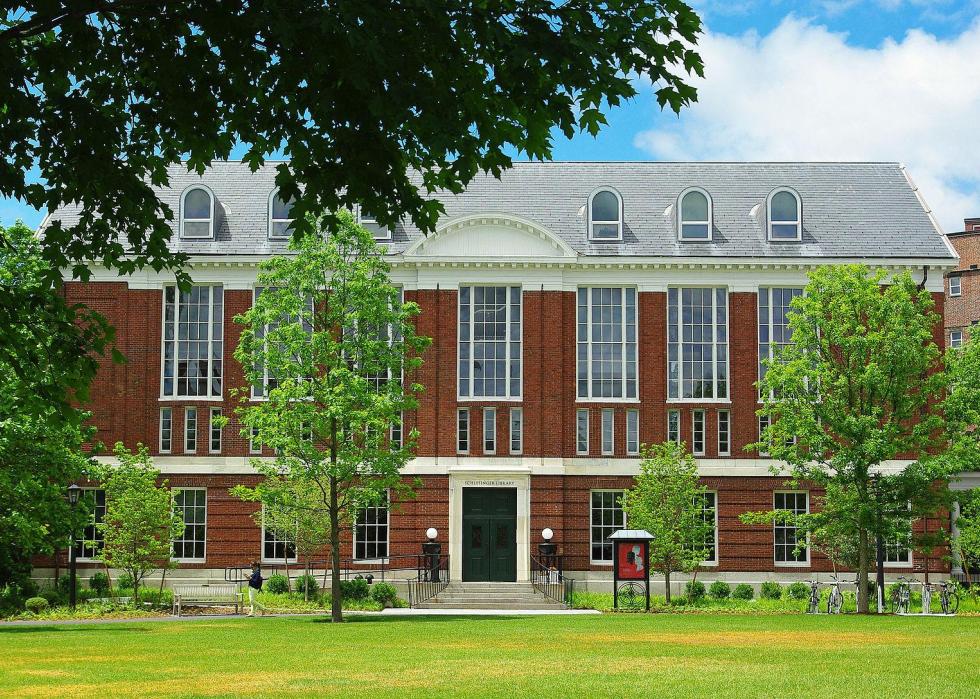 49 / 50
Bostonian13 // Wikimedia Commons
#2. Harvard University
Location: Cambridge, Massachusetts
Acceptance rate: 5.4%
Total accepted: 2,110 (39,041 total applicants)
Total enrolled: 1,663 (78.82% yield)
SAT Critical Reading – 25th percentile score: 710, 75th percentile score: 800
SAT Math – 25th percentile score: 720, 75th percentile score: 800
ACT Composite – 25th percentile score: 32, 75th percentile score: 35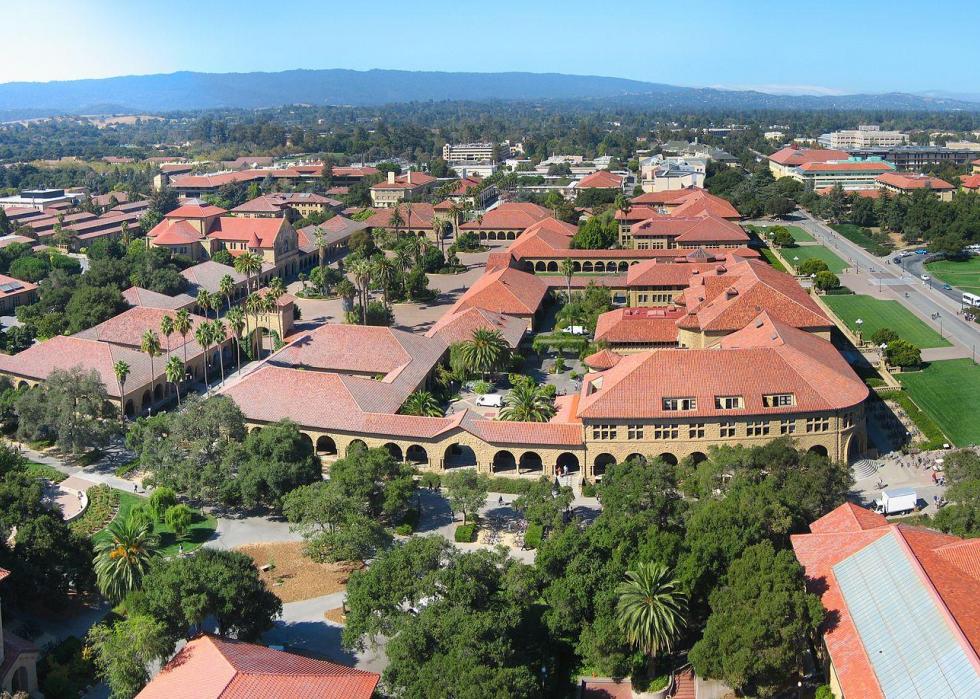 50 / 50
Jawed Karim // Wikimedia Commons
#1. Stanford University
Location: Stanford, California
Acceptance rate: 4.81%
Total accepted: 2,118 (43,997 total applicants)
Total enrolled: 1,739 (82.11% yield)
SAT Critical Reading – 25th percentile score: 680, 75th percentile score: 780
SAT Math – 25th percentile score: 700, 75th percentile score: 800
ACT Composite – 25th percentile score: 31, 75th percentile score: 35