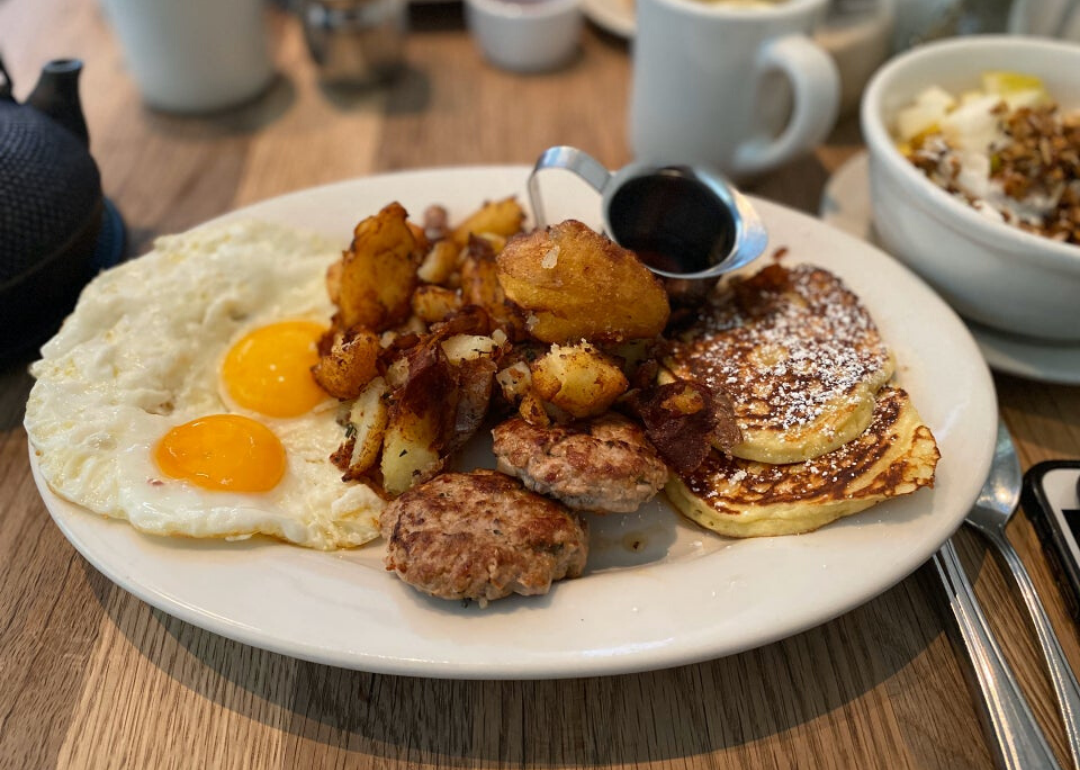 Most popular breakfast spot in every state
Most popular breakfast spot in every state
For many a breakfast enthusiast, nothing beats eating the morning meal at dinnertime. Easily accomplished with dishes like steak and eggs and chicken and pancakes, which combine a.m. sweetness with p.m. saltiness, "breakfast for dinner" blends our favorite tastes from dawn and dusk. Holding a special affinity for breakfast foods—at any time of day—hasn't always been the case in America. In fact, traditional breakfast foods in the United States didn't come about until the mid- to late 1800s. Instead, people would eat leftovers or meat and fish for their morning meal. But not today.
While the most important meal of the day got off to a late start, Stacker has compiled a list of the most popular breakfast spots in every state using data from Foursquare. Foursquare's algorithm, which gives restaurants a rating out of 10 points, predicts the "best" restaurant or establishment by incorporating check-ins, rating signals, category matches, tips, and photo trends to determine the top-ranked restaurant in each state.
What breakfast looks like around the world is a far cry from the fare that some of these American eateries offer, with signature dishes like Tom's Favorite Breakfast in Seattle, featuring Mediterranean octopus standing out among some of the more unique menu options. Oklahoma's top spot may have received a bump from their offering of free pie with a cup of coffee on Hump Day. Restaurants in Manhattan, New York, and Manhattan, Kansas, boast their state's best breakfast fare, and offer similar options despite a wide geographic disparity.
Regardless of the rating or popularity, some breakfast institutions included in this list have large cult followings and are definitely worth the long wait. For example, take The Original Pancake House, listed five times here with locations in the Deep South, Eastern seaboard, Midwest, and Great Plains.
Read on to find out the best breakfast spot in your state along with some top menu offerings prized by reviewers of the establishment.
You may also like: Most popular breakfast spot in every state