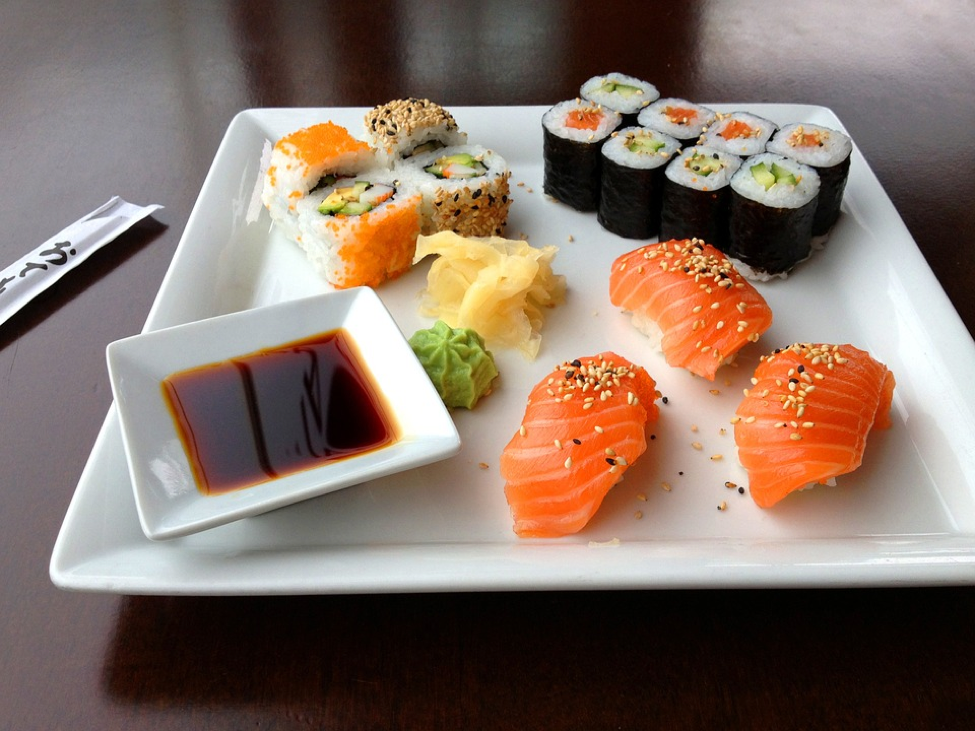 Top Sushi Spots in Every State
Top Sushi Spots in Every State
From preparation to presentation, sushi is a true art form. Fresh, light, and colorful; sushi has become one of America's favorite outings, great for everything from an evening with friends to experiencing some of the country's top culinary talents.
But as is true with all art forms, making sushi is a highly skilled craft. A traditional sushi chef spends at least five years training as an apprentice before becoming a head chef. Perfecting everything from knife and cutting etiquette to the proper preparation of sushi rice takes years and years of practice, as shown in the highly popularized film, Jiro Dreams of Sushi.
All over America folks are eating sushi - from upscale restaurants with white tablecloths to famed holes-in-the-wall with just a few seats at the bar - but in an industry where quality and authenticity trump all else, there is a wide range of options when choosing where to eat.
To help pick out the top sushi spot in every state, we used Foursquare's massive library of restaurant rankings which incorporate user trends for check-ins, ratings, tips, photos, and more. 
Wherever you reside or your travels may take you, these sushi spots all offer a unique culinary experience. Did your local favorite make the list?
1 / 50
Wyoming: King Sushi
- 75 South King Street (between Pearl & Broadway), Jackson, WY 83001
- Foursquare Rating: 7.8
King Sushi's menu is minimal, but every item is well thought-out and full of flavor. Their Crouching Tiger Roll with avocado, tempura asparagus, wild salmon, spicy tuna, wasabi aioli, and sweet soy will make your taste buds dance.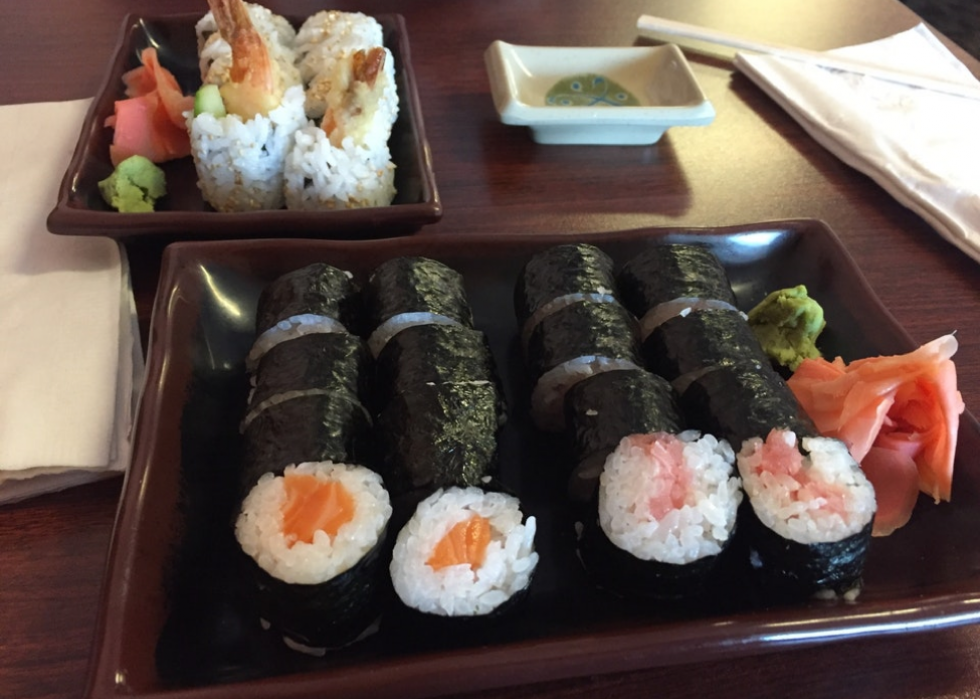 2 / 50
Vermont: Sushi Do
- 19 Taft Corners Shopping Center (at Williston Rd), Williston, VT 05495
- Foursquare Rating: 8.6
Sushi Do serves high-quality, authentic sushi at great prices. Their Dragon Rolls are a must-order, along with Spider Rolls and Sweet Potato Tempura Rolls.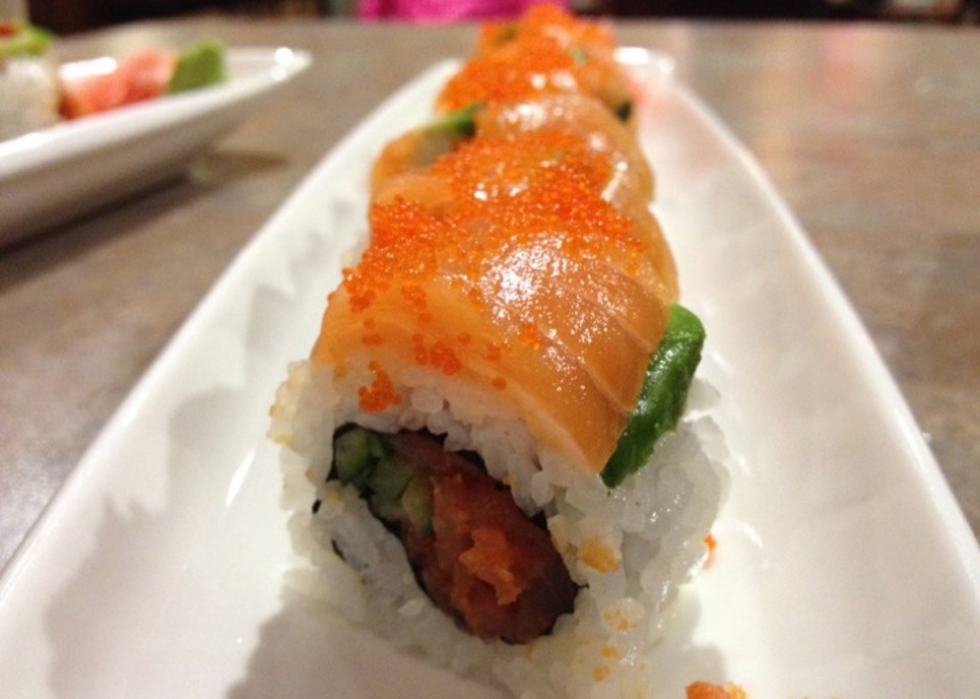 3 / 50
Alaska: Sushi & Sushi
- 3337 Fairbanks Street (between 34th and 33rd), Anchorage, AK 99503
- Foursquare Rating: 9.0
Anchorage's Sushi & Sushi is known for their amazing staff, upscale atmosphere, and generous portions. The Ceviche Roll, with four kinds of fish, cilantro and lemon top, is a must-try.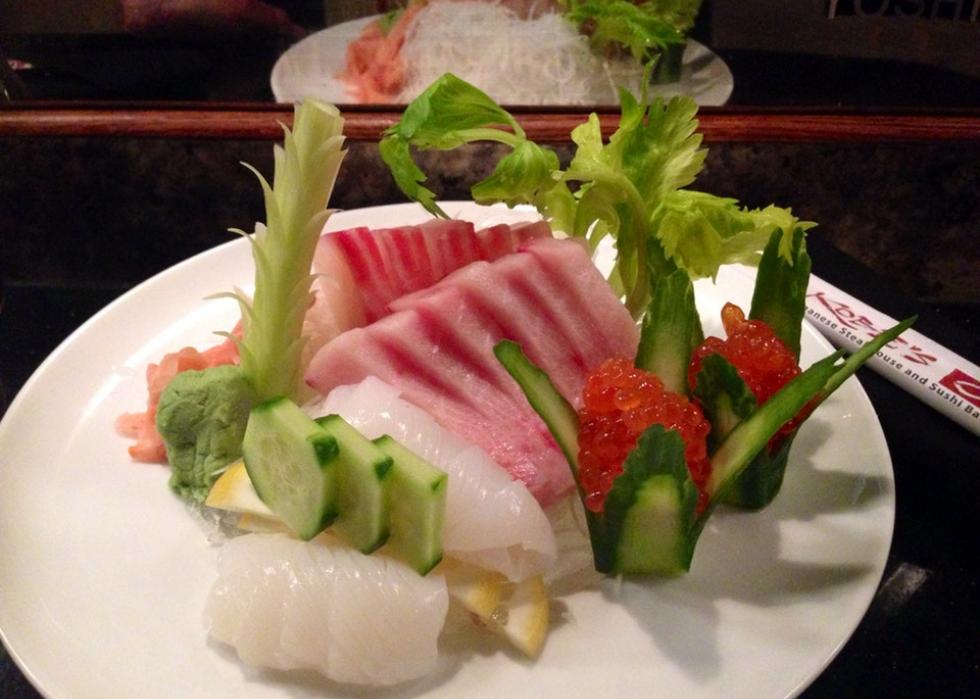 4 / 50
Kobe's Japanese Steakhouse and Sushi Bar // Foursquare
North Dakota: Kobe's Japanese Steakhouse & Sushi Bar
- 915 West Interstate Avenue, Bismarck, ND 58503
- Foursquare Rating: 8.7
Kobe's opened as North Dakota's first Japanese Steakhouse and Sushi Bar. Kobe's is renowned for their daily lunch specials while their hibachi experience offers an entertaining dinner for groups.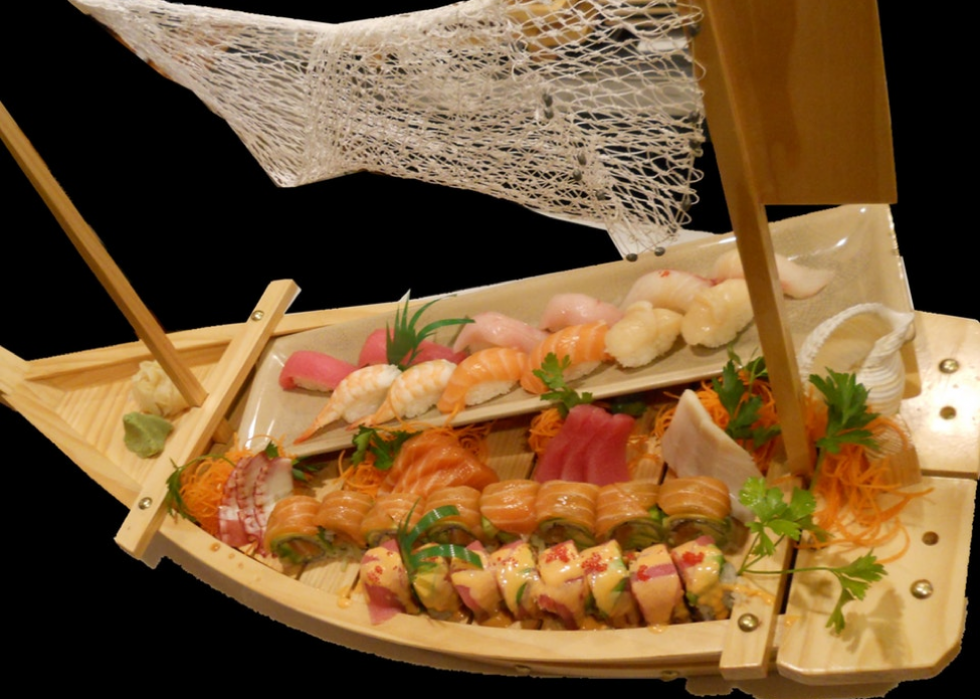 5 / 50
South Dakota: Fuji Sushi & Sake Bar
- 2200 North Maple Avenue #478, Rapid City, SD 57701
- Foursquare Rating: 8.8
Come for the Volcano Roll but stay for the Fuji Special Boat (also known to locals as "The Love Boat"). Be sure to stop in for Happy Hour from 4:00 - 5:30 Monday through Friday where you can indulge in their pineapple sake.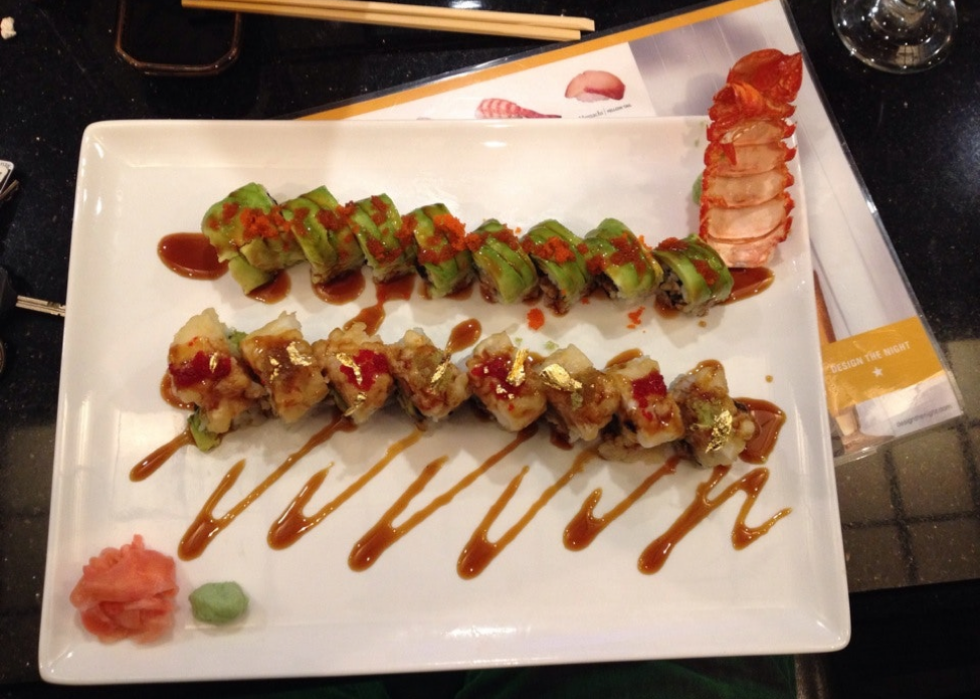 6 / 50
Alexander D. // Foursquare
Delaware: Sushi Sumo
- 2653 Kirkwood Highway (at Meadowood Dr), Wilmington, DE 19711
- Foursquare Rating: 8.6
When you're at Sushi Sumo, take a tour of rolls inspired by a variety of locales. They have tons of yummy rolls including the Mexican Roll, Philly Roll, Manhattan Roll, Maryland Crab Roll, and Paradise Roll.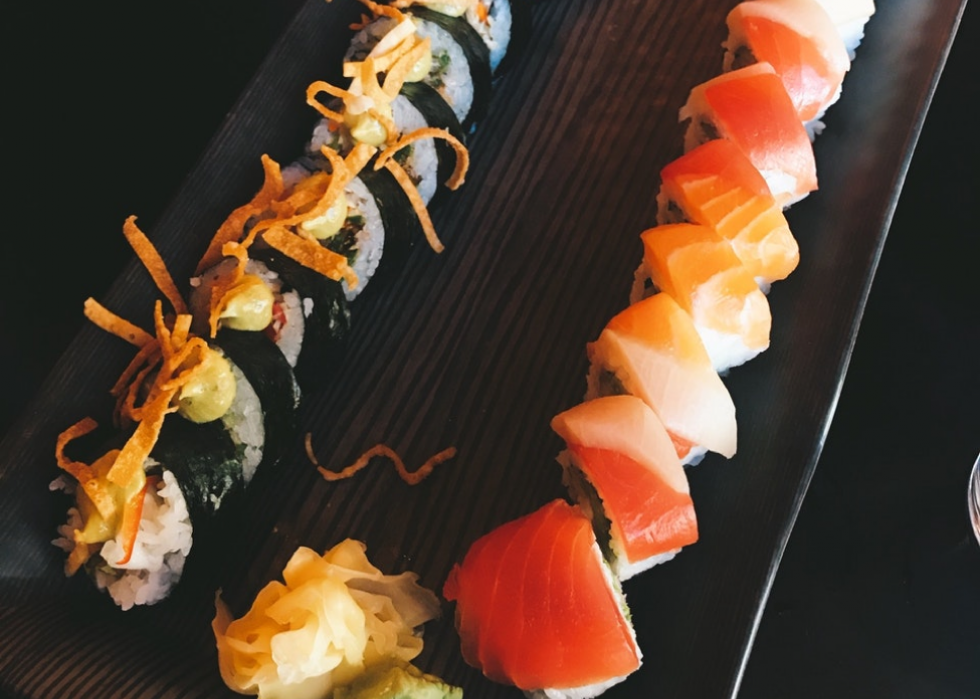 7 / 50
Montana: Dave's Sushi
- 115 North Bozeman Avenue (at Lamme St), Bozeman, MT 59715
- Foursquare Rating: 9.0
With menu items such as Widespread Panic, John Wayne, & David Hasselhoff (just to name a few), Dave's sushi is just as fun as it is delicious. Be sure to order the Gobbler even though it's not on the menu.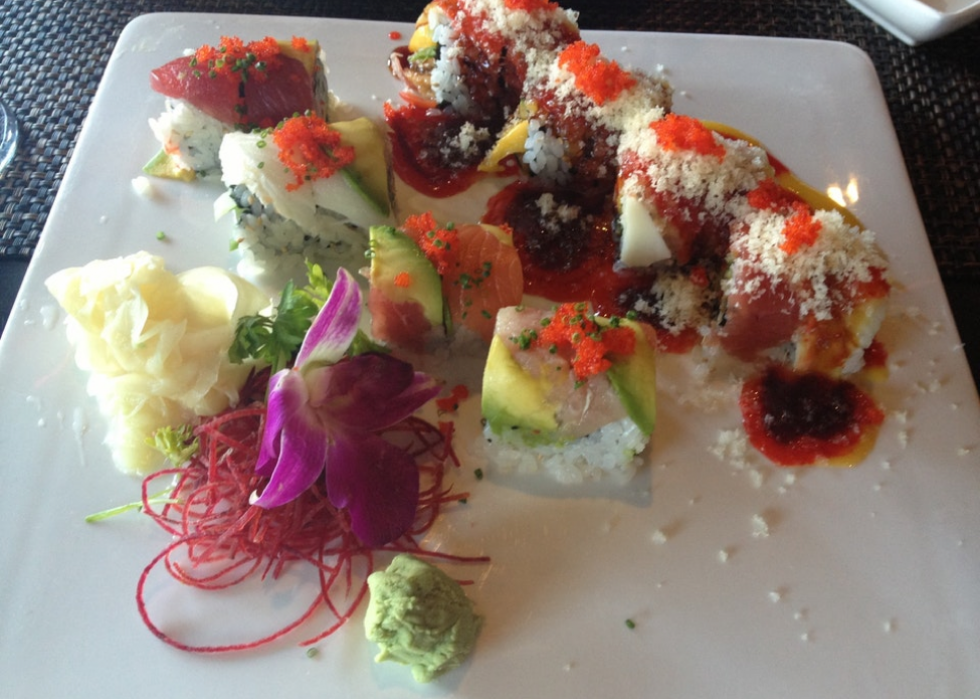 8 / 50
Rhode Island: Ichigo Ichie
- 5 Catamore Boulevard (at Route 6), East Providence, RI 02914
- Foursquare Rating 8.6
Ichigo Ichie translates to "a once in a lifetime chance," but you will definitely want to visit more often. Be sure to check out their Fantastic Roll packed with shrimp tempura, spicy salmon, eel sauce, and spicy mayo.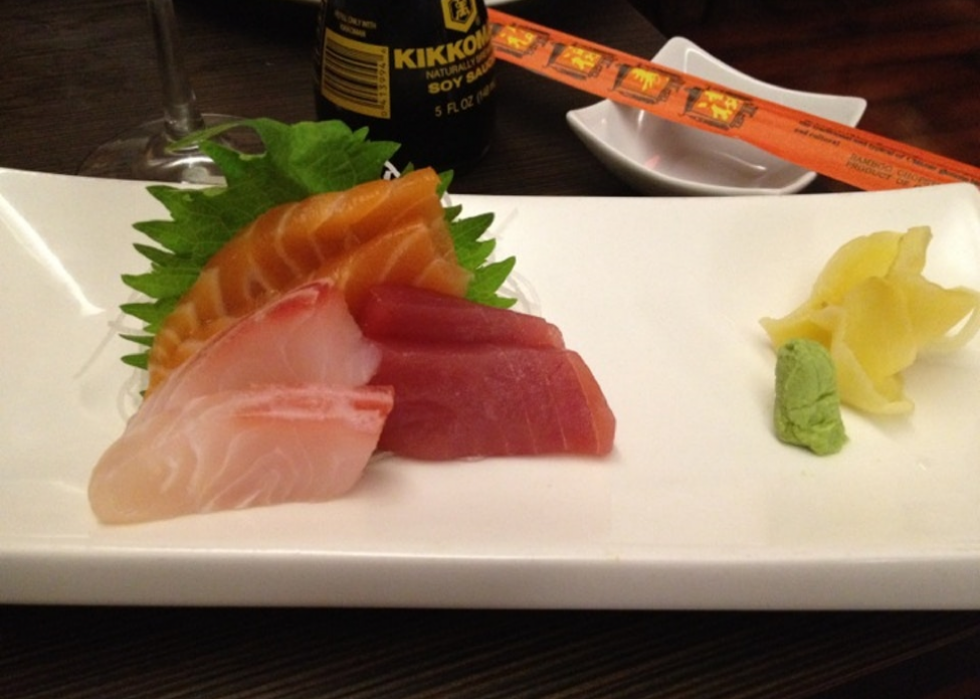 9 / 50
New Hampshire: Mint Bistro
- 1105 Elm Street (between Lowell and Bridge Street), Manchester, NH 03101
- Foursquare Rating: 8.5
You may come for the sushi (the unanimous favorite being The Boss Roll which consists of tempura shrimp, tuna and spicy tuna, avocado, and three kinds of caviar), but be sure to leave room for other delicacies such as risotto, crab cakes, lamb shanks, and hazelnut goat cheese fritters.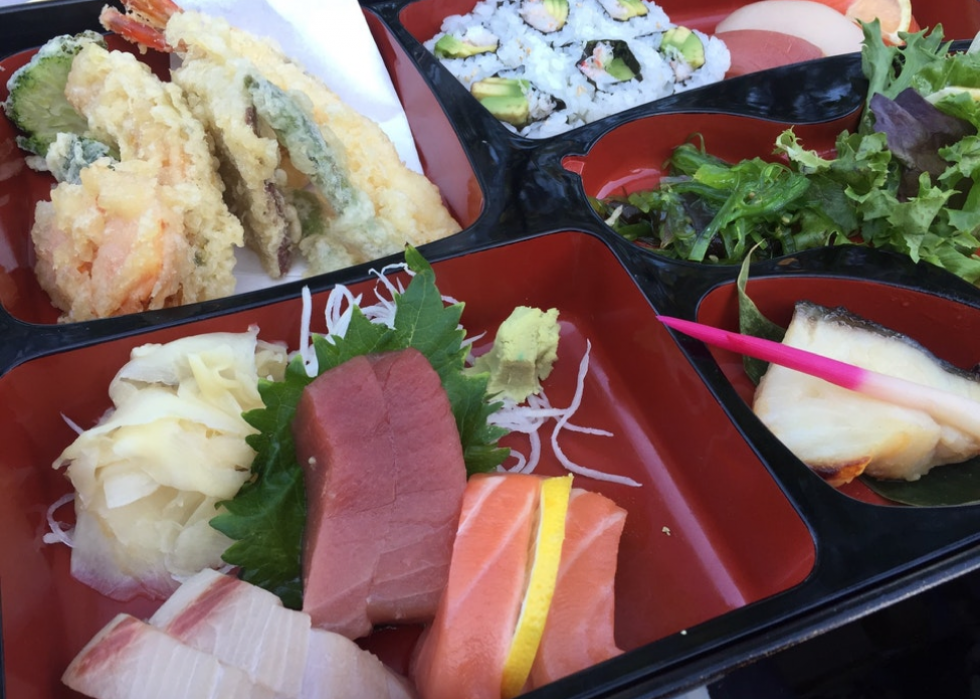 10 / 50
Maine: Yosaku
- 1 Danforth Street, Portland, ME 04101
- Foursquare Rating: 8.9
Whether you're looking for takeout, brunch, lunch, or dinner, check out Yosaku, located near the waterfront in downtown Portland, Maine. Enjoy a generous bento box or a Spicy Scallop Roll on the outdoor patio overlooking their renowned Japanese garden.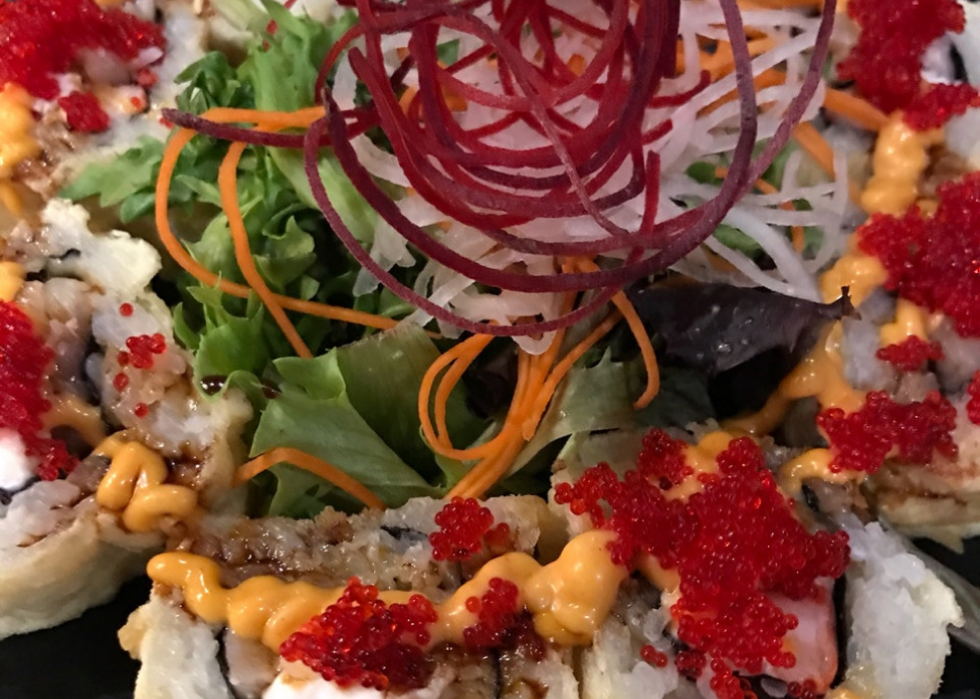 11 / 50
Hawaii: Doraku Sushi
- 2233 Kalakaua Ave (3rd Floor Royal Hawaiian Shopping Center), Honolulu, HI 96815
- Foursquare Rating: 8.6
If you're ever in Waikiki make sure to stop by Doraku Sushi for their famous Emperor Roll and delicious Cold Plates like Hamachi Carpaccio or Poke-Zuke Tuna Tacos, and Hot Plates like Balsamic Teriyaki Spare Ribs or Roasted Truffle Salmon. Enjoy the warm Hawaiian air at a window seat or outdoors.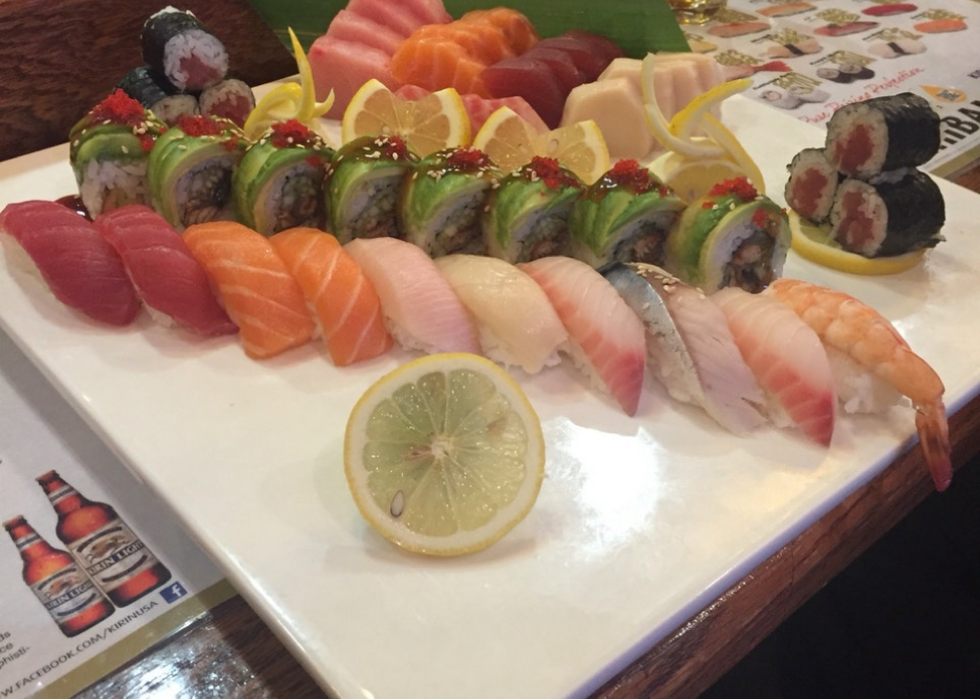 12 / 50
Idaho: Sakana Japanese Sushi & Steakhouse
- 1718 South Eagle Road, Meridian, ID 83642
- Foursquare Rating: 8.3
From sushi to poke to hibachi, Sakana Japanese Sushi & Steakhouse has something for everyone. Their Fantastic Roll is true to its name, full of spicy scallop and avocado, topped with snow crab.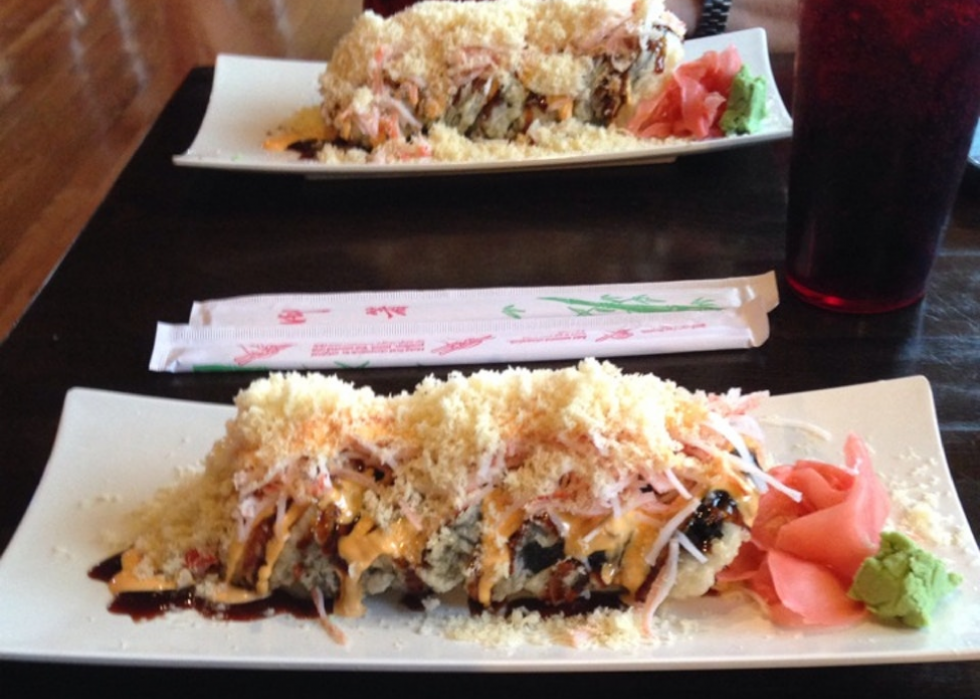 13 / 50
West Virginia: Kimono Kin
- 106 Galleria Plaza, Beckley, WV 25801
- Foursquare Rating: 8.3
Whether you are seated in the intimate dining room, the entertaining hibachi area, or right with the chef at the sushi bar, Kimono Kin provides a dining experience like none other. Despite already having a large menu, the sushi chefs are also up for a challenge and will create anything your heart desires.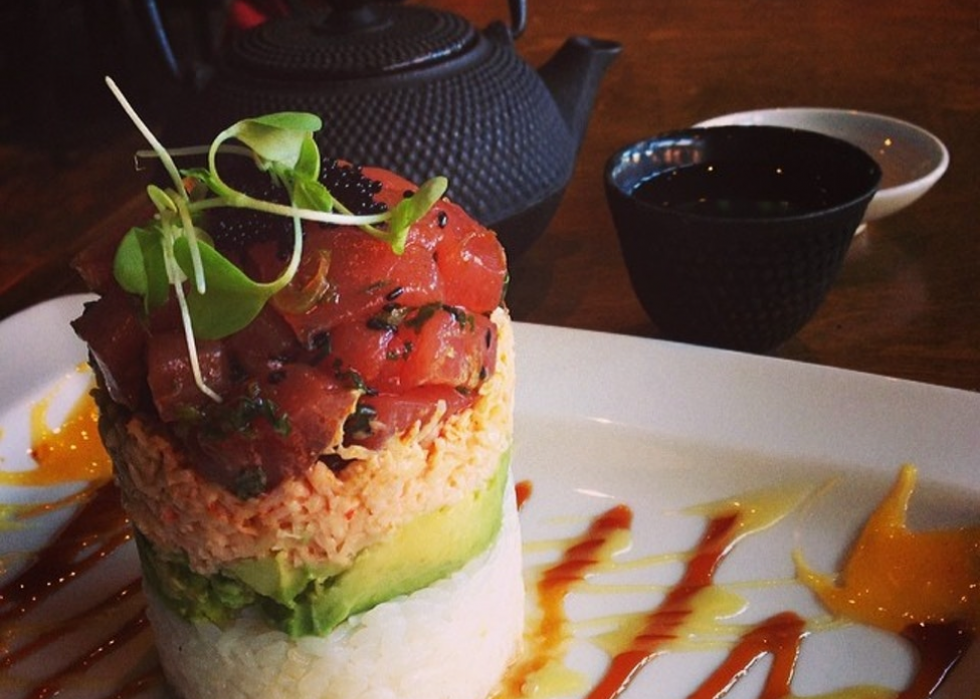 14 / 50
Nebraska: Blue Sushi Sake Grill
- 416 South 12th Street (between Howard & Harney), Omaha, NE 68102
- Foursquare Rating: 9.1
Omaha may not be your first thought when you think of sushi, but Blue Sushi Sake Grill has emerged as an authentic midwestern Sushi experience. Not only do they serve innovative options like the V.L.T., a vegan roll with bibb lettuce, cucumber, cherry tomato, and avocado, but equally delicious grilled items such as the Mango Crab Rangoon, Itchy Seabass, and Blue Balls (don't ask, just try it).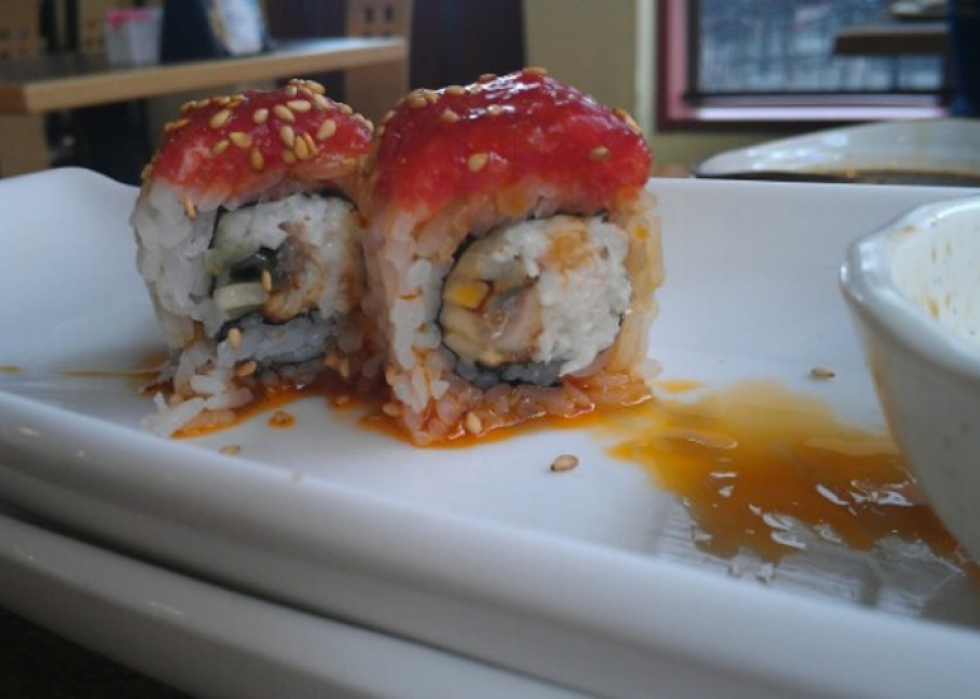 15 / 50
New Mexico: Amerasia Sumo Sushi
- 800 3rd Street NW (3rd & Slate), Albuquerque, NM 87102
- Foursquare Rating: 8.8
Not only does Amerasia Sumo Sushi have a plethora of sushi, but they also serve Dim Sum. Their intimate setting will make you feel like you have your very own private chef.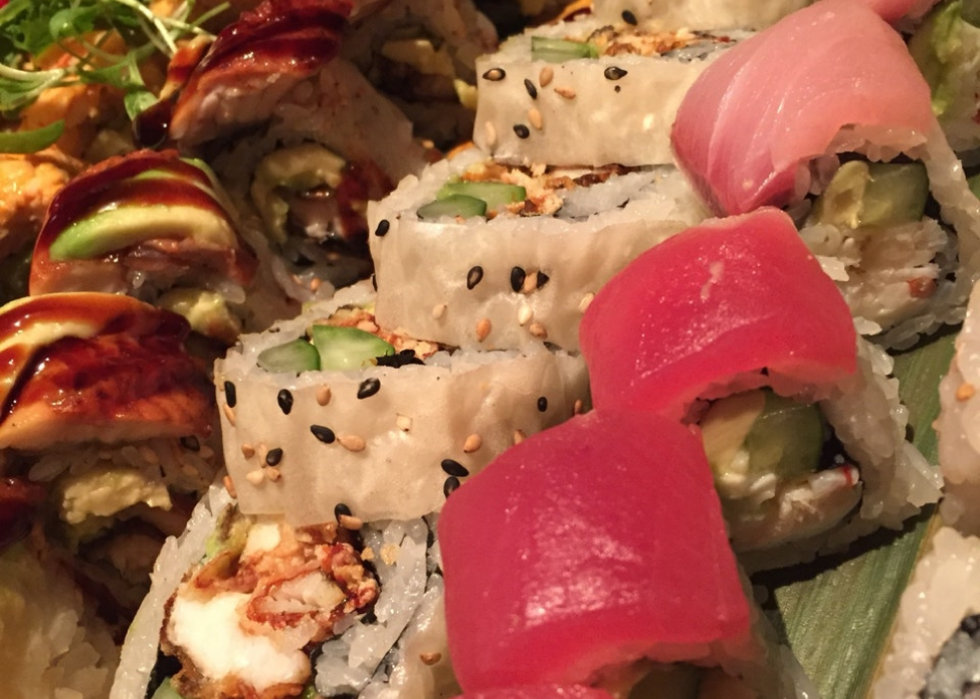 16 / 50
Nevada: SUSHISAMBA
- 3327 Las Vegas Blvd South (The Shoppes at the Palazzo), Las Vegas, NV 89109
- Foursquare Rating: 9.2
Everything is bigger and brighter in Vegas and SUSHISAMBA is no exception. The menu is decadent with lobster, foie gras, and wagyu beef while the Mondrian-inspired decor and award-winning staff make for a stellar dining experience.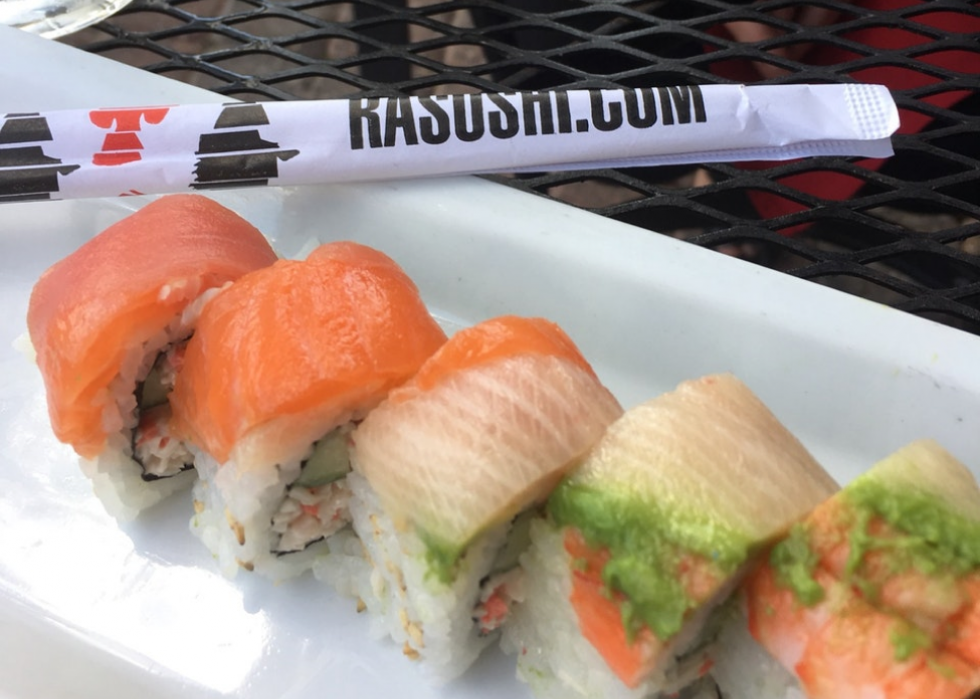 17 / 50
Kansas: RA Sushi Bar Restaurant
- 11638 Ash Street (at Park Place), Leawood, KS 66211
- Foursquare Rating: 8.5
Visit RA Sushi Bar Restaurant for the Viva Las Vegas Roll, tempura crab and cream cheese topped with spicy tuna, crab, and sliced lotus root. Be sure to sign up for The Hookup, RA's preferred customer email program, to receive annual gift certificates and up-to-date information.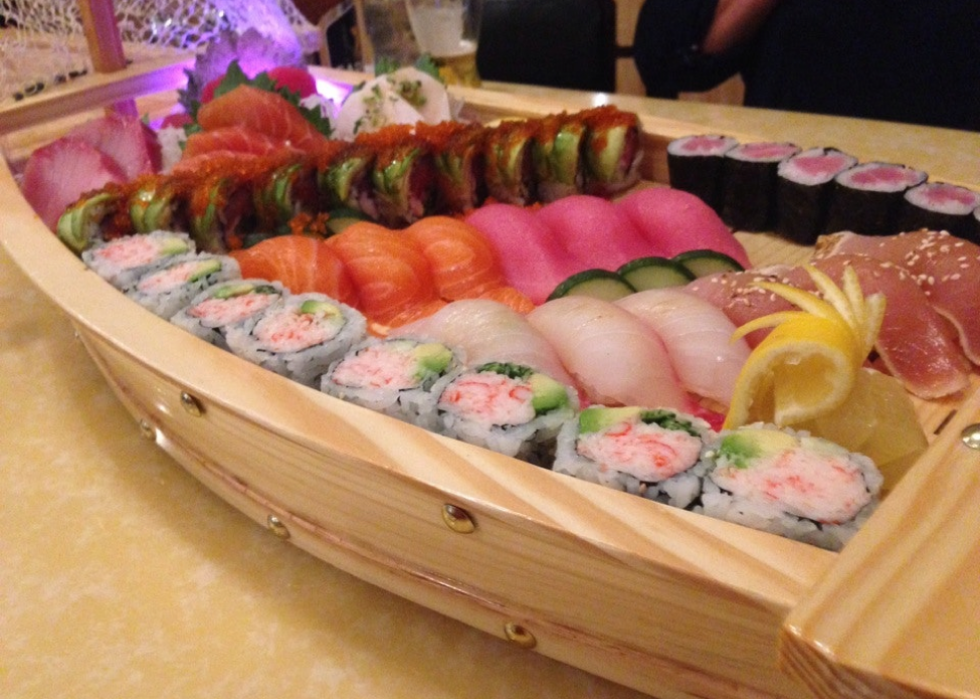 18 / 50
Utah: Sakura
- 999 East 100 North, Saint George, UT 84770
- Foursquare Rating: 9.3
Sakura's Love Boat for Two is perfect for date night. From appetizers to dessert, the authenticity of the food and carefully thought out decor will have you forgetting you're not in Tokyo.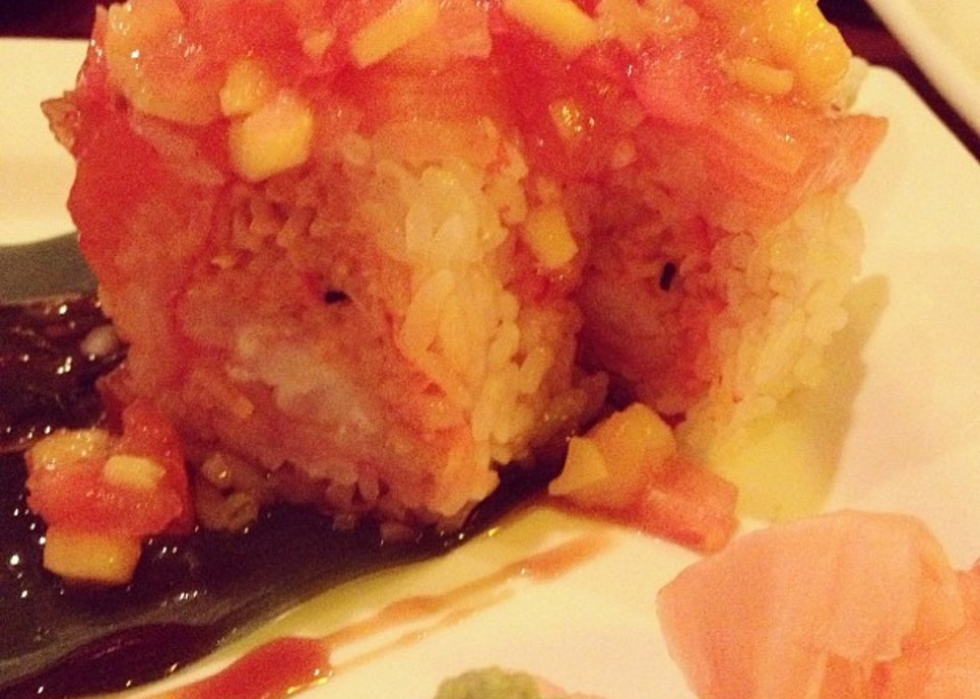 19 / 50
Mississippi: Kabuki
- 1700 Jackson Avenue, West Oxford, MS 38655
- Foursquare Rating: 8.8
In addition to awesome sushi, Kabuki has a huge menu including noodle dishes, tempuras, curries, and affordable lunch specials. If you're looking for a great roll, try the Snow Crab!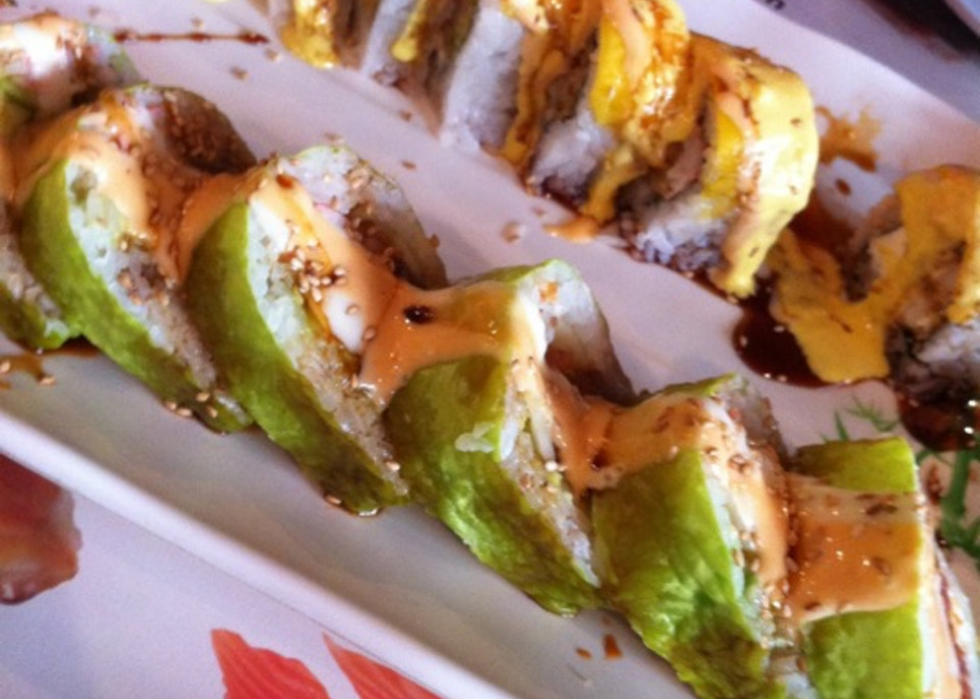 20 / 50
Arkansas: Sushi House
- 2501 SE 14th Street, Bentonville, AR 72712
- Foursquare Rating: 9.2
If you're planning a visit to the Sushi House, you better come hungry because upon sitting guests are served complementary edamame and sample sushi rolls. When it's time to order, the Sam's Roll and the Crazy Crab are two local favorites.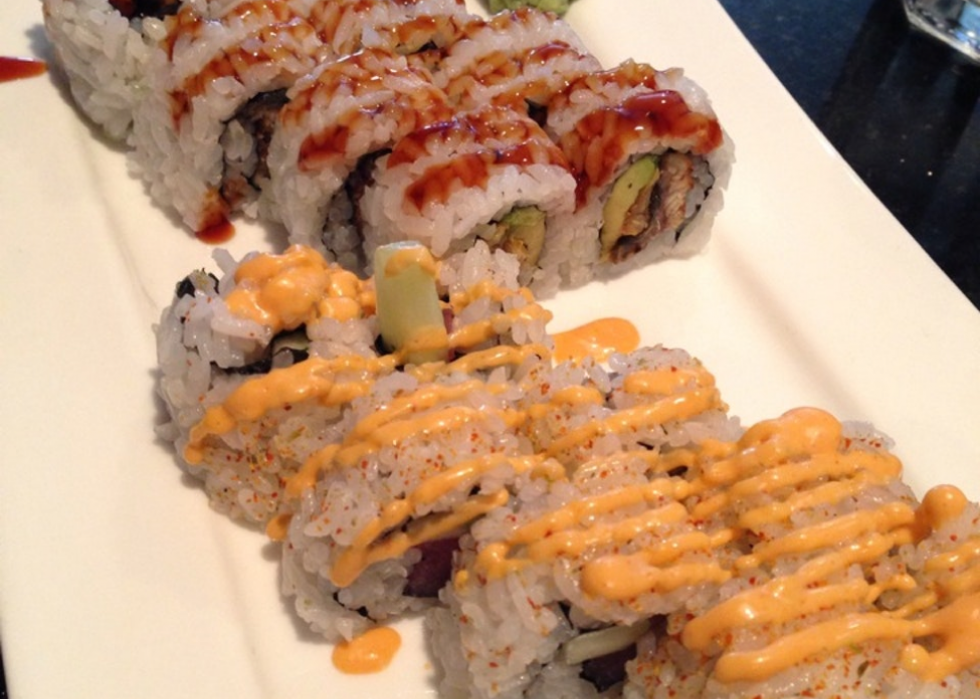 21 / 50
Iowa: Sakari Sushi Lounge
- 2605 Ingersoll Avenue, Des Moines, IA 50312
- Foursquare Rating: 9.2
Sakari Sushi Lounge is explosive! Patrons can't say enough about their Dynamite Shrimp, Dynamite Crab, and Godzilla Rolls and, of course, the free Sake Bombs.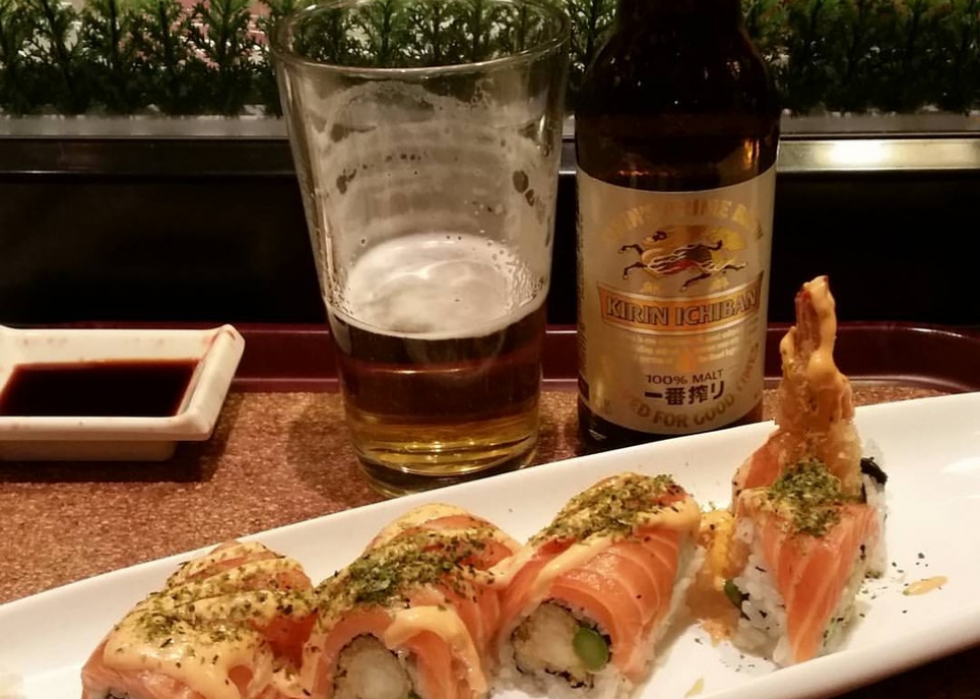 22 / 50
Connecticut: Mahzu Sushi Bar & Restaurant
- 624 West Main Street, Norwich, CT 06360
- Foursquare Rating: 9.0
Mahzu Sushi Bar & Restaurant boasts over a hundred rolls on their menu but is always happy to customize; making the possibilities truly endless. But that's not all, they also have all-you-can-eat sushi every Sunday.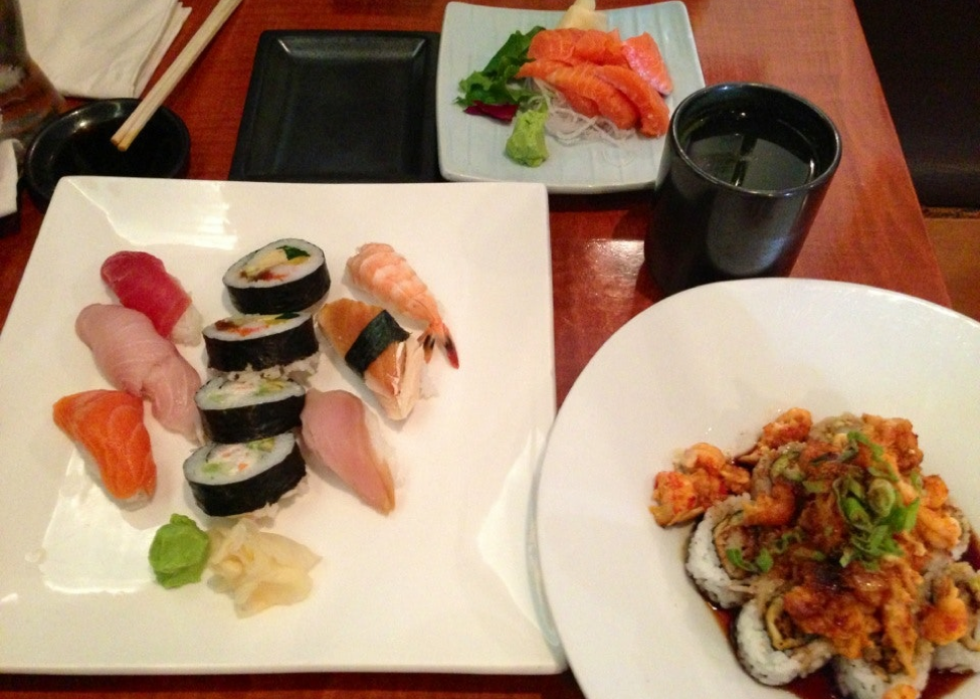 23 / 50
Oklahoma: Sushi Neko
- 4318 North Western Avenue (at N W 43rd Street), Oklahoma City, OK 73118
- Foursquare Rating: 9.2
Sushi Neko's adorable logo - an animated samurai cat - assures you that this is a great place for the entire family. Their kid's menu can please even the pickiest of eaters. As for their sushi, local favorites include the Vegas Roll, Sumo Roll, and the Red Canyon Roll.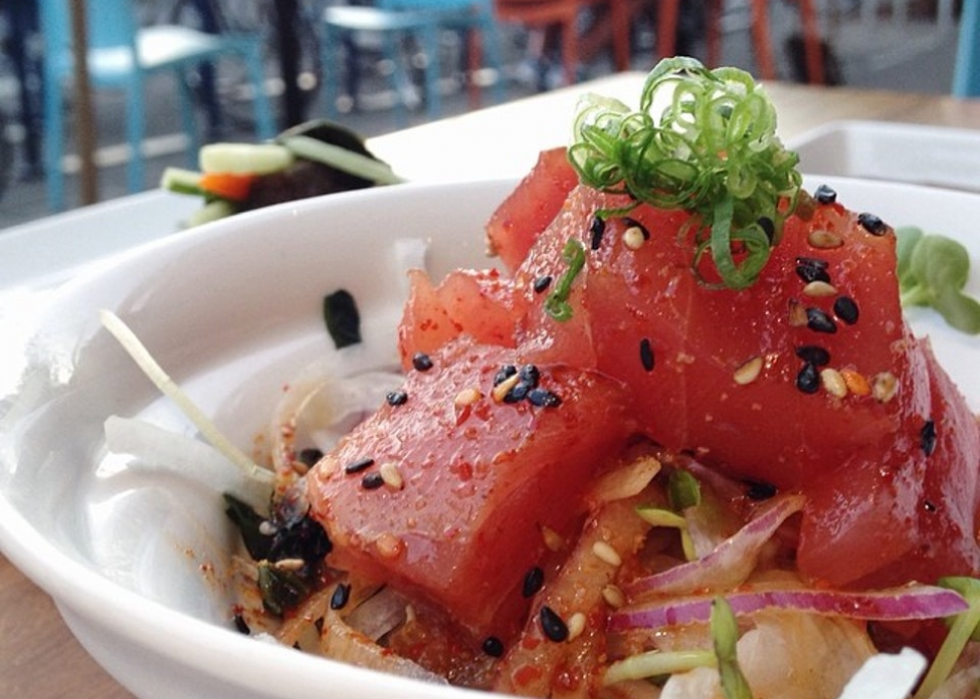 24 / 50
Oregon: Bamboo Sushi
- 310 SE 28th Avenue (at SE Pine), Portland, OR 97214
- Foursquare Rating: 9.1
Bamboo Sushi is the world's first certified sustainable sushi restaurant, working closely with organizations such as the Monterey Bay Aquarium's Seafood Watch Program, the Ocean Foundation, and the Salmon Nation/Eco Trust to provide the carbon footprint for individual menu items and assure that all of their ingredients come from sustainable sources. Be sure to check out their Albacore Carpaccio, Hoki Poke Box, and the Green Machine Roll with tempura fried long beans and green onions, topped with avocado and cilantro sweet chili aioli.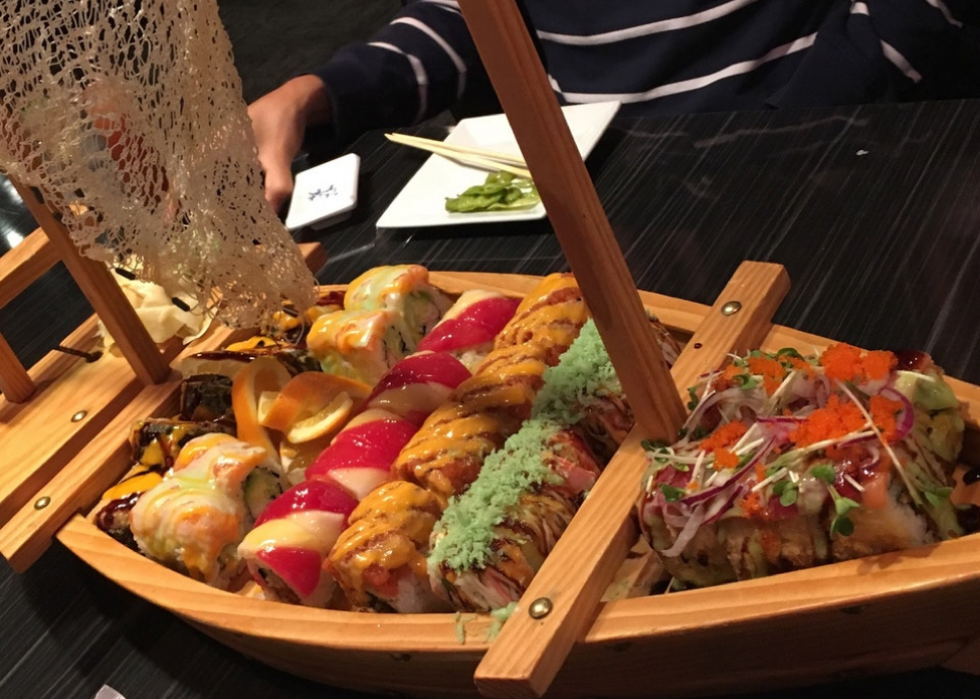 25 / 50
Kentucky: Sake Blue
- 9326 Cedar Center Way, Louisville, KY 40291
- Foursquare Rating: 8.9
Sake Blue is another great date night spot. Local favorites include the Crazy Fish Roll, Orange Salmon Roll, and the L.A. Crunch.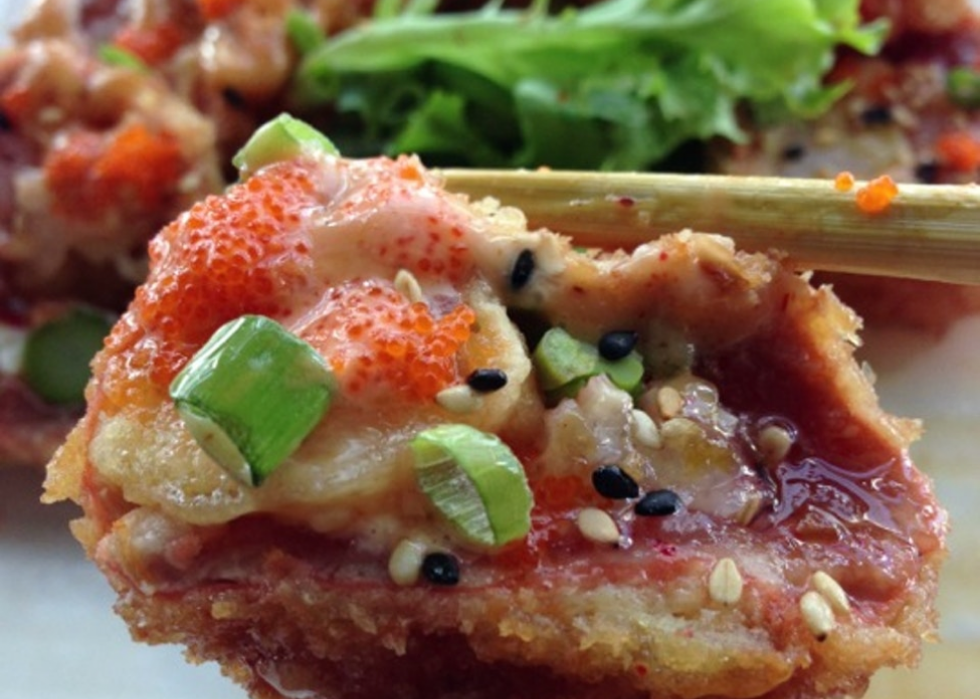 26 / 50
Louisiana: Tsunami Sushi
- 100 Lafayette St, Baton Rouge, LA 70801
- Foursquare Rating: 8.8
With amazing river views and delicious food, the upscale Tsunami Sushi is fancy, funky, and flavorful. Their Cupcake Roll (tempura shrimp, snow crab and asparagus, topped with masago aioli and salmon and then baked) is not only unique, but also a local favorite.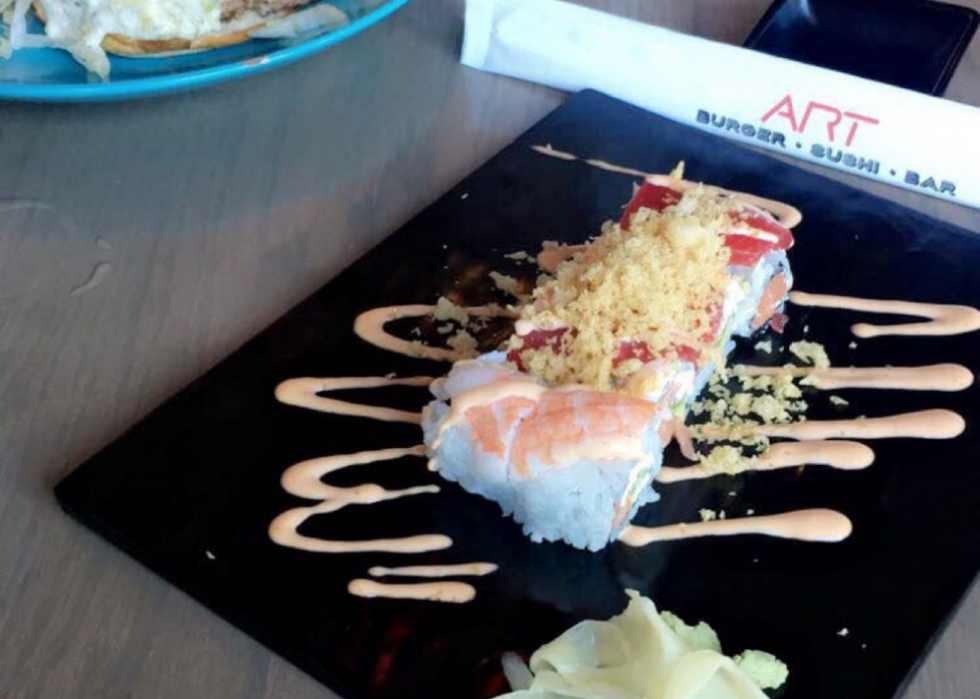 27 / 50
Daniella M. // Foursquare
South Carolina: Art Burger Sushi Bar
- 706 North Ocean Boulevard, Myrtle Beach, SC 29577
- Foursquare Rating: 8.8
It doesn't get much cooler than Art Burger Sushi Bar where patrons enjoy oceanfront views, awesome sushi, gourmet burgers, and even a liquid nitrogen bar for cool cocktails with a twist. They also dedicate a portion of the restaurant to local artists, allowing them to display and sell work without fees.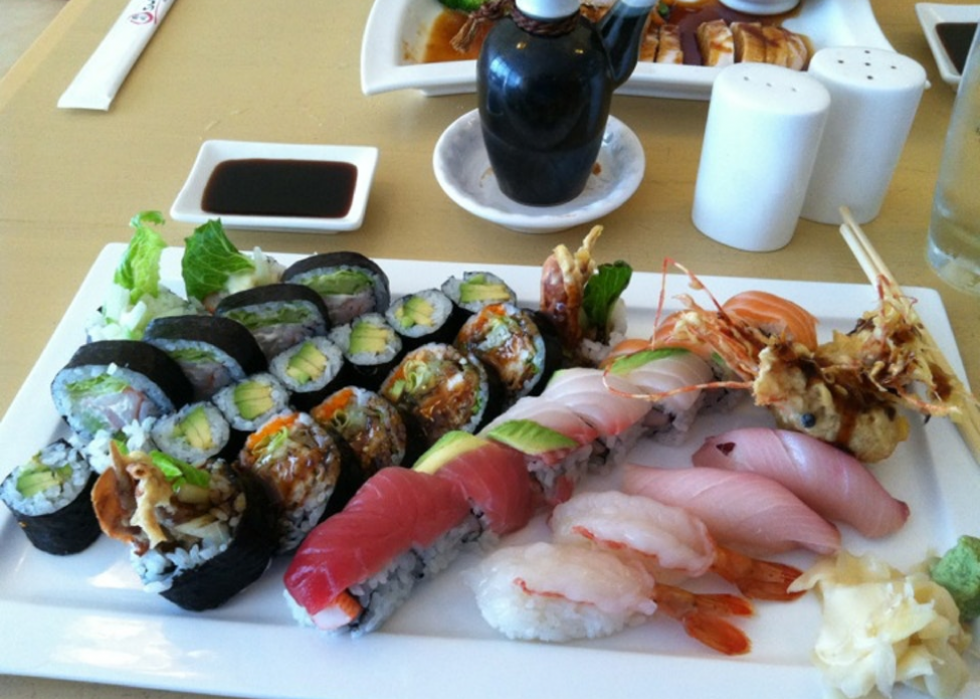 28 / 50
Alabama: O Sushi
- 5519 Grove Blvd #101, Hoover, AL 35226
- Foursquare Rating: 8.7
Summer Rolls, featuring shrimp tempura and cream cheese topped with crab, shrimp and avocado, are a favorite at O Sushi. Order in or take-out, but be sure to have their Green Tea Creme Brulee.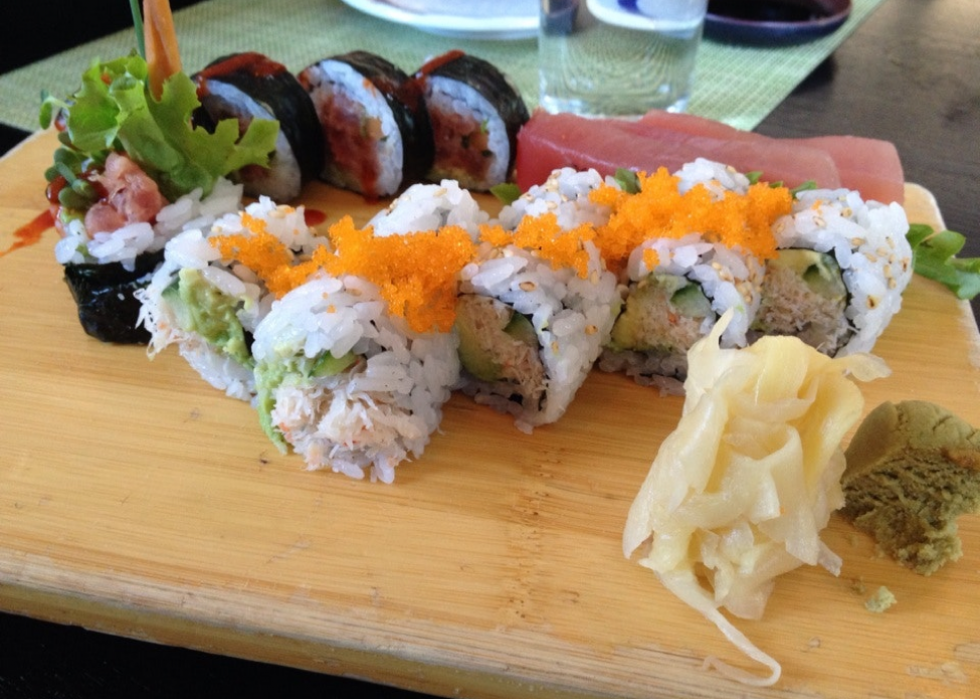 29 / 50
Minnesota: Masu Sushi & Robata
- 330 East Hennepin Avenue (SE 4th Street), Minneapolis, MN 55414
- Foursquare Rating: 9.1
Created by a fish purveyor, chefs, and mixologists, Masu Sushi & Robata provides fresh, sustainable fish following the recommendations and guidelines from the Monterey Bay Aquarium's Seafood Watch Program. This funky, modern Japanese-inspired setting offers rich sushi as well as Pork Belly Raman, a local favorite.
30 / 50
Colorado: Sushi Den
- 1487 South Pearl Street (at East Florida Avenue), Denver, CO 80210
- Foursquare Rating: 9.5
Sushi Den has been around for nearly three decades and with good reason: Sushi Den flies in hand-picked fish directly from Japanese fish markets. Be on the lookout for the catch of the day and their two-for-one sake specials during happy hour.
31 / 50
Wisconsin: Fujiyama Sushi and Hibachi Grill
- 2916 South 108th Street (at West National Avenue), West Allis, WI 53227
- Foursquare Rating: 8.8
Fujiyama Sushi & Hibachi Grill is the perfect place for a romantic evening, a special celebration, or a night out with friends, serving sushi platters, combos, and even a Love Boat for two. Their hibachi goes above and beyond serving delicacies such as filet mignon, scallops, and lobster tails.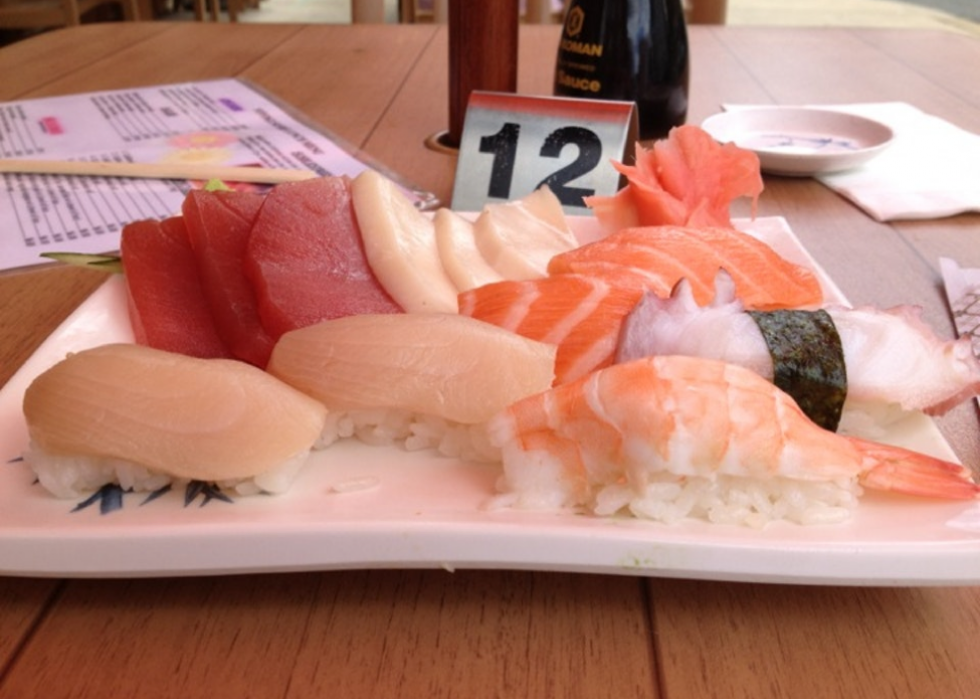 32 / 50
Maryland: Yoyogi Sushi
- 328 Main Street Gaithersburg, MD 20878
- Foursquare Rating: 9.0
Skip the fast food and head over to Yoyogi Sushi. It's economical, the service is quick, and their portions are generous. If you're lucky, you'll be able to snag a spot in their outdoor seating area.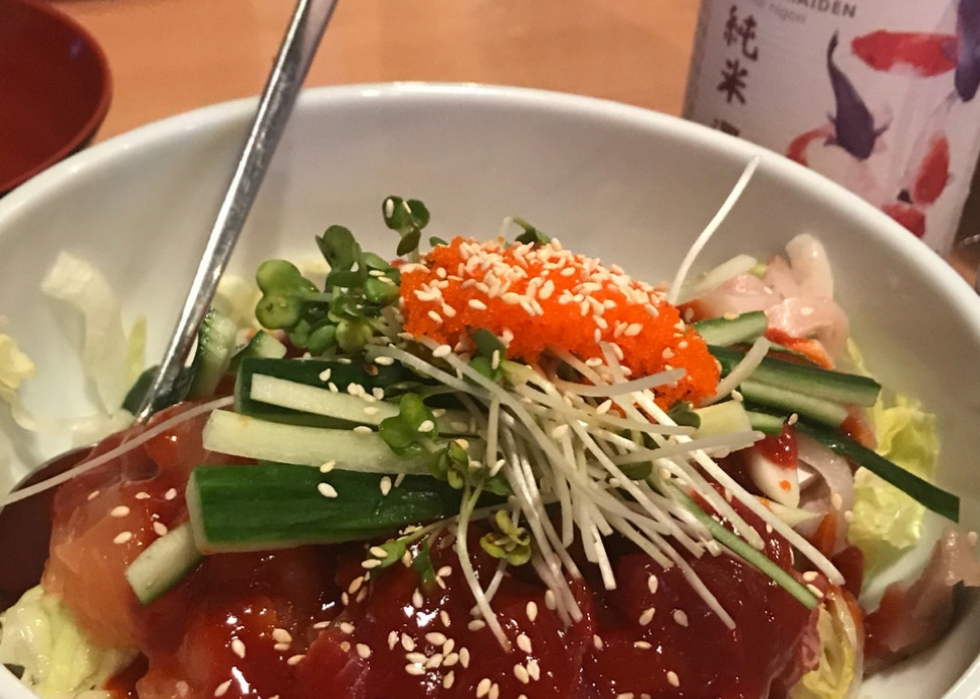 33 / 50
Missouri: Bob Wasabi Kitchen
- 1726 West 39th Street (at Bell Street), Kansas City, MO 64111
- Foursquare Rating: 9.2
Bob Wasabi's Spicy Fish Bowl is a must-have, made up of sashimi and vegetables over rice topped with a spicy chili sauce. Finish your meal with their famous Deep Fried Vanilla Ice Cream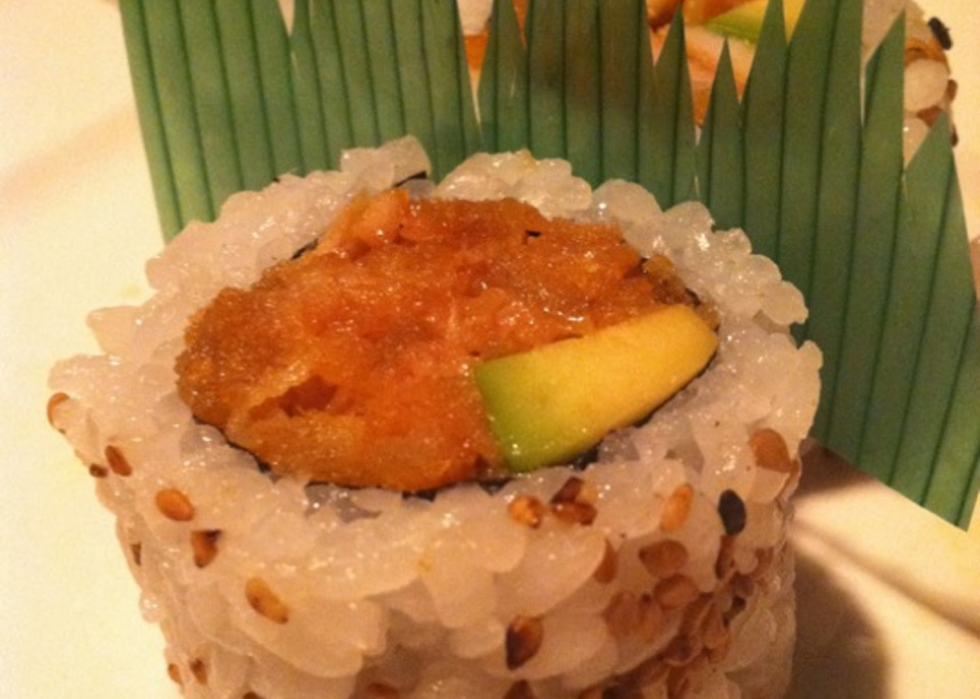 34 / 50
Indiana: Asakusa
- 6224 Lima Rd (Kelsey Ct.), Fort Wayne, IN 46818
- Foursquare Rating: 9.0
Asakusa is the perfect spot for a romantic evening, with cozy seating and ambient music to start the night off right. You can't go wrong with the White Lightning Roll: fried tuna mixed with imitation crab and Texas sauce topped with fried shrimp, lightly seared super white tuna, and teriyaki sauce.
35 / 50
Tennessee: Nama Sushi Bar
- 506 South Gay Street, Knoxville, TN 37902
- Foursquare Rating: 9.3
It's quite the conundrum, but you're going to love Nama Sushi Bar's Ex-Girlfriend (Roll), full of snow crab, panko shrimp, cream cheese, cucumber topped with eel, avocado, spicy scallops, eel, and fantasy sauce. Check for daily specials and never be afraid to ask for the "chef's choice" secret menu.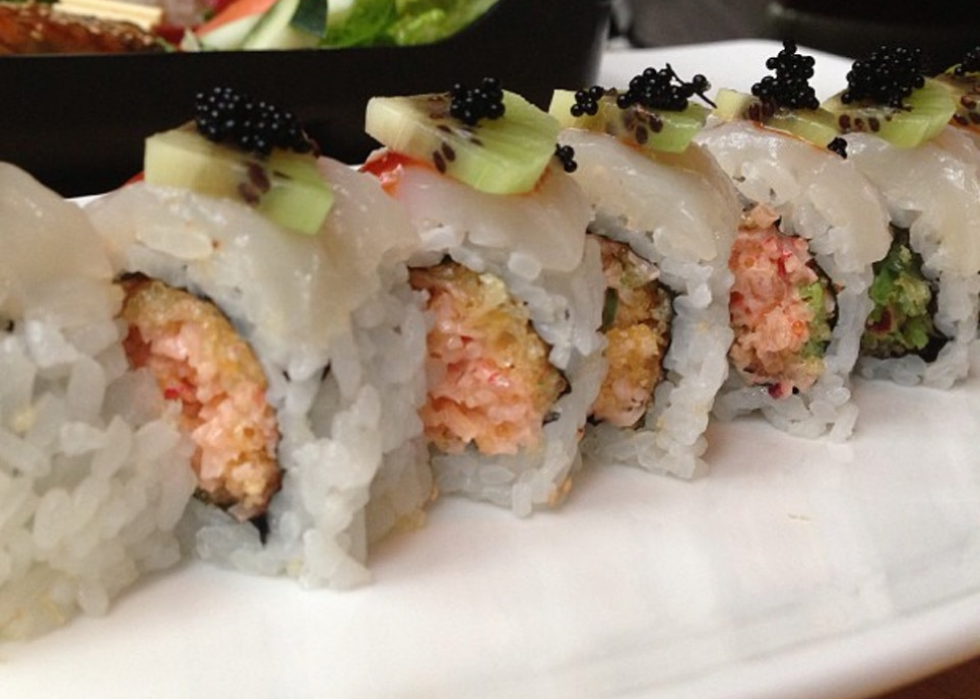 36 / 50
Massachusetts: Douzo
- 131 Dartmouth Street (between Columbus & Stuart), Boston, MA 02116
- Foursquare Rating: 9.0
Just moments from Boston's Theatre district lies Douzo, an upscale sushi restaurant with warm and welcoming decor. The Backbay (asparagus, cucumber, and wrapped with seared tuna and a touch of wasabi mayo) as well as the Red Spider (soft shell crab wrapped with tuna and tobiko and a touch of unagi sauce) both deserve an encore.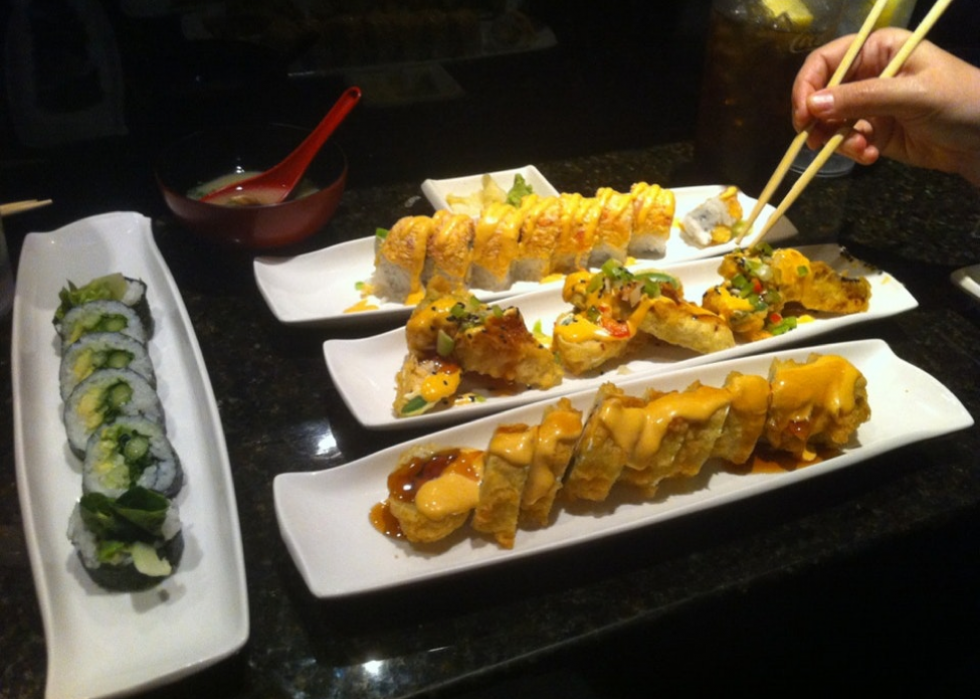 37 / 50
Christopher M. // Foursquare
Arizona: Tokyo Lobby
- 5795 West Bell Road, Glendale, AZ 85308
- Foursquare Rating: 8.9
If you like heat, check out Tokyo Lobby's What the Heck Roll with very spicy crab and tuna wrapped with even more tuna. Be sure to wash it down with their $5 Sake Bomb specials during happy hour Monday through Saturday.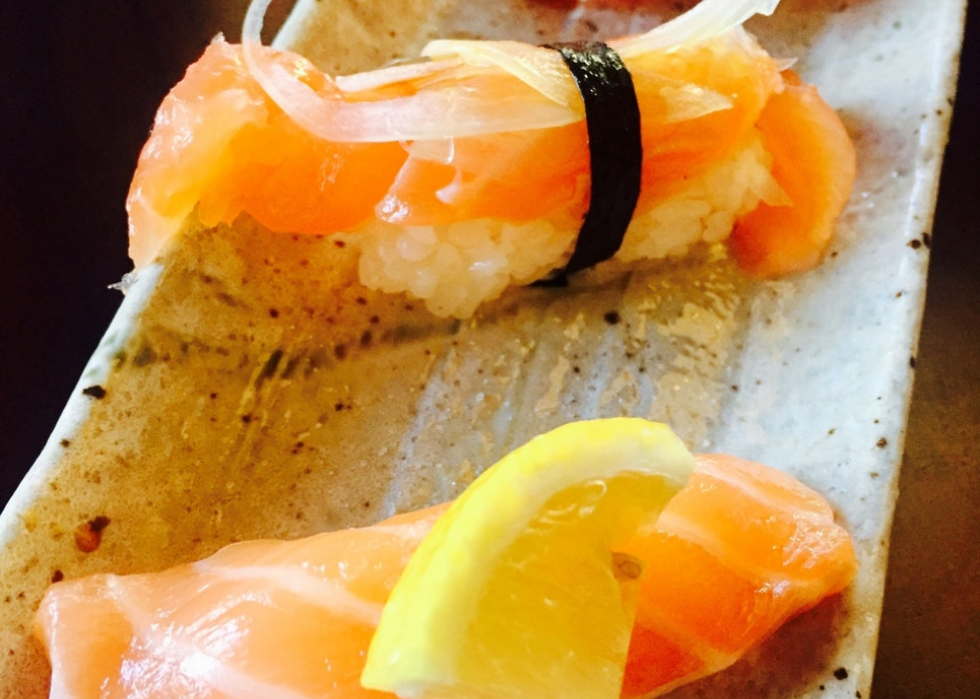 38 / 50
Priscilla C. // Foursquare
Washington: Shiro's
- 2401 2nd Avenue (at Battery Street), Seattle, WA 98121
- Foursquare Rating: 9.1
Fully staffed with highly skilled Sushi Masters, Shiro's is the epitome of fine dining. For a truly unforgettable experience reserve a spot for the Premium Sushi Omakase, the chef's selection of 18 pieces of sushi and seasonal soup served over five courses.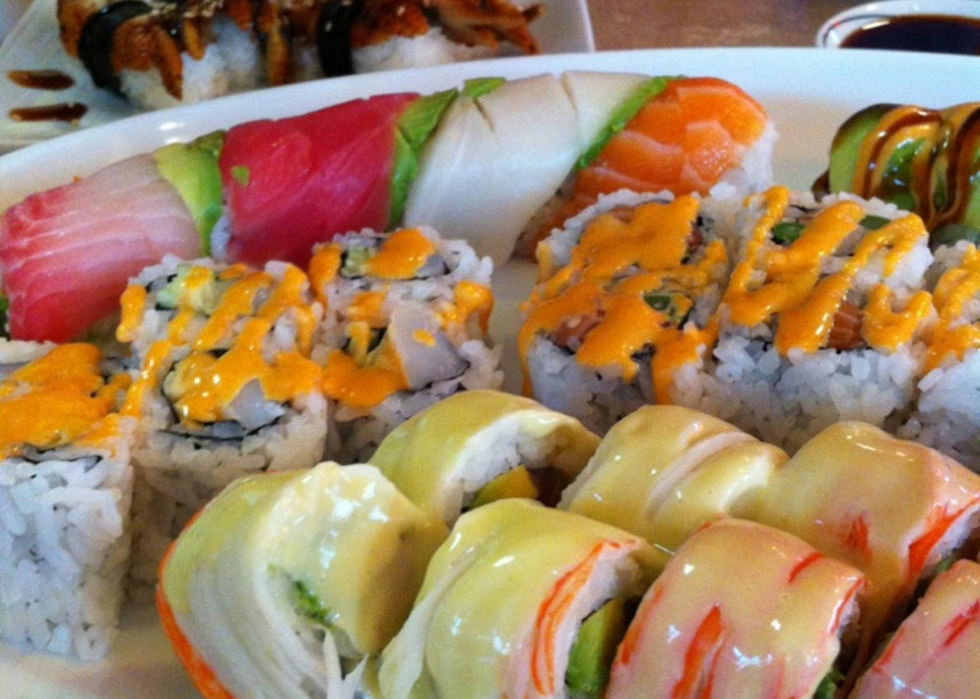 39 / 50
Adrienne A. // Foursquare
Virginia: Momo Sushi & Cafe
- 212 Queen Street, Alexandria, VA 22314
- Foursquare Rating: 9.1
Momo Sushi & Cafe is a quaint spot off the beaten path in Alexandria's Old Town. They have so many delicious rolls that it's hard to choose. Favorites include the White House, St. Thomas, Fire Crunch, and Greentree rolls.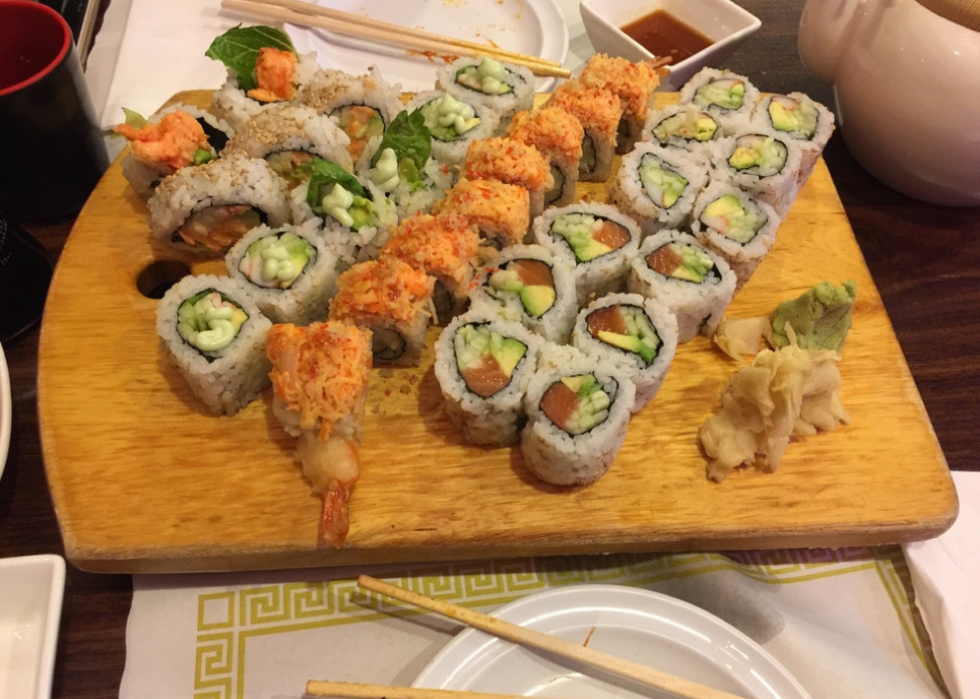 40 / 50
New Jersey: Nizi Sushi
- 300 Union Avenue, Rutherford, NJ 07070
- Foursquare Rating: 8.9
If you're looking for something unique, check out Nizu Sushi's local favorite, the N.Y. Yankees Roll (apple, cucumber, Kani with avocado, tuna, and American cheese on top). Their bento box lunch specials, available Monday through Friday from 11:00 a.m. to 3:00 p.m. are both delicious and generous.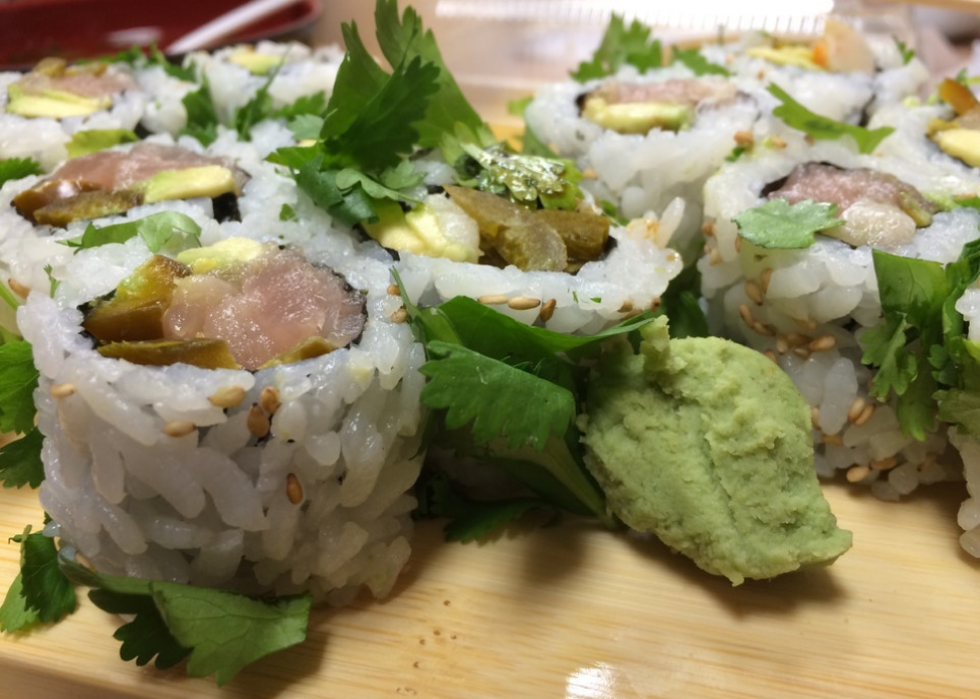 41 / 50
Michigan: Noble Fish
- 45 East 14 Mile Road (NE corner of North Main and 14 mile), Clawson, MI 48017
- Foursquare Rating: 9.5
Noble Fish is not only a restaurant but also an Oriental grocery and gift shop. In addition to their own delicious menu, they sell everything that you will need to make sushi at home.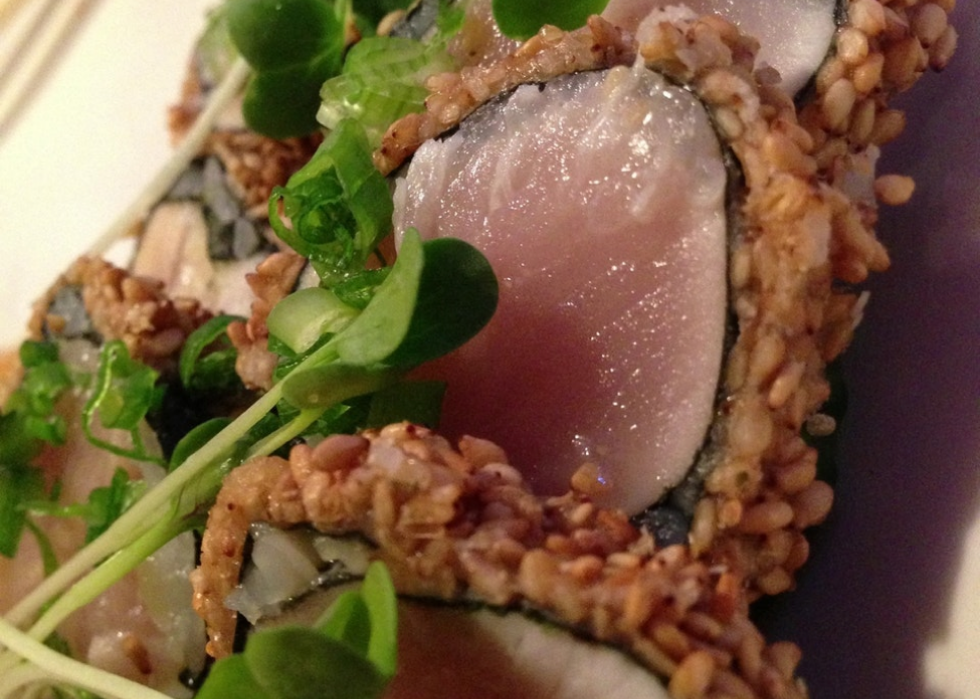 42 / 50
North Carolina: Ru San's Japanese Sushi & Cuisine
- 2440 Park Road (at McDonald Avenue), Charlotte, NC 28203
- Foursquare Rating: 9.0
Not only does Ru San's Japanese Sushi & Cuisine have the best sushi in North Carolina, they also have an all-you-can eat buffet! Come hungry, because the chefs are constantly bringing out new rolls.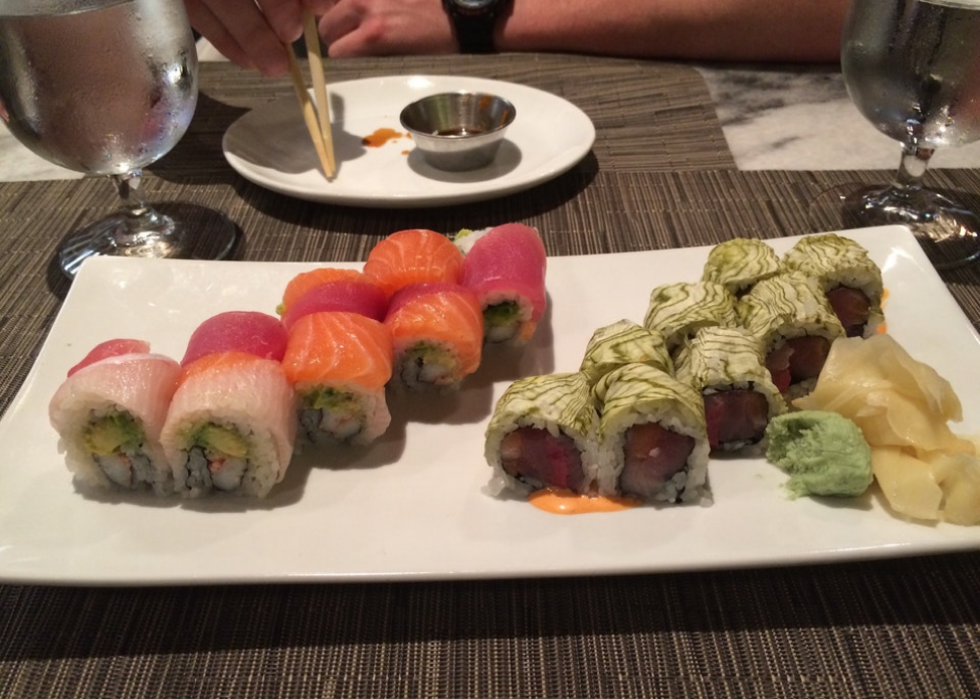 43 / 50
Georgia: One Flew South Restaurant & Sushi Bar
- Concourse E (at ATL Airport), Atlanta, GA 30337
- Foursquare Rating: 9.2
You don't even have to step out of the airport to get the best sushi in Georgia. Located in Concourse E at the Hartsfield-Jackson Atlanta International Airport is One Flew South Restaurant & Sushi Bar, providing global fare in an upscale atmosphere. The Kamikaze Roll, tuna, salmon, hamachi, spicy mayonnaise, white seaweed, and eel sauce will have you wishing for a longer layover.
44 / 50
Ohio: Mizu Sushi
- 10129 Brookpark Road, Parma, OH 44130
- Foursquare Rating: 8.9
Whether you plan on dining in or taking out, Mizu Sushi offers a multitude of delicious menu items. The Snow White, tuna, salmon, avocado, Masago, and scallion wrapped with white seaweed and served with special sauce will be your happily ever after.
45 / 50
Pennsylvania: Fat Salmon
- 719 Walnut Street (between 7th Street & 8th Street), Philadelphia, PA 19106
- Foursquare Rating: 8.9
The wavy walls and ambient lighting at Fat Salmon will make you feel like you're dining underwater. Philly favorites include the Old School Roll, the On Top, and the Lost Rainbow - spicy crab stick with scallion and Masago topped with tuna, salmon and white fish with Ikura sauce.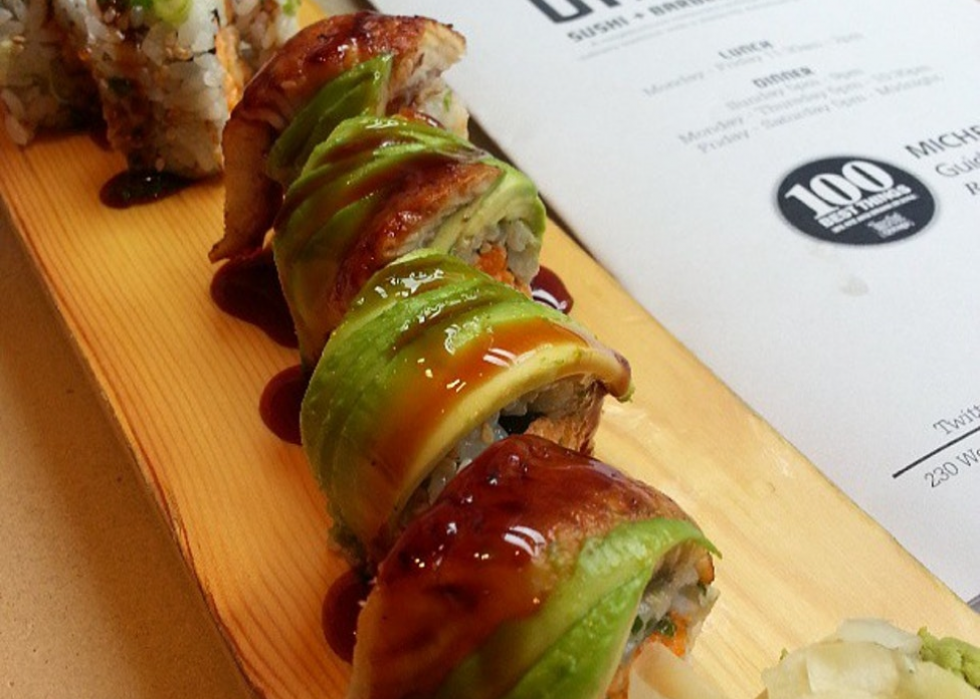 46 / 50
Illinois: Union Sushi + Barbeque Bar
- 230 West Erie Street (at Franklin Street), Chicago, IL 60654
- Foursquare Rating: 9.1
The Union Sushi + Barbeque Bar serve up traditional sushi in an urban setting. Their cool rolls are inspired by ports around the globe, such as Hokkaido, Pacific Coast, and Bristol Bay, and are complemented by their 600° open flame barbeque bar menu.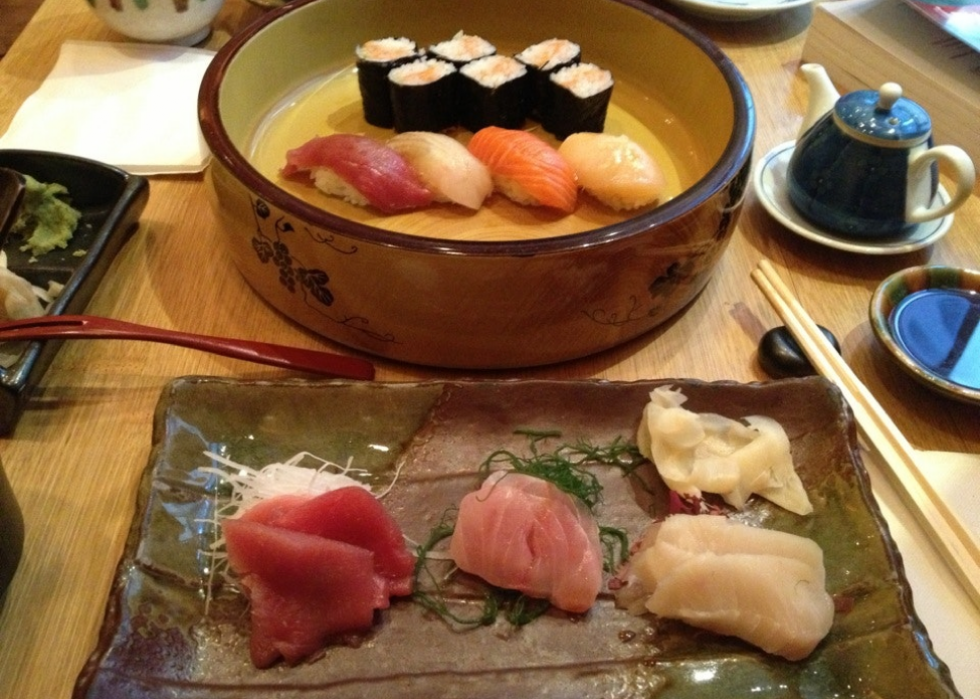 47 / 50
New York: Sushi Yasuda
- 204 East 43rd Street (at 3rd Avenue), New York, NY 10017
- Foursquare Rating: 9.3
Sushi Yasuda is not just a restaurant, the chefs and owners have made it their mission to educate patrons on the traditions of sushi and Japanese cuisine. Each ingredient; wasabi, soy, ginger, rice, fish, and the environment has been carefully selected to create a unique dining experience.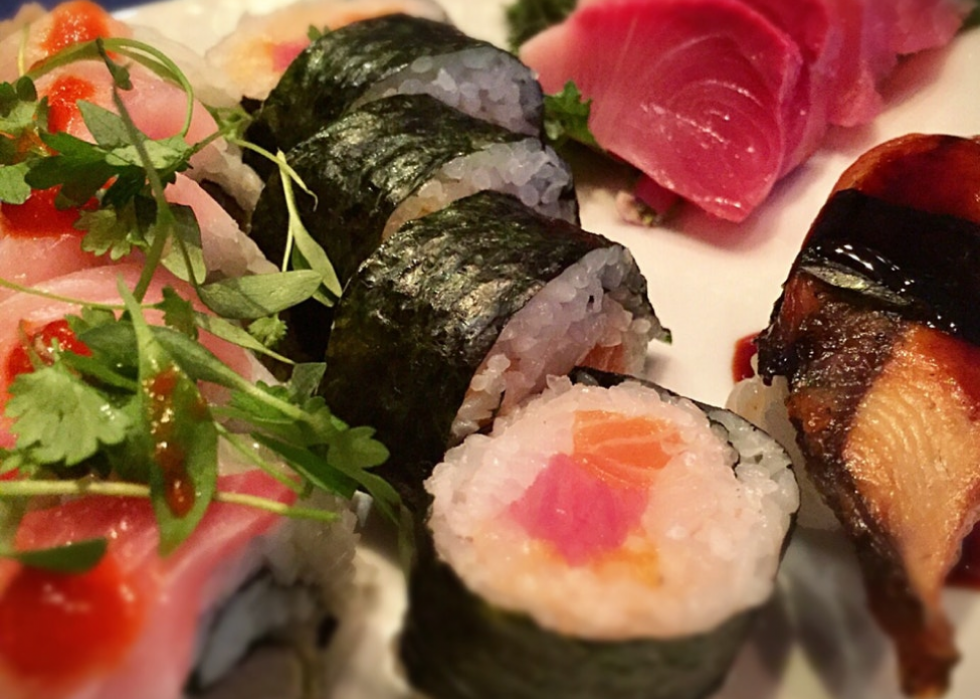 48 / 50
Florida: Shari Sushi Lounge
- 621 East Central Boulevard, Orlando, FL 32801
- Foursquare Rating: 9.3
The creative atmosphere of Shari Sushi Lounge will make you feel like you are on a cruise ship on the Pacific, fresh and colorful just like their sushi. The Ceviche Roll - hamachi, avocado, tempura shallots, chipotle lime sauce, topped with flounder, micro cilantro, Hawaiian pink sea salt, sriracha sauce, and a lime wedge should be on everyone's bucket list.
49 / 50
Texas: Sushi Sake
- 2150 North Collins Boulevard (near Campbell & 75), Richardson, TX 75080
- Foursquare Rating: 9.4
Just outside of Dallas, Sushi Sake has been serving Texans fresh, authentic sushi for twenty years. They have a number of samplers and combos on their menu, making it the perfect place for the indecisive diner.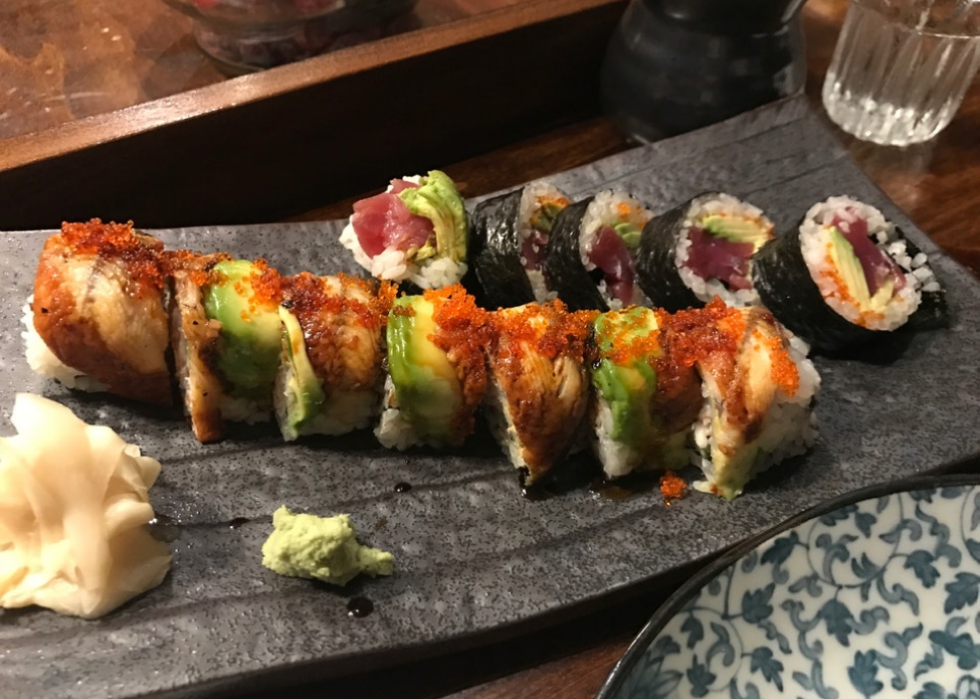 50 / 50
California: Ryoko's Japanese Bar & Restaurant
- 619 Taylor Street (at Cosmo Place), San Francisco, CA 94102
- Foursquare Rating: 9.2
Open until two o'clock in the morning each and every day, Ryoko is a sushi bar with a nightclub atmosphere. The Pokemon Roll - salmon, mango, avocado, and green leaf lettuce, wrapped with soy paper - and the Spicy Golden Gate Roll are both perfect midnight snacks.