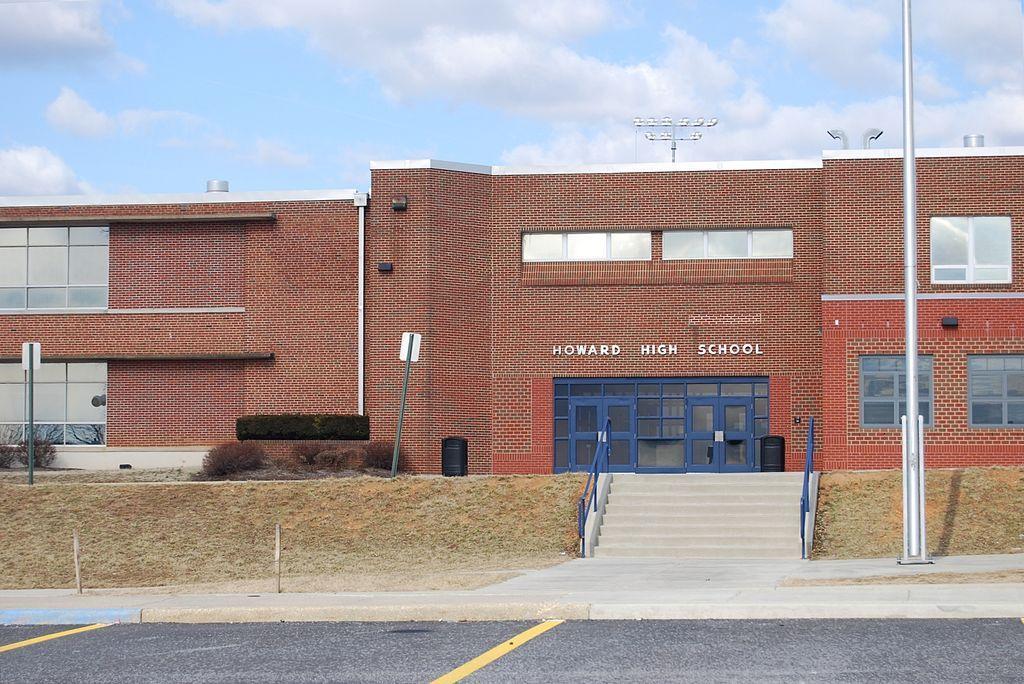 Best public high schools in Baltimore, MD
Best public high schools in Baltimore, MD
Amongst the biggest crossroads parents will ever encounter is where to send their kids to receive an education—whether that be kindergarten, elementary school, or even as far in their development as college. There are tons of different factors to consider when picking a high school, and they all vary between schools. Not to mention, one's adolescence is a period in their life responsible for some of the most significant physical, cognitive, and social changes they'll ever experience.
As such, it is important to consider not only the quality of education a child might receive at each respective school, but also the quality of the people and experiences at their disposal. While many parents consider investing in private school for their children in the hopes that their financial contribution to their child's education will offer them a leg up on the competition, studies show that public schools may attract better teachers, offer more commitment to students, and ultimately expose children to more diverse people and experiences.
In an attempt to make this stressful decision a little easier on parents, Stacker data from Niche in order to compile a ranking of the 20 best public schools in Baltimore, Md. The schools are ranked according to a collection of key factors such as student-to-teacher ratio, quality of students, quality of teachers, and degree of diversity.
Read on to learn which school may be the best place to send your future superstar.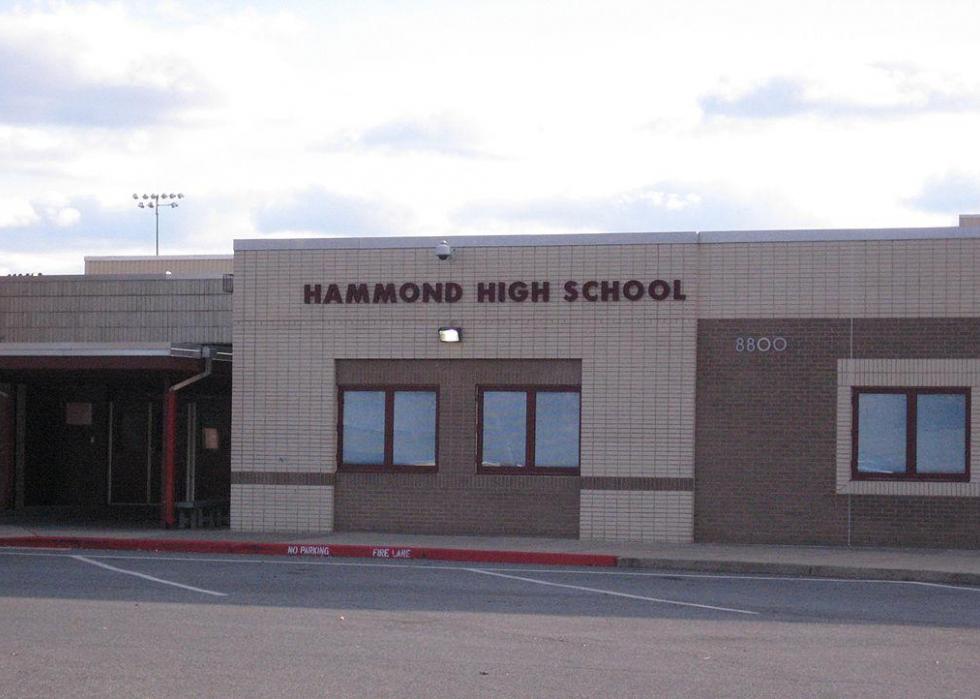 1 / 20
SheepNotGoats // Wikimedia Commons
#20. Hammond High School
- Location: Howard County Public Schools, MD
- Student population: 1,261; Student-teacher ratio: 13:1
- Reading proficiency: 84%; Math proficiency: 92%
- Average graduation rate: 93%
- Overall Niche grade: A
- Academics grade: B+
- Clubs and activities grade: A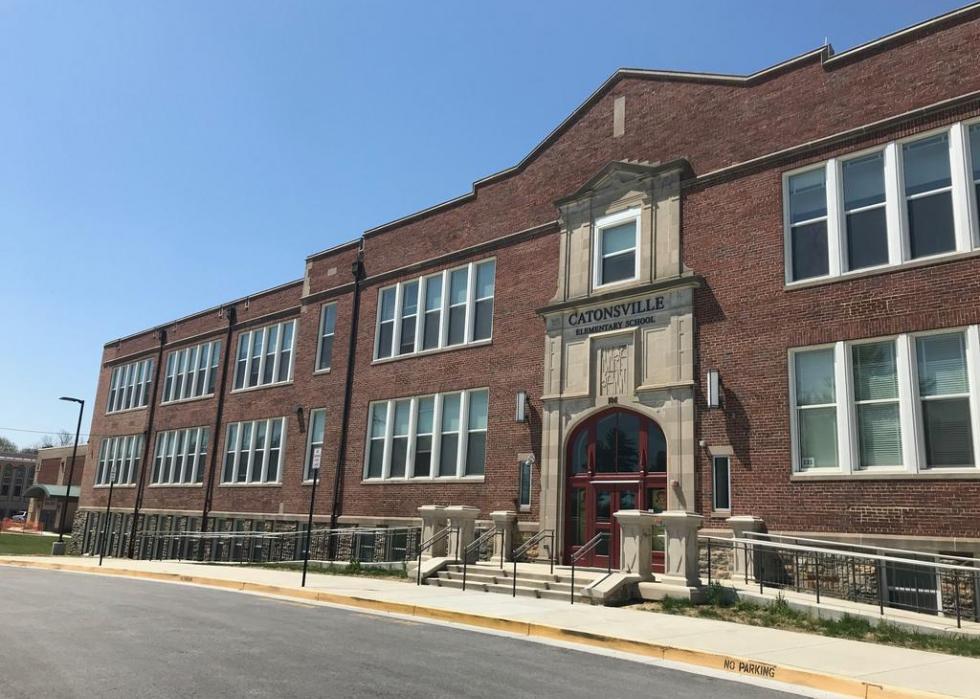 2 / 20
#19. Catonsville High School
- Location: Baltimore County Public Schools, MD
- Student population: 1,737; Student-teacher ratio: 17:1
- Reading proficiency: 91%; Math proficiency: 90%
- Average graduation rate: 91%
- Overall Niche grade: A
- Academics grade: A-
- Clubs and activities grade: A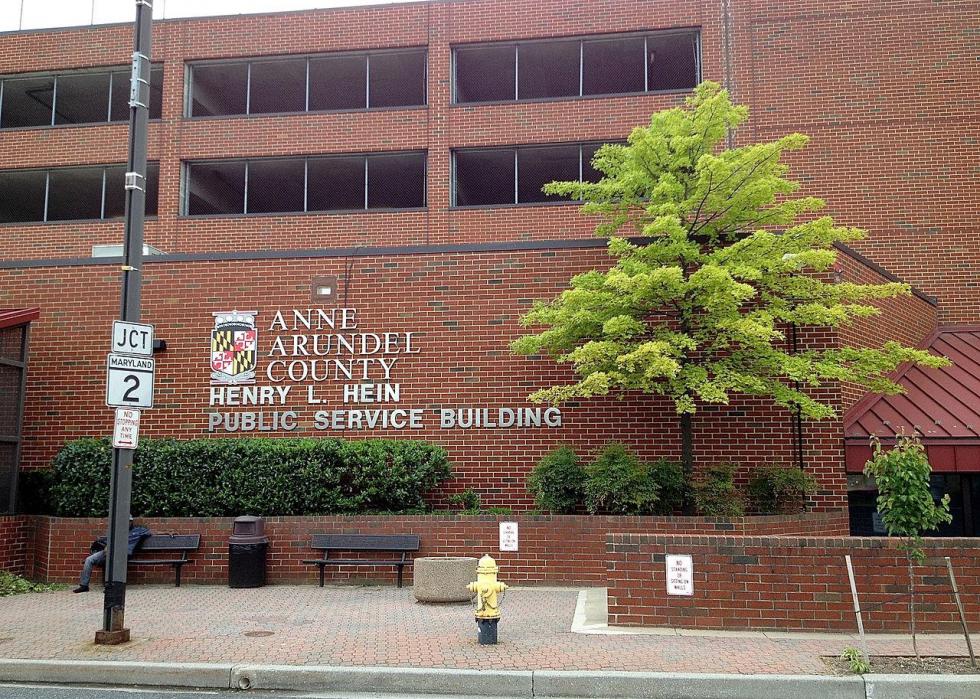 3 / 20
Anne Arundel County Public Service Building—Djembayz // Wikimedia Commons
#18. South River High School
- Location: Anne Arundel County Public Schools, MD
- Student population: 2,192; Student-teacher ratio: 17:1
- Reading proficiency: 95%; Math proficiency: 96%
- Average graduation rate: 95%
- Overall Niche grade: A
- Academics grade: A
- Clubs and activities grade: A-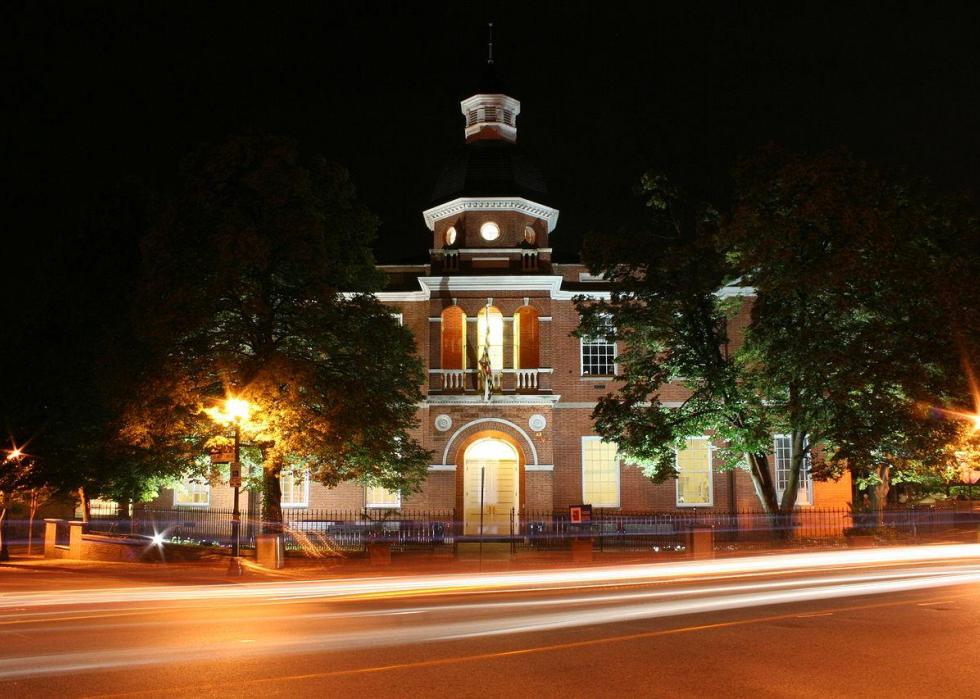 4 / 20
Anne Arundel County Courthouse—Something Original // Wikimedia Commons
#17. Severna Park High School
- Location: Anne Arundel County Public Schools, MD
- Student population: 1,799; Student-teacher ratio: 18:1
- Reading proficiency: 96%; Math proficiency: 98%
- Average graduation rate: 94%
- Overall Niche grade: A
- Academics grade: A
- Clubs and activities grade: B+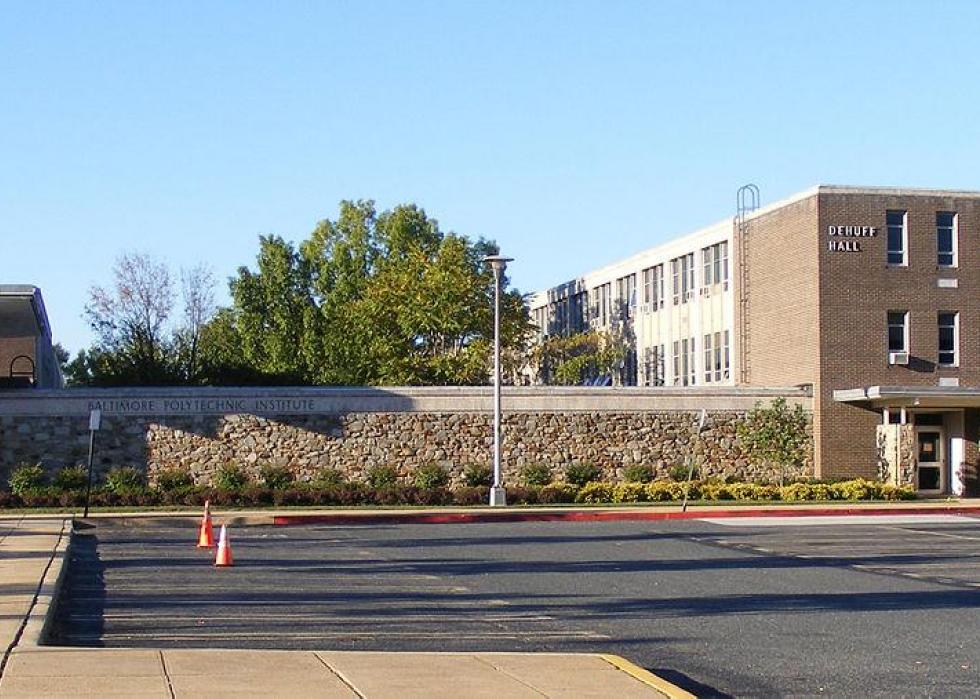 5 / 20
#16. Baltimore Polytechnic Institute
- Location: Baltimore City Public Schools, MD
- Student population: 1,522; Student-teacher ratio: 20:1
- Reading proficiency: 98%; Math proficiency: 99%
- Average graduation rate: 94%
- Overall Niche grade: A
- Academics grade: A-
- Clubs and activities grade: A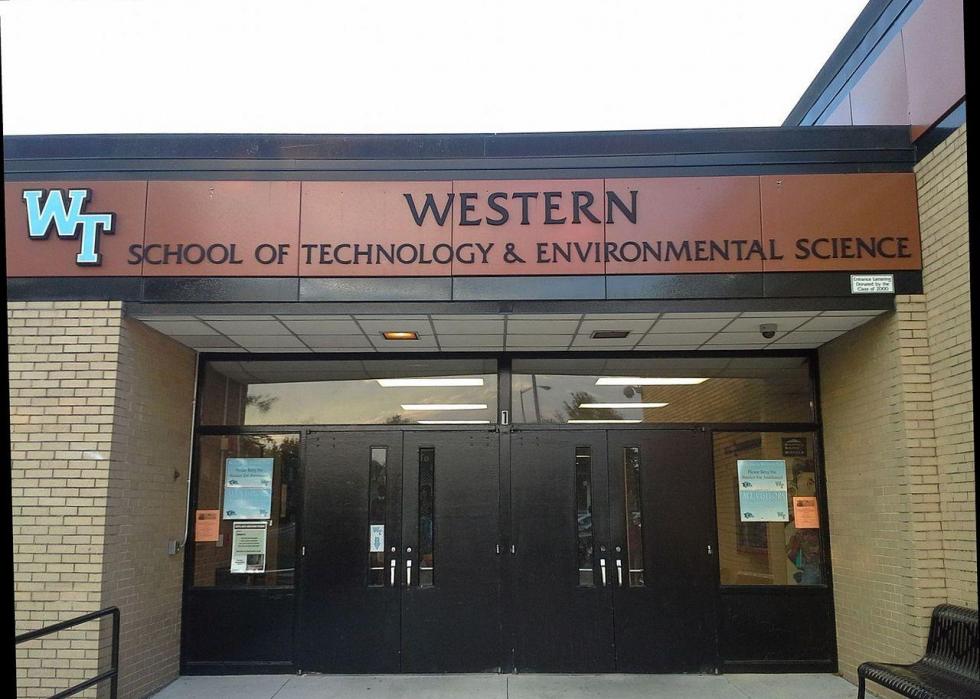 6 / 20
JHUbal27 // Wikimedia Commons
#15. Western School of Technology & Environmental Science
- Location: Baltimore County Public Schools, MD
- Student population: 923; Student-teacher ratio: 15:1
- Reading proficiency: 99%; Math proficiency: 99%
- Average graduation rate: 99%
- Overall Niche grade: A
- Academics grade: A-
- Clubs and activities grade: B+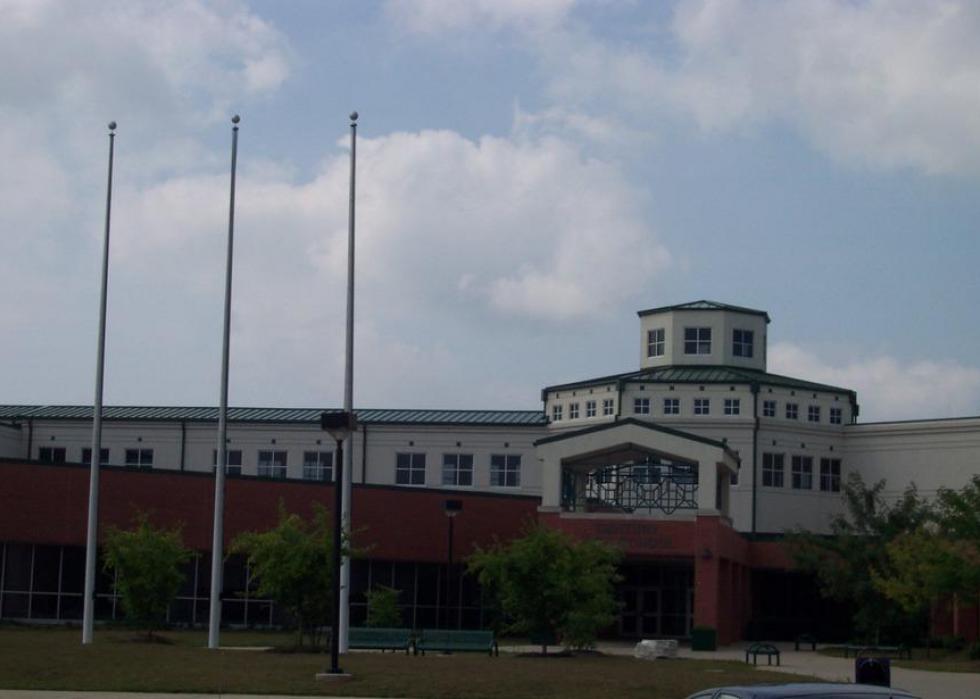 7 / 20
#14. Century High School
- Location: Carroll County Public Schools, MD
- Student population: 1,094; Student-teacher ratio: 17:1
- Reading proficiency: 97%; Math proficiency: 98%
- Average graduation rate: 99%
- Overall Niche grade: A
- Academics grade: A
- Clubs and activities grade: A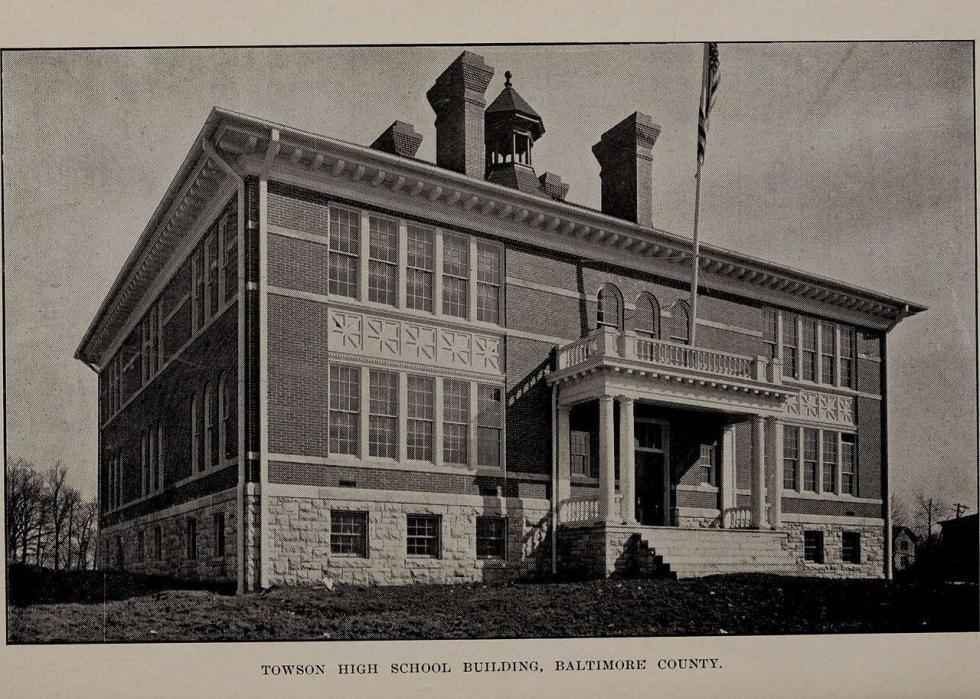 8 / 20
Towson High School in 1906—Maryland State Board of Education // Wikimedia Commons
#13. Towson High School
- Location: Baltimore County Public Schools, MD
- Student population: 1,482; Student-teacher ratio: 18:1
- Reading proficiency: 96%; Math proficiency: 96%
- Average graduation rate: 95%
- Overall Niche grade: A
- Academics grade: A
- Clubs and activities grade: B+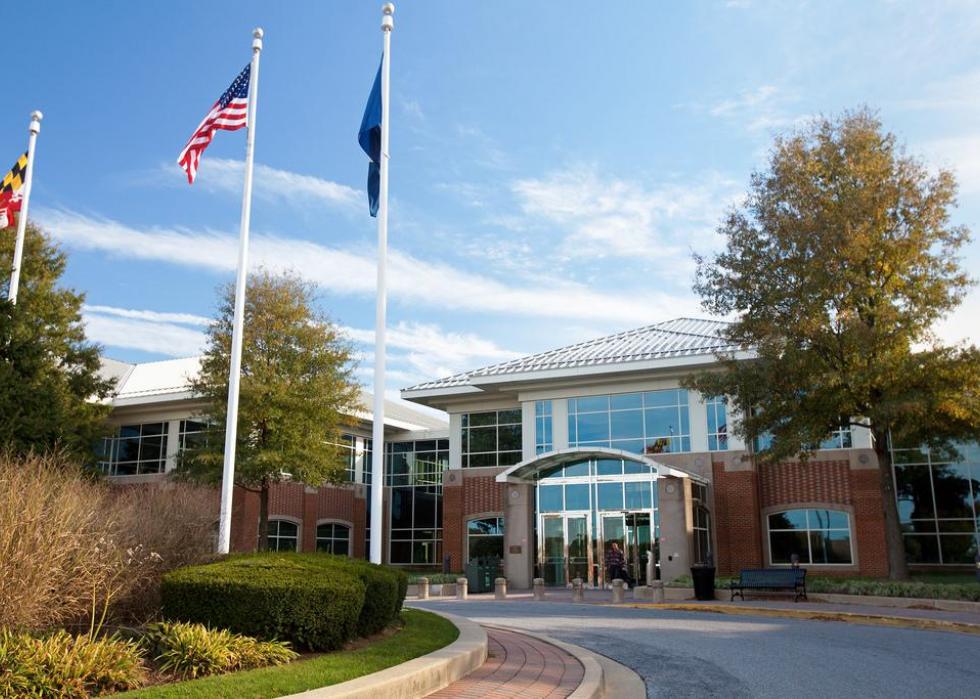 9 / 20
#12. George W. Carver Center for Arts & Technology
- Location: Baltimore County Public Schools, MD
- Student population: 875; Student-teacher ratio: 15:1
- Reading proficiency: 95%; Math proficiency: 95%
- Average graduation rate: 95%
- Overall Niche grade: A
- Academics grade: A
- Clubs and activities grade: A-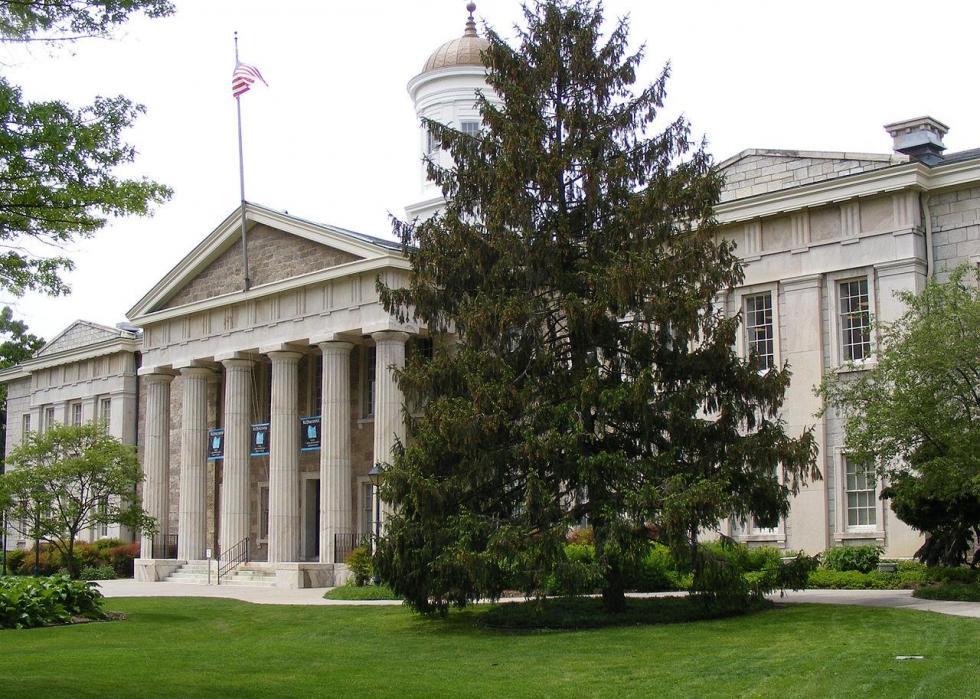 10 / 20
Old Baltimore County Courthouse—Marylandstater // Wikimedia Commons
#11. Hereford High School
- Location: Baltimore County Public Schools, MD
- Student population: 1,182; Student-teacher ratio: 18:1
- Reading proficiency: 96%; Math proficiency: 96%
- Average graduation rate: 97%
- Overall Niche grade: A
- Academics grade: A
- Clubs and activities grade: A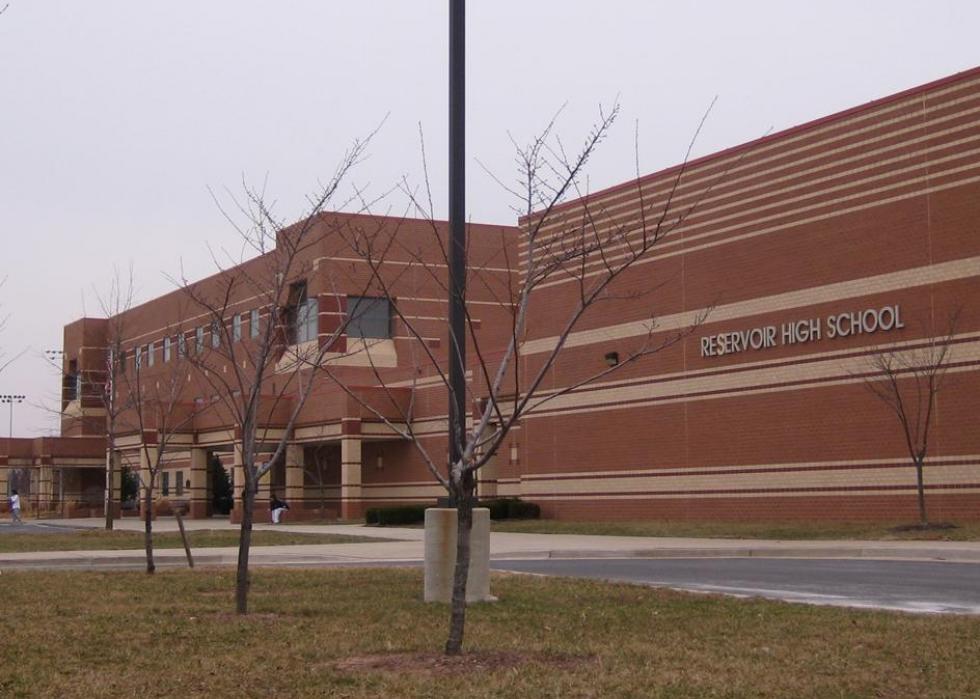 11 / 20
SheepNotGoats // Wikimedia Commons
#10. Reservoir High School
- Location: Howard County Public Schools, MD
- Student population: 1,508; Student-teacher ratio: 15:1
- Reading proficiency: 91%; Math proficiency: 95%
- Average graduation rate: 94%
- Overall Niche grade: A
- Academics grade: A
- Clubs and activities grade: A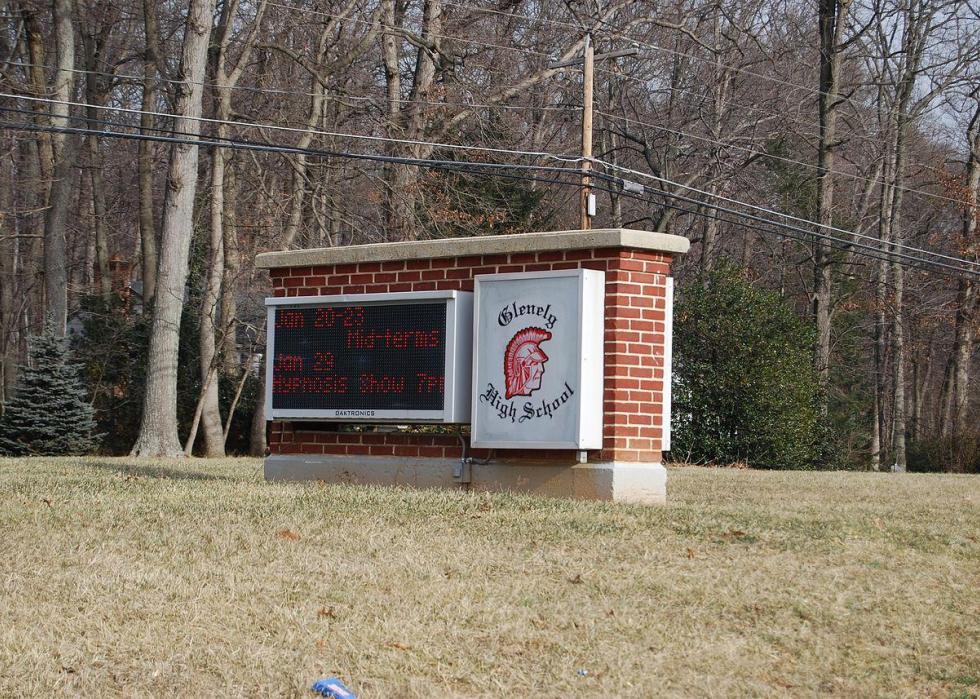 12 / 20
#9. Glenelg High School
- Location: Howard County Public Schools, MD
- Student population: 1,248; Student-teacher ratio: 15:1
- Reading proficiency: 98%; Math proficiency: 98%
- Average graduation rate: 97%
- Overall Niche grade: A
- Academics grade: A+
- Clubs and activities grade: A-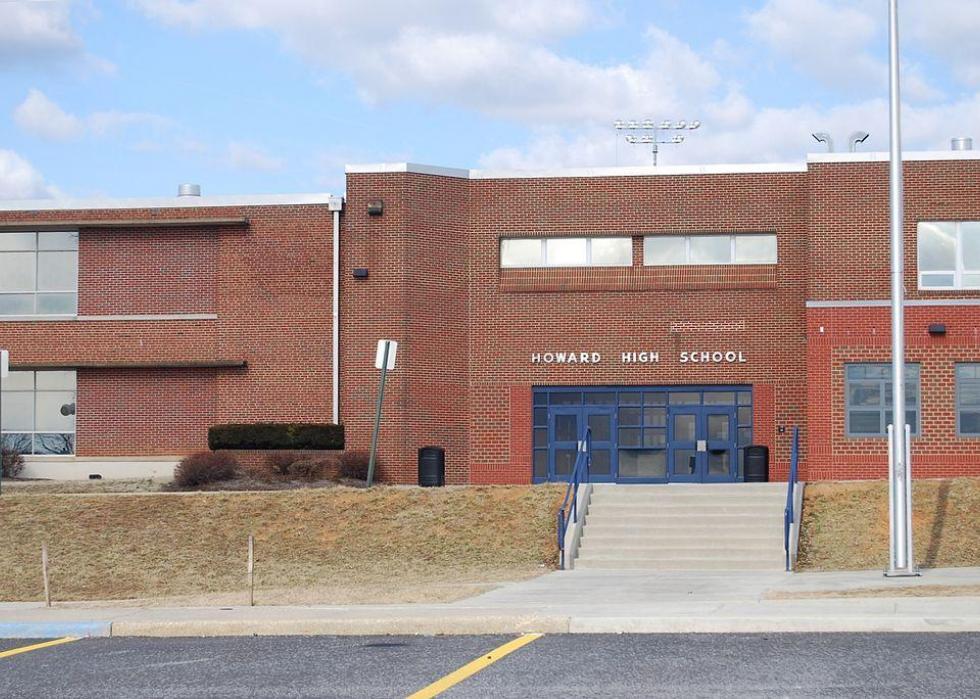 13 / 20
#8. Howard High School
- Location: Howard County Public Schools, MD
- Student population: 1,772; Student-teacher ratio: 15:1
- Reading proficiency: 97%; Math proficiency: 98%
- Average graduation rate: 96%
- Overall Niche grade: A+
- Academics grade: A
- Clubs and activities grade: A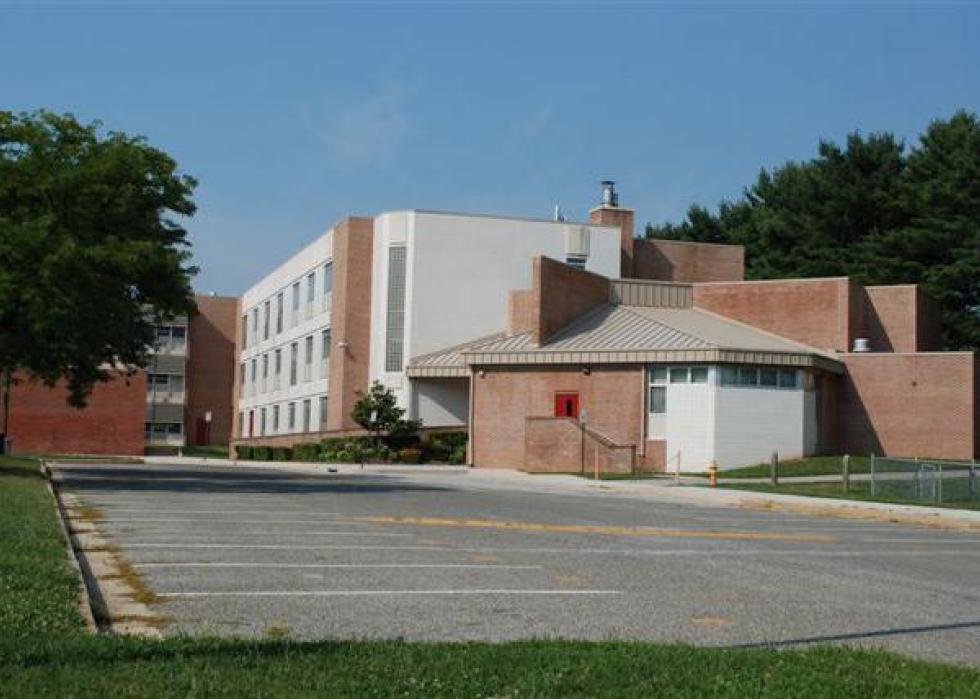 14 / 20
#7. Dulaney High School
- Location: Baltimore County Public Schools, MD
- Student population: 1,851; Student-teacher ratio: 18:1
- Reading proficiency: 94%; Math proficiency: 94%
- Average graduation rate: 94%
- Overall Niche grade: A+
- Academics grade: A
- Clubs and activities grade: B+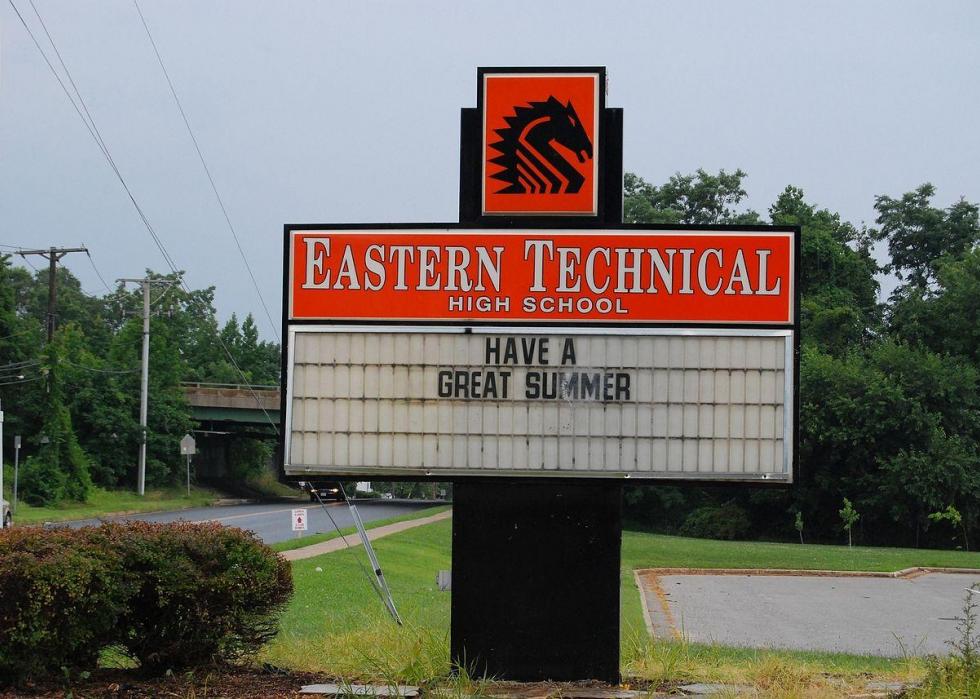 15 / 20
#6. Eastern Technical High School
- Location: Baltimore County Public Schools, MD
- Student population: 1,175; Student-teacher ratio: 18:1
- Reading proficiency: 99%; Math proficiency: 99%
- Average graduation rate: 99%
- Overall Niche grade: A+
- Academics grade: A
- Clubs and activities grade: A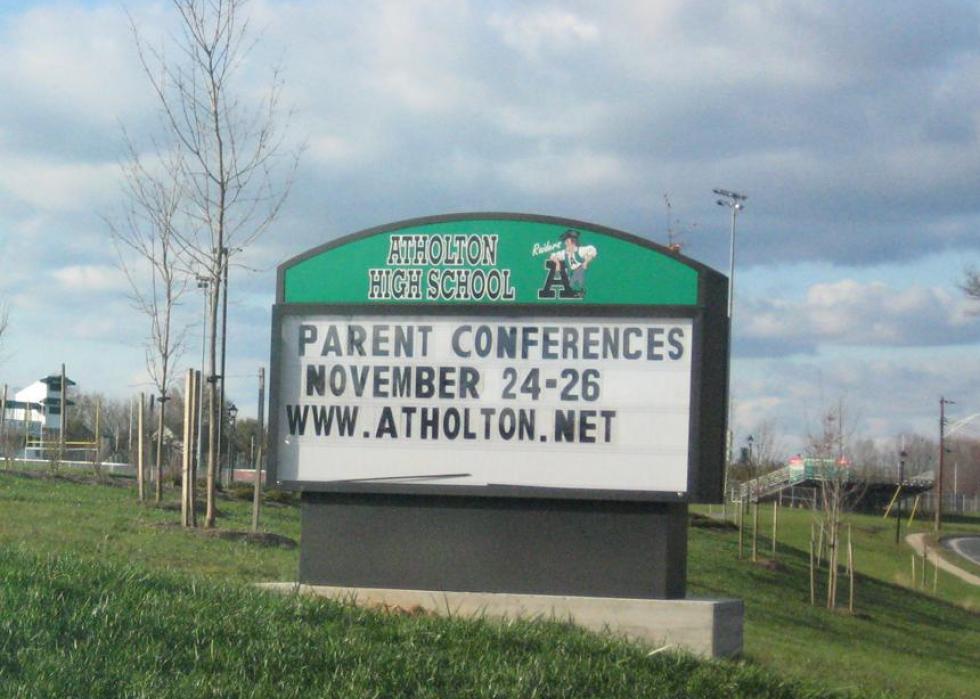 16 / 20
SheepNotGoats // Wikimedia Commons
#5. Atholton High School
- Location: Howard County Public Schools, MD
- Student population: 1,437; Student-teacher ratio: 15:1
- Reading proficiency: 96%; Math proficiency: 98%
- Average graduation rate: 96%
- Overall Niche grade: A+
- Academics grade: A+
- Clubs and activities grade: A-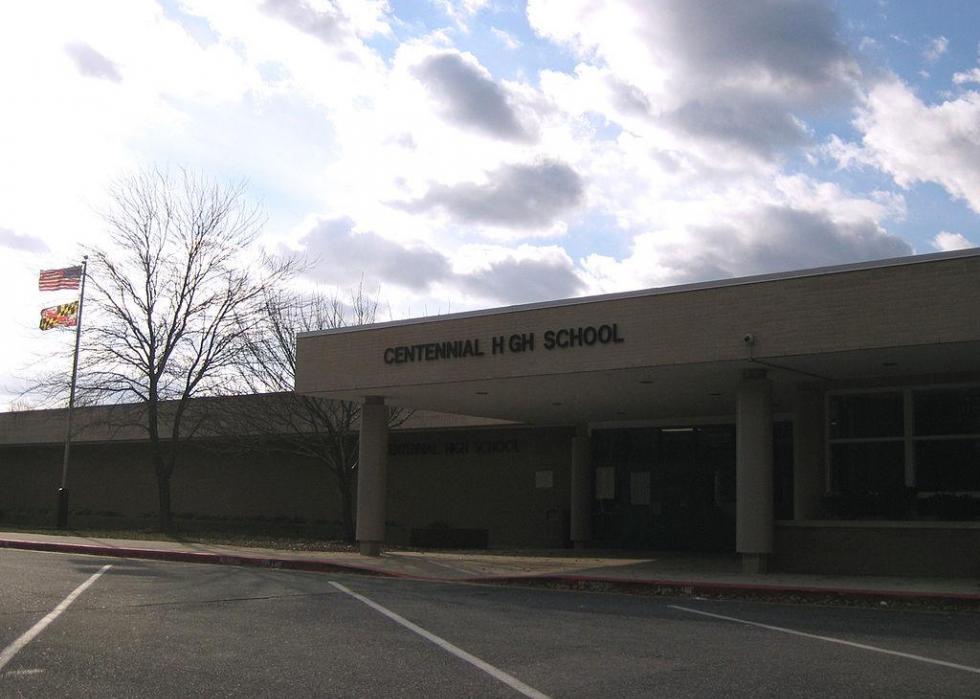 17 / 20
SheepNotGoats // Wikimedia Commons
#4. Centennial High School
- Location: Howard County Public Schools, MD
- Student population: 1,465; Student-teacher ratio: 16:1
- Reading proficiency: 97%; Math proficiency: 98%-
- Average graduation rate: 98%
- Overall Niche grade: A+
- Academics grade: A+
- Clubs and activities grade: A-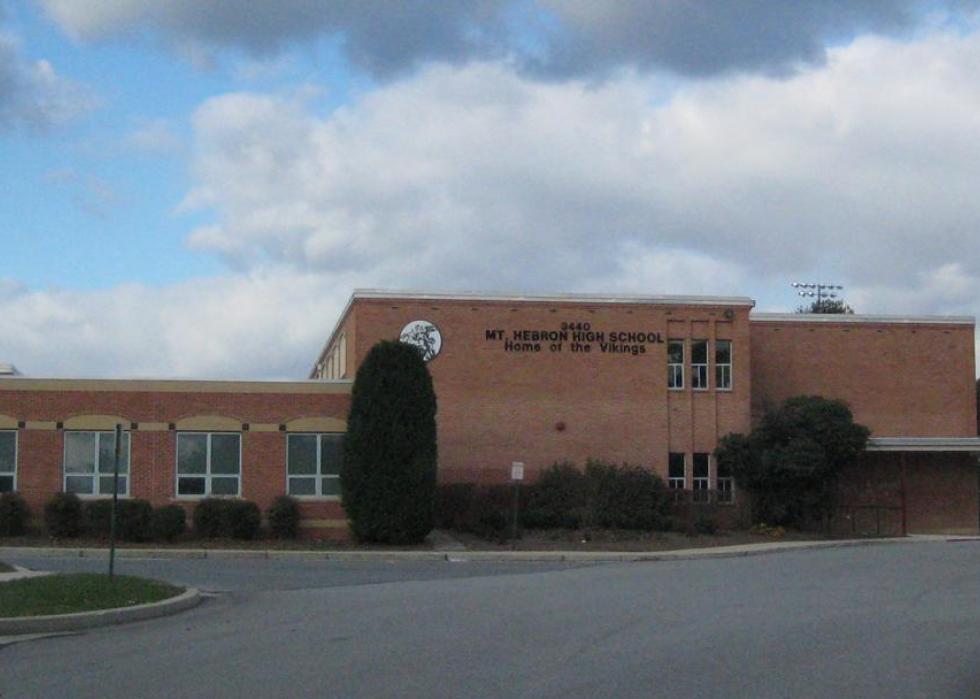 18 / 20
SheepNotGoats // Wikimedia Commons
#3. Mount Hebron High School
- Location: Howard County Public Schools, MD
- Student population: 1,517; Student-teacher ratio: 15:1
- Reading proficiency: 94%; Math proficiency: 98%
- Average graduation rate: 95%
- Overall Niche grade: A+
- Academics grade: A
- Clubs and activities grade: A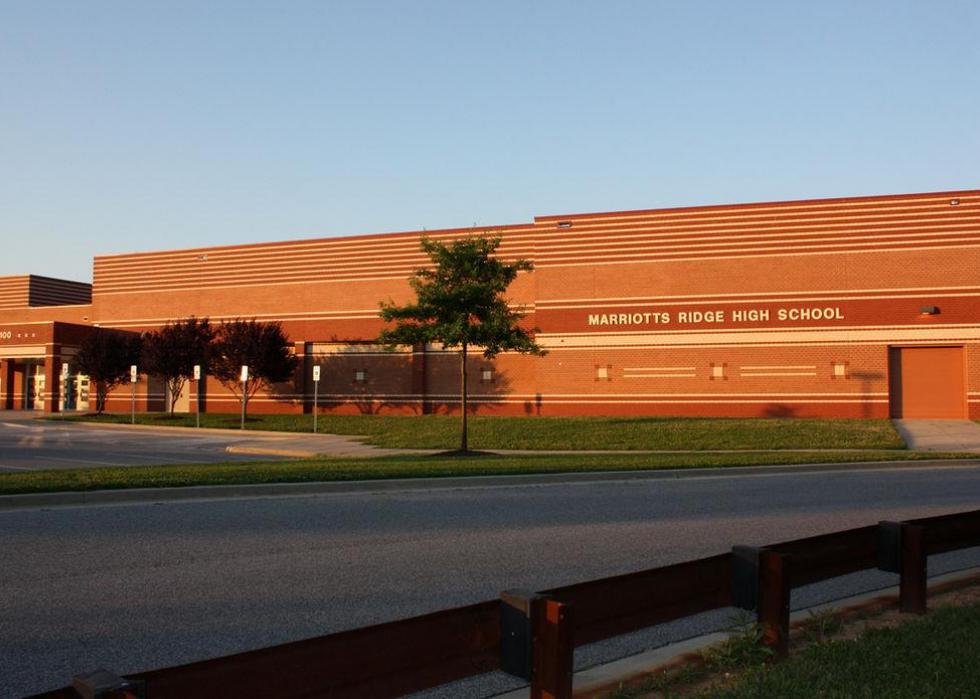 19 / 20
JBoulin94 // Wikimedia Commons
#2. Marriotts Ridge High School
- Location: Howard County Public Schools, MD
- Student population: 1,198; Student-teacher ratio: 17:1
- Reading proficiency: 98%; Math proficiency: 99%
- Average graduation rate: 98%
- Overall Niche grade: A+
- Academics grade: A+
- Clubs and activities grade: A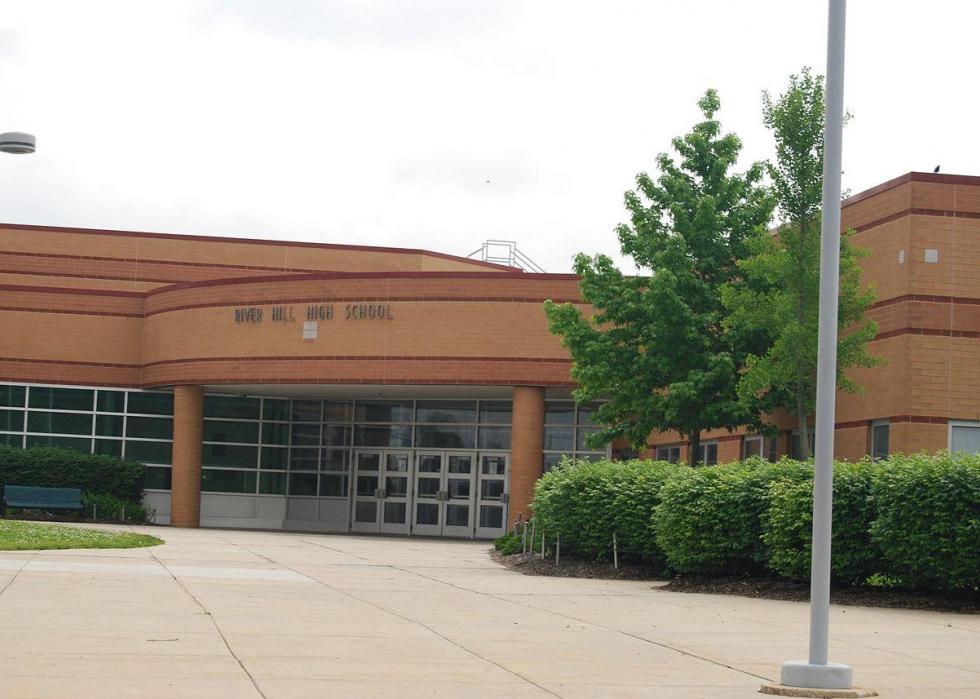 20 / 20
#1. River Hill High School
- Location: Howard County Public Schools, MD
- Student population: 1,207; Student-teacher ratio: 15:1
- Reading proficiency: 98%; Math proficiency: 99%
- Average graduation rate: 97%
- Overall Niche grade: A+
- Academics grade: A+
- Clubs and activities grade: A