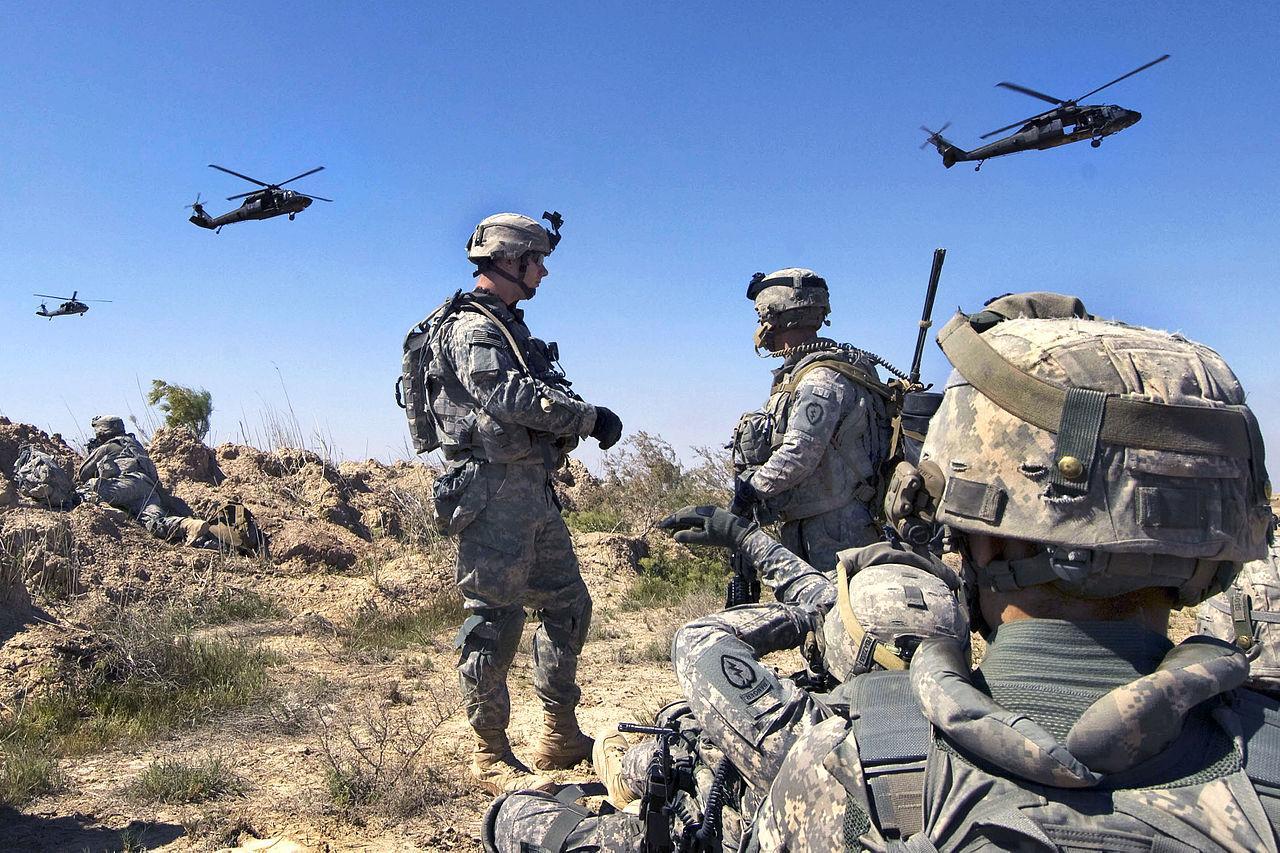 States with the most military engagement
States with the most military engagement
Since President Donald Trump was elected, America has been nothing short of a nation divided. While some of the topics of discussion revolve around immigration and gun control, there is a seemingly constant debate about funding the United States Armed Forces. According to a recent Gallup poll, 45 percent of Americans think we should be spending more on national defense, 22 percent think we should be spending less and 33 percent either have no opinion or believe us to be spending about the right amount.
This same poll revealed that 68 percent of Americans think it's important that the United States ranks first in the world militarily, which perhaps speaks to why 1,281,900 active service members comprise the world's third-largest army. While this massive body of soldiers is made up of volunteers from all 50 states and the District of Columbia, there exists a great disparity when it comes to where these brave men and women come from.
Using data from WalletHub, the American Community Survey and the Department of Defense, Stacker listed the states with the most active military engagement. The states are ranked according to WalletHub's calculated rankings, whose algorithms are explained in precise detail here.
Read on to see how many active service members are from your state.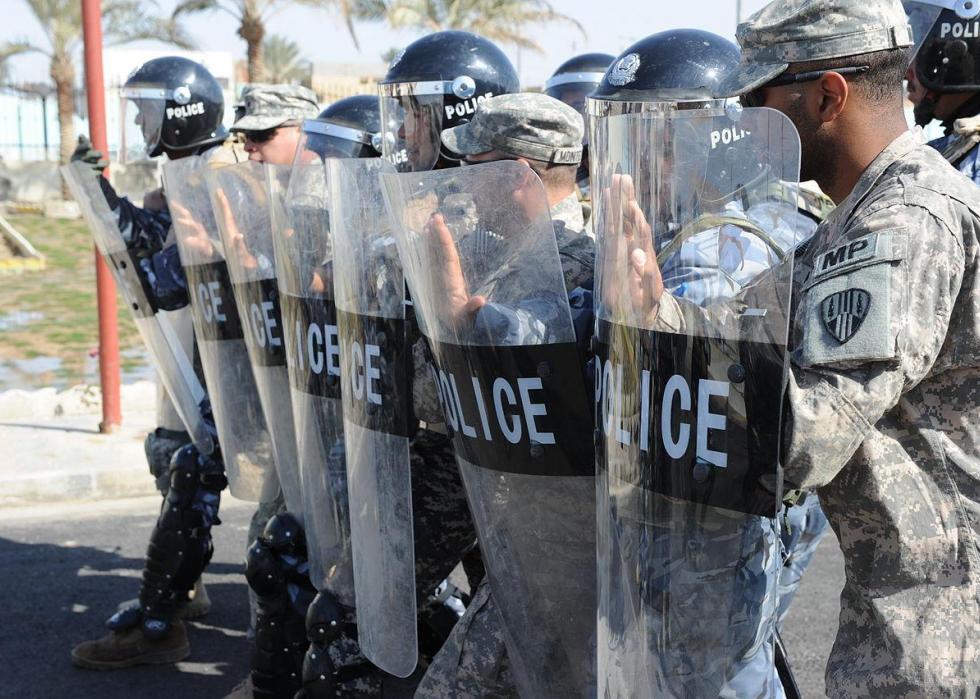 1 / 50
#50. New York
Military engagement rank: 50
Estimated civilian population 18+ years: 15,448,079
Estimated active-duty military personnel: 20,588 (0.13% of civilian population)
Estimated reserve forces military personnel: 28,386 (0.18% of civilian population)
Estimated number of veterans: 789,553 (5.10% of civilian population)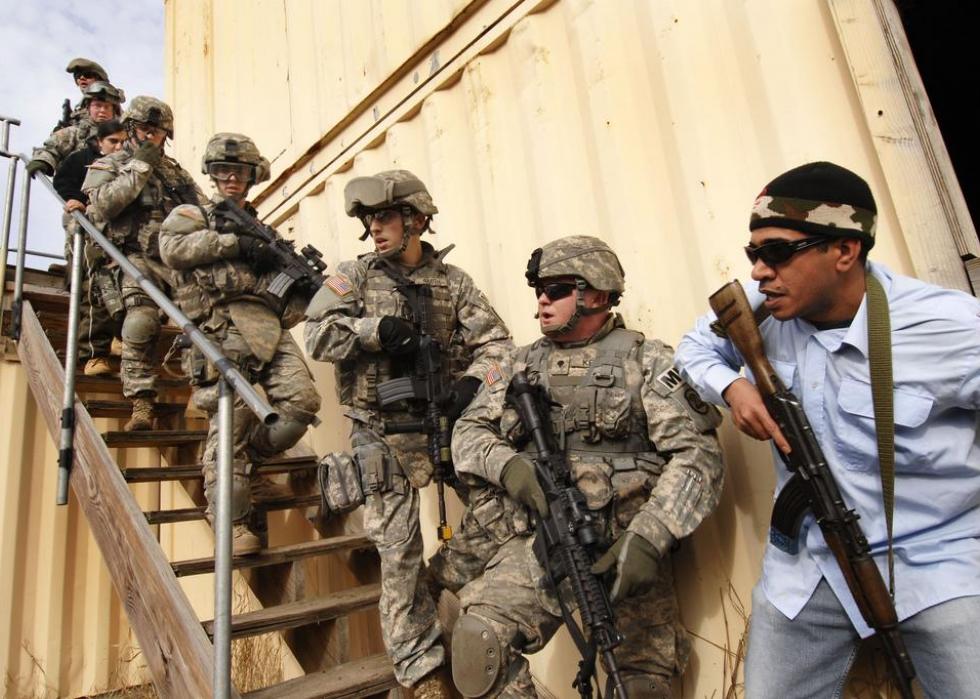 2 / 50
#49. New Jersey
Military engagement rank: 49
Estimated civilian population 18+ years: 6,897,536
Estimated active-duty military personnel: 7,669 (0.11% of civilian population)
Estimated reserve forces military personnel: 16,973 (0.25% of civilian population)
Estimated number of veterans: 371,383 (5.40% of civilian population)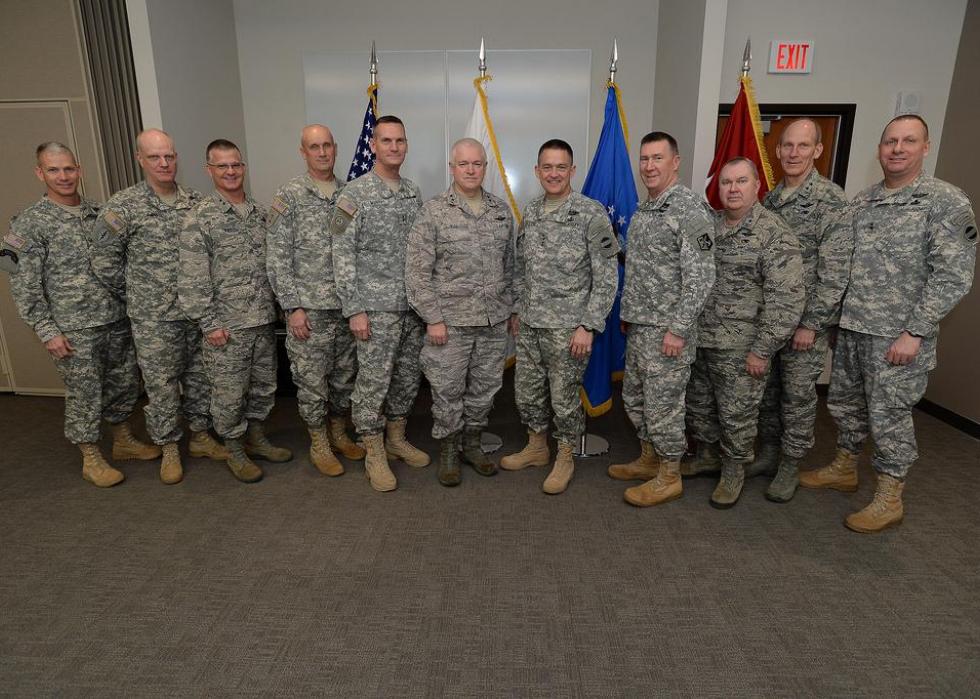 3 / 50
Massachusetts National Guard // Flickr
#48. Massachusetts
Military engagement rank: 48
Estimated civilian population 18+ years: 5,346,964
Estimated active-duty military personnel: 3,573 (0.07% of civilian population)
Estimated reserve forces military personnel: 15,059 (0.28% of civilian population)
Estimated number of veterans: 340,288 (6.40% of civilian population)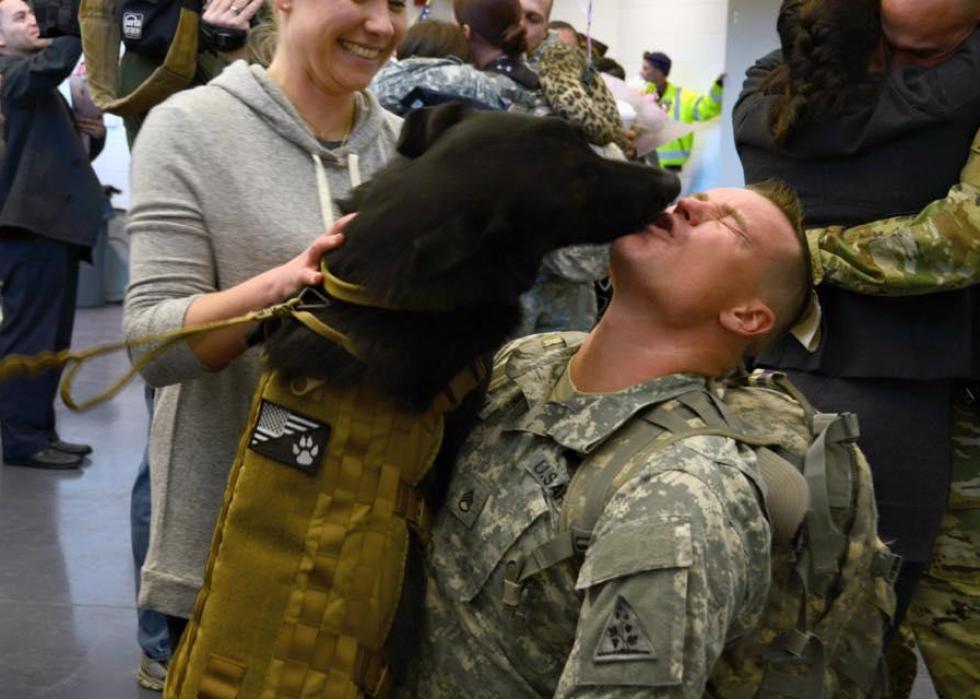 4 / 50
The National Guard // Wikicommons
#47. Connecticut
Military engagement rank: 47
Estimated civilian population 18+ years: 2,806,551
Estimated active-duty military personnel: 4,641 (0.17% of civilian population)
Estimated reserve forces military personnel: 6,613 (0.24% of civilian population)
Estimated number of veterans: 188,759 (6.70% of civilian population)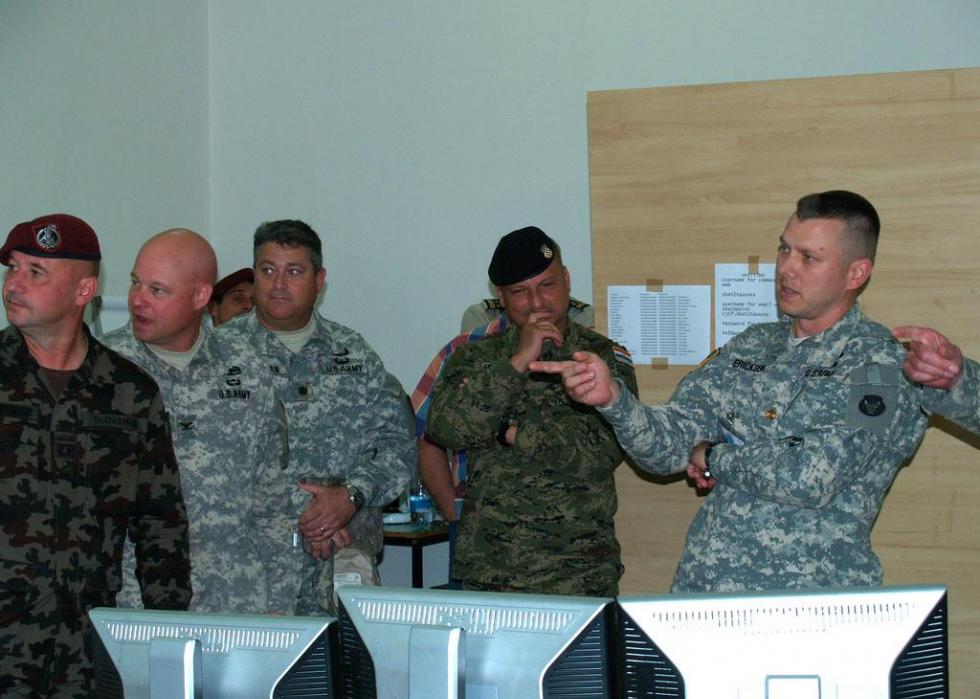 5 / 50
Minnesota National Guard—The National Guard // Flickr
#46. Minnesota
Military engagement rank: 46
Estimated civilian population 18+ years: 4,166,542
Estimated active-duty military personnel: 597 (0.01% of civilian population)
Estimated reserve forces military personnel: 18,541 (0.44% of civilian population)
Estimated number of veterans: 331,516 (8.00% of civilian population)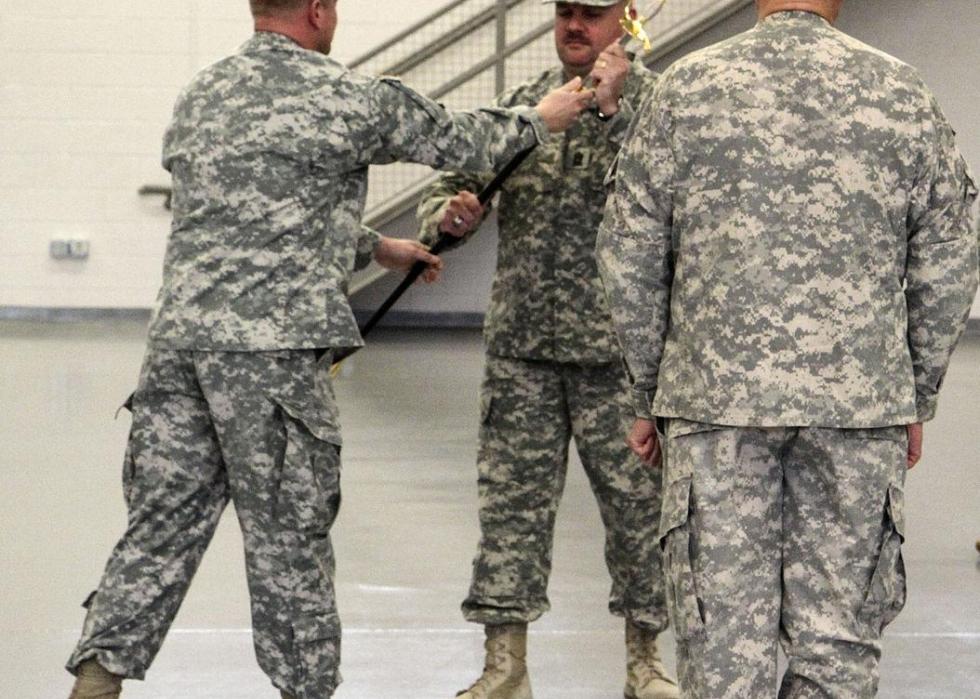 6 / 50
#45. Pennsylvania
Military engagement rank: 45
Estimated civilian population 18+ years: 10,074,933
Estimated active-duty military personnel: 2,580 (0.03% of civilian population)
Estimated reserve forces military personnel: 30,244 (0.30% of civilian population)
Estimated number of veterans: 840,258 (8.30% of civilian population)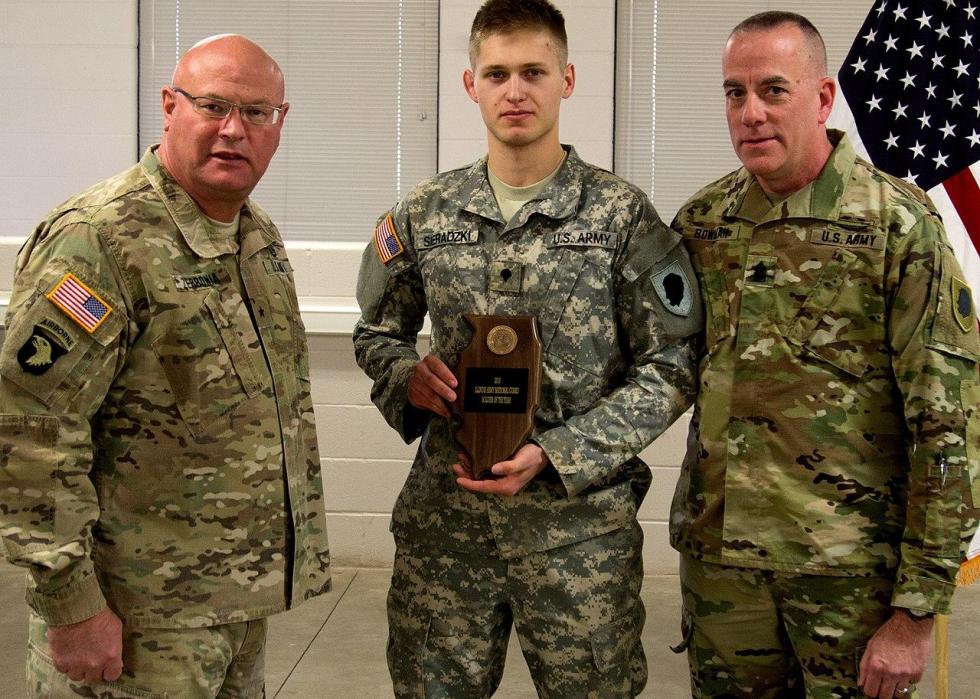 7 / 50
#44. Illinois
Military engagement rank: 44
Estimated civilian population 18+ years: 9,843,811
Estimated active-duty military personnel: 20,567 (0.21% of civilian population)
Estimated reserve forces military personnel: 24,399 (0.25% of civilian population)
Estimated number of veterans: 643,460 (6.50% of civilian population)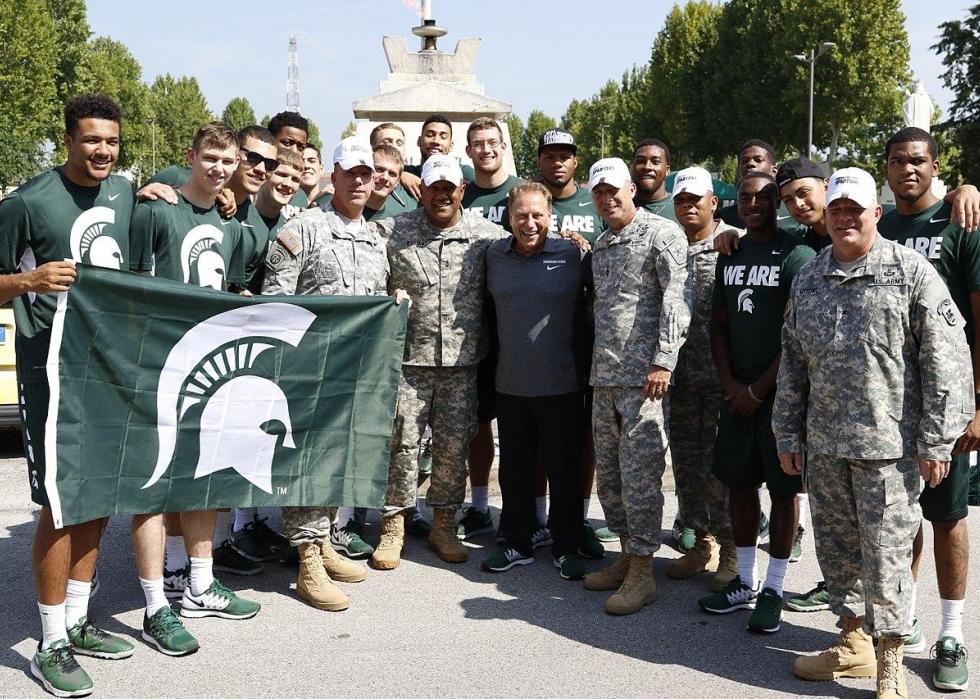 8 / 50
US Army Africa // Wikicommons
#43. Michigan
Military engagement rank: 43
Estimated civilian population 18+ years: 7,678,119
Estimated active-duty military personnel: 2,088 (0.03% of civilian population)
Estimated reserve forces military personnel: 14,934 (0.19% of civilian population)
Estimated number of veterans: 602,630 (7.80% of civilian population)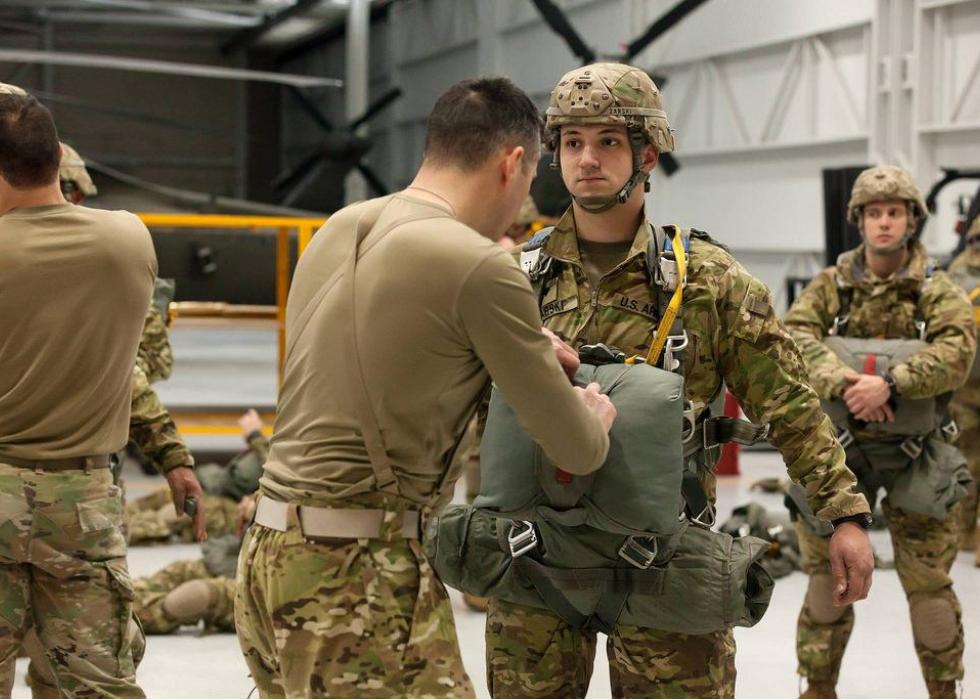 9 / 50
Rhode Island National Guard—The National Guard // Flickr
#42. Rhode Island
Military engagement rank: 42
Estimated civilian population 18+ years: 838,882
Estimated active-duty military personnel: 3,371 (0.40% of civilian population)
Estimated reserve forces military personnel: 4,273 (0.51% of civilian population)
Estimated number of veterans: 62,890 (7.50% of civilian population)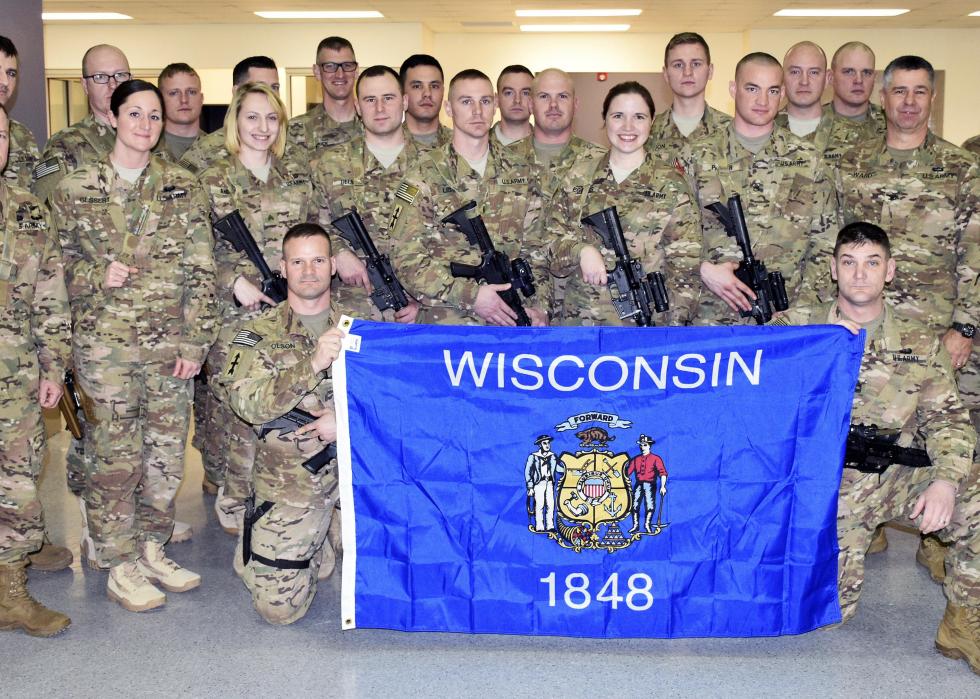 10 / 50
Wisconsin Department of Military Affairs
#41. Wisconsin
Military engagement rank: 41
Estimated civilian population 18+ years: 4,450,879
Estimated active-duty military personnel: 976 (0.02% of civilian population)
Estimated reserve forces military personnel: 14,000 (0.31% of civilian population)
Estimated number of veterans: 367,227 (8.30% of civilian population)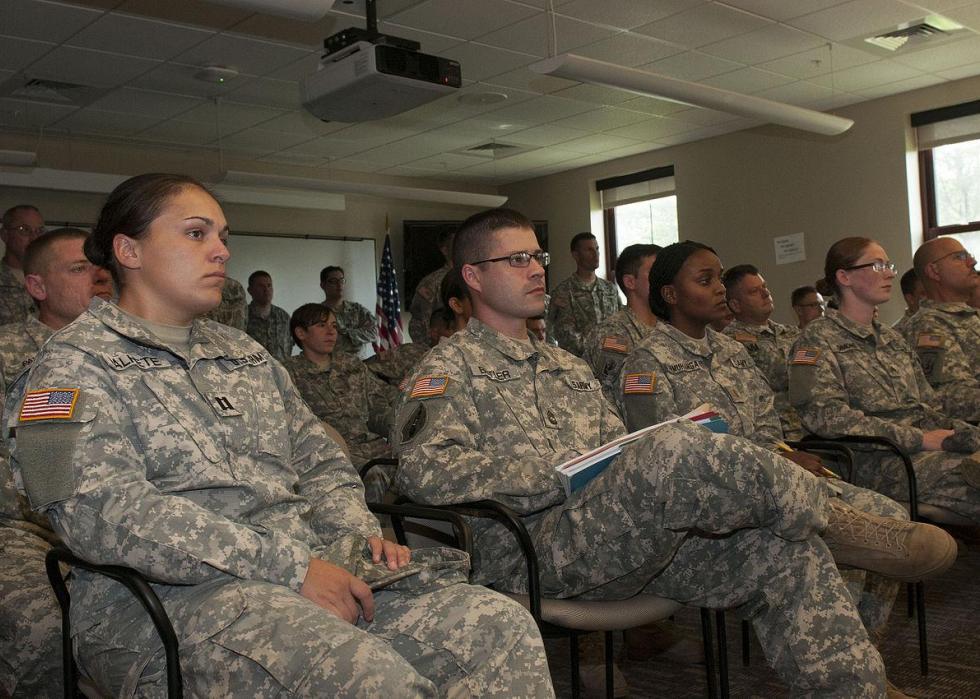 11 / 50
Vermont Army National Guard Soldiers—Public Domain
#40. Vermont
Military engagement rank: 40
Estimated civilian population 18+ years: 504,152
Estimated active-duty military personnel: 168 (0.03% of civilian population)
Estimated reserve forces military personnel: 3,707 (0.74% of civilian population)
Estimated number of veterans: 42,484 (8.40% of civilian population)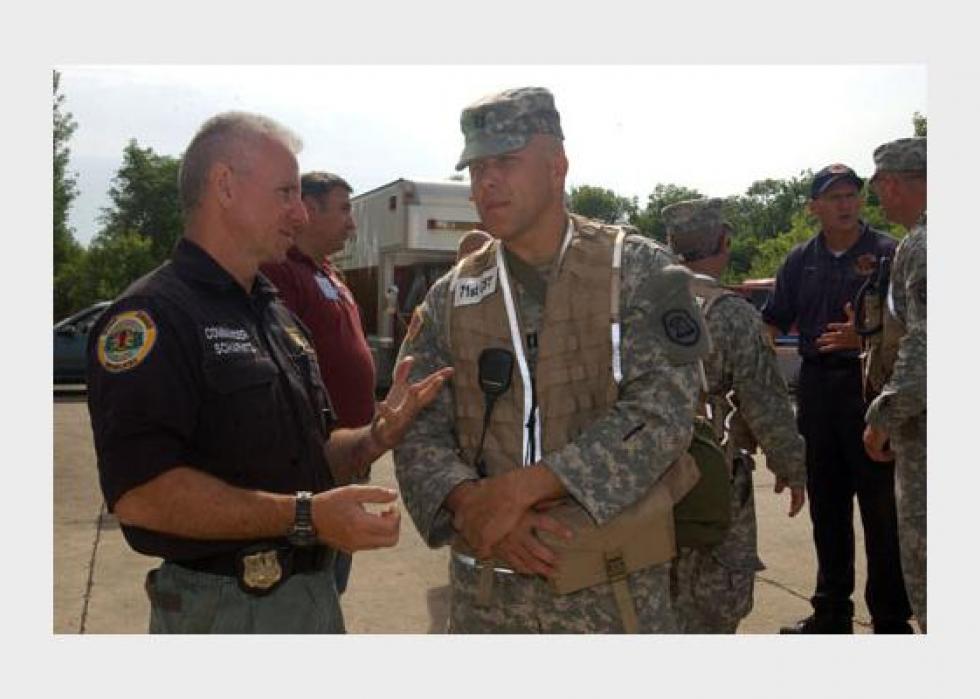 12 / 50
The National Guard // Flickr
#39. Iowa
Military engagement rank: 39
Estimated civilian population 18+ years: 2,377,378
Estimated active-duty military personnel: 248 (0.01% of civilian population)
Estimated reserve forces military personnel: 10,775 (0.45% of civilian population)
Estimated number of veterans: 203,277 (8.60% of civilian population)
13 / 50
#38. California
Military engagement rank: 38
Estimated civilian population 18+ years: 29,383,567
Estimated active-duty military personnel: 128,373 (0.44% of civilian population)
Estimated reserve forces military personnel: 56,167 (0.19% of civilian population)
Estimated number of veterans: 1,720,635 (5.90% of civilian population)
14 / 50
#37. Utah
Military engagement rank: 37
Estimated civilian population 18+ years: 2,039,152
Estimated active-duty military personnel: 3,979 (0.20% of civilian population)
Estimated reserve forces military personnel: 11,735 (0.58% of civilian population)
Estimated number of veterans: 129,748 (6.40% of civilian population)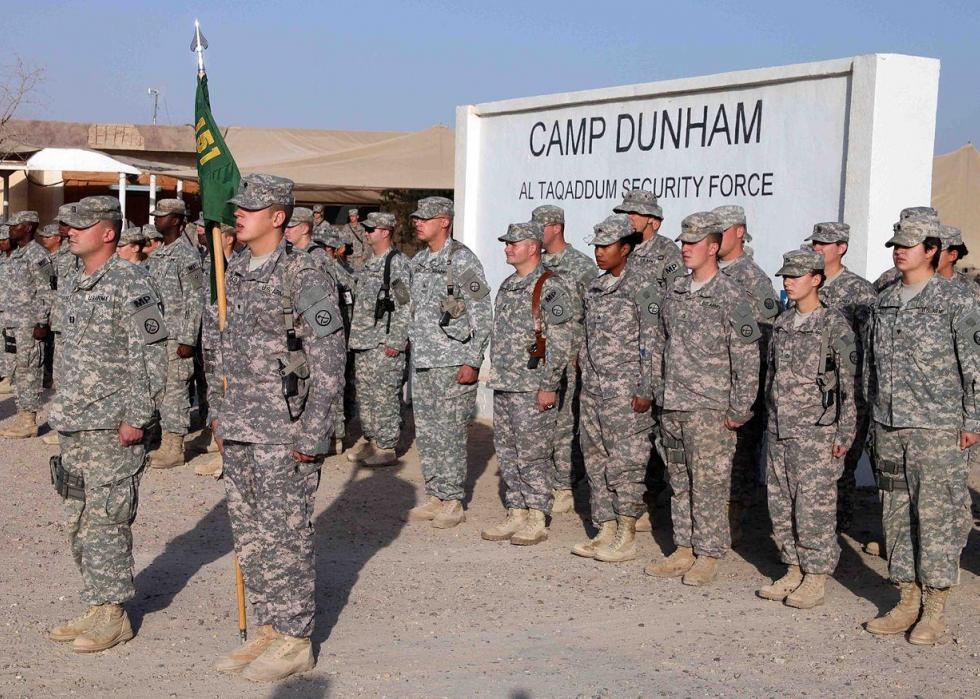 15 / 50
#36. West Virginia
Military engagement rank: 36
Estimated civilian population 18+ years: 1,465,391
Estimated active-duty military personnel: 197 (0.01% of civilian population)
Estimated reserve forces military personnel: 7,882 (0.54% of civilian population)
Estimated number of veterans: 145,171 (9.90% of civilian population)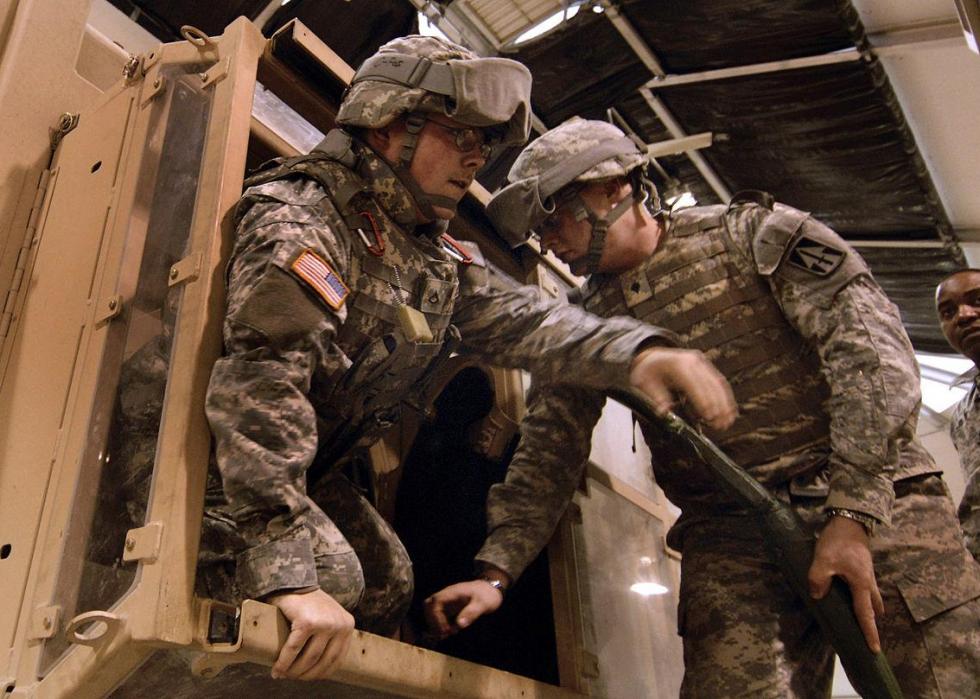 16 / 50
#35. Indiana
Military engagement rank: 35
Estimated civilian population 18+ years: 5,004,742
Estimated active-duty military personnel: 963 (0.02% of civilian population)
Estimated reserve forces military personnel: 18,863 (0.38% of civilian population)
Estimated number of veterans: 410,750 (8.20% of civilian population)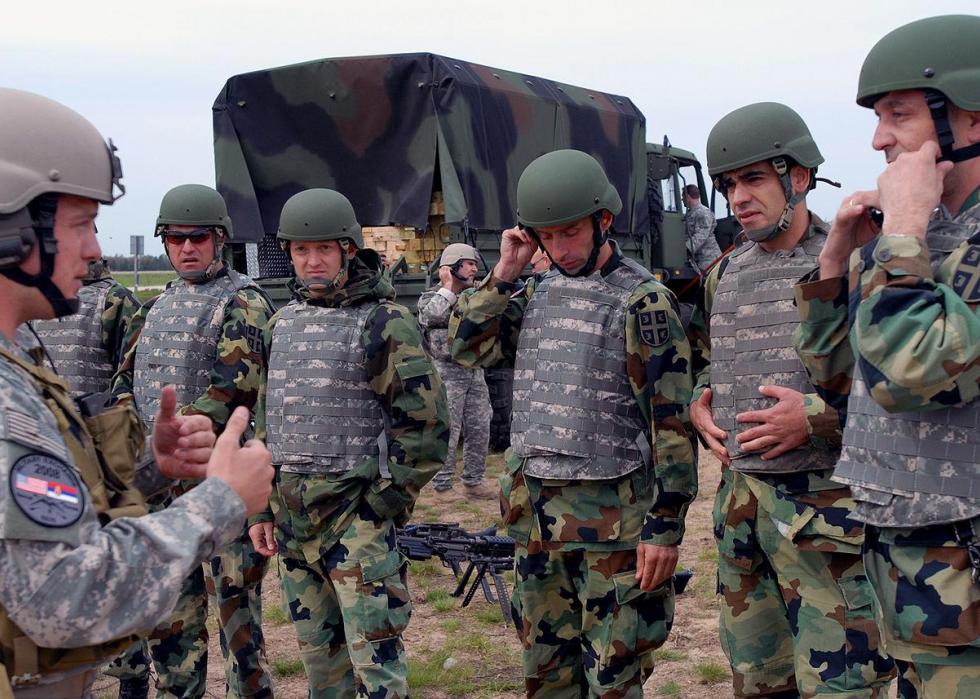 17 / 50
#34. Ohio
Military engagement rank: 34
Estimated civilian population 18+ years: 8,938,977
Estimated active-duty military personnel: 6,793 (0.08% of civilian population)
Estimated reserve forces military personnel: 27,208 (0.30% of civilian population)
Estimated number of veterans: 779,187 (8.70% of civilian population)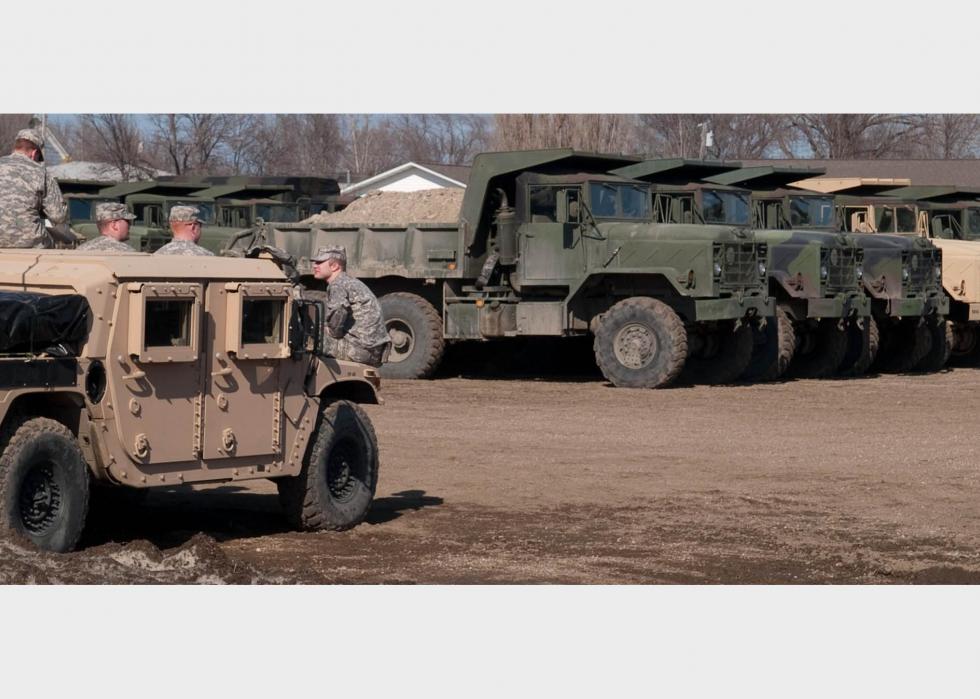 18 / 50
#33. North Dakota
Military engagement rank: 33
Estimated civilian population 18+ years: 562,348
Estimated active-duty military personnel: 6,583 (1.17% of civilian population)
Estimated reserve forces military personnel: 4,212 (0.75% of civilian population)
Estimated number of veterans: 49,560 (8.80% of civilian population)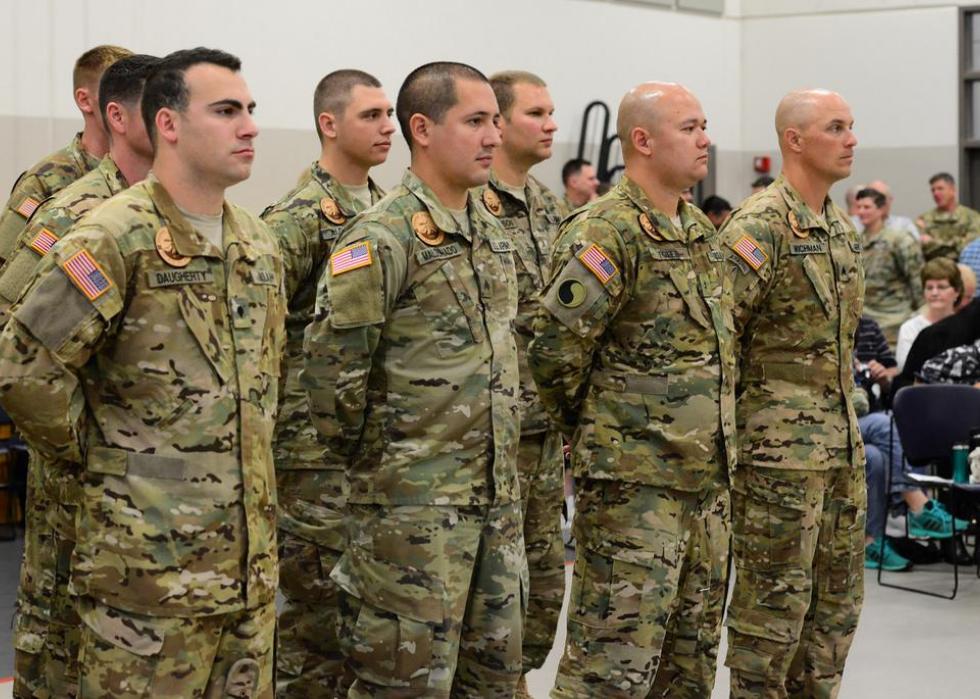 19 / 50
Oregon National Guard // Flickr
#32. Oregon
Military engagement rank: 32
Estimated civilian population 18+ years: 3,118,352
Estimated active-duty military personnel: 1,572 (0.05% of civilian population)
Estimated reserve forces military personnel: 9,432 (0.30% of civilian population)
Estimated number of veterans: 301,330 (9.70% of civilian population)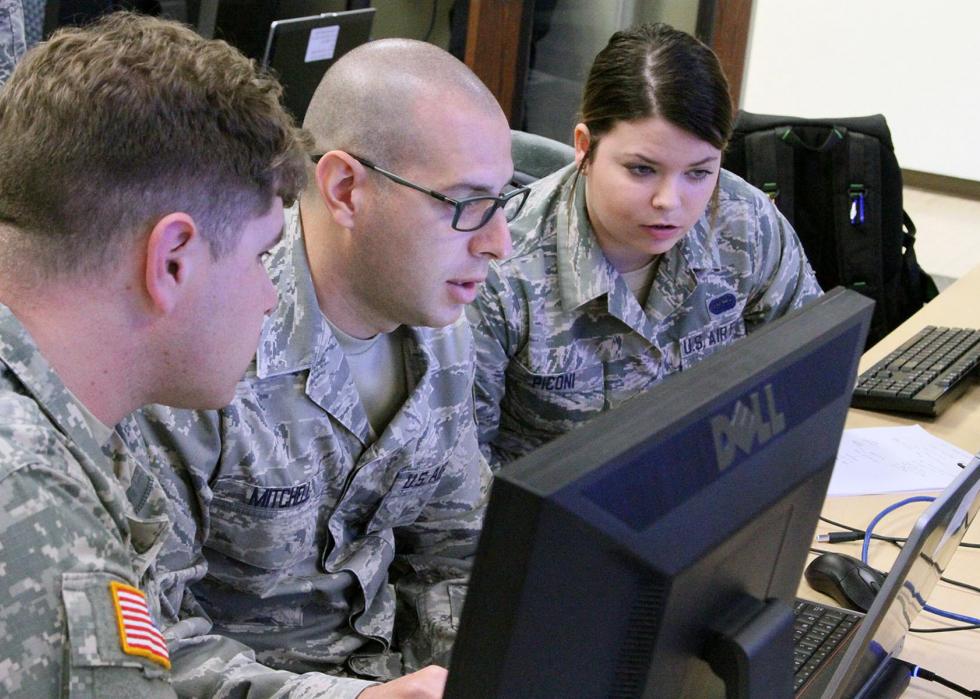 20 / 50
#31. Louisiana
Military engagement rank: 31
Estimated civilian population 18+ years: 3,516,581
Estimated active-duty military personnel: 13,122 (0.37% of civilian population)
Estimated reserve forces military personnel: 16,994 (0.48% of civilian population)
Estimated number of veterans: 267,938 (7.60% of civilian population)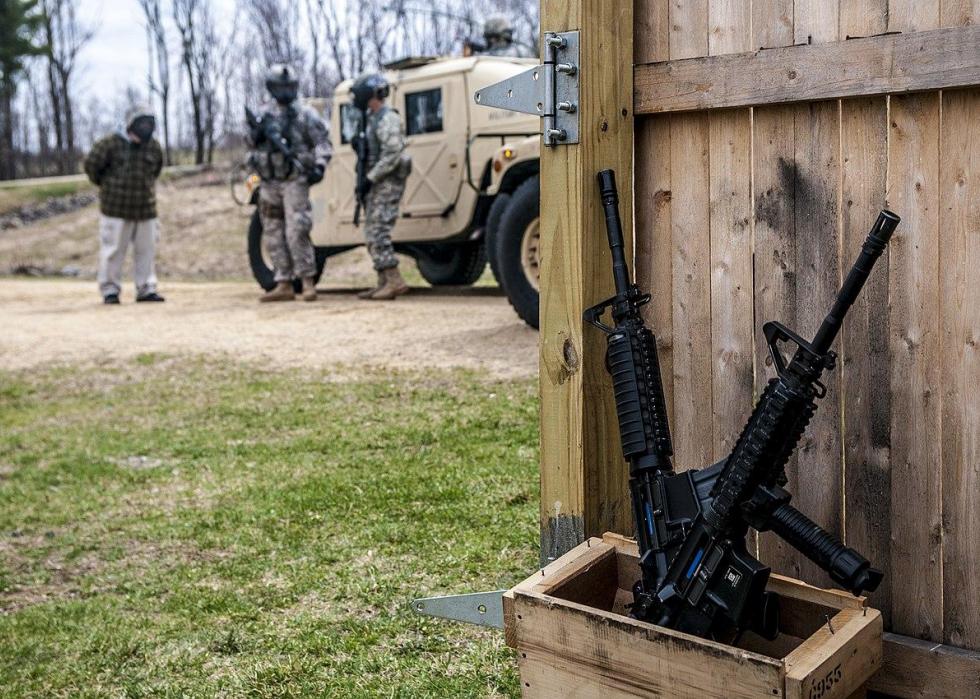 21 / 50
#30. New Hampshire
Military engagement rank: 30
Estimated civilian population 18+ years: 1,058,849
Estimated active-duty military personnel: 757 (0.07% of civilian population)
Estimated reserve forces military personnel: 4,097 (0.39% of civilian population)
Estimated number of veterans: 103,282 (9.80% of civilian population)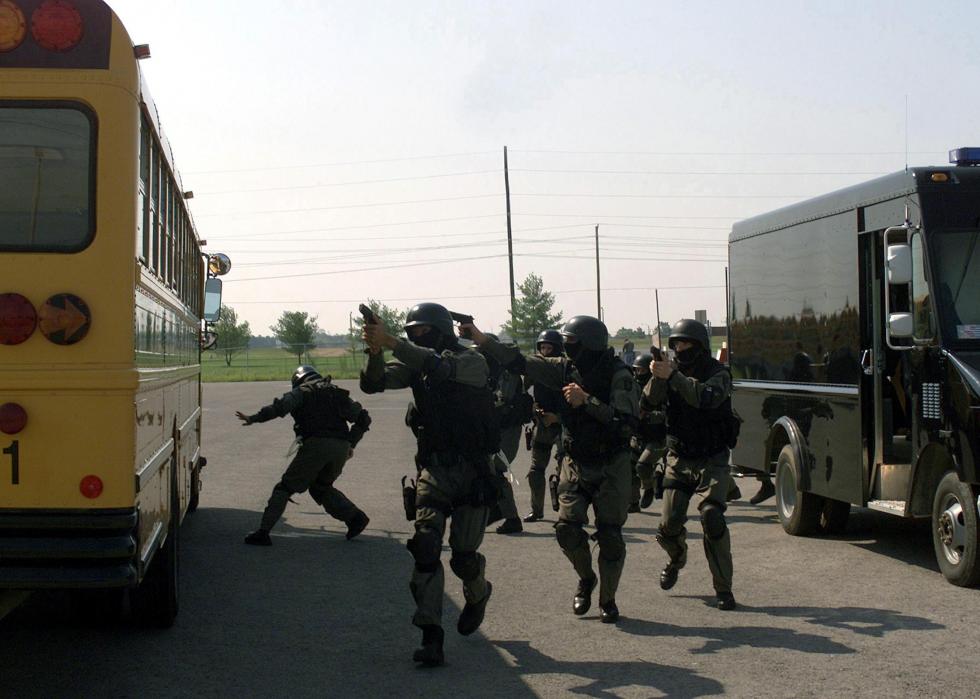 22 / 50
#29. Kentucky
Military engagement rank: 29
Estimated civilian population 18+ years: 3,383,064
Estimated active-duty military personnel: 31,418 (0.93% of civilian population)
Estimated reserve forces military personnel: 12,568 (0.37% of civilian population)
Estimated number of veterans: 289,837 (8.60% of civilian population)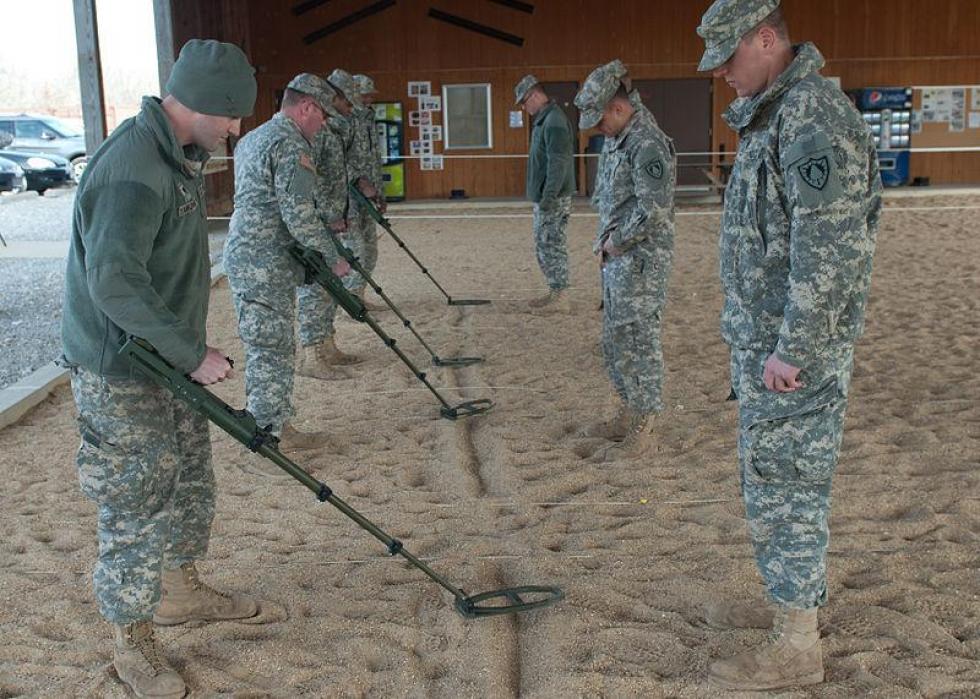 23 / 50
#28. Maine
Military engagement rank: 28
Estimated civilian population 18+ years: 1,068,652
Estimated active-duty military personnel: 811 (0.08% of civilian population)
Estimated reserve forces military personnel: 3,804 (0.36% of civilian population)
Estimated number of veterans: 114,000 (10.70% of civilian population)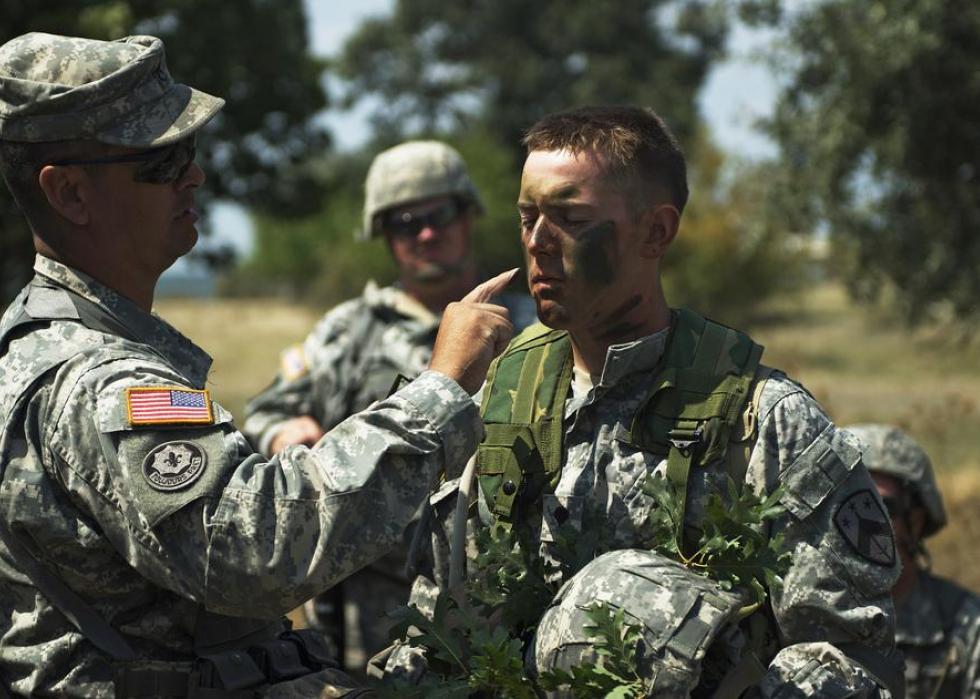 24 / 50
#27. Tennessee
Military engagement rank: 27
Estimated civilian population 18+ years: 5,035,151
Estimated active-duty military personnel: 2,095 (0.04% of civilian population)
Estimated reserve forces military personnel: 18,206 (0.36% of civilian population)
Estimated number of veterans: 450,899 (9.00% of civilian population)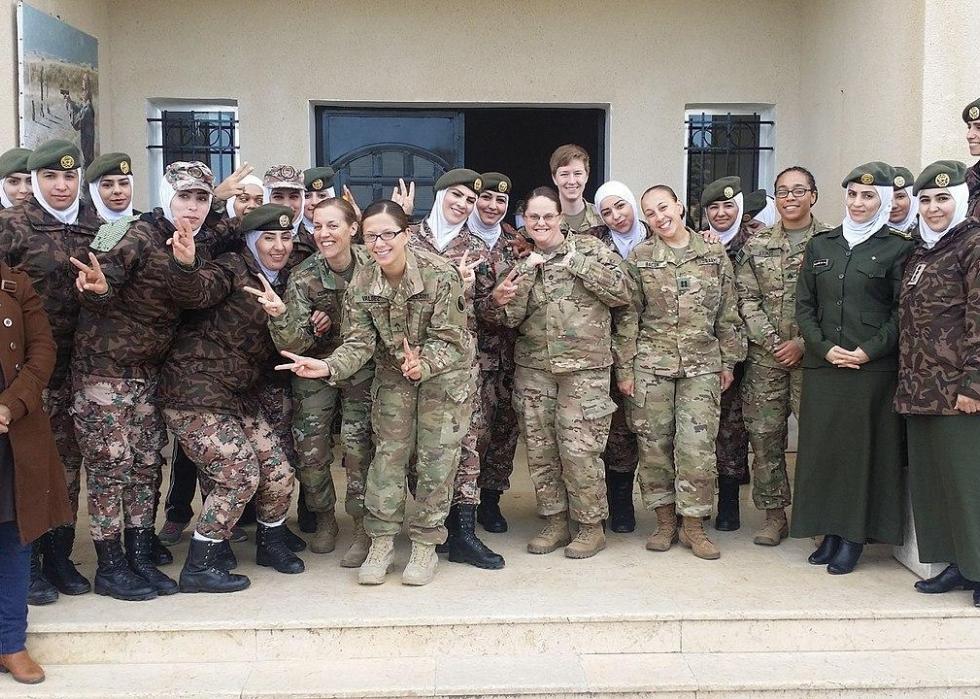 25 / 50
#26. Maryland
Military engagement rank: 26
Estimated civilian population 18+ years: 4,584,055
Estimated active-duty military personnel: 28,888 (0.63% of civilian population)
Estimated reserve forces military personnel: 18,596 (0.41% of civilian population)
Estimated number of veterans: 392,771 (8.60% of civilian population)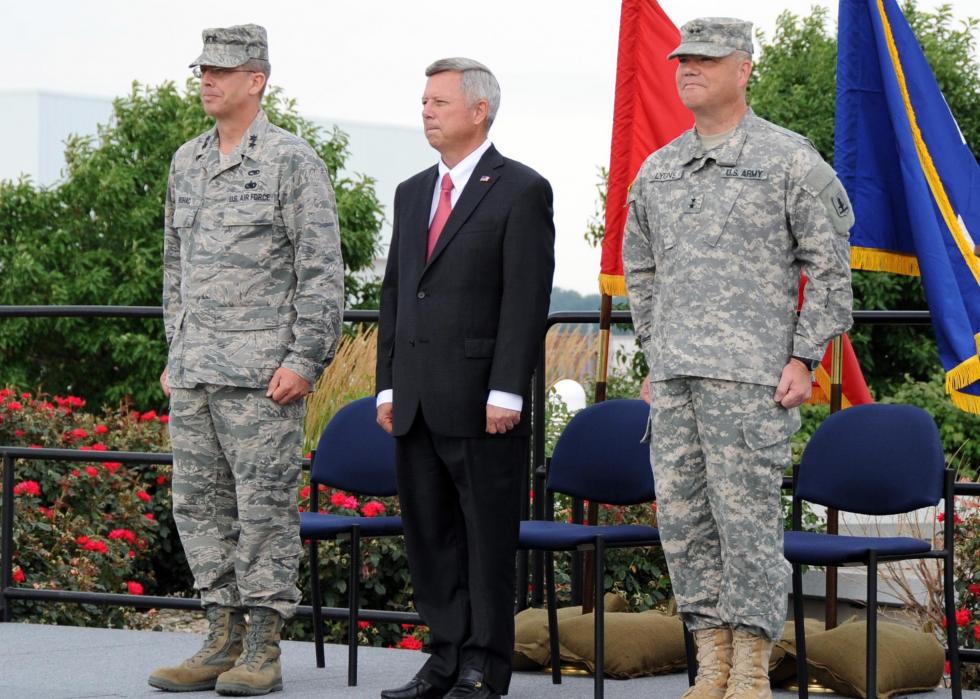 26 / 50
#25. Nebraska
Military engagement rank: 25
Estimated civilian population 18+ years: 1,408,818
Estimated active-duty military personnel: 5,849 (0.42% of civilian population)
Estimated reserve forces military personnel: 6,296 (0.45% of civilian population)
Estimated number of veterans: 127,340 (9.00% of civilian population)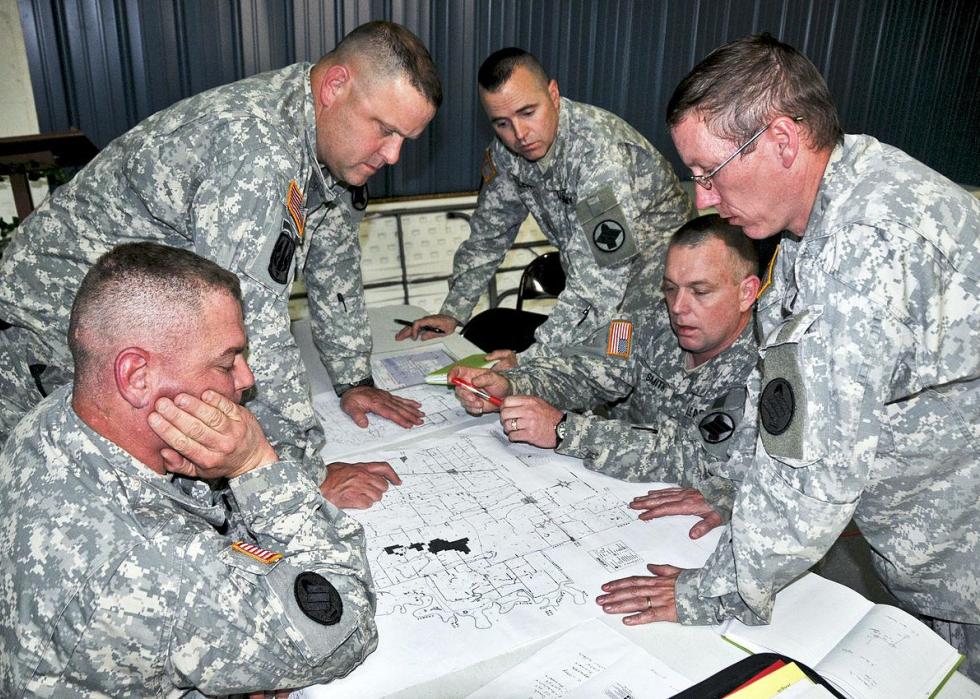 27 / 50
#24. Arkansas
Military engagement rank: 24
Estimated civilian population 18+ years: 2,256,793
Estimated active-duty military personnel: 3,190 (0.14% of civilian population)
Estimated reserve forces military personnel: 10,275 (0.46% of civilian population)
Estimated number of veterans: 213,949 (9.50% of civilian population)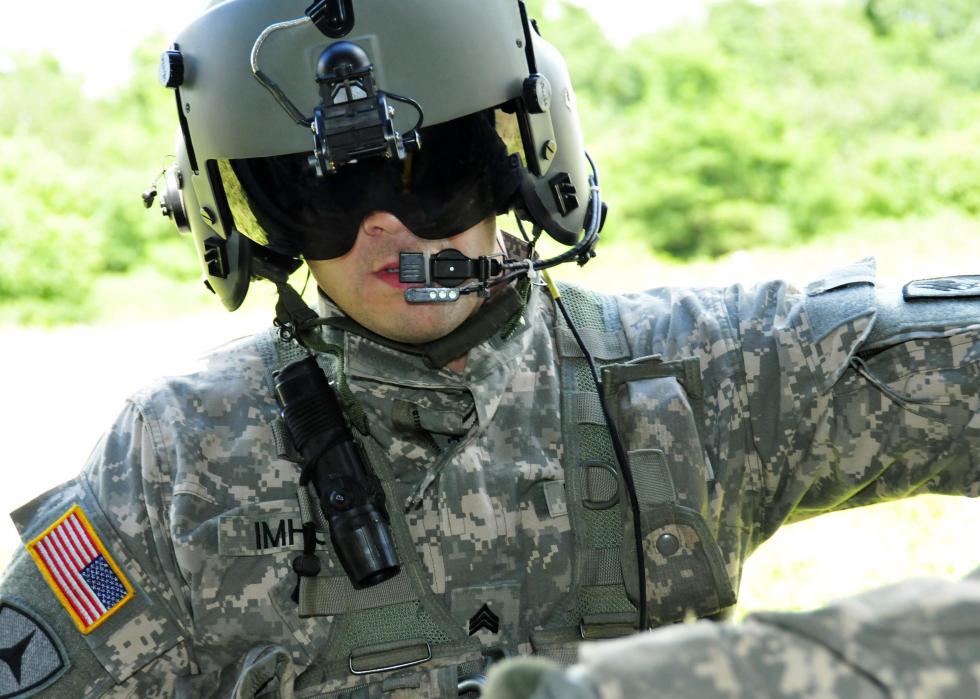 28 / 50
#23. Delaware
Military engagement rank: 23
Estimated civilian population 18+ years: 727,643
Estimated active-duty military personnel: 3,196 (0.44% of civilian population)
Estimated reserve forces military personnel: 4,972 (0.68% of civilian population)
Estimated number of veterans: 68,777 (9.50% of civilian population)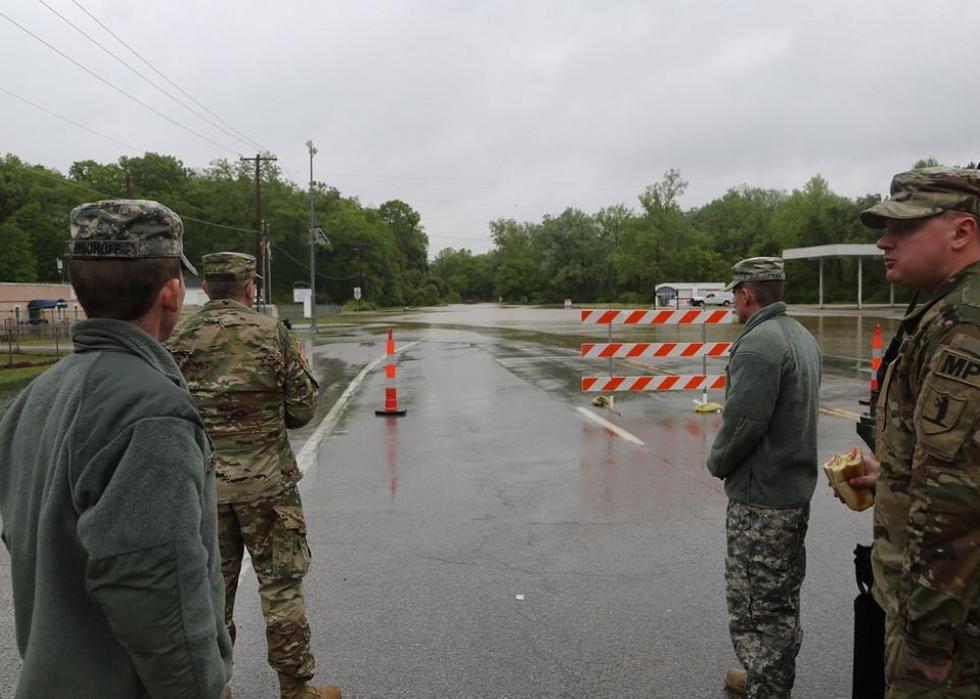 29 / 50
The National Guard // Flickr
#22. Missouri
Military engagement rank: 22
Estimated civilian population 18+ years: 4,644,895
Estimated active-duty military personnel: 17,072 (0.37% of civilian population)
Estimated reserve forces military personnel: 18,467 (0.40% of civilian population)
Estimated number of veterans: 438,100 (9.40% of civilian population)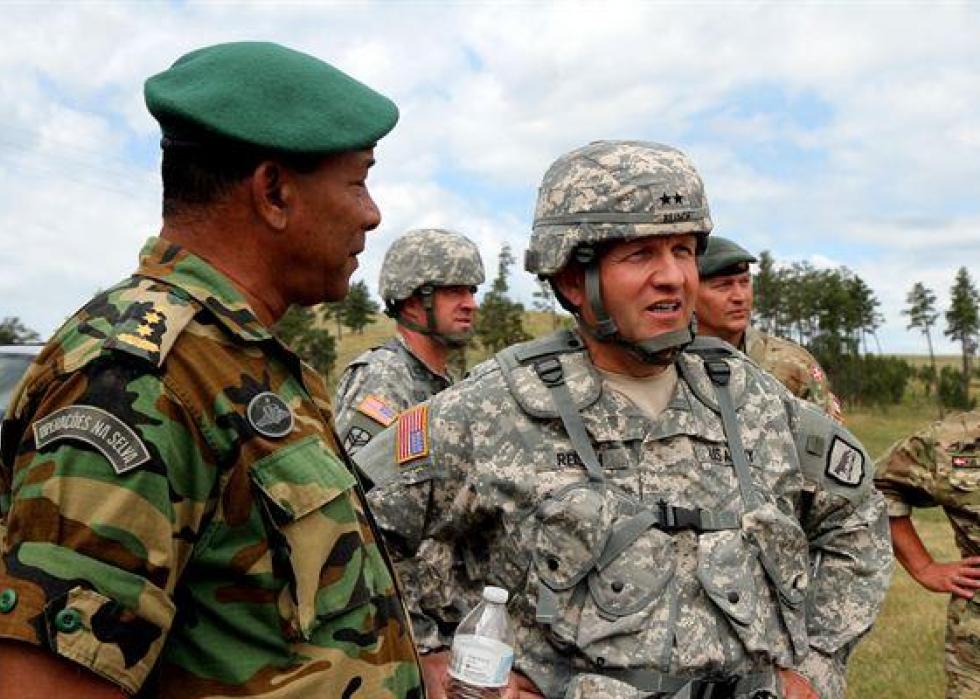 30 / 50
#21. South Dakota
Military engagement rank: 21
Estimated civilian population 18+ years: 638,836
Estimated active-duty military personnel: 2,809 (0.44% of civilian population)
Estimated reserve forces military personnel: 4,555 (0.71% of civilian population)
Estimated number of veterans: 62,661 (9.80% of civilian population)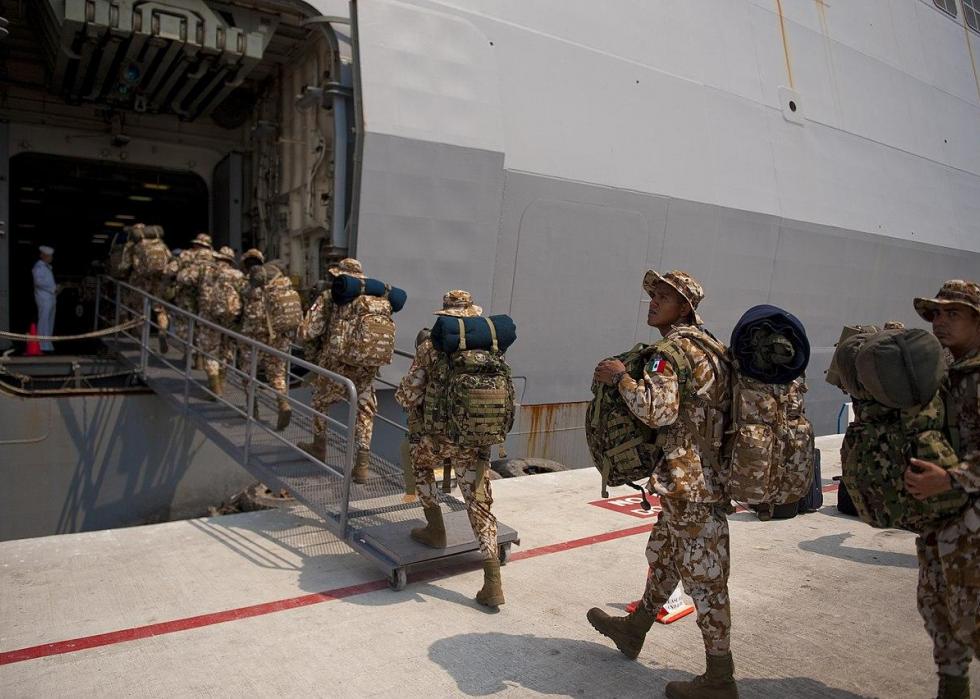 31 / 50
#20. New Mexico
Military engagement rank: 20
Estimated civilian population 18+ years: 1,571,927
Estimated active-duty military personnel: 11,485 (0.73% of civilian population)
Estimated reserve forces military personnel: 5,133 (0.33% of civilian population)
Estimated number of veterans: 157,413 (10.00% of civilian population)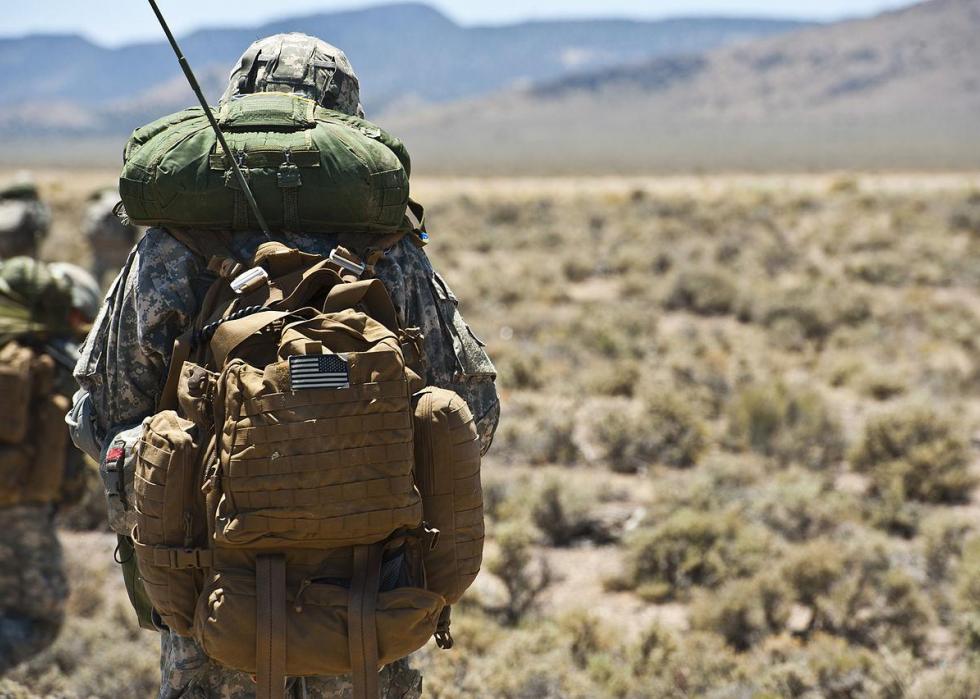 32 / 50
#19. Nevada
Military engagement rank: 19
Estimated civilian population 18+ years: 2,166,609
Estimated active-duty military personnel: 10,322 (0.48% of civilian population)
Estimated reserve forces military personnel: 7,648 (0.35% of civilian population)
Estimated number of veterans: 216,275 (10.00% of civilian population)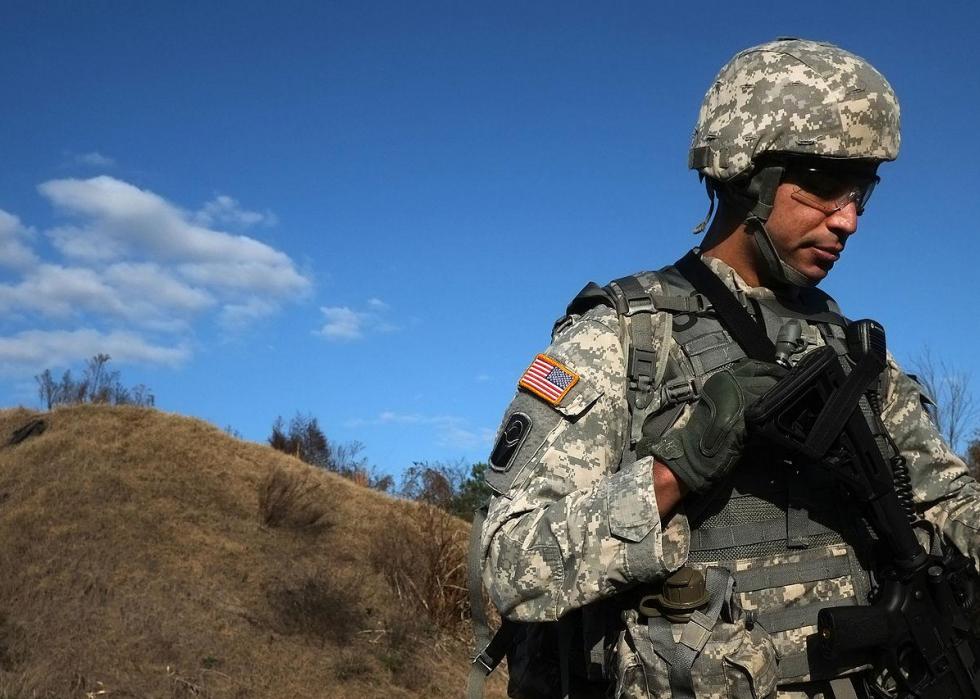 33 / 50
#18. Florida
Military engagement rank: 18
Estimated civilian population 18+ years: 15,812,068
Estimated active-duty military personnel: 55,862 (0.35% of civilian population)
Estimated reserve forces military personnel: 36,387 (0.23% of civilian population)
Estimated number of veterans: 1,480,133 (9.40% of civilian population)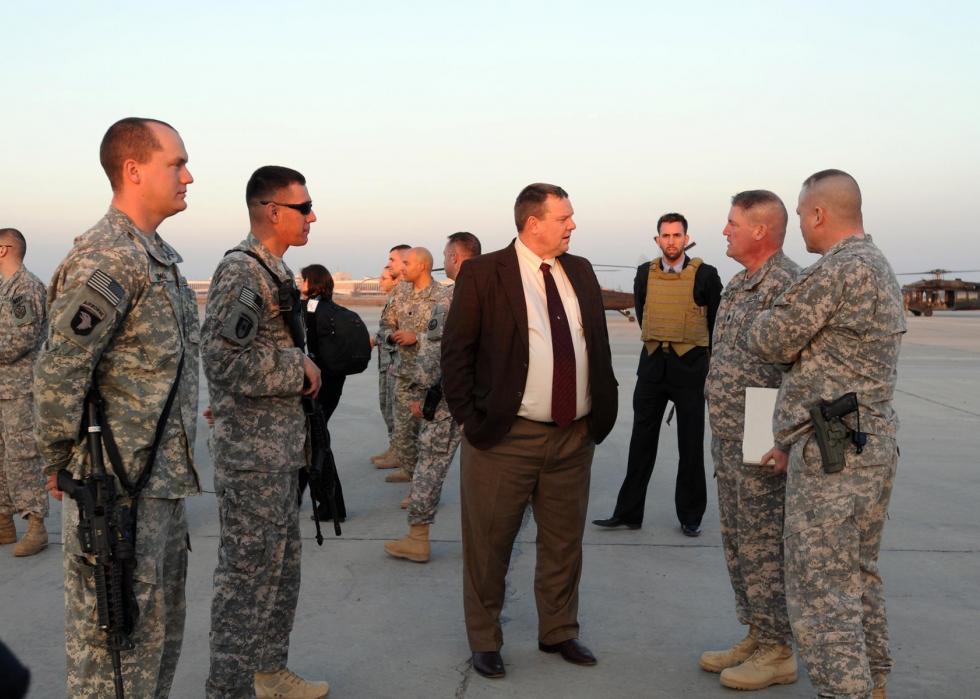 34 / 50
#17. Montana
Military engagement rank: 17
Estimated civilian population 18+ years: 794,896
Estimated active-duty military personnel: 3,208 (0.40% of civilian population)
Estimated reserve forces military personnel: 4,434 (0.56% of civilian population)
Estimated number of veterans: 87,936 (11.10% of civilian population)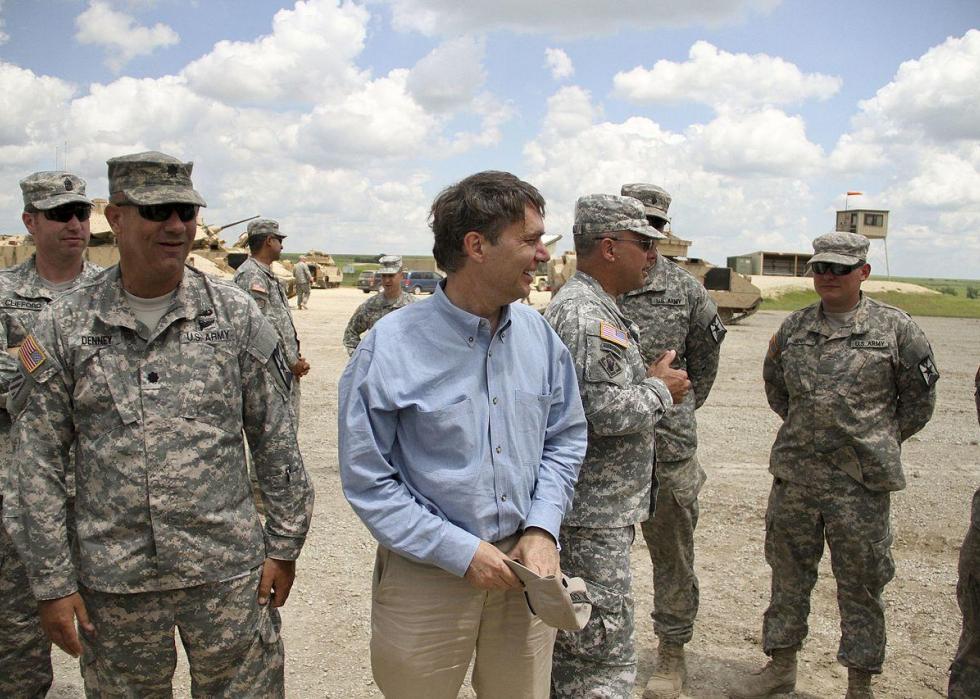 35 / 50
#16. Kansas
Military engagement rank: 16
Estimated civilian population 18+ years: 2,159,618
Estimated active-duty military personnel: 21,604 (1.00% of civilian population)
Estimated reserve forces military personnel: 9,664 (0.45% of civilian population)
Estimated number of veterans: 192,340 (8.90% of civilian population)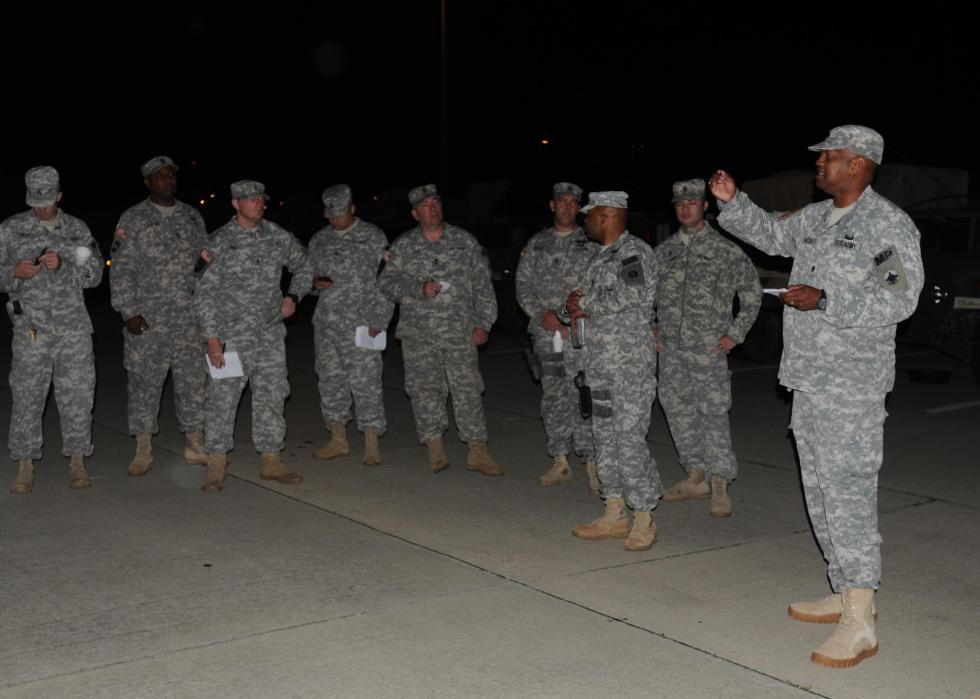 36 / 50
#15. Mississippi
Military engagement rank: 15
Estimated civilian population 18+ years: 2,246,662
Estimated active-duty military personnel: 11,554 (0.51% of civilian population)
Estimated reserve forces military personnel: 16,200 (0.72% of civilian population)
Estimated number of veterans: 180,251 (8.00% of civilian population)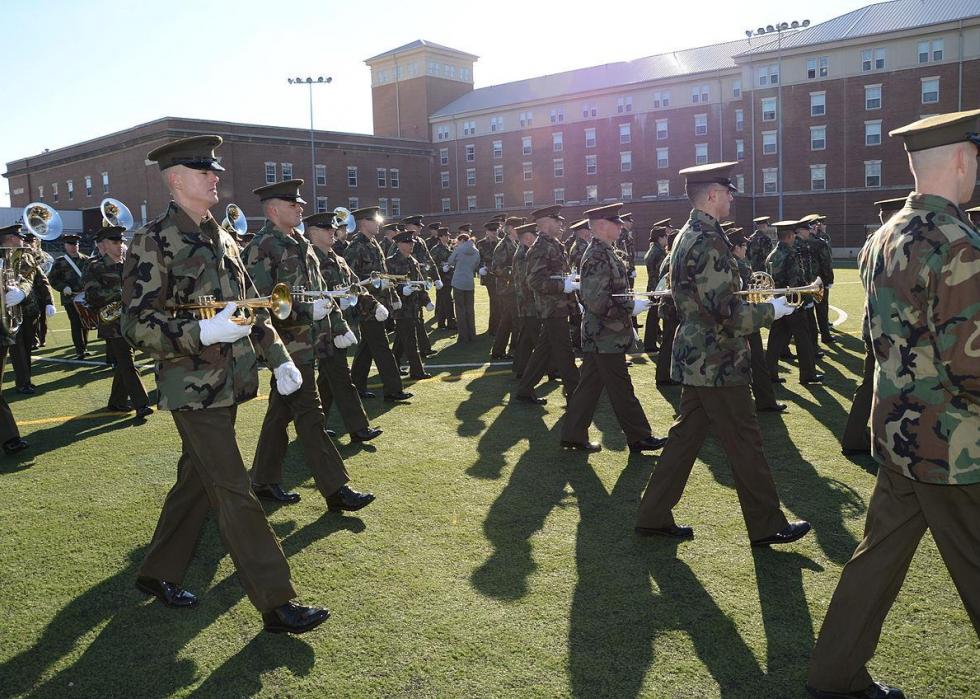 37 / 50
#14. Washington
Military engagement rank: 14
Estimated civilian population 18+ years: 5,421,260
Estimated active-duty military personnel: 45,343 (0.84% of civilian population)
Estimated reserve forces military personnel: 18,723 (0.35% of civilian population)
Estimated number of veterans: 552,863 (10.20% of civilian population)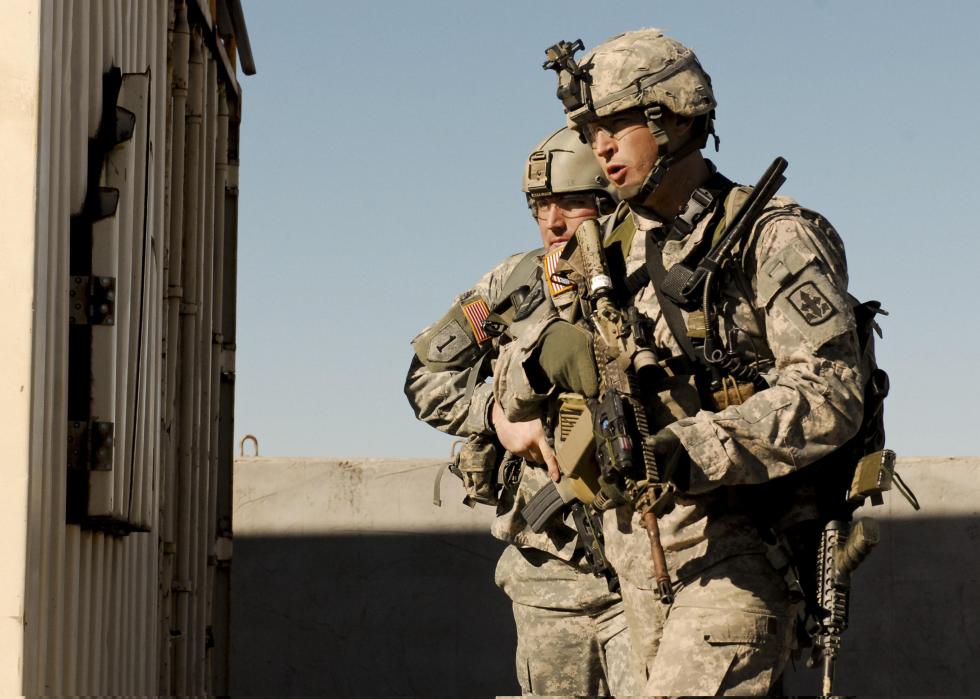 38 / 50
#13. Arizona
Military engagement rank: 13
Estimated civilian population 18+ years: 5,091,593
Estimated active-duty military personnel: 18,297 (0.36% of civilian population)
Estimated reserve forces military personnel: 14,968 (0.29% of civilian population)
Estimated number of veterans: 497,337 (9.80% of civilian population)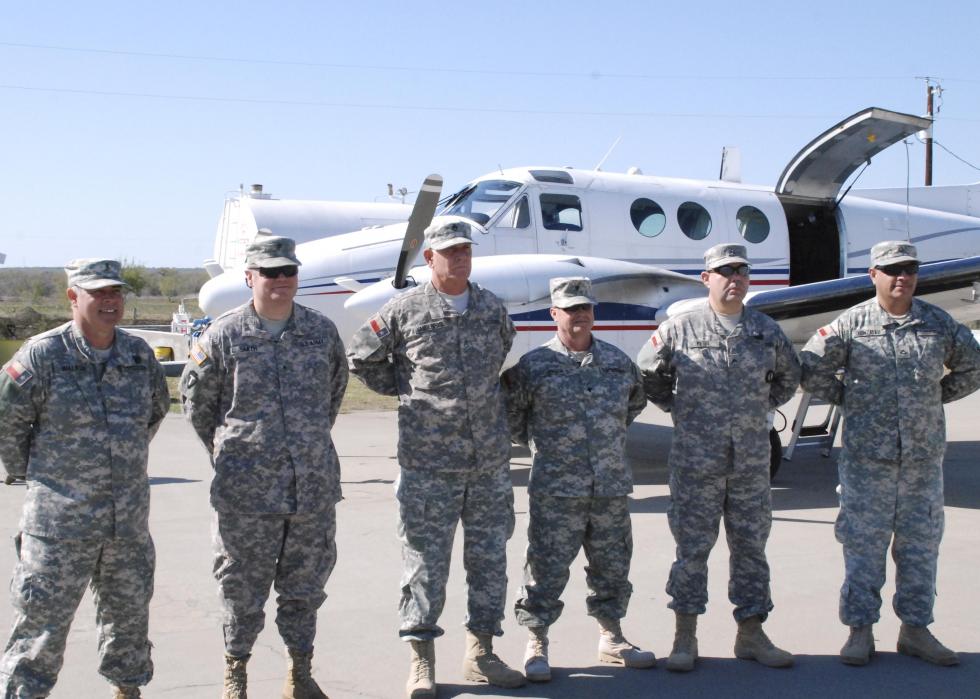 39 / 50
#12. Texas
Military engagement rank: 12
Estimated civilian population 18+ years: 19,731,218
Estimated active-duty military personnel: 110,913 (0.56% of civilian population)
Estimated reserve forces military personnel: 53,321 (0.27% of civilian population)
Estimated number of veterans: 1,513,294 (7.70% of civilian population)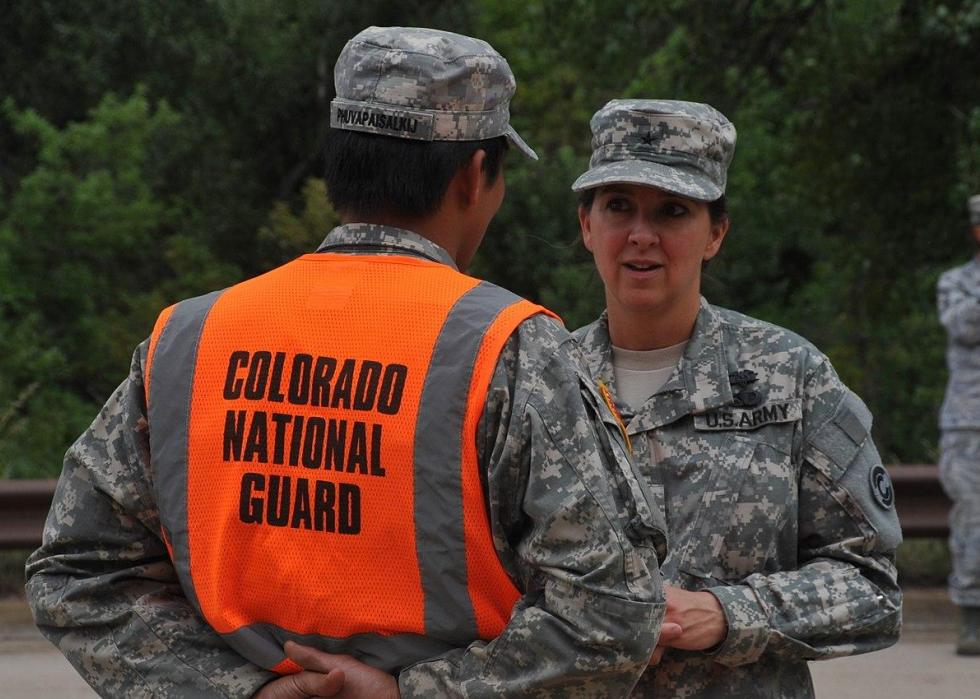 40 / 50
#11. Colorado
Military engagement rank: 11
Estimated civilian population 18+ years: 4,080,009
Estimated active-duty military personnel: 34,460 (0.84% of civilian population)
Estimated reserve forces military personnel: 13,176 (0.32% of civilian population)
Estimated number of veterans: 383,699 (9.40% of civilian population)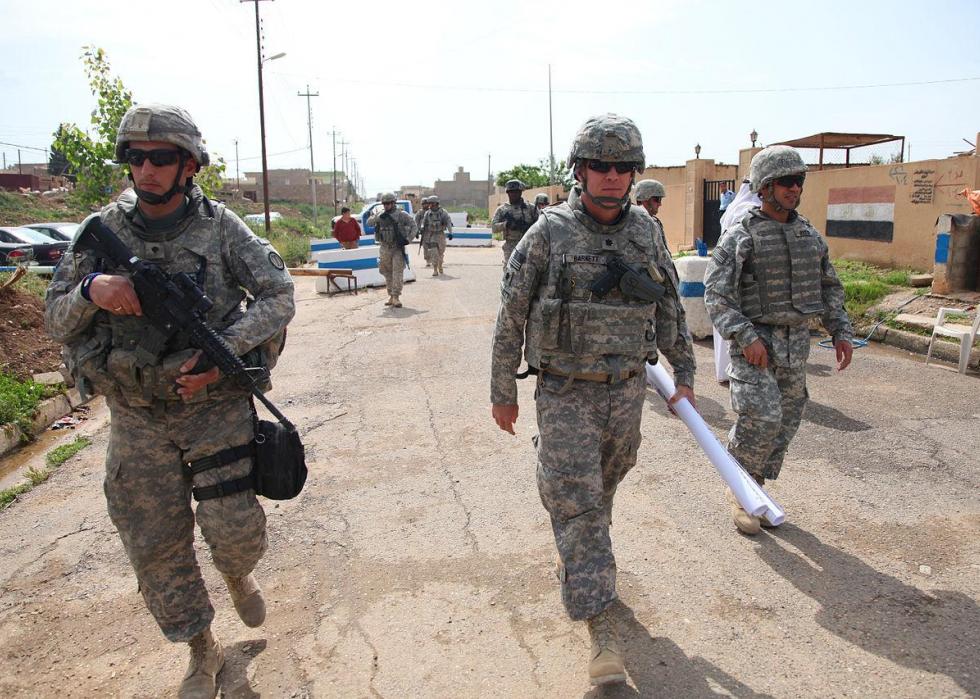 41 / 50
#10. Alabama
Military engagement rank: 10
Estimated civilian population 18+ years: 3,723,825
Estimated active-duty military personnel: 8,750 (0.23% of civilian population)
Estimated reserve forces military personnel: 18,802 (0.50% of civilian population)
Estimated number of veterans: 351,461 (9.40% of civilian population)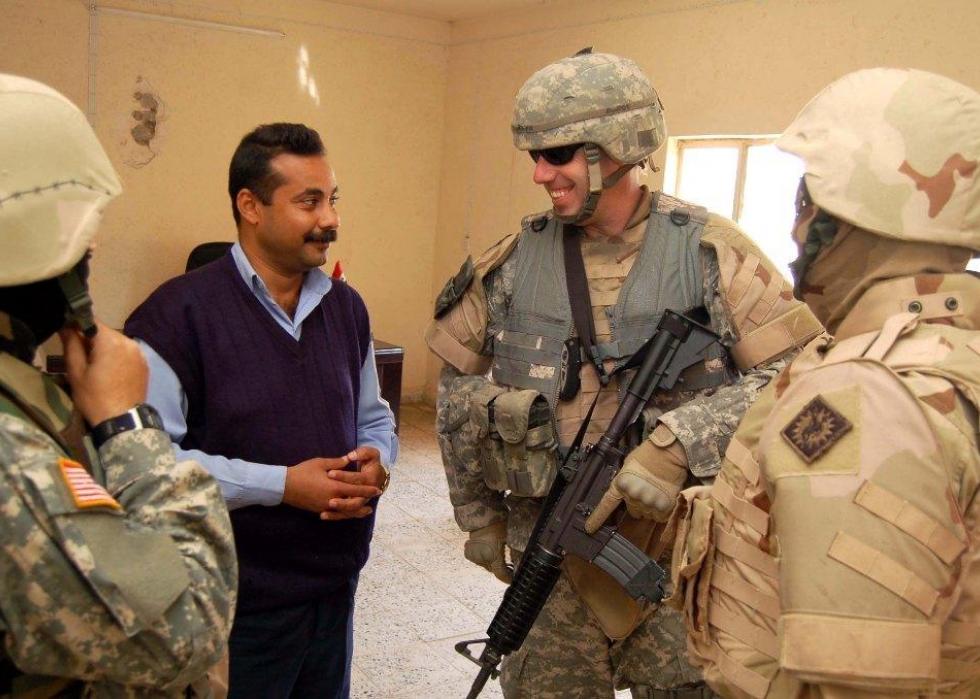 42 / 50
#9. Wyoming
Military engagement rank: 9
Estimated civilian population 18+ years: 441,797
Estimated active-duty military personnel: 3,102 (0.70% of civilian population)
Estimated reserve forces military personnel: 2,908 (0.66% of civilian population)
Estimated number of veterans: 47,390 (10.70% of civilian population)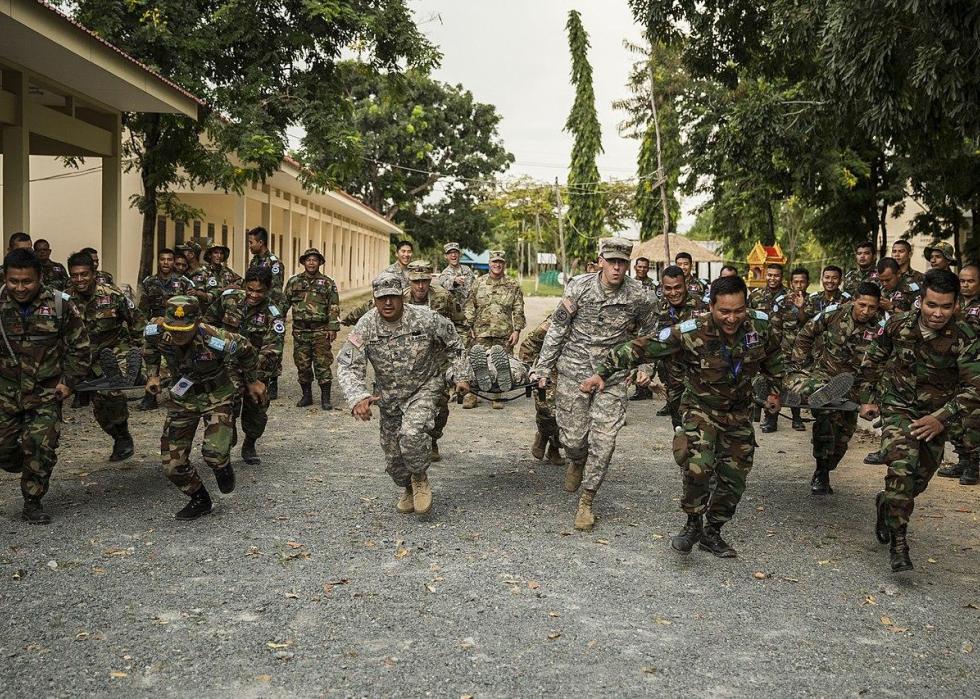 43 / 50
#8. Idaho
Military engagement rank: 8
Estimated civilian population 18+ years: 1,200,704
Estimated active-duty military personnel: 3,367 (0.28% of civilian population)
Estimated reserve forces military personnel: 5,434 (0.45% of civilian population)
Estimated number of veterans: 118,313 (9.90% of civilian population)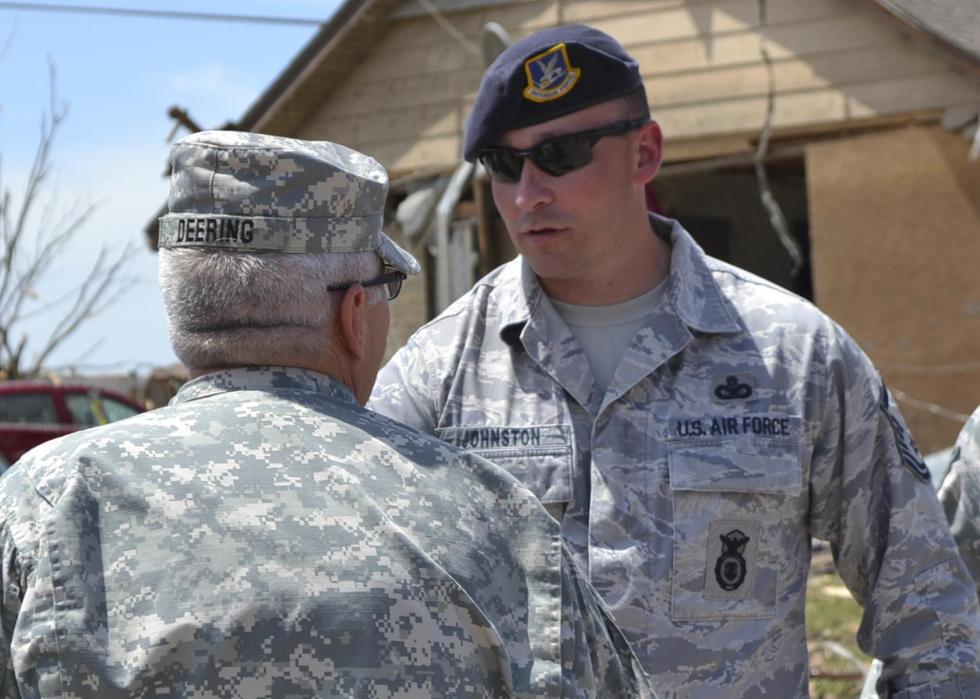 44 / 50
#7. Oklahoma
Military engagement rank: 7
Estimated civilian population 18+ years: 2,905,409
Estimated active-duty military personnel: 19,802 (0.68% of civilian population)
Estimated reserve forces military personnel: 13,031 (0.45% of civilian population)
Estimated number of veterans: 286,926 (9.90% of civilian population)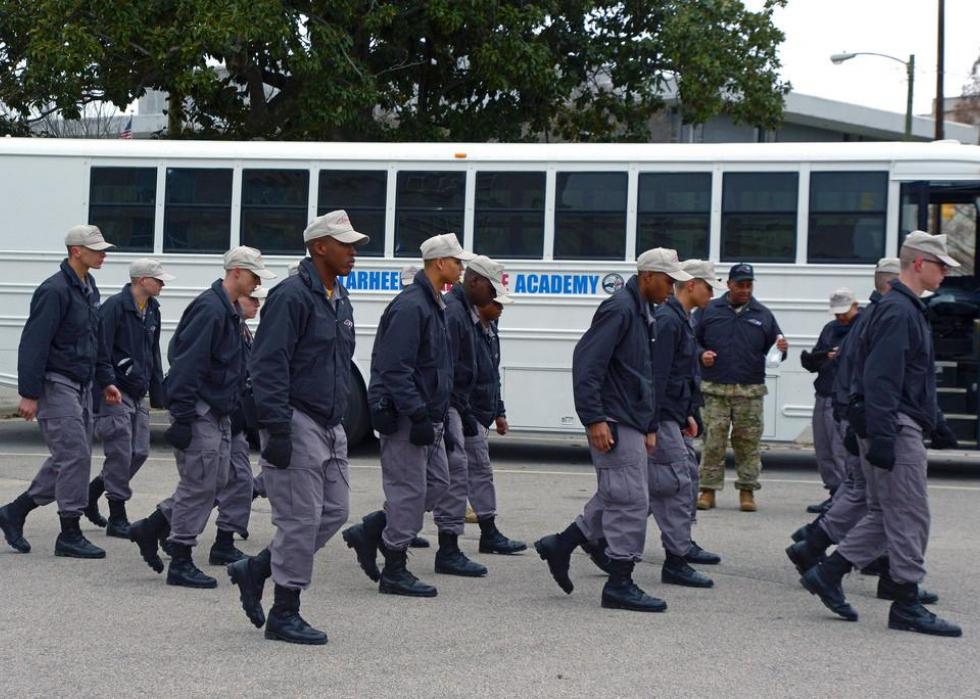 45 / 50
The National Guard // Flickr
#6. North Carolina
Military engagement rank: 6
Estimated civilian population 18+ years: 7,570,164
Estimated active-duty military personnel: 91,175 (1.20% of civilian population)
Estimated reserve forces military personnel: 21,776 (0.29% of civilian population)
Estimated number of veterans: 683,221 (9.00% of civilian population)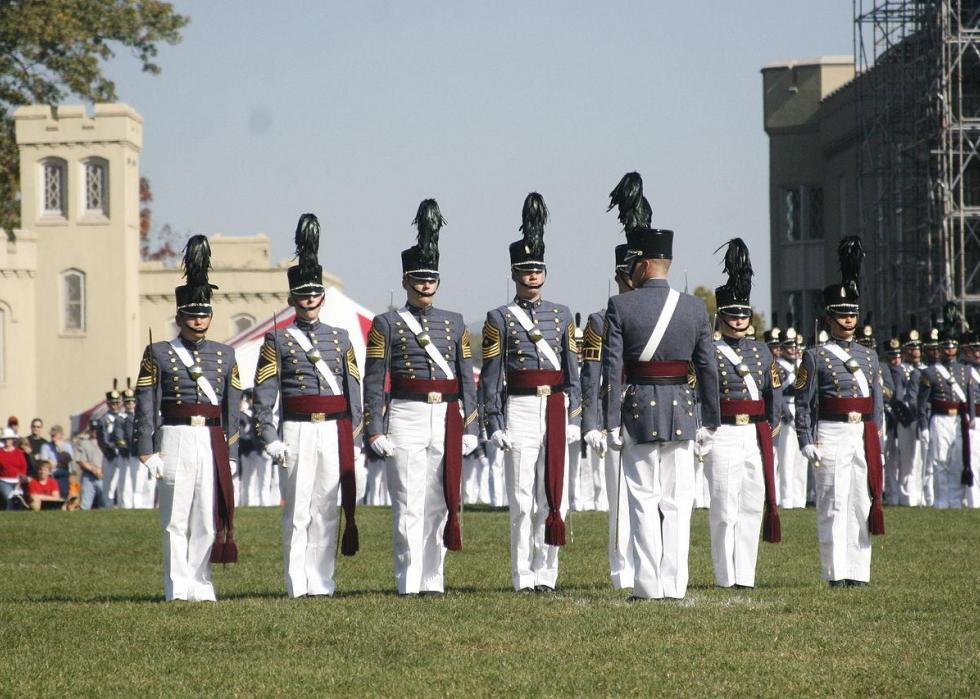 46 / 50
#5. Virginia
Military engagement rank: 5
Estimated civilian population 18+ years: 6,333,433
Estimated active-duty military personnel: 89,303 (1.41% of civilian population)
Estimated reserve forces military personnel: 25,977 (0.41% of civilian population)
Estimated number of veterans: 696,685 (11.00% of civilian population)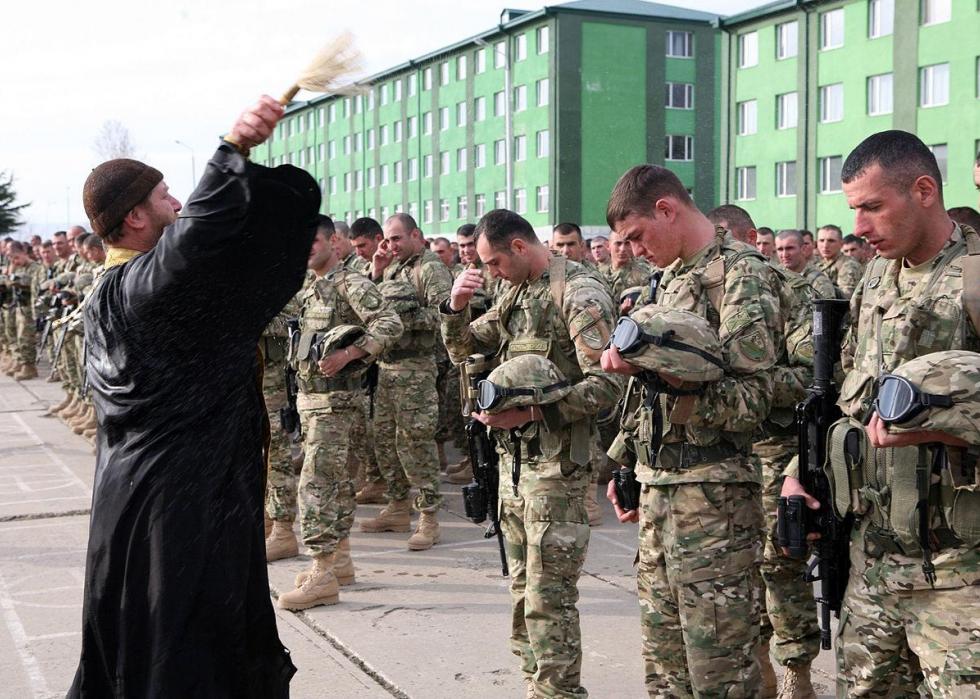 47 / 50
#4. Georgia
Military engagement rank: 4
Estimated civilian population 18+ years: 7,555,386
Estimated active-duty military personnel: 61,322 (0.81% of civilian population)
Estimated reserve forces military personnel: 26,767 (0.35% of civilian population)
Estimated number of veterans: 662,333 (8.80% of civilian population)
48 / 50
#3. South Carolina
Military engagement rank: 3
Estimated civilian population 18+ years: 3,718,496
Estimated active-duty military personnel: 37,507 (1.01% of civilian population)
Estimated reserve forces military personnel: 17,862 (0.48% of civilian population)
Estimated number of veterans: 373,890 (10.10% of civilian population)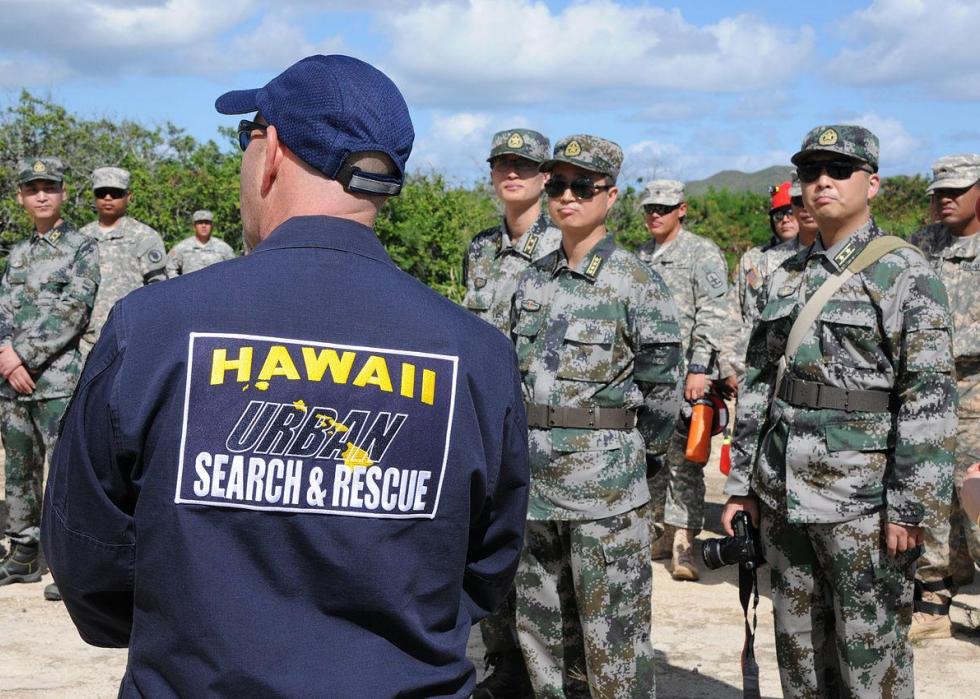 49 / 50
#2. Hawaii
Military engagement rank: 2
Estimated civilian population 18+ years: 1,066,715
Estimated active-duty military personnel: 36,620 (3.43% of civilian population)
Estimated reserve forces military personnel: 9,402 (0.88% of civilian population)
Estimated number of veterans: 108,022 (10.10% of civilian population)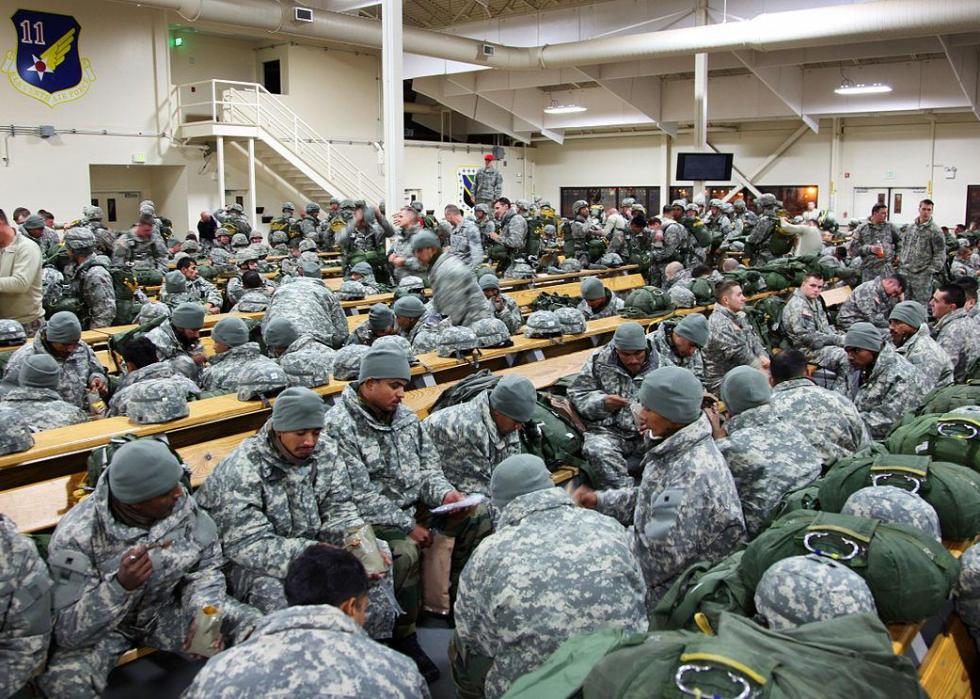 50 / 50
#1. Alaska
Military engagement rank: 1
Estimated civilian population 18+ years: 532,857
Estimated active-duty military personnel: 17,302 (3.25% of civilian population)
Estimated reserve forces military personnel: 4,593 (0.86% of civilian population)
Estimated number of veterans: 68,145 (12.80% of civilian population)