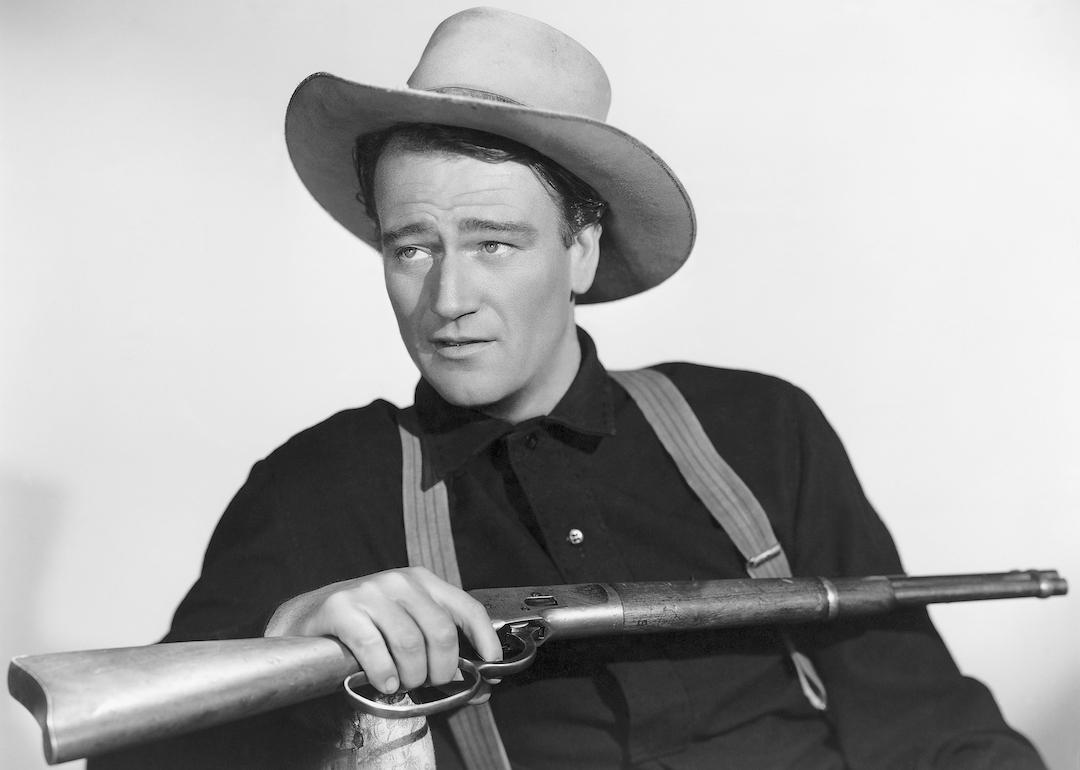 100 best John Wayne movies
100 best John Wayne movies
Before he was one of Hollywood's most bankable and iconic Western movie stars, actor John Wayne was an Iowa-born USC lineman named Marion Morrison. Morrison lost his football scholarship due to a shoulder injury from a bodysurfing accident, and landed a job in 1927 as a prop guy on the Fox Studios lot. That gig didn't last long, however, as it took just three years for Morrison to snag his first lead role in 1930's "The Big Trail." Not being fond of the name Marion Morrison, the movie's producers instructed director Raoul Walsh to change it. Thus was John Wayne born.
In honor of the Duke himself, Stacker ranked John Wayne's 100 best movies from lowest to highest according to its IMDb rating, with ties broken by the number of votes. We focus on Wayne's acting credits from his first starring role in 1930 and his breakout performance in 1939's "Stagecoach" to his final star turn in 1976's "The Shootist." It's worth noting that some of Wayne's films don't have too many user votes, but that's largely because they were released in the first half of the 1900s, and for the first several years of his career he was making much smaller pictures that never received the sort of wide release a Wayne film demanded in the 1950s and 1960s—when he was the most popular movie star in America.
The swaggering masculinity Wayne infused into characters bled off-screen and permeated American culture for decades with nostalgia for unencumbered male machismo and a sense of a man's personal responsibility to be true to his own nature, popular opinion notwithstanding. By the time Wayne appeared in John Ford's "3 Godfathers" in 1948, his on-screen persona of the hardened, egoist male had firmly politicized the Western hero with shades of disgust for things like communism and liberalism.
Wayne is still a hotly debated figure today. In June 2020, calls were renewed to change the name of John Wayne Airport in Orange County, California, over Wayne's 1971 interview in Playboy when he came out in favor of white supremacy, expressed no remorse over slavery or the treatment of Native Americans throughout American history, and used a homophobic slur to describe the actors in "Midnight Cowboy." Yet despite such prejudices, Wayne had a reputation for being an honest, supportive, hardworking colleague on set, with particular respect and deference shown to his female co-stars.
The controversial film star was most famous for his roles in Westerns, but also starred in war dramas, took on the role of an American boxer in "The Quiet Man," and put himself on the other side of the camera as a producer and director, most notably of the Academy Award nominated historical drama "The Alamo." Wayne was nominated three times for Academy Awards, winning once for Best Actor in 1969 for playing U.S. Marshal Reuben J. "Rooster" Cogburn in "True Grit." He was even posthumously awarded the Presidential Medal of Freedom in 1980 by Jimmy Carter.
The Duke appeared in more than 175 films—so five'll get you 10, your favorite is among his best.
You may also like: Best Western movies from the last decade