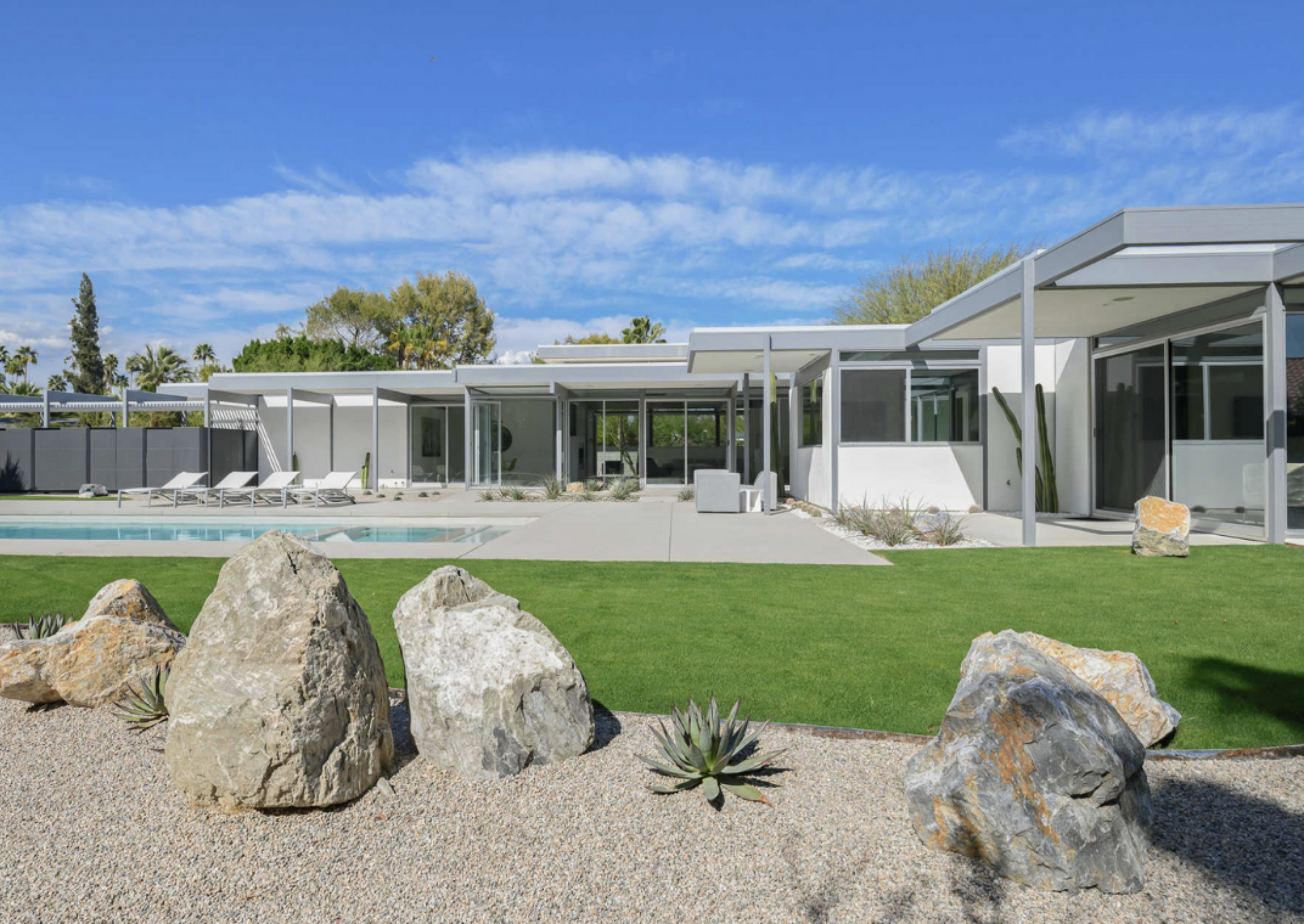 Houses by famous architects you can buy
Houses by famous architects you can buy
Owning a home of architectural significance is not a task for the faint of heart. It takes grit, determination, and deep pockets to steward such a deeply personal brick-and-mortar investment into the next century. Should a potential buyer accept the challenge, there are more than a few homes on the market from which to choose, ranging from Victorian estates to mid-century modern masterpieces.
As Stacker rifled through recent real estate listings to compile this list of 20 homes designed by famous architects currently available, certain trends emerged, notably the influence of Frank Lloyd Wright and the Prairie School on the evolution of the mid-century modern design—an aesthetic which would ultimately transform the domestic landscape in the United States and much of Europe. The integration of interior and exterior space soared to new heights in the hands of mid-century titans Phillip Johnson, Richard Neutra, and Donald Wexler, whose temples of steel and glass gave new meaning to Wright's dictum of "bringing the outside inside." Today, a new generation of gifted practitioners, including Adam Dayem and Andreas Benzing, merge the tenants of organic architecture with eco-friendly building technology.
Scroll through the slideshow and discover which architectural icons are up for grabs—and at what price.
You may also like: 50 arresting Brutalist structures in the United States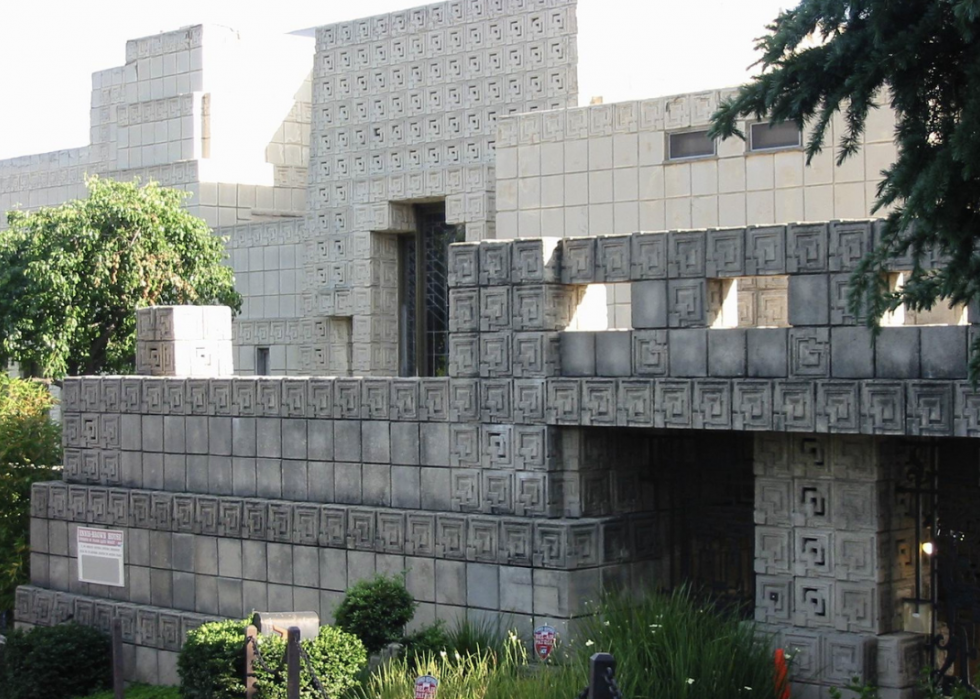 1 / 20
Ennis House: Los Angeles, CA
- Architect: Frank Lloyd Wright
Owning a home by Frank Lloyd Wright is a fantasy for most fans of the legendary architect. For those with deep pockets, however, dreams can come true. Ennis House—Wright's Mayan Revival masterpiece—is currently on the market with Hilton & Hyland for a cool $23 million. Constructed in 1923 from approximately 27,000 patterned granite blocks, the four-bedroom, three-and-a-half-bath home is perched on a hillside overlooking downtown L.A and was featured in the 2001 thriller "Mulholland Drive" as well as "Blade Runner 2049."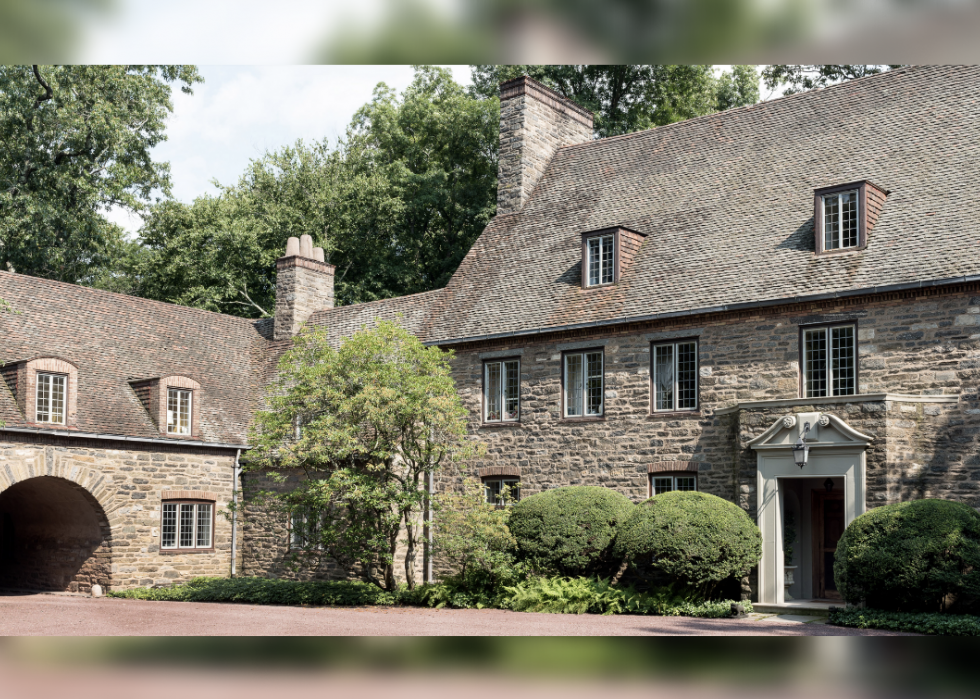 2 / 20
23 Khakum Wood Road: Greenwich, CT
- Architect: Harrie T. Lindeberg
Recently rediscovered 20th-century American architect Harrie T. Lindeberg was responsible for some of the East Coast's most majestic country estates, including this sprawling 1927 French Norman home in Greenwich, Conn. Occupying over 5 acres designed by renowned landscape architect Frederick Law Olmsted, this seven-bedroom,13,063-square-foot-home is listed with the Robin Kencel Group for $9,985,000.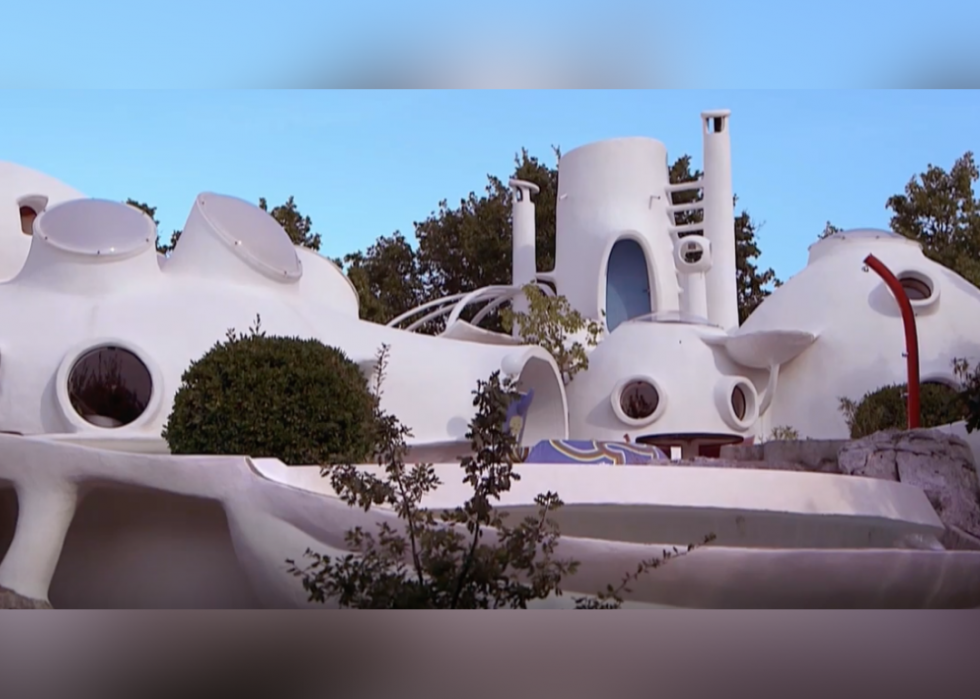 3 / 20
LES FILMS D'ICI, ARTE FRANCE
The Unal House: Ardèche, France
- Architect: Claude Häusermann-Costy
Part of the "Bubble House" movement that took root in the late 1960s, this avant-garde home was designed in 1973 by Claude Häusermann-Costy as her personal summer residence. Constructed by Häusermann-Costy's husband, Joël Unal, using an innovative "concrete veil" system, the structure appears to spring organically from the underlying bedrock and boasts panoramic views of the surrounding landscape. Named a "Monument Historique" in 2010, the three-bedroom, 1,679-square-foot, residence is currently available for an undisclosed price.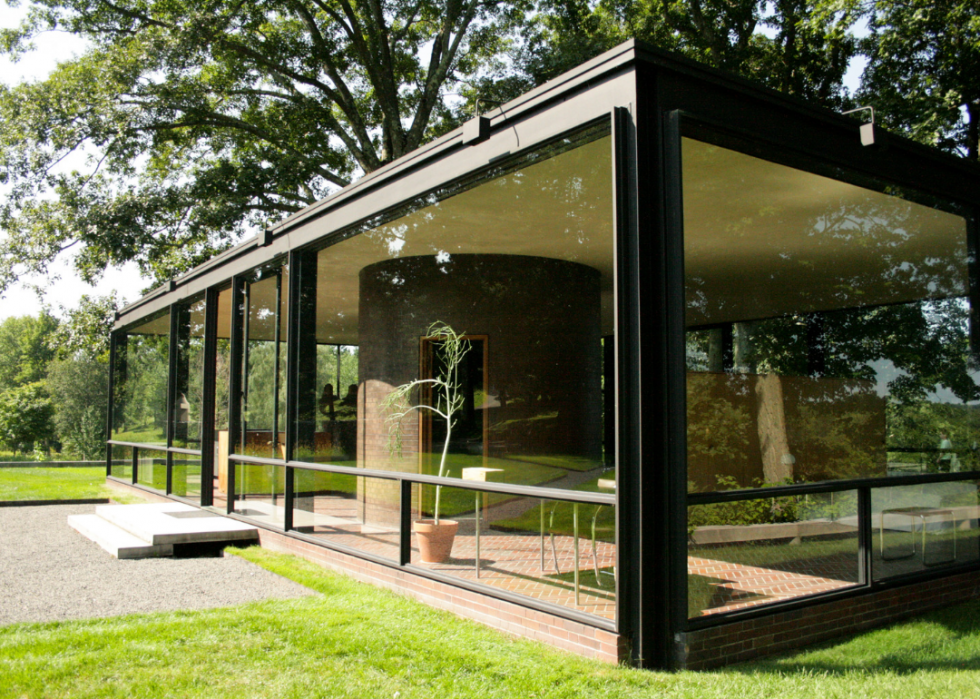 4 / 20
The Wiley House: New Canaan, CT
- Architect: Philip Johnson
Settled in 1731, New Canaan appears to be the quintessential New England town, etched with whitewashed churches and traditional homes. Wander from the beaten path, however, and you'll find dozens of mid-century-modern, concrete-and-glass boxes, including the Wiley House, designed by "Harvard Five" architect Philip Johnson in 1953. Set on a stunning 6-acre-plus site, the 5,616-square-foot house is on the market with William Pitt Sotheby's International Realty for $7.8 million. If the Wiley House isn't in the budget, aficionados of Johnson's work can content themselves with a tour of his iconic Glass House, just down the road.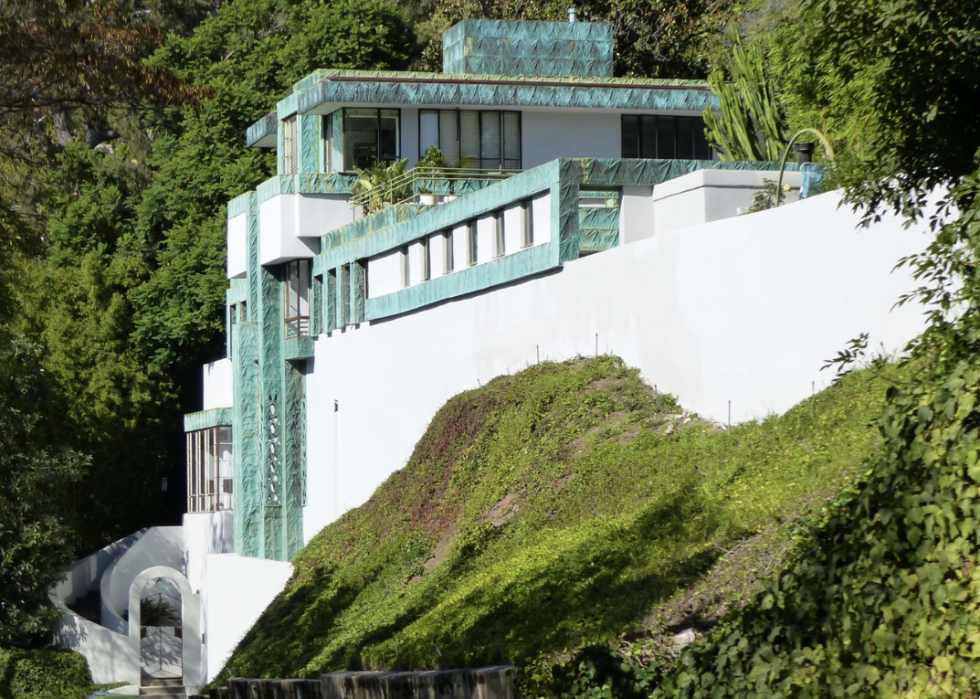 5 / 20
Stilfehler // Wikimedia Commons
Samuel-Novarro House: Los Angeles, CA
- Architect: Frank Lloyd Wright, Jr.
Following his father's footsteps, Frank Lloyd Wright, Jr., became a celebrated architect in his own right. In 1928, Wright Jr. designed this Mayan Revival mansion for Louis Samuel, manager of silent-screen star Ramon Navarro, who later acquired the property. Other notable owners of the Los Feliz neighborhood icon include Leonard Bernstein, Diane Keaton, and Christina Ricci. A diminutive 2,690-square-feet, the three-bedroom, three-bath home is being offered for $4,295,000 by Coldwell Banker.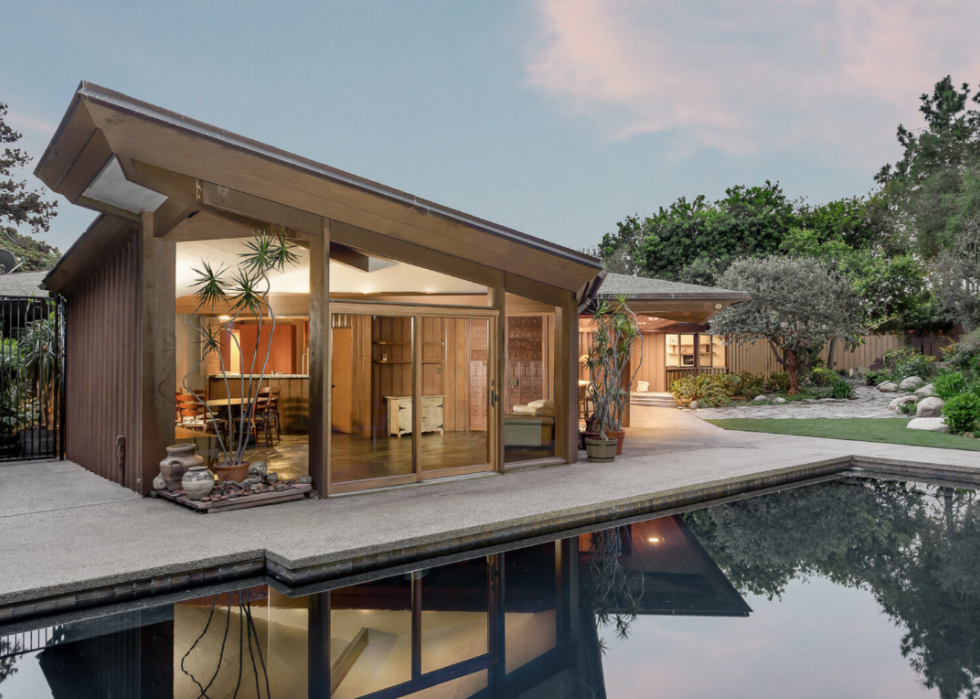 6 / 20
Courtesy of Crosby Doe Associates
The Maslon/Engelman Residence: Los Angeles, CA
- Architects: Dan Saxon Palmer and Bill Krisel
The mid-century modernist team of Dan Saxon Palmer and Bill Krisel built thousands of tract homes in the '50s and '60s, forever altering the southern California landscape. The pair, however, was also responsible for the magnificent 1951 Maslon/Engelman Residence, dictated by the principles of organic architecture established by Frank Lloyd Wright. A symphony in stone and glass, the 3,825-square-foot, four-bedroom home is currently available through Crosby Doe Associates, at an asking price of $4,650,000.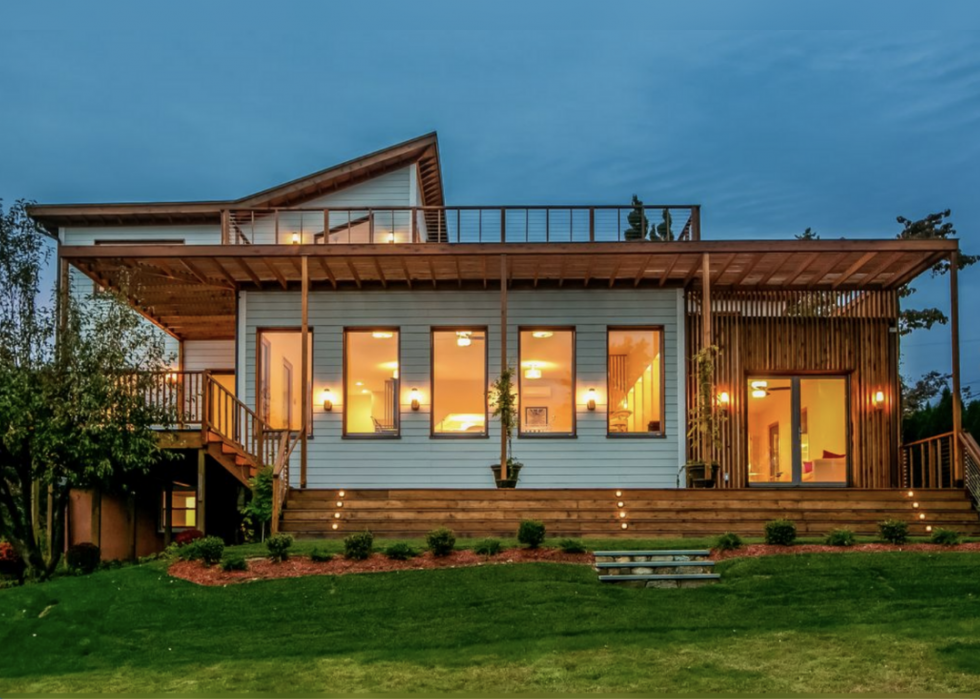 7 / 20
Courtesy of Houlihan Lawrence
505 Alda Road: Mamaroneck, NY
- Architect: Andreas Benzing
One of the few Certified Passive Homes in the U.S., 505 Alda Road offers unparalleled energy efficiency based on an innovative German approach to green living. The work of architect Andreas Benzing, vice president of the New York Passive House chapter, includes 28 rooftop solar panels and exterior walls packed with six layers of insulation. The 5,192-square-foot-home, which also boasts fabulous views of the Long Island Sound is currently on the market for $2,590,000 through Houlihan Lawrence.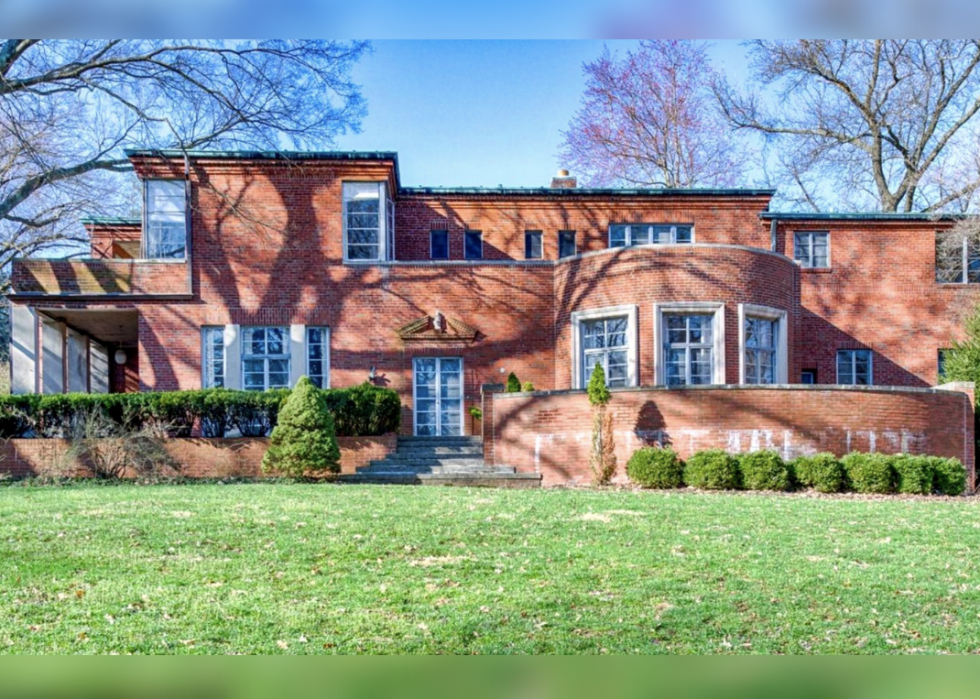 8 / 20
Courtesy of Dielmann Sotheby's International Realty
The Meyer House: Huntleigh, MO
- Architect: Charles Eames and Robert Walsh
Although better known as a furniture designer working in tandem with his wife, Alexandra "Ray" Kaiser Eames, Charles Eames spent two years at Washington University in St. Louis studying architecture. Partnering with Robert Walsh, Eames designed several notable buildings, including this rambling, 1936 brick estate in Huntleigh, Mo. The six-bedroom, 7,272-square-foot home also includes custom Eames designed furnishings and is available for the first time in over 55 years through Dielmann Sotheby's International Realty, priced at $1.9 million.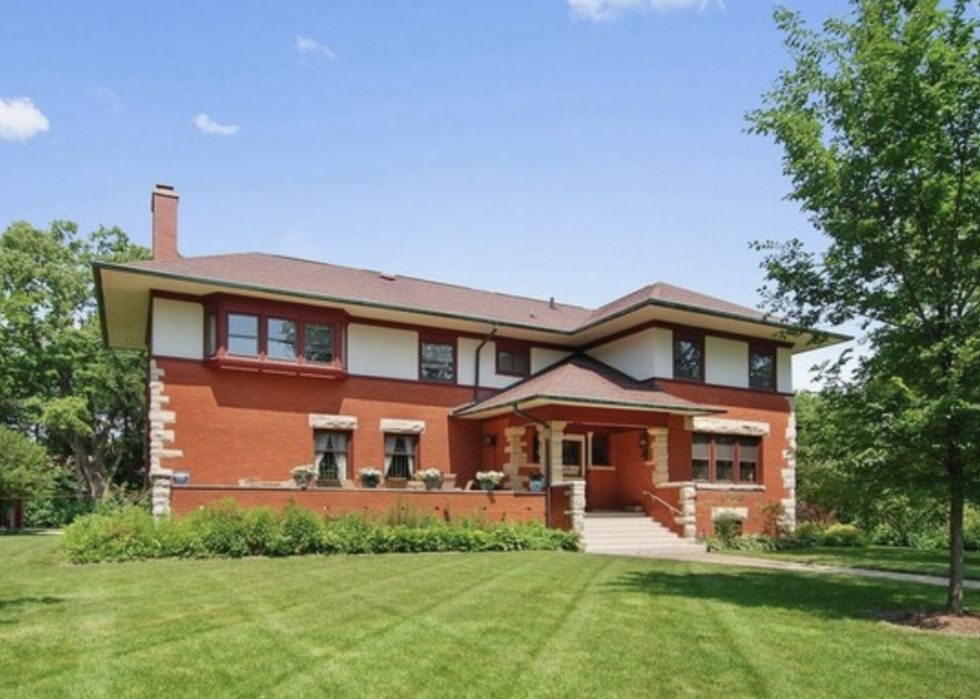 9 / 20
130 Nuttall Road: Riverside, IL
- Architect: Joseph Lyman Silsbee
With its horizontal massing and overhanging eaves, 130 Nuttall Road is evocative of the work of Frank Lloyd Wright, which is hardly coincidental, given that the 1899 house was designed by Wright's mentor, Aesthetic Movement architect Joseph Lyman Silsbee. The 3,968-square-foot, four-bedroom, is listed for $1,250,000 with @properties.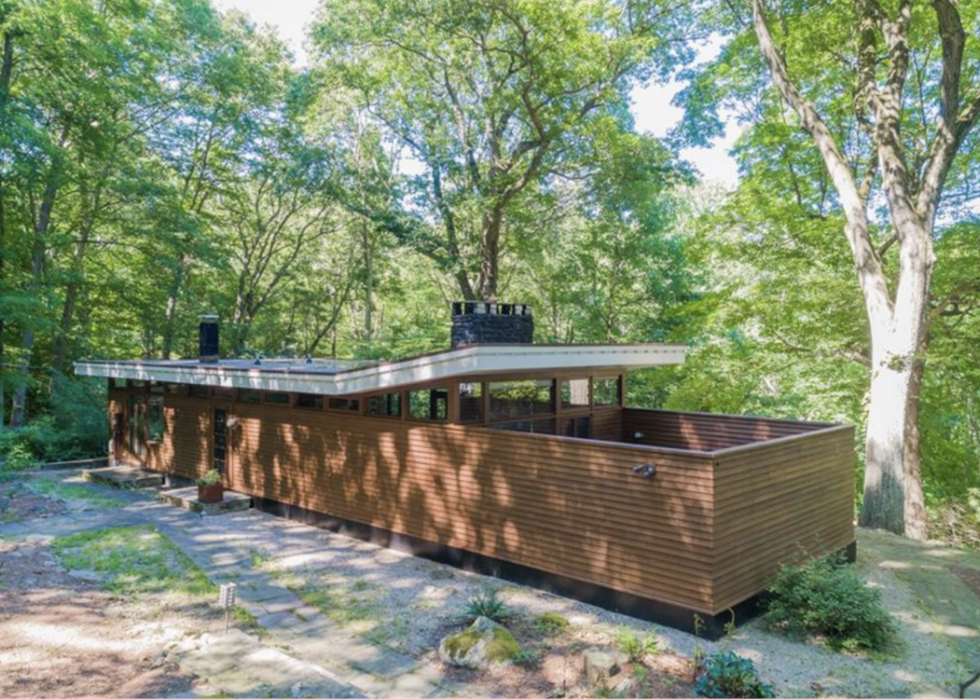 10 / 20
AustinEternoPhotography.com
18 Curiosity Lane: Weston, CT
- Architect: Joseph Salerno
Built in 1949, this his mid-century modern beauty designed by Yale University School of Architecture graduate Joseph Salerno served as the architect's family home as well as his personal studio. Just 864 square feet, the diminutive two-bedroom, cypress-and-glass home is currently offered at $525,000 by Susan Leone Habitats.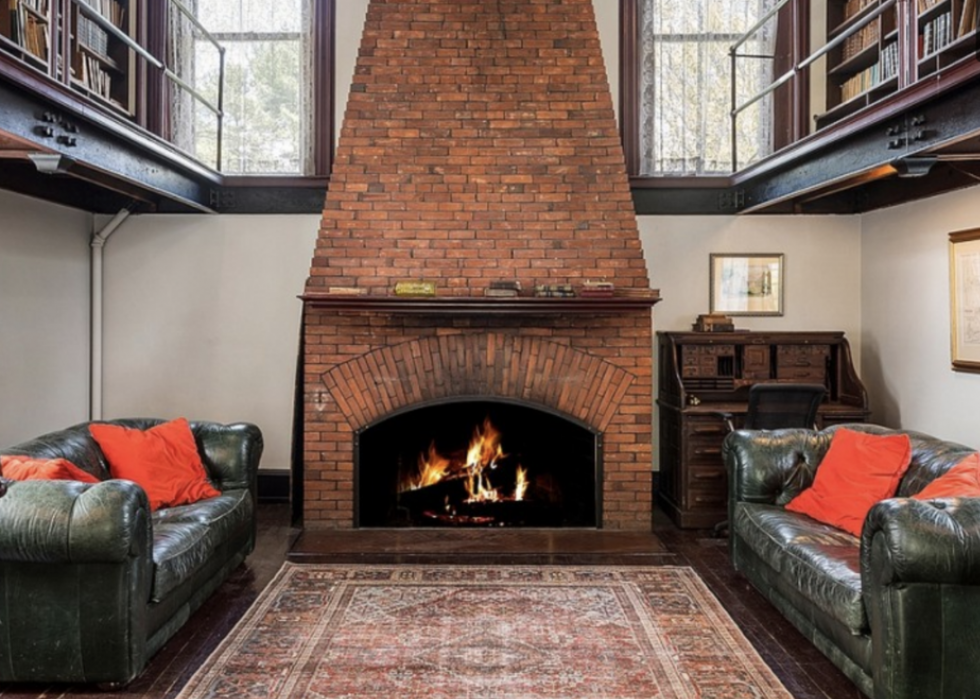 11 / 20
Courtesy of Coldwell Banker Preferred
Lindenshade: Wallingford, PA
- Architect: Frank Furness
Lindenshade, tucked away in a leafy suburb of Philadelphia, features a magnificent two-story library designed by flamboyant Victorian architect Frank Furness in 1903 for his brother, noted Shakespeare scholar Horace Howard Furness. The 3,000 square-foot, three-bedroom, four-bath home is on the market for $599,900 with Coldwell Banker Preferred.
12 / 20
John Rados Residence: Palos Verdes, CA
- Architect: Richard Neutra
Available for the first time since it was commissioned in the 1950s, this 5,185-square-foot modernist masterpiece is currently being offered by Deasy Penner Podley for an asking price of $4,100,000. Designed by Viennese-born architect Richard Neutra, the home features marine-grade wood beams, stone siding, and floor-to-ceiling windows. Commissioned by John Rados, the house overlooks the Port of Los Angeles, where the Hungarian shipbuilder's business was based.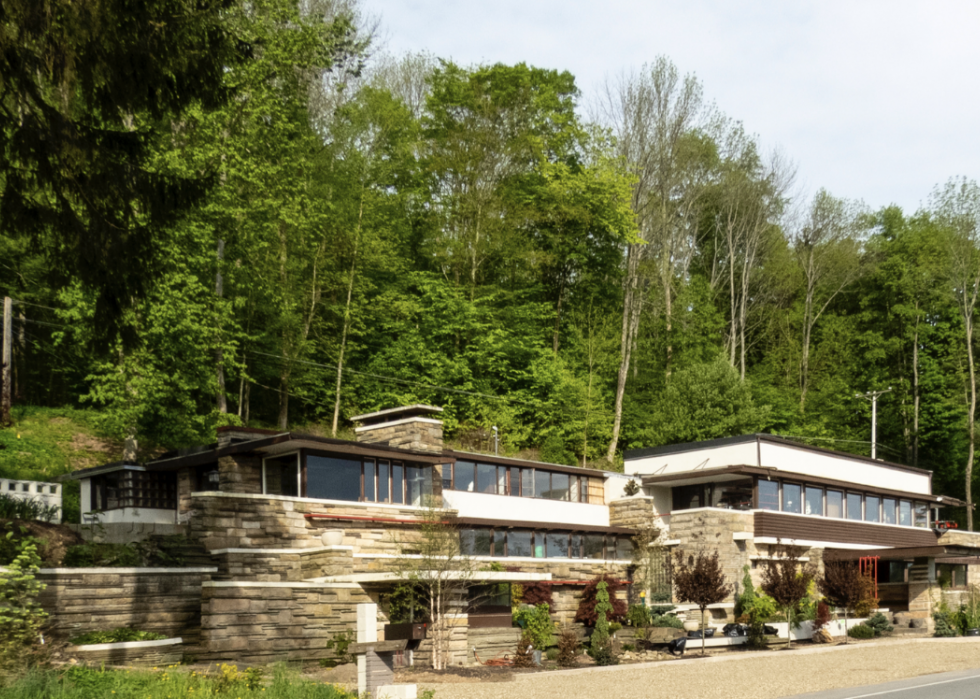 13 / 20
Lynn Hall: Port Allegany, PA
- Architects: Walter J. Hall and Ray Viner Hall
With its expansive flat roof and horizontal massing, Lynn Hall, brought to life in the early 1930s, anticipates the Prairie School of architecture championed by Frank Lloyd Wright—a significant observation given that self-taught architect Walter J. Hall built Wright's masterpiece, Falling Water, just a few years later. Designed in conjunction with his son, classically trained architect Ray Viner Hall, Lynn Hall was originally conceived of as a restaurant. The 9,000-square-foot structure is now a private home with arresting view of the Allegheny River, visible through a remarkable 65-foot stretch of glass. Recently restored, the historic home is going for $799,999.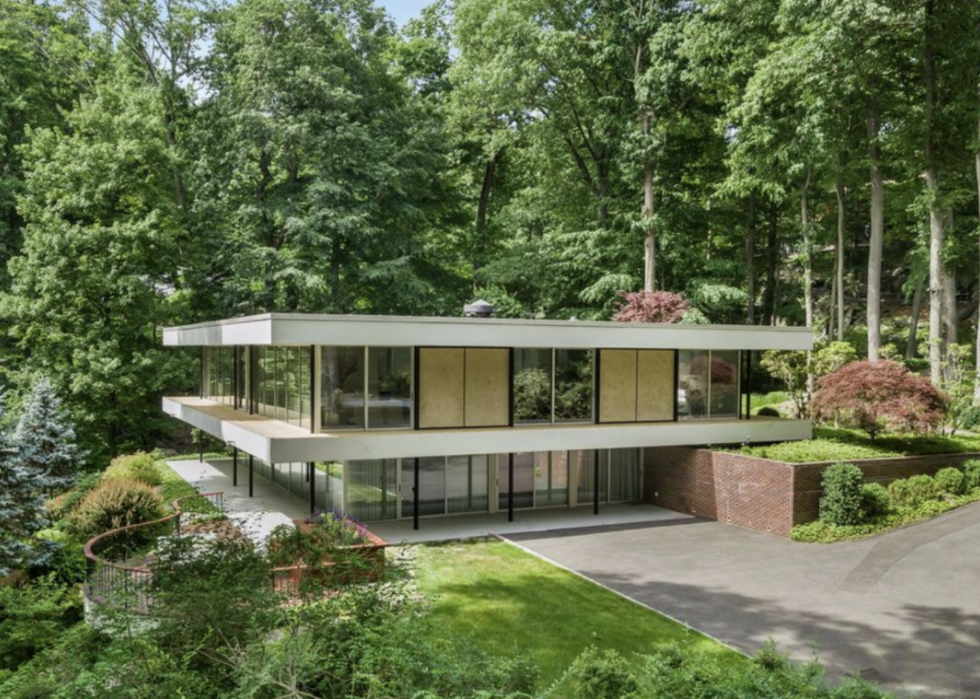 14 / 20
Courtesy of Houlihan Lawrence
9 Tallwoods Road: Armonk, NY
- Architect: Arthur Witthoefft
This mint-condition mid-century modern features walls of glass and a wrap-around porch, seamlessly integrating interior and exterior spaces. Designed by Arthur Witthoefft of Skidmore, Owings, and Merrill, the house was constructed as the architect's personal residence and won an AIA Honor award in 1962. The sprawling five-bedroom, 5,039-square-foot residence underwent a meticulous and comprehensive renovation in 2011 and is now available for purchase through Houlihan Lawrence, with an ask of $1,995,000.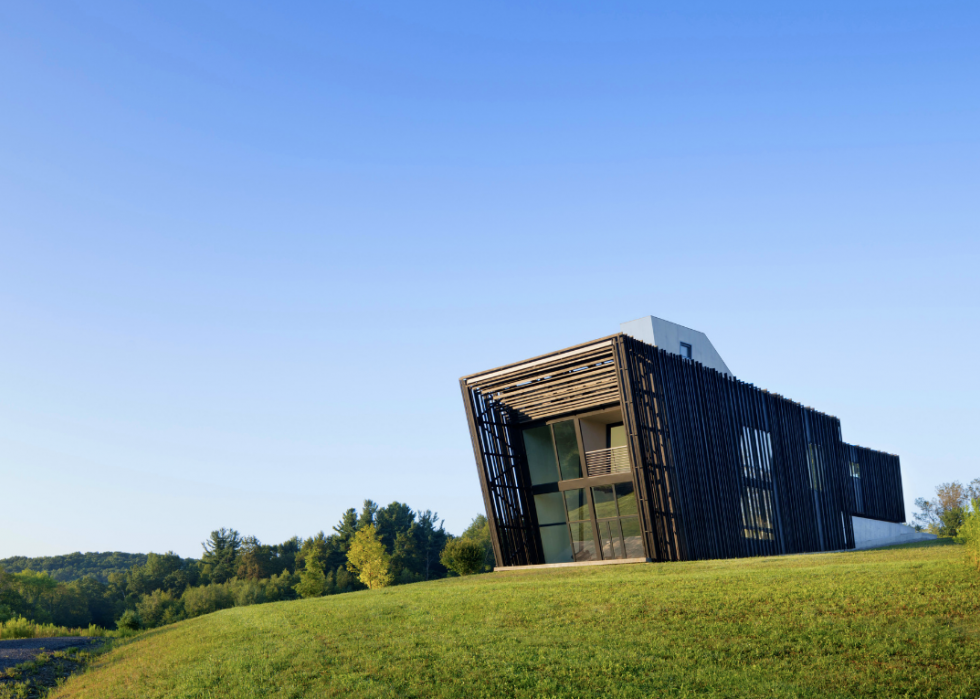 15 / 20
Michael Moran/OTTO Archive
The Sleeve House: Taghkanic, NY
- Architect: Adam Dayem
Designed by the award-winning Brooklyn-based architect Adam Dayem, the gravity-defying Sleeve House was constructed in 2017 on 15 open acres in upstate New York. Built from sustainably sourced Accoya wood charred to suggest the weathered planks of an antique barn, the home enjoys uninterrupted views of the surrounding landscape through floor-to-ceiling windows positioned at opposite ends of the structure. This three-bedroom, two-bath, 2,500-square-foot stunner is currently on the market, priced at $1,900,000.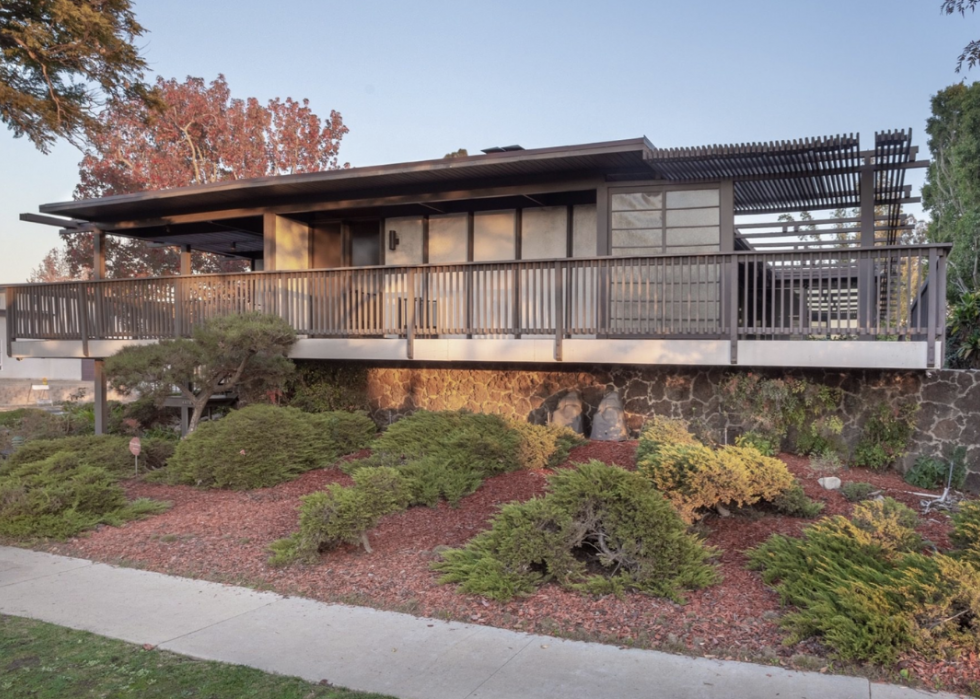 16 / 20
Yuen Residence: Los Angeles
- Architect: Charles Wong
Mid-century modern meets the Far East in the 1962 Yuen Residence, designed by architect Charles Wong for L.A. dentist George Yuen and his wife. A distinctly Japanese aesthetic is evident in the minimalist interiors, wood paneling, and sunken rock gardens. Unfortunately, Wong enthusiasts interested in purchasing the three-bedroom, 3,595-square-foot home will have to exercise patience. Listed with Deasy Penner Podley, the Yuen Residence was snapped up in mid-May 2019 for $1,758,700.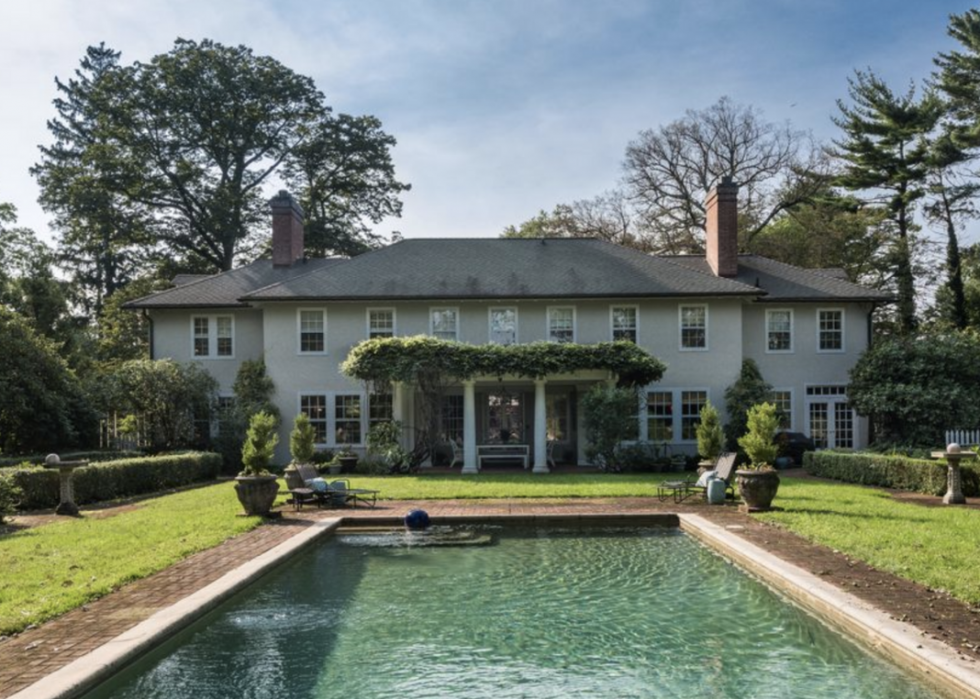 17 / 20
Courtesy of Houlihan Lawrence
179 Forest Avenue: Rye, NY
- Architect: Charles Platt
A proponent of the American Renaissance movement, Charles Platt was a self-taught architect and landscape designer whose numbered Roosevelts and Astors among his well-heeled clients. This impressive, 4,496-square-foot Classical Revival home designed by Platt in 1904 is listed with Houlihan Lawrence and is priced at $3,695,000.
18 / 20
Steel and Glass House: Palm Springs, CA
- Architect: Donald Wexler
Designed in 1998 by mid-century modern legend Donald Wexler, construction on the striking, L-shaped, post-and-beam residence was delayed until 2018. The sleek, contemporary interior is distinguished by concrete floors, a floating fireplace, and a wall of windows revealing a xeriscaped yard with saltwater pool. The 2,550-square-foot, three-bedroom home is available through The Agency and is listed at $2,435,000.
19 / 20
Courtesy of Pacific Sotheby's International Realty
The Marshall House: Rancho Santa Fe, CA
- Architect: Richard Neutra
Another design by acclaimed mid-century modern master Richard Neutra, the Marshall House was constructed in 1952, and has been substantially enlarged over the years. This fully renovated four-bedroom, 4,477-square-foot estate is listed with Pacific Sotheby's International Realty for $3,350,000.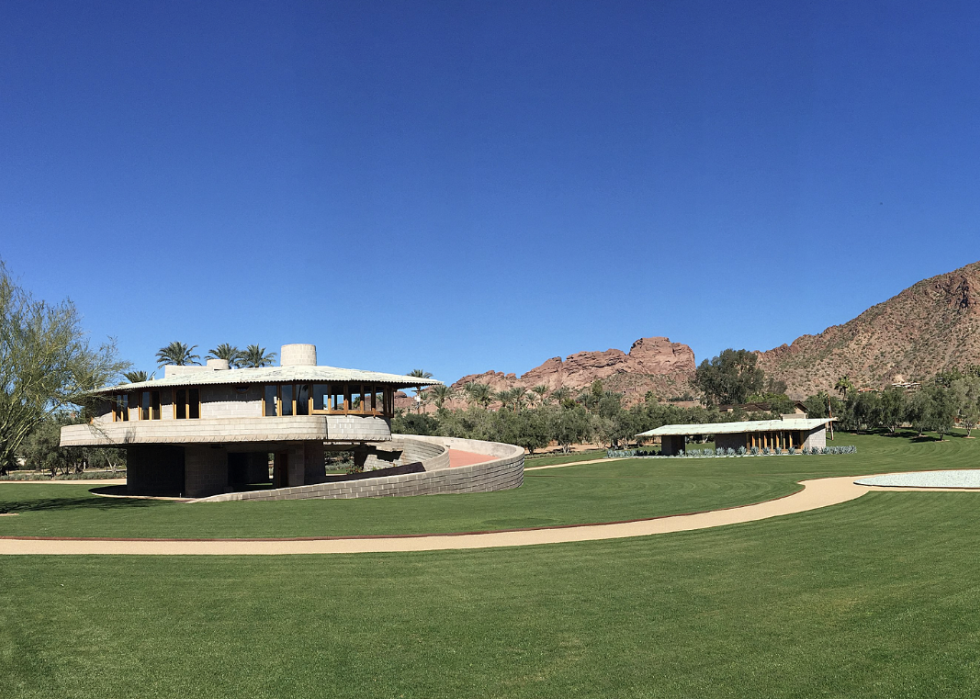 20 / 20
Outinaz // Wikimedia Commons
David and Gladys Wright House: Phoenix, AZ
- Architect: Frank Lloyd Wright
Designed in 1952 by Frank Lloyd Wright for his son, David, and daughter-in-law, Gladys, this spiraling home anticipates Wright's iconic Guggenheim Museum, which was constructed several years later. Slated for demolition in 2012, the structure was granted a reprieve and landed on the market in 2018. Listed "as is" at $9,999,999 with Russ Lyon Sotheby's International Real Estate, this unique, 2,200-square-foot, three-bedroom residence enjoys magnificent views of Camelback Mountain.