How much you must earn to buy a home in 78 US cities
How much you must earn to buy a home in 78 US cities
The stress of purchasing a new home coupled with the uncertainty of living expenses can make looking for housing an exhausting task. To avoid home-buying fatigue, buyers should check how far their salary can stretch before seriously considering signing on a home.
To assist prospective home buyers, finder.com calculated the salaries necessary to buy a home and live comfortably in 78 key cities across the US for 2020. For us, living soundly means more than just initially affording your dream home. We considered median state expenditures as well as changing rates on a 30-year mortgage.
Median house prices data was sourced from Zillow Home Value Index (ZHVI) by Zillow where Geography = City, accessed on Sept 10, 2020. Average 30-year interest rates in each state was sourced from bankrate on September 9, 2020. Mortgage repayments were calculated based on a 20% deposit on the median house prices in each city and the average 30-year interest rate in each state.
The average non-mortgage debt in the state was sourced from Debt in America by the Urban Institute, with prices in August 2020 dollars based on the Consumer Price Index (CPI).The average non-housing expenditures in the state was based on the per capita Personal Consumption Expenditures by State by the Bureau of Economic Analysis (BEA). We calculated personal consumption expenditures outside of housing by subtracting the per capita amount spent on housing and utilities, and adjusted to 2020 prices based on the CPI.
To calculate the required salary to buy a home, we calculated the income needed based on the ideal mortgage debt-to-income ratio of 28% and the monthly mortgage payments required in each city, making sure that the income needed for the ideal mortgage ratio was at least the sum of non-mortgage debt, yearly mortgage and non-housing expenditure in each city.
We looked at five new cities this year: San Antonio, Texas; Austin, Texas; Fort Worth, Texas; Louisville, Kentucky and Albuquerque, New Mexico. We did not include five cities that we looked at in previous years: Rochester, New York; Harrisburg, Pennsylvania; Scranton, Pennsylvania; Ogden, Utah and Youngstown, Ohio.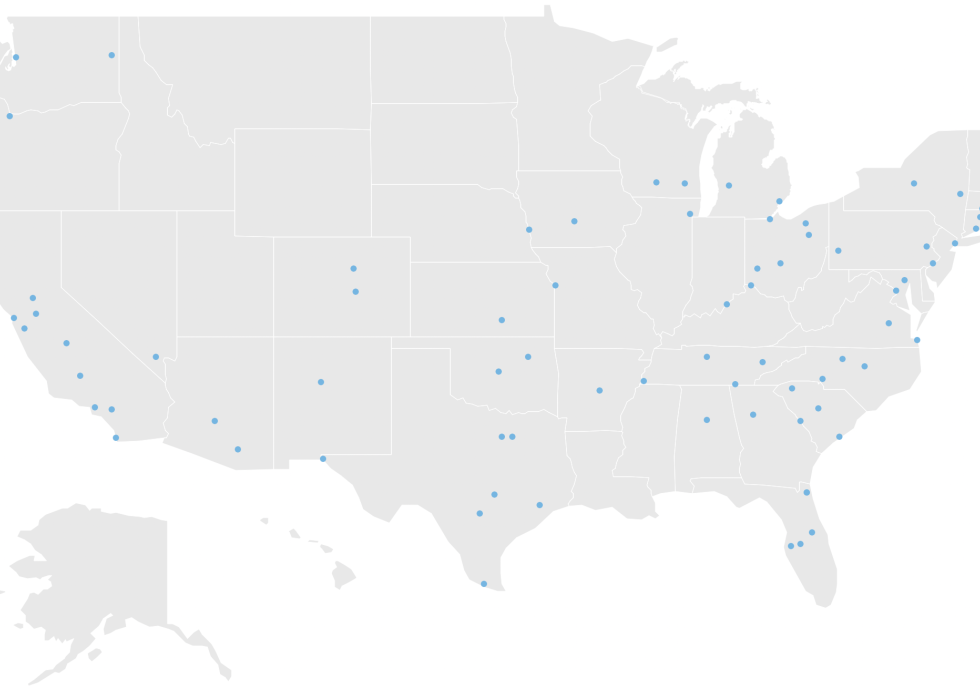 1 / 2
Required salaries to buy a home in 78 cities
Interactive map: [USFHL] [PR] Income to Buy a Home – 78 Cities September 2020
Infogram
While home values have increased over the past 12 months across the 78 cities surveyed, average home loan interest rates have fallen in 2020. Overall, the salary required to own a home and afford living expenses decreased in most cities since 2018.
San Francisco claimed the number one spot for highest required salary, with a prospective homeowner needing to make $206,760 a year to buy an average home costing $1,414,037. he required salary in San Francisco has decreased 6.84% from $221,931 in 2018.
San Jose remained in second place, with a salary of $151,619 required to purchase a home, decreasing 15.59% since 2018.
San Diego rounded out our top five, jumping from eight in 2018 to fifth in 2020, with a required salary of $101,023.
Four of the top five most expensive cities to be a homeowner were in California: San Francisco, San Jose, Los Angeles, and San Diego. And five of the top 10 cities required you to earn more than six figures just to buy a home. Aside from covering your living expenses, you need to earn above a certain threshold to even qualify for a mortgage.
Thirteen cities on the list became more expensive to buy a home in since 2018, including Philadelphia, Cincinnati, and Las Vegas. 60 cities on our list became cheaper to buy a home, mostly driven by lower interest rates.
The cheapest city analyzed was still Jackson, Mississippi, where citizens can afford to buy a home with just $44,129. The median wage in the US in 2019 was $63,179, according to the U.S. Census Bureau. Based on Finder.com research, the US median wage will only allow those earning a comparable wage to afford a home in 43 out of 78 of the cities we analyzed.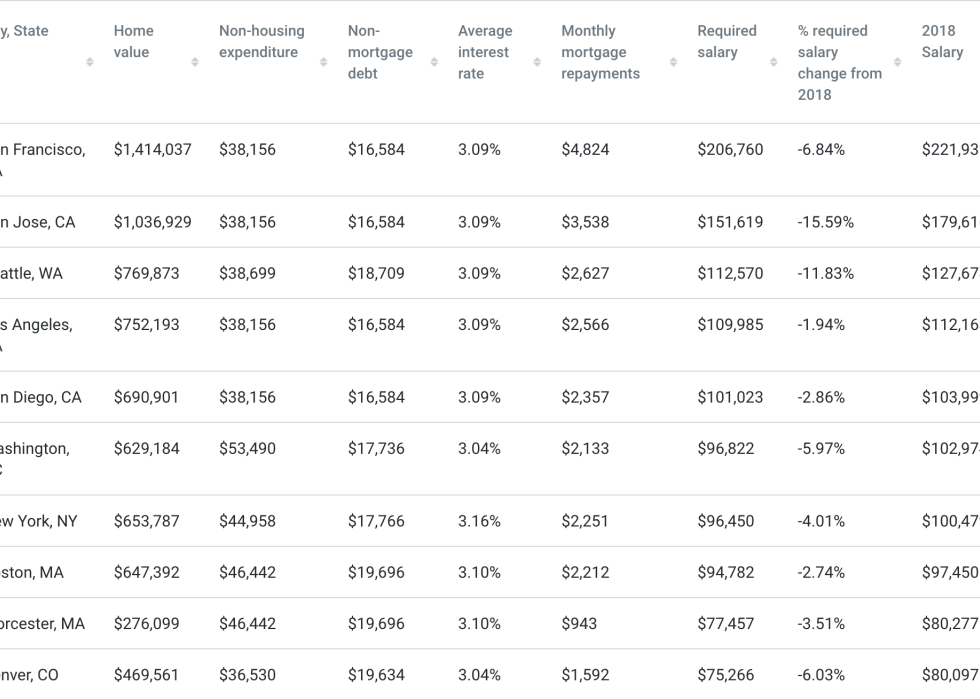 2 / 2
What does it mean to live comfortably?
Our Finder.com analysis was based on:
Median house prices
Average 30-year interest rate based on a 20% deposit
Mortgage repayments including mortgage interest
Average non-mortgage debt in the city
Average non-housing expenditures in the state
Click here for a search tool to find your home city.