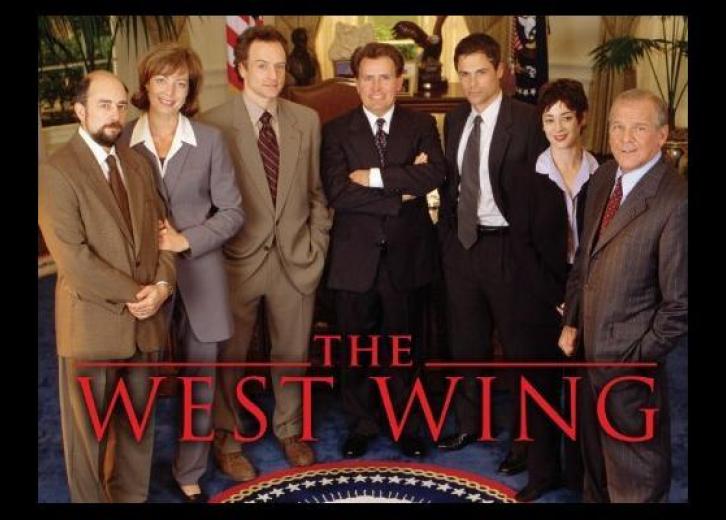 Between today's hectic political climate and rumors of a potential revival, there's simply no wrong reason to revisit NBC's "The West Wing." Created by Aaron Sorkin, the iconic show depicted life inside the White House with dramatic precision. As one might expect from a Sorkin production, the hour-long TV drama came at viewers with rapid-fire dialogue, a walk-and-talk shooting style, superb acting and plots ripped straight from the headlines. It ran from 1999 to 2006, aired 156 episodes, and racked up numerous Emmy Awards.
"The West Wing" starred Martin Sheen as President Josiah Edward "Jed" Bartlet, but the show's plot had as much to do with the president's aides and advisers as it did with POTUS himself. And while critics might have noticed a conspicuous absence of self-serving politics at play among the president and his team, it was Bartlet's — and his cabinet's — idealistic approach toward governing that in some ways made the show so popular in the first place.
Stacker ranked the top 50 episodes of "The West Wing" using statistics from IMDb. In the case of a tie, the total number of IMDb votes were used to determine the higher-ranking episode. Read on to find out which episodes were elected the winners.
Click here to find a movie to watch everyday for the month of June.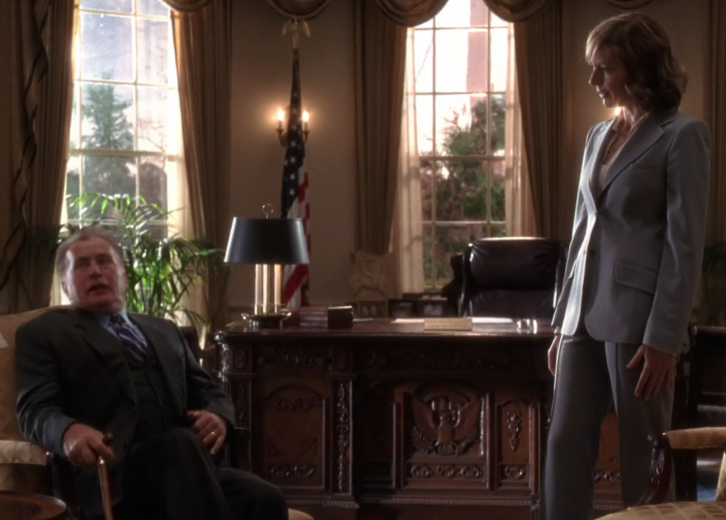 Season 6, Episode 17
IMDb rating: 8.5
IMDb votes: 324
 
Season 6 introduced Representative (and future president) Matt Santos, played by actor Jimmy Smits. In "A Good Day," Santos helped get an important stem cell bill passed by outmaneuvering his Republican opposition. Meanwhile, NSA Advisor Kate Harper, played by Mary McCormack, ran damage control after a hunting accident at the Canadian border threatened to escalate into a major international incident.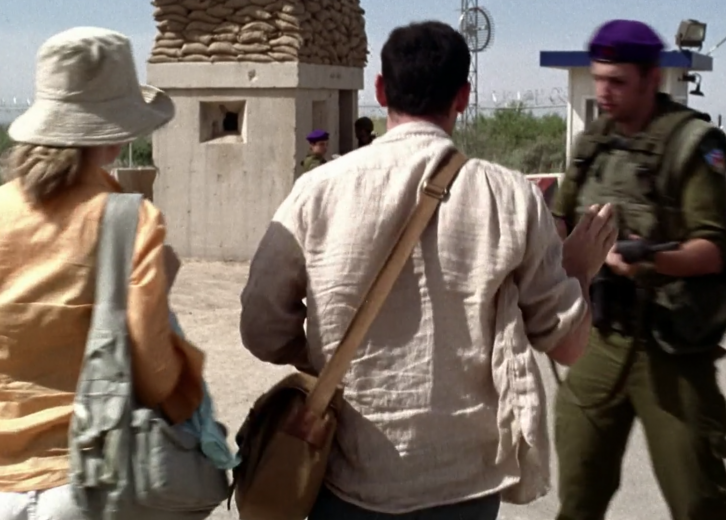 Season 5, Episode 21
IMDb rating: 8.5
IMDb votes: 346
Proving that some issues may never become irrelevant, Season 5's "Gaza" centered on instability in the Middle East, which became even more unstable after U.S. delegates were killed in an explosion. Watch the episode to find out if POTUS took retaliatory action.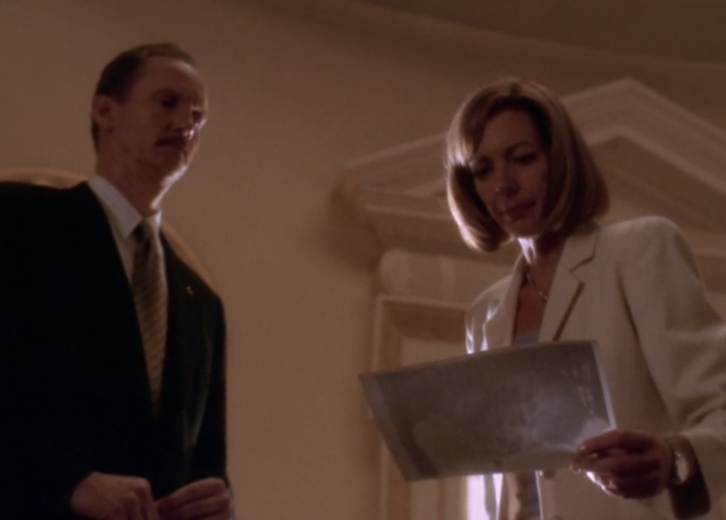 Season 3, Episode 19
IMDb rating: 8.5
IMDb votes: 386

One of the most memorable characters in "The West Wing" is C.J. Cregg, played by Allison Janney. In Season 3's "Enemies Foreign and Domestic," C.J. found herself receiving death threats after making disparaging remarks about Saudi Arabia in the previous episode. Meanwhile, POTUS prepared to attend an upcoming summit with Russia's new president, but the meeting was put at risk when it turned out the Russians might secretly have been building a nuclear facility in Iran.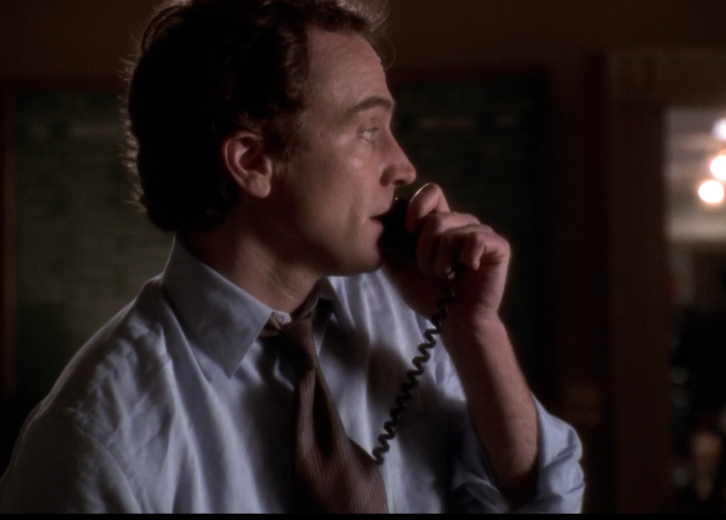 Season 3, Episode 15
IMDb rating: 8.5
IMDb votes: 400
Season 3 found President Bartlet running for re-election, and in "Hartsfield's Landing" — both the episode's title and the name of a fictional town — the first presidential primary votes came in. However, POTUS had other things to deal with as military tensions escalated between China and Taiwan. In spite of all the drama both home and abroad, President Bartlet still made time to play chess against two of his most trusted cabinet members.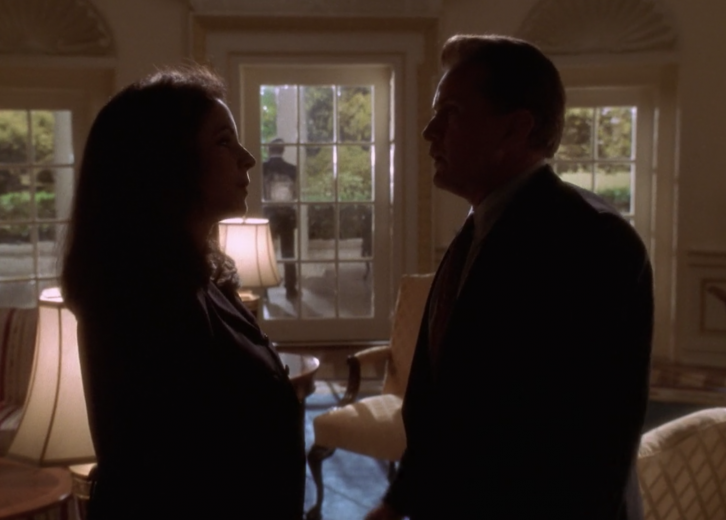 Season 2, Episode 20
IMDb rating: 8.5
IMDb votes: 437

In the Season 2 episode "The Fall's Gonna Kill You," the White House fell under friendly fire after it got out that POTUS failed to disclose his previous diagnosis of multiple sclerosis. As a result, White House counsel Oliver Babish, played by Oliver Platt, grilled cabinet members on whether or not they knew about the president's condition and for how long. Meanwhile, Chief of Staff Josh Lyman, played by Bradley Whitford, hired a pollster to gauge how the new revelation would affect public opinion of POTUS.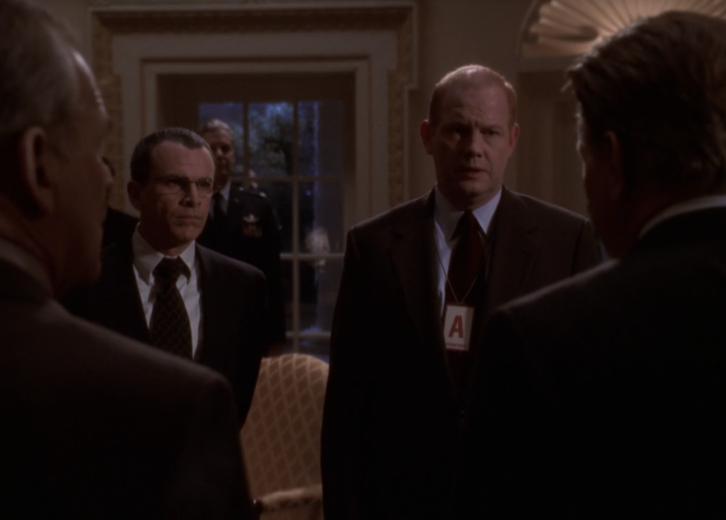 Season 2, Episode 14
IMDb rating: 8.5
IMDb votes: 444

It's not easy being POTUS, and in Season 2's "The War at Home," President Bartlet faced extreme conflict on two sides. First and foremost, he had a Colombian hostage situation to deal with — and as if that wasn't enough, he also had to explain to his wife why he decided to run for re-election after promising he would not.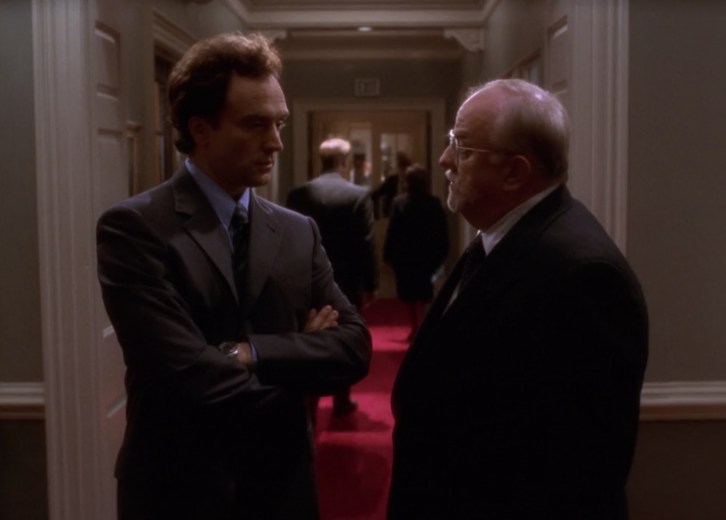 Season 2, Episode 8
IMDb rating: 8.5
IMDb votes: 517
Season 2's Thanksgiving episode, "Shibboleth," finds the White House in a typical state of frenzy with precious little time to prepare for the holiday. An incident in California in which dozens of Chinese stowaways were discovered aboard a container ship had to be dealt with, as did White House Communication Director Toby Ziegler, played by Richard Schiff, wanting a woman opposed to school prayer to be appointed to a minor education post. Of course, this was still a holiday episode, with C.J. on turkey duty while personal aide Charlie Young, played by Dulé Hill, hunted down the perfect carving knife.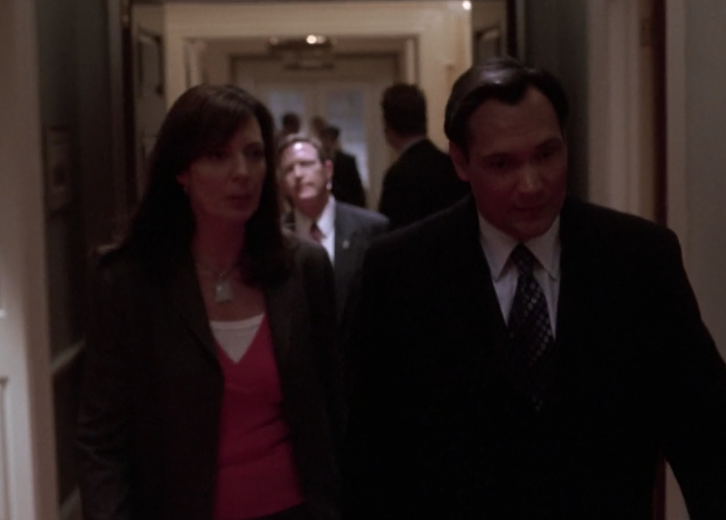 Season 7, Episode 21
IMDb rating: 8.6
IMDb votes: 299
As the show's penultimate — and possibly most transitional — episode, "Institutional Memory" found many characters pondering their futures once President-elect Matt Santos is about to take office. C.J. wondered if she would snag a role in the new administration as special counsel to the president, while Toby, who was facing prison time for leaking classified information, hoped to get pardoned by President Bartlet. All was revealed by the time the series wrapped.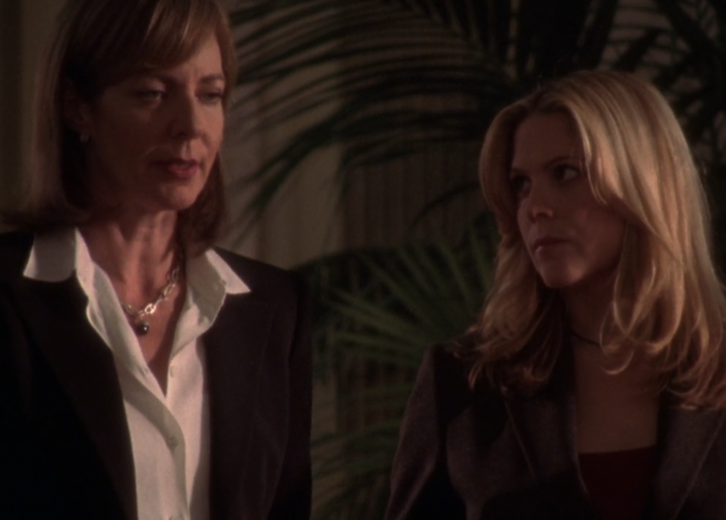 Season 6, Episode 9
IMDb rating: 8.6
IMDb votes: 304

Chaos was everywhere in the Season 6 episode "Impact Winter." First, POTUS suffered an MS attack on the eve of an important summit in China, prompting him to drop out at the last second and giving the Chinese more time to deal with North Korea. Of course, none of that would have mattered if the world ended, which seemed like a genuine possibility after NASA informed Josh of a giant asteroid heading straight toward Earth.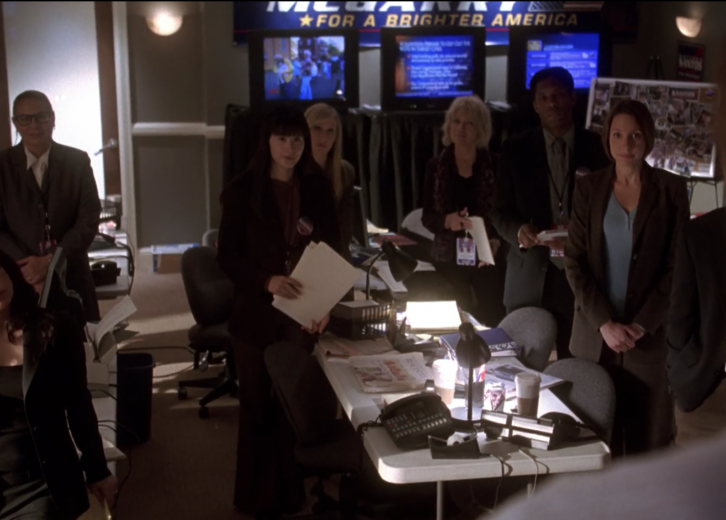 Seaon 7, Episode 16
IMDb rating: 8.6
IMDb votes: 334

Representing President Bartlet's final year in office, Season 7 of "The West Wing" frequently dealt with the election of his successor. By the end of "Election Day: Part 1," it still was not clear whether that successor would be Republican Sen. Arnold Vinick, played by Alan Alda, or Democratic Rep. Matt Santos. Those who watched the show already know who came out on top, but the race made for quite the nail-biter back in 2006.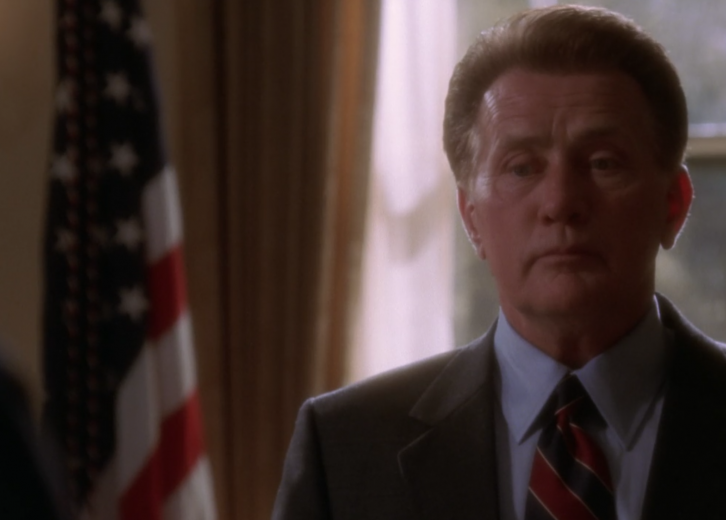 Season 4, Episode 7
IMDb rating: 8.6
IMDb votes: 384
Before Season 7's election, there was the election that took place in Seasons 3 and 4. That race saw President Bartlet seeking a second term, squaring off against Republican Gov. Robert Ritchie, played by James Brolin. On "Election Night," the votes were tallied and the results came in — spoiler alert: Bartlet wins. The episode is not all wine and roses, however, as Bartlet's battle with MS reared its head in more ways than one before the episode's conclusion, paving the way for future struggles with the debilitating disease.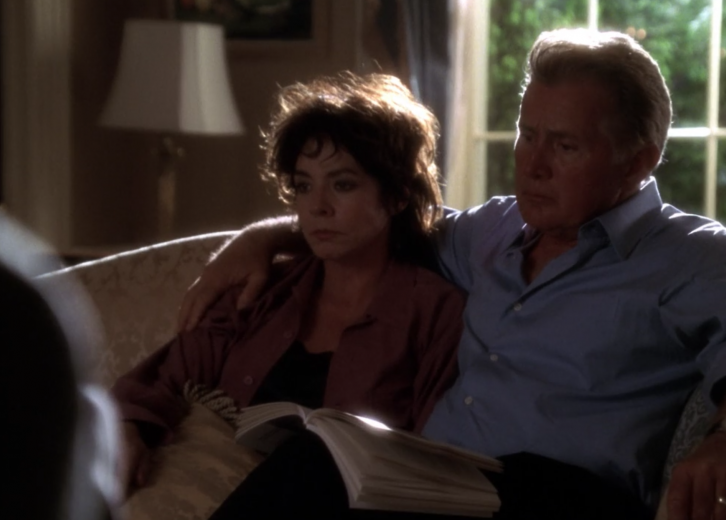 Season 5, Episode 1
IMDb rating: 8.6
IMDb votes: 414

Picking up where Season 4's cliffhanger left off, "7A WF 83429" found Bartlet taking every possible measure to rescue his kidnapped daughter Zoey, played by Elisabeth Moss. That included temporarily relinquishing his office to Republican House Speaker Glen Allen Walken, played by John Goodman. It's Walken who must decide whether to bomb Qumar — a supposed U.S. ally — for its role in the kidnapping. If he did so, it would mean certain death for Bartlet's daughter. This was the first episode written and filmed without series creator Aaron Sorkin directly on board, though Sorkin did help come up with the storyline.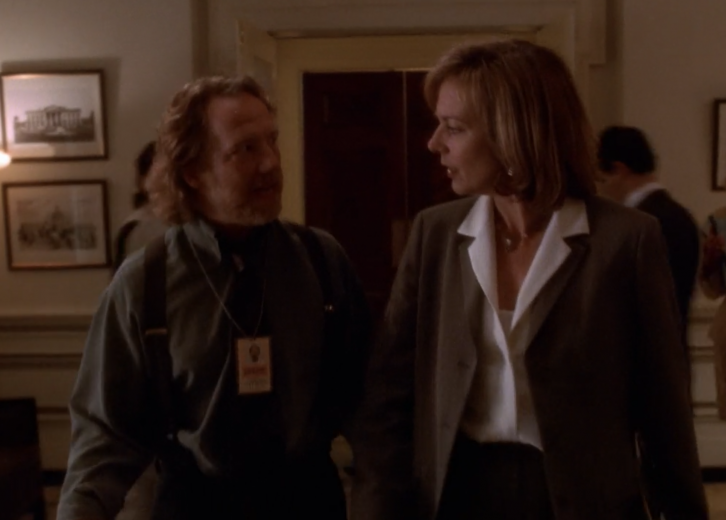 Season 1, Episode 21
IMDb rating: 8.6
IMDb votes: 508

A quote once popularized by Mark Twain sets the tone for Season 1's "Lies, Damn Lies and Statistics." In the episode, the president's cabinet members eagerly awaited the latest polling numbers, which would help them determine whether their new policy changes were having a positive effect. In accordance with its premise, the episode broke down the passage of time by the number of hours that had passed since the polling began.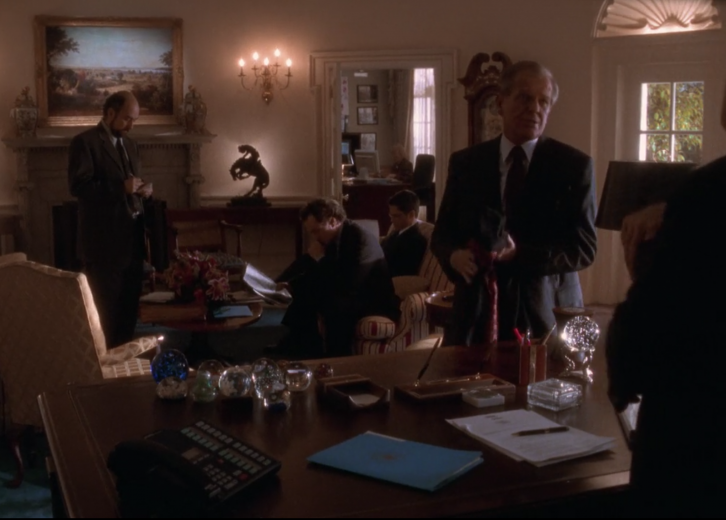 Season 1, Episode 13
IMDb rating: 8.6
IMDb votes: 518

True to its name, "Take Out the Trash Day" centers on a common practice in presidential politics in which the White House releases unfavorable stories on Friday in hopes that each one is forgotten by Monday. The episode also featured POTUS and his staff determining the best way to handle the results of a controversial study on sex education, while also dealing with the murder of a gay teenager.
Season 5, Episode 8
IMDb rating: 8.7
IMDb votes: 405

A battle of wills between POTUS and GOP Speaker of the House Jeff Haffley ensued in Season 5's "Shutdown." After the two men disagree over budget reductions, the federal government shut down for an indeterminate period of time with fiscal disaster looming as a result. The episode was based on a real government shutdown in 1995.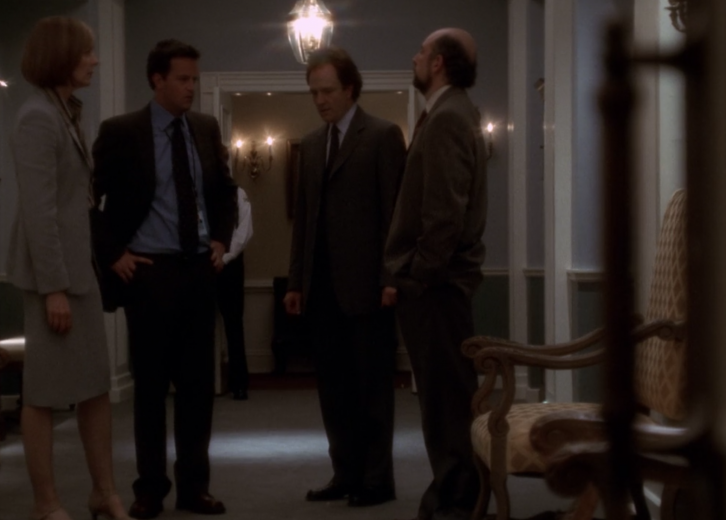 Season 4, Episode 21
IMDb rating: 8.7
IMDb votes: 405
White House assistant counsel Joe Quincy, played by Matthew Perry, had one heck of a first day on the job in Season 4's "Life on Mars." What began as a seemingly harmless press leak sent Quincy on the trail of a scandal that went all the way to the top of the political food chain. Quincy uncovering the truth could have meant the end of the vice president's career.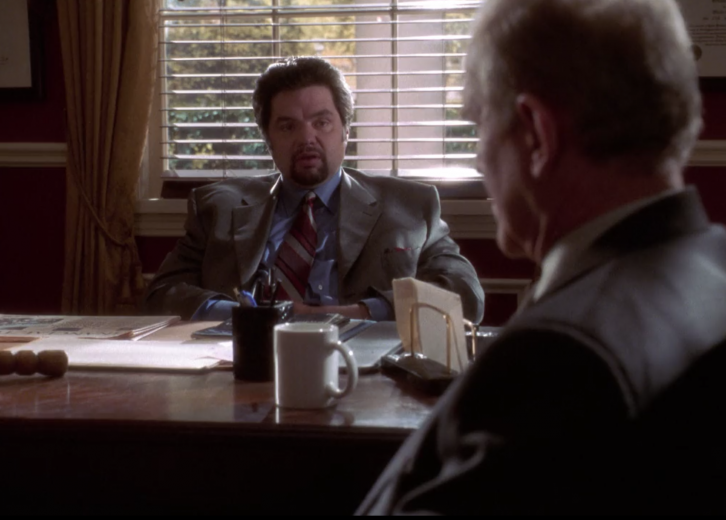 Season 2, Episode 19
IMDb rating: 8.7
IMDb votes: 459

In Season 2's "Bad Moon Rising," President Bartlet assessed the potential fallout from his failure to disclose his MS diagnosis. Meanwhile, Toby asked C.J. to find out who leaked important information regarding the president's stance on a school voucher program. Oh, and Mexico's economy was collapsing. In other words, just another day in the White House.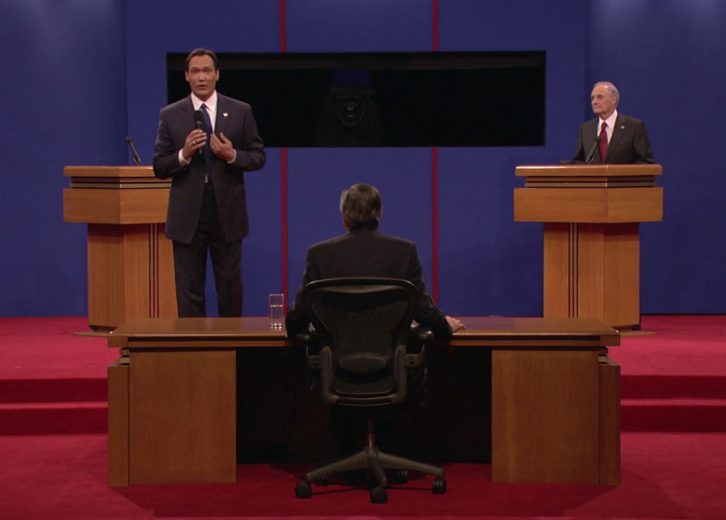 Season 7, Episode 7
IMDb rating: 8.7
IMDb votes: 460

In a first for "The West Wing," Season 7's "The Debate" was broadcast live to reflect the real-time sensibility of an actual political showdown. In the episode — which delivered a substantial ratings boost for the show — presidential candidates Santos and Vinick go head to head on various issues, with TV news veteran Forrest Sawyer moderating. It was up to viewers to decide who won the debate.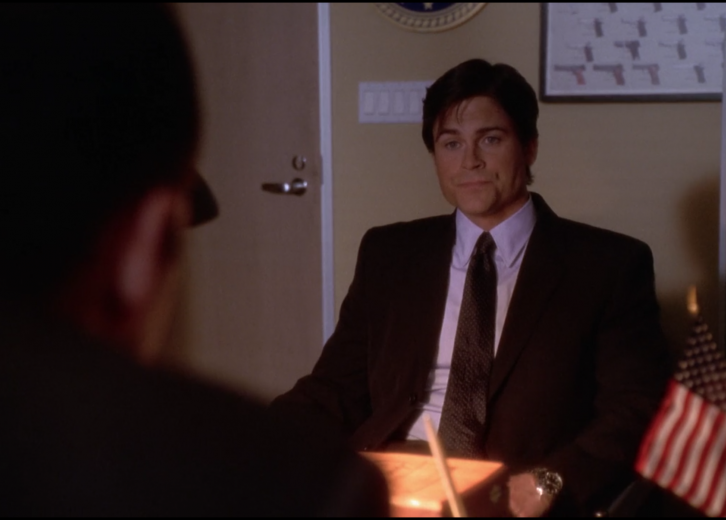 Season 2, Episode 16
IMDb rating: 8.7
IMDb votes: 517

Before quitting "The West Wing" over a reported salary dispute, actor Rob Lowe played one of the show's most important characters: Deputy White House Communications Director Sam Seaborn. In Season 2's "Somebody's Going to Emergency, Somebody's Going to Jail," Seaborn was asked by a college friend to help get a pardon for her late grandfather, who was once accused of being a Communist spy. In an effort to seek the pardon, Seaborn endured some intense showdowns with an FBI agent and NSA Director Nancy McNally, played by Anna Deavere Smith.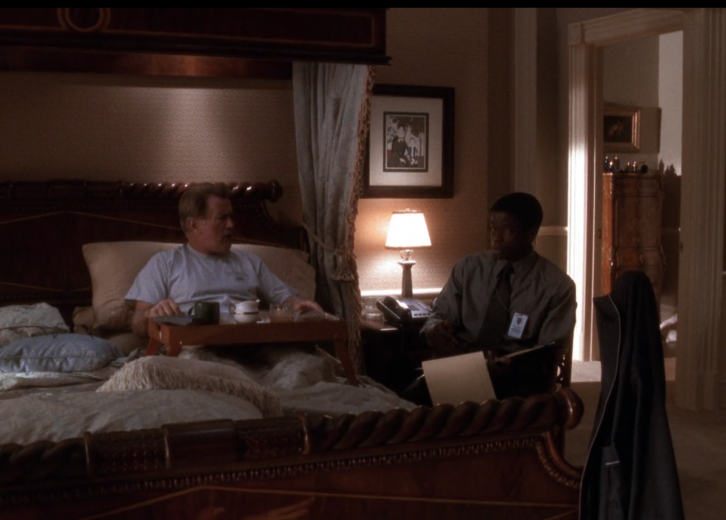 Season 1, Episode 12
IMDb rating: 8.7
IMDb votes: 535
Showing early warning signs of the conflict to come, Season 1's "He Shall, from Time to Time…" had POTUS falling ill with what First Lady Abbey Bartlet, played by Stockard Channing, claimed to be the flu. However, senior counsel Leo McGarry, played by John Spencer, suspected that the president might be hiding a much graver medical condition.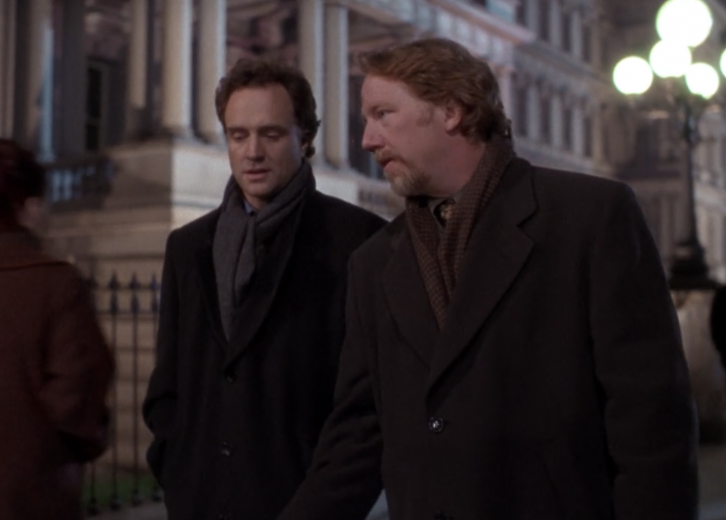 Season 1, Episode 9
IMDb rating: 8.7
IMDb votes: 562

The appointment of a Supreme Court justice is always a big deal in politics, and Season 1's "The Short List" gave President Bartlet the task of filling an empty seat. Seeing the appointment as a golden opportunity, POTUS prepared to nominate his favorite judge, with whom he shared a number of core ideologies. As it turned out, however, the two men didn't see eye to eye on all the issues, prompting Bartlet to reconsider his initial instincts.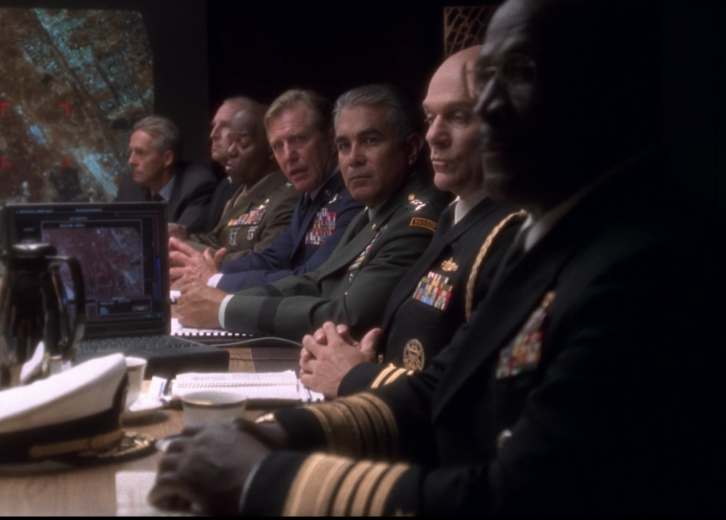 Season 1, Episode 3
IMDb rating: 8.7
IMDb votes: 668

Syria struck down a U.S. military plane on a medical mission and POTUS had to determine how to strike back in the show's third episode, "A Proportional Response." Angered by the incident, a moody POTUS considered taking extreme action, which would have inevitably escalated into something far more violent. However, McGarry talked the president down, enabling a response that is indeed proportional.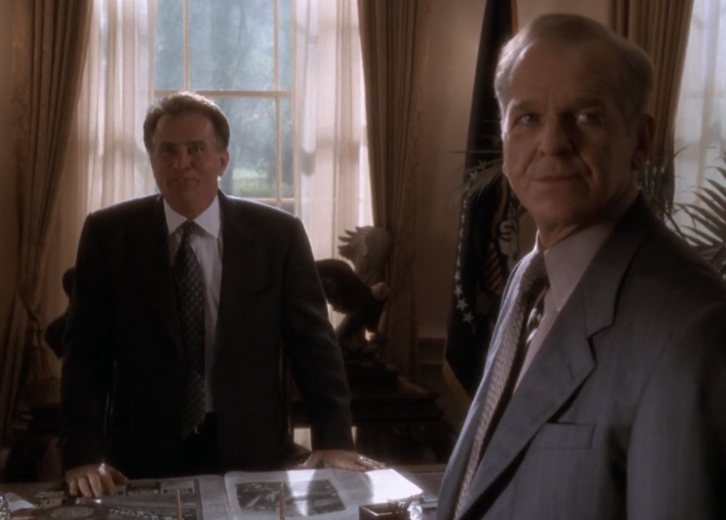 Season 1, Episode 5
IMDb rating: 8.7
IMDb votes: 692

Season 1's "The Crackpots and These Women" first introduced Big Block of Cheese Day, during which special interest groups are granted direct access to the president's staff. Among those special interest groups was one that wanted $900 million for a "wolves only" highway, which explains in part why POTUS and his staff don't exactly favor the tradition. This episode also marked the first time Zoey — the president's youngest daughter who later ends up being kidnapped — was introduced.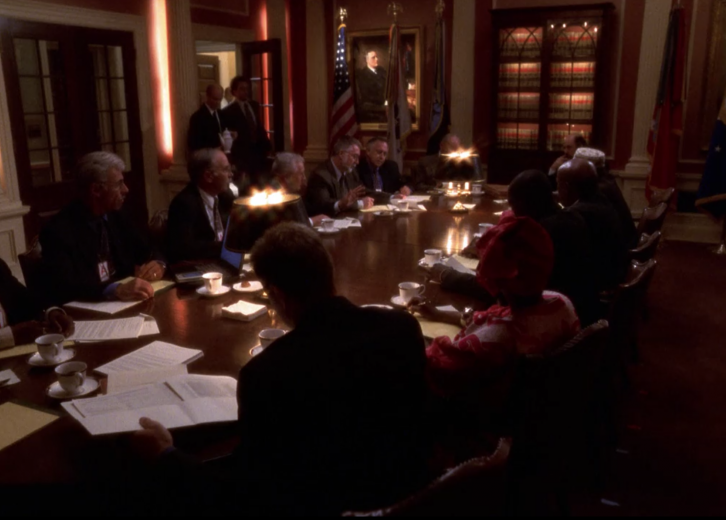 Season 2, Episode 4
IMDb rating: 8.8
IMDb votes: 520
While technically every episode of "The West Wing" could be named "In This White House," it's the fourth episode of Season 2 that gets the honors. In the episode, POTUS acted against the wishes of his staff when he hired a feisty Republican commentator. Meanwhile, Josh and Toby had to mediate a conference between U.S. pharmaceutical companies and an African president dealing with an AIDS crisis.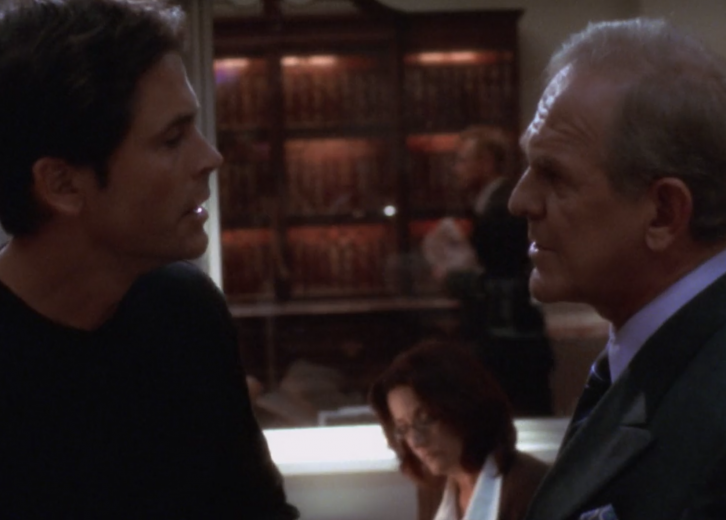 Season 4, Episode 1
IMDb rating: 8.8
IMDb votes: 540

President Bartlet appeared on the re-election campaign trail in "20 Hours in America: Part 1." After returning to the White House following a speech in Indiana, he had no shortage of problems waiting for him, including a domestic terrorist attack and accusations of his involvement in the assassination of a Qumari defense minister. Left behind in Indiana were Toby, Josh, and Josh's senior assistant Donna Moss, played by Janel Moloney. The trio set out to seek help from a farmer's daughter and a young campaign volunteer as they journeyed across the state, bickering like elitists along the way.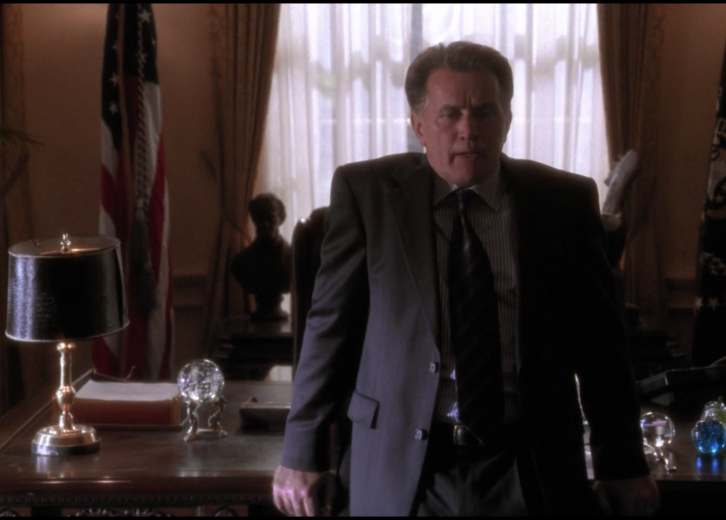 Season 1, Episode 6
IMDb rating: 8.8
IMDb votes: 649

In "Mr. Willis of Ohio," viewers were introduced to a social studies teacher who became an unlikely politician by filling his late wife's congressional seat. When asked to reconsider his vote on a commerce bill that would impact the U.S. Census, it was Mr. Willis' experiences as a teacher that eventually prompted him to do something unheard of in Washington: change his mind. This is one of many episodes to show how decisions made in the White House affect real American lives and vice versa.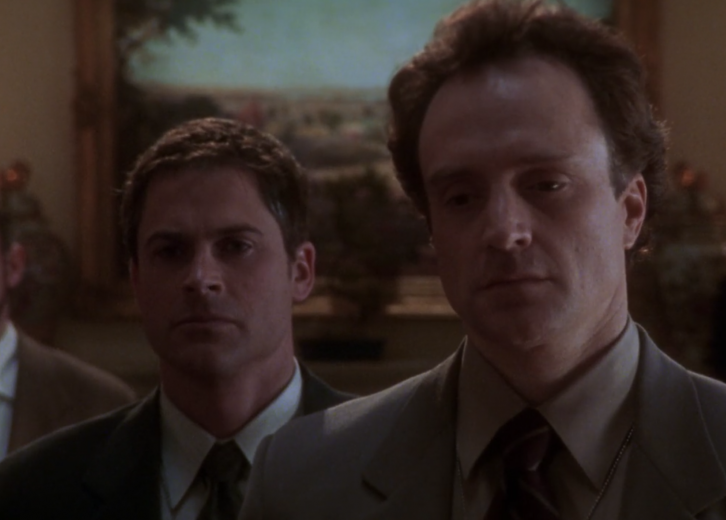 Season 1, Episode 1
IMDb rating: 8.8
IMDb votes: 962

Kicking off "The West Wing" in spectacular style was its pilot episode, which aired on Sept. 22, 1999. In the episode, the president's staffers were introduced as they ran crisis management after POTUS was injured in a cycling accident. Already present was Aaron Sorkin's breakneck pacing and dialogue that would become fixtures in the show, if not its main selling points.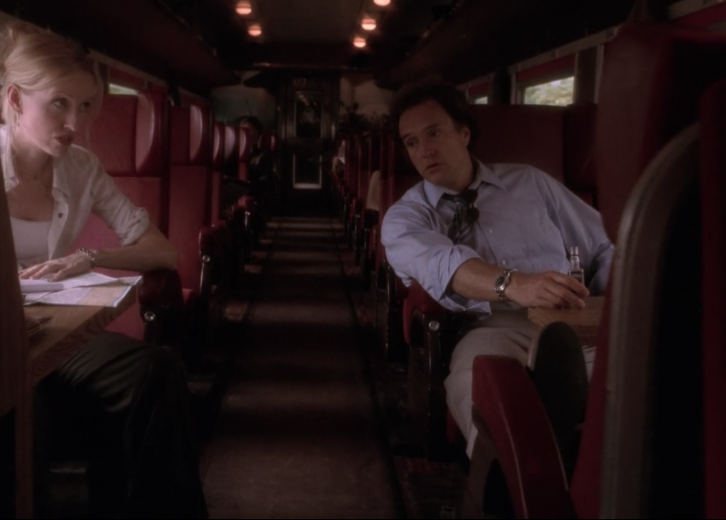 Season 4, Episode 2
IMDb rating: 8.9
IMDb votes: 322

In "20 Hours in America: Part II"," Toby, Josh, and Donna continued their trek home after being left behind in Indiana, discussing campaign strategy along the way. Filling Josh's shoes in his absence was Sam Seaborn, who finds himself surprisingly overwhelmed with his new responsibilities. Meanwhile, POTUS had a full plate as always, dealing with an angry Qumari government and then a domestic bombing that killed a number of Americans.
Season 6, Episode 22
IMDb rating: 8.9
IMDb votes: 363

The Season 6 episode "2162 Votes" centered on the Democratic National Convention, where three contenders vied to fill President Bartlet's shoes. Santos ended up taking home the ticket, but you already knew that. In the same episode, POTUS had to decide whether to risk national security by deploying a top secret defense shuttle in order to save some astronauts who would otherwise die.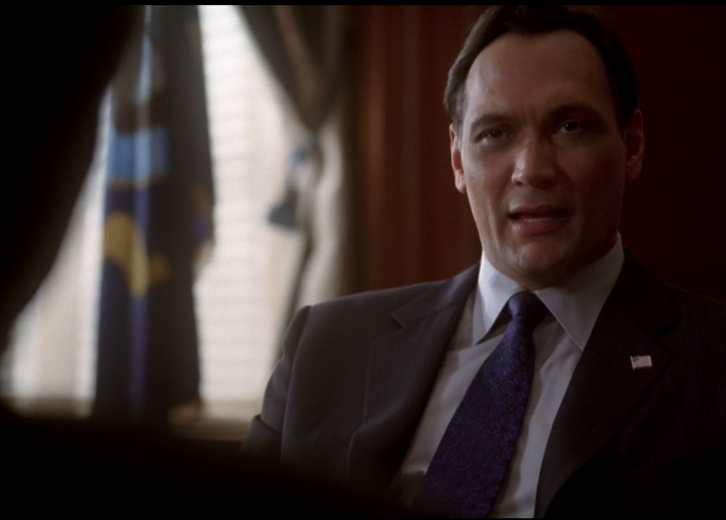 Season 7, Episode 18
IMDb rating: 8.9
IMDb votes: 417

With the series finale looming, Season 7's "Requiem" dealt with remembrance, solidarity, and change as POTUS and his staff mourned the death of McGarry while Santos prepared to become the next president. In keeping with its communal vibe, the episode gathered everyone from the main cast both past and present, with the exception of three characters: Sam Seaborn, Kate Harper, and Mandy Hampton.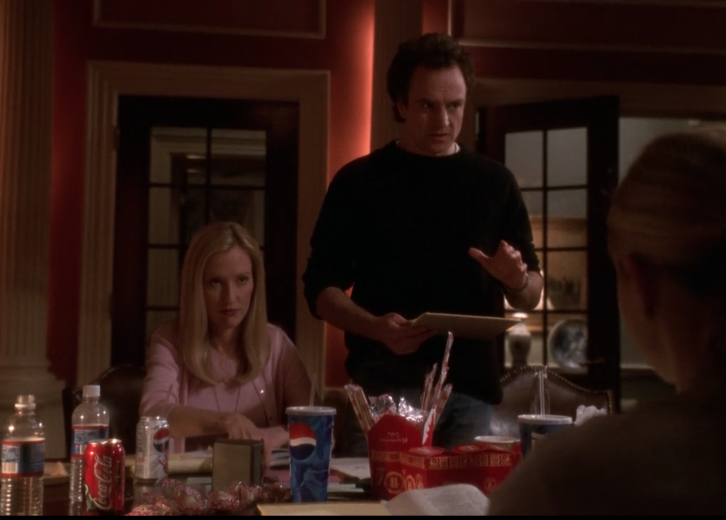 Season 2, Episode 18
IMDb rating: 8.9
IMDb votes: 517

It may have been POTUS who had MS on "The West Wing," but in "17 People," mere knowledge of the condition spread like a disease. Specifically, Toby finally discovered the truth, which prompted him, Leo, and POTUS to try to figure out whether the 17 people who know can go to jail for information disclosure. Still in the dark are Sam, Josh, Donna, and the rest of the staff, who instead worked on punching up an upcoming speech.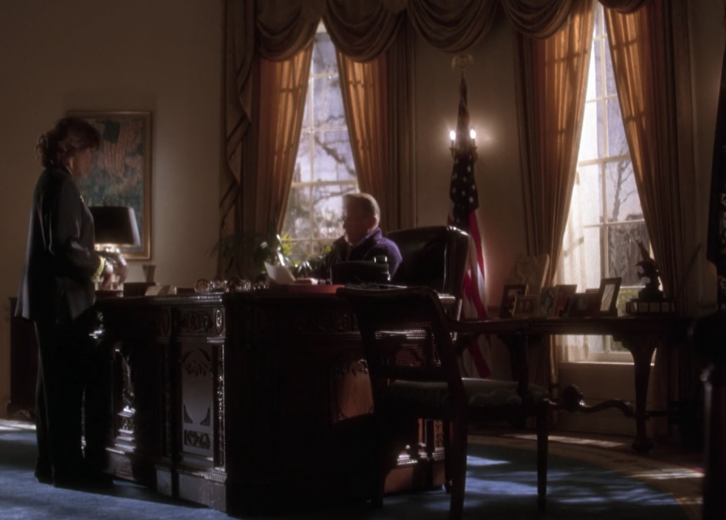 Season 7, Episode 22
IMDb rating: 8.9
IMDb votes: 531

The final episode of "The West Wing" found Bartlet taking one last stroll through the White House as he and his staff reflected upon all that they've achieved. Emphasizing the transitive nature of politics, the episode ended with President Santos' new staff coming in while President Bartlet's staff exited. Look for a cameo from series creator Aaron Sorkin, who appeared as one of the guests at President Santos' inauguration.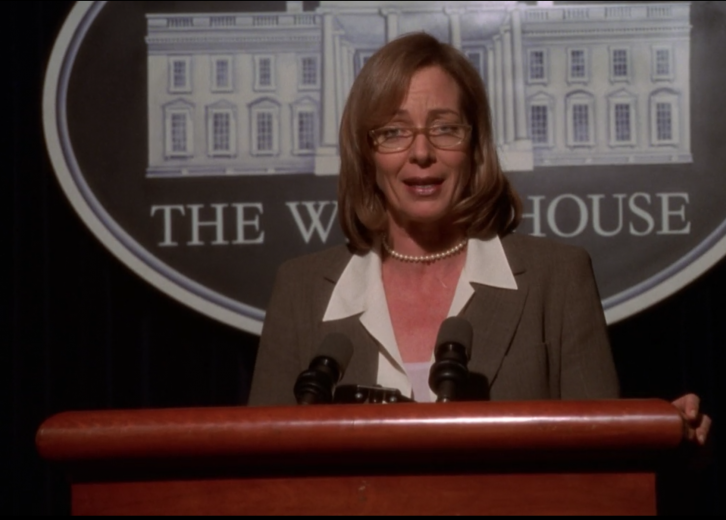 Season 2, Episode 17
IMDb rating: 8.9
IMDb votes: 566

It's politics as usual in Season 2's "The Stackhouse Filibuster," in which an old, stodgy senator tried to block President Bartlet's Family Wellness Act by refusing to yield the floor. On the somewhat pettier, but still important side of things, C.J. scrambled to locate a ceramic statue given to POTUS by a Middle Eastern monarch about to visit the White House. And on the extremely petty side of things, Josh tried to get all his work done in order to make it to Florida to visit the Mets' spring training camp.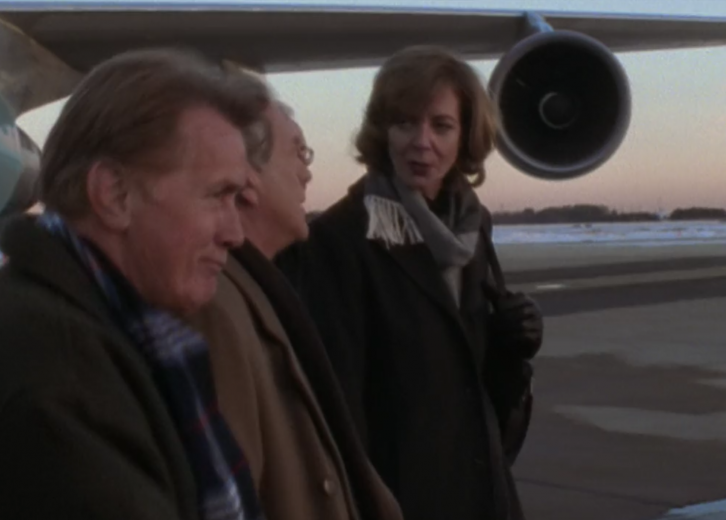 Season 1, Episode 14
IMDb rating: 8.9
IMDb votes: 673

The death penalty debate took center stage in Season 1's "Take This Sabbath Day." Kicking off the debate was Seaborn, who pleaded with POTUS to commute the death penalty for a convicted drug dealer. With the execution scheduled for Monday, President Bartlet reached out to the Pope himself over the weekend. This one goes down to the wire.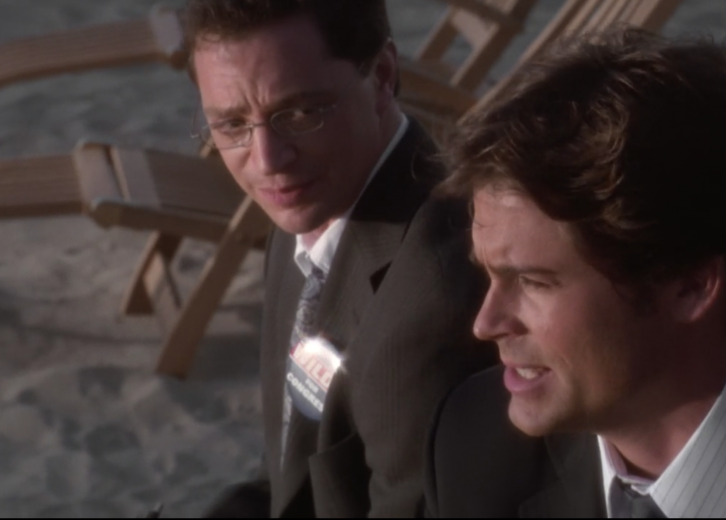 Season 4, Episode 6
IMDb rating: 9
IMDb votes: 461
Nothing captures the competitive nature of politics quite like an intense debate, and Season 4's "Game On" saw President Bartlet seeking re-election and squaring off against Gov. Robert Ritchie. Rather than hide his supposed elitism, Bartlet used it to his advantage, taking Richie to task on issues like education, taxes, and states' rights. Back at the White House, Leo and attorney Jordon Kendall, played by Joanna Gleason, mediated the ongoing conflict between Israel and Qumar while simultaneously exploring a romantic treaty of their own.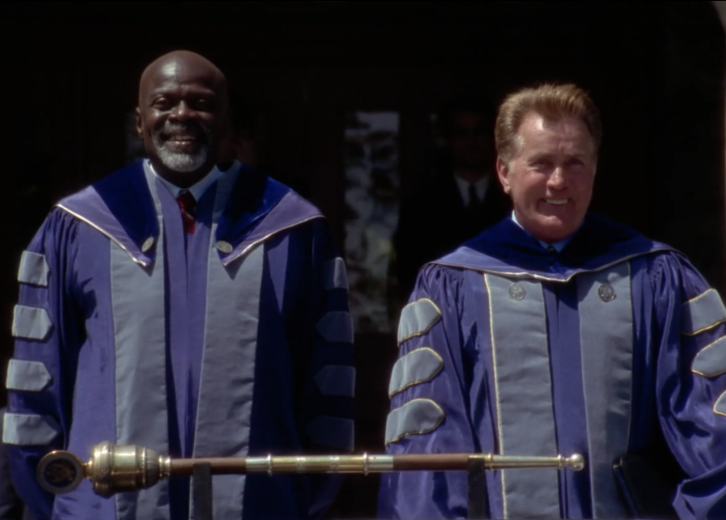 Season 4, Episode 22
IMDb rating: 9
IMDb votes: 499

One of "The West Wing's" most memorable episodes, "Commencement," found the country on edge after it was revealed that five wanted terrorists last seen on the West Coast had fallen off the government's radar. As the hunt for the terrorists went on, POTUS prepared to deliver a commencement speech at Zoey's graduation. Things took a turn for the worse when Zoey went missing at the end of the episode, with nothing to show for her absence but a discarded panic button and a dead Secret Service agent.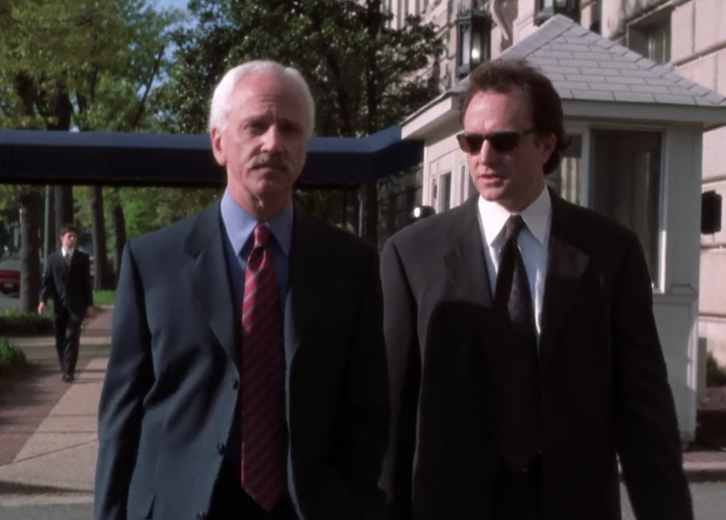 Season 2, Episode 21
IMDb rating: 9
IMDb votes: 538

It was a bad day for the White House in Season 2's "18th and Potomac." The episode opened with POTUS and his staff preparing to reveal to the world that Bartlet had MS, despite the fact that polling numbers indicated such a move would be disastrous. In the midst of this crisis, POTUS had to decide whether to grant sanctuary to a newly elected Haitian president whose own country had turned against him. Capping off the episode was a dramatic car crash that took the life of Dolores Landingham.
Season 1, Episode 19
IMDb rating: 9
IMDb votes: 598

POTUS and his staff struggled to accomplish their goals in Season 1's "Let Bartlet Be Bartlet." Adding fuel to the fire of aggravation was a memo being passed around Washington that highlighted Bartlet's weaknesses in scathing fashion. It was up to C.J. to track the memo down before a local reporter published its contents.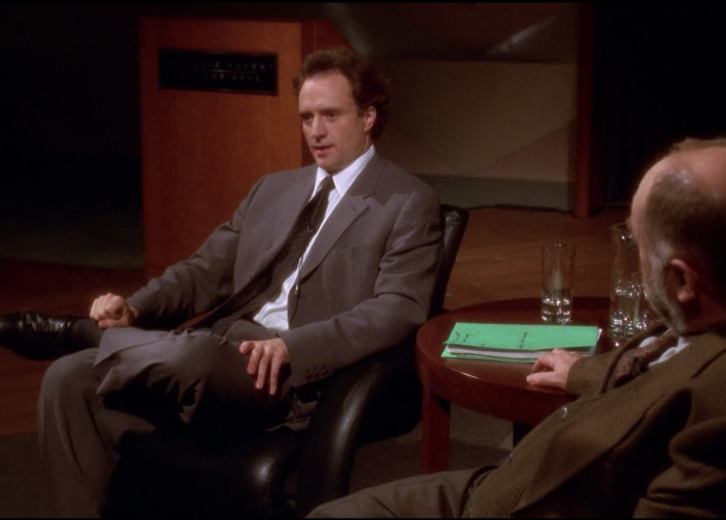 Season 1, Episode 15
IMDb rating: 9
IMDb votes: 649

It's storytime on Season 1's "Celestial Navigation," which centers on Josh recounting his previous week's exploits to a Georgetown college class. As he regaled his young audience with tales of disastrous press briefings and other misadventures, Sam and Toby headed to Connecticut to spring Bartlet's choice for Supreme Court justice from jail, hoping to sweep the arrest under the rug.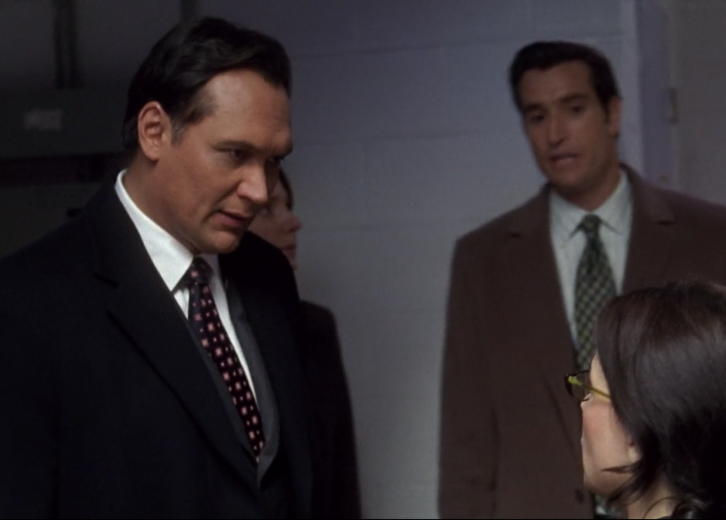 Season 7, Episode 17
IMDb rating: 9.1
IMDb votes: 384
"Election Day: Part 2" continues to tally the results between Santos and Vinick in their race for the presidency. Stopping some of that momentum in its path was the death of Vice President Leo McGarry. By the end of the episode, Santos claimed victory, but it was a bittersweet victory at best, given Leo's passing.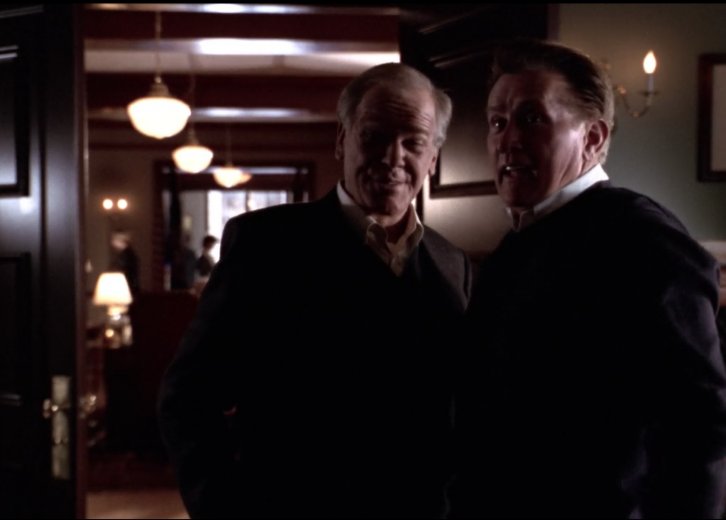 Season 3, Episode 10
IMDb rating: 9.1
IMDb votes: 542

As any fan of "The West Wing" is likely to know, Aaron Sorkin penned the majority of the hit show's most popular episodes, so much so that nine of the top 10 episodes are from the first four seasons, when Sorkin was on board. Coming in at #10 is Season 3's "Bartlet for America," a Christmas episode that didn't necessarily revel in the holiday spirit, though it did retain the show's pervasive sense of optimism. Most of the episode centered on Leo as he testified before Congress about the administration's failure to disclose the president's MS, with the testimony punctuated by flashbacks of when Leo decided to help Bartlet run for office. Meanwhile, POTUS dealt with a rash of church burnings.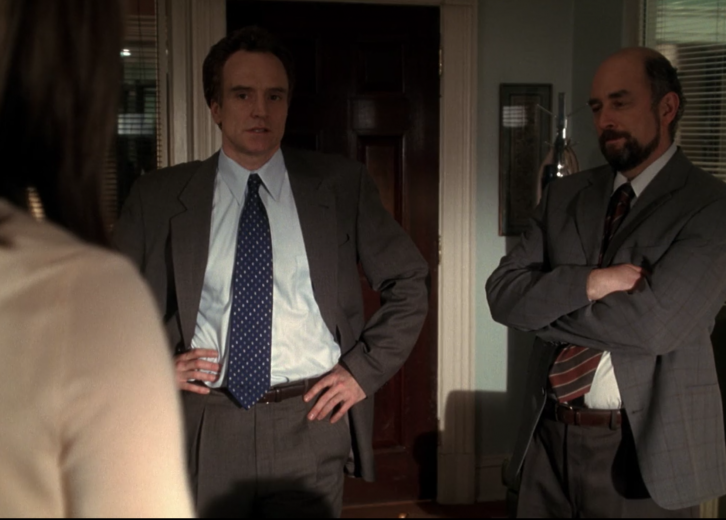 Season 5, Episode 17
IMDb rating: 9.1
IMDb votes: 580

Season 5's "The Supremes" was the sole top 10 episode not written during the Sorkin era, though it nevertheless emanates his signature style. Featuring a premise as timely today as it was 14 years ago, the episode featured POTUS scrambling to fill a seat on the Supreme Court after a justice suddenly died. Standing in the Democratic president's way was a Republican-dominated Congress willing to do whatever necessary to appoint a conservative justice.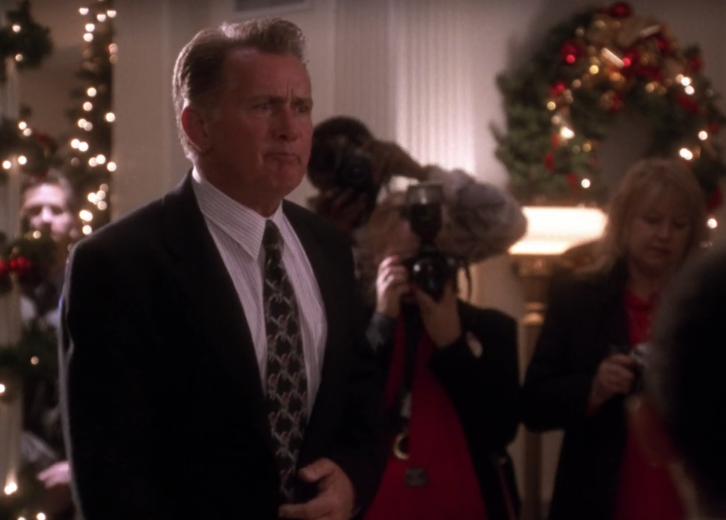 Season 1, Episode 10
IMDb rating: 9.1
IMDb votes: 871

In the Season 1 Christmas episode entitled "In Excelsis Deo," a homeless veteran is found dead on the National Mall, and Toby goes about securing the veteran a proper burial. Elsewhere, Sam and Josh asked a call girl about one of her clients, a political rival who might expose Leo's previous drug problem.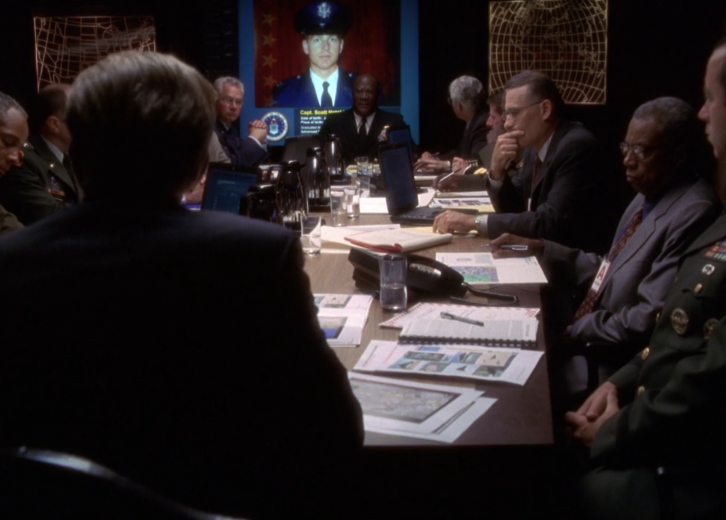 Season 1, Episode 22
IMDb rating: 9.2
IMDb votes: 658

More than just the title of a "West Wing" episode, "What Kind of Day Has It Been" was a title given by Aaron Sorkin to an episode on his previous show "Sports Night," and then again to episodes on "Studio 60 on the Sunset Strip" and "The Newsroom." Suffice to say, it's a pretty important question to Sorkin, who frequently depicts environments where a lot can happen in a single day. On the day in question in the White House, Toby's brother got trapped on a space shuttle, POTUS ordered the rescue of a stealth fighter shot down in Iraq, and shots rang out after a town hall meeting that the president attended. What a day, indeed.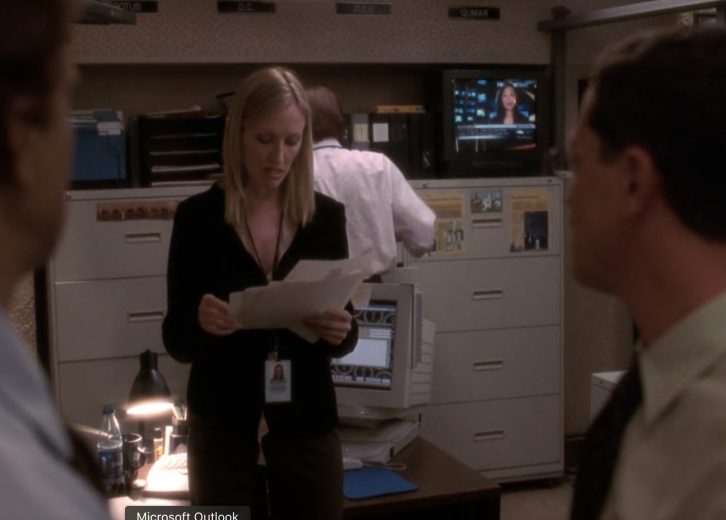 Season 4, Episode 23
IMDb rating: 9.3
IMDb votes: 528

In the Season 4 finale entitled "Twenty Five," POTUS was confronted with his worst nightmare: the kidnapping of his youngest daughter, Zoey. Realizing the conflict of interest at hand, Bartlett decided to recuse himself as leader of the free world. By the end of the episode, Speaker of the House Glen Allen Walken was sworn in as president and Zoey was nowhere to be found. This was the last episode written by Aaron Sorkin.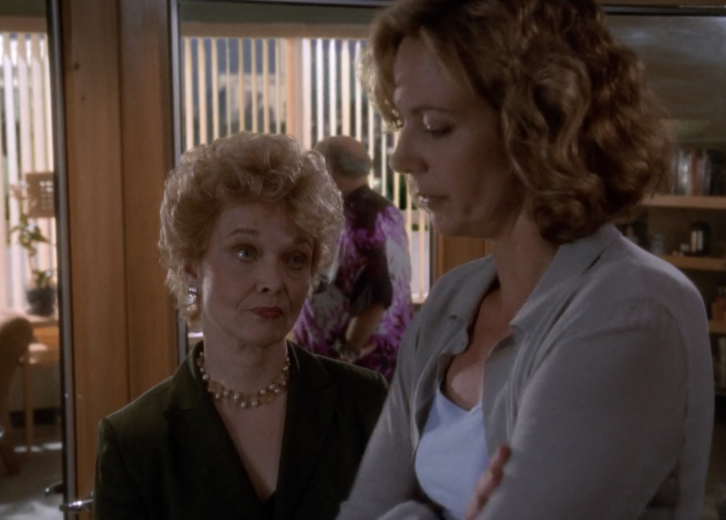 Season 2, Episode 2
IMDb rating: 9.3
IMDb votes: 729

Season 2 of "The West Wing" kicked off with a thrilling two-part episode in which POTUS was shot and then rushed to the hospital. The second half of the premiere — "In the Shadow of Two Gunmen: Part II" — found POTUS still in surgery as the manhunt for the gunman continued. Sprinkled throughout the episode are various flashbacks showing how the president and his team came together during his first campaign.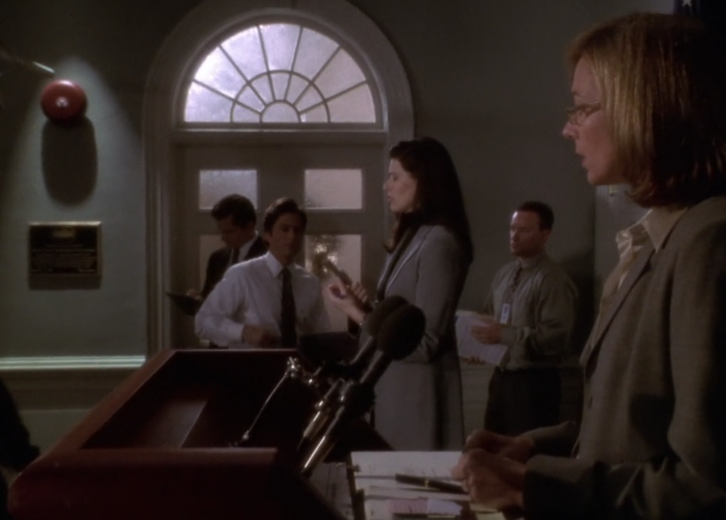 Season 2, Episode 10
IMDb rating: 9.4
IMDb votes: 945
As its title implies, the Season 2 episode "Noël" took place with the White House once again preparing for the holidays. However, Josh's behavior became increasingly erratic in this episode, leading to an explosive showdown with POTUS. Consequently, Josh was sent into therapy, where it was discovered that he was suffering from PTSD.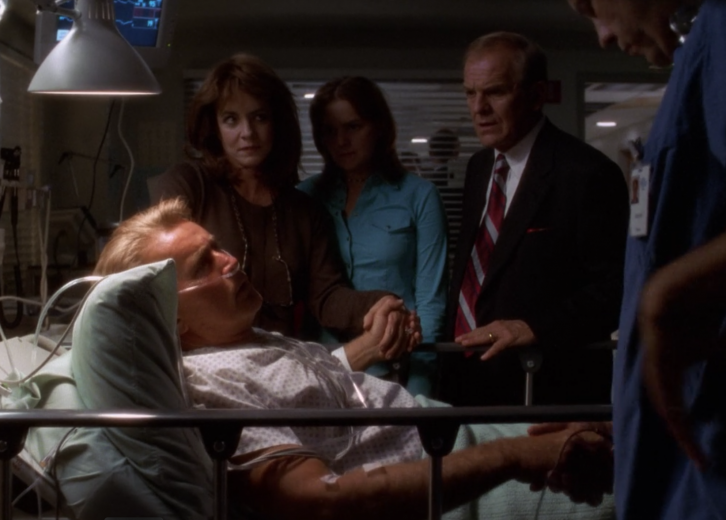 Season 2, Episode 1
IMDb rating: 9.5
IMDb votes: 872

Starting Season 2 with a bang was "In the Shadow of Two Gunmen: Part I," the first half of a two-hour premiere. In the episode, the White House descended into chaos after the president was shot, prompting various staff members to wonder if their security measures were up to snuff. As the president was rushed to the hospital for emergency surgery, the audience was shown how everyone came together via various flashbacks.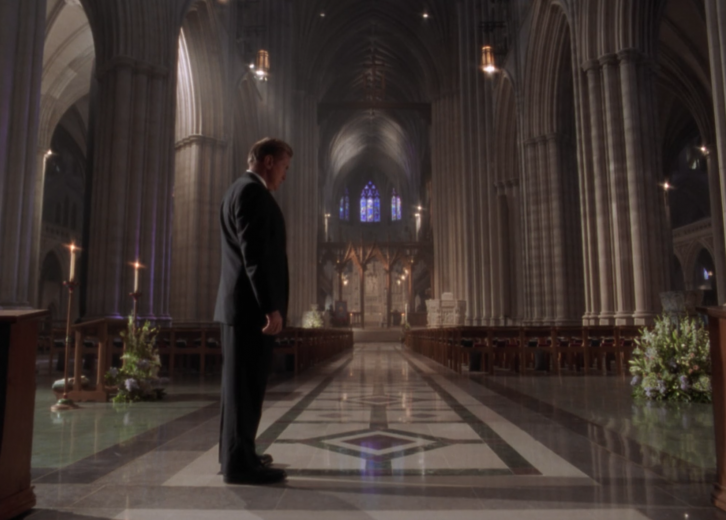 Season 2, Episode 22
IMDb rating: 9.7
IMDb votes: 1,807

With its sky-high IMDb rating of 9.7, Season 2's "Two Cathedrals" grabs the #1 spot on this list. The acclaimed episode focuses on POTUS as he was preoccupied with the sudden death of Mrs. Landingham, as well as his pending announcement to the public regarding his MS diagnosis. The other question on everyone's minds during this episode was whether Bartlet would run for reelection. Featured in the episode is a famous sequence in which POTUS stands alone in a cathedral, questioning the almighty's mysterious ways.