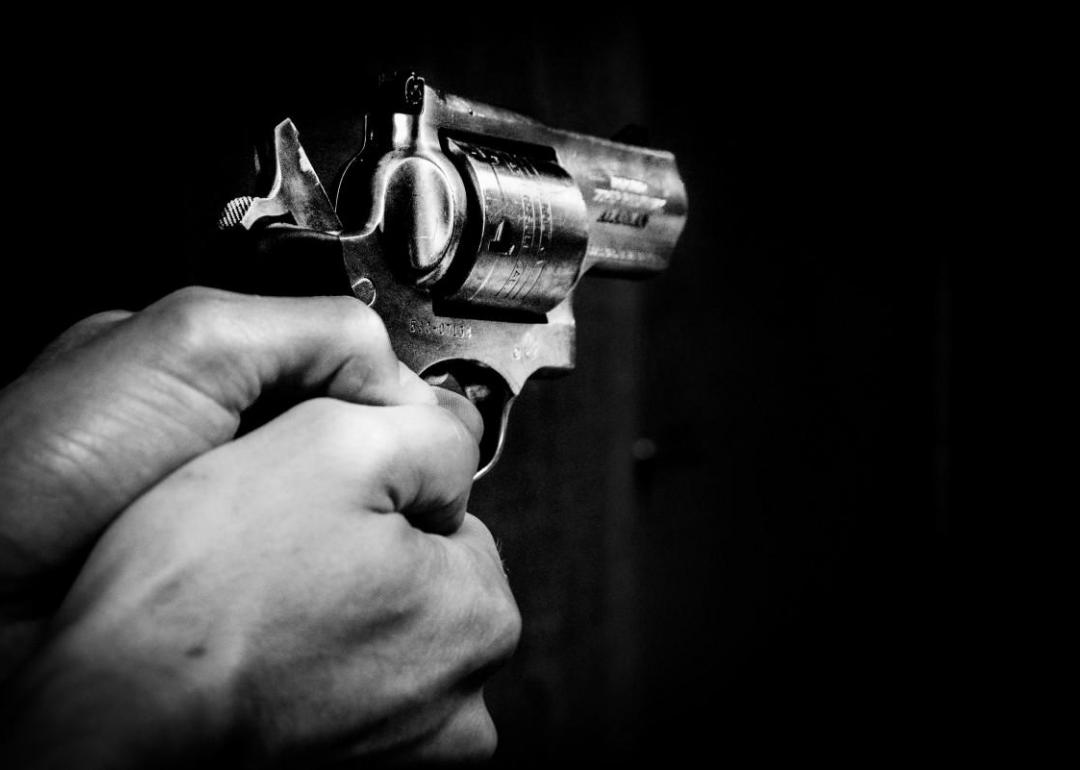 States with the most guns per person
States with the most guns per person
Amongst the hottest debates taking place in the U.S. as of late is what to make of the Second Amendment to the United States Constitution, a document that guarantees citizens the right to "keep and bear Arms." While an incredibly disturbing pattern of constant mass shootings has plagued the nation in recent years, what to do about the fact that approximately 4 in 10 Americans own a firearm remains a constant source of dispute. As is the case with most heavily polarizing political issues, there is a great deal of geographic influence over difference in opinion, and this is especially true of issues pertaining to gun laws. While gun ownership is somewhat consistent across most of the country, with ownership in 44% of homes in the Midwest, 45% in the South, and 46% in the West, only 27% of households in the Northeast have at least one firearm.
Interested to discover which states had the highest rates of gun ownership, Stacker referenced Statista data on state populations and state-by-state weapon registration statistics in order to list the states with the most guns per person. The states and the District of Columbia are ranked according to their respective per-capita gun ownerships—which were rounded to the second decimal place—yielding 0.00 for Rhode Island, Georgia, and New York because of their relatively insignificant gun totals.
Read on to see how your state's gun ownership stacks up against the nation.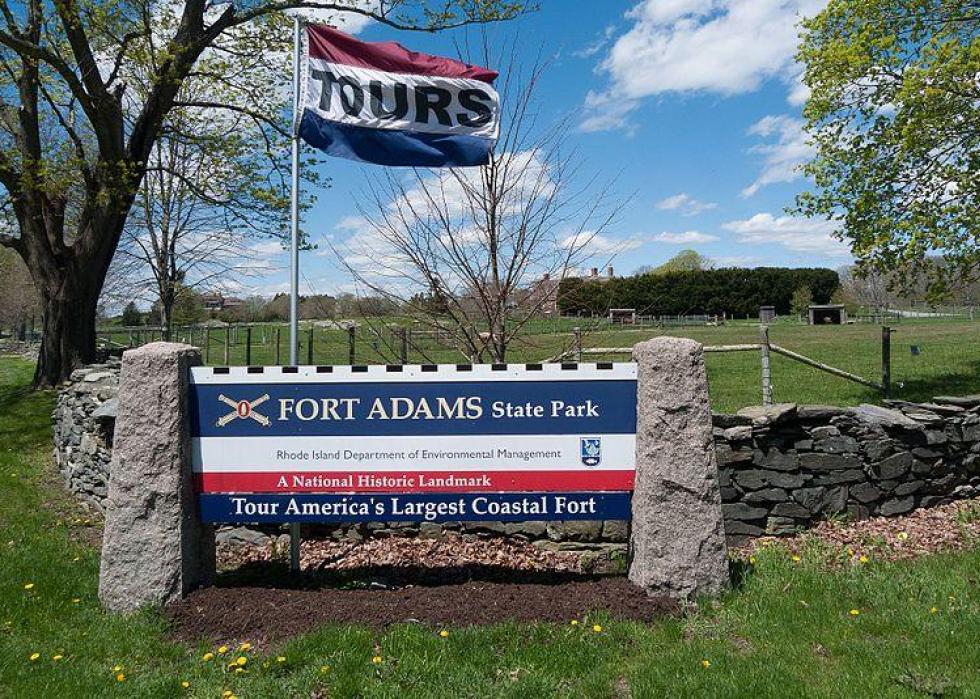 1 / 51
Kenneth C. Zirkel // Wikicommons
#51. Rhode Island
Guns per capita: 0.00
State population in millions: 1.06
Number of registered weapons: 4,223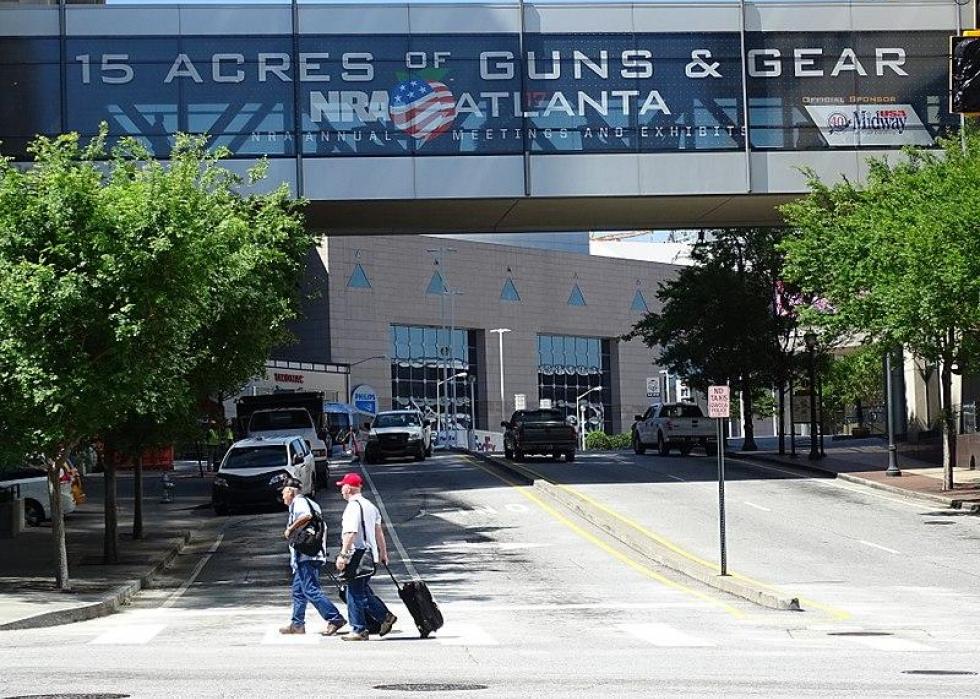 2 / 51
Adam Jonesfrom Kelowna // Wikicommons
#50. Georgia
Guns per capita: 0.00
State population in millions: 10.43
Number of registered weapons: 19,050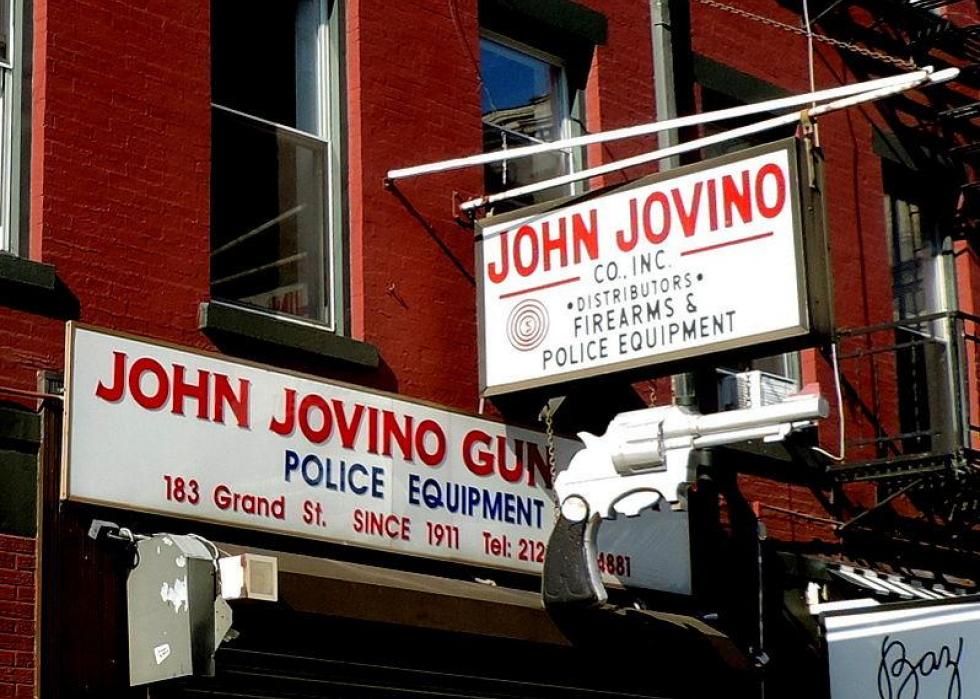 3 / 51
Jim.henderson // Wikicommons
#49. New York
Guns per capita: 0.00
State population in millions: 19.85
Number of registered weapons: 76,207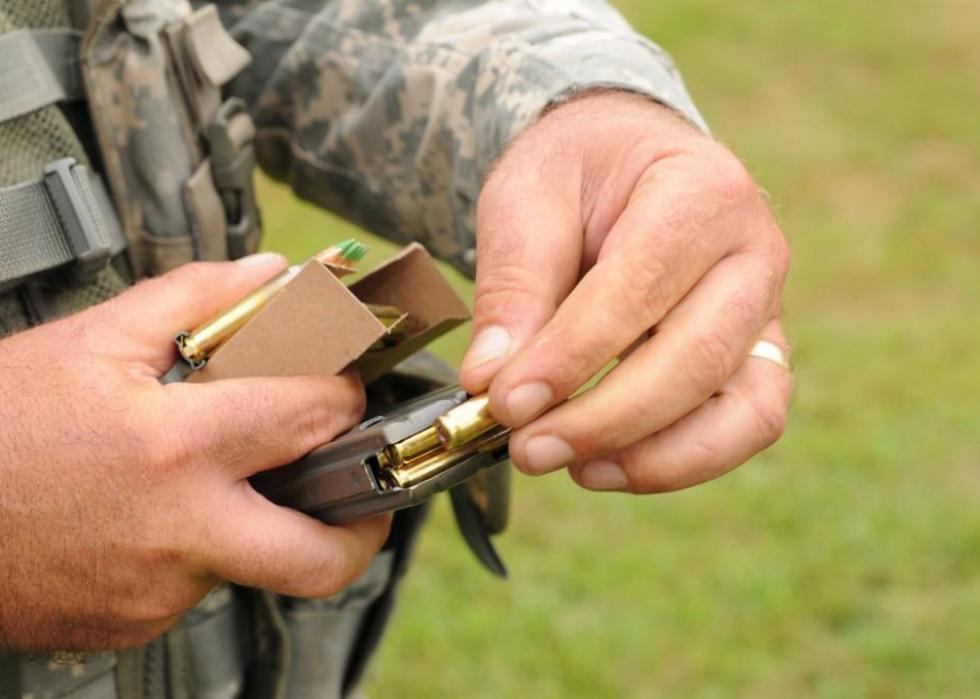 4 / 51
Staff Sgt. James Pernol // Delaware National Guard
#48. Delaware
Guns per capita: 0.01
State population in millions: 0.96
Number of registered weapons: 4,852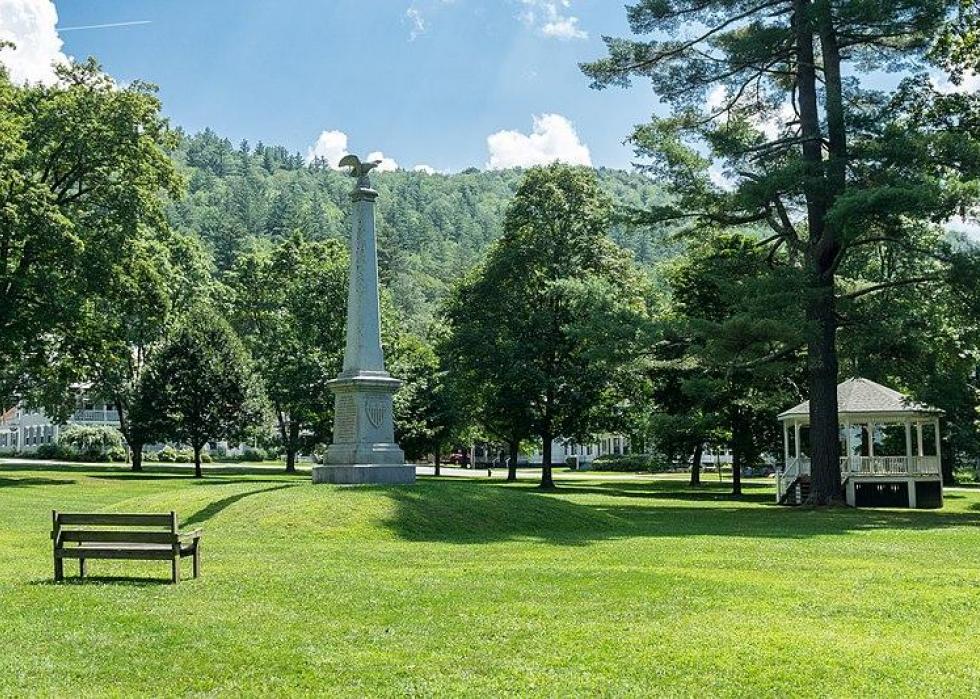 5 / 51
Kenneth C. Zirkel // Wikicommons
#47. Vermont
Guns per capita: 0.01
State population in millions: 0.62
Number of registered weapons: 5,872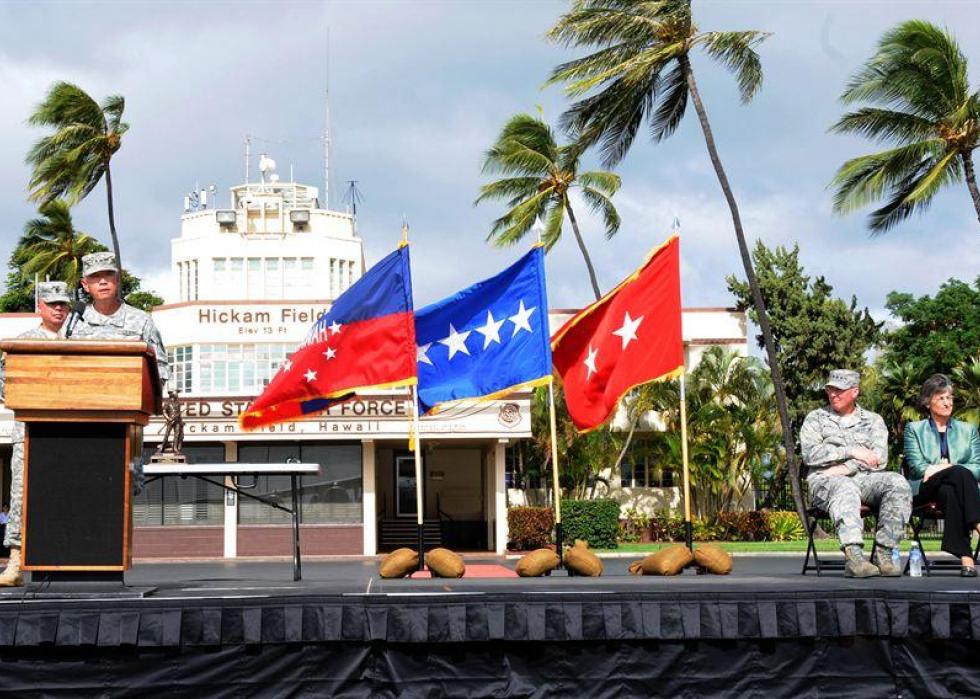 6 / 51
Tech. Sgt. Betty J. Squatrito-Martin // U.S. Air Force photo
#46. Hawaii
Guns per capita: 0.01
State population in millions: 1.43
Number of registered weapons: 7,859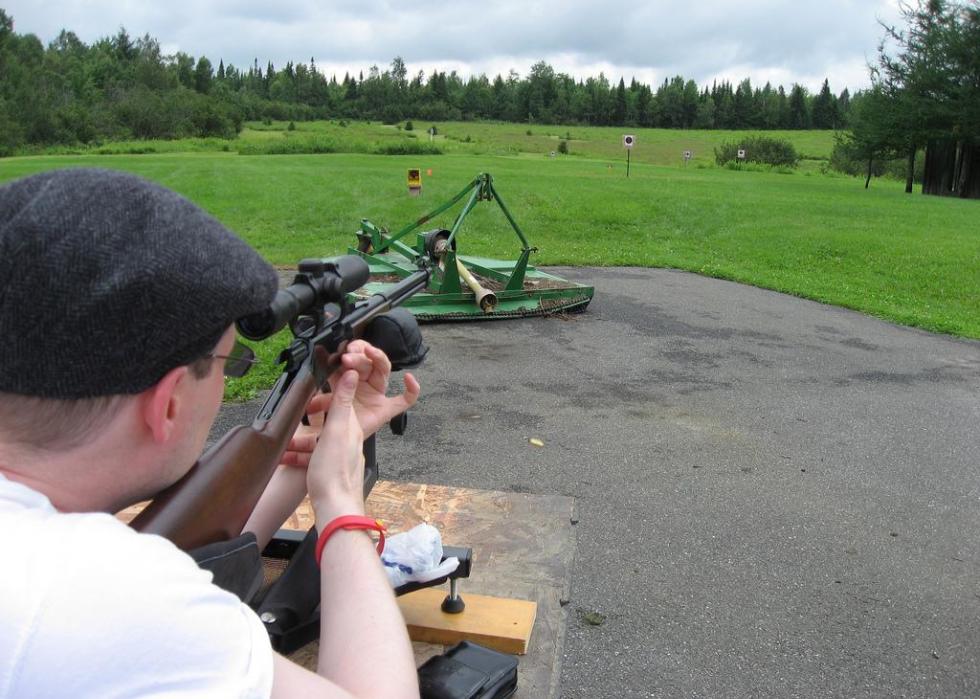 7 / 51
#45. Maine
Guns per capita: 0.01
State population in millions: 1.34
Number of registered weapons: 15,371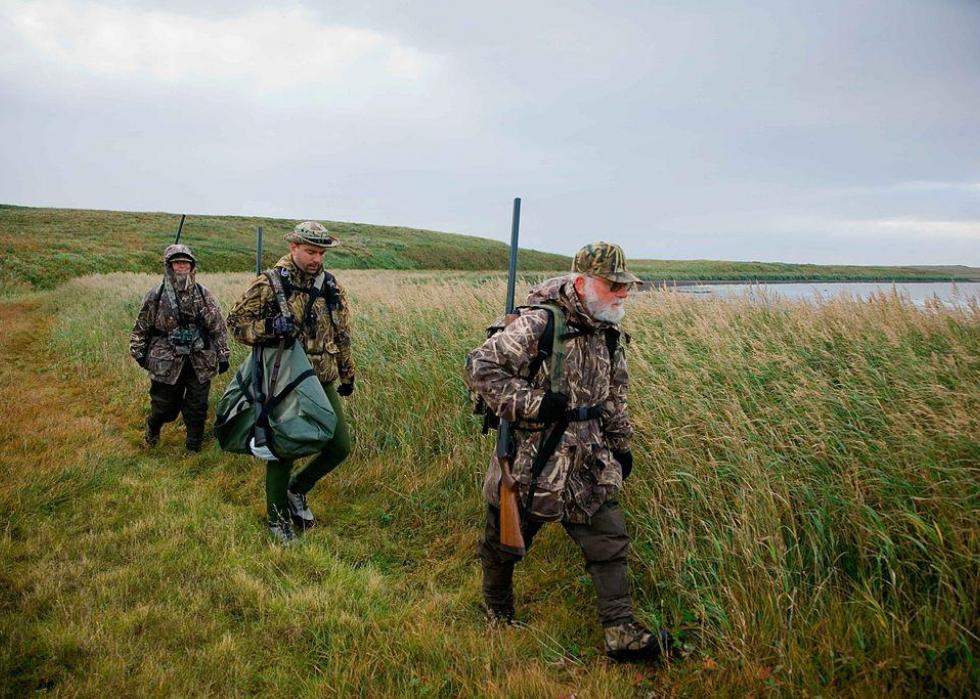 8 / 51
Public Domain // Wikicommons
#44. Nebraska
Guns per capita: 0.01
State population in millions: 1.92
Number of registered weapons: 22,234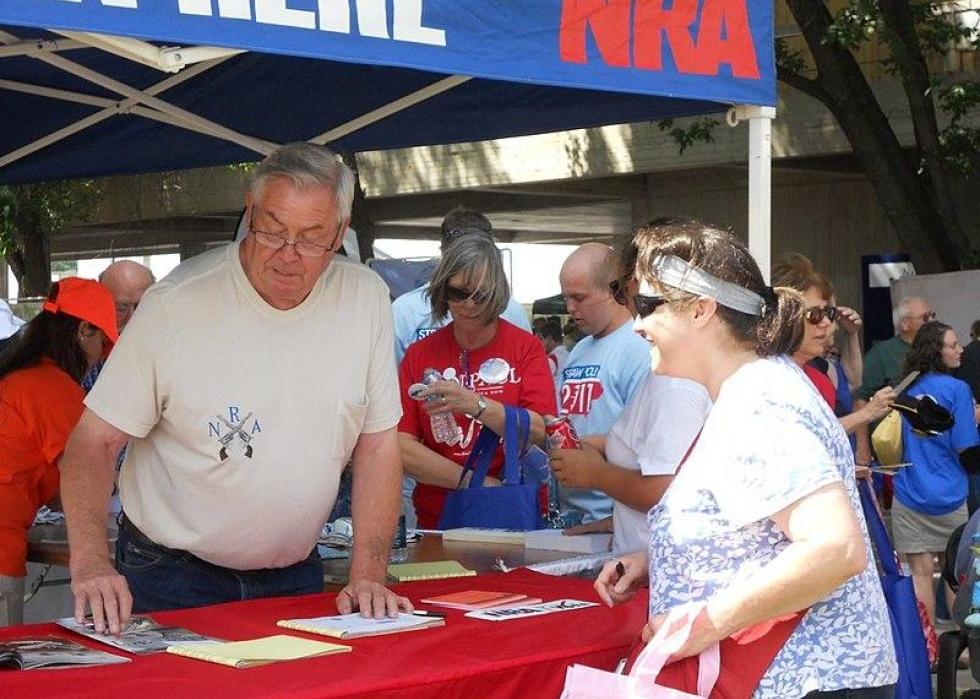 9 / 51
#43. Iowa
Guns per capita: 0.01
State population in millions: 3.15
Number of registered weapons: 28,494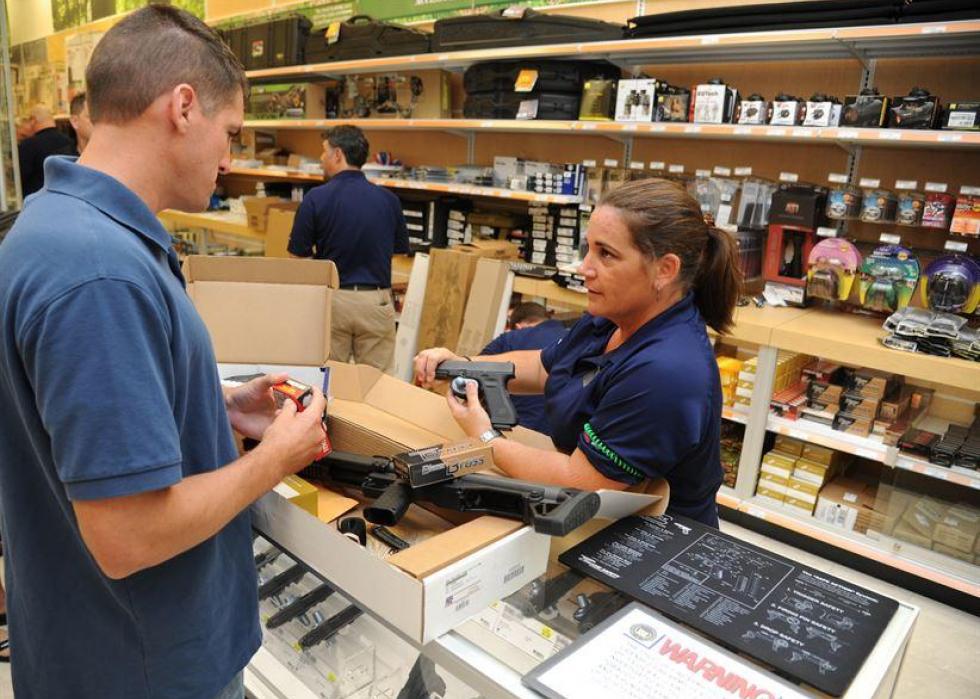 10 / 51
Kemberly Groue // U.S. Air Force photo
#42. Mississippi
Guns per capita: 0.01
State population in millions: 2.98
Number of registered weapons: 35,494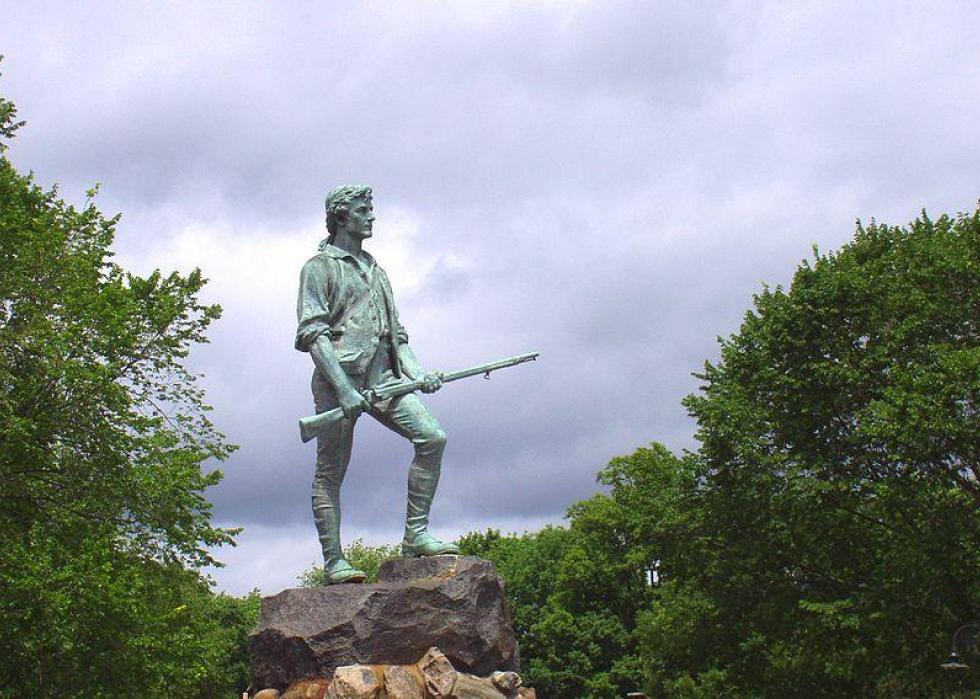 11 / 51
#41. Massachusetts
Guns per capita: 0.01
State population in millions: 6.86
Number of registered weapons: 37,152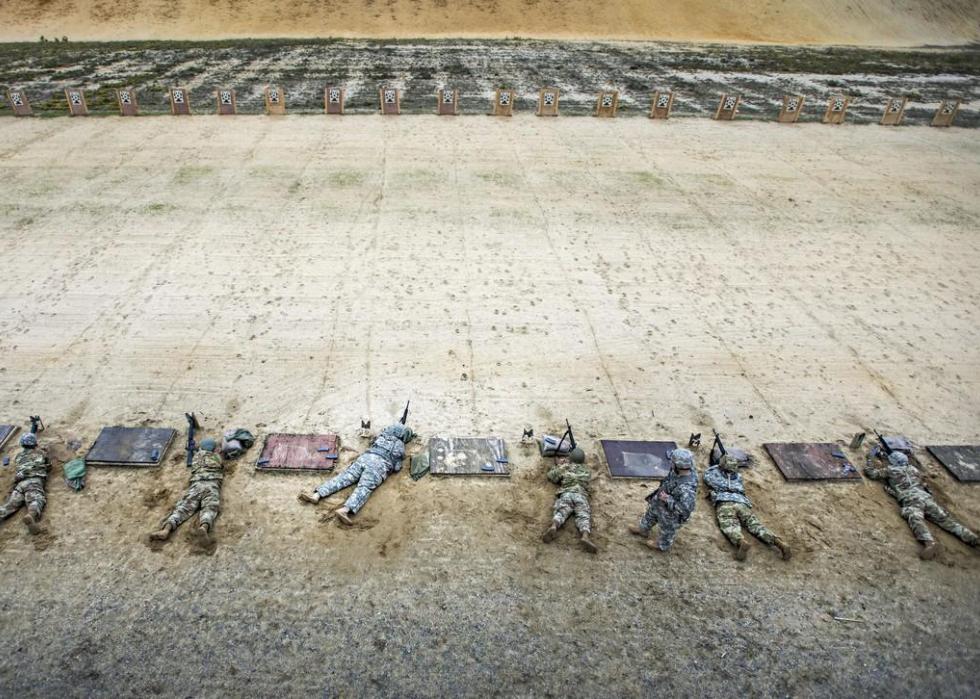 12 / 51
Tech. Sgt. Katherine Spessa // Air Force photo
#40. New Jersey
Guns per capita: 0.01
State population in millions: 9.01
Number of registered weapons: 57,507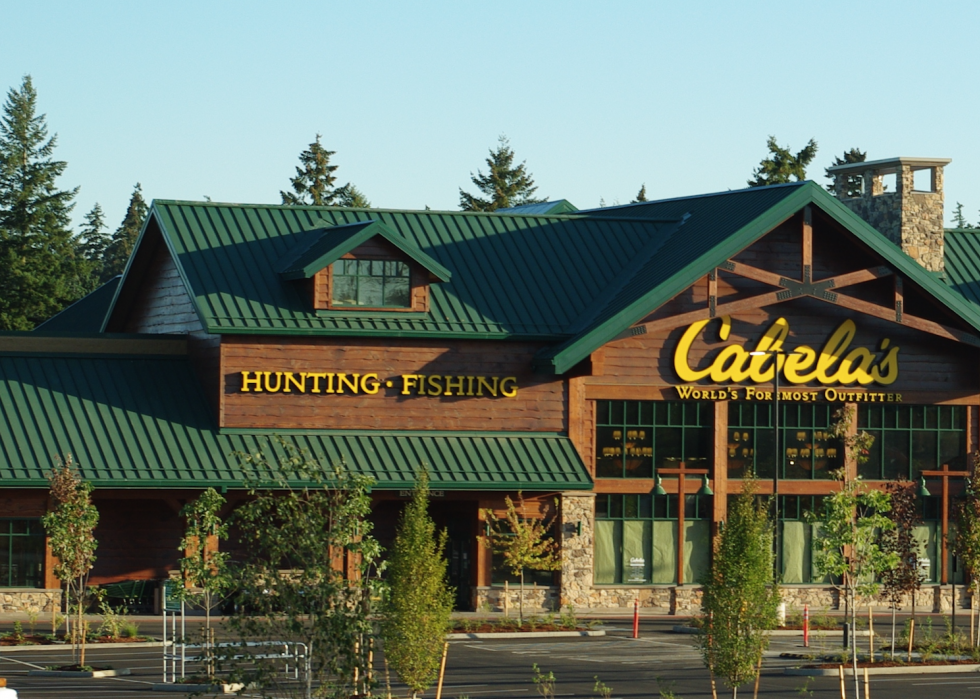 13 / 51
M.O. Stevens // Wikicommons
#39. Oregon
Guns per capita: 0.01
State population in millions: 4.14
Number of registered weapons: 61,383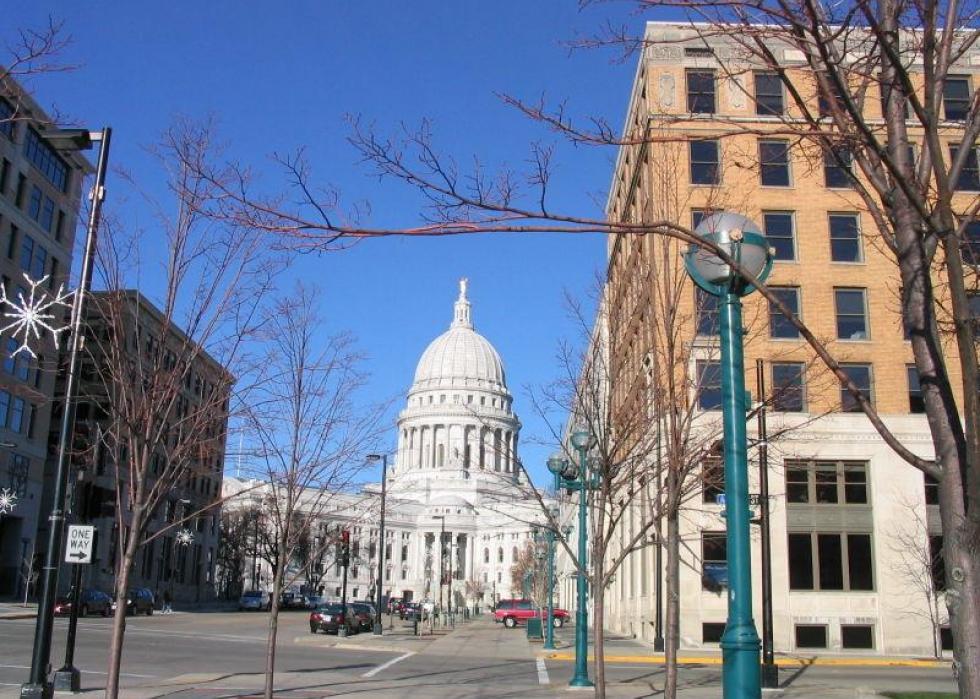 14 / 51
#38. Wisconsin
Guns per capita: 0.01
State population in millions: 5.80
Number of registered weapons: 64,878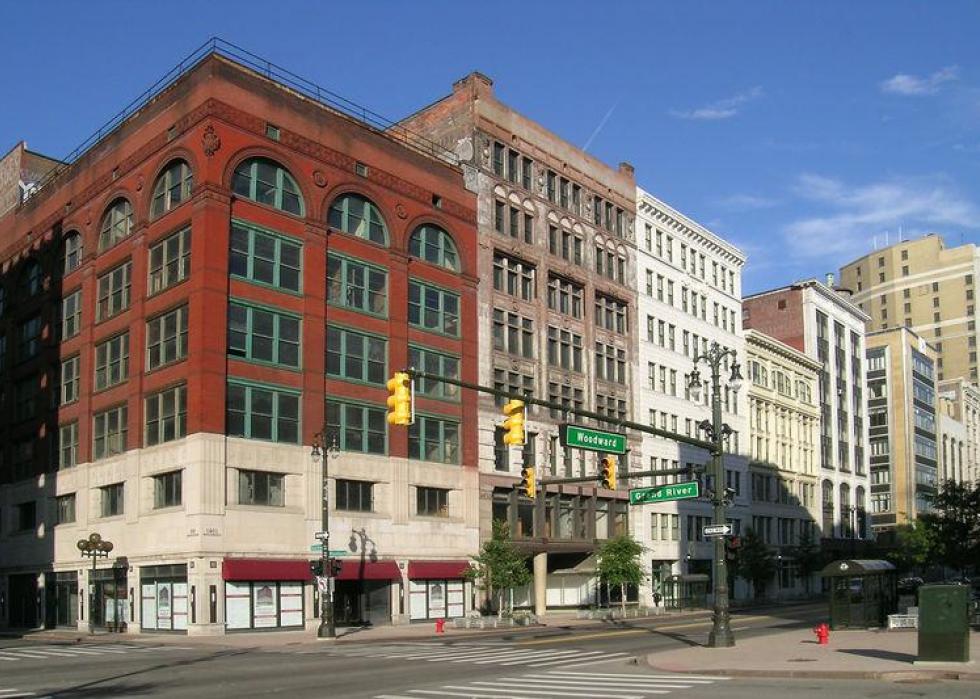 15 / 51
Andrew Jameson // Wikicommons
#37. Michigan
Guns per capita: 0.01
State population in millions: 9.96
Number of registered weapons: 65,742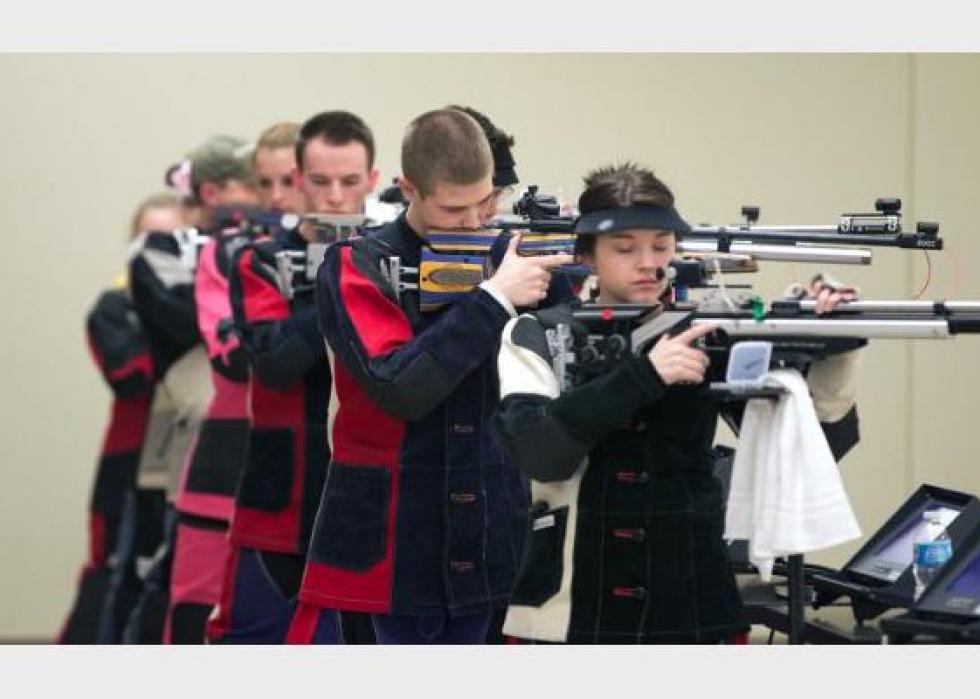 16 / 51
Steve Arel // U.S. Army Cadet Command
#36. Missouri
Guns per capita: 0.01
State population in millions: 6.11
Number of registered weapons: 72,996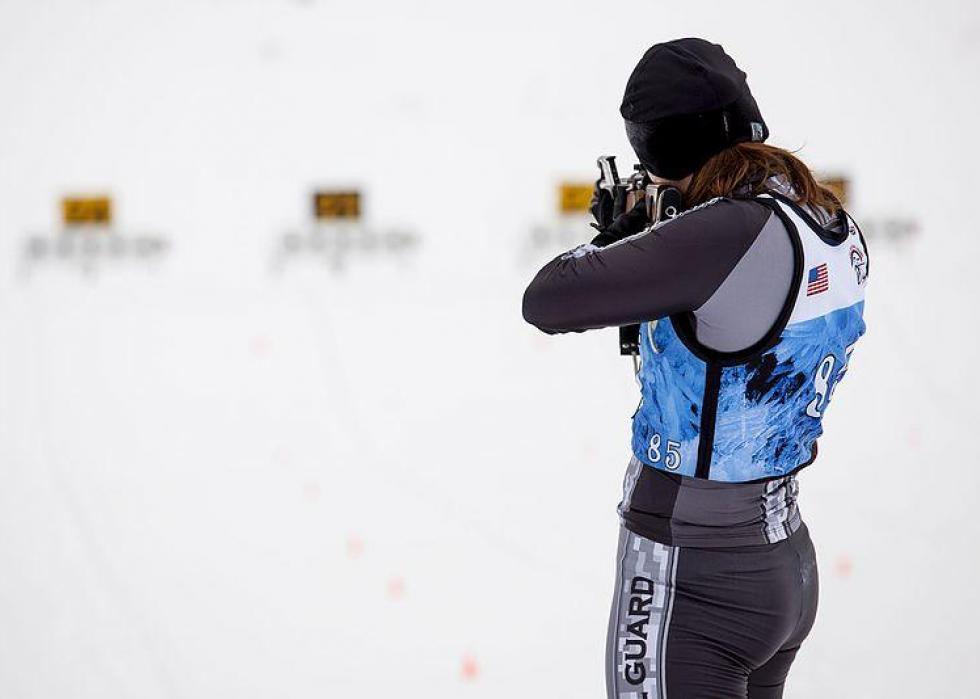 17 / 51
Senior Airman Jeremy Bowcock // Wikicommons
#35. Minnesota
Guns per capita: 0.01
State population in millions: 5.58
Number of registered weapons: 79,307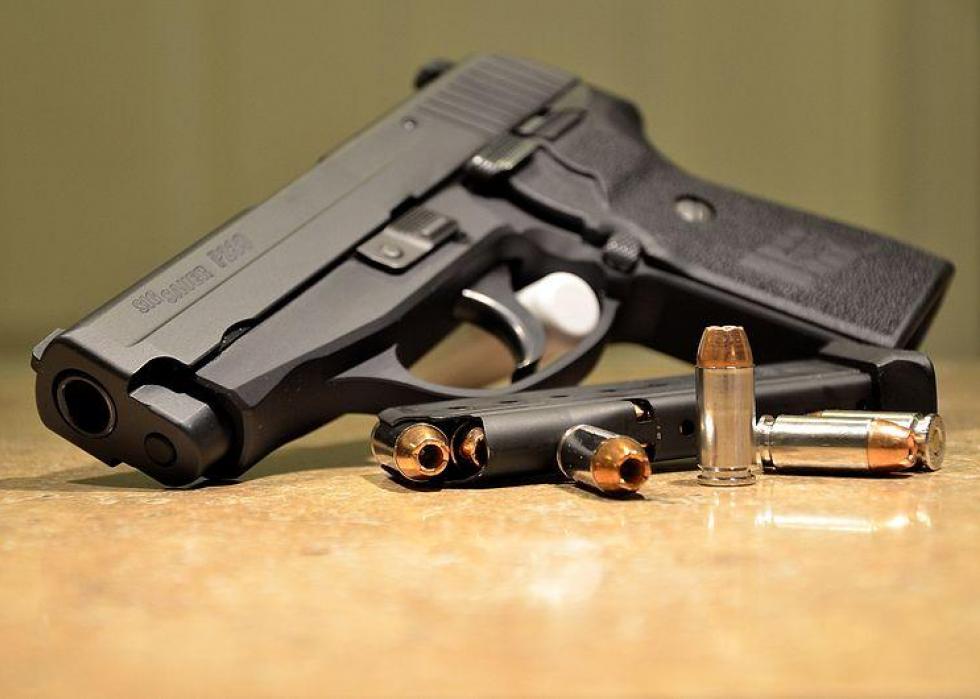 18 / 51
BankingBum // Wikicommons
#34. Washington
Guns per capita: 0.01
State population in millions: 7.41
Number of registered weapons: 91,835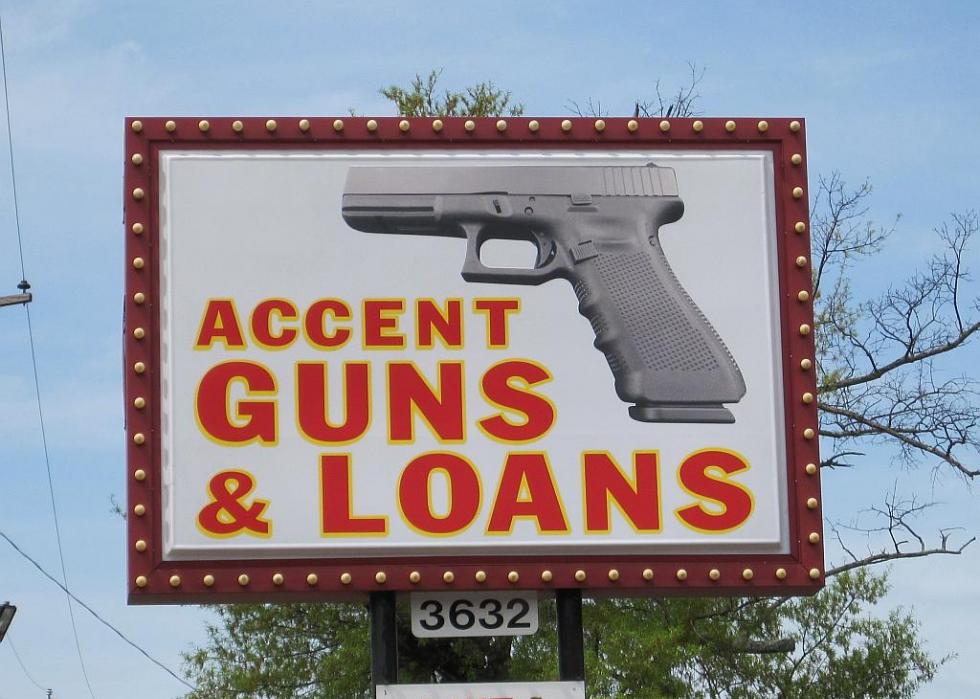 19 / 51
Thomas R Machnitzki // Wikicommons
#33. Tennessee
Guns per capita: 0.01
State population in millions: 6.72
Number of registered weapons: 99,159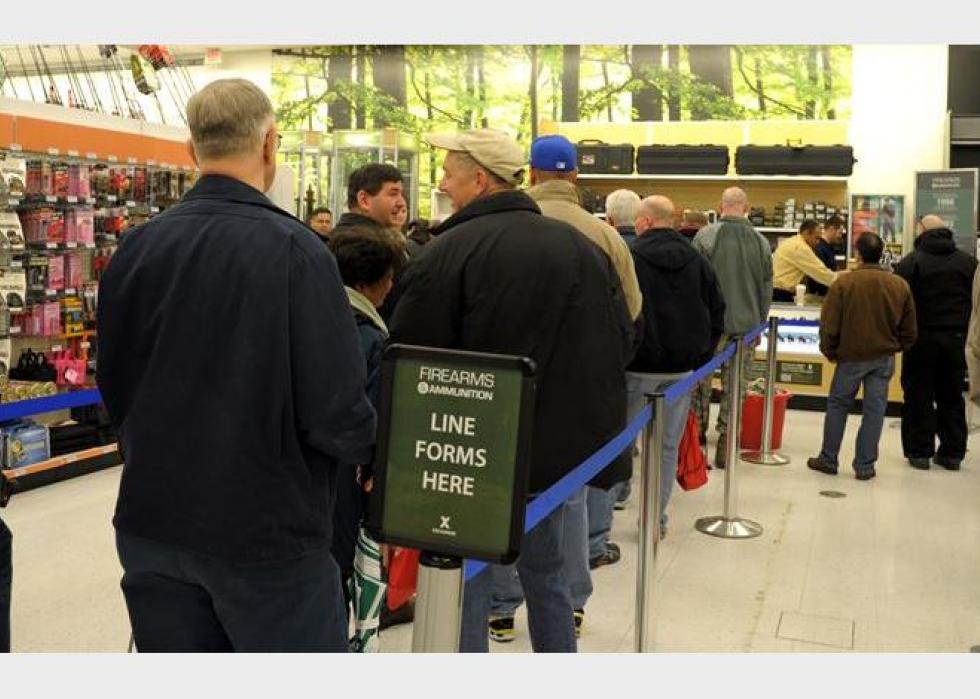 20 / 51
Staff Sgt. Stephenie Wade // U.S. Air Force photo
#32. Illinois
Guns per capita: 0.01
State population in millions: 12.80
Number of registered weapons: 146,487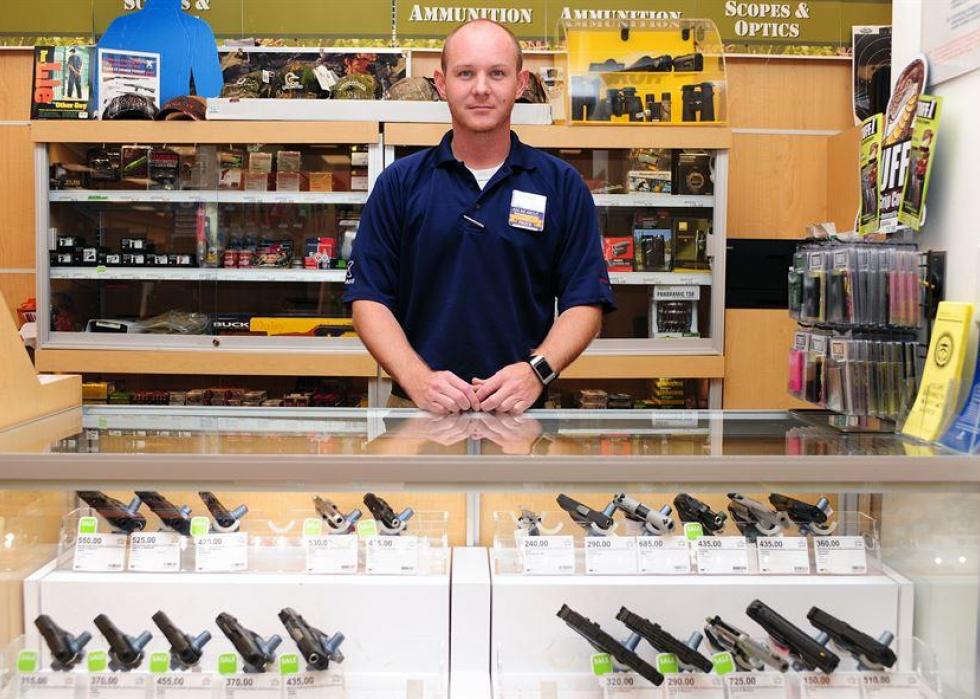 21 / 51
Airman 1st Class John Nieves Camacho // U.S. Air Force photo
#31. North Carolina
Guns per capita: 0.01
State population in millions: 10.27
Number of registered weapons: 152,238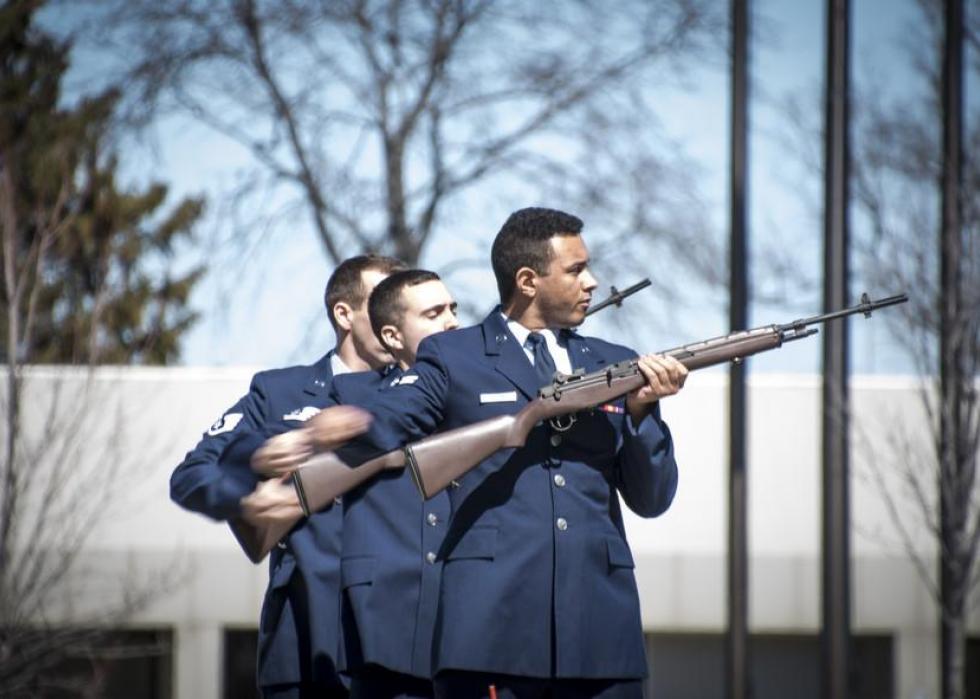 22 / 51
Capt. Paul Stennett // U.S. Air National Guard photo
#30. Ohio
Guns per capita: 0.01
State population in millions: 11.66
Number of registered weapons: 173,405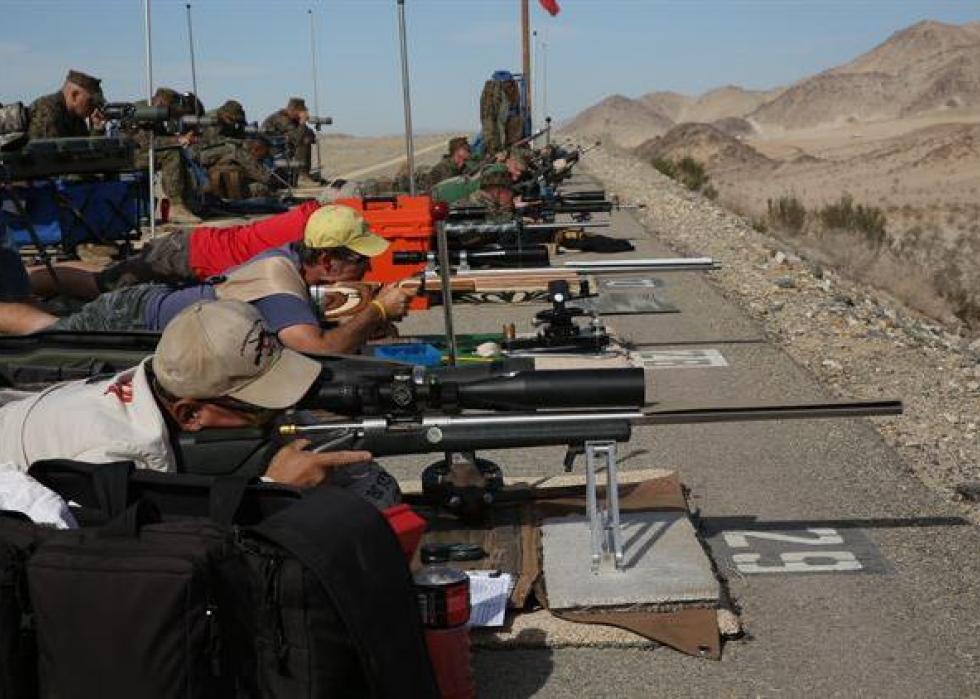 23 / 51
United States Marine Corps
#29. California
Guns per capita: 0.01
State population in millions: 39.54
Number of registered weapons: 344,622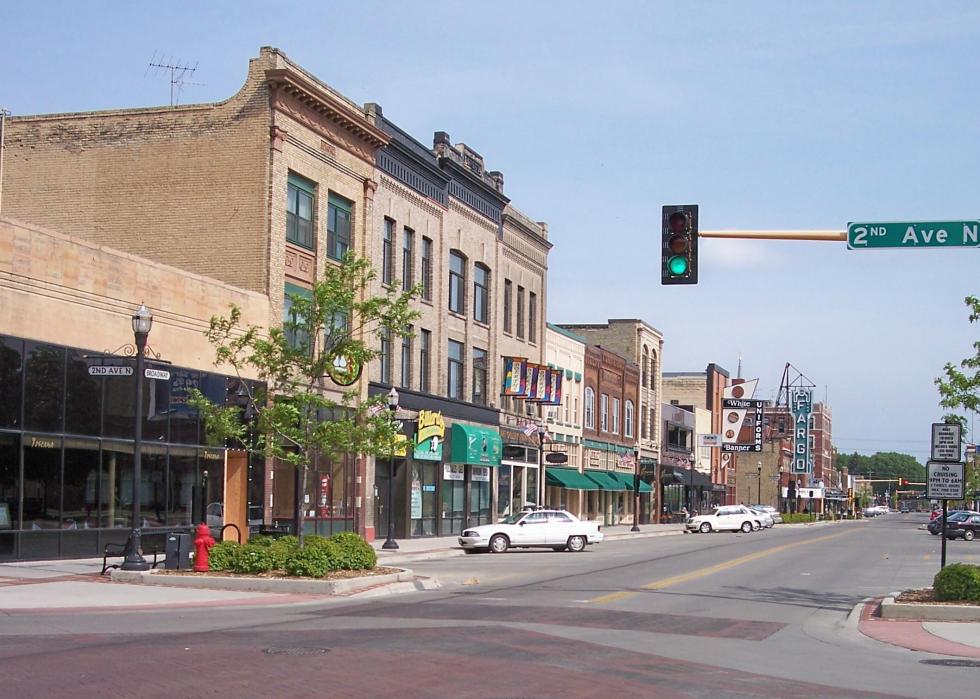 24 / 51
#28. North Dakota
Guns per capita: 0.02
State population in millions: 0.76
Number of registered weapons: 13,272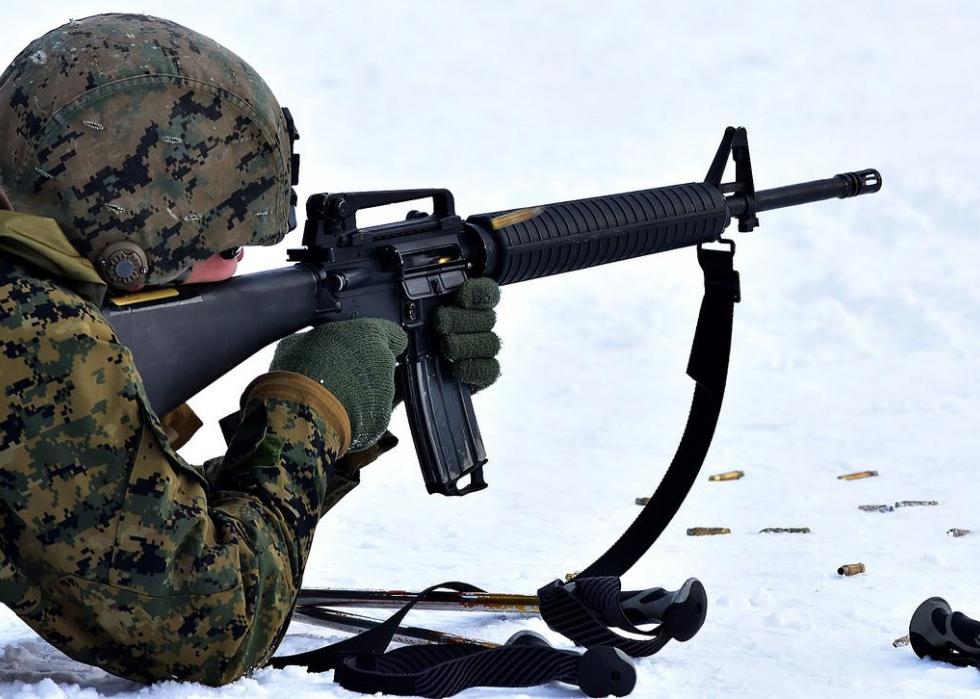 25 / 51
John Pennell // Army photo
#27. Alaska
Guns per capita: 0.02
State population in millions: 0.74
Number of registered weapons: 15,824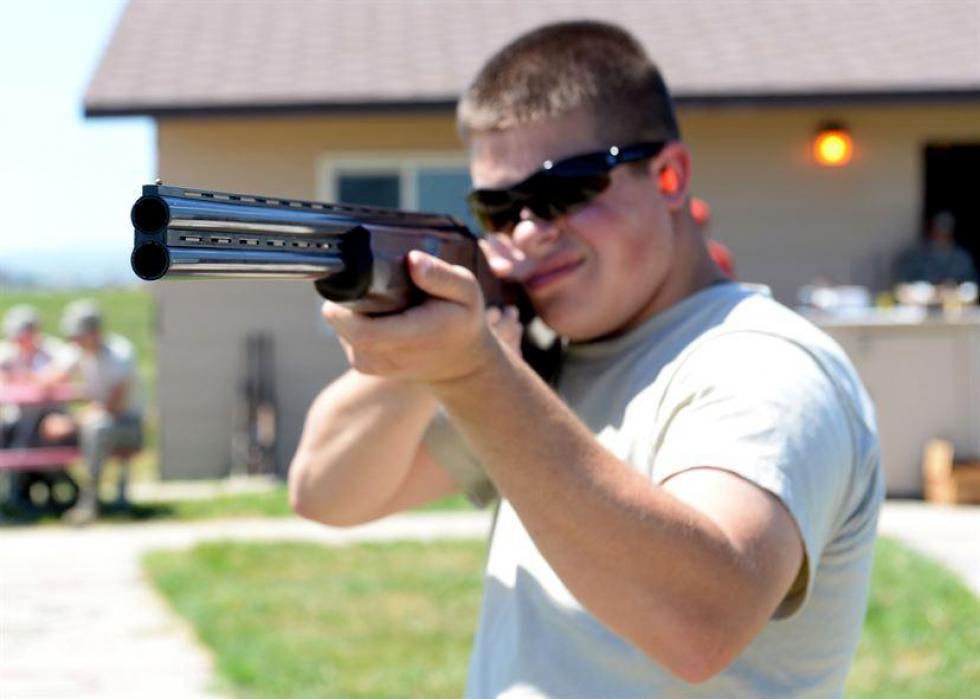 26 / 51
Senior Airman Rebecca Imwalle // U.S. Air Force photo
#26. South Dakota
Guns per capita: 0.02
State population in millions: 0.87
Number of registered weapons: 21,130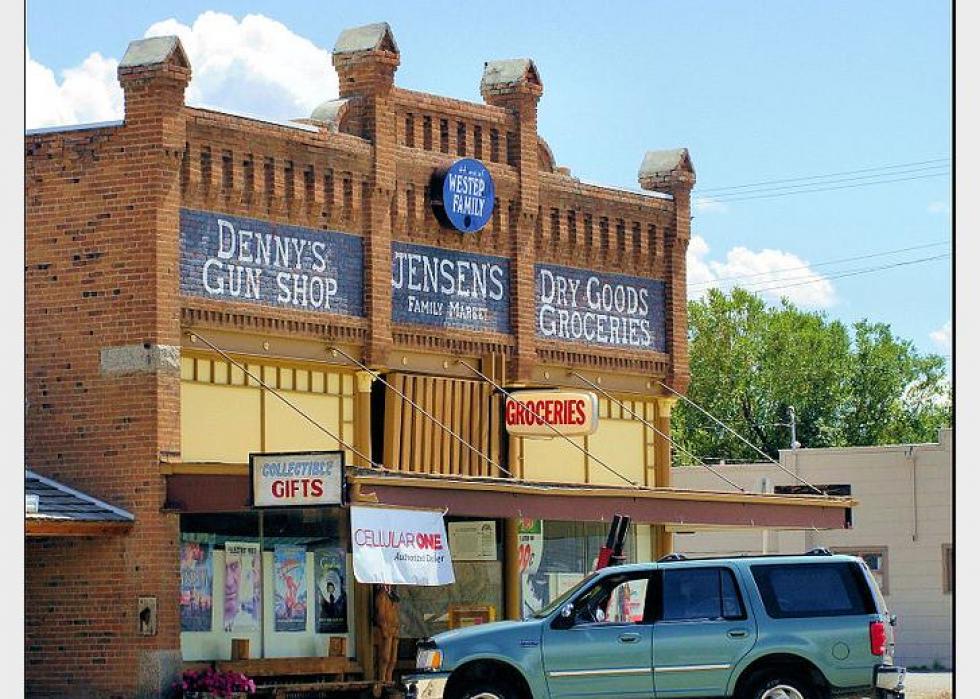 27 / 51
Spend A Day Touring, LLC // Wikicommons
#25. Montana
Guns per capita: 0.02
State population in millions: 1.05
Number of registered weapons: 22,133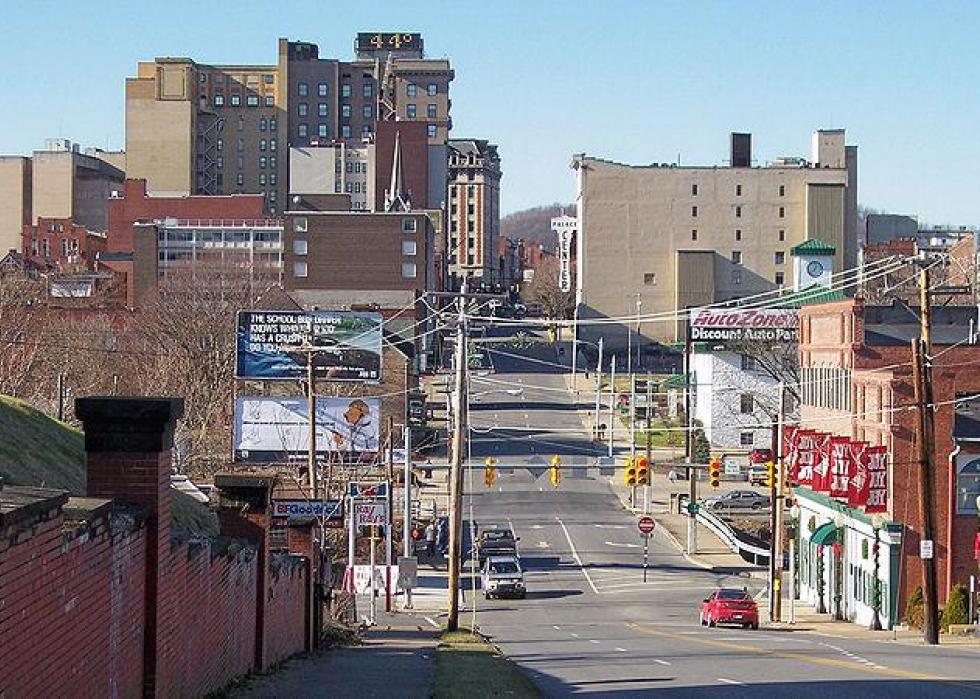 28 / 51
#24. West Virginia
Guns per capita: 0.02
State population in millions: 1.82
Number of registered weapons: 35,264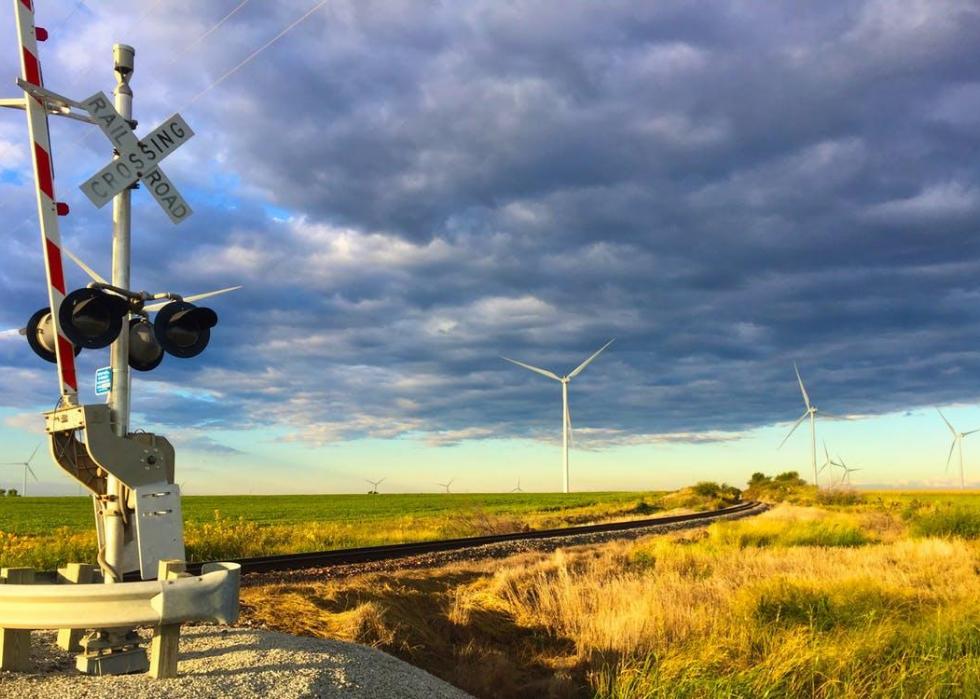 29 / 51
#23. Kansas
Guns per capita: 0.02
State population in millions: 2.91
Number of registered weapons: 52,634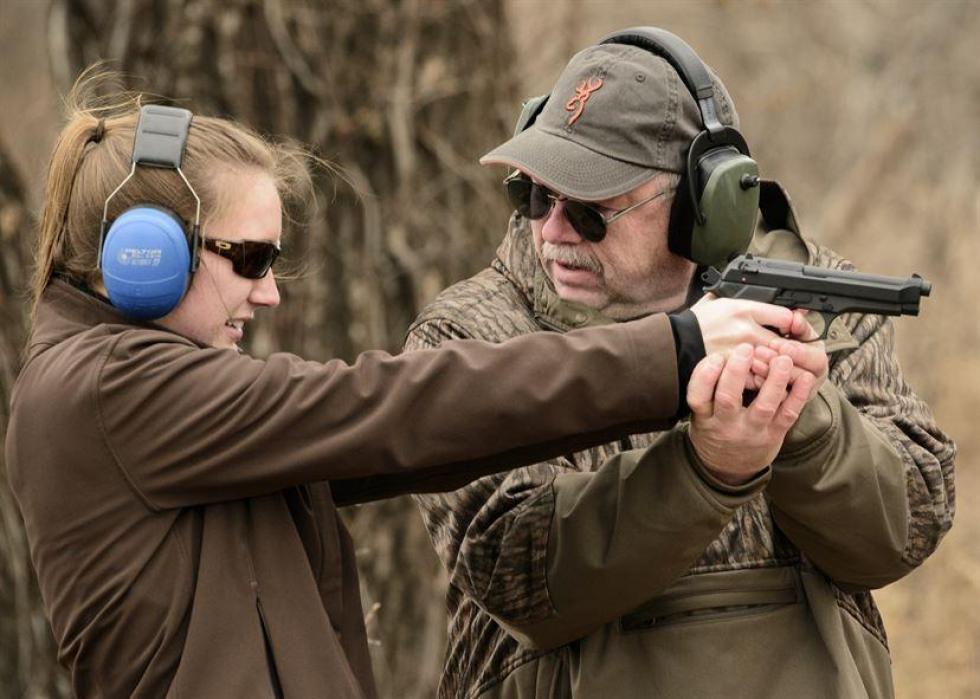 30 / 51
David Poe // U.S. Air Force Photo
#22. Oklahoma
Guns per capita: 0.02
State population in millions: 3.93
Number of registered weapons: 71,269
31 / 51
Michael McConville // Wikicommons
#21. Utah
Guns per capita: 0.02
State population in millions: 3.10
Number of registered weapons: 72,856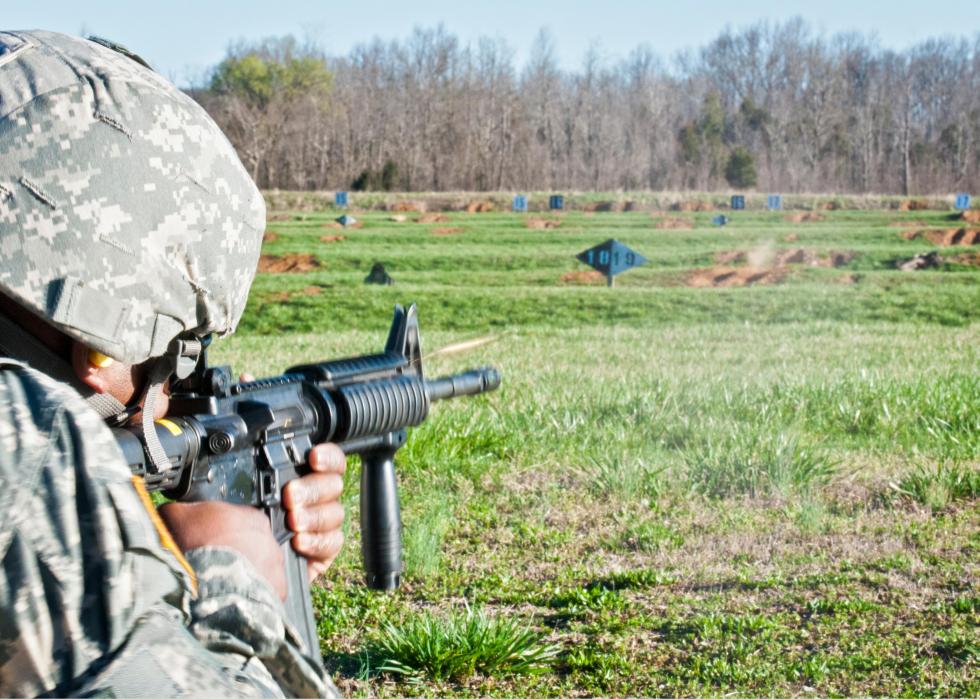 32 / 51
Staff Sgt. Dalton Smith // Wikicommons
#20. Kentucky
Guns per capita: 0.02
State population in millions: 4.45
Number of registered weapons: 81,068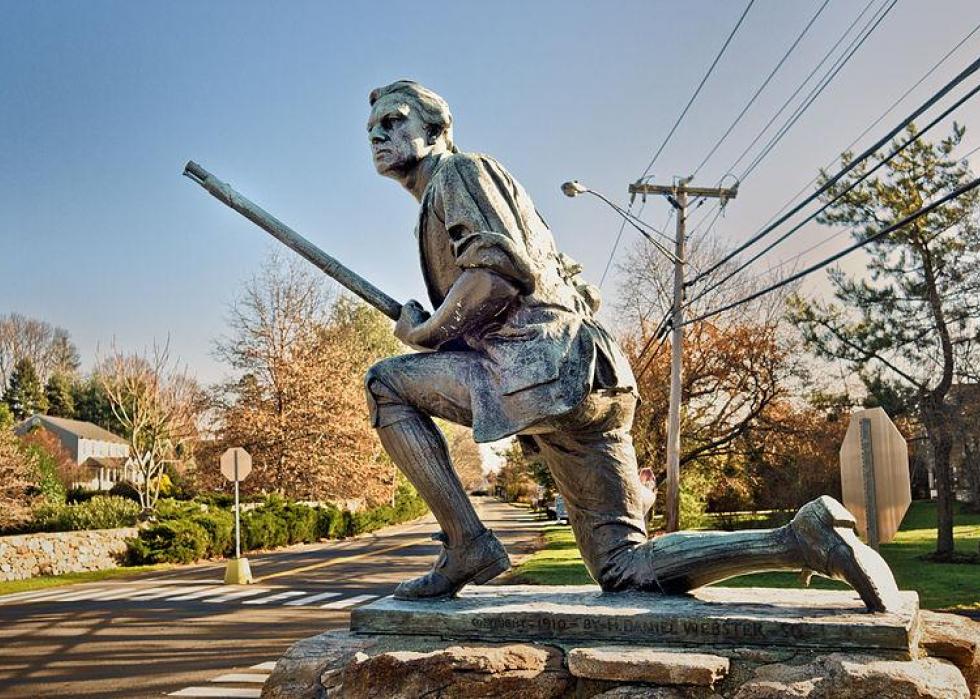 33 / 51
#19. Connecticut
Guns per capita: 0.02
State population in millions: 3.59
Number of registered weapons: 82,400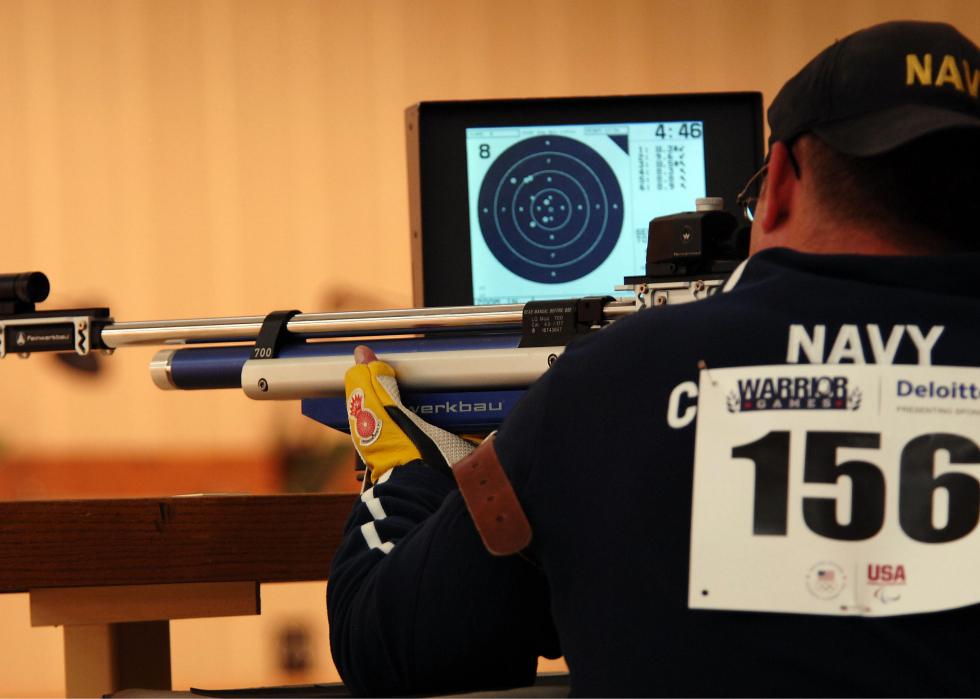 34 / 51
Mass Communication Specialist 1st Class Andre N. McIntyre // U.S. Navy photo
#18. Colorado
Guns per capita: 0.02
State population in millions: 5.61
Number of registered weapons: 92,435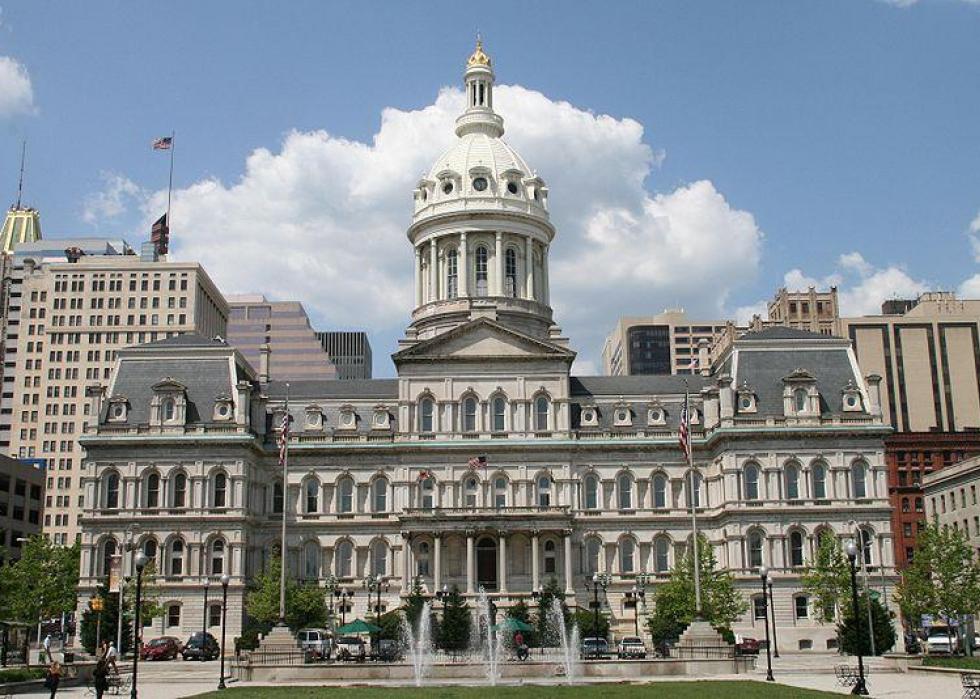 35 / 51
Marylandstater // Wikicommons
#17. Maryland
Guns per capita: 0.02
State population in millions: 6.05
Number of registered weapons: 103,109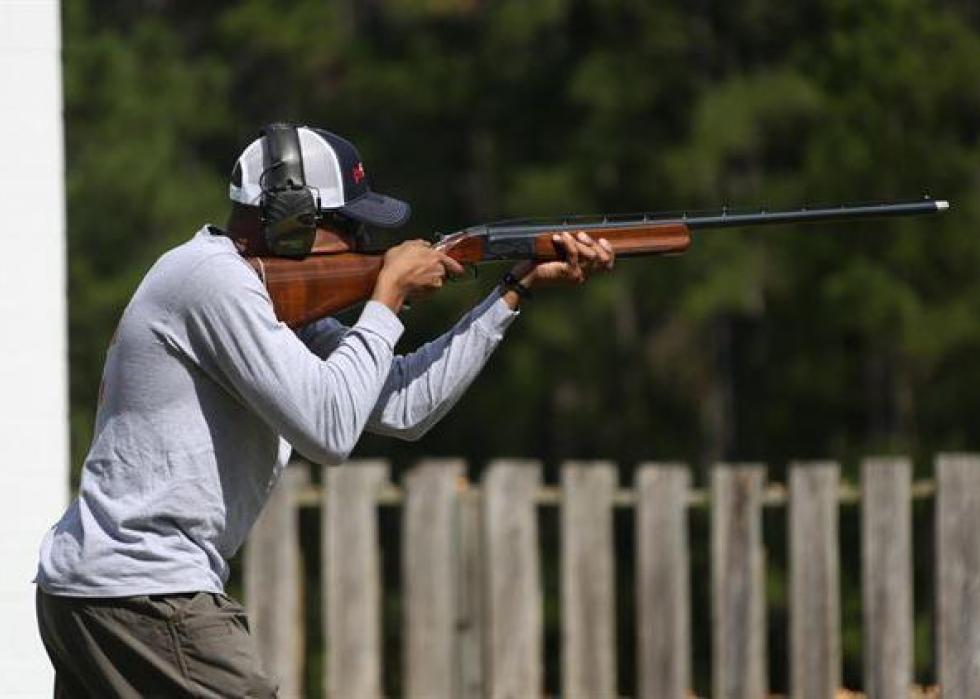 36 / 51
Cpl. N.W. Huertas // U.S. Marine Corps photo
#16. South Carolina
Guns per capita: 0.02
State population in millions: 5.02
Number of registered weapons: 105,601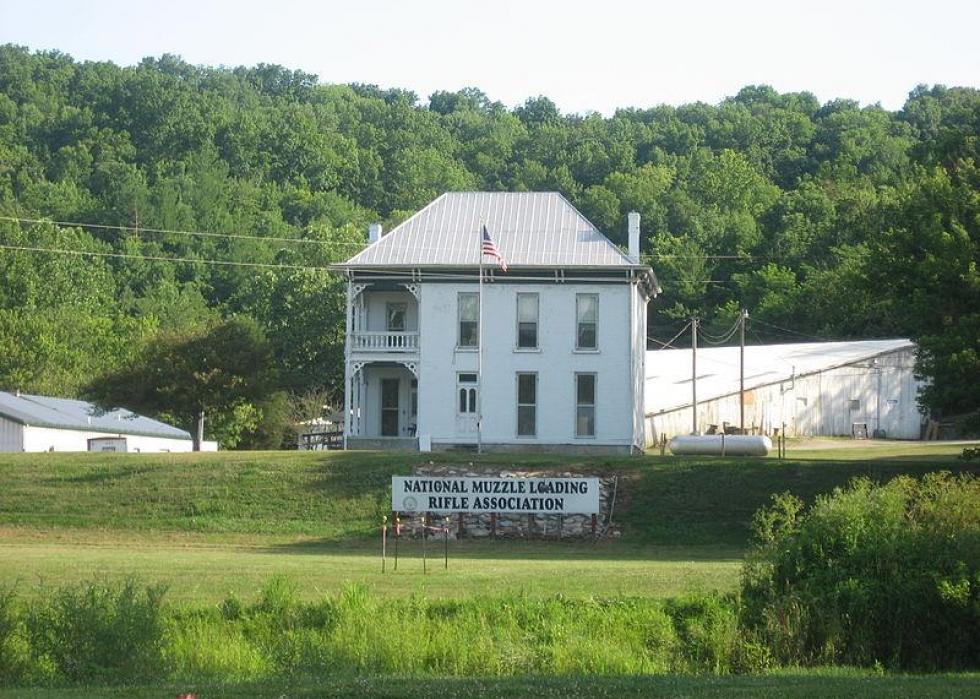 37 / 51
#15. Indiana
Guns per capita: 0.02
State population in millions: 6.67
Number of registered weapons: 114,019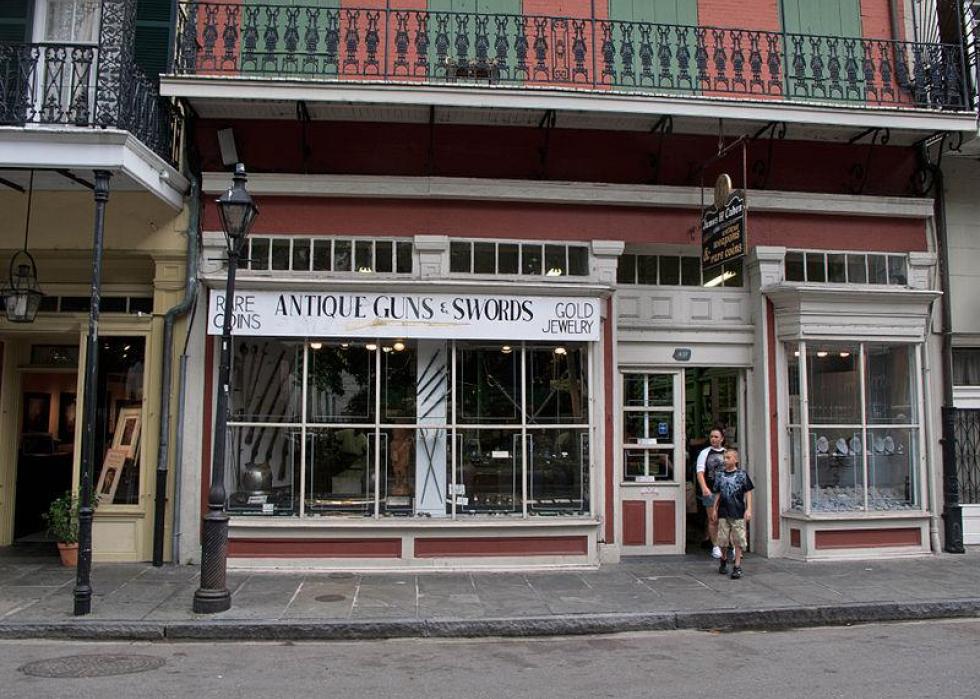 38 / 51
Gary J. Wood // Wikicommons
#14. Louisiana
Guns per capita: 0.02
State population in millions: 4.68
Number of registered weapons: 116,831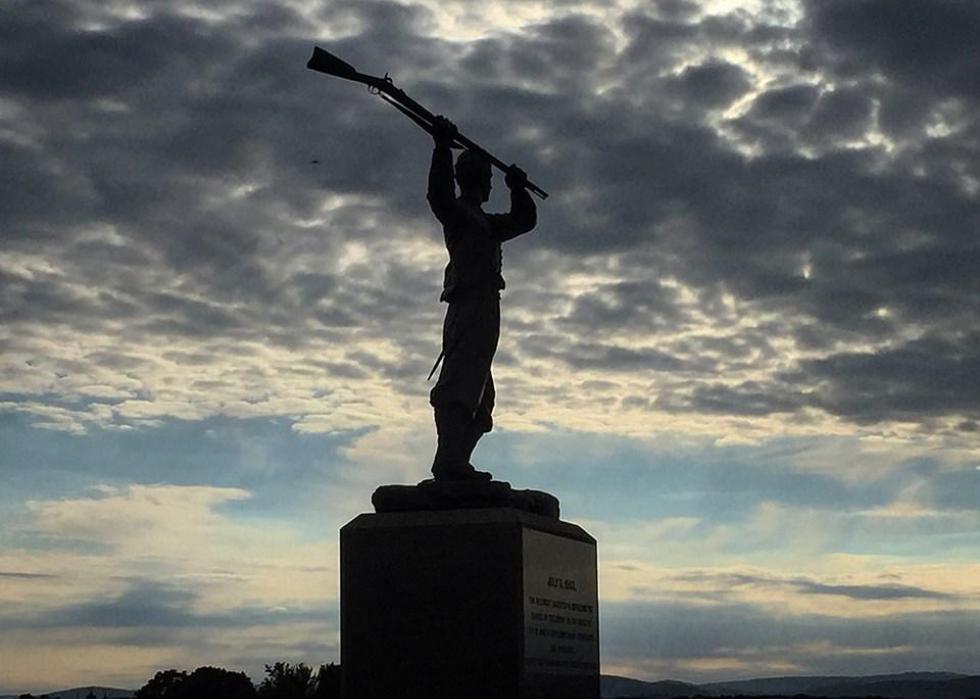 39 / 51
#13. Pennsylvania
Guns per capita: 0.02
State population in millions: 12.81
Number of registered weapons: 236,377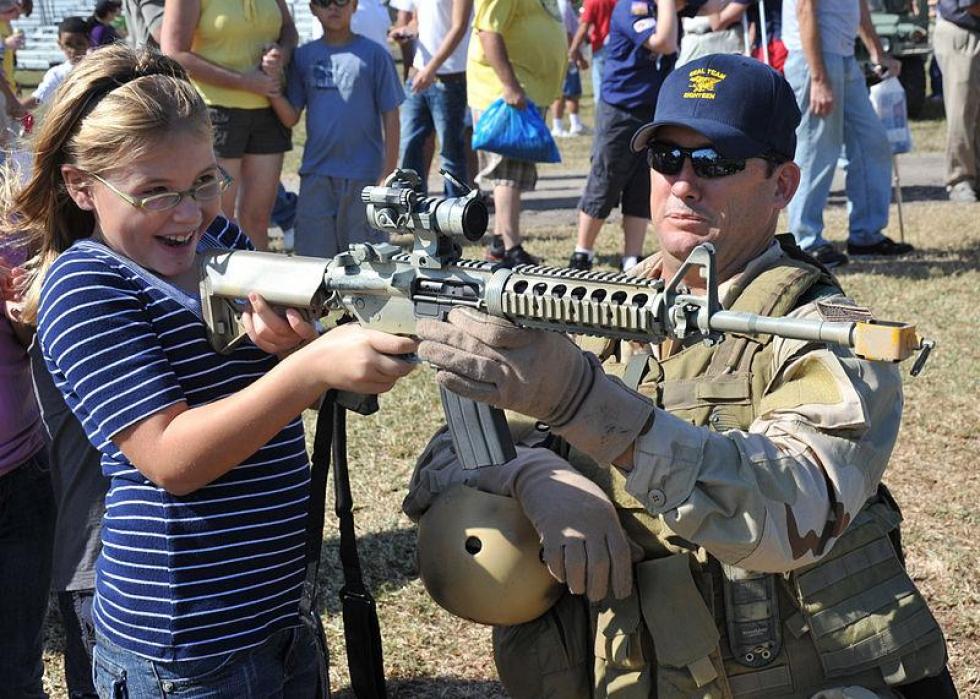 40 / 51
Chief Mass Communications Specialist Robert J. Fluegel // U.S. Navy photo
#12. Florida
Guns per capita: 0.02
State population in millions: 20.98
Number of registered weapons: 343,288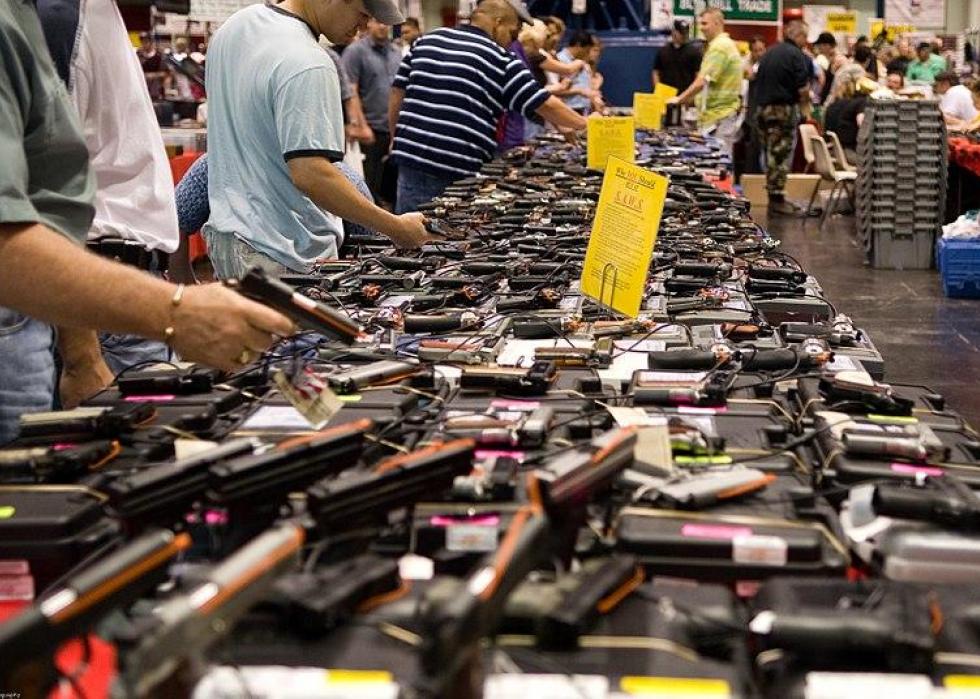 41 / 51
M&R Glasgow // Wikicommons
#11. Texas
Guns per capita: 0.02
State population in millions: 28.30
Number of registered weapons: 588,696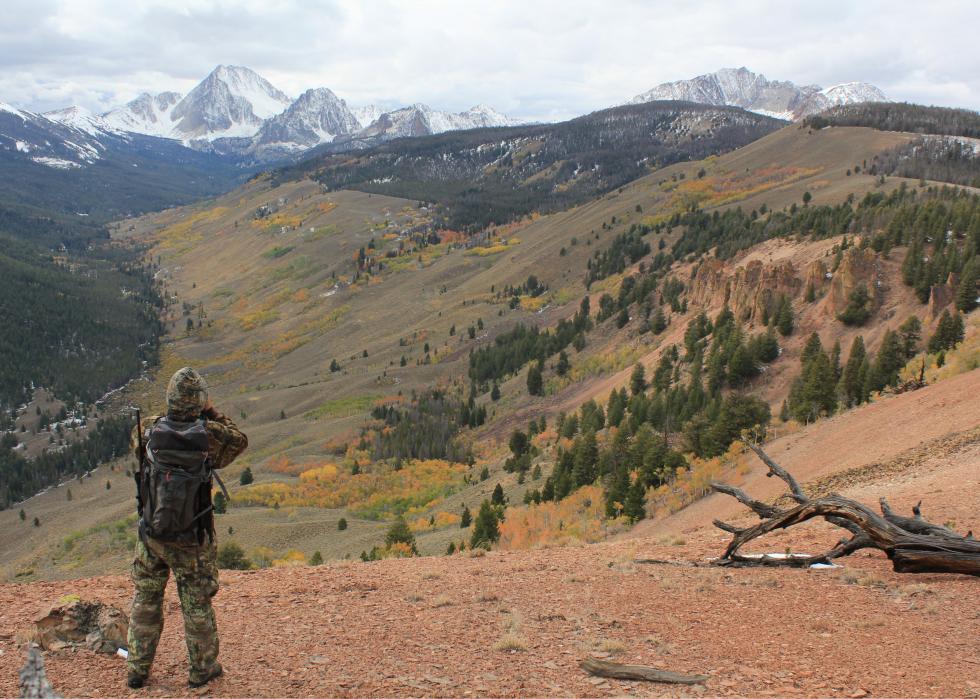 42 / 51
#10. Idaho
Guns per capita: 0.03
State population in millions: 1.72
Number of registered weapons: 49,566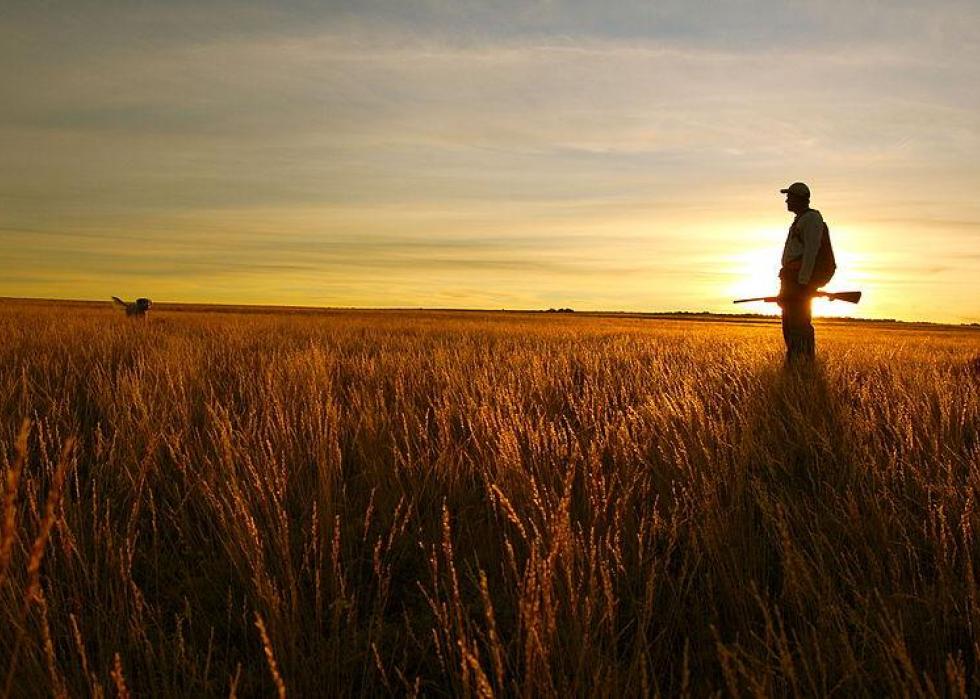 43 / 51
BLM Nevada // Wikicommons
#9. Nevada
Guns per capita: 0.03
State population in millions: 3.00
Number of registered weapons: 76,888
44 / 51
Airman 1st Class Kevin Sommer Giron // U.S. Air Force photo
#8. Arkansas
Guns per capita: 0.03
State population in millions: 3.00
Number of registered weapons: 79,841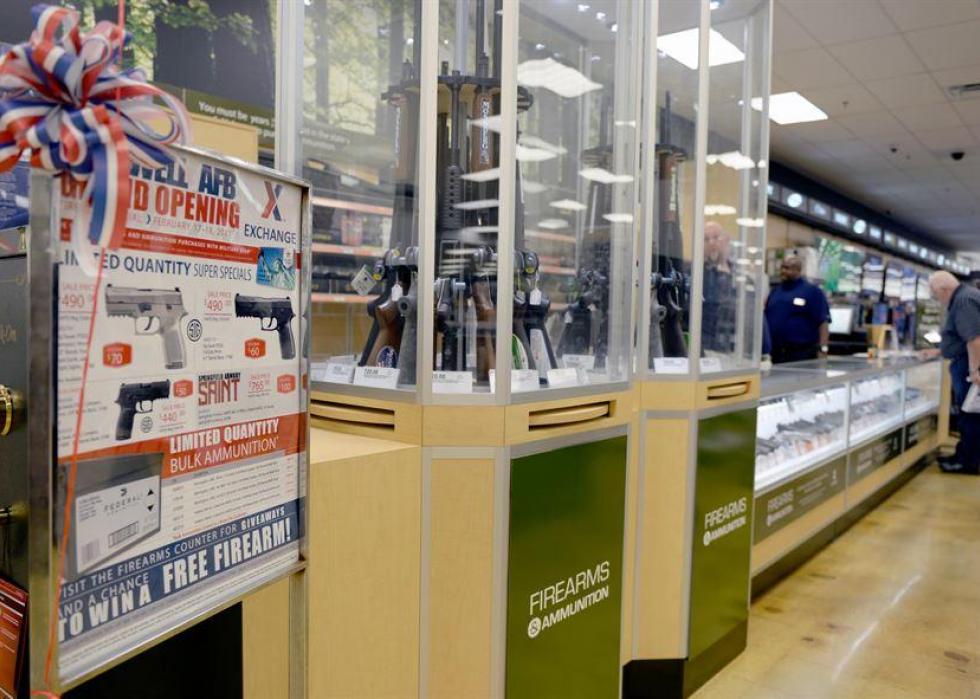 45 / 51
Senior Airman Tammie Ramsouer // U.S. Air Force photo
#7. Alabama
Guns per capita: 0.03
State population in millions: 4.87
Number of registered weapons: 161,641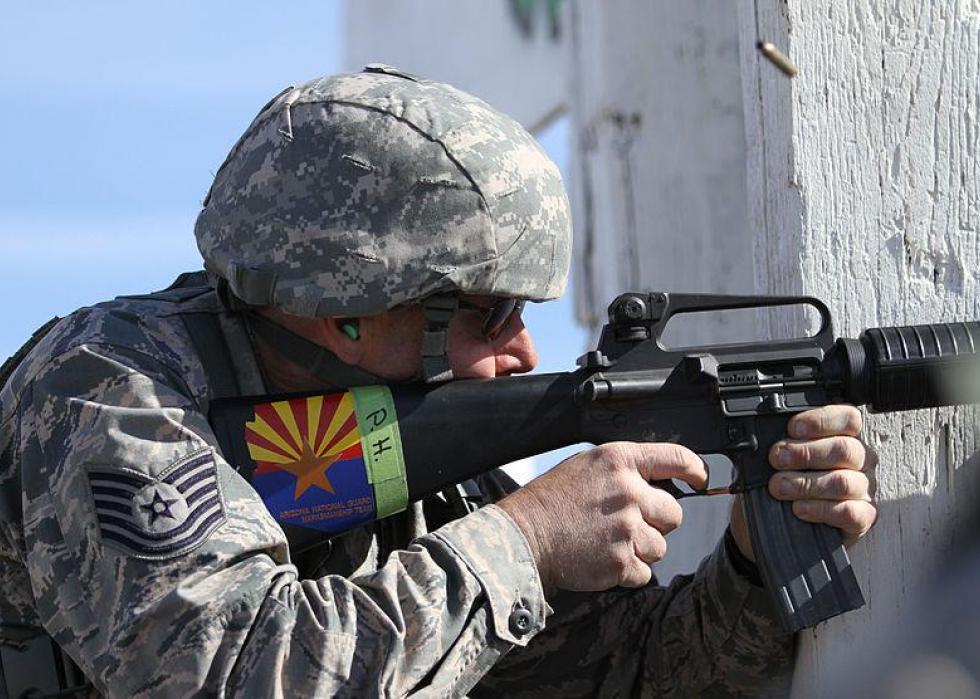 46 / 51
Sgt. Adrian Borunda // Wikicommons
#6. Arizona
Guns per capita: 0.03
State population in millions: 7.02
Number of registered weapons: 179,738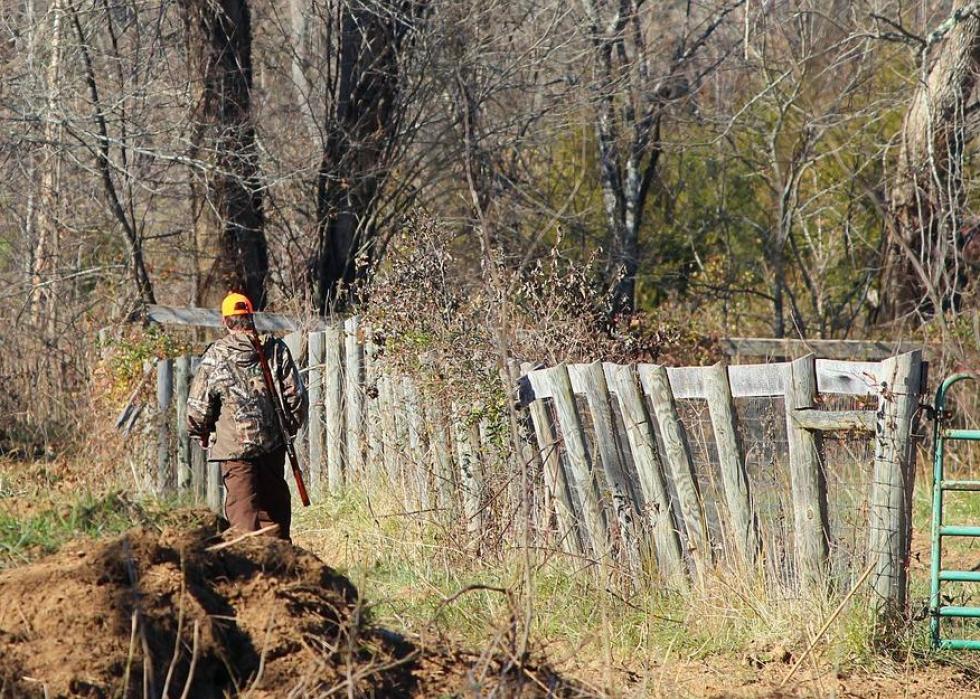 47 / 51
#5. Virginia
Guns per capita: 0.04
State population in millions: 8.47
Number of registered weapons: 307,822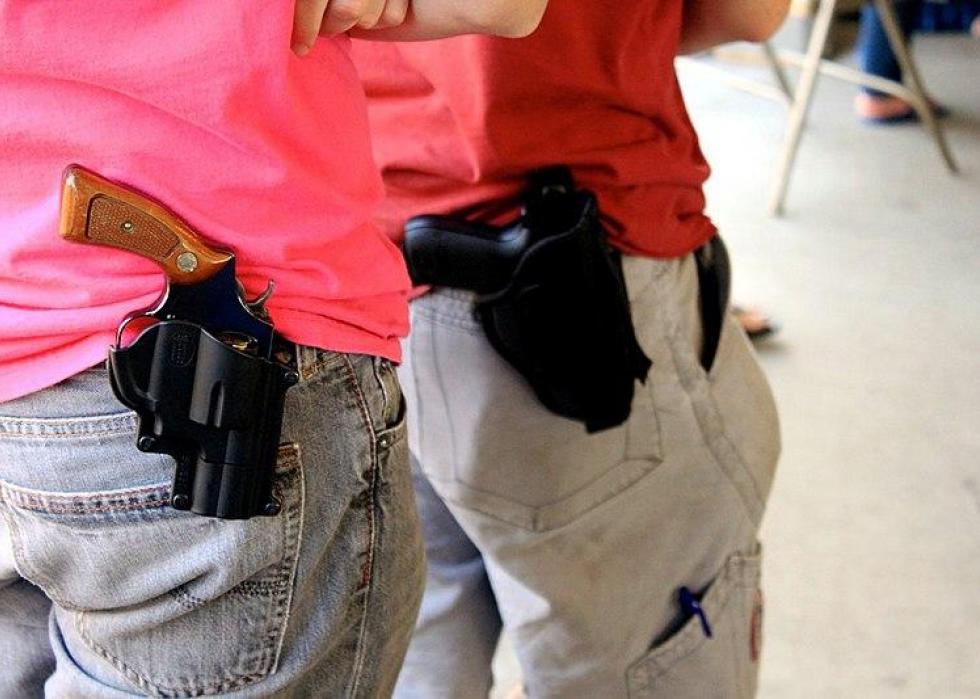 48 / 51
Lucio Eastman // Wikicommons
#4. New Hampshire
Guns per capita: 0.05
State population in millions: 1.34
Number of registered weapons: 64,135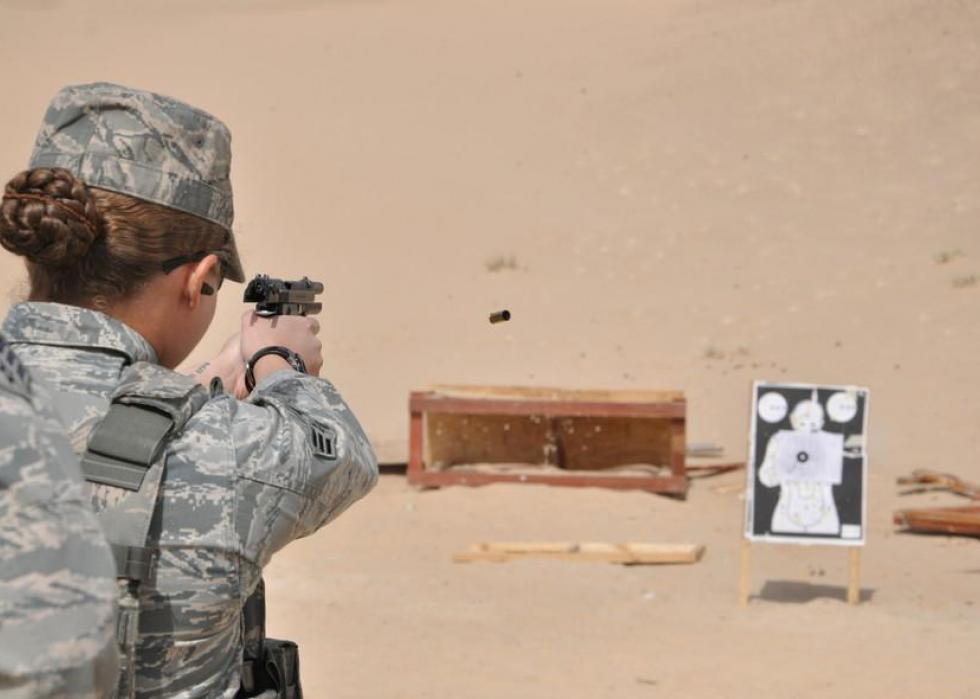 49 / 51
Senior Airman Melanie Holochwost // U.S. Air Force photo
#3. New Mexico
Guns per capita: 0.05
State population in millions: 2.09
Number of registered weapons: 97,580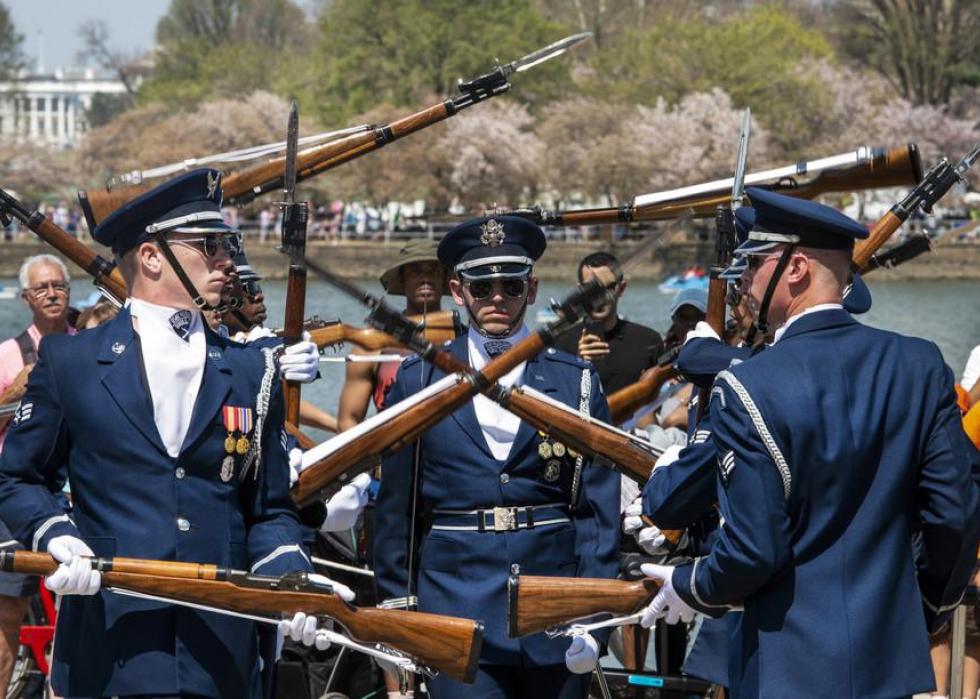 50 / 51
Petty Officer 2nd Class Anita C. Newman // Navy photo
#2. District of Columbia
Guns per capita: 0.07
State population in millions: 0.69
Number of registered weapons: 47,228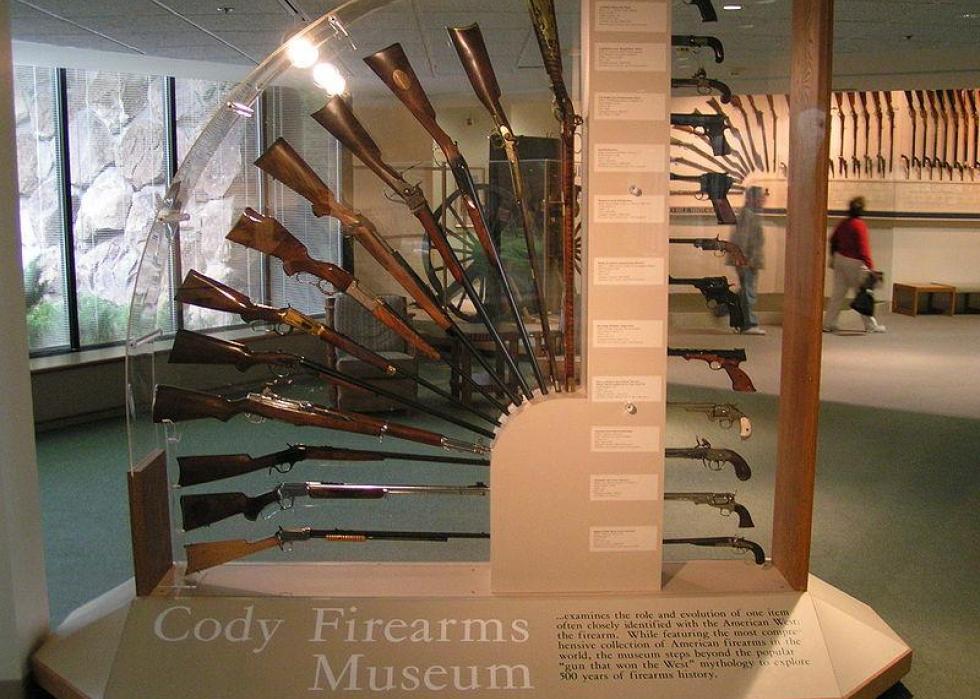 51 / 51
#1. Wyoming
Guns per capita: 0.23
State population in millions: 0.58
Number of registered weapons: 132,806