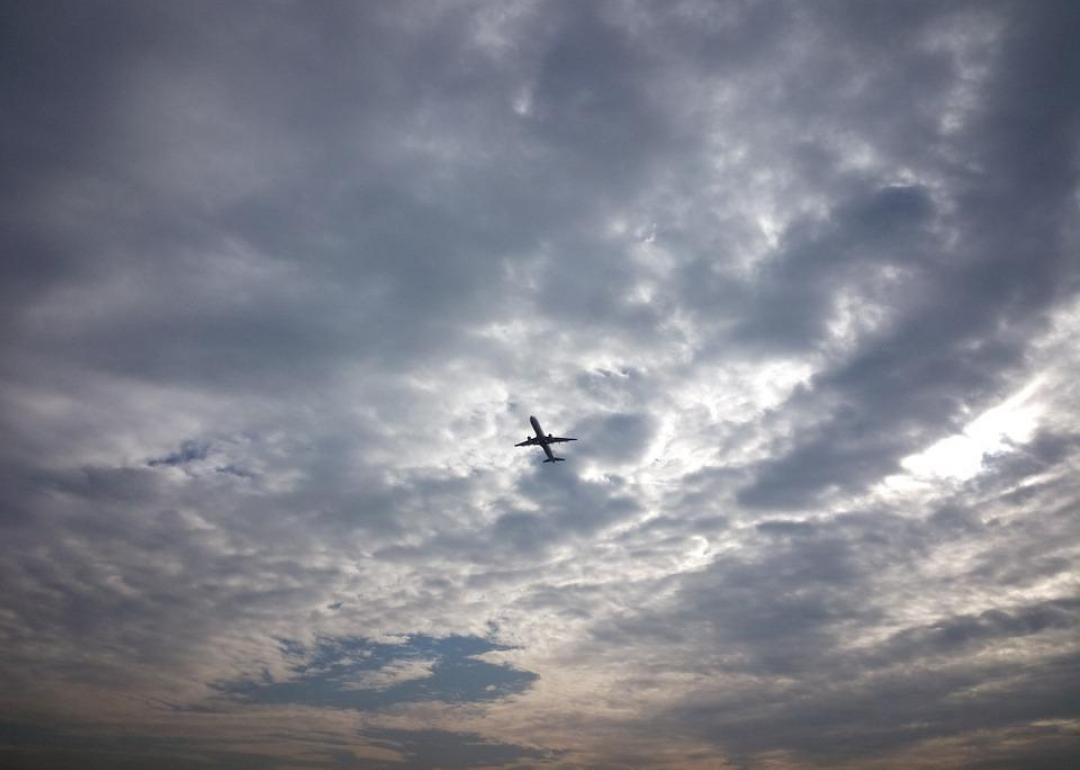 Cheapest flights from every state
Cheapest flights from every state
Americans' work schedules are some of the longest on Earth, clocking in the seventh most hours on average per year amongst the world's nations. As such, people tend to take vacations quite seriously, oftentimes going to measures so great as taking out large loans—with 74% of Americans reporting they have gone into debt to finance their getaways.
While this is something that travelers have demonstrated a willingness to do time and time again, it is undoubtedly a significant source of stress that would be alleviated to a degree if they could find cheaper travel options. A time frame and overall budget are typical factors that go into the final decision, but another approach to vacation planning can be choosing a destination based the affordability of getting there from one's home state.
In hoping to aid prospective travelers in doing just that, Stacker used data from the Bureau of Transportation Statistics' Consumer Airfare Report (Table 1a) in order to list the cheapest flights out of each state. The data is aggregated from all four fiscal quarters of 2017, and includes every state in the continental United States with the exceptions of Delaware, Kansas, South Dakota, and West Virginia, each of which had no representation in this particular dataset.
Read on to plan the next fiscally responsible getaway from your home state.
ALSO: Click here to see the cheapest flights in America.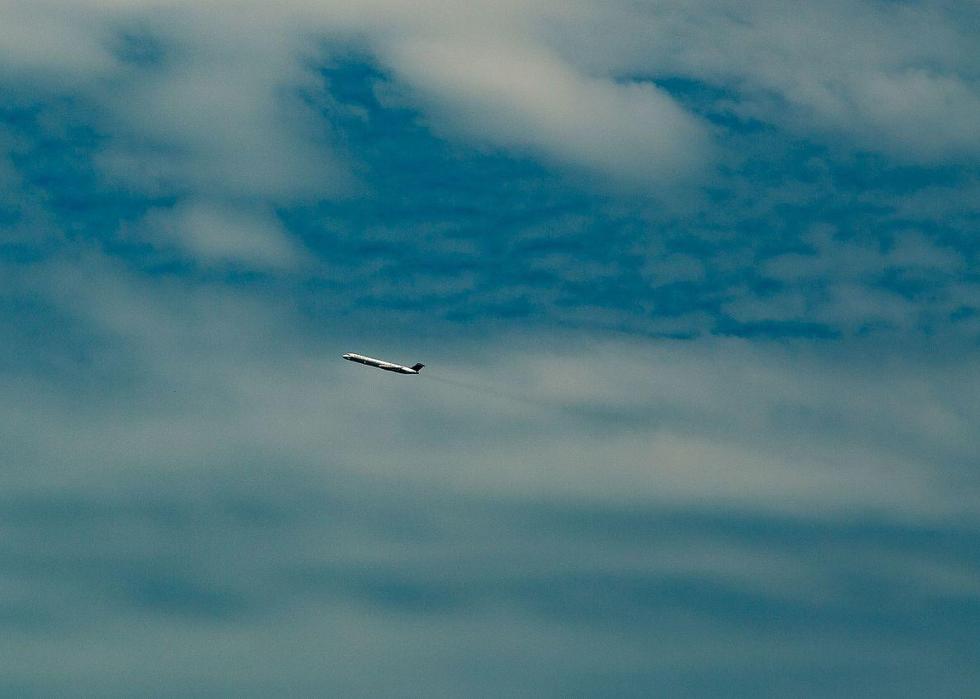 1 / 44
Delta plane taking off from BHM—Tony Webster // Wikicommons
Alabama: Birmingham, AL to Long Beach, CA
Average market fare: $222.20
Origin airport: Birmingham International Airport (BHM)
Destination airport: Long Beach Airport (LGB)
Nonstop distance between two airports: 1,815 miles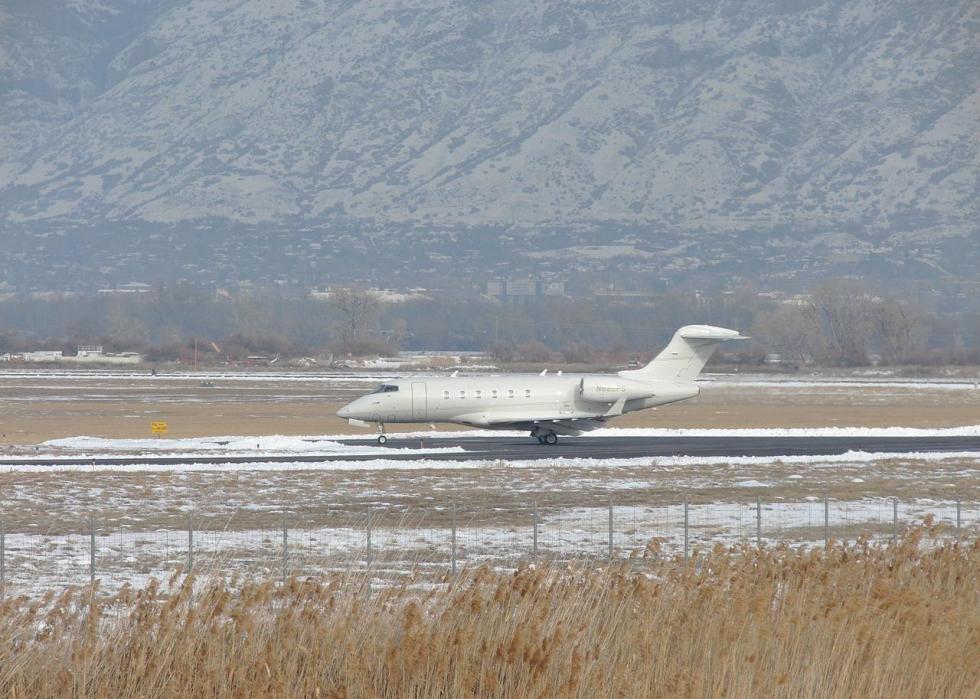 2 / 44
Provo Municipal Airport (PVU)—An Errant Knight // Wikicommons
Arizona: Phoenix, AZ to Provo, UT
Average market fare: $74.11
Origin airport: Phoenix–Mesa Gateway Airport (AZA)
Destination airport: Provo Municipal Airport (PVU)
Nonstop distance between two airports: 477 miles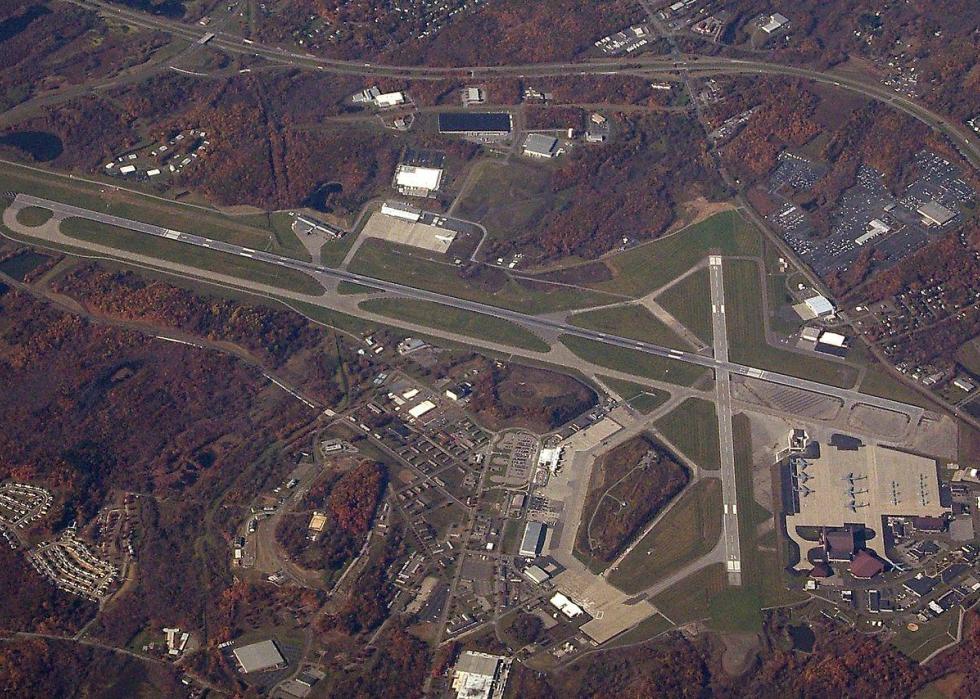 3 / 44
SWF Airport—Eric Salard // Wikicommons
Arkansas: Little Rock, AR to Newburgh, NY
Average market fare: $200.29
Origin airport: Little Rock National Airport (LIT)
Destination airport: Stewart International Airport (SWF)
Nonstop distance between two airports: 1,125 miles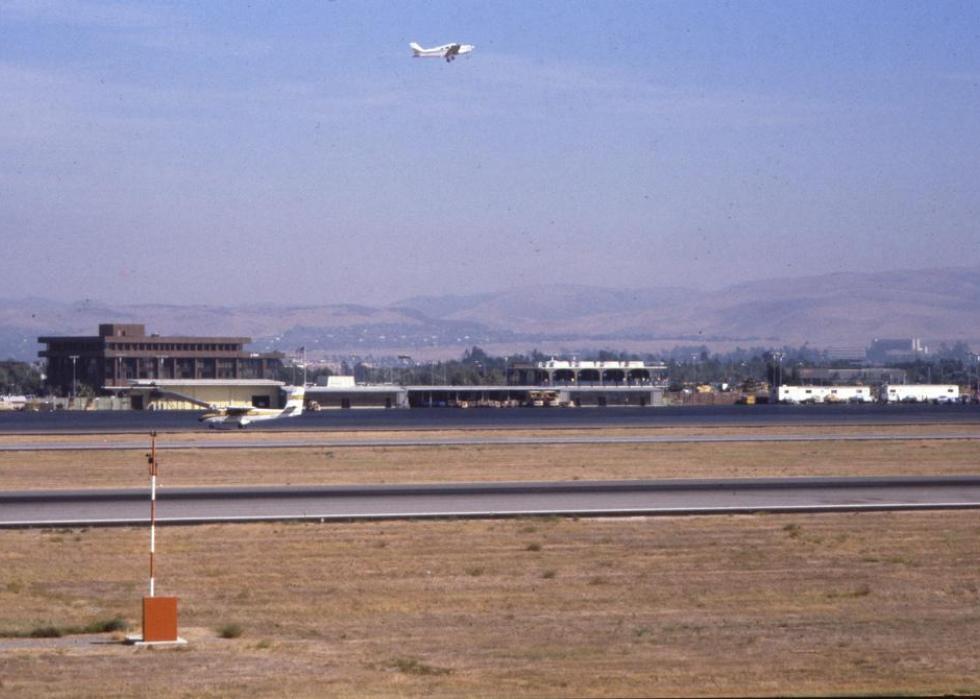 4 / 44
John Wayne Airport (SNA)—Orange County Archives // Flickr
California: Orange County, CA to Reno, NV
Average market fare: $141.60
Origin airport: John Wayne Airport (SNA)
Destination airport: Reno-Tahoe International Airport (RNO)
Nonstop distance between two airports: 415 miles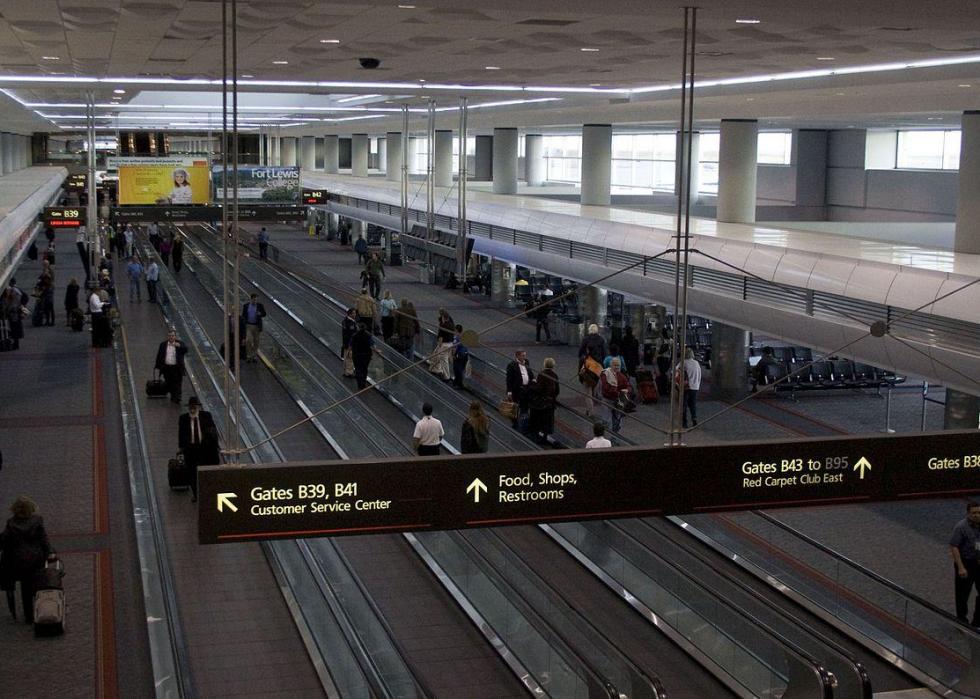 5 / 44
Walkway in Denver International Airport (DEN)—Luciof // Wikicommons
Colorado: Denver, CO to White Plains, NY
Average market fare: $218.97
Origin airport: Denver International Airport (DEN)
Destination airport: Westchester County Airport (HPN)
Nonstop distance between two airports: 1,659 miles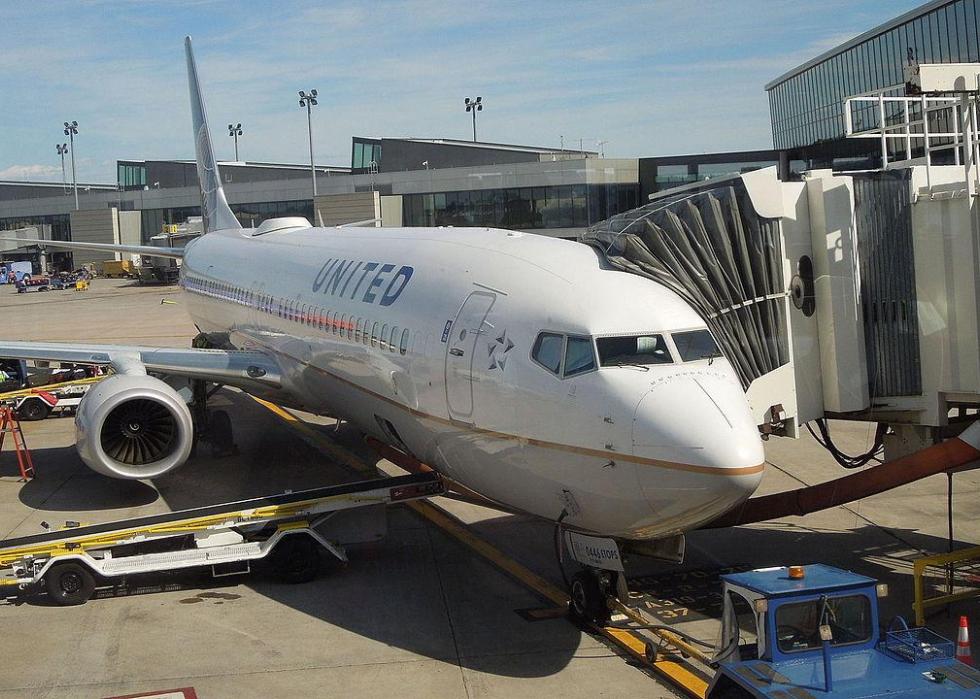 6 / 44
United Airlines at Bradley International Airport (BDL)—DReifGalaxyM31 // Wikicommons
Connecticut: Windsor Locks, CT to Washington, DC
Average market fare: $156.52
Origin airport: Bradley International Airport (BDL)
Destination airport: Washington Dulles International Airport (IAD)
Nonstop distance between two airports: 326 miles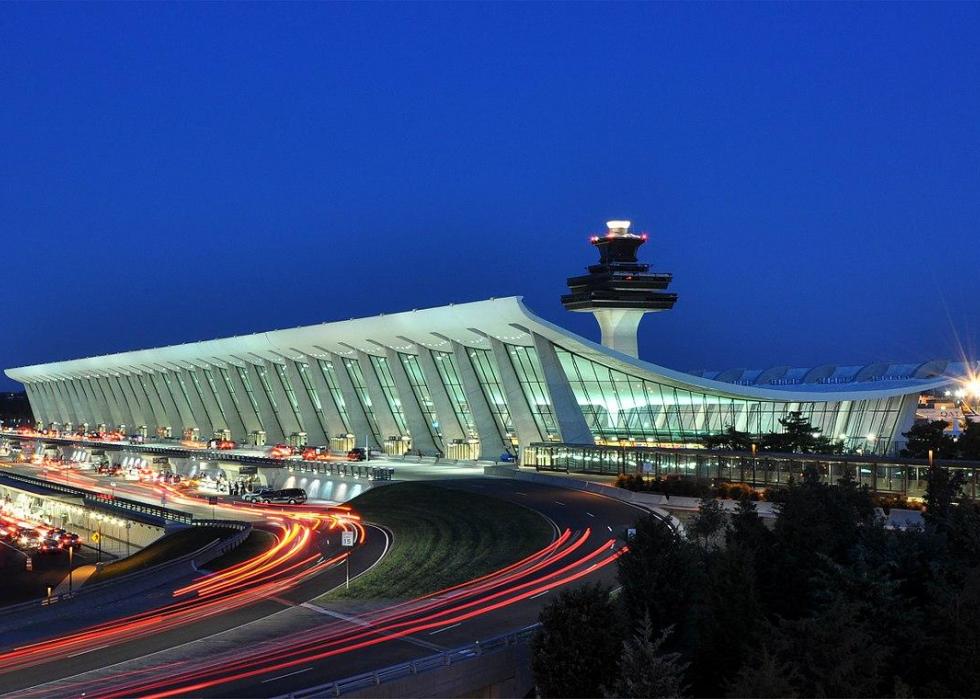 7 / 44
Washington Dulles International Airport (IAD)—Joe Ravi // Wikicommons
Florida: Valparaiso, FL to BWI Airport, MD
Average market fare: $158.11
Origin airport: Fort Walton Beach Airport (VPS)
Destination airport: Baltimore / Washington International Airport (BWI)
Nonstop distance between two airports: 819 miles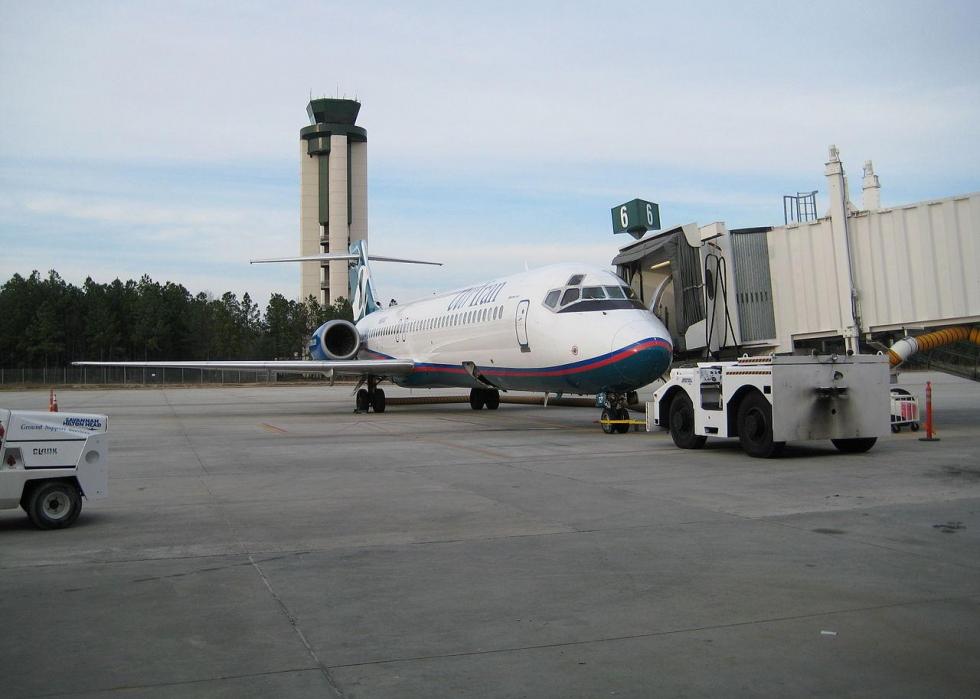 8 / 44
Airtran Boeing 717 at Savannah Hilton Head Int. (SAV)—Daniel Richardson // Wikicommons
Georgia: Savannah, GA to BWI Airport, MD
Average market fare: $171.79
Origin airport: Savannah/Hilton Head International Airport (SAV)
Destination airport: Baltimore / Washington International Airport (BWI)
Nonstop distance between two airports: 549 miles
9 / 44
Boise Airport (BOI) terminal—Larry D. Moore // Wikicommons
Idaho: Boise, ID to Phoenix, AZ
Average market fare: $88.80
Origin airport: Boise Airport (BOI)
Destination airport: Phoenix–Mesa Gateway Airport (AZA)
Nonstop distance between two airports: 749 miles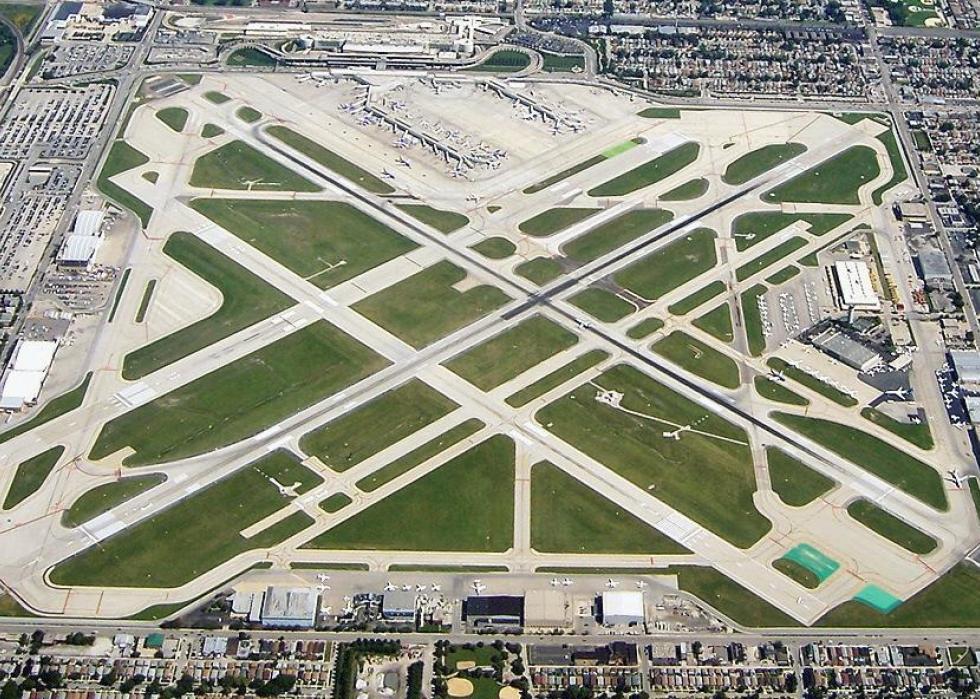 10 / 44
Chicago Midway International Airport (MDW)—Sox23 // Wikicommons
Illinois: Chicago, IL to Indianapolis, IN
Average market fare: $129.41
Origin airport: Chicago Midway Airport (MDW)
Destination airport: Indianapolis International Airport (IND)
Nonstop distance between two airports: 177 miles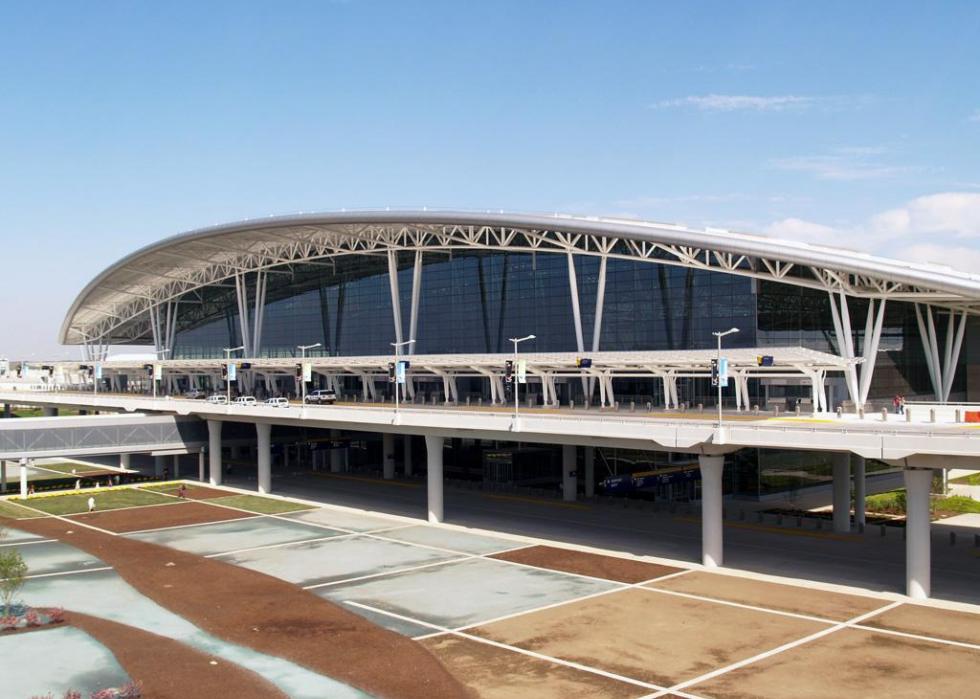 11 / 44
Indianapolis International Airport terminal (IND)—Public Domain
Indiana: Indianapolis, IN to Phoenix, AZ
Average market fare: $95.52
Origin airport: Indianapolis International Airport (IND)
Destination airport: Phoenix–Mesa Gateway Airport (AZA)
Nonstop distance between two airports: 1,488 miles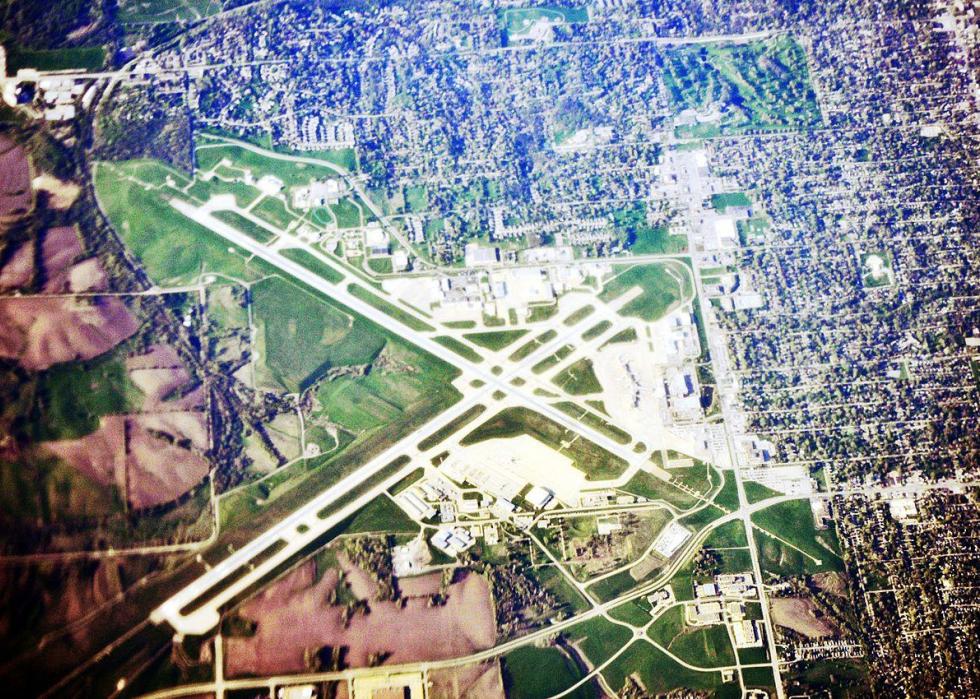 12 / 44
Des Moines International Airport (DSM)—Joe Mabel // Wikicommons
Iowa: Des Moines, IA to Phoenix, AZ
Average market fare: $90.34
Origin airport: Des Moines International Airport (DSM)
Destination airport: Phoenix–Mesa Gateway Airport (AZA)
Nonstop distance between two airports: 1,150 miles
13 / 44
Fort Lauderdale-Hollywood International Airport (FLL)—Public Domain
Kentucky: Lexington, KY to Fort Lauderdale, FL
Average market fare: $121.92
Origin airport: Blue Grass Airport (LEX)
Destination airport: Fort Lauderdale Hollywood International Airport (FLL)
Nonstop distance between two airports: 880 miles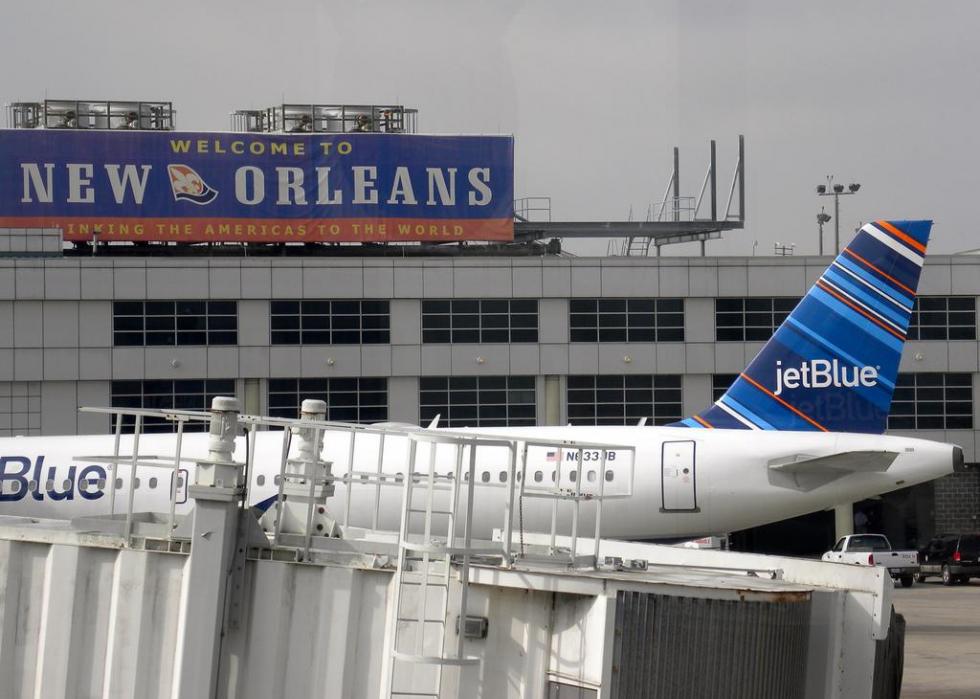 14 / 44
New Orleans International Airport (MSY)—JasonParis // Flickr
Louisiana: New Orleans, LA to Saint Petersburg, FL
Average market fare: $65.44
Origin airport: New Orleans International Airport (MSY)
Destination airport: St. Petersburg-Clearwater International Airport (PIE)
Nonstop distance between two airports: 488 miles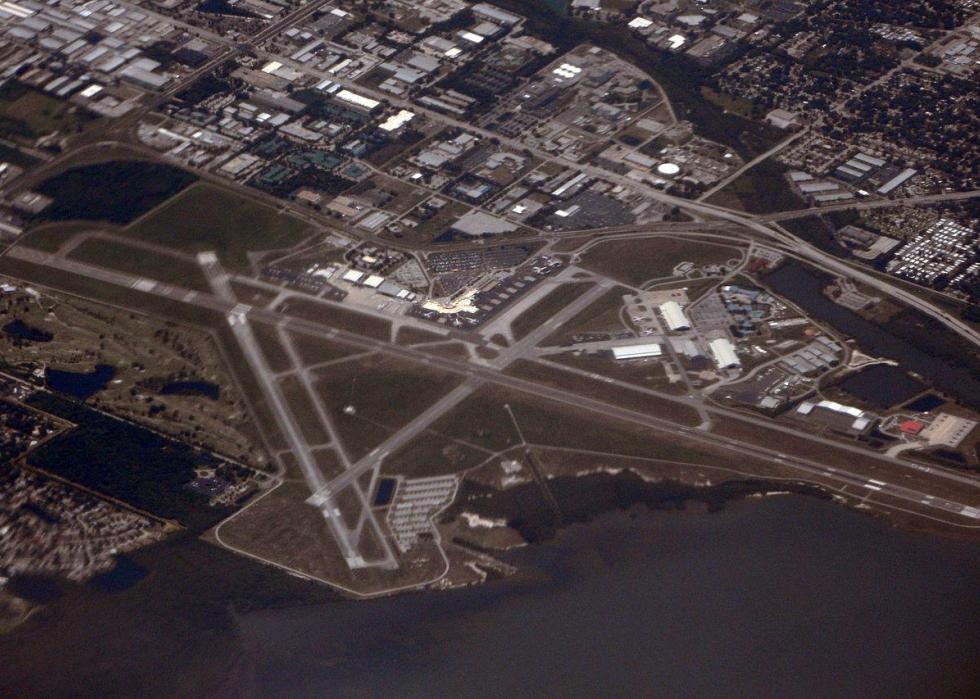 15 / 44
St. Petersburg Clearwater Airport (PIE)—Eric Salard // Wikicommons
Maine: Bangor, ME to Saint Petersburg, FL
Average market fare: $139.91
Origin airport: Bangor International Airport (BGR)
Destination airport: St. Petersburg-Clearwater International Airport (PIE)
Nonstop distance between two airports: 1,394 miles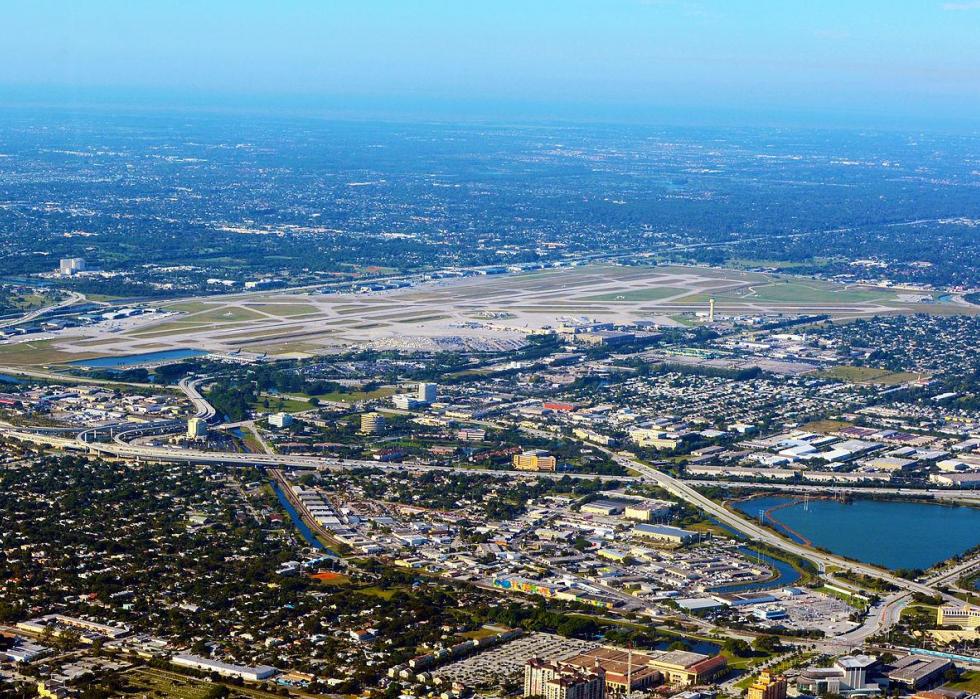 16 / 44
Palm Beach International Airport (PBI)—Don Ramey Logan // Wikicommons
Maryland: Baltimore, MD to West Palm Beach, FL
Average market fare: $182.51
Origin airport: Baltimore / Washington International Airport (BWI)
Destination airport: Palm Beach International Airport (PBI)
Nonstop distance between two airports: 883 miles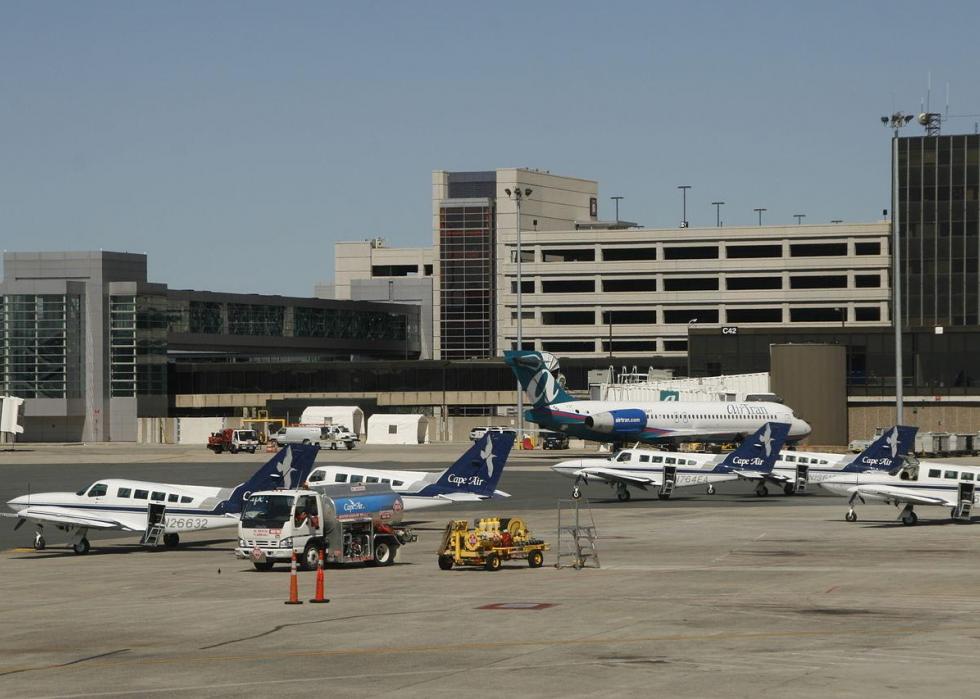 17 / 44
Cape Air at Boston Logan International Airport (BOS)—Doc Searls // Wikicommons
Massachusetts: Boston, MA to North Canton, OH
Average market fare: $179.72
Origin airport: Boston Logan International Airport (BOS)
Destination airport: Akron-Canton Airport (CAK)
Nonstop distance between two airports: 563 miles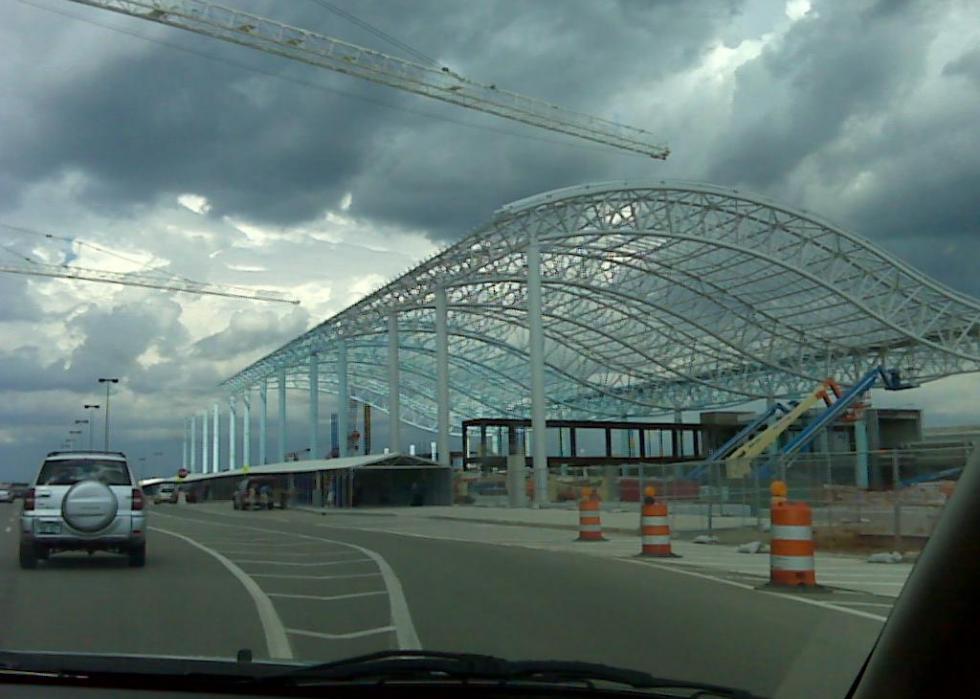 18 / 44
Construction at Gerald R. Ford International Airport (GRR)—Lola Audu // Wikicomons
Michigan: Grand Rapids, MI to Saint Petersburg, FL
Average market fare: $95.57
Origin airport: Gerald R. Ford International Airport (GRR)
Destination airport: St. Petersburg-Clearwater International Airport (PIE)
Nonstop distance between two airports: 1,044 miles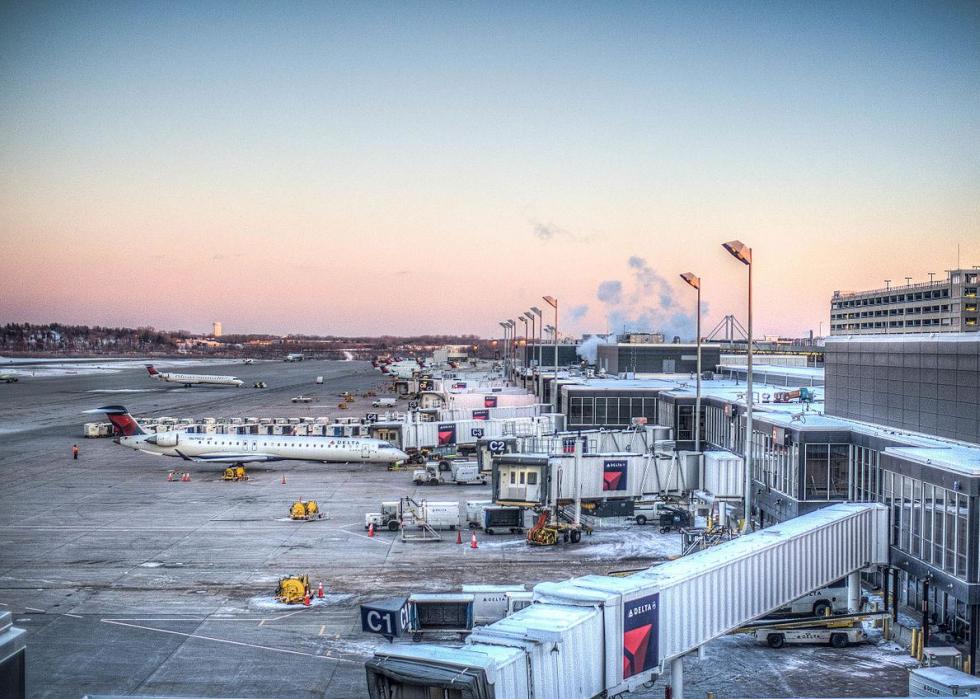 19 / 44
Minneapolis St. Paul International Airport—m01229 // Wikicommons
Minnesota: Minneapolis, MN to Islip, NY
Average market fare: $215.21
Origin airport: Minneapolis/St. Paul International Airport (MSP)
Destination airport: Macarthur Airport (ISP)
Nonstop distance between two airports: 1,057 miles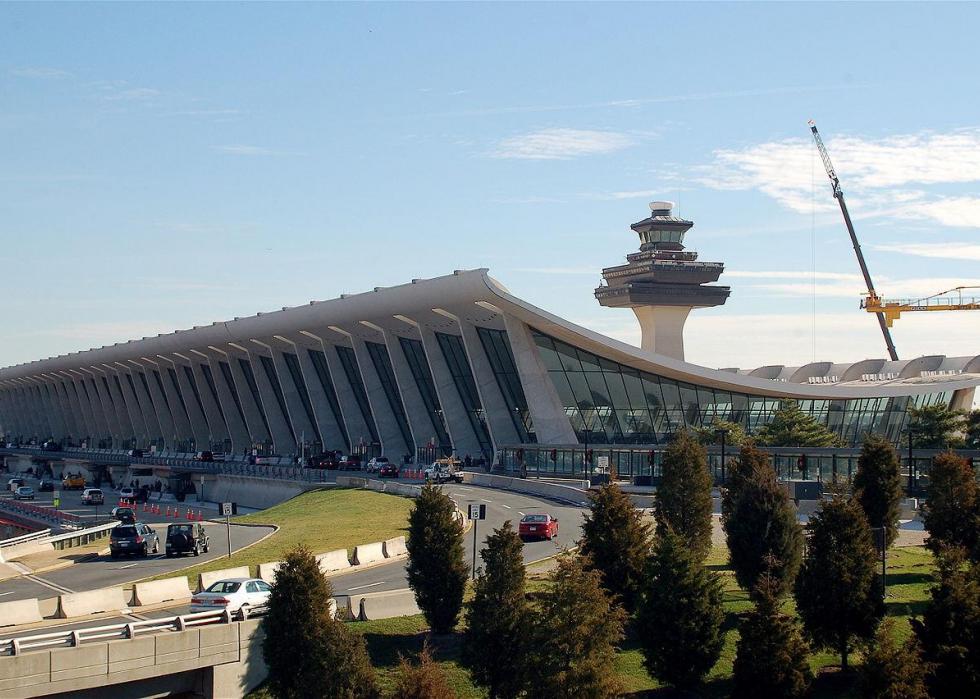 20 / 44
Washington Dulles International Airport (IAD)—Public Domain
Mississippi: Jackson, MS to Washington, DC
Average market fare: $262.97
Origin airport: Jackson-Evers International Airport (JAN)
Destination airport: Washington Dulles International Airport (IAD)
Nonstop distance between two airports: 888 miles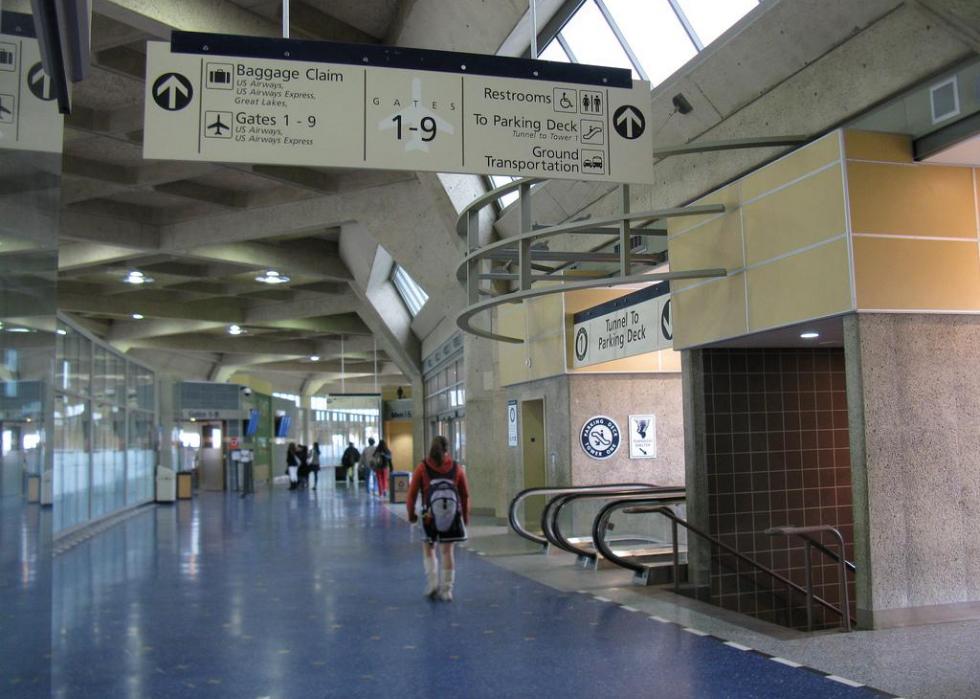 21 / 44
Kansas City International Airport (MCI)—FHKE // Flickr
Missouri: Kansas City, MO to Saint Petersburg, FL
Average market fare: $79.72
Origin airport: Kansas City International Airport (MCI)
Destination airport: St. Petersburg-Clearwater International Airport (PIE)
Nonstop distance between two airports: 1,048 miles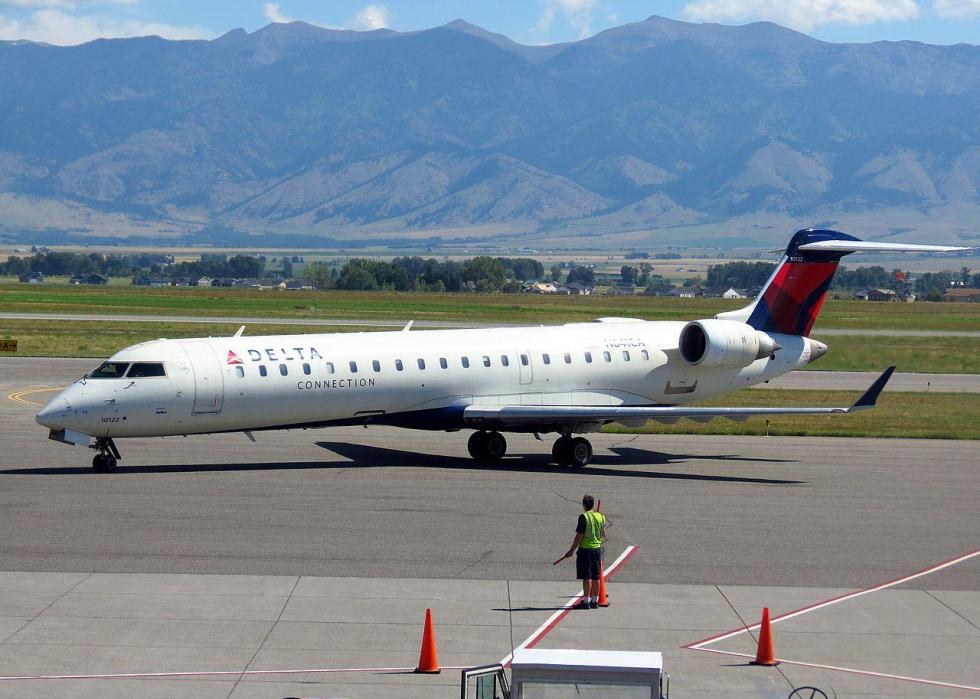 22 / 44
SkyWest Airlines at Bozeman Yellowstone International Airport (BZN)—redlegsfan21 // Wikicommons
Montana: Bozeman, MT to Ontario, CA
Average market fare: $292.55
Origin airport: Bozeman Gallatin Field Airport (BZN)
Destination airport: Ontario International Airport (ONT)
Nonstop distance between two airports: 908 miles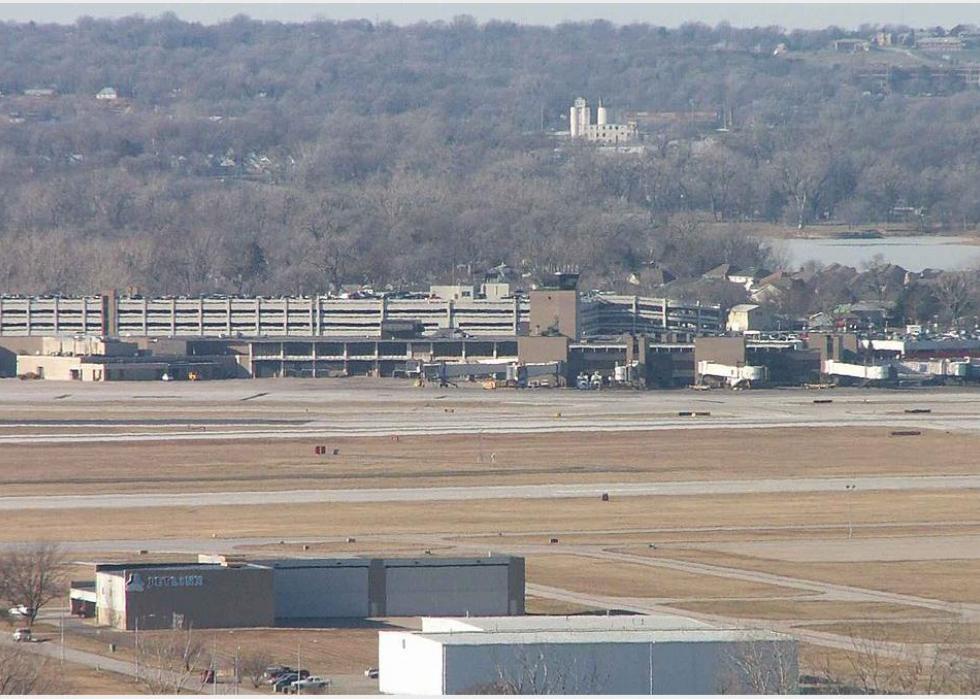 23 / 44
Eppley Airfield (OMA)—Americasroof // Wikicommons
Nebraska: Omaha, NE to Oakland, CA
Average market fare: $228.09
Origin airport: Eppley Airfield (OMA)
Destination airport: Oakland International Airport (OAK)
Nonstop distance between two airports: 1,433 miles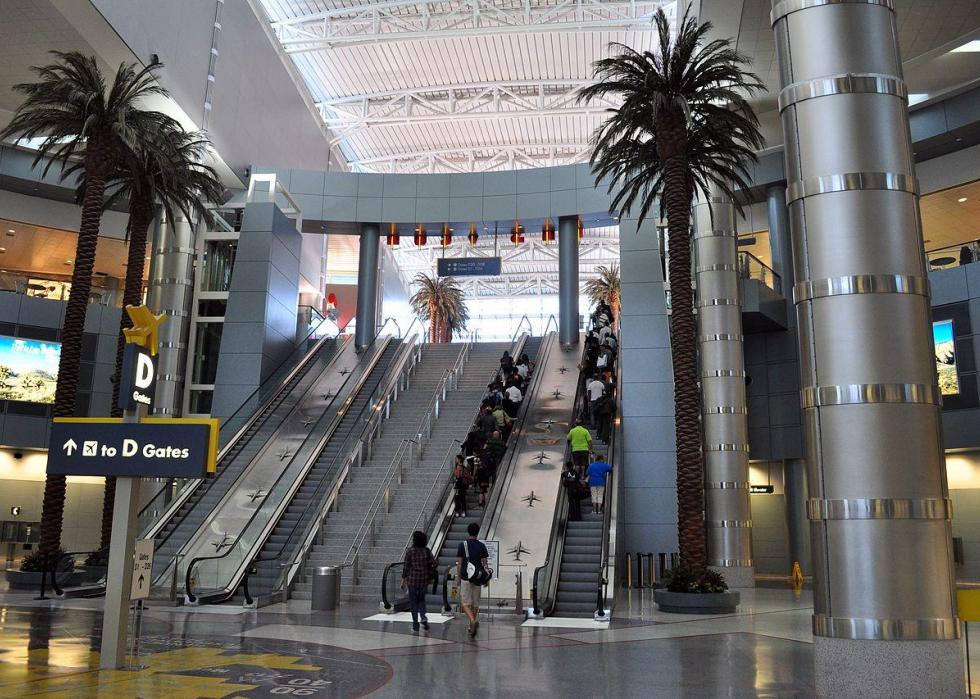 24 / 44
Mccarran International Airport (LAS)—Eric Salard // Wikicommons
Nevada: Las Vegas, NV to New York, NY
Average market fare: $248.00
Origin airport: Mccarran International Airport (LAS)
Destination airport: La Guardia Airport (LGA)
Nonstop distance between two airports: 2,282 miles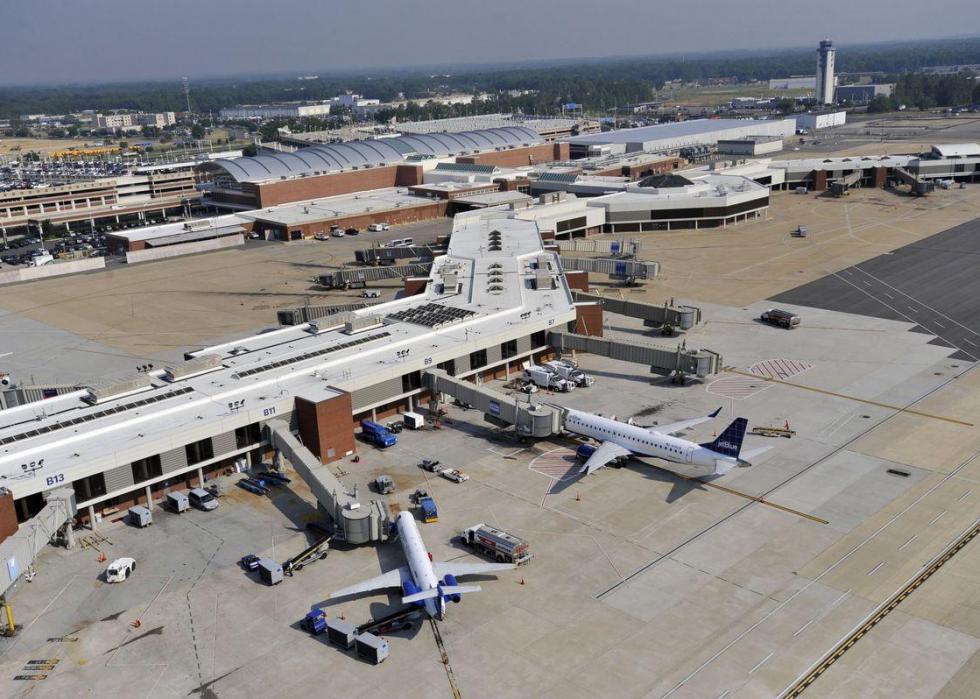 25 / 44
Richmond International Airport B Concourse (RIC)—Joe Mahoney // Wikicommons
New Hampshire: Manchester, NH to Richmond, VA
Average market fare: $169.85
Origin airport: Manchester Airport (MHT)
Destination airport: Richmond International Airport (RIC)
Nonstop distance between two airports: 487 miles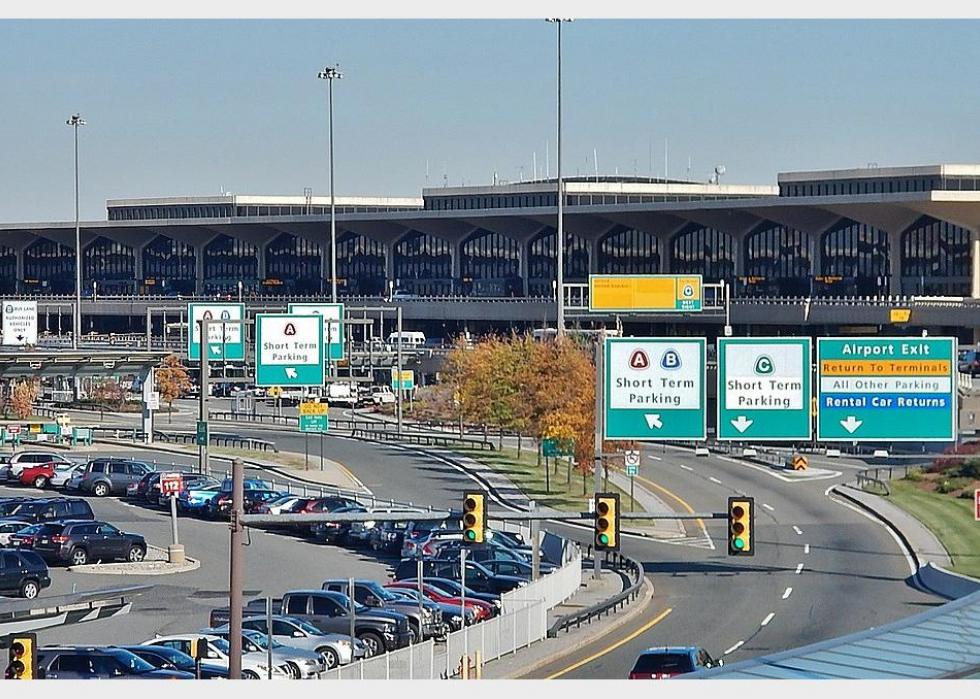 26 / 44
Newark Liberty International Airport (EWR)—qwesy qwesy // Wikicommons
New Jersey: Newark, NJ to Rochester, NY
Average market fare: $165.29
Origin airport: Newark Liberty International Airport (EWR)
Destination airport: Greater Rochester International Airport (ROC)
Nonstop distance between two airports: 285 miles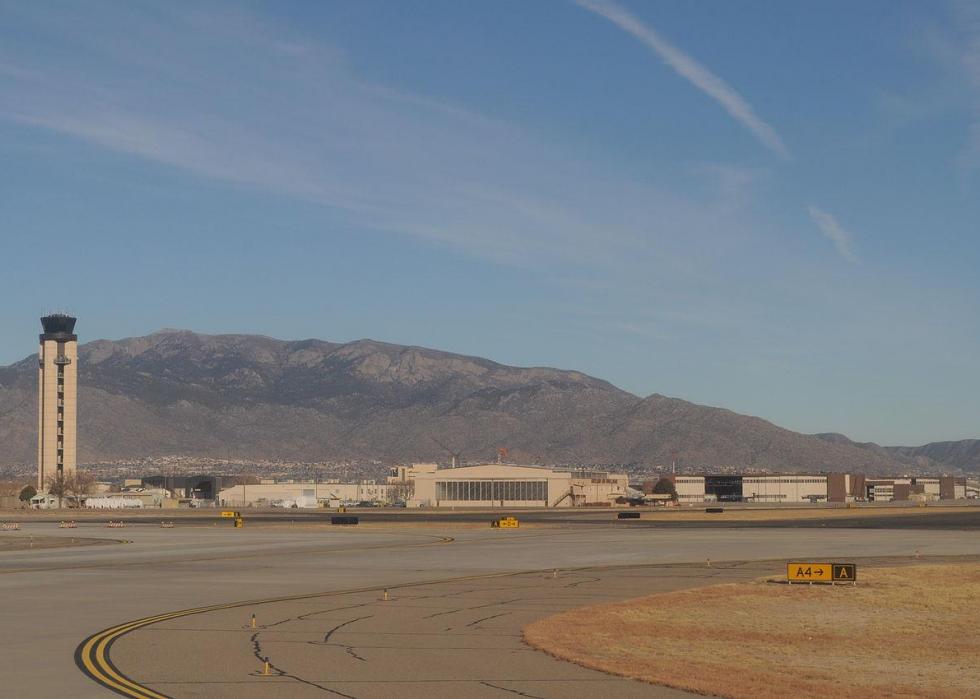 27 / 44
Albuquerque International Sunport (ABQ)—Joe Mabel // Wikicommons
New Mexico: Albuquerque, NM to Newburgh, NY
Average market fare: $178.40
Origin airport: Albuquerque International Sunport (ABQ)
Destination airport: Stewart International Airport (SWF)
Nonstop distance between two airports: 1,861 miles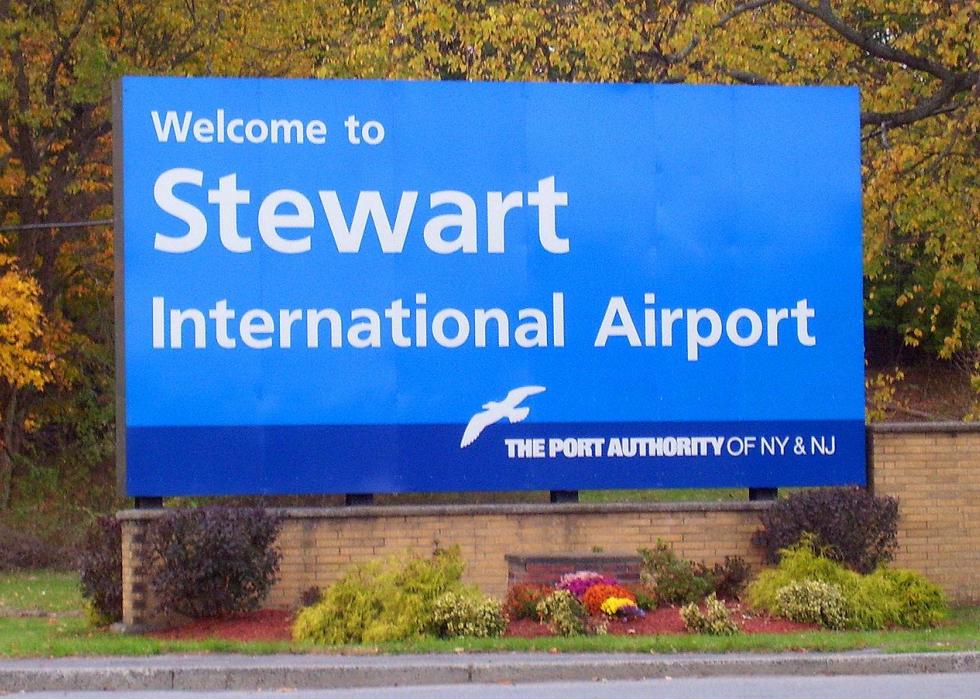 28 / 44
Daniel Case // Wikicommons
New York: Newburgh, NY to Saint Petersburg, FL
Average market fare: $92.09
Origin airport: Stewart International Airport (SWF)
Destination airport: St. Petersburg-Clearwater International Airport (PIE)
Nonstop distance between two airports: 1,055 miles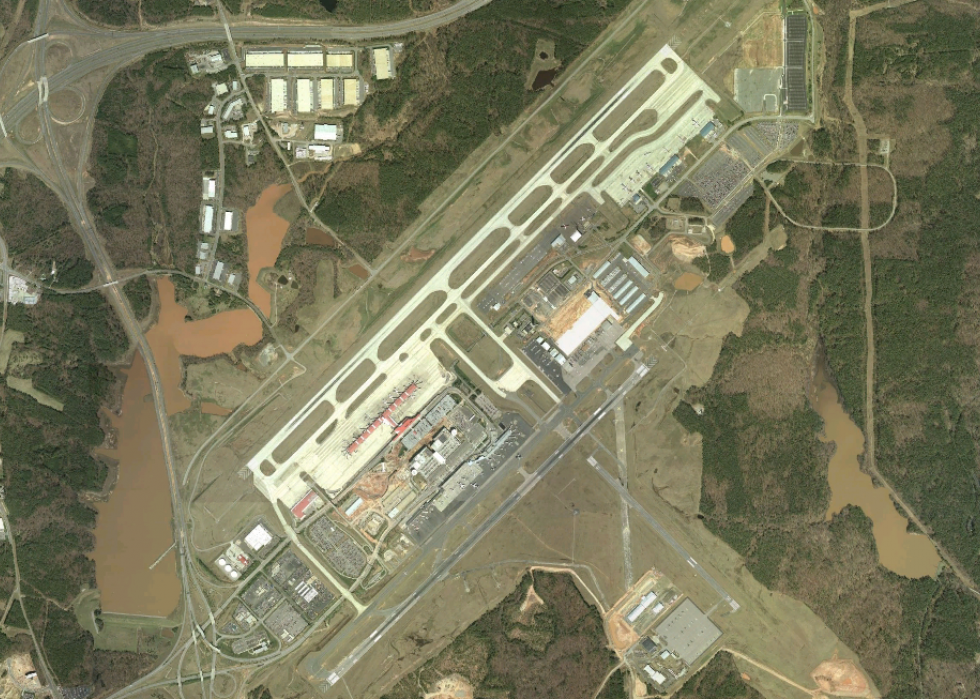 29 / 44
Raleigh Durham International Airport (RDU)—Public Domain
North Carolina: Rdu Airport, NC to Saint Petersburg, FL
Average market fare: $77.76
Origin airport: Raleigh-Durham International Airport (RDU)
Destination airport: St. Petersburg-Clearwater International Airport (PIE)
Nonstop distance between two airports: 595 miles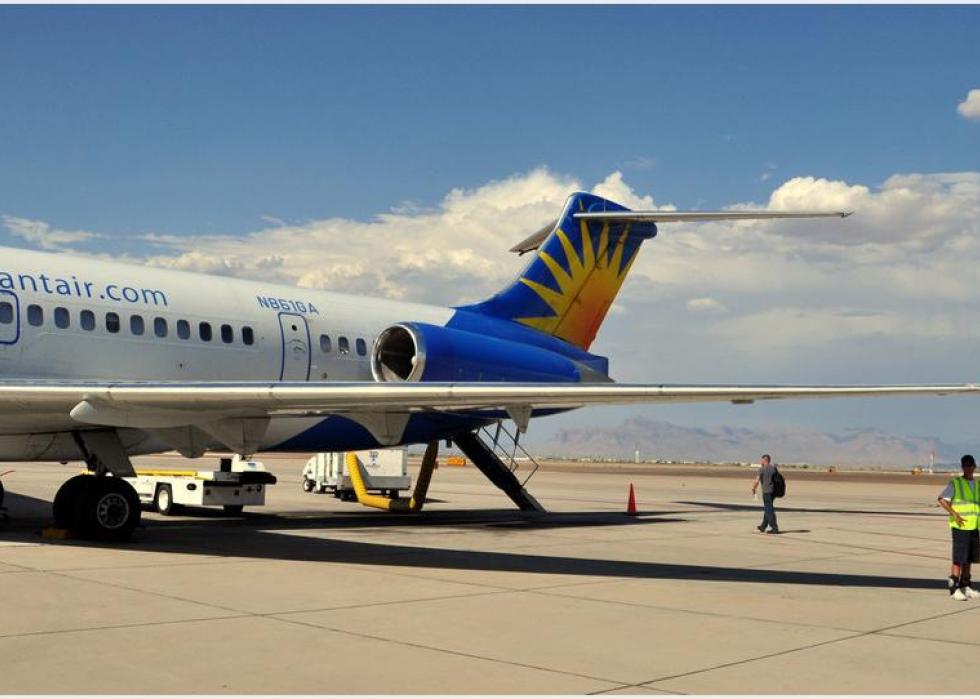 30 / 44
Allegiant Air at Phoenix Mesa Gateway Airport (AZA)—JL Johnson // Flickr
North Dakota: Fargo, ND to Phoenix, AZ
Average market fare: $142.27
Origin airport: Hector International Airport (FAR)
Destination airport: Phoenix–Mesa Gateway Airport (AZA)
Nonstop distance between two airports: 1,225 miles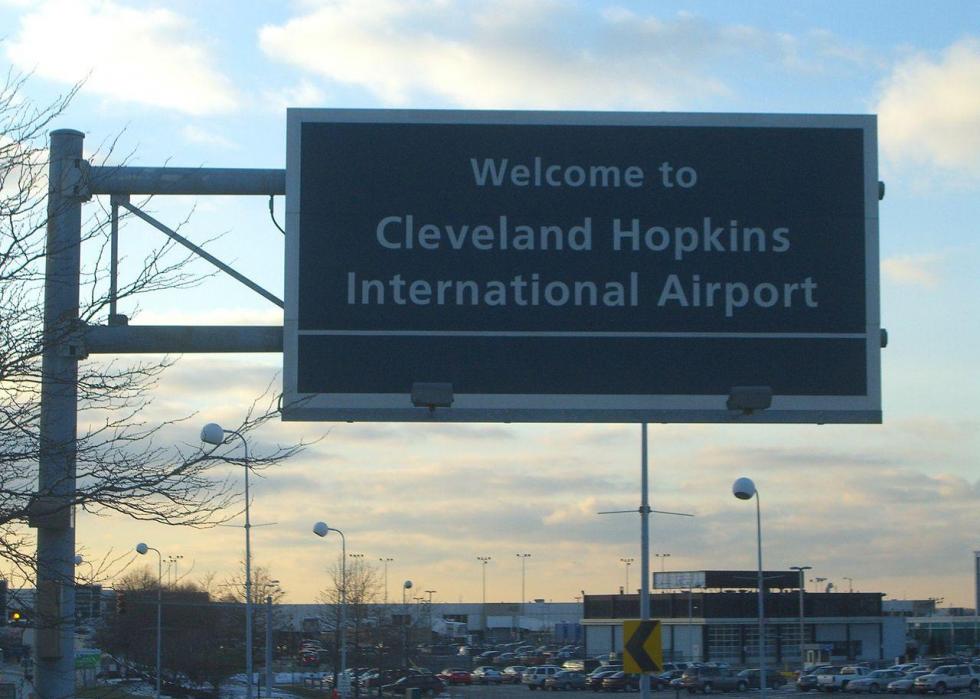 31 / 44
Ohio: Cleveland, OH to Phoenix, AZ
Average market fare: $72.24
Origin airport: Cleveland Hopkins International Airport (CLE)
Destination airport: Phoenix–Mesa Gateway Airport (AZA)
Nonstop distance between two airports: 1,754 miles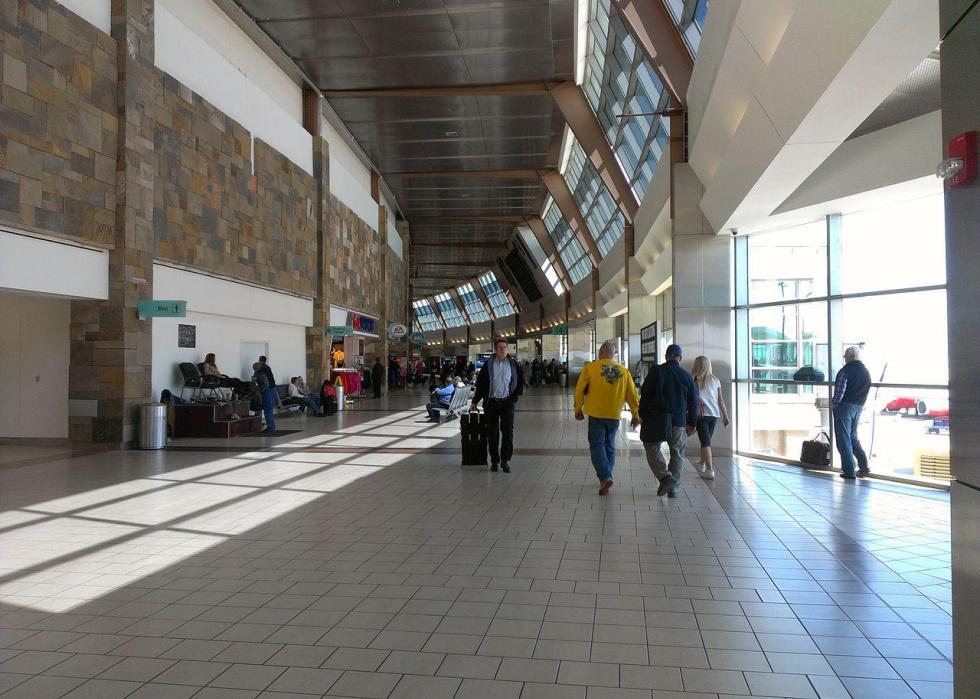 32 / 44
Will Rogers World Airport (OKC)—Ragesoss // Wikicommons
Oklahoma: Oklahoma City, OK to San Francisco, CA
Average market fare: $268.62
Origin airport: Will Rogers World Airport (OKC)
Destination airport: San Francisco International Airport (SFO)
Nonstop distance between two airports: 1,384 miles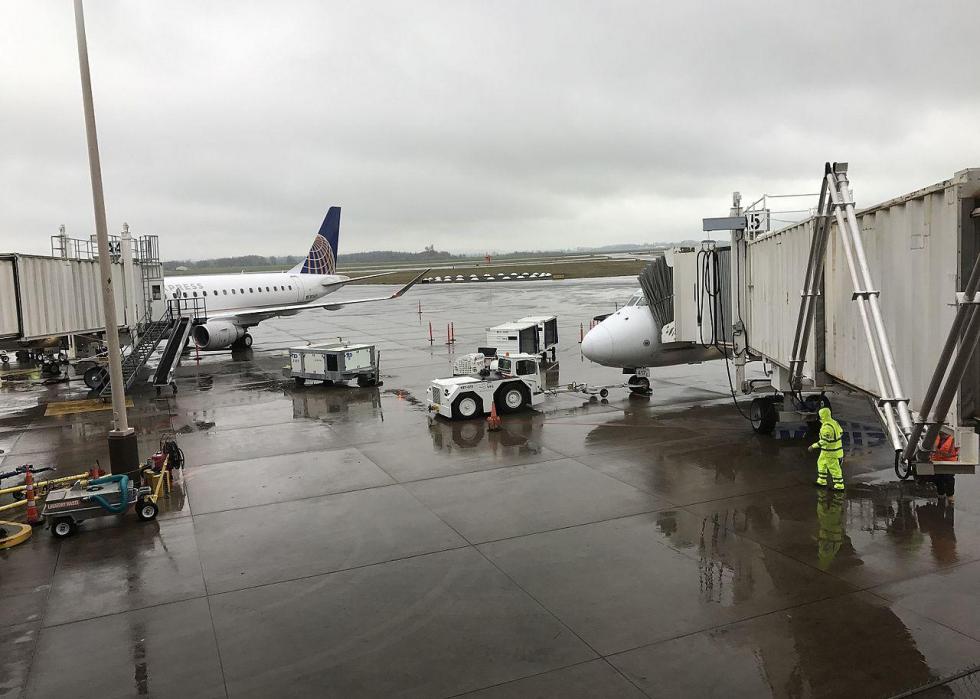 33 / 44
Gate A at Eugene Airport (EUG)—EUG737 // Wikicommons
Oregon: Eugene, OR to Phoenix, AZ
Average market fare: $102.36
Origin airport: Eugene Airport (EUG)
Destination airport: Phoenix–Mesa Gateway Airport (AZA)
Nonstop distance between two airports: 971 miles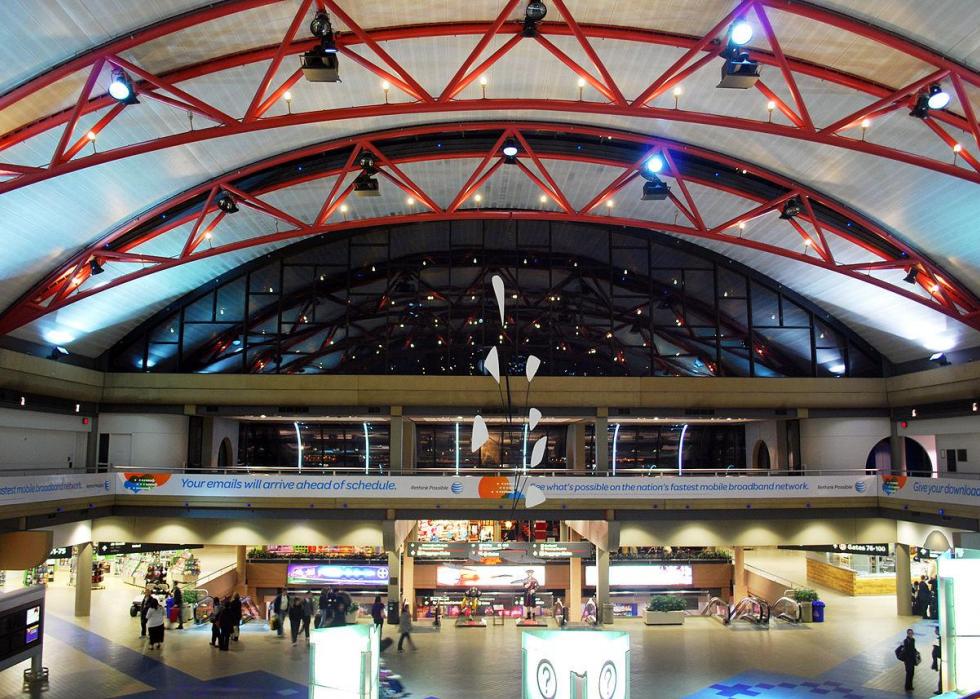 34 / 44
Pittsburgh International Airport Terminal (PIT)—Public Domain
Pennsylvania: Pittsburgh, PA to BWI Airport, MD
Average market fare: $168.33
Origin airport: Pittsburgh International Airport (PIT)
Destination airport: Baltimore / Washington International Airport (BWI)
Nonstop distance between two airports: 210 miles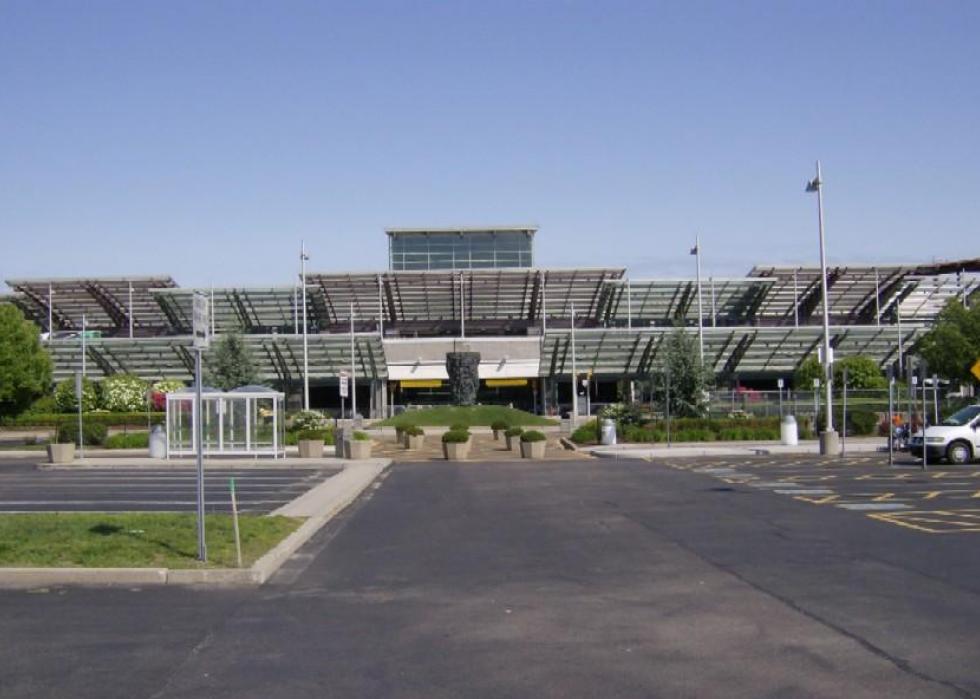 35 / 44
T.F. Green Airport Terminal (PVD)—Innapoy // Wikicommons
Rhode Island: Providence, RI to Saint Petersburg, FL
Average market fare: $103.28
Origin airport: T.F. Green Airport (PVD)
Destination airport: St. Petersburg-Clearwater International Airport (PIE)
Nonstop distance between two airports: 1,204 miles
36 / 44
Myrtle Beach International Airport terminal (MYR)—Sk5893 // Wikicommons
South Carolina: Myrtle Beach, SC to Newburgh, NY
Average market fare: $96.16
Origin airport: Myrtle Beach Airport (MYR)
Destination airport: Stewart International Airport (SWF)
Nonstop distance between two airports: 601 miles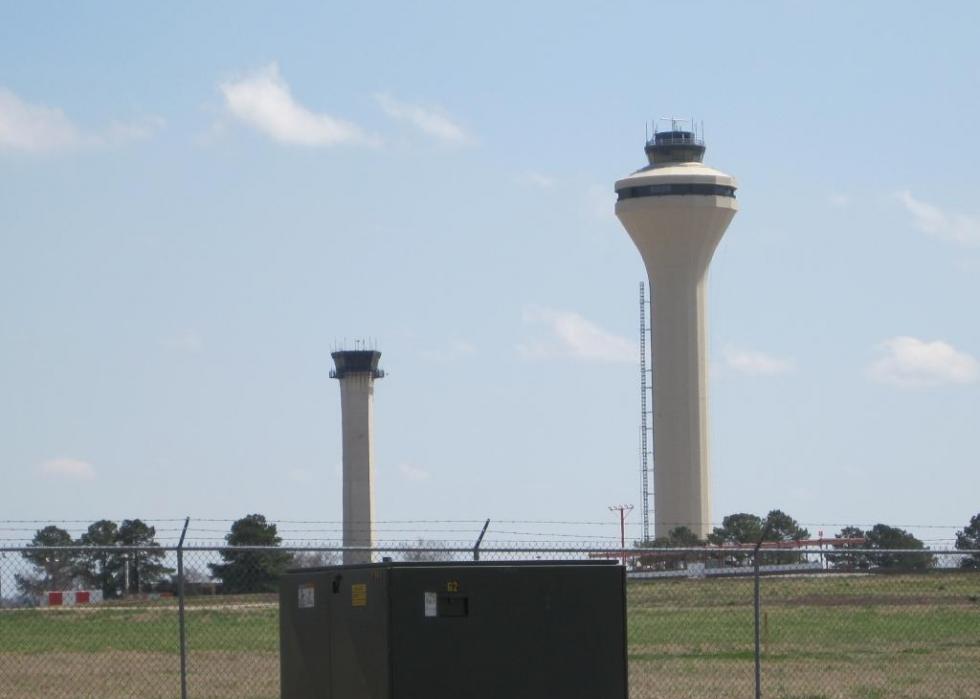 37 / 44
Control towers at Memphis International Airport (MEM)—Thomas R Machnitzki // Wikicommons
Tennessee: Memphis, TN to Saint Petersburg, FL
Average market fare: $77.33
Origin airport: Memphis Airport (MEM)
Destination airport: St. Petersburg-Clearwater International Airport (PIE)
Nonstop distance between two airports: 655 miles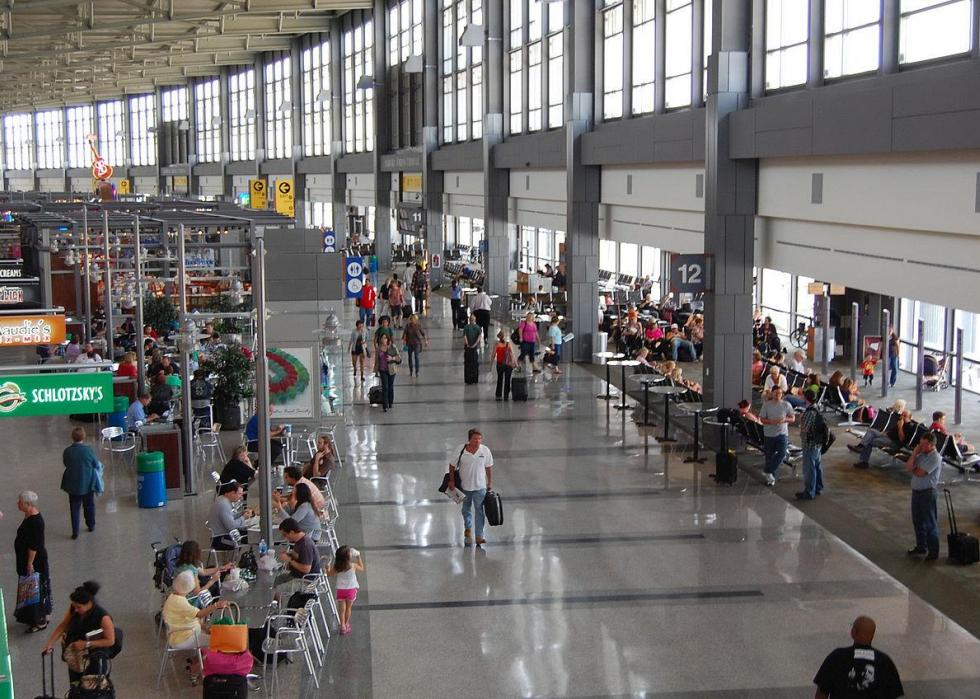 38 / 44
Passenger concourse at Austin Bergstrom International Airport (AUS)—LoneStarMike // Wikicommons
Texas: Austin, TX to Saint Petersburg, FL
Average market fare: $75.39
Origin airport: Austin-Bergstrom International Airport (AUS)
Destination airport: St. Petersburg-Clearwater International Airport (PIE)
Nonstop distance between two airports: 928 miles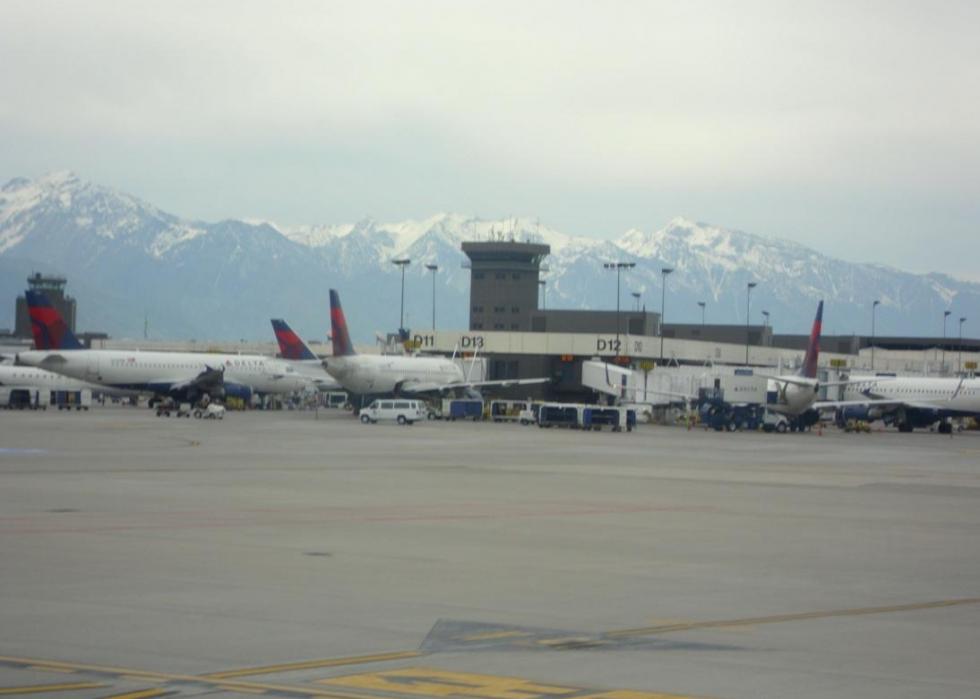 39 / 44
Salt Lake City International Airport (SLC)—Jonas Laurince // Wikicommons
Utah: Salt Lake City, UT to San Jose, CA
Average market fare: $127.37
Origin airport: Salt Lake City International Airport (SLC)
Destination airport: San Jose International Airport (SJC)
Nonstop distance between two airports: 599 miles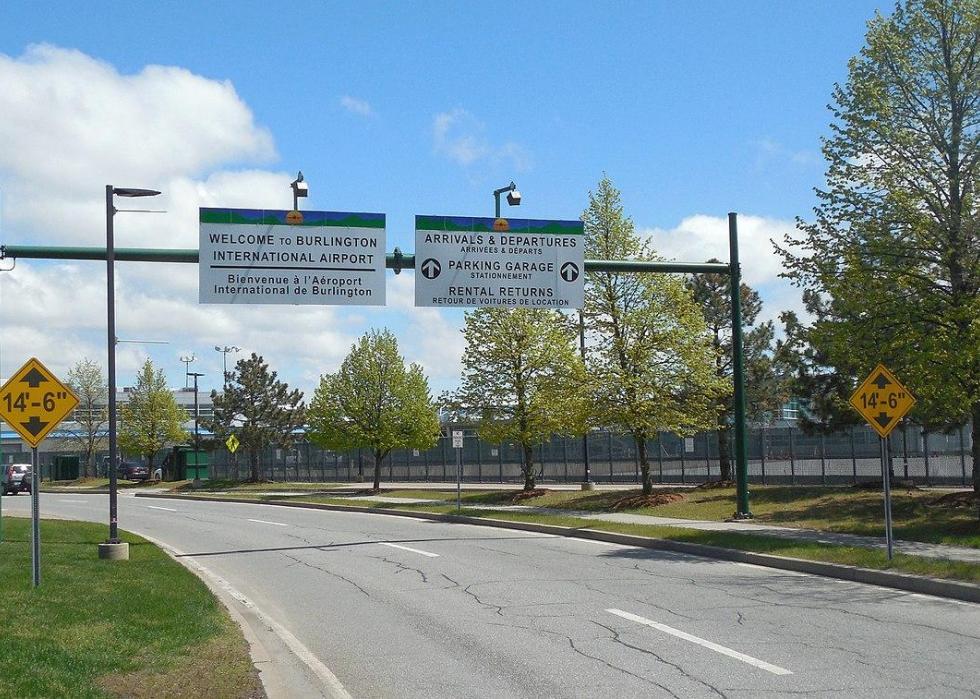 40 / 44
Niranjan Arminius // Wikicommons
Vermont: South Burlington, VT to Islip, NY
Average market fare: $171.78
Origin airport: Burlington International Airport (BTV)
Destination airport: Macarthur Airport (ISP)
Nonstop distance between two airports: 266 miles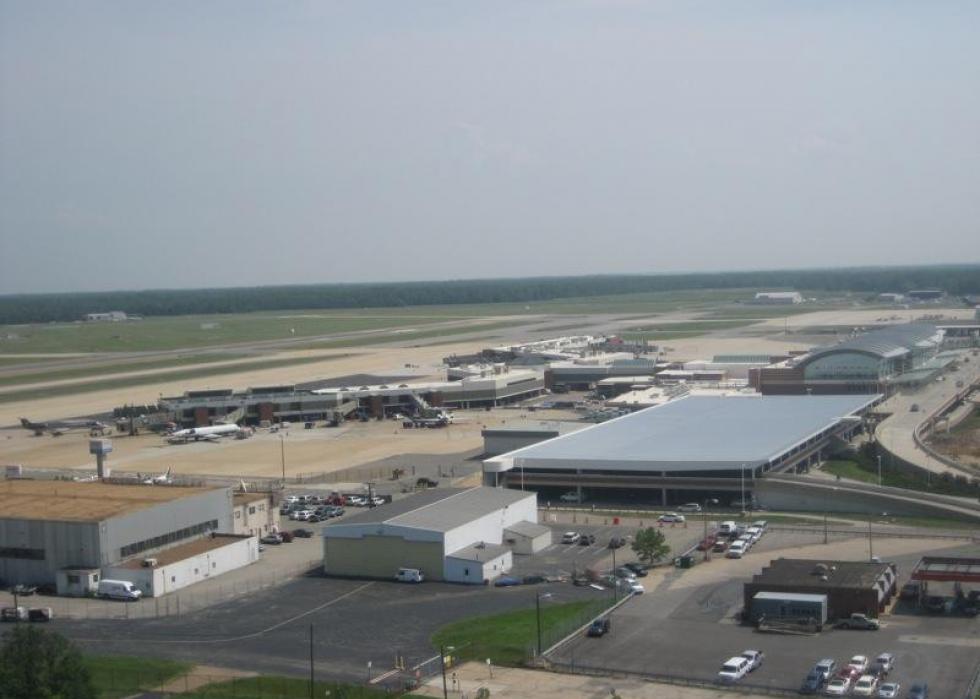 41 / 44
Richmond International Airport (RIC) terminal—Ned Russell // Wikicommons
Virginia: Richmond, VA to Saint Petersburg, FL
Average market fare: $83.65
Origin airport: Richmond International Airport (RIC)
Destination airport: St. Petersburg-Clearwater International Airport (PIE)
Nonstop distance between two airports: 731 miles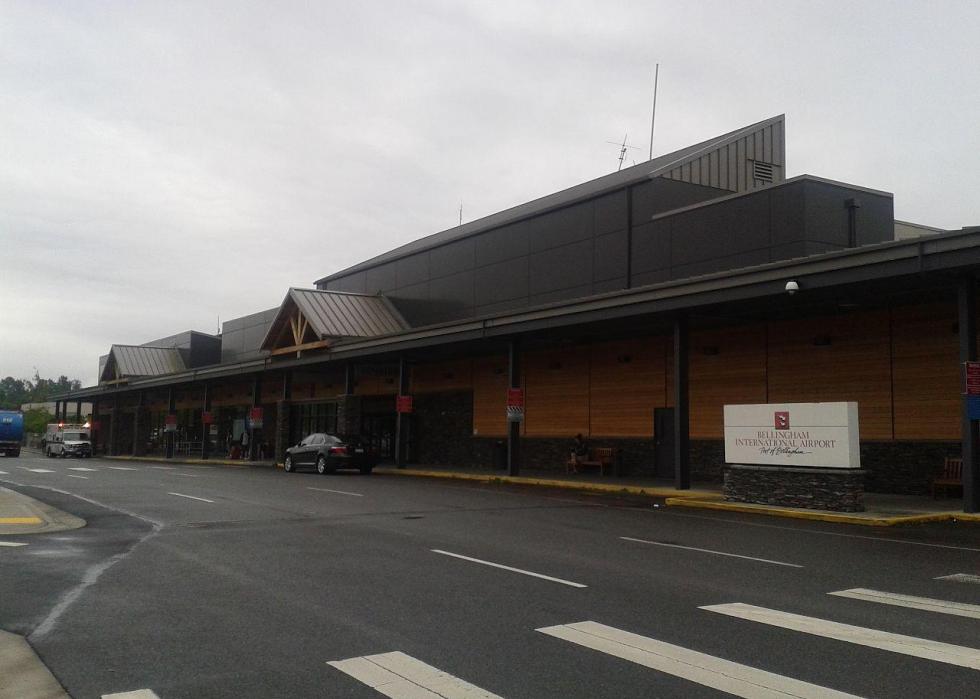 42 / 44
Washington: Bellingham, WA to Ontario, CA
Average market fare: $176.09
Origin airport: Bellingham International Airport (BLI)
Destination airport: Ontario International Airport (ONT)
Nonstop distance between two airports: 1,071 miles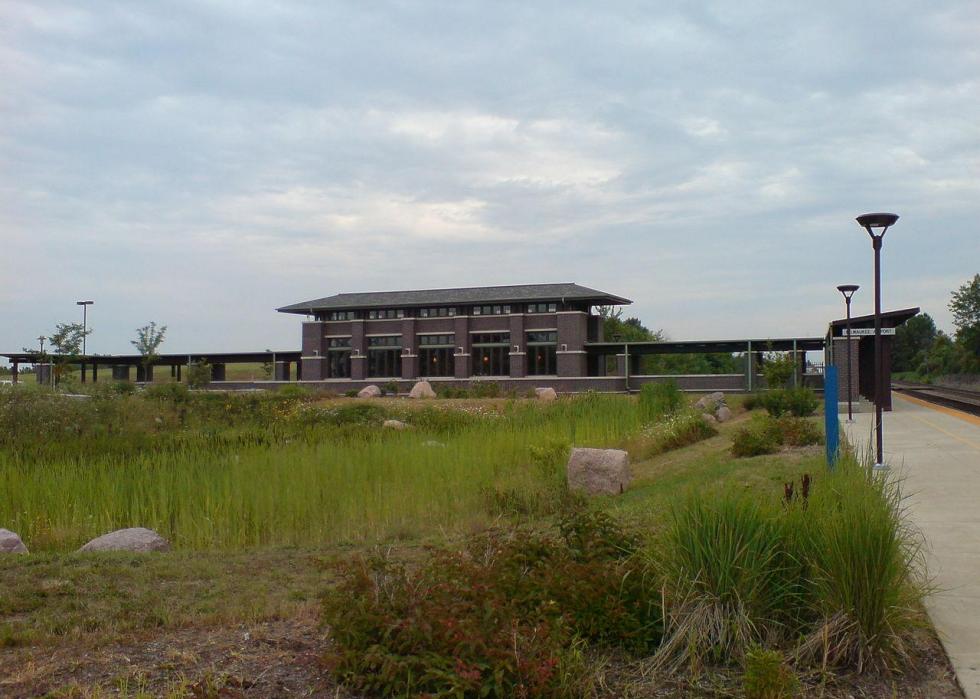 43 / 44
Milwaukee Airport Rail Station—Shawn Fynn // Wikicommons
Wisconsin: Milwaukee, WI to Newburgh, NY
Average market fare: $188.23
Origin airport: General Mitchell International Airport (MKE)
Destination airport: Stewart International Airport (SWF)
Nonstop distance between two airports: 777 miles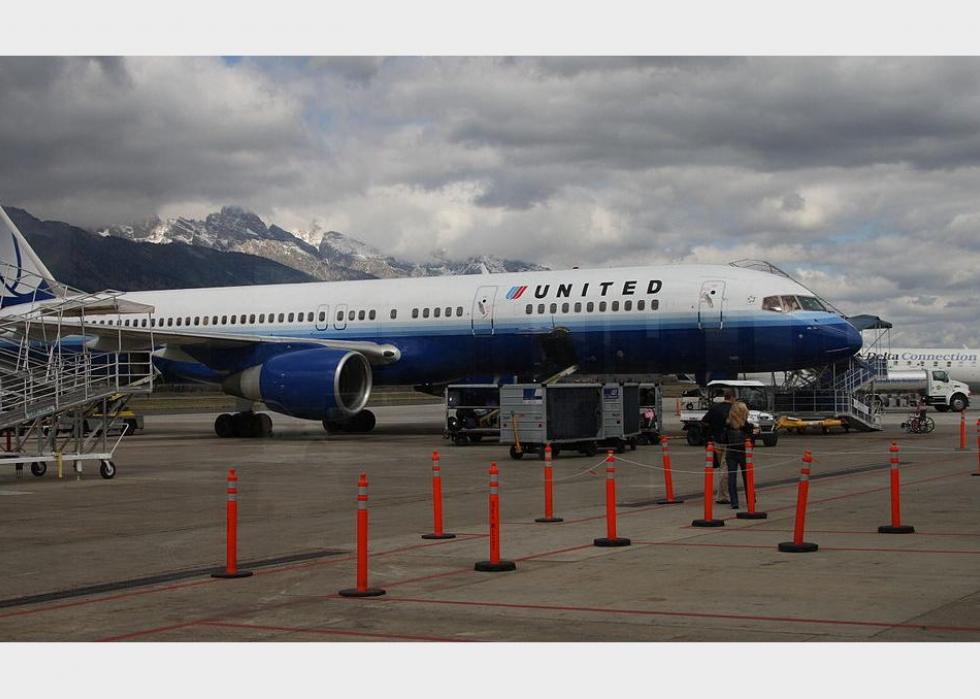 44 / 44
United Airlines at Jackson Hole Airport (JAC)—Acroterion // Wikicommons
Wyoming: Jackson, WY to New York, NY
Average market fare: $408.42
Origin airport: Jackson Hole Airport (JAC)
Destination airport: La Guardia Airport (LGA)
Nonstop distance between two airports: 1,894 miles