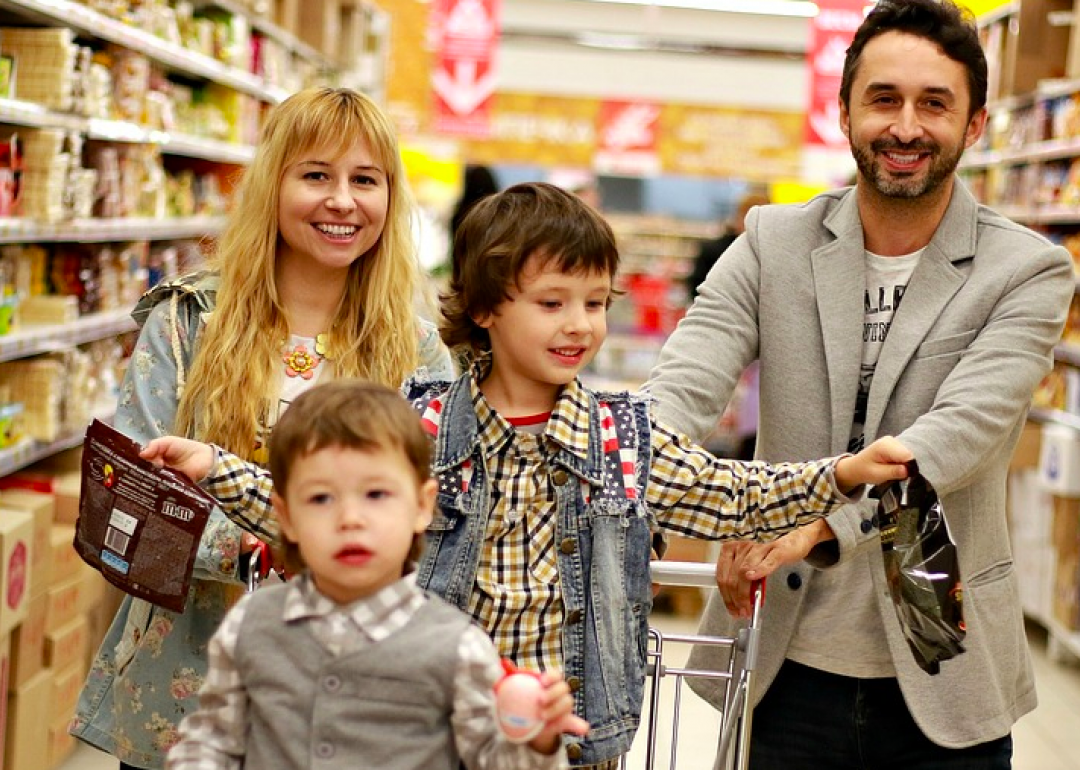 The real cost of raising a family across 50 major metros
The real cost of raising a family across 50 major metros
Fending for yourself in the United States is tough enough, but raising a family is a whole different challenge with a separate set of expenses. If you're thinking about adding another branch to your family tree, it's important to know that where you live has a lot to do with what you'll spend.
Using data from the Economic Policy Institute (EPI), Stacker ranked America's 50 largest metro areas in terms of the true cost of raising a family in order of least expensive to most. The March 2018 rankings are based on the EPI's estimated total monthly cost for a family of two adults and two children to attain a modest, yet adequate, standard of living. Budgets below are in 2017 dollars, according to the EPI.
The EPI's monthly estimate includes seven costs: health care, child care, food, housing, transportation, taxes, and other necessities. EPI's family budget calculator pulls cost estimates from government sources, like the Department of Housing and Urban Development, the Department of Agriculture, the Department of Transportation, and the Department of Health and Human Services. EPI also uses data from research organizations like Child Care Aware of America.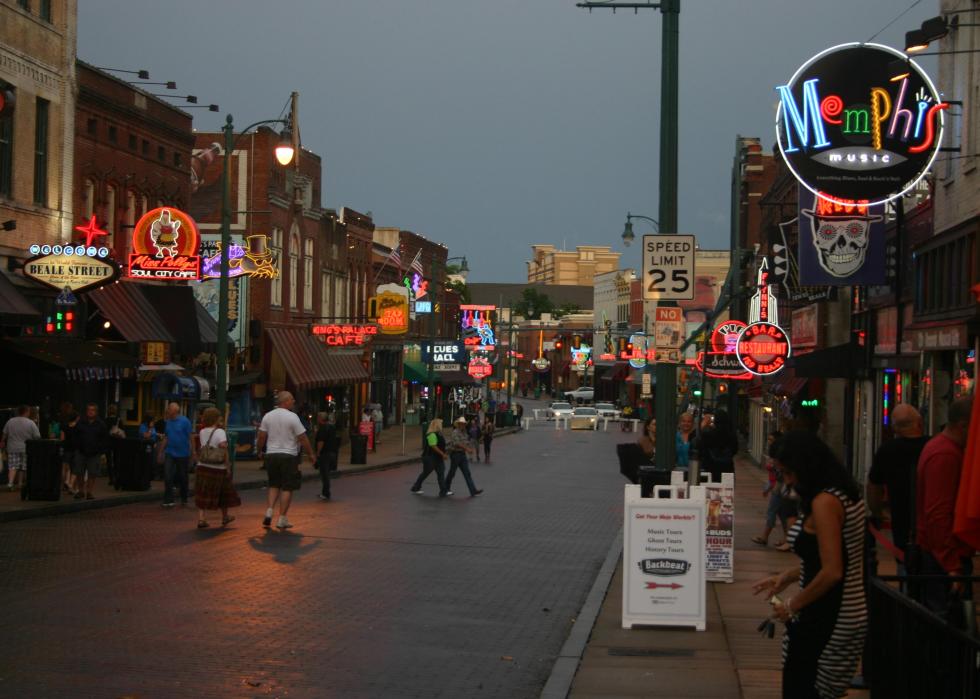 1 / 50
Rdikeman // Wikimedia Commons
#50. Memphis, TN
Annual total expenses: $71,800 (17.7% below the 50 metro average)
Monthly total expenses: $5,983

Monthly expenses:
Housing: $833 (29.1% below the 50 metro average)
Food: $747 (4.8% below the 50 metro average)
Child care: $918 (32.0% below the 50 metro average)
Transportation: $1,125 (1.6% below the 50 metro average)
Health care: $1,125 (9.4% above the 50 metro average)
Other necessities: $637 (19.4% below the 50 metro average)
Taxes: $599 (39.7% below the 50 metro average)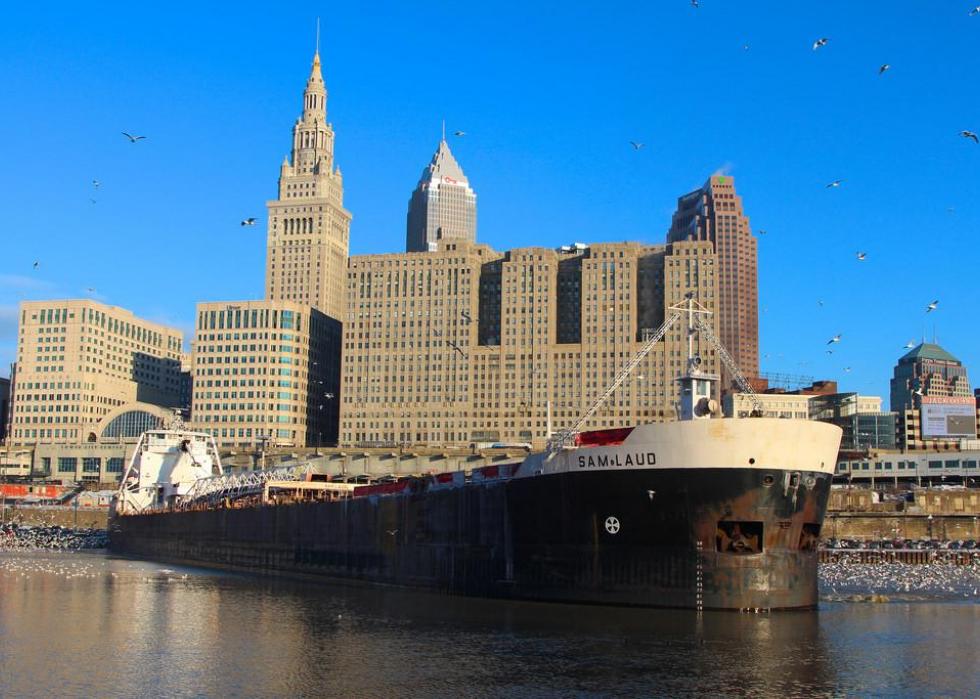 2 / 50
#49. Cleveland, OH
Annual total expenses: $72,220 (17.2% below the 50 metro average)
Monthly total expenses: $6,018

Monthly expenses:
Housing: $785 (33.2% below the 50 metro average)
Food: $759 (3.3% below the 50 metro average)
Child care: $1,147 (15.1% below the 50 metro average)
Transportation: $1,142 (0.1% below the 50 metro average)
Health care: $878 (14.6% below the 50 metro average)
Other necessities: $623 (21.2% below the 50 metro average)
Taxes: $686 (31.0% below the 50 metro average)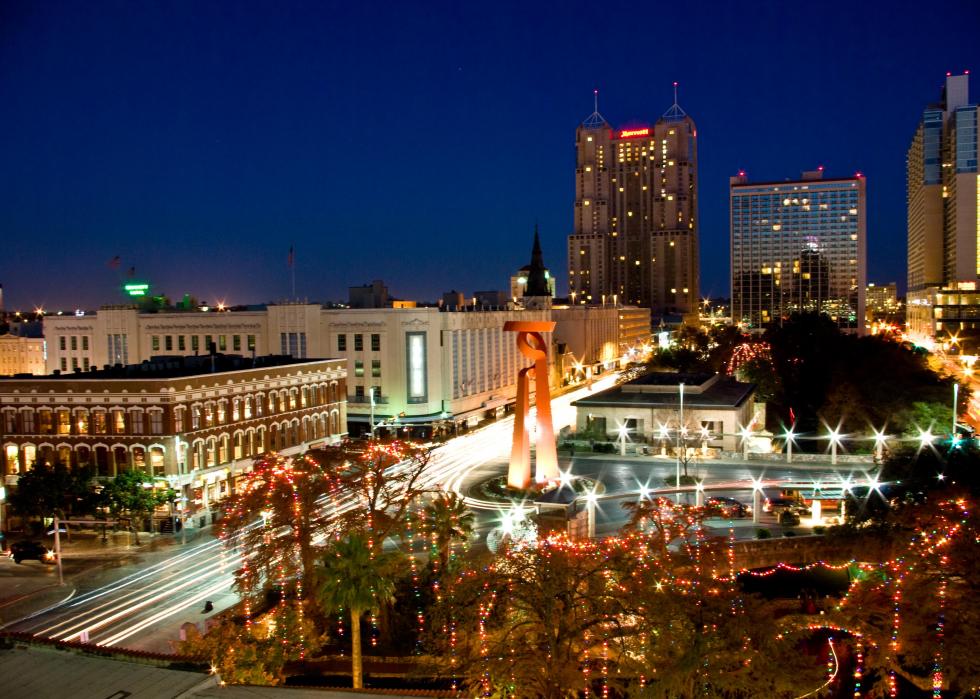 3 / 50
Corey Leopold // Wikimedia Commons
#48. San Antonio, TX
Annual total expenses: $72,291 (17.1% below the 50 metro average)
Monthly total expenses: $6,024

Monthly expenses:
Housing: $1,001 (14.8% below the 50 metro average)
Food: $674 (14.1% below the 50 metro average)
Child care: $984 (27.2% below the 50 metro average)
Transportation: $1,135 (0.7% below the 50 metro average)
Health care: $974 (5.3% below the 50 metro average)
Other necessities: $676 (14.5% below the 50 metro average)
Taxes: $580 (41.6% below the 50 metro average)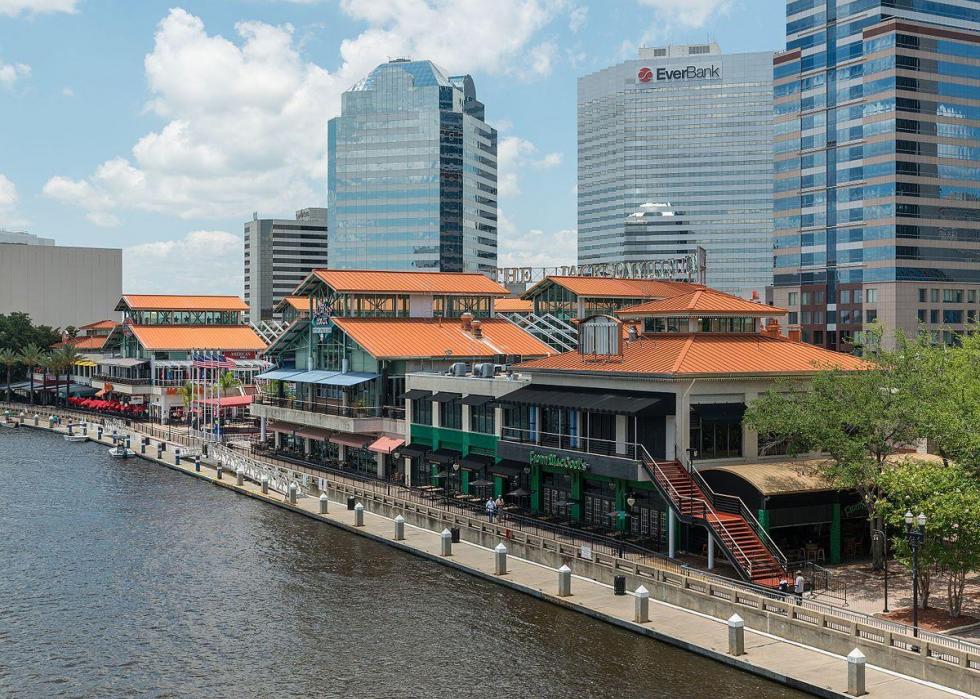 4 / 50
#47. Jacksonville, FL
Annual total expenses: $74,437 (14.6% below the 50 metro average)
Monthly total expenses: $6,203

Monthly expenses:
Housing: $947 (19.4% below the 50 metro average)
Food: $817 (4.1% above the 50 metro average)
Child care: $948 (29.8% below the 50 metro average)
Transportation: $1,137 (0.6% below the 50 metro average)
Health care: $1,027 (0.1% below the 50 metro average)
Other necessities: $712 (10.0% below the 50 metro average)
Taxes: $615 (38.1% below the 50 metro average)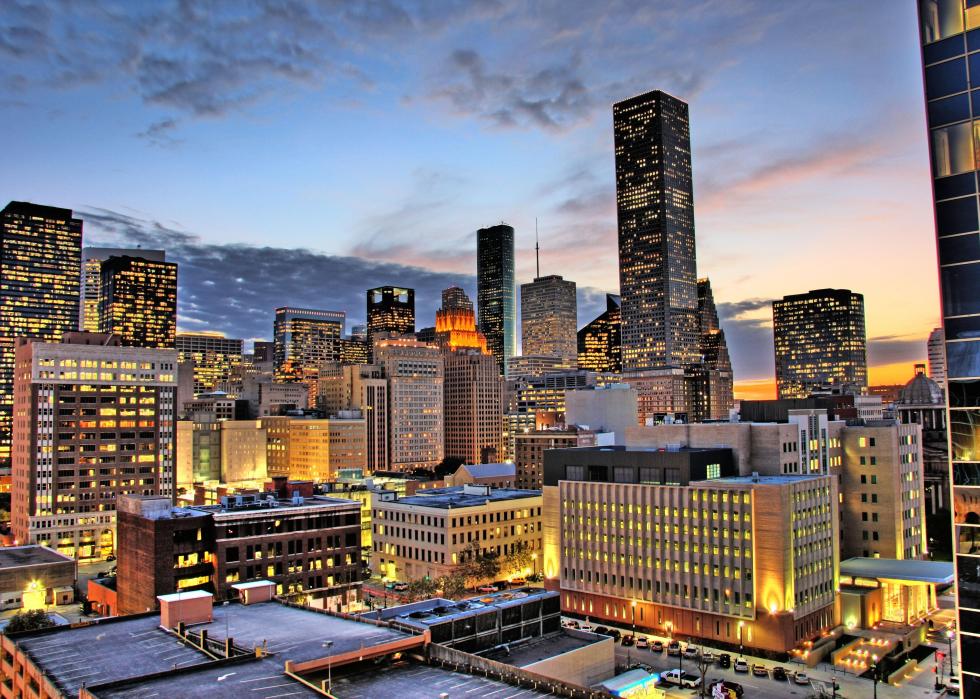 5 / 50
eflon // Wikimedia Commons
#46. Houston, TX
Annual total expenses: $74,718 (14.3% below the 50 metro average)
Monthly total expenses: $6,226

Monthly expenses:
Housing: $1,066 (9.3% below the 50 metro average)
Food: $718 (8.5% below the 50 metro average)
Child care: $1,044 (22.7% below the 50 metro average)
Transportation: $1,125 (1.6% below the 50 metro average)
Health care: $935 (9.1% below the 50 metro average)
Other necessities: $720 (9.0% below the 50 metro average)
Taxes: $620 (37.6% below the 50 metro average)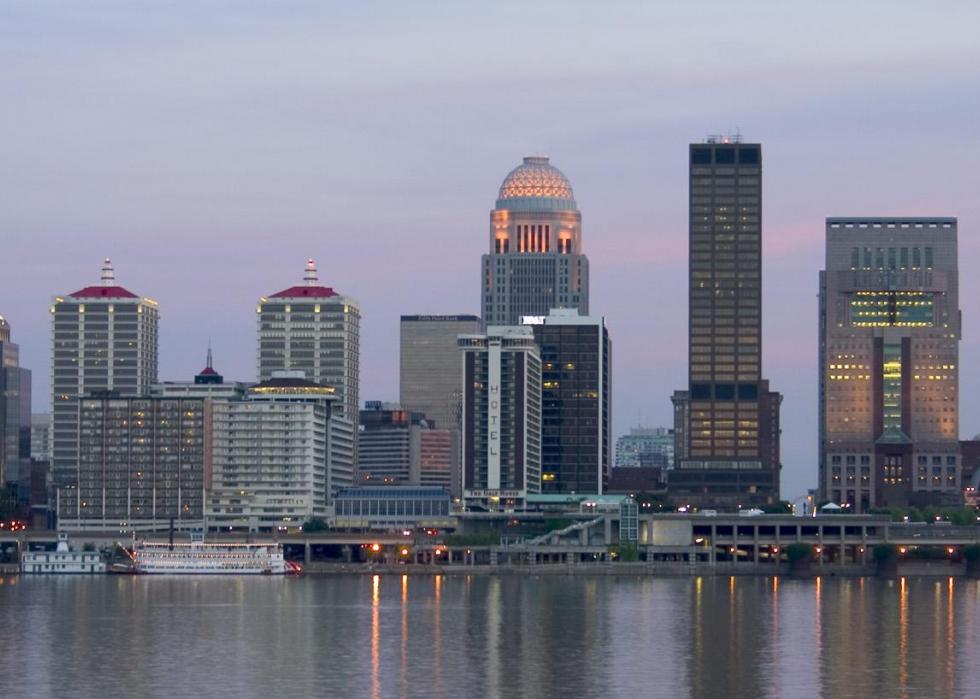 6 / 50
Chris Watson // Wikimedia Commons
#45. Louisville, KY
Annual total expenses: $75,400 (13.5% below the 50 metro average)
Monthly total expenses: $6,283

Monthly expenses:
Housing: $821 (30.1% below the 50 metro average)
Food: $725 (7.6% below the 50 metro average)
Child care: $1,301 (3.7% below the 50 metro average)
Transportation: $1,153 (0.8% above the 50 metro average)
Health care: $814 (20.8% below the 50 metro average)
Other necessities: $624 (21.1% below the 50 metro average)
Taxes: $845 (15.0% below the 50 metro average)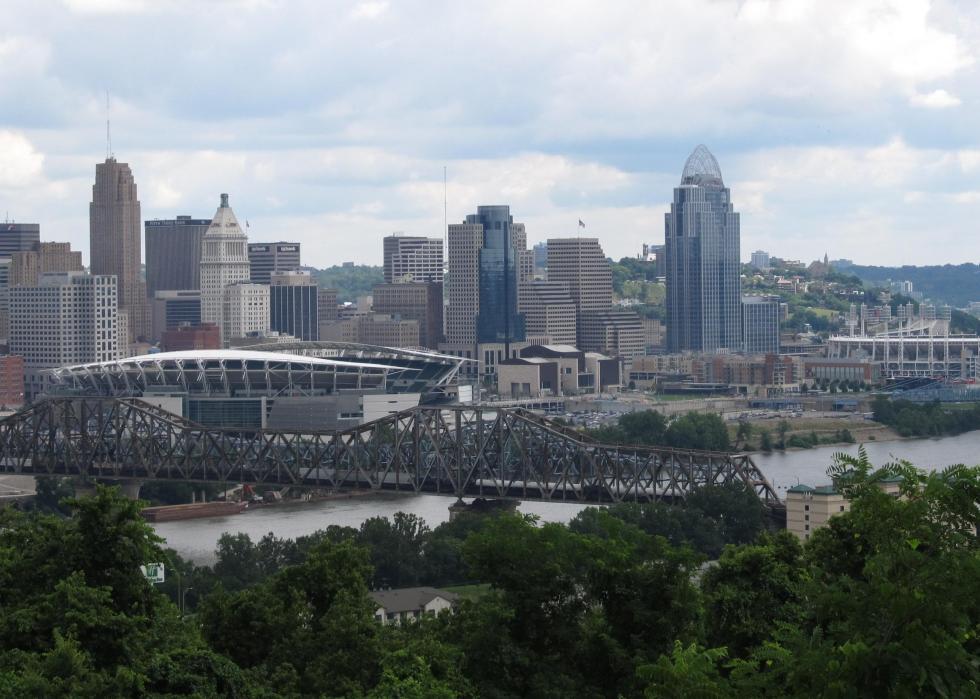 7 / 50
Ynsalh // Wikimedia Commons
#44. Cincinnati, OH
Annual total expenses: $75,414 (13.5% below the 50 metro average)
Monthly total expenses: $6,284

Monthly expenses:
Housing: $845 (28.1% below the 50 metro average)
Food: $724 (7.7% below the 50 metro average)
Child care: $1,259 (6.8% below the 50 metro average)
Transportation: $1,172 (2.5% above the 50 metro average)
Health care: $882 (14.2% below the 50 metro average)
Other necessities: $633 (20.0% below the 50 metro average)
Taxes: $769 (22.6% below the 50 metro average)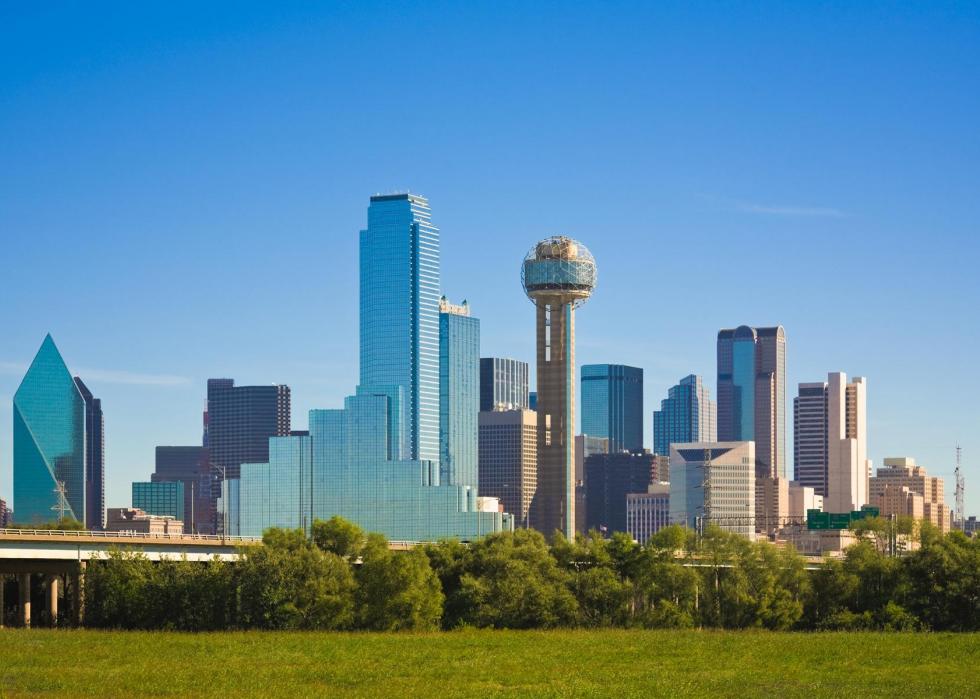 8 / 50
Alan Botting // Wikimedia Commons
#43. Dallas, TX
Annual total expenses: $75,488 (13.4% below the 50 metro average)
Monthly total expenses: $6,291

Monthly expenses:
Housing: $1,077 (8.4% below the 50 metro average)
Food: $723 (7.9% below the 50 metro average)
Child care: $1,044 (22.7% below the 50 metro average)
Transportation: $1,115 (2.5% below the 50 metro average)
Health care: $973 (5.4% below the 50 metro average)
Other necessities: $726 (8.2% below the 50 metro average)
Taxes: $632 (36.4% below the 50 metro average)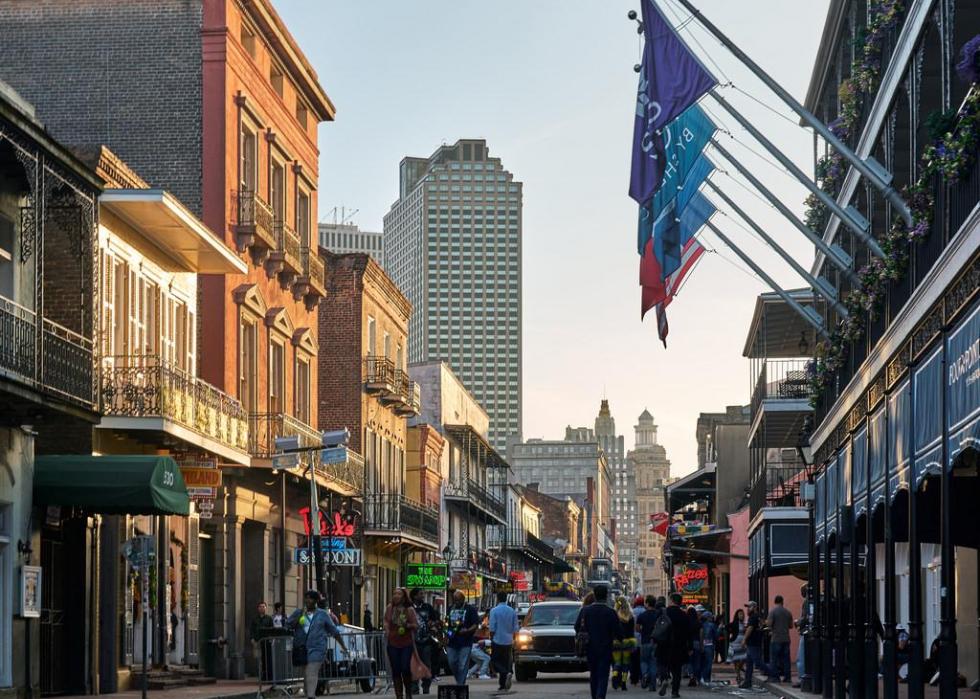 9 / 50
#42. New Orleans, LA
Annual total expenses: $76,213 (12.6% below the 50 metro average)
Monthly total expenses: $6,351

Monthly expenses:
Housing: $996 (15.3% below the 50 metro average)
Food: $806 (2.7% above the 50 metro average)
Child care: $840 (37.8% below the 50 metro average)
Transportation: $1,101 (3.7% below the 50 metro average)
Health care: $1,093 (6.3% above the 50 metro average)
Other necessities: $727 (8.1% below the 50 metro average)
Taxes: $787 (20.8% below the 50 metro average)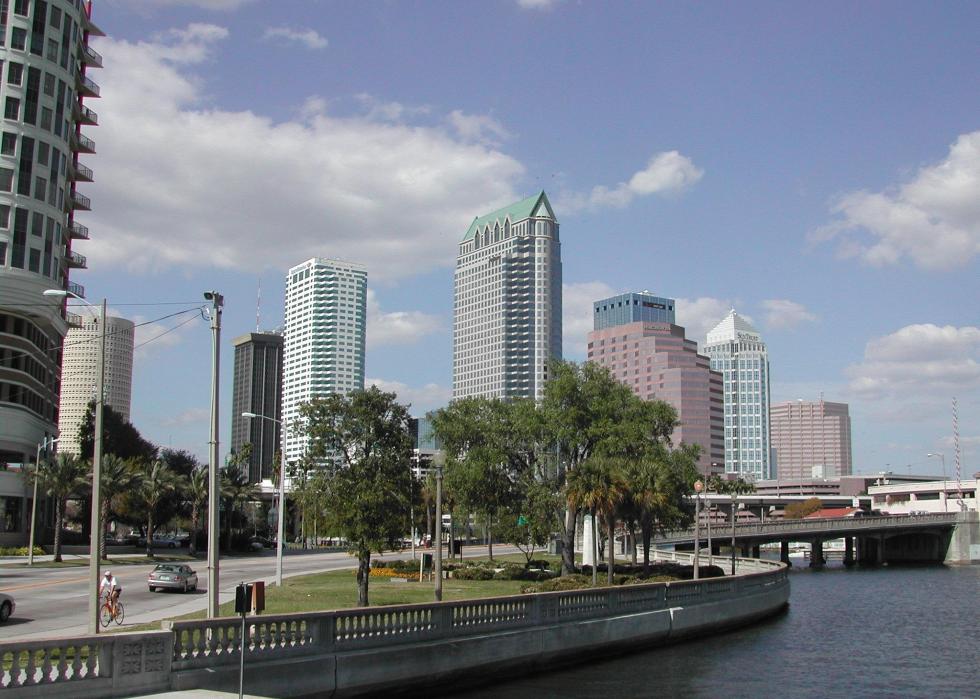 10 / 50
Tampa Gatro // Wikimedia Commons
#41. Tampa, FL
Annual total expenses: $77,064 (11.6% below the 50 metro average)
Monthly total expenses: $6,422

Monthly expenses:
Housing: $1,045 (11.1% below the 50 metro average)
Food: $809 (3.1% above the 50 metro average)
Child care: $978 (27.6% below the 50 metro average)
Transportation: $1,125 (1.6% below the 50 metro average)
Health care: $1,059 (3.0% above the 50 metro average)
Other necessities: $748 (5.4% below the 50 metro average)
Taxes: $658 (33.8% below the 50 metro average)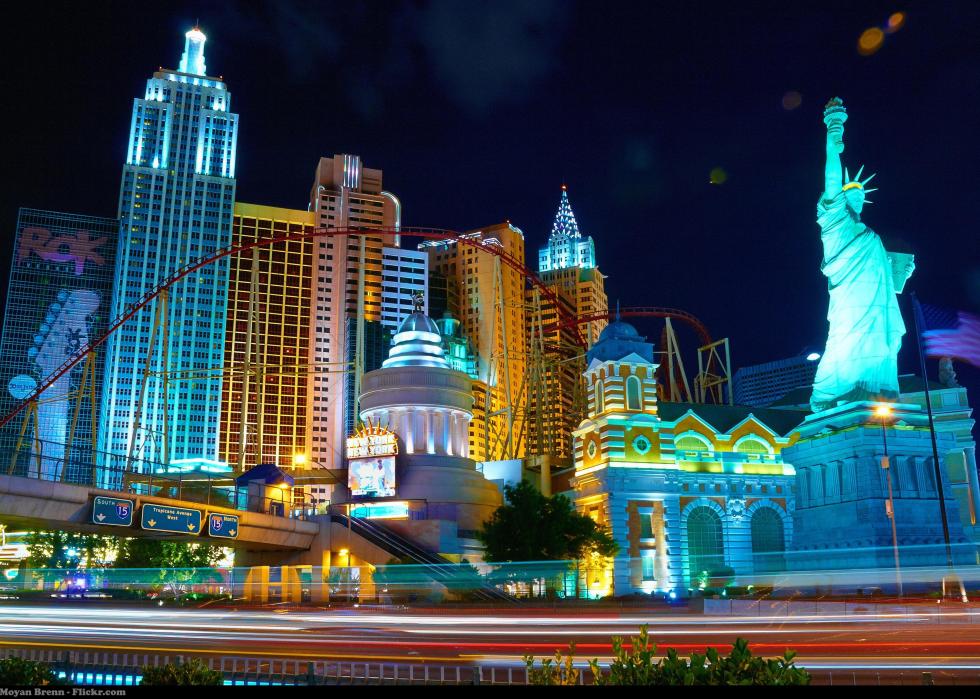 11 / 50
Moyan Brenn // Wikimedia Commons
#40. Las Vegas, NV
Annual total expenses: $77,068 (11.6% below the 50 metro average)
Monthly total expenses: $6,422

Monthly expenses:
Housing: $973 (17.2% below the 50 metro average)
Food: $777 (1.0% below the 50 metro average)
Child care: $1,342 (0.7% below the 50 metro average)
Transportation: $1,110 (2.9% below the 50 metro average)
Health care: $855 (16.8% below the 50 metro average)
Other necessities: $706 (10.7% below the 50 metro average)
Taxes: $660 (33.6% below the 50 metro average)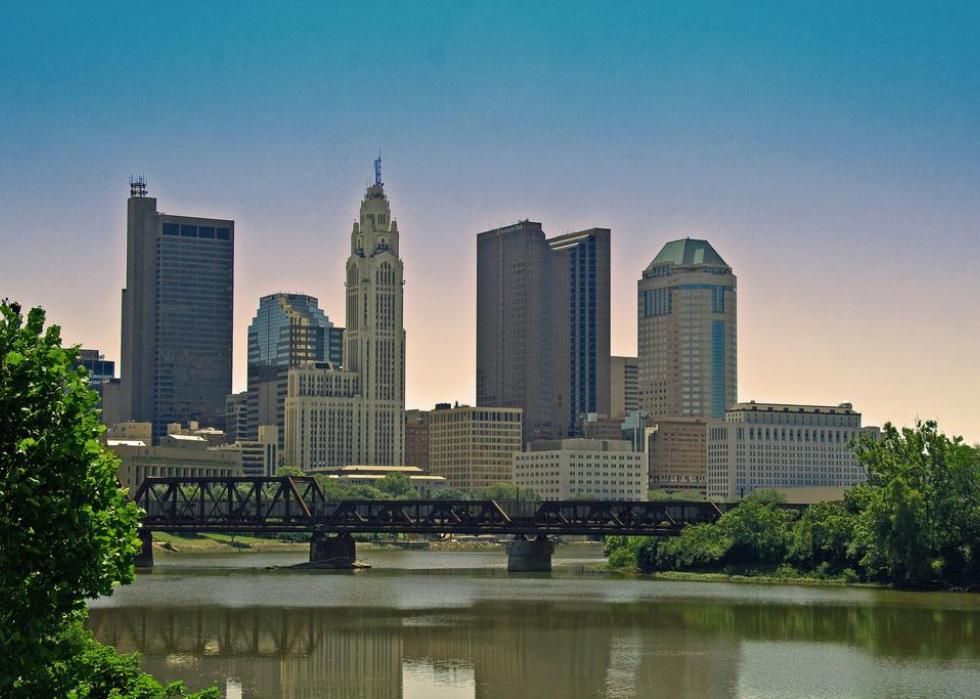 12 / 50
#39. Columbus, OH
Annual total expenses: $77,075 (11.6% below the 50 metro average)
Monthly total expenses: $6,423

Monthly expenses:
Housing: $910 (22.6% below the 50 metro average)
Food: $734 (6.5% below the 50 metro average)
Child care: $1,240 (8.2% below the 50 metro average)
Transportation: $1,139 (0.4% below the 50 metro average)
Health care: $957 (6.9% below the 50 metro average)
Other necessities: $663 (16.2% below the 50 metro average)
Taxes: $779 (21.6% below the 50 metro average)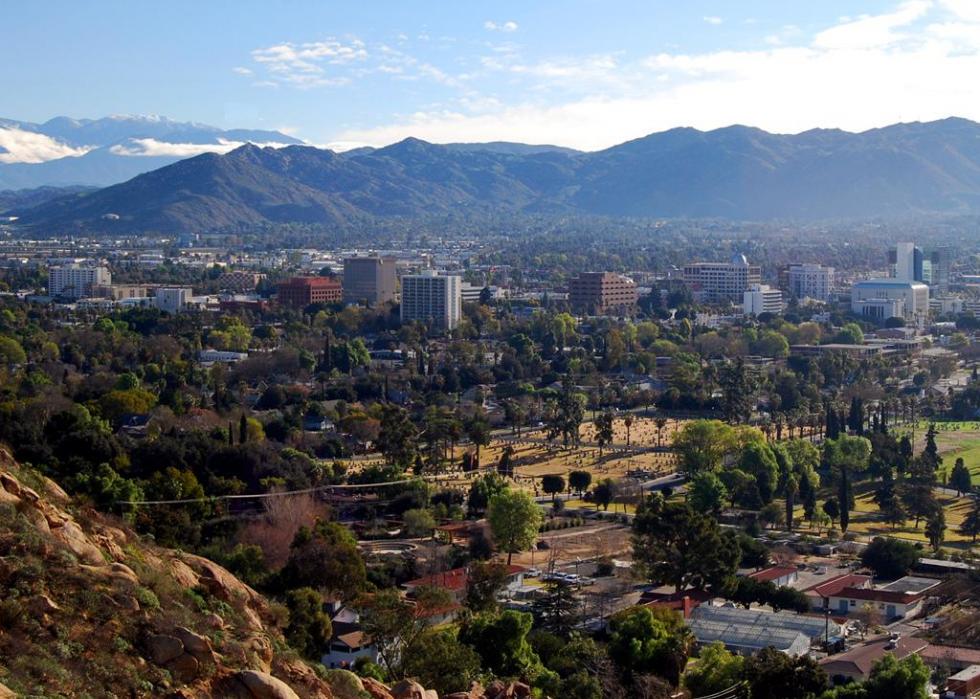 13 / 50
#38. Riverside, CA
Annual total expenses: $78,336 (10.2% below the 50 metro average)
Monthly total expenses: $6,528

Monthly expenses:
Housing: $1,156 (1.6% below the 50 metro average)
Food: $757 (3.5% below the 50 metro average)
Child care: $1,067 (21.0% below the 50 metro average)
Transportation: $1,250 (9.3% above the 50 metro average)
Health care: $802 (22.0% below the 50 metro average)
Other necessities: $772 (2.4% below the 50 metro average)
Taxes: $724 (27.2% below the 50 metro average)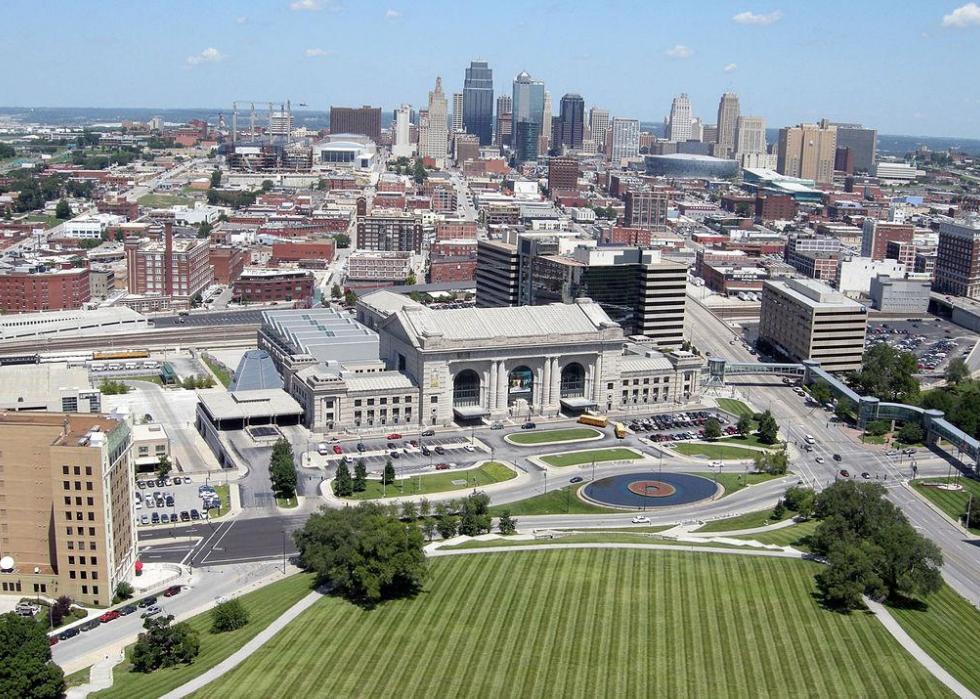 14 / 50
Brian Hillegas // Wikimedia Commons
#37. Kansas City, MO
Annual total expenses: $78,407 (10.1% below the 50 metro average)
Monthly total expenses: $6,534

Monthly expenses:
Housing: $869 (26.1% below the 50 metro average)
Food: $747 (4.8% below the 50 metro average)
Child care: $1,176 (12.9% below the 50 metro average)
Transportation: $1,173 (2.6% above the 50 metro average)
Health care: $1,059 (3.0% above the 50 metro average)
Other necessities: $652 (17.5% below the 50 metro average)
Taxes: $859 (13.6% below the 50 metro average)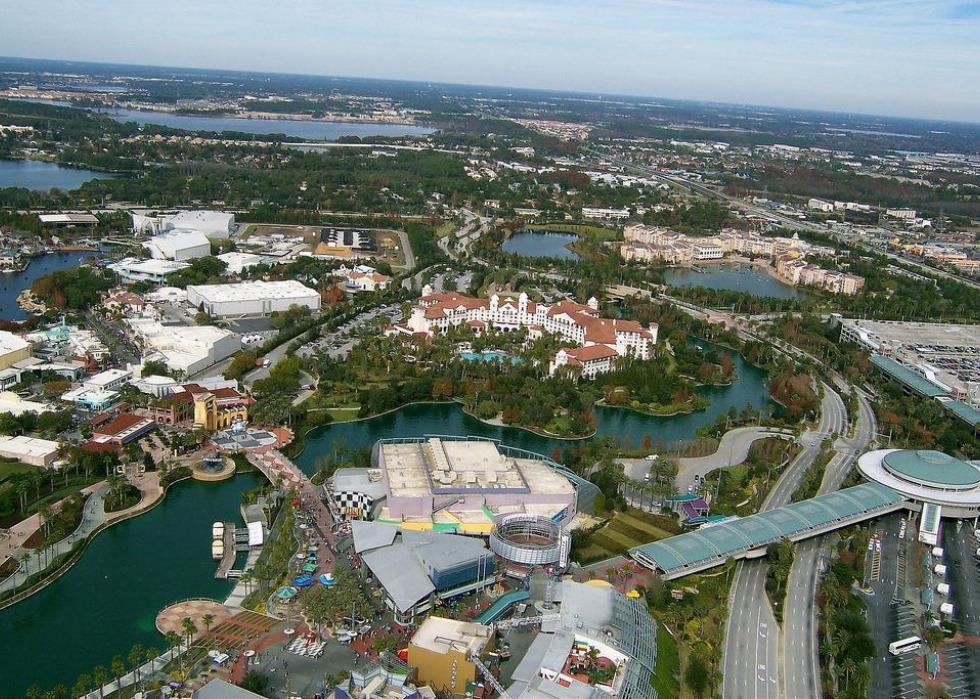 15 / 50
#36. Orlando, FL
Annual total expenses: $78,440 (10.0% below the 50 metro average)
Monthly total expenses: $6,537

Monthly expenses:
Housing: $1,096 (6.8% below the 50 metro average)
Food: $783 (0.2% below the 50 metro average)
Child care: $1,004 (25.7% below the 50 metro average)
Transportation: $1,124 (1.7% below the 50 metro average)
Health care: $1,092 (6.2% above the 50 metro average)
Other necessities: $758 (4.1% below the 50 metro average)
Taxes: $680 (31.6% below the 50 metro average)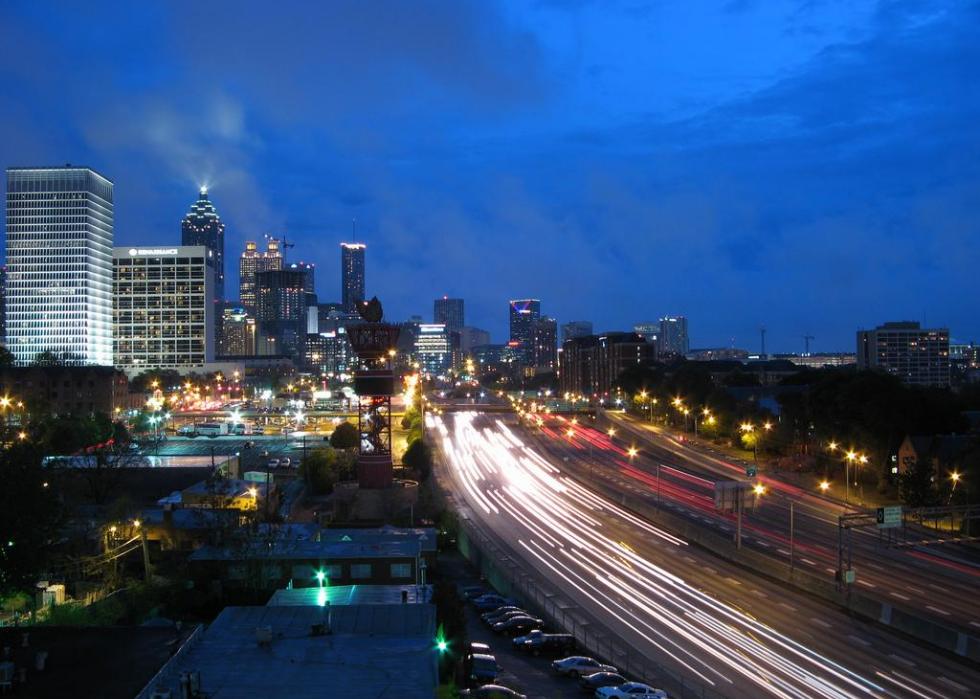 16 / 50
James Rintamaki // Flickr
#35. Atlanta, GA
Annual total expenses: $78,717 (9.7% below the 50 metro average)
Monthly total expenses: $6,560

Monthly expenses:
Housing: $1,031 (12.3% below the 50 metro average)
Food: $772 (1.6% below the 50 metro average)
Child care: $968 (28.3% below the 50 metro average)
Transportation: $1,159 (1.4% above the 50 metro average)
Health care: $1,010 (1.8% below the 50 metro average)
Other necessities: $727 (8.1% below the 50 metro average)
Taxes: $893 (10.2% below the 50 metro average)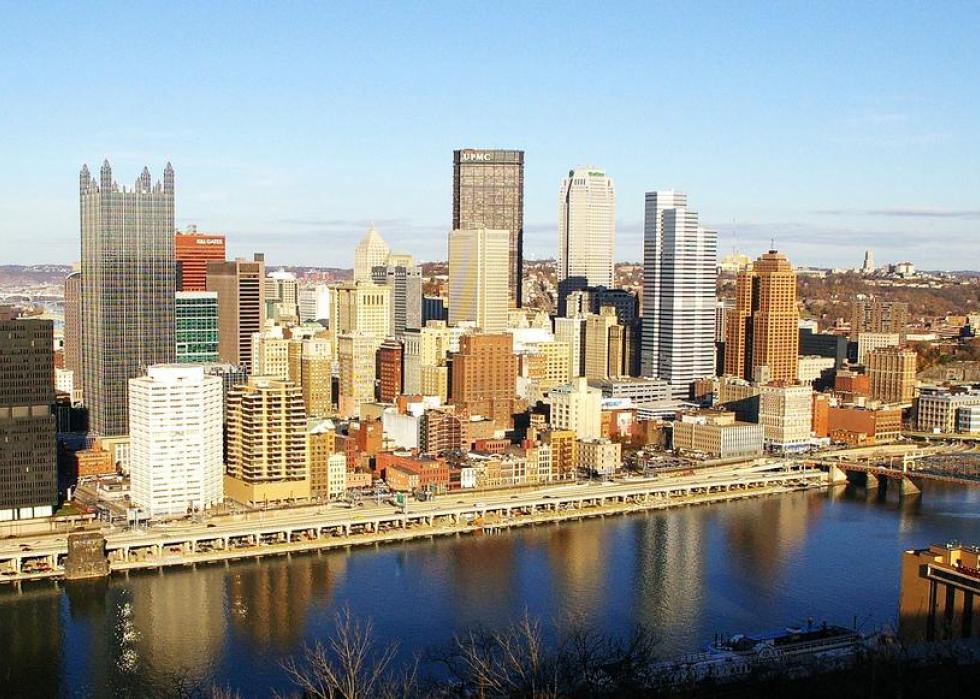 17 / 50
#34. Pittsburgh, PA
Annual total expenses: $78,769 (9.7% below the 50 metro average)
Monthly total expenses: $6,564

Monthly expenses:
Housing: $884 (24.8% below the 50 metro average)
Food: $751 (4.3% below the 50 metro average)
Child care: $1,414 (4.7% above the 50 metro average)
Transportation: $1,173 (2.6% above the 50 metro average)
Health care: $832 (19.1% below the 50 metro average)
Other necessities: $660 (16.5% below the 50 metro average)
Taxes: $850 (14.5% below the 50 metro average)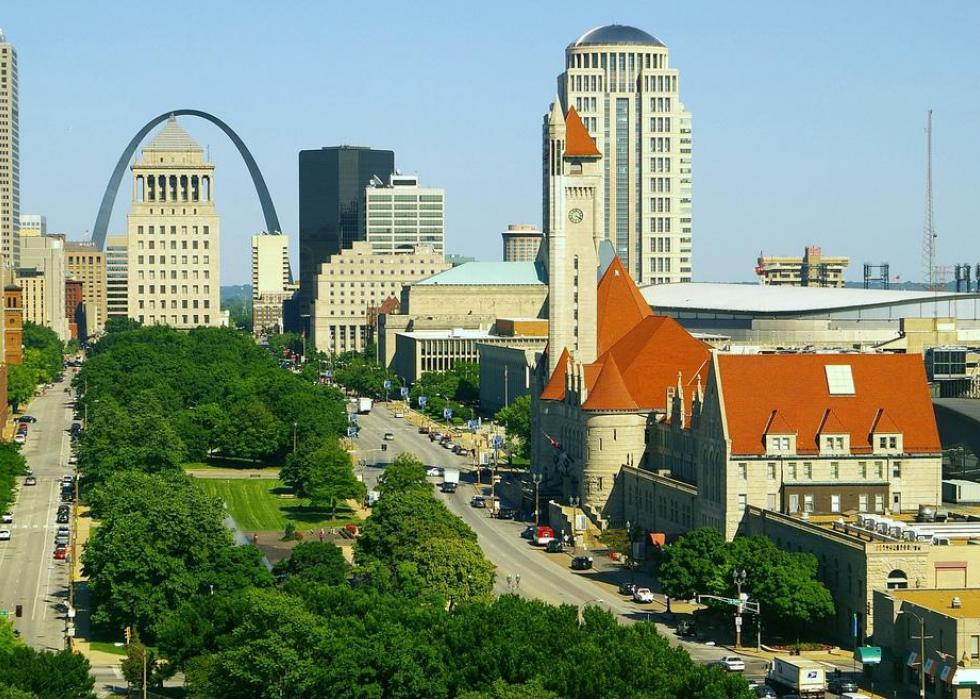 18 / 50
#33. St. Louis, MO
Annual total expenses: $79,010 (9.4% below the 50 metro average)
Monthly total expenses: $6,584

Monthly expenses:
Housing: $896 (23.8% below the 50 metro average)
Food: $744 (5.2% below the 50 metro average)
Child care: $1,188 (12.1% below the 50 metro average)
Transportation: $1,178 (3.0% above the 50 metro average)
Health care: $1,034 (0.6% above the 50 metro average)
Other necessities: $661 (16.4% below the 50 metro average)
Taxes: $882 (11.3% below the 50 metro average)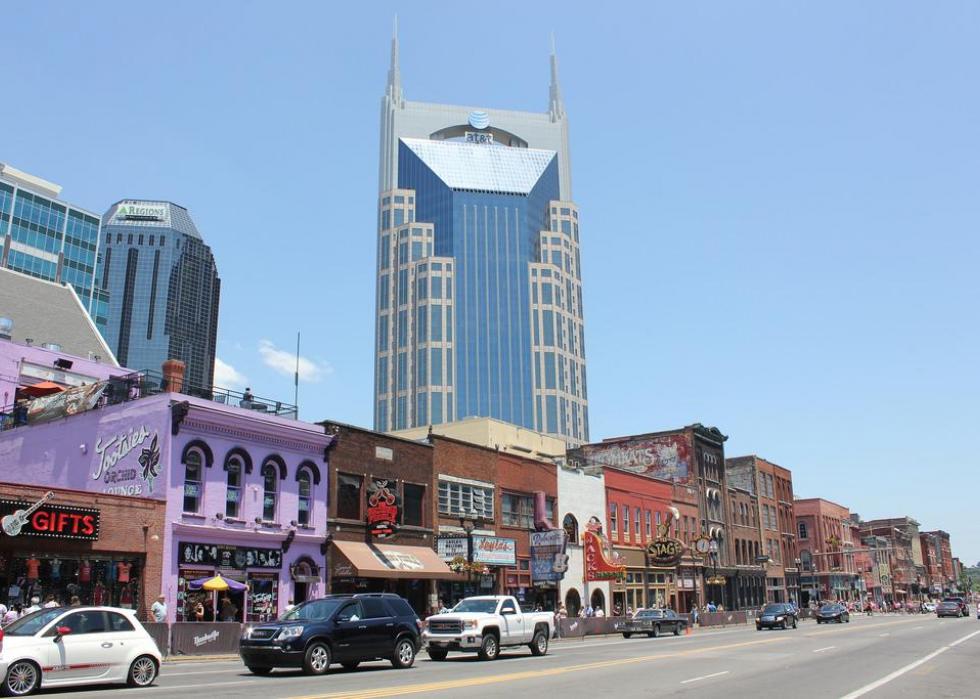 19 / 50
Nicolas Henderson // Flickr
#32. Nashville, TN
Annual total expenses: $79,228 (9.2% below the 50 metro average)
Monthly total expenses: $6,602

Monthly expenses:
Housing: $1,002 (14.7% below the 50 metro average)
Food: $792 (0.9% above the 50 metro average)
Child care: $1,052 (22.1% below the 50 metro average)
Transportation: $1,170 (2.3% above the 50 metro average)
Health care: $1,170 (13.8% above the 50 metro average)
Other necessities: $724 (8.4% below the 50 metro average)
Taxes: $693 (30.3% below the 50 metro average)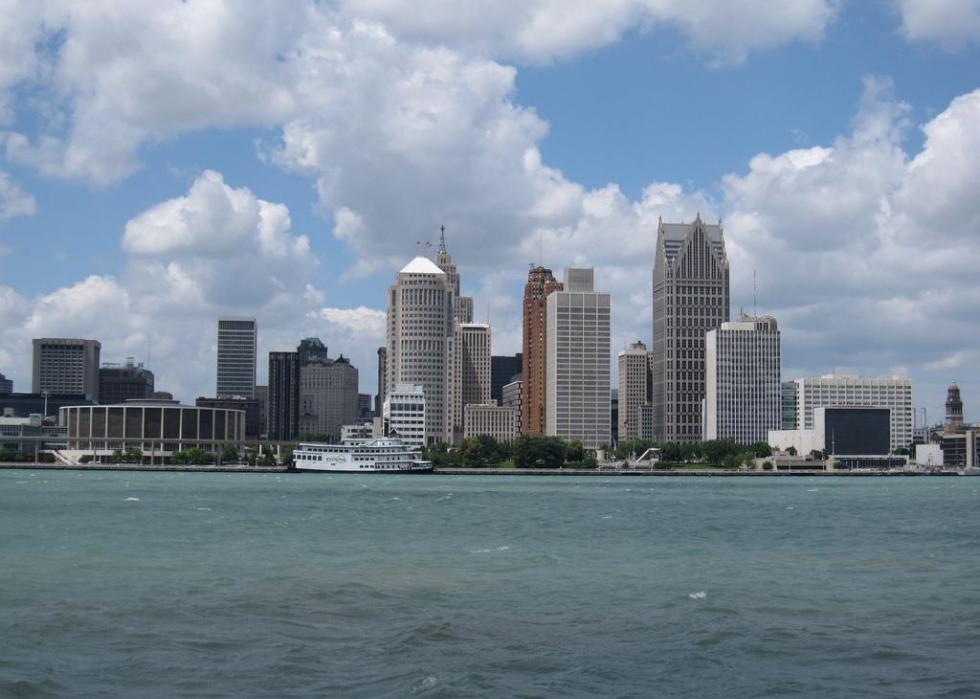 20 / 50
#31. Detroit, MI
Annual total expenses: $79,308 (9.1% below the 50 metro average)
Monthly total expenses: $6,609

Monthly expenses:
Housing: $940 (20.0% below the 50 metro average)
Food: $739 (5.8% below the 50 metro average)
Child care: $1,430 (5.9% above the 50 metro average)
Transportation: $1,141 (0.2% below the 50 metro average)
Health care: $806 (21.6% below the 50 metro average)
Other necessities: $677 (14.4% below the 50 metro average)
Taxes: $876 (11.9% below the 50 metro average)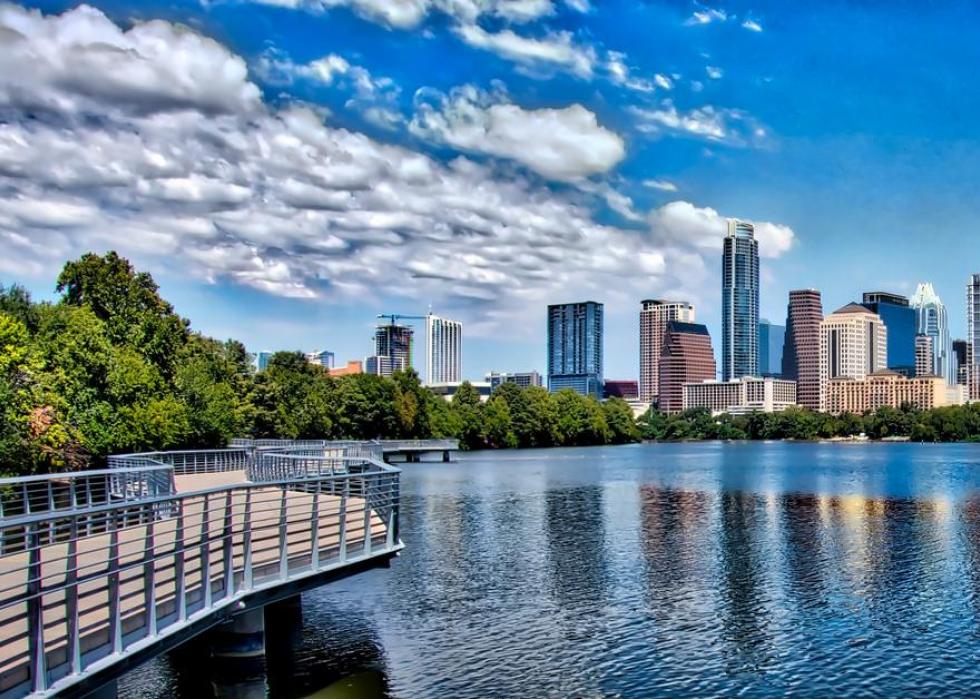 21 / 50
#30. Austin, TX
Annual total expenses: $80,776 (7.4% below the 50 metro average)
Monthly total expenses: $6,731

Monthly expenses:
Housing: $1,251 (6.4% above the 50 metro average)
Food: $738 (6.0% below the 50 metro average)
Child care: $1,108 (18.0% below the 50 metro average)
Transportation: $1,150 (0.6% above the 50 metro average)
Health care: $964 (6.2% below the 50 metro average)
Other necessities: $802 (1.4% above the 50 metro average)
Taxes: $718 (27.8% below the 50 metro average)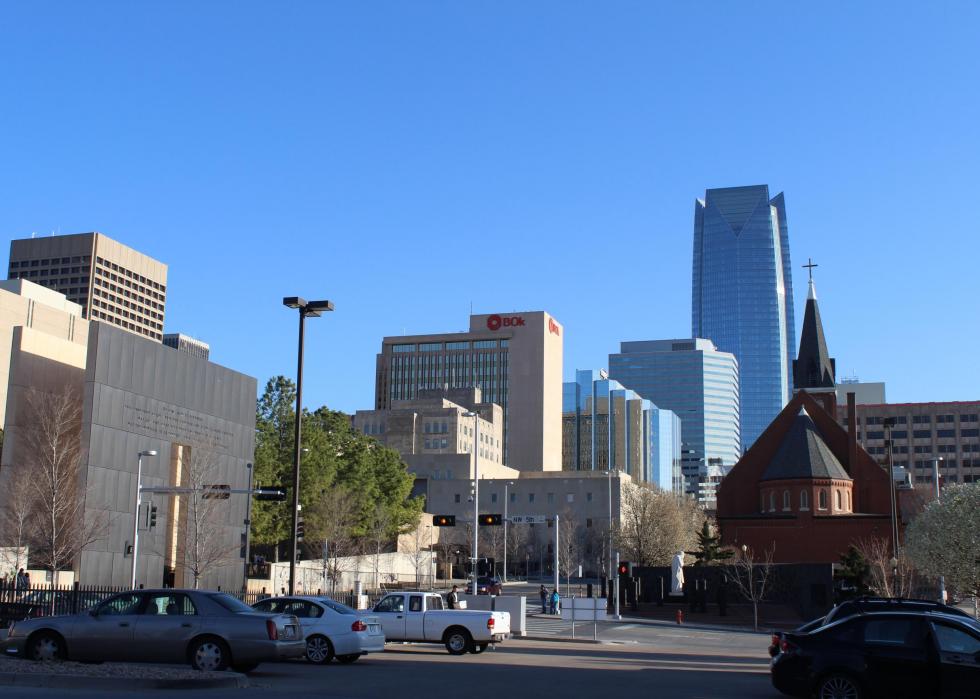 22 / 50
MARELBU // Wikimedia Commons
#29. Oklahoma City, OK
Annual total expenses: $81,552 (6.5% below the 50 metro average)
Monthly total expenses: $6,796

Monthly expenses:
Housing: $851 (27.6% below the 50 metro average)
Food: $743 (5.3% below the 50 metro average)
Child care: $1,226 (9.2% below the 50 metro average)
Transportation: $1,182 (3.4% above the 50 metro average)
Health care: $1,244 (21.0% above the 50 metro average)
Other necessities: $643 (18.7% below the 50 metro average)
Taxes: $906 (8.8% below the 50 metro average)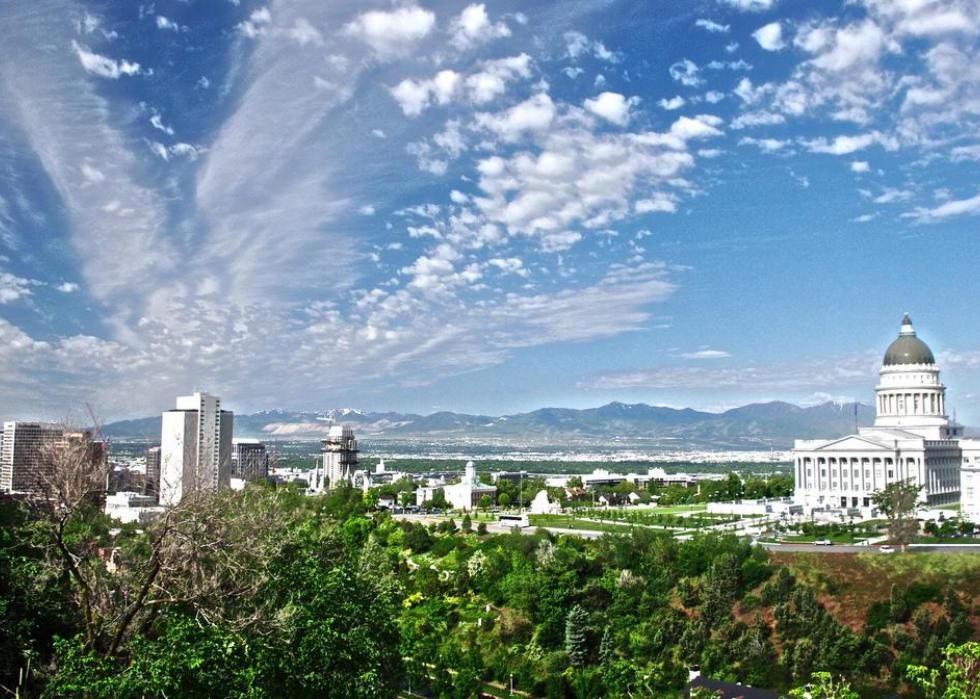 23 / 50
#28. Salt Lake City, UT
Annual total expenses: $81,578 (6.5% below the 50 metro average)
Monthly total expenses: $6,798

Monthly expenses:
Housing: $1,035 (11.9% below the 50 metro average)
Food: $726 (7.5% below the 50 metro average)
Child care: $1,321 (2.2% below the 50 metro average)
Transportation: $1,148 (0.4% above the 50 metro average)
Health care: $906 (11.9% below the 50 metro average)
Other necessities: $710 (10.2% below the 50 metro average)
Taxes: $952 (4.2% below the 50 metro average)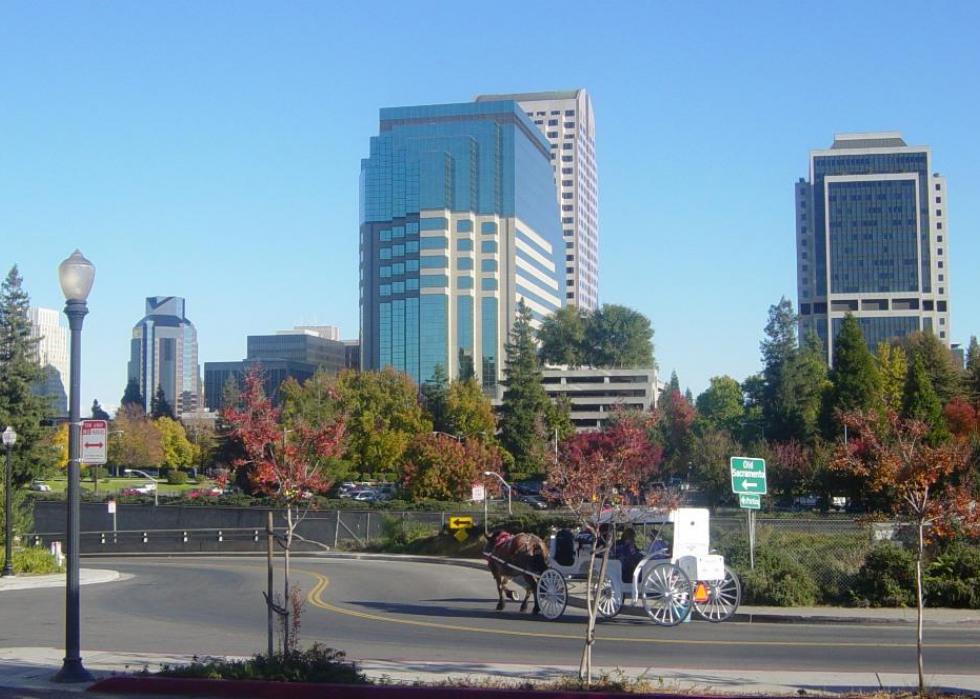 24 / 50
#27. Sacramento, CA
Annual total expenses: $81,937 (6.0% below the 50 metro average)
Monthly total expenses: $6,828

Monthly expenses:
Housing: $1,086 (7.6% below the 50 metro average)
Food: $826 (5.3% above the 50 metro average)
Child care: $1,053 (22.0% below the 50 metro average)
Transportation: $1,214 (6.2% above the 50 metro average)
Health care: $1,079 (4.9% above the 50 metro average)
Other necessities: $771 (2.5% below the 50 metro average)
Taxes: $799 (19.6% below the 50 metro average)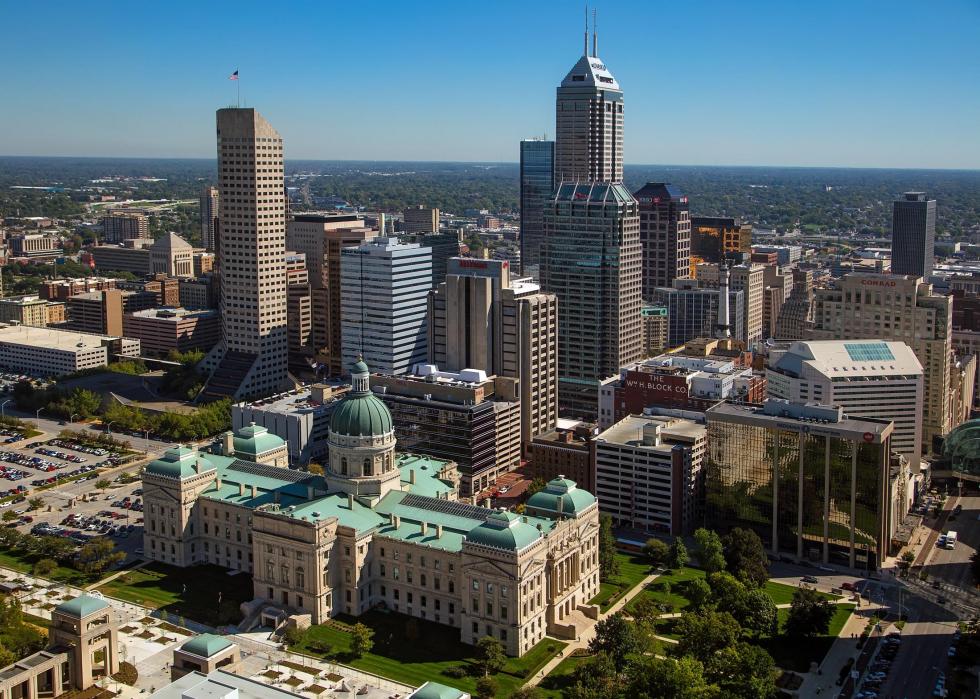 25 / 50
tpsdave // Wikimedia Commons
#26. Indianapolis, IN
Annual total expenses: $82,285 (5.6% below the 50 metro average)
Monthly total expenses: $6,857

Monthly expenses:
Housing: $852 (27.5% below the 50 metro average)
Food: $717 (8.6% below the 50 metro average)
Child care: $1,572 (16.4% above the 50 metro average)
Transportation: $1,165 (1.9% above the 50 metro average)
Health care: $1,014 (1.4% below the 50 metro average)
Other necessities: $633 (20.0% below the 50 metro average)
Taxes: $903 (9.1% below the 50 metro average)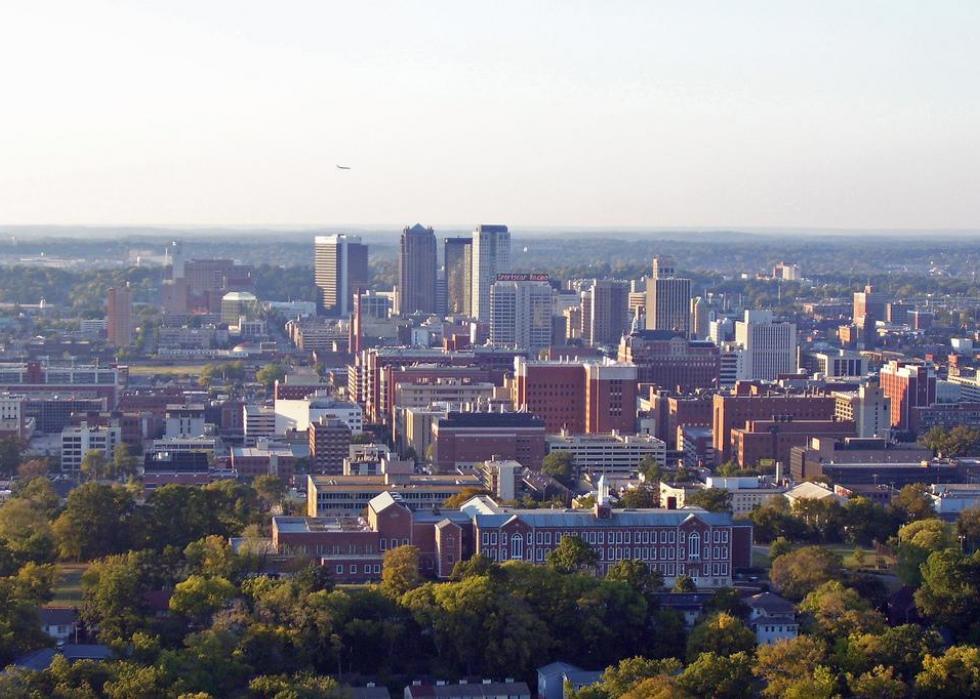 26 / 50
#25. Birmingham, AL
Annual total expenses: $82,555 (5.3% below the 50 metro average)
Monthly total expenses: $6,880

Monthly expenses:
Housing: $882 (25.0% below the 50 metro average)
Food: $775 (1.2% below the 50 metro average)
Child care: $1,175 (13.0% below the 50 metro average)
Transportation: $1,151 (0.7% above the 50 metro average)
Health care: $1,261 (22.6% above the 50 metro average)
Other necessities: $669 (15.4% below the 50 metro average)
Taxes: $967 (2.7% below the 50 metro average)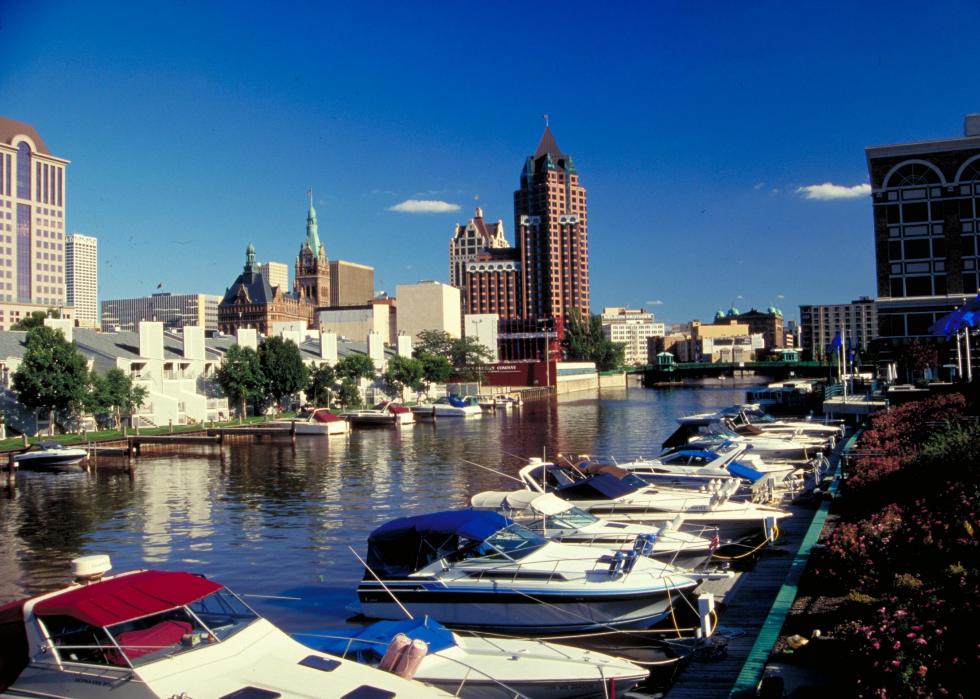 27 / 50
Environmental Protection Agency // Wikimedia Commons
#24. Milwaukee, WI
Annual total expenses: $82,877 (5.0% below the 50 metro average)
Monthly total expenses: $6,906

Monthly expenses:
Housing: $911 (22.5% below the 50 metro average)
Food: $709 (9.7% below the 50 metro average)
Child care: $1,381 (2.2% above the 50 metro average)
Transportation: $1,099 (3.9% below the 50 metro average)
Health care: $1,200 (16.7% above the 50 metro average)
Other necessities: $653 (17.4% below the 50 metro average)
Taxes: $953 (4.1% below the 50 metro average)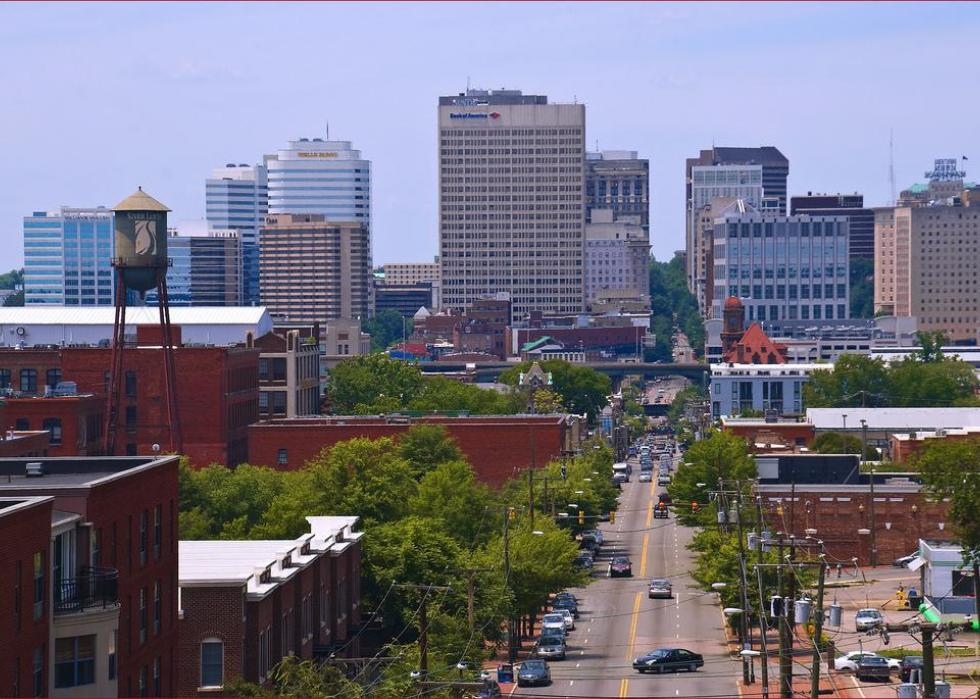 28 / 50
#23. Richmond, VA
Annual total expenses: $83,370 (4.4% below the 50 metro average)
Monthly total expenses: $6,947

Monthly expenses:
Housing: $1,042 (11.3% below the 50 metro average)
Food: $807 (2.8% above the 50 metro average)
Child care: $1,272 (5.8% below the 50 metro average)
Transportation: $1,156 (1.1% above the 50 metro average)
Health care: $941 (8.5% below the 50 metro average)
Other necessities: $746 (5.7% below the 50 metro average)
Taxes: $983 (1.1% below the 50 metro average)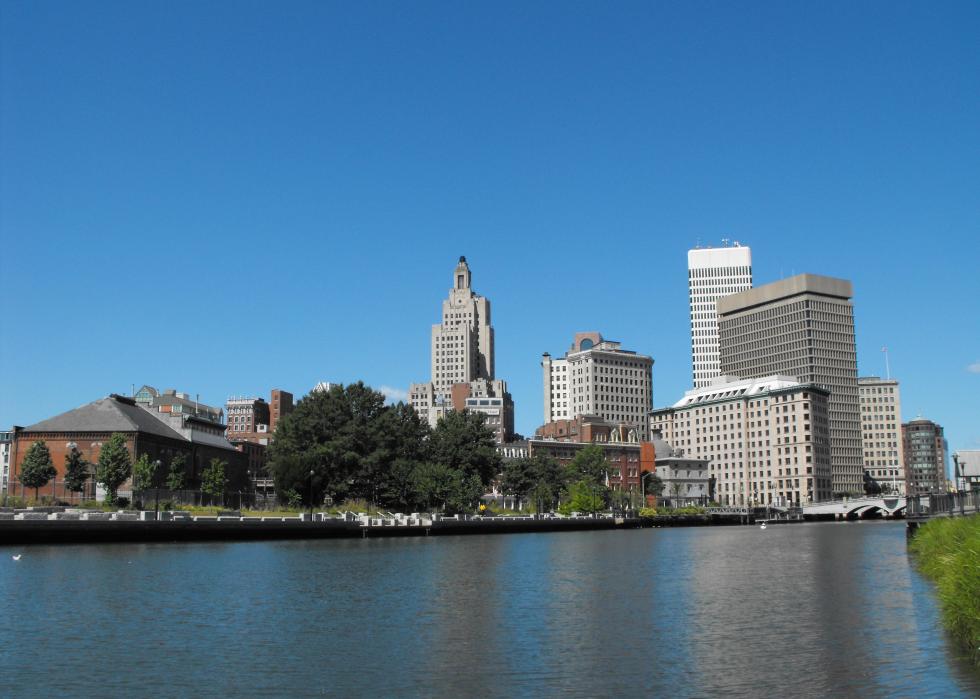 29 / 50
boliyou // Wikimedia Commons
#22. Providence, RI
Annual total expenses: $84,095 (3.6% below the 50 metro average)
Monthly total expenses: $7,008

Monthly expenses:
Housing: $1,014 (13.7% below the 50 metro average)
Food: $798 (1.7% above the 50 metro average)
Child care: $1,659 (22.8% above the 50 metro average)
Transportation: $1,112 (2.8% below the 50 metro average)
Health care: $793 (22.9% below the 50 metro average)
Other necessities: $731 (7.6% below the 50 metro average)
Taxes: $901 (9.3% below the 50 metro average)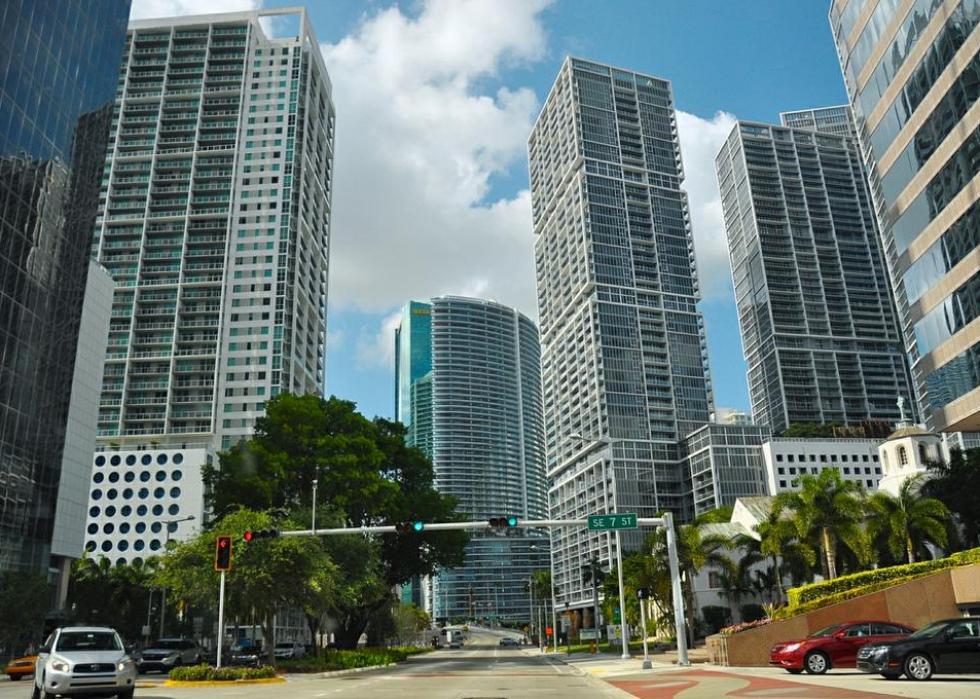 30 / 50
#21. Miami, FL
Annual total expenses: $84,972 (2.6% below the 50 metro average)
Monthly total expenses: $7,081

Monthly expenses:
Housing: $1,351 (14.9% above the 50 metro average)
Food: $853 (8.7% above the 50 metro average)
Child care: $1,123 (16.9% below the 50 metro average)
Transportation: $1,052 (8.0% below the 50 metro average)
Health care: $1,027 (0.1% below the 50 metro average)
Other necessities: $889 (12.4% above the 50 metro average)
Taxes: $786 (20.9% below the 50 metro average)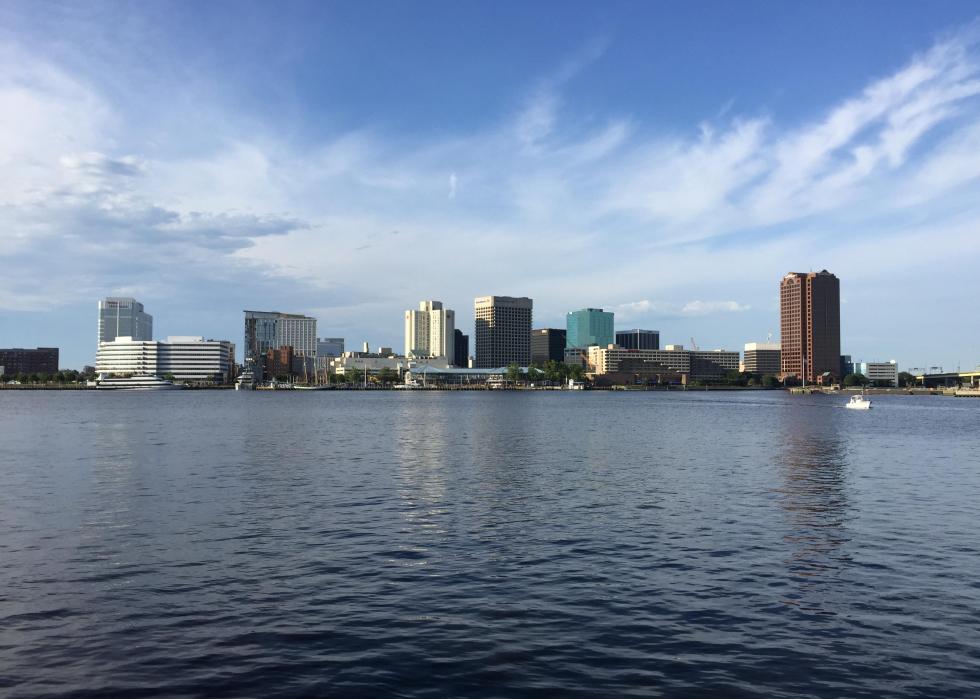 31 / 50
Antony-22 // Wikimedia Commons
#20. Virginia Beach-Norfolk, VA
Annual total expenses: $87,069 (0.2% below the 50 metro average)
Monthly total expenses: $7,256

Monthly expenses:
Housing: $1,095 (6.8% below the 50 metro average)
Food: $791 (0.8% above the 50 metro average)
Child care: $1,323 (2.1% below the 50 metro average)
Transportation: $1,121 (2.0% below the 50 metro average)
Health care: $1,111 (8.1% above the 50 metro average)
Other necessities: $761 (3.8% below the 50 metro average)
Taxes: $1,055 (6.1% above the 50 metro average)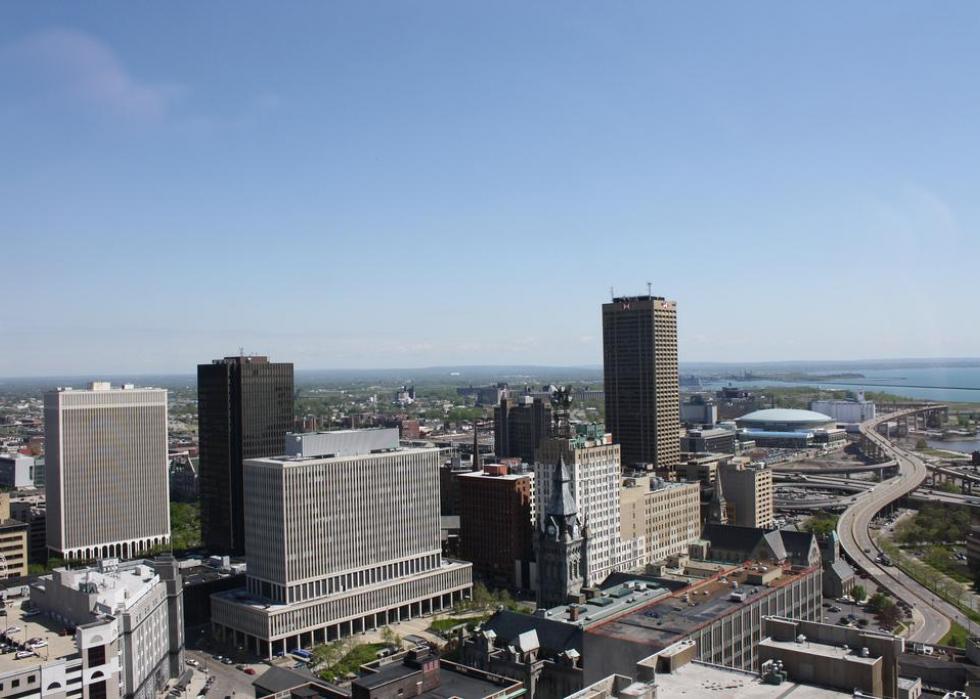 32 / 50
#19. Buffalo, NY
Annual total expenses: $88,071 (1.0% above the 50 metro average)
Monthly total expenses: $7,339

Monthly expenses:
Housing: $799 (32.0% below the 50 metro average)
Food: $753 (4.0% below the 50 metro average)
Child care: $1,946 (44.1% above the 50 metro average)
Transportation: $1,144 (0.0% above the 50 metro average)
Health care: $1,064 (3.5% above the 50 metro average)
Other necessities: $626 (20.8% below the 50 metro average)
Taxes: $1,008 (1.4% above the 50 metro average)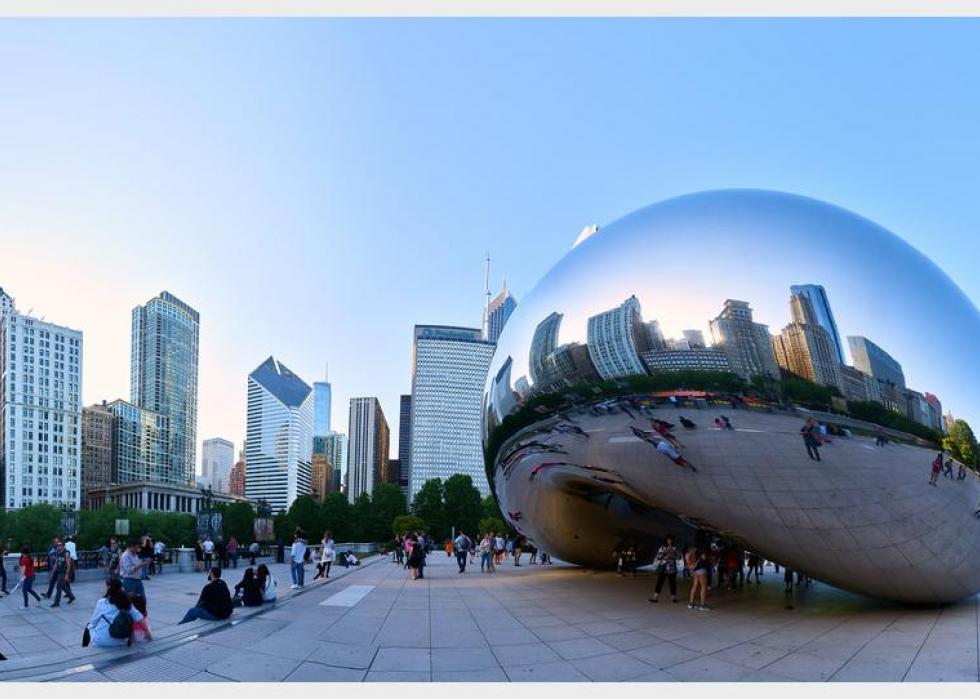 33 / 50
#18. Chicago, IL
Annual total expenses: $88,536 (1.5% above the 50 metro average)
Monthly total expenses: $7,378

Monthly expenses:
Housing: $1,180 (0.4% above the 50 metro average)
Food: $739 (5.8% below the 50 metro average)
Child care: $1,537 (13.8% above the 50 metro average)
Transportation: $1,054 (7.8% below the 50 metro average)
Health care: $1,053 (2.4% above the 50 metro average)
Other necessities: $774 (2.1% below the 50 metro average)
Taxes: $1,042 (4.8% above the 50 metro average)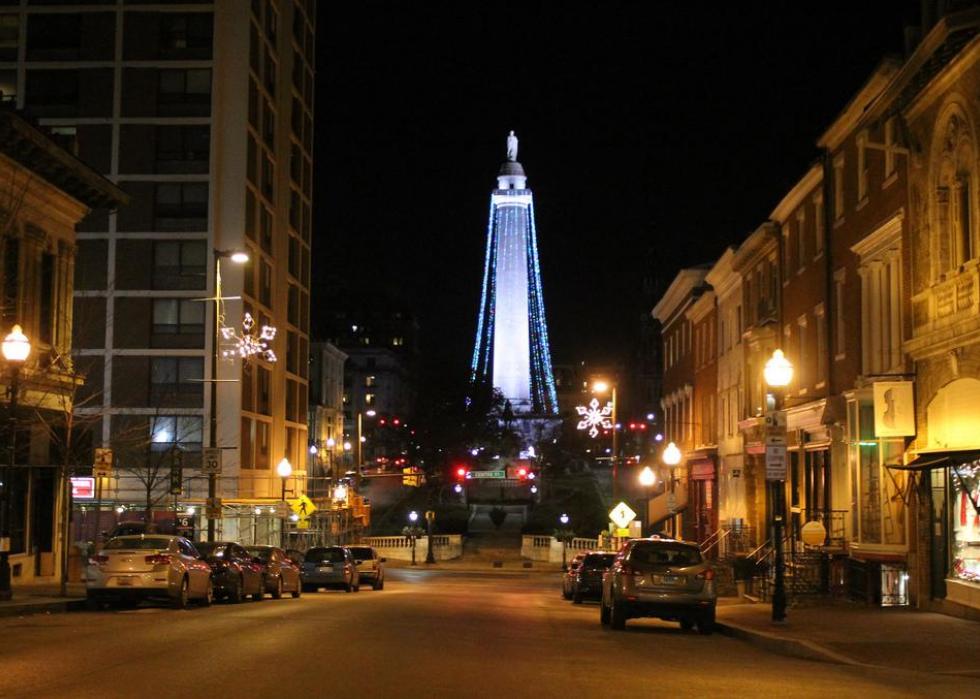 34 / 50
#17. Baltimore, MD
Annual total expenses: $88,536 (1.5% above the 50 metro average)
Monthly total expenses: $7,378

Monthly expenses:
Housing: $1,325 (12.7% above the 50 metro average)
Food: $799 (1.8% above the 50 metro average)
Child care: $1,313 (2.8% below the 50 metro average)
Transportation: $1,142 (0.1% below the 50 metro average)
Health care: $901 (12.4% below the 50 metro average)
Other necessities: $857 (8.4% above the 50 metro average)
Taxes: $1,041 (4.7% above the 50 metro average)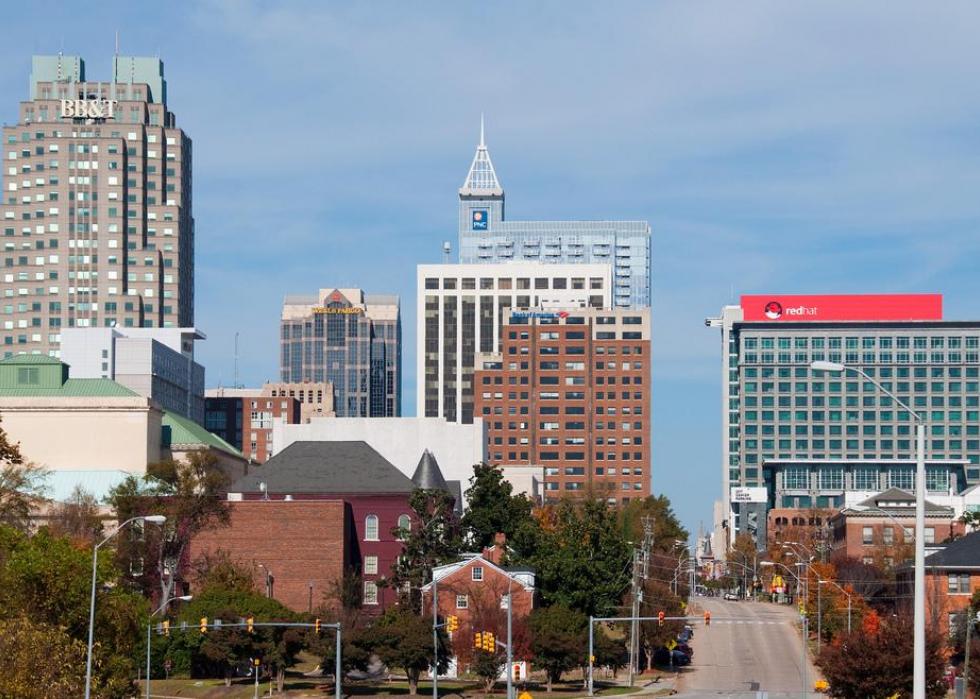 35 / 50
#16. Raleigh, NC
Annual total expenses: $89,271 (2.4% above the 50 metro average)
Monthly total expenses: $7,439

Monthly expenses:
Housing: $1,026 (12.7% below the 50 metro average)
Food: $787 (0.3% above the 50 metro average)
Child care: $1,227 (9.2% below the 50 metro average)
Transportation: $1,201 (5.0% above the 50 metro average)
Health care: $1,353 (31.6% above the 50 metro average)
Other necessities: $731 (7.6% below the 50 metro average)
Taxes: $1,114 (12.1% above the 50 metro average)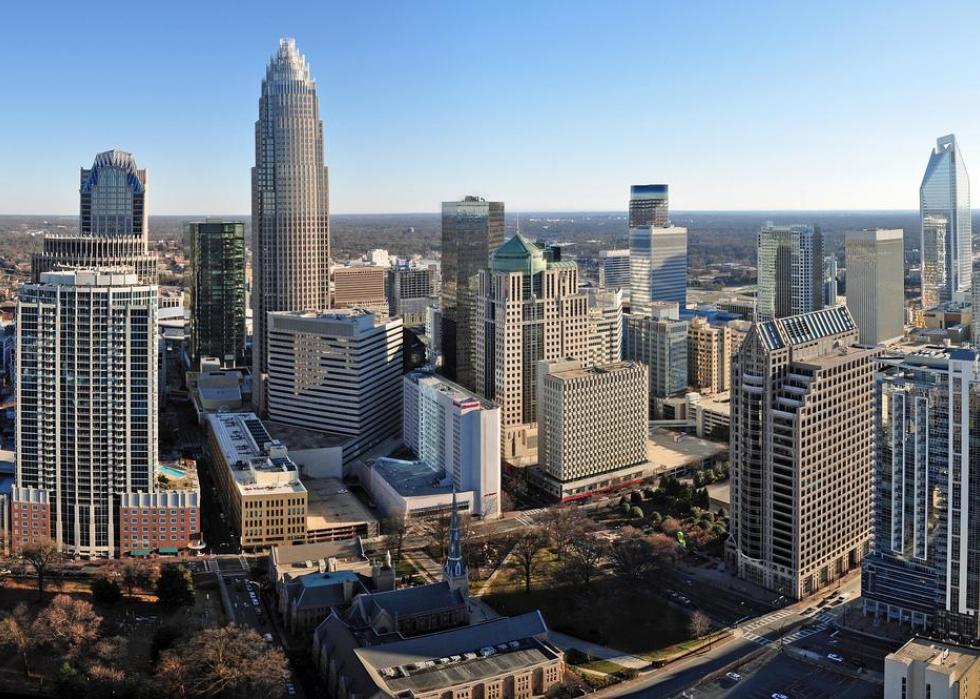 36 / 50
James Willamor // Wikimedia Commons
#15. Charlotte, NC
Annual total expenses: $89,330 (2.4% above the 50 metro average)
Monthly total expenses: $7,444

Monthly expenses:
Housing: $967 (17.7% below the 50 metro average)
Food: $762 (2.9% below the 50 metro average)
Child care: $1,165 (13.8% below the 50 metro average)
Transportation: $1,171 (2.4% above the 50 metro average)
Health care: $1,575 (53.2% above the 50 metro average)
Other necessities: $698 (11.7% below the 50 metro average)
Taxes: $1,107 (11.4% above the 50 metro average)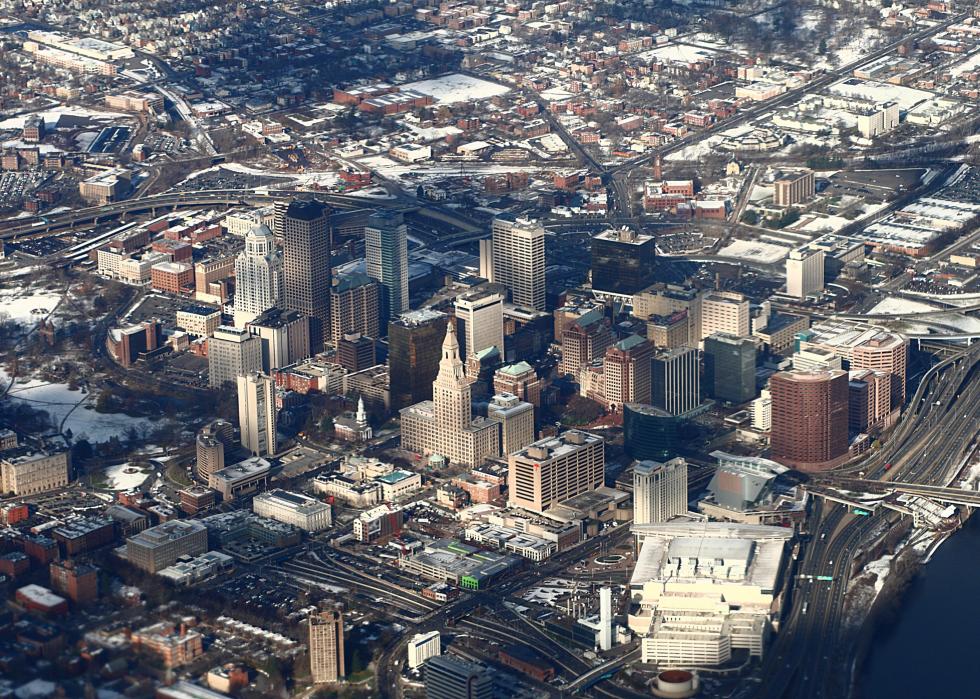 37 / 50
Sage Ross // Wikimedia Commons
#14. Hartford, CT
Annual total expenses: $90,244 (3.5% above the 50 metro average)
Monthly total expenses: $7,520

Monthly expenses:
Housing: $1,158 (1.5% below the 50 metro average)
Food: $810 (3.2% above the 50 metro average)
Child care: $1,389 (2.8% above the 50 metro average)
Transportation: $1,215 (6.3% above the 50 metro average)
Health care: $1,041 (1.2% above the 50 metro average)
Other necessities: $794 (0.4% above the 50 metro average)
Taxes: $1,114 (12.1% above the 50 metro average)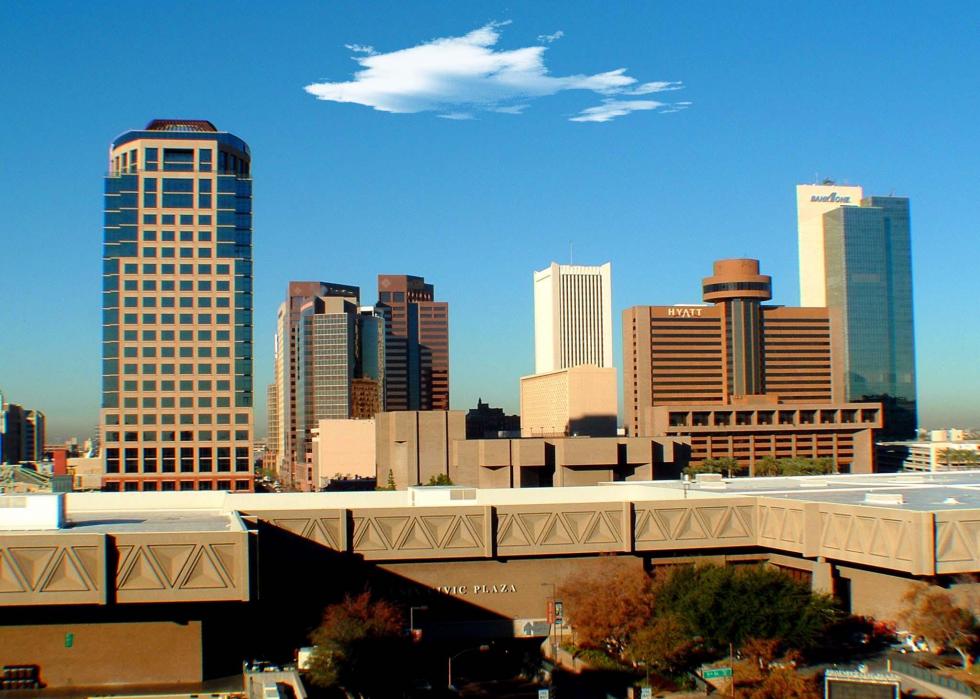 38 / 50
#13. Phoenix, AZ
Annual total expenses: $91,024 (4.4% above the 50 metro average)
Monthly total expenses: $7,585

Monthly expenses:
Housing: $1,013 (13.8% below the 50 metro average)
Food: $748 (4.7% below the 50 metro average)
Child care: $1,409 (4.3% above the 50 metro average)
Transportation: $1,154 (0.9% above the 50 metro average)
Health care: $1,531 (48.9% above the 50 metro average)
Other necessities: $710 (10.2% below the 50 metro average)
Taxes: $1,020 (2.6% above the 50 metro average)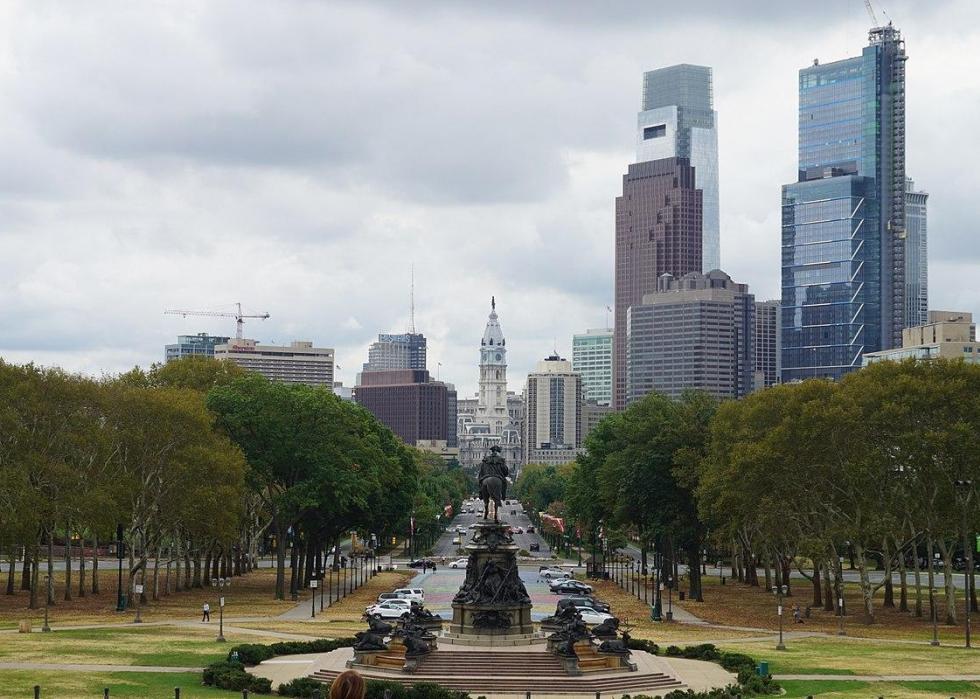 39 / 50
Michael Barera // Wikimedia Commons
#12. Philadelphia, PA
Annual total expenses: $92,163 (5.7% above the 50 metro average)
Monthly total expenses: $7,680

Monthly expenses:
Housing: $1,182 (0.6% above the 50 metro average)
Food: $800 (1.9% above the 50 metro average)
Child care: $1,574 (16.5% above the 50 metro average)
Transportation: $1,137 (0.6% below the 50 metro average)
Health care: $1,110 (8.0% above the 50 metro average)
Other necessities: $800 (1.2% above the 50 metro average)
Taxes: $1,077 (8.4% above the 50 metro average)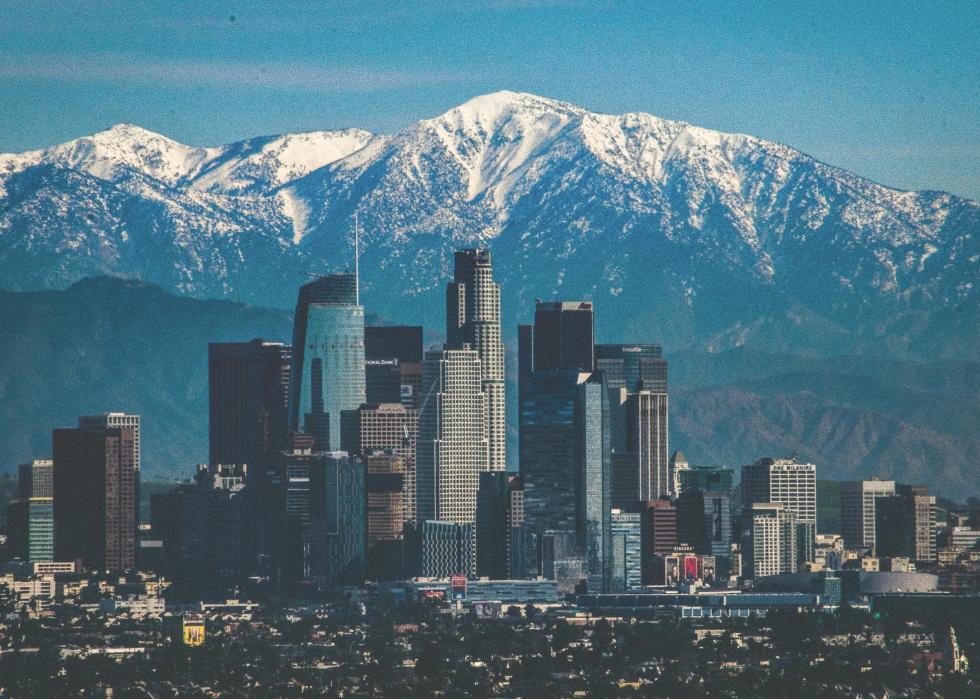 40 / 50
salewiska // Wikimedia Commons
#11. Los Angeles, CA
Annual total expenses: $92,295 (5.8% above the 50 metro average)
Monthly total expenses: $7,691

Monthly expenses:
Housing: $1,663 (41.5% above the 50 metro average)
Food: $830 (5.8% above the 50 metro average)
Child care: $1,223 (9.5% below the 50 metro average)
Transportation: $1,159 (1.4% above the 50 metro average)
Health care: $795 (22.7% below the 50 metro average)
Other necessities: $1,006 (27.2% above the 50 metro average)
Taxes: $1,016 (2.2% above the 50 metro average)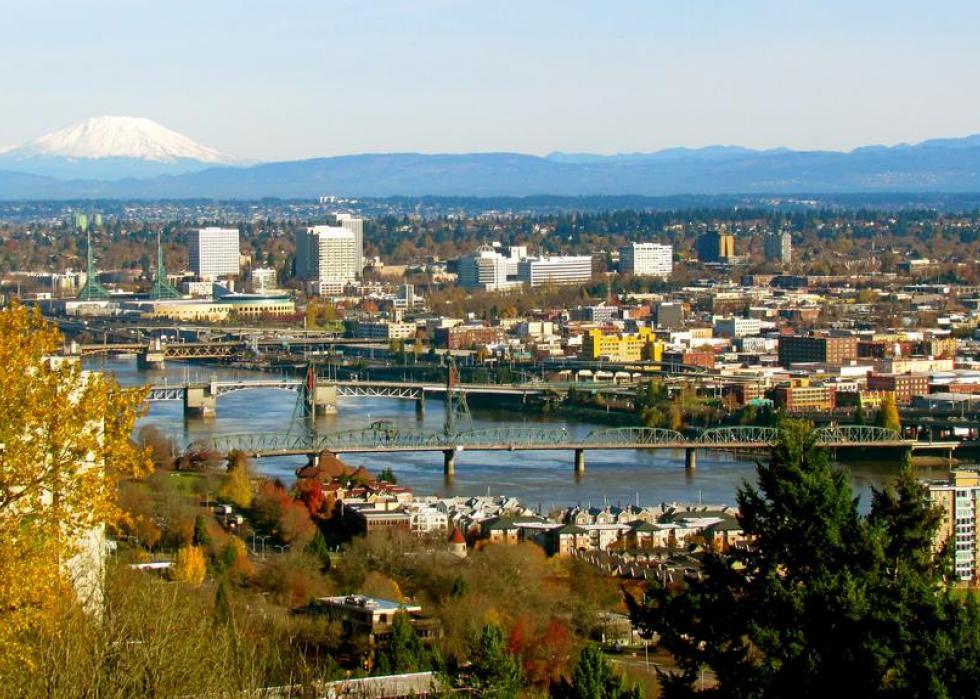 41 / 50
#10. Portland, OR
Annual total expenses: $96,047 (10.1% above the 50 metro average)
Monthly total expenses: $8,004

Monthly expenses:
Housing: $1,330 (13.2% above the 50 metro average)
Food: $791 (0.8% above the 50 metro average)
Child care: $1,653 (22.4% above the 50 metro average)
Transportation: $1,170 (2.3% above the 50 metro average)
Health care: $906 (11.9% below the 50 metro average)
Other necessities: $856 (8.2% above the 50 metro average)
Taxes: $1,298 (30.6% above the 50 metro average)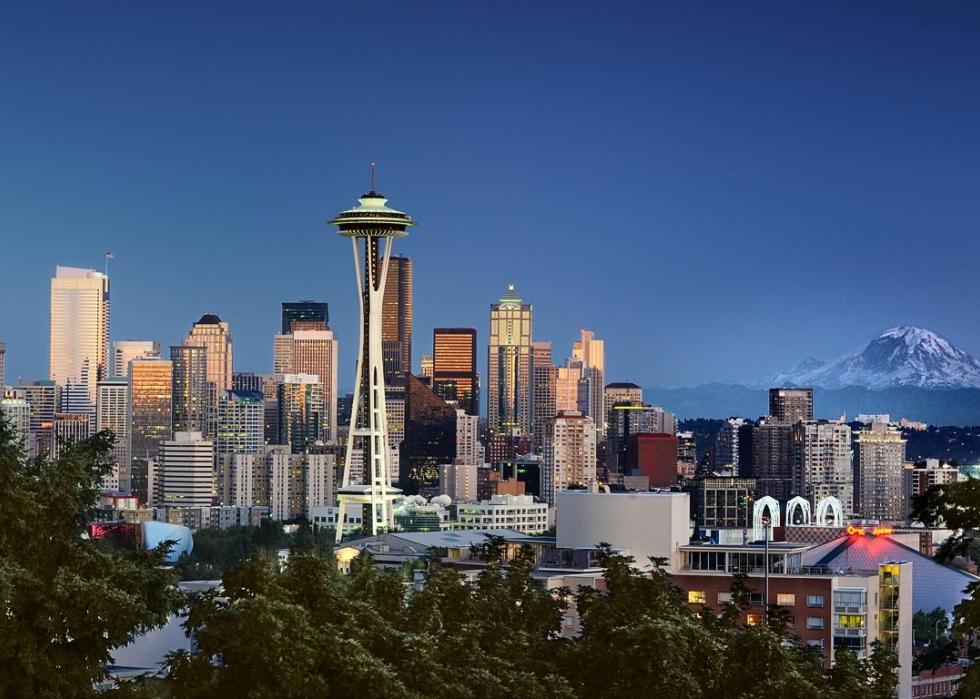 42 / 50
Bala // Wikimedia Commons
#9. Seattle, WA
Annual total expenses: $97,142 (11.4% above the 50 metro average)
Monthly total expenses: $8,095

Monthly expenses:
Housing: $1,527 (29.9% above the 50 metro average)
Food: $854 (8.8% above the 50 metro average)
Child care: $1,691 (25.2% above the 50 metro average)
Transportation: $1,230 (7.6% above the 50 metro average)
Health care: $849 (17.4% below the 50 metro average)
Other necessities: $961 (21.5% above the 50 metro average)
Taxes: $984 (1.0% below the 50 metro average)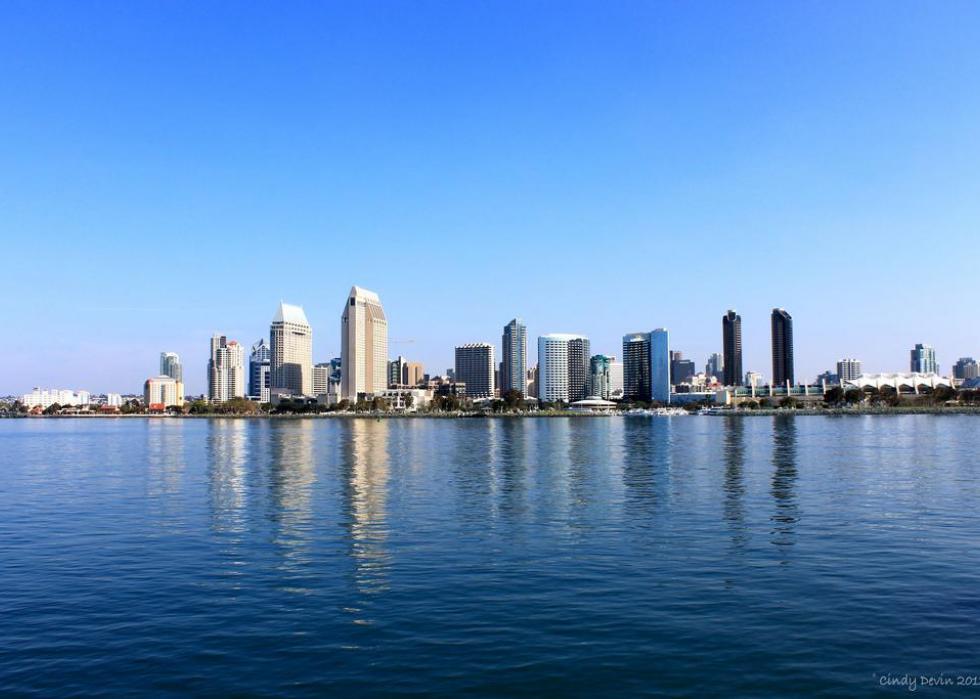 43 / 50
#8. San Diego, CA
Annual total expenses: $97,547 (11.9% above the 50 metro average)
Monthly total expenses: $8,129

Monthly expenses:
Housing: $1,682 (43.1% above the 50 metro average)
Food: $847 (7.9% above the 50 metro average)
Child care: $1,281 (5.2% below the 50 metro average)
Transportation: $1,249 (9.2% above the 50 metro average)
Health care: $903 (12.2% below the 50 metro average)
Other necessities: $1,021 (29.1% above the 50 metro average)
Taxes: $1,146 (15.3% above the 50 metro average)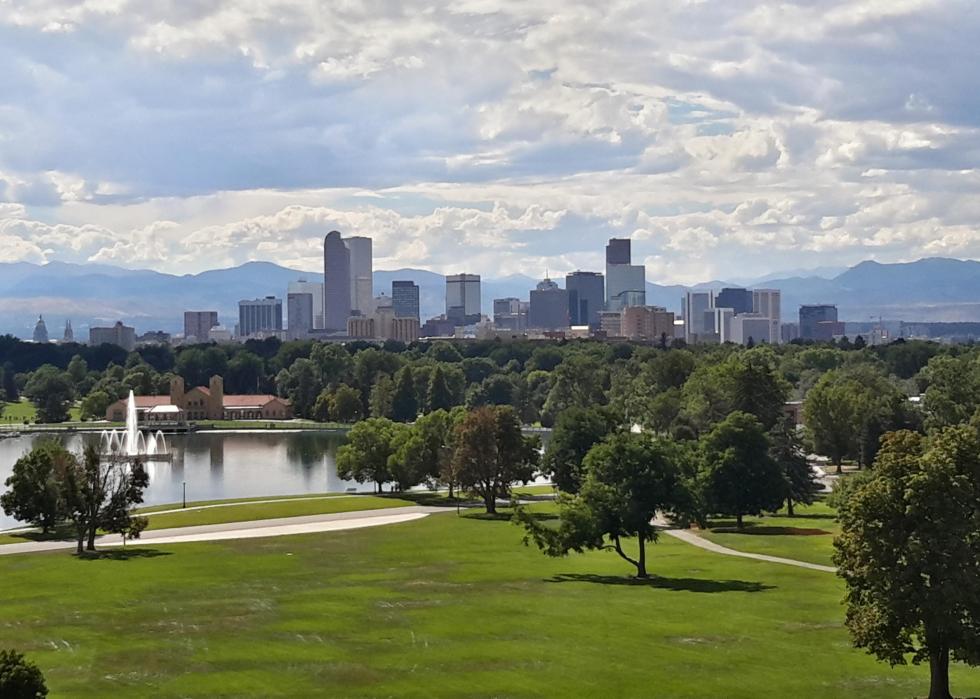 44 / 50
Zenhaus // Wikimedia Commons
#7. Denver, CO
Annual total expenses: $98,187 (12.6% above the 50 metro average)
Monthly total expenses: $8,182

Monthly expenses:
Housing: $1,418 (20.6% above the 50 metro average)
Food: $805 (2.6% above the 50 metro average)
Child care: $1,682 (24.5% above the 50 metro average)
Transportation: $1,208 (5.6% above the 50 metro average)
Health care: $966 (6.1% below the 50 metro average)
Other necessities: $897 (13.4% above the 50 metro average)
Taxes: $1,208 (21.5% above the 50 metro average)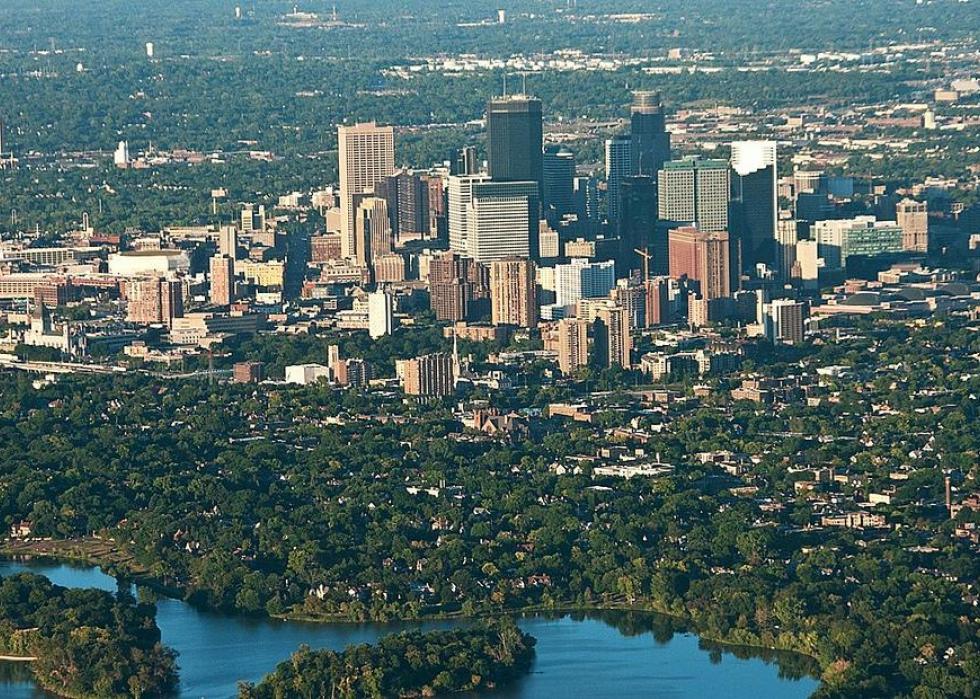 45 / 50
#6. Minneapolis, MN
Annual total expenses: $98,675 (13.2% above the 50 metro average)
Monthly total expenses: $8,223

Monthly expenses:
Housing: $1,089 (7.3% below the 50 metro average)
Food: $795 (1.3% above the 50 metro average)
Child care: $1,845 (36.6% above the 50 metro average)
Transportation: $1,207 (5.6% above the 50 metro average)
Health care: $1,255 (22.1% above the 50 metro average)
Other necessities: $760 (3.9% below the 50 metro average)
Taxes: $1,271 (27.9% above the 50 metro average)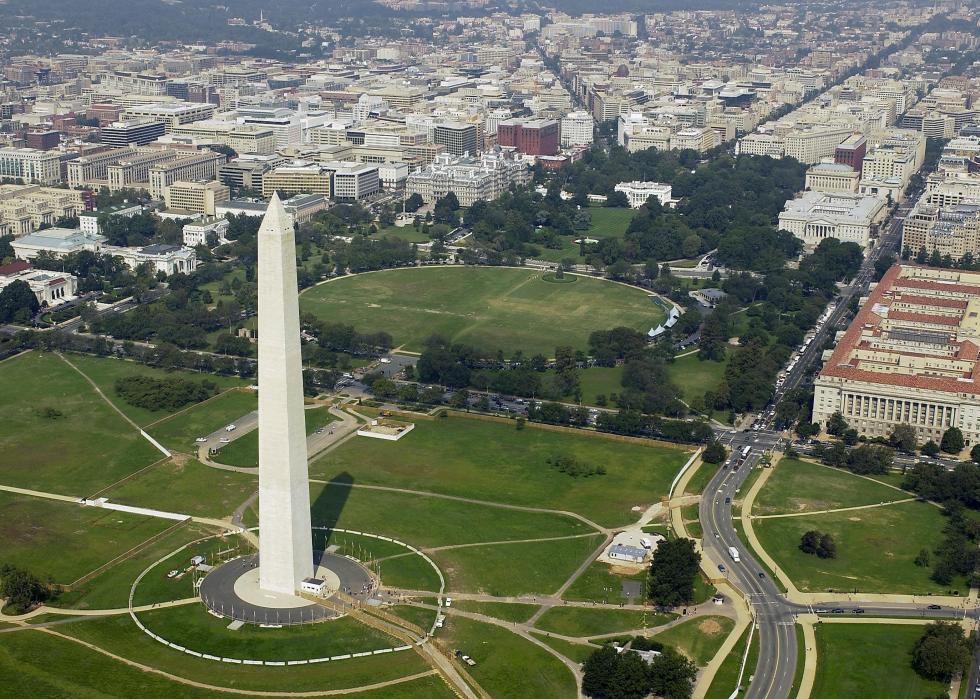 46 / 50
United States Navy // Wikimedia Commons
#5. Washington, DC
Annual total expenses: $105,539 (21.0% above the 50 metro average)
Monthly total expenses: $8,795

Monthly expenses:
Housing: $1,693 (44.0% above the 50 metro average)
Food: $858 (9.3% above the 50 metro average)
Child care: $1,762 (30.4% above the 50 metro average)
Transportation: $1,115 (2.5% below the 50 metro average)
Health care: $926 (9.9% below the 50 metro average)
Other necessities: $1,029 (30.1% above the 50 metro average)
Taxes: $1,412 (42.1% above the 50 metro average)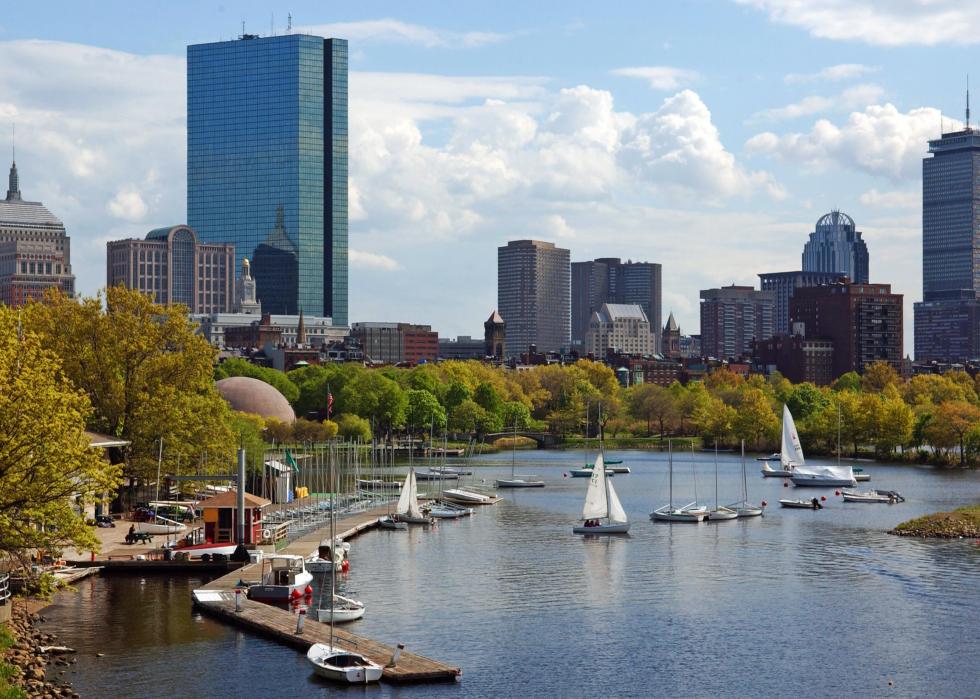 47 / 50
Riptor3000 // Wikimedia Commons
#4. Boston, MA
Annual total expenses: $113,558 (30.2% above the 50 metro average)
Monthly total expenses: $9,463

Monthly expenses:
Housing: $1,740 (48.0% above the 50 metro average)
Food: $877 (11.8% above the 50 metro average)
Child care: $2,225 (64.7% above the 50 metro average)
Transportation: $1,103 (3.5% below the 50 metro average)
Health care: $837 (18.6% below the 50 metro average)
Other necessities: $1,056 (33.5% above the 50 metro average)
Taxes: $1,626 (63.6% above the 50 metro average)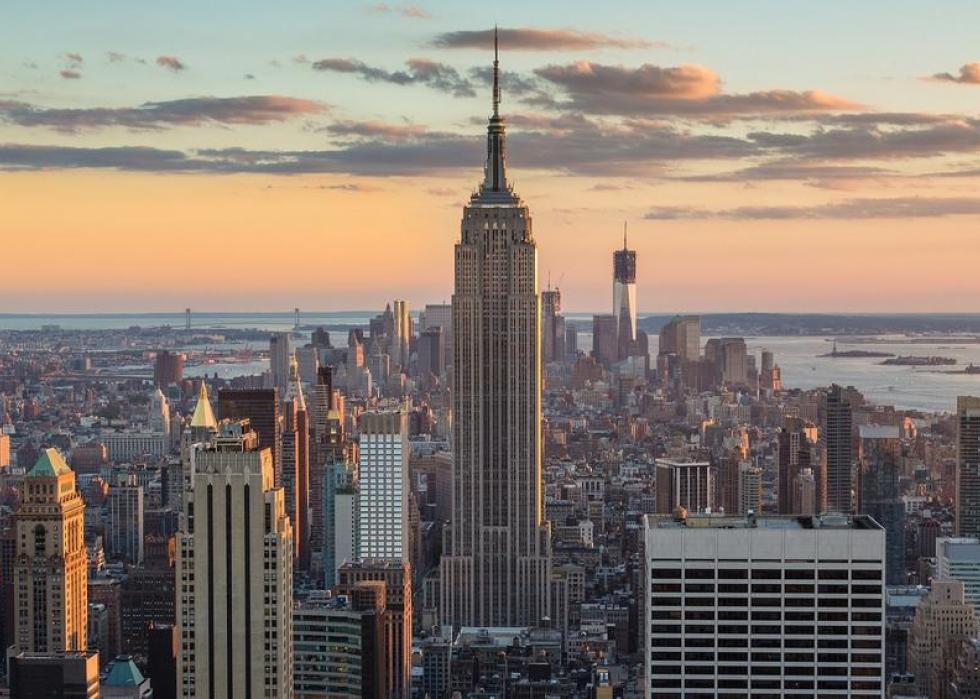 48 / 50
#3. New York, NY
Annual total expenses: $124,129 (42.3% above the 50 metro average)
Monthly total expenses: $10,344

Monthly expenses:
Housing: $1,789 (52.2% above the 50 metro average)
Food: $908 (15.7% above the 50 metro average)
Child care: $2,773 (105.3% above the 50 metro average)
Transportation: $589 (48.5% below the 50 metro average)
Health care: $1,238 (20.4% above the 50 metro average)
Other necessities: $1,088 (37.6% above the 50 metro average)
Taxes: $1,958 (97.0% above the 50 metro average)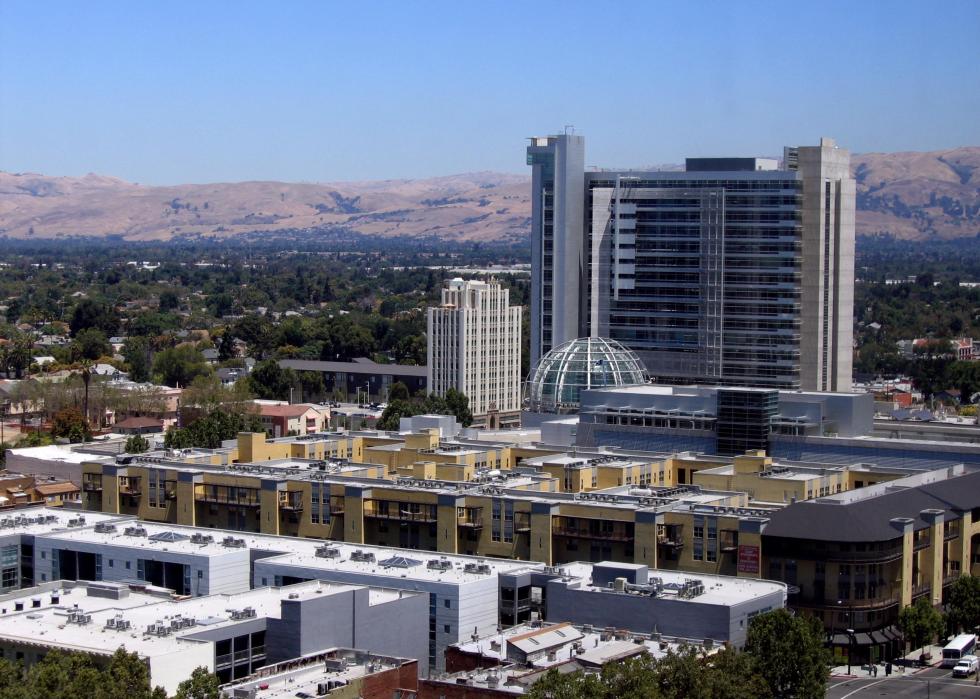 49 / 50
Andre Engels // Wikimedia Commons
#2. San Jose, CA
Annual total expenses: $129,092 (48.0% above the 50 metro average)
Monthly total expenses: $10,758

Monthly expenses:
Housing: $2,522 (114.6% above the 50 metro average)
Food: $896 (14.2% above the 50 metro average)
Child care: $1,559 (15.4% above the 50 metro average)
Transportation: $1,315 (15.0% above the 50 metro average)
Health care: $1,039 (1.0% above the 50 metro average)
Other necessities: $1,379 (74.4% above the 50 metro average)
Taxes: $2,049 (106.2% above the 50 metro average)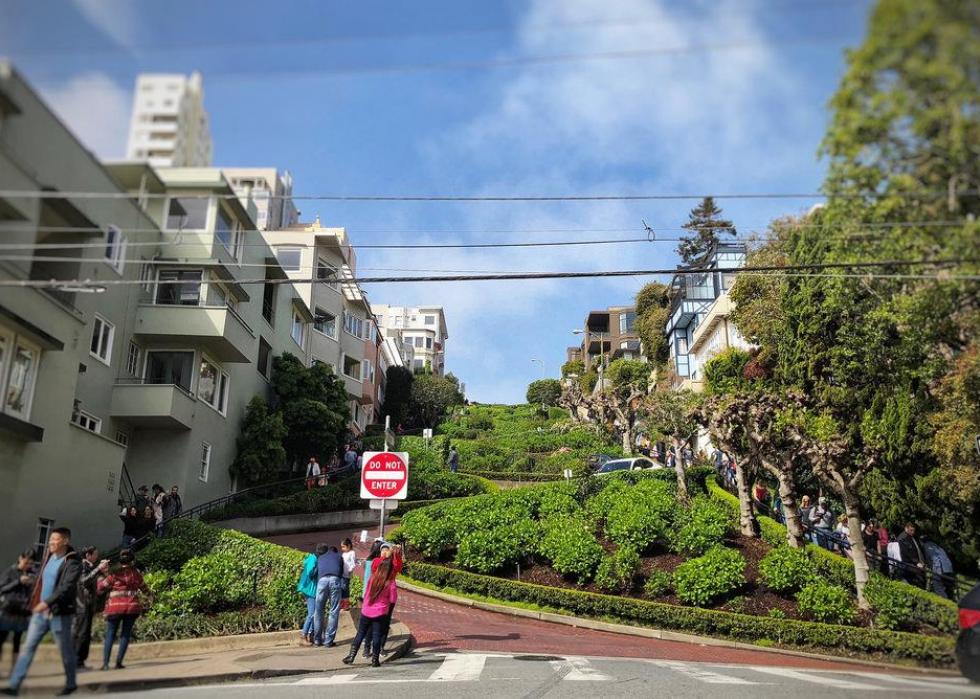 50 / 50
#1. San Francisco, CA
Annual total expenses: $148,440 (70.2% above the 50 metro average)
Monthly total expenses: $12,370

Monthly expenses:
Housing: $3,121 (165.5% above the 50 metro average)
Food: $998 (27.2% above the 50 metro average)
Child care: $1,730 (28.1% above the 50 metro average)
Transportation: $1,114 (2.6% below the 50 metro average)
Health care: $1,152 (12.0% above the 50 metro average)
Other necessities: $1,662 (110.2% above the 50 metro average)
Taxes: $2,593 (160.9% above the 50 metro average)