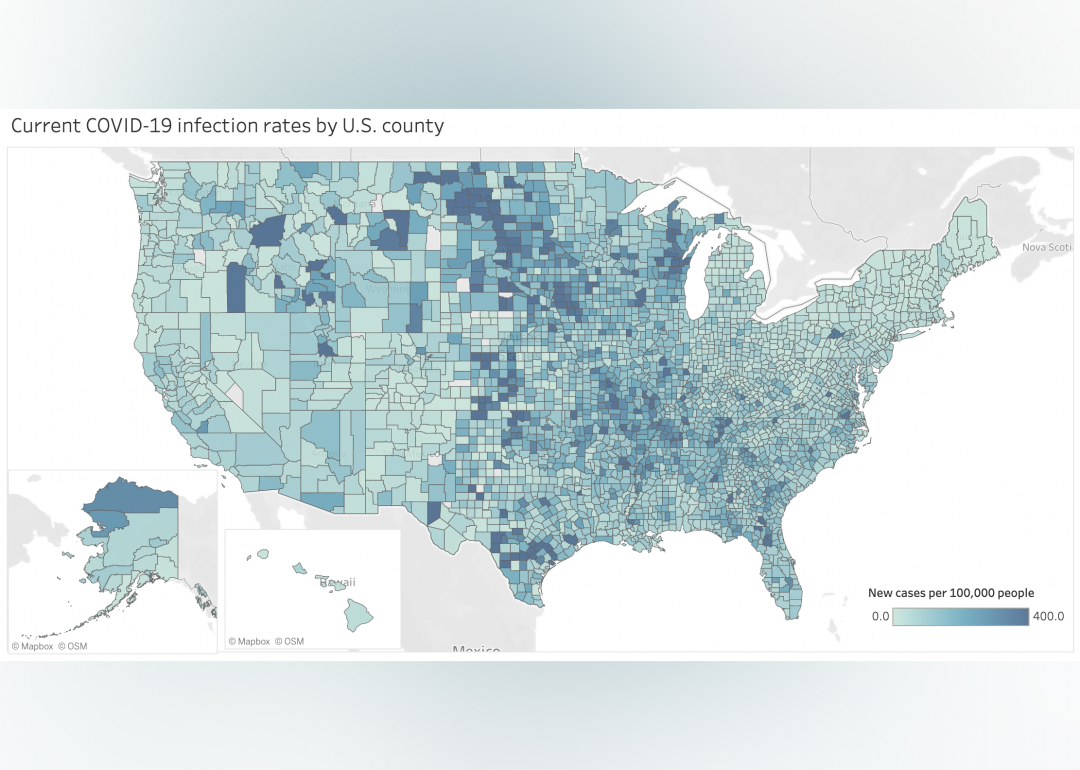 Counties with the highest COVID-19 infection rates
Counties with the highest COVID-19 infection rates
On Sept. 19, the United States passed 200,000 deaths due to COVID-19, according to NBC. When Dr. Deborah Birx predicted this death toll back in March, the high number was called alarmist; now, it is a sad reality for thousands of families who have lost their loved ones in this pandemic.
The novel coronavirus continues to rage across the country. K-12 schools in many states are open for in-person learning and college students have returned to campus—but schools like the University of North Carolina at Chapel Hill have already sent students back home due to rampant outbreaks. Cases are rising in the Midwest, specifically in South Dakota and Wisconsin, according to the COVID Tracking Project at The Atlantic. Though testing is trending up in some regions, the increasing use of antigen tests makes it difficult to determine accurate counts. As has been true throughout America's COVID-19 history, every state—and even every county—has its own COVID-19 story, driven by local policies and behaviors.
To help you see how your region compares, Stacker has developed two national data visualizations which present the state of COVID-19 infection rates in America right now. The state-level visualization uses data from the COVID Tracking Project at The Atlantic, a volunteer project, which compiles COVID-19 case, testing, and outcomes figures from state public health agencies. The county-level visualization uses data from The New York Times' COVID-19 data repository, which includes case and death values compiled from state and local health agencies.
Both visualizations rank geographic regions according to their current infection rates, calculated by summing the region's case count for the past week (Sept. 15 to 21), then dividing by the region's population (using population data from the U.S. Census' 2018 American Community Survey). The visualizations also include data on current death rates, positivity rates, and hospitalizations at the state level. County-level test positivity data are taken from the Center for Medicare & Medicaid Services' county testing dataset, and are as of Sept. 9, the most recent date available.