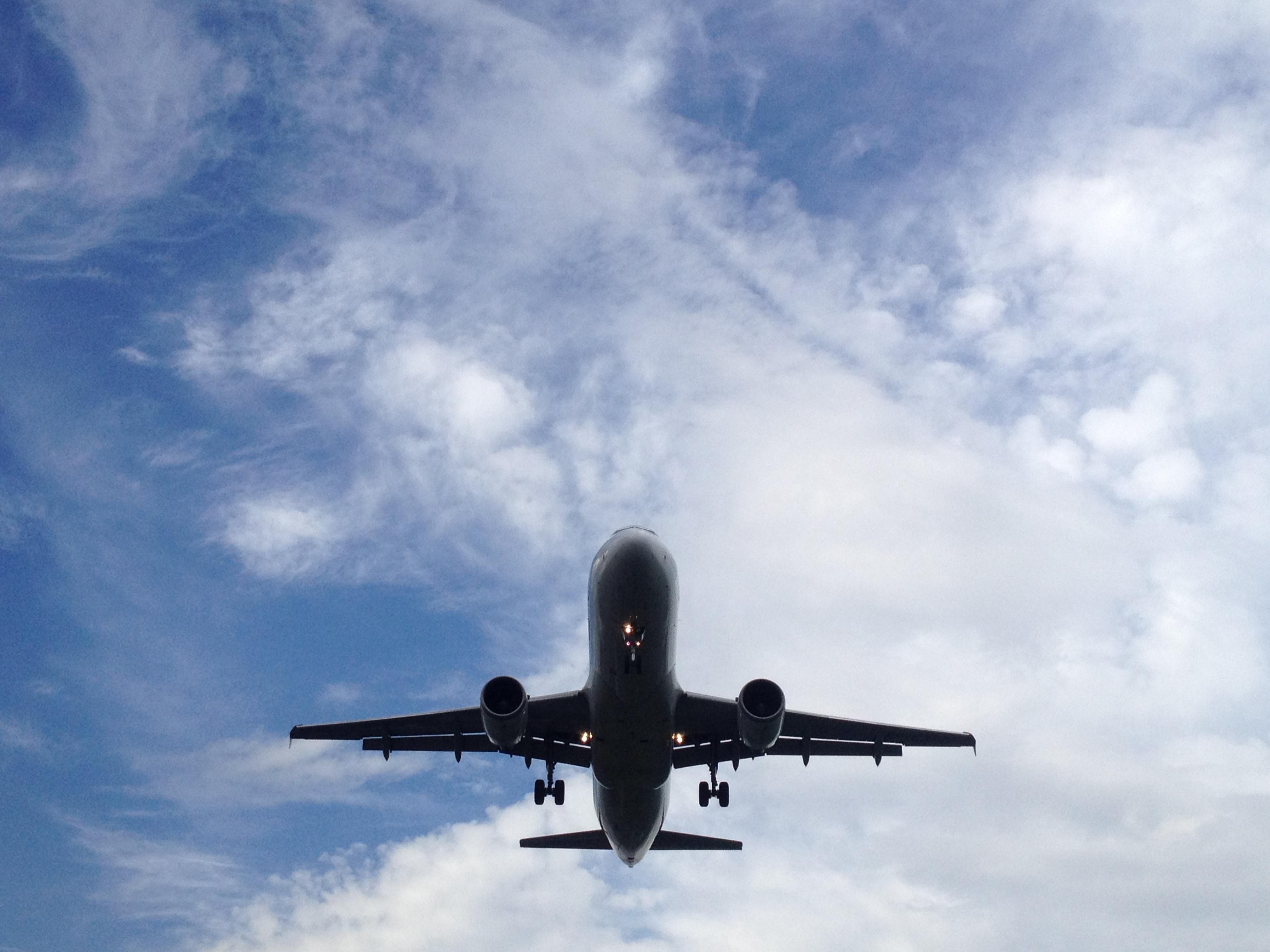 Cheapest flights in America
Urville86 // Wikimedia Commons
Cheapest flights in America
Frequent fliers are likely familiar with the struggle of surfing the web for hours in attempt to find the most cost-efficient flight that also aligns with their schedule. Google travel-booking trends show that 94% of recreational flyers switch between various electronic devices when they plan or book their travel, which is in part attributed to what Google calls the anxiety factor, where travelers are unsure if they're making the most economical decision. This could suggest that at least when it comes to vacation, Americans are adamant about getting the best deal possible. While many people have a concrete location in mind when planning their getaways, others plan around a budget, deciding on a maximum price point before ironing out the other details.
Using U.S. Department of Transportation data for 2017's third fiscal quarter, Stacker has listed the 50 cheapest domestic flights between metropolitan areas in the continental United States according to the average market fare for a one-way flight. The flights are selected from a pool of the top 1,000 flight routes and are listed along with the airline offering the low rate.
Read on to plan your next budget-friendly getaway.
RELATED: Click here to see the cost of a plane ticket the year you graduated college
#50. Cleveland, OH to Miami, FL
Average market fare for one-way flight: $131.71
Airline: American Airlines (AA)
Nonstop distance between cities: 1,080 miles
#49. Atlanta, GA to Orlando, FL
Average market fare for one-way flight: $131.69
Airline: Delta (DL)
Nonstop distance between cities: 404 miles
#48. Reno, NV to San Francisco, CA
Average market fare for one-way flight: $131.28
Airline: Southwest (WN)
Nonstop distance between cities: 192 miles
#47. Chicago, IL to Orlando, FL
Average market fare for one-way flight: $130.92
Airline: Southwest (WN)
Nonstop distance between cities: 1,005 miles
#46. Orlando, FL to Pittsburgh, PA
Average market fare for one-way flight: $129.79
Airline: Southwest (WN)
Nonstop distance between cities: 834 miles
#45. Myrtle Beach, SC to Washington, DC
Average market fare for one-way flight: $128.93
Airline: Spirit (NK)
Nonstop distance between cities: 399 miles
#44. Orlando, FL to Washington, DC
Average market fare for one-way flight: $128.82
Airline: Southwest (WN)
Nonstop distance between cities: 787 miles
#43. Myrtle Beach, SC to Philadelphia, PA
Average market fare for one-way flight: $128.36
Airline: American Airlines (AA)
Nonstop distance between cities: 473 miles
#42. Phoenix, AZ to Sioux Falls, SD
Average market fare for one-way flight: $128.32
Airline: Allegiant Air (G4)
Nonstop distance between cities: 1,081 miles
#41. Seattle, WA to Spokane, WA
Average market fare for one-way flight: $128.23
Airline: Alaska Airlines (AS)
Nonstop distance between cities: 224 miles
#40. Denver, CO to Omaha, NE
Average market fare for one-way flight: $128.02
Airline: United (UA)
Nonstop distance between cities: 472 miles
#39. Las Vegas, NV to Salt Lake City, UT
Average market fare for one-way flight: $127.39
Airline: Delta (DL)
Nonstop distance between cities: 368 miles
#38. Atlanta, GA to Miami, FL
Average market fare for one-way flight: $127.32
Airline: Delta (DL)
Nonstop distance between cities: 594 miles
#37. Indianapolis, IN to Orlando, FL
Average market fare for one-way flight: $126.28
Airline: Southwest (WN)
Nonstop distance between cities: 829 miles
#36. Denver, CO to Salt Lake City, UT
Average market fare for one-way flight: $126.01
Airline: Delta (DL)
Nonstop distance between cities: 391 miles
#35. Atlanta, GA to New Orleans, LA
Average market fare for one-way flight: $125.63
Airline: Delta (DL)
Nonstop distance between cities: 425 miles
#34. Cincinnati, OH to Washington, DC
Average market fare for one-way flight: $125.55
Airline: Southwest (WN)
Nonstop distance between cities: 430 miles
#33. New Orleans, LA to Orlando, FL
Average market fare for one-way flight: $124.75
Airline: Southwest (WN)
Nonstop distance between cities: 551 miles
#32. Denver, CO to Phoenix, AZ
Average market fare for one-way flight: $124.73
Airline: Southwest (WN)
Nonstop distance between cities: 602 miles
#31. Chicago, IL to Cincinnati, OH
Average market fare for one-way flight: $124.32
Airline: Southwest (WN)
Nonstop distance between cities: 264 miles
#30. Chicago, IL to Minneapolis/St. Paul, MN
Average market fare for one-way flight: $123.13
Airline: Delta (DL)
Nonstop distance between cities: 349 miles
#29. Sacramento, CA to San Diego, CA
Average market fare for one-way flight: $122.59
Airline: Southwest (WN)
Nonstop distance between cities: 480 miles
#28. Los Angeles, CA to San Francisco, CA
Average market fare for one-way flight: $122.40
Airline: Southwest (WN)
Nonstop distance between cities: 372 miles
#27. Bellingham, WA to San Francisco, CA
Average market fare for one-way flight: $121.14
Airline: Allegiant Air (G4)
Nonstop distance between cities: 790 miles
#26. Las Vegas, NV to San Diego, CA
Average market fare for one-way flight: $121.05
Airline: Southwest (WN)
Nonstop distance between cities: 258 miles
#25. Cleveland, OH to Orlando, FL
Average market fare for one-way flight: $120.79
Airline: United (UA)
Nonstop distance between cities: 895 miles
#24. Las Vegas, NV to San Francisco, CA
Average market fare for one-way flight: $120.40
Airline: Southwest (WN)
Nonstop distance between cities: 414 miles
#23. Detroit, MI to Myrtle Beach, SC
Average market fare for one-way flight: $119.96
Airline: Spirit (NK)
Nonstop distance between cities: 636 miles
#22. Cleveland, OH to Tampa, FL
Average market fare for one-way flight: $118.25
Airline: Frontier (F9)
Nonstop distance between cities: 932 miles
#21. Chicago, IL to Myrtle Beach, SC
Average market fare for one-way flight: $117.97
Airline: Spirit (NK)
Nonstop distance between cities: 753 miles
#20. Colorado Springs, CO to Orlando, FL
Average market fare for one-way flight: $117.81
Airline: Frontier (F9)
Nonstop distance between cities: 1,520 miles
#19. Las Vegas, NV to Los Angeles, CA
Average market fare for one-way flight: $117.72
Airline: Southwest (WN)
Nonstop distance between cities: 236 miles
#18. Denver, CO to Las Vegas, NV
Average market fare for one-way flight: $116.06
Airline: Southwest (WN)
Nonstop distance between cities: 628 miles
#17. Cleveland, OH to Fort Myers, FL
Average market fare for one-way flight: $114.37
Airline: Frontier (F9)
Nonstop distance between cities: 1,025 miles
#16. Miami, FL to Orlando, FL
Average market fare for one-way flight: $113.89
Airline: American Airlines (AA)
Nonstop distance between cities: 192 miles
#15. Myrtle Beach, SC to New York City, NY
Average market fare for one-way flight: $112.39
Airline: Spirit (NK)
Nonstop distance between cities: 601 miles
#14. Boise, ID to Spokane, WA
Average market fare for one-way flight: $106.44
Airline: Southwest (WN)
Nonstop distance between cities: 287 miles
#13. Miami, FL to Plattsburgh, NY
Average market fare for one-way flight: $105.86
Airline: Allegiant Air (G4)
Nonstop distance between cities: 1,355 miles
#12. Fresno, CA to Las Vegas, NV
Average market fare for one-way flight: $101.84
Airline: Allegiant Air (G4)
Nonstop distance between cities: 259 miles
#11. Myrtle Beach, SC to Pittsburgh, PA
Average market fare for one-way flight: $99.99
Airline: Spirit (NK)
Nonstop distance between cities: 475 miles
#10. Hartford, CT to Myrtle Beach, SC
Average market fare for one-way flight: $98.29
Airline: Spirit (NK)
Nonstop distance between cities: 664 miles
#9. Chicago, IL to Trenton, NJ
Average market fare for one-way flight: $92.12
Airline: Frontier (F9)
Nonstop distance between cities: 693 miles
#8. Allentown/Bethlehem/Easton, PA to Sanford, FL
Average market fare for one-way flight: $89.03
Airline: Allegiant Air (G4)
Nonstop distance between cities: 882 miles
#7. Bellingham, WA to Las Vegas, NV
Average market fare for one-way flight: $86.82
Airline: Allegiant Air (G4)
Nonstop distance between cities: 954 miles
#6. Orlando, FL to Trenton, NJ
Average market fare for one-way flight: $86.21
Airline: Frontier (F9)
Nonstop distance between cities: 896 miles
#5. Las Vegas, NV to Stockton, CA
Average market fare for one-way flight: $81.30
Airline: Allegiant Air (G4)
Nonstop distance between cities: 359 miles
#4. Phoenix, AZ to Provo, UT
Average market fare for one-way flight: $78.19
Airline: Allegiant Air (G4)
Nonstop distance between cities: 477 miles
#3. Atlantic City, NJ to Orlando, FL
Average market fare for one-way flight: $77.84
Airline: Spirit (NK)
Nonstop distance between cities: 852 miles
#2. Atlanta, GA to Trenton, NJ
Average market fare for one-way flight: $77.33
Airline: Frontier (F9)
Nonstop distance between cities: 701 miles
#1. Atlantic City, NJ to Miami, FL
Average market fare for one-way flight: $76.19
Airline: Spirit (NK)
Nonstop distance between cities: 977 miles