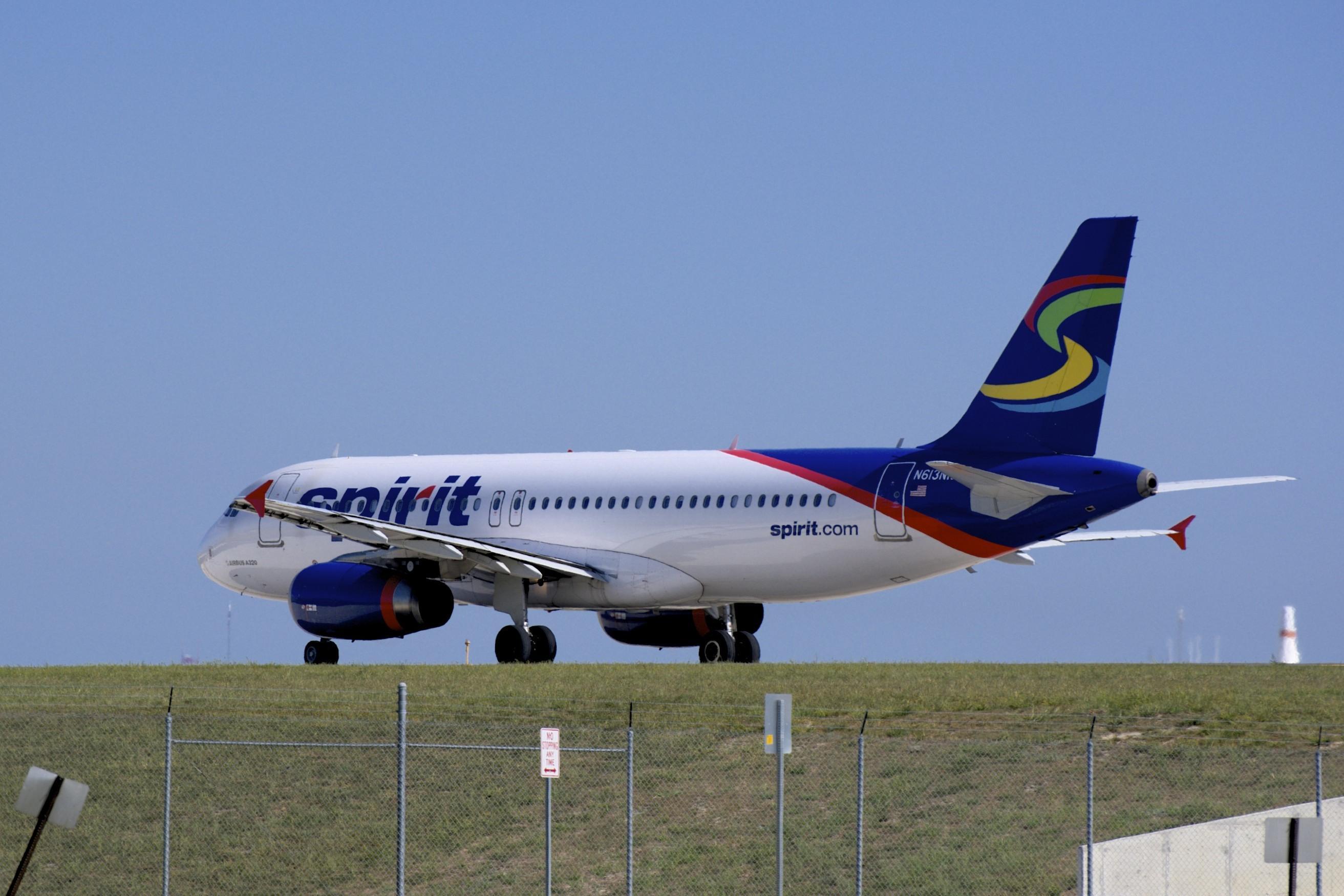 Most chronically delayed flights in America
PlanespotterA320 // Wikimedia Commons
Most chronically delayed flights in America
Some of the craziest times to fly in the U.S. are during the holiday season. In 2017, a record-smashing 28.5 million passengers took to the nation's skies for Thanksgiving alone. This increased air traffic can make a stressful holiday season even more hectic, as everything from snowy weather to congested airways can lead to delayed flights and leave travelers scrambling to make changes to holiday plans.
Though delays can strike on any occasion, there are some recurring flights frequent fliers should avoid if they want to take off on time. The Bureau of Transportation Statistics' "Airline On-Time Data" tracks which flights were canceled or otherwise didn't leave on schedule. Stacker combed through the data from March to August 2018, looking for flights that were chronically delayed at least three out of six months and ranked them by percentage of flights that didn't arrive on time. This percentage includes flights that were diverted or canceled, but the average delay also included on each slide doesn't take into account these flights.
Looking to buy tickets for your holiday travel? Before you make the purchase, click through this list to make sure you're not stuck at the airport when the rest of your friends and family are gathering around the table.
RELATED: Most expensive flights in America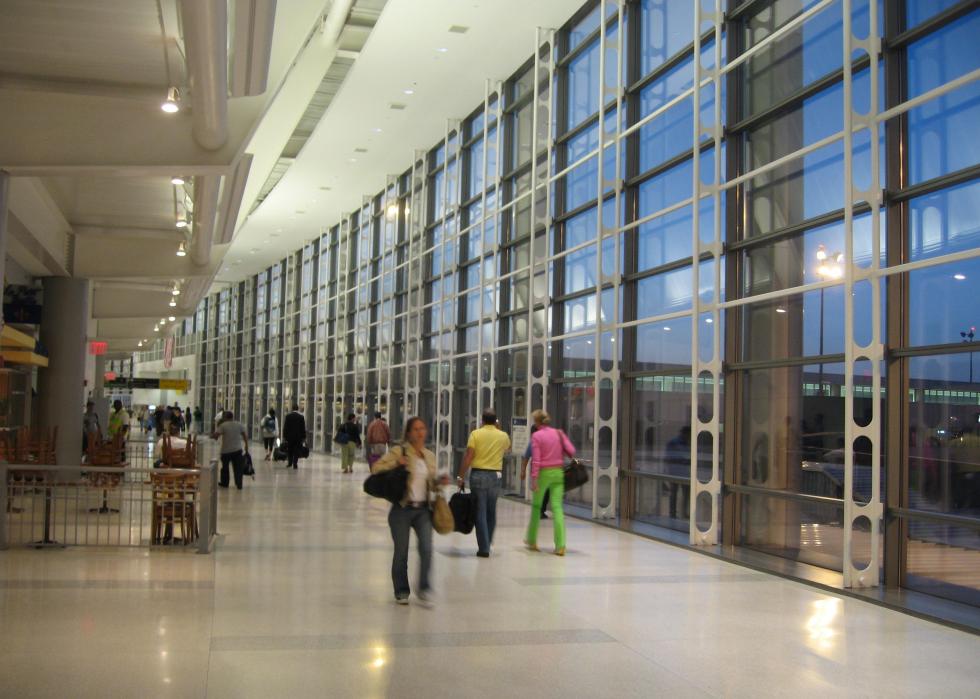 1 / 50
Jared and Corin // Wikimedia Commons
#50. Spirit 159 (EWR-MCO)
Flight cities: Newark (EWR) to Orlando (MCO)
Percent of flight operations not arriving on time: 53.16%
Number of operations January-August (minimum of 10): 79
Number of operations not arriving on time: 42
Average delay (30+ min. late flights only): 157 min.
Months chronically delayed (March-August 2018): 3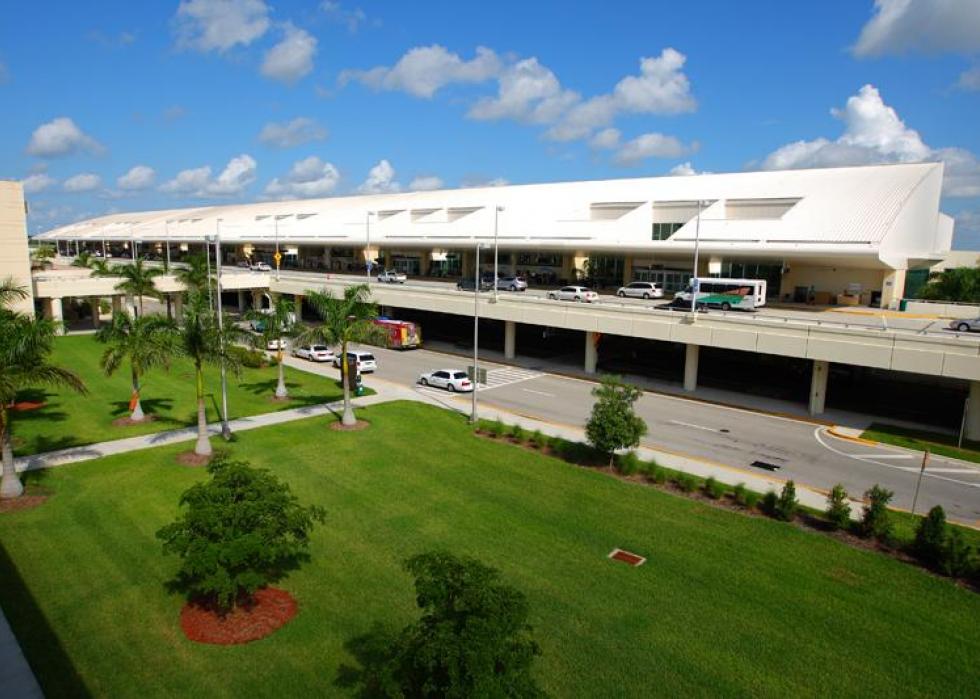 2 / 50
Lee County Port Authority // Wikimedia Commons
#49. JetBlue 1511 (EWR-RSW)
Flight cities: Newark (EWR) to Fort Meyers (RSW)
Percent of flight operations not arriving on time: 53.33%
Number of operations January-August (minimum of 10): 75
Number of operations not arriving on time: 40
Average delay (30+ min. late flights only): 99 min.
Months chronically delayed (March-August 2018): 3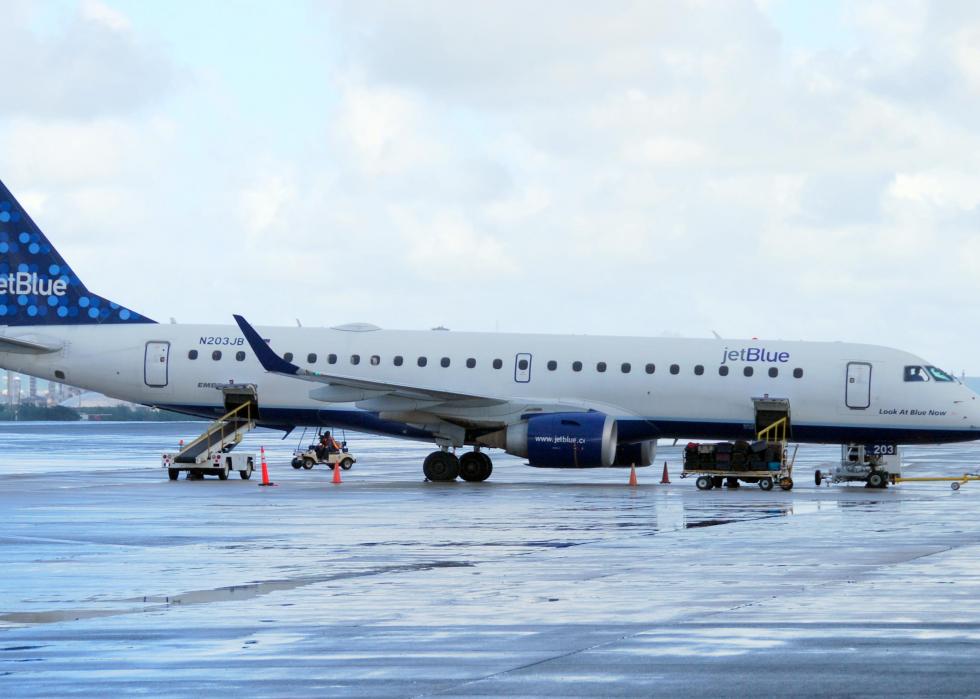 3 / 50
Lars Schmidt // Wikimedia Commons
#48. JetBlue 2579 (BOS-EWR)
Flight cities: Boston, Logan (BOS) to Newark (EWR)
Percent of flight operations not arriving on time: 53.76%
Number of operations January-August (minimum of 10): 93
Number of operations not arriving on time: 50
Average delay (30+ min. late flights only): 110 min.
Months chronically delayed (March-August 2018): 3
4 / 50
Americasroof // WIkimedia Commons
#47. ExpressJet 4273 (MKE-EWR)
Flight cities: Milwaukee (MKE) to Newark (EWR)
Percent of flight operations not arriving on time: 53.97%
Number of operations January-August (minimum of 10): 63
Number of operations not arriving on time: 34
Average delay (30+ min. late flights only): 121 min.
Months chronically delayed (March-August 2018): 3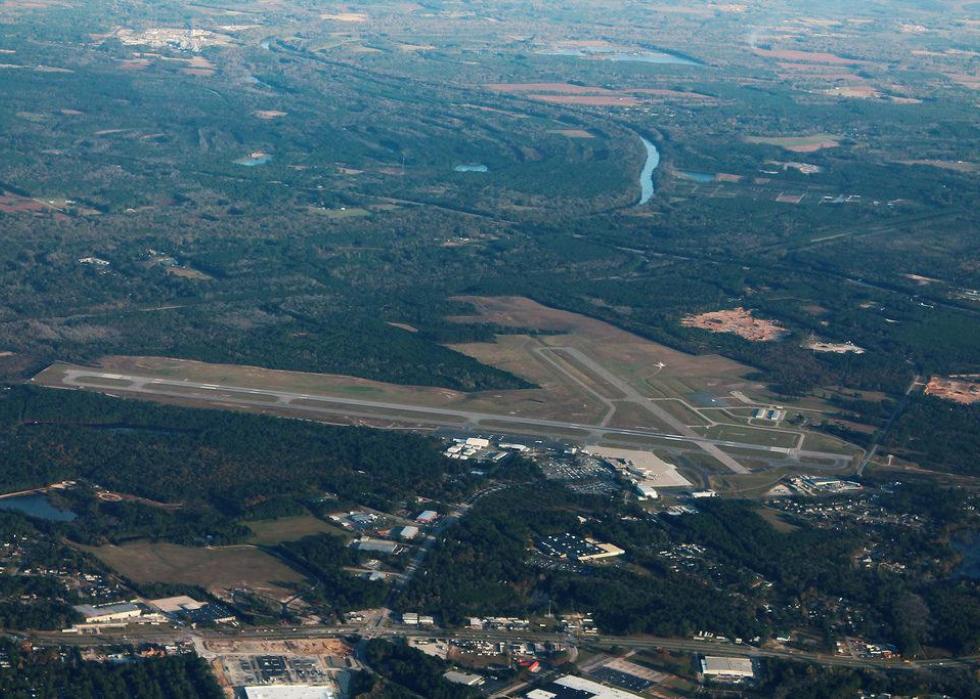 5 / 50
#46. Republic 3612 (XNA-EWR)
Flight cities: Fayetteville (XNA) to Newark (EWR)
Percent of flight operations not arriving on time: 54.02%
Number of operations January-August (minimum of 10): 87
Number of operations not arriving on time: 47
Average delay (30+ min. late flights only): 103 min.
Months chronically delayed (March-August 2018): 3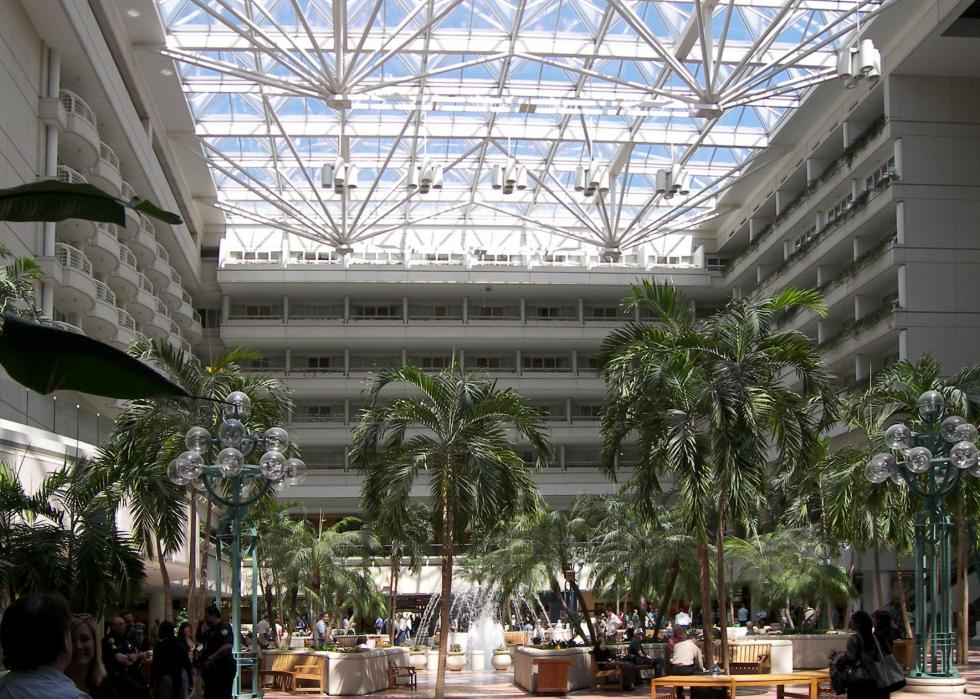 6 / 50
Larry D. Moore // Wikimedia Commons
#45. JetBlue 1190 (MCO-JFK)
Flight cities: Orlando (MCO) to New York, John F. Kennedy (JFK)
Percent of flight operations not arriving on time: 54.22%
Number of operations January-August (minimum of 10): 83
Number of operations not arriving on time: 45
Average delay (30+ min. late flights only): 111 min.
Months chronically delayed (March-August 2018): 3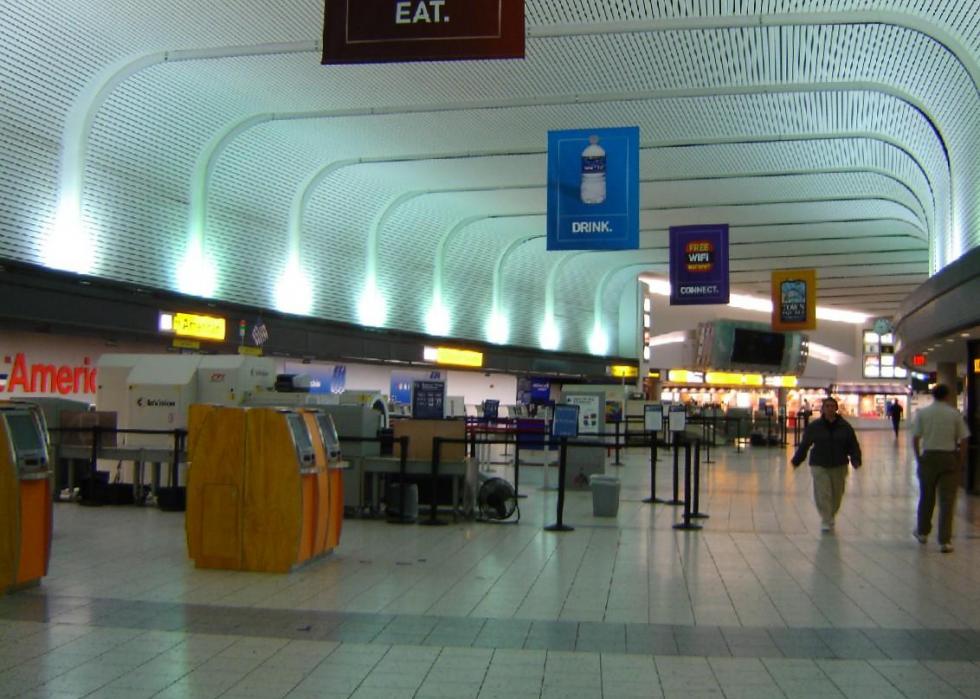 7 / 50
Ian Francis // Wikimedia Commons
#44. Envoy 4093 (CMH-LGA)
Flight cities: Columbus (CMH) to New York, LaGuardia (LGA)
Percent of flight operations not arriving on time: 54.43%
Number of operations January-August (minimum of 10): 79
Number of operations not arriving on time: 43
Average delay (30+ min. late flights only): 91 min.
Months chronically delayed (March-August 2018): 3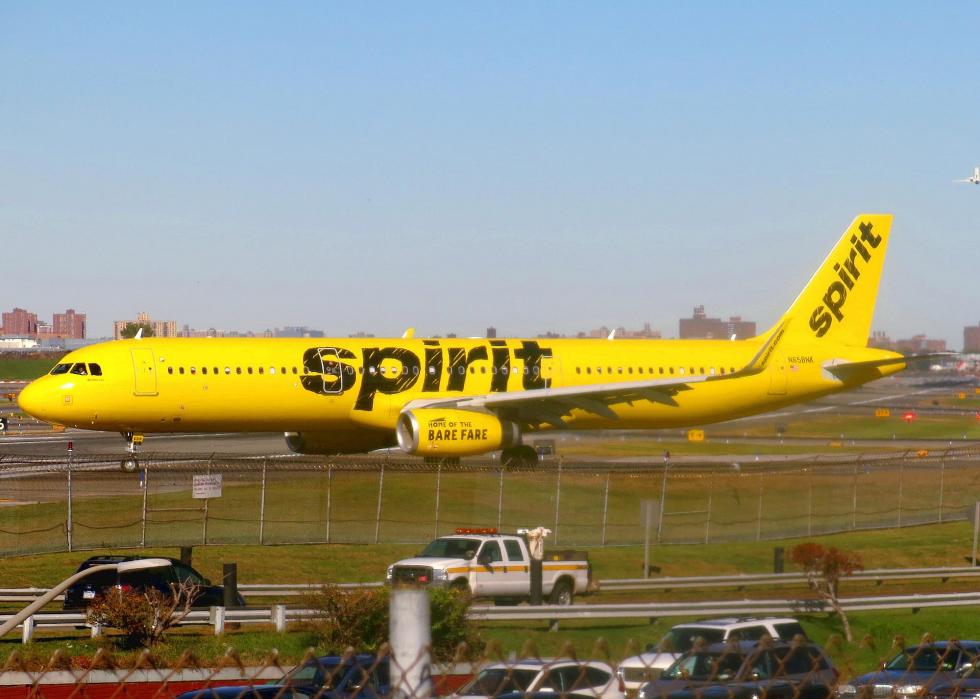 8 / 50
Adam Moreira // Wikimedia Commons
#43. Spirit 496 (MCO-EWR)
Flight cities: Orlando (MCO) to Newark (EWR)
Percent of flight operations not arriving on time: 54.65%
Number of operations January-August (minimum of 10): 86
Number of operations not arriving on time: 47
Average delay (30+ min. late flights only): 96 min.
Months chronically delayed (March-August 2018): 4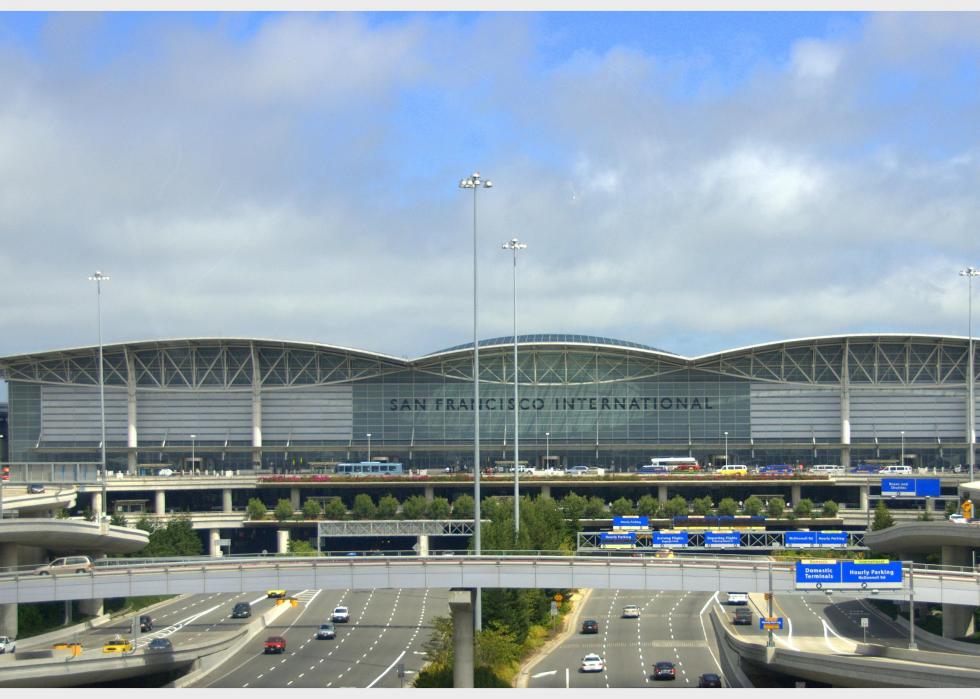 9 / 50
Constantine Kulikovsky // Wikimedia Commons
#42. Alaska 1195 (EWR-SFO)
Flight cities: Newark (EWR) to San Francisco (SFO)
Percent of flight operations not arriving on time: 55.0%
Number of operations January-August (minimum of 10): 80
Number of operations not arriving on time: 44
Average delay (30+ min. late flights only): 91 min.
Months chronically delayed (March-August 2018): 3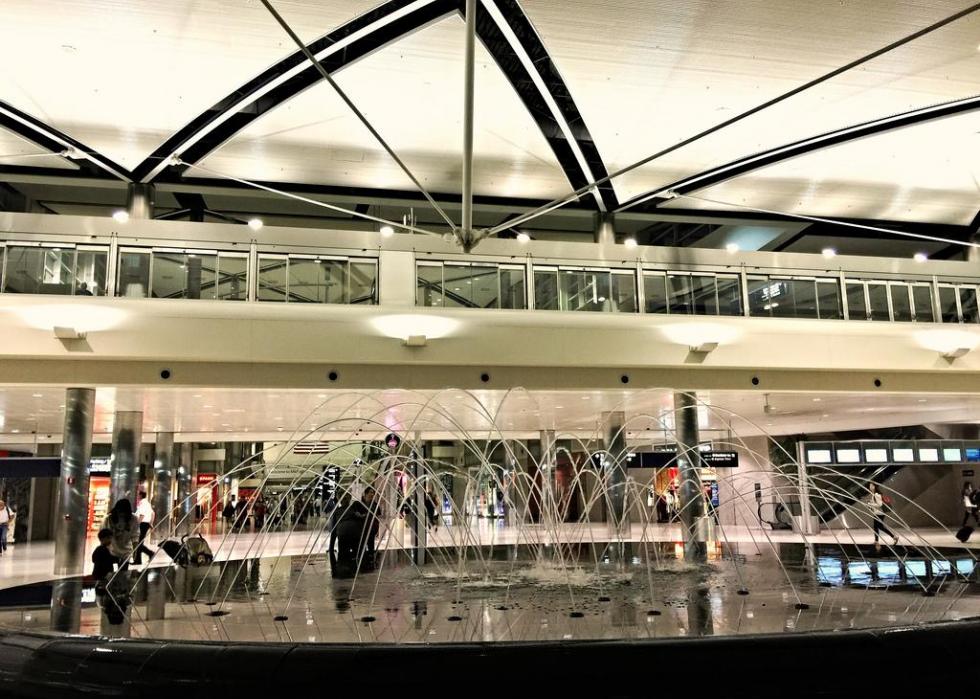 10 / 50
#41. Republic 3501 (DTW-EWR)
Flight cities: Detroit (DTW) to Newark (EWR)
Percent of flight operations not arriving on time: 55.95%
Number of operations January-August (minimum of 10): 84
Number of operations not arriving on time: 47
Average delay (30+ min. late flights only): 101 min.
Months chronically delayed (March-August 2018): 3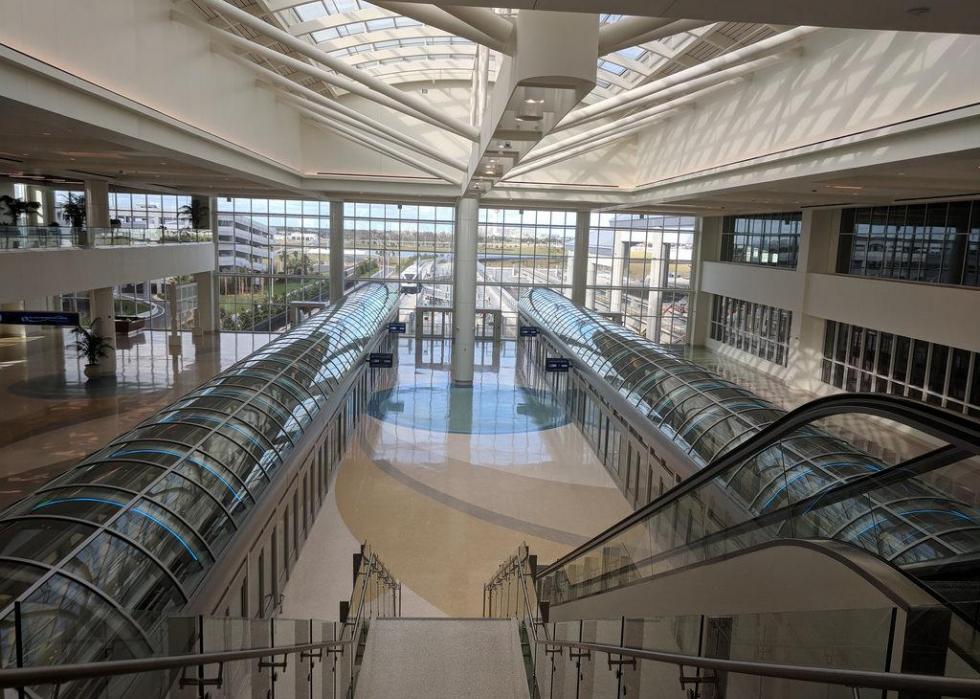 11 / 50
#40. Spirit 983 (EWR-MCO)
Flight cities: Newark (EWR) to Orlando (MCO)
Percent of flight operations not arriving on time: 56.36%
Number of operations January-August (minimum of 10): 55
Number of operations not arriving on time: 31
Average delay (30+ min. late flights only): 86 min.
Months chronically delayed (March-August 2018): 3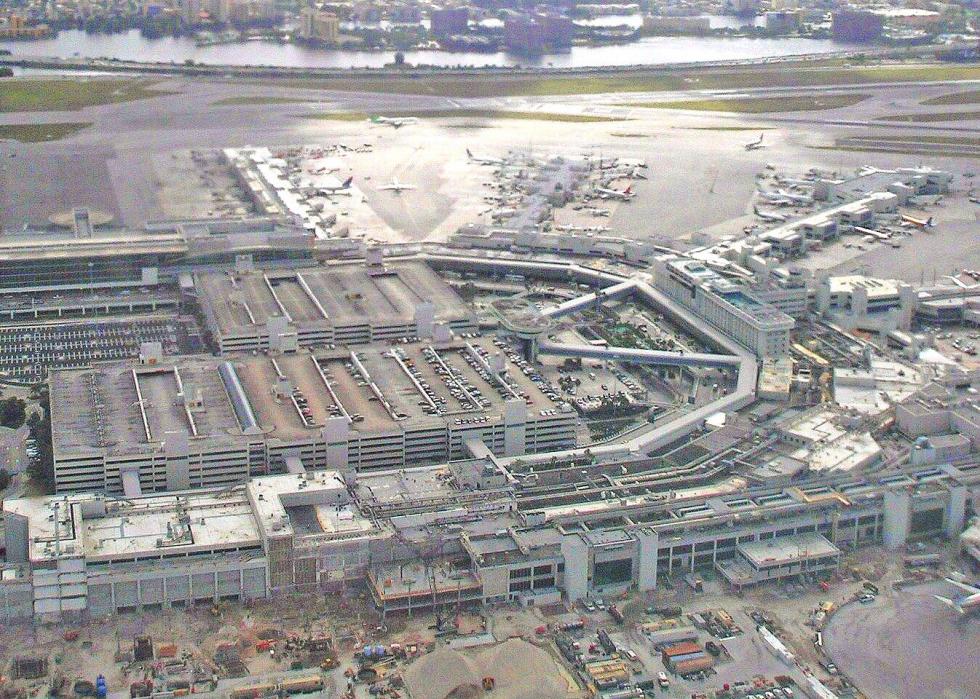 12 / 50
Averette // Wikimedia Commons
#39. American 1506 (MIA-EWR)
Flight cities: Miami (MIA) to Newark (EWR)
Percent of flight operations not arriving on time: 56.52%
Number of operations January-August (minimum of 10): 92
Number of operations not arriving on time: 52
Average delay (30+ min. late flights only): 107 min.
Months chronically delayed (March-August 2018): 3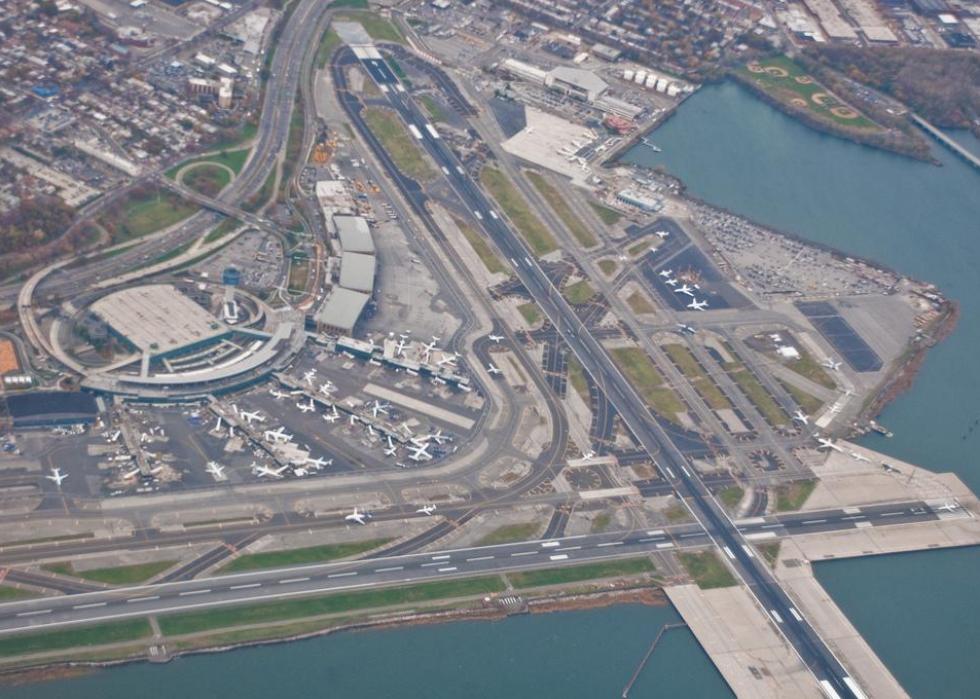 13 / 50
#38. JetBlue 698 (MCO-LGA)
Flight cities: Orlando (MCO) to New York, LaGuardia (LGA)
Percent of flight operations not arriving on time: 56.91%
Number of operations January-August (minimum of 10): 123
Number of operations not arriving on time: 70
Average delay (30+ min. late flights only): 82 min.
Months chronically delayed (March-August 2018): 4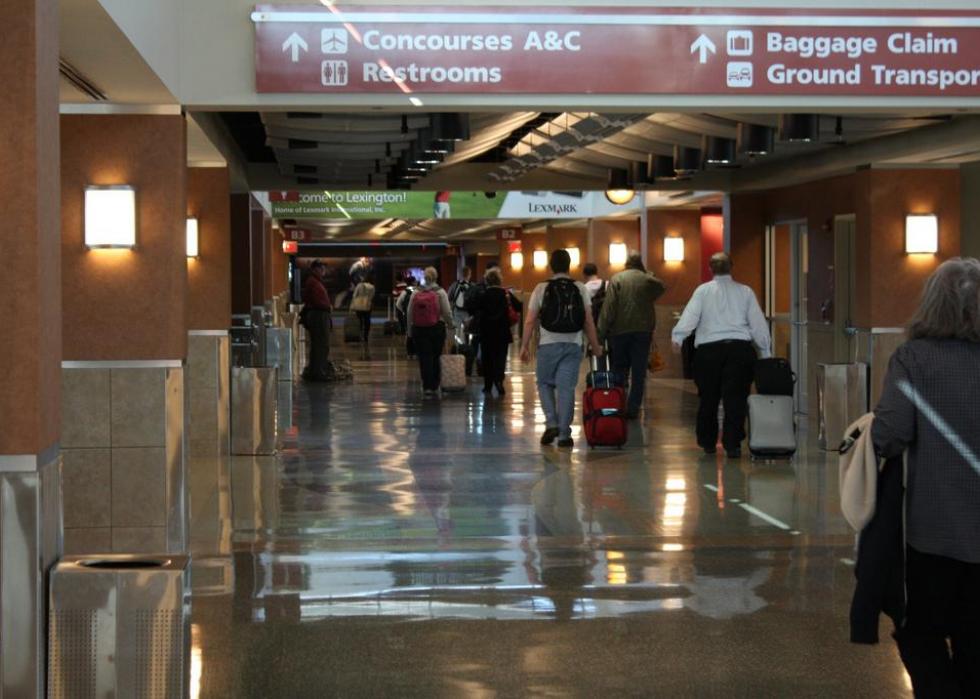 14 / 50
#37. ExpressJet 4413 (LEX-EWR)
Flight cities: Lexington (LEX) to Newark (EWR)
Percent of flight operations not arriving on time: 57.33%
Number of operations January-August (minimum of 10): 75
Number of operations not arriving on time: 43
Average delay (30+ min. late flights only): 134 min.
Months chronically delayed (March-August 2018): 3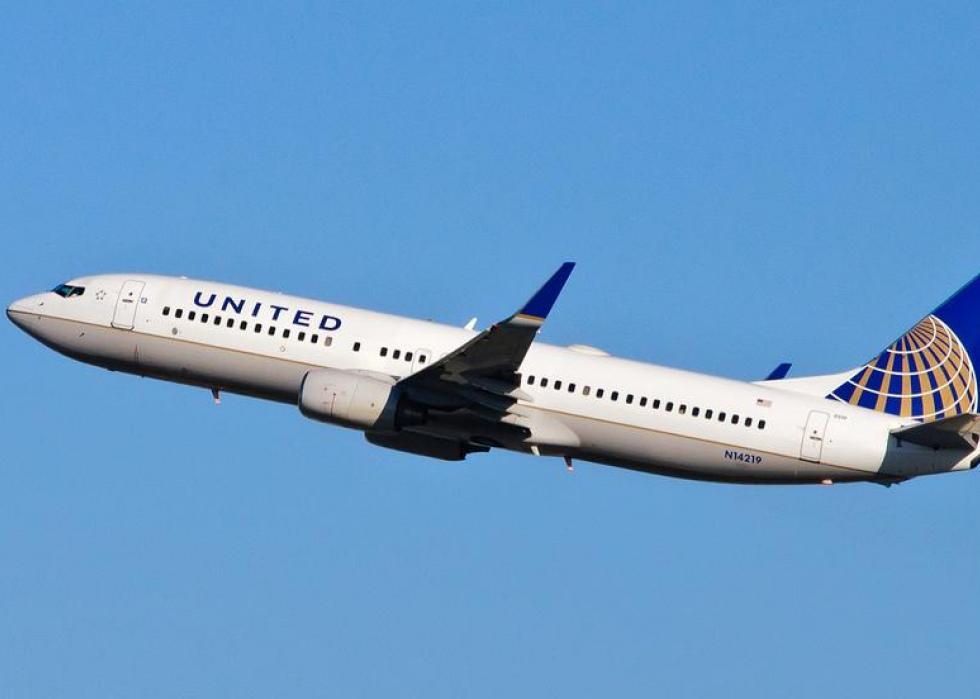 15 / 50
InSapphoWeTrust // Flickr
#36. United 1980 (MCO-EWR)
Flight cities: Orlando (MCO) to Newark (EWR)
Percent of flight operations not arriving on time: 57.47%
Number of operations January-August (minimum of 10): 87
Number of operations not arriving on time: 50
Average delay (30+ min. late flights only): 106 min.
Months chronically delayed (March-August 2018): 3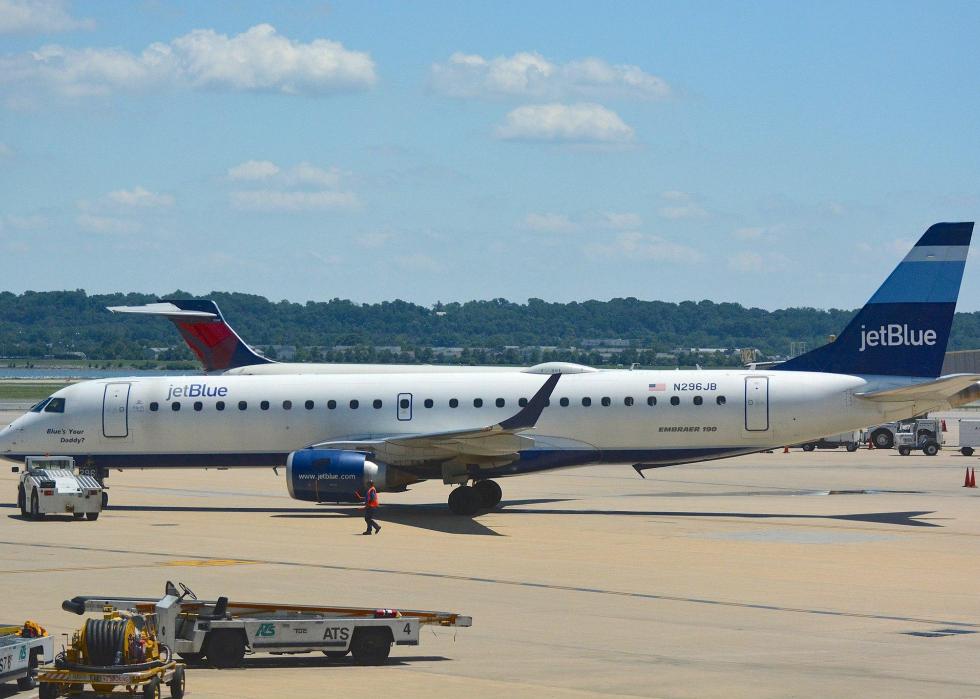 16 / 50
#35. JetBlue 2080 (FLL-DCA)
Flight cities: Fort Lauderdale-Hollywood (FLL) to Washington, Ronald Reagan (DCA)
Percent of flight operations not arriving on time: 57.61%
Number of operations January-August (minimum of 10): 92
Number of operations not arriving on time: 53
Average delay (30+ min. late flights only): 108 min.
Months chronically delayed (March-August 2018): 3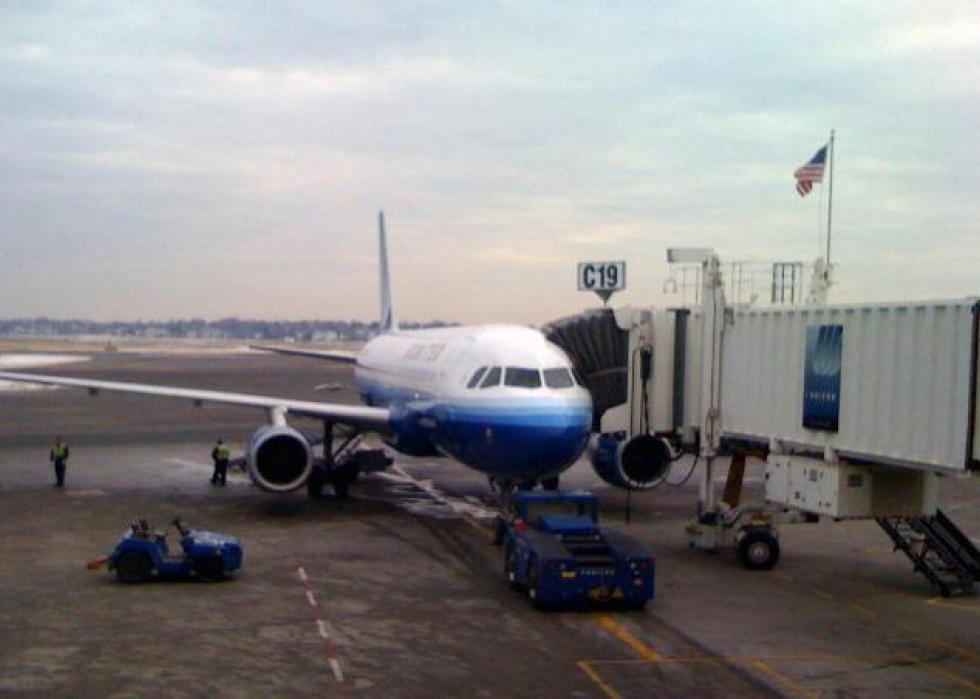 17 / 50
Jeremy Kemp // Wikimedia Commons
#34. United 2047 (BOS-EWR)
Flight cities: Boston, Logan (BOS) to Newark (EWR)
Percent of flight operations not arriving on time: 57.69%
Number of operations January-August (minimum of 10): 78
Number of operations not arriving on time: 45
Average delay (30+ min. late flights only): 86 min.
Months chronically delayed (March-August 2018): 3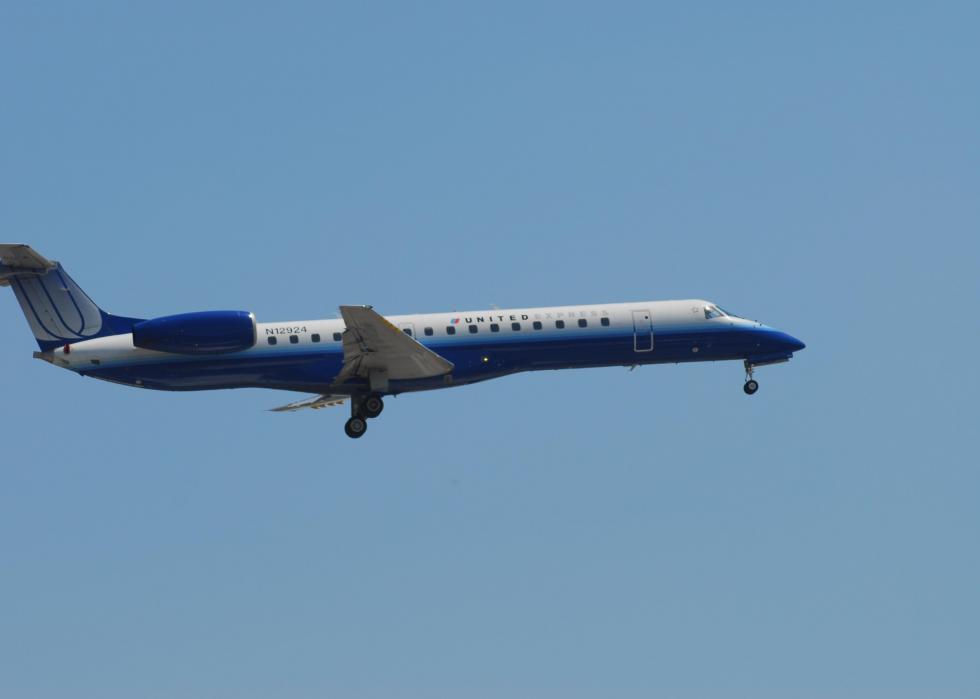 18 / 50
Lord of the Wings // Wikimedia Commons
#33. ExpressJet 4443 (CMH-EWR)
Flight cities: Columbus (CMH) to Newark (EWR)
Percent of flight operations not arriving on time: 58.06%
Number of operations January-August (minimum of 10): 93
Number of operations not arriving on time: 54
Average delay (30+ min. late flights only): 104 min.
Months chronically delayed (March-August 2018): 3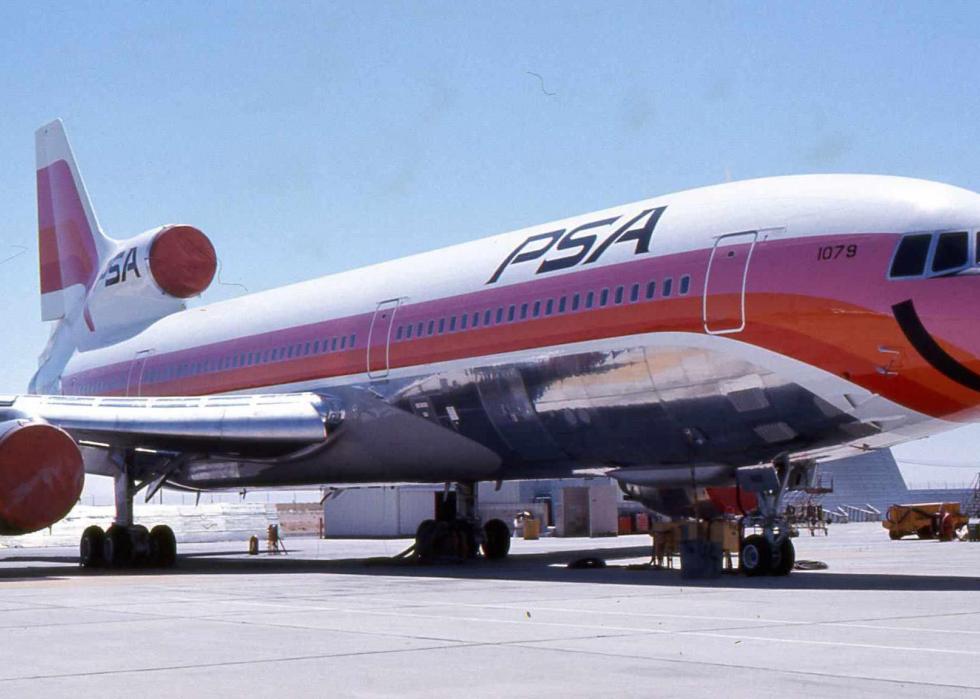 19 / 50
Piergiuliano Chesi // Wikimedia Commons
#32. PSA 5378 (CMH-LGA)
Flight cities: Columbus (CMH) to New York, LaGuardia (LGA)
Percent of flight operations not arriving on time: 58.23%
Number of operations January-August (minimum of 10): 79
Number of operations not arriving on time: 46
Average delay (30+ min. late flights only): 86 min.
Months chronically delayed (March-August 2018): 3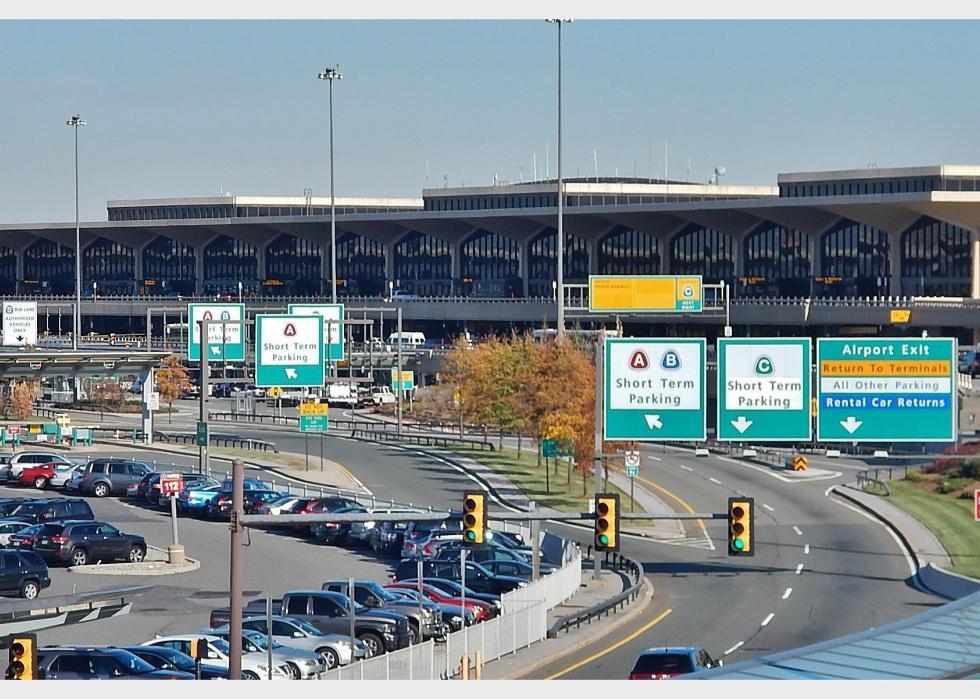 20 / 50
qwesy qwesy // Wikimedia Commons
#31. United 1141 (PBI-EWR)
Flight cities: West Palm Beach (PBI) to Newark (EWR)
Percent of flight operations not arriving on time: 58.33%
Number of operations January-August (minimum of 10): 84
Number of operations not arriving on time: 49
Average delay (30+ min. late flights only): 111 min.
Months chronically delayed (March-August 2018): 3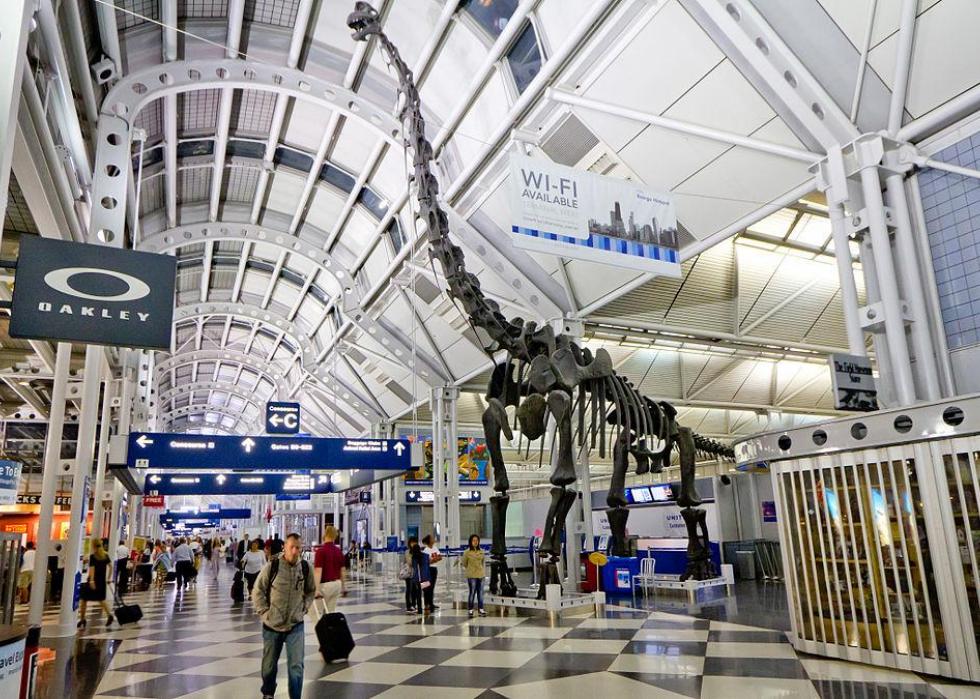 21 / 50
Nicola // Wikimedia Commons
#30. JetBlue 1106 (ORD-JFK)
Flight cities: Chicago, O'Hare (ORD) to New York, John F. Kennedy (JFK)
Percent of flight operations not arriving on time: 58.70%
Number of operations January-August (minimum of 10): 92
Number of operations not arriving on time: 54
Average delay (30+ min. late flights only): 129 min.
Months chronically delayed (March-August 2018): 3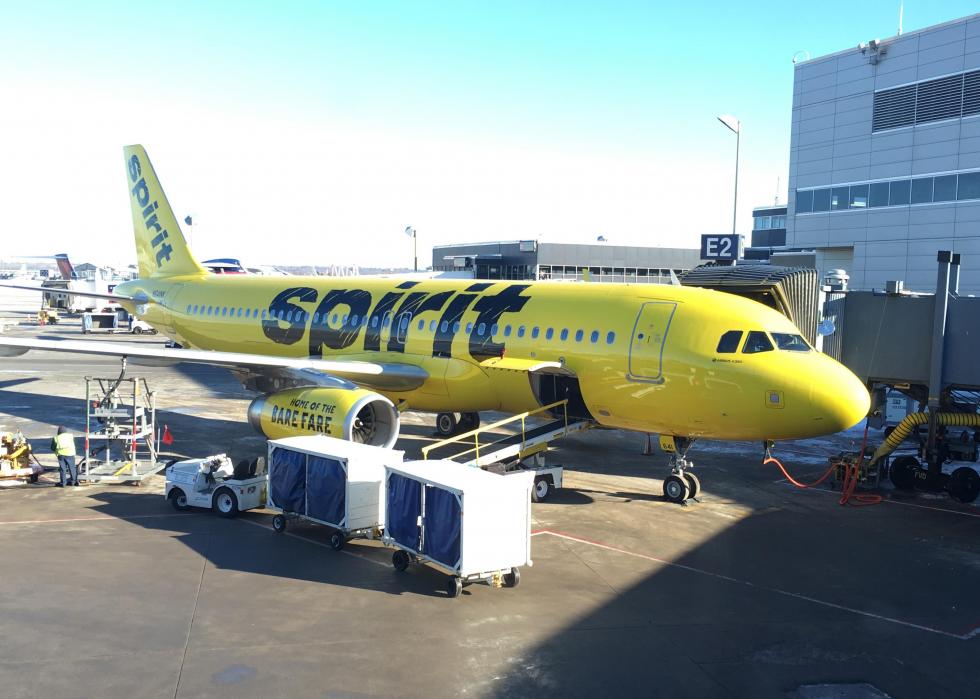 22 / 50
Tpdwkouaa // Wikimedia Commons
#29. Spirit 524 (FLL-EWR)
Flight cities: Fort Lauderdale-Hollywood (FLL) to Newark (EWR)
Percent of flight operations not arriving on time: 58.73%
Number of operations January-August (minimum of 10): 63
Number of operations not arriving on time: 37
Average delay (30+ min. late flights only): 89 min.
Months chronically delayed (March-August 2018): 3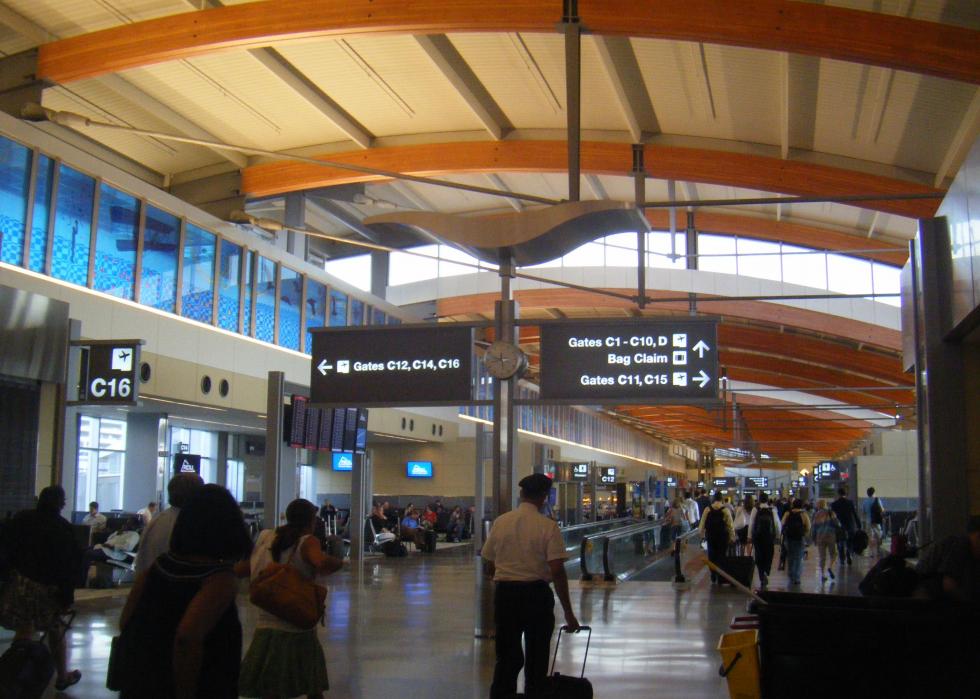 23 / 50
fw_gadget // Wikimedia Commons
#28. Frontier 1713 (RDU-MCO)
Flight cities: Raleigh (RDU) to Orlando (MCO)
Percent of flight operations not arriving on time: 58.97%
Number of operations January-August (minimum of 10): 39
Number of operations not arriving on time: 23
Average delay (30+ min. late flights only): 109 min.
Months chronically delayed (March-August 2018): 3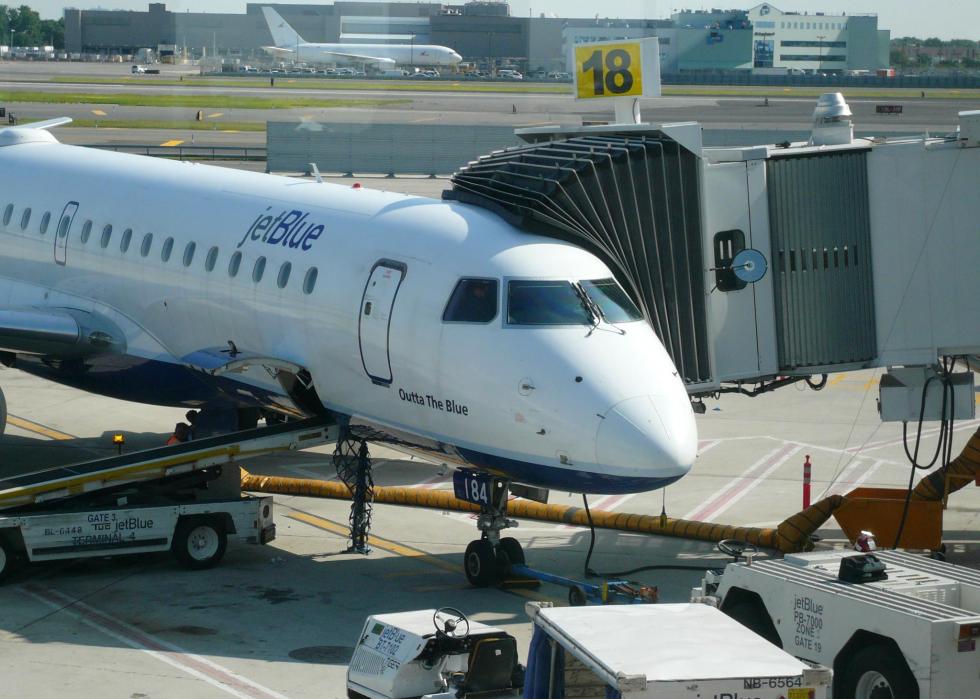 24 / 50
Michael Gray // Wikimedia Commons
#27. JetBlue 1028 (MCO-EWR)
Flight cities: Orlando (MCO) to Newark (EWR)
Percent of flight operations not arriving on time: 59.02%
Number of operations January-August (minimum of 10): 122
Number of operations not arriving on time: 72
Average delay (30+ min. late flights only): 99 min.
Months chronically delayed (March-August 2018): 4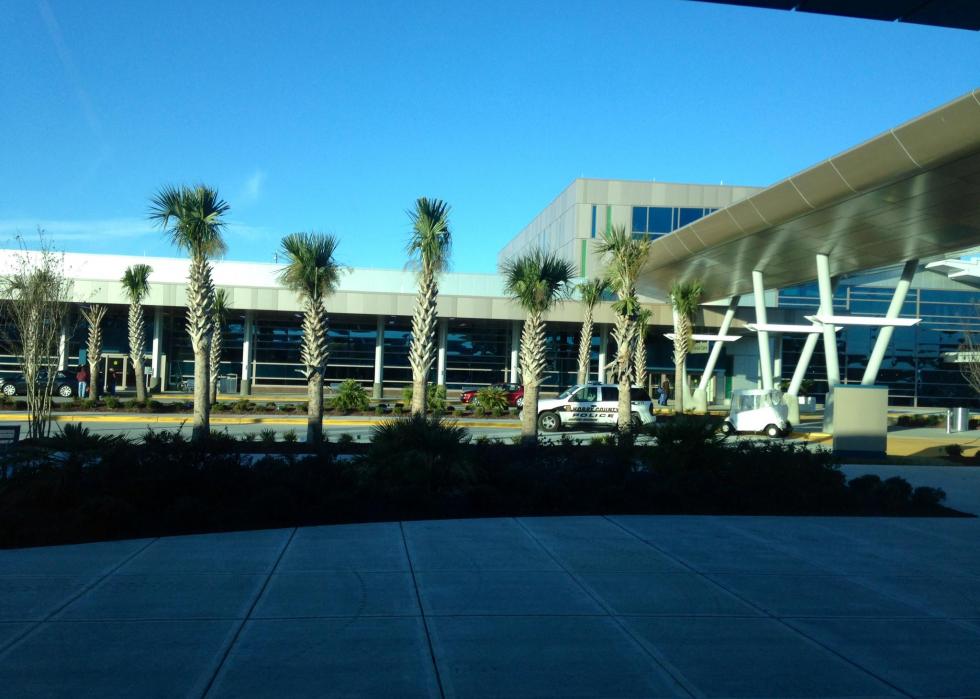 25 / 50
Sk5893 // Wikimedia Commons
#26. Spirit 792 (MYR-EWR)
Flight cities: Myrtle Beach (MYR) to Newark (EWR)
Percent of flight operations not arriving on time: 59.18%
Number of operations January-August (minimum of 10): 98
Number of operations not arriving on time: 58
Average delay (30+ min. late flights only): 112 min.
Months chronically delayed (March-August 2018): 4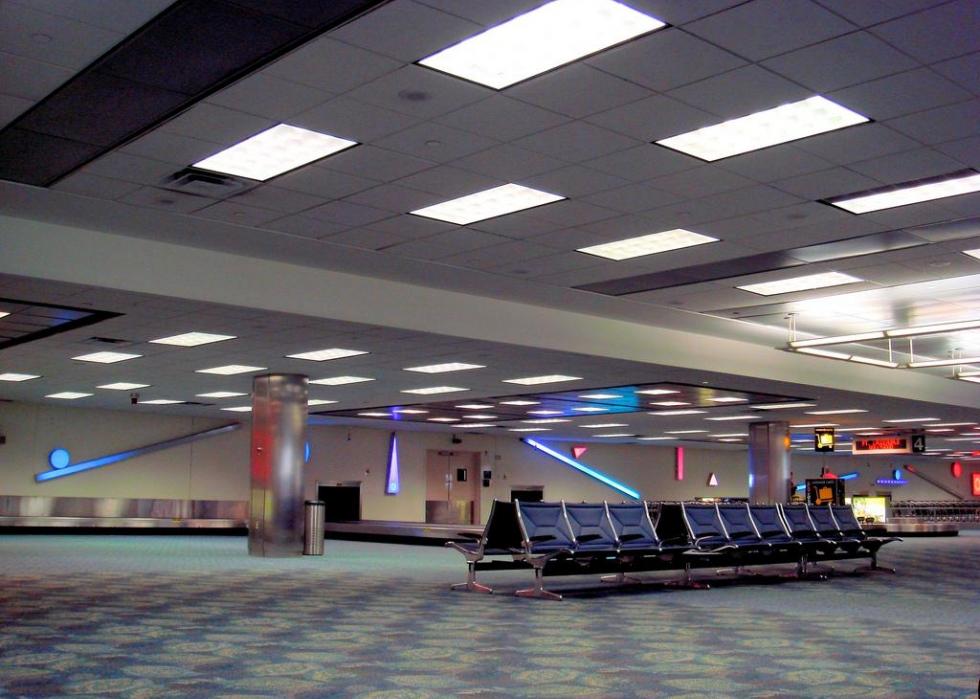 26 / 50
#25. JetBlue 706 (FLL-EWR)
Flight cities: Fort Lauderdale-Hollywood (FLL) to Newark (EWR)
Percent of flight operations not arriving on time: 59.84%
Number of operations January-August (minimum of 10): 122
Number of operations not arriving on time: 73
Average delay (30+ min. late flights only): 86 min.
Months chronically delayed (March-August 2018): 4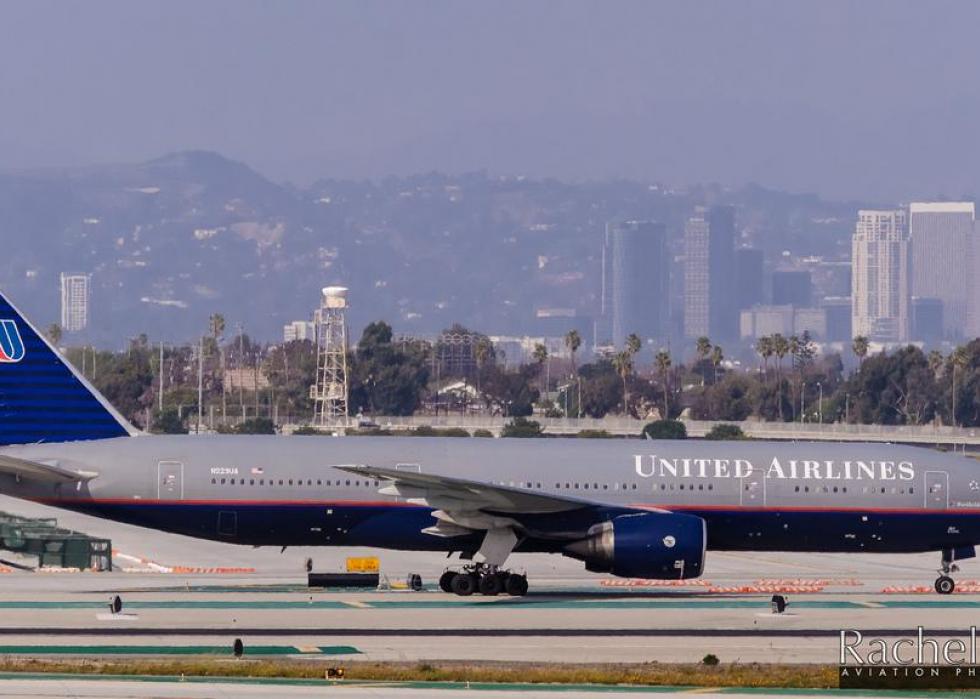 27 / 50
InSapphoWeTrust // Flickr
#24. United 244 (AVL-EWR)
Flight cities: Asheville (AVL) to Newark (EWR)
Percent of flight operations not arriving on time: 60.26%
Number of operations January-August (minimum of 10): 78
Number of operations not arriving on time: 47
Average delay (30+ min. late flights only): 152 min.
Months chronically delayed (March-August 2018): 3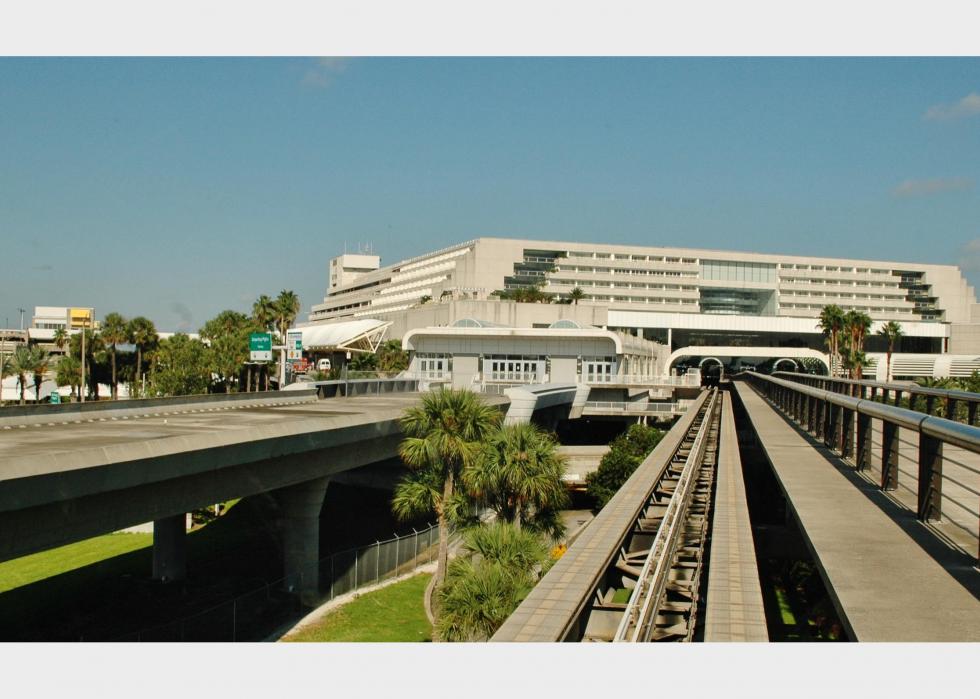 28 / 50
qwesy qwesy // Wikimedia Commons
#23. JetBlue 828 (MCO-EWR)
Flight cities: Orlando (MCO) to Newark (EWR)
Percent of flight operations not arriving on time: 60.33%
Number of operations January-August (minimum of 10): 184
Number of operations not arriving on time: 111
Average delay (30+ min. late flights only): 110 min.
Months chronically delayed (March-August 2018): 6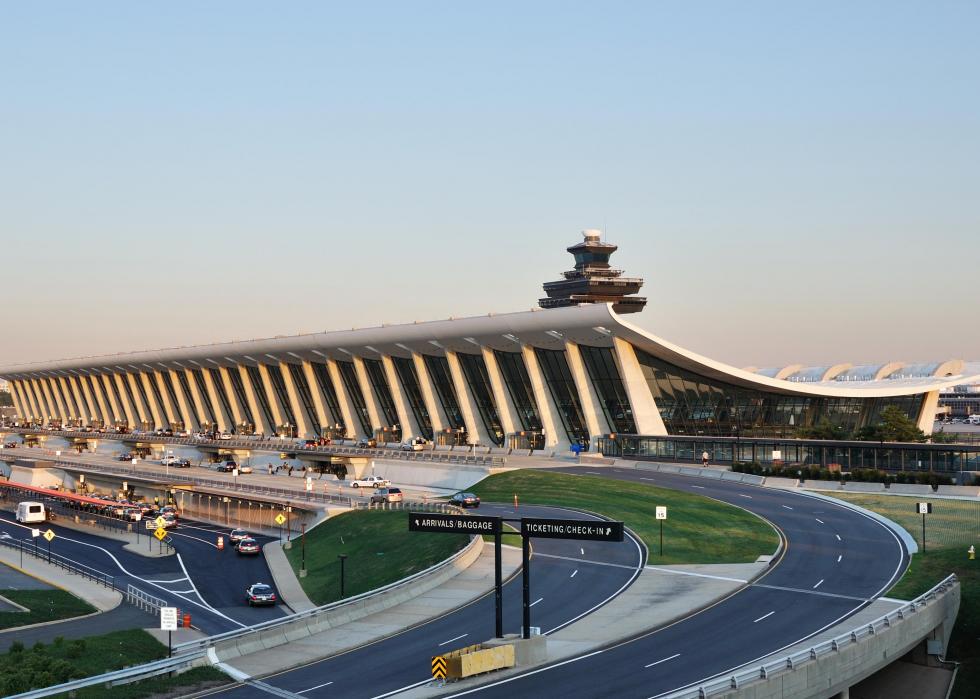 29 / 50
Joe Ravi // Wikimedia Commons
#22. United 1972 (IAD-EWR)
Flight cities: Washington, Dulles (IAD) to Newark (EWR)
Percent of flight operations not arriving on time: 60.47%
Number of operations January-August (minimum of 10): 86
Number of operations not arriving on time: 52
Average delay (30+ min. late flights only): 113 min.
Months chronically delayed (March-August 2018): 3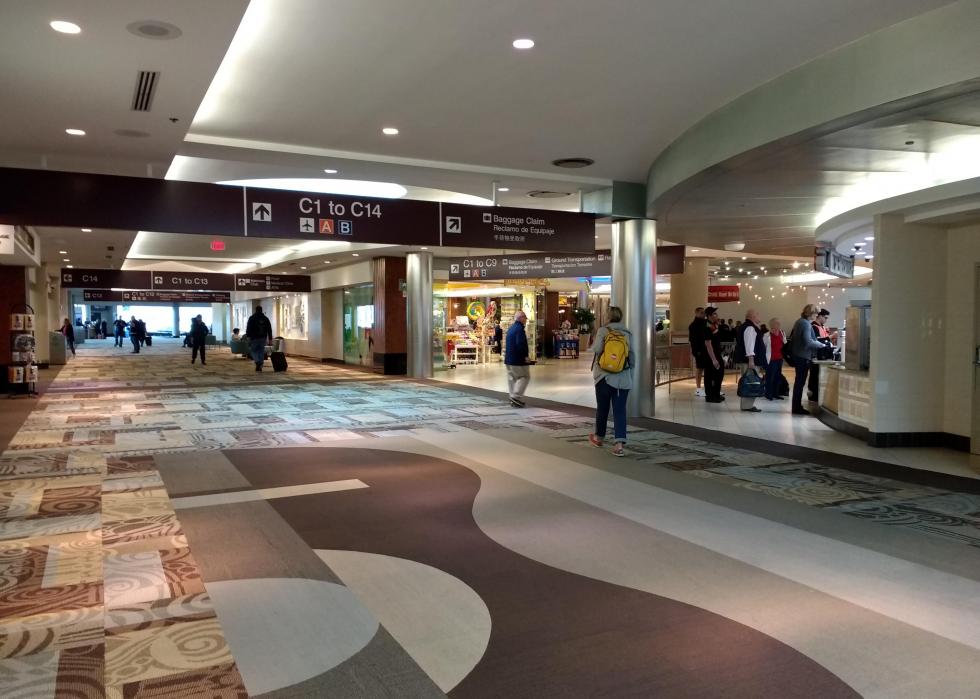 30 / 50
Mx. granger // Wikimedia Commons
#21. United 337 (BNA-EWR)
Flight cities: Nashville (BNA) to Newark (EWR)
Percent of flight operations not arriving on time: 60.56%
Number of operations January-August (minimum of 10): 71
Number of operations not arriving on time: 43
Average delay (30+ min. late flights only): 104 min.
Months chronically delayed (March-August 2018): 3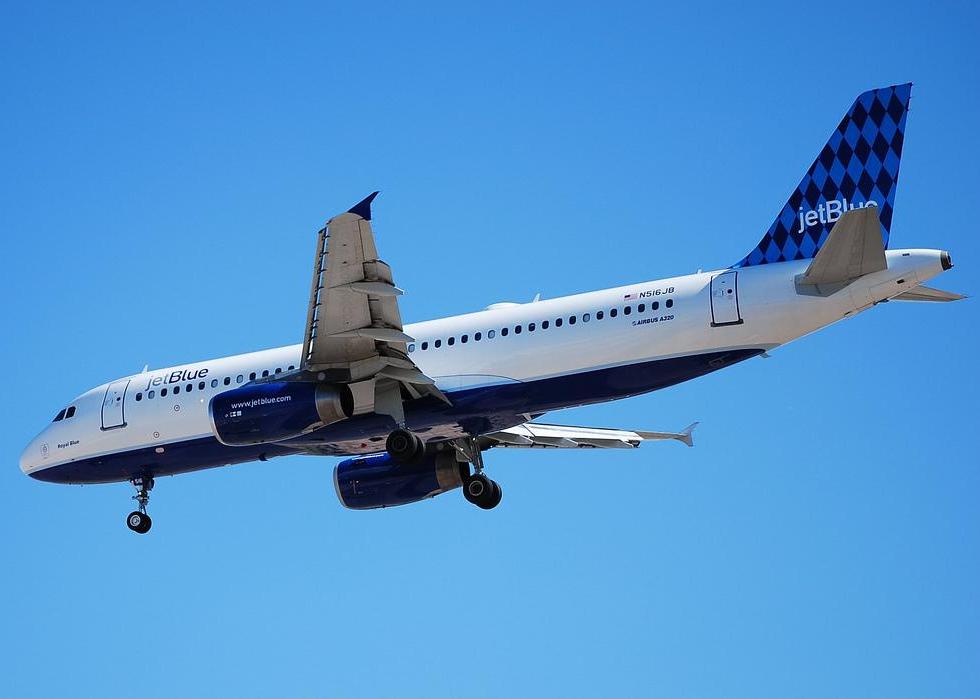 31 / 50
#20. JetBlue 543 (EWR-PBI)
Flight cities: Newark (EWR) to West Palm Beach (PBI)
Percent of flight operations not arriving on time: 60.78%
Number of operations January-August (minimum of 10): 153
Number of operations not arriving on time: 93
Average delay (30+ min. late flights only): 117 min.
Months chronically delayed (March-August 2018): 5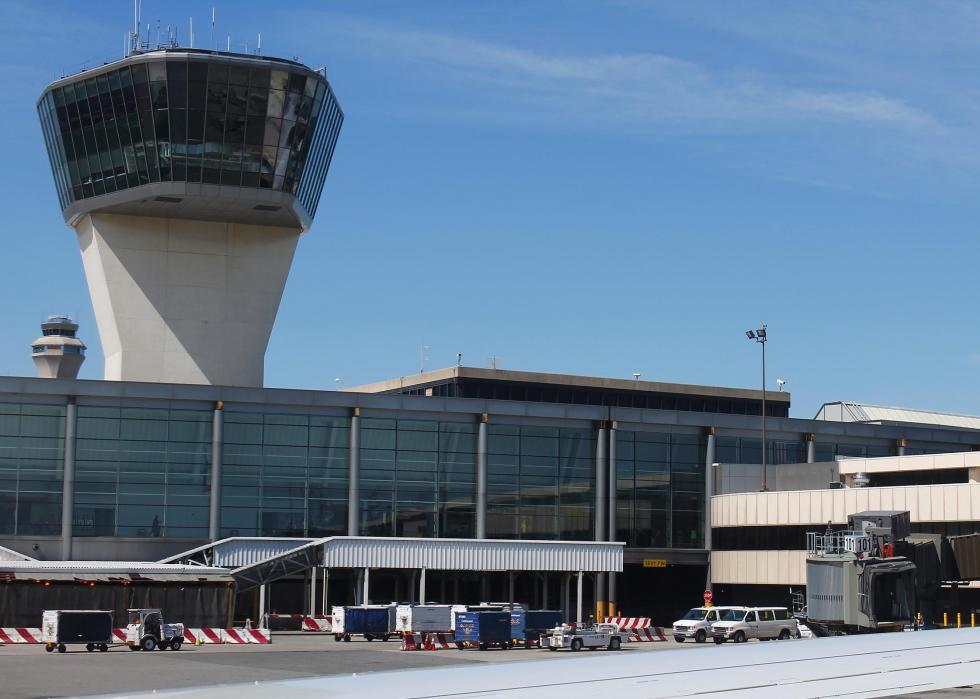 32 / 50
formulanone // Wikimedia Commons
#19. JetBlue 1944 (PBI-EWR)
Flight cities: West Palm Beach (PBI) to Newark (EWR)
Percent of flight operations not arriving on time: 61.33%
Number of operations January-August (minimum of 10): 75
Number of operations not arriving on time: 46
Average delay (30+ min. late flights only): 87 min.
Months chronically delayed (March-August 2018): 3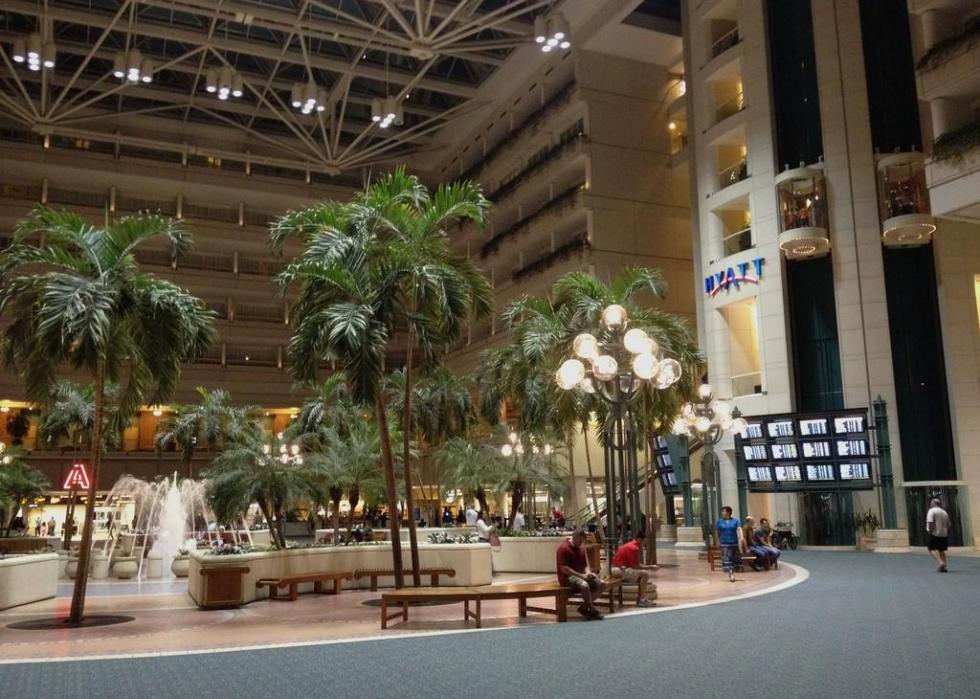 33 / 50
#18. JetBlue 128 (MCO-EWR)
Flight cities: Orlando (MCO) to Newark (EWR)
Percent of flight operations not arriving on time: 61.39%
Number of operations January-August (minimum of 10): 101
Number of operations not arriving on time: 62
Average delay (30+ min. late flights only): 101 min.
Months chronically delayed (March-August 2018): 4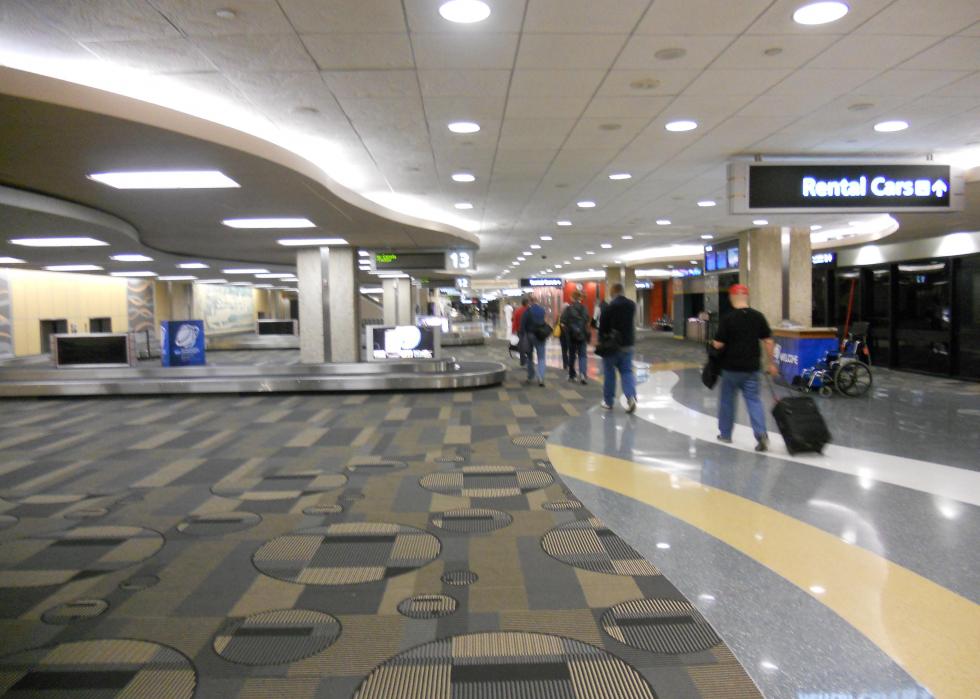 34 / 50
HARTride 2012 // Wikimedia Commons
#17. JetBlue 2074 (TPA-EWR)
Flight cities: Tampa (TPA) to Newark (EWR)
Percent of flight operations not arriving on time: 62.30%
Number of operations January-August (minimum of 10): 183
Number of operations not arriving on time: 114
Average delay (30+ min. late flights only): 93 min.
Months chronically delayed (March-August 2018): 6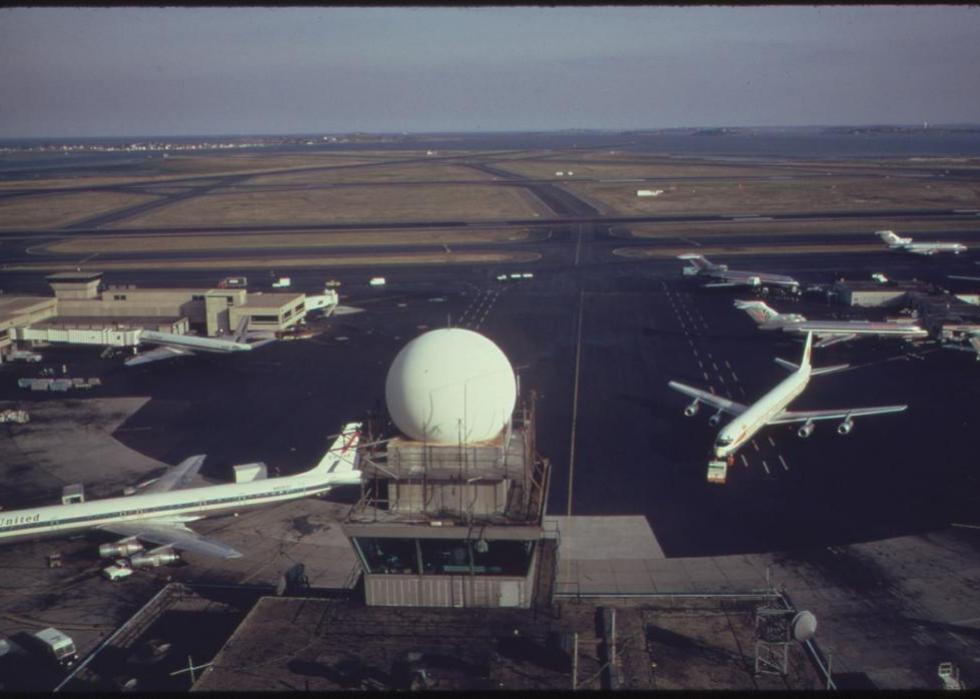 35 / 50
The U.S. National Archives // Flickr
#16. JetBlue 1152 (MCO-BOS)
Flight cities: Orlando (MCO) to Boston, Logan (BOS)
Percent of flight operations not arriving on time: 62.50%
Number of operations January-August (minimum of 10): 72
Number of operations not arriving on time: 45
Average delay (30+ min. late flights only): 104 min.
Months chronically delayed (March-August 2018): 3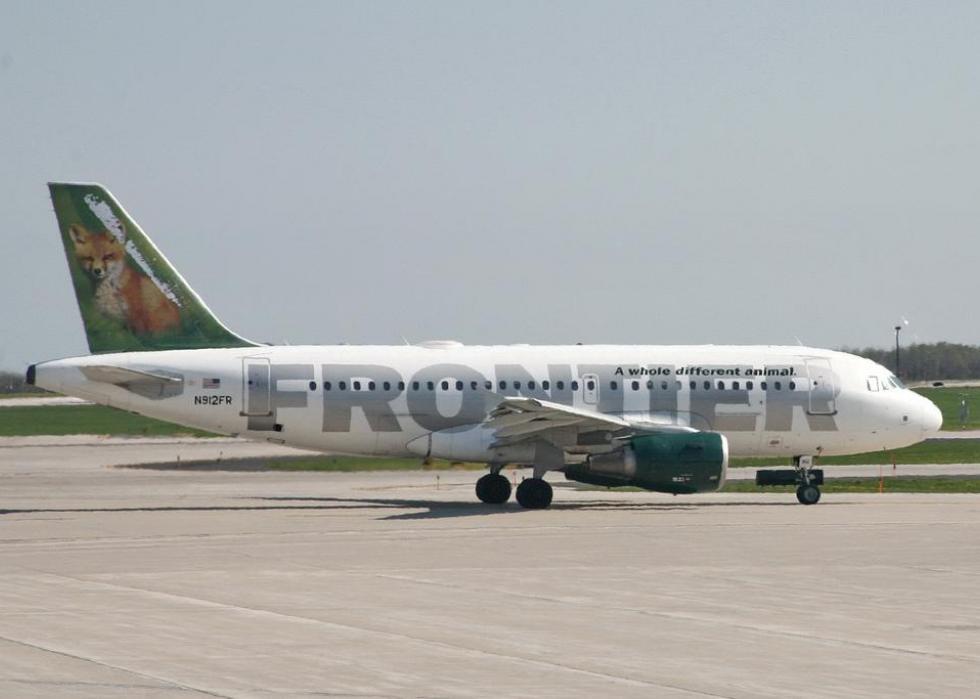 36 / 50
#15. Frontier 1775 (TTN-MCO)
Flight cities: Trenton (TTN) to Orlando (MCO)
Percent of flight operations not arriving on time: 62.60%
Number of operations January-August (minimum of 10): 123
Number of operations not arriving on time: 77
Average delay (30+ min. late flights only): 129 min.
Months chronically delayed (March-August 2018): 4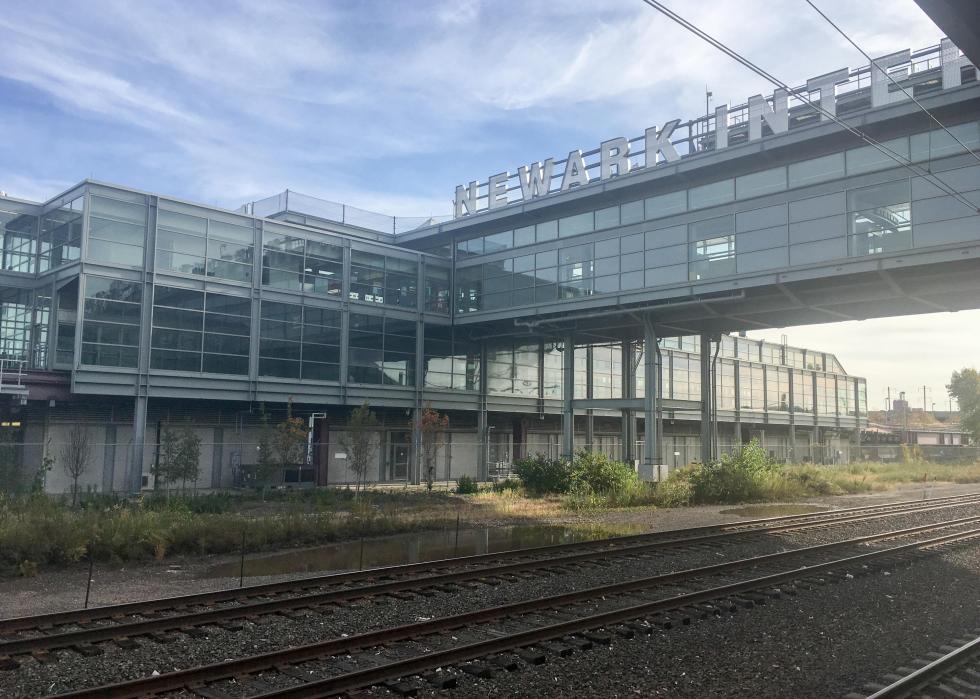 37 / 50
Mike Peel // Wikimedia Commons
#14. JetBlue 2227 (EWR-MCO)
Flight cities: Newark (EWR) to Orlando (MCO)
Percent of flight operations not arriving on time: 62.63%
Number of operations January-August (minimum of 10): 99
Number of operations not arriving on time: 62
Average delay (30+ min. late flights only): 111 min.
Months chronically delayed (March-August 2018): 4
38 / 50
Mattes // Wikimedia Commons
#13. JetBlue 2889 (EWR-SJU)
Flight cities: Newark (EWR) to San Juan, Puerto Rico (SJU)
Percent of flight operations not arriving on time: 62.64%
Number of operations January-August (minimum of 10): 91
Number of operations not arriving on time: 57
Average delay (30+ min. late flights only): 106 min.
Months chronically delayed (March-August 2018): 3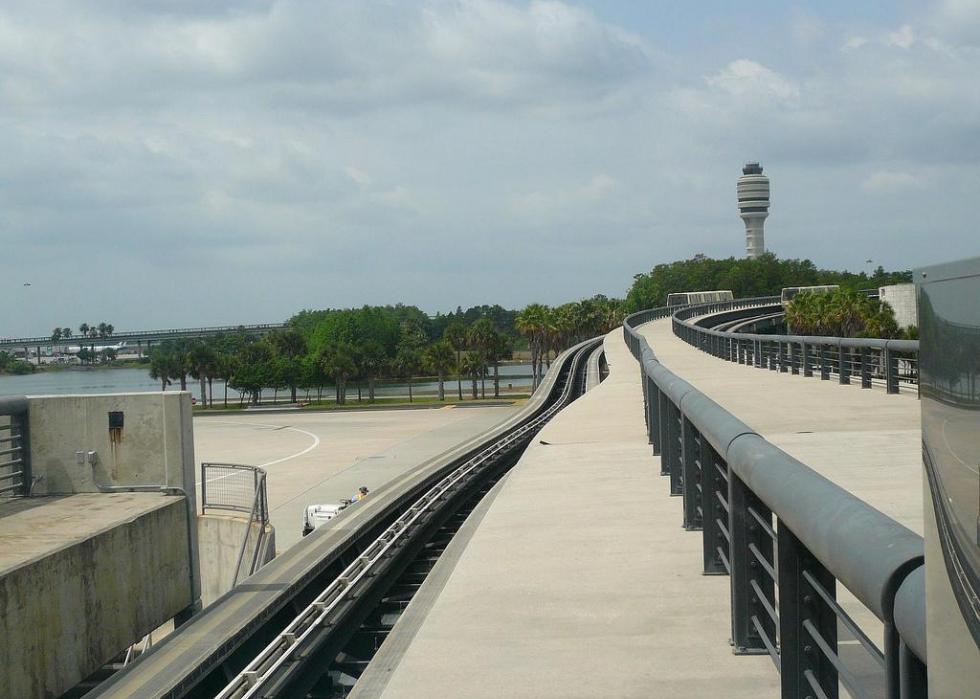 39 / 50
Michael Gray // Wikimedia Commons
#12. JetBlue 127 (EWR-MCO)
Flight cities: Newark (EWR) to Orlando (MCO)
Percent of flight operations not arriving on time: 62.86%
Number of operations January-August (minimum of 10): 140
Number of operations not arriving on time: 88
Average delay (30+ min. late flights only): 101 min.
Months chronically delayed (March-August 2018): 5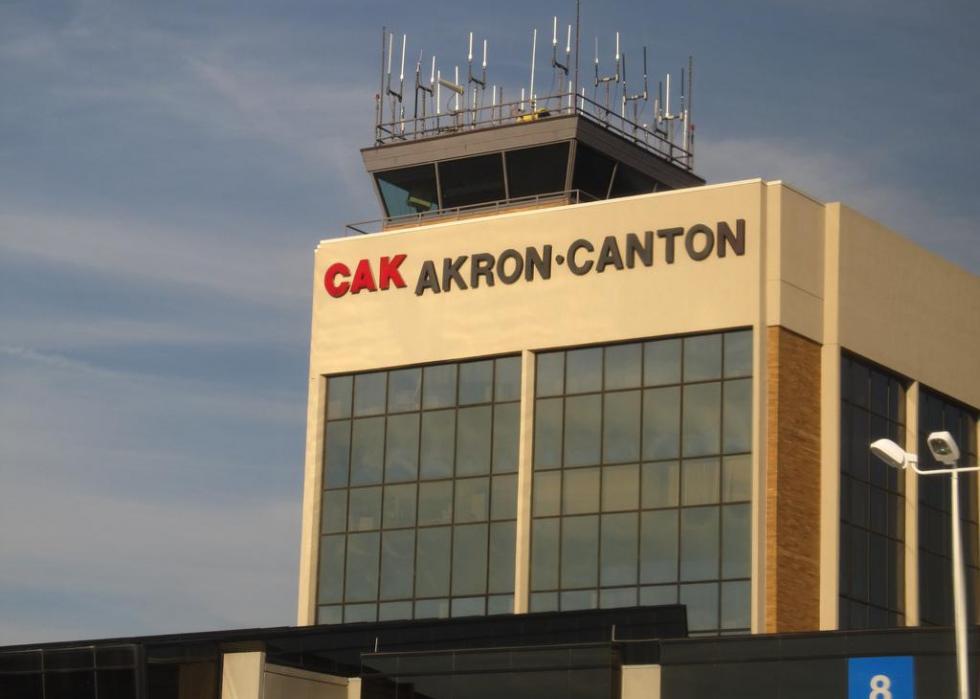 40 / 50
#11. ExpressJet 4118 (CAK-EWR)
Flight cities: Akron (CAK) to Newark (EWR)
Percent of flight operations not arriving on time: 63.55%
Number of operations January-August (minimum of 10): 107
Number of operations not arriving on time: 68
Average delay (30+ min. late flights only): 132 min.
Months chronically delayed (March-August 2018): 4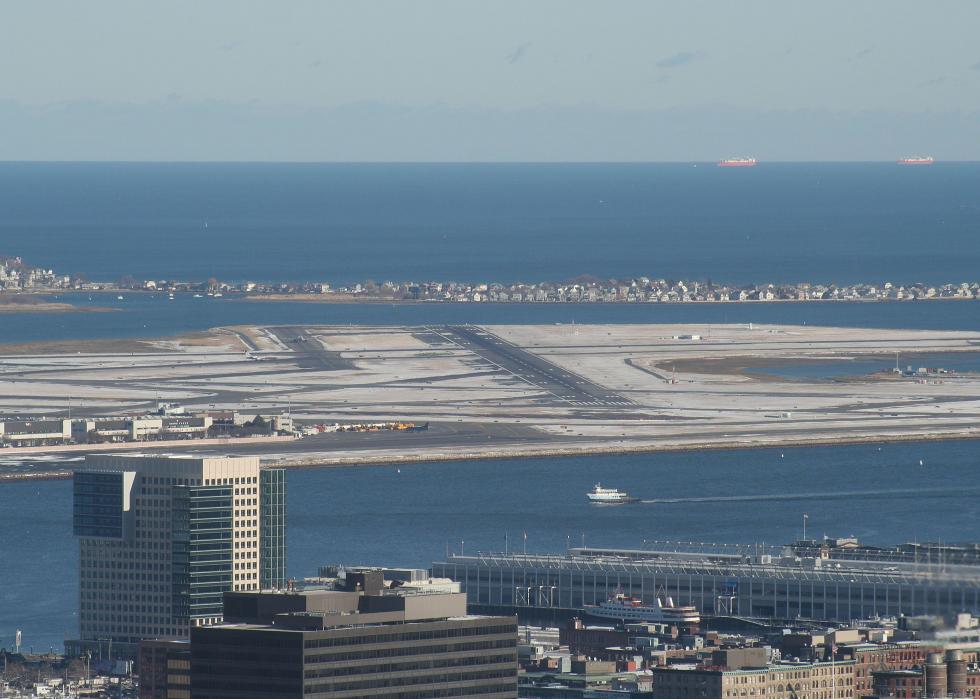 41 / 50
Luciof // Wikimedia Commons
#10. JetBlue 2680 (EWR-BOS)
Flight cities: Newark (EWR) to Boston, Logan (BOS)
Percent of flight operations not arriving on time: 63.86%
Number of operations January-August (minimum of 10): 83
Number of operations not arriving on time: 53
Average delay (30+ min. late flights only): 91 min.
Months chronically delayed (March-August 2018): 4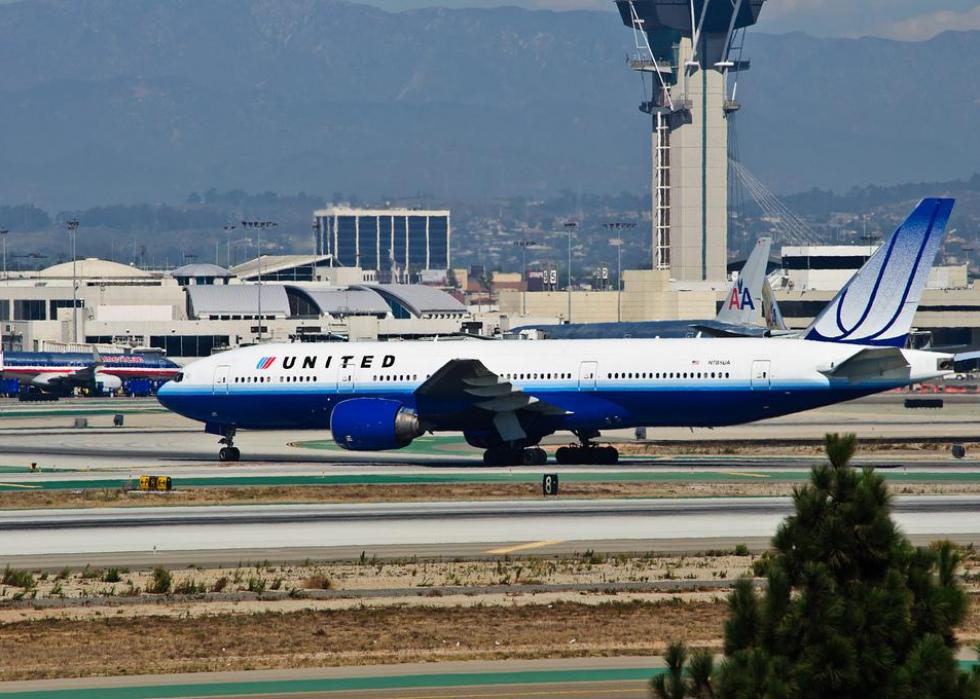 42 / 50
InSapphoWeTrust // Flickr
#9. United 1425 (BOS-EWR)
Flight cities: Boston, Logan (BOS) to Newark (EWR)
Percent of flight operations not arriving on time: 64.10%
Number of operations January-August (minimum of 10): 78
Number of operations not arriving on time: 50
Average delay (30+ min. late flights only): 112 min.
Months chronically delayed (March-August 2018): 3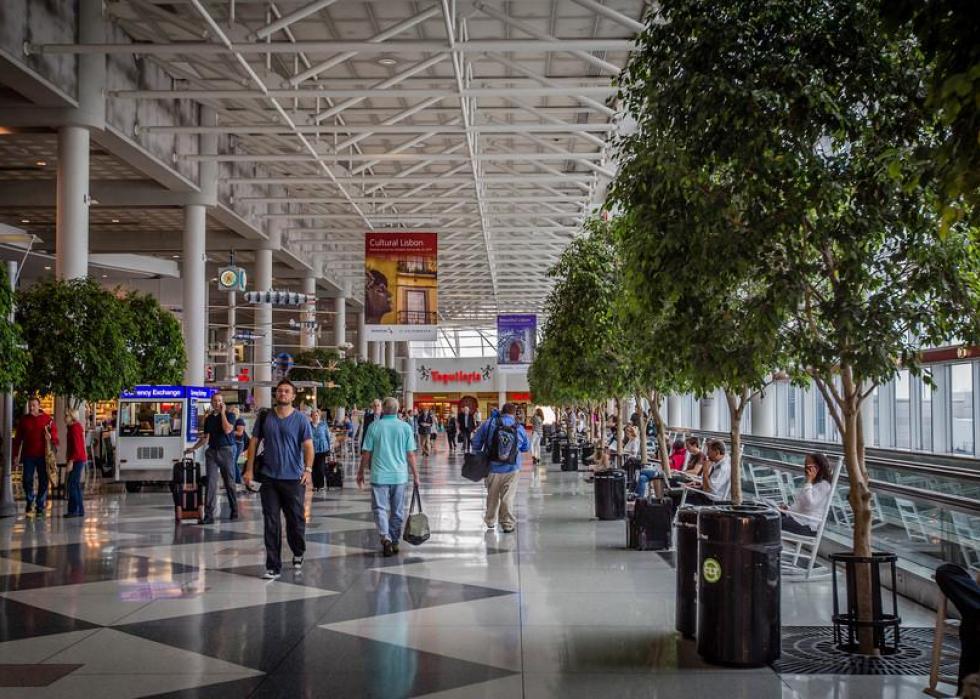 43 / 50
#8. United 1801 (CLT-EWR)
Flight cities: Charlotte/Douglas (CLT) to Newark (EWR)
Percent of flight operations not arriving on time: 64.86%
Number of operations January-August (minimum of 10): 74
Number of operations not arriving on time: 48
Average delay (30+ min. late flights only): 120 min.
Months chronically delayed (March-August 2018): 3
44 / 50
Nick81aku // Wikimedia Commons
#7. JetBlue 705 (EWR-FLL)
Flight cities: Newark (EWR) to Fort Lauderdale-Hollywood (FLL)
Percent of flight operations not arriving on time: 65.22%
Number of operations January-August (minimum of 10): 92
Number of operations not arriving on time: 60
Average delay (30+ min. late flights only): 112 min.
Months chronically delayed (March-August 2018): 3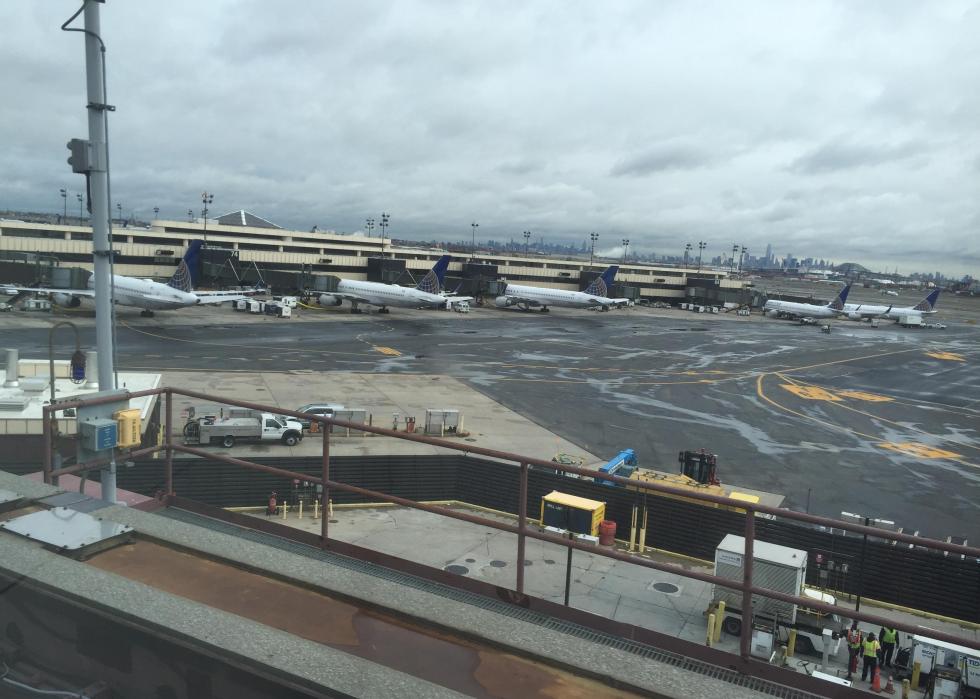 45 / 50
Sam Shrestha // Wikimedia Commons
#6. JetBlue 1905 (EWR-FLL)
Flight cities: Newark (EWR) to Fort Lauderdale-Hollywood (FLL)
Percent of flight operations not arriving on time: 65.43%
Number of operations January-August (minimum of 10): 81
Number of operations not arriving on time: 53
Average delay (30+ min. late flights only): 130 min.
Months chronically delayed (March-August 2018): 3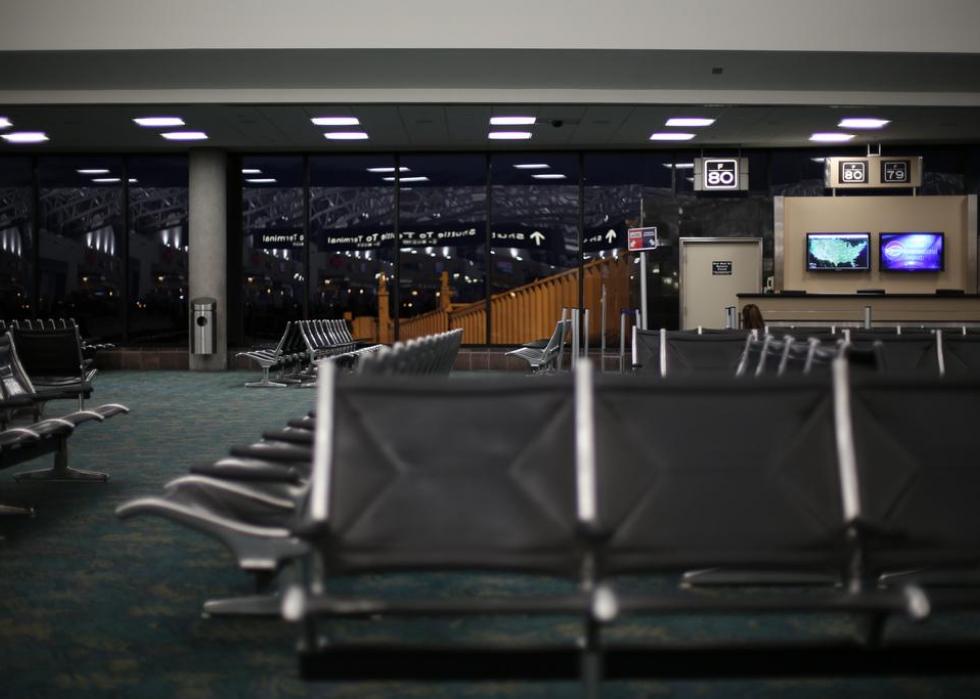 46 / 50
#5. United 601 (TPA-EWR)
Flight cities: Tampa (TPA) to Newark (EWR)
Percent of flight operations not arriving on time: 66.67%
Number of operations January-August (minimum of 10): 81
Number of operations not arriving on time: 54
Average delay (30+ min. late flights only): 143 min.
Months chronically delayed (March-August 2018): 3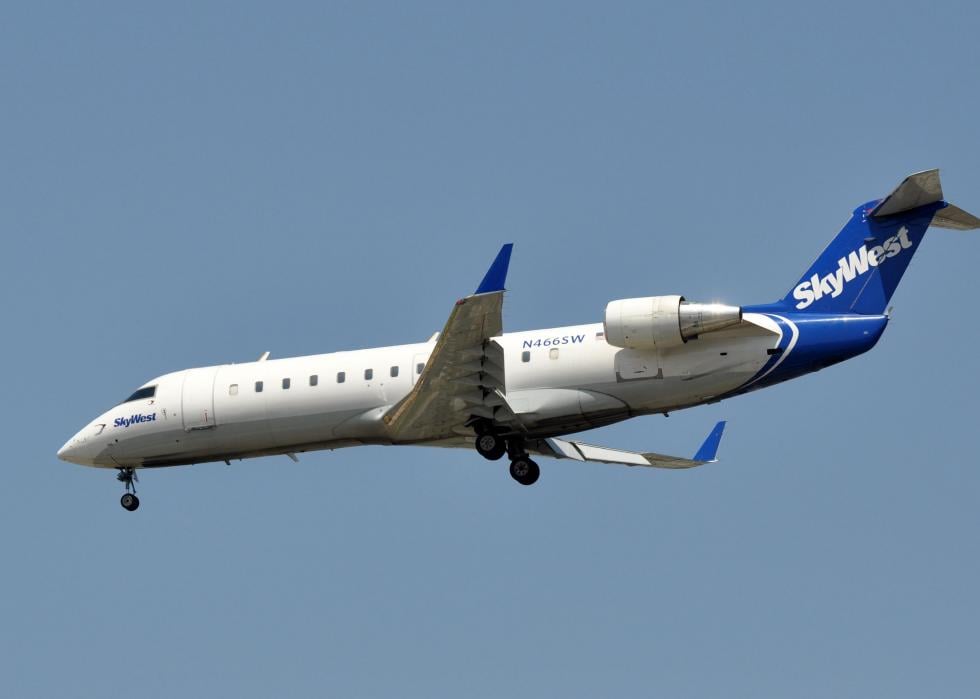 47 / 50
Eric Salard // Wikimedia Commons
#4. SkyWest 3070 (EWR-ORD)
Flight cities: Newark (EWR) to Chicago, O'Hare (ORD)
Percent of flight operations not arriving on time: 67.21%
Number of operations January-August (minimum of 10): 61
Number of operations not arriving on time: 41
Average delay (30+ min. late flights only): 122 min.
Months chronically delayed (March-August 2018): 3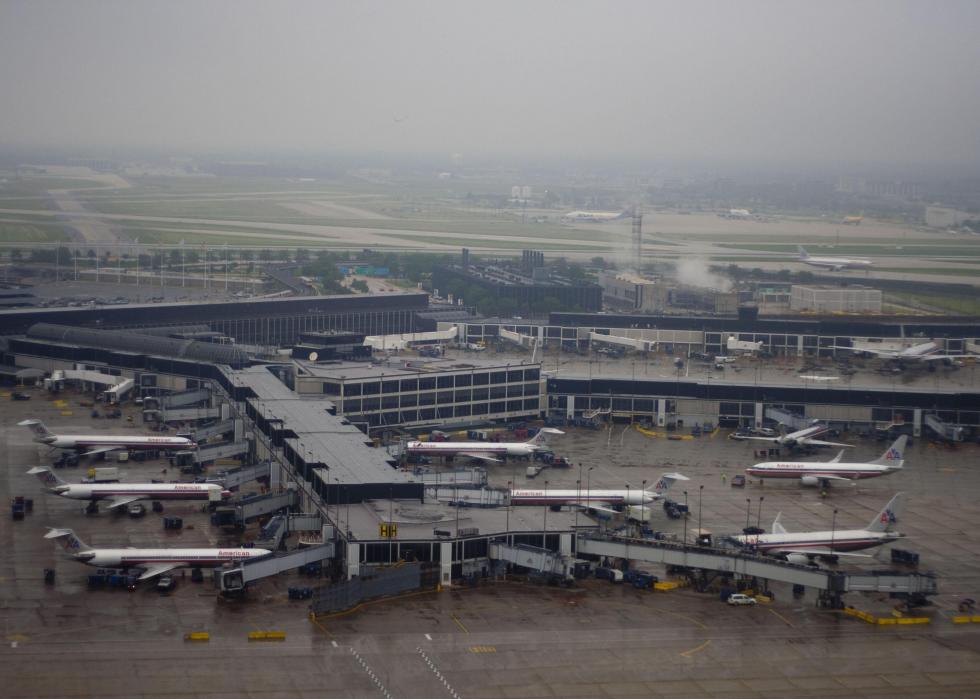 48 / 50
Sahmeditor // Wikimedia Commons
#3. SkyWest 3070 (ORD-EWR)
Flight cities: Chicago, O'Hare (ORD) to Newark (EWR)
Percent of flight operations not arriving on time: 67.74%
Number of operations January-August (minimum of 10): 62
Number of operations not arriving on time: 42
Average delay (30+ min. late flights only): 85 min.
Months chronically delayed (March-August 2018): 3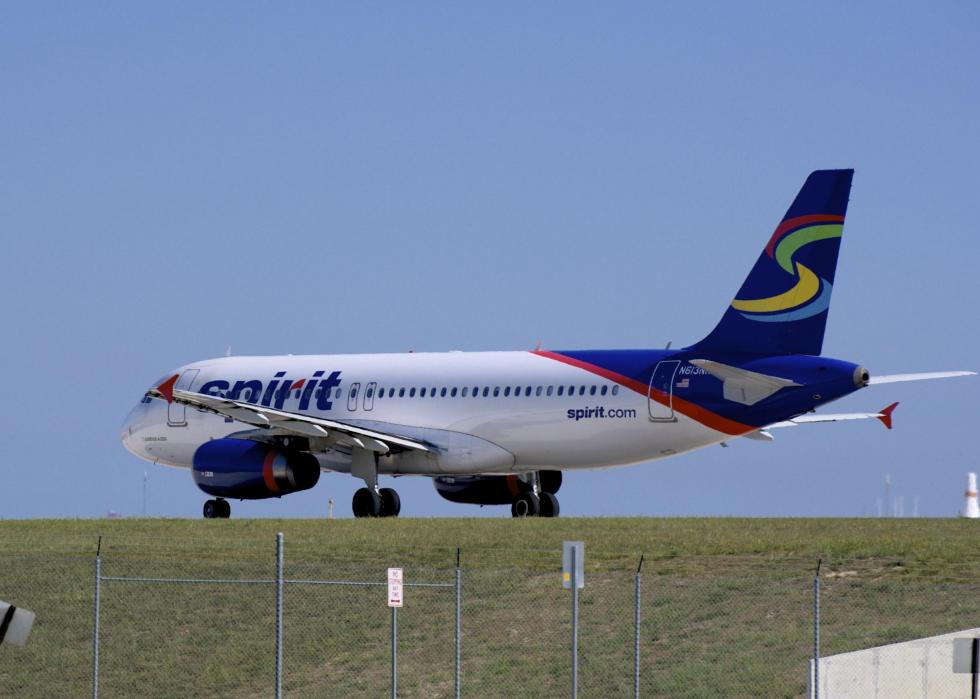 49 / 50
PlanespotterA320 // Wikimedia Commons
#2. Spirit 140 (MCO-EWR)
Flight cities: Orlando (MCO) to Newark (EWR)
Percent of flight operations not arriving on time: 68.35%
Number of operations January-August (minimum of 10): 79
Number of operations not arriving on time: 54
Average delay (30+ min. late flights only): 147 min.
Months chronically delayed (March-August 2018): 3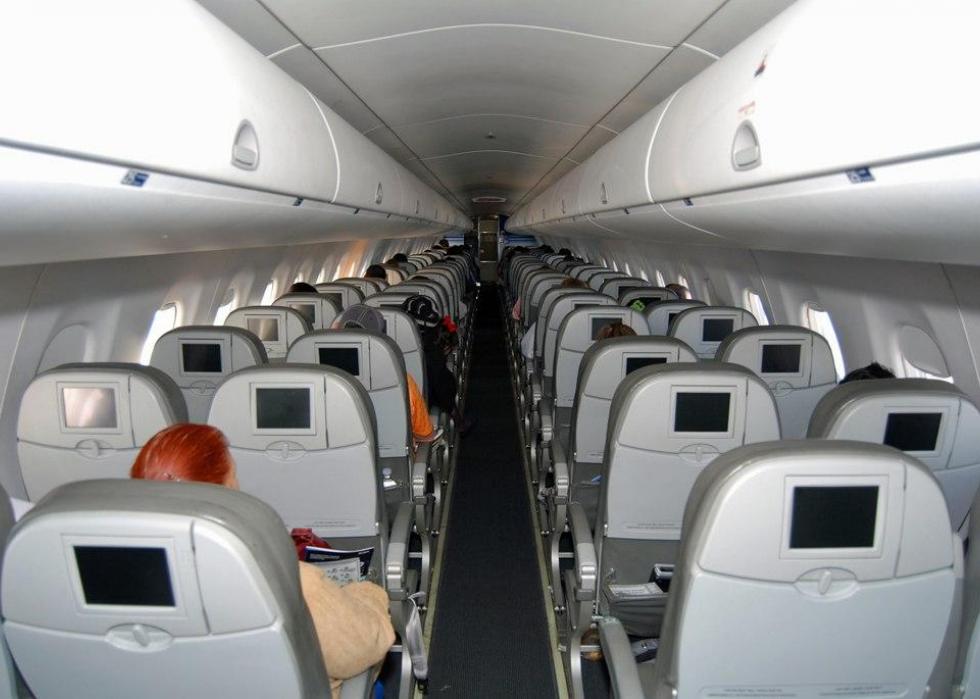 50 / 50
Eddie Maloney // Wikicommons
#1. JetBlue 2679 (BOS-EWR)
Flight cities: Boston, Logan (BOS) to Newark (EWR)
Percent of flight operations not arriving on time: 68.67%
Number of operations January-August (minimum of 10): 83
Number of operations not arriving on time: 57
Average delay (30+ min. late flights only): 92 min.
Months chronically delayed (March-August 2018): 4