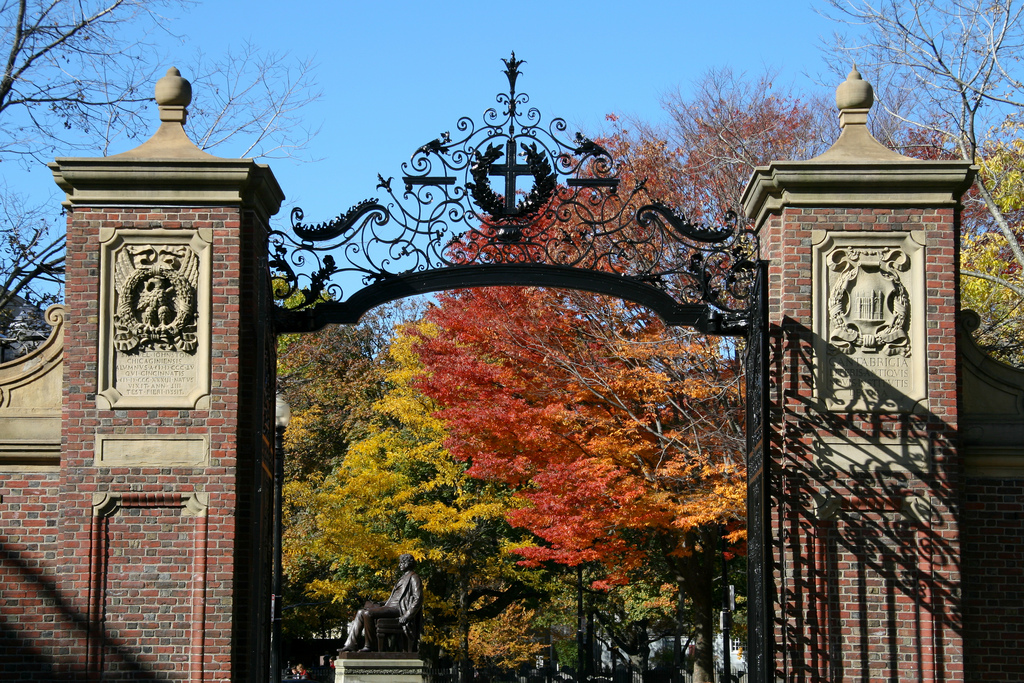 50 best value colleges for 2018
Tim Sackton // Flickr
With American student loan debt totaling $1.3 trillion and the average Class of 2016 graduate leaving school $37,172 in debt, parents and students are increasingly concerned with finding schools that offer strong career prospects without over-the-top costs. 
To help navigate the college landscape, Stacker looked a Niche's 2018 Best Value Colleges rankings for over 2,000 U.S. colleges and universities. For each school, Niche evaluated the net price (average cost after financial aid), alumni earnings, graduation and employment rates, student debt data and other factors to determine which colleges deliver the best return on investment.
The list ranges from maritime academies to classic Ivy League institutions; read on to see the 50 colleges across America with the highest bang for your buck.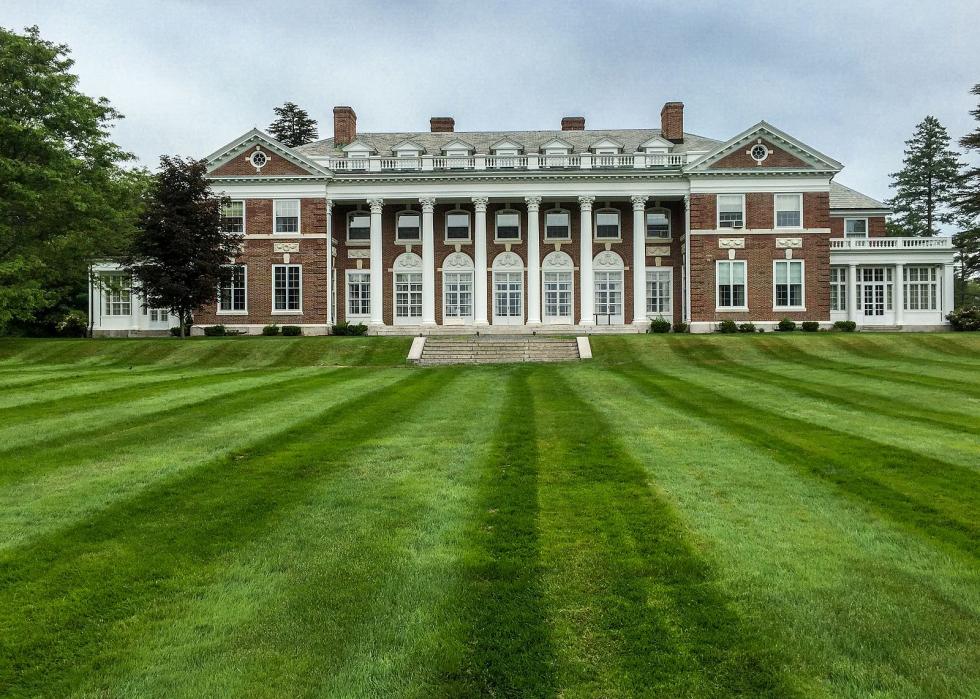 1 / 50
Kenneth C. Zirkel // Wikimedia Commons
#50. Stonehill College
Location: Easton, MA

Net Price: $29,370
Median Earnings 6 Years After Graduation: $58,800
SAT Range: 1030-1230
Acceptance Rate: 75.0%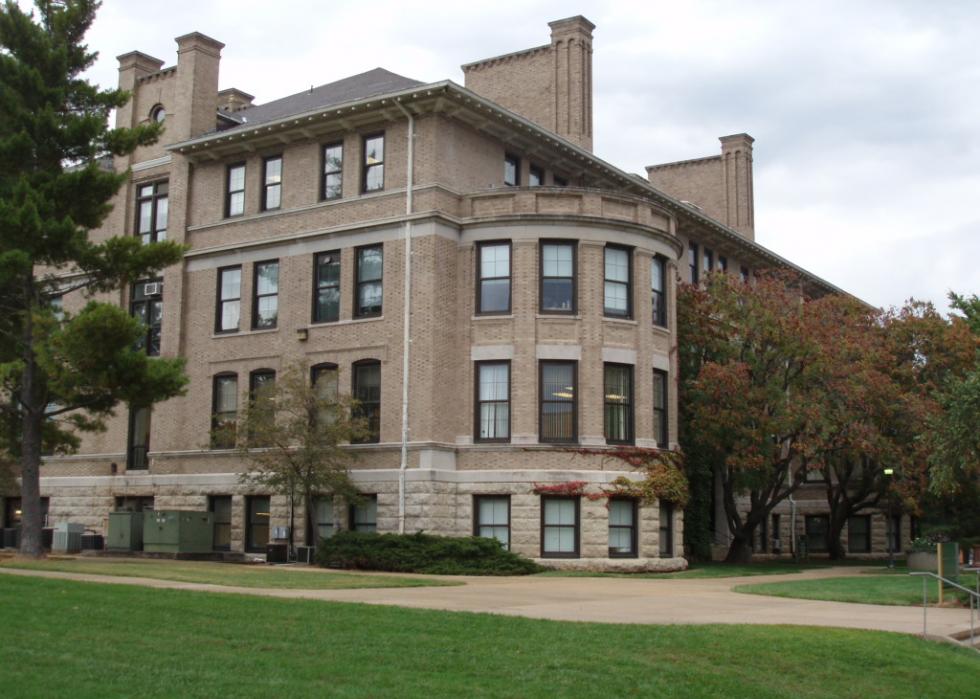 2 / 50
Adavidb // Wikimedia Commons
#49. Missouri University of Science & Technology
Location: Rolla, MO

Net Price: $13,910
Median Earnings 6 Years After Graduation: $65,500
SAT Range: 1080-1300
Acceptance Rate: 88.0%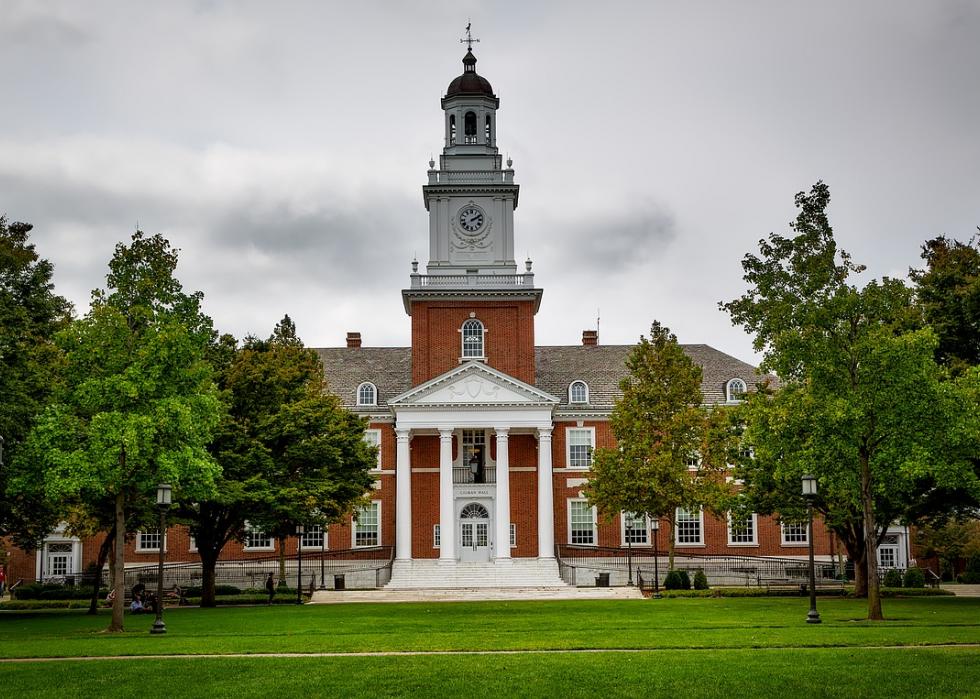 3 / 50
12019 // Wikimedia Commons
#48. Johns Hopkins University
Location: Baltimore, MD

Net Price: $28,334
Median Earnings 6 Years After Graduation: $69,200
SAT Range: 1360-1530
Acceptance Rate: 14.0%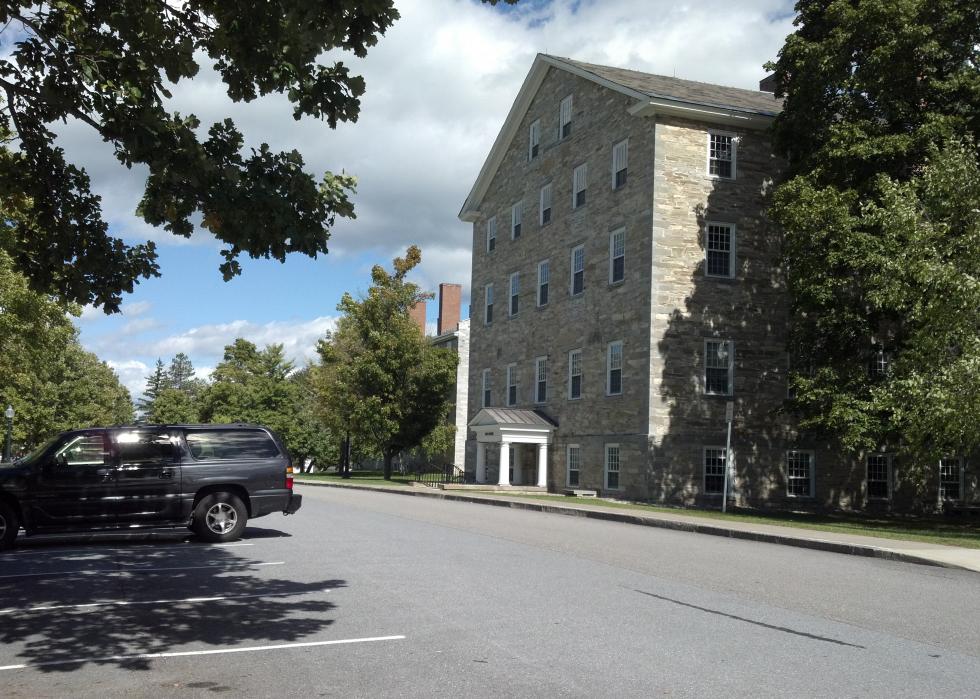 4 / 50
Greenmountainboy // Wikimedia Commons
#47. Middlebury College
Location: Middlebury, VT

Net Price: $20,197
Median Earnings 6 Years After Graduation: $53,400
SAT Range: 1270-1500
Acceptance Rate: 17.0%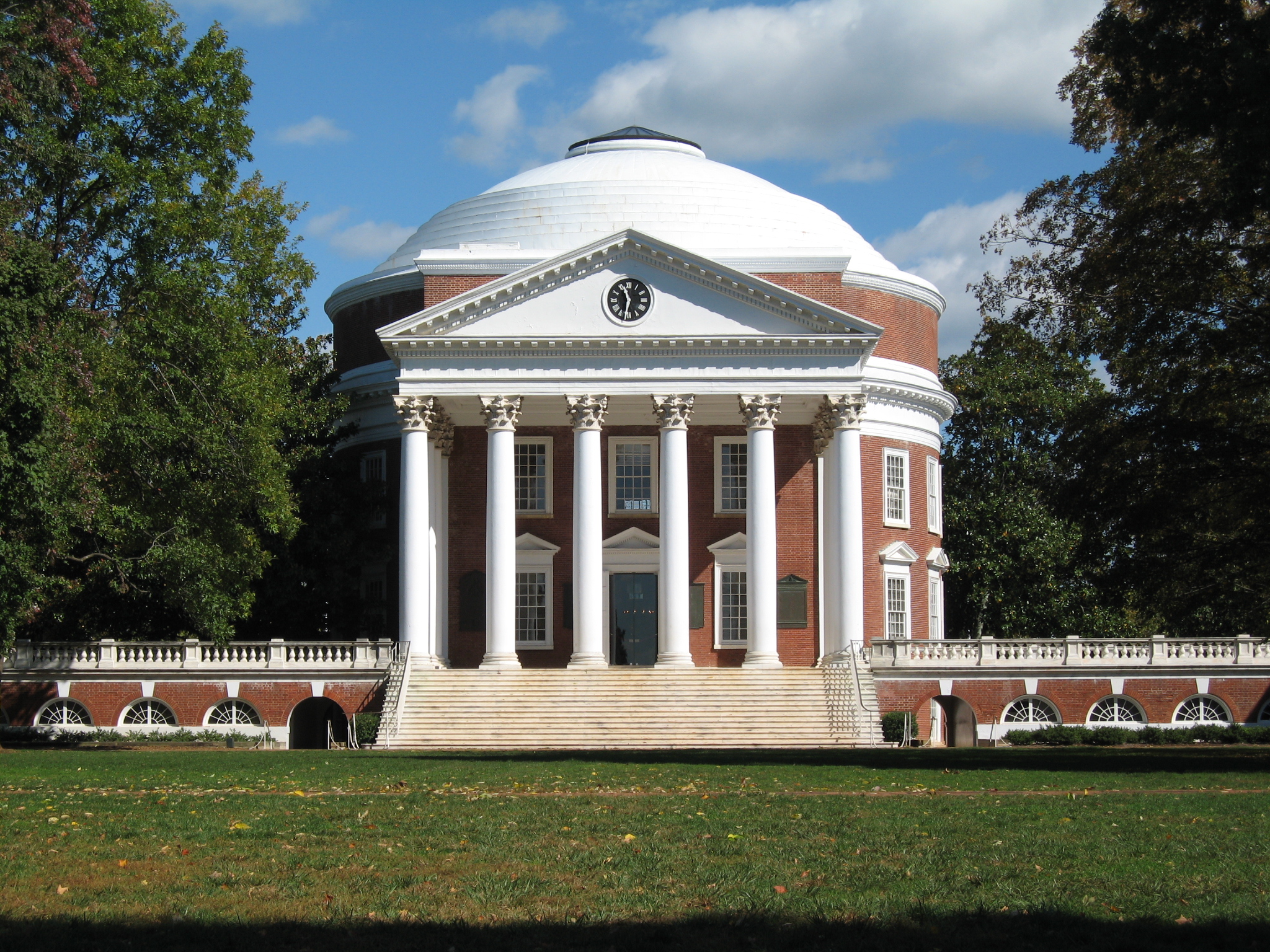 5 / 50
Aaron Josephson // Wikimedia Commons
#46. University of Virginia
Location: Charlottesville, VA

Net Price: $14,539
Median Earnings 6 Years After Graduation: $58,600
SAT Range: 1250-1460
Acceptance Rate: 30.0%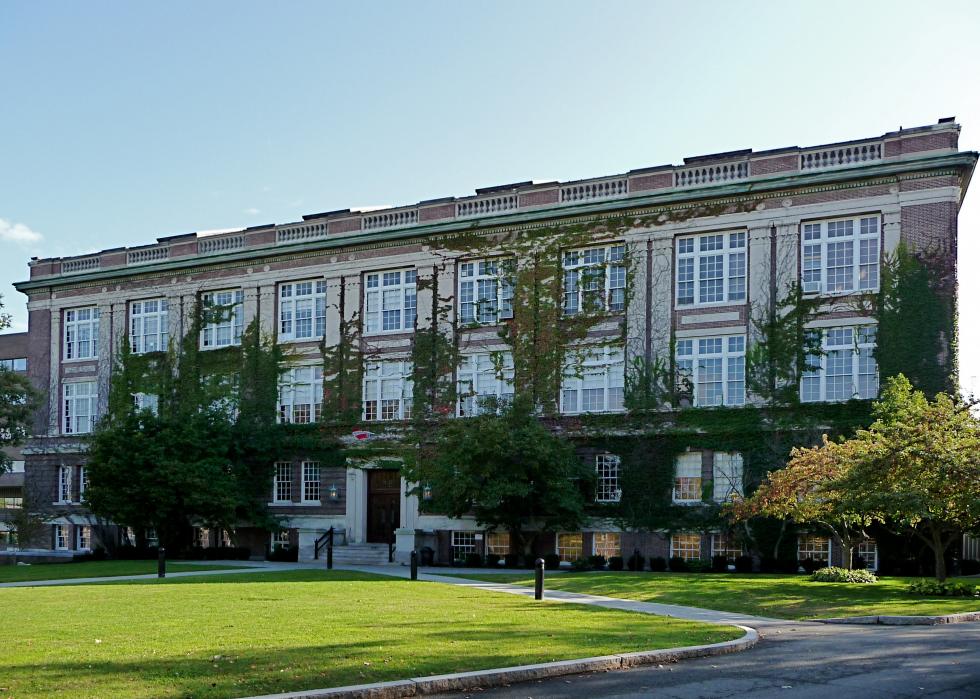 6 / 50
UpstateNYer // Wikimedia Commons
#45. Rensselaer Polytechnic Institute
Location: Troy, NY

Net Price: $37,820
Median Earnings 6 Years After Graduation: $81,700
SAT Range: 1280-1490
Acceptance Rate: 44.0%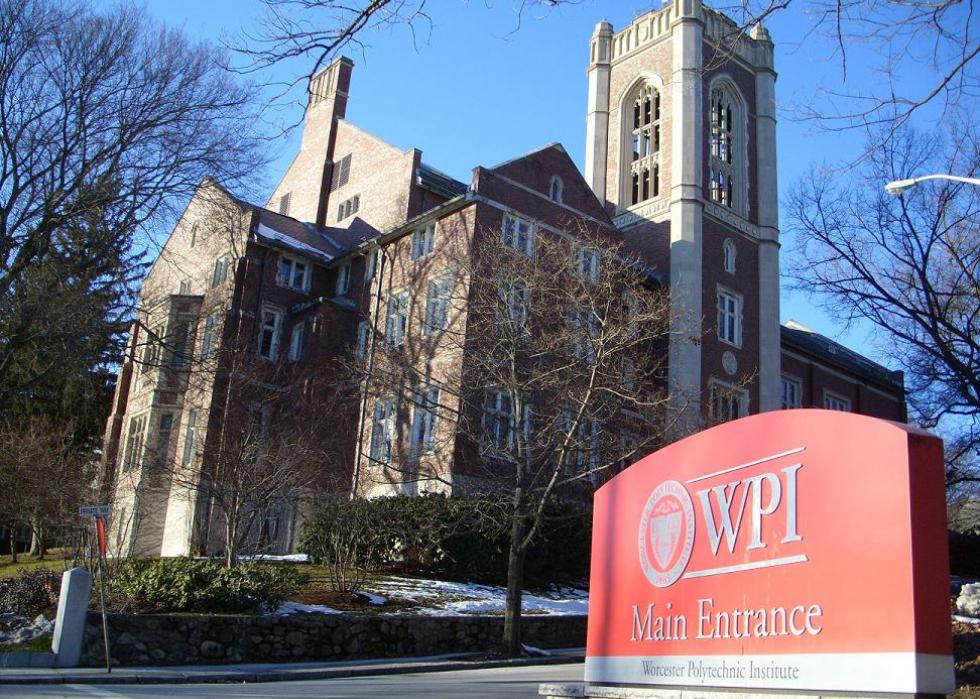 7 / 50
Runningonbrains // Wikimedia Commons
#44. Worcester Polytechnic Institute
Location: Worcester, MA

Net Price: $39,011
Median Earnings 6 Years After Graduation: $77,600
SAT Range: 1310-1480
Acceptance Rate: 49.0%
8 / 50
Dan Logan // Shutterstock
#43. Massachusetts Maritime Academy
Location: Buzzards Bay, MA

Net Price: $13,673
Median Earnings 6 Years After Graduation: $79,500
SAT Range: 980-1160
Acceptance Rate: 74.0%
9 / 50
Jrcla2 // Wikimedia Commons
#42. College of William & Mary
Location: Williamsburg, VA

Net Price: $14,310
Median Earnings 6 Years After Graduation: $56,400
SAT Range: 1260-1460
Acceptance Rate: 34.0%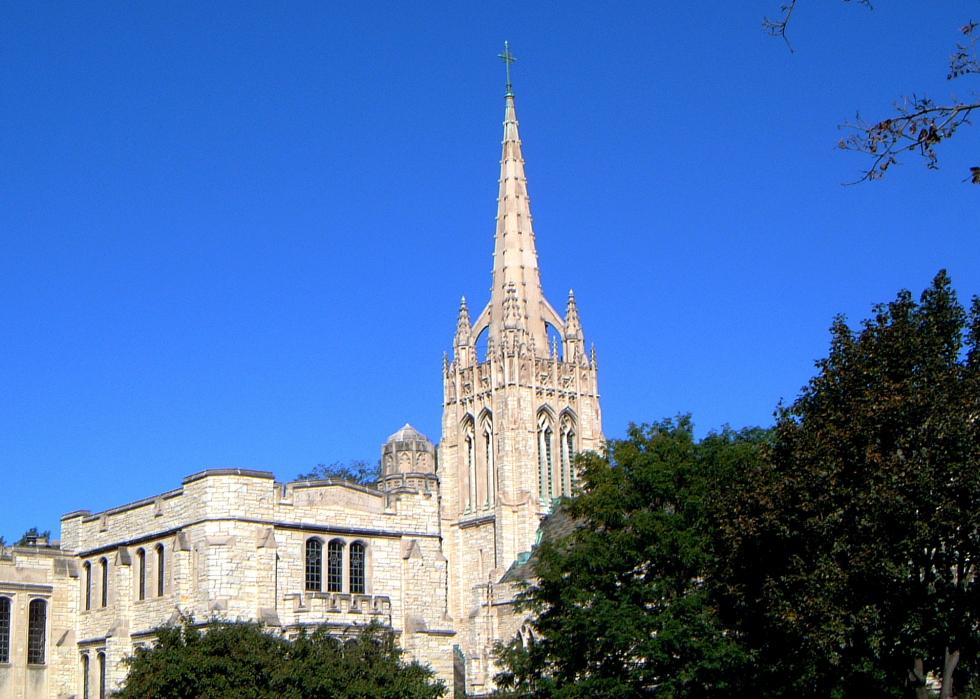 10 / 50
Titration451 // Wikimedia Commons
#41. Northwestern University
Location: Evanston, IL

Net Price: $30,552
Median Earnings 6 Years After Graduation: $64,100
SAT Range: 1400-1560
Acceptance Rate: 13.0%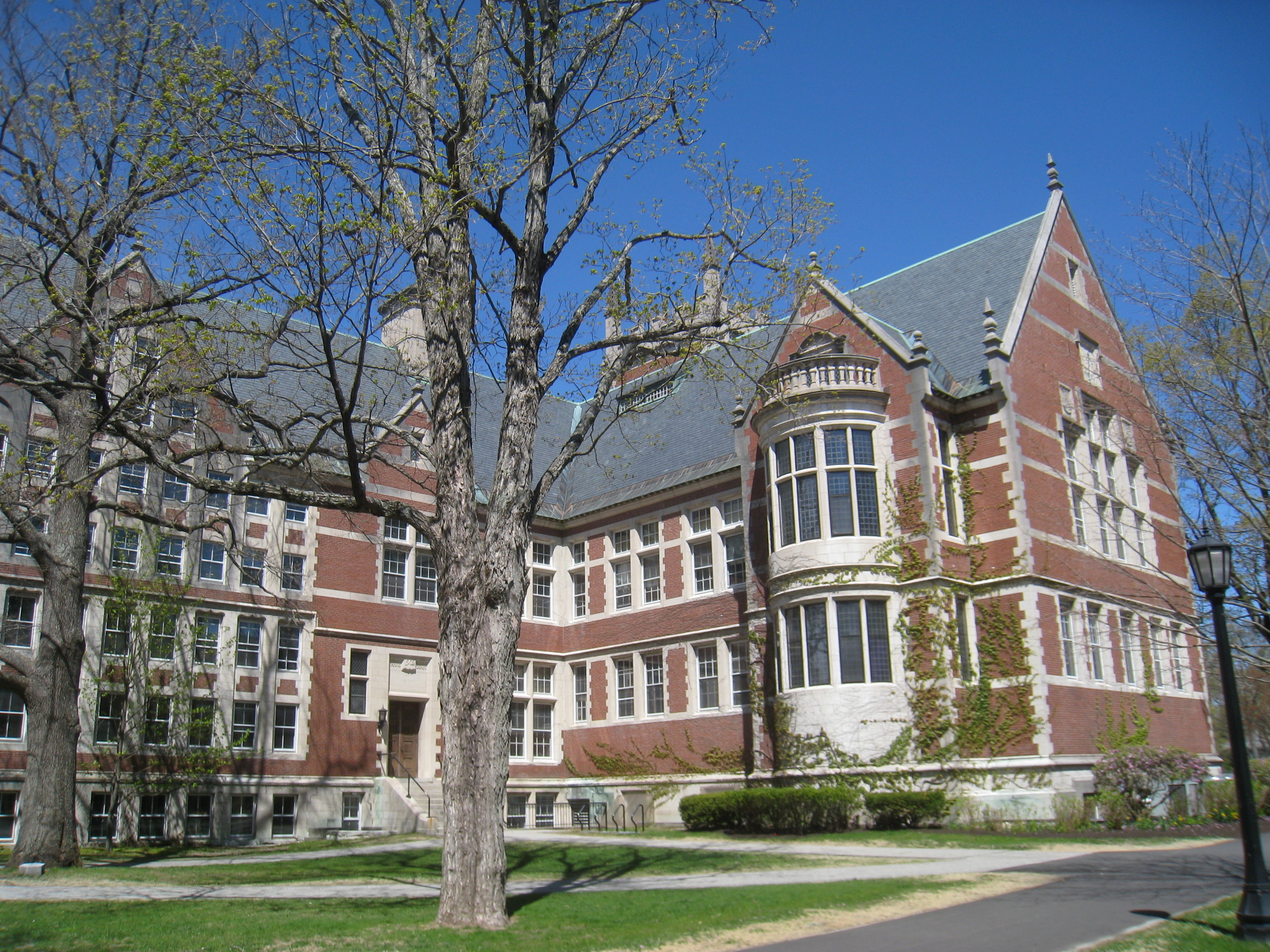 11 / 50
Daderot // Wikimedia Commons
#40. Bowdoin College
Location: Brunswick, ME

Net Price: $23,156
Median Earnings 6 Years After Graduation: $54,800
SAT Range: 1360-1510
Acceptance Rate: 15.0%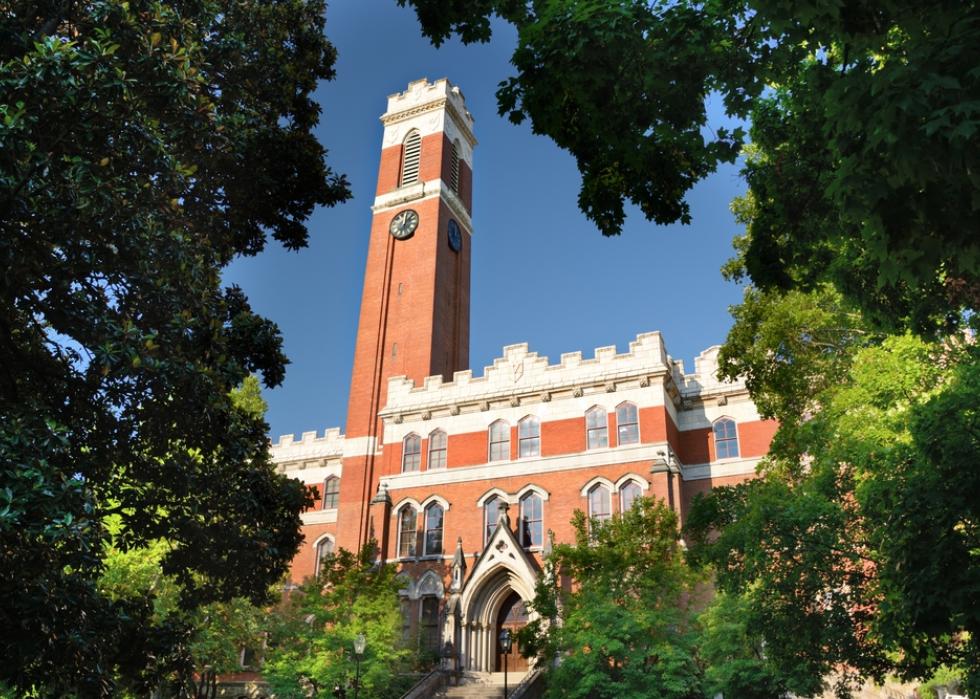 12 / 50
Sean Pavone // Shutterstock
#39. Vanderbilt University
Location: Nashville, TN

Net Price: $22,937
Median Earnings 6 Years After Graduation: $60,900
SAT Range: 1430-1590
Acceptance Rate: 12.0%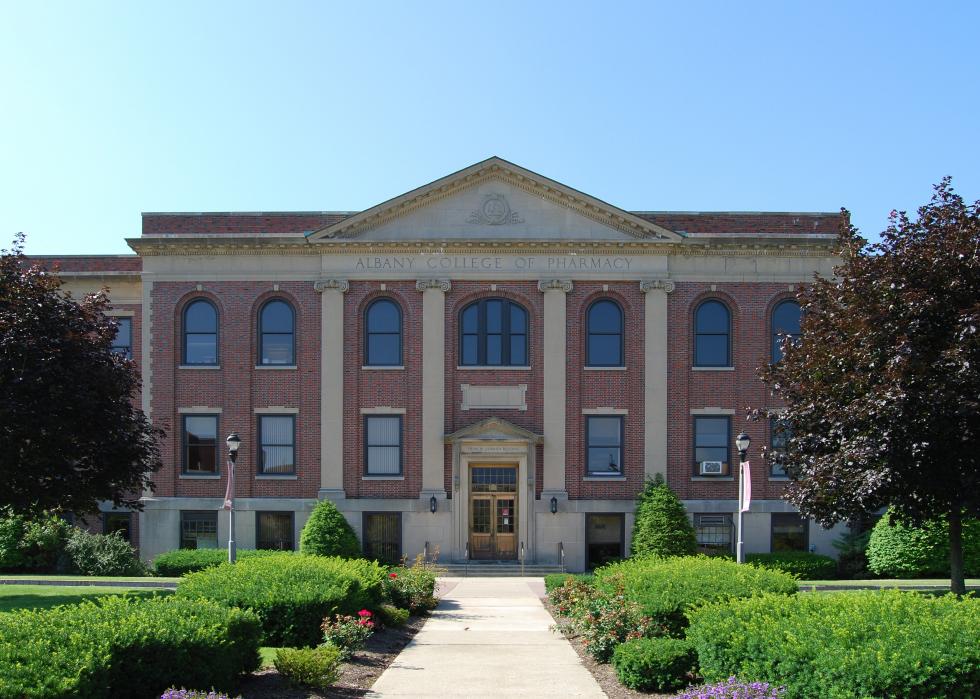 13 / 50
UpstateNYer // Wikimedia Commons
#38. Albany College of Pharmacy & Health Sciences
Location: Albany, NY

Net Price: $31,183
Median Earnings 6 Years After Graduation: $110,600
SAT Range: 1070-1270
Acceptance Rate: 66.0%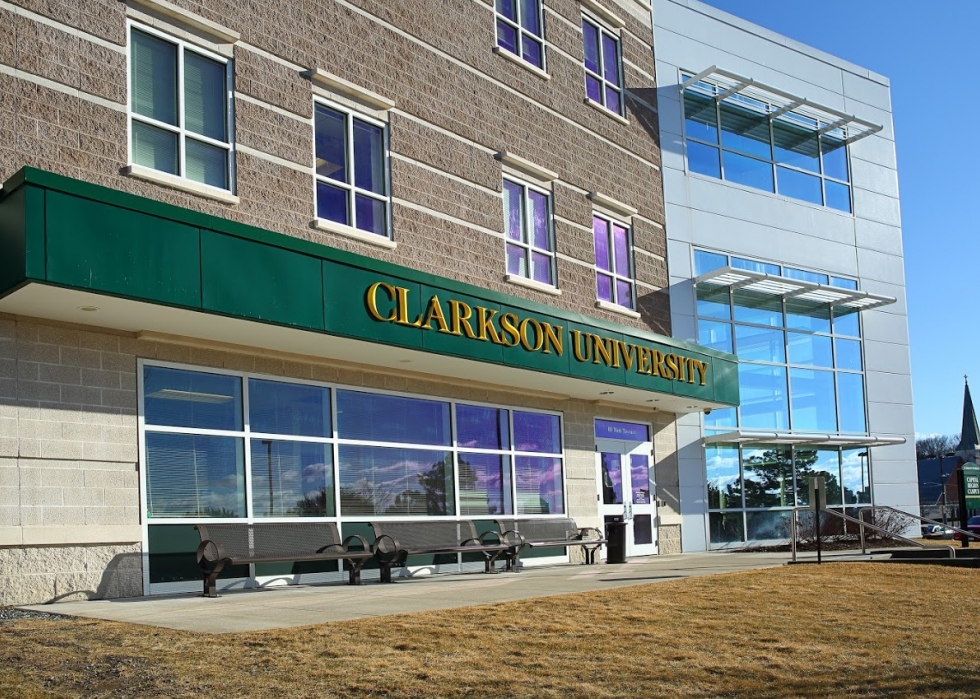 14 / 50
Anniegh // Wikimedia Commons
#37. Clarkson University
Location: Potsdam, NY

Net Price: $29,666
Median Earnings 6 Years After Graduation: $68,400
SAT Range: 1080-1290
Acceptance Rate: 68.0%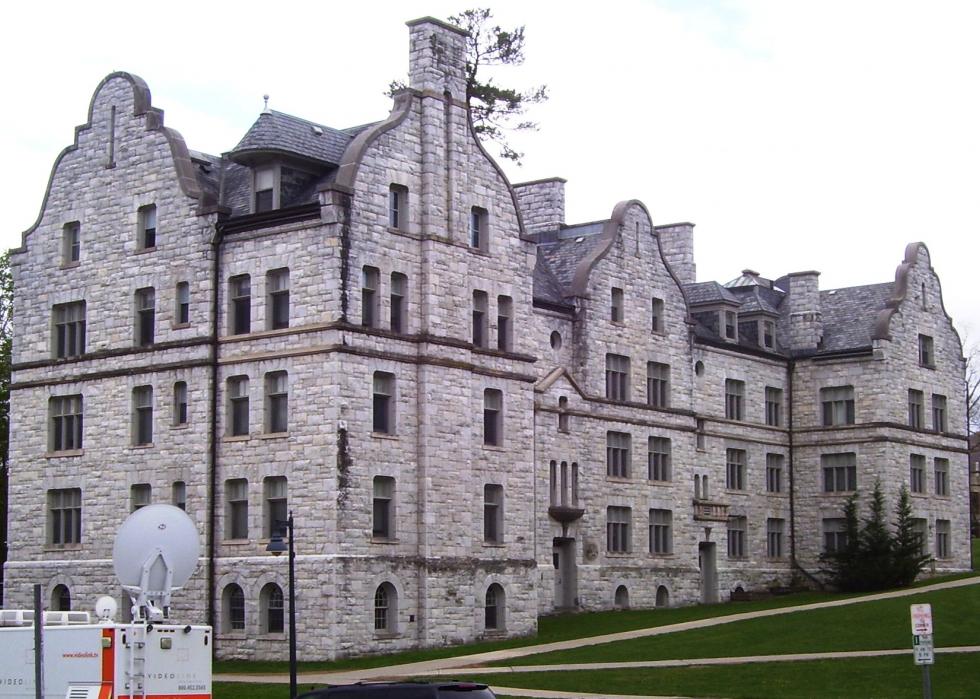 15 / 50
Beyond My Ken // Wikimedia Commons
#36. Williams College
Location: Williamstown, MA

Net Price: $21,546
Median Earnings 6 Years After Graduation: $58,100
SAT Range: 1330-1550
Acceptance Rate: 18.0%
16 / 50
McGhiever // Wikimedia Commons
#35. Carleton College
Location: Northfield, MN

Net Price: $31,568
Median Earnings 6 Years After Graduation: $46,100
SAT Range: 1320-1520
Acceptance Rate: 21.0%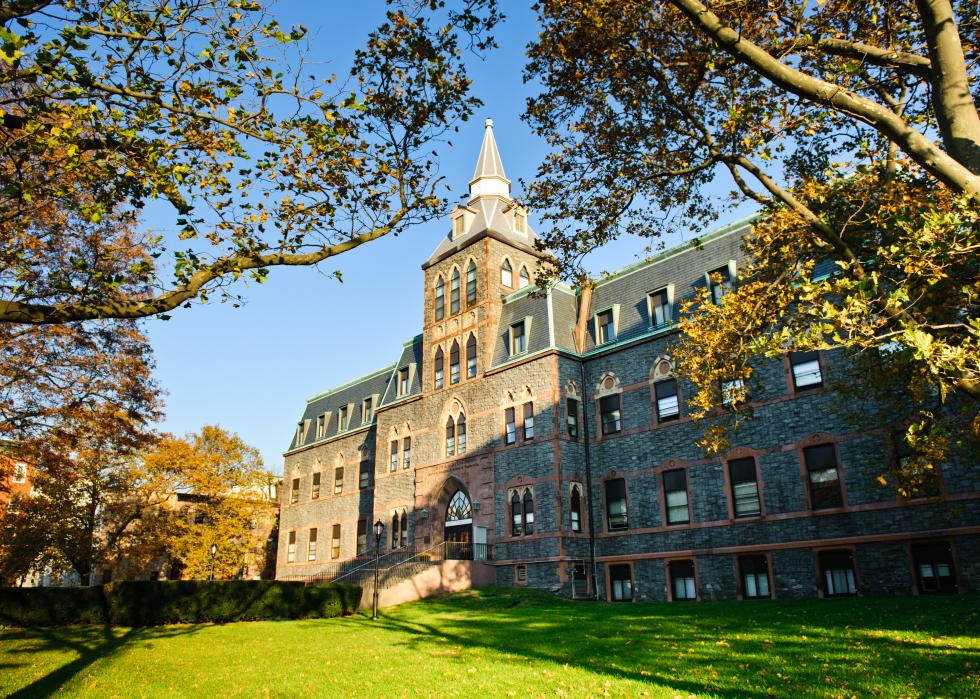 17 / 50
Jeffrey Vock Photography // Wikimedia Commons
#34. Stevens Institute of Technology
Location: Hoboken, NJ

Net Price: $34,935
Median Earnings 6 Years After Graduation: $82,800
SAT Range: 1240-1425
Acceptance Rate: 44.0%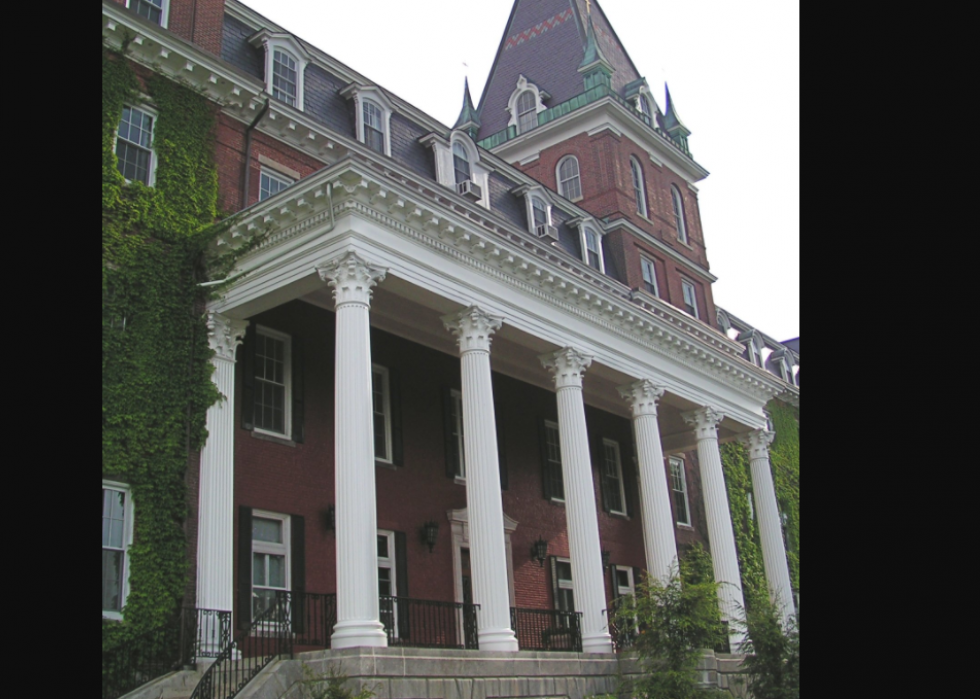 18 / 50
George Rypysc III // Wikimedia Commons
#33. College of the Holy Cross
Location: Worcester, MA

Net Price: $24,728
Median Earnings 6 Years After Graduation: $63,700
SAT Range: 1230-1370
Acceptance Rate: 37.0%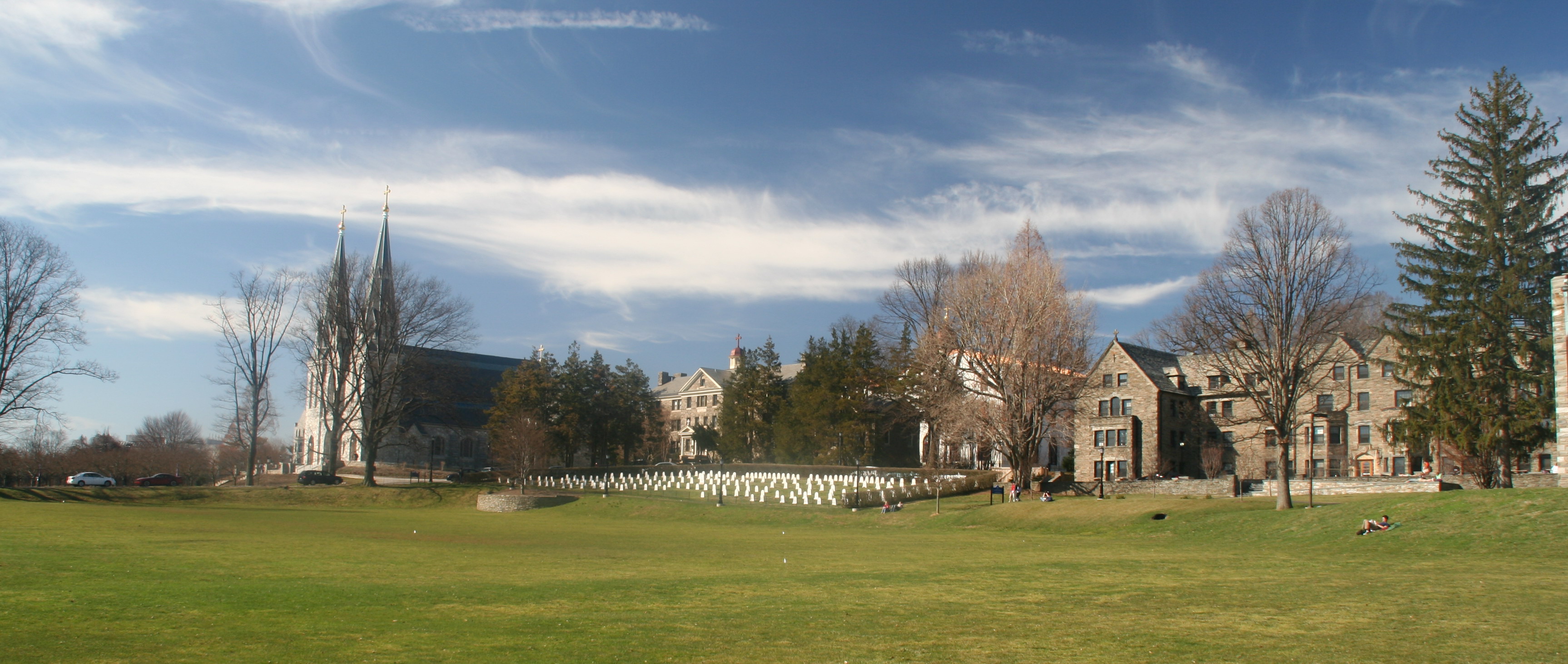 19 / 50
Alertjean // Wikimedia Commons
#32. Villanova University
Location: Villanova, PA

Net Price: $31,668
Median Earnings 6 Years After Graduation: $73,700
SAT Range: 1200-1400
Acceptance Rate: 48.0%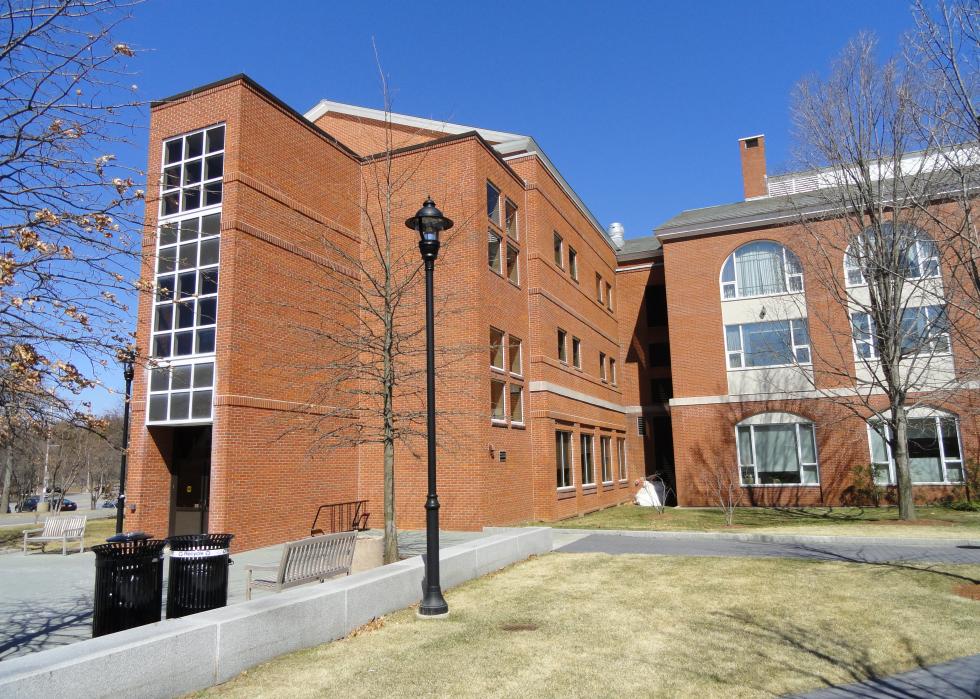 20 / 50
Daderot // Wikimedia Commons
#31. Bentley University
Location: Waltham, MA

Net Price: $33,133
Median Earnings 6 Years After Graduation: $74,900
SAT Range: 1140-1330
Acceptance Rate: 42.0%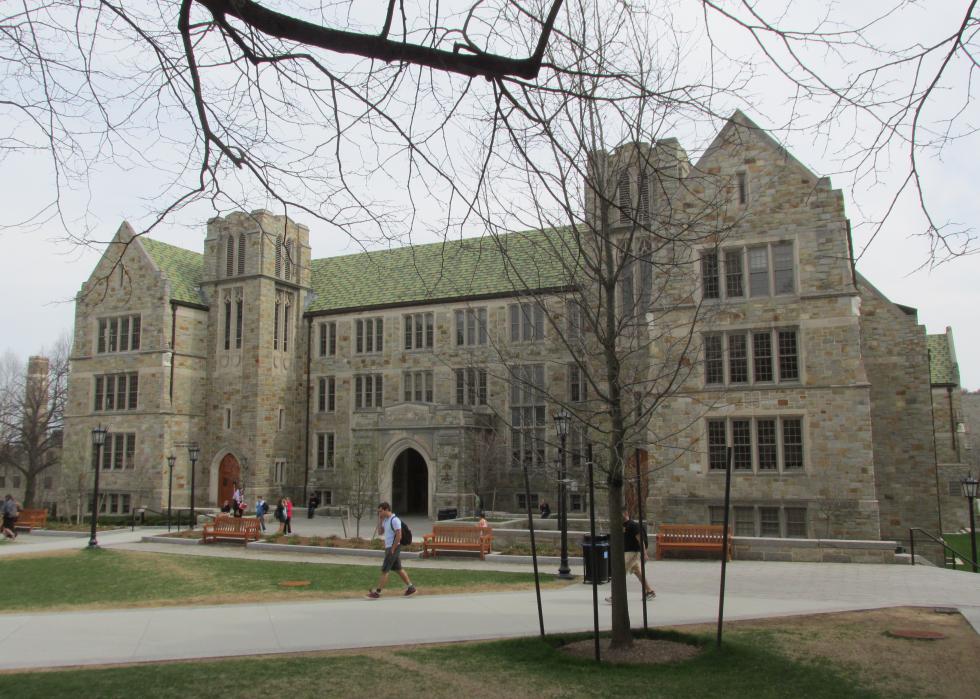 21 / 50
John Phelan // Wikimedia Commons
#30. Boston College
Location: Chestnut Hill, MA

Net Price: $26,284
Median Earnings 6 Years After Graduation: $67,000
SAT Range: 1260-1470
Acceptance Rate: 29.0%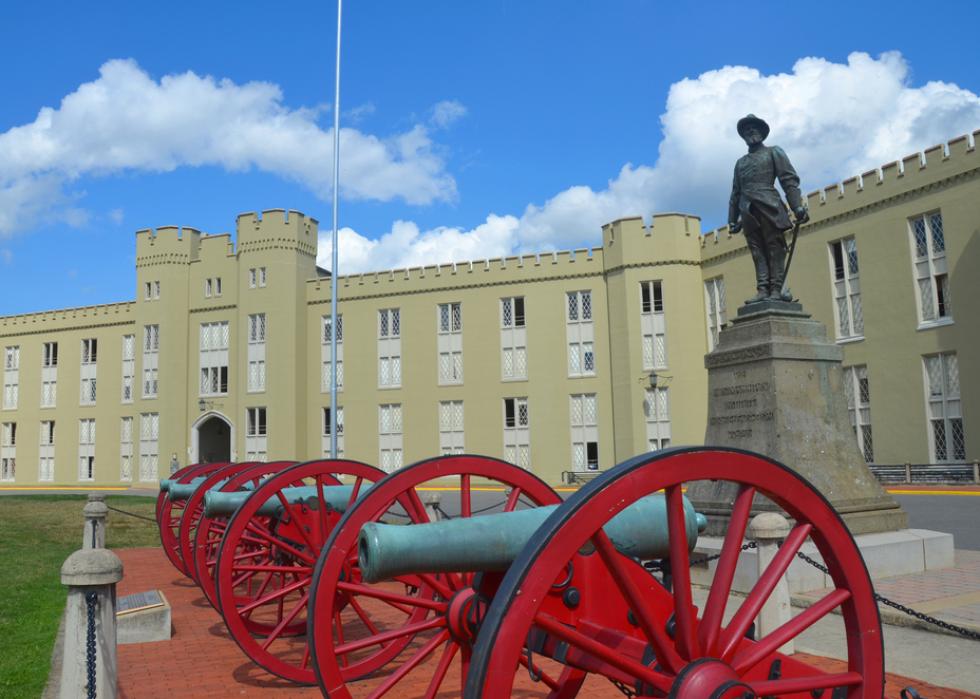 22 / 50
Travel Bug // Shutterstock
#29. Virginia Military Institute
Location: Lexington, VA

Net Price: $15,197
Median Earnings 6 Years After Graduation: $56,600
SAT Range: 1040-1230
Acceptance Rate: 53.0%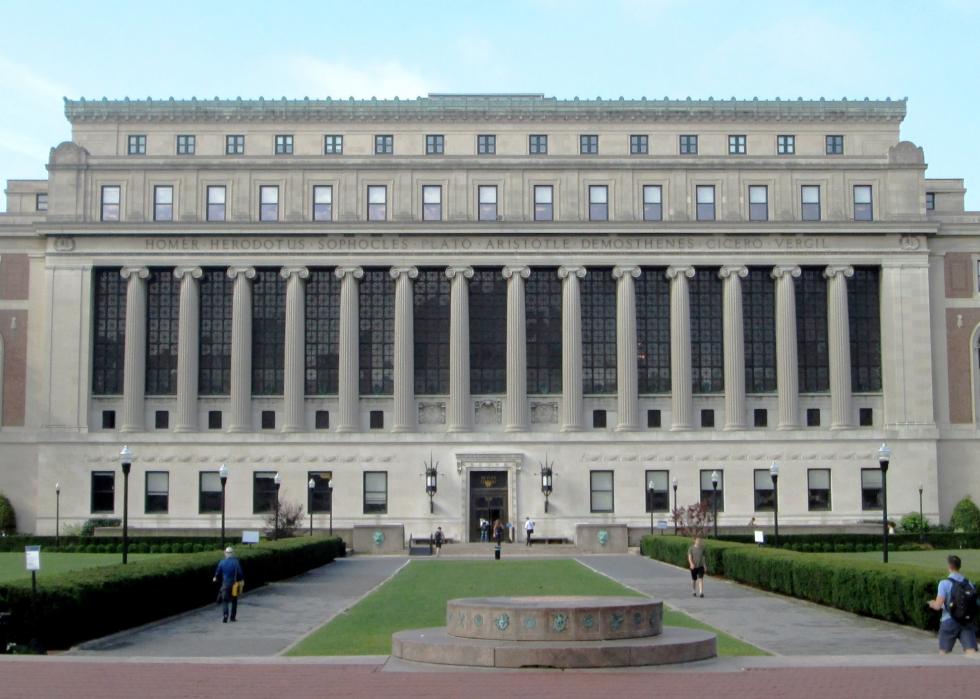 23 / 50
Beyond My Ken // Wikimedia Commons
#28. Columbia University
Location: New York, NY

Net Price: $17,678
Median Earnings 6 Years After Graduation: $72,900
SAT Range: 1380-1570
Acceptance Rate: 7.0%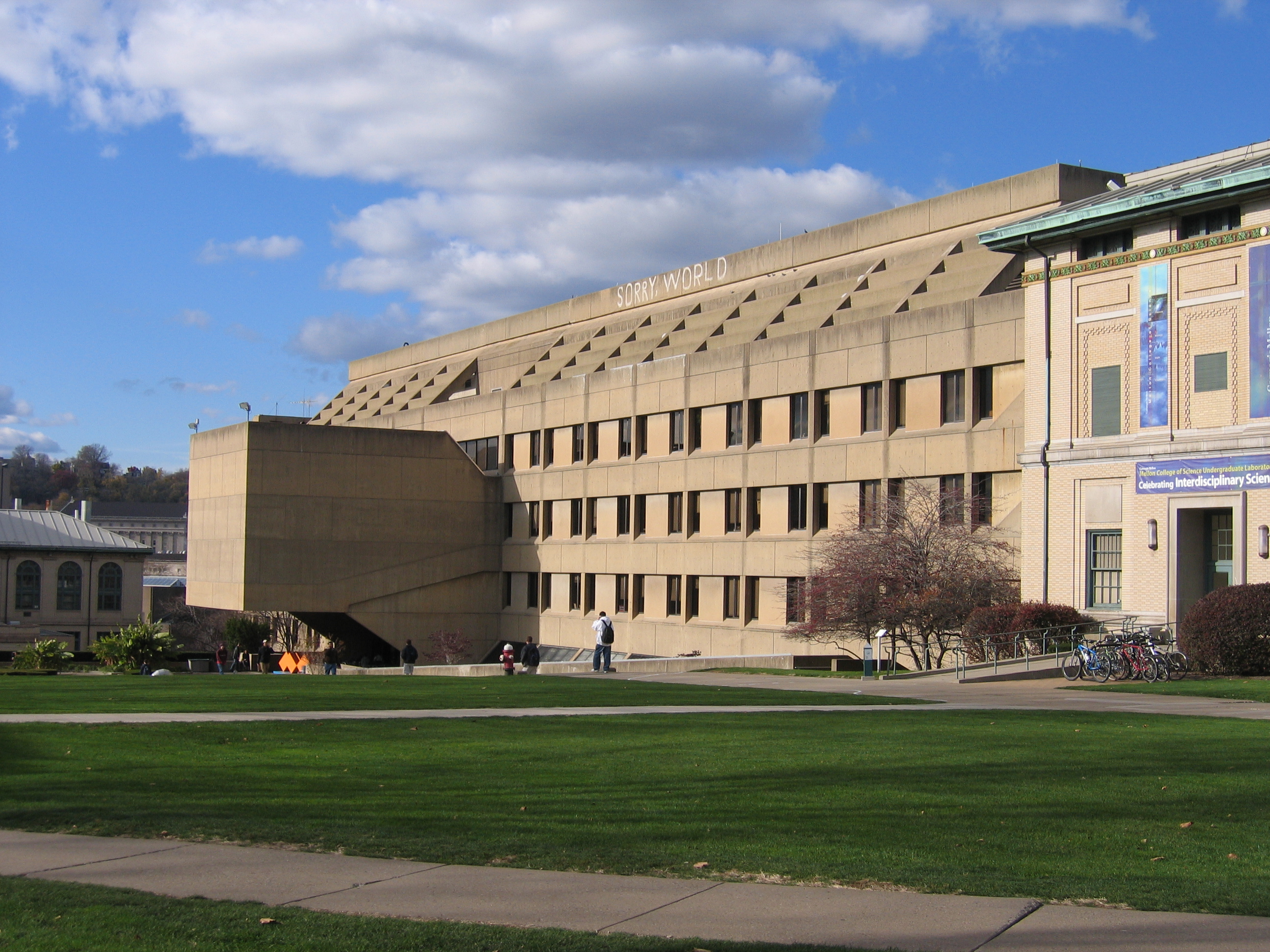 24 / 50
Jared Luxenberg // Wikimedia Commons
#27. Carnegie Mellon University
Location: Pittsburgh, PA

Net Price: $33,657
Median Earnings 6 Years After Graduation: $72,000
SAT Range: 1360-1540
Acceptance Rate: 24.0%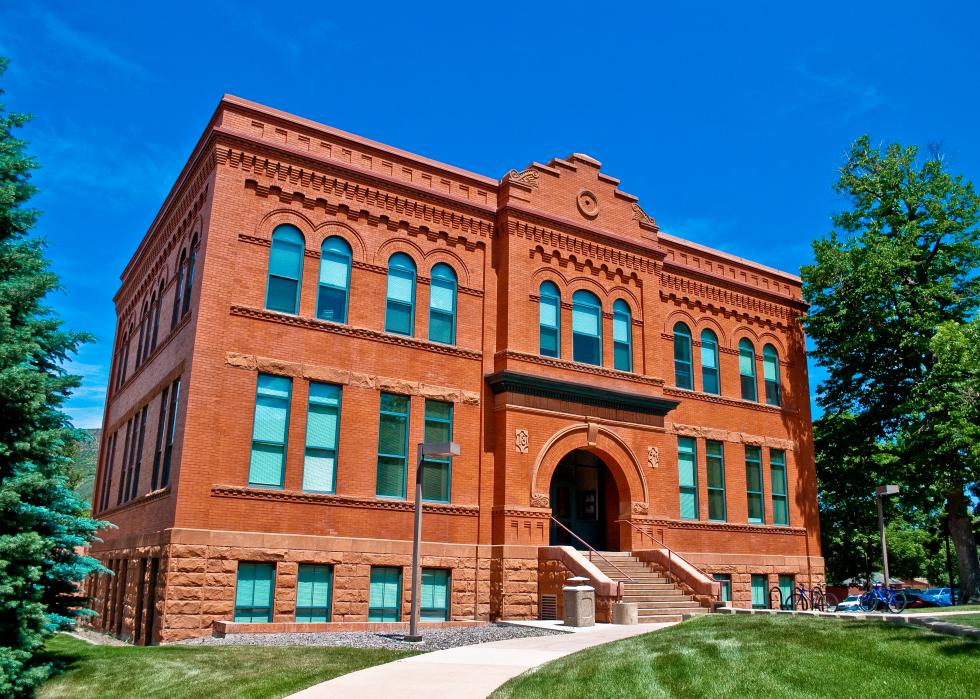 25 / 50
ChrisEngelsma // Wikimedia Commons
#26. Colorado School of Mines
Location: Golden, CO

Net Price: $24,297
Median Earnings 6 Years After Graduation: $74,700
SAT Range: 1250-1420
Acceptance Rate: 38.0%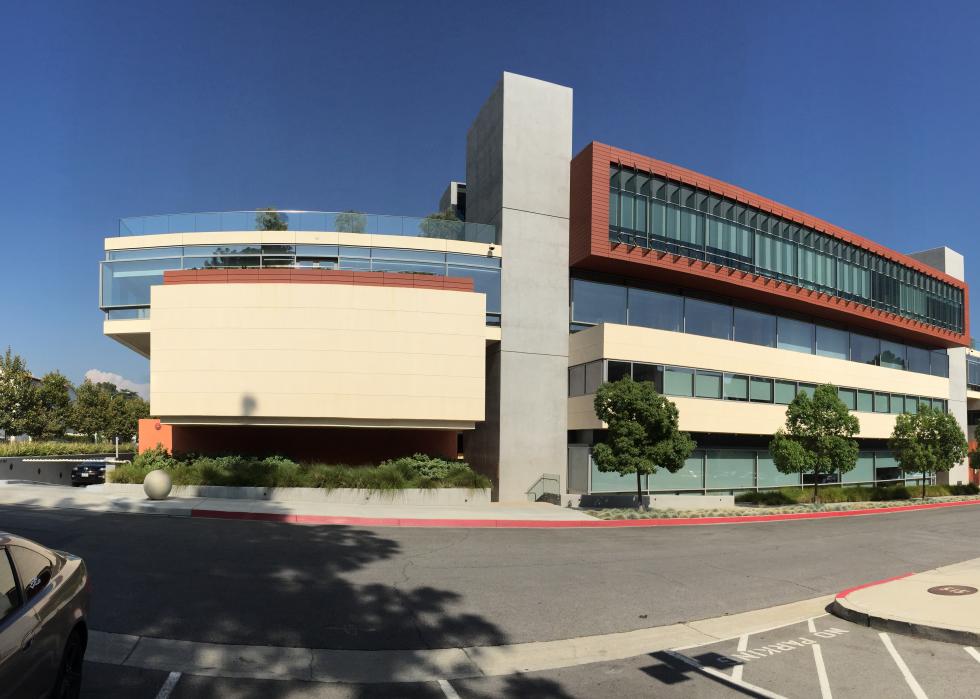 26 / 50
Victoire Chalupy // Wikimedia Commons
#25. Claremont McKenna College
Location: Claremont, CA

Net Price: $29,894
Median Earnings 6 Years After Graduation: $63,600
SAT Range: 1340-1530
Acceptance Rate: 11.0%
27 / 50
Apavlo // Wikimedia Commons
#24. Brown University
Location: Providence, RI

Net Price: $22,957
Median Earnings 6 Years After Graduation: $59,700
SAT Range: 1370-1560
Acceptance Rate: 9.0%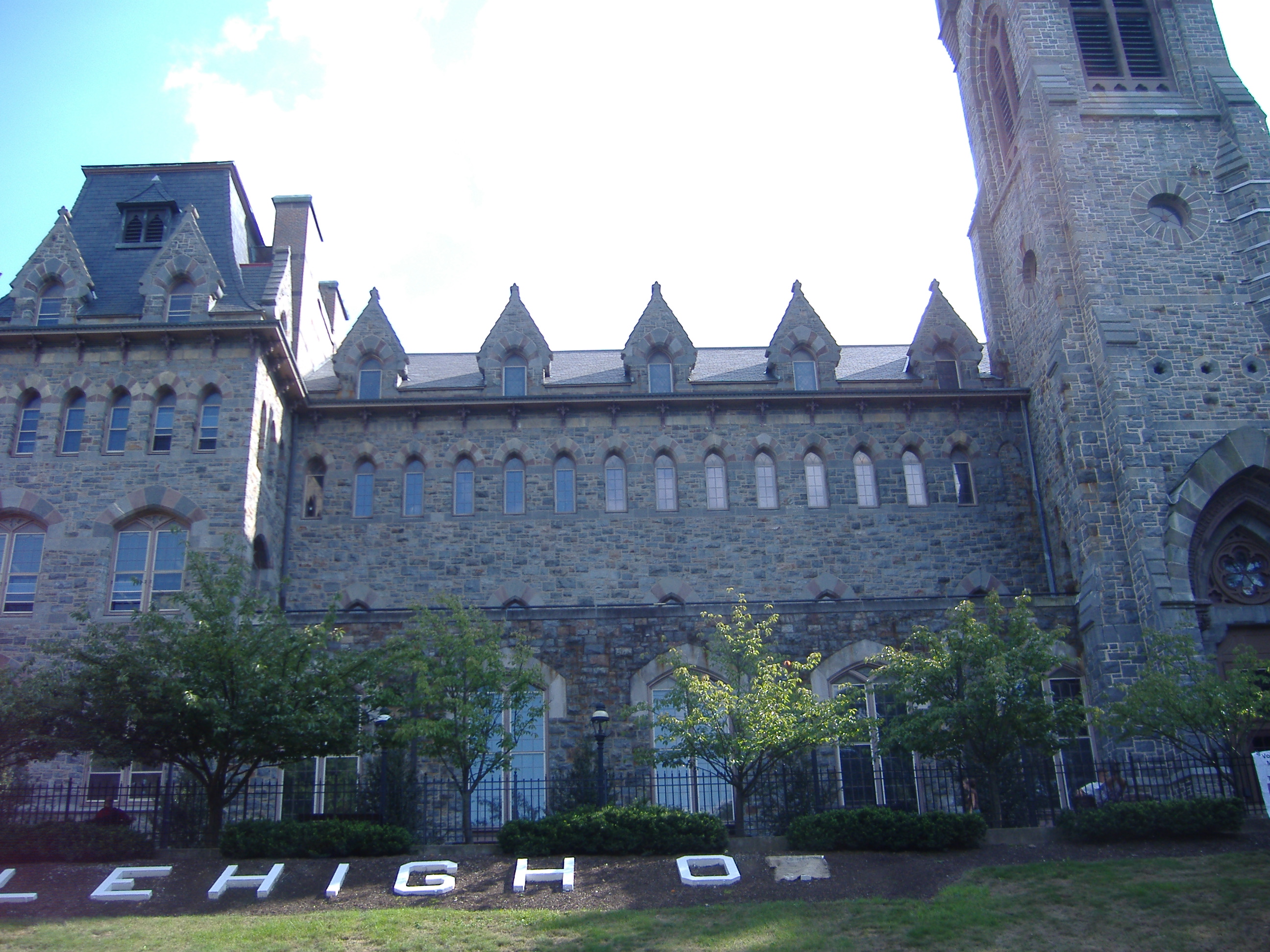 28 / 50
Peter L Moore // Wikimedia Commons
#23. Lehigh University
Location: Bethlehem, PA

Net Price: $27,715
Median Earnings 6 Years After Graduation: $76,800
SAT Range: 1230-1420
Acceptance Rate: 26.0%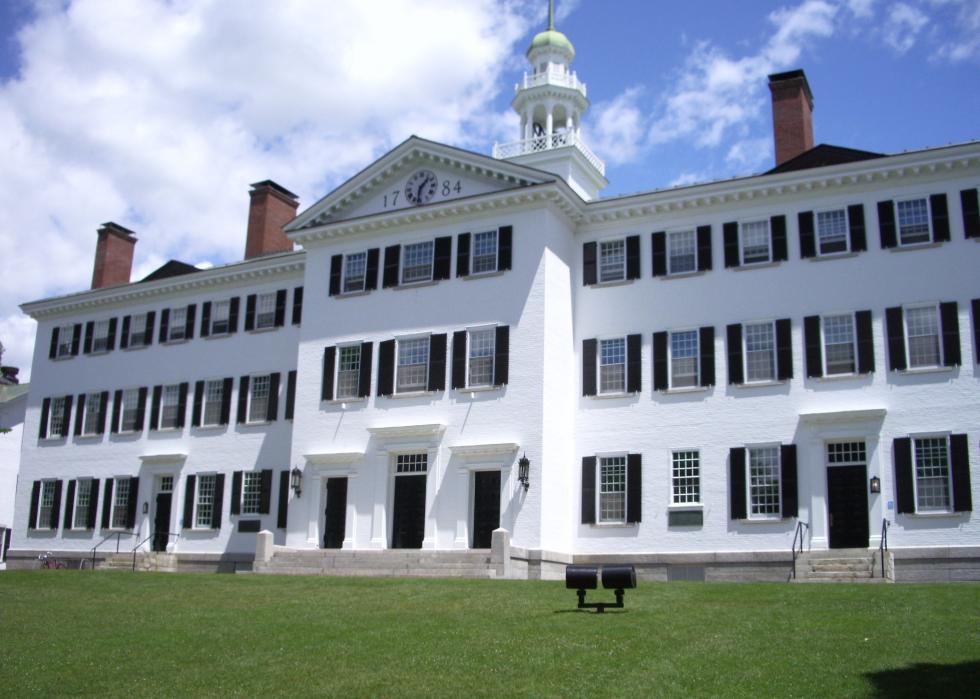 29 / 50
Kane5187 // Wikimedia Commons
#22. Dartmouth College
Location: Hanover, NH

Net Price: $21,348
Median Earnings 6 Years After Graduation: $67,100
SAT Range: 1330-1560
Acceptance Rate: 11.0%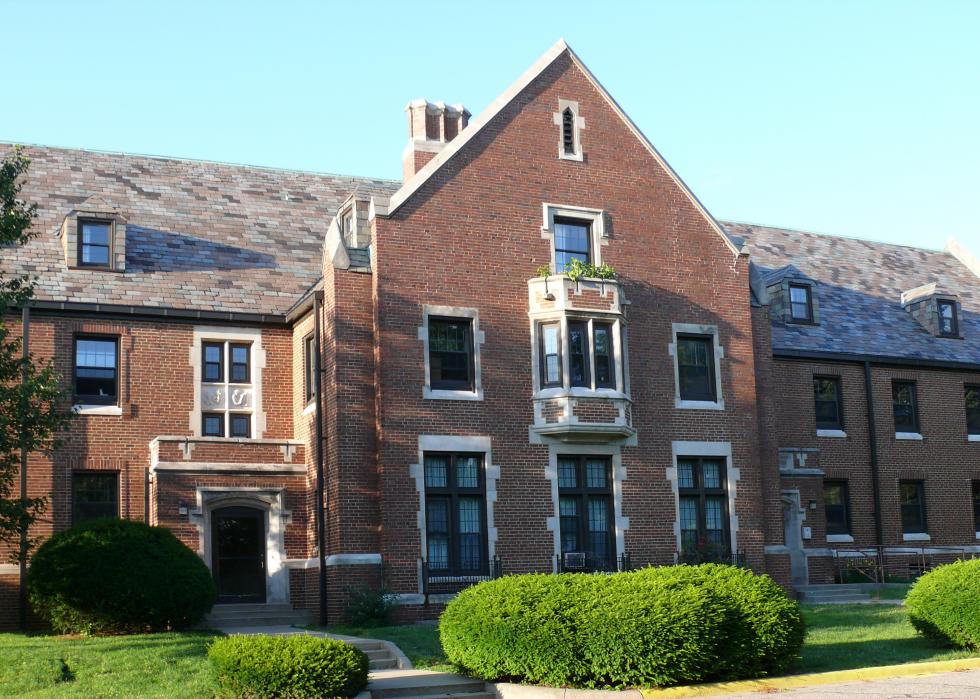 30 / 50
Cjeiler // Wikimedia Commons
#21. Rose-Hulman Institute of Technology
Location: Terre Haute, IN

Net Price: $40,198
Median Earnings 6 Years After Graduation: $78,900
SAT Range: 1180-1420
Acceptance Rate: 58.0%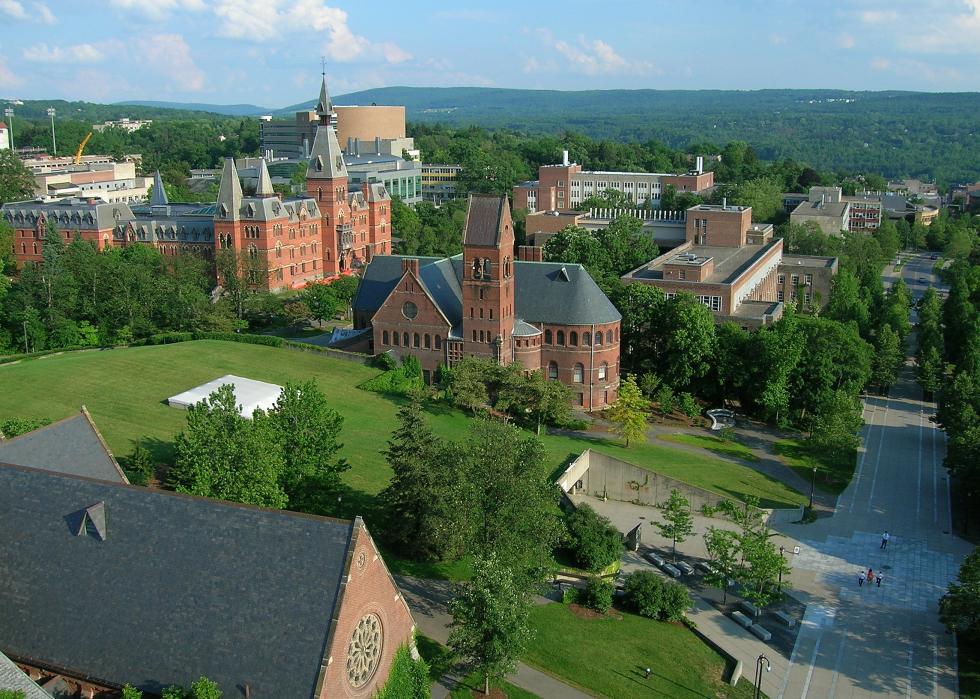 31 / 50
sach1tb // Wikimedia Commons
#20. Cornell University
Location: Ithaca, NY

Net Price: $28,656
Median Earnings 6 Years After Graduation: $70,900
SAT Range: 1330-1530
Acceptance Rate: 15.0%
32 / 50
Shuvaev // Wikimedia Commons
#19. Lafayette College
Location: Easton, PA

Net Price: $24,993
Median Earnings 6 Years After Graduation: $69,800
SAT Range: 1200-1380
Acceptance Rate: 30.0%
33 / 50
Daderot // Wikimedia Commons
#18. Babson College
Location: Wellesley, MA

Net Price: $27,597
Median Earnings 6 Years After Graduation: $85,500
SAT Range: 1200-1440
Acceptance Rate: 26.0%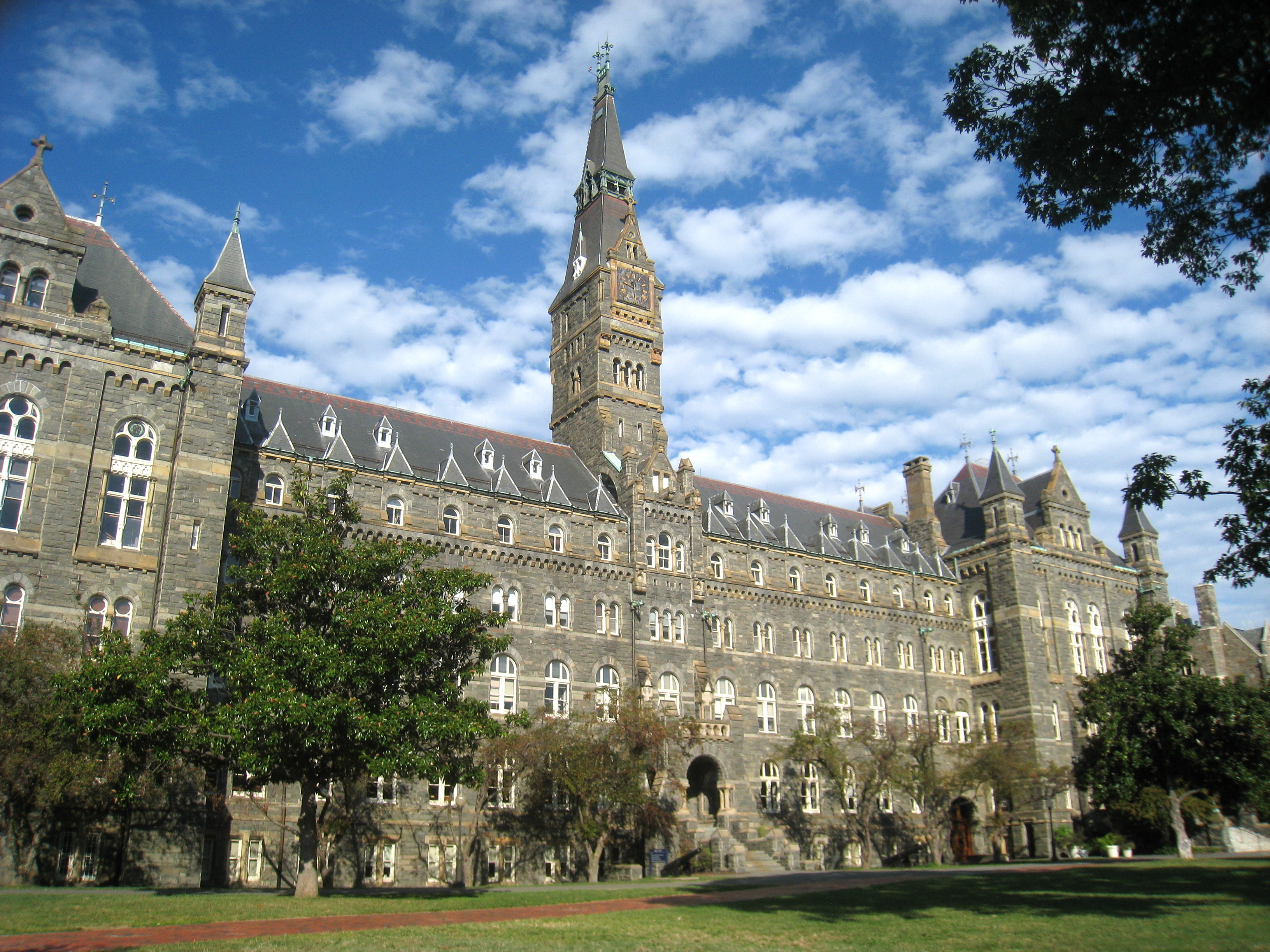 34 / 50
Daderot // Wikimedia Commons
#17. Georgetown University
Location: Washington, DC

Net Price: $26,749
Median Earnings 6 Years After Graduation: $83,300
SAT Range: 1320-1500
Acceptance Rate: 17.0%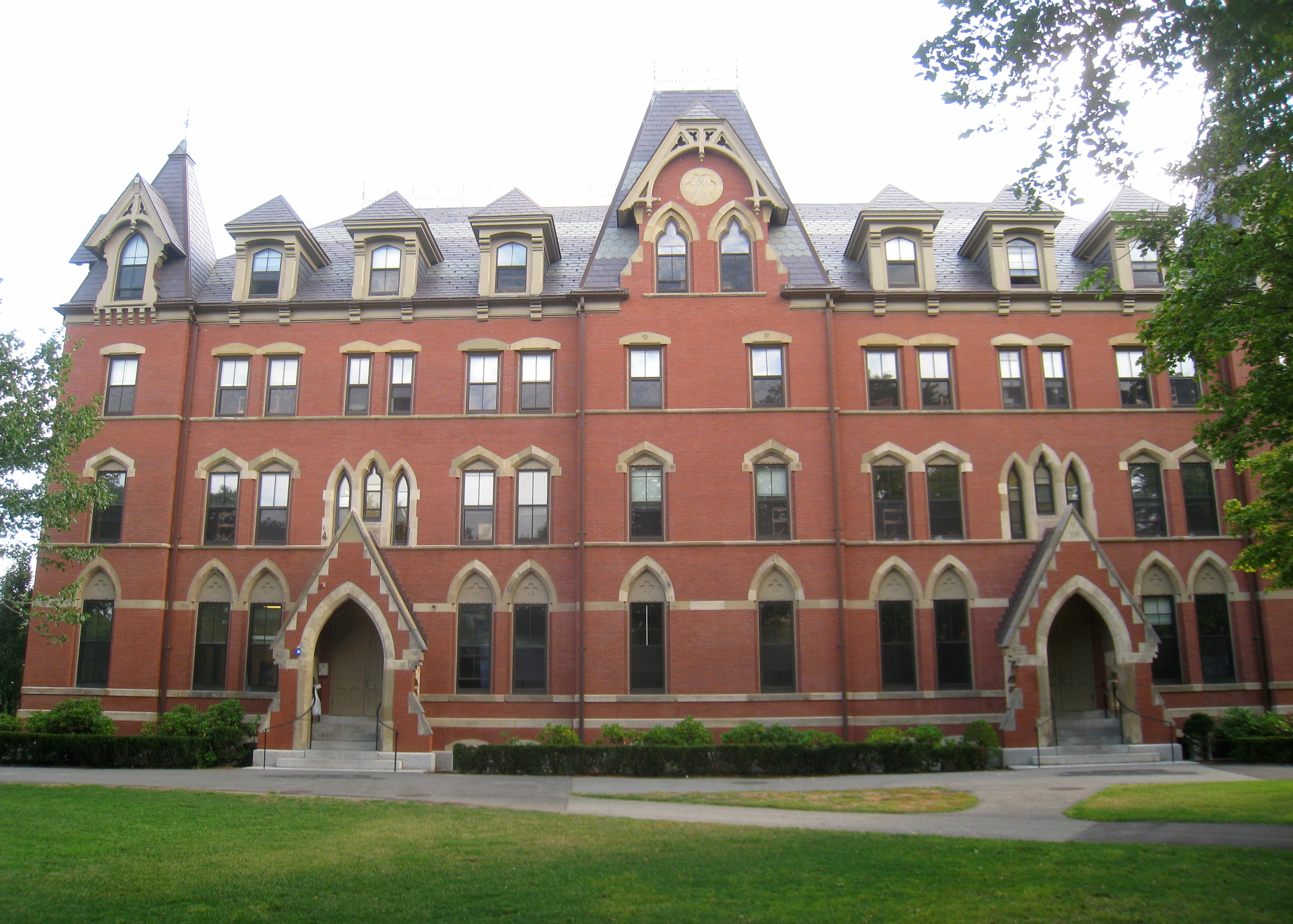 35 / 50
Daderot // Wikimedia Commons
#16. Tufts University
Location: Medford, MA

Net Price: $26,976
Median Earnings 6 Years After Graduation: $67,800
SAT Range: 1370-1520
Acceptance Rate: 16.0%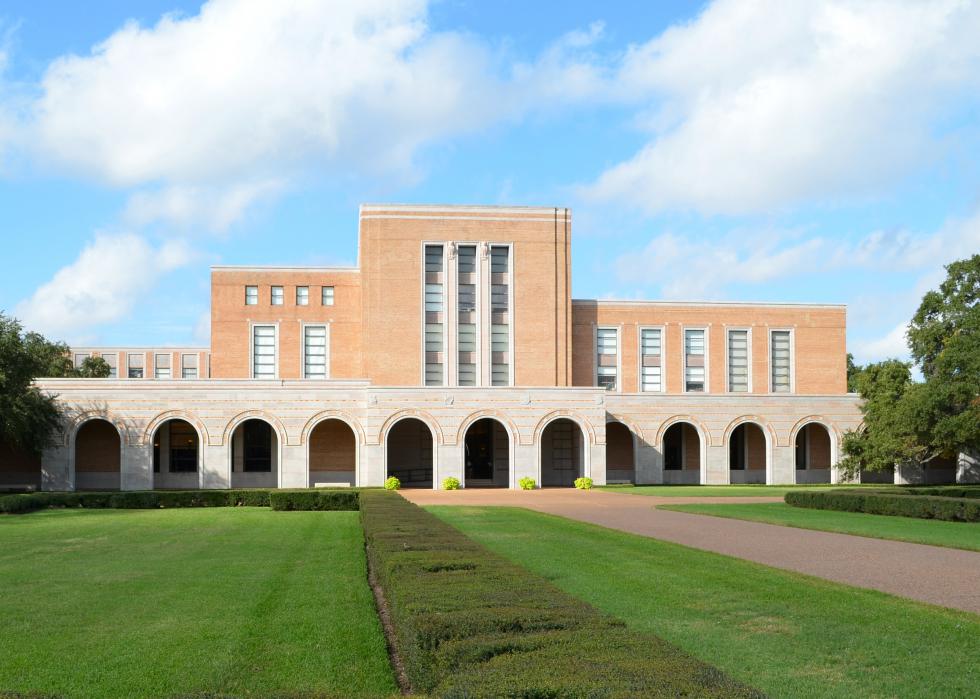 36 / 50
Leonard Lane // Wikimedia Commons
#15. Rice University
Location: Houston, TX

Net Price: $22,462
Median Earnings 6 Years After Graduation: $59,900
SAT Range: 1390-1560
Acceptance Rate: 16.0%
37 / 50
Daderot // Wikimedia Commons
#14. Georgia Institute of Technology
Location: Atlanta, GA

Net Price: $12,736
Median Earnings 6 Years After Graduation: $74,000
SAT Range: 1310-1500
Acceptance Rate: 32.0%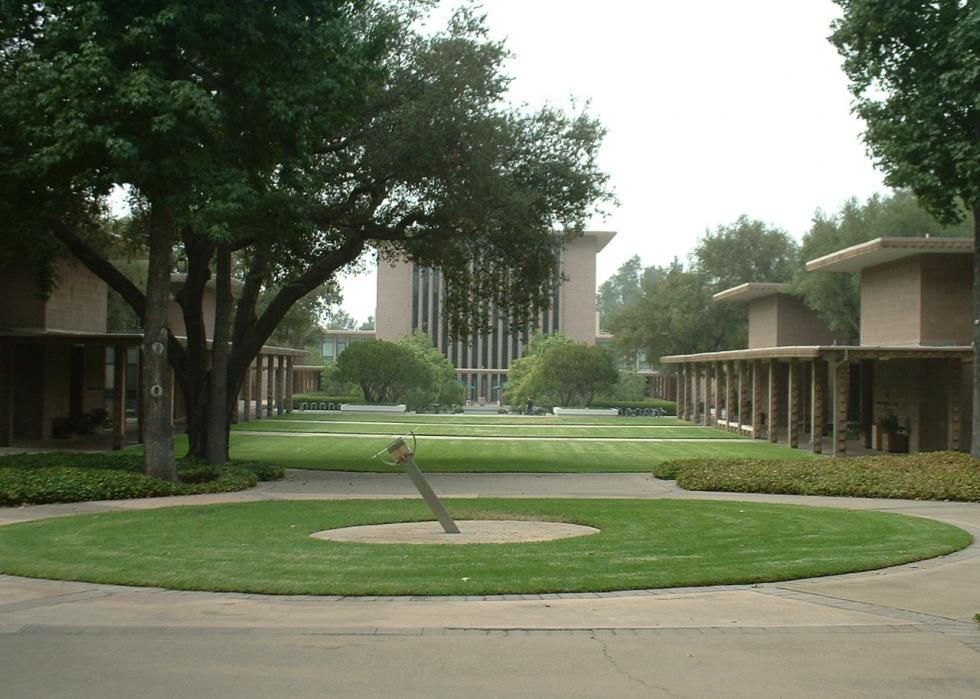 38 / 50
TythosEternal // Wikimedia Commons
#13. Harvey Mudd College
Location: Claremont, CA

Net Price: $34,529
Median Earnings 6 Years After Graduation: $78,600
SAT Range: 1400-1560
Acceptance Rate: 13.0%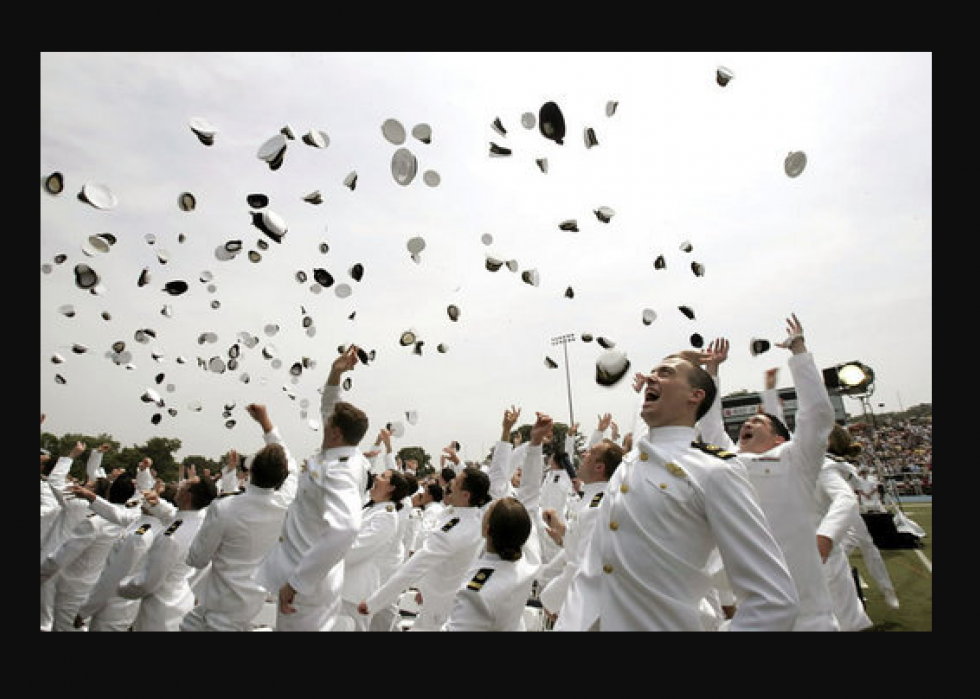 39 / 50
Kimberlee Hewitt // White House
#12. United States Merchant Marine Academy
Location: Kings Point, NY

Net Price: $4,701
Median Earnings 6 Years After Graduation: $89,000
SAT Range: 1190-1250
Acceptance Rate: 22.0%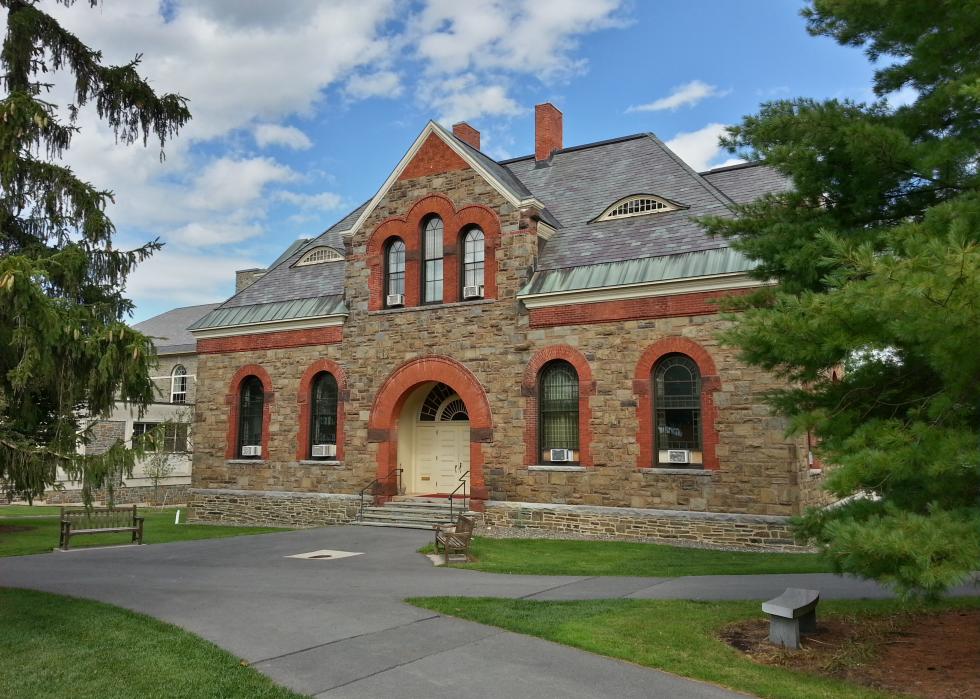 40 / 50
Dennis Liu // Wikimedia Commons
#11. Colgate University
Location: Hamilton, NY

Net Price: $21,741
Median Earnings 6 Years After Graduation: $61,500
SAT Range: 1250-1450
Acceptance Rate: 27.0%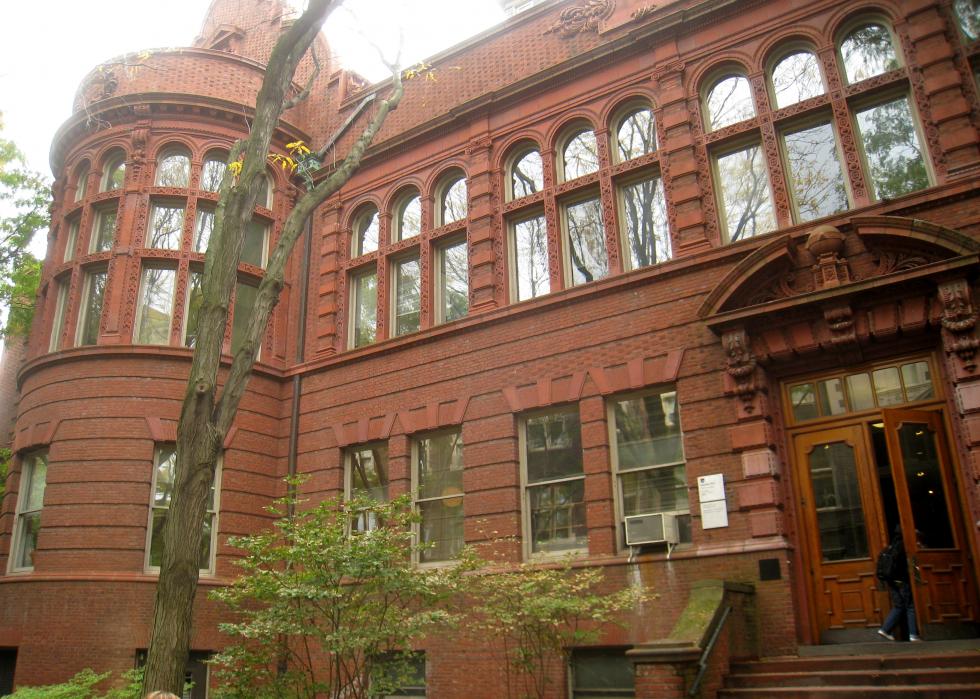 41 / 50
Daderot // Wikimedia Commons
#10. University of Pennsylvania
Location: Philadelphia, PA

Net Price: $23,924
Median Earnings 6 Years After Graduation: $78,200
SAT Range: 1380-1550
Acceptance Rate: 10.0%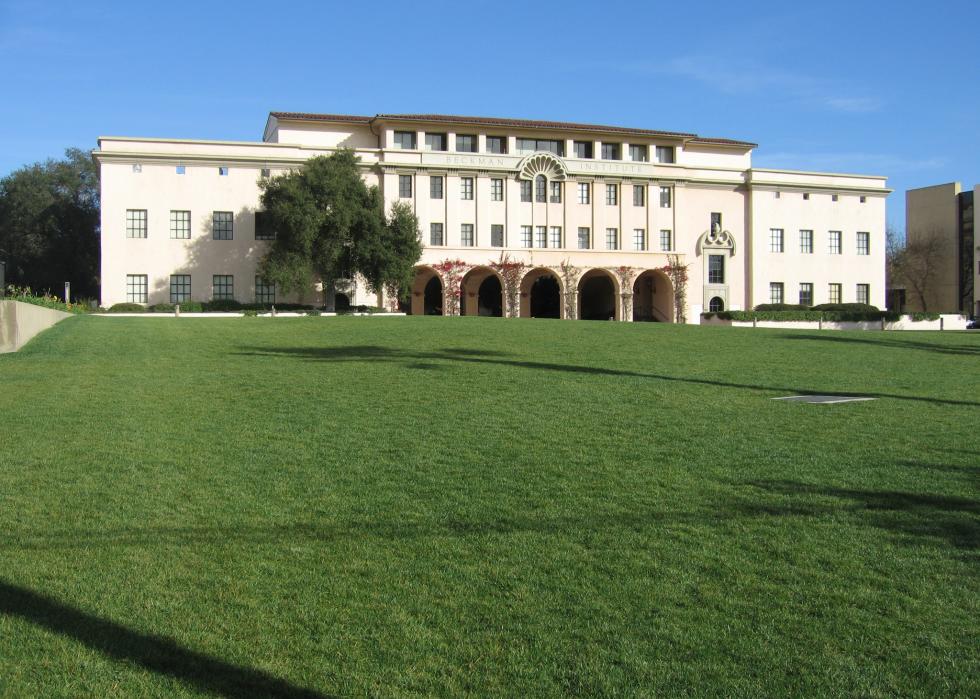 42 / 50
Kevin Stanchfield // Wikimedia Commons
#9. California Institute of Technology
Location: Pasadena, CA

Net Price: $23,213
Median Earnings 6 Years After Graduation: $74,000
SAT Range: 1500-1600
Acceptance Rate: 9.0%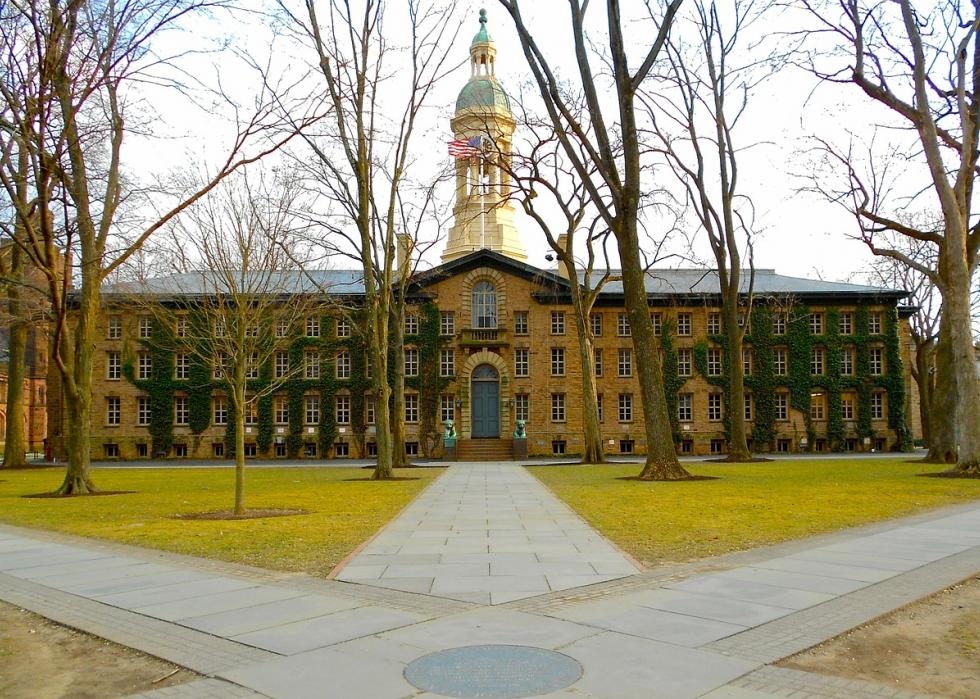 43 / 50
12019 // Wikimedia Commons
#8. Princeton University
Location: Princeton, NJ

Net Price: $17,901
Median Earnings 6 Years After Graduation: $75,100
SAT Range: 1390-1590
Acceptance Rate: 7.0%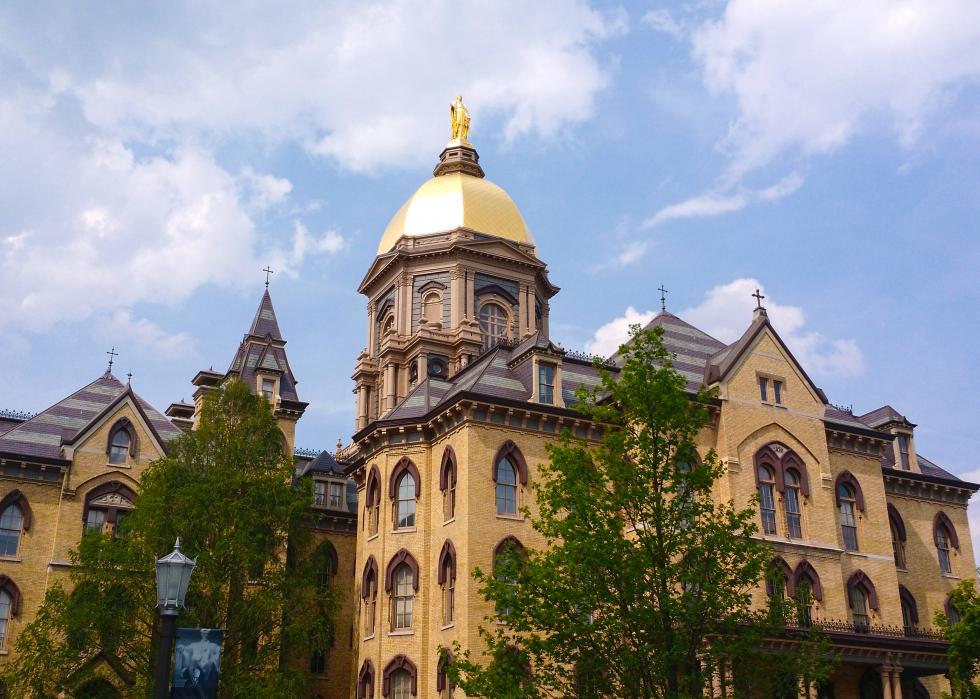 44 / 50
Matthew Rice // Wikimedia Commons
#7. University of Notre Dame
Location: Notre Dame, IN

Net Price: $26,698
Median Earnings 6 Years After Graduation: $69,400
SAT Range: 1350-1530
Acceptance Rate: 20.0%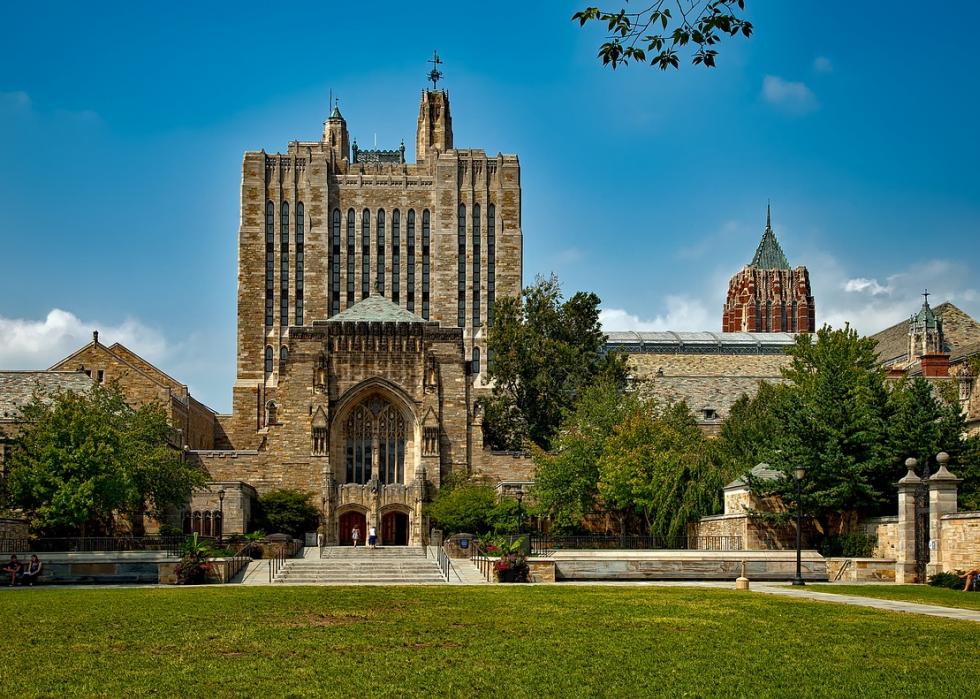 45 / 50
12019 // Wikimedia Commons
#6. Yale University
Location: New Haven, CT

Net Price: $18,164
Median Earnings 6 Years After Graduation: $66,000
SAT Range: 1430-1600
Acceptance Rate: 7.0%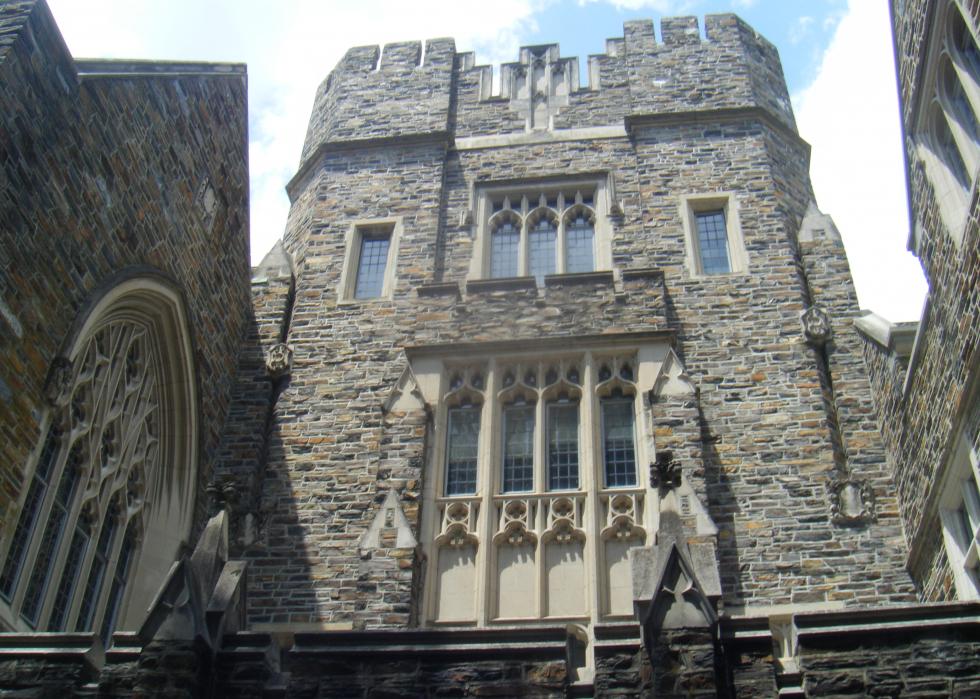 46 / 50
fw_gadget // Wikimedia Commons
#5. Duke University
Location: Durham, NC

Net Price: $21,295
Median Earnings 6 Years After Graduation: $76,700
SAT Range: 1360-1550
Acceptance Rate: 11.0%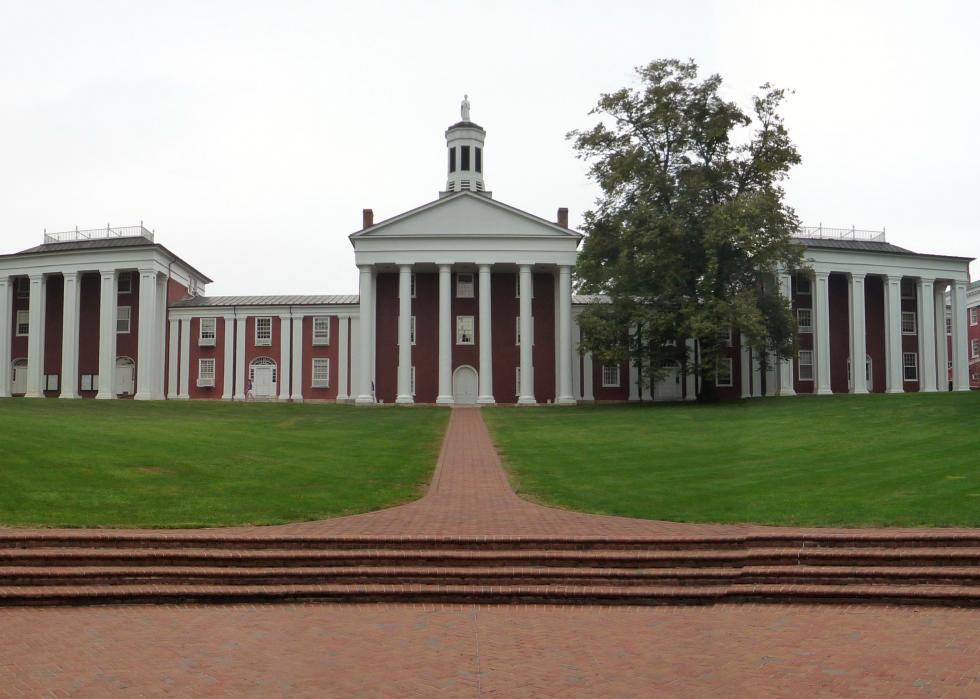 47 / 50
Bobak Ha'Eri // Wikimedia Commons
#4. Washington & Lee University
Location: Lexington, VA

Net Price: $21,379
Median Earnings 6 Years After Graduation: $77,600
SAT Range: 1310-1470
Acceptance Rate: 24.0%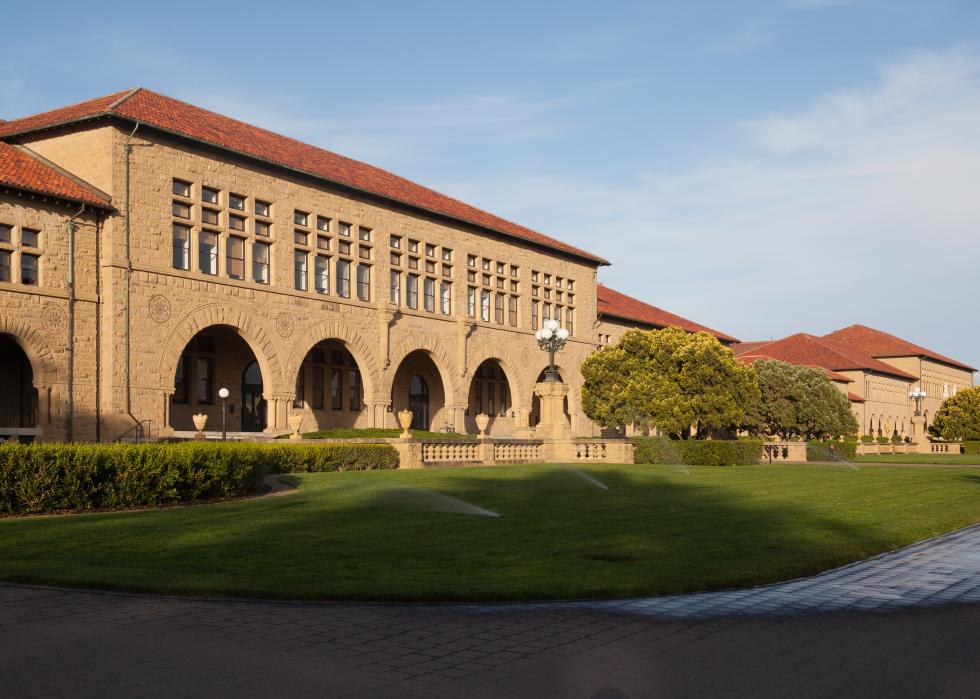 48 / 50
King of Hearts // Wikimedia Commons
#3. Stanford University
Location: Stanford, CA

Net Price: $19,245
Median Earnings 6 Years After Graduation: $80,900
SAT Range: 1390-1580
Acceptance Rate: 5.0%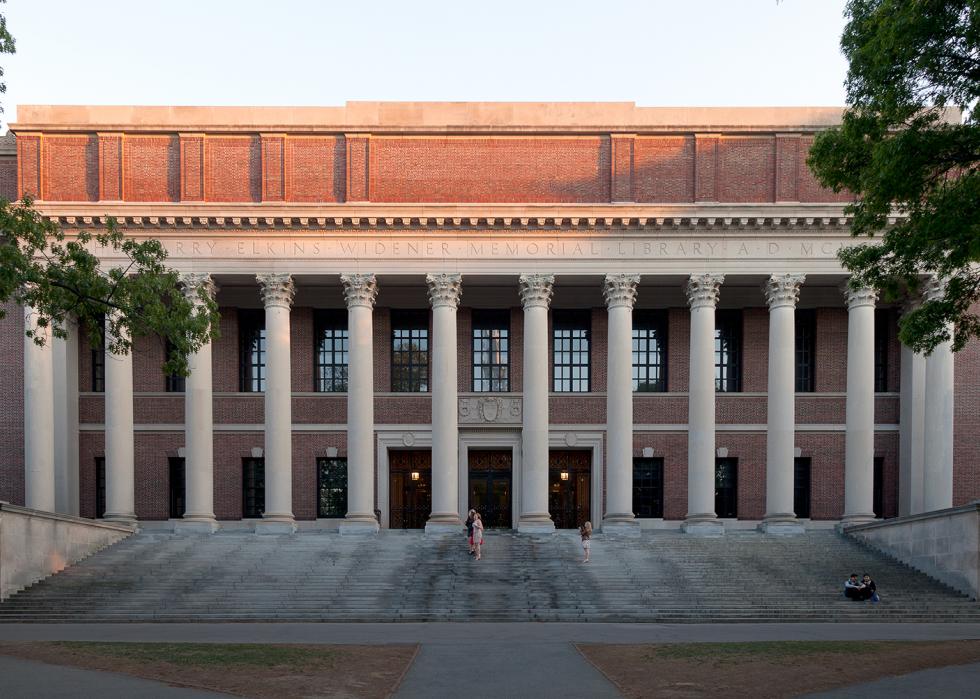 49 / 50
Caroline Culler // Wikimedia Commons
#2. Harvard University
Location: Cambridge, MA

Net Price: $15,742
Median Earnings 6 Years After Graduation: $87,200
SAT Range: 1400-1600
Acceptance Rate: 6.0%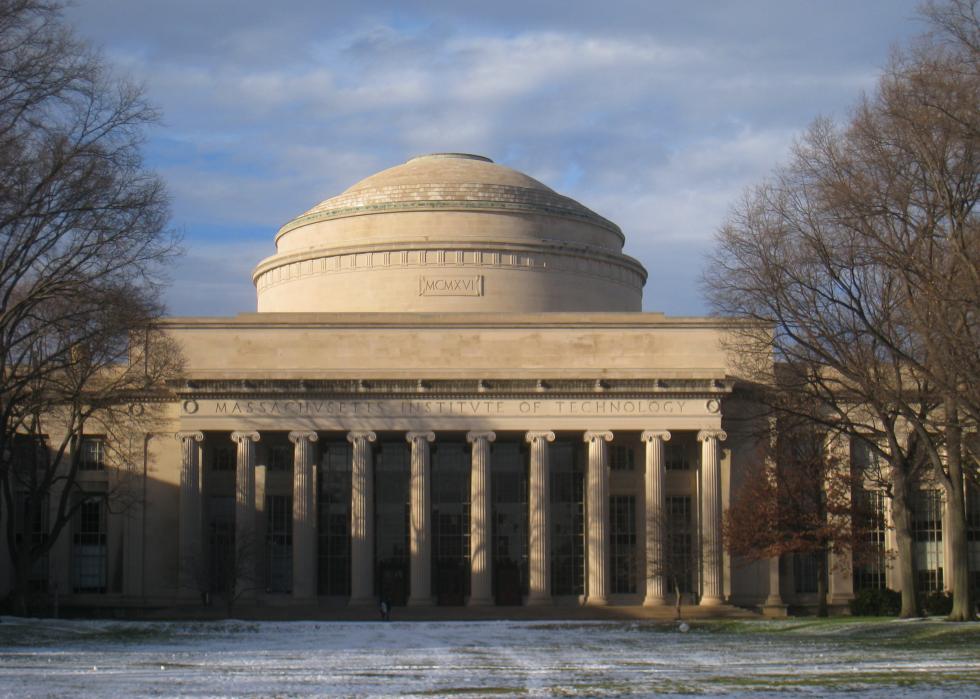 50 / 50
Daderot // Wikimedia Commons
#1. Massachusetts Institute of Technology
Location: Cambridge, MA

Net Price: $21,691
Median Earnings 6 Years After Graduation: $91,600
SAT Range: 1430-1580
Acceptance Rate: 8.0%