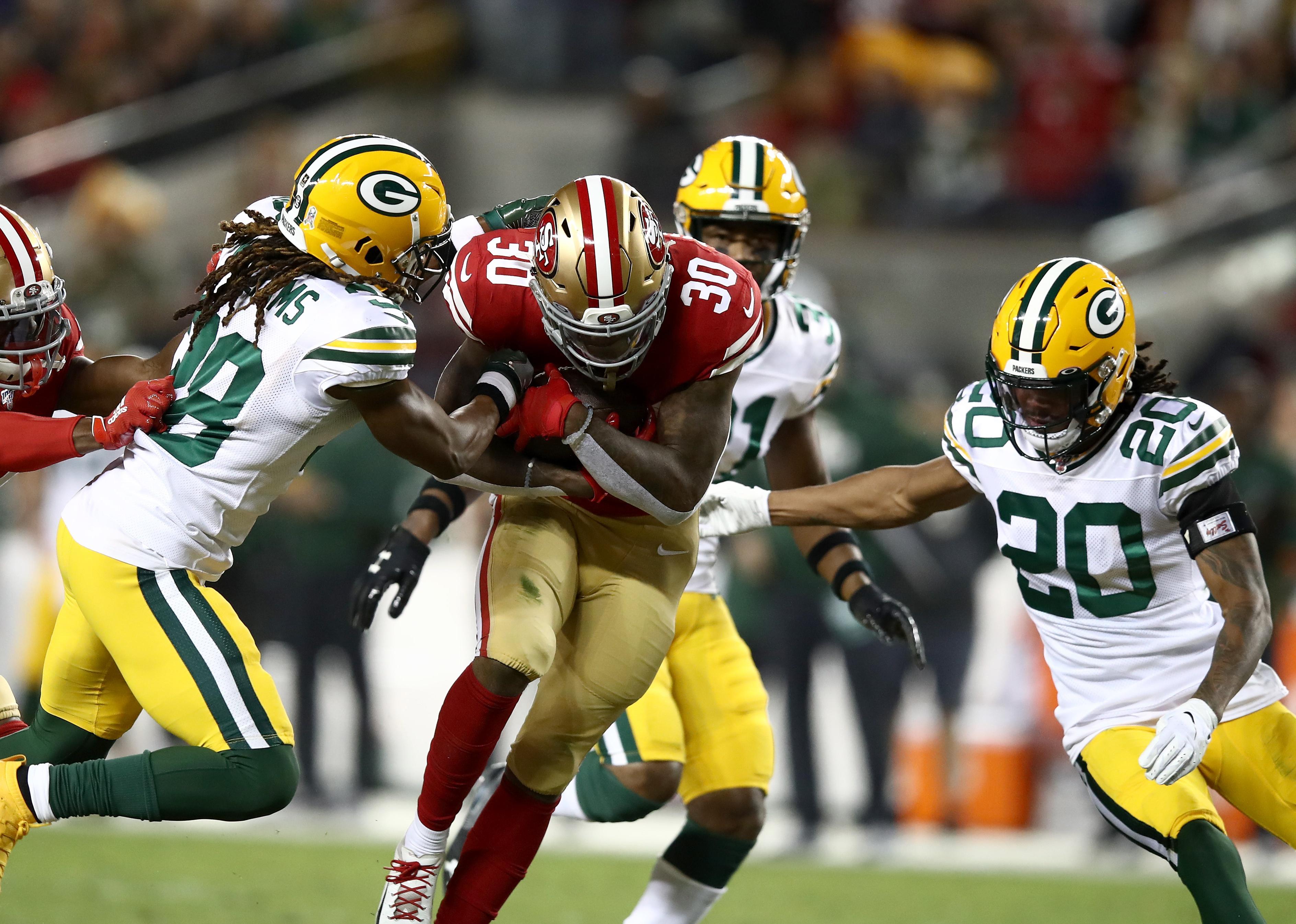 Insiders predict: NFL Conference Championship winners
Ezra Shaw // Getty Images
Insiders predict: NFL Conference Championship winners
In the NFC on Divisional Playoff Weekend, the top seed 49ers made light work of the Minnesota Vikings, surrendering only 147 total yards, seven first downs, and forcing two turnovers in a 27-10 throttling. In the other matchup, the #2 seed Green Bay Packers eked out a 28-23 victory at Lambeau Field over the visiting Seattle Seahawks. The Pack led 21-3 at halftime and were able to stave off a Russell Wilson-charged comeback attempt.
While things unfolded rather predictably in the NFC, the same cannot be said about a wild weekend in the AFC, which included a Tennessee Titans beatdown of the odds-on favorite to win the Super Bowl, and a Kansas City Chiefs team recovering from a 24-0 deficit to string together six consecutive touchdowns and outscore the Houston Texans 51-7 in less than three quarters of football. Patrick Mahomes II didn't post the same ludicrous numbers this season as he did in his 2018 MVP campaign, but he most certainly looked like an MVP on Sunday.
The Baltimore Ravens held the best regular-season record and were major favorites over the sixth-seeded Titans in the AFC. Not many outside of the Tennessee locker room gave the Titans much of a chance, despite a red-hot run with quarterback Ryan Tannehill under center and NFL rushing leader Derrick Henry bullying defenses. After a 28-12 dismantling of the league's best team, maybe we need to take the Titans more seriously.
On Sunday they look to take down the Chiefs for a second time this season; they beat Kansas City in Nashville, 35-32, during the regular season. In the second game, Aaron Rodgers revisits his home state of California where the Packers suffered two of their three losses this season, including an embarrassing 37-8 loss to the Niners in Week 12. The Packers look for retribution, but the vaunted 49ers defense is standing firmly in their path.
Four teams remain, each just one win from Super Bowl LIV and a trip to Miami.
Methodology: Insiders predicts are based on the team that is favored to win, which is based on consensus betting odds and spread on MSN.com as of Jan. 16, 2020. Team stats were gathered from NFL.com and are through the regular season. Check out the live odds at MSN.com.
You may also like: History of the NFL from the year you were born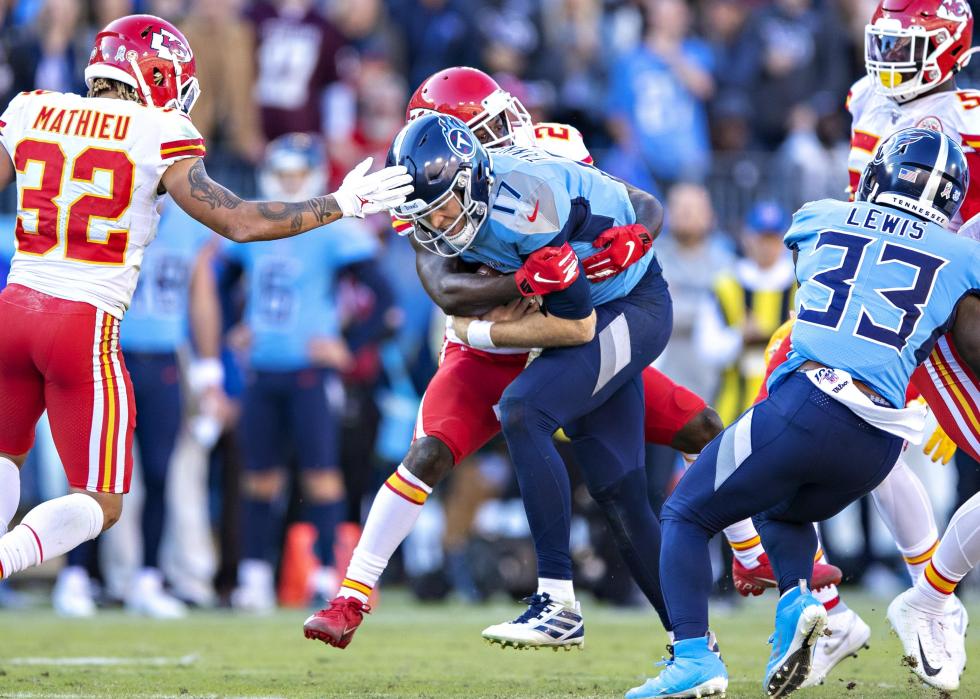 1 / 4
Wesley Hitt // Getty Images
Tennessee Titans (9-7) @ Kansas City Chiefs (12-4)
- Gametime: Sunday, Jan. 19, 3:05 PM EST
It was a fireworks show in Kansas City on Sunday. Well, at least until the stadium literally ran out of fireworks after the Chiefs scored seven rapid touchdowns in a 51-31 blazing comeback against the Houston Texans. The first 20 minutes in Sunday's AFC divisional-round matchup and the final 40 minutes told two different stories. The Texans leaped to a 21-0 lead in the first quarter and tacked on a field goal early in the second quarter. From there, a 24-0 lead diminished in what felt like the blink of an eye. In less than 10 minutes of game time, 2018 NFL MVP Patrick Mahomes II threw four touchdowns and the Chiefs built a 28-24 lead entering halftime. They never looked back.
Now, they'll welcome a steamrolling Tennessee Titans team playing with house money. The Titans dropped four of their first six games in 2019. Entering the final week of the regular season, they had not yet secured a playoff spot. On Sunday, Tennessee will start its third consecutive playoff game as at least seven-point road underdogs. Against all odds, the Titans are one game from the Super Bowl.
There was no prayer, no Hail Mary, that could have helped lift the Titans over the league's best team, the Baltimore Ravens—especially after pulling a rabbit out of their hat in a wild-card round victory over the reigning Super Bowl champion New England Patriots. Right?
Guess again. You cannot count the Titans out the way running back Derrick Henry has been dismantling defenses. Including the last week of the regular season, Henry has gained over 180 yards on the ground in three straight games, making him the first player in NFL history to do so. His 195 rushing yards in Baltimore is obviously impressive, but even more shocking was the Titans' defense holding the league's top-scoring offense (33.2 PPG) to 12 points. MVP-to-be Lamar Jackson accounted for a staggering 508 total yards but could find the end zone only once while tossing two interceptions and losing a fumble.
For the Chiefs, Pro Bowl defensive tackle Chris Jones remains day-to-day with a calf injury after missing the divisional-round game. Something else to monitor: Both teams are fighting flu season. Starting Titans' cornerback Logan Ryan sat out of practice earlier this week with an illness, as did Chiefs' backup QB Matt Moore and running back LeSean McCoy.
This AFC title bout is a regular-season rematch between the Chiefs and Titans. Despite 446 yards and three touchdowns from Mahomes, Ryan Tannehill tossed a go-ahead touchdown to Adam Humphries in the final 30 seconds of the fourth quarter to secure a 35-32 Week 10 victory. Vegas predicts a different outcome this time, though, installing the Chiefs as 7.5-point favorites.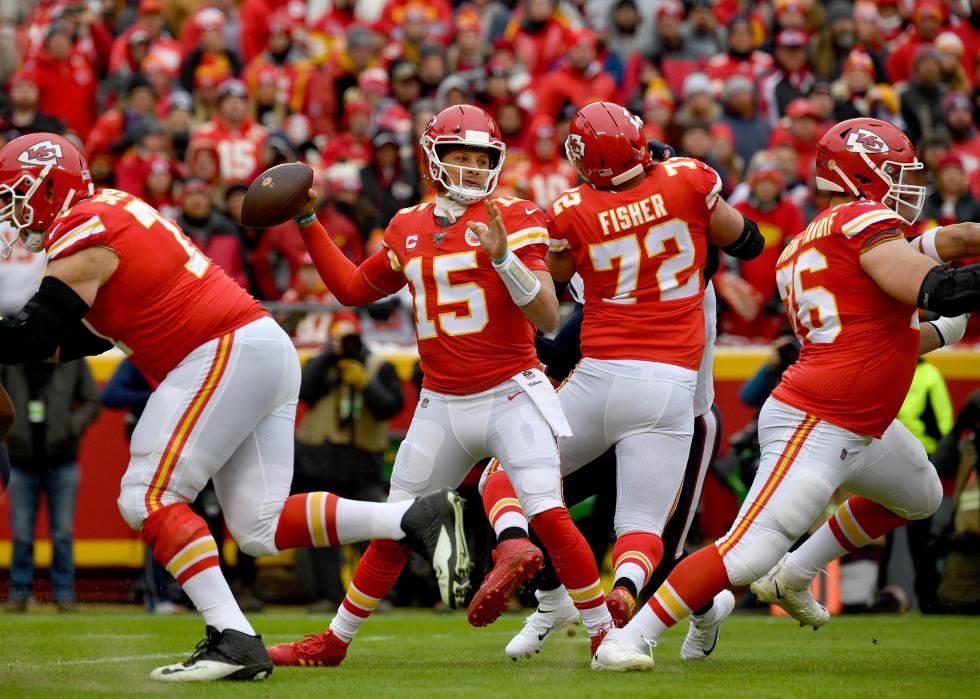 2 / 4
Peter Aiken // Getty Images
Insiders predict: Kansas City Chiefs
- Favored to win: Kansas City Chiefs
- Spread: -7.5
- Odds: -359
- Tennessee Titans team stats:
- Offense: 362.8 yards per game (#12 in the league)
--- Passing offense: 223.9 ypg (#21)
--- Rushing offense: 138.9 ypg (#3)
- Defense: 359.5 yards per game (#21 in the league)
--- Passing defense: 255.0 ypg (#24)
--- Rushing defense: 104.5 ypg (#12)
- Kansas City Chiefs team stats:
- Offense: 379.2 yards per game (#6 in the league)
--- Passing offense: 281.1 ypg (#5)
--- Rushing offense: 98.1 ypg (#23)
- Defense: 349.6 yards per game (#17 in the league)
--- Passing defense: 221.4 ypg (#8)
--- Rushing defense: 128.2 ypg (#26)
You may also like: Can you answer these real 'Jeopardy!' questions about sports?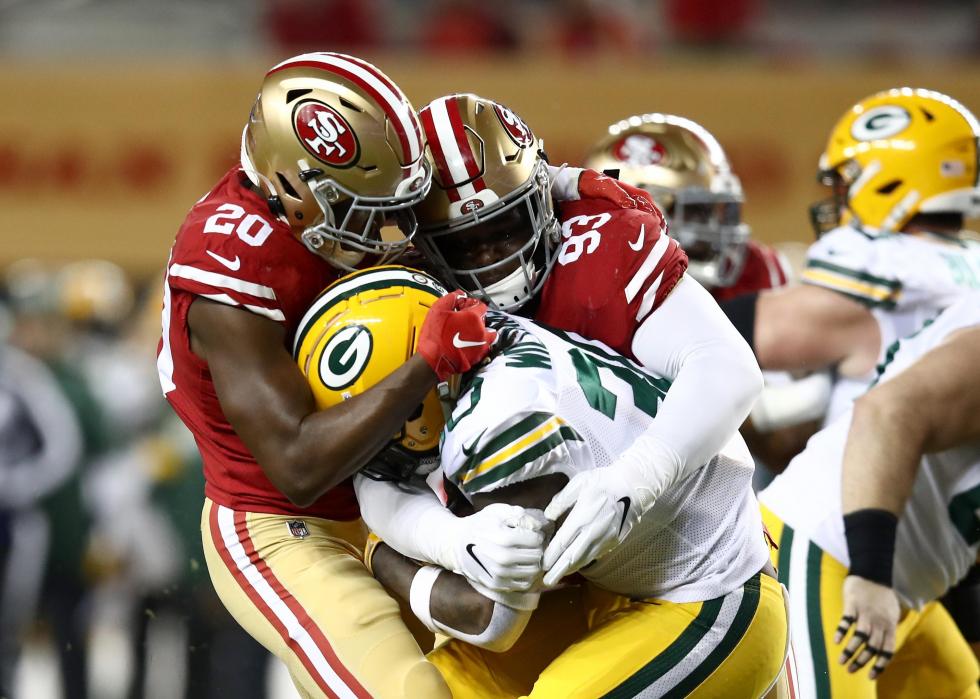 3 / 4
Ezra Shaw // Getty Images
Green Bay Packers (13-3) @ San Francisco 49ers (13-3)
- Gametime: Sunday, Jan. 19, 6:40 PM EST
When the 49ers drafted Alex Smith #1 overall in 2005, Aaron Rodgers missed a chance at a storybook start to his professional career: Becoming the first pick and playing for his hometown team, and following in the footsteps of his childhood heroes like Joe Montana and Steve Young. Instead, the Chico, Calif., native famously fell to #24, where he would be selected by Ted Thompson and the Green Bay Packers. When asked about his disappointment on Draft Day, Rodgers replied, "Not as disappointed as the 49ers will be that they didn't draft me."
A Super Bowl title, two league MVPs and a Hall of Fame career later, it would be hard to argue that Rodgers didn't deliver on that promise, even though the 49ers have gotten the better of him in their previous two playoff meetings. Twice, San Francisco has ended Rodgers' season: in 2013 with a dominant performance from Colin Kaepernick in the divisional round and in 2014 with a Phil Dawson field goal in the wild-card round.
If there were ever a chance for Rodgers to make the 49ers franchise regret its choice, it would be in the midst of one of their most dominant seasons in recent memory—and pegged as a full touchdown favorite on their home turf with a trip to the Super Bowl on the line.
In November, the 49ers embarrassed the Packers 37-8 in Santa Clara, holding Rodgers to just 104 passing yards while consistently pressuring him throughout the game, sacking him five times. That blowout has made it difficult to believe that a rematch would see Green Bay flip the script entirely and pull off an upset. But last week's 28-23 Divisional Playoff win over the Seahawks showed the sudden re-emergence of the type of play we've come to expect from Rodgers—highly accurate, perfect on throws over 10 yards. The 49ers' defensive front will provide a much greater challenge for him than Seattle, but Rodgers has proven doubters wrong many times in the postseason before.
San Francisco had a much more comfortable win in their playoff opener last Saturday. After a competitive first half, which saw them carry only a 14-10 lead over the Vikings into the halftime locker room, the 49ers' defense put the clamps on for the remaining 30 minutes and saw Minnesota's six second-half possessions result in an interception, three punts, and two turnovers on downs en route to a 27-10 victory.
While quarterback Jimmy Garoppolo had a modest 131 passing yards with a touchdown and an interception, it was once again the ground game that propelled the San Francisco offense. They amassed 186 yards on the ground, led by Tevin Coleman's 105 yards and two touchdowns on 22 carries. It would seem likely that the 49ers plan to attack the Packers on the ground, given that the Green Bay rush defense is its vulnerability.
Logic says that with the San Francisco defense able to force quick three-and-outs and create havoc for opposing quarterbacks—coupled with their ability to control the clock with an effective ground game—they should not have much of a problem winning their home NFC title game and stamping their ticket to Miami for Super Bowl LIV.
But the playoffs are full of surprises, and Rodgers may be full of some more postseason magic to add to his legacy as one of the greatest passers. Even at 36 years old with a capable-enough defense, the two-time MVP is too dangerous to count out.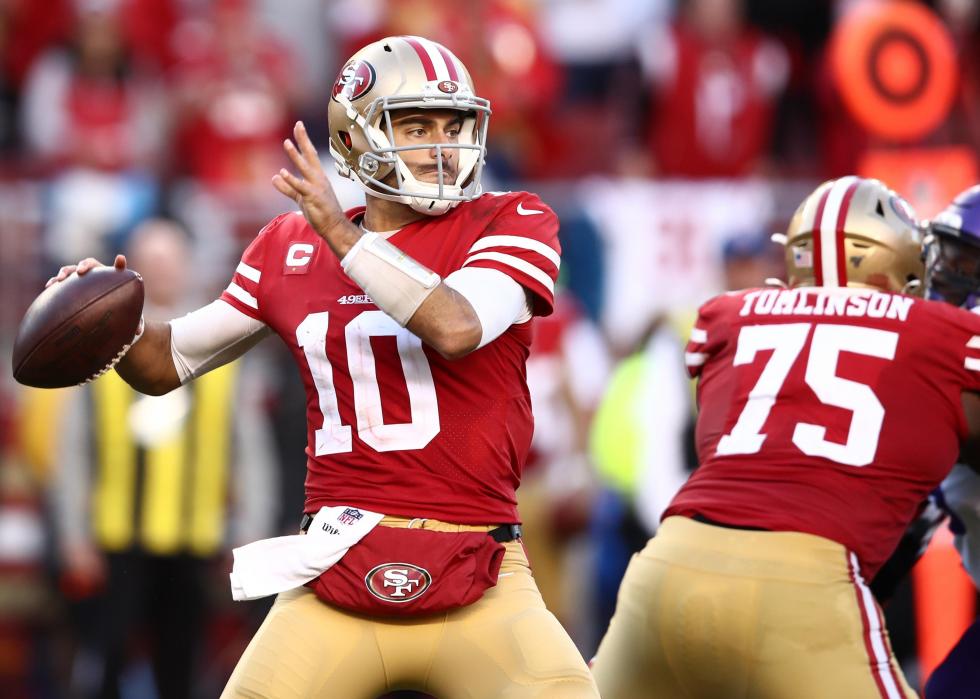 4 / 4
Ezra Shaw // Getty Images
Insiders predict: San Francisco 49ers
- Favored to win: San Francisco 49ers
- Spread: -7.5
- Odds: -341
- Green Bay Packers team stats:
- Offense: 345.5 yards per game (#18 in the league)
--- Passing offense: 233.3 ypg (#17)
--- Rushing offense: 112.2 ypg (#15)
- Defense: 352.6 yards per game (#18 in the league)
--- Passing defense: 232.6 ypg (#14)
--- Rushing defense: 120.1 ypg (#23)
- San Francisco 49ers team stats:
- Offense: 381.1 yards per game (#4 in the league)
--- Passing offense: 237.0 ypg (#13)
--- Rushing offense: 144.1 ypg (#2)
- Defense: 281.8 yards per game (#2 in the league)
--- Passing defense: 169.2 ypg (#1)
--- Rushing defense: 112.6 ypg (#17)