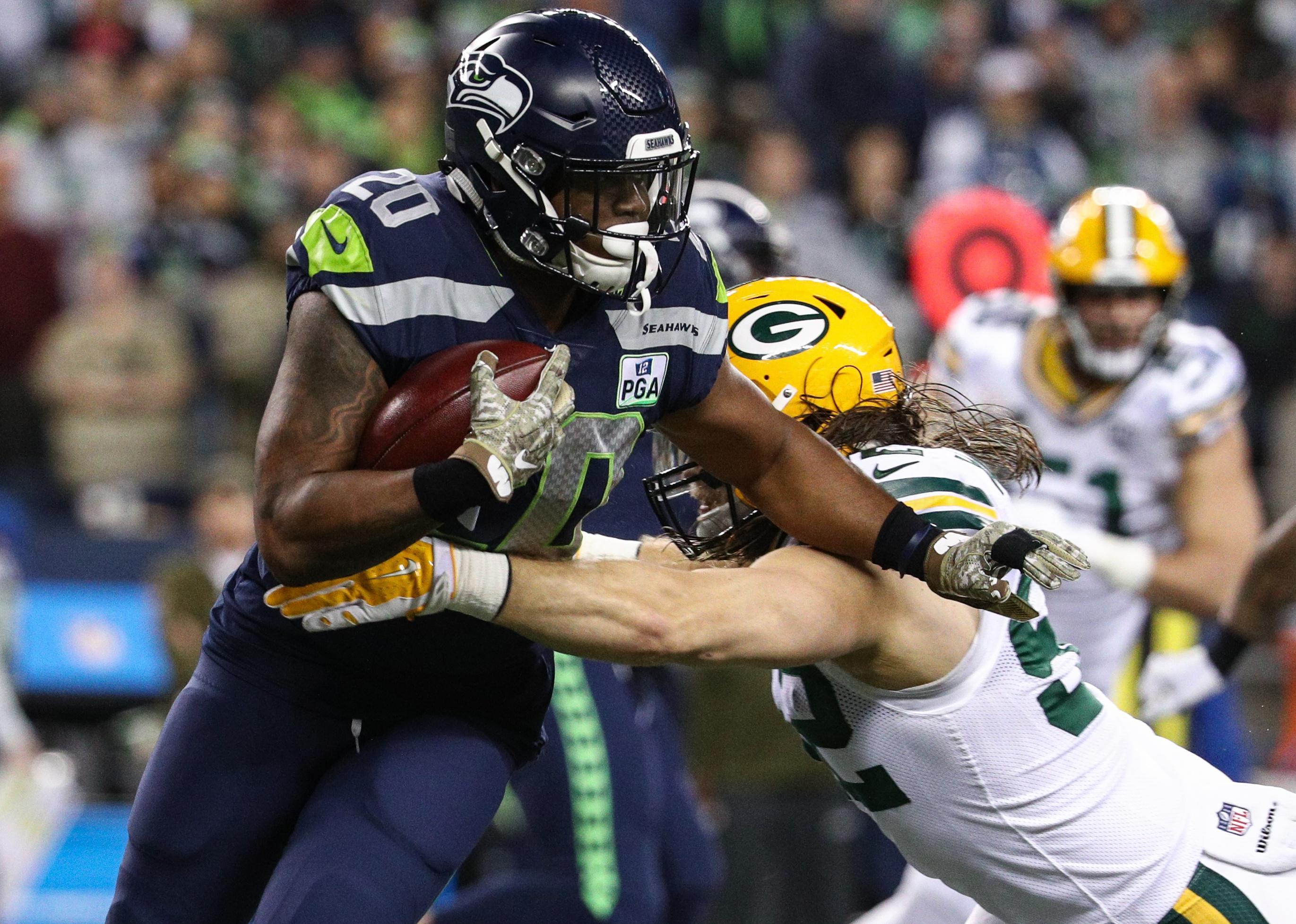 Insiders predict: NFL Divisional Round winners
Abbie Parr // Getty Images
Insiders predict: NFL Divisional Round winners
A year ago, all four teams that enjoyed first-round bye weeks and were playing at home on Divisional Playoff Weekend were victorious, advancing to their respective conference championships. If last weekend's Wild Card round is any indication, the 2020 postseason seems destined to contain more surprises.
The Texans needed a big comeback to beat the Bills but ultimately advanced to face the reigning MVP Patrick Mahomes II at Arrowhead Stadium this weekend. Meanwhile, Mike Vrabel's Titans went to Foxborough and pulled off the seemingly impossible: knocking Bill Belichick and Tom Brady out of the postseason in the first round, creating uncertainty about the futures of so many key figures in the Patriots dynasty. Have we seen the last of Brady in New England? Now, Tennessee will be tasked with facing MVP favorite Lamar Jackson and the Ravens offense, which seems poised to usher in a new era of dominance in Baltimore.
In the NFC, the Vikings once again caused playoff heartbreak for Drew Brees and the Saints, as Kirk Cousins threw a game-winning touchdown to Kyle Rudolph in overtime. Minor controversy about a potential offensive pass interference immediately followed, but Minnesota is looking ahead to a showdown with the 49ers.
The Seahawks won a battle of attrition in Philadelphia, taking down the NFC East champion Eagles to set up a playoff meeting with a familiar foe in Aaron Rodgers and the Packers.
All of that in one weekend of football. Now, the lights are even brighter, meaning we are in for another two days of jam-packed, nerve-racking action with the stakes as high as possible.
Methodology: Insiders predicts are based on the team that is favored to win, which is based on consensus betting odds and spread on MSN.com as of Jan. 9, 2020. Team stats were gathered from NFL.com and are through the regular season. Check out the live odds at MSN.com.
You may also like: History of the NFL from the year you were born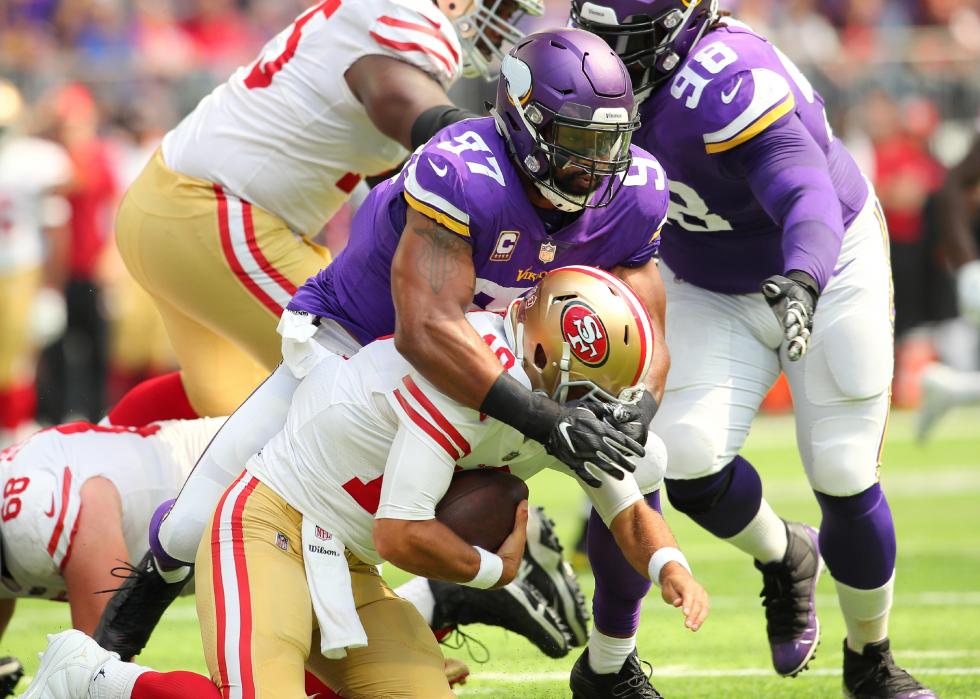 1 / 8
Adam Bettcher // Getty Images
Minnesota Vikings (10-6) @ San Francisco 49ers (13-3)
- Gametime: Saturday, Jan. 11, 4:35 p.m. EST
The Kirk Cousins naysayers have very little ammunition this week after the veteran QB got the playoff monkey off his back. As the biggest underdogs of the weekend (+7) on the road in New Orleans, the Minnesota Vikings won an overtime coin toss, and the Saints offense never saw the field.
Cousins, who was starting his first playoff game with the Vikings and only the second of his career, drove his team down the field using an expert 43-yard pass to receiver Adam Thielen and setting up a game-winning end-zone fade to tight end Kyle Rudolph. Cousins has been discounted by much of the public as someone who couldn't get it done in the big game; now the stakes are even higher as his Vikes battle the top-seeded San Francisco 49ers for a chance at the NFC title game.
The 49ers needed a goal-to-go stand in a Week 17 matchup against the Seattle Seahawks, and a little bit of good fortune, but the 26-21 victory meant a division championship, a first-round bye, and the road to the Super Bowl in the NFC going through San Francisco for the first time since 1997.
This will be the first career postseason start for 49ers quarterback Jimmy Garoppolo, but this is also the first time the 28-year-old has started more than five games in a season. Garoppolo had an impressive 2019—his 102.0 passer rating was #8 in the NFL this season, and his 27 touchdown passes were tied for #5, but it's the vaunted 49ers defense that has been the team's engine this season. The unit ranked #1 in passing yards allowed per game (169.2) and #2 in total yards allowed (281.8).
After an 8-0 start, San Francisco stumbled a bit during the back half of the season, but each of its three losses came by seven points or fewer. On some extra rest off a bye week, the Niners welcome a Vikings team playing with house money after taking down a Saints squad that looked like legitimate Super Bowl contenders.
These two opened the 2018 season in Minneapolis in Cousins' first start with the Vikings and Garoppolo's first season opener as QB1. The Vikes edged the 49ers 24-16. Suffice it to say, these are not the same teams from well over a year ago.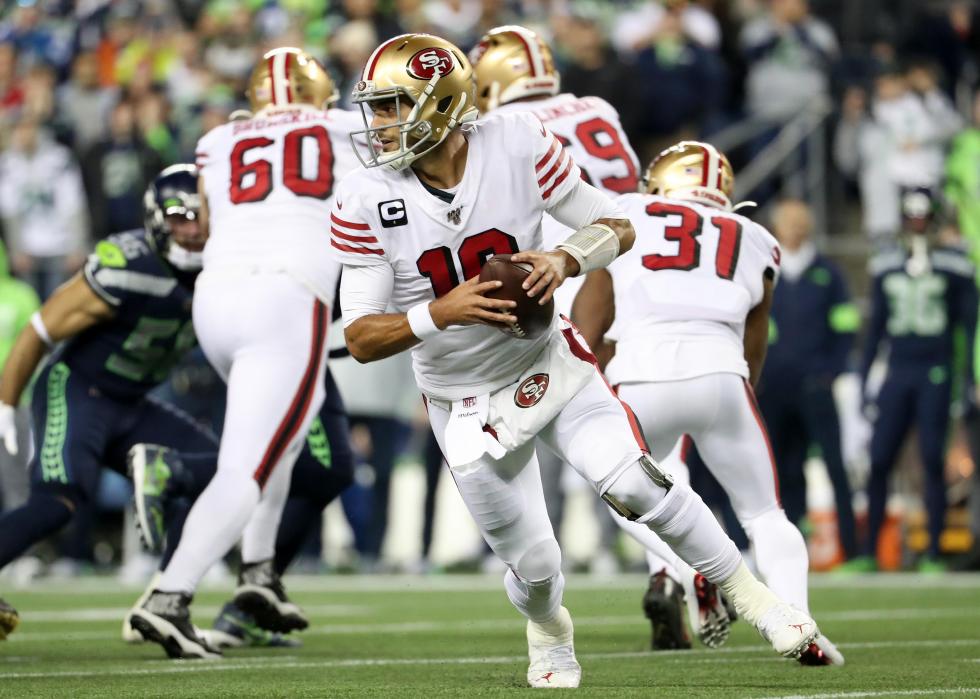 2 / 8
Abbie Parr // Getty Images
Insiders predict: San Francisco 49ers
- Favored to win: San Francisco 49ers
- Spread: -7
- Odds: -314
- Minnesota Vikings team stats:
- Offense: 353.5 yards per game (#16 in the league)
--- Passing offense: 220.2 ypg (#23)
--- Rushing offense: 133.3 ypg (#6)
- Defense: 341.6 yards per game (#14 in the league)
--- Passing defense: 233.6 ypg (#15)
--- Rushing defense: 108.0 ypg (#13)
- San Francisco 49ers team stats:
- Offense: 381.1 yards per game (#4 in the league)
--- Passing offense: 237.0 ypg (#13)
--- Rushing offense: 144.1 ypg (#2)
- Defense: 281.8 yards per game (#2 in the league)
--- Passing defense: 169.2 ypg (#1)
--- Rushing defense: 112.6 ypg (#17)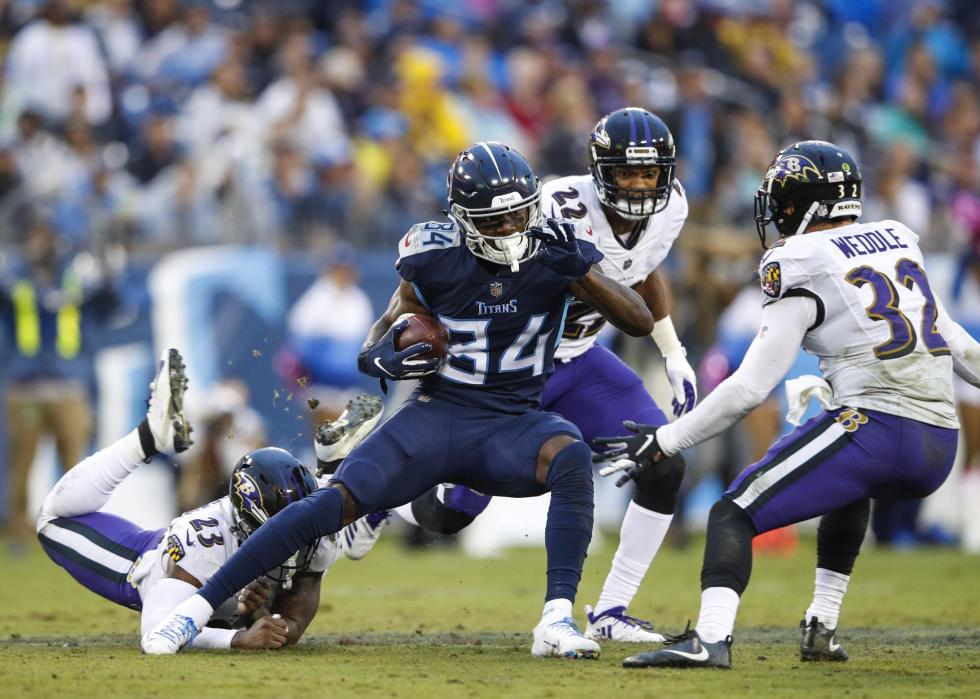 3 / 8
Joe Robbins // Getty Images
Tennessee Titans (9-7) @ Baltimore Ravens (14-2)
- Gametime: Saturday, Jan. 11, 8:15 p.m. EST
The Saturday Divisional Round doubleheader concludes with the odds-on Super Bowl favorites welcoming a team that entered Week 17 of the regular season unsure if they'd even be playing in January. It seems obvious that the Baltimore Ravens are more than a touchdown favorite, but as we saw last Saturday when the Tennessee Titans took down the New England Patriots (-4.5) 20-13 in Foxborough, anything can happen in the postseason.
The re-emergence of quarterback Ryan Tannehill has been one of the more surprising storylines of this NFL season. The veteran—who was drafted by the Miami Dolphins with the #8 overall selection in 2012 but traded to the Titans this past offseason for next to nothing after a mostly mediocre tenure with the team—took over for a struggling Marcus Mariota during Week 6 and never looked back. Tannehill finished the regular season as the highest-rated passer in the league (117.5), and the team rebounded from a 2-4 start to win seven of their final 10 games after he claimed his spot as the starting signal-caller.
Tannehill was less than impressive on Wild Card Weekend, going only 8-of-15 for 72 yards with a touchdown and an interception, but he didn't need to be. The defense was tremendous, and running back Derrick Henry continued his outright dominance with 182 yards on the ground and a touchdown. This season, he led the NFL in rushing yards (1,540) and carries (303), and was tied at #1 in rushing touchdowns (16). Since Week 10, including the playoffs, Henry has averaged a staggering 154 yards per game.
The Titans may have the #1 running back, but the Ravens lead the league in team rushing, averaging 206 yards per game. MVP-to-be Lamar Jackson had one of the more jaw-dropping all-around regular seasons we've seen. In 15 games, the 23-year-old rushed for 1,206 yards, breaking the previous record held by Michael Vick for single-season rushing yards by a QB. And, oh, by the way, he threw for 3,127 yards and a league-leading 36 touchdowns—plus the best record in football.
Jackson's postseason debut was one to forget—the then-rookie went 3-of-9 passing for just 25 yards through the first three quarters of a 23-17 loss to the Los Angeles Chargers in the wild-card round of last year's playoffs...a game that still motivates him.
When the Ravens and Titans last played during the 2018 season, Joe Flacco and Mariota were the starting quarterbacks. What a difference a year can make in the NFL.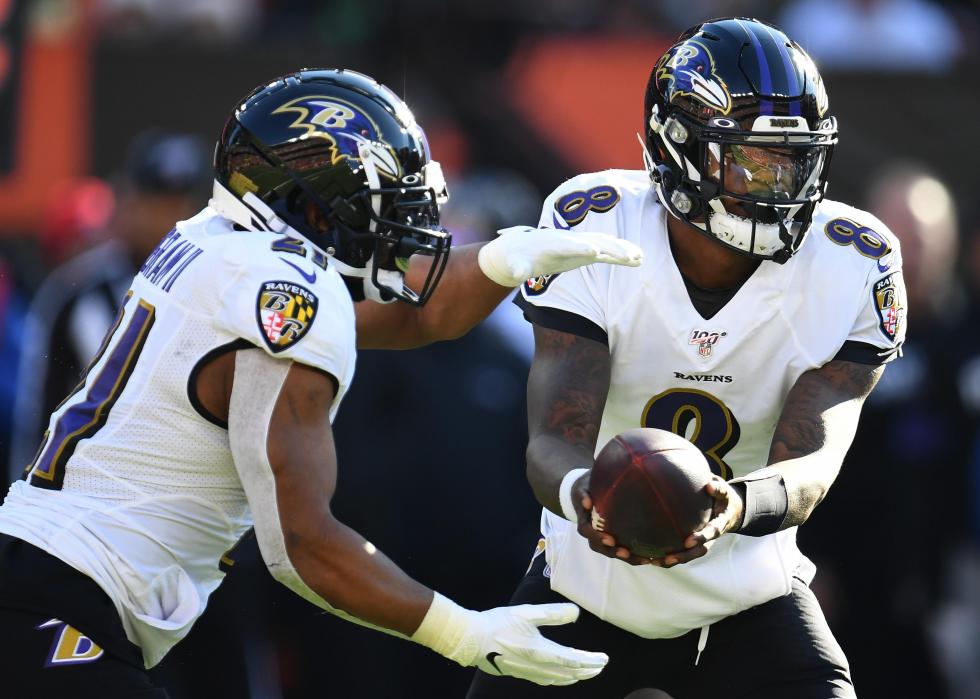 4 / 8
Jason Miller // Getty Images
Insiders predict: Baltimore Ravens
- Favored to win: Baltimore Ravens
- Spread: -9.5
- Odds: -440
- Tennessee Titans team stats:
- Offense: 362.8 yards per game (#12 in the league)
--- Passing offense: 223.9 ypg (#21)
--- Rushing offense: 138.9 ypg (#3)
- Defense: 359.5 yards per game (#21 in the league)
--- Passing defense: 255.0 ypg (#24)
--- Rushing defense: 104.5 ypg (#12)
- Baltimore Ravens team stats:
- Offense: 407.6 yards per game (#2 in the league)
--- Passing offense: 201.6 ypg (#27)
--- Rushing offense: 206.0 ypg (#1)
- Defense: 300.6 yards per game (#4 in the league)
--- Passing defense: 207.2 ypg (#6)
--- Rushing defense: 93.4 ypg (#5)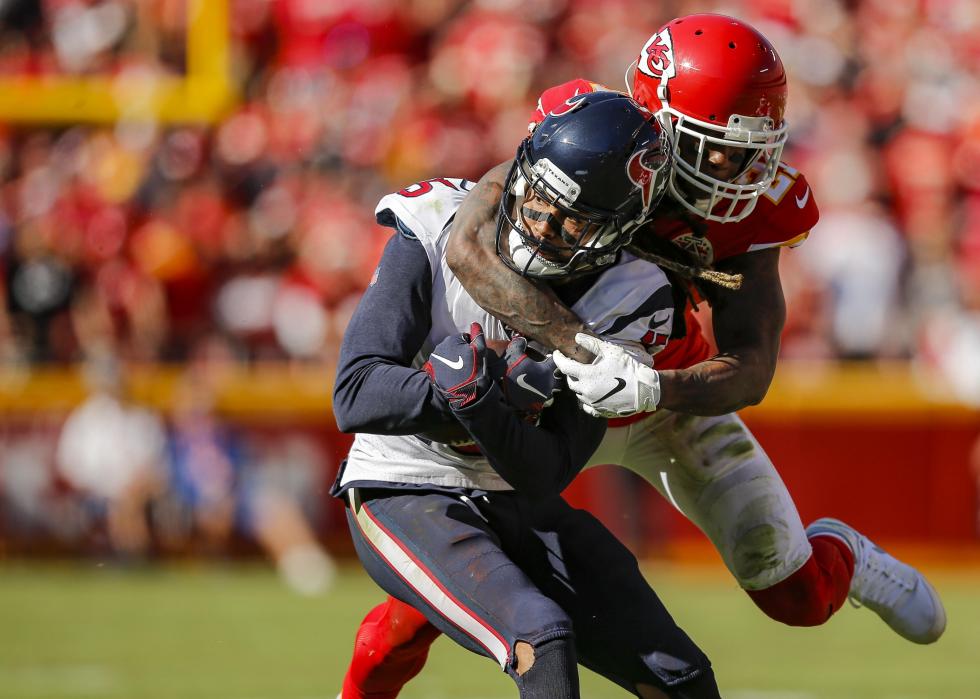 5 / 8
David Eulitt // Getty Images
Houston Texans (10-6) @ Kansas City Chiefs (12-4)
- Gametime: Sunday, Jan. 12, 3:05 p.m. EST
The first half looked very bleak for the Houston Texans against the Bills last Saturday. Buffalo's defense was creating consistent pressure, making life difficult for Deshaun Watson and helping to build a 13-0 halftime lead. Despite being sacked seven times, Watson was able to rally the troops in the second half to score 19 points and force overtime at NRG Stadium.
That's when Watson would eventually lead a game-winning drive, capped off by a 28-yard field goal from Ka'imi Fairbairn to set up a meeting with the Chiefs that could end up being an offensive fireworks display.
The Texans will need to better protect Watson in this game if they are to have a chance keeping up with Patrick Mahomes II and the Kansas City offense. That could be difficult considering the Chiefs defense started to shape up toward the end of the regular season and registered 13 sacks over its last five games, all of which were victories. They also surrendered an average of just 10.4 points per game in that run. The Chiefs pass rush has only found its footing of late, however, as they failed to sack Watson when the two teams met in Week 6 when Houston was victorious, 31-24.
Much has changed since, and Mahomes is healthier, having nursed an ankle injury heading into that contest. With a first-round bye, the Chiefs had the opportunity to get healthier and have seen cornerback Morris Claiborne, defensive tackle Xavier Williams and guard Andrew Wylie return to practice this week.
Meanwhile, the Texans are hoping to get speedy receiver Will Fuller back from a groin injury that kept him out of their win over the Bills last weekend. Coach Bill O'Brien was noncommittal when discussing Fuller's injury at the start of the week, though he did say that he was progressing in the right direction.
Fuller may end up being a game-time decision and a key factor for an offense that needs another threat to take away attention from DeAndre Hopkins, who finished with six catches for 90 yards against Buffalo despite being shut down by cornerback Tre'Davious White for a large portion of the game.
The Chiefs' final six-game win streak, defensive resurgence, and week off has oddsmakers marking them as two-score favorites. The less-than-convincing performance from the Texans on Wild Card Weekend also plays a big role in Houston as a long shot to advance to the AFC Championship Game.
You may also like: Oldest teams in the NFL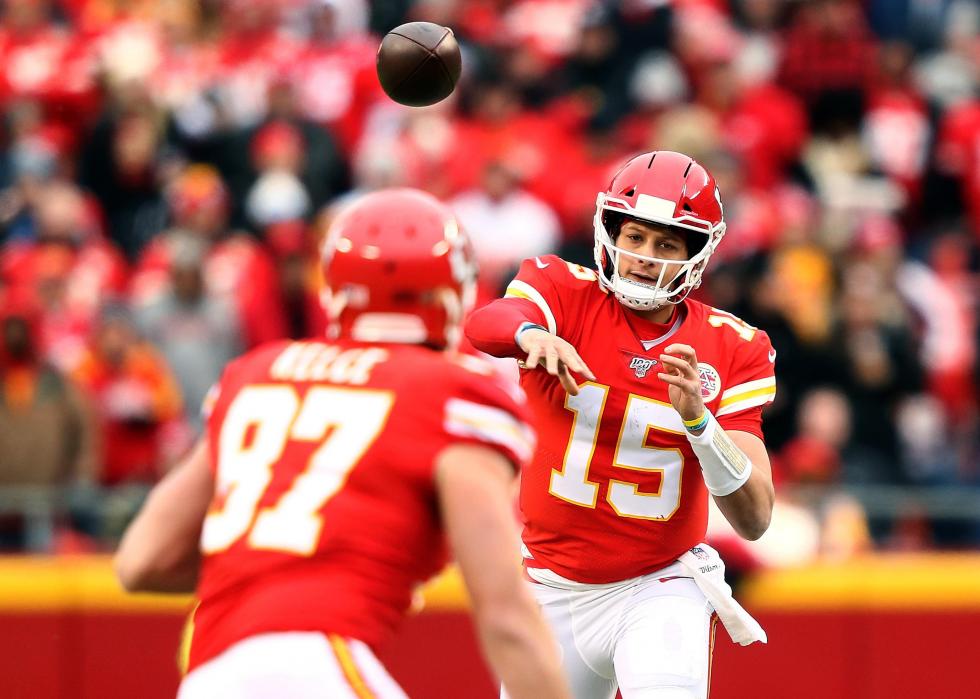 6 / 8
Jamie Squire // Getty Images
Insiders predict: Kansas City Chiefs
- Favored to win: Kansas City Chiefs
- Spread: -9.5
- Odds: -442
- Houston Texans team stats:
- Offense: 362.0 yards per game (#13 in the league)
--- Passing offense: 236.4 ypg (#15)
--- Rushing offense: 125.6 ypg (#9)
- Defense: 388.3 yards per game (#28 in the league)
--- Passing defense: 267.2 ypg (#29)
--- Rushing defense: 121.1 ypg (#25)
- Kansas City Chiefs team stats:
- Offense: 379.2 yards per game (#6 in the league)
--- Passing offense: 281.1 ypg (#5)
--- Rushing offense: 98.1 ypg (#23)
- Defense: 349.6 yards per game (#17 in the league)
--- Passing defense: 221.4 ypg (#8)
--- Rushing defense: 128.2 ypg (#26)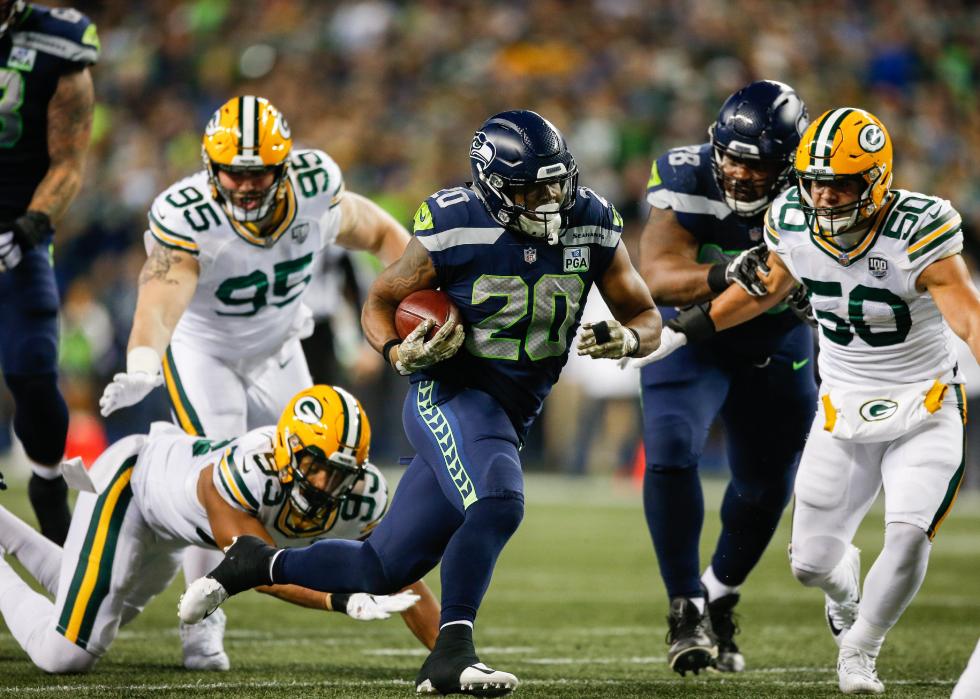 7 / 8
Otto Greule Jr // Getty Images
Seattle Seahawks (11-5) @ Green Bay Packers (13-3)
- Gametime: Sunday, Jan. 12, 6:40 p.m. EST
The Packers lost the 2014 NFC Championship Game to the Seahawks in overtime walk-off fashion, 28-22, despite leading by 12 points with just over five minutes left in the game—and Aaron Rodgers possessing the ball. But they have a shot at redemption Sunday when a playoff win would end Seattle's season and propel Green Bay back to the NFC title game.
This is a tantalizing matchup of two Super Bowl-winning quarterbacks and two teams with opposite track records at home and on the road. The Packers have been great at Lambeau Field this season, with a 7-1 record and their only loss coming to the Eagles back in Week 4. Meanwhile, the Seahawks, once known for the best home-field advantage in the NFL, have been road warriors this season, having put together an 8-1 record, including last Sunday's 17-9 win over the Eagles.
It was a dynamic performance from rookie receiver DK Metcalf, who had seven catches for 160 yards and a touchdown that wound up being the difference in the game. But aside from that, Russell Wilson and the offense struggled to put away a depleted Philadelphia team that saw Carson Wentz exit the game early with an injury, and journeyman quarterback Josh McCown try to lead the comeback.
Seattle's backfield is thin, which necessitated bringing Marshawn Lynch out of retirement. Lynch, along with rookie Travis Homer, combined for just 19 yards on 17 carries, with Wilson adding 45 rushing yards of his own. Wilson may need to produce more magic this go-round, as the Packers have had a week off and relatively great injury luck all season. Running back Jamaal Williams has returned to practice after missing their Week 17 win over the Lions with a shoulder injury. Offensive tackle Bryan Bulaga has cleared concussion protocol and is expected to play, while starting center Corey Linsley is also back in action.
This game will likely be decided by the team that can best protect its quarterback, and Green Bay's offensive line is back to full strength, while Seattle's left tackle Duane Brown and guard Mike Iupati are question marks. The Seahawks did register seven sacks against the Eagles, as their production has picked up as of late, but Green Bay has proven to be the better pass-rushing team over the course of the entire 2019 season.
There may be snow at Lambeau Field for this Divisional Weekend night cap, and there will almost certainly be fireworks for the second postseason installment of Wilson vs. Rodgers.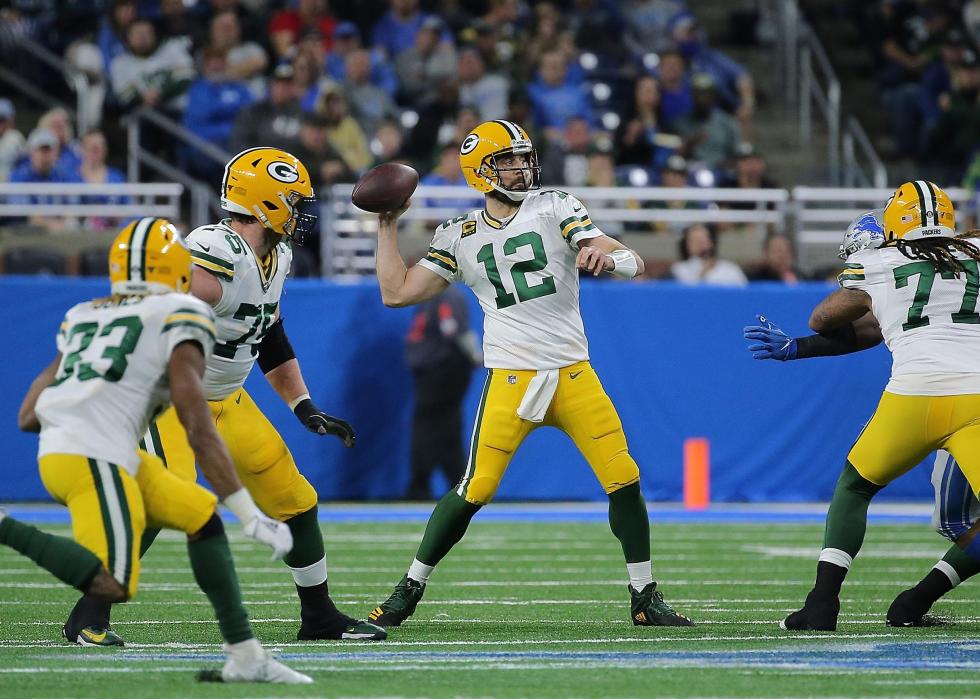 8 / 8
Leon Halip // Getty Images
Insiders predict: Green Bay Packers
- Favored to win: Green Bay Packers
- Spread: -4
- Odds: -207
- Seattle Seahawks team stats:
- Offense: 374.4 yards per game (#8 in the league)
--- Passing offense: 236.9 ypg (#14)
--- Rushing offense: 137.5 ypg (#4)
- Defense: 381.6 yards per game (#26 in the league)
--- Passing defense: 263.9 ypg (#27)
--- Rushing defense: 117.7 ypg (#22)
- Green Bay Packers team stats:
- Offense: 345.5 yards per game (#18 in the league)
--- Passing offense: 233.3 ypg (#17)
--- Rushing offense: 112.2 ypg (#15)
- Defense: 352.6 yards per game (#18 in the league)
--- Passing defense: 232.6 ypg (#14)
--- Rushing defense: 120.1 ypg (#23)