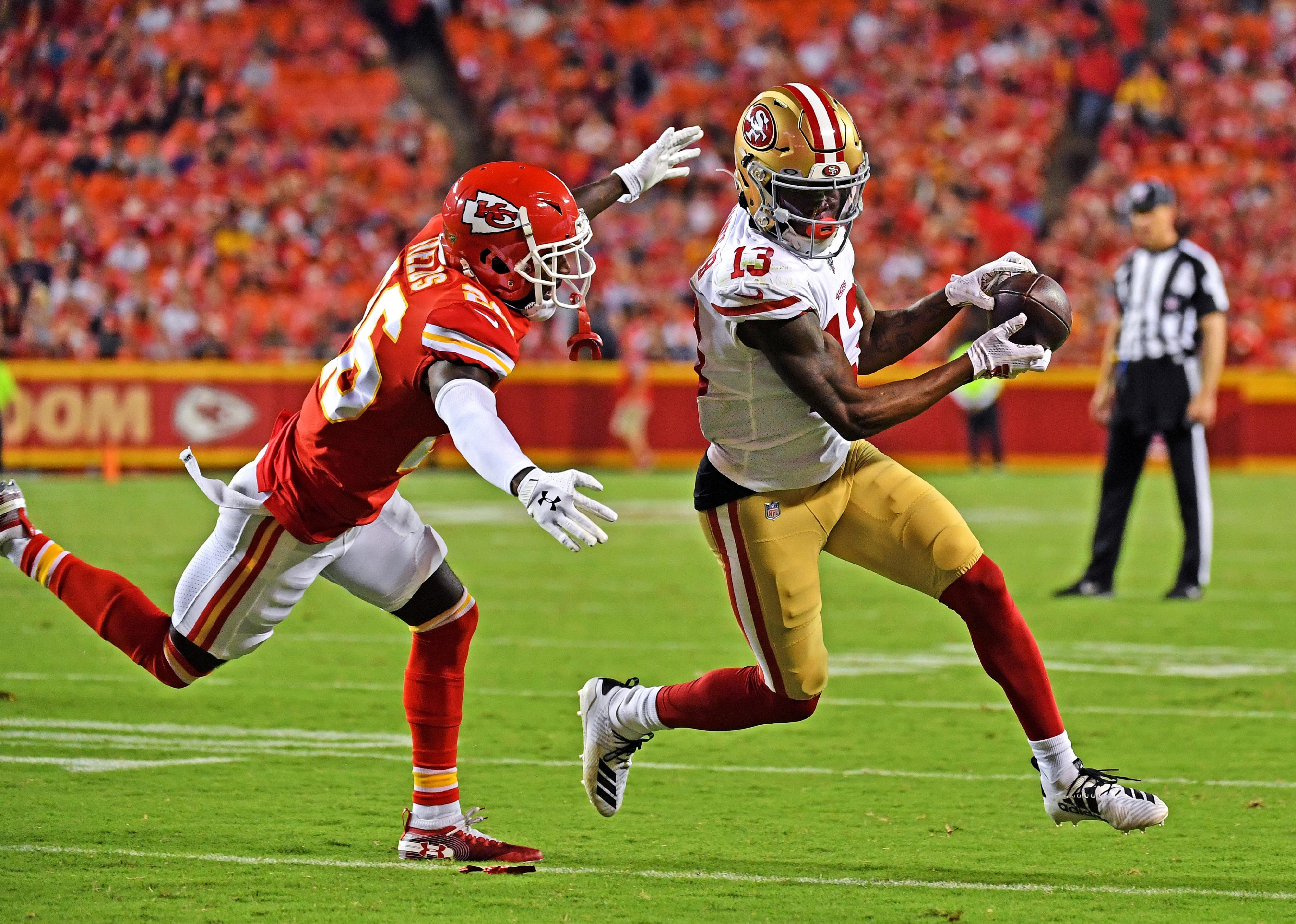 Insiders predict: NFL Super Bowl winner
Peter Aiken // Getty Images
Insiders predict: NFL Super Bowl winner
- Matchup: San Francisco 49ers (13-3) @ Kansas City Chiefs (12-4)
- Gametime: Sunday, Feb. 2, 6:30 PM EST
- Location: Hard Rock Stadium in Miami Gardens, Fla.
As the NFL's 100th anniversary comes to a close, Super Bowl LIV closes the centennial season with two franchises that have each left a mark on the league's history. The 49ers, the "team of the '80s", are playing in their seventh Super Bowl, having won five titles spanning from 1981 to 1994 under coaches Bill Walsh and George Seifert.
The Chiefs played in the first ever Super Bowl as the AFL champions, losing to Vince Lombardi's Green Bay Packers, only to return to the championship game three years later to win Super Bowl IV over the Vikings.
Fifty years since the Chiefs last appeared in the Super Bowl, they head to Miami to take on the 49ers and are perhaps the best example of how football has progressed. Now, under head coach Andy Reid and with the brilliance of quarterback Patrick Mahomes II, Kansas City is the model of modern-era offense, with a pass-first mentality made possible by the arm talent of their signal-caller and overwhelming speed of their skill-position players.
On the other hand, this year's 49ers are a bit of a throwback. Head coach Kyle Shanahan's fearsome rushing attack and efficient quarterback play from Jimmy Garoppolo has made San Francisco one of the hardest teams to stop all season. Coupled with a dominant defense, they've controlled the tempo of games and rendered some of the NFL's more explosive offenses helpless.
Super Bowl LIV truly is a matchup of an explosive, almost clinical offense and a physically imposing defense with the feel of new-school philosophy versus old. Insiders Predicts examines the key matchups in the game, along with consensus betting odds from MSN.com heading into Sunday's spectacle.
Methodology: Insiders predicts are based on the team that is favored to win, which is based on consensus betting odds and spread on MSN.com as of Jan. 30, 2020. Team stats were gathered from NFL.com and are through the regular season. Check out the live odds at MSN.com.
You may also like: Biggest upsets in Super Bowl history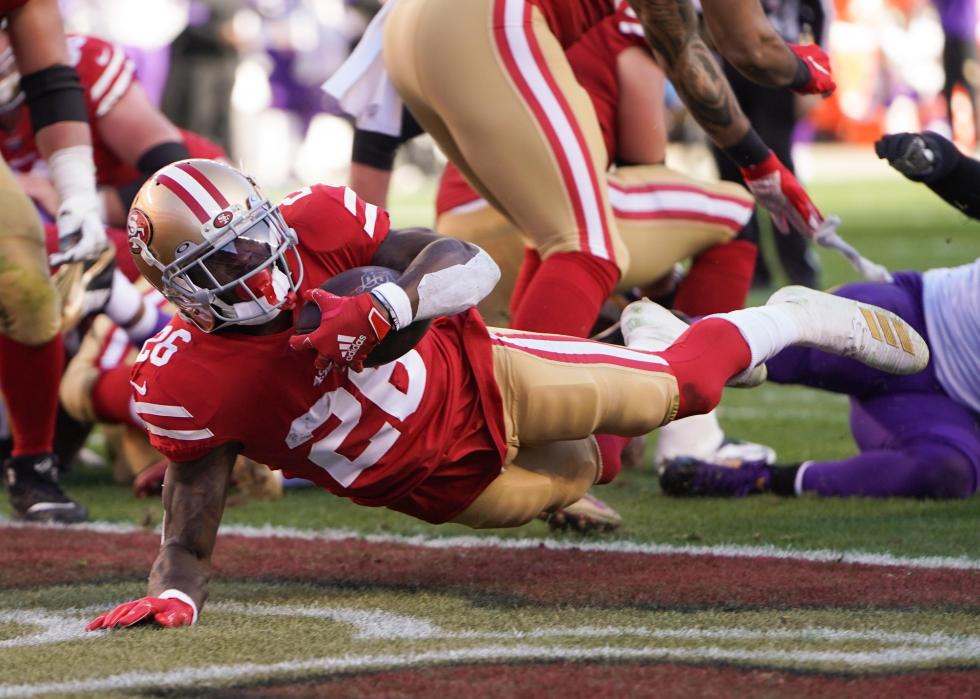 1 / 7
Thearon W. Henderson // Getty Images
San Francisco's road to the Super Bowl
- NFC Divisional Round: San Francisco 49ers 27, Minnesota Vikings 10
- NFC Championship Game: San Francisco 49ers 37, Green Bay Packers 20
The NFC North's two best teams proved to be no match for the 49ers in the playoffs. A combination of stout defensive play and a seemingly unstoppable rushing attack has San Francisco in the Super Bowl for the first time since they fell to the Ravens in Super Bowl XLVII in February of 2013 and seeking their first title since winning Super Bowl XXIX in 1995.
Hosting the Vikings on divisional weekend, Niners quarterback Jimmy Garoppolo attempted just 19 passes, completing 11 of them for 131 yards, one touchdown and an interception. But the rushing attack, led by Tevin Coleman's 105-yard, two-touchdown performance, controlled the game while the San Francisco defense allowed just 147 yards of Minnesota offense.
The formula was much the same the following week, as Aaron Rodgers and the Green Bay Packers came to Santa Clara for the NFC title game; however, the numbers were even more drastic. Garoppolo threw just eight passes, completing six for 77 yards because the 49ers tallied 285 yards on the ground, led by Raheem Mostert's 220-yard, four-touchdown showing. Yet again, head coach and offensive mastermind Kyle Shanahan proved that an elite ground game can still win playoff games in the NFL. While there may be plenty of critics of Garoppolo, the former Patriot may just be able to game-manage his way all the way to a world championship.
The challenge will no doubt be greater come Sunday in Miami, with Patrick Mahomes II and the Chiefs' offense far more prolific than that of either the Vikings or the Packers. But the slow starts for Kansas City's offense thus far in the postseason have to leave fans in San Francisco optimistic about the opportunity to grab hold of the Super Bowl early and turn it into the type of game-control contest the 49ers are best equipped to win.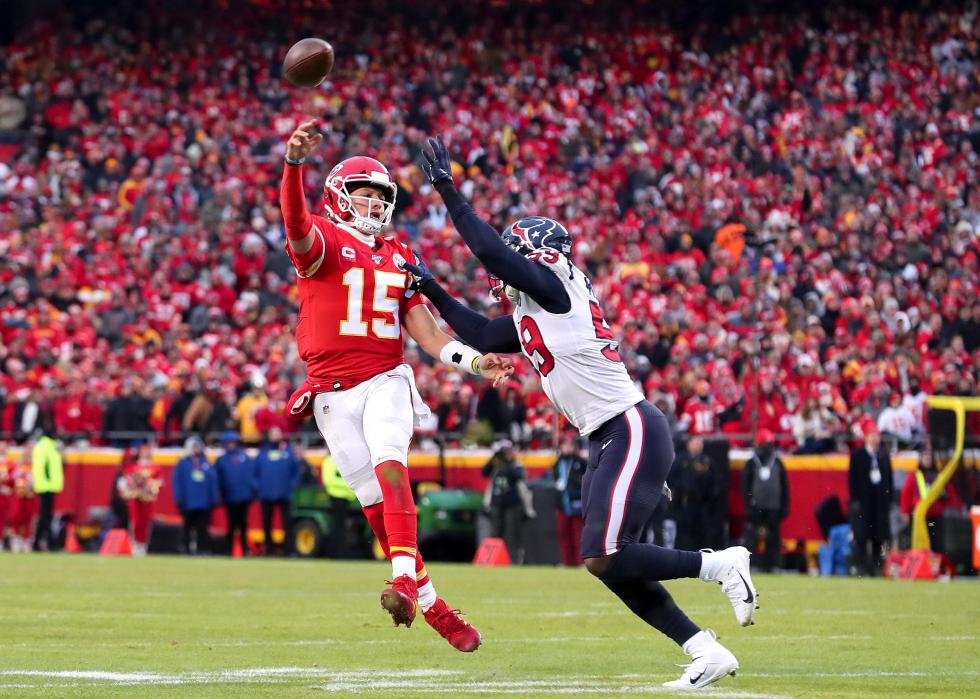 2 / 7
Tom Pennington // Getty Images
Kansas City's road to the Super Bowl
- AFC Divisional Round: Kansas City Chiefs 51, Houston Texans 31
- AFC Championship Game: Kansas City Chiefs 35, Tennessee Titans 24
If there is one major takeaway from the Chiefs' 2019 postseason thus far, it's that they're capable of a comeback. In fact, capable may be an understatement, as their high-octane offense proved that it can erase a three-score deficit in historically quick fashion.
After falling behind to the Texans 24-0 in the second quarter of their AFC divisional meeting, Kansas City proceeded to score four straight touchdowns in the quarter, and went into the locker room leading 28-24 at halftime. Their dominance continued in the second half, extending their touchdown streak to seven straight possessions after three consecutive to open the third quarter. They added a field goal to beat Houston 51-31. Patrick Mahomes II threw five touchdowns, kicking off a playoff run that has only become more impressive since.
The AFC Championship Game matched the Chiefs against another AFC South opponent, the Titans. Things got off to a rocky start once again, with Tennessee grabbing an early 10-0 lead in the first quarter and 17-7 advantage early in the second. Yet again, Andy Reid's offense exploded and went into the half up 21-17 after two straight touchdowns. Mahomes finished with three passing touchdowns and ran for one more—a miraculous 27-yard scamper—leading to a 35-24 victory that stamped their ticket to Miami.
The Chiefs have been far from perfect, but the offense that had many considering them a Super Bowl contender to begin the season has proven to be as potent as ever, and has been joined down the stretch by a resurgent defense. Perhaps the 49ers defense is exactly the type of unit that can slow them down, but whether it's a 24-0 hole or the NFL's most dominant running back that the Chiefs have been forced to deal with in Derrick Henry, the result has been the same: brilliance from Mahomes. Now, it's up to the reigning MVP to continue to shine on the sport's biggest stage.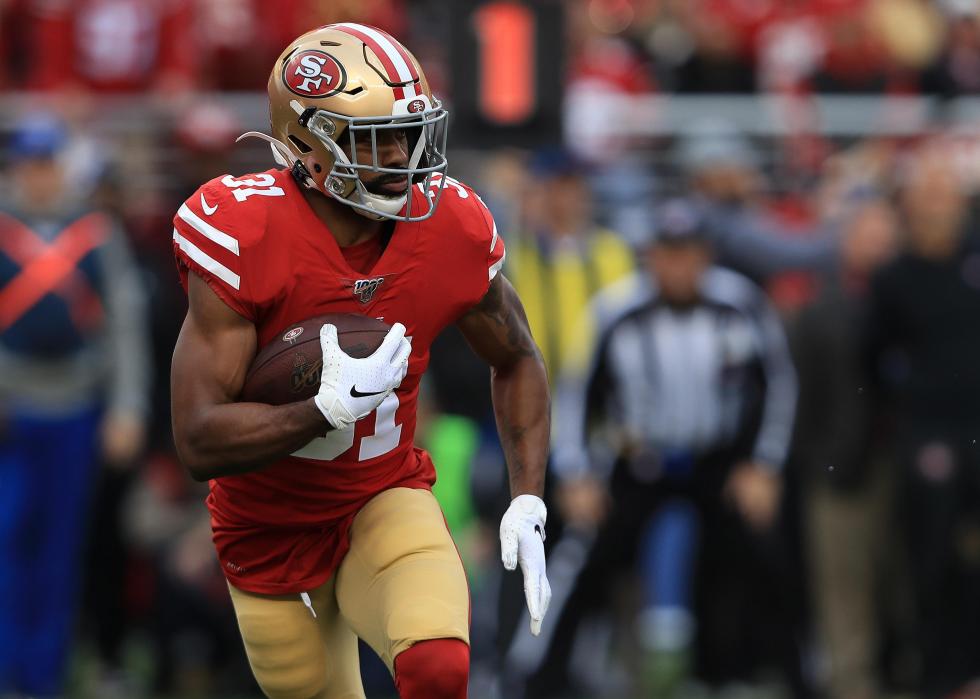 3 / 7
Sean M. Haffe // Getty Images
San Francisco run offense vs. Kansas City run defense
- San Francisco 49ers rushing offense: 144.1 ypg (#2 in the league)
- Kansas City Chiefs run defense: 128.2 ypg (#26)
This is a clear area of exploitation for the 49ers offense to focus on. After amassing 471 rushing yards through their two playoff wins, and finishing the regular season as the league's second-best rushing attack, there is no mistaking the San Francisco offense for anything other than a run-first team. As proven against the Vikings and Packers, on any given week a different running back can break out and dictate a game. Against Minnesota it was Tevin Coleman, while Raheem Mostert was the unstoppable force a week later against Green Bay in the NFC championship.
This won't be the first time this postseason that the Chiefs defense will be tested by a team aiming to establish the run—and in two postseason games they've held opponents to just 89.5 yards per game. The Titans began the AFC championship with a heavy dose of Derrick Henry, who had helped them surpass expectations all season long. However, Kansas City did ultimately slow Henry enough to be able to run away with an AFC title. After limiting him to 69 yards on 19 carries (3.6 yards per carry), they should have confidence in slowing a run-heavy attack despite ranking among the league's worst in the regular season (128.2 per game).
Still, the Chiefs' best run defense may still prove to be their offense. And the success of Mahomes may figure into the matchup greater than any other aspect of this game.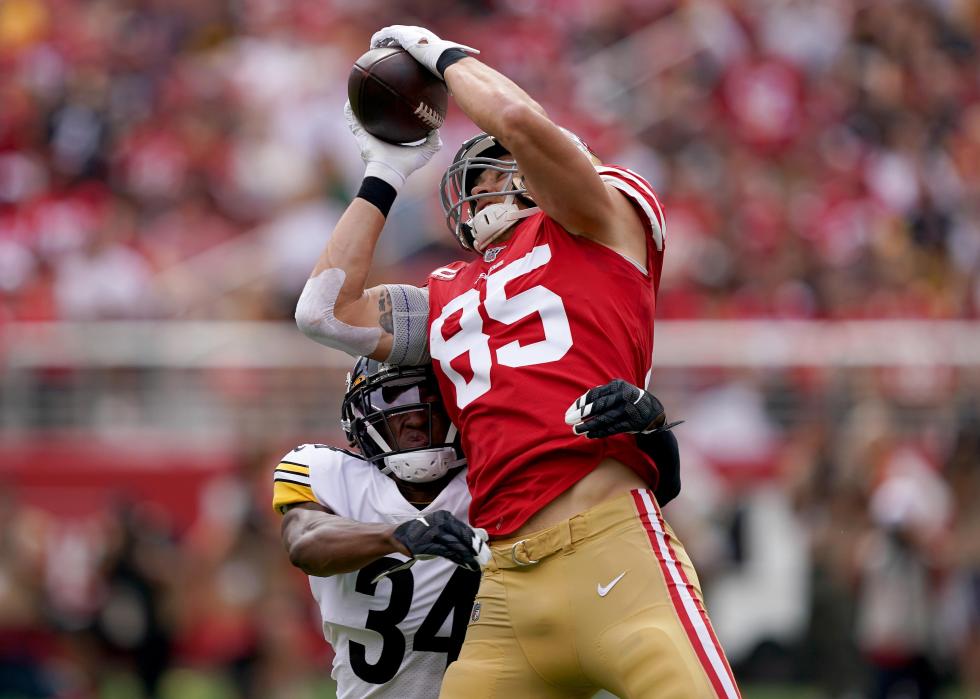 4 / 7
Thearon W. Henderson // Getty Images
San Francisco pass offense vs. Kansas City pass defense
- San Francisco 49ers passing offense: 237.0 ypg (#13 in the league)
- Kansas City Chiefs passing defense: 221.4 ypg (#8)
Despite not being integral in the playoffs so far, the 49ers passing offense had a successful regular season. In his first full season as a starter, Garoppolo threw for 3,978 yards with 27 touchdowns and 13 interceptions. His favorite target, tight end George Kittle, eclipsed 1,000 yards for the second straight season, pulling in 85 passes on 107 targets for five touchdowns.
San Francisco complements over-the-middle throws to Kittle with speed and versatility on the perimeter. Good personnel moves can be credited with their newfound balance on offense: Rookie second-round pick Deebo Samuel has broken out and become a threat to break any of his touches into huge gains; and the mid-season trade for Emmanuel Sanders added a seasoned receiver who can draw some of the pressure off the rookie.
Kansas City's pass defense finished off 2019 in the top 10 in yards allowed. They have also proven to be an opportunistic unit, finishing the regular season fifth in the league with 16 interceptions, led by safety Tyrann Mathieu's four. As a whole, they have proven to be able to create turnovers and put their offense in favorable positions (tied for 10th in the NFL with 23 takeaways).
Garoppolo and the San Francisco offense throw over the middle more often than not, which leads to a higher risk of interceptions. Mathieu and the Chiefs' safeties will have their hands full with Kittle, Samuel, and Sanders running crossing routes, but Garoppolo will need to be efficient on Sunday in order to avoid gifting Mahomes extra possessions.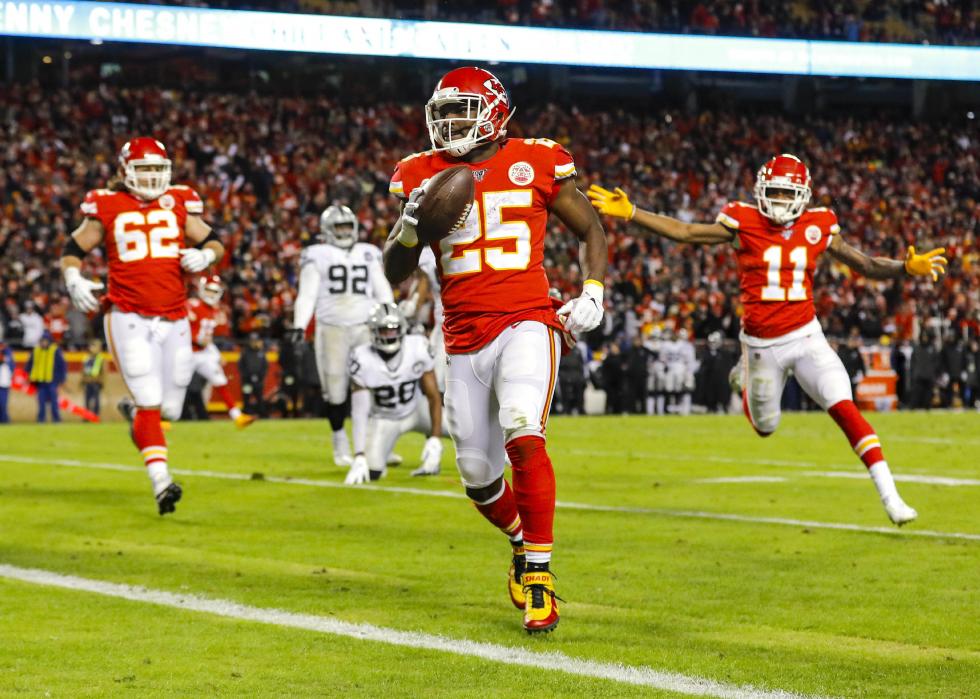 5 / 7
David Eulitt // Getty Images
Kansas City run offense vs. San Francisco run defense
- San Francisco 49ers rushing defense: 112.6 ypg (#17 in the league)
- Kansas City Chiefs rushing offense: 98.1 ypg (#23)
The ground game isn't much of a priority for Kansas City with their passing attack. The 2019 regular season saw them ration carries out almost evenly to Damien Williams, who finished the year as their leading rusher with 498 yards, and LeSean McCoy, who was close behind with 465 yards. While they may not be gathering a high number of attempts, Williams and McCoy made the most of their touches, averaging 4.5 and 4.6 yards per carry, respectively.
While the 49ers defense was second in the league behind only the Patriots, their rushing defense wasn't the key in their dominance all year. While boasting the NFL's best pass defense, they surrendered 1,802 rushing yards all season, earning them a middle-of-the-pack ranking (17th) in yards per game (112.6).
Perhaps Andy Reid will look at this as an opportunity to try to exploit a weakness in an otherwise perfect defense. If anything, establishing some success on the ground will be key in helping to neutralize the San Francisco pass rush, which so often took over games this season when Defensive Rookie of the Year candidate Nick Bosa (nine sacks) and defensive end Arik Armstead (10) pinned their ears back.
You may also like: Famous baseball players from every state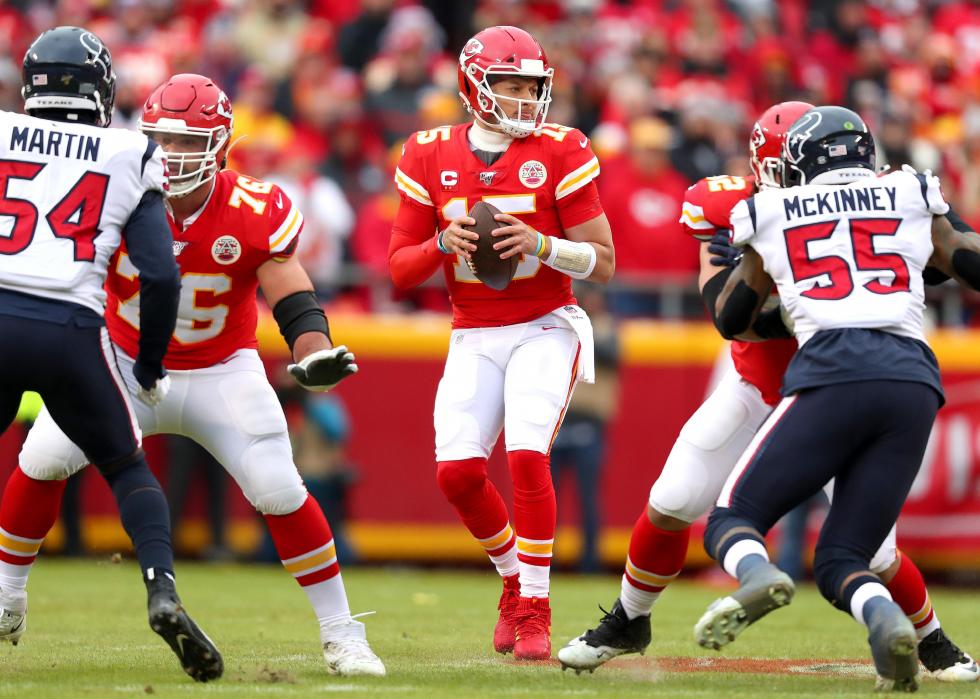 6 / 7
Tom Pennington // Getty Images
Kansas City pass offense vs. San Francisco pass defense
- San Francisco 49ers passing defense: 169.2 ypg (#1 in the league)
- Kansas City Chiefs passing offense: 281.1 ypg (#5)
This facet of the game should excite unbiased fans. The 49ers' league-best pass defense—anchored by Bosa and Armstead's pass rush and veteran cornerback Richard Sherman's resurgence—will face an incredible test in trying to slow down Mahomes and his plethora of weapons including tight end Travis Kelce and the speedy wideout trio of Tyreek Hill, Sammy Watkins, and Mecole Hardman.
San Francisco defensive coordinator Robert Saleh earned himself head coaching consideration after the effectiveness of his pass defense. But the chess match he faces with the offensive-minded Reid—trying to cement his legacy with a Super Bowl title—and coordinator Eric Bieniemy is as difficult as any challenge this year.
That both Reid and Saleh have an extra week to prepare for the biggest games of their coaching careers is thrilling in itself; and it should mean we see plenty of unscouted wrinkles thrown in throughout the course of the contest.
While stopping Kelce—who finished 2019 with 1,229 yards and five touchdowns—is usually the starting point in eliminating Mahomes' weapons, the sheer fact that Hill and company bring so much speed to the perimeter makes the San Francisco defense's job a potential nightmare.
The 49ers' pressure up front will make everything easier for their defensive backfield. If they can't get to Mahomes, he may be adding a Super Bowl MVP trophy to the mantle to go along with his 2018 regular-season MVP.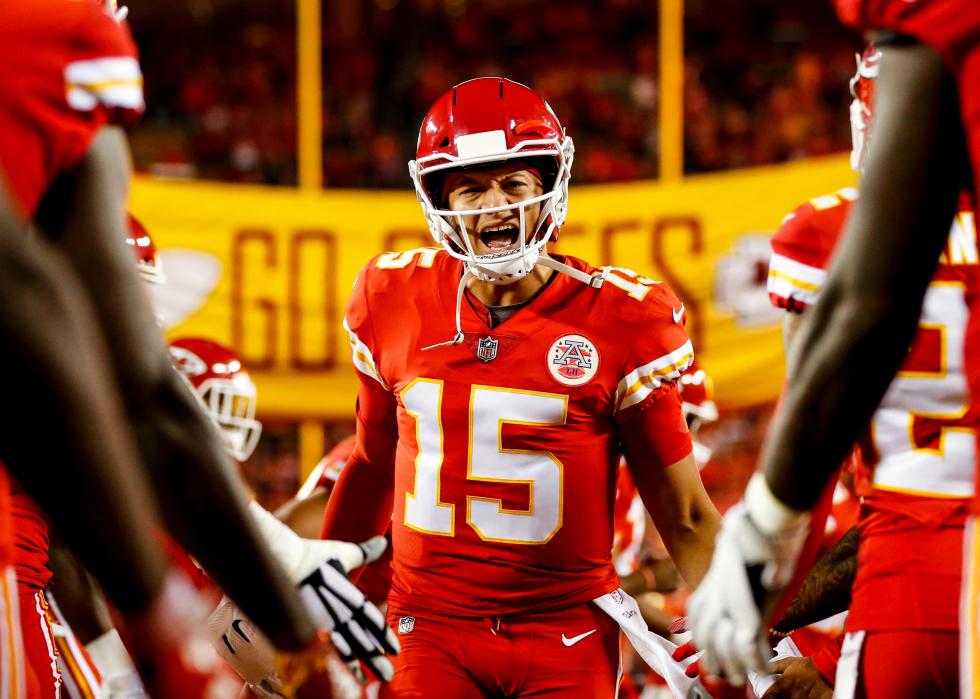 7 / 7
David Eulitt // Getty Images
Insiders predict: Kansas City Chiefs
- Favored to win: Kansas City Chiefs
- Spread: -1.5
- Odds: -122
- San Francisco 49ers team stats:
- Offense: 381.1 yards per game (#4 in the league)
--- Passing offense: 237.0 ypg (#13)
--- Rushing offense: 144.1 ypg (#2)
- Defense: 281.8 yards per game (#2 in the league)
--- Passing defense: 169.2 ypg (#1)
--- Rushing defense: 112.6 ypg (#17)
- Kansas City Chiefs team stats:
- Offense: 379.2 yards per game (#6 in the league)
--- Passing offense: 281.1 ypg (#5)
--- Rushing offense: 98.1 ypg (#23)
- Defense: 349.6 yards per game (#17 in the league)
--- Passing defense: 221.4 ypg (#8)
--- Rushing defense: 128.2 ypg (#26)
The 49ers' road to the Super Bowl was comfortable, which might suggest they are the superior team and the least likely to have an off day in a big spot. But there is something about watching the Chiefs storm back from a 24-point deficit in the blink of an eye, and then overcome an early surge from the Titans, that inspires even greater confidence in their ability to score points on anyone.
The Kansas City defense also improved to the degree where they no longer will have to create a shootout, which figures into why they are slight favorites in this game.
The uncertainty that still lingers around Garoppolo and his ability to go toe-to-toe with a top-flight quarterback also likely plays into the perception of this game. But Shanahan knows his team can win without a great Garoppolo game, whereas the Chiefs go as Mahomes goes.
Whether it's the reigning MVP carrying his team to a Super Bowl title, or San Francisco becoming the epitome of a balanced squad dominating in the modern era of the NFL, Sunday is certain to be a thriller.