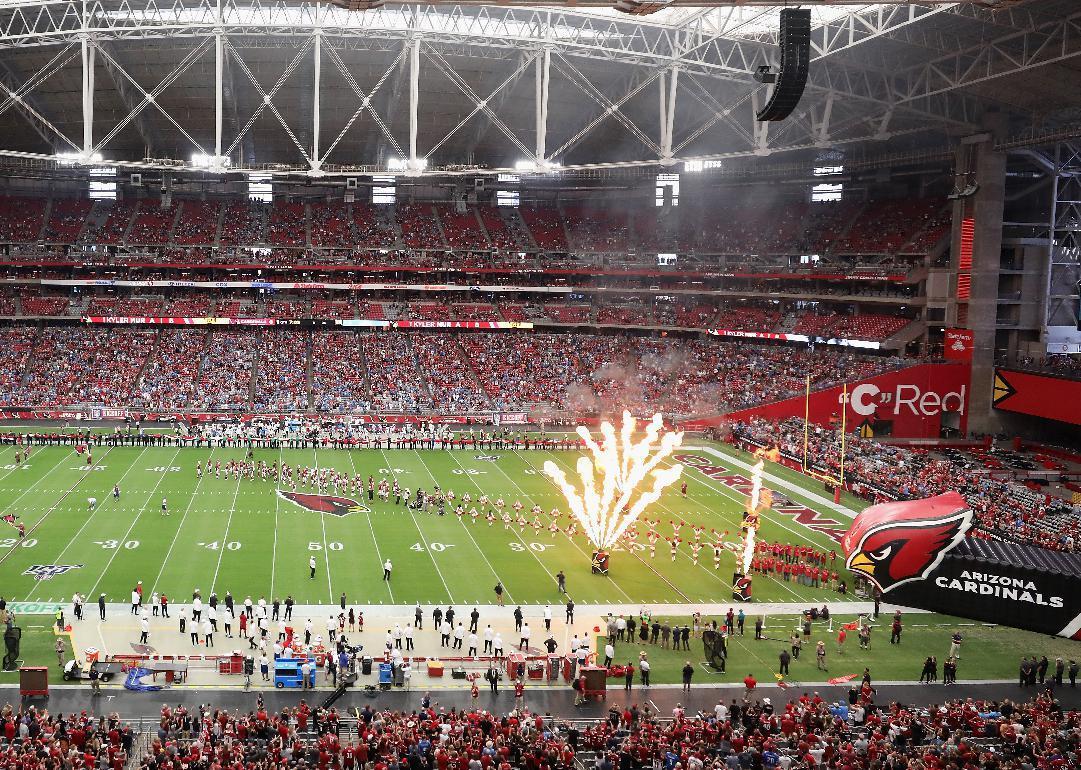 Insiders predict: NFL week 2 winners
Christian Petersen // Getty
Insiders predict: NFL week 2 winners
Week 1 of the NFL's 100th season brought with it some thrilling last-minute finishes, convincing blowouts, and even the result that has become increasingly common yet remains all-too unsatisfactory: a tie. Though the season may just be a week old, the Week 2 slate is littered with games between heavy-hitters who have their sights set on playoff football. Which teams will find their early-season stride and gain a leg up on potentially meaningful playoff positioning? These are just a few games that will provide all of those answers.
Vikings @ Packers: Two NFC North foes that saw the unsuspecting Bears grab hold of the division last season will look to make their case as the team most likely to unseat Chicago and reclaim the North. Will Aaron Rodgers and the Packers offense find the rhythm that was missing from their opening night victory over the Bears? And can Minnesota's defense continue to be the unit that gives Rodgers his greatest tactical challenge? Green Bay is a three-point favorite at home, suggesting that this game is wide open for the taking.
Seahawks @ Steelers: Pittsburgh is still reeling after being bulldozed by the Patriots on Sunday night, but returning home to face a Seahawks offense that started the season with a modest 233-yard performance and a narrow win gives them the opportunity to sway their narrative right back to that of a playoff contender. Is the Steelers' past reputation enough to convince oddsmakers that they should be favored at home against Seattle?
Saints @ Rams: A rematch of the NFC Championship game is easily the week's most appetizing contest. Expect high-octane offense and a whole lot of angst stemming from the missed pass interference call last January that could have altered the course of Super Bowl history. It's Sean Payton vs. Sean McVay: two offensive masterminds, and an extremely narrow point spread between them, to boot. Perhaps this remains a classic case where the difference is "who has the ball last."
Read on to take a look at what the boys in the desert are predicting about these games and the rest of the Week 2 NFL slate.
Methodology: Insiders predicts are based on the team that is favored to win, which is based on consensus betting odds and spread on Vegas Insider as of Sept. 11, 2019.
You may also like: Highest paid players in the NFL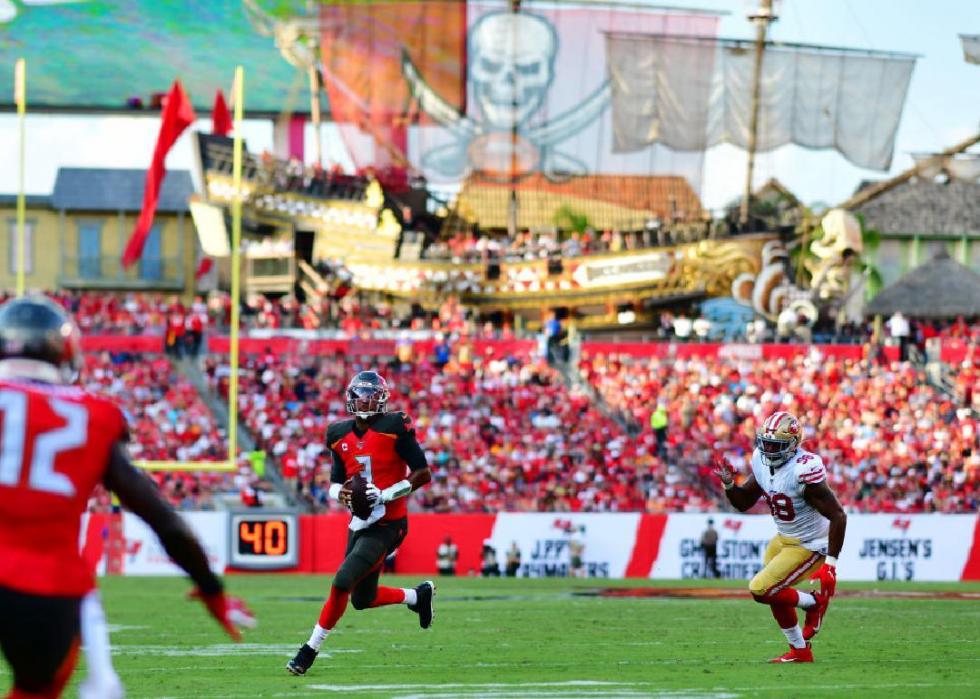 1 / 32
Tampa Bay Buccaneers (0-1) @ Carolina Panthers (0-1)
- Gametime: Thursday, Sept. 12, 8:20 p.m. EST
The 100th season of the NFL kicked off last Thursday night in exciting fashion with the league's oldest rivalry, the Green Bay Packers and the Chicago Bears. This Thursday night...not so much. The Carolina Panthers and Tampa Bay Buccaneers got off to less-than-desirable starts Week 1, and these NFC South rivals will each compete for their first win of the season in a Week 2 showdown.
The San Francisco 49ers seemingly did everything to keep Tampa Bay close in last week's 31-17 victory, including three touchdowns reversed due to penalties and two turnovers. Bucs' starting quarterback Jameis Winston, in what is likely his last season to prove his worth, threw three interceptions and accrued a meager 45.4 passer rating.
The Panthers, who trailed by as many as 13 points, rallied in the second half only to come up short in their 30-27 loss to the defending NFC Champion Los Angeles Rams. Carolina QB Cam Newton was admittedly rusty, tossing a costly backward pass resulting in a fumble and leading to a Rams touchdown and a fourth quarter interception. The bright spot was running back Christian McCaffrey, who tallied 209 yards from scrimmage.
According to oddsmakers, the Panthers should win this matchup. The question, though: by how much? The teams split last year's season series, each team winning at home. Something to note: the home team won 11-of-15 games played on Thursday night last season.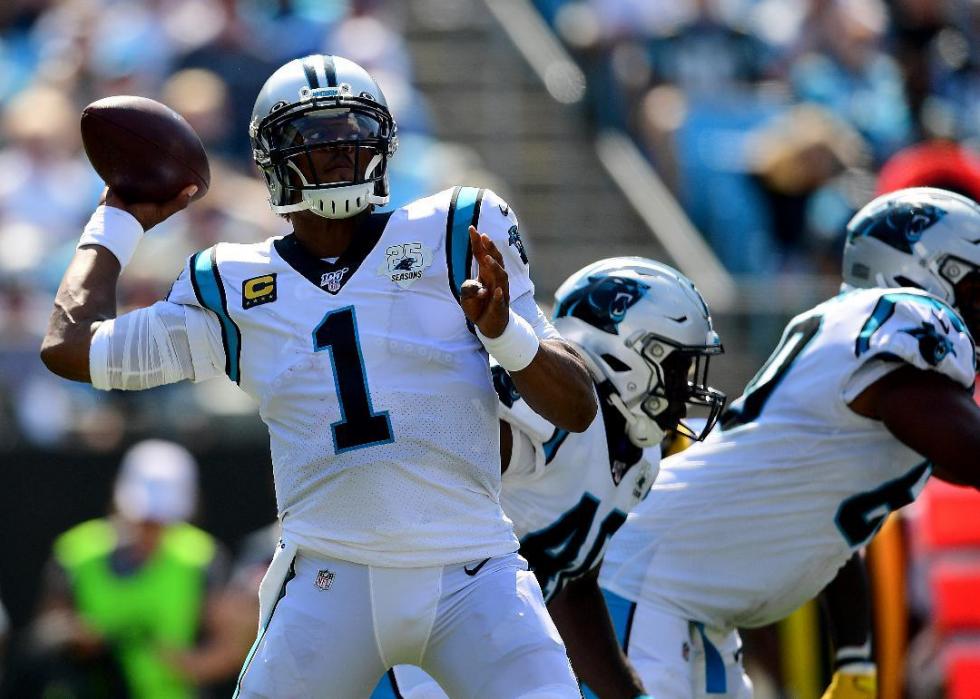 2 / 32
Insiders predict: Carolina Panthers
- Favored to win: Carolina Panthers
- Spread: -6.5
- Odds: -300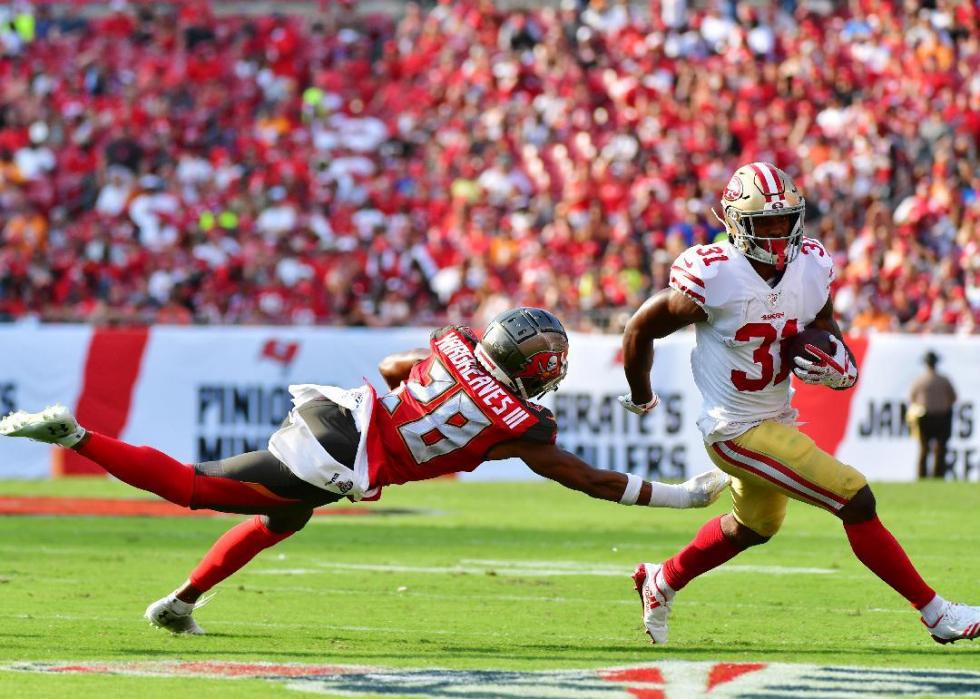 3 / 32
San Francisco 49ers (1-0) @ Cincinnati Bengals (0-1)
- Gametime: Sunday, Sept. 15, 1 p.m. EST
In the return of quarterback Jimmy Garoppolo, who sustained a torn ACL in 2018, the San Francisco 49ers started their season with a 31-17 victory over the Tampa Bay Buccaneers. Garoppolo was anything but sharp in his ninth career start for the Niners Sunday (11th overall start). The sixth-year man threw for just 166 yards, one touchdown, and one interception—but was kept afloat by a defense that forced four turnovers.
Despite a valiant effort from the Cincinnati Bengals, including a career-high 418 yards passing for quarterback Andy Dalton, a fourth-quarter touchdown connection for QB Russell Wilson and WR Tyler Lockett created enough distance for the Seattle Seahawks to hold onto a 21-20 victory. The Bengals easily covered the -9.5 spread, which in part is why they're favored at home Sunday. The spread would likely be higher if it weren't for Cincinnati running back Joe Mixon's day-to-day status with an ankle sprain.
These inter-conference foes haven't faced each other since 2015 when the Bengals bested San Francisco 24-14—the last time Cincinnati reached the postseason. The 49ers haven't played extra football in January since the 2013 season.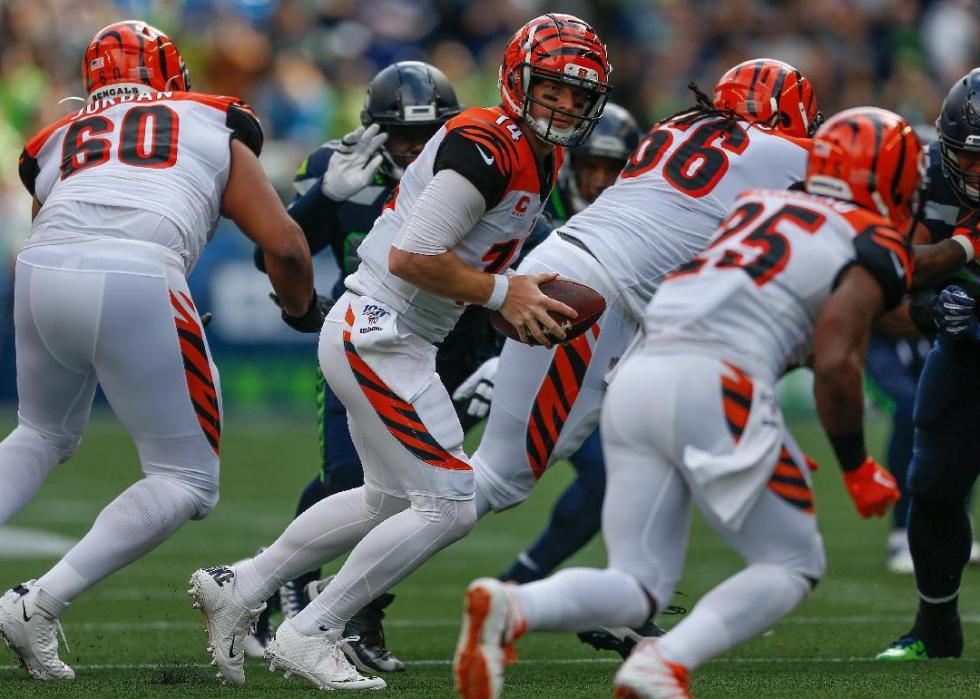 4 / 32
Insiders predict: Cincinnati Bengals
- Favored to win: Cincinnati Bengals
- Spread: -1.5
- Odds: -130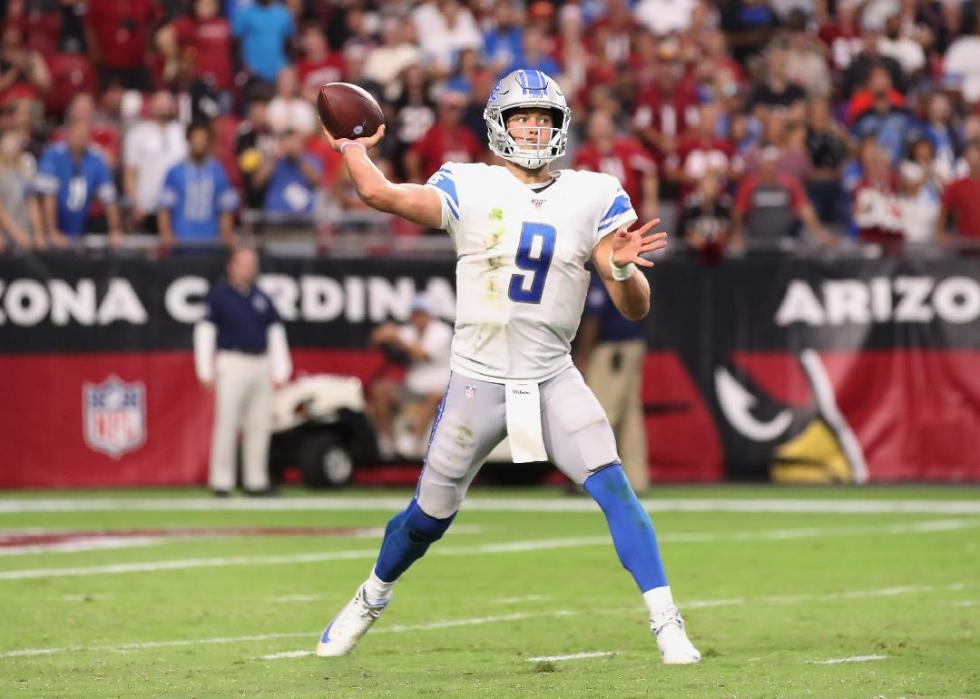 5 / 32
Christian Petersen // Getty
Los Angeles Chargers (1-0) @ Detroit Lions (0-0-1)
- Gametime: Sunday, Sept. 15, 1 p.m. EST
The Los Angeles Chargers needed overtime, but managed to hold off the visiting Indianapolis Colts 30-24. No Melvin Gordon, no problem. Austin Ekeler, who spent the last two seasons backing up the Pro Bowler Gordon, got his chance as the feature back Sunday. Ekeler, who is in his third season after going undrafted out of DII Western State Colorado, finished with 154 yards from scrimmage and three touchdowns. Gordon continues to hold out in hopes of a new contract.
The Detroit Lions also found themselves in overtime last week, but could not escape with a victory. After squandering an 18-point fourth-quarter lead, both the Lions and Arizona Cardinals exchanged field goals before the 10-minute extra period expired...the always-thrilling tie game.
The Chargers are slight road favorites, and for good reason. L.A. went 7-1 on the road during the regular season last year, while the Lions went 3-5 at home. To upset a tough Chargers team, Detroit could use help from running backs Kerryon Johnson and CJ Anderson who combined for just 84 rushing yards Week 1.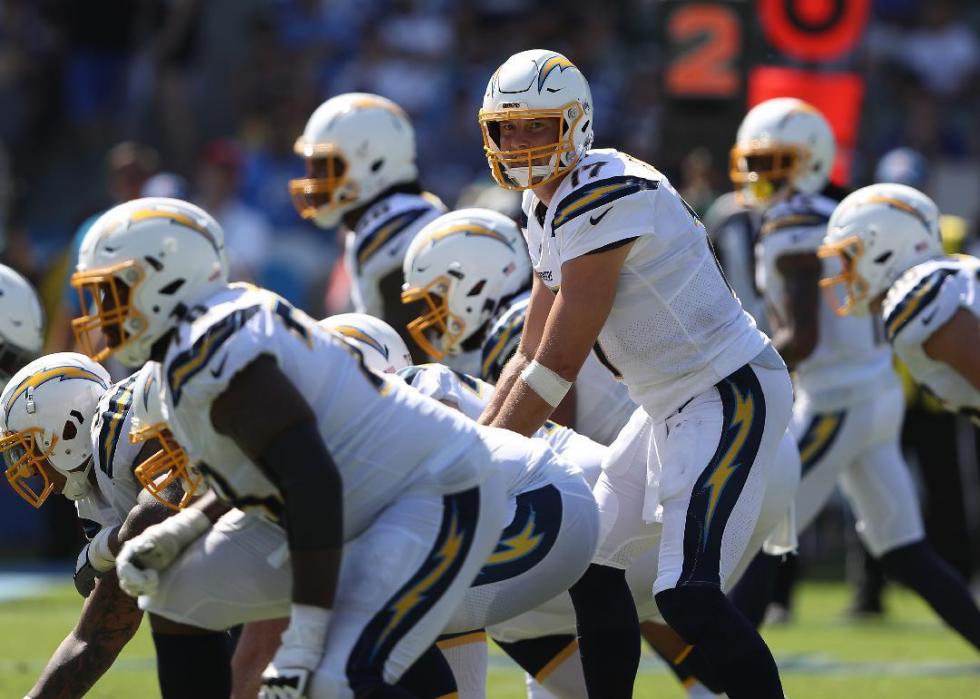 6 / 32
Insiders predict: Los Angeles Chargers
- Favored to win: Los Angeles Chargers
- Spread: -2.5
- Odds: -145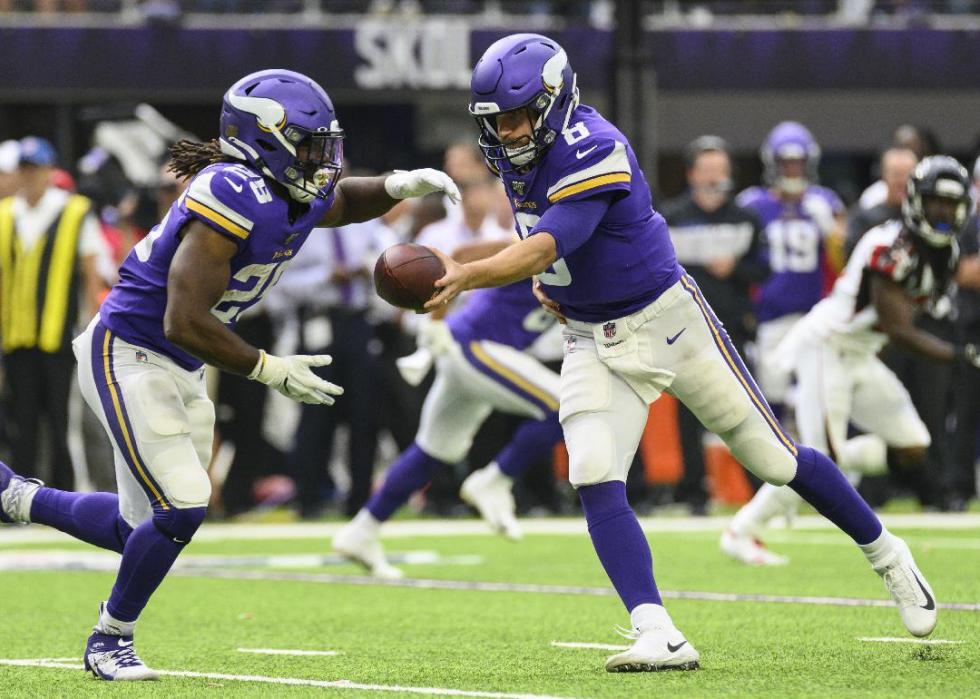 7 / 32
Minnesota Vikings (1-0) @ Green Bay Packers (1-0)
- Gametime: Sunday, Sept. 15, 1 p.m. EST
The Green Bay Packers square off against a division rival for the second-straight week when they take on the Minnesota Vikings Sunday. Green Bay escaped Chicago with a 10-3 victory despite starting quarterback and two-time NFL MVP throwing for just 203 yards, starting running back Aaron Jones rushing for just 39 yards, and the Packers going a dismal 2 for 12 on third downs. The new-look Green Bay defense, though, was a welcome sight for the squad. Key offseason additions made their presence known—pass rushers Za'Darius Smith and Preston Smith combined for two and a half sacks, and former Bears safety Adrian Amos had the game-clinching interception in the fourth quarter.
Minnesota's matchup with the Atlanta Falcons was never close—their 28-12 victory was not even reflective of the bashing the Falcons suffered as the Vikings surrendered two meaningless touchdowns in the fourth quarter. Minnesota's defense (which forced three turnovers) and rushing attack (totaling 172 yards) carried the team so much that quarterback Kirk Cousins only threw a mere 10 passes in the game.
The winner of this matchup will be the early favorite to wear the NFC North crown, making this divisional showdown an important one for both teams. The Packers are favored at home, but will need to figure out their passing attack in order to stifle a Vikings team determined to show they had no business being overlooked in the offseason.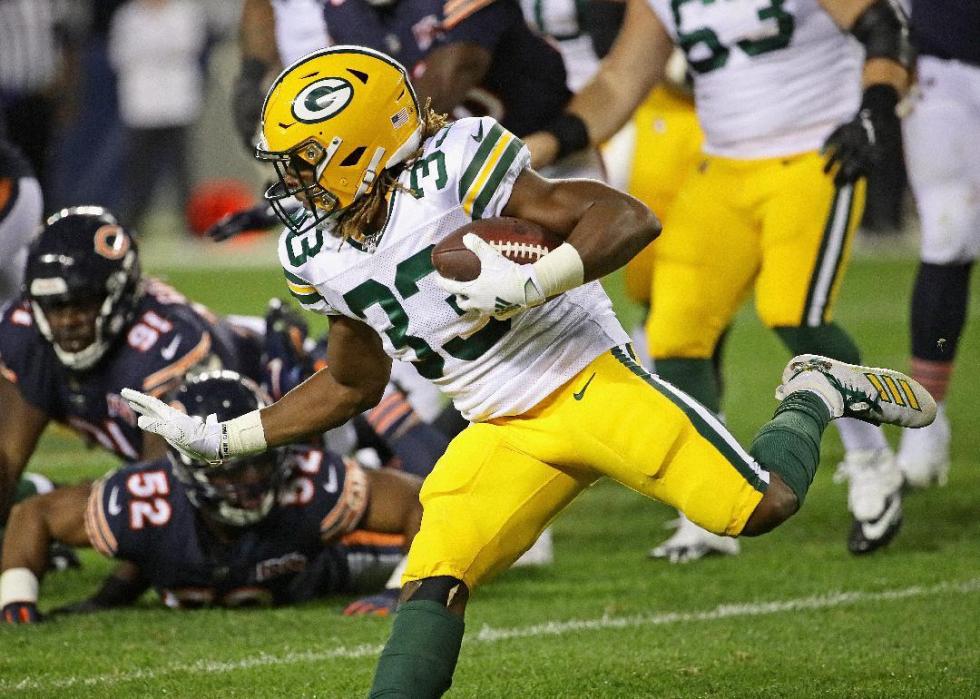 8 / 32
Insiders predict: Green Bay Packers
- Favored to win: Green Bay Packers
- Spread: -3.0
- Odds: -160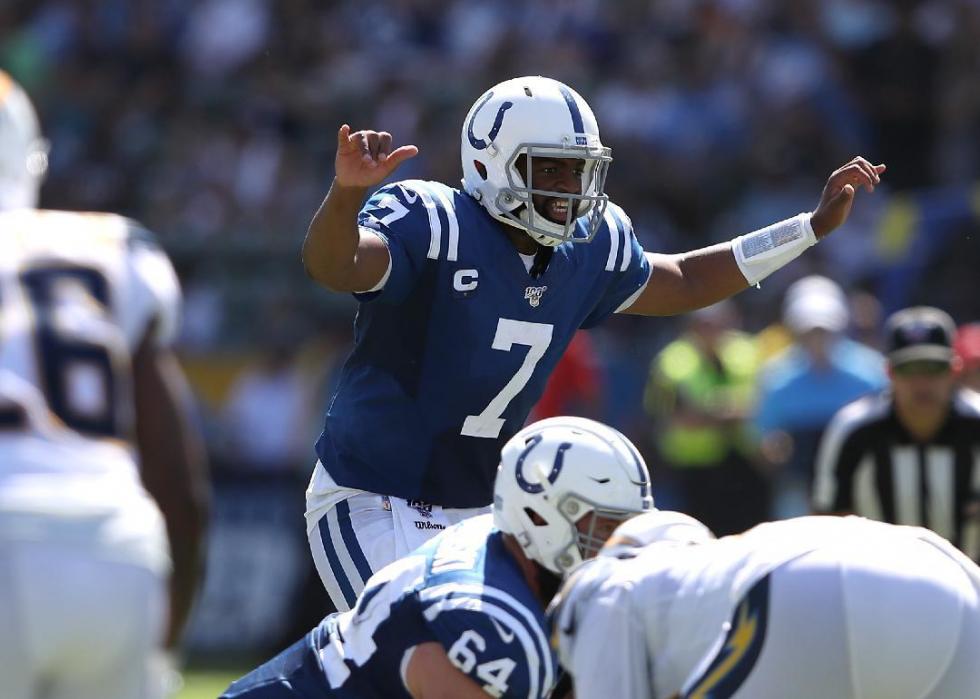 9 / 32
Indianapolis Colts (0-1) @ Tennessee Titans (1-0)
- Gametime: Sunday, Sept. 15, 1 p.m. EST
The Indianapolis Colts began their post-Andrew Luck saga more impressively than many anticipated. The team's former Pro Bowl quarterback shockingly retired just weeks before the start of the NFL season, leaving fans, players, and analysts confused and concerned.
In enters Jacoby Brissett, who has past experience starting for Indy as Luck battled injury, but was never really viewed as QB1. Brissett wasn't masterful in Sunday's 30-24 loss to the Los Angeles Chargers (21 of 27 for 190 yards and two touchdowns), but he didn't need to be. Running back Marlon Mack had a career-high 174 yards rushing, and had it not been for three missed kicks by future Hall of Famer Adam Vinatieri, the Colts could have marched to victory.
The Tennessee Titans, in one of the bigger upsets of Week 1, dismantled the Cleveland Browns 43-13 behind three-touchdown performance from quarterback Marcus Mariota. An impressive Titans defense sacked Browns QB Baker Mayfield five times and forced three interceptions. The Titans now welcome in the Colts for their home opener. Indianapolis won both matchups by a wide margin last season when Luck was under center, but this is obviously a different team. It goes without saying the AFC South is still up for grabs, but a Week 2 win for the Colts can prove they can still play without their star quarterback. And a win for the Titans makes them the early team to beat in the division.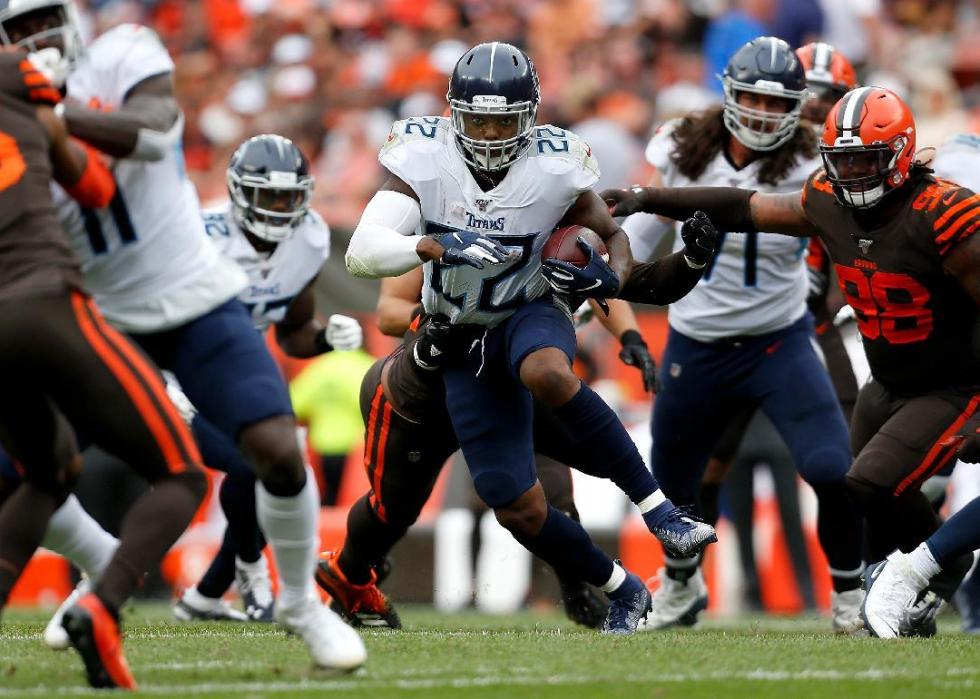 10 / 32
Insiders predict: Tennessee Titans
- Favored to win: Tennessee Titans
- Spread: -3.0
- Odds: -170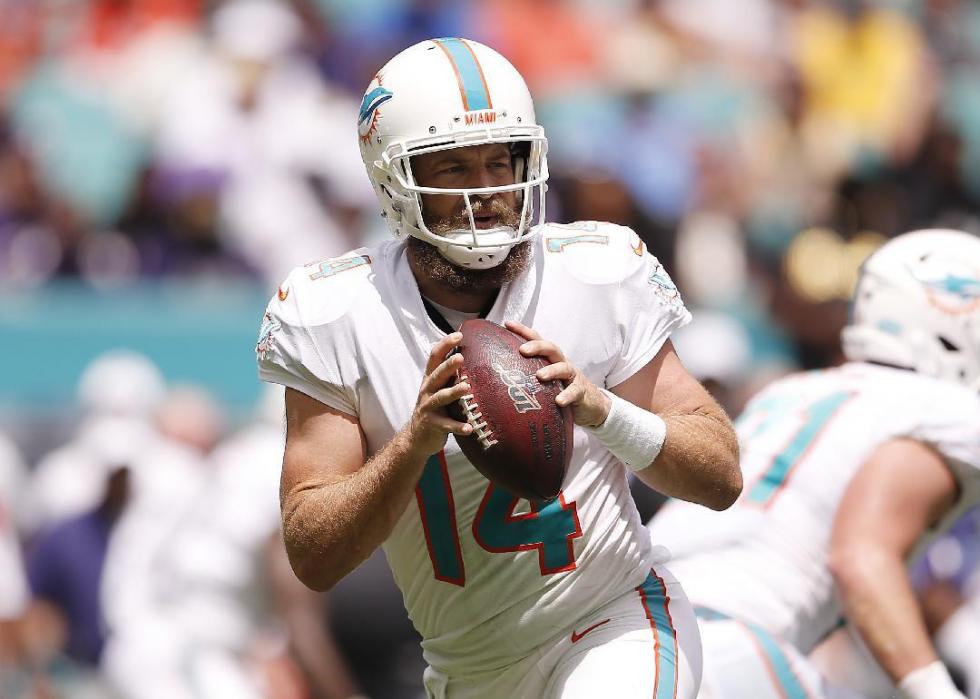 11 / 32
New England Patriots (1-0) @ Miami Dolphins (0-1)
- Gametime: Sunday, Sept. 15, 1 p.m. EST
Fans at home can probably turn this game off after the first drive. The New England Patriots are a whopping 19-point favorite on the road, and that spread will likely continue to climb before kickoff. The Miami Dolphins appear to be "tanking for Tua," making them far from a formidable foe for the reigning Super Bowl champions. The Dolphins were trounced by the Baltimore Ravens 59-10 and looked more suited for the XFL than the NFL.
The Patriots were great in typical fashion, beating up on the Pittsburgh Steelers 33-3 in the NFL's Sunday night game. 42-year-old Tom Brady carved up the Steelers secondary tossing 341 yards and three touchdowns. And just to rub salt in the rest of the NFL's wounds, the Pats scooped up the ever-interesting Antonio Brown after he created a mess in Oakland. The move may have backfired, though, as recent sexual assault allegations have been lodged at the four-time All-Pro receiver.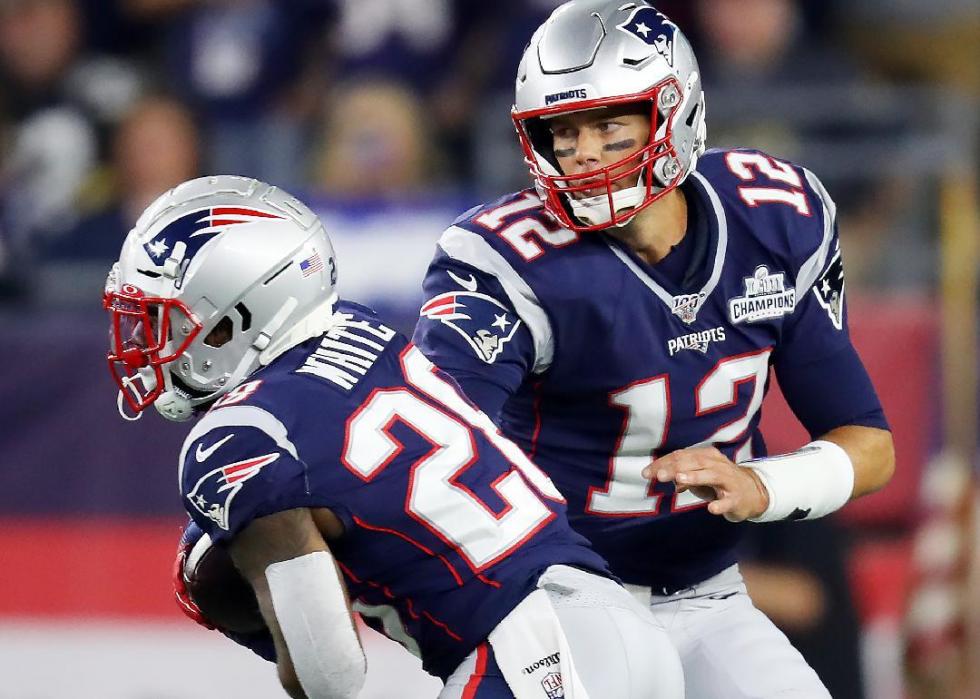 12 / 32
Insiders predict: New England Patriots
- Favored to win: New England Patriots
- Spread: -19.0
- Odds: -3000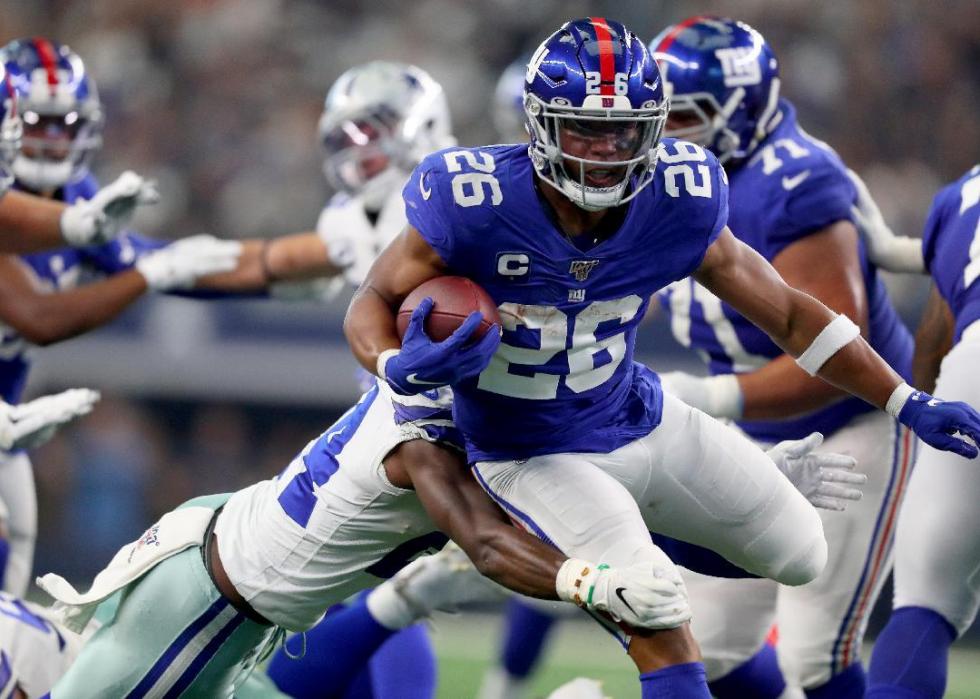 13 / 32
Buffalo Bills (1-0) @ New York Giants (0-1)
- Gametime: Sunday, Sept. 15, 1 p.m. EST
The Buffalo Bills travel to MetLife Stadium for a second-straight week after an incredible come-from-behind performance to take down the New York Jets. Down by 16 points in the second half, quarterback Josh Allen led a ferocious comeback capped by a 38-yard touchdown pass to Josh Brown late in the fourth quarter. An extra point pushed the game to 17-16 and secured the Bills' victory.
This week, it'll be the New York Giants hosting Buffalo. The G-Men took an early lead last Sunday in Arlington, Texas, but that lead didn't last long...the Cowboys quickly countered, and then began to pile on en route to a 35-17 victory. Giants quarterback Eli Manning, now 38 years old) was serviceable, going 30 of 44 for 306 yards and a touchdown, but we're left to wonder when the Manning era will cease and the Daniel Jones era will begin. New York took Jones #6 overall in the 2019 draft.
Expect even more from Giants running back Saquon Barkley, who still managed 120 yards on just 11 carries last week. Wide receiver Sterling Brown is in concussion protocol and may miss Sunday's action.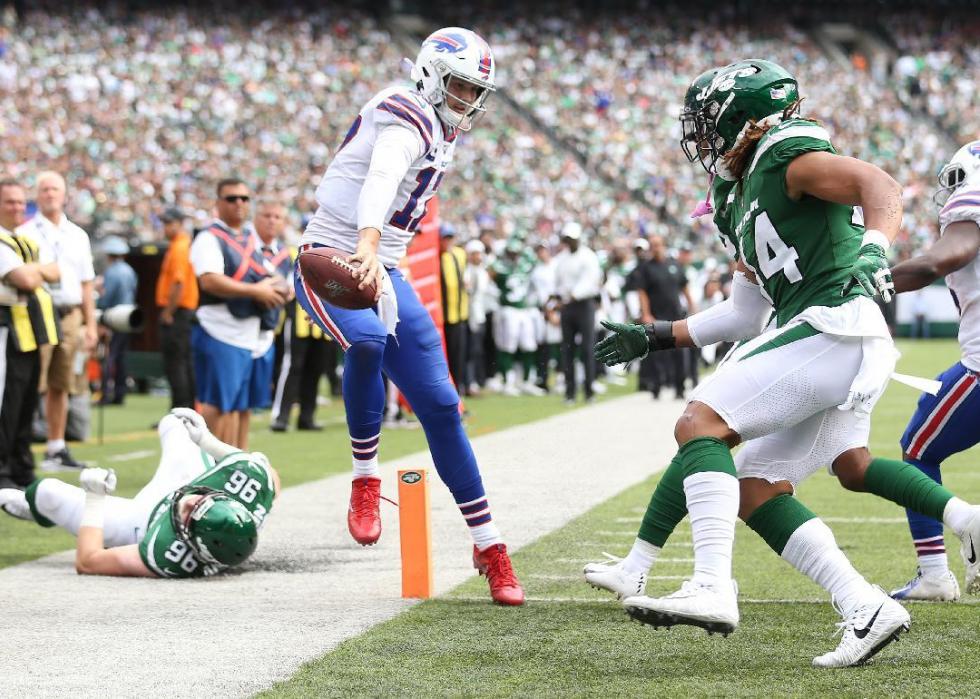 14 / 32
Insiders predict: Buffalo Bills
- Favored to win: Buffalo Bills
- Spread: -1.5
- Odds: -125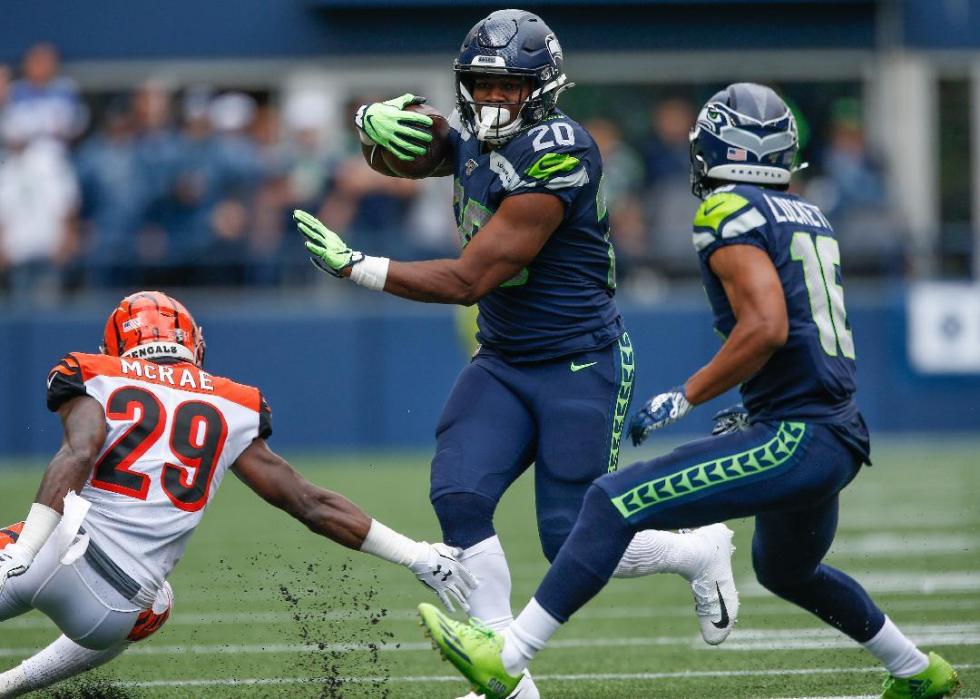 15 / 32
Seattle Seahawks (1-0) @ Pittsburgh Steelers (0-1)
- Gametime: Sunday, Sept. 15, 1 p.m. EST
It wasn't pretty, but the Seattle Seahawks eked out a 21-20 Week 1 home victory over the Seattle Seahawks. Seattle extended its league-leading season-opening win streak to 11 games behind a rather lackluster offensive output. Quarterback Russell Wilson did just enough—14 of 20 for 196 yards and two touchdowns—but may be forced to dig deeper against a Pittsburgh Steelers team eager to show the league they are better than their 33-3 losing performance to the Patriots in Week 1.
Just about everything went wrong for the Steelers last Sunday. Running back James Conner was held to 21 rushing yards on 10 carries, and quarterback Ben Roethlisberger threw 47 passes completing just 27 plus an interception. Expect much more from the Pittsburgh offense this week against a Seattle defense who surrendered 418 yards through the air to a Cincinnati team without start receiver A.J. Green.
Seattle has a road record of 1-8 over its last nine games in the month of September, and this week will travel across three time zones for a 1 p.m. EST kickoff. All good signs for a Pittsburgh team hoping to even its record this week.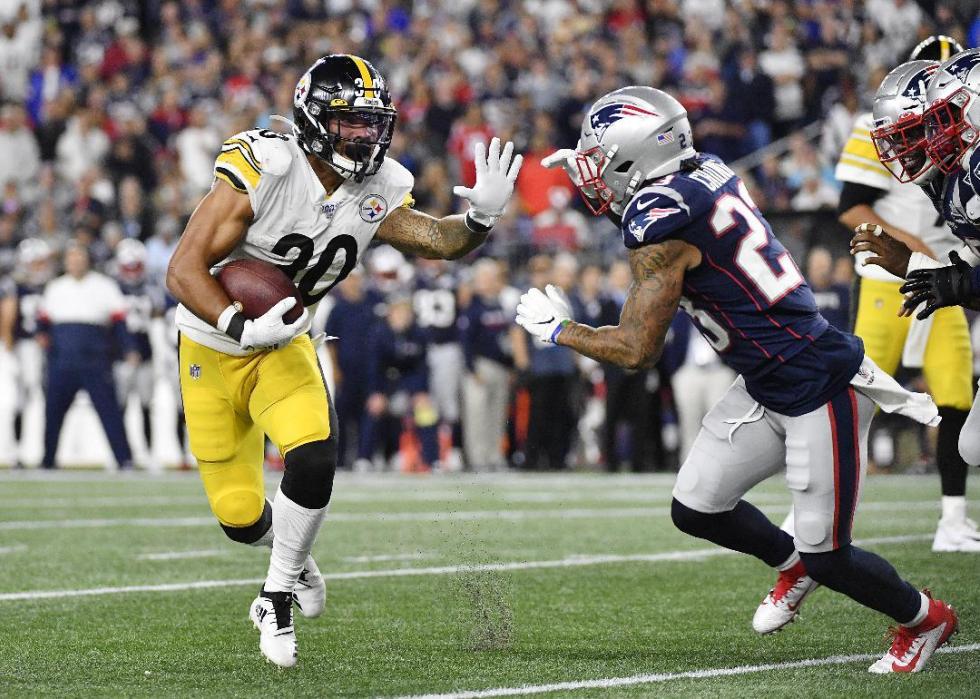 16 / 32
Insiders predict: Pittsburgh Steelers
- Favored to win: Pittsburgh Steelers
- Spread: -4.0
- Odds: -200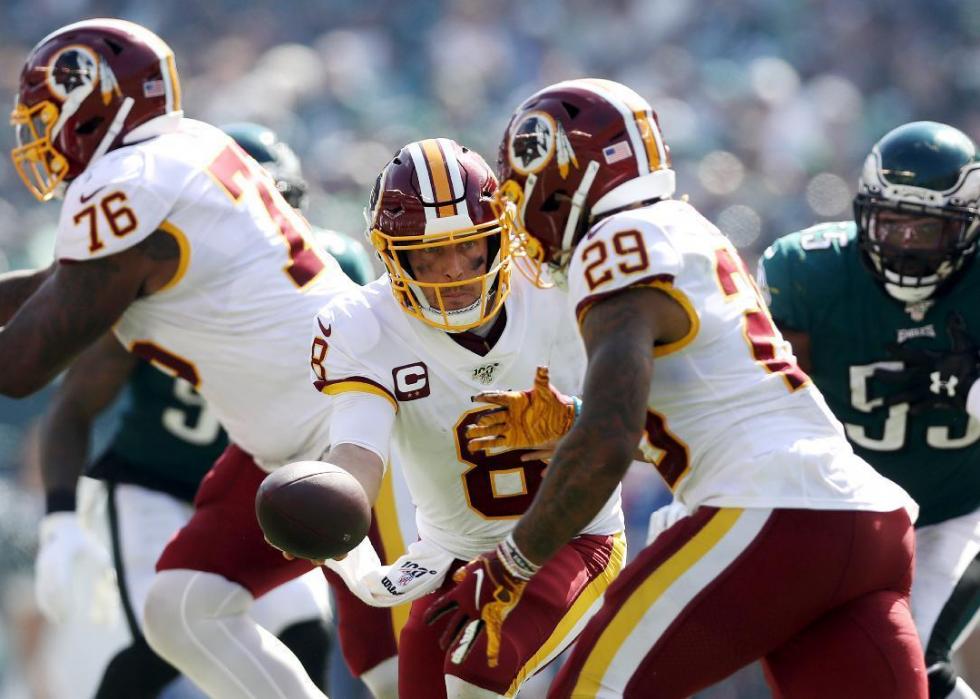 17 / 32
Dallas Cowboys (1-0) @ Washington Redskins (0-1)
- Gametime: Sunday, Sept. 15, 1 p.m. EST
Ahead of the start of the regular season, Cowboys running back Ezekiel Elliott signed a $90 million contract extension to become the highest-paid player at his position in the NFL. For that reason, all eyes were on Zeke coming into the Week 1 matchup with the division rival Giants, who boast a dynamic running back of their own in Saquon Barkley.
For Dallas, it was quarterback Dak Prescott who would steal the show by throwing for over 400 yards and four touchdowns to four different receivers in a 35-17 win. This week, they move right on to another NFC East opponent, who suffered a divisional loss in Week 1 on the road.
Washington looked to be in control of their road contest at the Eagles, building a promising 17-point lead in the first half. That would quickly crumble, as Carson Wentz helped Philadelphia rally to an eventual 32-27 win. There is still reason for optimism in Washington, however, as the debut of Case Keenum as their starting quarterback saw the veteran tally 380 yards through the air to go along with three touchdowns, and he was sacked only once and did not turn the ball over.
Though the Cowboys being road favorites suggests a fairly large gulf in talent between the two teams, it would come as no surprise to see yet another highly competitive NFC East battle that could have many twists and turns, and a one-score differential come the finish.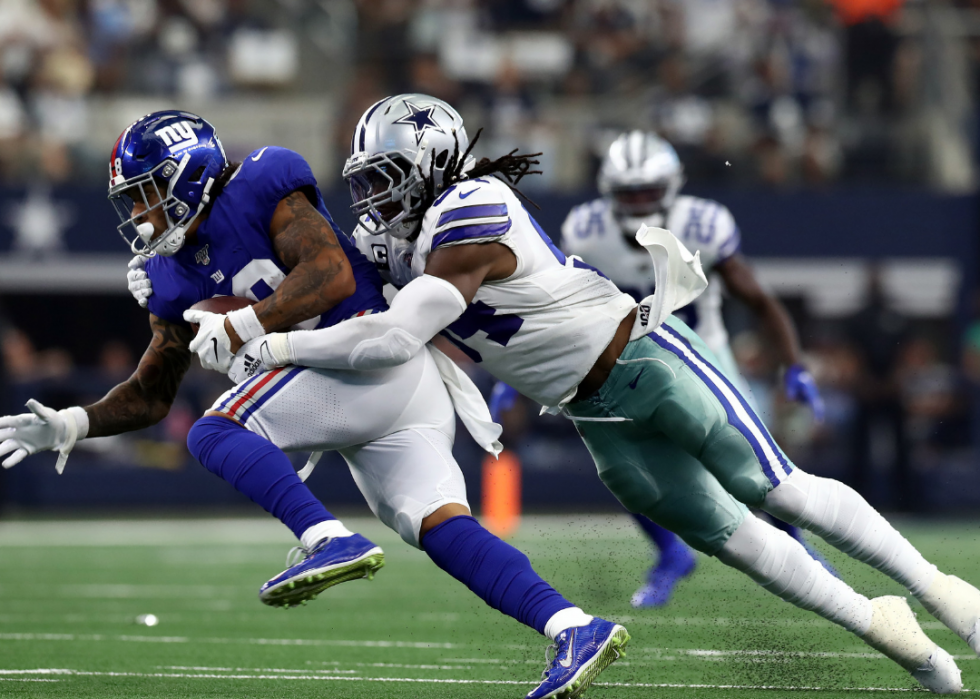 18 / 32
Ronald Martinez // Getty Images
Insiders predict: Dallas Cowboys
- Favored to win: Dallas Cowboys
- Spread: -5.0
- Odds: -240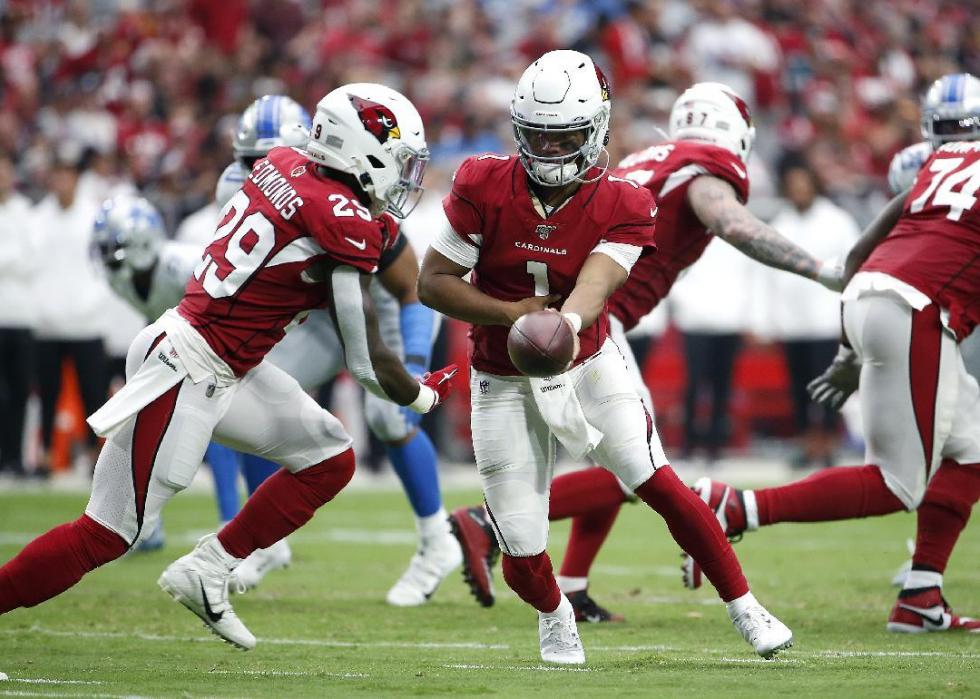 19 / 32
Arizona Cardinals (0-0-1) @ Baltimore Ravens (1-0)
- Gametime: Sunday, Sept. 15, 1 p.m. EST
The first NFL game of first-overall pick Kyler Murray's career was shaping up to be a rather disappointing home loss to the Lions. That is until the fourth quarter, when the rookie quarterback helped engineer a comeback that saw the Cardinals overcome an 18-point deficit to force overtime at 24-24. Though Murray had chances to win his debut in the extra period, he and the Cardinals were left instead with the unsatisfying taste of a tie in their mouths.
This weekend, Murray is likely to taste defeat for the first time, as no team may have gotten off to a more convincing start to the season than the Baltimore Ravens. Lamar Jackson and the Baltimore offense ran roughshod all over the Dolphins in Miami en route to a 59-10 victory. They outgained Miami 643 yards to just 200.
All of that dominance for the Ravens, and now they get to see what they can do at home against Murray in just his second-career game. This has the makings of a potential blowout, as there's still plenty of reason to believe the Baltimore defense will again be a solid unit, particularly at home. Even with a two-touchdown point spread, it could be an entertaining watch given Jackson's versatility and explosiveness and the fact that Cardinals coach Kliff Kingsbury doesn't seem to be hesitant to let Murray play a wide-open style even this early in his career (54 pass attempts in Week 1).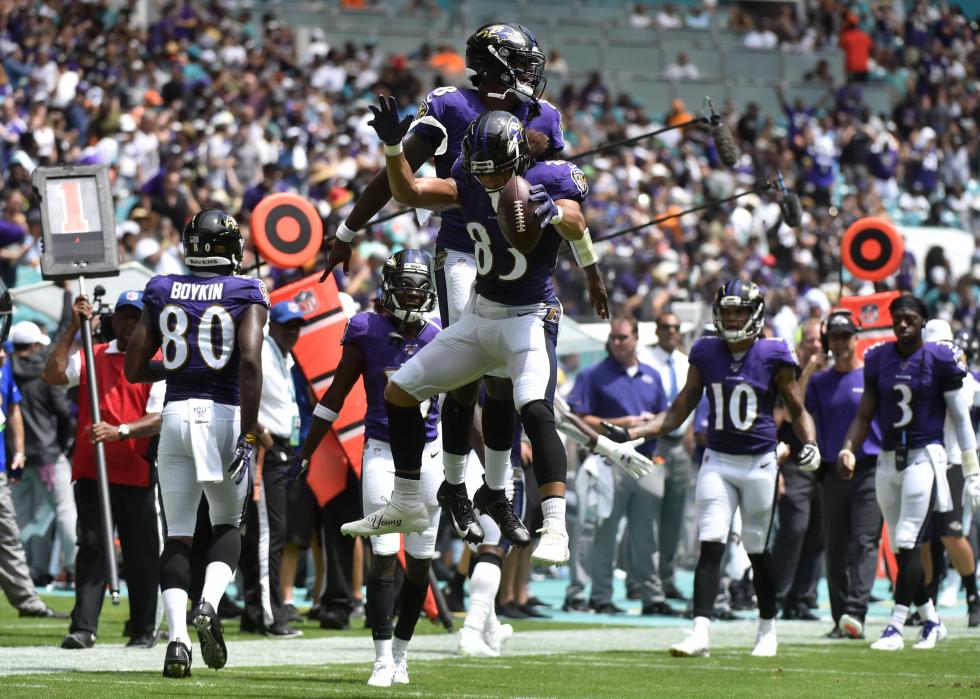 20 / 32
Insiders predict: Baltimore Ravens
- Favored to win: Baltimore Ravens
- Spread: -13.5
- Odds: -900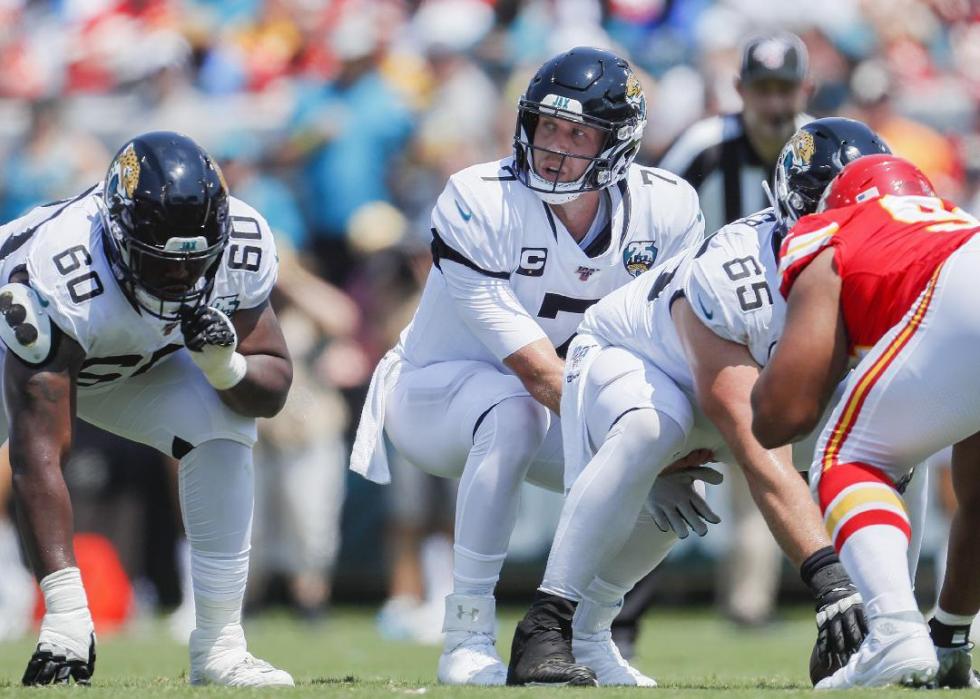 21 / 32
Jacksonville Jaguars (0-1) @ Houston Texans (0-1)
- Gametime: Sunday, Sept. 15, 1 p.m. EST
Though the Texans are coming off of a loss and playing on a short week having suffered a 30-28 loss at New Orleans on Monday night, it is no surprise they enter their divisional matchup against the Jaguars as fairly heavy favorites.
Houston was impressive in defeat, racking up 414 yards of offense against the Saints and leading for the large majority of the contest. It took a 58-yard field goal as time expired for New Orleans to finally complete a comeback against the Texans. That was after Houston quarterback Deshaun Watson connected with former Saints wideout Kenny Stills for a 37-yard touchdown pass that gave the Texans a six-point lead with under a minute to play, and seemed like it could have been the dagger.
Instead, Houston is now seeking its first win, and will be anxious to get an early leg up on the Jaguars, who are nearly double-digit underdogs due, in part, to the fact that they are now down to their second quarterback after just a single game. Free agent signing Nick Foles broke his left clavicle early in the game and has already undergone surgery that will sideline him until Week 11 at the earliest. Backup quarterback Gardner Minshew filled in admirably, throwing for 275 yards and two touchdowns, but having to face a talented Texans defense on the road in his first career start is a task that would seem almost too tall to overcome.
22 / 32
Insiders predict: Houston Texans
- Favored to win: Houston Texans
- Spread: -9.0
- Odds: -500
23 / 32
Kansas City Chiefs (1-0) @ Oakland Raiders (1-0)
- Gametime: Sunday, Sept. 15, 4:05 p.m. EST
The Raiders were able to weather the Antonio Brown-related storm and come away with a win in their opening game of the season, beating the Broncos 24-16. Quarterback Derek Carr threw a touchdown pass on the opening drive of the game for Oakland, immediately putting a bit of a hush to the noise that came with Brown's messy departure from the team just days prior.
Carr was efficient, going 22 of 26 for 259 yards and the lone touchdown pass to Tyrell Williams. Though they will remain at home, the task will be much greater this week if they are to hang with the Chiefs, who are two-score favorites coming into this AFC West rivalry game.
Expectations in Kansas City are incredibly high, and reigning NFL MVP Patrick Mahomes proved that they absolutely should be, beginning the season with the type of outing that is almost expected of the budding super star now. Mahomes threw for 378 yards and three touchdowns, slicing up the Jaguars defense en route to a 40-26 win.
On the road or at home, Mahomes and the Chiefs are always going to be expected to put up large point totals and the over on the game total will certainly be a common play. But against a seemingly inferior opponent like the Raiders, taking them to cover a single-digit spread also seems like a sensible decision.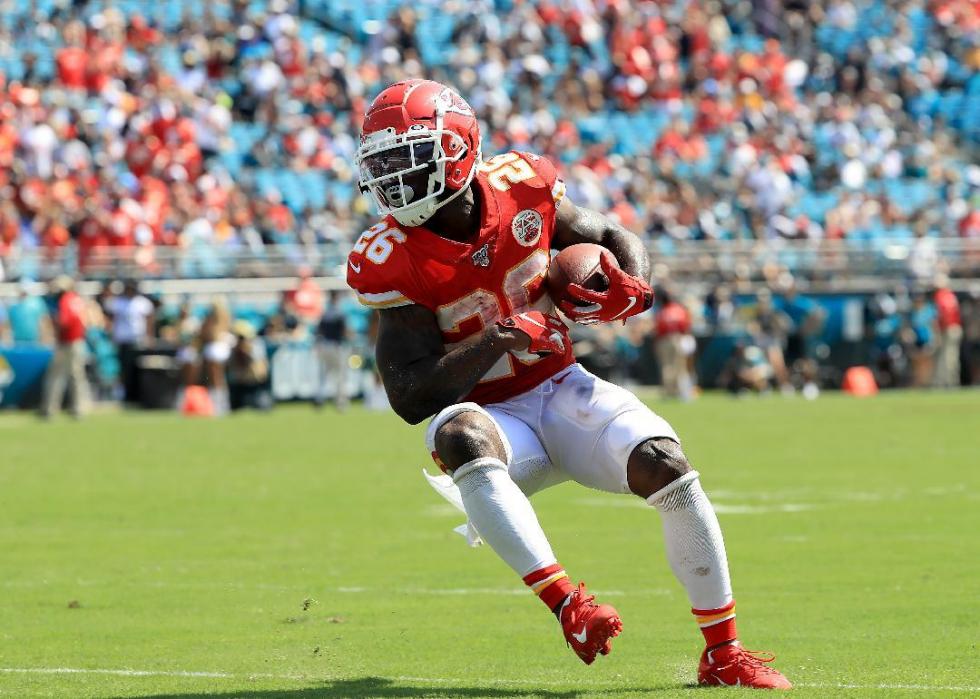 24 / 32
Insiders predict: Kansas City Chiefs
- Favored to win: Kansas City Chiefs
- Spread: -7.5
- Odds: -400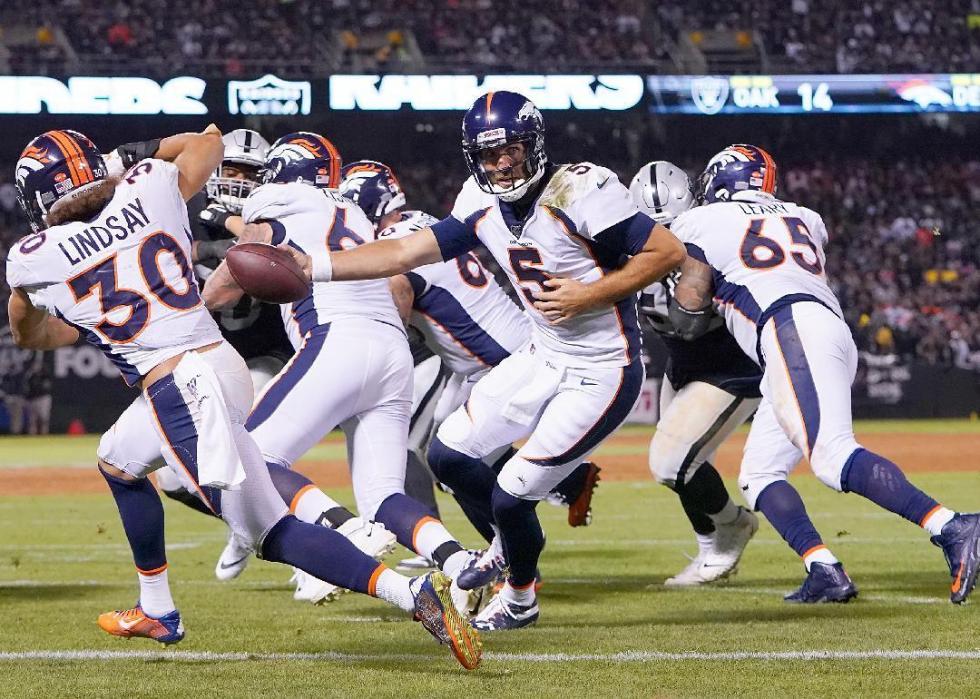 25 / 32
Chicago Bears (0-1) @ Denver Broncos (0-1)
- Gametime: Sunday, Sept. 15, 4:25 p.m. EST
The Bears are yet another road favorite on the Week 2 NFL slate and when you boast a defense as good as theirs—and have a few days extra rest having played in the Thursday night opener—it's hard to argue against.
Chicago's defense seemed to pick up right where they left off in 2018, holding Aaron Rodgers and the Packers offense to just 213 total yards and 10 points, while sacking the two-time league MVP five times. The only problem was that their defensive dominance could do little in the way of helping their offense come alive from an offseason slumber.
While they outgained the Packers (254 yards), Chicago's offense never seemed to threaten to score against the Green Bay defense aside from a redzone trip late in the fourth quarter that resulted in former Bears safety Adrian Amos intercepting quarterback Mitchell Trubisky and hopes of an overtime thriller quickly faded. Trubisky and company will need to show much more this week to inspire any degree of confidence in Chicago, where expectations coming off of a 12-4 season were high.
The Broncos have issues of their own as they continue to get used to life with Joe Flacco under center. Flacco's debut for Denver saw him rack up an adequate 268 yards through the air with a touchdown toss. But still, the Broncos offense didn't pose all too much of a threat to the Raiders last Monday night. Perhaps that will change when they aren't battling the raucous Black Hole crowd that had a little added anger on its side after the way the short-lived stint of Antonio Brown ended.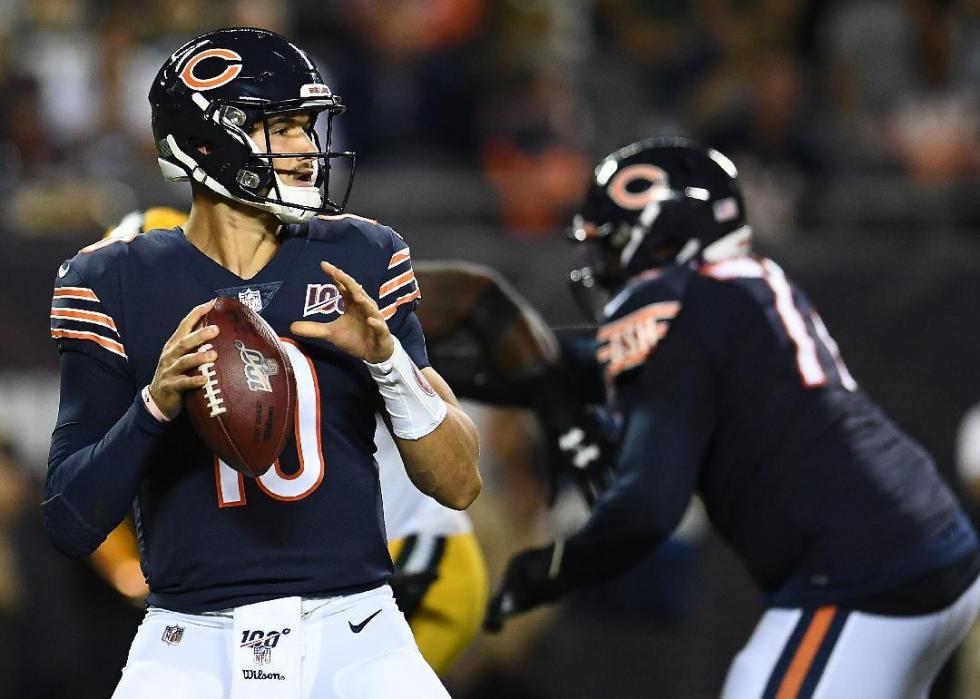 26 / 32
Thearon W. Henderson // Getty
Insiders predict: Chicago Bears
- Favored to win: Chicago Bears
- Spread: -2.5
- Odds: -145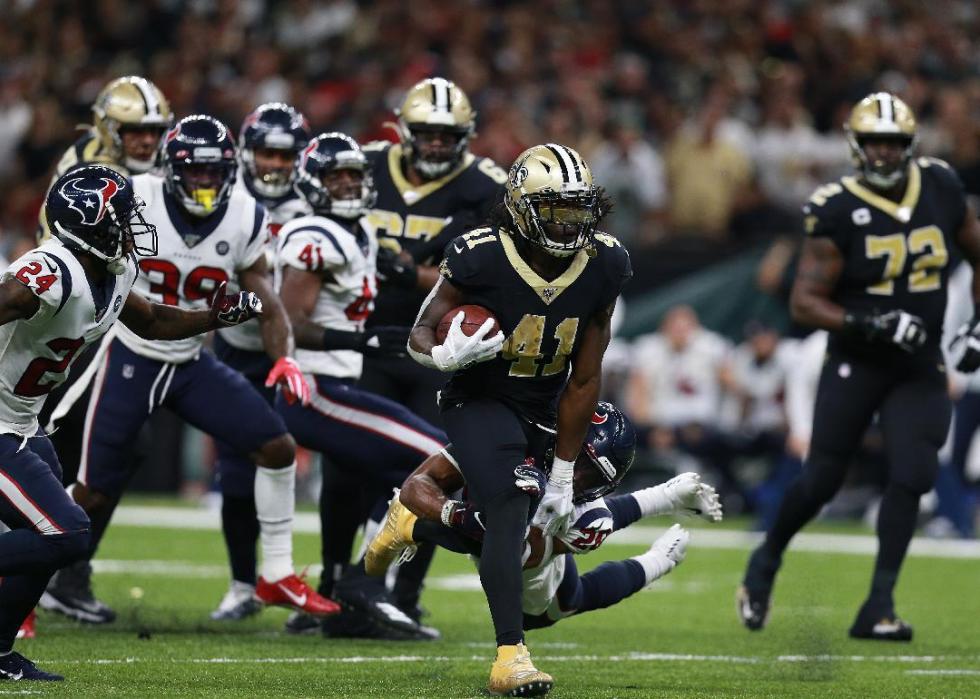 27 / 32
New Orleans Saints (1-0) @ Los Angeles Rams (1-0)
- Gametime: Sunday, Sept. 15, 4:25 p.m. EST
The NFL schedule has blessed fans of offense with a great early season matchup between two teams which have aspirations to be playing well into January of 2020. It's a rematch of last year's NFC Championship game, which was an absolute thrill ride but has since been remembered for a missed pass interference call that very likely would have meant that the Saints were representing the NFC in last year's Super Bowl rather than the Rams.
New Orleans head coach Sean Payton made his thoughts on that call perfectly clear and will almost certainly have his team poised to get what little revenge they can by handing the Rams a loss on their own turf. The Saints enter this game on a short week, which may have cost them marginally in terms of the betting odds, but Wil Lutz's 58-yard, game-winning field goal that handed them a 30-28 victory over the Texans on Monday night will at least have morale high as the team makes the long trek out west.
The Rams offense was far from prolific in their win over the Panthers, but Todd Gurley finding his stride late in the game certainly helped carry them through an otherwise underwhelming performance. After a lackluster first half with limited time on the field, Gurley ripped off a 25-yard scamper at the start of the third quarter that seemed to get him into a rhythm and ultimately help contribute to his 97-yard rushing performance.
Usually a balanced attack, coach Sean McVay's offense struggled in the passing game, with Jared Goff completing 23 of his 39 passes for just 186 yards with one touchdown and one interception (69.0 passer rating). Even at home, Goff will need to produce more firepower than that when going toe-to-toe with Drew Brees and the Saints. This should be the most entertaining game of the week, and an extremely tight one as the spread suggests.
28 / 32
Insiders predict: Los Angeles Rams
- Favored to win: Los Angeles Rams
- Spread: -2.5
- Odds: -140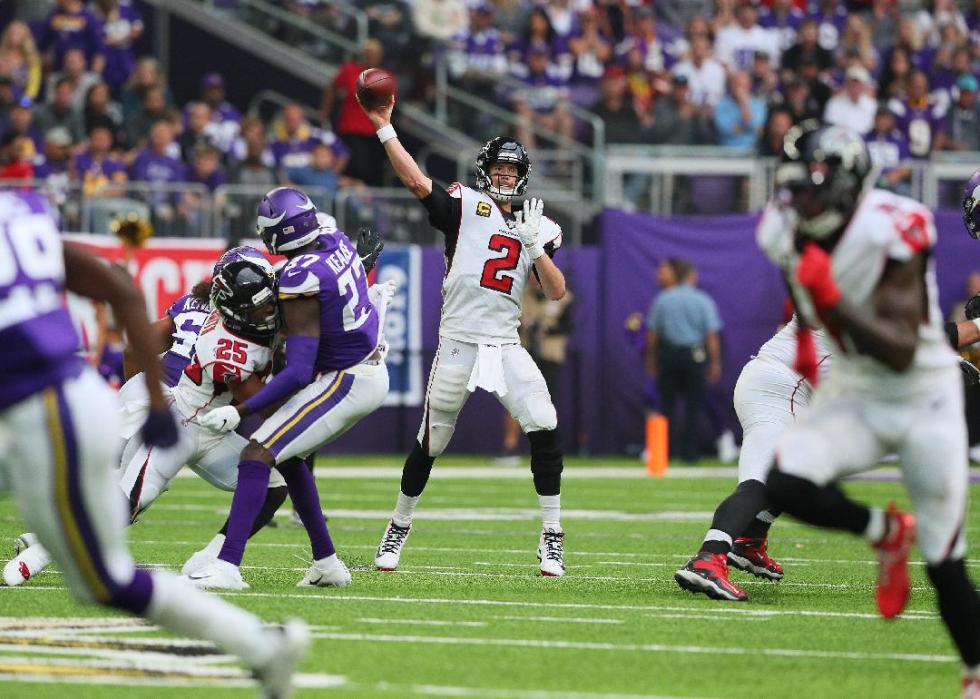 29 / 32
Philadelphia Eagles (1-0) @ Atlanta Falcons (0-1)
- Gametime: Sunday, Sept. 15, 8:20 p.m. EST
After a shaky start against their division rivals, the Eagles rebounded in the second half of their season-opener on Sunday to overcome a 17-point deficit and beat Washington 32-27. It was a strong start to the season for quarterback Carson Wentz, who threw for 303 yards and three touchdowns, including a pair of them to DeSean Jackson who played for Washington from 2014–16.
The Falcons were not as impressive. Their usually-potent offense was stifled by a stingy Vikings defense in Minnesota in a 28-12 defeat. Home field advantage used to carry plenty of weight for Atlanta, but the comfort of the dome wore off a bit last season as they stumbled to a 4-4 home record. For that reason, and the fact that Wentz showed early indications that he is finally healthy and ready to get back to being in the MVP conversation, the Eagles are a deserved road favorite.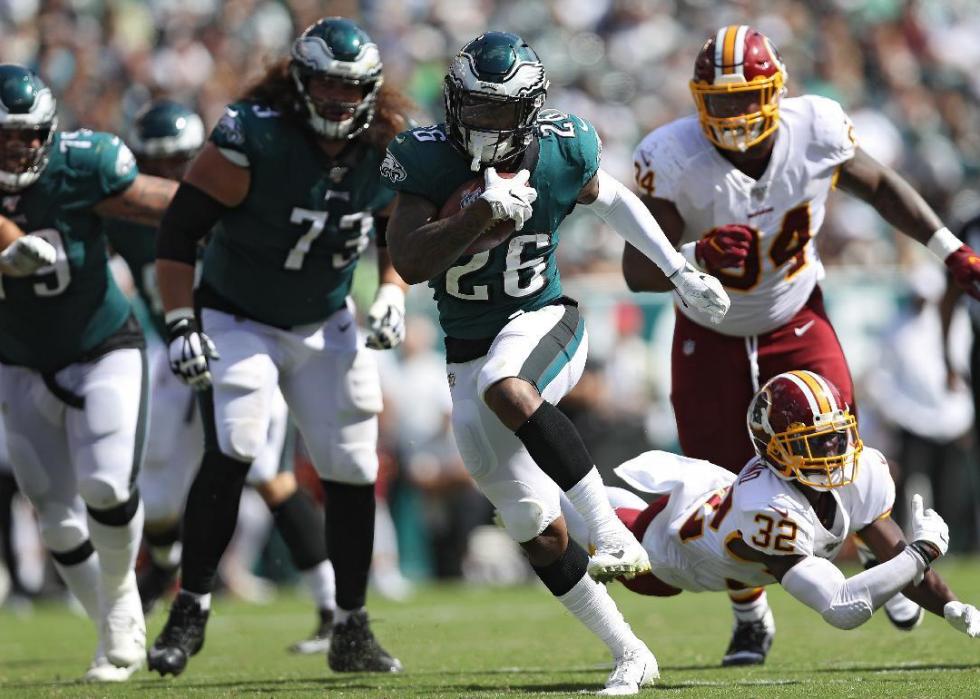 30 / 32
Insiders predict: Philadelphia Eagles
- Favored to win: Philadelphia Eagles
- Spread: -1.5
- Odds: -125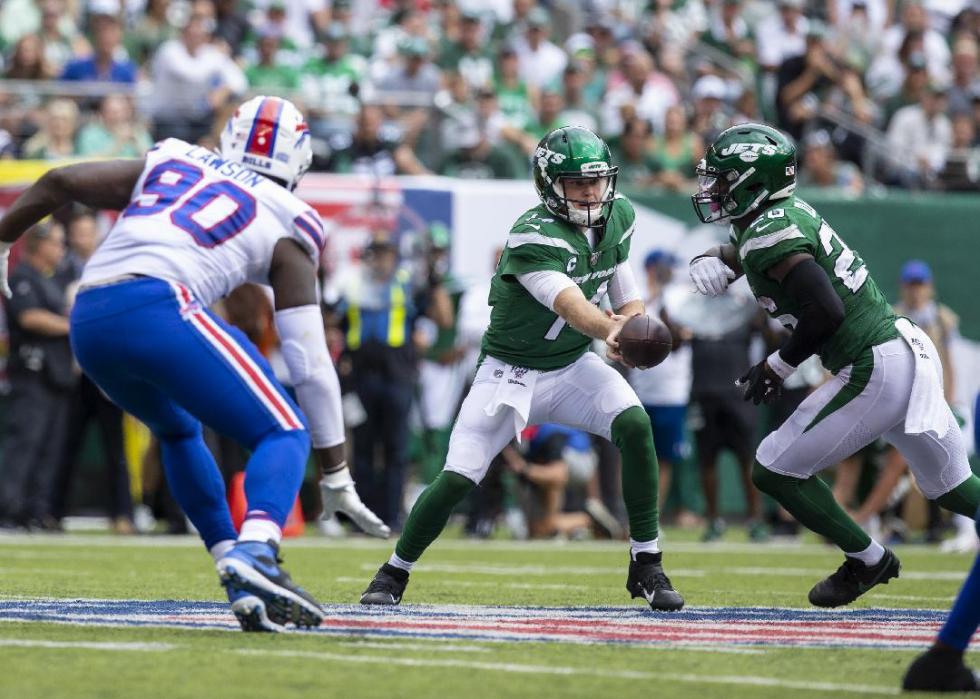 31 / 32
Cleveland Browns (0-1) @ New York Jets (0-1)
- Gametime: Monday, Sept. 16, 8:15 p.m. EST
The very first Monday Night Football matchup ever played was between the Browns and Jets back in 1970. Since that meeting 49 years ago, the fan bases of both franchises would likely tell you that there has been mostly suffering. The Browns came into this season with new, big name stars and a ton of optimism surrounding their new franchise quarterback Baker Mayfield, but doubt certainly had to creep right back into the minds of Browns fans after they were walloped 43-13 at home in their opener, a game in which they were almost a full touchdown favorite.
On the other side of the ledger, it says a lot about the Jets, who lost last week at home 17-16 at the hands of the Bills, that they would be home underdogs to a team that was blown out by 30 points. It was a rather uninspiring performance from the New York offense, led by second-year quarterback Sam Darnold, as they failed to capitalize on the fact that their defense gifted them additional possessions by creating four turnovers. They do have a new weapon for Darnold, as they have acquired wideout Demaryius Thomas from the New England Patriots for a sixth-round draft pick. Thomas was considered surplus in New England after they signed Antonio Brown following his release from the Raiders, but in New York, he should have a chance to get plenty of targets.
Two teams in desperate search of something to feel good about, and one seems bound to get that on Monday night. Though a tie would somehow seem an all too fitting end to this one.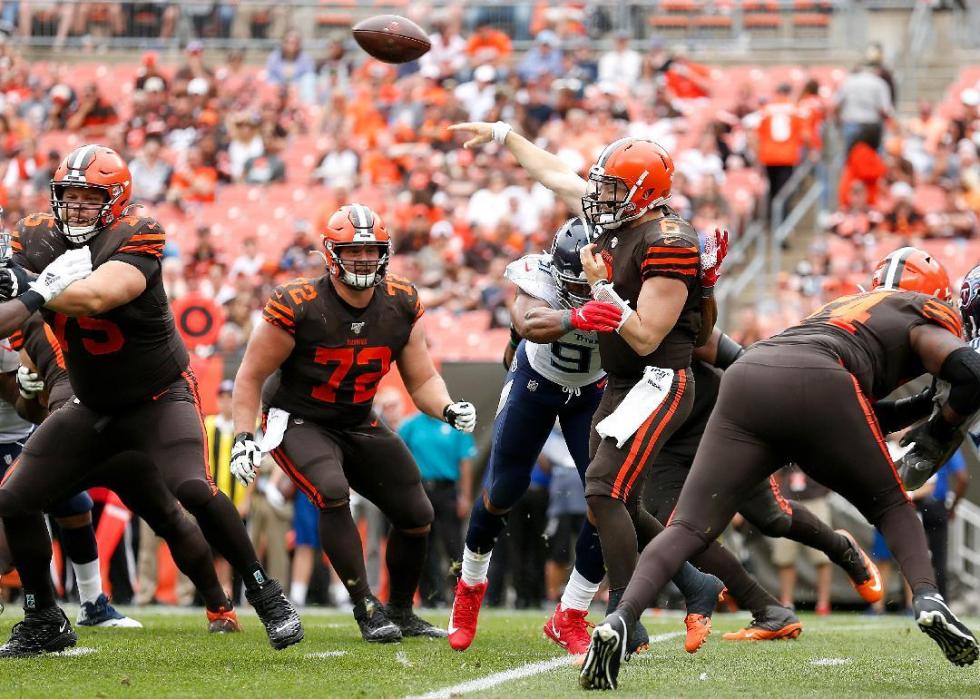 32 / 32
Insiders predict: Cleveland Browns