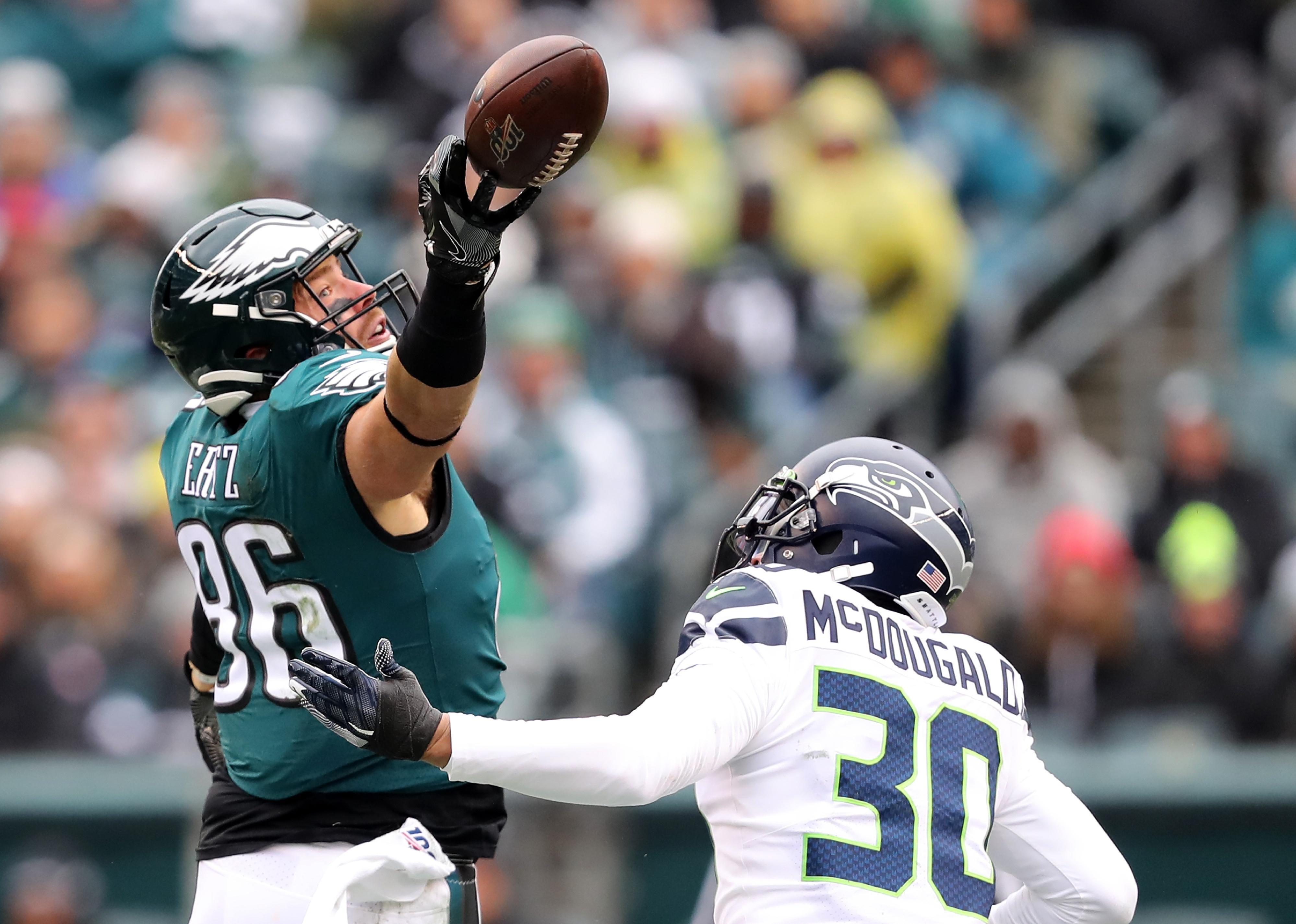 Insiders predict: NFL Wild Card Round winners
Insiders predict: NFL Wild Card Round winners
A total of 256 NFL games kicked off in 2019 regular season, and all 256 have seen the final seconds tick away. It was a year chock-full of surprise outcomes, monster performances, and broken records. The NFL playoffs are upon us, and the math for each remaining team is now very simple: survive and advance.
The field dwindled from 32 to 12, and eight of those will take the field this weekend. Last week, because of a last-second survival against the Seattle Seahawks, the San Francisco 49ers earned home-field advantage throughout the playoffs and avoid playing on Wild Card Weekend. The Green Bay Packers needed a win to secure a first-round bye, and though it wasn't easy, they snuck by the Detroit Lions. The New England Patriots could have done the same in the AFC, but were shocked by the Miami Dolphins at home in their regular-season finale and now must battle on Saturday, allowing the Kansas City Chiefs to take the #2 spot.
Ten playoff spots had already been secured heading into the final weekend of the season, and it was an easy formula for the Tennessee Titans and the Philadelphia Eagles to lock up the final two: win and get in. And both squads did just that in Week 17. While all eight teams playing this week must earn an additional victory en route to Super Bowl LIV—and no team has reached the big game without a first-round bye since the 2012 Baltimore Ravens—any one of these teams can make a run. As we've seen time and time again over the past two decades, you never count out the Pats.
The schedule has been set for Wild Card Weekend. The top-seeded Niners in the NFC and Ravens in the AFC await the lowest-seeded team to advance, while the Packers and Chiefs will take on the higher-seeded opponents in the divisional round. Read on as we break down each pivotal matchup.
Methodology: Insiders predicts are based on the team that is favored to win, which is based on consensus betting odds and spread on MSN.com as of Jan. 2, 2020. Team stats were gathered from NFL.com. Check out the live odds at MSN.com.
You may also like: History of the NFL from the year you were born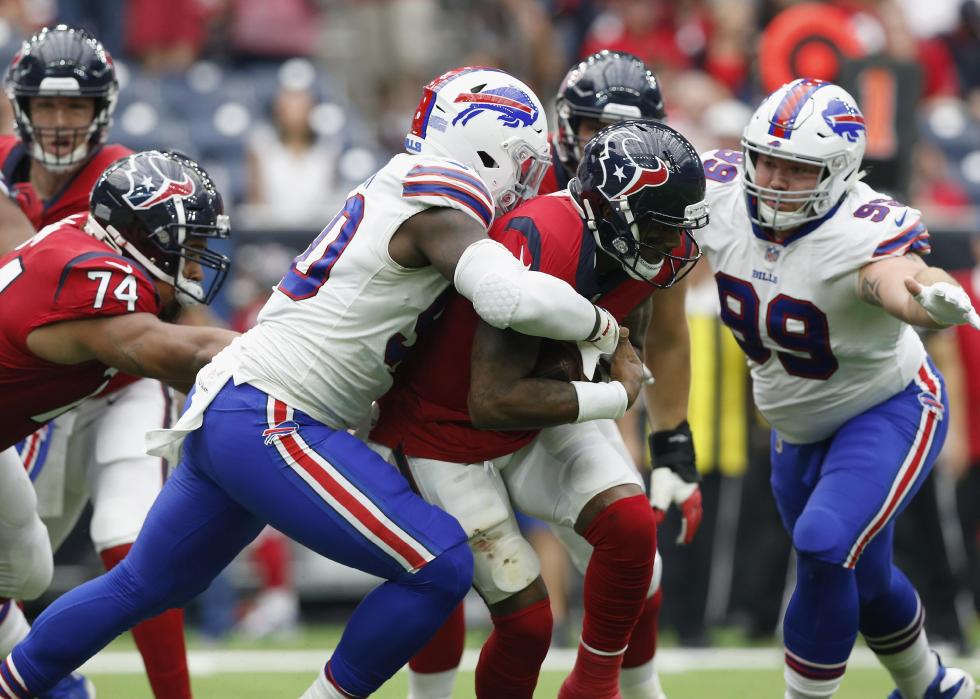 1 / 8
Tim Warner // Getty Images
Buffalo Bills (10-6) @ Houston Texans (10-6)
- Gametime: Saturday, Jan. 4, 4:35 p.m. EST
The anchor to the Texans defense and three-time NFL Defensive Player of the Year J.J. Watt was thought to be lost for the season when he suffered a torn pectoral muscle in October. But ahead of Houston's wild-card showdown with the Bills, Watt has been activated and will now play on Saturday afternoon. That provides a big boost to a Texans team that has some of its other stars rested entering this game, having sat quarterback Deshaun Watson, wide receiver DeAndre Hopkins, and others in their Week 17 loss to the Titans—a meaningless game for Houston, having already clinched the AFC South for the second straight season.
Watson and the Texans were in the postseason just a year ago as division champions but fell to Andrew Luck and the Indianapolis Colts at NRG Stadium, 21-7, in the opening round. They're at home once again to begin the postseason, only this time they'll meet a quarterback making his first career postseason start in Josh Allen.
Allen and the Bills had the fifth seed clinched ahead of their Week 17 meeting with the Jets so they too sat some players including running back Devin Singletary and cornerback Tre'Davious White. Allen played but was pulled from the game early to avoid injury. He has had his moments this season and eclipsed 3,000 yards passing while throwing 20 touchdowns with nine interceptions. That was a major improvement over his 10 touchdowns and 12 interceptions in 12 starts for his rookie campaign, so Buffalo is hoping his improved efficiency holds true when asked to perform in a pressure-packed road playoff game.
One potential key to this game will be the status of Bills defensive end Shaq Lawson. As one of Buffalo's better pass-rushers, Lawson's ability to play through a hamstring injury will make a big difference. He is practicing this week but listed as questionable.
While the Houston offense is capable of putting up big numbers, its biggest weakness is protecting Watson. The Texans allowed 49 sacks this season, which had them ranked 25th in the league. Buffalo's second-ranked scoring defense will look to pin its ears back and get after Watson to put their young quarterback in favorable situations to pull off an upset and advance past the wild-card round for the first time since the 1995 playoffs.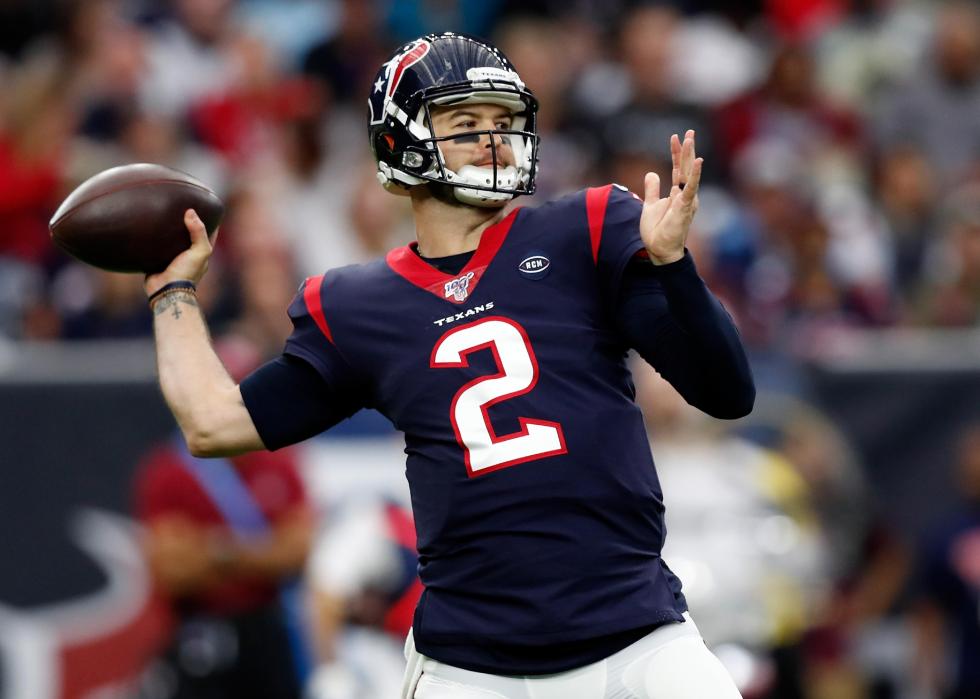 2 / 8
Tim Warner // Getty Images
Insiders predict: Houston Texans
- Favored to win: Houston Texans
- Spread: -2.5
- Odds: -146
- Buffalo Bills team stats:
- Offense: 330.2 yards per game (#24 in the league)
--- Passing offense: 201.8 ypg (#26)
--- Rushing offense: 128.4 ypg (#8)
- Defense: 298.2 yards per game (#3 in the league)
--- Passing defense: 195.2 ypg (#4)
--- Rushing defense: 103.1 ypg (#10)
- Houston Texans team stats:
- Offense: 362.0 yards per game (#13 in the league)
--- Passing offense: 236.4 ypg (#15)
--- Rushing offense: 125.6 ypg (#9)
- Defense: 388.3 yards per game (#28 in the league)
--- Passing defense: 267.2 ypg (#29)
--- Rushing defense: 121.1 ypg (#25)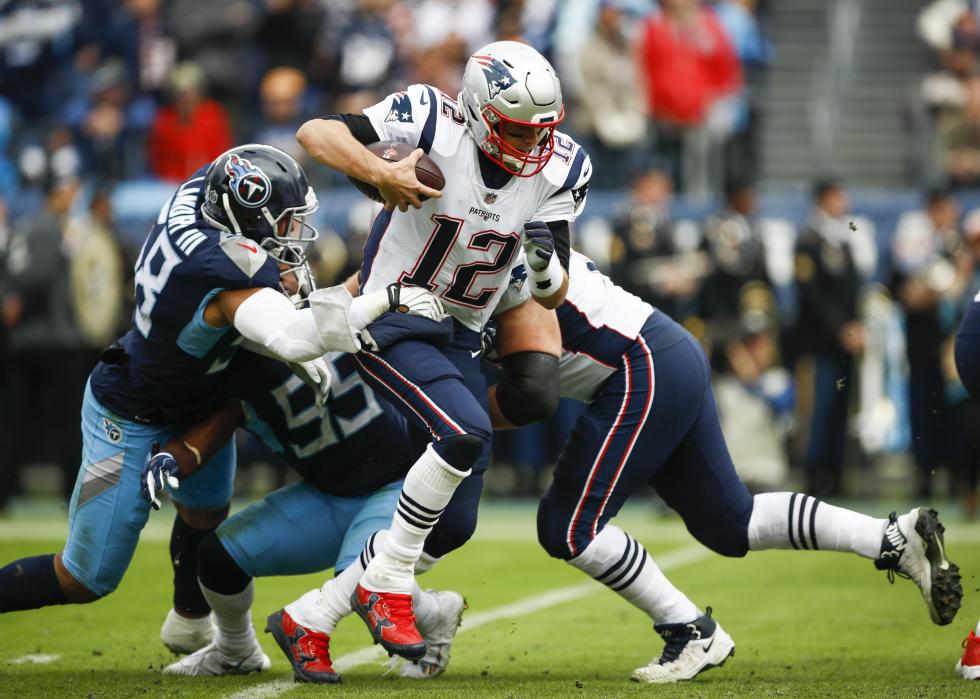 3 / 8
Wesley Hitt // Getty Images
Tennessee Titans (9-7) @ New England Patriots (12-4)
- Gametime: Saturday, Jan. 4, 8:15 p.m. EST
For the first time since 2009, the Patriots have to suit up and play on Wild Card Weekend. Their hopes of earning a first-round bye week slipped as they were upset by Ryan Fitzpatrick and the Dolphins, 27-24, in Week 17. That, coupled with a Chiefs victory, saw Kansas City edge New England for the second seed in the AFC and set up a meeting between Bill Belichick and one of his former players and coaching disciples.
Mike Vrabel leads his Titans team into Foxborough for his postseason coaching debut on the heels of a 35-14 beatdown of a Texans team which had nothing to play for. Tennessee, however, had everything to play for in that game, and it showed. Derrick Henry, who was rested in Week 16 with the intent to have him fresh for this all-or-nothing game, rushed for 211 yards and three touchdowns. Henry will no doubt be the focal point for Belichick as the mastermind looks to continue his trend of taking away his opponent's greatest strength. Henry had a league-leading 1,540 rushing yards this season with 16 touchdowns.
While Henry was consistent throughout the year, quarterback Ryan Tannehill also provides an interesting new challenge for New England. The entire season changed for Tennessee when Tannehill took over as the starter for Marcus Mariota on October 20. They would then go on to win seven of their final 10 games to reach 9-7 and make the playoffs. Tannehill threw 22 touchdowns with just six interceptions.
The back end of New England's regular season saw them trend in a different direction. After going 8-0 in the first half of their season, the Patriots finished 4-4 in their final eight games and some glaring weaknesses in their offense began to show.
Their defense has been their backbone throughout the year, producing 36 turnovers and helping them achieve a plus-21 differential, the best in the NFL. If they can continue to take the ball away, their title defense will likely continue for at least another week.
These two franchises last met in the postseason two years ago in the divisional round. New England dominated that game 35-14, putting an end to the Mike Mularkey era. The Titans fired the former head coach in the wake of that loss. Expect them to put up a much better fight this time around.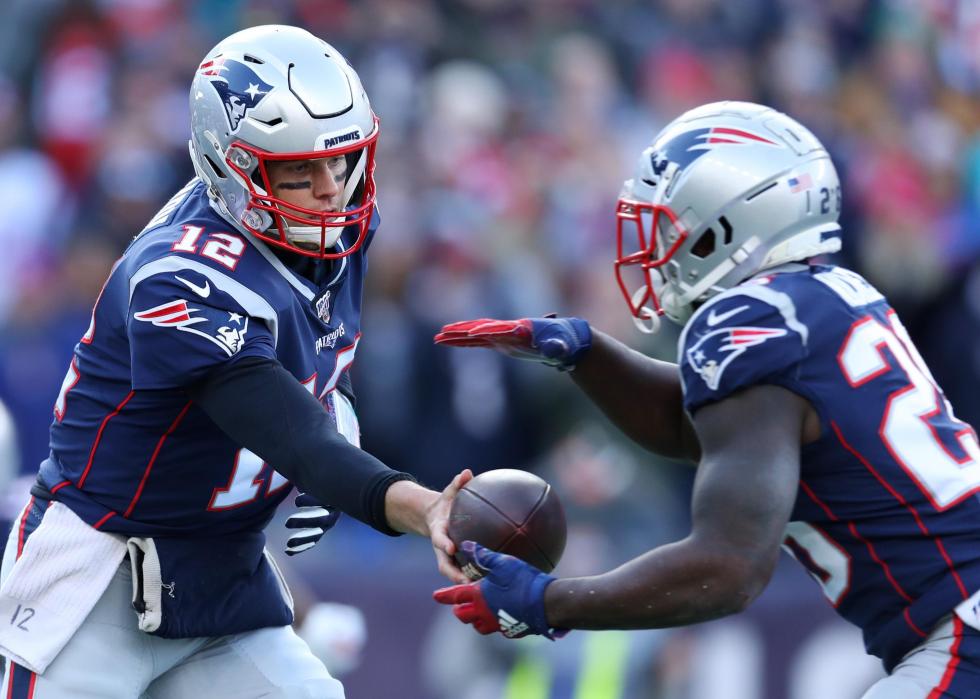 4 / 8
Maddie Meyer // Getty Images
Insiders predict: New England Patriots
- Favored to win: New England Patriots
- Spread: -4.5
- Odds: -225
- Tennessee Titans team stats:
- Offense: 362.8 yards per game (#12 in the league)
--- Passing offense: 223.9 ypg (#21)
--- Rushing offense: 138.9 ypg (#3)
- Defense: 359.5 yards per game (#21 in the league)
--- Passing defense: 255.0 ypg (#24)
--- Rushing defense: 104.5 ypg (#12)
- New England Patriots team stats:
- Offense: 354.0 yards per game (#15 in the league)
--- Passing offense: 247.6 ypg (#8)
--- Rushing offense: 106.4 ypg (#18)
- Defense: 275.9 yards per game (#1 in the league)
--- Passing defense: 180.4 ypg (#2)
--- Rushing defense: 95.5 ypg (#6)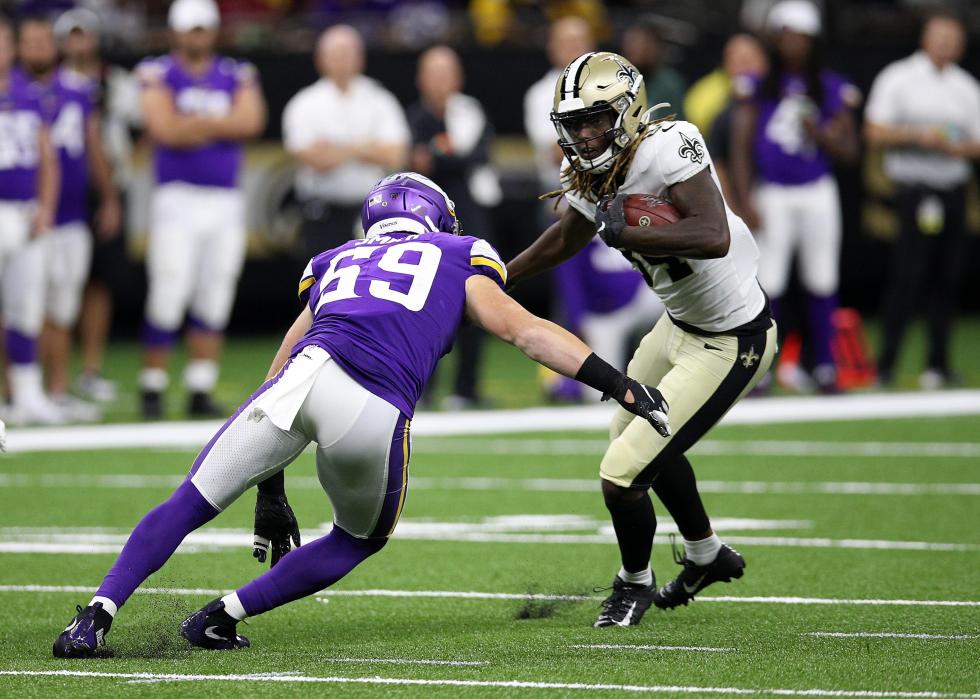 5 / 8
Chris Graythen // Getty Images
Minnesota Vikings (10-6) @ New Orleans Saints (13-3)
- Gametime: Sunday, Jan. 5, 1:05 p.m. EST
The New Orleans Saints are rolling and ready for retribution—the last time they faced the Minnesota Vikings in the postseason, the outcome was the unimaginable Minneapolis Miracle. With only 10 seconds left in the fourth quarter and no timeouts, the Vikings trailed 24-23. A Case Keenum to Stefon Diggs 61-yard prayer was answered. Minnesota walked off 29-24 and sent New Orleans packing.
The Saints were jettisoned from the tournament devastatingly last season, too, on what is perhaps the most infamously missed call in NFL playoff history: a flub so bad it required the NFL to rewrite the rulebook. Now, tied for the NFC's best record and armed with one of the league's most explosive offenses, the Saints will strive for the promised land after two straight years of heartbreak.
The Vikings return to the postseason after an absence last year and locked down the second and final wild-card spot in an incredibly competitive NFC. The Vikes enter Sunday losers of two straight, though their Week 17 loss to the Bears was irrelevant as they couldn't improve or drop their playoff standing. What stung was a 23-10 loss to the Green Bay Packers a week prior with an NFC North title still up for grabs. Minnesota star running back Dalvin Cook has missed the last two games with a shoulder injury but says he's good to go for Sunday's matchup.
The Saints beat the Carolina Panthers in a 42-10 blowout, but because the San Francisco 49ers and Green Bay Packers both eked out victories, they lost tiebreakers to both teams and are forced to play on Wild Card Weekend. The Saints may be the most dangerous team in the NFC, though, as the ageless Drew Brees continues to be one of the best quarterbacks in football. His #1 target Michael Thomas broke the regular-season reception record with a staggering 149 catches.
The postseason wasn't the last time these two met; in the 2018 regular season, the Saints bested the Vikings 30-20 despite Kirk Cousins throwing for 359 yards compared to just 120 for Brees. But this is the playoffs, and the Saints are looking for redemption on a bigger stage.
You may also like: Oldest teams in the NFL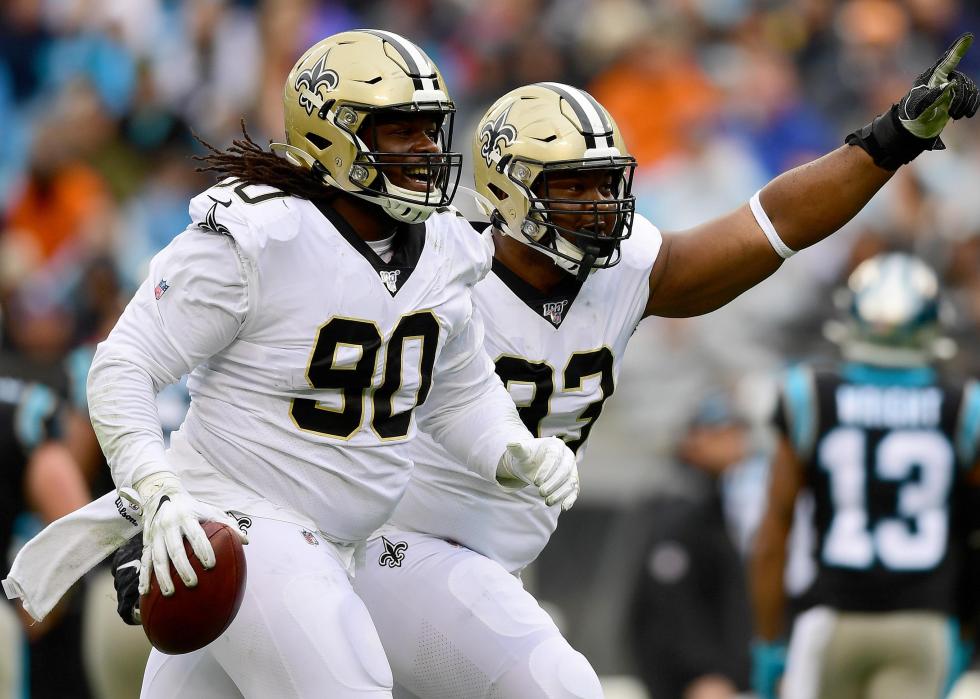 6 / 8
Jacob Kupferman // Getty Images
Insiders predict: New Orleans Saints
- Favored to win: New Orleans Saints
- Spread: -7.5
- Odds: -383
- Minnesota Vikings team stats:
- Offense: 353.5 yards per game (#16 in the league)
--- Passing offense: 220.2 ypg (#23)
--- Rushing offense: 133.3 ypg (#6)
- Defense: 341.6 yards per game (#14 in the league)
--- Passing defense: 233.6 ypg (#15)
--- Rushing defense: 108.0 ypg (#13)
- New Orleans Saints team stats:
- Offense: 373.9 yards per game (#9 in the league)
--- Passing offense: 265.2 ypg (#7)
--- Rushing offense: 108.6 ypg (#16)
- Defense: 333.1 yards per game (#11 in the league)
--- Passing defense: 241.8 ypg (#20)
--- Rushing defense: 91.3 ypg (#4)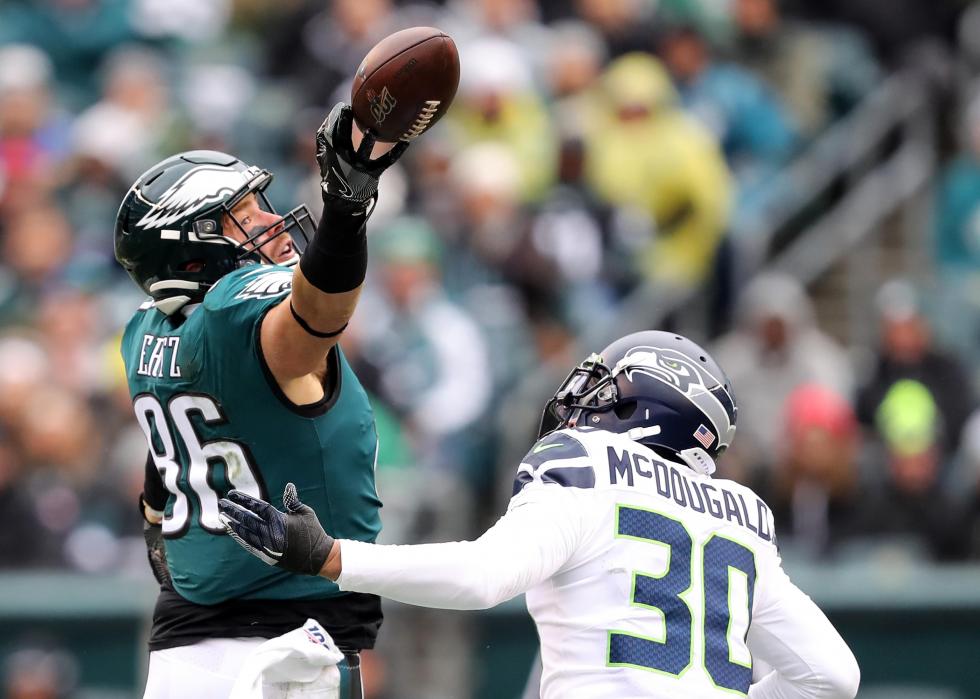 7 / 8
Seattle Seahawks (11-5) @ Philadelphia Eagles (9-7)
- Gametime: Sunday, Jan. 5, 4:40 p.m. EST
The Seattle Seahawks were literally an inch away from an NFC West title and a first-round home game, but came up just short of the goal line in a Week 17 thriller against the San Francisco 49ers, falling 26-21. Instead, they'll travel to Philadelphia to take on an Eagles team which would not be in the postseason if not for the incredibly weak NFC East.
The Eagles sneak into the tournament after beating the Dallas Cowboys, 17-9, in Week 16, and then securing an NFC East title a week later after a 34-17 victory over the New York Giants. Philly is no stranger to the playoffs, though—the team capped off a dominant 2017 season with a Lombardi Trophy, and advanced to the second round of the tournament last season before losing in New Orleans. The difference this time around: They'll finally have starting quarterback Carson Wentz for their postseason run. Former Eagles backup QB Nick Foles was under center for all of the Eagles playoff games the last two seasons and even earned Super Bowl LII MVP honors, but Wentz is finally healthy late in the season. That's good news for a Philadelphia team already without several key starters in Sunday's victory, and having lost Pro Bowl starting guard Brandon Brooks for the season in the game.
The Eagles' playoff hopes looked completely dead after they were upset by the Miami Dolphins in Week 13, but they rallied for four straight victories since. The Seahawks have looked like a playoff-bound team all season, and as the only road team with a better record than their opening-round opponent, they are a slight favorite. If not for the unprecedented season for Baltimore Ravens quarterback Lamar Jackson, we'd be talking Russell Wilson for MVP. While his 31 touchdowns and only five interceptions are impressive, his ability to show up in the clutch is what makes him dangerous. He has led five game-winning drives this season, which is tied for the most in the NFL this season.
Seattle ran into some trouble in the final leg of the regular season, losing three of its last four games including a 27-13 home upset to the Arizona Cardinals. When the Seahawks and Eagles met earlier this season in Philadelphia, neither quarterback played especially well, but running back Rashaad Penny rushed for 129 yards en route to a 17-9 Seahawks victory. Penny is out for the season, along with running backs Chris Carson and C.J. Prosise, so Seattle called on Marshawn Lynch and brought the back out of retirement, and the former Seahawks star scored a touchdown last week.
Can the 33-year-old still live up to his Beast Mode moniker?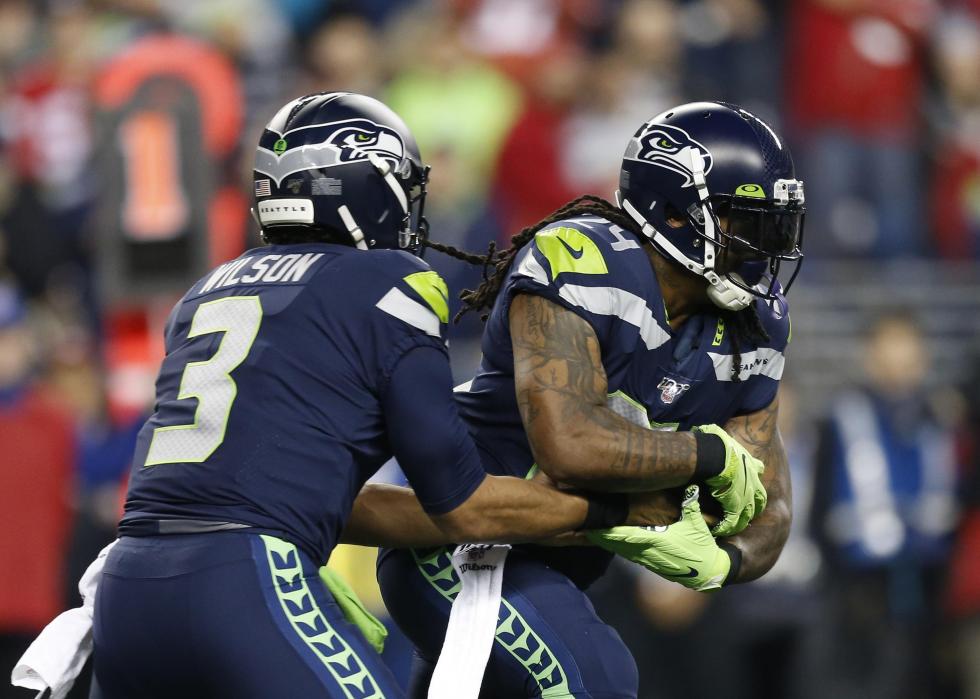 8 / 8
Otto Greule Jr // Getty Images
Insiders predict: Seattle Seahawks
- Favored to win: Seattle Seahawks
- Spread: -2
- Odds: -129
- Seattle Seahawks team stats:
- Offense: 374.4 yards per game (#8 in the league)
--- Passing offense: 236.9 ypg (#14)
--- Rushing offense: 137.5 ypg (#4)
- Defense: 381.6 yards per game (#26 in the league)
--- Passing defense: 263.9 ypg (#27)
--- Rushing defense: 117.7 ypg (#22)
- Philadelphia Eagles team stats:
- Offense: 360.8 yards per game (#14 in the league)
--- Passing offense: 239.6 ypg (#11)
--- Rushing offense: 121.2 ypg (#11)
- Defense: 331.7 yards per game (#10 in the league)
--- Passing defense: 241.6 ypg (#19)
--- Rushing defense: 90.1 ypg (#3)