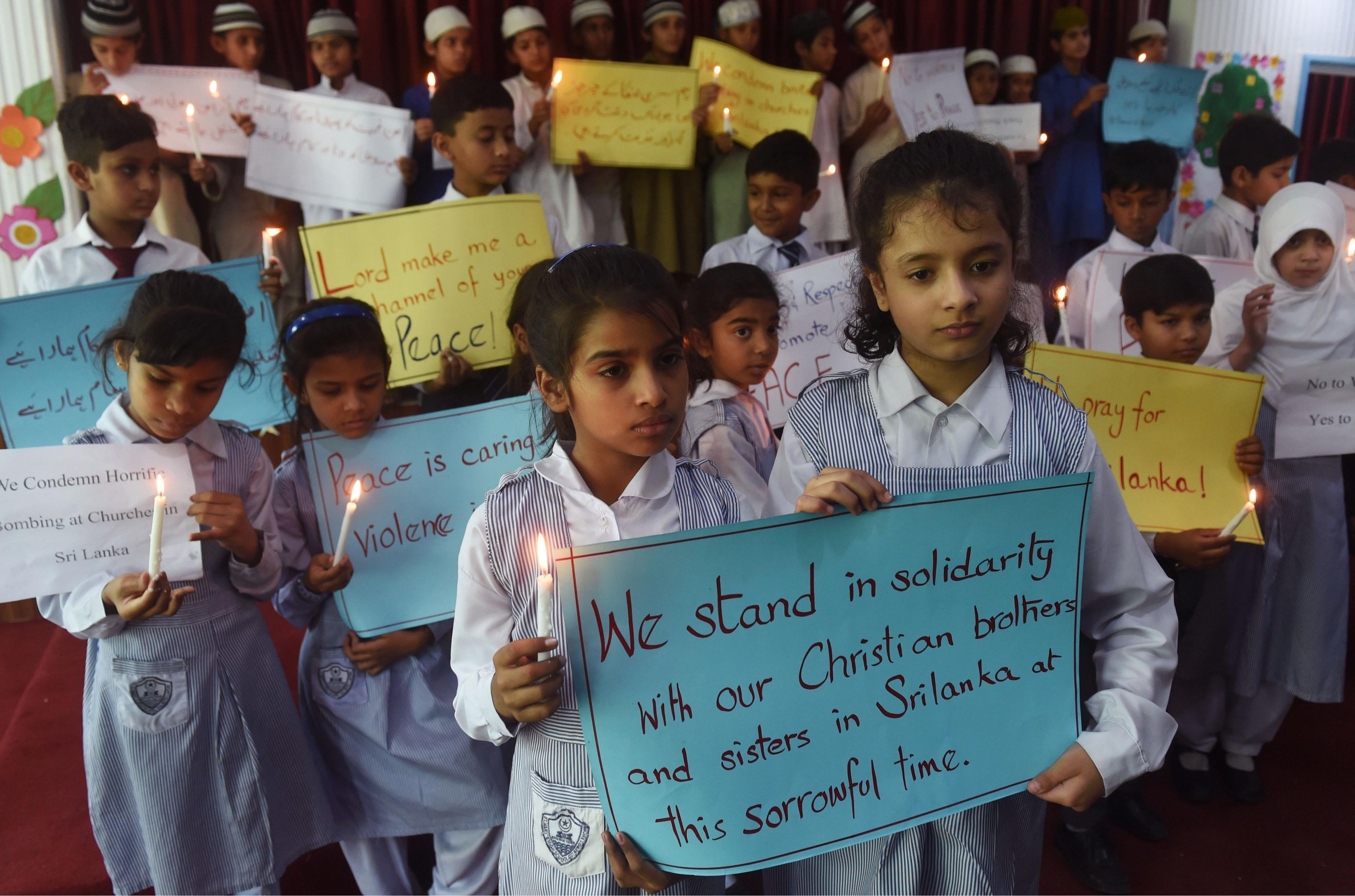 This week's news by the numbers: April 26, 2019
Tasos Katopodis/Getty Images
253
Revised death toll in the 2019 Easter Sunday bombings in Sri Lanka, which targeted three Christian churches and three hotels frequented by foreign tourists.
The attacks have been attributed to a local cell pledging allegiance to ISIS, a disturbing indicator of the continued reach of the terrorist group a month after the eradication of its caliphate of controlled territory in Iraq and Syria.
8 percentage points
Joe Biden's lead over President Donald Trump in polling conducted April 19 through 21 by Morning Consult and Politico. Biden announced his candidacy Thursday, April 25, with a video that directly challenged Trump's leadership and rhetoric.
Compared to other major Democratic contenders, Biden is by favored by 30% of Democratic primary voters, followed by Bernie Sanders (24%), Pete Buttigieg (9%), Kamala Harris (8%), and Elizabeth Warren (7%).
85,000+
The number of U.S. law enforcement officers investigated for misconduct over the last decade. The infractions—ranging from routine violations to serious abuse of authority—were revealed in a sweeping investigation by the USA Today Network in partnership with the Invisible Institute. The investigation reviewed records of more than 200,000 allegations of misconduct.
To date, 30,348 law enforcement officers have lost their certifications. Top-documented offenses include 4,537 cases of drug and alcohol issues, 3,254 cases of assaults and violence, 2,777 cases of dishonesty, and 2,639 cases of theft. The states with the most decertifications include Georgia (10,474), Florida (8,348), Texas (2,682), Arizona (1,112), and North Carolina (1,074)—although it is difficult to draw takeaways from these figures given inconsistent efforts to investigate and ban police officers across states.
1,700
Estimated packs of playing cards sent to Washington State Sen. Maureen Walsh after her comments around nurse working condition protections went viral.
In a state Senate debate, Walsh argued that nurses in rural, critical access hospitals should be exempt from regulations around uninterrupted meal breaks and overtime protection. "Those nurses probably do get breaks, they probably play cards for a considerable amount of the day," she said.
Walsh attributed the comments to the "heat of the argument" and her being tired; she has since committed to shadowing a nurse during a 12-hour shift prompted by a petition with more than 650,000 signatures.
84%
Respondents who rank the honesty and ethical standards of nurses as very high or high in Gallup's most recent polling, #1 among all professions for the 17th year in a row.
6.5 million
Estimated undercount of the American population in the 2020 Census if a question on U.S. citizenship is included, due to potential fears from immigrants of the information being used to monitor unauthorized residency.
The Census helps determine federal spending and congressional allocations. An undercount of immigrants is projected to negatively impact Democratic-leaning states disproportionally.
1 million
Tesla robo-taxis loosely promised by CEO Elon Musk to be on the road in 2020.
Musk framed the vision as an ecosystem in which Tesla owners could contribute their cars to a ridesharing network—similar to Lyft or Uber but self-driving—earning passive income amounting to $30,000 a year. He acknowledged the vision as a rough deadline, stating "Sometimes I am not on time, but I get it done."
14
Games of "Jeopardy!" it took James Holzhauer to pass $1 million in winnings over his current hot streak. At this pace, he'd break the total winnings records of $2,520,700 set by Ken Jennings in 34 games (compared to Jenning's 74-game streak).
Holzhauer has thrived on gameplay that combines conditioned, lightening-fast buzzer reactions with an aggressive pursuit and wagers for Daily Doubles.
37
Men executed by Saudi Arabia earlier this week for alleged terror-related activity. Charges included spying for Iran and participation in a "terror cell" amid anti-government protests. A CNN report revealed some of the men claimed during their trials that their confessions were obtained under torture, sometimes written by their torturers themselves.
Three of the men were minors when their alleged crimes occurred, triggering international condemnation from human rights groups and the United Nations.
Amnesty International estimates Saudi Arabia executed 149 people in 2018, the third-most of any country behind China and Iran.
26,395
Career points scored by Boston Celtics legend John Havlicek, who died Thursday at the age of 79. His career scoring total is the most in Celtics history.
Havlicek spent his entire 16-year career as a member of the Celtics, one of just 11 players in NBA history to spend their entire career (spanning at least 15 seasons) with a single team.
Havlicek cemented his spot in NBA and Celtics lore with his famous steal in game seven of the 1965 Eastern Conference finals. With 5-seconds remaining and the Celtics holding onto a 1-point lead over the Philadelphia 76ers, Havlicek miraculously stole the inbound pass from the 76ers, prompting breathless announcer Johnny Most to exclaim, "Havlicek stole the ball!"
$65 million
2018 pay package for Disney CEO Bob Iger, attacked by Disney heiress Abigail Disney in an op-ed in the Washington Post this week. The column asserted pay inequality and called for the redistribution of executive pay to the lowest-paid workers within the company.
Disney's CEO pay to median pay ratio was 1,424x in 2018, the fifth highest among U.S. companies in the top 100 for annual revenue.
The Walt Disney Company responded to the criticism with a statement asserting strong employee support—pointing to a starting hourly wage of $15 and $150 million commitment to helping hourly employees obtain free college or vocational degrees—and that most of Iger's compensation was tied to financial performance gains rather than guaranteed compensation. Disney stock has risen from $24 to $133 per share since Iger became CEO in 2005.
-$50,300
The difference in 10-year gains for a $1,000 investment in Disney versus Netflix. A $1,000 investment in Disney on April 23, 2009, would be worth $7,700 today, while the same investment in Netflix would be worth $58,000.
Disney plans to launch Disney+, a rival streaming service, on November 12, 2019. The offering will include a library of Disney films and shows with an expected cost of $6.99 per month or $69.99 annually.