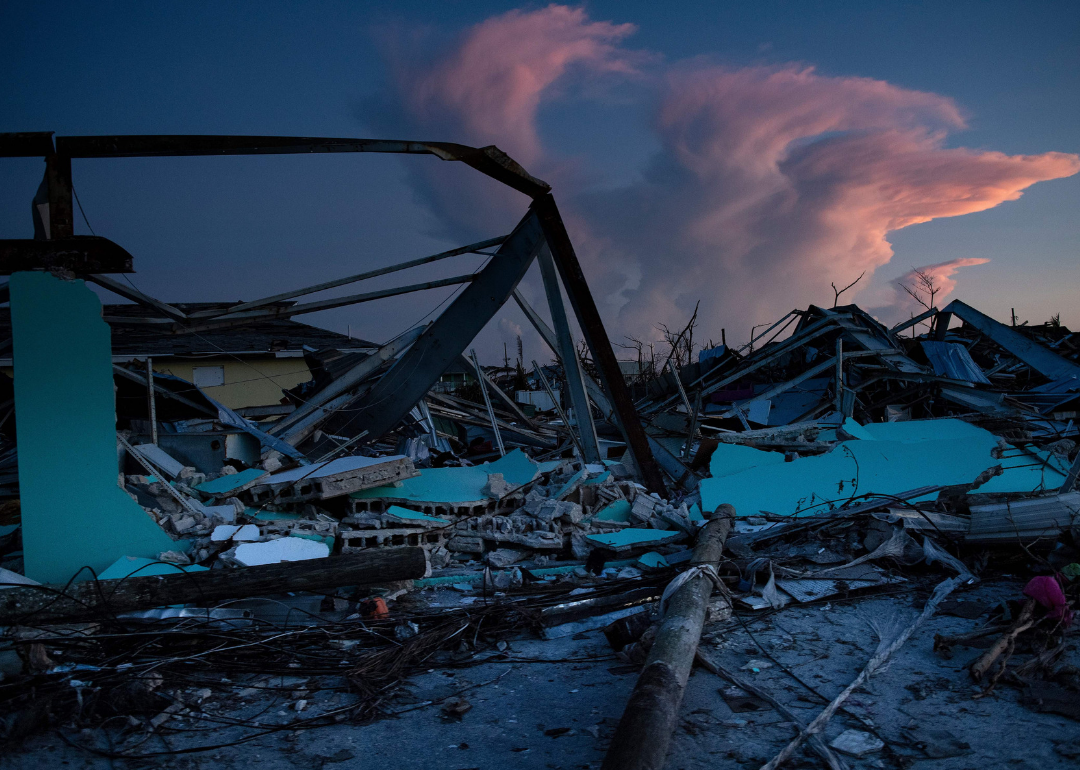 This week's news by the numbers: Aug.30-Sept.6
BRENDAN SMIALOWSKI/AFP/Getty Images
This week's news by the numbers: Aug. 30 - Sept. 6
Stacker distills the week's news from around the world into key facts and figures. This week's takeaways include the devastation of Hurricane Dorian, demands of Hong Kong protesters, riots in Johannesburg, and more. Click through to read more about some of this past week's biggest headlines.
30 dead and thousands unaccounted for after Hurricane Dorian
Thirty people have been confirmed dead in the Bahamas after hurricane Dorian decimated the Islands of Grand Bahama and Great Abaco. Emergency personnel expect that number to rise as they continue to make their way through the rubble and devastation left behind. At press, almost 6,500 names have been added to a list of missing people at DorianPeopleSearch.com. Dorian, now a category 1 storm, made landfall at 8:35 a.m. Friday in the United States over North Carolina's Cape Hatteras.
1 out of 5 protester demands met in Hong Kong
On Wednesday, Hong Kong's Chief Executive Carrie Lam announced that the government would formally withdraw the controversial extradition bill that sparked months of protests. But many have taken a "too little, too late" point of view on Lam's decision, citing she only met one five of the protesters' demands. These demands include: withdrawal of the extradition bill, Lam's resignation, an inquiry into police brutality, the release of those who have been arrested, and greater democratic freedoms. Protests are now entering their 14th week.
Measles outbreak in NYC ends after 11 months
New York City health officials announced on Tuesday that the measles outbreak, which began in October 2018, is officially over. No new cases have been reported since mid-July. But while that outbreak has ended, cases of measles still exist in other parts of New York state and across the country. The World Health Organization removes a country's elimination status when measles has been spreading continuously for one year; health officials said there is a reasonable chance the United States will lose its measles elimination status in October.
34 dead in dive boat fire off the coast of California
34 people—33 passengers and 1 crew sleeping below deck—died in a dive boat fire off the coast of Southern California on Monday. Though an official cause of the fire about the Conception dive boat has not yet been determined, an investigation into the event has suggested serious safety gaps. Santa Barbara County Sheriff Bill Brown on Friday said the cause of death for the deceased was likely smoke inhalation, not burns.
10 dead and 420 arrested in xenophobic riots between South Africa and Nigeria
A wave of xenophobic riots in South Africa this week have left at least 10 dead and led to more than 420 arrests. Violent mobs attacked foreign-owned businesses, particularly Nigerian-owned shops, in Johannesburg. Retaliatory attacks on South African owned-businesses in Nigeria are also increasing. Some South Africans accuse foreigners of peddling illegal drugs or taking jobs. South Africa's official unemployment figure stands at nearly 30%.
130,000 jobs added to US economy in August
130,000 jobs were added to the U.S. economy in August and the unemployment rate remained steady at 3.7% for the third month in a row. Employers have added an average of 150,000 jobs over the past six months, down from an average of 223,000 over the same time period last year. Despite signs of a slowing economy, some positive trends emerged. Average hourly pay, for example, rose 11 cents in August to $28.11.
450 people with potentially vaping-related lung disease
US health officials say the number of people with severe lung disease that could be related to vaping is now up to 450. Three deaths have also been confirmed and fourth remains under investigation. New York health officials on Thursday said their investigation is focusing on the chemical vitamin E acetate, of which they've found "very high levels" in nearly all cannabis-containing vaping products that were analyzed.