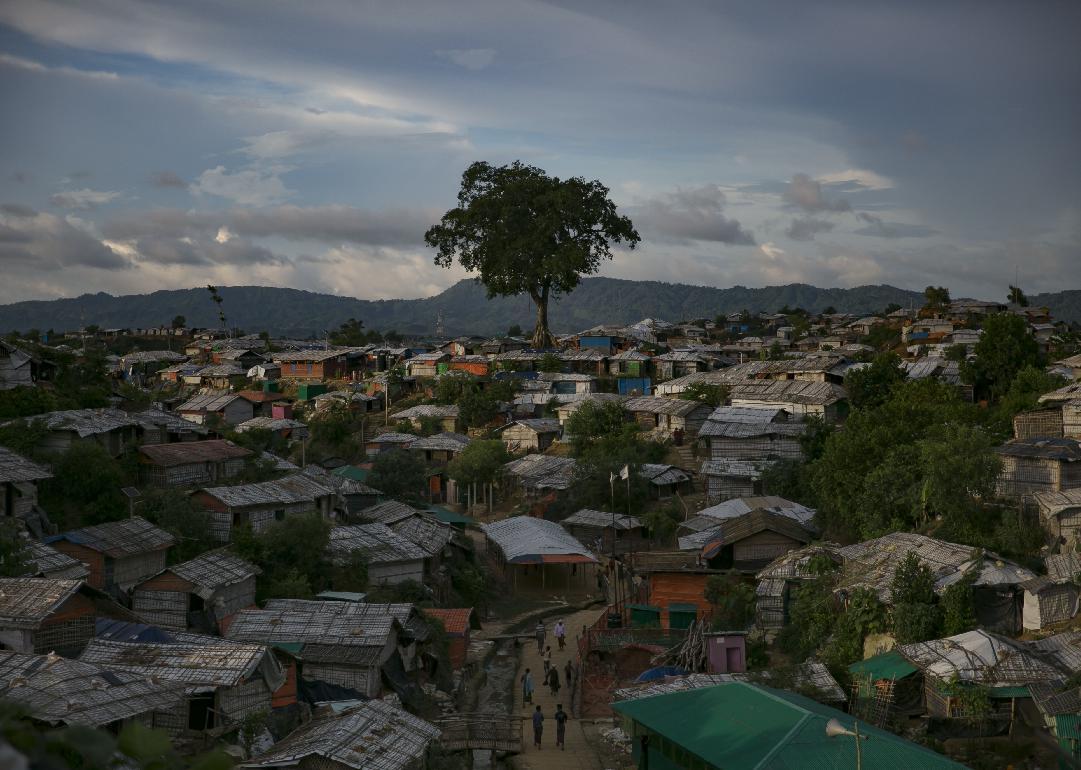 This week's news by the numbers: August 17-23
Allison Joyce // Getty Images
This week's news by the numbers: August 17–23
Stacker distills the week's news from around the world into key facts and figures. This week's takeaways include fires in the Amazon, the lockdown in Kashmir, tariff wars, and more. Click through to read about some of this past week's biggest headlines.
Over 2,500 active fires in the Amazon
More than 2,500 fires are actively burning in the Amazon and despite their recent media attention, they are part of a larger, ongoing problem in Brazil. Although fires are common during the dry season and regularly used to clear areas for livestock, Brazil has seen a record number of fires in 2019—more than 75,000, an 83% increase from 2018.
Many environmental groups have placed blame on Brazil's President Jair Bolsonaro citing his decision to relax environmental regulations and encourage deforestation. The National Institute for Space Research (Inpe) found that deforestation in the Amazon was 278% higher in July 2019 than in July 2018. A study conducted by The Amazon Environmental Research Institute found the increase in the number of fires in the Amazon is directly related to deforestation.
Zero Rohingya Muslims agreed to repatriation to Myanmar
None of the Rohingya Muslims currently residing in refugee camps in Bangladesh agreed to repatriate to Myanmar on Thursday. Myanmar cleared more than 3,000 Rohingya to return to the country, but refugees say they will not go back without guarantees of safety and citizenship.
Over the past two years, more than 700,000 Rohingya—targets of a violent ethnic cleansing campaign—fled across the border from Myanmar into Bangladesh. Despite the squalid conditions of the refugee camp which has become the largest in the world, Rohingya refugees believe it is still better than returning home without assurances of their safety. Bangladesh Prime Minister Sheikh Hasina said her government will not force refugees to return to Myanmar.
2,300 People Detained During the Lockdown in Kashmir
More than 2,300 people, mostly young men and some as young as14, have been detained in the India-controlled region of Kashmir, according to arrest statistics obtained by The Associated Press. Officials said most of the arrests have been in Srinagar, Kashmir's main city. Nearly 100 people have been arrested under the Public Safety Act, which permits detaining people for up to two years without trial, according to the arrest records.
Residents reported police and soldiers forcibly removing people from their homes. In Soura, an area of Srinagar which has seen some of the biggest protests and clashes with the military, residents have barricaded the neighborhood by digging trenches, laying barbed wire and erecting poles and tin sheets in an attempt to stop the raids. The lockdown and communication blackout was imposed to curb unrest after the region was stripped of its autonomous status on Aug. 5.
Social media companies suspend thousands of Chinese accounts targeting Hong Kong Protests
Twitter and YouTube took action this week to stop a Chinese government-backed campaign to spread misinformation about the Hong Kong protests. Twitter suspended more than 200,000 accounts and YouTube disabled more than 200 videos. Both companies have said the move to limit this content is part of broader efforts to mitigate malicious political activity on these platforms.
First death linked to vaping-related lung illness
Public health officials in Illinois announced on Friday that the first patient being treated for a vaping-related lung illness has died. The number of patients with this mysterious illness has risen to 193 cases in 22 states since June. Doctors and public officials have not yet found a common link between these patients other than vaping.
Tariffs on billions of U.S. and Chinese goods
Beijing announced on Friday that retaliatory tariffs on $75 billion worth of U.S. goods will take effect Sept. 1. Shortly after, President Trump announced the U.S. will raise tariffs from 25% to 30% on $250 billion in goods starting on October 1 in response. The latest back-and-forth is yet another escalation in the trade war between the U.S. and China.