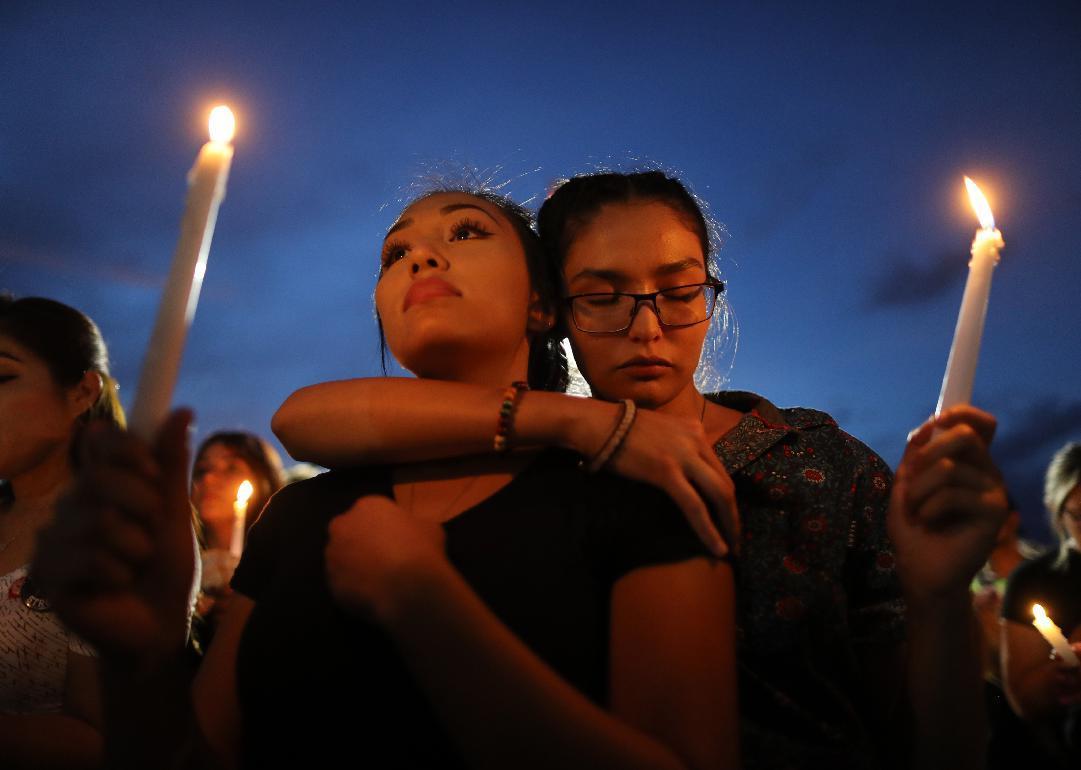 This week's news by the numbers: August 3-9
Mario Tama // Getty Images
This week's news by the numbers: August 3–6
Stacker distills the week's news from around the world into key facts and figures. This week's takeaways include the conflict in Kashmir, ICE raids in Mississippi, and two mass shootings in 24 hours in the U.S. Click through to read more about some of this past week's biggest headlines.
2 mass shootings in less than 24 hours
A gunman shot and killed 22 people and injured 24 more at an El Paso Walmart on Saturday. Officials described the mass shooting as domestic terrorism and are evaluating federal hate crime charges after the gunman admitted he was targeting "Mexicans."
Hours later, nine people in the Oregon District of Dayton, Ohio, were killed and 27 injured in a second mass shooting. The gunman was killed by officers on the scene. Authorities are investigating a final determination on the gunman's motives, but state he was "exploring violent ideologies."
680 people detained in ICE raid
U.S. Immigration and Customs Enforcement officers on Wednesday arrested 680 people in raids of several food-processing plants in Mississippi. Since then, 300 people have been released. According to a statement by the Department of Justice, 30 people were released on humanitarian grounds, such as being a single parent of a minor or, in the case of both parents being detained with a minor at home, one was released. An additional 270 people were released after being processed by Homeland Security Investigations. Despite the criticism ICE faced following images of children crying in response to parents and guardians being detained, acting ICE Director Matthew Albence defended the raids, calling them a "textbook operation."
Fewer than 100,000 migrants encountered at the southern border in July
According to government data released on Thursday, U.S. Immigration and Customs Enforcement officers encountered fewer than 100,000 migrants at the U.S.'s southern border for the first time in five months—a decrease of 21% from June and 43% from May. There was also a decrease in the number of migrant families and minors.
70 years of conflict in Kashmir
Tensions between India and Pakistan escalated this week after India revoked Article 370, stripping India-controlled Kashmir of its autonomy and downgrading the region from a state into two federally administered territories: Jammu and Kashmir. India and Pakistan have been fighting over the Kashmir region for 70 years as both countries claim a portion of the territory.
India sent thousands of troops to Kashmir in the days leading to the decision and since, imposing a strict curfew, shutting down telecommunications and internet access almost completely, arresting political leaders, and limiting access to journalists. Human rights advocates said they fear the communication blackout is being used as a tool to cover gross human rights violations being committed amid the conflict.
The Chinese yuan fell to an 11-year low
On Friday, China's central bank set the official midpoint reference for the yuan at 7.0136 per dollar, the weakest it has been since the 2008 financial crisis. The dip came as a response to President Donald Trump's announcement last week that he would impose a 10% tariff on $300 billion in Chinese imports beginning Sept. 1, primarily targeting consumer goods.