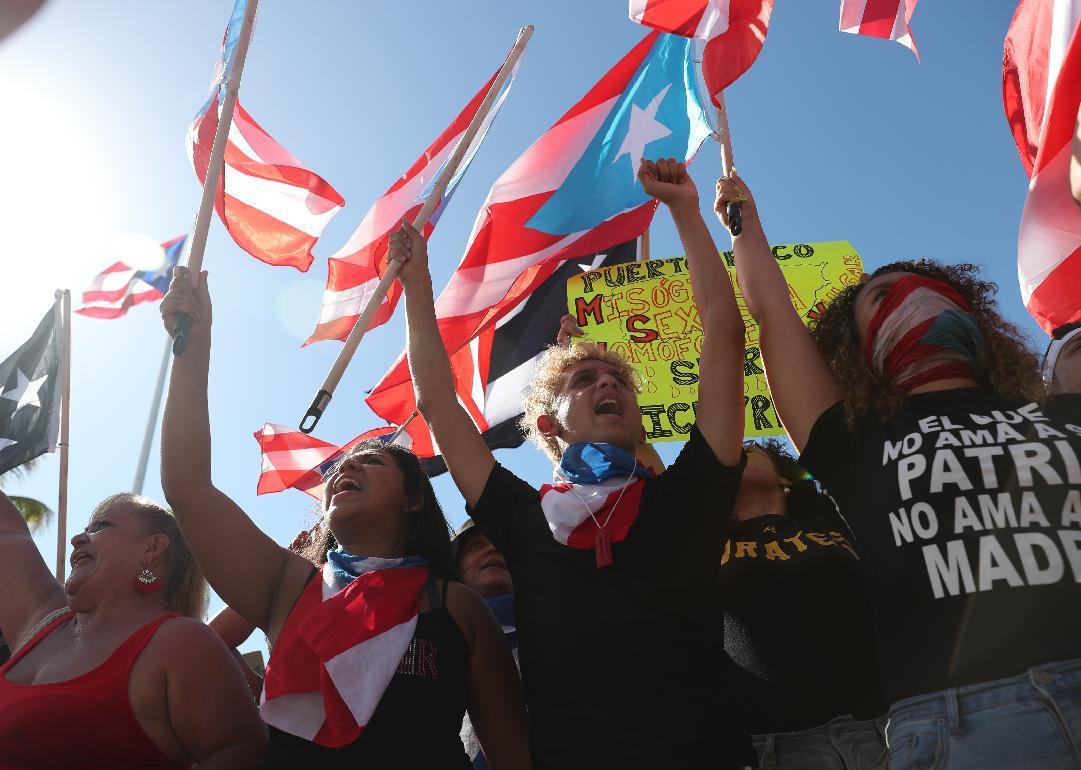 This week's news by the numbers: July 13-19, 2019
Joe Raedle // Getty Images
This week's news by the numbers: July 13-July 19
Stacker distills news from around the world into key facts and figures. This week's takeaways include a report by the Washington Post that reveals an unprecedented look at the scope of the opioid crisis, protests in Puerto Rico, and more. Click through to read some of the biggest headlines from this past week.
First case of Ebola in the city of Goma
The Ministry of Health in the Democratic Republic of Congo confirmed the first case of Ebola in the city of Goma on Sunday. Goma, considered a major transit hub, is home to more than 1 million people and situated on the border of Rwanda. The presence of Ebola in a city like Goma is particularly concerning for health officials, response teams, and containment efforts because it gives the virus ample opportunities to grow in terms of numbers of patients and geographic reach. The current outbreak has killed 1,665 people since it began in August 2018.
900 leaked pages of Telegram messages lead to protests of Puerto Rico Gov. Ricardo Rosselló
The Puerto Rican Center for Investigative Journalism released 900 pages of conversations from the messaging app Telegram between Gov. Ricardo Rosselló and members of his Cabinet.
The messages, which were misogynistic, homophobic, profane, and made jokes about Hurricane Maria victims, among other things, incited protests calling for Gov. Rosselló's resignation. Tens of thousands of Puerto Ricans took to the streets of San Juan in yet another point of frustration over corruption and mismanagement for those living on the island. Protesters began to clear on Thursday after violent clashes with police.
Although Rosselló apologized, blaming the offensive messages on long workdays and little sleep, he refuses to resign.
 
12.7 million new FaceApp users
FaceApp, a Russian app that uses artificial intelligence to apply effects to user photos, was downloaded more than 12 million times in the last week, bringing the total number of users to 86 million globally. This spike was driven by a new feature in the app, which ages the user's appearance. 
Despite the app's viral success, many users and critics have raised privacy concerns over data collection and the potential that the data could be used for facial identification. FaceApp's terms of service give it a "perpetual, irrevocable, nonexclusive, royalty-free, worldwide, fully-paid, transferable sub-licensable license" to user content. But what does that mean? Put simply, the app can do just about anything it wants with photos uploaded to its cloud. FaceApp CEO Yaroslav Goncharov said that most user photos are deleted after 48 hours. In order to have all data deleted from FaceApp's servers, users must submit a request through the mobile app.
76 billion pain pills prescribed in the US from 2006 to 2012
A report released Tuesday by the Washington Post revealed 76 billion pain pills were prescribed in the U.S. from 2006 to 2012, fueling the opioid epidemic and resulting in more than 100,000 opioid-related deaths during that period.
The data comes from a database maintained by the Drug Enforcement Administration that tracks every pill along with its path from manufacturer to consumer. In addition to the staggering volume of hydrocodone and oxycodone pills that were circulated, the report also illuminates the communities that were disproportionately affected by the prescription opioid crisis. Rural communities in West Virginia, Kentucky, and Virginia saw the highest per capita death rate nationwide.

Seventy-five percent of these pills were distributed by just six companies: McKesson Corp., Walgreens, Cardinal Health, AmerisourceBergen, CVS, and Walmart.
Joaquín 'El Chapo' Guzmán receives life sentence plus 30 years
Joaquín Archivaldo Guzmán, also known as "El Chapo," the notorious head of the Mexican Sinaloa cartel, was sentenced to life in prison on Wednesday on numerous drug, murder, and money laundering charges. Guzmán's infamy has been fed not only by his brutality as a kingpin throughout his 30-year career but also his ability to evade and escape law enforcement—including two prison breaks.

Guzmán's cartel smuggled $12.7 billion dollars' worth of heroin, cocaine, methamphetamine, and marijuana from Mexico to the United States.
Though it has not been confirmed where Guzmán will carry out his life sentence, it is speculated that he will be sent to the United States Penitentiary Administrative Maximum Facility, or ADX, in Florence, Colo.
9,000-year-old settlement unearthed outside of Jerusalem
On Tuesday, the Israeli Antiquities Authorities released details about the archaeological discovery of a Stone Age settlement just outside of Jerusalem in a town called Motza that was previously believed to be empty. The discovery is now changing the way experts think about life in that region during the time.
In what would be the equivalent of a large city nearly 9,000 years ago, the settlement was believed to be home to about 3,000 people and points to sophisticated methods of urban planning. The new settlement predates the oldest remains found in Jerusalem by 2,000 years.
Alan Turing is the new face of British 50-pound note
Mark Carney, the governor of the Bank of England, announced on Monday that Alan Turing will be the new face of the 50-pound banknote. Turing is known for his pivotal work breaking the Enigma code during World War II and pioneering innovations in computer science and artificial intelligence.
Turing's critical achievements were overshadowed by his post-WWII arrest for engaging in homosexual activity, which was a criminal offense in Britain at the time. Turing was sentenced to chemical castration and died at the age of 41 in an apparent suicide by cyanide poisoning.
The new banknote is regarded by many as progress in honoring figures throughout history who paved the way for LGBTQ+ rights as well as an acknowledgment of critical scientific innovation, both of which play a significant role in today's society.