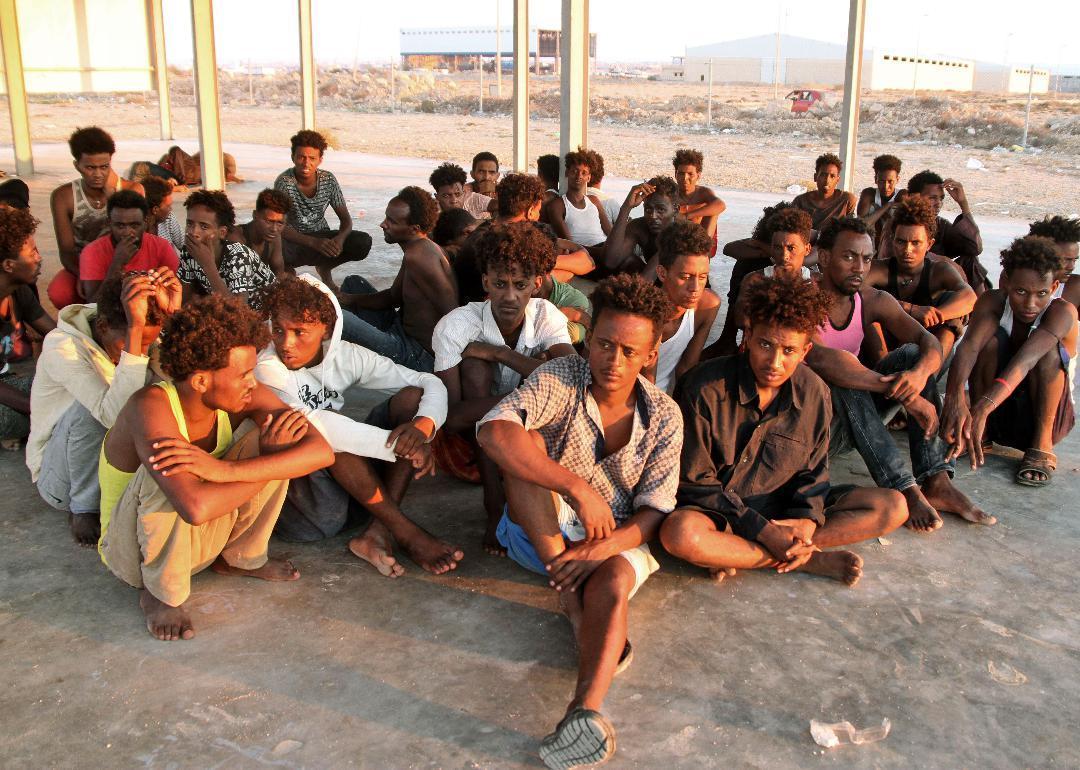 This week's news by the numbers: July 20-July 26, 2019
This week's news by the numbers: July 20-July 26, 2019
Stacker distills news from around the world into key facts and figures. This week's takeaways include missile tests in North Korea, the reinstatement of federal executions, and a deadly migrant crossing. Click through to read about some of the biggest headlines from this past week.
5 death row inmates scheduled for federal execution
On Thursday, the Justice Department announced an order to reinstate the death penalty for the first time in 16 years. At the behest of Attorney General William Barr, the Bureau of Prisons will schedule the execution of five death row inmates convicted of murder, and in some cases, rape, and torture.

While the death penalty is legal in more than half of U.S. states and at the federal level, federal execution orders are rare. In a statement released on Thursday, Barr said the order seeks to bring justice to the "victims of the most horrific crimes" committed by the "worst criminals." Executions have long been a topic of fierce debate and the most recent order is expected to face legal challenges before being put into effect.
150 migrants drown off the coast of Libya
On Thursday, the United Nations Refugee Agency (UNHCR) confirmed that 150 migrants drowned when their boat sank off the coast of Libya. The vessel, carrying 300 people, was believed to have departed from the Libyan city of Al-Khums.

Many migrants, often exploited by traffickers and packed into vessels that are unequipped to make this voyage, attempt the dangerous crossing of the Mediterranean hoping to reach Europe for asylum. The UNHCR reports that over 600 people have died attempting to cross the Mediterranean so far this year.
2 short-range missiles tested by North Korea
On Thursday, North Korea tested two new short-range missiles in what it declared a "solemn warning" to South Korea. North Korea has expressed fierce opposition to joint U.S.-South Korea military drills planned for this summer, calling them an act of hostility and even rehearsal for a future invasion.

The test is a breach of U.N. Security Council resolutions which ban North Korea from launching any type of ballistic technology. South Korean officials have condemned the tests citing that the provocations will not get the two countries any closer to easing military tensions. North Korea has threatened to begin testing nuclear and long-range missiles, which it has not done in nearly two years if the drills are not called off.
Equifax to pay up to $700 million in compensation and penalties
On Monday, the Federal Trade Commission ruled that Equifax will have to pay up to $700 million in penalties and individual compensation because of the 2017 data breach. The hack, which was the largest breach in history, left 147 million Americans' credit information compromised. The FTC stated that compensation—up to $20,000—can be sought for unauthorized charges, legal fees, and personal time spent recovering from the breach, among other costs incurred as a result. Claims can be filed here.
50 state elections targeted by Russia
On Thursday, the Senate Intelligence Committee concluded that election systems in all 50 states were targeted by Russia in 2016. The committee stated that no actual votes were changed, even though Russia had the capability of doing so, and that the primary objective of this interference was to find vulnerabilities in the elections systems. Former special counsel Robert Mueller highlighted not only Russia's ability to interfere with future elections but also the ability of other countries to replicate Russia's tactics.
Updates on previous editions