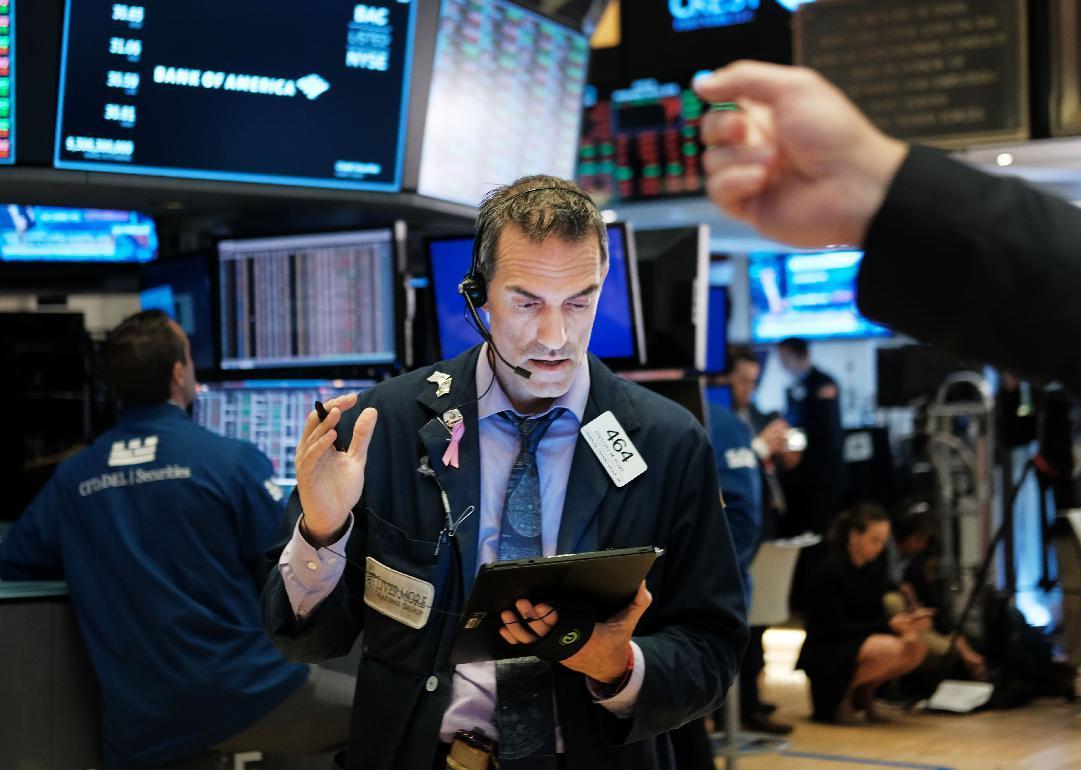 This week's news by the numbers: July 27–Aug. 2
Spencer Platt // Getty Images
This week's news by the numbers: July 27–Aug. 2
Stacker distills the week's news from around the world into key facts and figures. This week's takeaways include a record-breaking tree planting initiative in Ethiopia, the Fed lowering interest rates for the first time in over 10 years, and another major data breach exposing millions of credit card applications. Click through to read more about some of this past week's biggest headlines.
350 million trees planted in 12 hours
On Monday, Ethiopia planted over 350 million trees in 12 hours—353,633,660 to be exact. The recent effort is part of a larger reforestation campaign called Green Legacy spearheaded by Ethiopia's Prime Minister Abiy Ahmed. Currently 4% of the country is forested compared to 30% a century ago.
Ethiopia's tree-planting initiative, with an end goal of 4 billion trees by October (40 seedlings per person), seeks to both combat the effects of climate change and restore farmable land for 80% of the population that depends on agriculture as their livelihood.
The previous record for number of trees planted in a single day was held by India, which planted 66 million trees in 12 hours in 2016.
164,000 jobs added to U.S. economy in July
The U.S. economy added 164,000 jobs in July, according to the Bureau of Labor Statistics Employment Situation Summary released on Friday. At 3.7%, July marks the 17th consecutive month that the unemployment rate has been at or below 4%. Notable industry changes in July include:
- Industry gains: Professional and technical services (+31,000 jobs), ambulatory health care services (+29,000 jobs)
- Industry losses: Mining employment (-5,000 jobs)
 
Fed cuts interest rates to 2.25%
On Wednesday, the Federal Reserve cut interest rates for the first time since 2008. Now at 2.25%, experts view the quarter-point decrease as a precautionary measure amid uncertain economic outcomes: particularly increasing trade tensions with China, slow global growth, and decreased manufacturing output. Fed Chair Jerome H. Powell said in a news conference that this was "not the beginning of a long series of rate cuts." The Dow Jones Industrial Average dropped more than 330 points in response to Powell's comments making it the worst day in two months.
100 million credit card applications compromised in Capital One hack
Capital One announced on Monday that over 100 million credit card applications were exposed during a data breach on July 19. Thousands of Social Security and bank account numbers were stolen, investigators say.
Shortly after the announcement, the FBI arrested 33-year-old Seattle-area resident and former Amazon programmer Paige Thompson. Thompson made little effort to hide her intentions, leaving digital clues. Authorities were able to trace her via her accounts on Slack, Twitter, and Github where she openly discussed her plans.
Authorities also revealed that Thompson made threats in May to "shoot up" an unidentified social media company in Seattle.
U.S. formally pulls out of 32-year-old arms control treaty with Russia
On Friday, the U.S. officially walked away from the Intermediate-range Nuclear Forces (INF) treaty initially signed by President Ronald Reagan and Soviet leader Mikhail Gorbachev in 1987. The landmark Cold War-era treaty banned ground-launched missiles with a range of 500 and 5,500 kilometers.

"Russia is solely responsible for the treaty's demise," Secretary of State Mike Pompeo said in a statement released on Friday citing the one-sided nature of the agreement. Russia has been accused of noncompliance with the treaty multiple times in the past.
NATO and other world leaders fear the dissolution of the treaty will lead to another arms race.