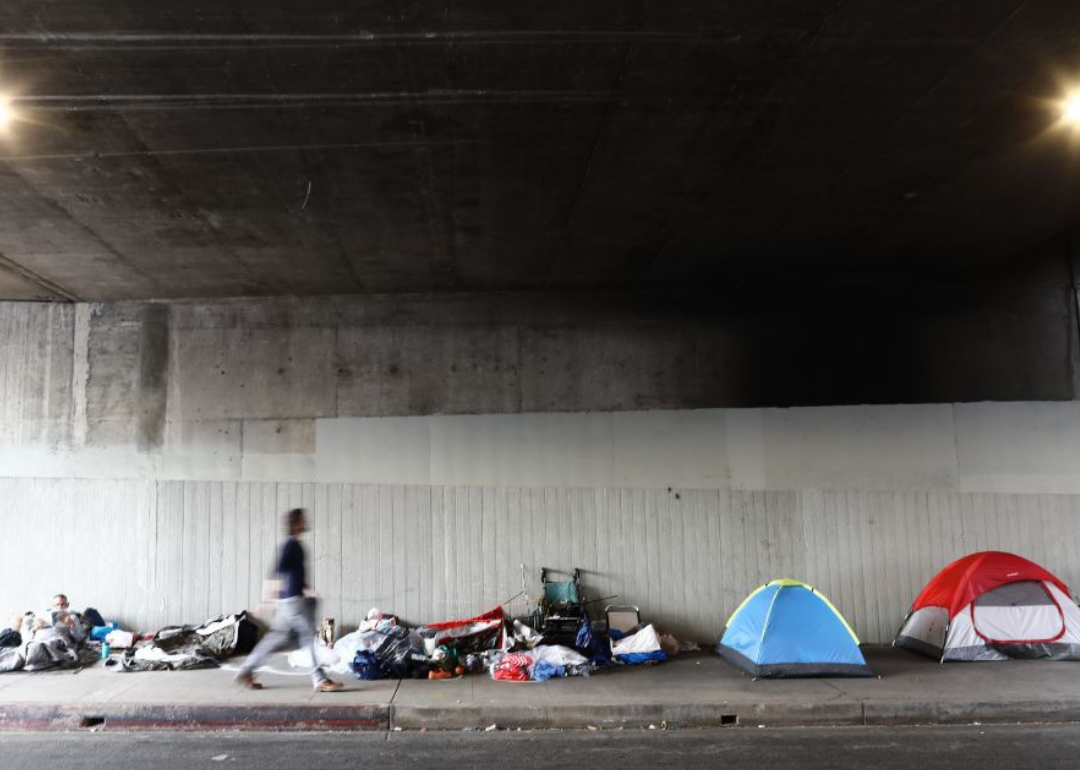 This week's news by the numbers: June 1-7, 2019
Mario Tama // Getty Images
This week's news by the numbers: June 1-7, 2019
Stacker distills the week's news from around the world into key facts and figures. This week's takeaways include the rise in the number of reported measles cases in the U.S., the death toll after an attack on pro-democracy protesters in Sudan, and a look at how pharmaceutical companies are playing a role in the opioid epidemic.
Click through to read several of this week's major headlines. 
1,001 cases of measles
The number of measles cases reported so far this year in the U.S. has surpassed 1,000, according to a report released on June 5 by the U.S. Department of Health and Human Services. This is the highest number of reported cases in a single year since 1992.
New York state, particularly in Orthodox Jewish communities in the boroughs of Brooklyn and Queens, has been hit the hardest by this year's outbreak with nearly 700 reported cases. Health officials in New York are also combating the mistrust and misinformation being disseminated at anti-vaccinations rallies occurring in these high-risk communities this week.
Measles, which was eradicated in the U.S. in 2000, is one of the most highly contagious and easily transmissible viruses in existence. It is also one of the most preventable. While states require a measles vaccination for children prior to attending kindergarten, families may receive religious or philosophical exemptions.
More than 10 states are now looking to pass legislation that would eliminate these nonmedical exemptions.
100 protestors killed
An attack on pro-democracy protesters in Sudan this week left at least 100 people dead.
The protestors gathered in the capital city of Khartoum to call for a civilian-led governing body to replace the Transitional Military Council, which has ruled the country since President Omar al-Bashir was overthrown in April of this year.
Sixty people were confirmed killed on June 3 during the initial attack carried out by the paramilitary Rapid Support Forces (RSF). On Tuesday, 40 additional bodies were recovered from the Nile River, believed to have been dumped there by military forces, according to the Central Committee of Sudan Doctors. Hundreds more were critically injured during the military crackdown on the weeks-long sit-in.
Protest leaders who vowed to continue pushing for a civilian-led government have declined negotiation requests from the Transitional Military Council. Sudan has faced humanitarian crises for decades.
59,000 homeless
In a 12% increase over last year, roughly 59,000 people are living on the streets in Los Angeles County, according to a new count released this week by the Los Angeles Homeless Services Authority. Within the city limits of Los Angeles alone, 36,000 people are experiencing homelessness.
Tent encampments extend well beyond Skid Row, an area with one of the largest and longest-standing homeless populations in L.A. The crisis facing Los Angeles County is one that, according to city officials, has been many years in the making. Despite the allotment of $619 million to reduce homelessness in 2018, nearly 25% of the homeless population report becoming homeless that year.
The homelessness crisis is compounded by ongoing challenges like increases in rent, shortages in affordable housing, and poor systems designed to support those with drug addiction, mental illness, or social integration upon release from prison.
$1
Walmart announced on June 4 that it will be extending its $1 a day college benefit program to current and rising high school students who work for the company. The program allows all employees to pursue an associate or bachelor's degree in a range of fields like business management at any partner institution, including the University of Florida, for $1 a day.
In an effort to attract more high-school-aged employees and groom a new cohort of leaders who will grow within and stay at the company after they graduate, Walmart has also announced it will cover the cost of SAT and ACT prep and credits for college courses.
75th anniversary
Thursday, June 6, marked the 75th anniversary of D-Day, when Allied forces stormed the beaches of Normandy during World War II.
The scale of D-Day, from the number of troops involved to the number of casualties sustained to the significance of that operation in the war, is a point of reflection across the generations of people who honor the anniversary. D-Day is regarded as the turning point of WWII: After Allied forces were able to gain a foothold in France, they began liberating it from Nazi occupation, forcing German soldiers to retreat.
$225 million
Insys Therapeutics, a synthetic opioid manufacturer, agreed this week to pay $225 million to settle charges that it illegally marketed a highly addictive fentanyl painkiller called Subsys to doctors.  
Subsys, administered by spraying it under the tongue, was approved only for use in cancer patients who were already prescribed similar drugs to manage chronic pain. The company in 2012 began promoting the drug as a treatment option for a wider range of patients. 
Prosecutors say Insys bribed doctors for years with perks that ranged from expensive meals to thousands of dollars in illegal kickbacks. One doctor went from writing zero prescriptions of the highly addictive painkiller to writing 672 after he became involved in Insys' illegal marketing strategies. This prosecution is one of several recent examples of pharmaceutical companies being held accountable for their role in the ongoing opioid epidemic.