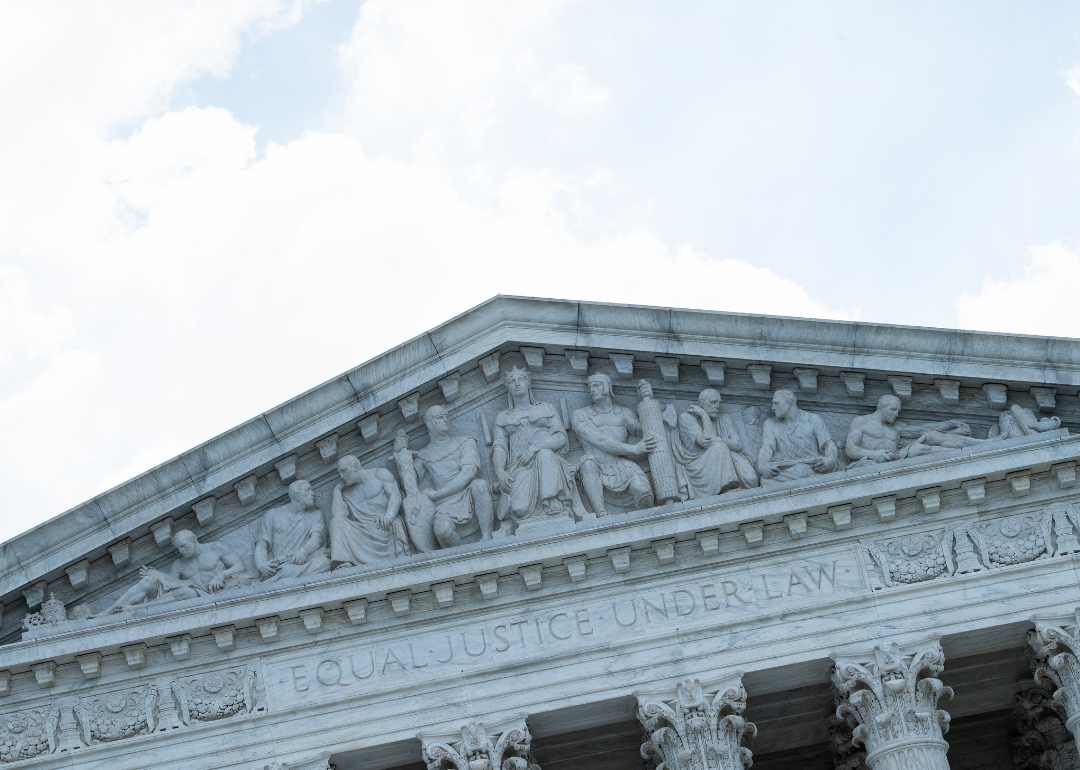 This week's news by the numbers: June 22-28, 2019
NICHOLAS KAMM/AFP // Getty Images
This week's news by the numbers: June 22-28, 2019
Stacker distills the week's news from around the world into key facts and figures. This week's takeaways include two major Supreme Court decisions, NASA's latest mission, internet blackouts in Myanmar, and more. Click through to read some of the major headlines from this week. 
5-4 Supreme Court vote to block census citizenship question
In a 5-4 vote, the Supreme Court blocked a citizenship question from being added to the 2020 census, saying that the Trump administration provided no credible reason for adding it. The decision was supported by all four liberal justices and Chief Justice John G. Roberts Jr.
Proponents say that adding the question will lead to more accurate census results. Critics say it could scare noncitizens away from completing the survey, skewing the count and weakening their political representation.
Census results are used to divide up seats in the House of Representatives and in the drawing of political maps.
5-4 Supreme Court vote holds partisan gerrymandering outside federal purview
The Supreme Court ruled in a 5-4 vote that federal courts have no say in determining partisan gerrymandering.
In the decision outlined by Chief Justice John G. Roberts Jr., he states that while "excessive partisanship in districting leads to results that reasonably seem unjust ... federal judges have no license to reallocate political power between the two major political parties, with no plausible grant of authority in the Constitution."
The decision, supported by all conservative justices, establishes political voting maps as the purview of state legislatures only.

You may also like: Libertarian, gerrymandering, and 50 other political terms you should know
Nine townships experiencing mandated internet blackout in Myanmar
The U.N. warned of potential human rights violations this week after parts of Myanmar experienced a government-mandated shut down of mobile internet service.
Telenor, a Norwegian telecom provider that operates in Myanmar, was ordered to cease service in nine townships in Rakhine and Chin. Telenor said that government officials cited the "use of the internet to coordinate illegal activities" as a reason for the blackout.
U.N. officials say they fear this outage is serving as a cover for committing human rights violations against the Rohingya.
The state of Rakhine has been at the center of conflict since 2017. For nearly two years, the Myanmar military, known as the Tatmadaw, has forced more than 700,000 Rohingyans to flee to Bangladesh to escape an ethnic cleansing campaign.
The Rohingya are not a recognized ethnic group in Myanmar and therefore cannot claim citizenship.
NASA to launch 8-year journey to Titan
This week, NASA announced its latest mission in their New Frontiers program called Dragonfly, which will explore Titan, Saturn's largest moon.
Titan is the only moon in our solar system with an atmosphere and its chemical makeup most closely resembles that of early Earth before life evolved.
Dragonfly, the drone lander, will explore an impact crater for signs of organic life that existed in the past or may currently exist. It will also explore Titan's atmosphere, subsurface oceans, and other surface properties.
Dragonfly will launch in 2026 and is expected to reach Titan in 2034.
40% increase in abortion rates under U.S. funding ban to foreign clinics
A new study released by The Lancet Global Health on Thursday revealed that the U.S. ban on foreign aid to clinics that promote abortion has actually resulted in a 40% increase in abortion rates in 26 sub-Saharan countries.
This policy, known as the Mexico City policy, states that foreign aid groups are prohibited from receiving U.S. assistance unless they promise not to "perform or actively promote abortion as a method of family planning."
Curbing financial aid has impeded the ability of clinics and organizations to provide other forms of modern contraceptives, the study claims. Without access to these alternative family planning methods, there is an increased risk of unintended pregnancy; as a result, more women seek abortions.
San Francisco becomes first U.S. city to ban the sale of e-cigarettes
San Francisco on Tuesday became the first U.S. city to ban the sale of e-cigarettes. Advocates say they hope the ban will curb the rise of the teen vaping epidemic, as it is characterized by the FDA. Opponents of the decision say that the ban leaves traditional cigarettes, full of tar and other carcinogenic toxins, as the only available option for people addicted to nicotine and the young people the ban aims to protect.
No data currently exists on the long-term effects of e-cigarettes.
House passes $4.6 billion Senate border bill
In a 305-102 vote, the House on Thursday passed a bill that will send $4.6 billion in emergency funding to the border of the U.S. and Mexico. Stipulations of the bill include that $2.8 billion be used to build capacity and better care for unaccompanied minors. The legislation also states that the funding cannot be diverted to build a border wall.
The bill is viewed by some of the most progressive House Democrats as a failure because it does not include measures for stronger legal protections and higher standards of care for migrants at the border.
House Speaker Nancy Pelosi said the House would "reluctantly" pass the Senate bill in an effort to get the necessary resources to the border quickly.