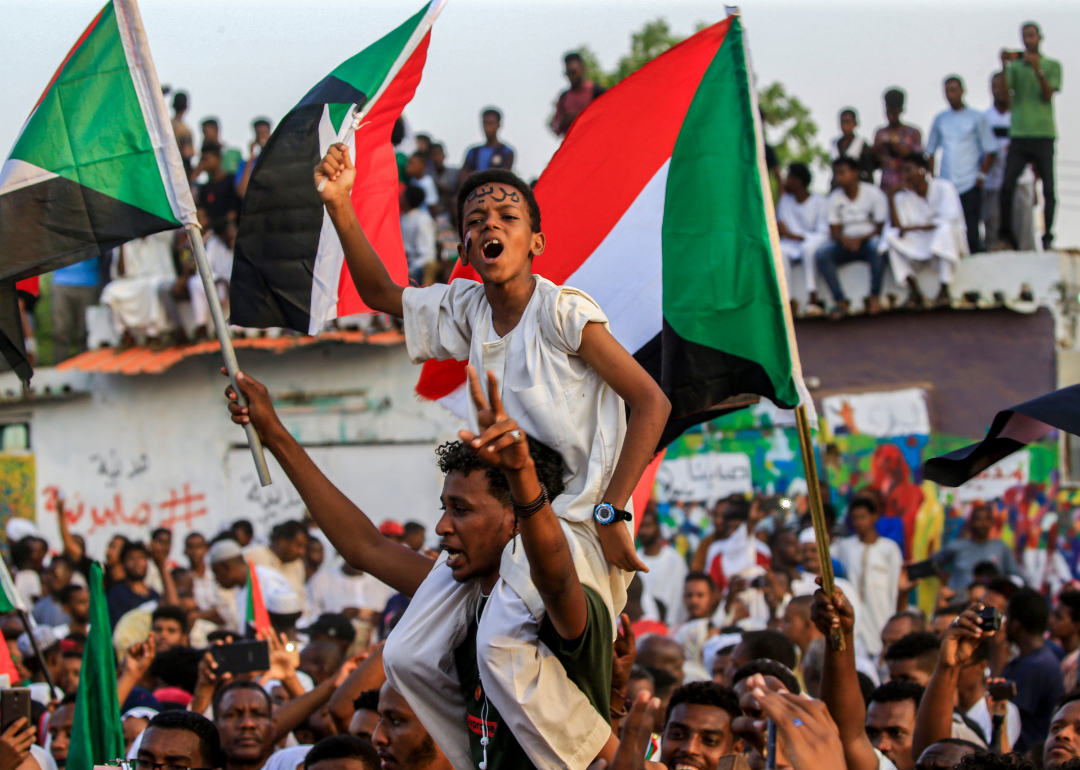 This week's news by the numbers: June 29-July 5, 2019
ASHRAF SHAZLY/AFP // Getty Images
This week's news by the numbers: June 29–July 5, 2019
Stacker distills news from around the world into key facts and figures. This week's takeaways include Iran's breach of the 2015 nuclear deal, a hopeful end to Sudan's unrest, and a glimpse into a border patrol Facebook group. Click through to read these stories and more from this past week.
2 million barrels of Iranian oil bound for Syria seized in Gibraltar
An Iranian supertanker carrying an estimated 2 million barrels of crude oil bound for Syria was seized by authorities in Gibraltar on Thursday. The operation was carried out by Gibraltar law enforcement agencies and the British Royal Marines at the request of the United States.
In a breach of sanctions imposed by the European Union against the Assad regime, authorities believe the tanker was delivering oil to the Baniyas Refinery, which is under the control of Syrian President Bashar al-Assad.
In May, the EU extended sanctions against individuals and entities that are backed by or associated with the Assad regime in response to the repression of Syria's civilian population.
These sanctions, which are now in effect until June 2020, include oil embargoes, investment restrictions, asset freezes, travel bans, and export restrictions.
Iran breaches 300-kilogram and 3.67% uranium limits
Iran announced this week that it will renege on two key agreed-upon provisions set by the 2015 nuclear deal.
On Monday, President Hassan Rouhani claimed that Iran's stockpile has already exceeded the 300-kilogram (660 pounds) limit of low-enriched uranium. On Wednesday, he declared that Iran will also begin enriching that uranium to levels that exceed 3.67%. "It's going to be as much as we want it to be," Rouhani stated.
The nuclear deal capped low enrichment levels at 3.67% which, coupled with a cap in the amount permitted, would be sufficient for producing electricity. Uranium enriched at higher levels would allow Iran to more quickly and easily produce nuclear weapons. Iran has claimed they seek to use higher-enriched uranium for medical and scientific research.
Experts say these breaches to the 2015 nuclear deal are pressures to lift the crippling sanctions against Iran which, among other impacts, brought their oil exports from 2.5 million barrels a day in April of 2018 to 300,000 in June 2019.
224,000 jobs added in June
On Friday, the U.S. Bureau of Labor Statistics reported that 224,000 jobs were added in June, nearly tripling May's overall job growth.
Industries like health care (35,000 jobs added), transportation and warehousing (24,000 jobs added), construction (21,000 jobs added) and manufacturing (17,000 jobs added) saw the most robust growth in June.
While the unemployment rate rose slightly from 3.6% in May to 3.7% in June, the addition of 335,000 people to the workforce may have contributed to the increase.
3 months of unrest in Sudan may be coming to an end
The ruling military council and pro-democracy protesters in Sudan reached a power-sharing agreement on Friday, which they hope will end months of violence and unrest in the country that began after the coup of Omar al-Bashir.
According to the Sudanese Professionals' Association, the two parties agreed to form a joint council that will lead the country during a three-year transition. The council will be comprised of five civilians, five military members, and one civilian chosen by both parties.
One of this agreement's most important victories for the protesters is the ability to create a technocratic Cabinet—a group of people appointed based on ranging technical expertise—of their choosing.
9,500 border patrol agents part of controversial Facebook group
A ProPublica report released Monday revealed that a private Facebook group of nearly 9,500 current and former border patrol agents contained racist and sexually explicit content, as well as jokes about migrant deaths and family separation.
The group called "I'm 10-15"—code for "aliens in custody"—was created in August 2016 and describes itself as a forum for "funny" and "serious" discussions about the line of work.
Customs and Border Protection announced that it will launch an investigation into the group. U.S. Border Patrol Chief Carla Provost condemned the posts and stated that employees found to have violated codes of conduct will be held accountable.
15-year-old Cori Gauff makes it to third round in Wimbledon run
On Monday, 15-year-old Cori Gauff became the youngest woman to win a Wimbledon match since 1991 after she defeated her tennis idol Venus Williams 6-4 6-4. She continued her run on Wednesday after defeating Magdaléna Rybáriková 6-3 6-3.

Gauff has been setting records since she was 13 when she became the youngest player in history to reach the U.S. Open girls' singles final. She won the 2018 French Open girls' singles title at age 14.
Gauff will face Polona Hercog in a third-round match on Friday.