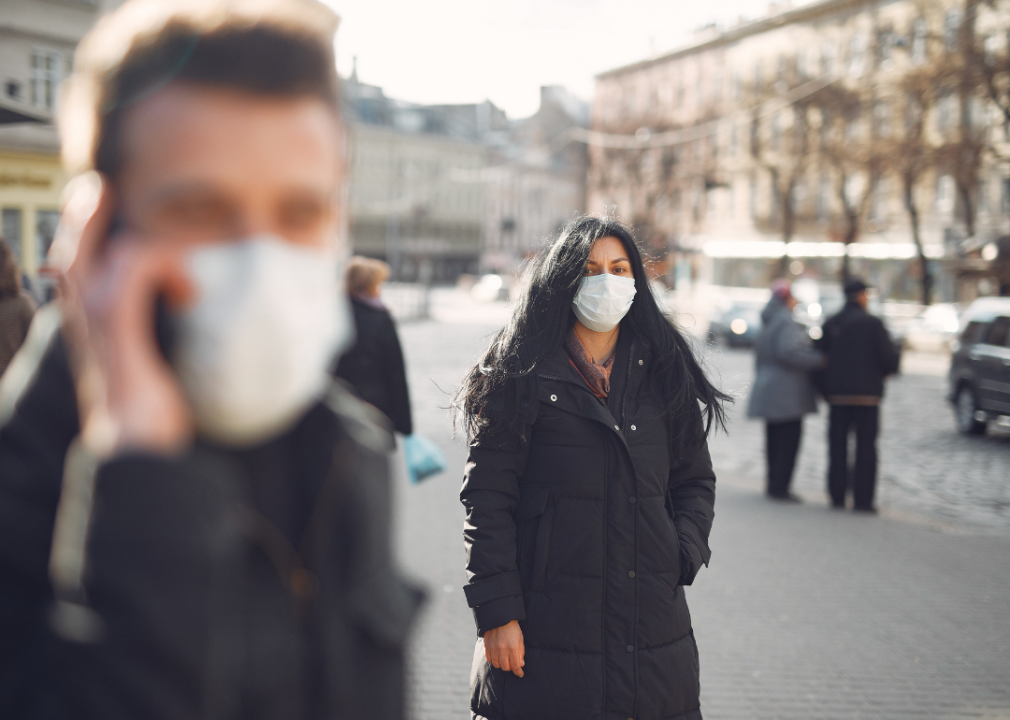 Counties with the highest COVID-19 vaccination rate in Arkansas
Counties with the highest COVID-19 vaccination rate in Arkansas
The vaccine deployment in December 2020 signaled a turning point in the COVID-19 pandemic. By the end of May 2021, 40% of the U.S. population was fully vaccinated. But as vaccination rates lagged over the summer, new surges of COVID-19 came, including Delta in the summer of 2021, and now the Omicron variant, which comprises the majority of cases in the U.S.
The United States as of Oct. 28 reached over 1 million COVID-19-related deaths and 97.4 million COVID-19 cases, according to Johns Hopkins University. Currently, 68.4% of the population is fully vaccinated, and 7.3% of people have received the most recent bivalent booster dose.
Stacker compiled a list of the counties with highest COVID-19 vaccination rates in Arkansas using data from the U.S. Department of Health & Human Services and Covid Act Now. Counties are ranked by the highest vaccination rate as of Oct. 27, 2022. Due to inconsistencies in reporting, some counties do not have vaccination data available. Case count data based on Oct. 13 numbers reported by the Department of Health and Human Services. Keep reading to see whether your county ranks among the highest COVID-19 vaccination rates in your state.
#50. Madison County
- Population that is fully vaccinated: 45.2% (7,493 fully vaccinated)
--- 28.0% lower vaccination rate than Arkansas
- Cumulative deaths per 100k: 392 (65 total deaths)
--- 5.1% less deaths per 100k residents than Arkansas
- Cumulative cases per 100k: 27,654 (4,584 total cases)
--- 12.9% less cases per 100k residents than Arkansas
#49. White County
- Population that is fully vaccinated: 45.4% (35,778 fully vaccinated)
--- 27.7% lower vaccination rate than Arkansas
- Cumulative deaths per 100k: 415 (327 total deaths)
--- 0.5% more deaths per 100k residents than Arkansas
- Cumulative cases per 100k: 32,698 (25,751 total cases)
--- 2.9% more cases per 100k residents than Arkansas
#48. Prairie County
- Population that is fully vaccinated: 45.6% (3,678 fully vaccinated)
--- 27.4% lower vaccination rate than Arkansas
- Cumulative deaths per 100k: 571 (46 total deaths)
--- 38.3% more deaths per 100k residents than Arkansas
- Cumulative cases per 100k: 28,566 (2,303 total cases)
--- 10.1% less cases per 100k residents than Arkansas
#47. Cleburne County
- Population that is fully vaccinated: 46.2% (11,507 fully vaccinated)
--- 26.4% lower vaccination rate than Arkansas
- Cumulative deaths per 100k: 566 (141 total deaths)
--- 37.0% more deaths per 100k residents than Arkansas
- Cumulative cases per 100k: 30,491 (7,598 total cases)
--- 4.0% less cases per 100k residents than Arkansas
#46. Clay County
- Population that is fully vaccinated: 47.1% (6,855 fully vaccinated)
--- 25.0% lower vaccination rate than Arkansas
- Cumulative deaths per 100k: 680 (99 total deaths)
--- 64.6% more deaths per 100k residents than Arkansas
- Cumulative cases per 100k: 32,651 (4,751 total cases)
--- 2.8% more cases per 100k residents than Arkansas
#45. Crawford County
- Population that is fully vaccinated: 47.1% (29,788 fully vaccinated)
--- 25.0% lower vaccination rate than Arkansas
- Cumulative deaths per 100k: 438 (277 total deaths)
--- 6.1% more deaths per 100k residents than Arkansas
- Cumulative cases per 100k: 28,356 (17,937 total cases)
--- 10.7% less cases per 100k residents than Arkansas
#44. Nevada County
- Population that is fully vaccinated: 47.2% (3,894 fully vaccinated)
--- 24.8% lower vaccination rate than Arkansas
- Cumulative deaths per 100k: 557 (46 total deaths)
--- 34.9% more deaths per 100k residents than Arkansas
- Cumulative cases per 100k: 31,435 (2,594 total cases)
--- 1.0% less cases per 100k residents than Arkansas
#43. Poinsett County
- Population that is fully vaccinated: 47.3% (11,136 fully vaccinated)
--- 24.7% lower vaccination rate than Arkansas
- Cumulative deaths per 100k: 578 (136 total deaths)
--- 40.0% more deaths per 100k residents than Arkansas
- Cumulative cases per 100k: 40,076 (9,429 total cases)
--- 26.2% more cases per 100k residents than Arkansas
#42. Baxter County
- Population that is fully vaccinated: 47.4% (19,875 fully vaccinated)
--- 24.5% lower vaccination rate than Arkansas
- Cumulative deaths per 100k: 651 (273 total deaths)
--- 57.6% more deaths per 100k residents than Arkansas
- Cumulative cases per 100k: 24,478 (10,264 total cases)
--- 22.9% less cases per 100k residents than Arkansas
#41. Crittenden County
- Population that is fully vaccinated: 47.4% (22,725 fully vaccinated)
--- 24.5% lower vaccination rate than Arkansas
- Cumulative deaths per 100k: 492 (236 total deaths)
--- 19.1% more deaths per 100k residents than Arkansas
- Cumulative cases per 100k: 33,283 (15,961 total cases)
--- 4.8% more cases per 100k residents than Arkansas
#40. Sevier County
- Population that is fully vaccinated: 47.7% (8,104 fully vaccinated)
--- 24.0% lower vaccination rate than Arkansas
- Cumulative deaths per 100k: 476 (81 total deaths)
--- 15.3% more deaths per 100k residents than Arkansas
- Cumulative cases per 100k: 40,172 (6,832 total cases)
--- 26.5% more cases per 100k residents than Arkansas
#39. Garland County
- Population that is fully vaccinated: 47.7% (47,390 fully vaccinated)
--- 24.0% lower vaccination rate than Arkansas
- Cumulative deaths per 100k: 554 (551 total deaths)
--- 34.1% more deaths per 100k residents than Arkansas
- Cumulative cases per 100k: 26,258 (26,097 total cases)
--- 17.3% less cases per 100k residents than Arkansas
#38. Grant County
- Population that is fully vaccinated: 47.8% (8,727 fully vaccinated)
--- 23.9% lower vaccination rate than Arkansas
- Cumulative deaths per 100k: 356 (65 total deaths)
--- 13.8% less deaths per 100k residents than Arkansas
- Cumulative cases per 100k: 27,408 (5,006 total cases)
--- 13.7% less cases per 100k residents than Arkansas
#37. Lawrence County
- Population that is fully vaccinated: 48.2% (7,905 fully vaccinated)
--- 23.2% lower vaccination rate than Arkansas
- Cumulative deaths per 100k: 530 (87 total deaths)
--- 28.3% more deaths per 100k residents than Arkansas
- Cumulative cases per 100k: 37,559 (6,162 total cases)
--- 18.2% more cases per 100k residents than Arkansas
#36. Jefferson County
- Population that is fully vaccinated: 48.2% (32,181 fully vaccinated)
--- 23.2% lower vaccination rate than Arkansas
- Cumulative deaths per 100k: 459 (307 total deaths)
--- 11.1% more deaths per 100k residents than Arkansas
- Cumulative cases per 100k: 32,171 (21,498 total cases)
--- 1.3% more cases per 100k residents than Arkansas
#35. Logan County
- Population that is fully vaccinated: 48.9% (10,493 fully vaccinated)
--- 22.1% lower vaccination rate than Arkansas
- Cumulative deaths per 100k: 391 (84 total deaths)
--- 5.3% less deaths per 100k residents than Arkansas
- Cumulative cases per 100k: 26,936 (5,782 total cases)
--- 15.2% less cases per 100k residents than Arkansas
#34. Craighead County
- Population that is fully vaccinated: 49.0% (54,094 fully vaccinated)
--- 22.0% lower vaccination rate than Arkansas
- Cumulative deaths per 100k: 329 (363 total deaths)
--- 20.3% less deaths per 100k residents than Arkansas
- Cumulative cases per 100k: 40,021 (44,156 total cases)
--- 26.0% more cases per 100k residents than Arkansas
#33. Drew County
- Population that is fully vaccinated: 49.3% (8,987 fully vaccinated)
--- 21.5% lower vaccination rate than Arkansas
- Cumulative deaths per 100k: 423 (77 total deaths)
--- 2.4% more deaths per 100k residents than Arkansas
- Cumulative cases per 100k: 29,316 (5,341 total cases)
--- 7.7% less cases per 100k residents than Arkansas
#32. Lonoke County
- Population that is fully vaccinated: 49.5% (36,280 fully vaccinated)
--- 21.2% lower vaccination rate than Arkansas
- Cumulative deaths per 100k: 363 (266 total deaths)
--- 12.1% less deaths per 100k residents than Arkansas
- Cumulative cases per 100k: 31,298 (22,944 total cases)
--- 1.5% less cases per 100k residents than Arkansas
#31. Franklin County
- Population that is fully vaccinated: 49.8% (8,816 fully vaccinated)
--- 20.7% lower vaccination rate than Arkansas
- Cumulative deaths per 100k: 440 (78 total deaths)
--- 6.5% more deaths per 100k residents than Arkansas
- Cumulative cases per 100k: 24,143 (4,277 total cases)
--- 24.0% less cases per 100k residents than Arkansas
#30. Carroll County
- Population that is fully vaccinated: 49.8% (14,123 fully vaccinated)
--- 20.7% lower vaccination rate than Arkansas
- Cumulative deaths per 100k: 419 (119 total deaths)
--- 1.5% more deaths per 100k residents than Arkansas
- Cumulative cases per 100k: 24,637 (6,992 total cases)
--- 22.4% less cases per 100k residents than Arkansas
#29. Scott County
- Population that is fully vaccinated: 50.2% (5,157 fully vaccinated)
--- 20.1% lower vaccination rate than Arkansas
- Cumulative deaths per 100k: 457 (47 total deaths)
--- 10.7% more deaths per 100k residents than Arkansas
- Cumulative cases per 100k: 26,593 (2,734 total cases)
--- 16.3% less cases per 100k residents than Arkansas
#28. Columbia County
- Population that is fully vaccinated: 50.4% (11,816 fully vaccinated)
--- 19.7% lower vaccination rate than Arkansas
- Cumulative deaths per 100k: 435 (102 total deaths)
--- 5.3% more deaths per 100k residents than Arkansas
- Cumulative cases per 100k: 27,101 (6,357 total cases)
--- 14.7% less cases per 100k residents than Arkansas
#27. Clark County
- Population that is fully vaccinated: 50.6% (11,286 fully vaccinated)
--- 19.4% lower vaccination rate than Arkansas
- Cumulative deaths per 100k: 399 (89 total deaths)
--- 3.4% less deaths per 100k residents than Arkansas
- Cumulative cases per 100k: 27,603 (6,161 total cases)
--- 13.1% less cases per 100k residents than Arkansas
#26. Yell County
- Population that is fully vaccinated: 50.9% (10,871 fully vaccinated)
--- 18.9% lower vaccination rate than Arkansas
- Cumulative deaths per 100k: 529 (113 total deaths)
--- 28.1% more deaths per 100k residents than Arkansas
- Cumulative cases per 100k: 34,717 (7,409 total cases)
--- 9.3% more cases per 100k residents than Arkansas
#25. Johnson County
- Population that is fully vaccinated: 50.9% (13,536 fully vaccinated)
--- 18.9% lower vaccination rate than Arkansas
- Cumulative deaths per 100k: 354 (94 total deaths)
--- 14.3% less deaths per 100k residents than Arkansas
- Cumulative cases per 100k: 29,261 (7,777 total cases)
--- 7.9% less cases per 100k residents than Arkansas
#24. Ashley County
- Population that is fully vaccinated: 51.1% (10,053 fully vaccinated)
--- 18.6% lower vaccination rate than Arkansas
- Cumulative deaths per 100k: 402 (79 total deaths)
--- 2.7% less deaths per 100k residents than Arkansas
- Cumulative cases per 100k: 30,035 (5,904 total cases)
--- 5.5% less cases per 100k residents than Arkansas
#23. Union County
- Population that is fully vaccinated: 51.1% (19,752 fully vaccinated)
--- 18.6% lower vaccination rate than Arkansas
- Cumulative deaths per 100k: 502 (194 total deaths)
--- 21.5% more deaths per 100k residents than Arkansas
- Cumulative cases per 100k: 27,972 (10,820 total cases)
--- 11.9% less cases per 100k residents than Arkansas
#22. Pope County
- Population that is fully vaccinated: 51.1% (32,719 fully vaccinated)
--- 18.6% lower vaccination rate than Arkansas
- Cumulative deaths per 100k: 350 (224 total deaths)
--- 15.3% less deaths per 100k residents than Arkansas
- Cumulative cases per 100k: 31,769 (20,355 total cases)
--- 0.0% more cases per 100k residents than Arkansas
#21. Phillips County
- Population that is fully vaccinated: 51.6% (9,170 fully vaccinated)
--- 17.8% lower vaccination rate than Arkansas
- Cumulative deaths per 100k: 579 (103 total deaths)
--- 40.2% more deaths per 100k residents than Arkansas
- Cumulative cases per 100k: 30,925 (5,499 total cases)
--- 2.7% less cases per 100k residents than Arkansas
#20. St. Francis County
- Population that is fully vaccinated: 51.8% (12,954 fully vaccinated)
--- 17.5% lower vaccination rate than Arkansas
- Cumulative deaths per 100k: 416 (104 total deaths)
--- 0.7% more deaths per 100k residents than Arkansas
- Cumulative cases per 100k: 32,972 (8,241 total cases)
--- 3.8% more cases per 100k residents than Arkansas
#19. Sebastian County
- Population that is fully vaccinated: 52.2% (66,773 fully vaccinated)
--- 16.9% lower vaccination rate than Arkansas
- Cumulative deaths per 100k: 441 (564 total deaths)
--- 6.8% more deaths per 100k residents than Arkansas
- Cumulative cases per 100k: 29,412 (37,597 total cases)
--- 7.4% less cases per 100k residents than Arkansas
#18. Cross County
- Population that is fully vaccinated: 52.7% (8,650 fully vaccinated)
--- 16.1% lower vaccination rate than Arkansas
- Cumulative deaths per 100k: 591 (97 total deaths)
--- 43.1% more deaths per 100k residents than Arkansas
- Cumulative cases per 100k: 33,547 (5,508 total cases)
--- 5.6% more cases per 100k residents than Arkansas
#17. Faulkner County
- Population that is fully vaccinated: 52.9% (66,702 fully vaccinated)
--- 15.8% lower vaccination rate than Arkansas
- Cumulative deaths per 100k: 275 (347 total deaths)
--- 33.4% less deaths per 100k residents than Arkansas
- Cumulative cases per 100k: 32,451 (40,891 total cases)
--- 2.2% more cases per 100k residents than Arkansas
#16. Perry County
- Population that is fully vaccinated: 53.6% (5,603 fully vaccinated)
--- 14.6% lower vaccination rate than Arkansas
- Cumulative deaths per 100k: 383 (40 total deaths)
--- 7.3% less deaths per 100k residents than Arkansas
- Cumulative cases per 100k: 27,432 (2,868 total cases)
--- 13.6% less cases per 100k residents than Arkansas
#15. Saline County
- Population that is fully vaccinated: 53.8% (65,931 fully vaccinated)
--- 14.3% lower vaccination rate than Arkansas
- Cumulative deaths per 100k: 307 (376 total deaths)
--- 25.7% less deaths per 100k residents than Arkansas
- Cumulative cases per 100k: 28,833 (35,302 total cases)
--- 9.2% less cases per 100k residents than Arkansas
#14. Cleveland County
- Population that is fully vaccinated: 54.7% (4,351 fully vaccinated)
--- 12.9% lower vaccination rate than Arkansas
- Cumulative deaths per 100k: 503 (40 total deaths)
--- 21.8% more deaths per 100k residents than Arkansas
- Cumulative cases per 100k: 32,353 (2,574 total cases)
--- 1.8% more cases per 100k residents than Arkansas
#13. Ouachita County
- Population that is fully vaccinated: 55.5% (12,973 fully vaccinated)
--- 11.6% lower vaccination rate than Arkansas
- Cumulative deaths per 100k: 509 (119 total deaths)
--- 23.2% more deaths per 100k residents than Arkansas
- Cumulative cases per 100k: 27,628 (6,460 total cases)
--- 13.0% less cases per 100k residents than Arkansas
#12. Conway County
- Population that is fully vaccinated: 55.6% (11,592 fully vaccinated)
--- 11.5% lower vaccination rate than Arkansas
- Cumulative deaths per 100k: 355 (74 total deaths)
--- 14.0% less deaths per 100k residents than Arkansas
- Cumulative cases per 100k: 29,492 (6,148 total cases)
--- 7.2% less cases per 100k residents than Arkansas
#11. Chicot County
- Population that is fully vaccinated: 56.0% (5,664 fully vaccinated)
--- 10.8% lower vaccination rate than Arkansas
- Cumulative deaths per 100k: 623 (63 total deaths)
--- 50.8% more deaths per 100k residents than Arkansas
- Cumulative cases per 100k: 30,115 (3,047 total cases)
--- 5.2% less cases per 100k residents than Arkansas
#10. Howard County
- Population that is fully vaccinated: 56.2% (7,413 fully vaccinated)
--- 10.5% lower vaccination rate than Arkansas
- Cumulative deaths per 100k: 432 (57 total deaths)
--- 4.6% more deaths per 100k residents than Arkansas
- Cumulative cases per 100k: 33,495 (4,422 total cases)
--- 5.4% more cases per 100k residents than Arkansas
#9. Benton County
- Population that is fully vaccinated: 57.1% (159,305 fully vaccinated)
--- 9.1% lower vaccination rate than Arkansas
- Cumulative deaths per 100k: 335 (934 total deaths)
--- 18.9% less deaths per 100k residents than Arkansas
- Cumulative cases per 100k: 26,561 (74,144 total cases)
--- 16.4% less cases per 100k residents than Arkansas
#8. Woodruff County
- Population that is fully vaccinated: 57.6% (3,643 fully vaccinated)
--- 8.3% lower vaccination rate than Arkansas
- Cumulative deaths per 100k: 522 (33 total deaths)
--- 26.4% more deaths per 100k residents than Arkansas
- Cumulative cases per 100k: 34,066 (2,153 total cases)
--- 7.2% more cases per 100k residents than Arkansas
#7. Dallas County
- Population that is fully vaccinated: 57.8% (4,050 fully vaccinated)
--- 8.0% lower vaccination rate than Arkansas
- Cumulative deaths per 100k: 542 (38 total deaths)
--- 31.2% more deaths per 100k residents than Arkansas
- Cumulative cases per 100k: 28,449 (1,994 total cases)
--- 10.4% less cases per 100k residents than Arkansas
#6. Arkansas County
- Population that is fully vaccinated: 57.8% (10,100 fully vaccinated)
--- 8.0% lower vaccination rate than Arkansas
- Cumulative deaths per 100k: 503 (88 total deaths)
--- 21.8% more deaths per 100k residents than Arkansas
- Cumulative cases per 100k: 38,219 (6,683 total cases)
--- 20.3% more cases per 100k residents than Arkansas
#5. Bradley County
- Population that is fully vaccinated: 58.4% (6,285 fully vaccinated)
--- 7.0% lower vaccination rate than Arkansas
- Cumulative deaths per 100k: 520 (56 total deaths)
--- 25.9% more deaths per 100k residents than Arkansas
- Cumulative cases per 100k: 32,082 (3,453 total cases)
--- 1.0% more cases per 100k residents than Arkansas
#4. Monroe County
- Population that is fully vaccinated: 59.2% (3,968 fully vaccinated)
--- 5.7% lower vaccination rate than Arkansas
- Cumulative deaths per 100k: 552 (37 total deaths)
--- 33.7% more deaths per 100k residents than Arkansas
- Cumulative cases per 100k: 33,204 (2,225 total cases)
--- 4.5% more cases per 100k residents than Arkansas
#3. Washington County
- Population that is fully vaccinated: 59.3% (141,916 fully vaccinated)
--- 5.6% lower vaccination rate than Arkansas
- Cumulative deaths per 100k: 286 (683 total deaths)
--- 30.8% less deaths per 100k residents than Arkansas
- Cumulative cases per 100k: 32,274 (77,195 total cases)
--- 1.6% more cases per 100k residents than Arkansas
#2. Desha County
- Population that is fully vaccinated: 61.9% (7,031 fully vaccinated)
--- 1.4% lower vaccination rate than Arkansas
- Cumulative deaths per 100k: 378 (43 total deaths)
--- 8.5% less deaths per 100k residents than Arkansas
- Cumulative cases per 100k: 30,886 (3,509 total cases)
--- 2.8% less cases per 100k residents than Arkansas
#1. Pulaski County
- Population that is fully vaccinated: 62.1% (243,387 fully vaccinated)
--- 1.1% lower vaccination rate than Arkansas
- Cumulative deaths per 100k: 327 (1,281 total deaths)
--- 20.8% less deaths per 100k residents than Arkansas
- Cumulative cases per 100k: 31,117 (121,952 total cases)
--- 2.0% less cases per 100k residents than Arkansas