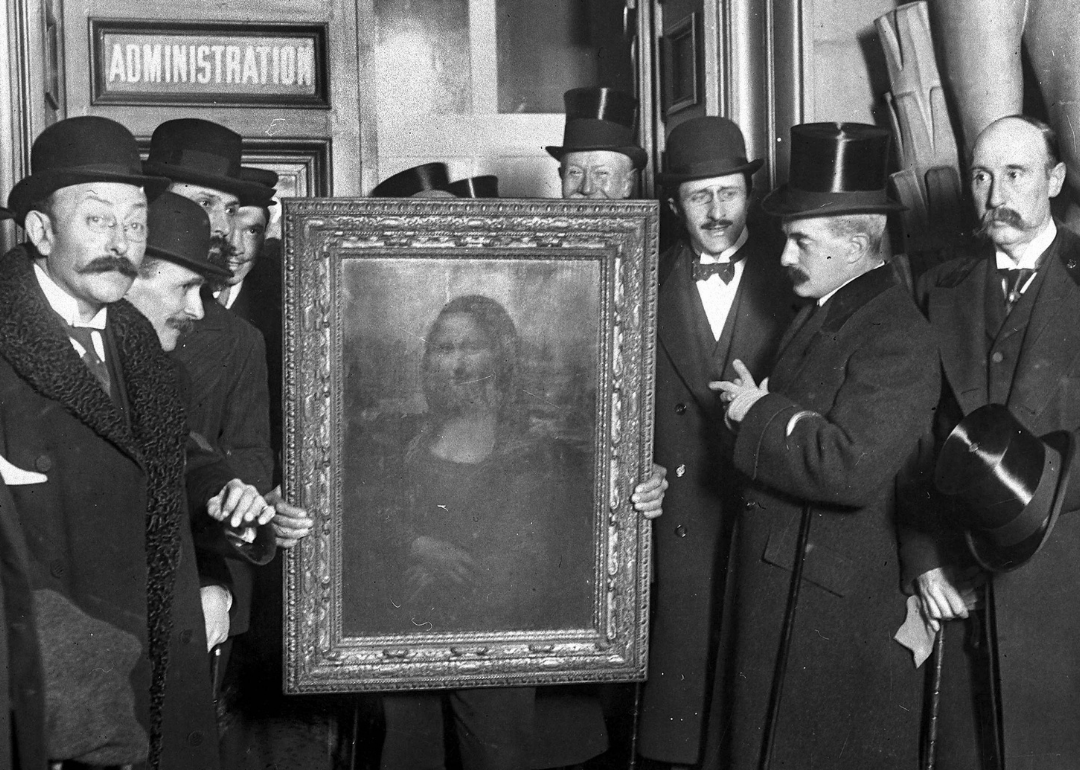 10 famous works of art that were stolen and then recovered throughout history
Roger-Viollet // Getty Images
10 famous works of art that were stolen and then recovered throughout history
Interpol's database of stolen works of art contains over 52,000 items that have yet to be found and returned. Developments in technology have made it easier to identify stolen works and harder for thieves to sell them, but for much of human history, artwork changed hands not through legitimate acquisition, but rather through looting, the colonization of various regions and countries, and warfare. While some pieces are recovered, many end up on the black market, or in the homes of private collectors who either keep them carefully hidden or may be entirely unaware that their collections contain stolen art.
Stacker consulted news outlets, government agencies, and various art forums to compile a list of 10 famous artworks by artists from Europe, Asia, Africa, and the Americas that at some point in history—and for some of these works at multiple points in history—were stolen.
At least portions of each of these pieces have been recovered and are safely accounted for. Some, such as one Ghent Altarpiece panel and several Chinese Zodiac heads, are still missing. In other instances what was recovered may, in fact, not be by the artist the work is attributed to, or is suspected to be a copy of the real thing. The "Mona Lisa," one of the most famous paintings in the world, rose to fame only after it was stolen, and only a small portion of the Benin Bronzes have been returned to the countries from which they were looted in the 19th century.
Here are the stories of 10 artworks that were stolen then recovered.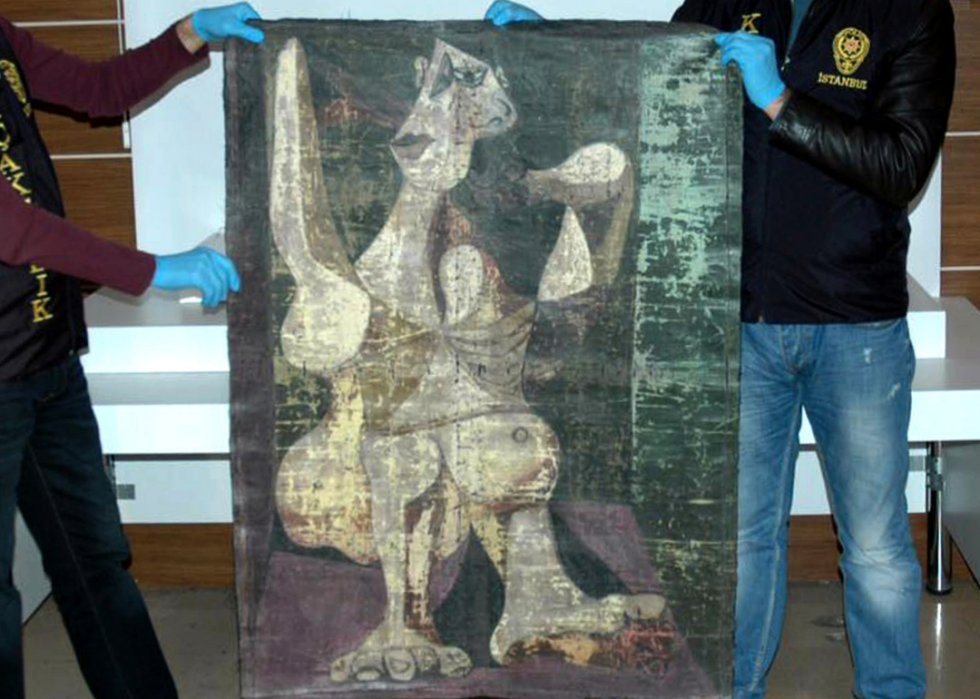 1 / 10
"Woman Dressing Her Hair," Pablo Picasso
Picasso's 1940 painting of his lover Dora Maar was allegedly stolen from a collector in New York. It was recovered in 2016 in Istanbul by police officers posing as art buyers willing to pay $7 million for the painting. Upon obtaining the stolen painting, police turned the artwork over to the Mimar Sinan Fine Arts University for examination.
New York's Museum of Modern Art has called the recovered painting a copy, a statement upheld by the Picasso Administration, and says it's had the original in its collection since 1995. MoMA was bequeathed the painting from collector Louise Reinhardt Smith and it's been shown at the Tate and the National Galleries of Scotland.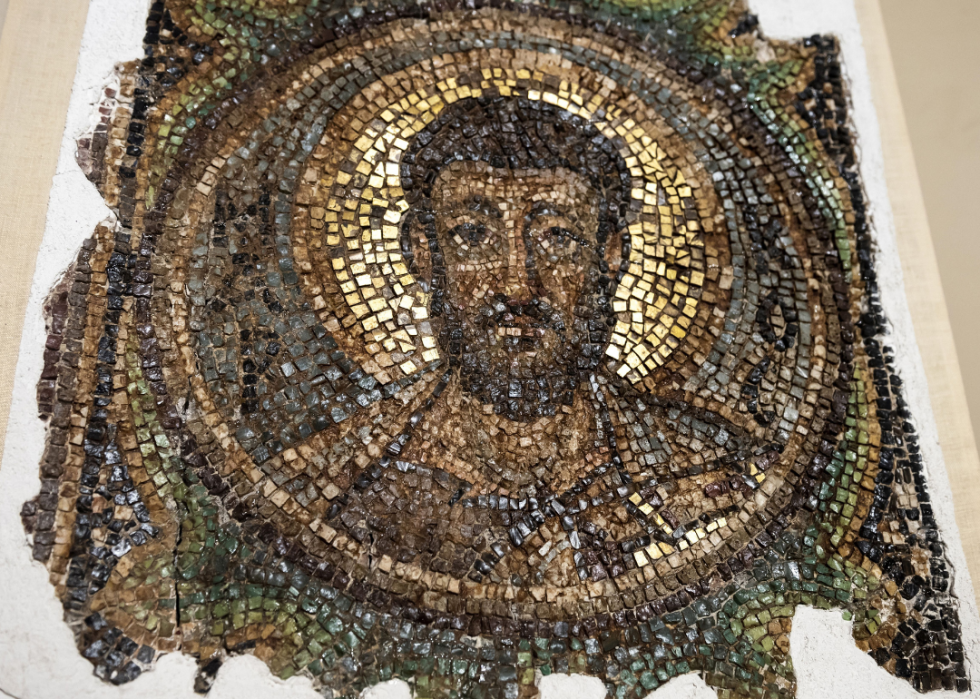 2 / 10
IAKOVOS HATZISTAVROU/AFP via Getty Images
Panayia Kanakaria church mosaic
A mosaic of St. Mark from the sixth century was looted from the church of Panayia Kanakaria in Cyprus during the 1974 Turkish invasion. The Byzantine mosaic was purchased by a British family who didn't know the mosaic was stolen. They agreed to return the mosaic (estimated to be worth between $5.7 million and $11.4 million) to the people of Cyprus in 2018. The mosaic was recovered by famed art investigator and historian Arthur Brand.
The 1,600-year-old mosaic is an important example of early Christian artwork and one of the few remaining mosaics in Cyprus from that period.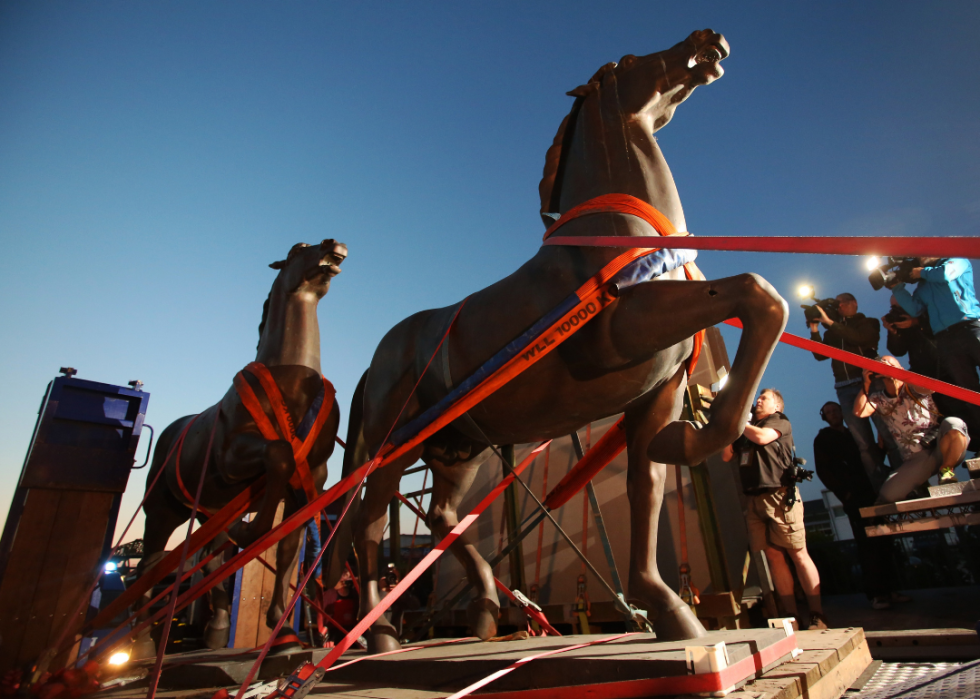 3 / 10
FREDRIK VON ERICHSEN/DPA/AFP via Getty Images
"Hitler's Horses," Josef Thorak
In 2015, German police seized two bronze horse sculptures that used to sit outside Hitler's Reich Chancellery as part of an operation to recover Nazi artwork. Josef Thorak's sculptures were taken by the Red Army after World War II and thought to have been melted down. They were found in Bad Duerkheim alongside other valuables in a warehouse belonging to black market art dealers.
In recent years demand for Nazi memorabilia has increased; these horses were placed on the black market at a price tag of $4.4 million. The horses are now the property of the German government, which plans to exhibit them in the future.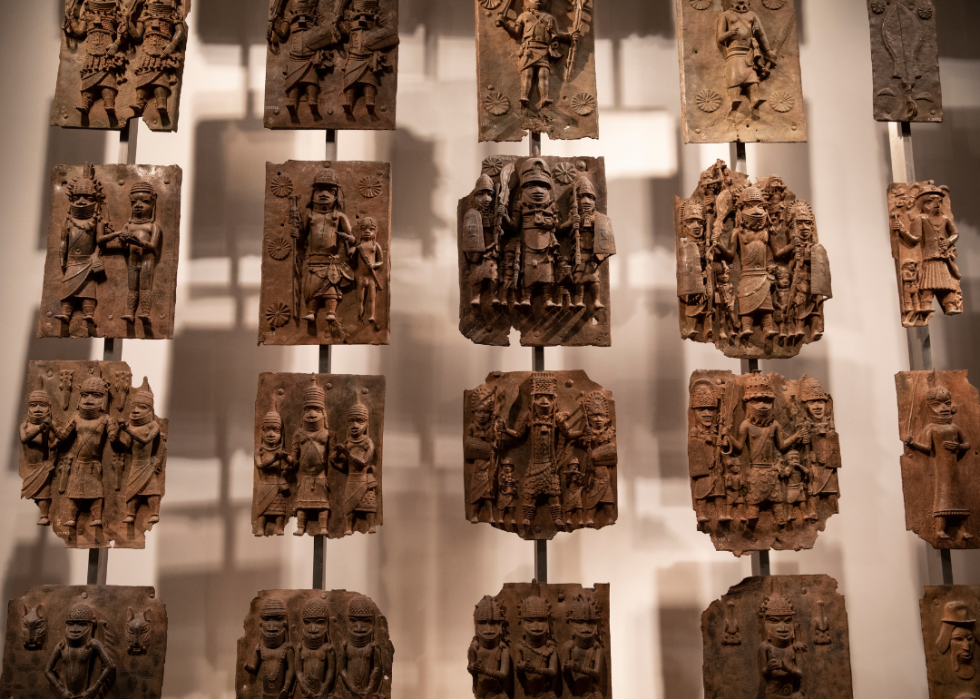 4 / 10
Dan Kitwood // Getty Images
The Benin Bronzes
Made of brass and bronze, this group of sculptures dates back to the 16th century. Known as the Benin Bronzes, they were looted from the Kingdom of Benin (present-day Nigeria) when the British overran and toppled Benin City in 1897.
Five thousand of the historical artifacts are still on display in museums around the world, including the British Museum. In recent years governments and institutions in France and Germany have been grappling with their colonial past and returning works to African countries. In October, the U.K. joined the list as several institutions returned Benin Bronzes to Nigeria's National Commission for Museums and Monuments.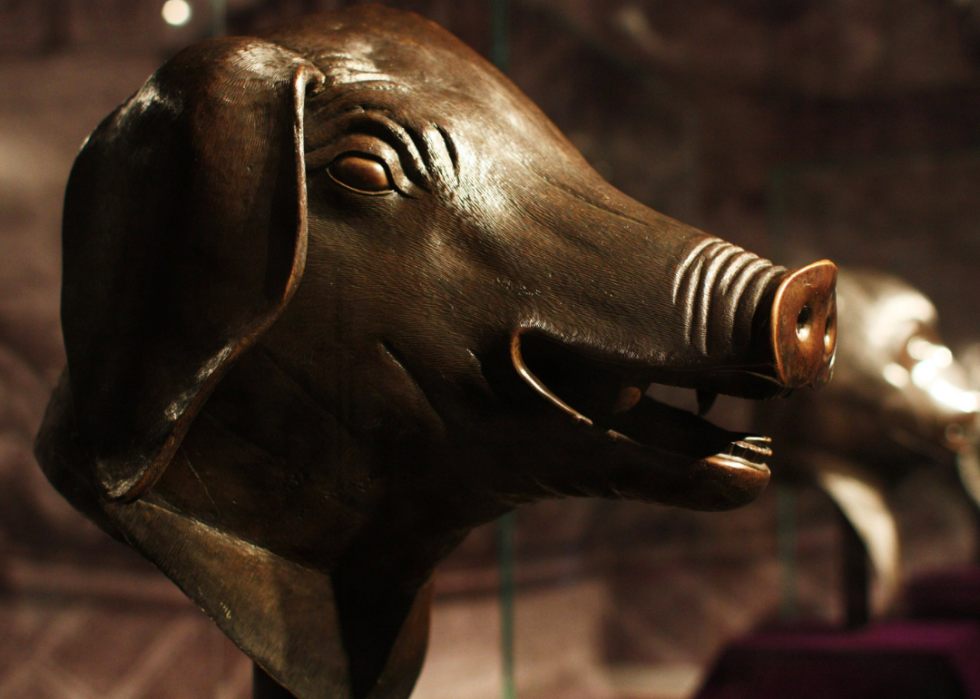 5 / 10
Visual China Group via Getty Images
Zodiac Sculptures
Twelve bronze animal heads representing the Chinese zodiac were looted by British and French troops in 1860 during the Second Opium War. Originally the 12 sculptures were placed on a water clock in the Old Summer Palace in Beijing.
Over the years, seven of the sculptures have been recovered and returned to China, the most recent being the horse head, which was bequeathed to the Chinese government by Macau tycoon Stanley Ho in 2019. He purchased the sculpture in 2007 for $8.9 million. The rat, rabbit, ox, tiger, monkey, and pig are currently in Chinese museums. The dragon, snake, goat, rooster, and dog have still not been found.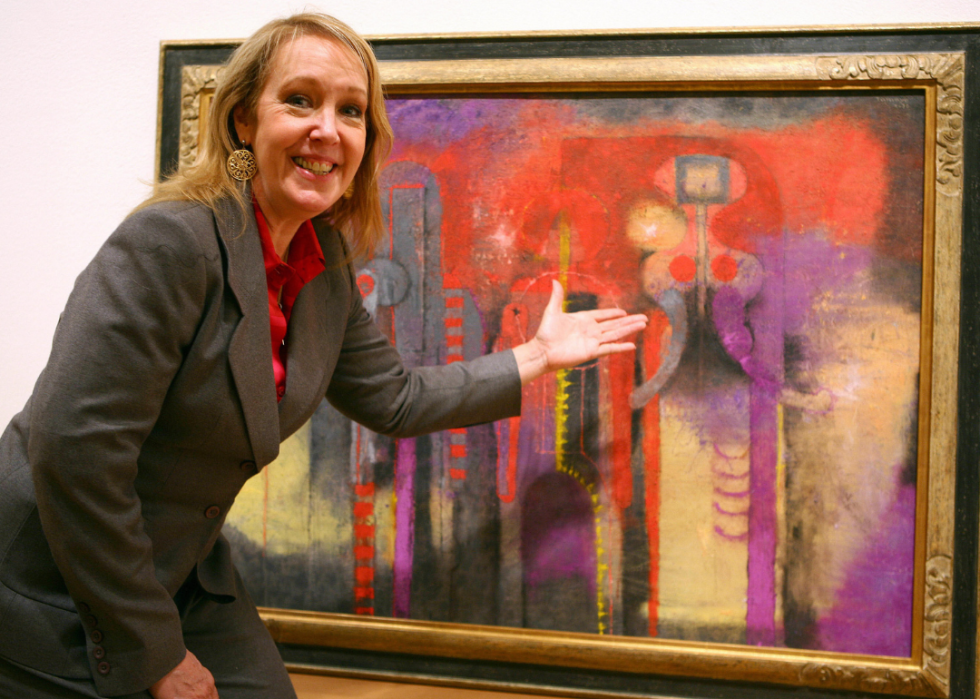 6 / 10
EMMANUEL DUNAND/AFP via Getty Images
"Tres Personajes," Rufino Tamayo
In 1987, while its owners were in the process of moving, "Tres Personajes" was stolen from its temporary storage location in a Texas warehouse. By a lucky turn of fate, New Yorker Elizabeth Gibson found the painting on the street in 2003 and took it home with her. After a friend suggested it might be valuable, she discovered it had been stolen.
Gibson returned the painting to its rightful owner and collected a $15,000 reward plus a portion of the $1,049,000 it sold for at Sotheby's in a 2007 auction. The painting was originally purchased in 1977, also through Sotheby's, for $55,000 by an anonymous buyer who purchased the painting as a gift for his wife.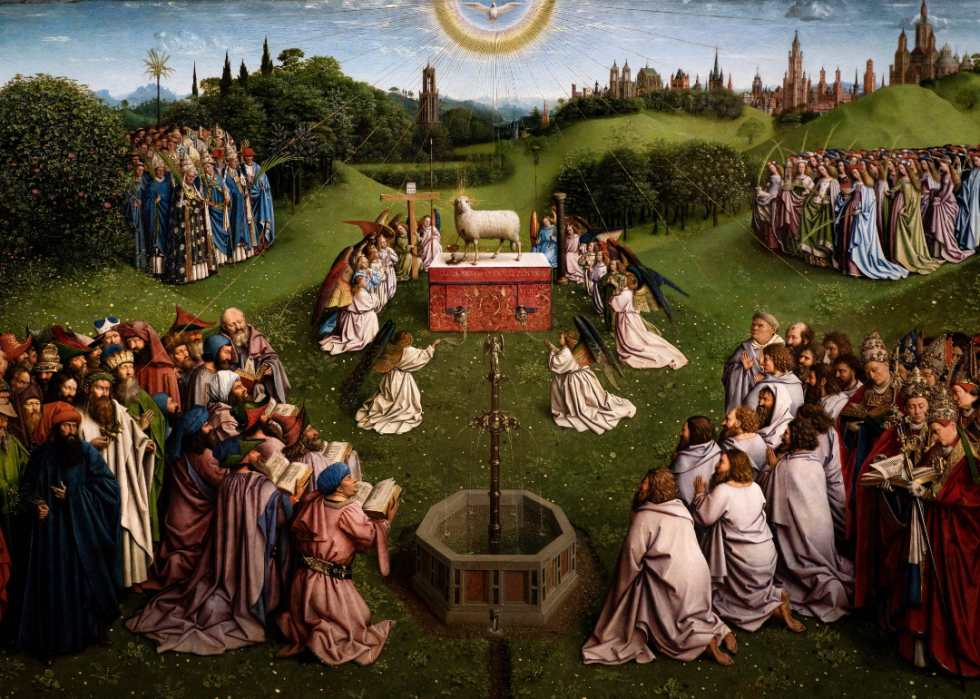 7 / 10
KENZO TRIBOUILLARD/AFP via Getty Images
"The Ghent Altarpiece," Hubert and Jan van Eyck
Titled by its creators as the "Adoration of the Mystic Lamb," the Ghent Altarpiece may be the most-stolen artwork of all time. The world's first oil painting, it has a long history of passing through disreputable hands. Once stolen by Napoleon, it was also nearly burned in a Calvinist riot, and became an obsession for Hitler and Goring during World War II (when it was famously rescued by the Monuments Men).
To this day, one panel is mysteriously still missing. In 1934 "The Just Judges" panel was stolen from its location within the altarpiece at a height that would have required two people and a ladder. A ransom note demanding 1 million Belgian francs and part of the missing panel was later delivered to St. Bavo Cathedral. On his deathbed, a stockbroker named Arsène Goedertier claimed he knew where the panel was and left an envelope filled with clues. Despite decades of sleuthing, the still-open cold case has not been solved.
8 / 10
VALERY HACHE/AFP via Getty Images
"Child with a Soap Bubble," Rembrandt Harmenszoon van Rijn
In 1999, a Frenchman stole Rembrandt's "Child with a Soap Bubble" from a French municipal museum by breaking into an adjacent library during a parade. The thief kept the painting carefully wrapped up in his home for 15 years before turning it and himself, along with his accomplice, into French authorities in 2014 after a botched attempt to sell it.
Rembrandt is a popular master painter for thieves to target. The Art Loss Register has more than 300 of his paintings listed on its database of stolen art. In a strange twist of fate, there is some speculation that "Child with a Soap Bubble" may not be by Rembrandt after all, but merely in his style of painting.
9 / 10
-/SCANPIX/AFP via Getty Images
"The Scream," Edvard Munch
Norwegian painter Edvard Munch's most famous work, "The Scream," was stolen from the National Gallery in Oslo during a heist in 1994. The thieves stole the painting in less than 1 minute after breaking in through a window. The painting was recovered three months later, undamaged in a hotel room 40 miles away. This wasn't the last time thieves took an interest in Munch's work.
In 2004, another version of the painting was stolen from the Munch Museum and later recovered by police.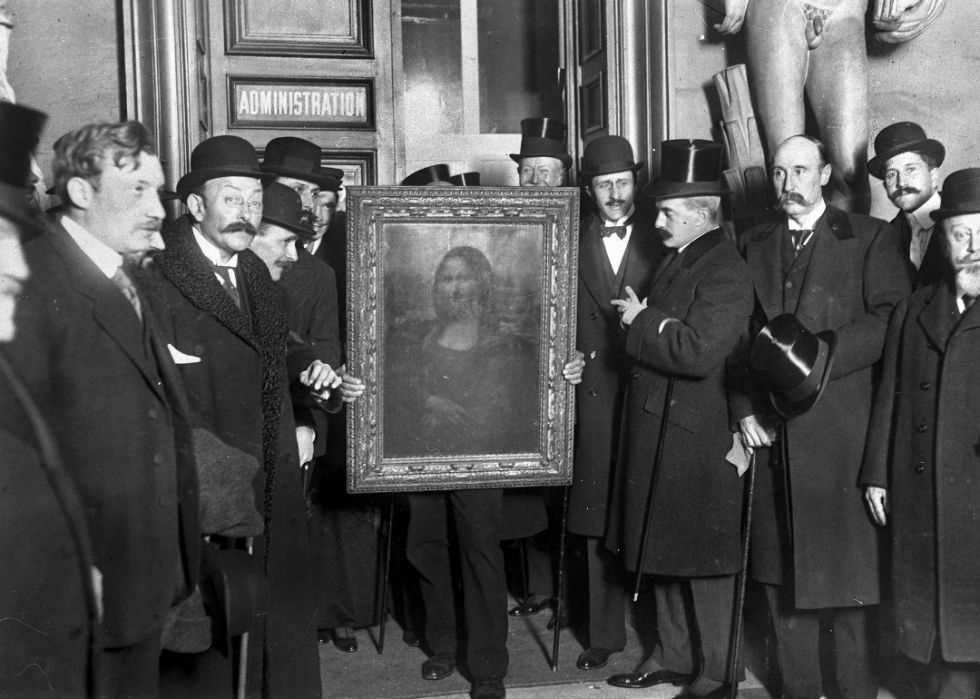 10 / 10
Roger-Viollet // Getty Images
"Mona Lisa," Leonardo da Vinci
It was the 1911 heist of the "Mona Lisa" that brought the painting international fame and recognition. Three Italian handymen camped out overnight in a closet and stole the painting, then boarded a train out of the city. The Louvre didn't know the heist had occurred until a still life artist painting in the gallery asked when it would be returned to its place on the gallery wall.
The scandal made international newspapers. Twenty-eight months later one of the thieves tried to sell the painting to an art dealer in Florence, who then turned him in to the police.