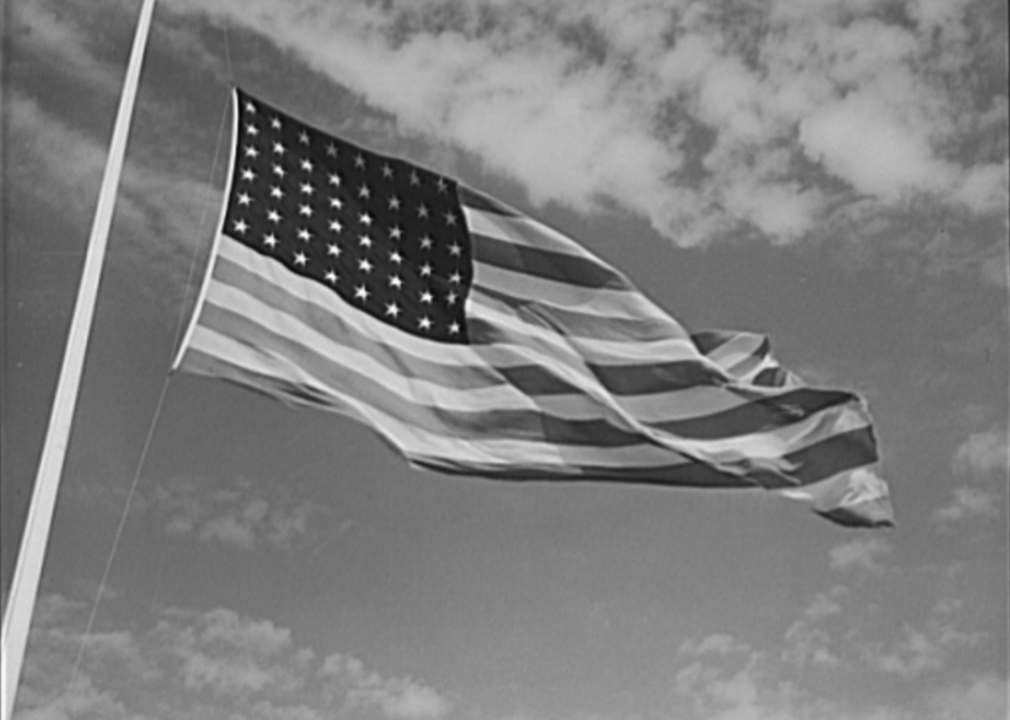 Pop culture history from the year you were born
Alfred T. Palmer // Library of Congress
Pop culture history from the year you were born
Take a moment to check your surroundings. Are you reading this on a smartphone or tablet? What about a sleek, new laptop? Do you have TV reruns playing in the background or a classic 1990s movie streaming on the tube?
What we're getting at is that pop culture surrounds us everywhere, and is an inescapable fabric of almost everyday life. Pop culture creates the moments we associate with mile markers in life, whether that be a birthday, a first crush, or a life-changing event. There's a reason why people reminisce when seeing a certain fashion trend or sitcom, or hear the opening notes of a popular ballad from a middle school dance. That's why Stacker dove into finding the best pop culture history from the year you were born. Going back to 1930, it deciphered what were the films, TV shows, periodicals, other literature, art, albums, concerts, sports, celebrities, viral controversies, and video games that defined each year. Data in each slide was found using a variety of primary news sources.
For example, do you know where Mickey Mouse made his first appearance in the newspapers? What about the famous baseball play that occurred in the same year a literary "catcher" was introduced to the world? Or, what late night talk show legend entered our lives in the same year as cartoon "buttheads" obsessed with fire and heavy metal?

Continue reading to find out what notable events in pop culture took place the year you were born. Along the way, join the journey that traverses through the Great Depression, the end of World War II, the rise of the baby boomers and hippies, and goes all the way up to the eras of hair metal, hip-hop, and memes. When you're done, be sure to check out other similar Stacker articles like "Architectural history from the year you were born."
1930: The Mickey Mouse comic strip
Mickey Mouse first appeared in 1928's "Steamboat Willie," but he made his comic strip debut on Jan. 13, 1930, exposing the cheerful rodent to new audiences. Throughout the decade, Mickey's popularity rose as he continued to be featured in films like "The Cactus Kid."
1931: A new national anthem
President Herbert Hoover signed a bill designating "The Star-Spangled Banner" as the official national anthem. The Navy had used the song since 1889, and legislation to make Francis Scott Key's opus the national anthem of the United States was introduced in 1929.
1932: Lindbergh baby kidnapping
Charles Lindbergh was a national celebrity thanks to his exploits as a pilot, but he entered headlines in March for an unwanted reason. Lindbergh's son, Charles Jr., was kidnapped from the family home in New Jersey. Months later, many in the nation were devastated when the infant was found dead on a nearby road.
1933: King Kong made crowds go ape
The debut of the film "King Kong" was a milestone in American moviemaking. The gargantuan scale of the shots wowed viewers, and the use of new special effects influenced film for decades to come.
1934: It's showtime
The Apollo Theater held its first "Amateur Night," providing a platform for thousands of Black entertainers in the decades to come, including Ella Fitzgerald. In the ensuing years, the Apollo became the largest employer of Black theater workers in the country, and was reportedly the only theater in New York City hiring Black workers in backstage positions.
1935: A cowboy savant
Will Rogers had a background as a cowhand, but also excelled as an actor, humorist, and columnist. Rogers was an avid aviation enthusiast; he died in a plane crash in 1935.
1936: New Life
Life magazine hit newsstands for the first time, with a cover image of Fort Peck Dam. The famous photo was captured by Margaret Bourke-White, an American photojournalist who was also allowed unfettered access into photographing daily life in the Soviet Union. Life was one of the country's top news magazines until it stopped publishing monthly issues in 2000.
1937: Oh, the humanity
On May 6, the Hindenburg, the world's largest dirigible airship, caught on fire in Lakehurst, New Jersey. The flames could be seen from miles away, and newsreel cameras recorded the tragedy as it unfolded. Soon after, the airship industry also met its demise.
1938: Joe Louis gets revenge
After German boxer Max Schmelling upset Joe Louis in a 1936 bout, the "Brown Bomber" exacted revenge two years later. Inside Yankee Stadium, Louis knocked out Schmelling. The German fighter, who unwillingly became a symbol of nationalistic pride, became friends with Louis, an African American.
1939: Gulping goldfish
College kids are known to do crazy things, but it's hard to explain the appeal of swallowing live goldfish. That's exactly what a group of Harvard students did in 1939, setting off copycats across college campuses. Just imagine if Tik Tok had been around 81 years ago.
1940: The birth of the Boy Wonder
In April 1940, Robin, Batman's trusty sidekick, made his debut in "Detective Comics #38." One month earlier, Batman headlined his own namesake comic, but continued to appear in the "Detective Comics" series. Actors Burt Ward and Chris O'Donnell portrayed The Boy Wonder in TV and film.
1941: Wonder Woman wows
As comic books grew in popularity, Wonder Woman smashed down the doors of the old boys' club as a crime-fighting female superstar. The Wonder Woman character became an icon of strength, and her appeal lasts today, with a popular portrayal by actress Gal Gadot.
1942: Here's looking at you, kid
While Americans' minds were focused on World War II, many allowed themselves a few hours of escape by going to theaters to see "Casablanca." The 1942 film starred Humphrey Bogart and Ingrid Bergman, and became one of the most revered works of cinema in film history. The film opened on Thanksgiving Day at the Hollywood Theater in New York City.
1943: Carnegie Hall welcomes a Duke
Duke Ellington graced the stage of Carnegie Hall on Jan. 23, 1943, and his Carnegie Hall concerts are still recognized for their greatness. Also this year, the All-American Girls Professional Baseball League debuted, a league that was later dramatized in the film "A League of Their Own."
1944: Casablanca captures an Oscar
"Casablanca," the 1942 romantic war drama, won the Academy Award for best picture. Studios were reluctant to take on the film, but the scene-stealing performances from Humphrey Bogart and Ingrid Bergman put "Casablanca" into the conversation for being one of the greatest movies of all-time.
1945: Party in the USA
Americans everywhere celebrated the end of World War II, especially residents of New York City. As thousands packed Times Square, an American sailor kissed a woman in an image that became an iconic photo of the 20th century.
1946: Seminal moments in sports
The landscape of modern sports was very much influenced by 1946. The Los Angeles Rams signed Kenny Washington, the first African American player in the NFL. Also, the NBA, then known as the Basketball Association of America, played its first game.
1947: Fantastic firsts
Jackie Robinson breaks baseball's color barrier, debuting with the Brooklyn Dodgers. The first Tony Awards ceremony was held in New York, with tickets priced at $7. Roswell becomes a center of suspected UFO activity in New Mexico.
1948: Truman defeats Dewey
Harry Truman pulled out an upset victory over Thomas E. Dewey in the 1948 U.S. presidential election. Truman celebrated by holding up a newspaper that had already printed "Dewey Defeats Truman." Albert, a rhesus monkey, became the first primate in space.
1949: Red scare
The FBI took aim at public figures suspected to be communist sympathizers. Dorothy Parker was among those blacklisted in what became known as the red scare.
1950: A Cinderella story
Disney released "Cinderella," an animated feature that still charms audiences. Charles M. Schultz's "Peanuts" comic strip made its first appearance, introducing the world to Charlie Brown and company.
1951: A batter and a catcher make history
J.D. Salinger's "The Catcher in the Rye" is published and inspires a generation of literary-minded misanthropes. Bobby Thomson hit a game-winning home run to allow the New York Giants to win the National League pennant, in one of baseball's most famous calls. The homer is called "The Shot Heard 'Round the World."
1952: A rising sun in the music industry
NBC's "Today" show debuted, revolutionizing the morning talk show format. Sun Records, future home of Elvis Presley, Jerry Lee Lewis, and Johnny Cash, began releasing albums.
1953: Love and Amore
On "I Love Lucy," Lucille Ball gave birth in one of the most-watched sitcom episodes at the time. Dean Martin recorded one of his biggest hits, "That's Amore."
1954: Marilyn Monroe's iconic image
While filming "The Seven Year Itch," Marilyn Monroe is snapped in a famous photo, where a gust of wind blows up her sterling white dress . Also this year, the Miss America pageant is televised for the first time.
1955: McDonald's and Disneyland welcome millions
The first McDonald's opened east of the Mississippi River, beginning the hamburger chain's rise to the top of the fast food chain. In Southern California, Disneyland opened to the public.
1956: Elvis, Moses, and perfection
Elvis bombards the charts with "Hound Dog," "Heartbreak Hotel," and "Don't Be Cruel." Charlton Heston wowed as Moses in "The Ten Commandments," and Don Larsen was equally impressive in the World Series, throwing a perfect game for the New York Yankees.
1957: Music mania
"American Bandstand," originally a local show from Philadelphia, broadcasted to a national audience. Elvis scored a hit on the big screen with "Jailhouse Rock," while Jerry Lee Lewis ignited the country aflame with "Great Balls of Fire."
1958: Swinging for the fences and swinging hips
The hula hoop became a national craze, moving millions of units to hip-shaking kids—and the phenomenon was later captured in the film "The Hudsucker Proxy." The San Francisco Giants and Los Angeles Dodgers brought professional baseball to California.
1959: New York welcomes two new institutions
"Sleeping Beauty" became the latest Disney hit film and "A Raisin in the Sun" debuted on Broadway. A few blocks north in Manhattan, the Guggenheim opened in New York City, ushering in a new era of architecture for museum spaces.
1960: Mockingbird killers and psychos
Moviegoers never looked at taking a shower the same after watching "Psycho," an intense and terrifying thriller that changes the horror genre. Harper Lee captivated readers with "To Kill a Mockingbird." On a lighter note, Howdy Doody says toodaloo, signing off after 13 years on the air.
1961: Maris tops Ruth; Chubby Checker twists his way to fame
Roger Maris broke Babe Ruth's single-season home run record, socking his 61st homer on Oct. 1, 1961. In another fantastic feat, Stan Lee's "The Fantastic Four" comic series debuted and instantly became a hit. Chubby Checker had the nation shaking its hips with "Let's Twist Again."
1962: Times They are a Changin'
Bob Dylan released his eponymous debut album, and remained a cultural icon for the next six decades. In a small town in Arkansas, Walmart opened its first store. Many mourn in August, when Marilyn Monroe is found dead.
1963: A year of turmoil and tales of suspense
It'd be 45 years until he got a major motion picture, but Iron Man made his comic book debut in "Tales of Suspense." Martin Luther King's "I Have A Dream" speech and the assassination of President John F. Kennedy are events that still resonate across pop culture.
1964: Potent notables
The Beatles arrived in New York and launched "Beatlemania." "Jeopardy!" begins its 55+ year run as a game show giant. Sports Illustrated released its first "Swimsuit Issue."
1965: Queens of pop culture
Moviegoing audiences were introduced to the Trapp Family as "The Sound of Music" hit theaters and became a critical and financial success. Queens became an epicenter of pop culture throughout the year, with the World's Fair wrapping up in Flushing and The Beatles taking over Shea Stadium in an iconic concert.
1966: No stranger to success
Despite rock music dominating the charts, Frank Sinatra's "Strangers in the Night" became the hit of the year and his best-selling single. During his career, Sinatra was no stranger to Las Vegas, and Sin City welcomed a new addition with Caesars Palace, future site of memorable concerts and big boxing fights. "Star Trek" also arrived on TV screens in 1966.
1967: Fast food firsts
It was a big year for fast food fans, as Domino's Pizza started slinging pies and McDonald's introduced the Big Mac. In the years to come, both brands became staples during commercials breaks of the Super Bowl, which played its first edition on Jan. 15, 1967.
1968: Good hair
Every decade or so, there's a Broadway play that seems to revolutionize theater and in 1968, that production was "Hair." A similar impact was felt in the arena of TV news, when "60 Minutes" first aired on CBS. Intel, a future major player in tech and computers, was also founded in 1968.
1969: Here's a story
In one of the most varied years in American pop culture history, Neil Armstrong walked on the moon, and hundreds of thousands embraced peace, love, and rock 'n' roll at Woodstock.
"The Brady Bunch" introduced TV audiences to a cute story about a lovely lady, a man named Brady, and their children, while the New York Mets performed a miracle by winning the 1969 World Series.
1970: Are you ready for some football?
"Monday Night Football" debuted with a game between the New York Jets and Cleveland Browns. In less celebratory news, Jimi Hendrix died in London, and Paul McCartney announced that The Beatles were breaking up as a group.
1971: The Pentagon Papers
The Pentagon Papers were leaked to the press, exposing government details about the Vietnam War. Charles Manson was found guilty of murder.
[Pictured: Daniel Ellsberg talks with newsmen as he arrives for arraignment at courthouse in Los Angeles, California on August 16, 1971. Ellsberg is charged with violating the law by leaking the secret Pentagon papers to the news media.]
1972: Offers that can't be refused
On June 17, 1972, police arrested intruders in the Democratic National Committee headquarters, in what became known as the Watergate scandal. President Richard Nixon is taped suggesting obstructing the investigation. "The Godfather" hits theaters and becomes one of the most critically-acclaimed films in Hollywood history.
1973: Major landmark events
Elvis held a concert in Hawaii that became one of the most-watched events in TV history. Roe v. Wade overturned a ban on abortion, and Pink Floyd released "The Dark Side of the Moon."
1974: Stockholm Syndrome and Watergate
Patty Hearst, daughter of a famous newspaper magnate, was kidnapped and became a poster child for Stockholm Syndrome. "Little House on the Prairie" debuted on TV, and President Nixon resigned from office after the Watergate scandal.
1975: Captivated audiences
"The Rocky Horror Picture Show" debuted and audiences were riveted by the immersive moviegoing experience. Another intensely emotional work of art, "Tommy," premiered in theaters, based on The Who's rock opera. Americans also watch in awe as Saigon falls and the Vietnam War nears its end.
[Pictured: South Vietnamese clamber aboard barges in the port of Saigon in an attempt to escape from advancing North Vietnamese troops on April 29, 1975, the day of the Fall of Saigon that ended the Vietnam War.]
1976: The story of the hurricane
Boxer Ruben "Hurricane" Carter was arrested and imprisoned; his fight for freedom was later chronicled in a film starring Denzel Washington. America celebrated its bicentennial, but many in New York were on edge that summer due to the emergence of the Son of Sam serial killer.
[Pictured: World heavyweight champ Muhammad Ali (center) leads a rally of some 1,000 persons through streets of Trenton to urge New Jersey Governor Brendan Byrne to pardon former middleweight contender Rubin "Hurricane" Carter on October 17, 1975.]
1977: Roots of change are planted
Kids' TV network Nickelodeon launched and the Commodore PET is released as the world's first personal computer. Millions tuned in to watch "Roots," a miniseries about slavery in the United States, and "Star Wars" debuted at theaters.
1978: Greased lightning
"Grease," featuring John Travolta and Olivia Newton John, danced its way into the pop culture lexicon. On a grimmer note, the Jonestown massacre and the crimes of Ted Bundy and the Hillside Strangler all made headlines.
1979: Teaching moments
An accident at the Three Mile Island nuclear facility brought the threat of nuclear waste to the forefront of America's conscience. The disappearance of New York child Etan Patz raised awareness over missing children and child safety. The Iran hostage crisis shaped policy in the Middle East for decades to come.
1980: Hip-hop and golf
Bill Murray scored a breakout role in "Caddyshack," a film that has been quoted across golf courses for the past 40 years. Fans of the show "Dallas" became enthralled with the mystery of Who Shot JR?, and the Sugarhill Gang's "Rapper's Delight" began the rise of hip-hop.
1981: I want my MTV
MTV hit airwaves and played The Buggles' "Video Killed the Radio Star" as its first music video. "Cats" premiered at the New London Theatre. Elsewhere in Great Britain, the royal wedding of Prince Charles and Lady Diana Spencer drew in audiences around the globe.
1982: A message and a Thriller
Hip-hop continued to grow in popularity, thanks to Grandmaster Flash and the Furious Five's song "The Message," and Michael Jackson tore up the charts with "Thriller." Tons of quarters were pumped into video game machines to play PAC-MAN, and it wouldn't be surprising if many gamers stayed awake by sipping on the newly released Diet Coke.
1983: Family matters
Family fun was all the rage in 1983, with the release of films like "National Lampoon's Vacation," and the premiere of the TV series "Family Ties." The Police scored a big hit with "Every Breath You Take," and they continued to rake in the dough when Puff Daddy sampled the song a decade later.
1984: It's gotta be the shoes
MTV held its first Video Music Awards, and Herbie Hancock was the night's big winner. Michael Jordan set off a sneaker revolution with the release of his Nike "Air Jordan" shoes. Prince also displayed some fancy footwear in "Purple Rain."
1985: Golden arrivals
The first WrestleMania event was held at Madison Square Garden, and included Mr. T, draped in gold, in a marquee match. The Nintendo Entertainment System arrived in North America, charming younger audiences, while a set of senior citizens became a cult favorite on "The Golden Girls."
1986: Bad boys
The Beastie Boys' debut album, "Licensed to Ill," resonated with rowdy frat boys and rap fans alike. "Ferris Bueller's Day Off" similarly was received well by a variety of cliques, as smart-alecky young men were all the rage in 1986.
1987: Something for everyone
A variety of iconic characters were introduced in 1987. "Married … with Children" provided a sympathetic Al Bundy for the blue collar working man, while teens were magnetically drawn to the leading lovers in "Dirty Dancing." The ruthless traders of "Wall Street" inspired both day traders and critics of capitalism.
1988: Great ones
Wayne Gretzky moved on to the Los Angeles Kings, greatly expanding the audience of the National Hockey League past Canada and east of the Mississippi. "The Simpsons" and "Yo! MTV Raps" were two influential TV shows that debuted.
1989: Leading women and funny men
Janet Jackson's "Rhythm Nation" proved to be a milestone album in R&B and pop music, influencing scores of musicians and non-musicians. With their charismatic leading actors, "Seinfeld" and "Saved by the Bell" soon became must-see TV for many.
1990: Sketch comedy benchmarks
Damon Wayans, Jim Carrey, and a host of other talented, young actors that were mostly comprised of Black comedians, changed sketch comedy with "In Living Color." Teens became obsessed with the zip code 90210, thanks to the exploits of Brenda, Donna, and a rising young heartthrob in Luke Perry. Sinead O'Connor crooned that "Nothing Compares 2 U," a hit that ignited her rise to fame, on an infamous appearance on another sketch show, "Saturday Night Live," when she ripped up a photo of the pope.
1991: The impact of Boyz N The Hood
Director John Singleton gave many Americans their first real look at inner-city struggles and the effects of gentrification, racism, and neighborhood violence in "Boyz N The Hood." Elsewhere, "The Ren and Stimpy Show" introduced a type of crude animated humor that became the blueprint of other cartoons, and Nintendo scored another gaming hit with the North American release of its Super NES.
1992: MTV is more than just music
MTV introduced a movie award show and a reality TV show, "The Real World," which became cultural institutions over the past two decades. In the world of music, Dr. Dre's "The Chronic" became a release that shifted the balance of power in hip-hop from the East Coast to the West Coast. American NBA players asserted their dominance at the 1992 Summer Olympics as part of the "Dream Team."
1993: Diesel debuts
The 1990s were revolutionary for animated cartoons taking on an adult bent, perhaps none more so than "Beavis and Butt-Head," released in 1993. Other TV debuts included Conan O'Brien on late night TV, and ESPN2. Emerging basketball star Shaquille O'Neal also released his hip-hop album titled "Shaq Diesel."
1994: Genre defining moments
Adults often thought the youth of the 1990s were slackers—but isn't that the case for every generation? The works of seminal artists, though, proved there was much more underneath their flannel shirts. Young artists sought inspiration in works like "Pulp Fiction" and "Reality Bites," both released in 1994. Many youths were stunned and heartbroken when one of their foremost voices, Kurt Cobain, the lead singer of Nirvana, killed himself.
1995: Hootie and Clueless
Catchphrases from Alicia Silverstone and Paul Rudd turned "Clueless" from a kitschy teen film into a generational classic. ESPN introduced the "X Games," and other athletes helped Hootie and the Blowfish continue their assault on the pop charts with the music video for "Only Wanna Be With You."
1996: Hey, Macarena
Dennis Rodman rocked a wedding dress to promote his book, and the Macarena had people with—and without—rhythm shaking their hips. Chris Rock's "Bring the Pain" shot him into a new stratosphere of comics, but another influential musician died when Tupac Shakur was killed in Las Vegas.
1997: Cartoon choices
Months after the music world mourned the death of Tupac Shakur, rapper The Notorious B.I.G. was gunned down and killed in Los Angeles. On television, two animated shows made notable debuts, although with much different content. Teens and adults gravitated to "South Park," while generally younger crowds became enamored with "Pokemon."
1998: Total Request Live takeover
MTV's "Total Request Live" sent a jolt through pop music, as largely teen viewers were able to vote on which videos got played. One beneficiary of "TRL" was Will Smith, who's "Gettin' Jiggy Wit It" was a 1998 hit. Elsewhere, "Dawson's Creek" and the Major League Baseball home run record chase made notable headlines this year.
1999: Livin' La Vida Loca
Music fans began downloading hit songs like 1999's "Livin' La Vida Loca" on Napster, a service which soon came under fire for providing free music to millions. In theaters, "American Pie" raked in millions, while "Who Wants to Be a Millionaire" became a TV hit.
2000: Jacka**es and survivors
MTV continued to produce content outside of music, and "Jacka**" became a surprising hit, as a collective of stuntmen and skaters shocked audiences with their exploits. "Survivor" and "Cast Away" enraptured plenty of viewers, while Razor scooters became a favored mode of travel.
2001: iPods and Xboxes
Apple's iPod and Microsoft's Xbox were two new tech inventions that made lasting impacts. Japanese outfielder Ichiro Suzuki became a baseball phenom in Seattle, and The Strokes reinvigorated New York City rock with their raw guitar sounds.
2002: Eminem's new mile marker
Eminem was already a pop music megastar in 2002, but his film "8 Mile" added another dimension to his résumé. You likely wouldn't ever find Eminem on "American Idol," a talent TV show that took the country by storm, but plenty of future stars like Kelly Clarkson got their start in front of Simon Cowell and company. Yao Ming entered the NBA and helped usher in a basketball revolution in Asia.
2003: Who's in your top eight?
MySpace becomes an instant hit, as users rank their top eight friends and show off their favorite tunes on profile pages. Future auto industry game changer Tesla is founded, while "The O.C." and "Chappelle's Show" become instant TV hits.
2004: Curses, new and old
Tina Fey's foul-mouthed "Mean Girls" found success, while another kind of curse, the one of the Bambino, finally ended when the Boston Red Sox won their first World Series since 1918. TV viewers bid farewell to "Friends," and Harvard college kids began tinkering around with Facebook.
2005: Out of nowhere
Some unexpected hits stood out in 2005. Judd Apatow's "The 40-Year-Old Virgin" was a surprise summer smash, and "The Boondocks" slowly emerged as a cult favorite. Elsewhere, a little-known streaming company called YouTube began changing the way consumers accessed media.
2006: Trending topics
Apple's MacBook became a favorite laptop with its sleek design and simple interface. With the MacBook, users were able to access Twitter, a new social media site launched in 2006. The first "Borat" film and the show "Friday Night Lights," based on the movie and book of the same name, were notable Hollywood releases.
2007: More gadgets and gossip
The first Apple iPhone and Amazon Kindle become must-have tech gadgets. On the tube, the TV show "Gossip Girl" caused controversy and intrigue.
2008: Rickrolled
"Twilight" and "The Dark Knight" were two of the biggest box office successes in 2008. On the internet, the prank of "rickrolling" added a new term in the lexicon for trolling, based on Rick Astley's "Never Gonna Give You Up" music video.
2009: The art of fist pumping
MTV's "Jersey Shore" TV show introduced the world to hard-partying, sometimes annoying 20-somethings who vacationed on the beach. Another famous fist pumper, Tiger Woods, found himself mired in scandal after a Thanksgiving Day auto accident. Car share service Uber was founded, as was NFL RedZone, a must-have channel for fantasy football players everywhere.
2010: Do it for the 'gram
Instagram launched in 2010, and soon made selfies a new art form. While many welcomed the 'gram into the social media space, millions lamented the end of TV series "Lost." Comedy fans were also bummed when Conan O'Brien left "The Tonight Show," but he left with a classy and impassioned speech imploring us all to be better people.
2011: This is crazy
Canadian pop singer Carly Rae Jepsen scored a hit with "Call Me Maybe," the catchy song that led to hundreds of covers. Some even appeared on Snapchat, the social media platform launched in 2011.
2012: Taylor Swift turns red
Taylor Swift entered a new phase of her career with 2012's "Red." The album had a more pop heavy sound, featured production from pop extraordinaire Max Martin, and included a collaboration with Ed Sheeran. In the sports world, "Linsanity" and the rise of Jeremy Lin rocked the NBA landscape.
2013: No more dreams
BTS, the now iconic K-pop group, debuted in 2013 with the song "No More Dream." K-pop was already rising in popularity thanks to songs like "Gangnam Style," but over the past seven years, BTS elevated the genre to unforeseen levels. New Zealand singer Lorde also had a dreamlike ascent to the top of the charts with "Royals."
2014: Guardians and Kim Jong-un
"Guardians of the Galaxy" surprised some as such a huge hit, but proved the strength of the MCU. Seth Rogen might have needed the Guardians for personal protection if tensions hadn't cooled after Kim Jong-un and North Korea became agitated over the release of "The Interview." The film, which at times spoofed Kim, and studio Sony became targets of hackers.
2015: A Hamilton empire is born
"Hamilton" debuted on Broadway and soon became a phenomenon and one of the most sought after tickets in town. "Empire" was a surprising hit show, and Amy Schumer became the queen of comedy.
2016: Sports milestones
After 108 years of misery, the Chicago Cubs won their third World Series in franchise history, sending the Windy City into a frenzy. The 50th Super Bowl was held in California, as Peyton Manning won the title in his final game. TikTok became the latest social media app to launch and hook teens.
2017: An award snafu for the ages
Originally, "La La Land" was announced as the best picture winner at the Oscars, but the award actually went to "Moonlight." There was no mix-up, however, in the engagement announcement of Prince Harry and Meghan Markle.
2018: Representation matters
The #MeToo movement stoically called out generations of sexist behavior, empowering women across the world to be heard. "Black Panther" became a box office smash and inspired scores of young men. In addition, portraits of Barack Obama were unveiled at the National Portrait Gallery.
2019: An unstoppable parasite
South Korean director Bong Joon-ho unleashed an artistic parasite on the movie industry that reshaped representation in Hollywood. Bong's dark comedy thriller "Parasite" became the first non-English-language film to win the Academy Award for best picture. Bong's countrymen, BTS, continued their rise as one of the world's biggest music acts.