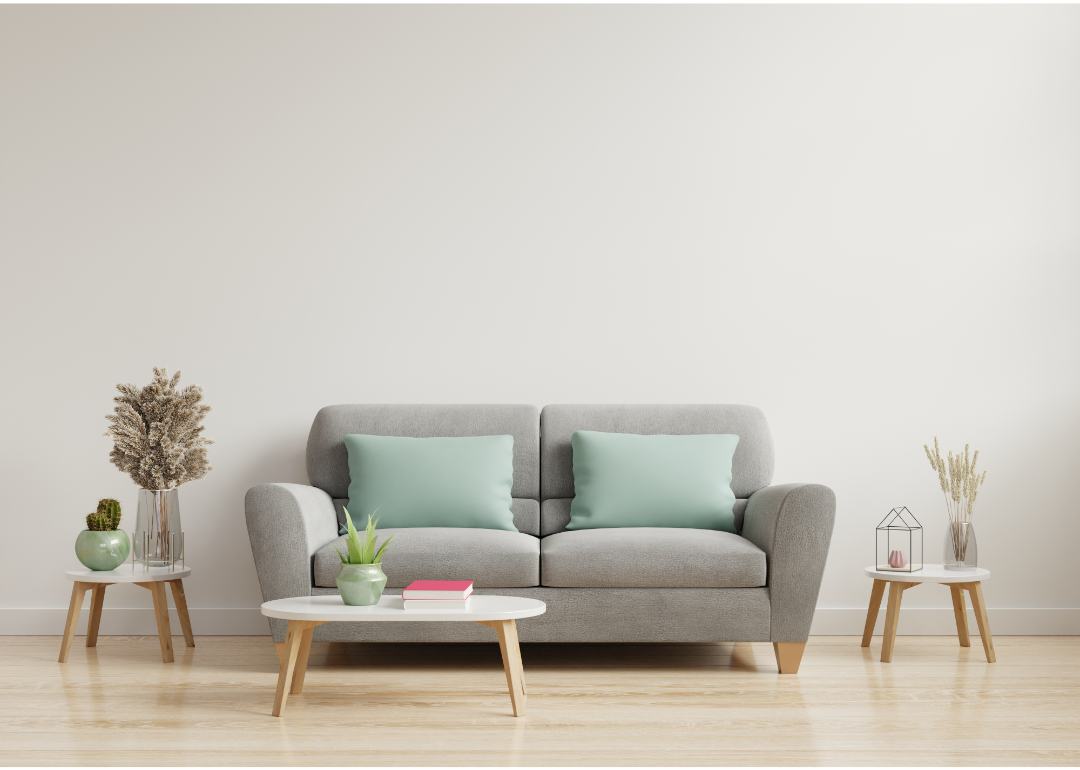 Stacker Connect
The rise of 'fast furniture': What is it and what are sustainable, affordable alternatives?
The rise of 'fast furniture': What is it and what are sustainable, affordable alternatives?
As a society, we have a need for speed. From the early days of fast food to today's fast fashion and furniture, instant gratification characterizes what and how we buy. For evidence, we don't need to look further than Amazon. The company made massive investments in shifting to two-day shipping in 2005 and has since gone further with same-day shipping to stay competitive.
On the surface, "fast furniture" sounds positive. We get more design choices at lower price points, which makes it easier to change out furniture to keep our homes appealing and on-trend and to quickly furnish them after moving. Since furniture and design trends don't last, we reenter the market sooner, which benefits the business and the economy.
Still, there are significant downsides to fast furniture we should consider. Some of the biggest are cost and environmental concerns. Ironically, we pay more overall for fast furniture than when we buy quality pieces we can use for generations. And all that no-longer-on-trend furniture needs to go somewhere. According to the U.S. Environmental Protection Agency (EPA), nearly 75% of discarded furniture ends up in landfills.
That's not all. Replacing furniture also strains resources, such as forestry and the wood products derived from it. Manufacturing new furniture also adds to pollution and greenhouse gas emissions.
Fast furniture brings problems, but there is good news. We can keep down costs, waste, and material shortages to live in a more affordable and sustainable world. It just requires a new outlook. Today's Homeowner looks at the rise of fast furniture, its impact on both the economy and the environment, and some sustainable alternatives.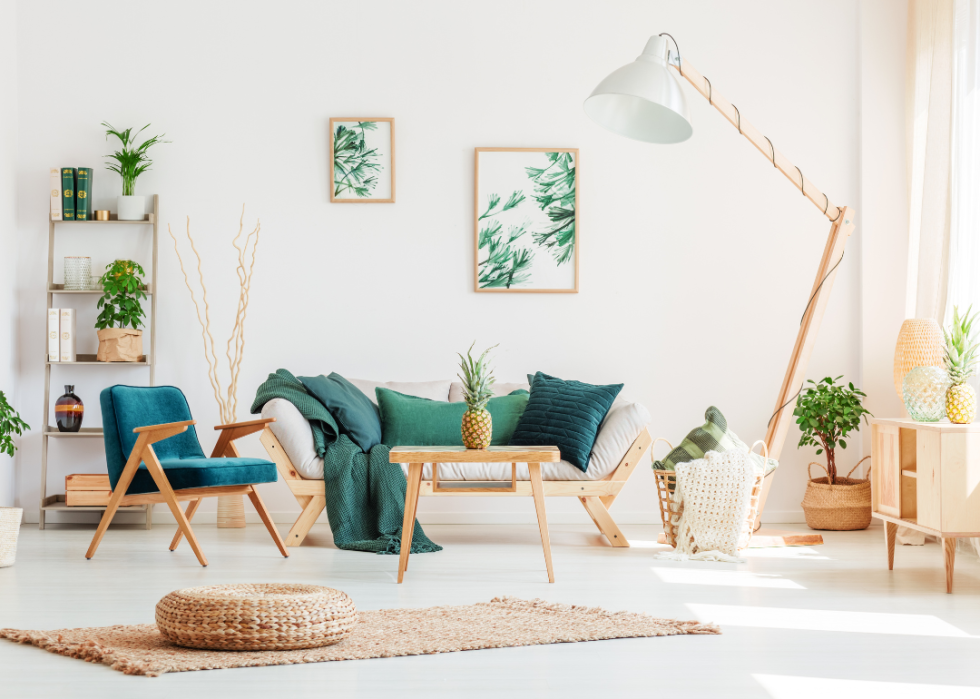 1 / 2
What is fast furniture?
Fast furniture means cheap and quickly made items that typically last between one and five years. The poor construction makes them difficult to repair or refurbish, which leads to most items being tossed.
With price being a driving factor of fast furniture, much of it contains materials that are not environmentally friendly. Non-recyclable plastics, for example, are widely used in fast furniture.
Over the past decade, there's been a growing shift to fast furniture due to lower pricing, convenience, and the appeal of immediate satisfaction. COVID-19 put the trend into overdrive. In 2022, the New York Times reported a $4 million increase in furniture purchasing from 2019 to 2021 — much of it due to fast furniture. 
What are the concerns surrounding fast furniture? 
Here's a closer look at some of the negative issues tied to fast furniture.
Pollution: Fast furniture is rarely environmentally friendly. The plastics going into much of it can take 400 years to decompose, and much of it is non-recyclable. 
Then there's the issue of shipping related to repeated purchases. Continuously buying items and having them shipped to our homes (or going out shopping for them) creates CO2 emissions that contribute to global warming.
Deforestation: The increased demand for low-cost timber in fast furniture contributes to deforestation and loss of biodiversity. As the world population grows, timber needs increase, and fast furniture only adds to the strain.
Landfills: Fast furniture is also overproduced. This fact, combined with the furniture's short lifespan, means that according to the EPA, over 12 million tons of furniture is tossed annually — most of which ends up in landfills. That amount is twice what was thrown away in the 1980s.
Health concerns: Some discarded fast furniture is disposed of through combustion (burning). Since it's often made from plastic and other environmentally unfriendly materials, when it's burned toxic chemicals are released into the air, soil, and water. Other chemicals like formaldehyde and chlorinated tris used in their production are known or believed to cause health risks in the home. PBDEs (polybrominated fire retardants) are regularly used on fast furniture and can release toxic dust.
Companies shifting away from fast furniture
Two big companies that offer fast furniture are IKEA and Wayfair. Thankfully, both are taking steps to address the problems posed by fast furniture.
IKEA: The company is famous for fast furniture but is now offering some sustainable alternatives. It has also pledged to become zero waste and use only recycled or renewable materials by 2030.
Wayfair: Wayfair is another top furniture retailer that saw a boom during COVID-19. It recently pledged to reduce greenhouse gas emissions by 63% by 2035. Though Wayfair still has a long way to go, the promised emissions reduction is a step in the right direction.
How to choose long-lasting, sustainable materials 
A big part of furniture longevity is material quality. Thankfully, there are quality sustainable products. Some examples are natural or organic fabrics and Forest Stewardship Council (FSC)-certified wood. Additionally, some companies and manufacturers follow ethical material sourcing and responsible practices.
An easy way to spot a company's commitment to sustainable and renewable materials and furniture production is through certifications, including those by: 
LEED (Leadership in Energy and Environmental Design) 

FSC

Cradle To Cradle (C2C)

Fair Trade

Green Guard

Eco Institut 
Retailers such as West Elm, Herman Miller, and Parachute tout ethically and sustainable manufacturing. Look carefully at company websites to confirm that they incorporate sustainability and responsibly sourced materials into their products.  
For a better understanding of wood sustainability, see our article on forestry and renewable wood products.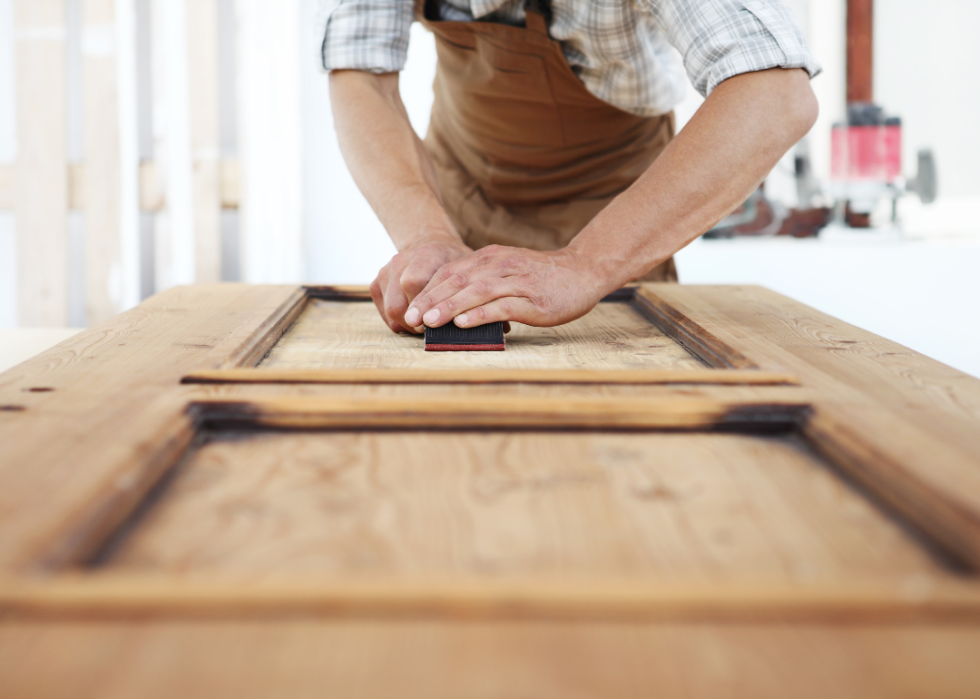 2 / 2
Alternatives to fast furniture
Consumers who make note of the certifications and companies listed above can help reduce the environmental impact of new furniture, but we can also avoid fast furniture entirely. Below we'll delve into some great ways to do it.
Buy secondhand: Buying used furniture avoids all the issues of fast furniture. We pay less money, reduce pollution and waste in landfills, and limit deforestation — but still get to enjoy immediate satisfaction. Plus, the more we buy locally, the less shipping is required, reducing our environmental footprints.
Finding used furniture is also easy. Here are some popular resources:
Facebook Marketplace

Craigslist

Nextdoor

1st Dibs

Etsy

Chairish

Local estate and tag sales

Thrift stores

Resale furniture warehouses
Repair current furniture: Repairing furniture extends its life so we avoid replacing it. If we need help with repairs, local craftspeople can help. Whether we do the work ourselves or have it done by a pro, we save significant money compared to buying new.
Upcycle of furniture: Upcycling furniture is updating an item for its present use or changing its design for a new purpose.
Upcycling furniture reduces the materials and pollution that come with fast furniture. We can also upgrade our home's look and functionality while adding a touch of style for a richer home experience. Upcycling is also a great way to show creativity. We can upcycle furniture for ourselves or sell the item to others, benefiting us financially while reducing deforestation and landfilling.
Examples of upcycling include:
Replacing a sofa's legs for an easy repair or unique design touch

Reupholstering vintage chairs in bold new fabrics

Redesigning a living room console to work as a bathroom counter
Restore furniture: Furniture restoration brings items back to their original glory so they look and feel new again thanks to cosmetic touches like deep cleaning or refinishing. Like furniture repairs, restorations prolong our furniture's life, reducing fast furniture's financial and environmental costs.
An authentic restoration can even increase an item's value when it comes time to sell — allowing us to make rather than spend money.
Steps for how to restore furniture 
1. Gather Your Materials
When flipping furniture, you'll need some tools and materials. Ensuring you have everything before your project begins is a good idea. Below are some commonly used tools and materials for restoration projects:
Work gloves

Dust mask

Paintbrushes

Stripping tool 

Wax and polish remover

Sanding block

Fine steel wool

Glass scraper

Wood dye

Wood restorer/finishing oil

Wax polish

Tack cloth and lint-free cloth
2. Cleaning
Your next step should be to remove any dust, dirt, or superficial blemishes on the furniture. Your ideal cleaner will depend on what you're working with — for example, when dealing with adhesive on wood, your best bet is an oil-based wood polish or soap. Hot water and soap are typically the best for tougher materials like metal. Remember that while water can be useful for cleaning, to avoid water damage, mold, and rust don't soak the furniture.
3. Sanding
Use sandpaper or sanding blocks to remove old finish and splinters from wooden furniture. When removing paint, you'll want a coarse 80-grit sandpaper and an electric sander if possible. Once the paint has been removed, you'll want a fine to very fine grit (120 to 220) sandpaper to smooth the surface. Be careful not to apply too much pressure, which can damage the furniture, when sanding.
Note on paint strippers: You may be tempted to use a paint stripper for larger projects, but we don't recommend this. Paint strippers are potent industrial chemicals that completely remove paint from difficult-to-sand objects. While these products work, they're highly caustic, creating intense, potentially lethal fumes, and can cause severe burns when making contact with the skin or eyes. 
4. Staining
When applying finishes or protective chemicals to the furniture, make sure it's evenly coated and that there are no air pockets or bubbles. This even coat will make the painting process much easier. For optimal results, give the stain or finish a chance to dry completely before going on to the next step. Always read the instructions and safety guidelines carefully before applying when using any staining agent, and work in a well-ventilated area. 
5. Painting
Painting can be the most fun part of the process, but you'll want to take a few steps before getting out your brushes:
Always paint over a drop cloth, newspaper, or tarp. 

Use contractor's or painter's tape for clean and even edges. 

If possible, disassemble the furniture and paint each piece individually – this will ensure no missed spots between conjoining sections. 

For difficult-to-paint materials, use a primer first. 

For optimal results, apply several thin coats of paint instead of one thick layer.
6. Replacing Hardware
Find replacements at your local hardware store if the piece is missing hardware such as nails, nuts, or bolts. You may want to bring pictures of the piece or any damaged materials to find a replacement more easily.
7. Decorating
If you plan to keep a piece for yourself, feel free to decorate it as you see fit. However, applying embellishments may reduce its value if you sell it. Additionally, when selling furniture, keeping colors neutral, with black, white, or simple unpainted wood will make it easier to sell than with bright, flashy colors. 
Toward a sustainable future
Today, more companies are shifting their focus to sustainable furniture production, but fast furniture is still a significant issue that must be addressed. Thankfully, there are ample ways to limit or fully avoid purchasing fast furniture to live in a healthier, sustainable, and less wasteful world. We also gain the benefit of saving some significant money in the process. What's not to love about that?
This story was produced by Today's Homeowner and reviewed and distributed by Stacker Media.