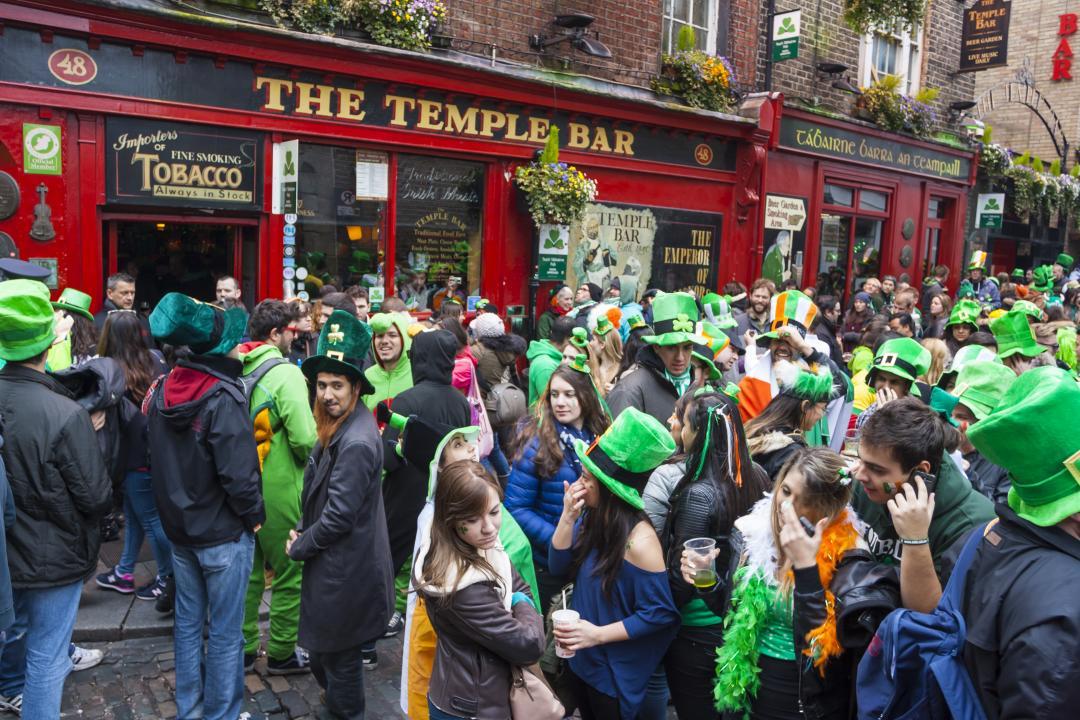 St. Patrick's day celebrated around the world in 20 photos
Aitormmfoto // Shutterstock
St. Patrick's day celebrated around the world in 20 photos
St. Patrick's Day is not just for the Irish-born or the Guinness fanatics of the world. In fact, the day dedicated to the patron saint of Ireland, March 17th - and in some places the week or two leading up to it – is a time of parades, revelry, and green galore for people of many different backgrounds across the globe. 
From Moscow to Boston, parade goers flock to the streets to march, drink, sing and dance in honor of Saint Patrick. In some cities, mysterious Leprechauns even turn buildings, monuments, and bodies of water green as a nod to the Irish saint. 
Explore the different cultural expressions of St. Paddy's Day in 20 photos, and no matter where you are this St. Patrick's Day – be Irish for the day! 
England: Manchester
Manchester celebrates St. Patrick's day for two weeks, with the big day, Parade Day, falling on Sunday the 11th this year. 
Russia: Moscow
In Russia, the day is called Apostle of the Irish and includes a wonderful parade with extravagant costumes. 
Scotland: Coatbridge
Coatbridge is one of the many places in the UK that celebrates the day over a span of many days, with several events leading up to a grand parade. 
Japan: Motomachi, Yokohama
Japan celebrates St. Patrick's day with a large parade on Yokohama's famous Shopping Street. 
Korea: Seoul
Both native Koreans and ex-pats can be seen celebrating the big day in Seoul. The big parade includes face painting, dancing and even demonstrations of Irish sport by Seoul's very own Gaelic Athletic Association.
Germany: Munich
Munich may be known for Oktoberfest, but the German city streets are filled with beer drinking yet again on St. Patrick's Day. 
Australia: Sydney
The Sydney Opera House turns green as Australians honor St. Patrick. 
Canada: Montreal
The St. Patrick's day parade is one of Montreal's most anticipated Spring events. 
United States: New York
The Empire State Building in New York City turns green on the big day. 
United States: Boston
Bostonians take to the streets and celebrate in style with a massive parade. This year will be South Boston's 117th St. Patrick's Day parade. 
United States: Chicago
An iconic image of St. Patrick's day, 45 pounds of vegetable dye are used to color the Chicago river green each year. 
Brazil: Rio De Janeiro
Christ the Redeemer in Brazil takes a cue from other famous monuments and transforms green for Saint Patrick. 
Ireland: Dublin
Dublin may be the first place that comes to mind for Americans dreaming of a Saint Patrick's Day parade, for good reason. Tourists and locals alike flock to the capital streets in green on March 17th. 
Ireland: Shannon
The Irish of Shannon go big with a parade that rivals the best of the St. Patrick's Day parades across the globe. 
Ireland: Downpatrick, Belfast
The parade in Downpatrick is as fun as the rest, but begins with a service of remembrance held at the grave of St. Patrick.
Ireland: Donegall Square, Belfast
Belfast City Hall is another iconic building transforming green. 
Hungary: Budapest
In Budapest, the big St. Patrick's day parade is organized by the Irish Hungarian Business Circle.
Italy: Rome
The Colosseum also gets a green makeover on March 17th in Rome, Italy. 
Indonesia: Surabaya
Green beers can be seen flowing at the Sheraton in Surabaya, Indonesia.  
International Space Station
Even the astronauts can be found celebrating St. Patrick's day, beaming their St. Paddy's greeting down from Space.