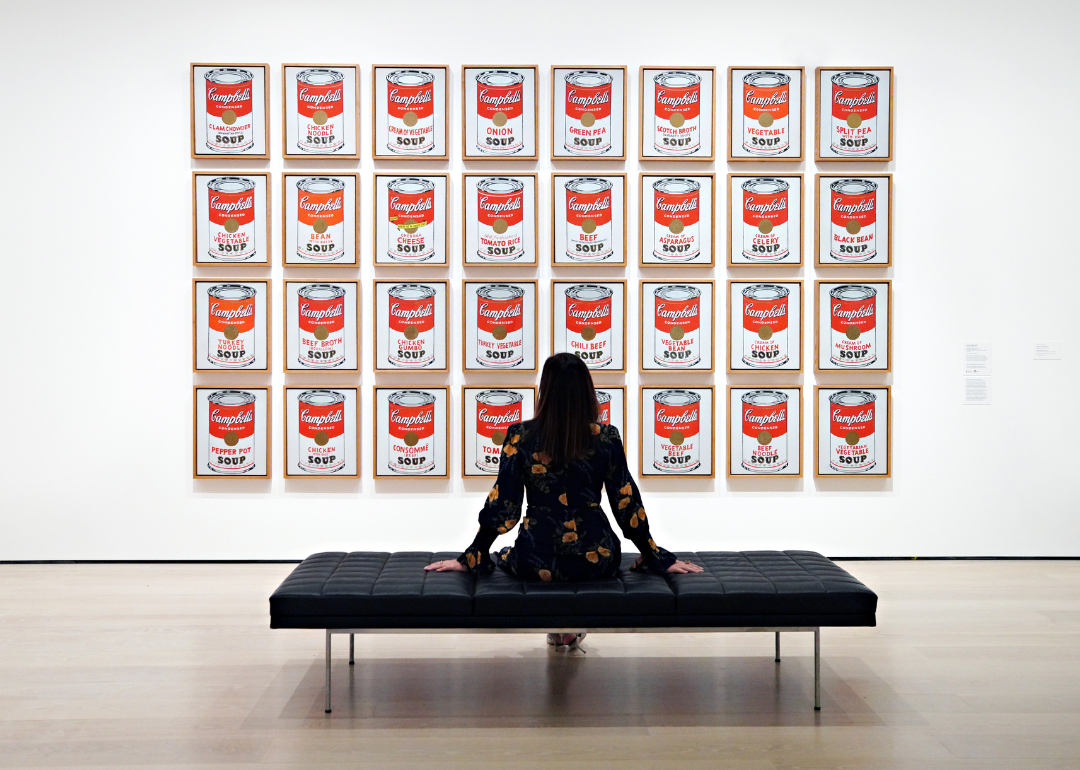 Stacker Studio
Visualizing the Museum of Modern Art's Collection: Demographics of artists at the MoMA
Cindy Ord // Getty Images
Visualizing the Museum of Modern Art's Collection: Demographics of artists at the MoMA
When the Museum of Modern Art opened its doors in Manhattan in 1929, it went against the grain by focusing on modern art, which had yet to gain any kind of cache. MoMA—the brainchild of so-called "daring ladies," Lillie P. Bliss, Mary Quinn Sullivan, and Abby Aldrich Rockefeller—introduced the world to the avant-garde, including Marcel Duchamp's "Bicycle Wheel" and Japanese telecom NTT DOCOMO's emoji set, which has shaped society's visually driven communication.
"Having a piece at the MoMA is life-changing for an artist, it's canon making, it's establishing definitively the aesthetic value and also the material value or that artist's work," Jeff Chang, Race Forward's vice president of Narrative, Arts, and Culture, told Stacker.
Over the years, the museum has occupied larger and larger spaces until it settled into its current location in midtown Manhattan. In its almost 100 years of history, the museum's collection has grown to contain almost 200,000 works, including painting, photography, sculpture, and performance art. Its reputation has similarly grown.
The Art Newspaper counts MoMA among the country's top three most-visited museums, behind only New York's Metropolitan Museum of Art and the National Gallery of Art in Washington, D.C. In 2021, MoMA welcomed more than 1.2 million visitors.
Given the museum's place in the art world, the contents of its collections have become an arbiter of what—and whom—is significant. Masterworks combed through data from MoMA to analyze the museum's 200,000 works to see what this institution deems worthy of further study and what that means for the world. Some artworks or artists have missing data and, therefore, were excluded.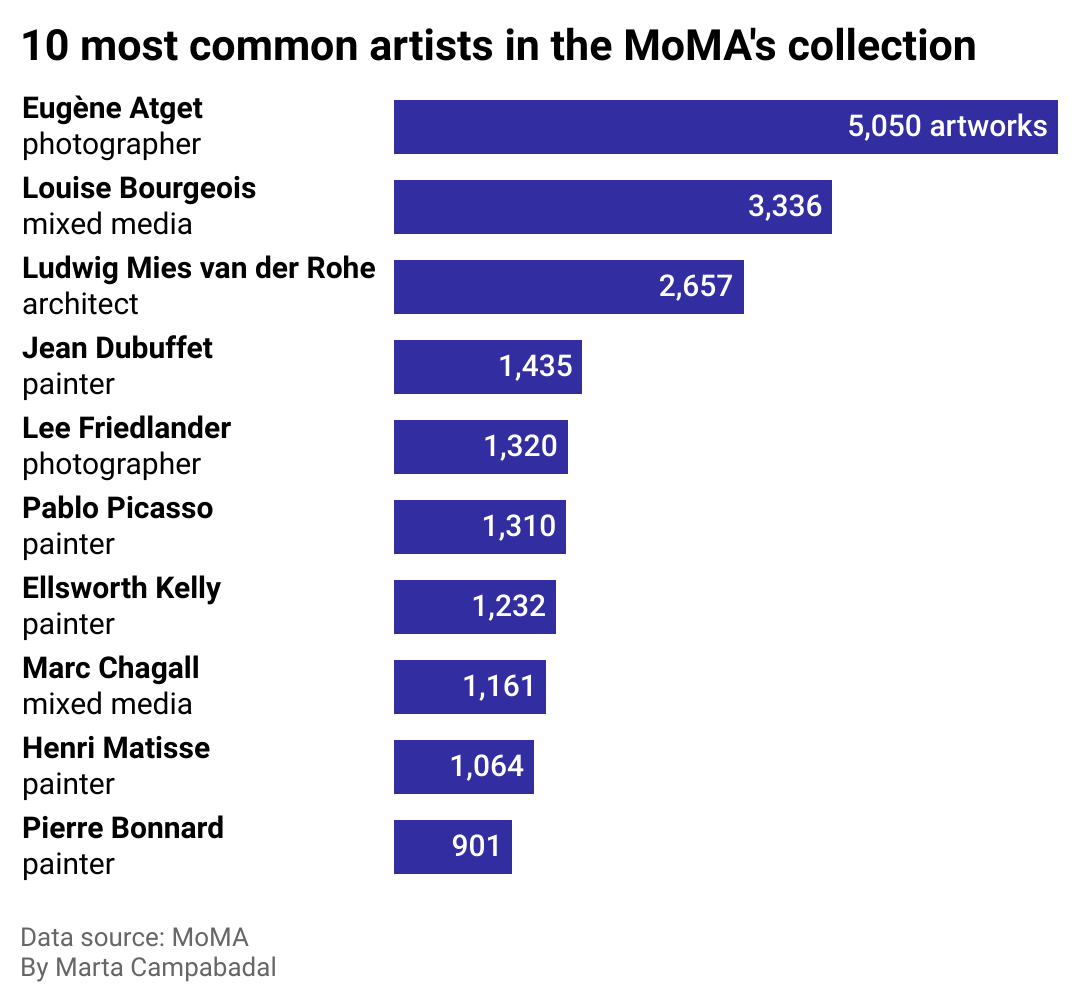 1 / 4
The most common artist in MoMA is probably not who you think
He might not be as well known as artists at the MoMA, but Eugène Atget has the most artwork in their collection, with some 5,000 prints and 1,000 glass plate negatives. Known for photographing Paris as it changed from medieval neighborhoods to wide avenues and expansive green spaces, Atget has captured the imaginations of Surrealists in the 1920s to American photographers Walker Evans and Lee Friedlander.
Behind Atget is Louise Bourgeois, a French American multifaceted artist whose career spans more than eight decades. Although she worked with many different materials and styles, her most famous artworks are big sculptures and installations. Her huge spiders are in key cities such as Ottawa, Canada; Vardø, Norway; and Bilbao, Spain. There are 3,039 of her works online at MoMA, many of which are her prints and paintings.
Despite Atget and Bourgeois' outsized presence in the museum's collections, more work can still be done. Bernhard Klingenberg, a co-author of "Diversity of Artists in Major U.S. Museums," told Stacker that MoMA can still emphasize underrepresented artists by putting their works on display more often: "What's actually being displayed is a small part of [MoMA's] collections, so when [the museum] is putting together exhibitions, they should be looking consciously at what they are exhibiting."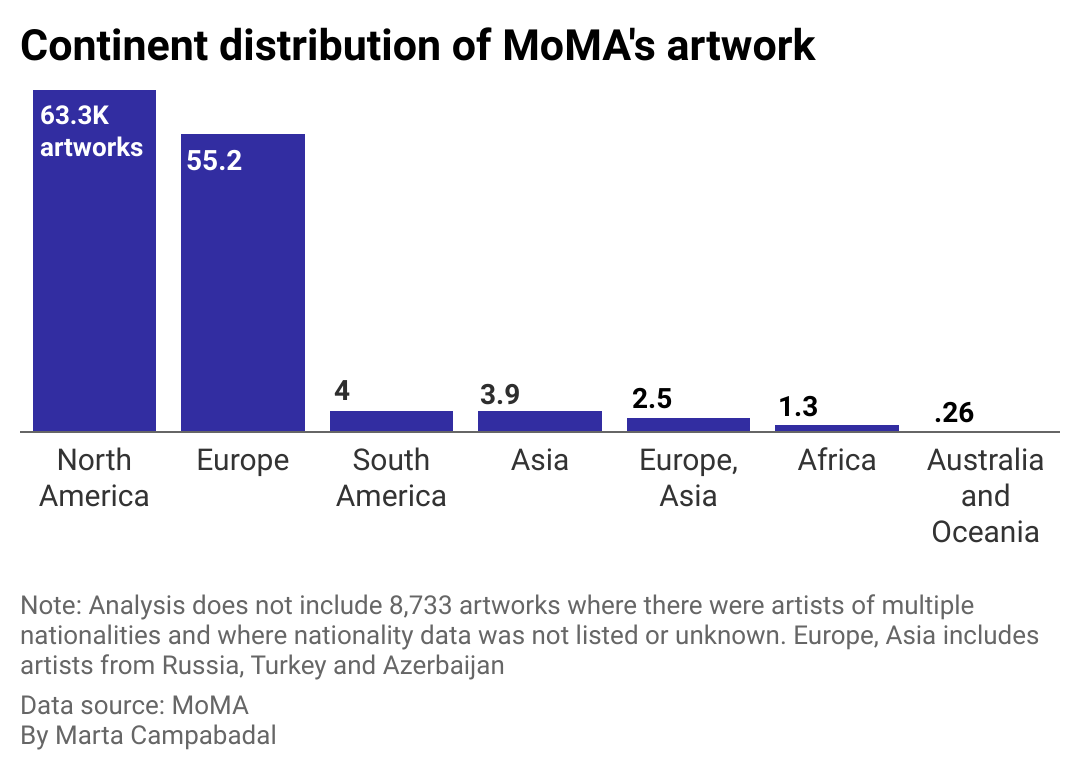 2 / 4
Almost 85% of MoMA's artwork comes from North America and Europe
The continents of origin for the artworks at MoMA are unevenly distributed. Only 14.4% of MoMA's art comes from Asia, South America, Africa, Australia, and Oceania. The figure doesn't take into account the 161 artworks that didn't include the nationality of their artist. This uneven distribution is despite MoMA's aim to be an inclusive place where "cultural, artistic, social, and political positions are welcome" and even a well-publicized reopening that had the museum acquiring work beyond the usual Eurocentric suspects.
New works included almost 200 Latin American works from trustee Patricia Phelps de Cisneros' collection and a sculpture by Chinese-born French artist Huang Yong Ping. In her research, however, data researcher Nadia Piet found that in 2018, the museum seemed to be working on expanding its horizons. It acquired work from 61 unique nationalities, tripling its 18 purchases in 1989.
"If we are absent from these collections, we are absent from the future, we are not invited to the future, and that will have an impact on the way we see the world," Chang said.
He also added, "The opening of museums to BIPOC communities' work and to their engagement and participation in museums has been episodic, and these are things that have happened literally because people are marching in the streets." Chang worries that the efforts happening at institutions now might only be superficial and wouldn't translate into lasting changes in staffing, boardrooms, and retention over time.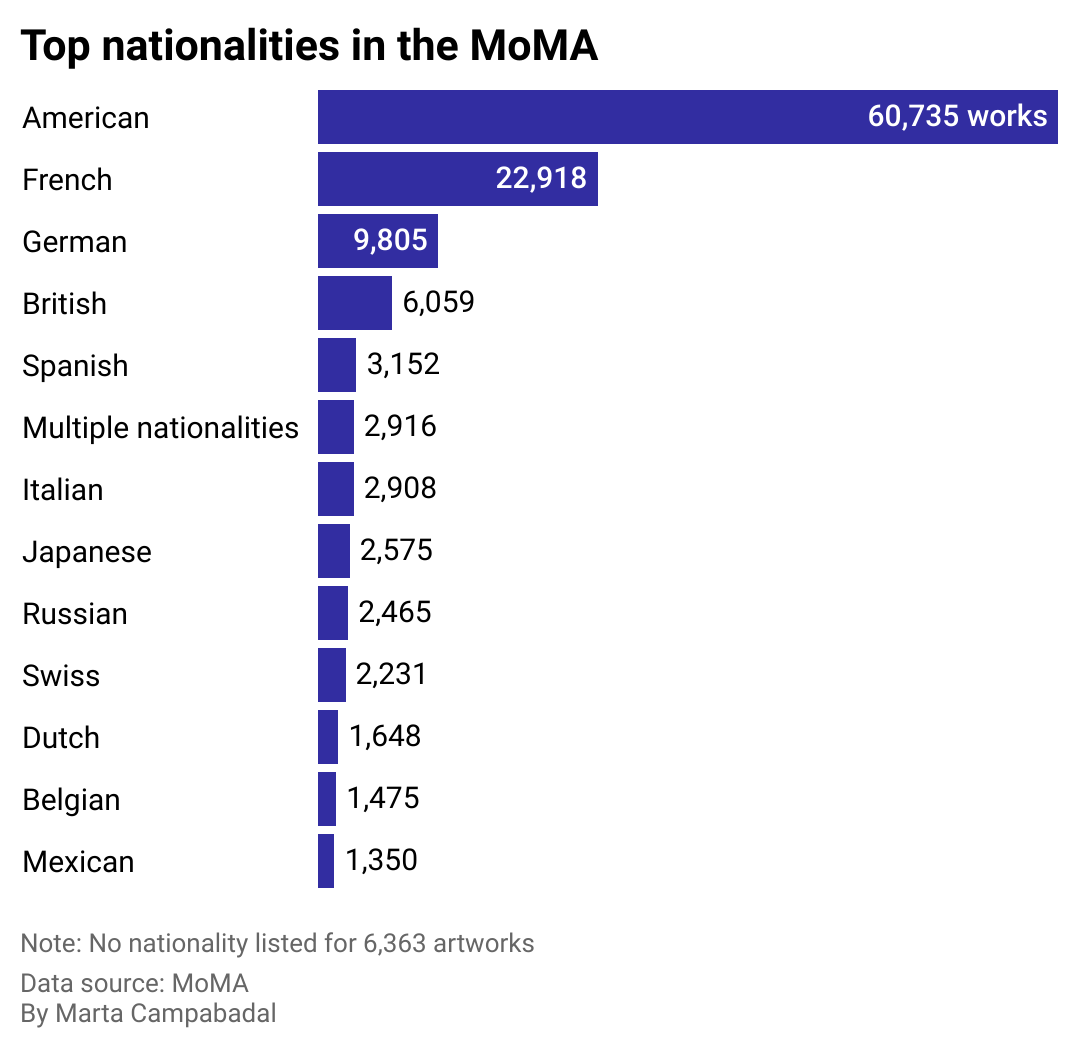 3 / 4
77 countries in the world do not even have one artwork at MoMA
American artwork dominates the MoMA's acquisitions, followed far behind by the French. On the other side of the spectrum, there is only one artwork in the collection from countries like Kenya and Iran, and not even one from Angola, Sri Lanka, Honduras, and the Dominican Republic, among many others.
"Museums, as they were created, were meant to showcase the sensibilities of the elite people whose collections they were," Chang said. "It's only in the past 50 years that we have seen that changing and remedying." The hope is that MoMA will add more artworks from these unrepresented countries to the institution's collections in the years to come.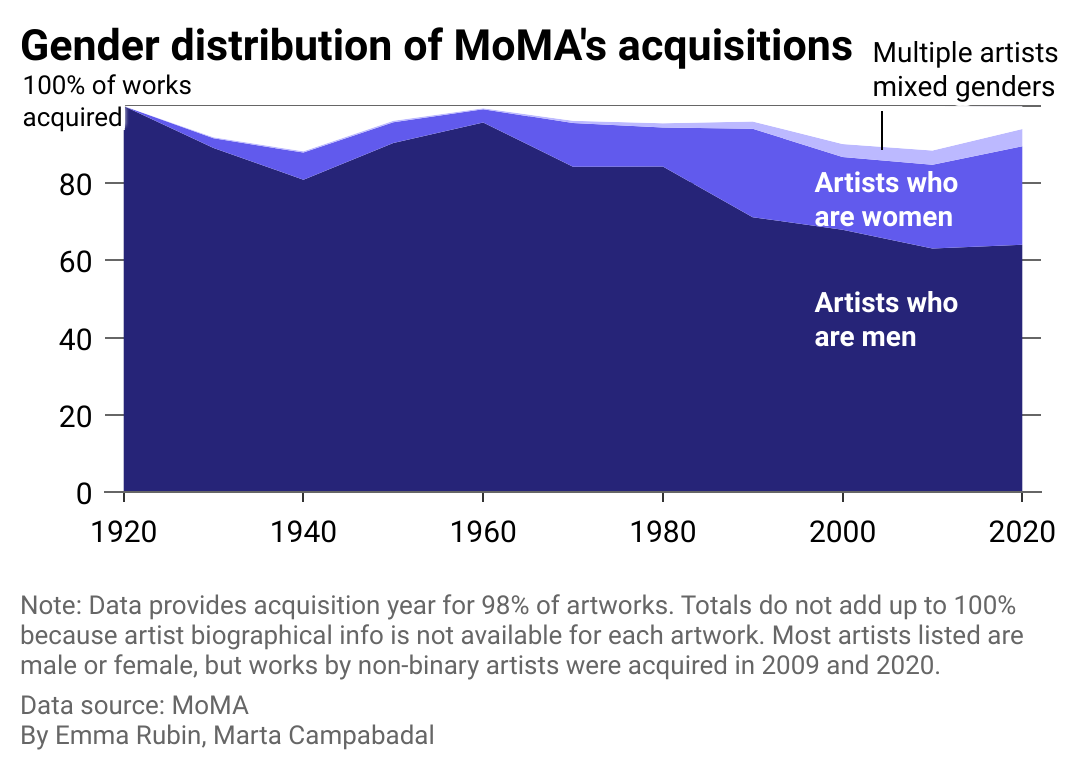 4 / 4
80% of artworks at MoMA are from artists who are male
MoMA can work further to improve its acquisitions of artists who are women, as well as nonbinary. In a 2019 study in the journal PLOS One, researchers found that in 18 museums, which included MoMA, 12.6% are women, and 85.4% of all artists are white. It found that in MoMA specifically, only 11% of the artworks are from artists who are women.
The researchers of the diversity study created a gender score for the artists included, which inferred a degree of confidence that they could attribute gender to an artist. The study elected to exclude the 54 nonbinary responses from various museums because they could not confidently conclude any artists to have nonbinary gender. However, in separate research by Piet, only 11 works out of 131,000 items at MoMA were by nonbinary artists.
Klingenberg explains that compared to its peer group of museums (identified based on the characteristics of its collection, such as time periods and geographic regions), there is a significantly lower proportion of women artists at MoMA compared to the San Francisco Museum of Modern Art (where 18% of the artworks are by women artists) or the Museum of Contemporary Art of Los Angeles (where 25% of the artworks are by women artists).
MoMA's result, however, is slightly higher than the figure that Artnet and the podcast, "In Other Words," discovered. In their survey of 26 art museums, the two organizations found that only 11% of acquisitions from 2008 to 2018 were by artists who are women.
Chad Topaz, the study's main author, hopes that more research breaking down acquisition trends will become common. He told Stacker, "My hope is that museums take the dedication and the knowledge from the study and other places to build more diverse collections."
This story originally appeared on Masterworks and was produced and distributed in partnership with Stacker Studio.