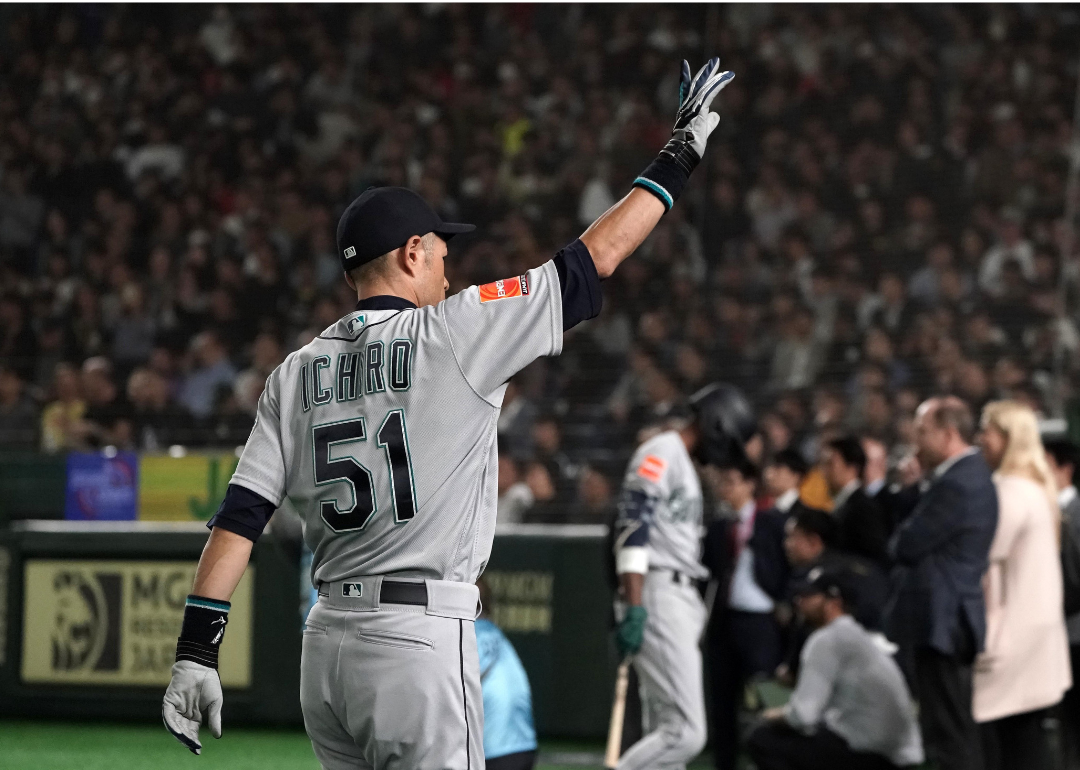 Countries that have produced the most MLB players
Masterpress // Getty Images
Countries that have produced the most MLB players
Fifty-six countries have sent players to Major League Baseball in the United States. Some, like Mexico and the Dominican Republic, are obvious, given the strong culture of baseball in those nations. But soccer strongholds like Germany and Ireland have produced their share of baseball talent, as well. In the late 19th and early 20th centuries, European nations were a prime source for baseball player imports, but several have had dry spells in recent times. And while some countries like Taiwan have shown extended success at the youth level of baseball, it has not always translated into an abundance of pros in the majors.
Today, interest in baseball in Latin America continues to skyrocket, while some Caribbean nations are making more and more inroads. On Opening Day this season, 251 international players were listed on rosters for the 30 MLB teams—that's 28.5% of all active players. That number was the third-highest in league history, with the Dominican Republic boasting 102 players, the most of any foreign market (nine countries had one player, including Brazil and Lithuania). Overall, 20 countries claimed players on Opening Day rosters, and the Minnesota Twins and Pittsburgh Pirates led the majors with 14 internationally born players.
Using Baseball Reference data as of April 17, 2019, Stacker ranked the countries that have produced the most MLB players. In ascending order, these countries are ranked by the number of all-time MLB players who were born there. With events like the World Baseball Classic and baseball returning to the Summer Olympics in 2020, national pride is taking on new meaning among players in the majors, whether it's Ozzie Albies representing Curaçao or Xander Bogaerts keeping his Aruba roots alive.
Here, click through to see just how Chinese-Panamanians, Korean adoptees, and even a ballplayer named Pretzel have helped make baseball among the most diverse sports played around the world.
You may also like: MLB home run leader from the year you were born
#25: Aruba
- Number of players: 5
It's rare that scouts visited Aruba, so in 2009, when representatives from the Boston Red Sox came looking for players, Xander Bogaerts left bed for the first time in weeks and ignored ailments stemming from chicken pox to head to the local field. The rest is history, as Bogaerts has become the standout player to emerge from the island, winning two World Series rings in Boston. Aruba does not have an extensive history in sports; most of its Olympians have been swimmers or competed in judo, and no Aruban has ever won a medal.
#24: Bahamas
- Number of players: 6
Andre Rodgers was the first Bahamian to reach the majors in 1957, but the Caribbean country has not had an extensive history in baseball. Rodgers lasted 11 years, the most of any players from the Bahamas, batting .249 for his career. Cricket is the sport of choice on the island, though current NBA player Buddy Hield hails from Freeport.
#22: Italy (tie)
- Number of players: 7
From 1932 through 1953, six players from Italy reached the majors, and then there was a nearly 60-year gap before Alex Liddi made his debut in 2011. Reno Bertoia, who spent most of his career with the Detroit Tigers, leads all players from Italy with 10 major league seasons. And while soccer is king in Italy, there have been several notable Italian-American baseball stars; Hall of Famer Mike Piazza has worked with Italy in the World Baseball Classic.
#22: France (tie)
- Number of players: 7
The champions of the 2018 World Cup have had much less to tout on the baseball diamond. Seven players have combined for 29 seasons in the majors, with the most notable name probably Bruce Bochy, who has had more success as a manager. Bochy, who currently calls the shots from the dugout for the San Francisco Giants, has led the franchise to three World Series titles.
#21: Russian Federation
- Number of players: 8
In 1992, Joe Mantegna starred in an HBO movie, "The Comrades of Summer," about a former major league manager teaching baseball to a team of bumbling Russians. The film did not inspire many Russians to take up baseball—combining players from Russia and the Ukraine, only eight have reached the majors. Eddie Ainsmith was the longest tenured of them all, playing 15 seasons for five teams.
#20: Netherlands
- Number of players: 12
While the Dutch have become a European power in soccer, they also have a small, but proud baseball history. Hall of Famer Bert Blyleven was born in the small city of Zeist, and Didi Gregorius hailed from Amsterdam before moving to Curaçao.
#18: U.S. Virgin Islands (tie)
- Number of players: 14
In recent years, a smattering of players from the U.S. Virgin Islands has reached the majors, including baseball players Jabari Blash and Jharel Cotton. Perhaps the most famous athlete from the islands, though, is five-time NBA champion Tim Duncan, who was born in Saint Croix.
#18: Taiwan (tie)
- Number of players: 14
Decades ago, Taiwan dominated the Little League World Series, but the nation failed to produce an abundance of pros. All of Taiwan's major leaguers debuted after 2002, with former Yankees pitcher Chien-Ming Wang and All-Star Hung-Chih Kuo the most famous. Recently a documentary, "Late Life: The Chien-Ming Wang Story," followed Wang's attempt at a comeback after he incurred several injuries.
#16: Nicaragua (tie)
- Number of players: 15
Nicaragua has its own professional baseball league and a rich history in the sport. Dennis Martinez, one of baseball's top pitchers of the 1980s and 1990s, made four All-Star teams and won 245 games. In the country's capital Managua, a stadium bears Martinez's name.
#16: Curaçao
- Number of players: 15
Curaçao, a sovereign state of the Netherlands located in the Caribbean, has been a recent hotbed for producing talent. Andruw Jones, Ozzie Albies, and Kenley Jansen are some of the All-Stars to hail from Curaçao. The pipeline looks to be solid, as well, as the state has become a mainstay in the Little League World Series.
#15: Colombia
- Number of players: 21
Also home to its own professional league, Colombia has produced a steady stream of players for years. Scouts flock to the South American country traditionally known for soccer to attend baseball showcases, seeking prospects who might be the next Edgar Renteria—who made five All-Star teams—or Julio Teheran, the dynamic young ace of the Atlanta Braves.
#14: South Korea
- Number of players: 23
Chan Ho Park became the first South Korean to reach the majors in 1994, and lasted 17 years, most of which were with the Los Angeles Dodgers. Today, fellow countryman Hyun-Jin Ryu takes the same mound at Dodger Stadium, and is a vital part of the team's recent success. The likes of Shin-Soo Choo have signed lucrative contracts and experienced success in the majors, while Rob Refsnyder, who was born in South Korea and adopted by an American family, has also represented the taegeuk flag proudly.
#13: Australia
- Number of players: 30
Of the 30 Australians to suit up for major league teams, only two have made All-Star appearances (Grant Balfour and Dave Nilsson). The country has a strong background in cricket, while tennis, basketball, and rugby also are sports of choice.
#12: Germany
- Number of players: 42
A large number of Germans played baseball in the United States in the 18th and early 19th centuries, although some recently have cracked big league rosters. Max Kepler and Aaron Altherr are two current players while manager Ron Gardenhire was born in Butzbach. None of them, though, has as memorable and fitting a name as Pretzels Getzein, who played from 1884–1892, and as a pitcher won 145 games, including 30 in 1886.
#11: Ireland
- Number of players: 47
Ireland is another country that saw a majority of its major leaguers come here more than a century ago. Joe Cleary, who played one game for the Washington Senators in 1945, was the last Irish-born player in the majors. Tony Mullane and Tommy Bond both won 234 or more games in the late 19th century.
#10: United Kingdom
- Number of players: 48
P.J. Conlon, a pitcher born in Belfast, Ireland, is the most recent player from the U.K. to compete in the majors. Only four U.K. natives have made teams in the 21st century, but the islands can claim one of baseball's most iconic moments. Bobby Thomson, who hit the "shot heard 'round the world" to win the 1951 National League pennant, was born in Glasgow, Scotland.
#9: Panama
- Number of players: 62
Baseball is huge in Panama, and two of the game's grandest stars call the Central America country home. Mariano Rivera, the only player to unanimously be voted into the Baseball Hall of Fame, and Rod Carew, an 18-time All-Star, are proud Panamanians. Major leaguer Bruce Chen, whose family fled China during war, was born in Panama City.
#8: Japan
- Number of players: 67
Baseball is just as much a national pastime in Japan as in the United States, evident by the send-off given to Ichiro Suzuki last March. Ichiro, along with such well-known baseball players as Hideo Nomo and Hideki Matsui, broke the stereotype that Japanese players could not succeed in Major League Baseball. Since Nomo became the first All-Star from Japan, 11 others have followed to compete in the midsummer classic, making Japan the preeminent baseball destination outside the Western Hemisphere.
#7: Mexico
- Number of players: 127
In 1933, Mel Almada became the first Mexican-born player to reach the majors. Since then, Fernando Valenzuela induced "Fernandomania" and Vinny Castilla socked 320 homers over a 16-year career. Liga Mexicana de Béisbol, the highest professional league in Mexico, has been in operation since 1925.
#6: Cuba
- Number of players: 206
It is somewhat surprising that so many Cubans have played in the majors, given the chilly relations between the United States and Cuban President Fidel Castro during the latter half of the 20th century. Many Cubans defected, risking their lives to live out their baseball dreams. Jose Fernandez, Yoenis Cespedes, Livan Hernandez, and Hall of Famer Tony Perez are just a few of the Cubans who came to dominate the game.
#5: Canada
- Number of players: 250
Hockey may be to Canadians what apple pie is to Americans, but our northern neighbors also have an extensive baseball history. Today, Joey Votto is the game's most prominent Canadian slugger, while Larry Walker, Jason Bay, and Hall of Famer Fergie Jenkins are among the 20 Canadians to make All-Star teams. There has even been a push in recent years to bring back an MLB franchise to Montreal.
#4: Puerto Rico
- Number of players: 265
Four Hall of Famers hail from Puerto Rico, led by Roberto Clemente. Ivan Rodriguez, Roberto Alomar, and Orlando Cepeda are the others, with Carlos Beltran and Yadier Molina perhaps joining them in Cooperstown one day. As recently as last season, Major League Baseball held games on this baseball-crazed island.
#3: Venezuela
- Number of players: 394
Fifty-two players (more than 13%) from Venezuela have been named All Stars, with Hall of Famer Luis Aparicio leading the way with 13 nods, followed by soon-to-be Hall of Famer Miguel Cabrera (11 appearances). Baseball leagues are prevalent in Venezuela, with some of the majors' top stars even playing there in the winter. However, the success of Venezuela's baseball players has made them and their families targets for kidnappings.
#2: Dominican Republic
- Number of players: 742
From Pedro Martinez to Juan Marichal, no country sports a richer baseball lineage outside of the United States than the Dominican Republic. There are all-time great sluggers (Vladimir Guerrero), ageless wonders (Bartolo Colon), and curse-breakers (Manny Ramirez, David Ortiz), who all consider the Dominican Republic home. With almost 100 Dominicans on major league rosters entering this season, the island shows no sign of slowing down in producing baseball talent.
#1: United States
- Number of players: 16,921
Baseball is believed to have been started in Hoboken, N.J., in 1864, and for the past 150-plus years, has been America's pastime. California has produced the most players (2,278), a list that includes Ted Williams, Tony Gwynn, and Joe DiMaggio. The rise in popularity of football, basketball, and soccer has taken some youths away from baseball (particularly in inner cities), but Major League Baseball regularly institutes new rule changes to keep the game fresh for younger audiences.