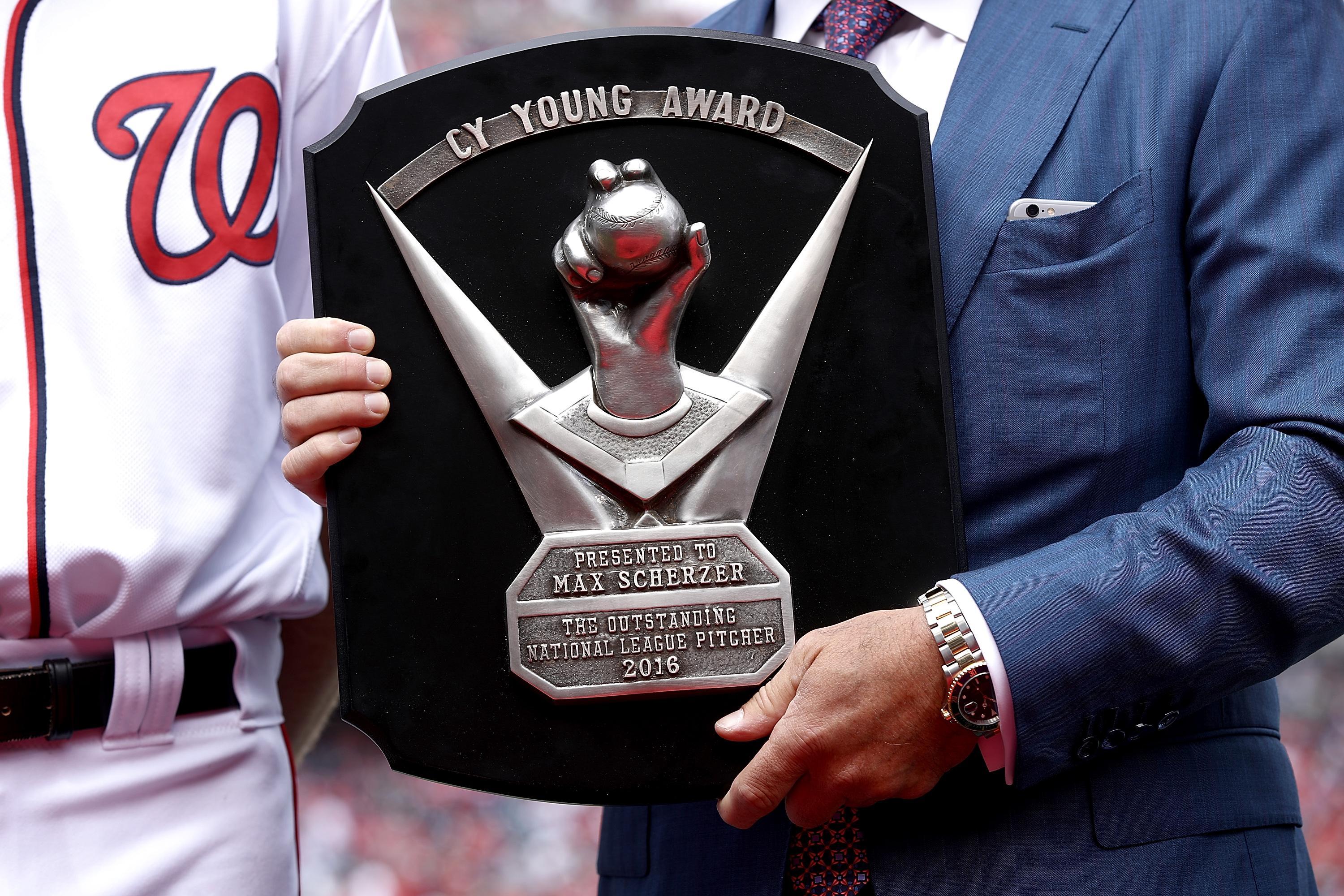 Preseason favorites to win AL and NL Cy Young
Win McNamee // Getty Images
Preseason favorites to win AL and NL Cy Young
The 2018 Cy Young Award winners proved that the voters within the Baseball Writers Association of America are, in fact, capable of looking past the many variables in baseball that are outside of a pitcher's own control. Mets starter Jacob deGrom winning the honor in the National League was welcomed proof that run support is entirely unnecessary to be crowned baseball's best, and a win/loss record (deGrom was 10-9 in 2018 in his 32 starts) is far from telling. deGrom was hard to look past despite the Mets' 77-85 record last season, and he received all but one of the first place votes.
With 26-year-old Blake Snell winning the American League Cy Young Award, a somewhat unexpected breakout season for a youngster exceeded the continued dominance from some of the game's current greats. Snell became the second Tampa Bay Rays pitcher to ever win a Cy Young (the other was David Price in 2012), beating out a field littered with household names and former Cy Young winners like Justin Verlander, Corey Kluber, Chris Sale, and Gerrit Cole. Though the race was tight, Snell's ridiculous 1.89 ERA—the lowest in the AL since Pedro Martinez's 1.74 ERA in 2000—was too good not to be rewarded.
Can 2019 bring another surprise name to the forefront? Will past winners like Kluber or Clayton Kershaw add another piece of hardware to their mantel? Nationals starter Max Scherzer is looking to join an elite group and become the fifth pitcher ever to win four Cy Young awards in his career. He is already one of 10 pitchers to win it three times. For Red Sox lefty Chris Sale, a Cy Young Award in 2019 would be a first.
Ranked from lowest to highest odds to take home the title, Stacker mined odds from Bovada and stats from Baseball Reference to rank the hurlers that oddsmakers in Las Vegas have pegged as the favorites for the AL and NL Cy Young Award.
You might also like: Best beers from every state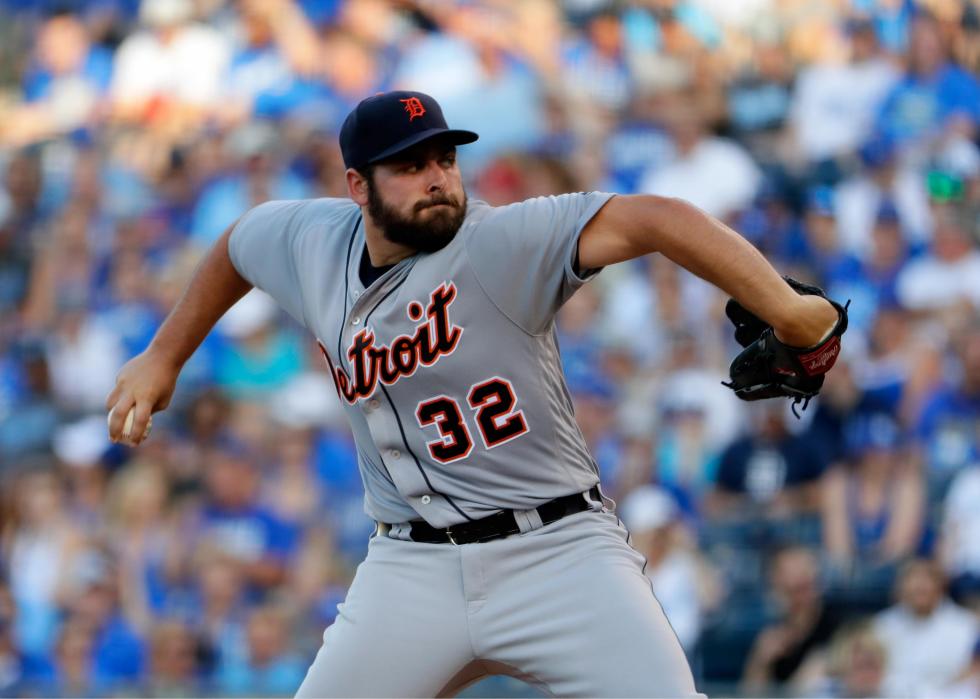 1 / 48
Jamie Squire // Getty Images
AL #23 (tie): Michael Fulmer
- Cy Young odds: +6000
- Team: Detroit Tigers

- 2018 season stats:
--- Record: 3 - 12
--- ERA: 4.69
--- WHIP: 1.315
--- Strike outs / 9 innings: 7.5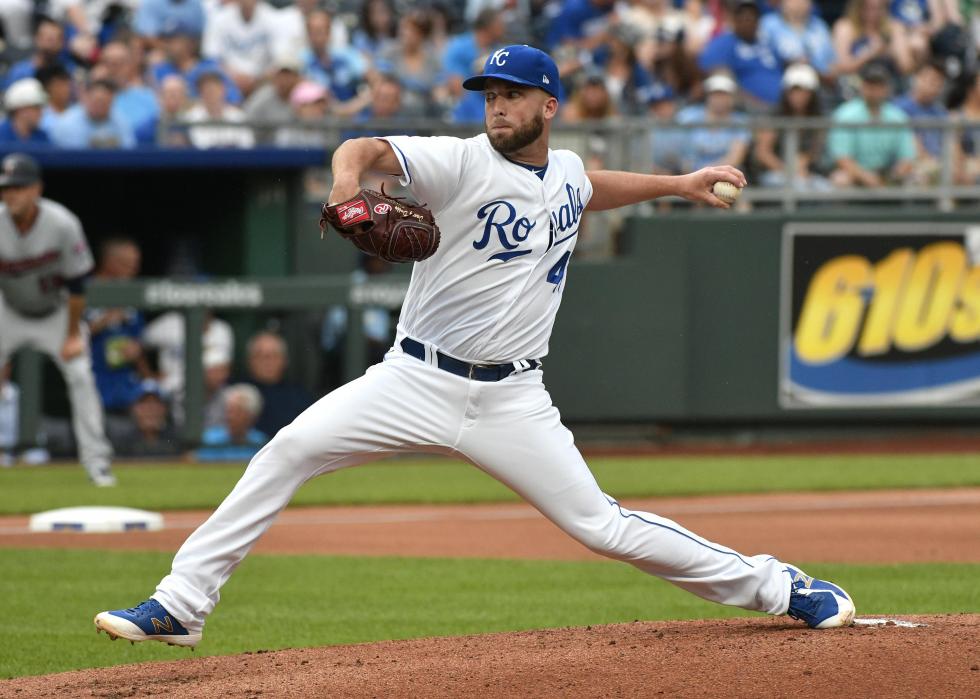 2 / 48
AL #23 (tie): Danny Duffy
- Cy Young odds: +6000
- Team: Kansas City Royals

- 2018 season stats:
--- Record: 8 - 12
--- ERA: 4.88
--- WHIP: 1.490
--- Strike outs / 9 innings: 8.2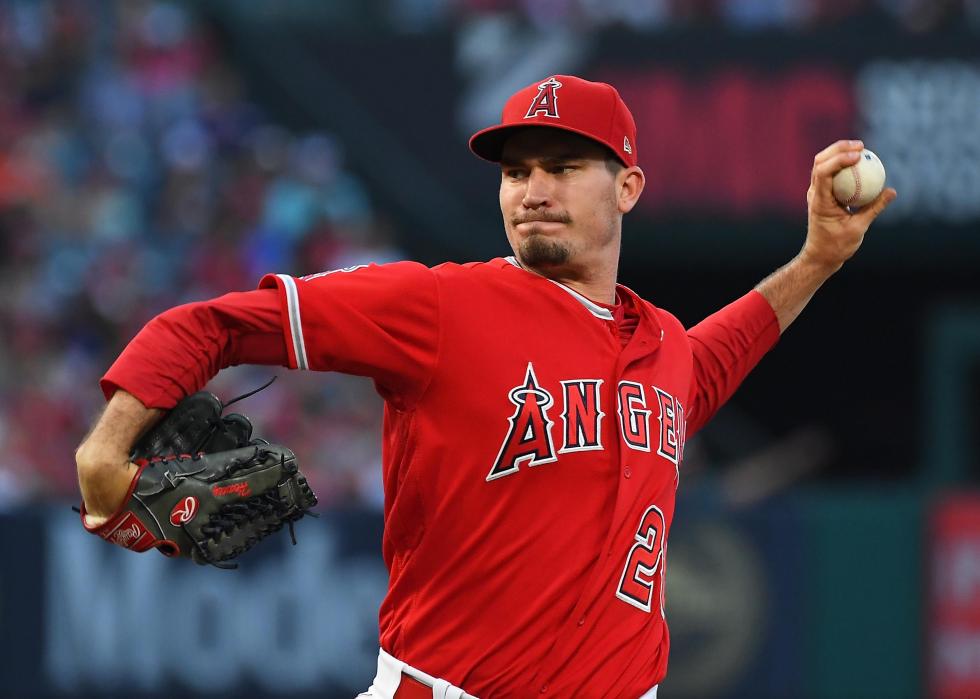 3 / 48
Jayne Kamin-Oncea // Getty Images
AL #16 (tie): Andrew Heaney
- Cy Young odds: +5000
- Team: Los Angeles Angels

- 2018 season stats:
--- Record: 9 - 10
--- ERA: 4.15
--- WHIP: 1.200
--- Strike outs / 9 innings: 9.0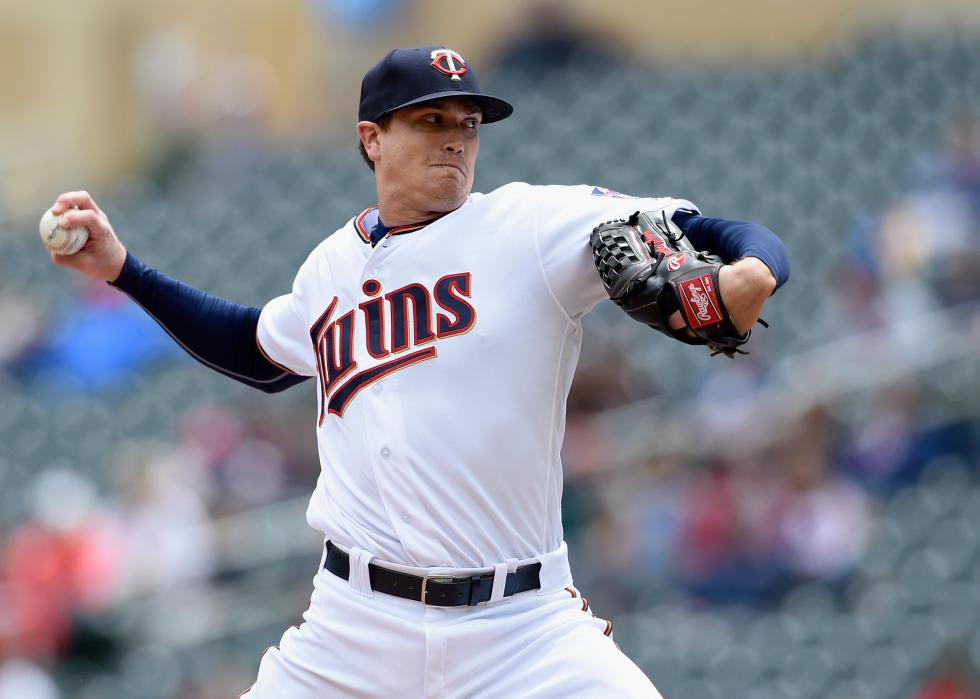 4 / 48
Hannah Foslien // Getty Images
AL #16 (tie): Kyle Gibson
- Cy Young odds: +5000
- Team: Minnesota Twins

- 2018 season stats:
--- Record: 10 - 13
--- ERA: 3.62
--- WHIP: 1.302
--- Strike outs / 9 innings: 8.2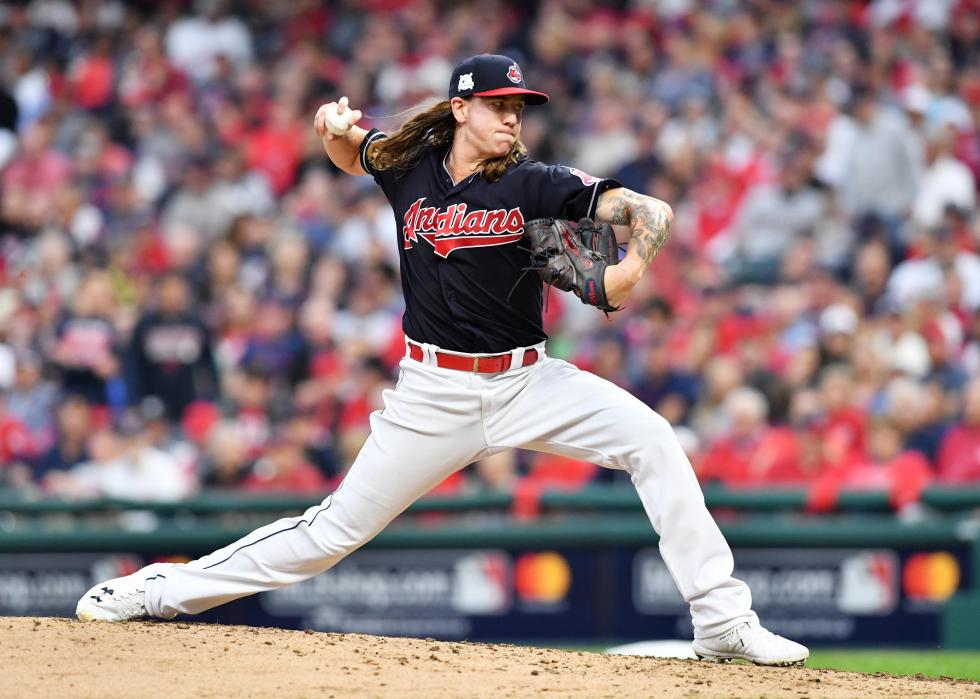 5 / 48
Jason Miller // Getty Images
AL #16 (tie): Mike Clevinger
- Cy Young odds: +5000
- Team: Cleveland Indians

- 2018 season stats:
--- Record: 13 - 8
--- ERA: 3.02
--- WHIP: 1.155
--- Strike outs / 9 innings: 9.3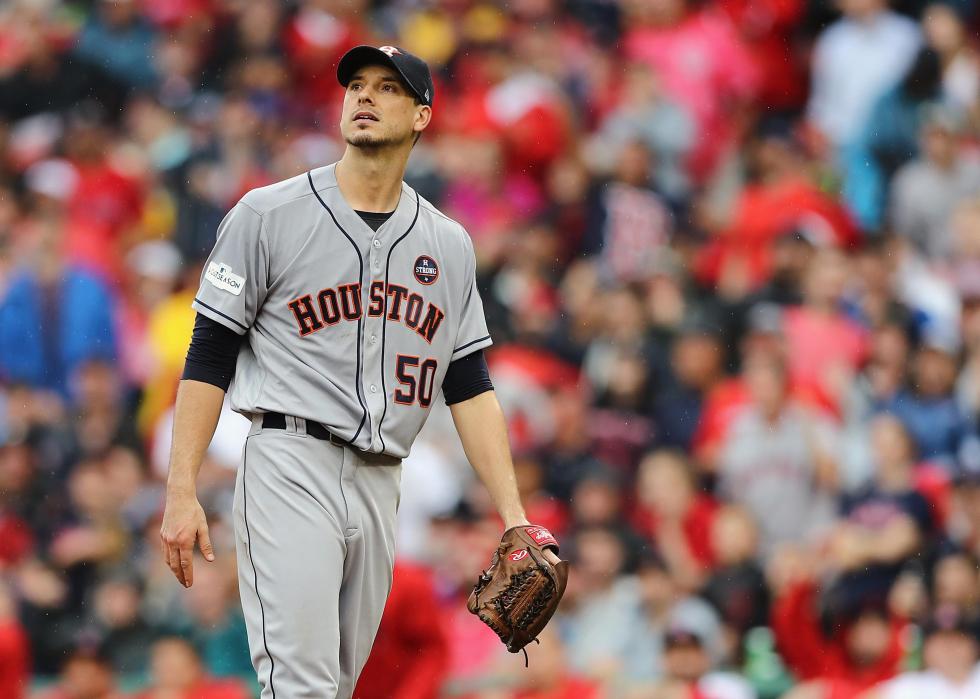 6 / 48
AL #16 (tie): Charlie Morton
- Cy Young odds: +5000
- Team: Tampa Bay Rays

- 2018 season stats:
--- Record: 15 - 3
--- ERA: 3.13
--- WHIP: 1.162
--- Strike outs / 9 innings: 10.8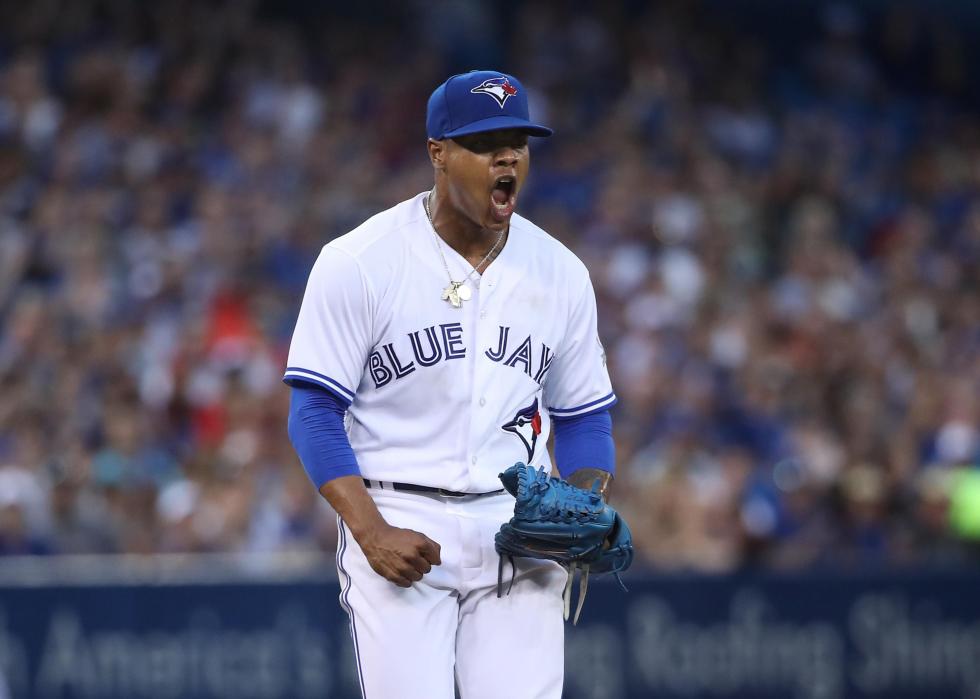 7 / 48
Tom Szczerbowski // Getty Images
AL #16 (tie): Marcus Stroman
- Cy Young odds: +5000
- Team: Toronto Blue Jays

- 2018 season stats:
--- Record: 4 - 9
--- ERA: 5.54
--- WHIP: 1.476
--- Strike outs / 9 innings: 6.8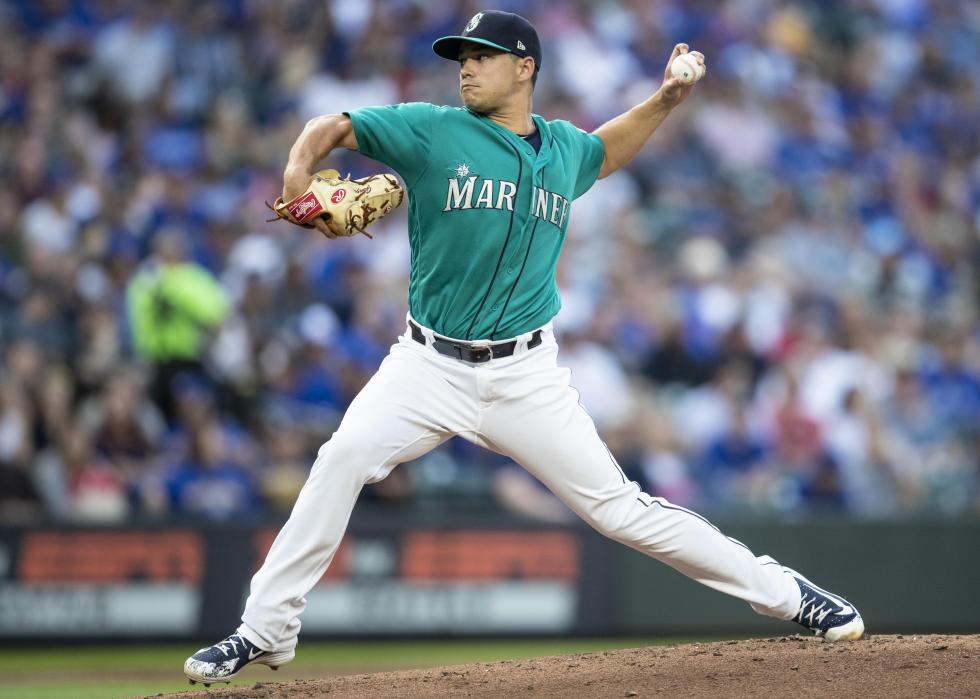 8 / 48
Stephen Brashear // Getty Images
AL #16 (tie): Marco Gonzales
- Cy Young odds: +5000
- Team: Seattle Mariners

- 2018 season stats:
--- Record: 13 - 9
--- ERA: 4.00
--- WHIP: 1.224
--- Strike outs / 9 innings: 7.8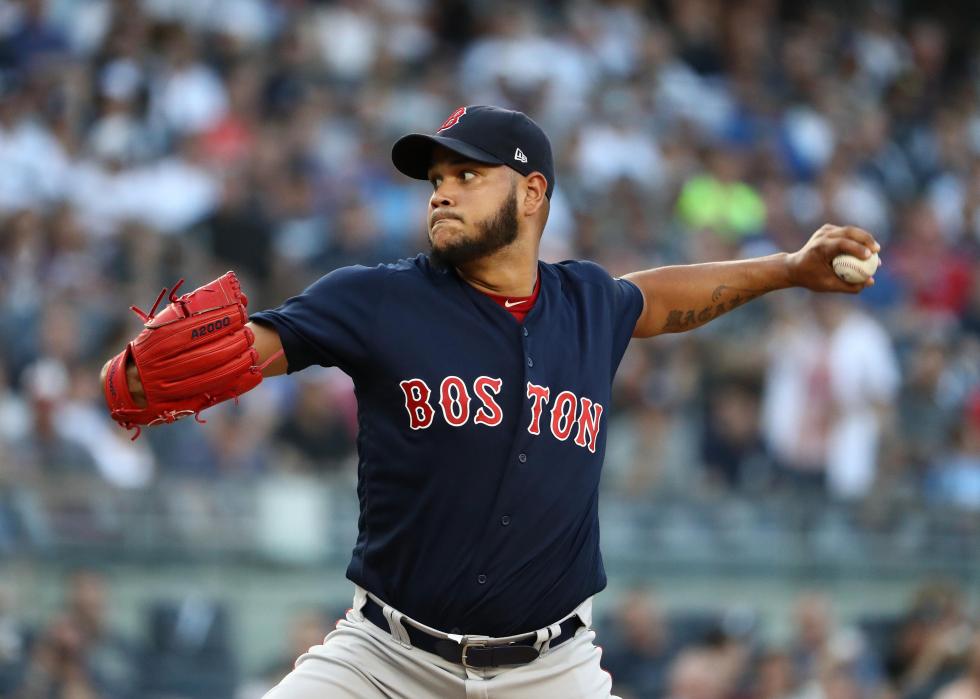 9 / 48
AL #16 (tie): Eduardo Rodriguez
- Cy Young odds: +5000
- Team: Boston Red Sox

- 2018 season stats:
--- Record: 13 - 5
--- ERA: 3.82
--- WHIP: 1.265
--- Strike outs / 9 innings: 10.1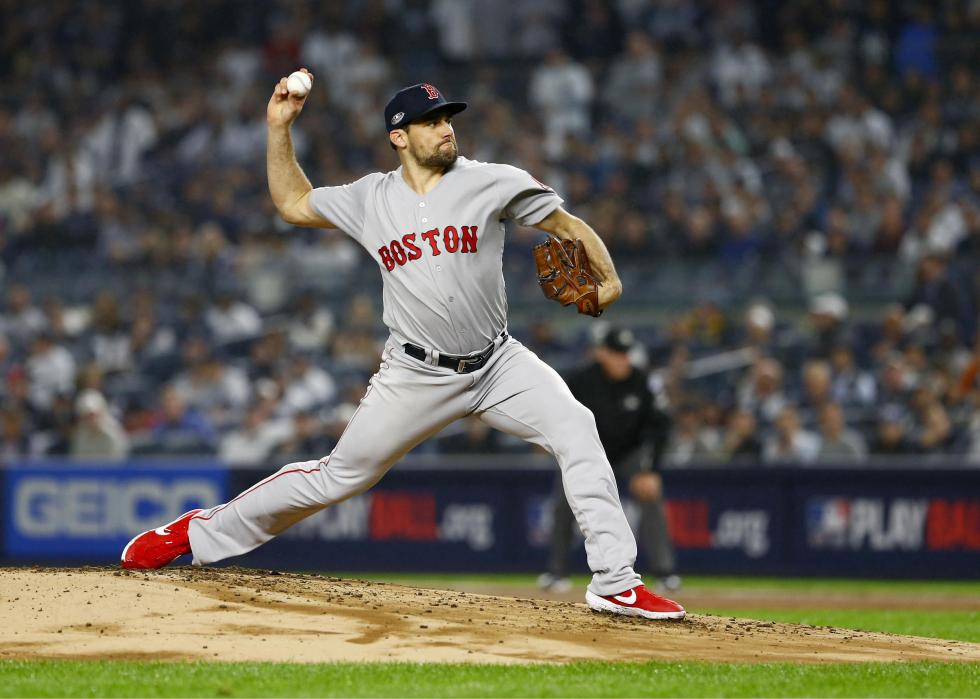 10 / 48
Mike Stobe // Getty Images
AL #14 (tie): Nathan Eovaldi
- Cy Young odds: +4000
- Team: Boston Red Sox

- 2018 season stats:
--- Record: 6 - 7
--- ERA: 3.81
--- WHIP: 1.126
--- Strike outs / 9 innings: 8.2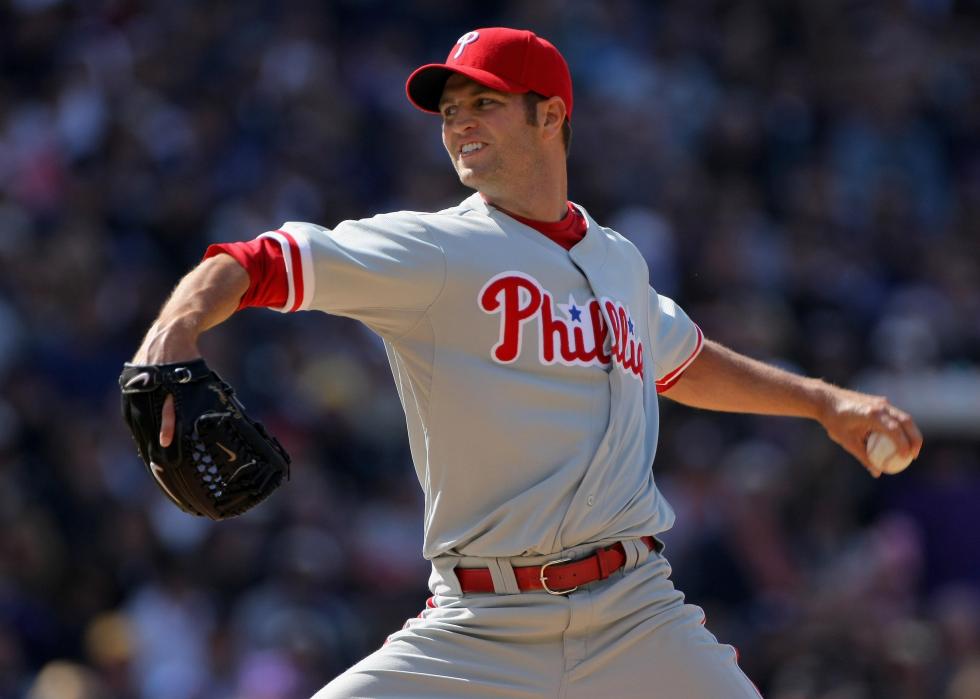 11 / 48
Bob Levey // Getty Images
AL #14 (tie): J.A. Happ
- Cy Young odds: +4000
- Team: New York Yankees

- 2018 season stats:
--- Record: 17 - 6
--- ERA: 3.65
--- WHIP: 1.131
--- Strike outs / 9 innings: 9.8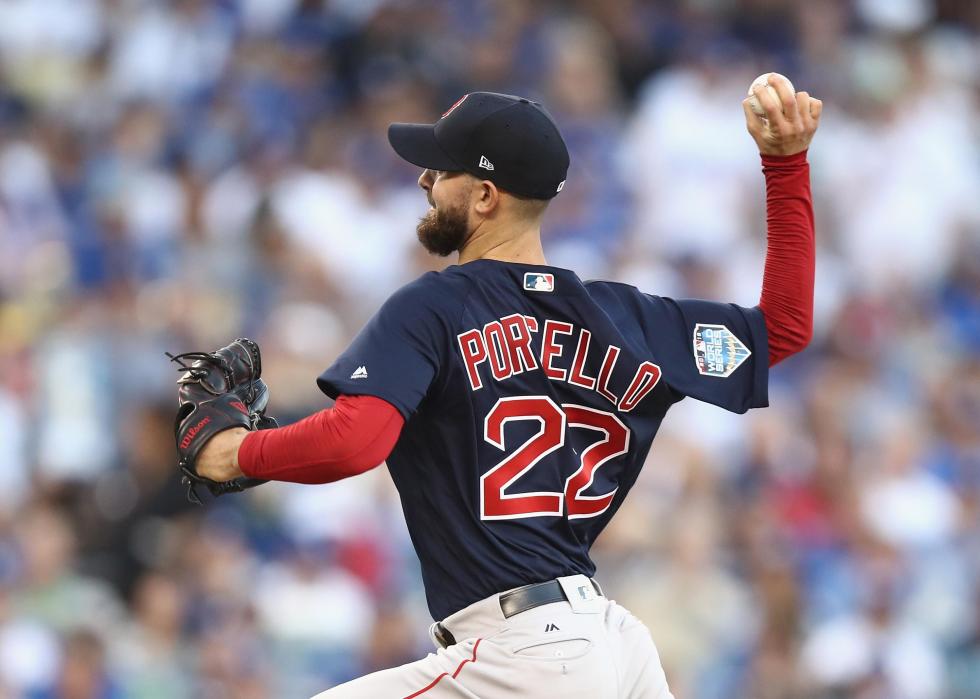 12 / 48
Ezra Shaw // Getty Images
AL #13: Rick Porcello
- Cy Young odds: +3000
- Team: Boston Red Sox

- 2018 season stats:
--- Record: 17 - 7
--- ERA: 4.28
--- WHIP: 1.176
--- Strike outs / 9 innings: 8.9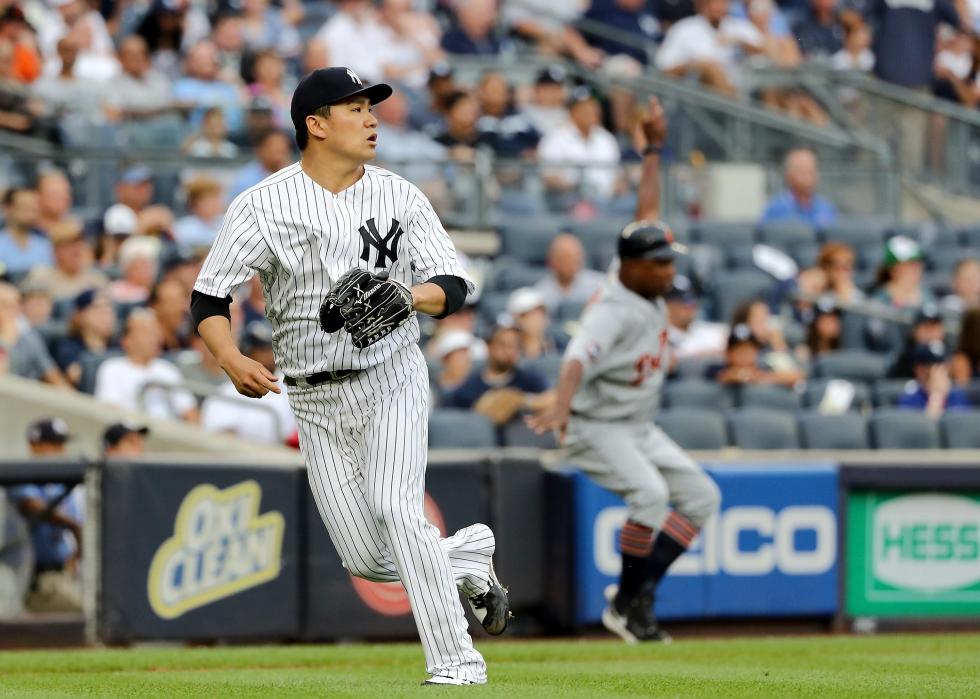 13 / 48
AL #11 (tie): Masahiro Tanaka
- Cy Young odds: +2500
- Team: New York Yankees

- 2018 season stats:
--- Record: 12 - 6
--- ERA: 3.75
--- WHIP: 1.128
--- Strike outs / 9 innings: 9.2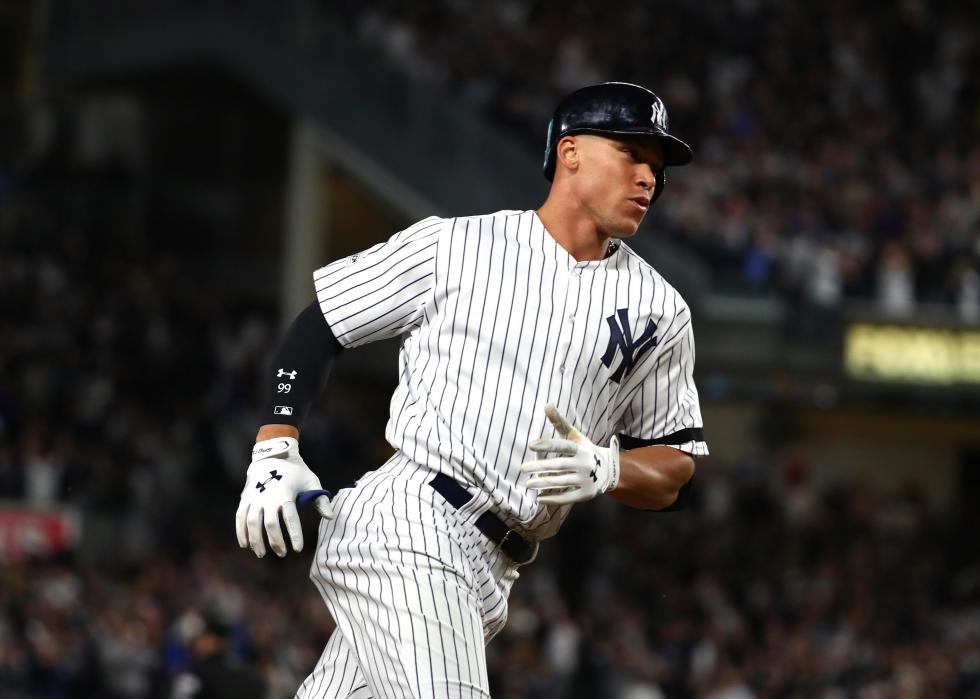 14 / 48
AL #11 (tie): Jose Berrios
- Cy Young odds: +2500
- Team: Minnesota Twins

- 2018 season stats:
--- Record: 12 - 11
--- ERA: 3.84
--- WHIP: 1.144
--- Strike outs / 9 innings: 9.5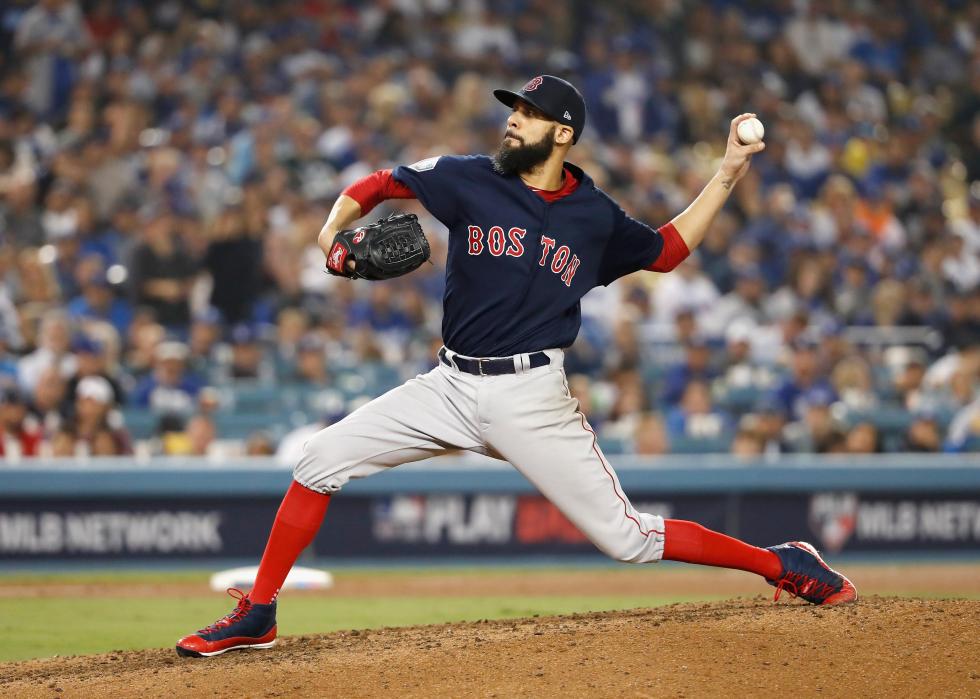 15 / 48
Sean M. Haffey // Getty Images
AL #9 (tie): David Price
- Cy Young odds: +1800
- Team: Boston Red Sox

- 2018 season stats:
--- Record: 16 - 7
--- ERA: 3.58
--- WHIP: 1.142
--- Strike outs / 9 innings: 9.1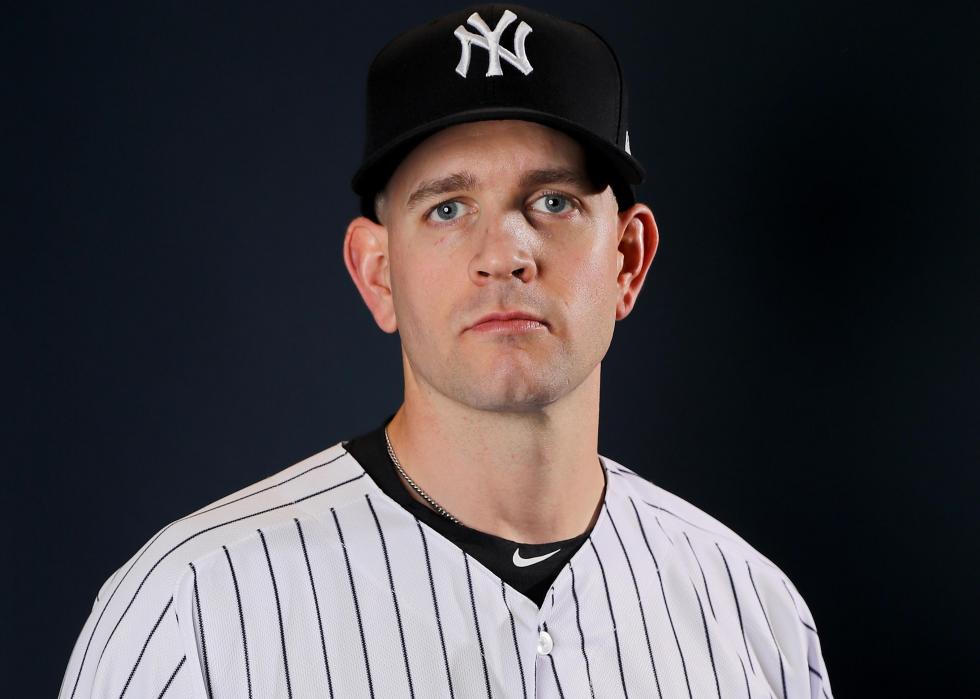 16 / 48
AL #9 (tie): James Paxton
- Cy Young odds: +1800
- Team: New York Yankees

- 2018 season stats:
--- Record: 11 - 6
--- ERA: 3.76
--- WHIP: 1.098
--- Strike outs / 9 innings: 11.7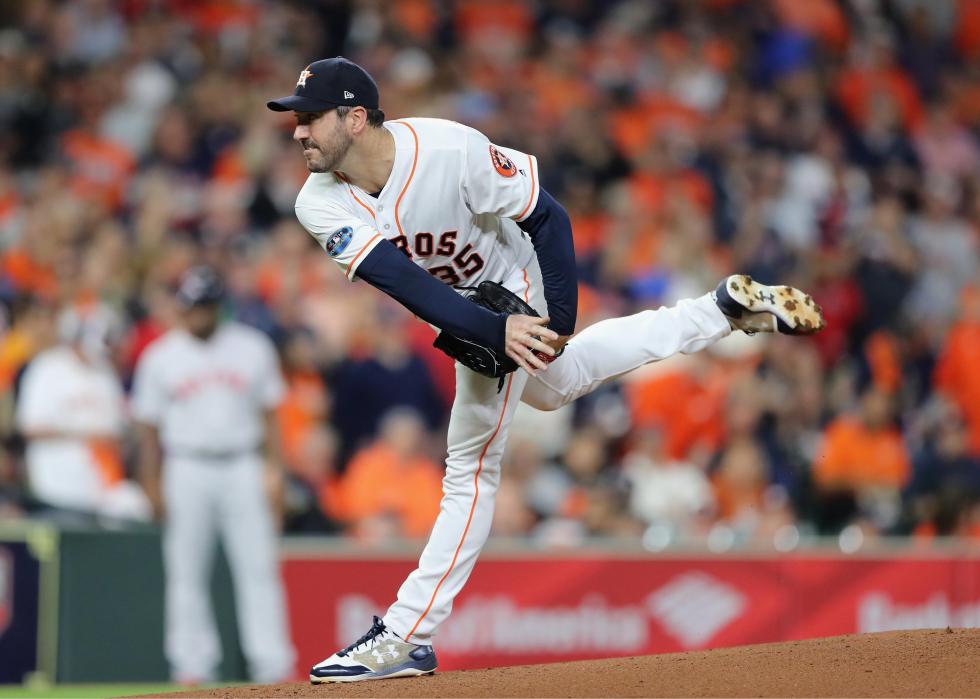 17 / 48
AL #7 (tie): Justin Verlander
- Cy Young odds: +1400
- Team: Houston Astros

- 2018 season stats:
--- Record: 16 - 9
--- ERA: 2.52
--- WHIP: 0.902
--- Strike outs / 9 innings: 12.2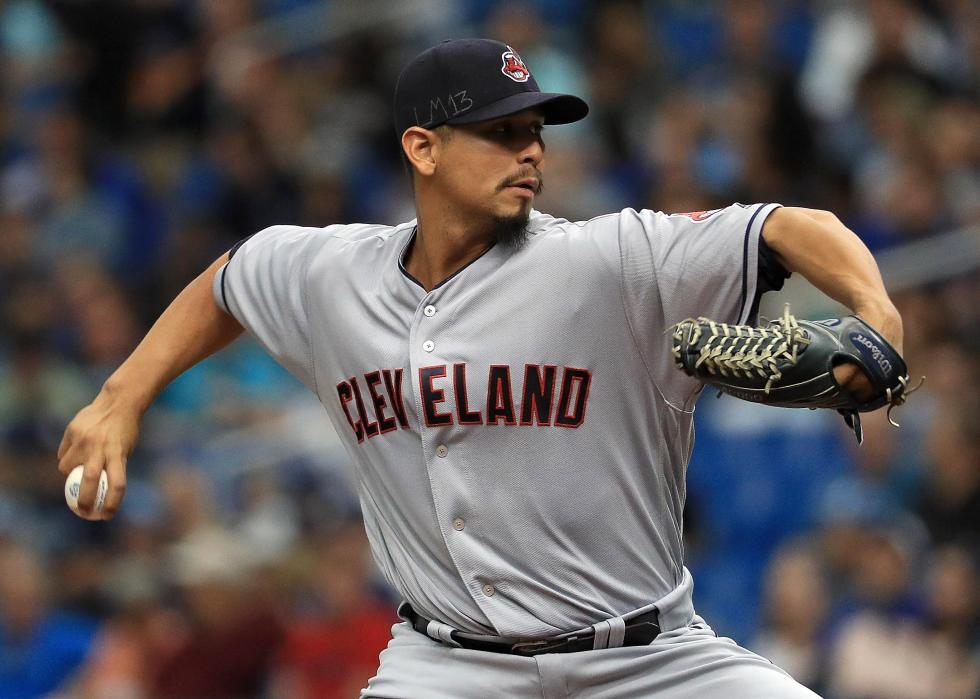 18 / 48
Mike Ehrmann // Getty Images
AL #7 (tie): Carlos Carrasco
- Cy Young odds: +1400
- Team: Cleveland Indians

- 2018 season stats:
--- Record: 17 - 10
--- ERA: 3.38
--- WHIP: 1.125
--- Strike outs / 9 innings: 10.8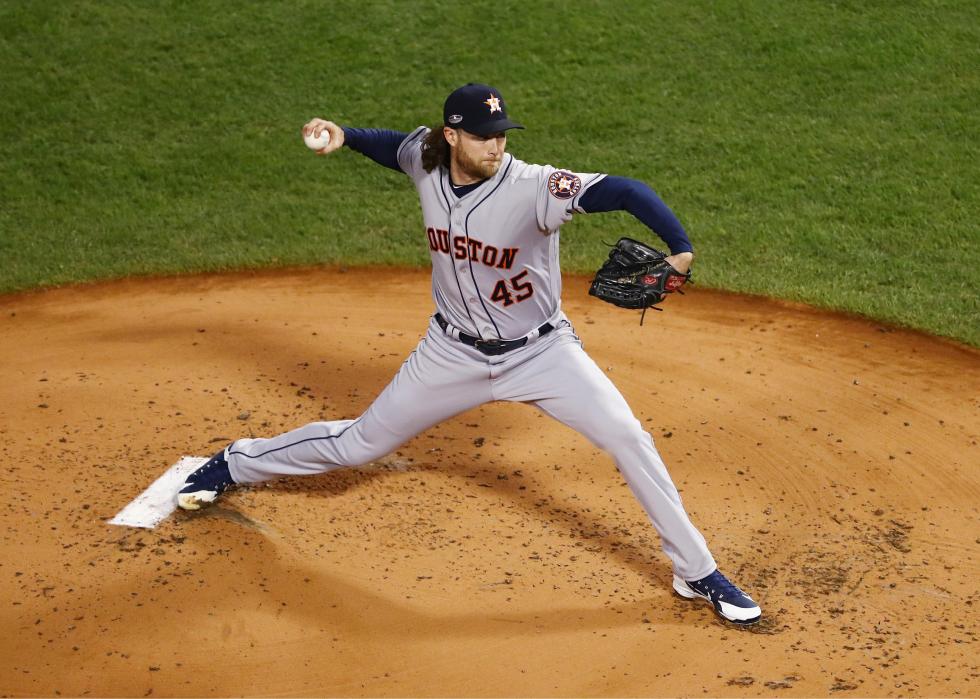 19 / 48
Tim Bradbury // Getty Images
AL #4 (tie): Gerrit Cole
- Cy Young odds: +1200
- Team: Houston Astros

- 2018 season stats:
--- Record: 15 - 5
--- ERA: 2.88
--- WHIP: 1.033
--- Strike outs / 9 innings: 12.4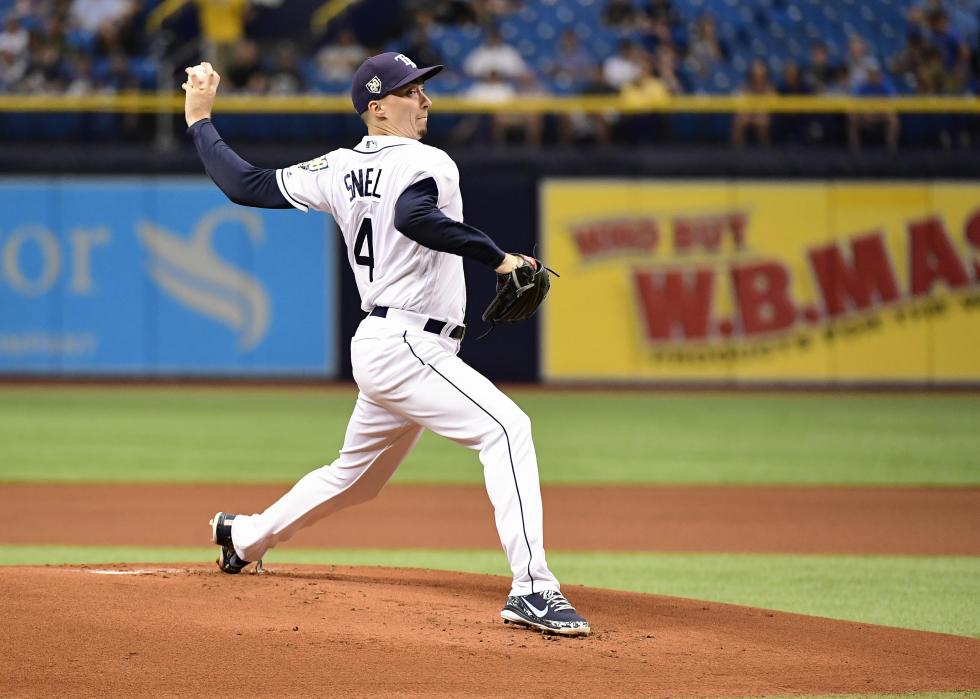 20 / 48
Julio Aguilar // Getty Images
AL #4 (tie): Blake Snell
- Cy Young odds: +1200
- Team: Tampa Bay Rays

- 2018 season stats:
--- Record: 21 - 5
--- ERA: 1.89
--- WHIP: 0.974
--- Strike outs / 9 innings: 11.0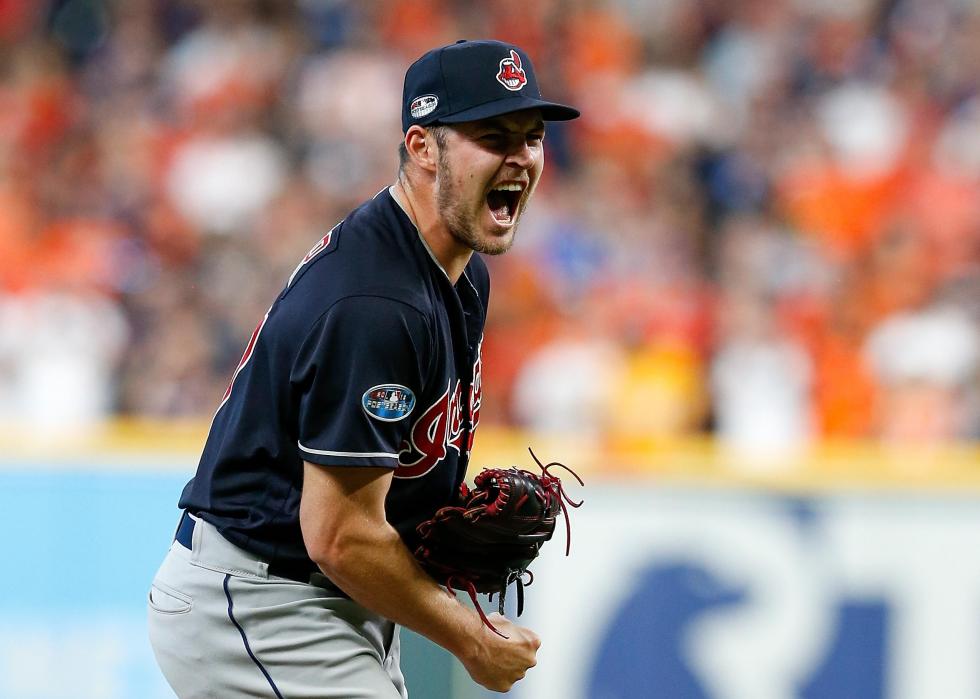 21 / 48
Tim Warner // Getty Images
AL #4 (tie): Trevor Bauer
- Cy Young odds: +1200
- Team: Cleveland Indians

- 2018 season stats:
--- Record: 12 - 6
--- ERA: 2.21
--- WHIP: 1.089
--- Strike outs / 9 innings: 11.3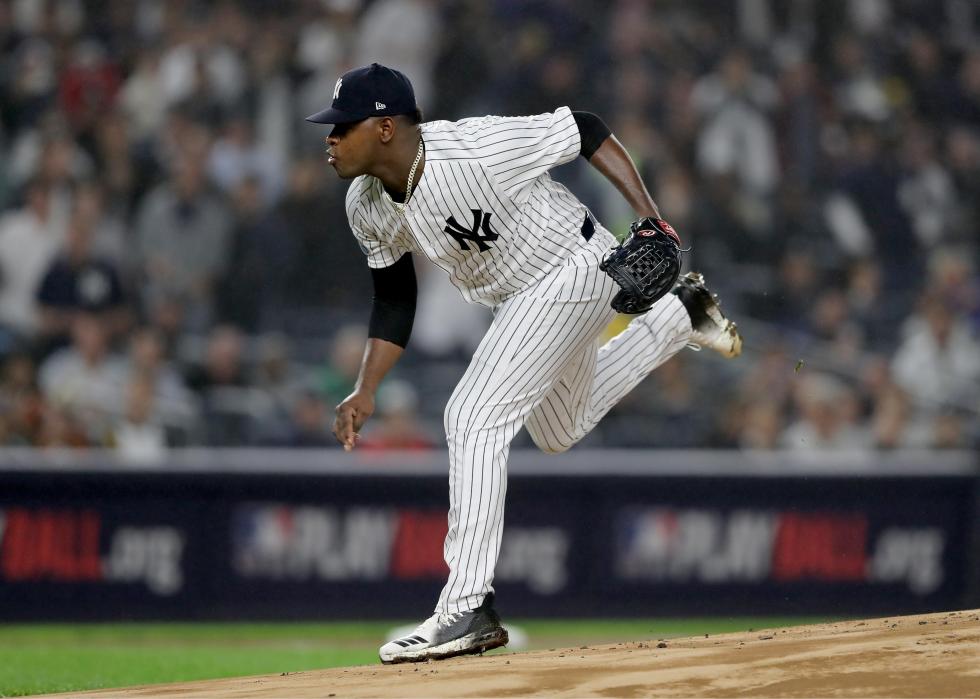 22 / 48
AL #3: Luis Severino
- Cy Young odds: +800
- Team: New York Yankees

- 2018 season stats:
--- Record: 19 - 8
--- ERA: 3.39
--- WHIP: 1.145
--- Strike outs / 9 innings: 10.3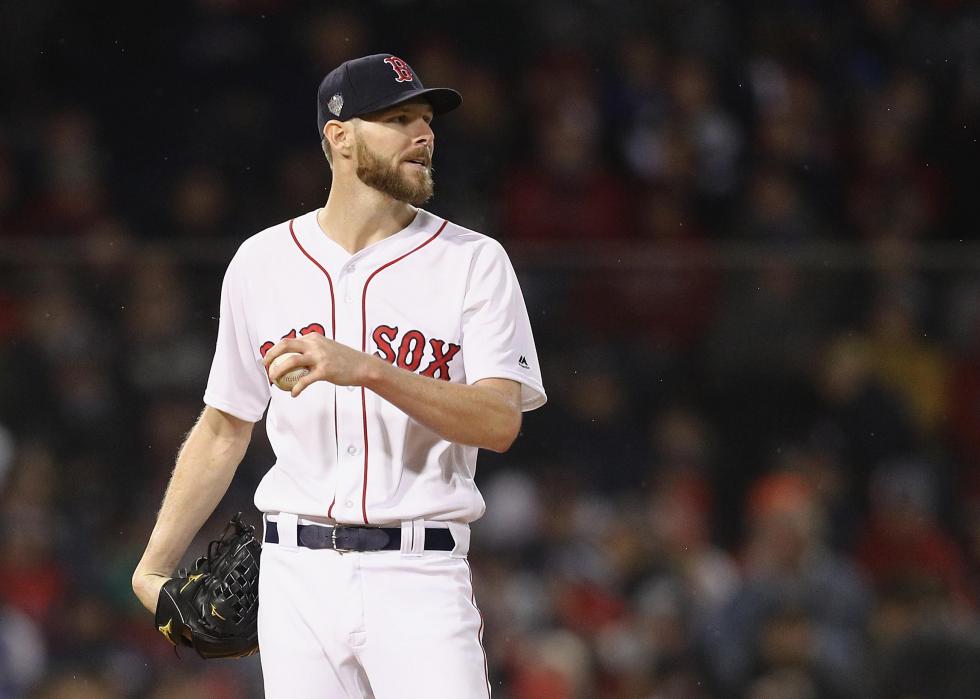 23 / 48
Maddie Meyer // Getty Images
AL #2: Chris Sale
- Cy Young odds: +450
- Team: Boston Red Sox

- 2018 season stats:
--- Record: 12 - 4
--- ERA: 2.11
--- WHIP: 0.861
--- Strike outs / 9 innings: 13.5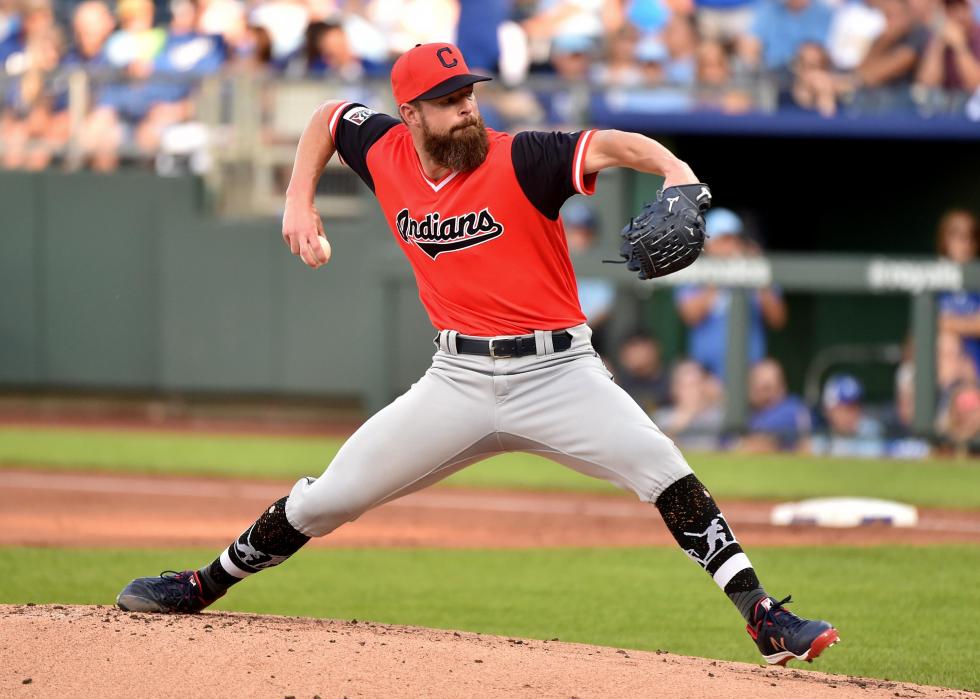 24 / 48
AL #1: Corey Kluber
- Cy Young odds: +375
- Team: Cleveland Indians

- 2018 season stats:
--- Record: 20 - 7
--- ERA: 2.89
--- WHIP: 0.991
--- Strike outs / 9 innings: 9.3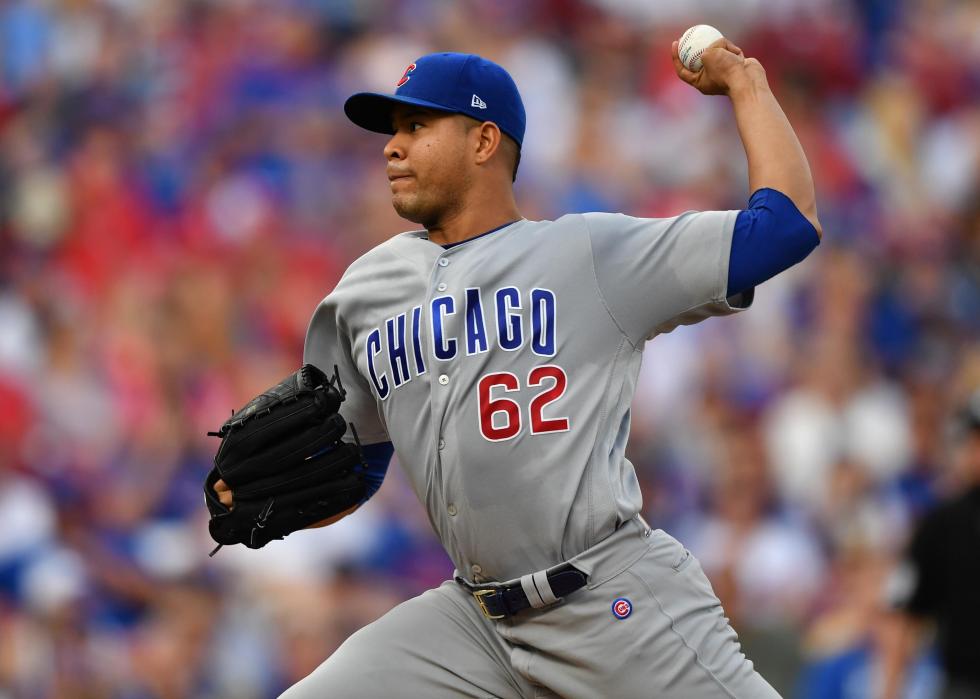 25 / 48
Jamie Sabau // Getty Images
NL #24: Jose Quintana
- Cy Young odds: +6600
- Team: Chicago Cubs

- 2018 season stats:
--- Record: 13 - 11
--- ERA: 4.03
--- WHIP: 1.319
--- Strike outs / 9 innings: 8.2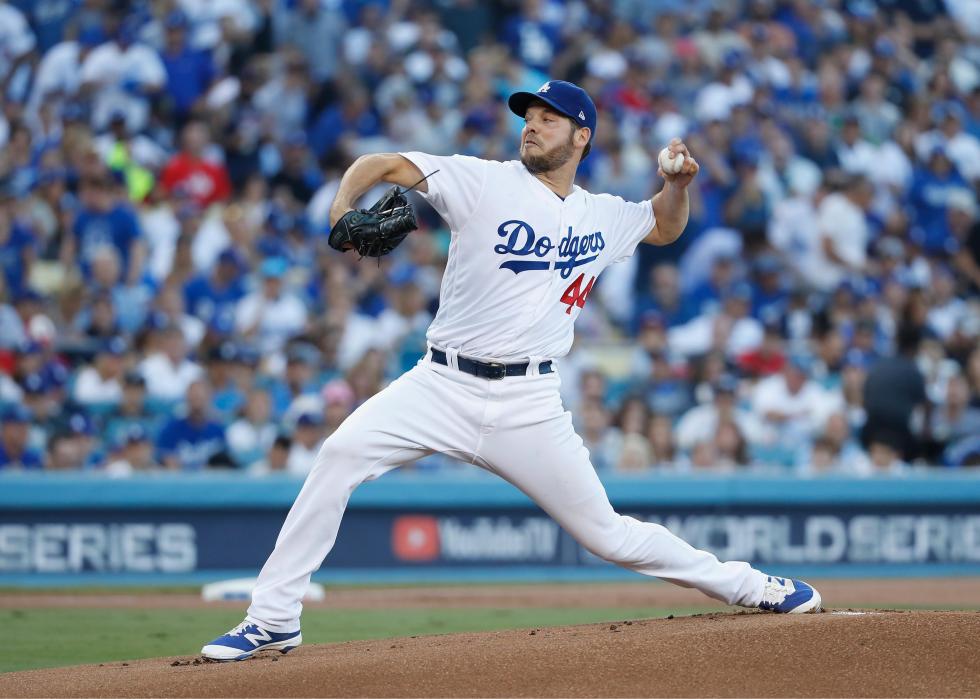 26 / 48
Sean M. Haffey // Getty Images
NL #22 (tie): Rich Hill
- Cy Young odds: +6000
- Team: Los Angeles Dodgers

- 2018 season stats:
--- Record: 11 - 5
--- ERA: 3.66
--- WHIP: 1.123
--- Strike outs / 9 innings: 10.2
27 / 48
Justin K. Aller // Getty Images
NL #22 (tie): Cole Hamels
- Cy Young odds: +6000
- Team: Chicago Cubs

- 2018 season stats:
--- Record: 9 - 12
--- ERA: 3.78
--- WHIP: 1.264
--- Strike outs / 9 innings: 8.9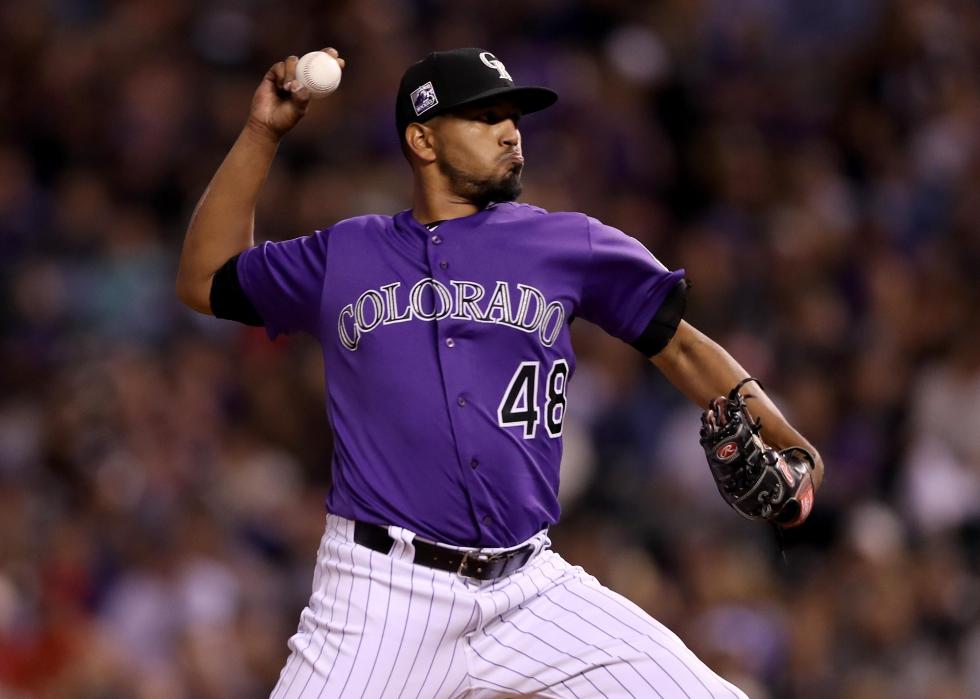 28 / 48
Matthew Stockman // Getty Images
NL #18 (tie): German Marquez
- Cy Young odds: +5000
- Team: Colorado Rockies

- 2018 season stats:
--- Record: 14 - 11
--- ERA: 3.77
--- WHIP: 1.204
--- Strike outs / 9 innings: 10.6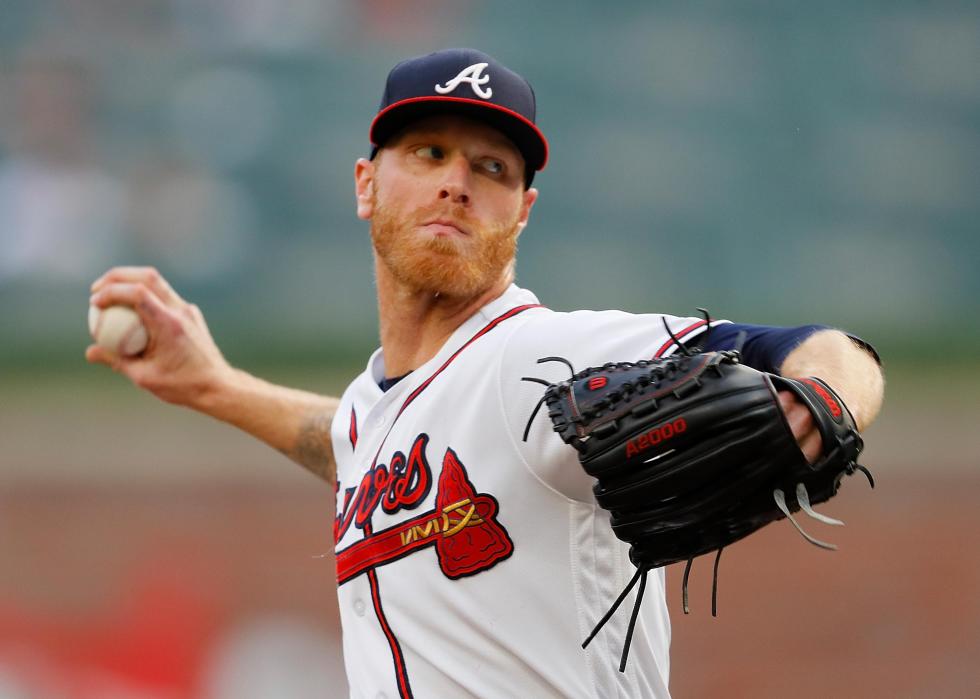 29 / 48
Kevin C. Cox // Getty Images
NL #18 (tie): Mike Foltynewicz
- Cy Young odds: +5000
- Team: Atlanta Braves

- 2018 season stats:
--- Record: 13 - 10
--- ERA: 2.85
--- WHIP: 1.082
--- Strike outs / 9 innings: 9.9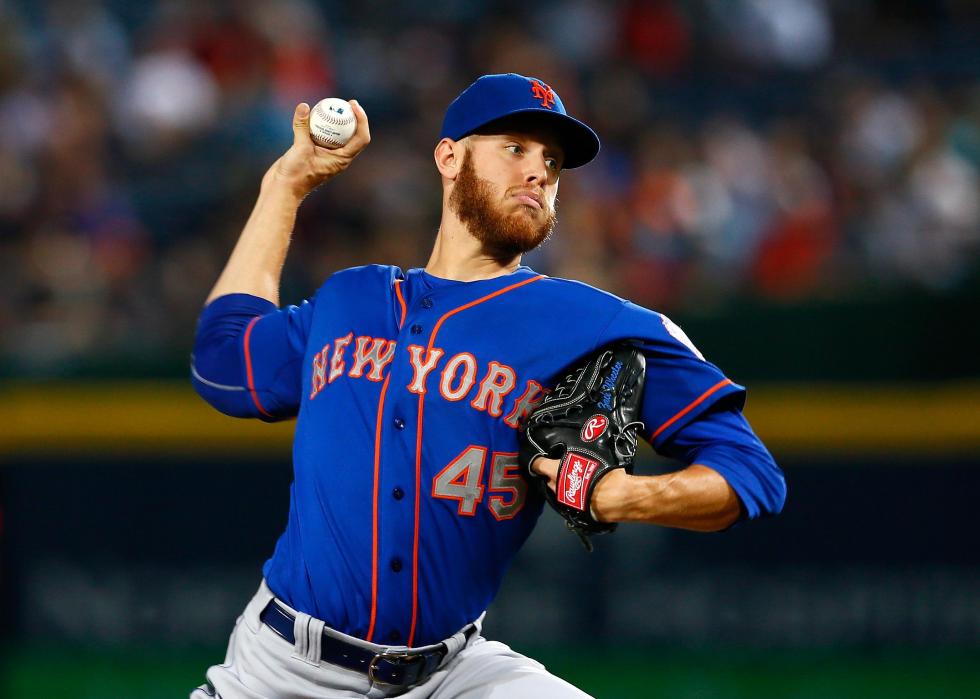 30 / 48
Kevin C. Cox // Getty Images
NL #18 (tie): Zack Wheeler
- Cy Young odds: +5000
- Team: New York Mets

- 2018 season stats:
--- Record: 12 - 7
--- ERA: 3.31
--- WHIP: 1.124
--- Strike outs / 9 innings: 8.8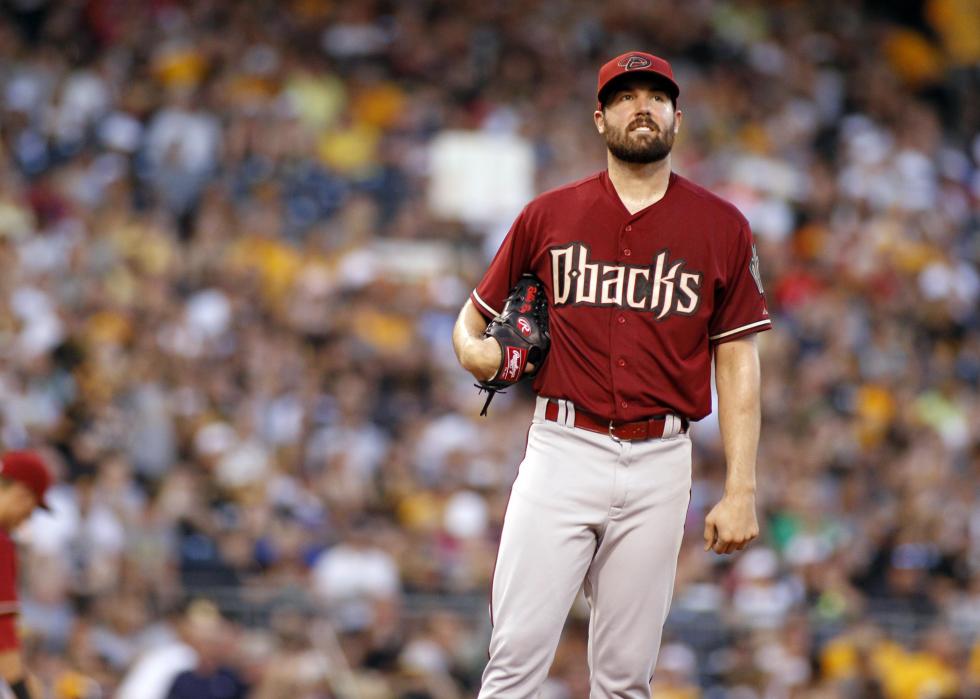 31 / 48
Justin K. Aller // Getty Images
NL #18 (tie): Robbie Ray
- Cy Young odds: +5000
- Team: Arizona Diamondbacks

- 2018 season stats:
--- Record: 6 - 2
--- ERA: 3.93
--- WHIP: 1.350
--- Strike outs / 9 innings: 12.0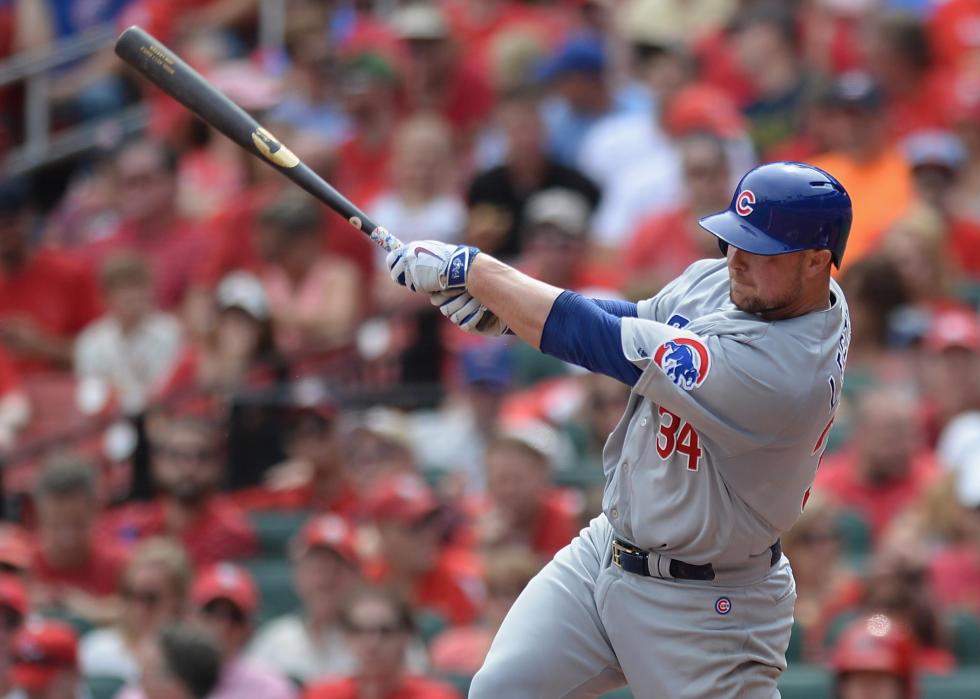 32 / 48
Michael Thomas // Getty Images
NL #16 (tie): Jon Lester
- Cy Young odds: +4500
- Team: Chicago Cubs

- 2018 season stats:
--- Record: 18 - 6
--- ERA: 3.32
--- WHIP: 1.310
--- Strike outs / 9 innings: 7.4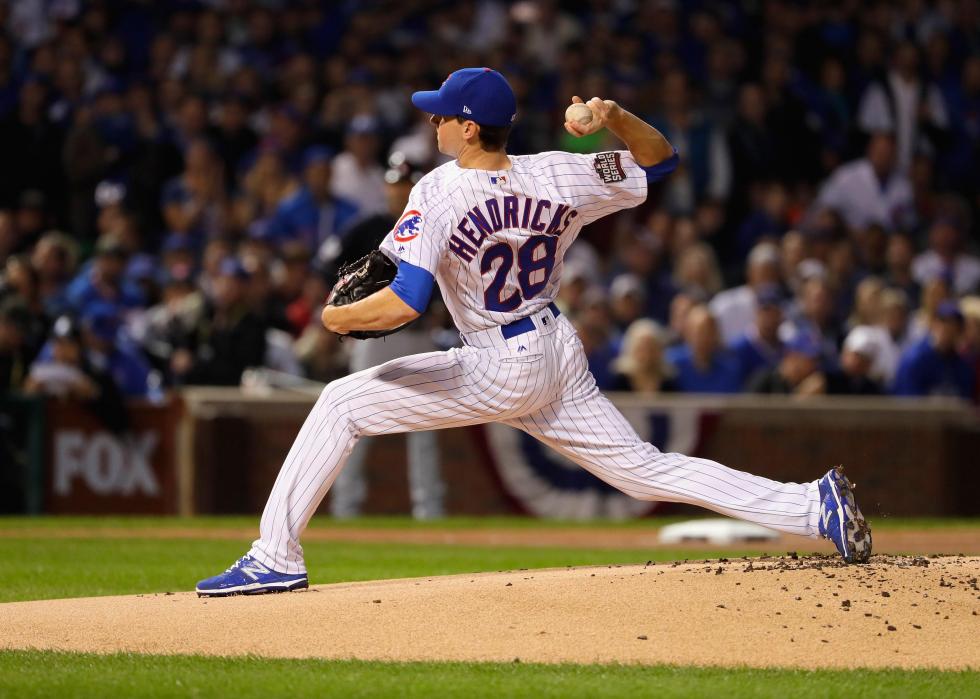 33 / 48
Jamie Squire // Getty Images
NL #16 (tie): Kyle Hendricks
- Cy Young odds: +4500
- Team: Chicago Cubs

- 2018 season stats:
--- Record: 14 - 11
--- ERA: 3.44
--- WHIP: 1.146
--- Strike outs / 9 innings: 7.3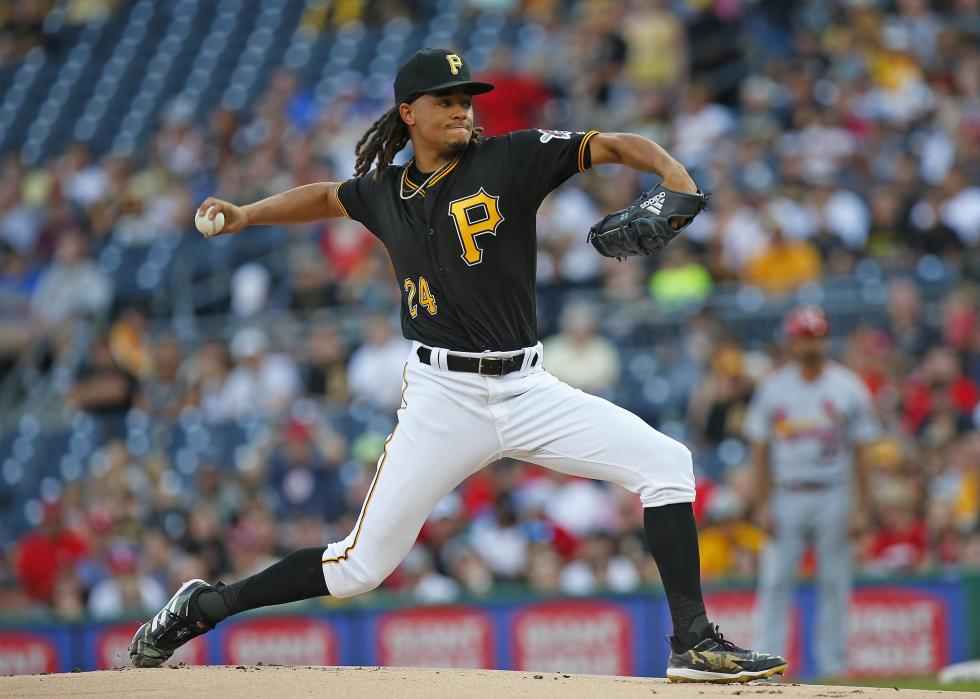 34 / 48
Justin K. Aller // Getty Images
NL #14 (tie): Chris Archer
- Cy Young odds: +4000
- Team: Pittsburgh Pirates

- 2018 season stats:
--- Record: 6 - 8
--- ERA: 4.31
--- WHIP: 1.375
--- Strike outs / 9 innings: 9.8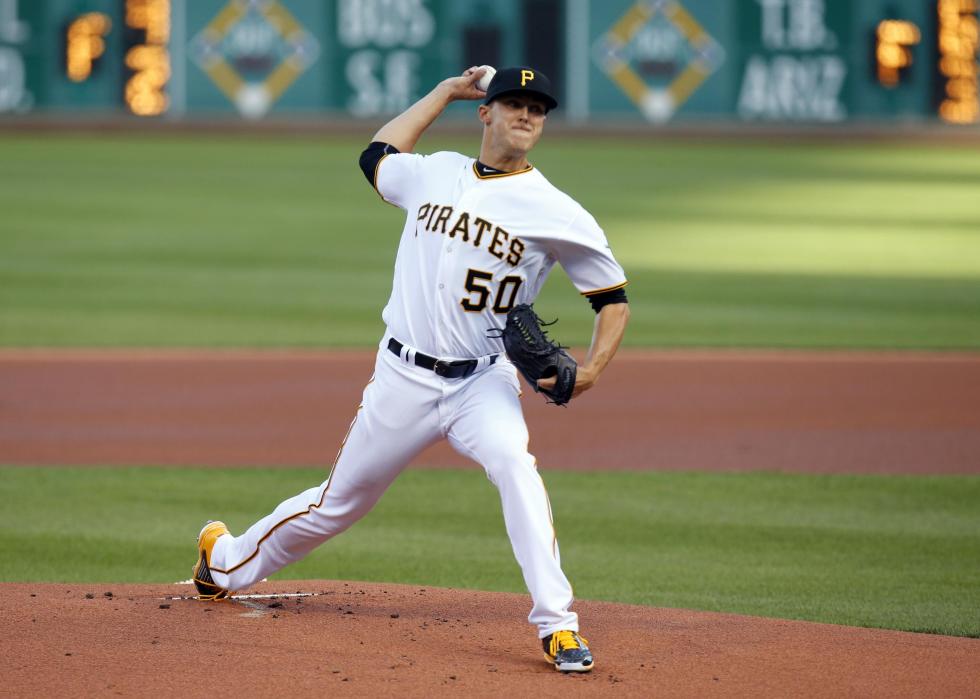 35 / 48
Justin K. Aller // Getty Images
NL #14 (tie): Jameson Taillon
- Cy Young odds: +4000
- Team: Pittsburgh Pirates

- 2018 season stats:
--- Record: 14 - 10
--- ERA: 3.20
--- WHIP: 1.178
--- Strike outs / 9 innings: 8.4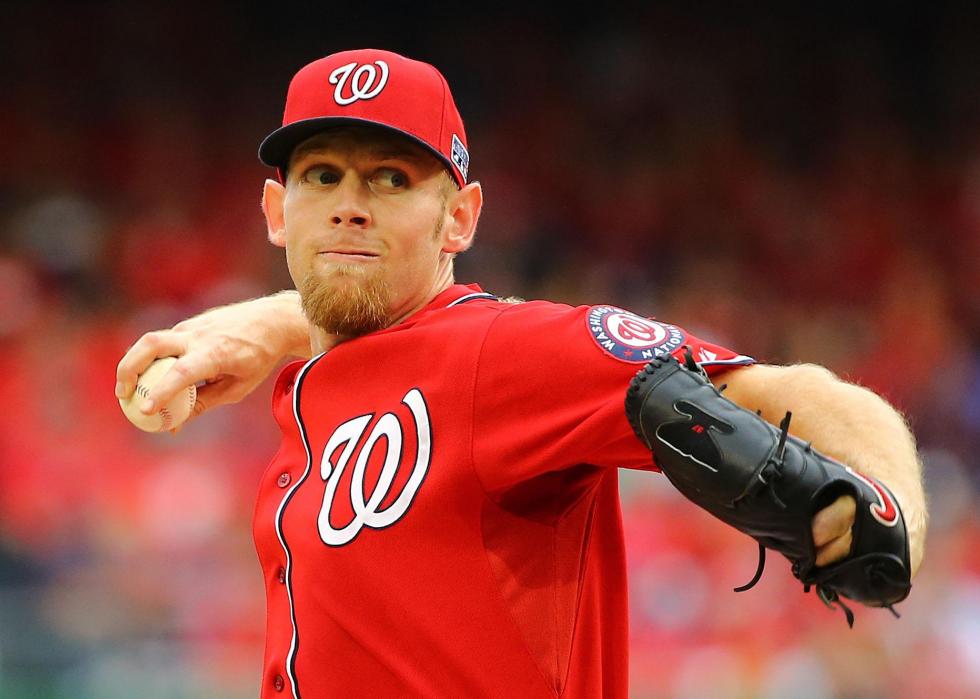 36 / 48
NL #11 (tie): Stephen Strasburg
- Cy Young odds: +3000
- Team: Washington Nationals

- 2018 season stats:
--- Record: 10 - 7
--- ERA: 3.74
--- WHIP: 1.200
--- Strike outs / 9 innings: 10.8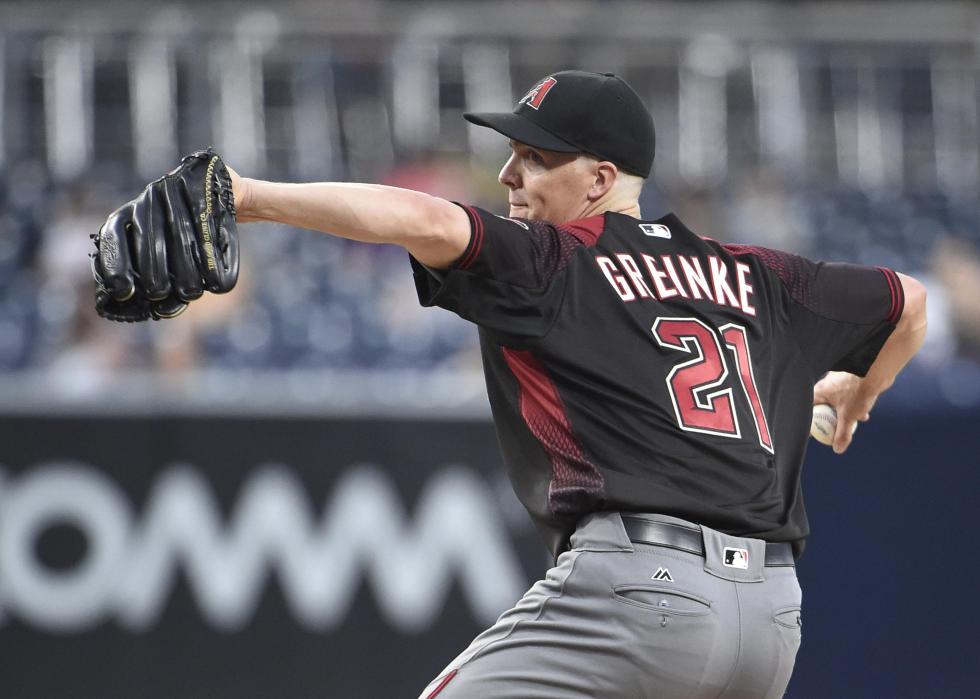 37 / 48
Denis Poroy // Getty Images
NL #11 (tie): Zack Greinke
- Cy Young odds: +3000
- Team: Arizona Diamondbacks

- 2018 season stats:
--- Record: 15 - 11
--- ERA: 3.21
--- WHIP: 1.079
--- Strike outs / 9 innings: 8.6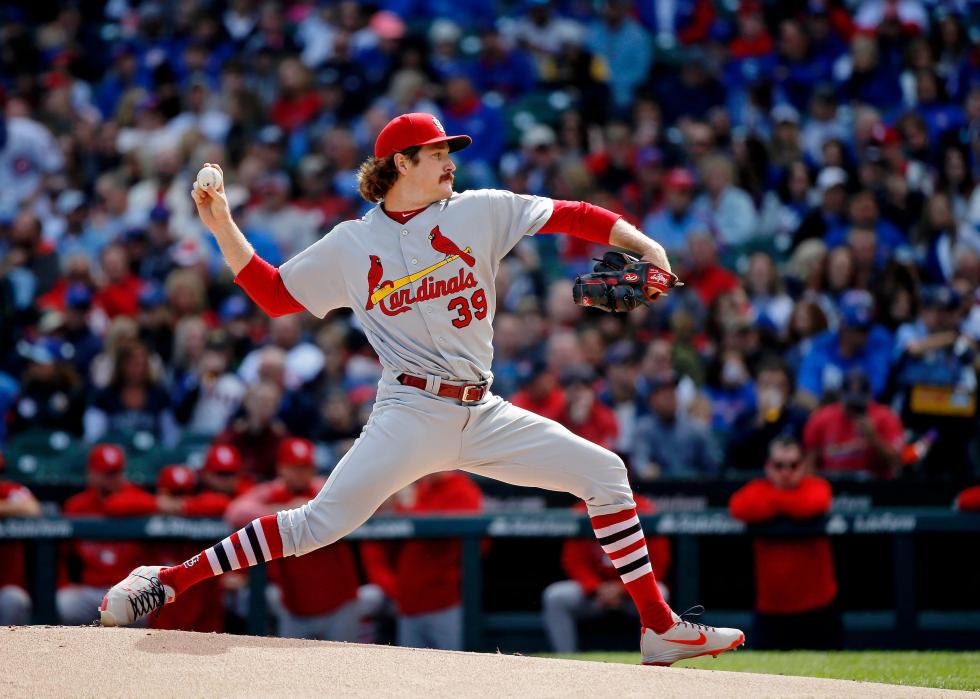 38 / 48
NL #11 (tie): Miles Mikolas
- Cy Young odds: +3000
- Team: St. Louis Cardinals

- 2018 season stats:
--- Record: 18 - 4
--- ERA: 2.83
--- WHIP: 1.071
--- Strike outs / 9 innings: 6.5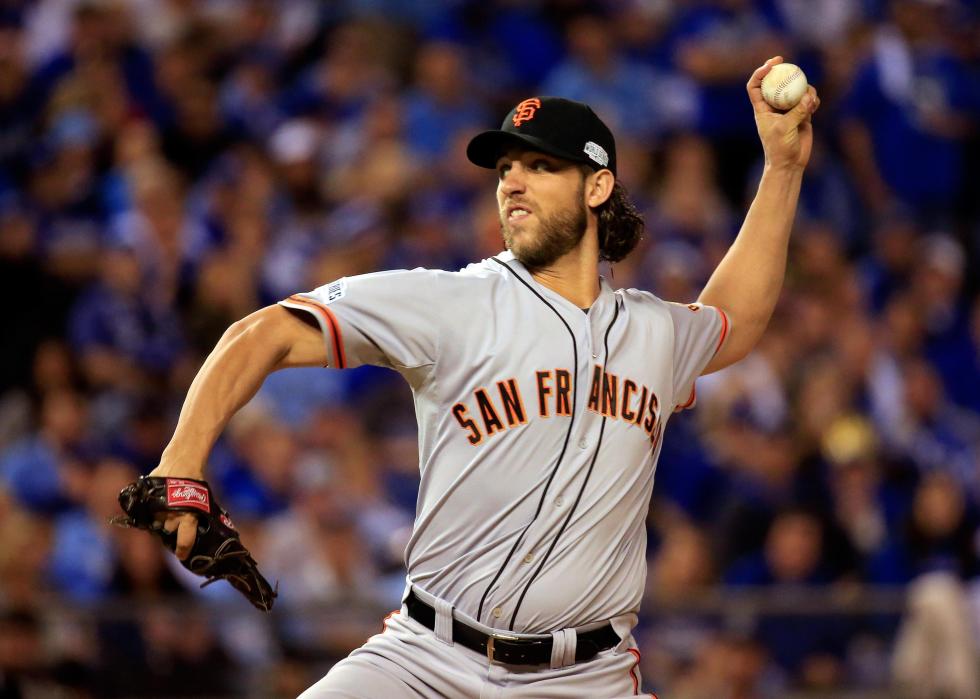 39 / 48
NL #9 (tie): Madison Bumgarner
- Cy Young odds: +2500
- Team: San Francisco Giants

- 2018 season stats:
--- Record: 6 - 7
--- ERA: 3.26
--- WHIP: 1.242
--- Strike outs / 9 innings: 7.6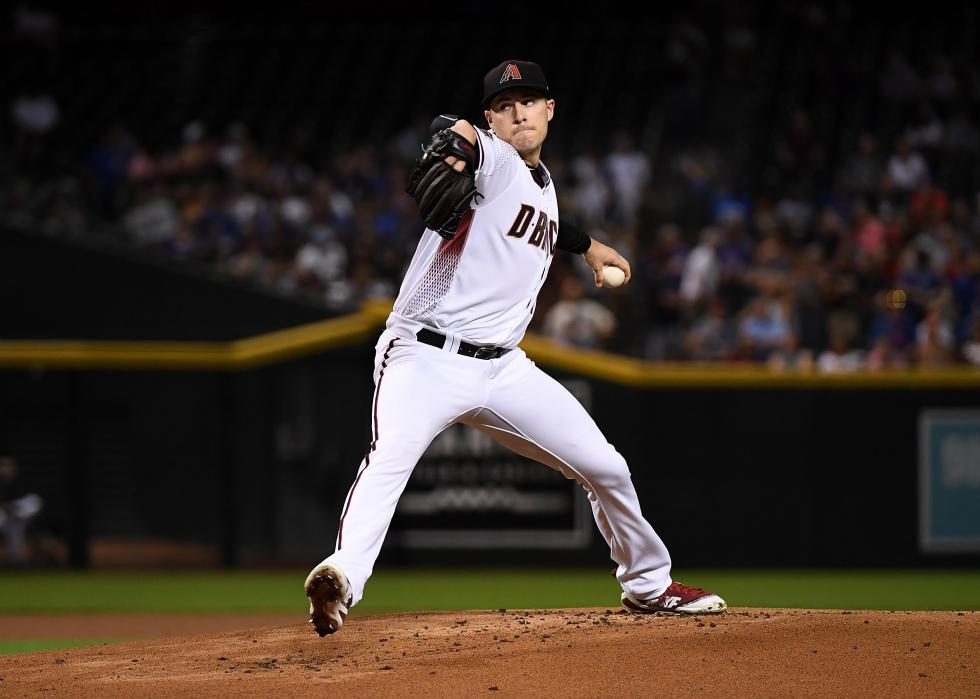 40 / 48
Norm Hall // Getty Images
NL #9 (tie): Patrick Corbin
- Cy Young odds: +2500
- Team: Washington Nationals

- 2018 season stats:
--- Record: 11 - 7
--- ERA: 3.15
--- WHIP: 1.050
--- Strike outs / 9 innings: 11.1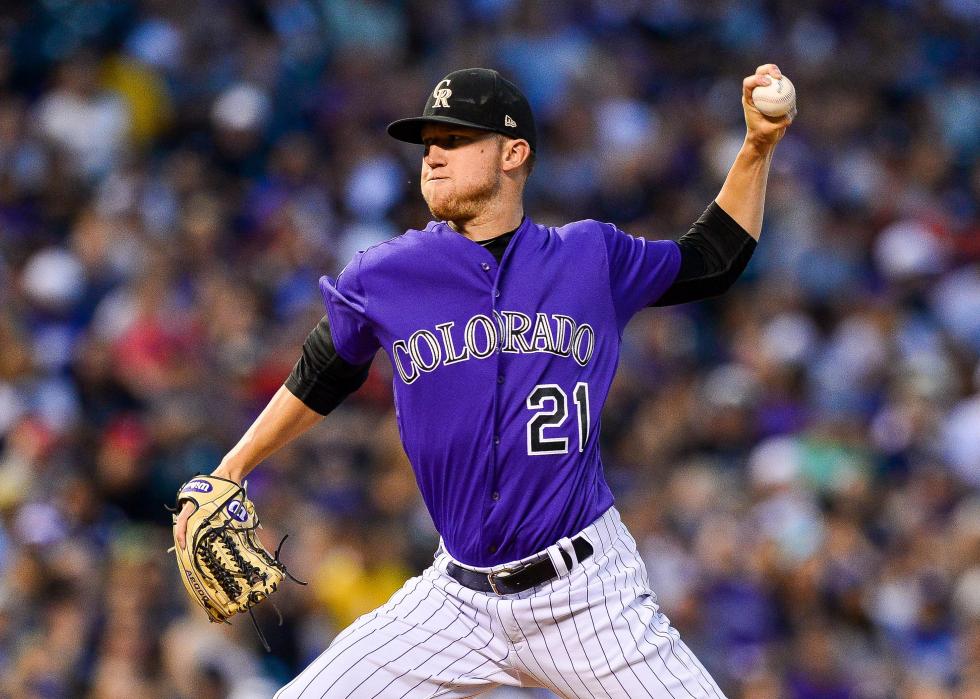 41 / 48
Dustin Bradford // Getty Images
NL #7 (tie): Kyle Freeland
- Cy Young odds: +2000
- Team: Colorado Rockies

- 2018 season stats:
--- Record: 17 - 7
--- ERA: 2.85
--- WHIP: 1.245
--- Strike outs / 9 innings: 7.7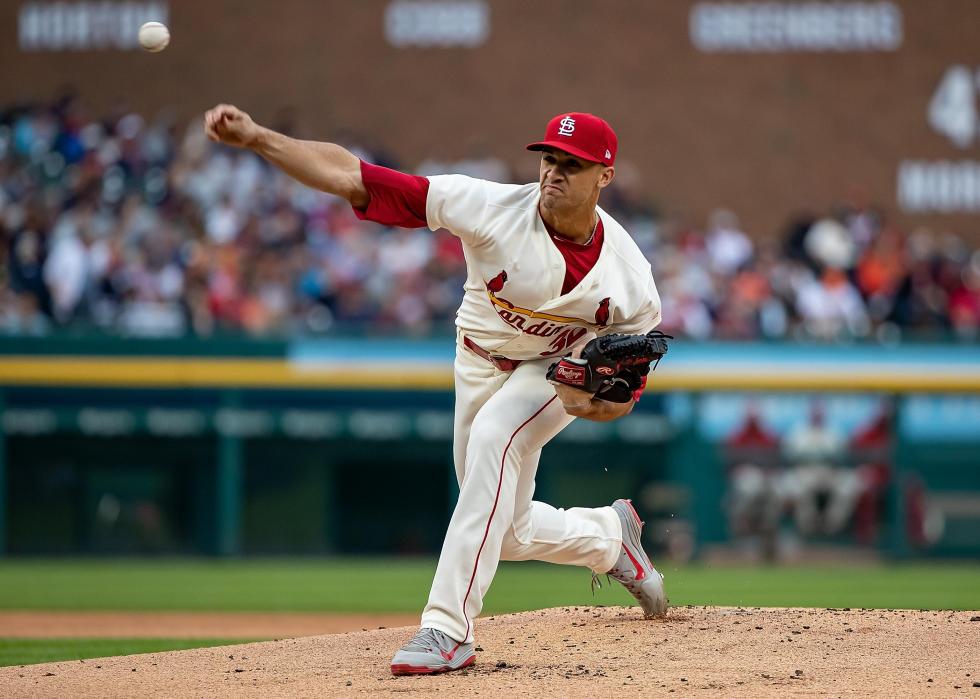 42 / 48
Dave Reginek // Getty Images
NL #7 (tie): Jack Flaherty
- Cy Young odds: +2000
- Team: St. Louis Cardinals

- 2018 season stats:
--- Record: 8 - 9
--- ERA: 3.34
--- WHIP: 1.106
--- Strike outs / 9 innings: 10.8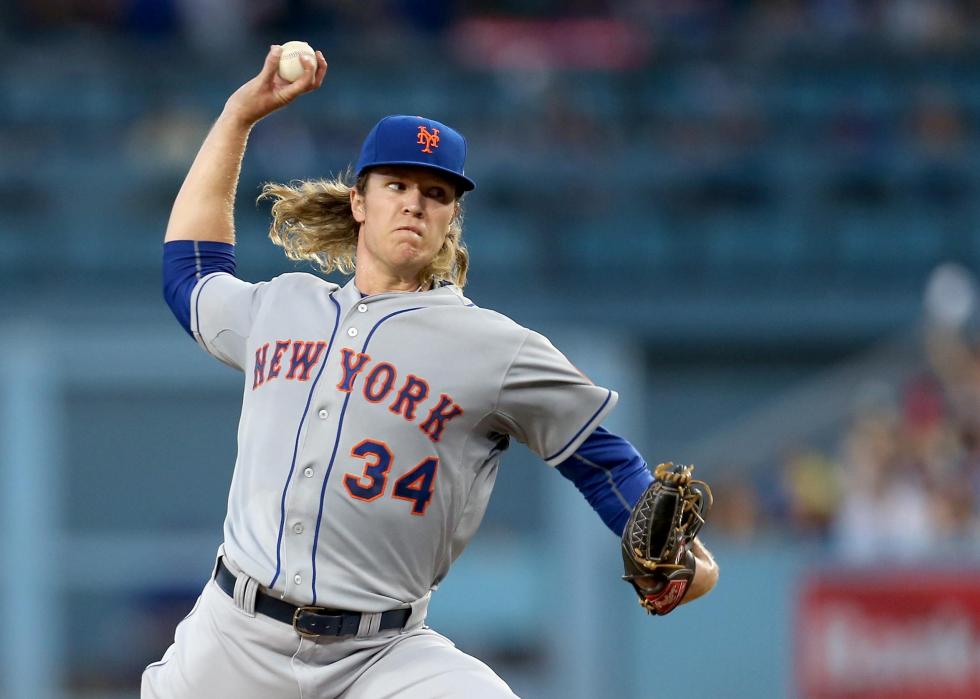 43 / 48
Stephen Dunn // Getty Images
NL #5 (tie): Noah Syndergaard
- Cy Young odds: +1400
- Team: New York Mets

- 2018 season stats:
--- Record: 13 - 4
--- ERA: 3.03
--- WHIP: 1.212
--- Strike outs / 9 innings: 9.0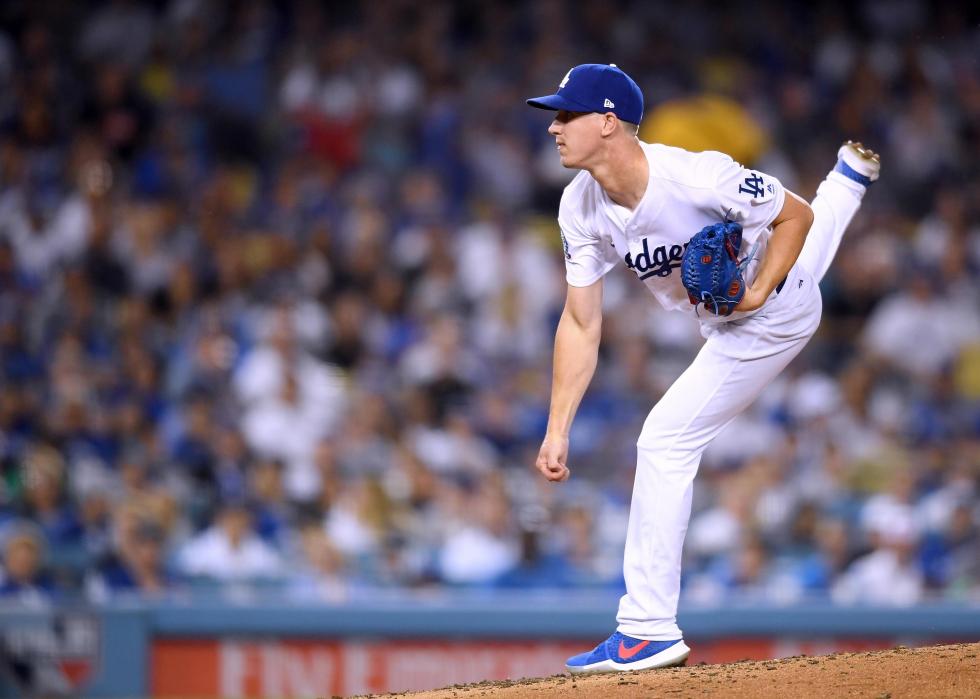 44 / 48
Harry How // Getty Images
NL #5 (tie): Walker Buehler
- Cy Young odds: +1400
- Team: Los Angeles Dodgers

- 2018 season stats:
--- Record: 8 - 5
--- ERA: 2.62
--- WHIP: 0.961
--- Strike outs / 9 innings: 9.9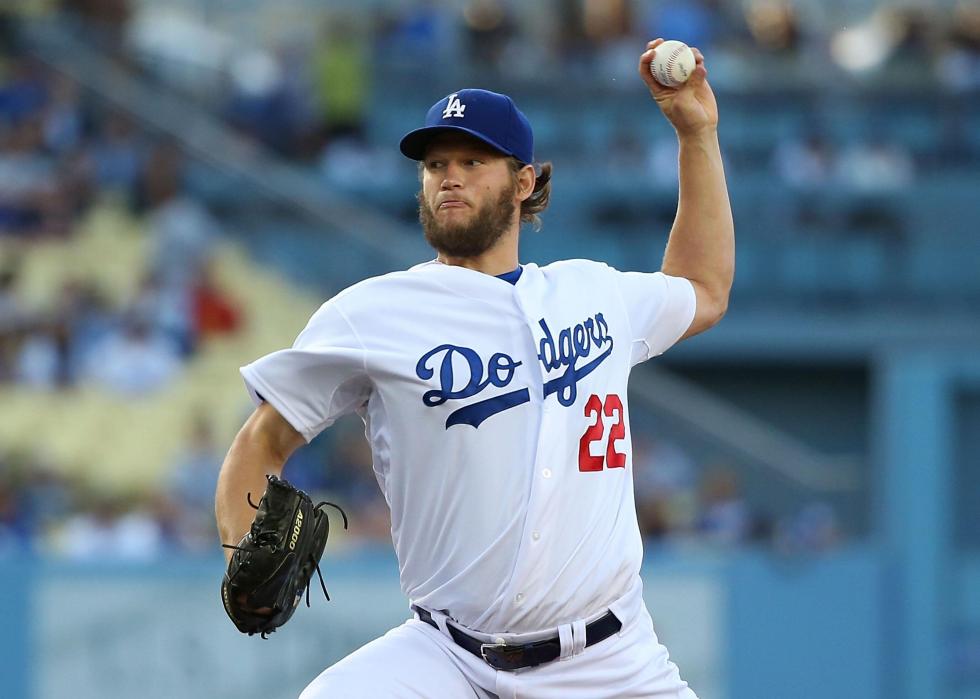 45 / 48
Victor Decolongon // Getty Images
NL #4: Clayton Kershaw
- Cy Young odds: +1200
- Team: Los Angeles Dodgers

- 2018 season stats:
--- Record: 9 - 5
--- ERA: 2.73
--- WHIP: 1.041
--- Strike outs / 9 innings: 8.6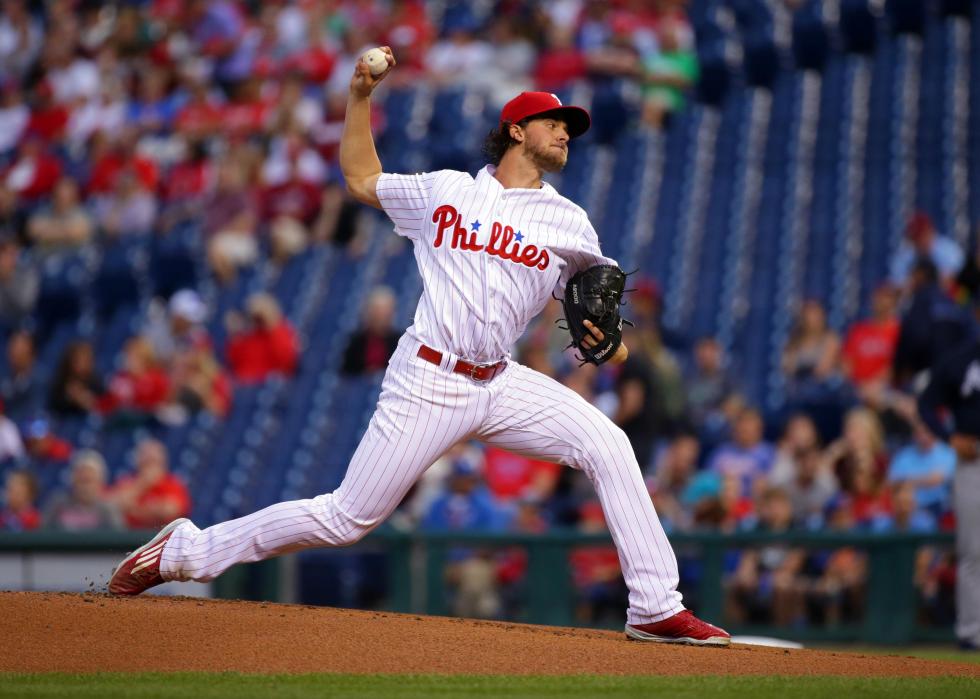 46 / 48
Hunter Martin // Getty Images
NL #3: Aaron Nola
- Cy Young odds: +700
- Team: Philadelphia Phillies

- 2018 season stats:
--- Record: 17 - 6
--- ERA: 2.37
--- WHIP: 0.975
--- Strike outs / 9 innings: 9.5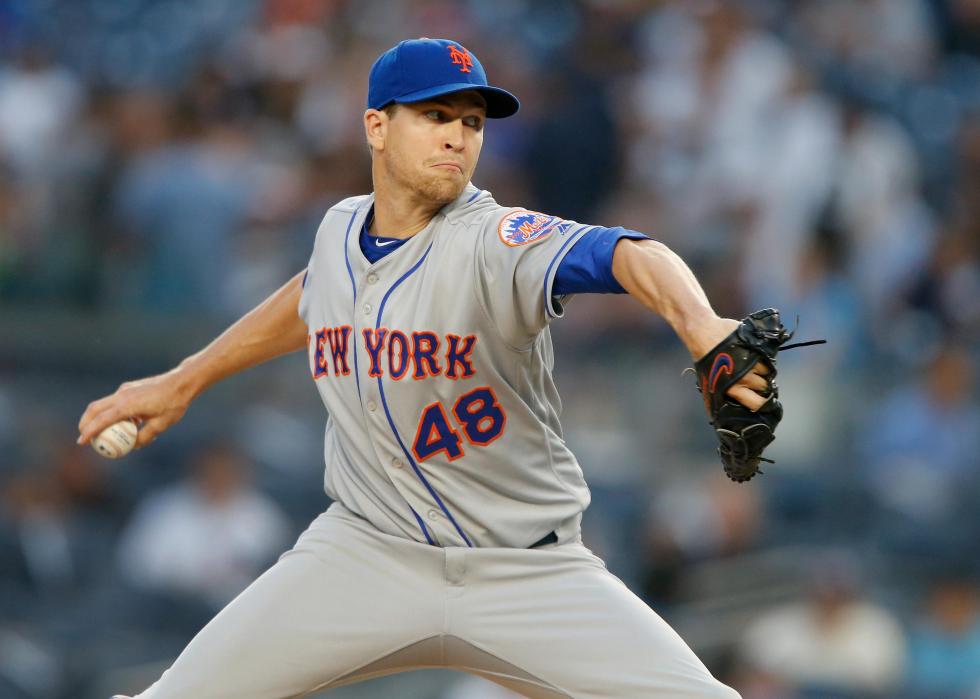 47 / 48
Jim McIsaac // Getty Images
NL #2: Jacob DeGrom
- Cy Young odds: +400
- Team: New York Mets

- 2018 season stats:
--- Record: 10 - 9
--- ERA: 1.70
--- WHIP: 0.912
--- Strike outs / 9 innings: 11.2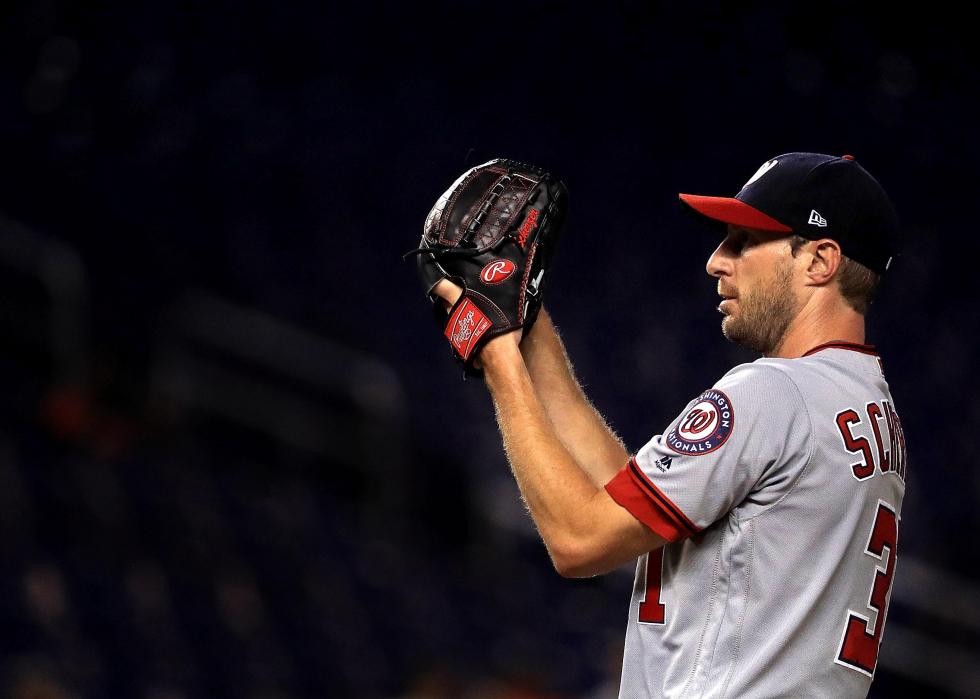 48 / 48
Mike Ehrmann // Getty Images
NL #1: Max Scherzer
- Cy Young odds: +250
- Team: Washington Nationals

- 2018 season stats:
--- Record: 18 - 7
--- ERA: 2.53
--- WHIP: 0.911
--- Strike outs / 9 innings: 12.2