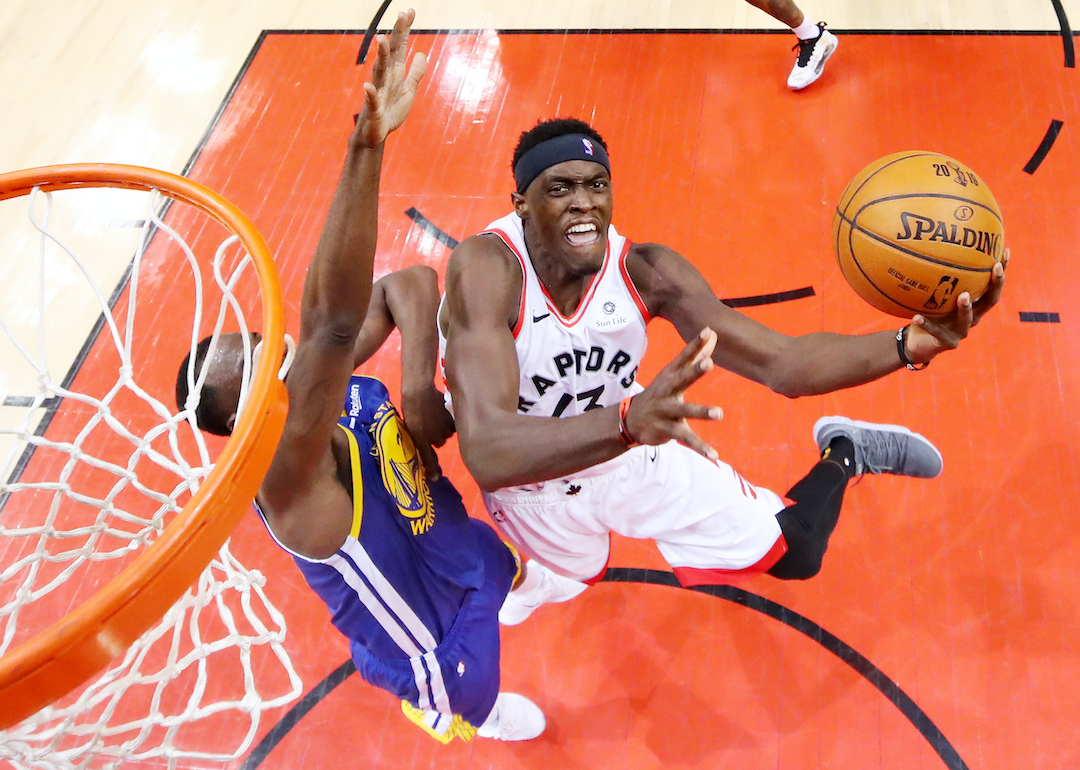 25 ways the NBA has changed in the last 50 years
Gregory Shamus // Getty Images
25 ways the NBA has changed in the last 50 years
In June 1946, Boston Garden owner Walter Brown was in New York City when he had an epiphany. He realized that ice-hockey arenas like his sat vacant most nights when the home team wasn't playing. Brown saw dollar signs when he realized he could fill the void by hosting basketball games on hockey's off nights. He created the Basketball Association of America, and, in 1949, his new league merged with the National Basketball League and the National Basketball Association, or NBA, was born.
Today the NBA generates $7 billion in revenue per season, or about $245 million for each of the league's 30 teams. There isn't a team in the league that's worth less than $1 billion, and three teams are worth more than $3 billion, with the Knicks topping the heap with a $4 billion valuation. The league's 30 teams sell nearly 22 million tickets a year to fans who pack their stadiums to watch the 1,230 games the NBA puts on every year—82 per team with an average attendance of 17,884 per home game.
From humble roots to big business, the NBA has undergone significant changes along the way. The last 50 years have been among the most dynamic and exciting in the league's history. Giants of the sport like Michael Jordan, Larry Bird, Dr. J, Kobe Bryant, and LeBron James have attracted throngs of loyal fans, spearheaded dynasties, and sold more tickets, shoes, jerseys, and cable packages than can be counted. The game, however, has evolved and changed as each generation of greats has come and gone.
From rules and regulations to strategies and clothing, here's a look at how the NBA has evolved on its path from second-fiddle league designed to fill seats on off nights to a global phenomenon and billion-dollar worldwide business.
You may also like: Best NBA duos of all time
Salaries soared from six figures to eight
Fifty years ago in 1969, NBA legend Bill Russell ended his NBA career with 12 trips to the All-Star game, five MVP titles, a whopping 11 NBA championships, and a peak salary of just $100,000—and he was one of the highest-paid players in the game. On the other hand, today's highest-paid baller is Stephen Curry. He signed a five-year, $201.16 million contract that will pay him an average salary of more than $40.23 million a year until he becomes an unrestricted free agent in 2022.
Players got taller and heavier
Professional basketball was always a big man's game, but big has gotten bigger. In 1969, the average NBA player stood a little over 6-foot-5 and weighed about 205 pounds. Today's average is about 6-foot-7 and 220 pounds.
Hand check penalty made the game faster
One of the most important changes in basketball history came in 2004 when the NBA completely banned hand-checking, which had been curtailed starting in 1994. The hand-check penalty forbids defenders from touching opponents with their hands anywhere except in the immediate vicinity of the basket, a strategy long employed by defenders to slow down and control the movement of their opponents. The change dramatically sped up the game, diminished the size advantage of the biggest players, and ushered in the modern era, where smaller, faster guards rule the roost.
Basketball became an international sport
More than 108 international players from 42 countries and territories graced NBA rosters on opening night in 2018—every single team claimed at least one foreign player, according to Sports Illustrated. The world began funneling its best players to the NBA around 30 years ago when the Soviet Union first allowed its players to migrate to America's premier basketball league at the close of the 1988 Olympics. In 1989, European elites like Vlade Divac, Drazen Petrovic, and Sarunas Marciulionis opened the door to the NBA's rise as a truly international league, and today, basketball is the world's second-biggest sport after only soccer.
The 3-point line put a premium on outside accuracy
Today, players like Steph Curry are known for nailing 3-pointers as part of their foundational strategies, but the NBA didn't institute a 3-point line until 1979—long after several lesser leagues. An arc measuring 23-feet 9-inches from the center of the basket to its farthest point, fans originally thought it was a gimmick, according to Active.com, but quickly learned to love it and routinely leaped out of their seats when a player landed one. It would be difficult to exaggerate the impact the addition of the 3-pointer had on the game.
A thirst for 3s drives modern basketball
The rules of the game haven't changed much over the last decade, but the style of play has evolved dramatically as teams moved away from relying on size in favor of outside accuracy, like the kind put on display every game by Steph Curry. According to Blasting News, this paradigm shift has led to a huge increase in 3-point attempts at the expense of easier inside shots across all 30 teams. The team average of 3-point attempts per game in the 2007–2008 season was just 18.04, compared to 28.98 in 2017–2018.
The 3-point revolution increased possessions
Threes are harder to land than inside shots, and therefore don't go in as often. The huge increase in 3-point attempts over the last decade has led to more rebounds and far more possessions per team per game, which has dramatically increased the speed of play. Over the last 10 years, league-wide possessions per game jumped from fewer than 96 to about 101.
Individual output soared along with 3-point tries
The domino effect has been that more 3-point attempts have led to faster play, which has increased possessions, leading to a huge rise in individual productivity. League-wide triple-doubles are at an all-time high, up to 117 in 2017 compared to just 40 in 2008, reported by Blasting News' Mitchell Oakes, based on data from the Land of Basketball.
Mid-range jump shots became rarer
The league's move toward banking on long-range sharpshooters is all but eliminating what was once a staple of the game: the mid-range jump shot, according to USA Today. Sure things like the slam dunk and layup have remained about the same over the last 15 years, but jumpers from inside the 3-point arc are now a relative rarity.
NBA stars became America's most marketable athletes
In the 1980s, Michael Jordan changed the nature of endorsement deals for athletes who double as corporate pitchmen through then-unheard of contracts with the likes of Nike and Gatorade. Today's players inherited that legacy, which has turned the NBA into a revenue-generating machine for corporate America, which isn't even in the same universe as the other three major sports. The NBA's 10 highest-earning endorsement stars pulled in a combined $234 million in 2018 off the court in 2018, compared to $90 million for the top 10 football stars, $25 million for baseball, and $20 million for hockey, according to Forbes.
Big data became a critical tool
According to Quartz, "data analytics have made the NBA unrecognizable" as basketball has embraced big data more than any other sport. Data analysts work with virtually every team to spot undervalued talent and ferret out players that aren't pulling their weight in subtle ways. Players are monitored 24/7 via fitness wearables and a new video system tracks the movement of every single player on the court 25 times a second. The shift toward a massive increase in 3-point attempts—arguably the most dramatic change in play in 50 years—was largely driven by statistical analysis.
A new draft lottery discouraged tanking
Teams that don't have a chance at the playoffs are known to intentionally tank meaningless games so they can finish last and pick first in the next year's draft, giving them the first crack at the next generation's Michael Jordan or LeBron James. To prevent tanking, the league this year changed draft lottery rules to make the odds of choosing first much more even across several of the bottom-finishing teams.
The league embraced zone defense
Although European leagues and even American high school and college teams long played the zone defense, the NBA traditionally frowned upon, and even penalized, anything but man-to-man and double coverage, according to the Guardian. By the turn of the millennium, however, games were moving too slowly and when the league banned the hand check, it was compelled to also allow defenses to play the zone. Some of the winningest teams in today's freewheeling, 3-point-crazy NBA have succeeded with defensive strategies that run zone defenses instead of the man-on-man coverage of old.
Jacks of all trades took over the playoffs
One of the effects of decreased physicality and the revival of the zone defense is the decline of position-driven strategies—particularly during the playoffs. Forwards, centers, and guards were always classified mostly by size and assigned specific responsibilities—tall centers loitered around the basket while smaller forwards passed and dribbled. Today's faster game—which relies on frequent 3-point tries and pick-and-roll zone defense matchups—has forced teams to develop lineups of five men who can, and do, play and guard every position, particularly in the postseason.
Officials relearned how to officiate
Easy scapegoats and convenient targets of frequent derision, NBA referees have an almost impossibly difficult job that requires them to use "three sets of eyes to track 10 crisscrossing bodies with pinpoint accuracy across horizontal and vertical planes, in a game where the difference between legal and illegal contact comes down to the subtlest of movements," according to SBNation. They do it remarkably well, getting about 92% of calls and non-calls correct, despite the fact that they're under almost constant fire for the sliver that they botch from fans, coaches, commentators, and enormous players who often register their discontent inches from their faces on live TV. Over the years, NBA officials have been forced to adapt to an ever-changing game by developing a complicated and multilayered strategy that involves complex on-court positioning, psychological compartmentalization, and even specialized breathing techniques.
The NBA dressed for success
One of the most dynamic and visible players in NBA history, Allen Iverson stood out both on the court and off, often to groans from the league brass. Flaunting the NBA's long-standing obsession with maintaining a clean-cut image, Iverson embraced hip-hop style and swagger from the time he was drafted in 1996, a persona that many players would soon adopt for themselves. In 2005, the NBA cracked down, instituting a strict and suffocating dress code (no sunglasses indoors, no headphones, no chains, pendants, or medallions) that many players, fans, and commentators derided as flagrantly racist.
Trent Tucker got his own rule
On Martin Luther King Jr. Day in 1990, Trent Tucker became a giant in Knicks history when he received an inbound pass and landed a game-winning jumper all within one-10th of a second. After fierce protest from Bulls coach Phil Jackson, it was determined that a clock error had taken place and that Tucker had probably gotten the shot off too late. To make up for it, the league instituted the Trent Tucker rule, which dictates a player cannot take a shot with fewer than 0.3 seconds on the clock.
Reggie Miller's style led to a kicking ban
Like Iverson and Tucker, Pacer great Reggie Miller also had a rule dedicated to him. Miller was notorious for kicking out his feet during jump shots, and those feet were notorious for colliding into the defender attempting to guard him. In 2012—89 months after Miller retired, according to Yahoo! Sports—the NBA instituted the so-called Reggie Miller rule, which banned kicking blatantly meant to initiate contact during jump shots.
Shaq's legacy changed foul rules
Shaquille O'Neal was one of the most dominant players in NBA history, but he was notoriously terrible at shooting free throws. It was commonplace during his career for opposing teams to intentionally foul him, often far away from the play, to send him to the foul line. In 2016, after Shaq retired, the NBA instituted the so-called hack-a-Shaq rule, which penalized fouls away from the ball in the final two minutes of any period with a single foul shot and return of possession for the opposing team, which made it pointless to foul on purpose.
The NBA expands to Canada
In 1995, the NBA expanded to Canada when it welcomed the Toronto Raptors and Vancouver Grizzlies to the league—the Grizzlies would later move to Memphis. What many didn't remember is that it actually wasn't so much of an expansion into Canada as it was a welcome home party for America's northern neighbor. The long forgotten Toronto Huskies played a single season in the NBA's predecessor league in 1946–1947.
Shorts got longer
Throughout the 1970s and early 1980s, basketball shorts were, well, short—exceedingly so, by some estimates, considering they were worn by incredibly tall men with incredibly long legs. That all changed when Michael Jordan requested that Champion craft him a wider, longer pair of shorts so he could fit his UNC shorts from his college days underneath, according to Dish. Scottie Pippen soon followed, Jordan began wearing them in commercials for his many endorsement deals, and by 1990, every team had at least one player wearing modern, knee-length baggy shorts.
Signature shoes went mainstream
Before 1985, most NBA players wore standard Converse basketball shoes, as they had since the days of legendary salesman and canvas-shoe icon Chuck Taylor in the 1920s, according to Slam. That year, however, Michael Jordan's trademark red-and-black Air Jordan high-tops were unveiled with extraordinary fanfare and controversy, captivating consumers, earning $100 million in 10 months, revolutionizing sneaker culture, and changing the way basketball shoes were developed, marketed, and sold forever. Today, signature shoe deals are a standard part of the modern endorsement package for the NBA's most marketable players.
The Slam Dunk Contest becomes a pastime
In 1984, Larry Nance of the Suns won a novelty competition that would become one of the most beloved, hotly anticipated, and most-watched events of NBA All-Star Weekend—the Slam Dunk Contest. As the name implies, the contest is an homage to the slam dunk, the most awe-inspiring finishing move in all of basketball. A display of acrobatic athleticism unrivaled in mainstream sports, the contest has showcased some of the most fantastic feats in basketball history, even though the outcome doesn't count in terms of season play.
Only four NBA commissioners have reigned
NBA commissioners tend to have long tenures—in fact, the chair has only changed four times since 1969 and there have only been five commissioners in history. Adam Silver has reigned since 2014, when he took the helm from David Stern, who ruled for 30 years starting in 1984. Before that, it was Larry O'Brien, whose tenure dated to 1975—he took the mantle from J. Walter Kennedy, who oversaw the league starting in 1963.
The number of teams more than doubled
During the 1969–1970 season, there were 14 NBA teams—seven in the Western Division and seven in the Eastern Division. Today, there are 30 teams, with as many teams plus one in each conference than there were in the entire league a half-century ago.