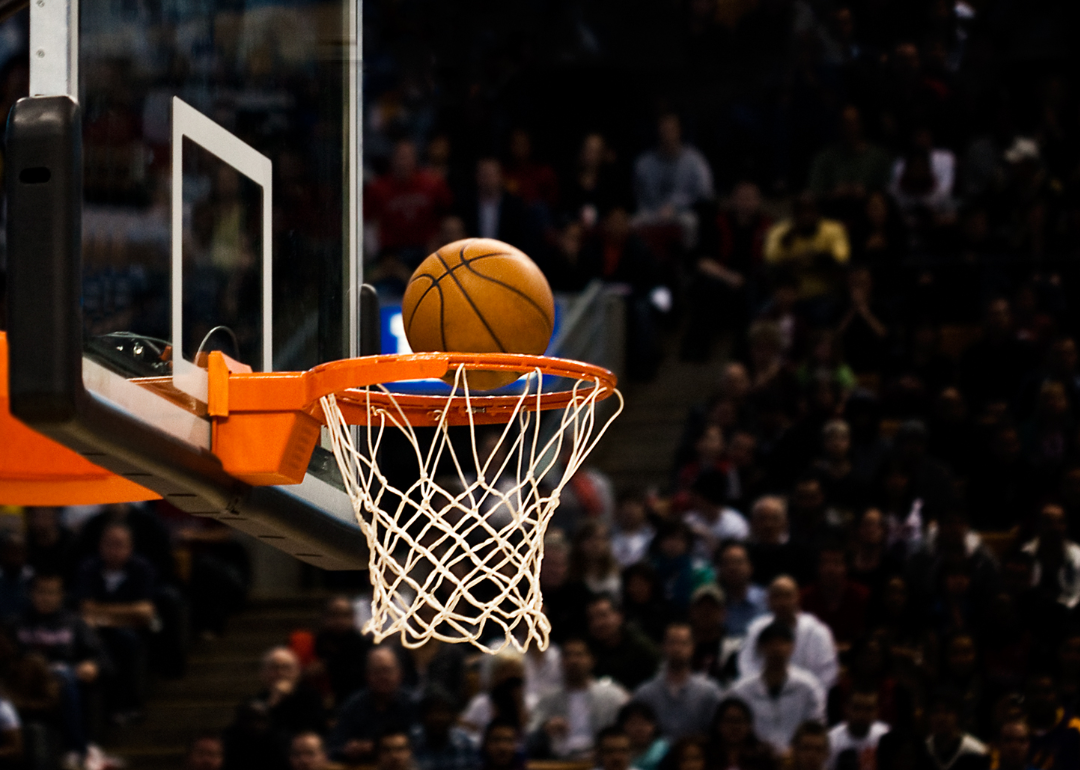 Best men's college basketball team in every state
Best men's college basketball team in every state
When the confetti falls, one shining moment plays, and the nets are cut down, one team will stand as the king of March. As the NCAA basketball tournament draws near, fans across the country are buckling in to watch their alma mater, state team, or favorite college player make a run at history.
With 351 schools fielding Division 1 men's basketball teams, we set out to highlight the best 2018 basketball team from every state. We used the NCAA Rating Percentage Index (RPI), which accounts for a team's wins, losses, and strength of schedule to measure success over the course of a season. While ranking teams is a hotly debated topic, we focused on RPI in light of its three-decade history of informing selection Sunday.
So regardless of what shade of blue you bleed, read on to find out which team scored the top spot as the best basketball program from your state.
Alabama: Auburn University
Teams from Alabama: 8
Top team: Auburn University
RPI rank: 8
Conference: SEC
Overall record: 25-6
Arizona: The University of Arizona
Teams from Arizona: 4
Top team: The University of Arizona
RPI rank: 18
Conference: Pac-12
Overall record: 24-7
Arkansas: The University of Arkansas
Teams from Arkansas: 5
Top team: The University of Arkansas
RPI rank: 30
Conference: SEC
Overall record: 21-10
California: The University of Southern California
Teams from California: 24
Top team: The University of Southern California
RPI rank: 34
Conference: Pac-12
Overall record: 21-10
Colorado: The University of Colorado Boulder
Teams from Colorado: 5
Top team: The University of Colorado Boulder
RPI rank: 86
Conference: Pac-12
Overall record: 16-14
Connecticut: The University of Connecticut
Teams from Connecticut: 7
Top team: The University of Connecticut
RPI rank: 107
Conference: AAC
Overall record: 14-17
Delaware: The University of Delaware
Teams from Delaware: 2
Top team: The University of Delaware
RPI rank: 231
Conference: CAA
Overall record: 14-19
Florida: The University of Miami
Teams from Florida: 15
Top team: The University of Miami
RPI rank: 25
Conference: ACC
Overall record: 22-8
Georgia: The University of Georgia
Teams from Georgia: 7
Top team: The University of Georgia
RPI rank: 82
Conference: SEC
Overall record: 16-14
Hawaii: The University of Hawaii
Teams from Hawaii: 1
Top team: The University of Hawaii
RPI rank: 206
Conference: Big West
Overall record: 17-12
Idaho: Boise State University
Teams from Idaho: 3
Top team: Boise State University
RPI rank: 42
Conference: MWC
Overall record: 23-7
Illinois: Loyola University Chicago
Teams from Illinois: 13
Top team: Loyola University Chicago
RPI rank: 26
Conference: MVC
Overall record: 28-5
Indiana: Purdue University
Teams from Indiana: 10
Top team: Purdue University
RPI rank: 9
Conference: Big Ten
Overall record: 28-6
Iowa: Iowa State University
Teams from Iowa: 4
Top team: Iowa State University
RPI rank: 127
Conference: Big 12
Overall record: 13-17
Kansas: The University of Kansas
Teams from Kansas: 3
Top team: The University of Kansas
RPI rank: 5
Conference: Big 12
Overall record: 24-7
Kentucky: The University of Kentucky
Teams from Kentucky: 7
Top team: The University of Kentucky
RPI rank: 17
Conference: SEC
Overall record: 21-10
Louisiana: The University of Louisiana at Lafayette
Teams from Louisiana: 12
Top team: The University of Louisiana at Lafayette
RPI rank: 60
Conference: Sun Belt
Overall record: 26-5
Maine: The University of Maine
Teams from Maine: 1
Top team: The University of Maine
RPI rank: 337
Conference: America East
Overall record: 10-21
Maryland: The University of Maryland, College Park
Teams from Maryland: 9
Top team: The University of Maryland, College Park
RPI rank: 70
Conference: Big Ten
Overall record: 19-13
Massachusetts: Northeastern University
Teams from Massachusetts: 7
Top team: Northeastern University
RPI rank: 52
Conference: CAA
Overall record: 22-9
Michigan: University of Michigan
Teams from Michigan: 6
Top team: University of Michigan
RPI rank: 13
Conference: Big Ten
Overall record: 28-7
Minnesota: The University of Minnesota, Twin Cities
Teams from Minnesota: 1
Top team: The University of Minnesota, Twin Cities
RPI rank: 171
Conference: Big Ten
Overall record: 15-17
Mississippi: Mississippi State University
Teams from Mississippi: 6
Top team: Mississippi State University
RPI rank: 69
Conference: SEC
Overall record: 21-10
Missouri: The University of Missouri
Teams from Missouri: 5
Top team: The University of Missouri
RPI rank: 33
Conference: SEC
Overall record: 20-11
Montana: The University of Montana
Teams from Montana: 2
Top team: The University of Montana
RPI rank: 96
Conference: Big Sky
Overall record: 23-7
Nebraska: Creighton University
Teams from Nebraska: 3
Top team: Creighton University
RPI rank: 35
Conference: Big East
Overall record: 21-10
Nevada: The University of Nevada, Reno
Teams from Nevada: 2
Top team: The University of Nevada, Reno
RPI rank: 14
Conference: MWC
Overall record: 26-6
New Hampshire: The University of New Hampshire
Teams from New Hampshire: 2
Top team: The University of New Hampshire
RPI rank: 307
Conference: America East
Overall record: 43394
New Jersey: Seton Hall University
Teams from New Jersey: 8
Top team: Seton Hall University
RPI rank: 27
Conference: Big East
Overall record: 21-10
New Mexico: New Mexico State University
Teams from New Mexico: 2
Top team: New Mexico State University
RPI rank: 41
Conference: WAC
Overall record: 25-5
New York: St. Bonaventure University
Teams from New York: 22
Top team: St. Bonaventure University
RPI rank: 21
Conference: Atlantic 10
Overall record: 24-6
North Carolina: Duke University
Teams from North Carolina: 18
Top team: Duke University
RPI rank: 4
Conference: ACC
Overall record: 25-6
North Dakota: North Dakota State University
Teams from North Dakota: 2
Top team: North Dakota State University
RPI rank: 215
Conference: Summit League
Overall record: 15-16
Ohio: Xavier University
Teams from Ohio: 13
Top team: Xavier University
RPI rank: 3
Conference: Big East
Overall record: 27-4
Oklahoma: The University of Oklahoma
Teams from Oklahoma: 4
Top team: The University of Oklahoma
RPI rank: 37
Conference: Big 12
Overall record: 18-12
Oregon: The University of Oregon
Teams from Oregon: 5
Top team: The University of Oregon
RPI rank: 67
Conference: Pac-12
Overall record: 20-11
Pennsylvania: Villanova University
Teams from Pennsylvania: 14
Top team: Villanova University
RPI rank: 2
Conference: Big East
Overall record: 27-4
Rhode Island: The University of Rhode Island
Teams from Rhode Island: 4
Top team: The University of Rhode Island
RPI rank: 16
Conference: Atlantic 10
Overall record: 23-6
South Carolina: Clemson University
Teams from South Carolina: 11
Top team: Clemson University
RPI rank: 11
Conference: ACC
Overall record: 22-8
South Dakota: South Dakota State University
Teams from South Dakota: 2
Top team: South Dakota State University
RPI rank: 53
Conference: Summit League
Overall record: 26-6
Tennessee: The University of Tennessee, Knoxville
Teams from Tennessee: 12
Top team: The University of Tennessee, Knoxville
RPI rank: 10
Conference: SEC
Overall record: 23-7
Texas: The University of Houston
Teams from Texas: 23
Top team: The University of Houston
RPI rank: 19
Conference: AAC
Overall record: 24-6
Utah: The University of Utah
Teams from Utah: 6
Top team: The University of Utah
RPI rank: 47
Conference: Pac-12
Overall record: 19-10
Vermont: The University of Vermont
Teams from Vermont: 1
Top team: The University of Vermont
RPI rank: 56
Conference: America East
Overall record: 26-6
Virginia: The University of Virginia
Teams from Virginia: 14
Top team: The University of Virginia
RPI rank: 1
Conference: ACC
Overall record: 28-2
Washington D.C.: Georgetown University
Teams from Washington D.C.: 4
Top team: Georgetown University
RPI rank: 151
Conference: Big East
Overall record: 15-14
Washington: Gonzaga University
Teams from Washington: 5
Top team: Gonzaga University
RPI rank: 29
Conference: WCC
Overall record: 28-4
West Virginia: West Virginia University
Teams from West Virginia: 2
Top team: West Virginia University
RPI rank: 31
Conference: Big 12
Overall record: 22-9
Wisconsin: Marquette University
Teams from Wisconsin: 4
Top team: Marquette University
RPI rank: 57
Conference: Big East
Overall record: 18-12
Wyoming: The University of Wyoming
Teams from Wyoming: 1
Top team: The University of Wyoming
RPI rank: 89
Conference: MWC
Overall record: 19-12