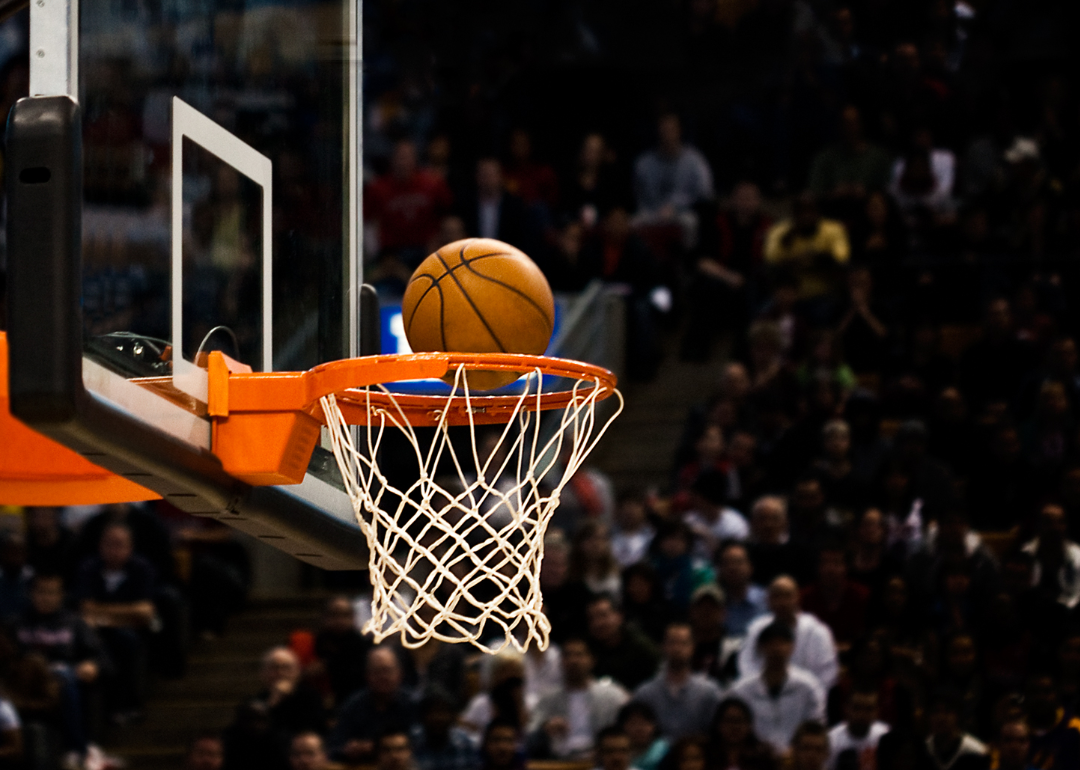 The Most Improved Players on Every NBA Team
The Most Improved Player From Every NBA Team
When the Milwaukee Bucks signed forward Giannis Antetokounmpo to a four-year, $100 million contract before the 2016-17 season, they were banking on the then-21-year-old fulfilling his massive potential. Antetokounmpo averaged 16.9 points, 7.7 rebounds and 4.3 assists per game in 2015-16 and built on those numbers across the board last season. His efforts earned him the Most Improved Player Award, becoming the first Buck to earn the honor.
While it was Antetokounmpo who took home the award, each team had players that made great strides last season from the year before. Stacker crunched the numbers to calculate the most improved player year over year from each team in the NBA. To determine the list, we'll rely upon win shares (WS), as calculated by Basketball-Reference. The focus will be on how big a jump in win shares a player made from 2015-16 to 2016-17, regardless of whether that player played on the same team both seasons.
For this exercise, we'll exclude players whose win share improvements last season came as a result of returning to health. If a player missed significant time due to injury in 2015-16, he wasn't taken into consideration. We'll start with the team whose most improved player had the smallest jump in win shares, then work our way up to the player who improved more than anyone (spoiler alert — it's not the Greek Freak).
Note: In the event of ties, the player with the highest win shares in 2016-17 was ranked higher.
#30. SG Andre Roberson, Oklahoma City Thunder
2015-16 WS: 3.4
2016-17 WS: 4.2
Increase: 0.8
Roberson was one of only two players (the other being Josh Huestis) to improve on his WS total from 2015-16. Even league MVP Russell Westbrook saw a dip in his WS, from 14.0 to 13.1, despite averaging a triple-double for the entire season. Never a good offensive player, Roberson's shooting regressed last season, as his true shooting percentage dropped from 56.6 to 51 percent. But he cut down on his turnovers and nearly doubled his defensive win share -, from 1.6 to 3.1 - as he set a new career high with 1.2 steals per game.
#29. SG C.J. McCollum, Portland Trail Blazers
2015-16 WS: 6.0
2016-17 WS: 7.6
Increase: 1.6
The 2015-16 Most Improved Player Award winner made great strides again last season, setting career highs in WS (7.6), PER (19.9) and true shooting percentage (58.5%). McCollum also ranked ninth in three-point percentage (42.1%) and first in free throw percentage (91.2%), positioning himself as one of the league's best offensive players.
#28. PG Ish Smith, Detroit Pistons
2015-16 WS: 1.3
2016-17 WS: 3.1
Increase: 1.8
Smith played on his 10th team in seven seasons last year when he suited up for Detroit, but he appears to have finally found a sticking spot. Smith played in a career-high 81 games last season and more than doubled his previous career best in WS (1.3). The three-year, $16 million deal the Pistons signed him to last offseason now looks like a great bargain.
#27. C Alan Williams, Phoenix Suns
2015-16 WS: 0.2
2016-17 WS: 2.1
Increase: 1.9
Williams began the 2015-16 season in the Chinese Basketball Association before signing a 10-day contract with the Suns in March. He impressed enough to make the team the following year, and he carved out a role for himself as a high-energy reserve. Williams averaged 7.4 points, 6.2 rebounds and 15.1 minutes per game, appearing in 47 contests. That earned him a three-year, $17 million deal this offseason — not bad for a guy who went undrafted in 2015.
#26. PG Elfrid Payton, Orlando Magic
2015-16 WS: 2.2
2016-17 WS: 4.4
Increase: 2.2
Payton made a big jump in Year 3 of his career, setting new highs in PER (17.2), TS% (52%), usage rate (21.6%) and points per game (12.8). Perhaps the biggest negative from last season was the step back he took in three-point shooting, as he made just 27.4%t of his 146 attempts. If Payton can improve in that area, he could be in store for an even larger leap in his 4th season.
#25. PG Ty Lawson, Sacramento Kings
2015-16 WS: 0.9
2016-17 WS: 3.2
Increase:  2.3
Lawson looked nothing like himself in 2015-16, his first away from Denver. He posted a miserable 9.7 PER while shooting 39.3 percent from the field. That led to a one-year deal with Sacramento, where he rediscovered his old form. Lawson came off the bench and averaged 9.9 points and 4.8 assists per game, while shooting 45.4% from the field.
#24. C Richaun Holmes, Philadelphia 76ers
2015-16 WS: 1.5
2016-17 WS: 3.8
Increase: 2.3
As a rookie in 2015-16, Holmes appeared in 51 games and flashed potential for the struggling 76ers. He improved statistically across the board last season, particularly on the defensive glass — Holmes' defensive rebounding percentage jumped from 11.7% to 20.1%. Philadelphia has a talented young core that includes potential stars in Joel Embiid, Ben Simmons, Markelle Fultz and Dario Saric. Developing them will be the key to the rebuild, but having young, productive role players like Holmes will go a long way as well.
#23. PF Marreese Speights, Los Angeles Clippers
2015-16 WS: 1.8
2016-17 WS: 4.2
Increase: 2.4
Speights set a new career high for WS in his ninth NBA season, playing in all 82 games for the Clippers. He shot the ball more efficiently than ever before, with a 58.4% true shooting percentage. Speights also set a new career high in defensive rebounding percentage at 24.1%.
#22. SF Andre Iguodala, Golden State Warriors
2015-16 WS: 4.4
2016-17 WS: 6.9
Increase: 2.5
After two straight years of declining WS totals, Iguodala turned things around last season, posting his highest mark since 2011-12 (7.3). It was great timing for the 33-year-old, who became a free agent after the season and re-signed with the team for three years and $48 million.
#21. PG Derrick Rose, New York Knicks
2015-16 WS: 0.4
2016-17 WS: 3.0
Increase: 2.6
Rose has been chasing his past greatness ever since he tore his ACL in the 2012 playoffs. While he'll likely never be the same player who won the MVP award in 2011, his 2016-17 season was his best since the injury. Rose set post-surgery highs in minutes per game (32.5), points per game (18.0), PER (17.0) and WS. Perhaps he can continue to improve in his first year with the Cavaliers in 2017-18.
#20. PG Spencer Dinwiddie, Brooklyn Nets
2015-16 WS: 0.1
2016-17 WS: 2.8
Increase: 2.7
Dinwiddie went back-and-forth between the NBA and the D-League during his first two seasons with Detroit. He signed with Brooklyn in December of last year and earned a spot in the rotation, the first meaningful NBA minutes of his career. Dinwiddie had a 12.7 PER and 58.1% true shooting percentage in 59 games (18 starts).
#19. SG Marco Belinelli, Charlotte Hornets
2015-16 WS: 0.5
2016-17 WS: 3.2
Increase: 2.7
Belinelli recovered nicely from a down 2015-16 season with the Kings, rediscovering his outside shooting form. A 39.2% three-point shooter for the first eight years of his career, Belinelli shot an abysmal 30.6% in 2015-16. He bounced back with Charlotte, knocking down 36% of his 283 attempts.
#18. C Dewayne Dedmon, San Antonio Spurs
2015-16 WS: 2.4
2016-17 WS: 5.2
Increase: 2.8
Dedmon bounced around to three different teams during his first two years before landing in San Antonio last offseason. He carved out a great niche for the Spurs, playing in 76 games and setting career highs across the board, including his 30.6% defensive rebounding percentage. His play earned him a two-year, $14 million deal this offseason with the Hawks.
#17. PG Isaiah Thomas, Boston Celtics
2015-16 WS: 9.7
2016-17 WS: 12.5
Increase: 2.8
The league's smallest star took his game to new heights in 2016-17. Thomas was third in the league with 28.9 points per game and seventh in efficiency with a 26.6 PER. He had a 62.5% true shooting percentage on nearly 20 field goal attempts per game. It will be interesting to see how Thomas gels with LeBron James next season, after Thomas was traded for another player on this list (more on that later).
#16. SG Tim Hardaway, Atlanta Hawks
2015-16 WS: 1.9
2016-17 WS: 4.8
Increase: 2.9
Hardaway hadn't really improved upon his standout rookie season with the Knicks until last year, when he set new career highs in WS, PER (15.2) and points per game (14.5). Always lauded for his shooting and scoring abilities, he tapped more into his playmaking abilities by improving his assist rate to 14.3% from 8.9% the year before.
#15. C Lucas Nogueira, Toronto Raptors
2015-16 WS: 0.7
2016-17 WS: 3.7
Increase: 3.0
Nogueira was traded twice before ever appearing in an NBA game — first by the Mavericks to Atlanta on draft night in 2013, then from the Hawks to Toronto in June 2014. He played sparingly during his first two seasons before breaking out as a serviceable role player. Nogueira's 7.1% block percentage would have led the league if he had played enough minutes to qualify, and he made great strides offensively as well.
#14. C Nikola Jokic, Denver Nuggets
2015-16 WS: 6.7
2016-17 WS: 9.7
Increase: 3.0
Jokic flashed star potential in what was an impressive season, but few could have expected he'd get this good this quickly. The 22-year-old ranked 19th in WS last season and developed into one of the most skilled big men the league has seen in some time. Jokic shot 32.4% on 139 three-point attempts and averaged nearly five assists per game, finishing second to Antetokounmpo in Most Improved Player voting. If he makes a similar leap in Year 3, then we're talking about one of the best players in the league.
#13. SG Nick Young, Los Angeles Lakers
2015-16 WS: 0.1
2016-17 WS: 3.2
Increase: 3.1
Young's playing career was basically left for dead after his pairing with former Lakers coach Byron Scott. The two clearly did not go together, as Young set career lows basically across the board in 2015-16. Though the Lakers still lost plenty of games during Luke Walton's first season at the helm, the new coach's arrival revitalized Young's career. "Swaggy P" started a career-high 60 games last year and shot 40.4% on three-point attempts, his highest mark since 2009-10. That earned him a one-year, $5.2 million contract with the Warriors, who will hope Young can repeat that type of effort next year.
#12. C Montrezl Harrell, Houston Rockets
2015-16 WS: 0.9
2016-17 WS: 4.1
Increase: 3.2
In his second season, Harrell developed into a legitimate rotation player, posting a 19.2 PER in 18.3 minutes per game. He averaged 17.8 points per 36 minutes, so it will be exciting to see what he can do with the Clippers next season, assuming he'll see an increase in playing time.
#11. PG Seth Curry, Dallas Mavericks
2015-16 WS: 1.4
2016-17 WS: 4.6
Increase: 3.2
Curry's road to NBA relevancy featured multiple stops in the D-League and a few 10-day contracts, but he finally broke out with Dallas last season. He appeared in 70 games with 42 starts, averaging 12.8 points per game and shooting 42.5% on 322 three-point attempts. Curry will make just over $3 million next season before hitting free agency, where he'll likely be in for a big payday if he can repeat last year's performance.
#10. PF James Johnson, Miami Heat
2015-16 WS: 1.3
2016-17 WS: 5.1
Increase: 3.8
Johnson set several career highs last season, a great example of a true late bloomer. The eight-year veteran reached high marks in games played (76), minutes per game (27.4), points per game (12.8), defensive rebounding percentage (16.6%) and usage rate (22%), all during a season in which he turned 30. That earned him a four-year, $60 million contract with Miami this offseason, as the Heat hope Johnson can repeat (or perhaps build on) last year's performance.
#9. C Anthony Davis, New Orleans Pelicans
2015-16 WS: 7.2
2016-17 WS: 11.0
Increase: 3.8
"The Brow" was banged up in 2015-16, but he only played in 14 fewer games that year than in 2016-17. That makes him qualified for consideration in this list, and Davis rediscovered his superstar status during his age-23 season. Davis set a new career high with 28 points per game and ranked 13th in the league in win shares. He also set new high marks in total rebounding percentage (17.2%) and usage rate (32.6%).
#8. PG Kyrie Irving, Cleveland Cavaliers
2015-16 WS: 5.0
2016-17 WS: 8.9
Increase: 3.9
Irving played in 19 more games in 2016-17 than in 2015-16. That nearly a quarter of a full season, which nearly made him ineligible, but he gets the nod anyway because of how much more efficient he was this past year than at any other point in his career. Irving set a career highs in PER (23.0) field goal percentage (47.3%) and free throw percentage (90.5%), and had his lowest turnover rate ever (10.3%). At just 25 years old, we might not have seen the ceiling yet for one of the game's most gifted scorers.
#7. C Karl-Anthony Towns, Minnesota Timberwolves
2015-16 WS: 8.3
2016-17 WS: 12.7
Increase: 4.4
Towns was a star the moment he entered the league, and he got even better between his rookie and sophomore seasons. His 12.7 WS ranked seventh in the league last year and second among centers. Towns hasn't missed a game in his career yet and shot a ridiculous 36.7% on 275 three-point attempts last season. He's already one of the best players in the NBA and will likely continue to improve in the coming years.
#6. PG Mike Conley, Memphis Grizzlies
2015-16 WS: 5.3
2016-17 WS: 10.0
Increase: 4.7
For a while, the talk around Conley was that people said he was underrated so much that he sort of became overrated. That kind of chatter ceased last season, arguably Conley's best as a pro. He set career highs in points per game (20.5), assist rate (34.5%), usage rate (26.3%) and PER (23.2). He'll turn 30 next season, and perhaps he'll finally earn his first All-Star nod.
#5. SF Jimmy Butler, Chicago Bulls
2015-16 WS: 9.1
2016-17 WS: 13.8
Increase: 4.7
Butler won Most Improved Player in 2015, and he made another significant jump in production last season. He ranked third in the NBA in WS and was 14th in PER (25.1). Butler set career highs across the board — usage rate (26.5%), assist rate (24.8%), rebounding rate (9.0%) and true shooting percentage (58.6%) — and will look to get even better next season, his first with the Milwaukee Bucks.
#4. C Myles Turner, Indiana Pacers
2015-16 WS: 3.1
2016-17 WS: 8.0
Increase: 4.9
Turner made a huge jump from his rookie to sophomore seasons, particularly on the offensive end. His offensive rating jumped from 103 to 115, and he became a dangerous shooter from beyond the arc, making 34.8% of his 115 three-point attempts. Turner's defensive rebounding rate regressed slightly, though, falling from 21% to 19.6%. If he can make strides in that department in Year 3, he'll become an even more complete player.
#3. SF Giannis Antetokounmpo, Milwaukee Bucks
2015-16 WS: 7.1
2016-17 WS: 12.4
Increase: 5.3
Antetokounmpo racked up the accolades in his fourth NBA season. He made his first All-Star team, was All-NBA second team and All-Defensive second team, in addition to being named Most Improved Player. Antetokounmpo averaged 22.9 points, 8.8 rebounds, 5.4 assists, 1.6 steals and 1.9 blocks per game — all career highs — during his age-22 season. The sky's the limit for the Greek Freak.
#2. SG Bradley Beal, Washington Wizards
2015-16 WS: 2.7
2016-17 WS: 8.5
Increase: 5.8
After four so-so seasons, Beal finally broke out in 2016-17. He became more than just a knock-down shooter, making 53.8%t of his two-point shot attempts — far better than his previous career high of 48.1%. Beal's usage rate (26.5%), assist rate (16.2%) and PER (20.1) all reached career highs, making the five-year, $128 million contract the Wizards gave him prior to the start of the 2016-17 season look like a wise investment.
#1. C Rudy Gobert, Utah Jazz
2015-16 WS: 6.4
2016-17 WS: 14.3
Increase: 7.9
When it comes to improvements, no player made greater strides last year than Gobert. The Stifle Tower ranked second in win shares behind only James Harden (15.0) and led the league in blocks per game (2.6), true shooting percentage (68.1%) and defensive win shares (6.0). He was named All-NBA second team and All-Defensive first team, and finished second to Draymond Green in Defensive Player of the Year voting. At just 25 years old, perhaps Gobert has yet to reach his ceiling. If that's the case, he'll likely have many more accolades to add to his collection before his career is through.