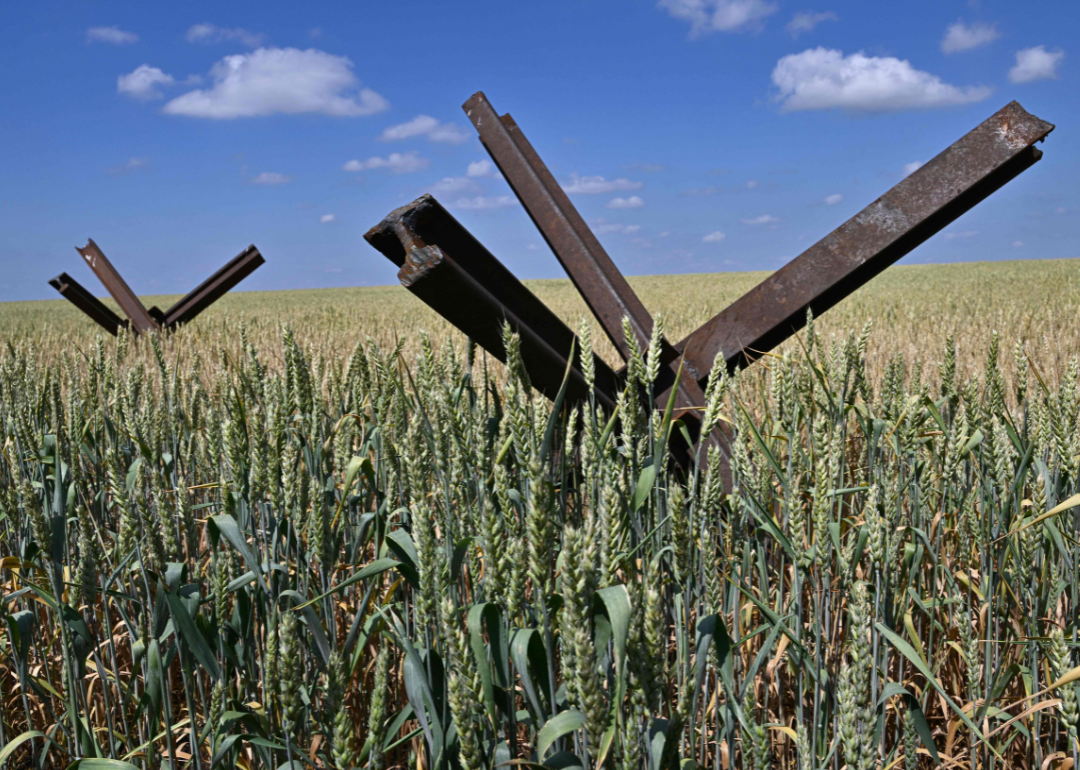 10 Strategic Commodities Impacted by the Russia-Ukraine War
GENYA SAVILOV/AFP via Getty Images
10 Strategic Commodities Impacted by the Russia-Ukraine War
Inspired by the Yale School of the Environment's journal 360, Stacker looks at how the Russia-Ukraine war that began in early 2014 and escalated to a full-scale invasion on February 24, 2022 has impacted 10 important commodities the world needs for food, travel, and manufacturing.
The West's sanctions against Russia have disrupted global trade of key commodities used for food preparation and strategic metals vital to green manufacturing. "Russia's metals are vital for the electric cars, solar panels, smart grids, and wind turbines needed to tackle climate change," Yale Environment 360 explains. 
Russia is now the most sanctioned country on Earth, but its vast territory and wealth of natural resources have made it much more difficult for the U.S. and its allies to economically isolate than smaller countries like Cuba, North Korea, or Iran. Moscow has also demonstrated some capability to retaliate. In early June, Russia reportedly struck back at sanctions designed to cut off the Russian military's access to computer chips by restricting exports of neon gas—a key component in the chip manufacturing process—to multiple countries.
Global food prices, which were already rising during the pandemic, have also proven volatile due to disrupted Ukrainian harvests from war-related shortages of agricultural workers drafted into the army and a lack of diesel and gasoline for farm vehicles. Compounding these problems is Ukraine's inability to ship its grains by sea due to Russia's naval blockade in the Black Sea, a war zone with floating Ukrainian mines.
Despite the U.S. State Department insisting that agricultural exports be exempt from U.S. and allied governments' sanctions, Russia blames U.S. sanctions and Ukraine's sea mines for scaring off maritime insurers. Washington has also warned that Russia is likely stealing Ukraine's harvested grain and exporting it to countries in Africa and the Middle East.
As the Russia-Ukraine war exacerbates worldwide supply-chain woes, Stacker looks at 10 important commodities and how potential shortages of these raw materials are impacting the global economy, from farmers' markets to chip fabs. Since Ukraine is not a major oil and gas producer, the emphasis of the list is on commodities that both Russia and its neighbor produce that are impacted by war and sanctions.