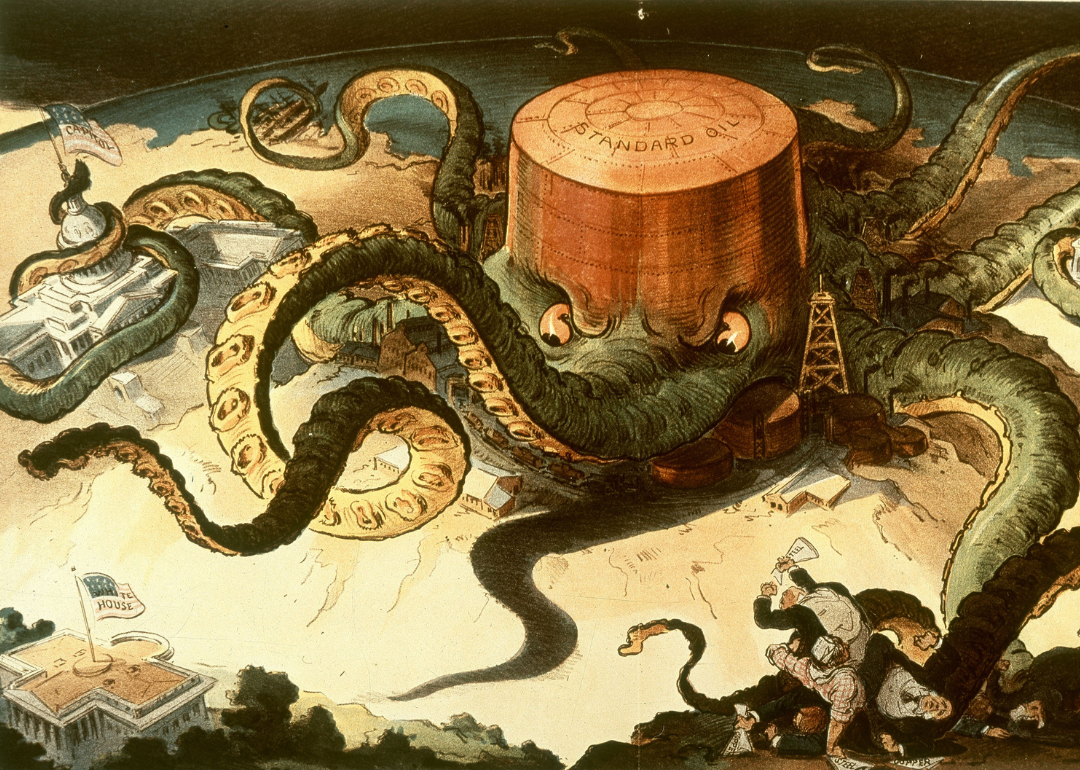 15 companies the U.S. government tried to break up as monopolies
Library of Congress // Wikimedia Commons
15 companies the U.S. government tried to break up as monopolies
Forty-seven attorneys general are looking at potential antitrust violations of social networking behemoth Facebook in a New York-led investigation launched September 2019 that has expanded significantly since. The proceedings bring to light the unchecked growth of a number of companies some say have gotten too big.  
Presidential candidate Elizabeth Warren has taken on this popular position, pointing to companies like Apple and Google and arguing they ought to be broken down into smaller companies that can be more easily regulated. Several of these firms purchased their competitors—such as Facebook's acquisition of Instagram—driving down marketplace competition and any innovations that such competition may have caused.
This concept manifests itself in different ways. Amazon, for example, has made it difficult for smaller competitors to find equity. If someone was to search for baby products using Amazon, the search engine would likely bring up the company's AmazonBasics line before that of an outside product, with the Basics line priced below competitors. Sometimes, the product shown is not the best, but the one that best played Amazon's obscure seller protection scheme.
With Facebook, the social media giant's inability or unwillingness to protect users' private data was largely brushed off, as the company has few viable competitors. The company's recent decision to do nothing against misleading or factually incorrect political ads has many feeling that the company may be dangerously unaccountable.
To help understand how the United States has typically dealt with businesses accused of bad business practices, Stacker has compiled a list of 15 cases the United States government prosecuted for violation of the nation's monopoly rules. For the sake of this article, a monopoly is defined as a business or cartel of businesses that has—because of its size and/or market position—dominated most or all aspects of an industry, including the ability to compete. Not all of these cases resulted in successful verdicts; however, all 15 are considered significant because they either changed case law or how we came to use the products in question.
In the United States, major federal antitrust legislations include the Sherman Act of 1890, the Clayton Act of 1914, and the Federal Trade Commission Act of 1914. While these laws have not been used to break up a business since the aborted attempt on Microsoft in 2001, they do form the basis of the federal government's mechanism to handle unfair trade or business practices. The Sherman Act, particularly, bans the practices of price-fixing, business cartels, and collusive anti-trade practices, as well as prohibits monopolistic practices. The Clayton Act bans mergers and acquisitions where the main goal is to limit competition.
Typically, an accused business or cartel must be found guilty of antitrust actions "per se," or the act is an antitrust act without the need to consider extrinsic circumstances, or by using the "rule of reason." The "rule of reason" requires that the circumstances surrounding the act must have caused "restraint of trade" through precedent or example. This could be proving that fixing prices restricts competition or that denying broadcasting of a game to drive ticket sales is restricting supply.
Keep reading to learn how antitrust laws saved the movies.
You may also like: 35 CEOs who never finished college