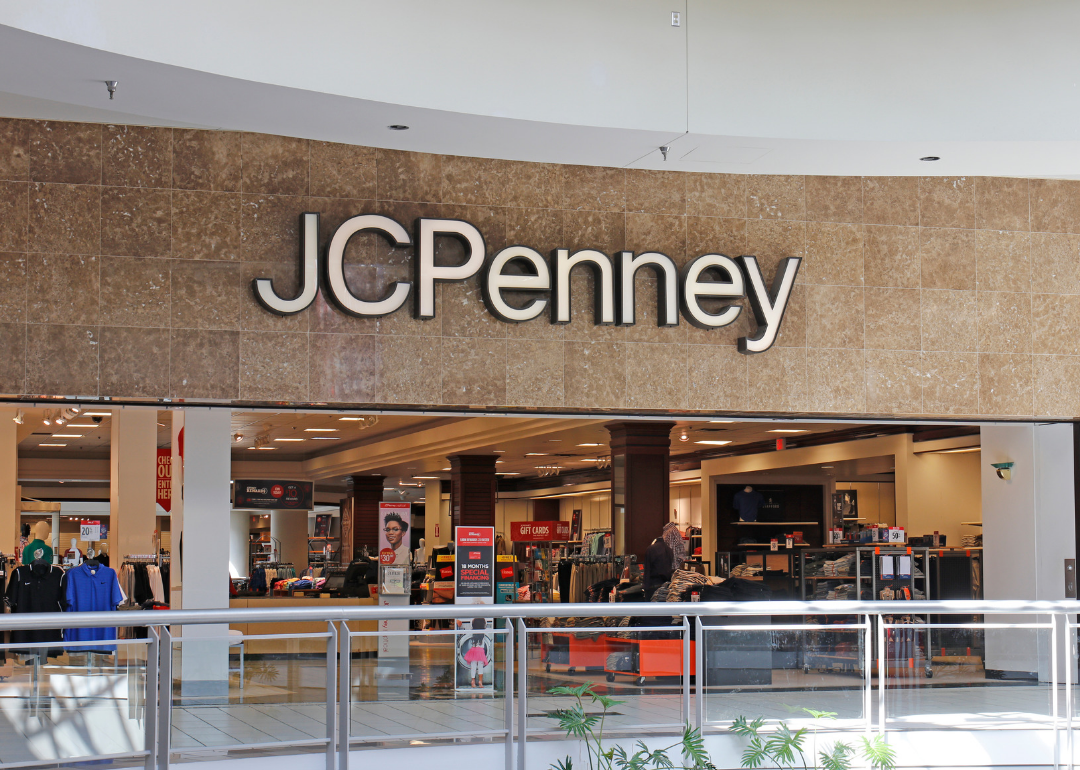 15 famous public companies struggling to survive
Jonathan Weiss // Shutterstock
15 Famous Public Companies Struggling to Survive
On Aug. 29, 2019, the clothing retailer Forever 21 announced it would consider bankruptcy in order to restructure its debt burden. Like many mall-based stores, the company is suffering from a collapse in mall attendance. Bankruptcy doesn't necessarily mean that a business is on the verge of collapse, but it does mean there are critical flaws in the company's financial or managerial structure. While bankruptcies like that of Twinkies maker Hostess in 2011 can help bring the company into solvency and financial stability, others serve as the harbinger of a company's fate.
Many companies use bankruptcy as a means of debt reduction rather than an opportunity to correct the processes that led to the debt in the first place. One example of this is Filene's Basement. A purveyor of high-end discount or off-price clothing, the company was severely rocked by the Great Recession which forced the closing of 11 of its 36 stores. The company sought three Chapter 11 bankruptcies within 12 years before it finally collapsed.
Stacker took a close look at the various public companies that have recently announced bankruptcies in order to curate the following gallery of 15 companies struggling to survive. To make the cut, companies had to still be in operation and forced to undergo structural changes due to current finances. This may include store closings, changes in product listings, or public announcements of change. Thie gallery further focuses on retail and food service companies, as these businesses typically have the largest public presence and therefore the most sentimental weight for its consumers. More than 100 million ears were pierced at Claire's, many for the first time; and Toys "R" Us transformed a toy industry worth $500 million in 1950 into a $12 billion enterprise by 1990.
When these companies go away, so do parts of our collective past. But companies must find a way to adapt to changing times if they intend to stay relevant. Keep reading to see which of your favorite companies made the list.
You may also like: People who retire comfortably avoid these financial advisor mistakes
1 / 15
Sears Holdings
While Amazon is monopolizing the e-commerce sphere, Walmart remains the king of American commerce. This has squeezed all players in the retail market, but none as hard as Sears Holdings, the corporate parent of Sears and Kmart. The company's October 2018 Chapter 11 bankruptcy saw the closing of 142 stores, with more slated.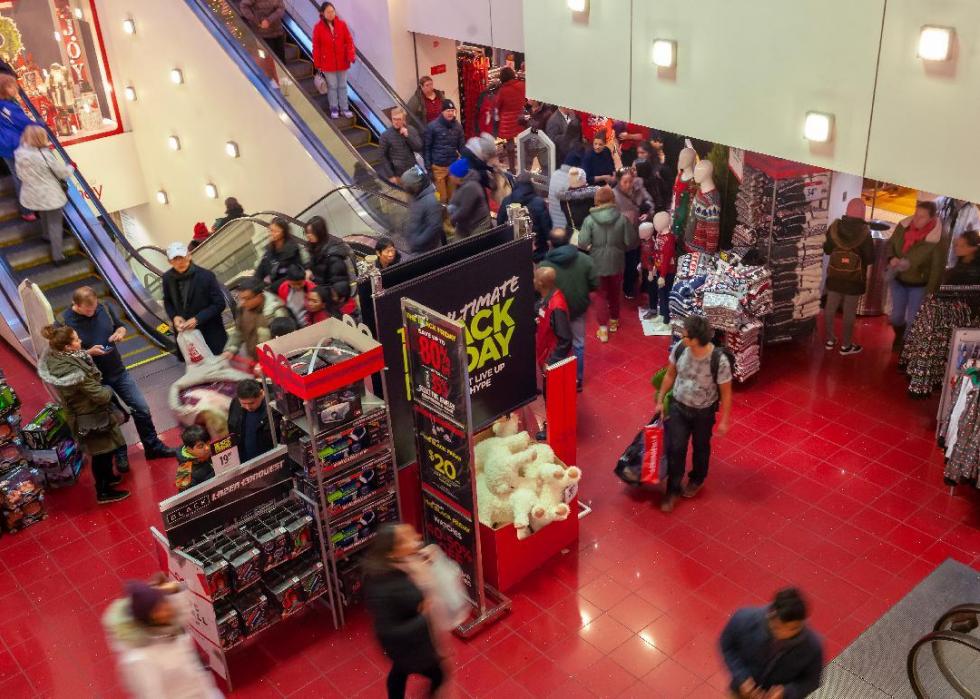 2 / 15
JCPenney
Like Sears Holdings, JCPenney had the bad luck of being a small retailer in the land of giants. Though the company was a mall staple, the decline of the traditional mall model of retail and competition from Walmart led to poor sales and a need to rebrand. Several rounds of store closures followed, with the remaining stores focusing on clothing and home furnishings.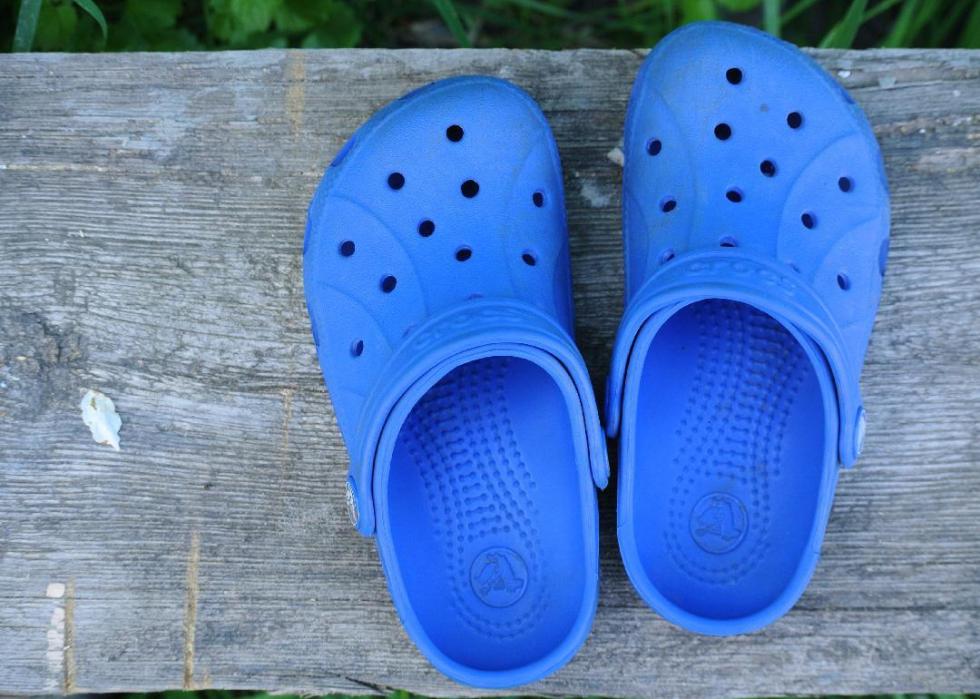 3 / 15
Natura999 // Shutterstock
Crocs
It wasn't so long ago that plastic shoes were the "in thing." Known for its clogs, Crocs and its signature product were the frequent target of ridicule and satire. Despite celebrity endorsements and enthusiastic early sales, the company was unable to compete with other manufacturers' athletic shoe offerings, leading to the closure of more than 150 stores in 2018. The company also eliminated some of its brand offerings, shut down most of its international manufacturing infrastructure, and added a sandal to its product line.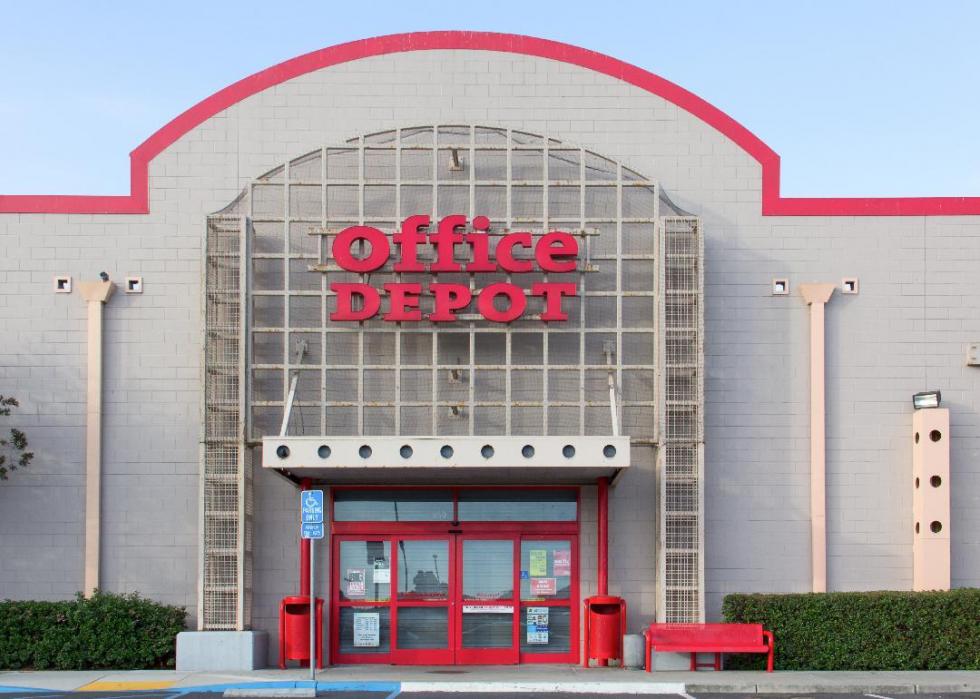 4 / 15
Ken Wolter // Shutterstock
Office Depot
Office Depot has found itself adrift since the Federal Trade Commission blocked rival Staples' attempt to buy the struggling office supplies store in 2015. Unable to effectively compete against the larger Staples and Amazon, the company—after shedding several stores in 2014—has entered the business cloud services market. This placed the company in direct competition with Amazon once more, with predictable results.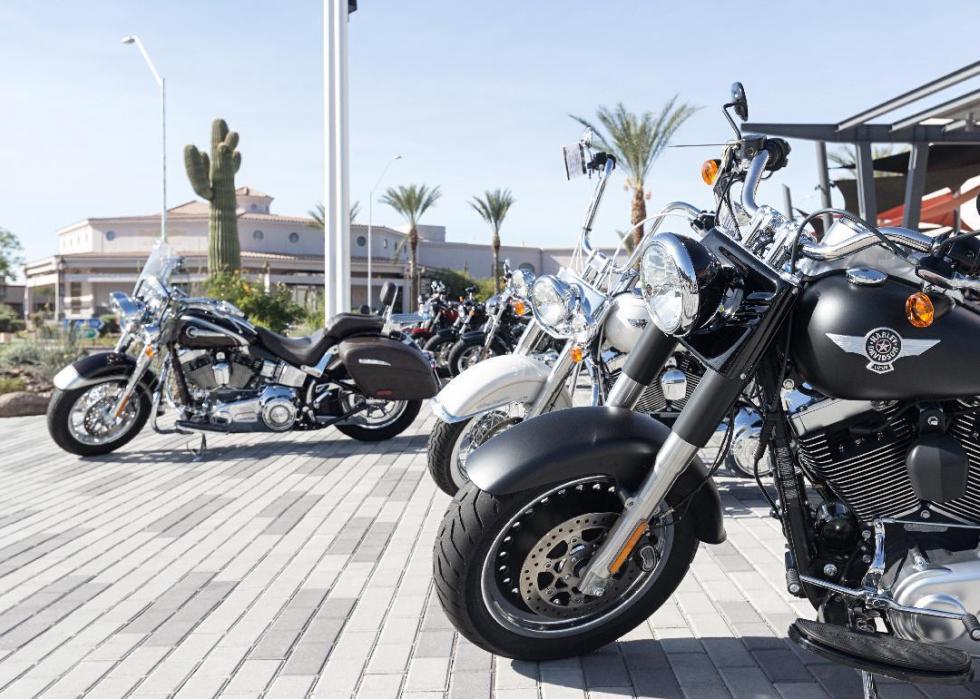 5 / 15
Harley-Davidson
The motorcycle manufacturer Harley-Davidson is at the horns of a dilemma. Responding to a reduced number in annual motorcycle sales and a push toward lower emission vehicles, the company has introduced a new line of motorcycles, including models featuring electric and hybrid motors. This, however, defies why many like and buy a Harley-Davidson: its traditional styling and connection to classic Americana.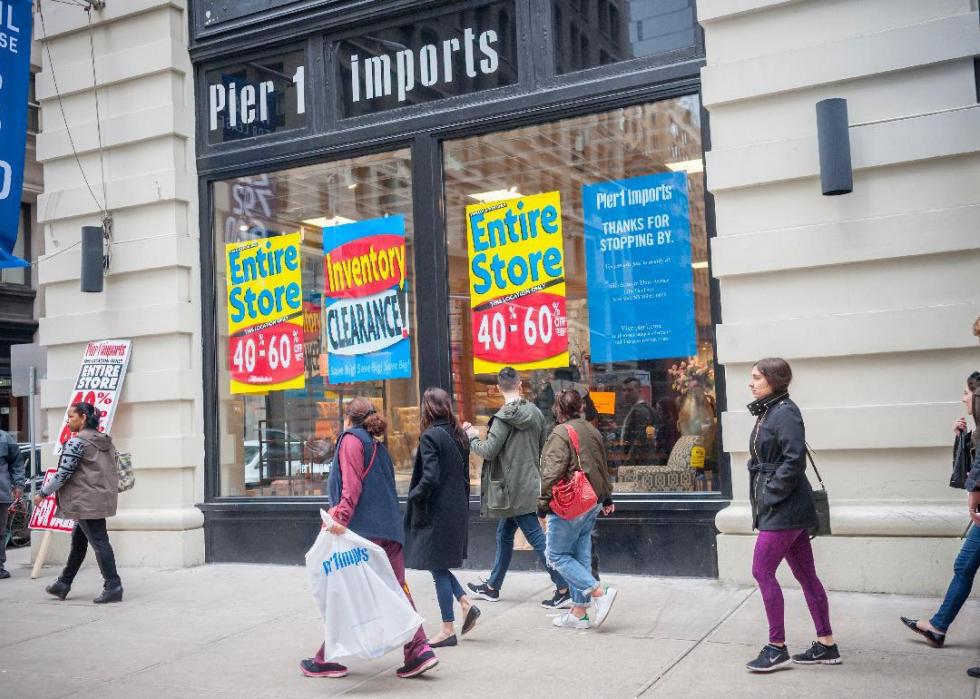 6 / 15
Pier 1 Imports
When the furnishings and décor store Pier 1 Imports went public in 1972, it doubled its sales each year for four consecutive years. A former hangout for the hippie scene, Pier 1 emerged as the place to get affordable home decorations and knickknacks. However, competition from Ikea, Walmart, and Amazon stalled the company's growth, leading to a downgrade in its credit rating. This, coupled with the ongoing tariff war with China, has forced the company to rethink its sourcing and procurement supply chains.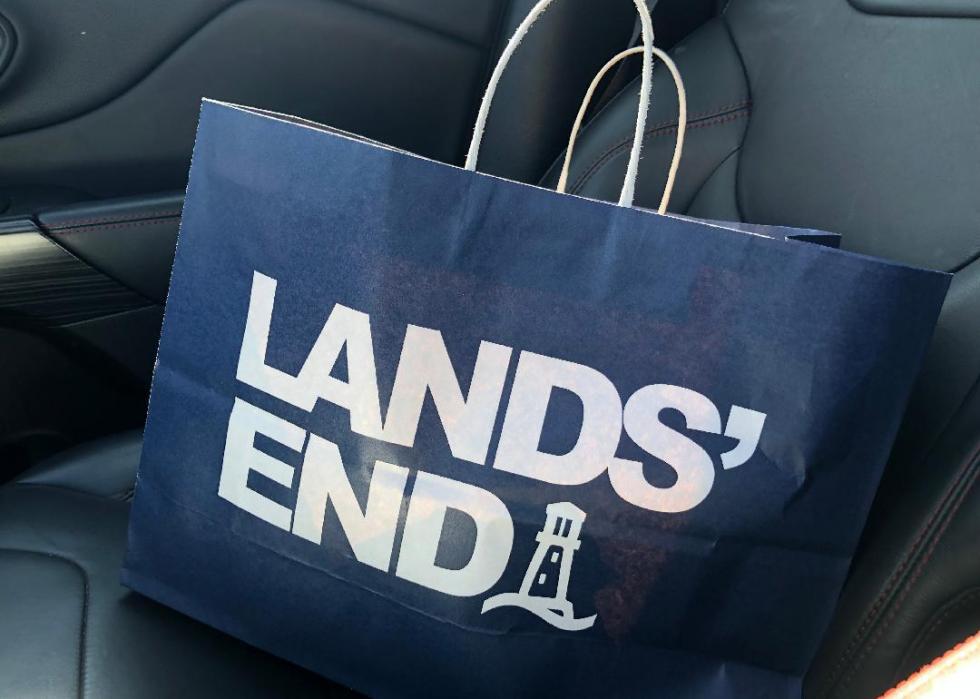 7 / 15
melissamn // Shutterstock
Lands' End
Formerly Sears' casual clothing, luggage, and home furnishings offshoot, Lands' End has inherited some of the problems of its former corporate parent. With the bankruptcy of Sears, Lands' End was forced to close its store-within-a-store branches in Sears stores. While the Lands' End catalog remains strong, partnerships with brands such as Canvas have failed to meet expectations.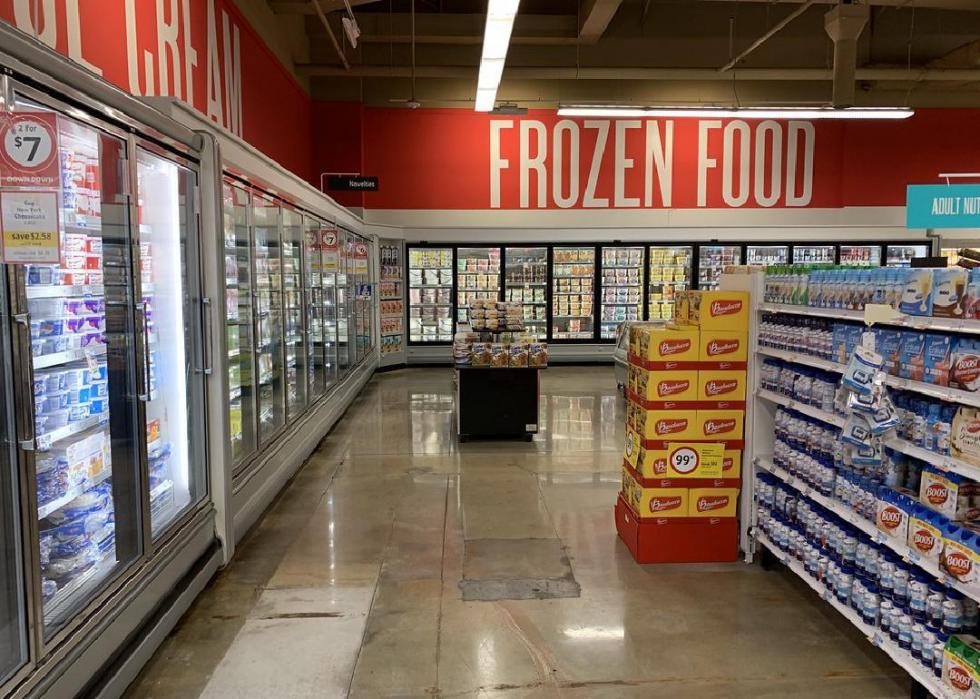 8 / 15
Southeastern Grocers
Southeastern Grocers, the corporate parent of the supermarket chain Winn-Dixie, recently entered Chapter 11 bankruptcy protection. While supermarkets are usually largely bulletproof, financially speaking, a failure to promptly respond to changing customer demands and antiquated stores has caused Winn-Dixie to lose customers over the years. A round of store closings, with the remodeling and rebranding of the surviving stores, is the potential remedy Southeastern Grocers is pursuing to turn around the venerable brand.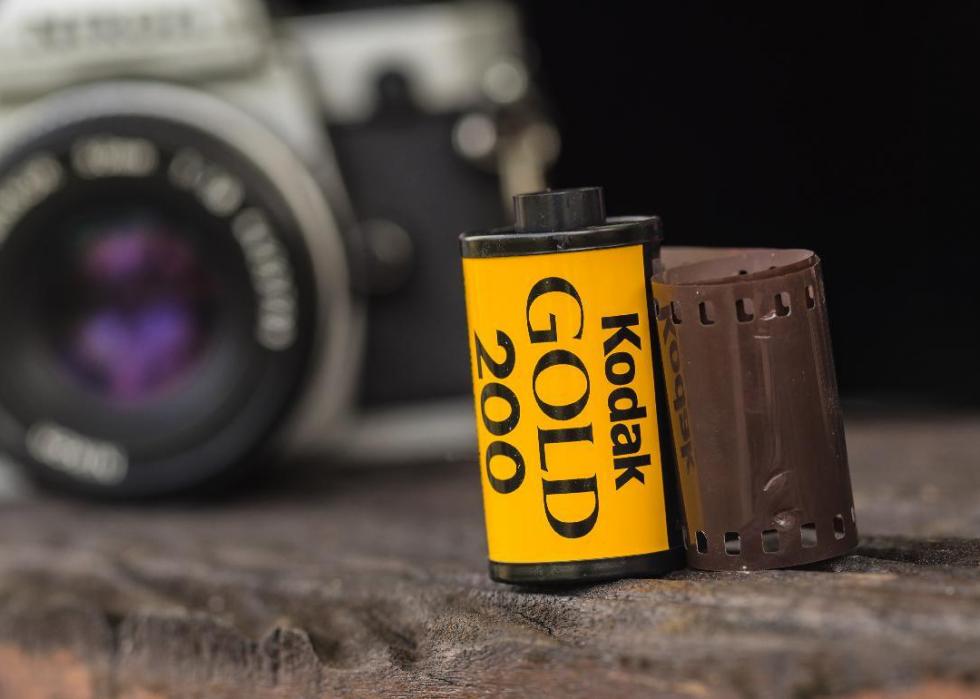 9 / 15
Kodak
At one point in history, Kodak was the undisputed heavyweight champion of the professional- and consumer-grade photography worlds. Its Brownie and Instamatic cameras and line of photographic films and papers made the company one of the best-known companies in the world. However, competition from Fujifilm and a delayed entry into digital photography largely doomed the Rochester, N.Y.-based company. Following bankruptcy in 2012 and the selling-off of most of the company's intellectual property, Kodak is looking at a multitude of strategies to stay afloat, including launching a cryptocurrency.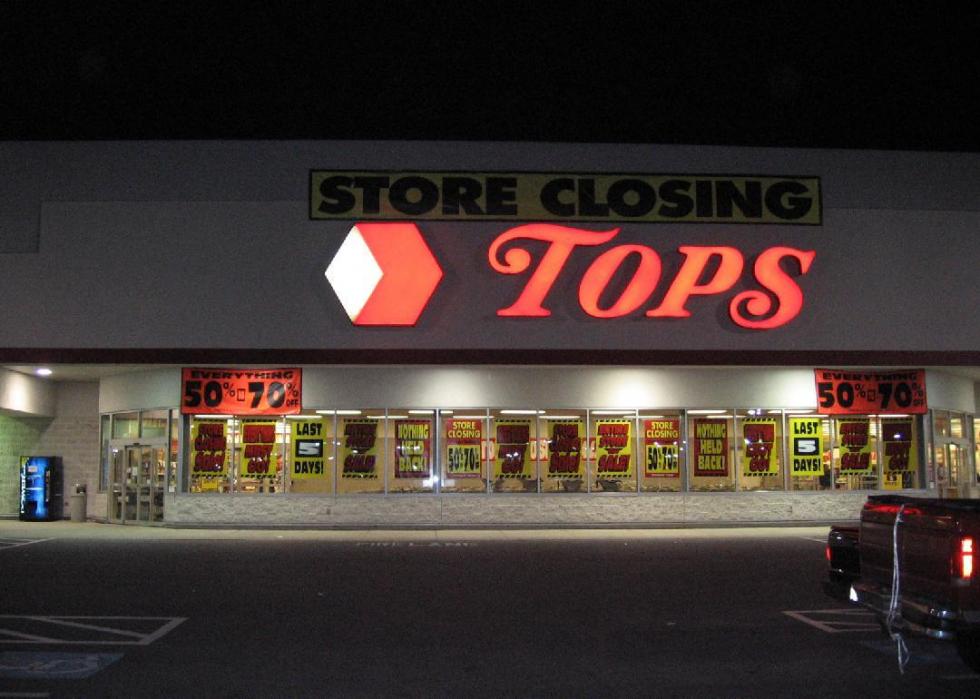 10 / 15
IanManka // Wikimedia Commons
Tops Friendly Markets
Tops Friendly Markets is not a business just facing bankruptcy; in the eyes of many, it is a business facing oblivion. The Amherst, N.Y.-based supermarket chain was initially seen as a competitor to regional grocer Wegmans. However, aggressive expansion—including purchasing several Grand Union and P&C Foods stores and increasing the number of Wilson Farms convenience stores—while underreporting the company's debt led to the company's declaring bankruptcy in 2018. While the supermarket has emerged from bankruptcy as of Nov. 19, 2018, it is still on unsure ground.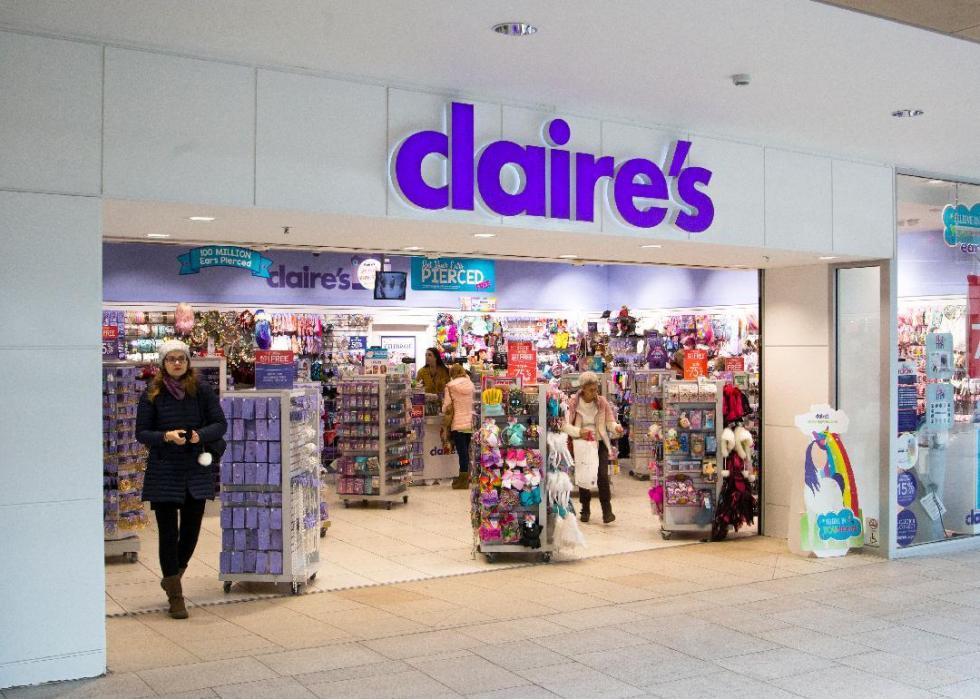 11 / 15
James W Copeland // Shutterstock
Claire's
Typically, there are patterns one can look at to understand why a company or entity would end up on lists such as this one. In the case of Claire's, the weak link is that the store is largely built around being a mall staple. With mall traffic on the decline, businesses that rely on malls will logically also decline. The venerable ear piercing, jewelry, and accessories depot sought bankruptcy protection in 2018. Claire's closed 130 stores the same year and is currently looking for a buyer.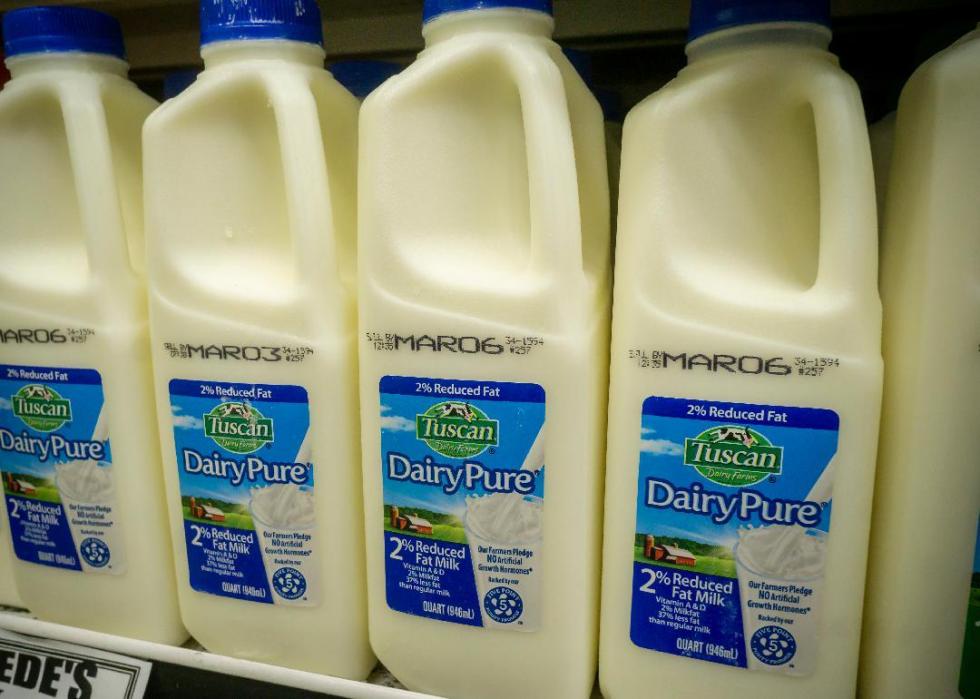 12 / 15
Dean Foods
Dean Foods is a national producer of milk, dairy products, ice cream, juices, and teas based in Dallas, Texas. Dean Foods has reported a drop of more than a third of its stock price, claiming that low retail price points for grocery private-label milk has made it hard for the company to make a profit. Its national brand, DairyPure, is typically priced higher than in-store brands, leading to lower sales. A decrease in milk demand is also hurting sales, suggesting that the company's stock problems will continue for the foreseeable future.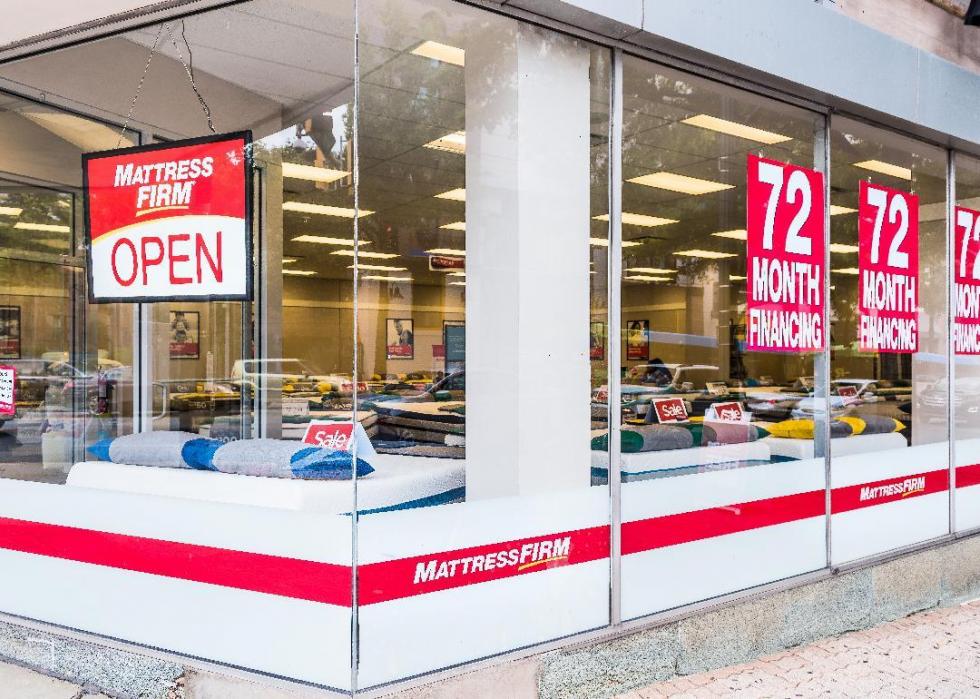 13 / 15
Andriy Blokhin // Shutterstock
Mattress Firm
Mattress retailer Mattress Firm is an example of what happens when a company seeks to expand too quickly. Over a 12-year period, Mattress Firm purchased or acquired competitors Mattress Pro, Sleep Train, Sleep Country USA, Mattress Barn, Sleepy's, and Sleep America. Many of these locations were converted to Mattress Firm locations without consolidation, meaning that in some markets, there were up to three Mattress Firm stores in visible sight of each other. This led to a 2018 Chapter 11 bankruptcy and the closing of 200 stores, with up to 500 mores possibly closing in the future.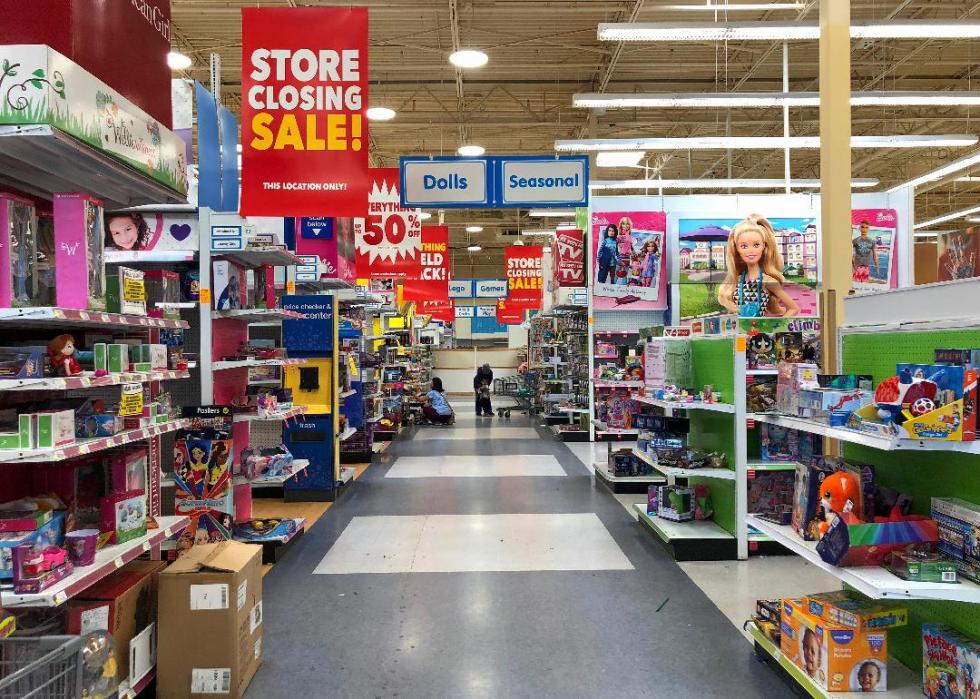 14 / 15
Sheila Fitzgerald // Shutterstock
Toys 'R" Us
The closing of Toys "R" Us in 2018 hurt the hearts of many adults who grew up with Geoffrey the Giraffe. Like other retailers, Toys "R" Us couldn't compete with Walmart and Amazon, and its private equity ownership structure meant the company could not easily refinance its debt. However, all is not lost, as the company has announced the launch of six new stores and a new online site.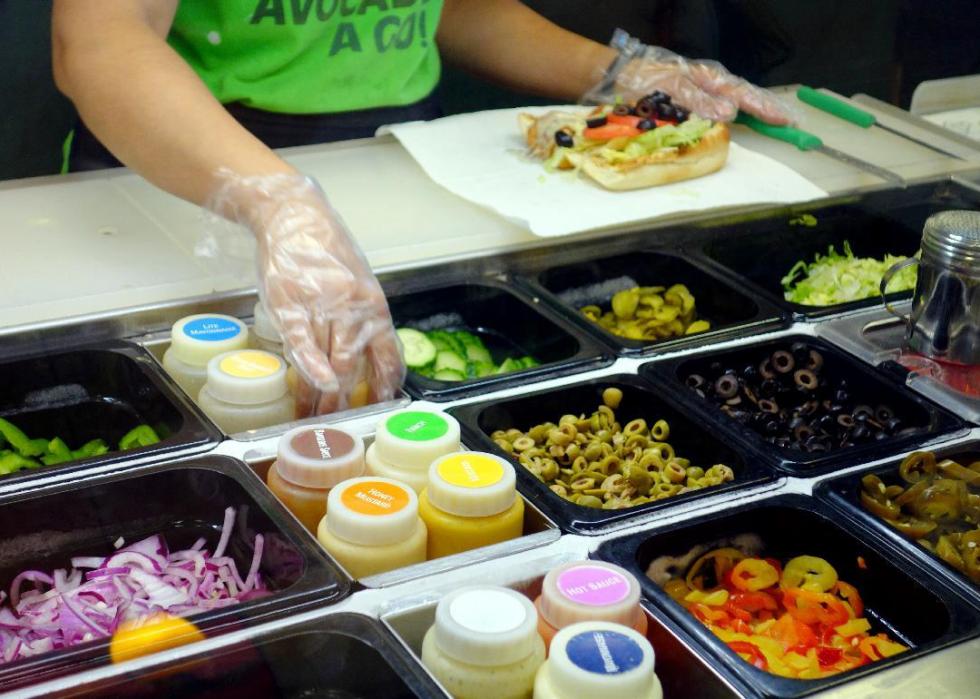 15 / 15
ValeStock // Shutterstock
Subway
The sandwich chain Subway is one of the largest quick-service restaurant chains in the world. The company's fast growth, however, has come to be a liability. The company's longtime association with former spokesman Jared Fogle—who was convicted and imprisoned for child pornography and illicit sexual conduct with a minor—along with competition from rivals like Panera Bread and Jimmy John's and the elimination of the longstanding $5 footlong special have caused profits to fall. The company closed over 1,100 stores in the U.S. in 2018, and is currently experimenting with changing its core menu to bring in more customers.
You may also like: Ranking the reputation of the 100 most visible companies in America