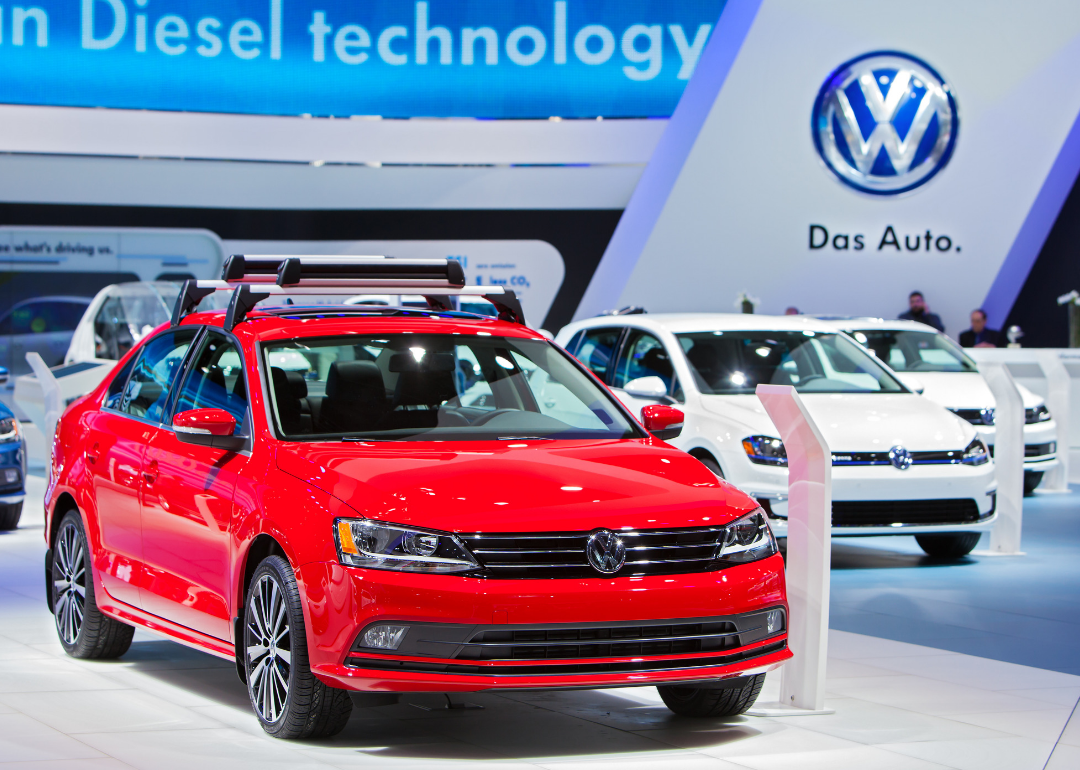 20 famous events that tanked companies' stock prices
Darren Brode // Shutterstock
20 famous events that tanked companies' stock prices
In 2017, Samsung was forced to explain why its newly launched Samsung Galaxy Note 7 was exploding. The cell phone's lithium battery would heat up and catch fire, leading to two recalls. It was later revealed that the ultra-thin battery Samsung created did not fit in the battery space. This error put a massive dent in Samsung's reputation as a premier cell phone manufacturer, especially after Samsung devices were banned from U.S. flights for a short period of time.
Corporations are run by people. As such, they are prone to make mistakes. While the motivations behind these mistakes may vary, they typically result in embarrassment for the company, frustration for the consumer, and an erosion of trust. Whether an oil spill, a failed marketing campaign, or the downfall of a public-facing CEO, myriad factors can cause a company's stock to drop. Shareholders often bear the brunt of these snafus, as they must cope with tanking stock prices while others can simply read along with the news cycles.
Stacker has looked at the 20 top incidents that rattled a company's stock price. For this story, Stacker considered distinct events that created a noticeable shift in a company's valuation. The list excludes scams that affected many companies—like the Bernie Madoff Ponzi scheme—or incidents that reflect corporate attitudes over singular situations, such as the toppling of Arthur Andersen.
Companies like Uber, which have a long chain of reported incidents rather than a single catalyst, are also not included. Stacker will be focusing on events that were largely covered by the mainstream media at the time. Additionally, well-intentioned flops, such as Starbucks' "#RaceTogether" campaign, will not be covered, much like failures that fall on political fault lines.
Keep reading to learn why some of the largest stock tankers involved oil.
You may also like: Highest performing stocks since Trump took office
Nike's split shoe scandal
It was the product failure seen around the world. When Duke basketball player Zion Williamson fell to the floor after his Nike sneaker split apart, onlookers questioned the ethics of a multi-billion-dollar athletic event where the athletes receive no share of the profits and are often forced to wear certain (in this case, faulty) products. The situation became worse for Nike when attorney Michael Avenatti accused Nike of paying Williamson's mother a consulting fee while Williamson was still a high school recruit. Nike's stock—which dropped more than 1% over the episode—only recovered when Avenatti was charged with extortion.
Facebook data sharing
Facebook's reputation plummeted when news broke that the social media giant allowed third-party developers, like British political consulting firm Cambridge Analytica, to access the data of more than 50 million users without their permission. Cambridge Analytica was used by Donald Trump's 2016 presidential campaign to target voters. The lack of clarity and forwardness in disclosing the scandal, the seemingly robotic testimony Facebook CEO Mark Zuckerberg provided to Congress, and questions over how Facebook handles fake news contributed to the company's stock price drop of 40% from its peak.
Volkswagen emission lies
In 2015, Volkswagen admitted to installing a "defeat device"—software that significantly changed emission performance results—in diesel engines sold in the United States. Volkswagen was hoping the claim of low emissions would improve U.S. sales of certain diesel-equipped car models. But in actuality, the vehicles with their "defeat device" emitted nitrogen oxide pollutants up to 40 times over EPA standards. The company's stock price tumbled by about 30% within days of the emissions scandal breaking.
Martha Stewart's insider trading
There was a time when Martha Stewart was a billionaire. In 1999, the celebrity chef and domestic living guru took her company, Martha Stewart Living Omnimedia, public. Following Stewart's conviction and resulting prison sentence for insider trading, however, she was removed as an officer in her company (although she became chairwoman again in 2012), and the company was acquired and delisted in 2015. Per a complaint filed against Stewart at the time, MSLO suffered a reported 65% stock price drop.
Deutsche Bank spying scandal
In 2006, Germany's largest bank, Deutsche Bank, admitted to spying on its management team, supervisory board members, and shareholders to determine if there had been corporate contact with media mogul Leo Kirch. Kirch blamed Deutsche Bank for the collapse of his company, Kirch Group. In a whirlwind of paranoia, Deutsche Bank suspected that Kirch—with the help of insiders—may have conspired to hurt the bank by leaking bank secrets. The scandal led to firings, a dip in public confidence in the company, and the largest stock drop in Deutsche Bank history—from a high of $146.52 on April 1, 2007, to a low of $24.48 on Feb. 1, 2009.
Boeing 737 MAX 8 aircraft crashes
Two fatal plane crashes placed the Boeing 737 MAX 8 aircraft under investigation. The failures of the equipped anti-stall system MCAS led national aviation authorities to question Boeing's safety certification process and to ground the 737 MAX 8 fleet. Boeing's stock price dropped from $372.02 on Nov. 7, 2018, to $312.32 just a few weeks later.
U.S. Steel trade and tariff wars
Twitter bots scandal
Following Twitter's 2018 efforts to delete millions of fake and offensive accounts, the company stock dropped over 20%. According to The Guardian, Twitter purged over 70 million accounts in May and June of that year, and continued at a pace of 1 million deletions per day into July. This policy stemmed from revelations that the site had hosted more than 50,000 Russian accounts that posted automated material during the 2016 elections. The stock drop was also fueled by news of the Cambridge Analytica scandal, which was breaking at roughly the same time.
Apple iPhone 7 exhaustion
The iPhone remains one of Apple's primary products, with other products—like the iPad, the Apple Watch, and the MacBook—all competing for space. This became acute when, just prior to the iPhone 7 announcement, Apple investors hit peak iPhone saturation and turned away from the company, dropping its stock by a fifth. Interest rebounded when the features were announced, but discussion of iPhone exhaustion remains a pertinent issue among those forecasting Apple's future.
Hewlett-Packard spying scandal
In 2006, Hewlett-Packard Chairwoman Patricia Dunn ordered her general counsel to hire investigators to look into several board members and journalists. The goal was to find the source of a leak regarding the company's long-term strategy, and the investigators deployed tactics like impersonating targets to get ahold of their phone records. The resulting scandal forced Dunn out and led to a congressional investigation and criminal charges. The stock price changed by about 4%, but set the stage for higher turnovers in the future.
Siemens security scandal
In 2004, the German company Siemens AG won the bid to provide security systems to the Summer Olympic Games in Athens, Greece—and reports later alleged that Siemens paid Greek politicians up to 100 million euros for those contracts. This development led to criminal charges and an eventual settlement of 330 million euros. The drawn-out negotiations saw Siemens price drop from $72.97 on April 1, 2011 to a low of $41.30 on May 1, 2012.
MCI's internal audit
At one point, MCI was the United States' second-largest telephone company behind AT&T. In 2002, a group of internal auditors secretly searched MCI's financial records, discovering that the company had been hiding years of corporate malpractice. Among other things, MCI had written off $3.8 billion in losses and inflated assets by about $11 billion. The audit led to the bankruptcy of the company, a multi-billion-dollar civil penalty, the arrest and imprisonment of CEO Bernard Ebbers, and MCI's ultimate absorption by Verizon. Prior to the stock's delisting, per SEC filings, the stock fell to less than $2 per share, down from $14.50.
Merck's Vioxx recall
In 1999, the FDA approved a COX-2 inhibitor called Vioxx, marketed for menstrual and general pain relief, as well as osteoarthritis inflammation reduction. In 2004, Vioxx maker Merck pulled the drug from the market after trials found that a 25-milligram dose increased the risk of cardiovascular problems. The delayed response by company executives hurt Merck's public reputation and led to more than $5 billion in lawsuits. The stock dropped following the response from $48.88 to a low of $27.12.
Exxon-Valdez disaster
Prior to the BP Deepwater Horizon spill, ExxonMobil's Exxon Valdez disaster was the largest oil spill in American waters. In 1989, the Exxon Valdez, a freighter carrying oil mined from the Prudhoe Bay Oil Field, crashed into a reef in Alaska's Prince William Sound. The crash was blamed on multiple factors, including the ship captain's drinking the night before, an inattentive third mate, and improper maintenance of the ship's collision radar. The crash led to billions in lawsuits and an incalculable amount of damage to Prince William Sound, which was a wildlife sanctuary. Oddly, ExxonMobil's stock drop was modest, considering the gravity of the situation; it only dropped from $16.53 to $14.38.
Firestone tires scandal
In 2000, the popular SUV the Ford Explorer was recalled following a series of fatal rollovers. The rollovers killed 271 people and injured over 800 others. It turned out that the rollovers were caused by defective Firestone tires, whose treads separated at speed. Firestone would close the factory involved, but the aftermath of the scandal led to the end Ford's relationship with Firestone, the passage of the TREAD Act, and a 50% reduction in Firestone's value.
Wells Fargo fake accounts scandal
Wells Fargo created millions of fraudulent saving and checking accounts in their customers' names. This news broke the careful reputation the bank developed following the banking crisis and led to billions of dollars in fines and lawsuits. Wells Fargo's stock price dropped only slightly from $47.35 to a low of $44.28, despite major divestments from the city of Chicago and state of California.
Aventis corn recall
In 2000, the biochemical firm Plant Genetic Systems (later Aventis) recalled its StarLink line of corn, after the EPA raised concerns that the corn's genetic modifications made StarLink an allergen. The corn had made its way into products for Kraft, Taco Bell, Mission Foods, Kellogg's, and Safeway—and 51 consumers reported adverse reactions. Since StarLink corn was believed to be mixed with 50% of the nation's corn at the time, the U.S. corn price dropped about 7%.
Union Carbide gas leak
In the history of corporate disasters, the Bhopal incident is recognized as one of the worst. Killing at least 2,259 people and affecting many more, the disaster involved a pesticide leak at the Union Carbide India Limited plant in Bhopal, India. Medics were slow to respond to survivors and the town was ultimately evacuated. Union Carbide agreed to pay about a half of a billion dollars in damages. The company's stock was devalued by two-thirds following the disaster, though it eventually recovered.
BP Deepwater Horizon disaster
The U.S.' largest oil spill occurred when a drilling rig in the Gulf of Mexico exploded off the coast of Louisiana in 2010, killing 11 workers. The resulting spill dumped approximately 4 billion barrels of crude oil into the gulf, crippling the fishing industry. It cost BP nearly $6 billion in settlements and cleanup fees, with more than 47,000 people working on the response effort. Following a 2014 court ruling which found BP responsible for the spill, BP's stock price dropped from $52.75 to $38.12.
United Airlines overbooking scandal
On April 9, 2017, a seated passenger was dragged out of a United flight because he refused to surrender his seat to the aircrew. In the struggle that ensued with Chicago Department of Aviation security officers, Dr. David Dao Duy Anh was knocked unconscious and bloodied. United CEO Oscar Munoz initially blamed Dao for the conflict, which drew swift outrage, compounding the PR disaster and pushing the stock to tank $1.4 billion.